How to Prepare for a Long Trip
Written by Dan
•
Updated on October 31st, 2023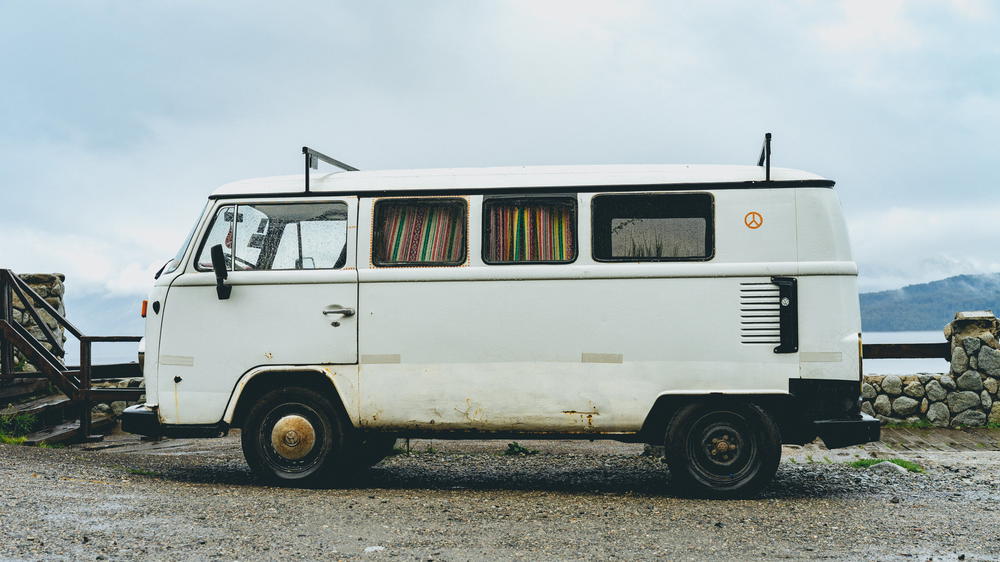 How do you prepare for a long trip abroad? Here's a list of things to do before long-term travel, including long-term travel preparation and how to prepare to travel the world for several months.
This article may contain affiliate links. We earn a small commissions when you purchase via those links — and it's free for you. It's only us (Becca & Dan) working on this website, so we value your support! Read our privacy policy and learn more about us.
Fun fact: I've sold all my things and moved across the world to travel long-term, more than once.
I've packed up and left NYC twice, to travel the world and work remotely, and after traveling long-term both times, I came back!
In these experiences, I've learned a lot about selling the things that aren't important, what to know before taking a long trip, traveling full-time and everything that is involved in preparing for a long trip.
I'm happy to share my knowledge and experience, because preparing for long-term travel and leaving everything at home sure doesn't happen overnight. Here's my step-by-step guide for a checklist for long-term travel.
First steps: What to do with your house or apartment before traveling
Figuring out what to do with your house or apartment can be tricky. It's really different for every person, and depends on if you rent or own, and the duration of your upcoming trip.
The variables to consider are:
How long is the trip?
Do you rent or own your apartment or house?
Are you planning on storing your stuff somewhere, or selling everything?
I won't get into too many specifics about how to handle every variable, but I can go into detail about the two times that I sold everything to travel, while moving in (and then back to) New York City.
Selling everything and traveling for a year
This was a straightforward process for me, the first time. I was moving out of an apartment at the same time that I was expected to leave for my trip.
I was living with roommates, at the time, so I helped get a person to take over the lease of my room, getting someone that everyone else would get along with. I asked my roommates if they would like to buy any of my furniture.
One roommate bought my mattress. Then, I listed everything else on Craigslist, some of the best websites for selling your stuff online.
I held on to a few things that were important to me, like small keepsakes and art. Luckily, my family lives close by, outside Philly, so I was able to store a few small boxes with my parents.
In a slightly different situation, when I was living with Becca, we did a similar process together. Except, her parents (thanks, Becca's parents!) stored some of our larger items, like a bed, two bar stools and all of our 16 plants.
We still sold most replaceable items, like four bookcases, my desk, our other bar stools, rugs and my desk chair.
We also chose to downsize, rather than throwing things out.
We gave away around six bags of clothing to a weekly clothing drive that we found out was a pop-up on Thursdays, half a block from our apartment.
This time was different because our lease didn't quite end at the same time of when we wanted to leave to travel.
We found a close friend that was able to sublet our apartment for six weeks while we traveled for the first three months, until the lease ended.
This worked out great because we could keep most of our things in the apartment for her to use. We also knew we'd be back to do the actual move-out.
Helpful Tip
We adore our old neighborhood, Brooklyn Heights, and if you're in NYC, we have a list of local tips and secrets for seeing this beautiful neighborhood.
When we came back to the apartment to officially move out, we knew that what we had left in the apartment wasn't important to us, but, a lot of it went into storage at Becca's parents' house.
We were able to determine that some of it wasn't stuff we missed, because we traveled for three months in Europe without all of those things!
Because of that, it was easier to part with some extra kitchen items, clothes that we weren't wearing and other random house stuff.
The funny thing about stuff is that after it's gone, you kind of don't miss it.
For you, if you own your house or apartment, you can rent it out for long periods of time with no issues. I know people who've done this.
I'd suggest against doing several short-term rentals, like Airbnb for homes, as they can become risky and can be a lot to manage over a long period of time with all the cleaning in between guests and whatnot.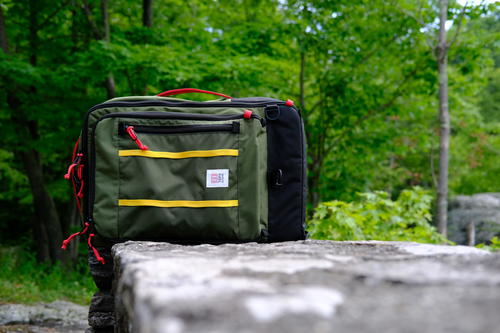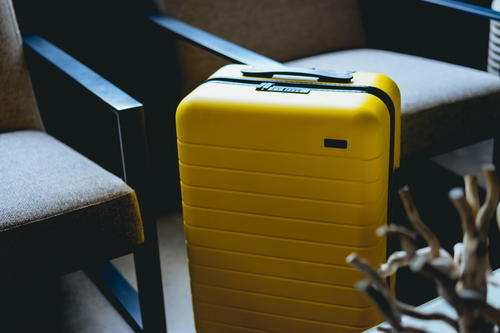 Planning for your trip: Where will you stay while you're away?
After you've figured out what to do with your home, you can now move on to planning where to live while you're away.
It's a similar process of comparing your options for accommodation while traveling short-term, but with a few more kickers.
Depending on your situation, you may have long-term accommodations set up for you. If that's the case, feel free to skip ahead.
Assuming that you don't know where you're going to live yet, don't worry. There are a few tricks that I want to share about how to set up long-term accommodations.
Travel with an organized remote work and travel program
I've been on two segments of a trip with Remote Year.
It's a great way to travel away for a while, while working remotely on your job (if you can do this) and to go with the flow, rather than doing all the logistical accommodation, flight and coworking space stress on your own.
With Remote Year, they'll set you up with an apartment for the month. They'll do everything from transportation to and from the airport, to apartment maintenance. Easy.
During my travels with Remote Year, I've had electrical issues, water issues and even a small fire [that did not start, yet one that I put out, and saved everyone]!
Remote Year (or the local apartment staff) has helped to make sure everything was safe and up to satisfying living standards.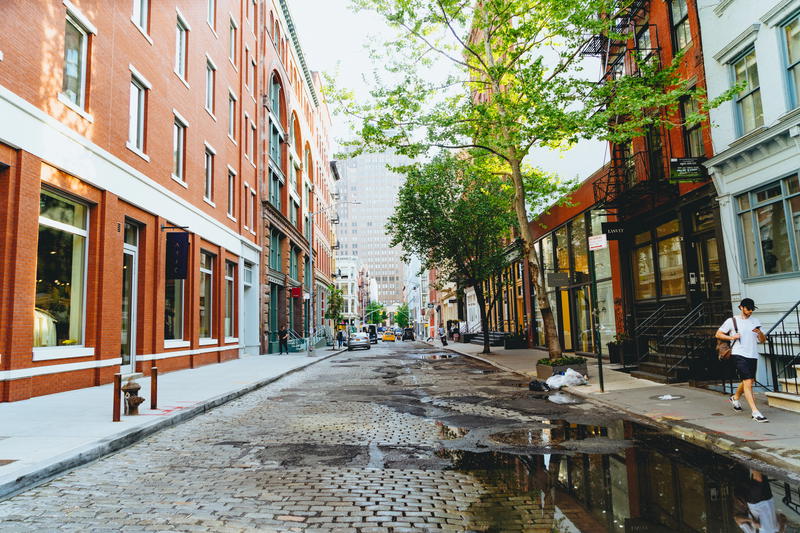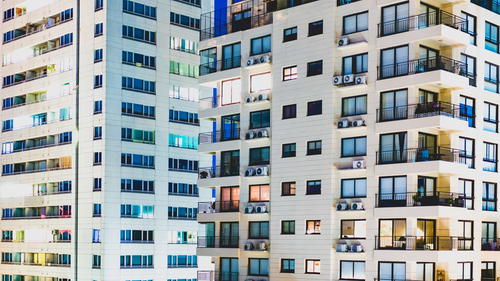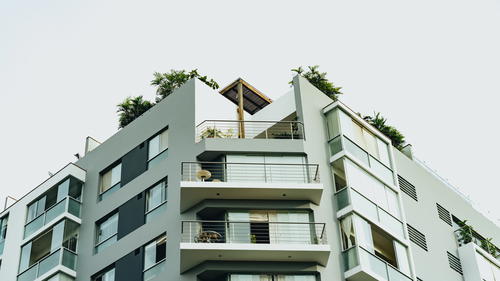 Rent on Airbnb
When Becca and I were in Taipei, Taiwan for almost a month, we decided to rent an apartment through Airbnb.
We found that the apartments were relatively expensive in the neighborhood where we wanted to stay because it was centrally-located and close to all sorts of MRT stations.
Because we were going to be long-term guests for the Airbnb property owner, we knew that we had some wiggle room in negotiating a price.
For the owner, it's expensive and time-consuming to turn over an apartment for lots of guests through lots of weeks.
If you, as the traveler, are able to stay in a place for a few weeks, it's much more favorable for the owner.
Interested in saving money during your trip?
Check this out: we sent a few messages to a few properties and told them our situation. We said that we're coming in for a few weeks and asked if they were able to provide a special offer and discount for the long-term stay.
We got a few offers and ended up with a newer listing for almost 40% off the listed price.
This included the 12-20% discount that some owners offer for guests who stay more than two weeks. If you hunt around, you'll also see that owners sometimes discount for stays of four weeks or longer, and some even discount if you book far in advance, like three months before your trip.
Helpful Tip
Want $50 off your first Airbnb? Sign up with this link and get an immediate credit on your first booking.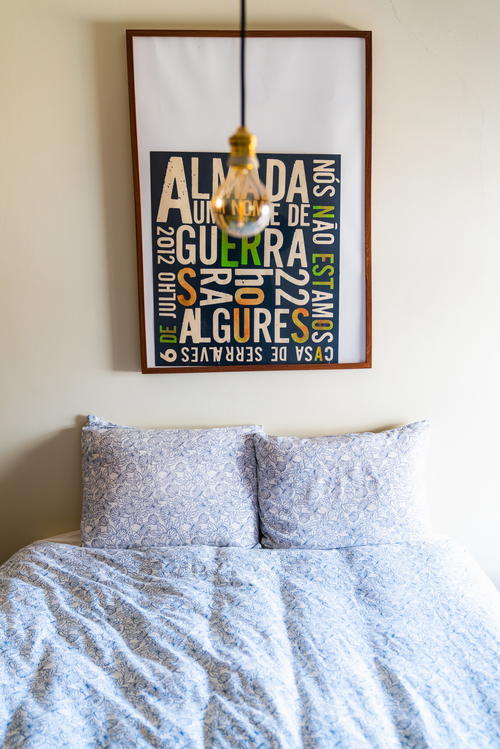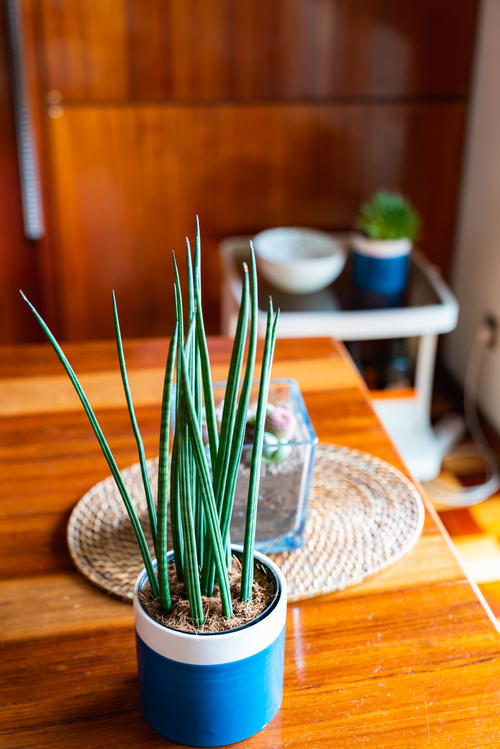 Stay in a hostel
Sometimes hostels have private rooms that seem more like apartments.
When we were in Mexico City, we stayed at the Selina Mexico City Hostel in the downtown neighborhood of Centro Historico.
This was a unique experience because our room was more like a studio apartment, but without a kitchen. It had its own bathroom and plenty of space for us, even a couch, a desk, an entrance area and a closet with shelves.
There was a shared kitchen down the hall on another floor that was different from the regular hostel kitchen because it was for studio apartment guests only.
It was tons (and I really mean tons) cleaner, had a locked door with a code and it was safe to leave our groceries in the fridge even without our names on them.
This was important for us, because you probably know by now how much we love cooking, to stay healthy while on the road.
We met several people that were living in Selina Mexico City for several months.
It's a little more expensive than a regular apartment, but had so many more accommodation types available. Also, it came furnished, so to speak… so that comes at a premium.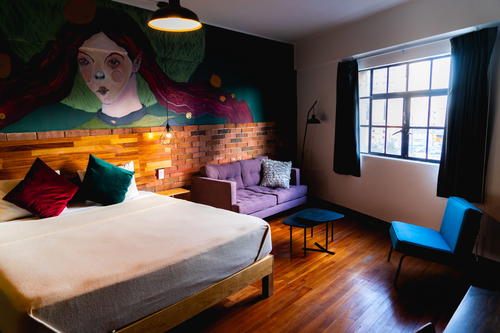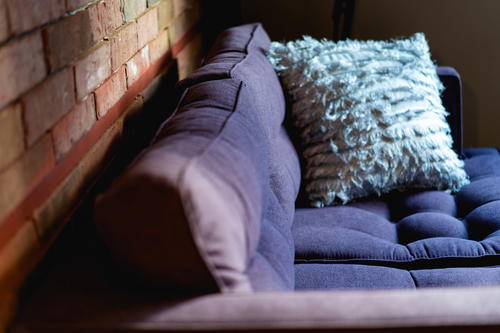 Another similar situation for us was in Tallinn, Estonia. We stayed at Euphoria Hostel. The vibes are super chill and everyone is friendly.
Euphoria has what they refer to as 'apartments' on the floor above the hostel dorm rooms. There are several rooms at different price points.
At Euphoria, there's also different kitchens to choose from, and these are set apart from the regular hostel kitchen and hostel spaces. This allows you to store your food and be sure that a random backpacker won't eat it all.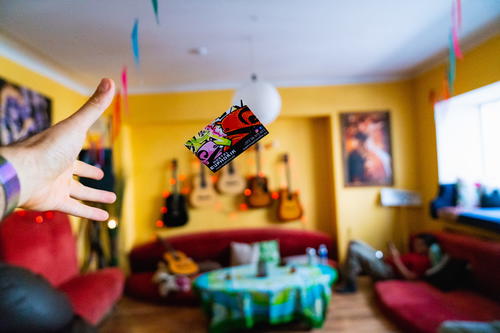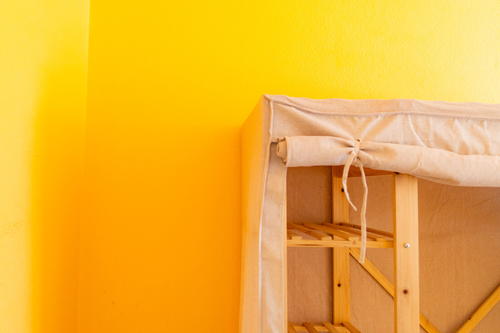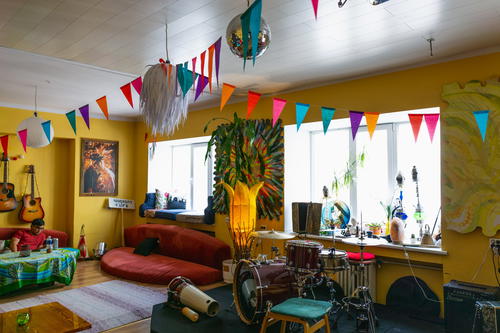 We even met our neighbors during our week or so of staying in the Euphoria studio apartment room.
Some were expat couples from other countries in Europe, who were working abroad or studying, and they wanted to spend their time living in a social environment. It's a good idea!
Find a roommate from Facebook or other expat groups
Lastly, you can find a roommate or someone renting an apartment through local connections.
If you're going to be living in a new city for long-term, join a few expat groups in the area. For example, we're familiar with Medellin and we know that the expat and community for digital nomads there is very strong.
There are several Facebook groups and meetups that you can find and attend, and you're bound to meet new like-minded people.
Another example is that our friends Cyd and Marc are currently living in Hanoi as expats.
They later told us that our friend Sean, who we know through the Remote Year network, was living with them for a bit during his digital nomad lifestyle month in Hanoi. Isn't it a small world?
You can always rent an Airbnb or stay in a hostel private room for a few weeks to get to know the city.
During that time, you can meet local people that are looking to fill a room in an apartment elsewhere.
How to meet people in a new city when you're traveling
So you've relocated to a new city and now you're sitting alone in your room on a Friday night and don't know what to do.
I've for sure done this when I've traveled solo or didn't know too many people in a new city.
When you are planning on taking a new trip, you're basically moving to a new city for as long as you plan to stay there.
So, whatever you would normally do to meet people in a new city applies for travel, as well.
You can join meetup groups, like a fitness group or a meetup for another shared interest, such as art, reading, history, culture, hiking and more.
You can reach out to your existing network and see if any of your friends have a local or expat connection to someone in your new city. You can join a coworking space and see if there are any events. The ideas are endless, and will be different depending on where you find yourself.
How to pack for a long trip
Like most things in this article, everyone has a different situation and different style of travel. I'll speak to my personal style and hopefully some (or all) of this will also apply to you.
I believe that if you want to pack for a year, you need the same amount of things that you'd pack for a week. You can get by with a few of your favorite shirts and extra pair of versatile travel pants.
If you have space in your new destination, you can always pick up some locally-purchased clothes. You can also 'dump' belongings along the way, to lighten your load. You can sell stuff online, if any of these tips for selling your stuff online may work for you.
It's all part of the minimalist travel mindset.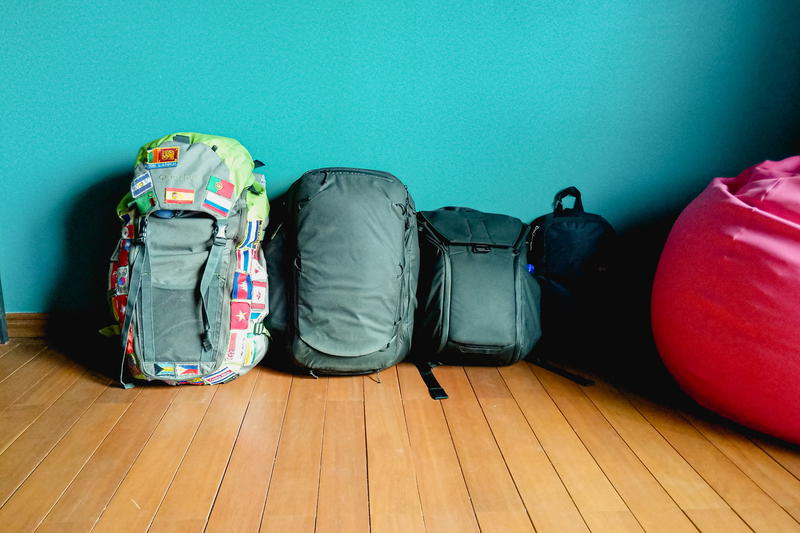 Buying local is not only a sustainable travel practice, but also supports the local economy and also makes you fit in a bit more with the local culture.
For example, locals in warm-weather countries usually wear pants all the time, and it's only the travelers, expats and backpackers who wear shorts every single day.
If you want to start doing the local thing, look out for what locals do. That includes having a heavy-duty jacket like a winter parka if winters get cold and windy where you are headed.
How do you do laundry when you travel?
What I realized is when I'm home, I do laundry about once a week. This means that I only need about a week's worth of clothes.
I don't have to worry about packing 20 T-shirts and 30 pairs of underwear (even though Becca wishes she could).
You can get by with much less.
Also, isn't it fun to try to figure out laundry machines in other countries? And also fun to see how people dry clothes all over the world? At Nine Coliving, we hung the laundry out to dry on long clotheslines on the beautiful rooftop that had a view of the town and the volcanic islands.
In Taipei, our washer turned into a dryer, but it took around an hour, and we chose to hang-dry anything that wouldn't dry naturally in the super-humid climate.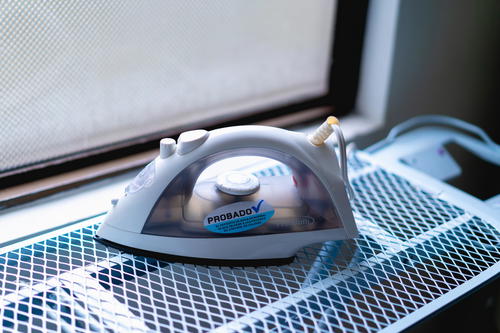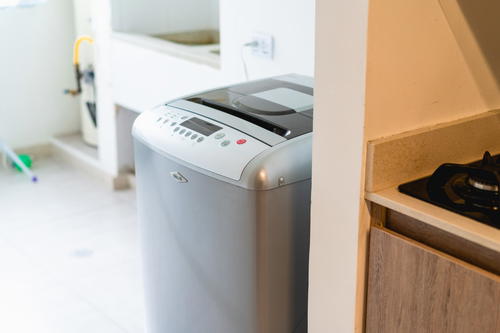 What if I need something specific while I'm in a new country or city?
I thought that I needed to bring everything that I could think of when I left the US to take a long trip.
What I didn't realize is that there is an entire city, somewhere else, of people that probably need the same thing. For example, if you break a phone charging cable, you can find the local version at a local market.
Unless you are traveling with medication that you can't get anywhere, I'd think that there's nothing that you can't find wherever you're going to be living long term (that is, unless you're very particular about brands or if you have super-specific needs like name-brand whey protein or something…I've seen people ask about that).
Get some AirTags to protect against lost valuables
We got ourselves some Apple AirTags to bring along on our trips. AirTags can be placed on your checked luggage, backpack, laptop or even your wallet, to help be able to location-track these items if they become lost, stolen or just misplaced.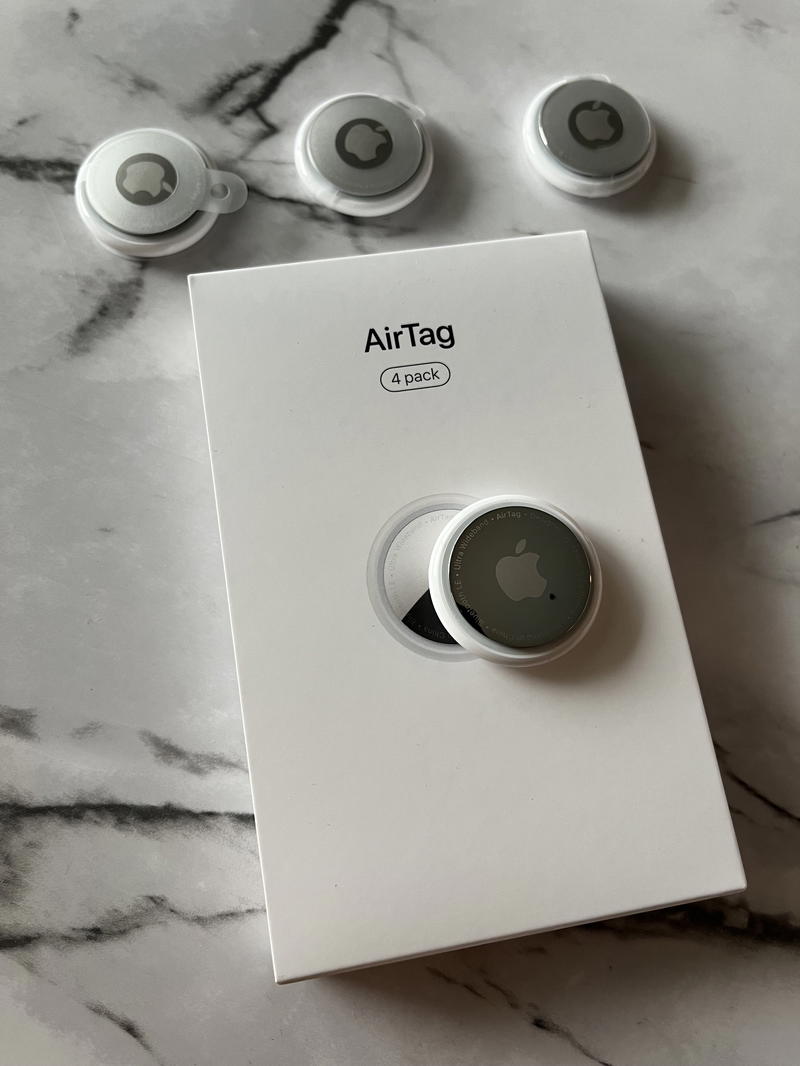 We've seen a lot of travelers invest in AirTags as a way of having peace of mind during long-term travel, and we've even seen how they work out (see our safety guide for Mexico City for the full story).
What to set up at home before traveling long-term
Set up travel insurance for traveling abroad
Becca and I use World Nomads travel insurance to insure us on our international trips.
We've also heard great things about SafetyWing. Depending on your age, length of trip, destinations and a few other factors, World Nomads will give you a quote and you can choose to proceed with getting reliable travel insurance.
World Nomads will help insure things like delayed baggage, emergency medical expenses overseas, flight cancellations due to severe weather and hospitalization abroad.
If you're a scuba diver, there are also specific insurance plans for diving. Our friends Alex and Ryan chose this add-on. You can ask them how it's going!
We initially signed up with World Nomads based on a recommendation from a friend.
The rates are reasonable and we've heard that World Nomads are responsive if you ever have to make a claim. We haven't had to make a claim yet, but we feel at ease knowing that if anything were to happen, we are covered.
Using Google Fi for your international phone plan
I use Google Fi and have data usage all over the world. You can now bring most phones to Google Fi!
Check to see if your phone is supported to get all of the amazing benefits.
I like Google Fi because it's flexible and affordable, and it even works in places that many people would consider to be off-the-beaten-path countries. It's about 25 USD for a phone and text plan and 10 USD per GB that we use.
Most of the time, I'm on WiFi in a coworking space and we don't end up using that much data.
Local SIM cards are almost always cheaper. I like to have Google Fi to help navigate a new destination for a few days.
I'll switch to a local SIM if I know that I'm going to be using a lot of data.
When Becca and I were in Taipei, we got a local SIM and tethered off of it to do work in our Airbnb because the WiFi was a little slow at times.
This goes along with a general recommendation of researching WiFi speeds, one of our best tips for remote work during travel.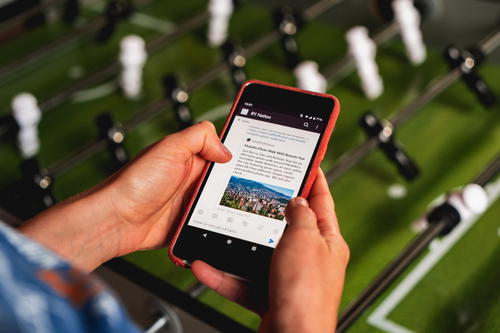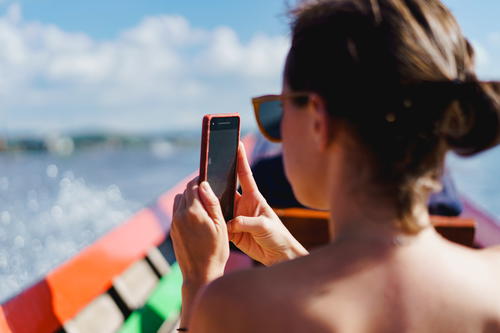 Get set up with a bank that reimburse foreign ATM and transaction fees
You'll want to take out cash, obviously, but might not want to always pay the ATM fees that go along with taking our money. It's the worst when you have to take our large amounts of money because you're trying to justify the fee for the ATM.
I use checking accounts from Fidelity and Charles Schwab bank. They both offer excellent checking accounts that reimburse all ATM fees domestically and internationally.
It's been a lifesaver to pull out the equivalent of 10 USD to pay for a cab or something here and there without having to pay 3 USD in ATM fees.
Get a credit card with no foreign transaction fees
We often get asked about our moey advice for trips abroad.
For credit cards, I use the United Explorer card, which doesn't have any foreign transaction fees. It also has a nice sign-up bonus, Global Entry reimbursement and many more great benefits.
We typically like using credit as much as we can while we're away. We've found that we get the best conversion rates and don't need to take out too much cash if we're using credit often.
Typically, the best credit cards for getting no transaction fees might be travel credit cards that come with a fee. But, in exchange for that fee, you're probably going to get nice benefits like 3x points or miles on travel purchases and things like that! You can see more in our guide about travel hacking with travel credit cards.
If you use a point of sale machine, make sure to use their local currency. Let your bank do the conversion and not the point of sale device!
Create a travel first aid kit with products you trust
As much as Becca and I try to not get sick while we travel, it happens.
When we go away for a while, we share a travel first aid kit that has a few trusty items from home: Band-Aids, travel packets of Advil tablets, a travel-sized Neosporin, travel-sized Vaseline, a small bottle of travel illness pills and some sheets of Benadryl/antihistamines.
These things have come in very handy, especially if we're traveling in a place where pharmacies are closed on Sundays, for example.
It's also good to have products you know and trust in case you cannot read the language in the country where you're traveling. Our travel-sized first aid kit has gotten us pretty far.
As a bonus tip, you can bulk up your emergency travel kit while you're abroad. Did you know that lots of medications are tons cheaper outside the US?
Maybe you've realized this by now, but in case you haven't, try grabbing antihistamines, antidiarrheals or other types of medications that are sold by local pharmacies in different parts of the world and you'll see how affordable the prices are.
Your travel-sized health kit should only take up the size of two decks of playing cards. If it's any bigger, it will start to feel in the way.
Remember that you can usually get help to buy medicine while you're abroad, but in case you're in a remote location like on a hike, take enough with you so that you're set and not regretting bringing more medication along.
---
If you're looking for more specific travel gear suggestions, make sure to check out our list of the best travel accessories to see what we use on all our trips.
Enjoyed our article?
Consider supporting us! We're a 2-person team (learn more about us here) and your support enables us to create quality content. Thank you!