24 Tips for Traveling as a Vegetarian (And Vegan)
Written by Becca
•
Updated on September 17th, 2023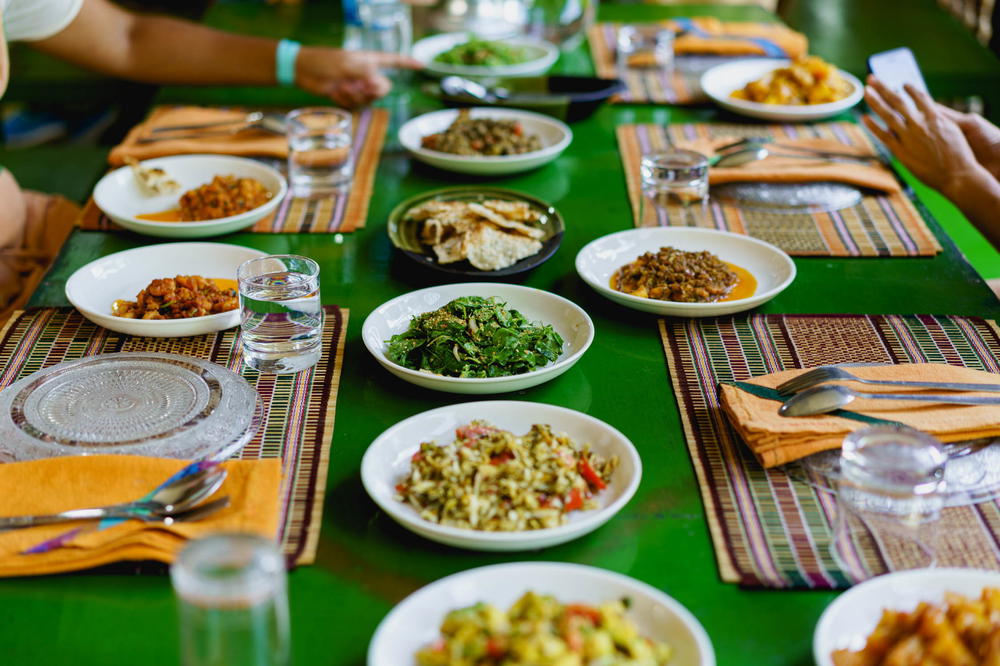 Let's talk about how to eat vegetarian or vegan while traveling! Here are our best vegetarian and vegan tips and tricks for beginners, along with plant-based travel snacks.
This article may contain affiliate links. We earn a small commissions when you purchase via those links — and it's free for you. It's only us (Becca & Dan) working on this website, so we value your support! Read our privacy policy and learn more about us.
Between the two of us, we have an interesting set of dietary restrictions. Dan keeps vegetarian (and sometimes vegan) and I can't eat gluten, dairy or soy, due to allergies and intolerances.
The food that we eat has never been a limiting factor in the places that we choose to travel. In fact, it's led to more authentic and unique experiences, all over the world on five continents.
For context into some of our tips, here are a few tidbits into our style and relationship with food.
We love cooking, and we enjoy cooking with local ingredients while we travel.
Because I am gluten-free and don't eat dairy or soy, I'll resort to eating meat, fish and seafood, even if my ideal diet is plant-based.
Dan is mostly a vegetarian (but technically a pescatarian) and eats dairy, eggs and fish (on occasion).
We're okay knowing that meat or animal products are used to cook some types of food that we eat. (Sometimes we try to forget about it)
I kept vegetarian for a whole year in China, and when I came back home, tried veganism!
We have learned how to travel extensively and be able to talk about what we wish to eat and not eat (whether for preference, or allergen safety).
Here are our favorite tips for traveling with our vegetarian and vegan preferences!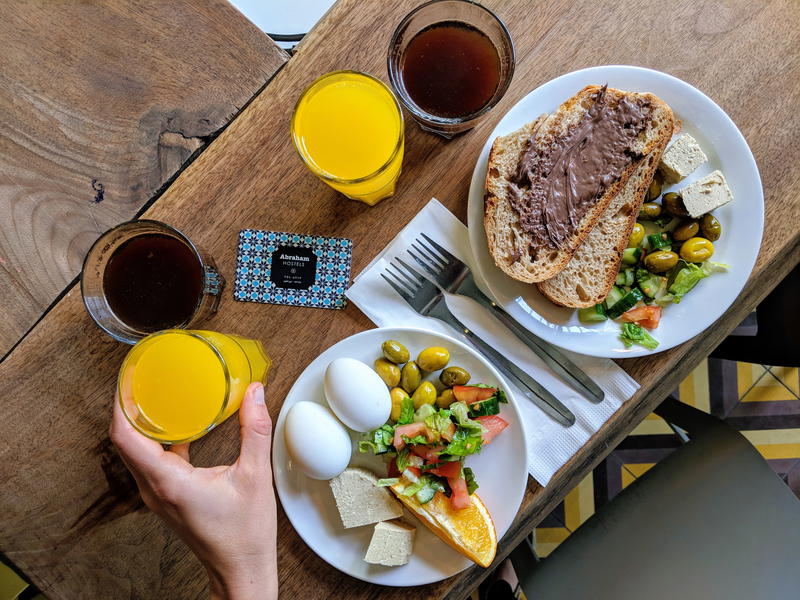 Pack snacks that you know and trust
Things happen during travel, and having your own snacks is the best way to control a situation in your favor. We've both been known to take out our snack bars when we're on a long-haul bus ride, a flight that doesn't serve food or when we're out for the day and plant-based snacks are hard to come by.
When we travel, a few things go into our backpacks right before we leave home:
Lara Bars
Lara Bars have been a favorite of mine for ages! They're always vegan and are a good source of fiber and fruit.
GoMacro Bars
GoMacro Bars are a nutrient-dense bar that I like to take on trips for being filling, gluten-free and vegan.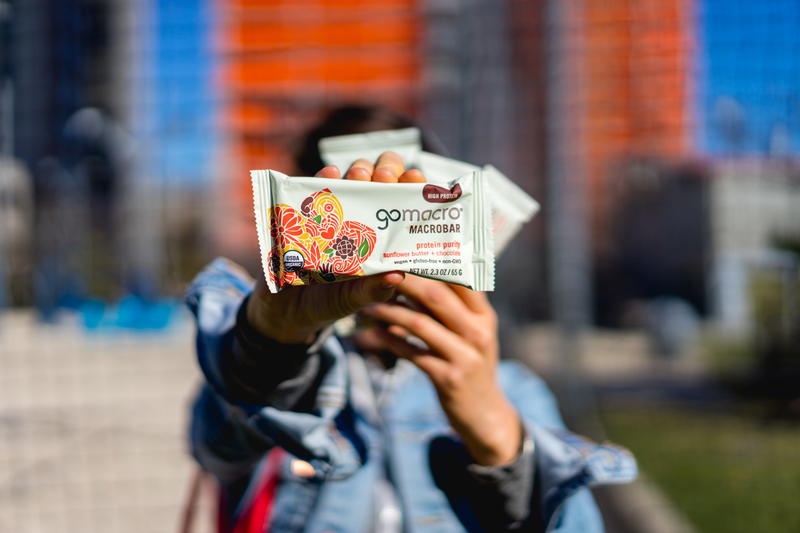 HU products
HU makes some of my hands-down favorite vegan products that fit the paleo diet as well. Their organic vegan non-GMO chocolate bar is unbelievable.
See the rest of our ideas for vegetarian and vegan trip snacks in this helpful list.
Learn a few key words in a different language
If you are traveling internationally and English is not a common language in your destination, it's great to learn a few key phrases that'll help explain your diet.
The words for "vegetarian," "vegan," "no meat" and "eggs" or "butter" will help double check that what you ordered is what you can expect.
Check out our handy guide to how to learn a language for travel and you may pick up the words that really make your trip enjoyable.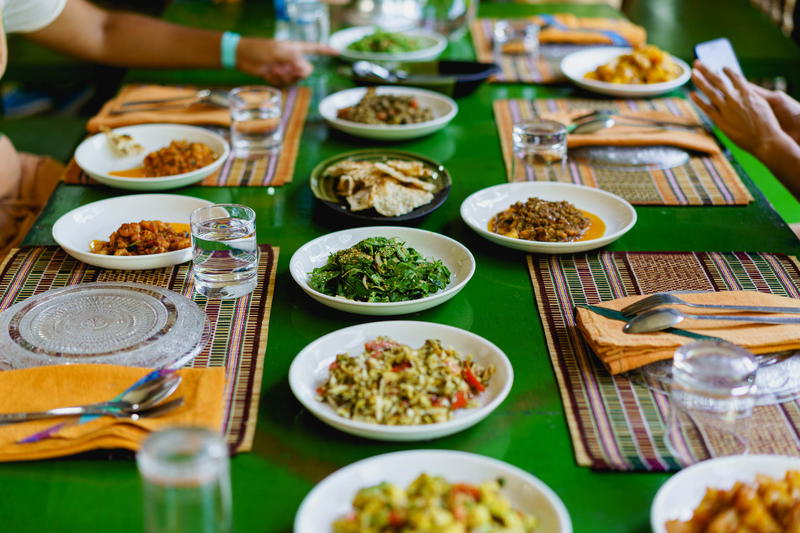 Take a vegetarian or vegan food tour
Yes, there are food tours for vegetarians and vegans! All you have to do is look at your options, and you could be adding on something super special to your trip.
We've taken food tours in Mexico City and in Taipei, Taiwan, and both times, our guides have been incredibly attentive to what we can and cannot eat.
Might we recommend a few more, for your world travels, whether in Mexico City or Vietnam?
Try an authentic veggie-friendly cooking class
One of the coolest things I have done in my travels is take cooking classes! I have done this in Thailand, Peru and Myanmar.
Taking a cooking class is beneficial for a few reasons when you're traveling as a vegetarian or vegan. First, you can get an insight into the real way food is made in a culture, and you can see the ingredients granularly. For example, in my cooking class in Chiang Mai, Thailand, years upon years ago, I'll never forget that I learned what "galangal" was!
In Myanmar, we took a cooking class outside Inle Lake and it was an incredible opportunity to discuss our eating preferences with the teachers. They made the experience great for us, making sure to educate us along the way, and pairing us with other vegetarian travelers so that we could share our creations together.
Prepare translations ahead of time
While I speak Spanish, Chinese and Hebrew enough to express my food preferences (I'm able to say, "I don't eat gluten, dairy and soy" in all three of these!), I do not speak every language. In fact, I had some hard times in places like Myanmar, where I certainly don't speak a lick of Burmese, and we could not say for sure what was in any of the food we wanted to try.
What we did find helpful was asking a local who was fluent in Burmese and English, to help us out. We were incredibly overheated while walking around sightseeing in Yangon, and stopped in a trendy cafe.
While there, we started chatting with a local woman who was studying abroad in England. She spoke perfect English. We decided to take the opportunity to ask if she could write us a note in Burmese that we could show to restaurant staff, in order to ask about what was in the food, and to explain our dietary preferences. It worked out fabulously!
When using this note, which was written (naturally) in perfect fluent Burmese, we really impressed restaurant staff in all the places we ate afterward!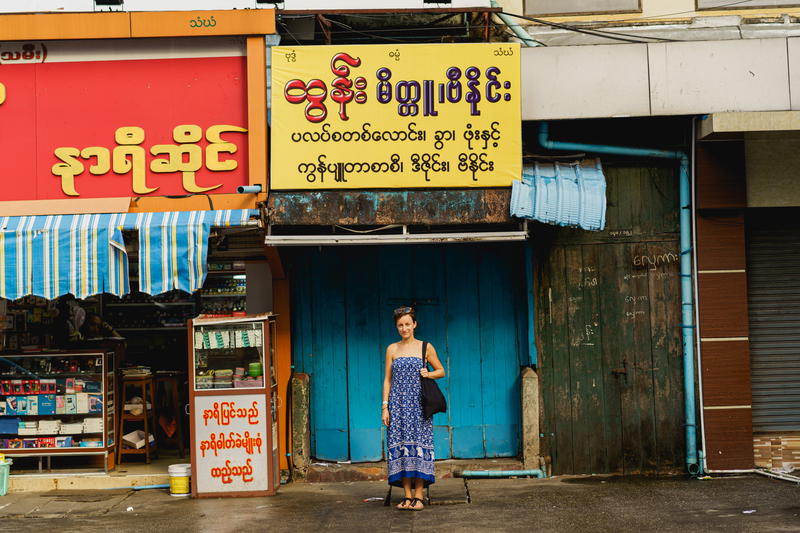 Don't be afraid to say no
The idea of "vegetarian" doesn't always resonate with people, and "vegan" can sometimes carry an undesired stigma.
When Dan and I were traveling in Taiwan, Dan wanted steamed bamboo shoots at a street market. The vendor didn't understand that he only wanted the bamboo, and not the bamboo with the meat.
She wouldn't sell it to us because it was strange to her, and she didn't understand why anyone would possibly want to try the bamboo alone. Instead accepting it and picking around it, we kindly said "no thank you" (in Chinese) and walked away.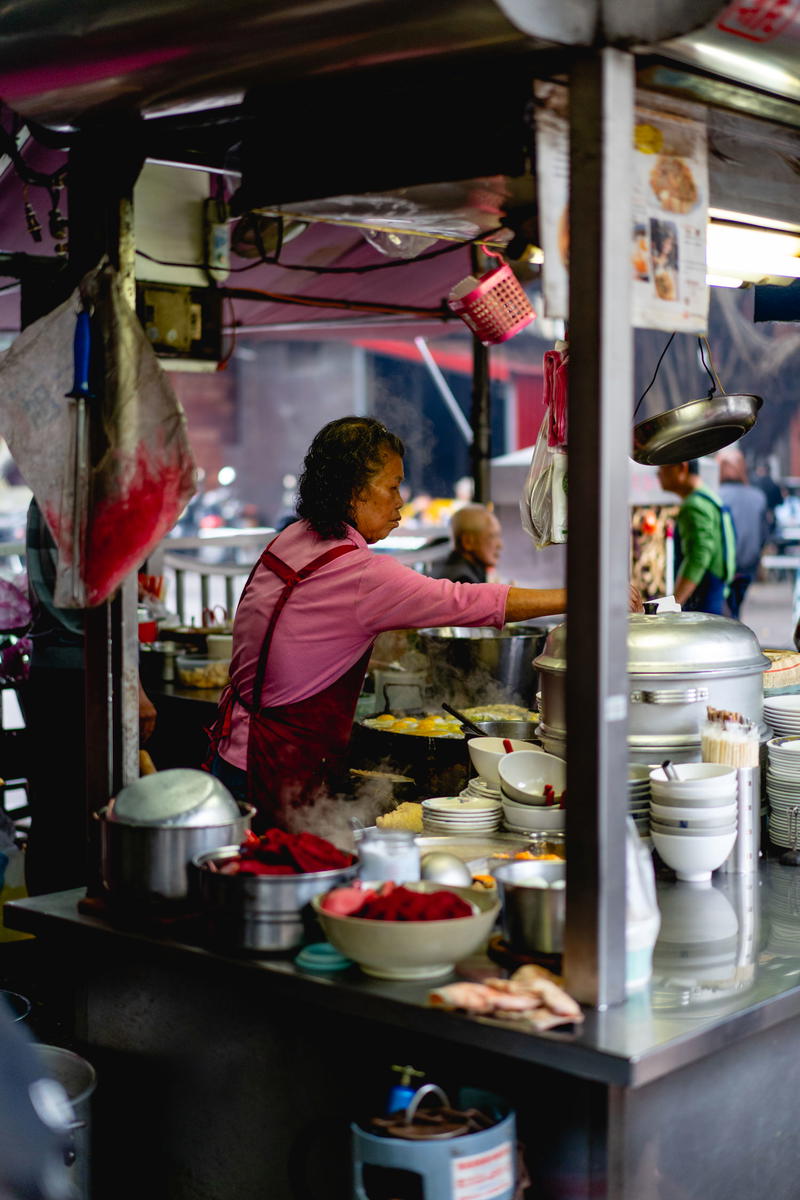 Avoid being rude or arrogant
If someone doesn't understand your dietary restrictions, try to work with them rather than sounding pretentious.
People, especially locals abroad where special plant-based diets may be less common, typically are trying their best and want to help you. If you give someone a hard time, they'll get frustrated as well, and it won't be a good situation.
Research restaurants ahead of time
Pick out a few restaurants ahead of time near where you are staying and near where you plan to do your activities. In recent travels to Mexico City, we starred a bunch of great taco stands that had vegetarian options, in Google Maps (one of our favorite apps for travel).
In Antigua, Guatemala, I came very prepared with research, and sought out a veggie-friendly ecolodge with views of volcanoes. You can learn about that in my guide to day trips from Antigua!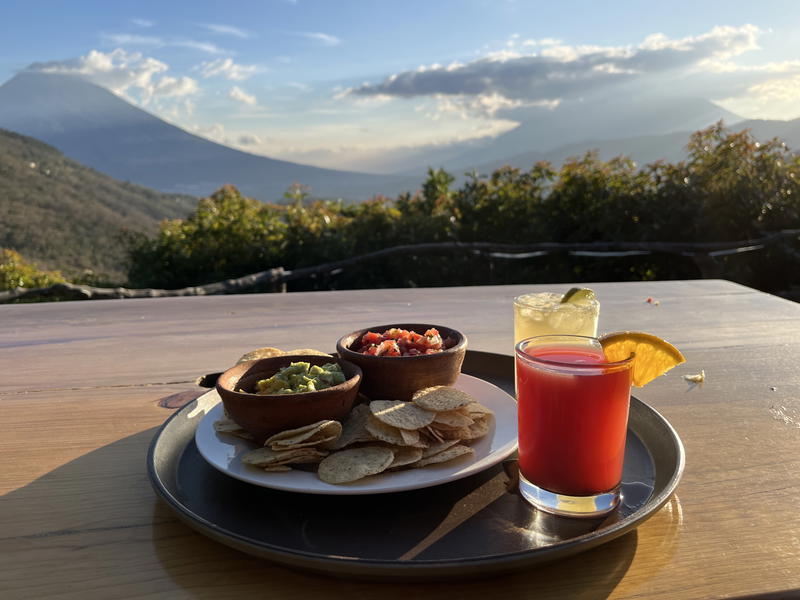 Travel to vegetarian- and vegan-friendly destinations
If you're wondering whether or not some countries are better than others for vegetarian and vegan travel, we have an answer for this!
In our experience, we've pinned down the best countries for vegetarians and vegans. What comes to mind immediately are places like Israel, the Netherlands, Thailand and India. What becomes a bit more tricky are countries like China, Argentina and some of Central Europe.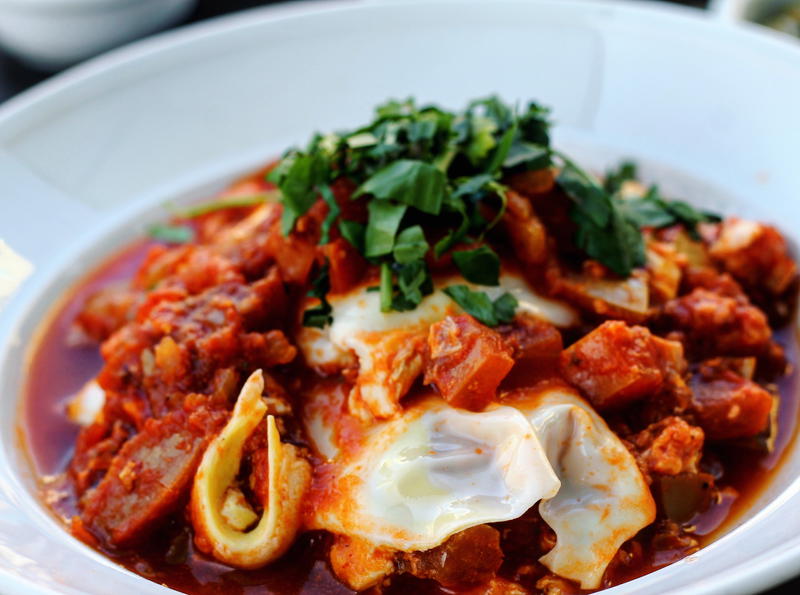 There are two ways to think about the most vegetarian- and vegan-friendly destinations. There are countries that innately use more fresh vegetables, eggs, fish and tofu in their cuisines (think coastal places, Buddhist parts of Asia and the Mediterranean diet).
The second point is places with a Western influence, or with recent developments in health food shops, plant-based restaurants and other places that cater to travelers, maybe even owned by expats or foreigners. We've eaten lovely plant-based cuisine in Mexico, Colombia, Vietnam and South Africa.
Be OK with eating non-local cuisine
As per the above, do give yourself a bit of leeway in terms of deviating from the local cuisine in a country.
For example, in Barcelona, we were seeing a lot of tapas restaurants that served pork, seafood and other meat-based delicacies that locals and tourists tend to love and devour.
But, we wanted food that fit our diets! We hunted around, and came up with a few places for Mexican food, and also Italian food.
It's OK to not always be eating Spanish food while in Spain, and Argentine food when in Argentina. If you are still having a good time on your trip, that is what matters.
Learn what you can and can't have
When we travel in Mexico, we're aware that tortillas are usually made with animal products (to be honest, we really try to forget about it, even to this day). For us and our comfort level, that is okay, because it's so hard to avoid tortillas in good and authentic Mexican food. It's a choice we make.
Dan personally tries to not eat any poultry or meat product and keep a standard vegetarian diet, eating eggs and fish. While it's not ideal, tortillas are OK in this situation and it's kind of unavoidable if you go out to eat, in Mexico.
Helpful Tip
A helpful tip is eating at any of the new array of vegan Mexican restaurants in the Condesa and Roma areas of Mexico City. We specifically recommend a place called Veguisima, which has an unbelievable 100% plant-based menu.
Dan is also okay with fish, so fish and fish sauce work with his beliefs. We know that in Asian culture, fish sauce is a big part of how food is made (and an unfortunate (for us) side note is that so is shrimp paste, by the way).
As a vegetarian or vegan traveler, here's what we recommend:
Before you travel somewhere, understand what goes into the food that you will be eating. And, understand when and if you can ask for substitutes. It's also recommended to be cognizant of dishes that may be pre-made and that may contain ingredients like lard, fish sauce or shrimp paste (for both vegetarians and vegans).
For vegans, it's often okay to ask if something is made with butter. You can typically substitute oil instead. We know this from experience because I stay away from dairy products completely, and whenever I order eggs, I specifically ask for them to be made with oil (any kind), rather than butter or ghee!
Opt for staying in a place with a kitchen
When we travel, we often weigh the pros and cons among staying in an Airbnb, hotel and hostel. For many of our trips, we've opted for an Airbnb, especially when traveling long-term, because a true home or apartment feels more authentic and homey.
Make sure your airline preference is marked as vegetarian or vegan
Getting your airline meal right means the start of a great trip! For us, we've experimented with lots of "special" airline meals. You'll have this option if you book a long-haul or international flight, typically. These days, domestic flights and flights on budget carriers will not offer a meal option included with your flight purchase.
If you are feeling lucky, try any of these new and interesting vegetarian or vegan-friendly choices if your airline provides them:
Asian Vegetarian Meal: Vegetarian meal (Indian-style) that will probably include dairy products.
Raw Vegetarian Meal: A vegan meal that consists of only raw fruits and vegetables.
Vegan-Vegetarian Meal: A standard meal free of animal products
Vegetarian Jain Meal: A meal to Jain standards that does not contain animal products and by-products.
Vegetarian Lacto Ovo Meal: Vegetarian with dairy and eggs (no meat).
VOML/Vegetarian Oriental Meal: A meal cooked with Chinese methods (typically) that contains no animal products, no eggs and no dairy.
Check HappyCow
I was introduced to HappyCow when I traveled in Nicaragua with my vegan friend Joe! Before I arrived, he introduced me to HappyCow and we looked for restaurant ideas together in Leon, Granada and San Juan del Sur, Nicaragua.
You can use HappyCow as your vegan and vegetarian guide for dining around the world. For example, if you are planning your trip to Medellin, Colombia, search "HappyCow + Medellin" and you'll get these results.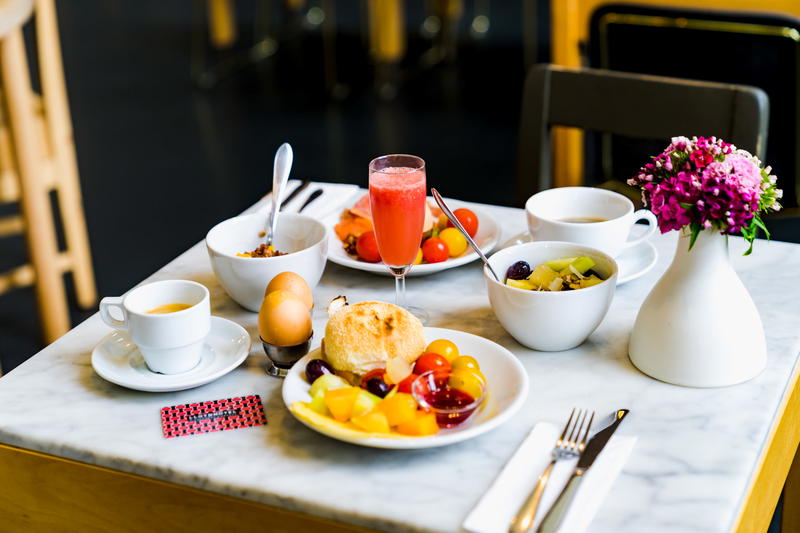 Accept that you may eat at the same restaurant multiple times
If you find something you like, and it meets your culinary preference requirements, there is nothing wrong with going back to a restaurant twice. Or three times.
You'll know what you can expect, and you won't have to start from scratch by explaining your list of requirements to a place that may get them wildly wrong.
We did this in Barcelona, when we found out that I could eat the arepas at an arepa place near El Born. We went back two times … or was it three?
On a trip in the NY area to Livingston Manor in the Catskills recently, only several restaurants were open on Monday, Tuesday and Wednesday. Given the small number of choices we had, we acknowledged that depending on the menus, we could potentially be eating at the same restaurant two days in a row.
Talk to your accommodation staff about recommendations
Ask your Airbnb host or hotel concierge about local restaurants or markets that may cater to vegetarians. The worst case scenario is they won't know what to tell you, but the best case scenario is that they may know about a hidden gem like a vegan cafe nearby.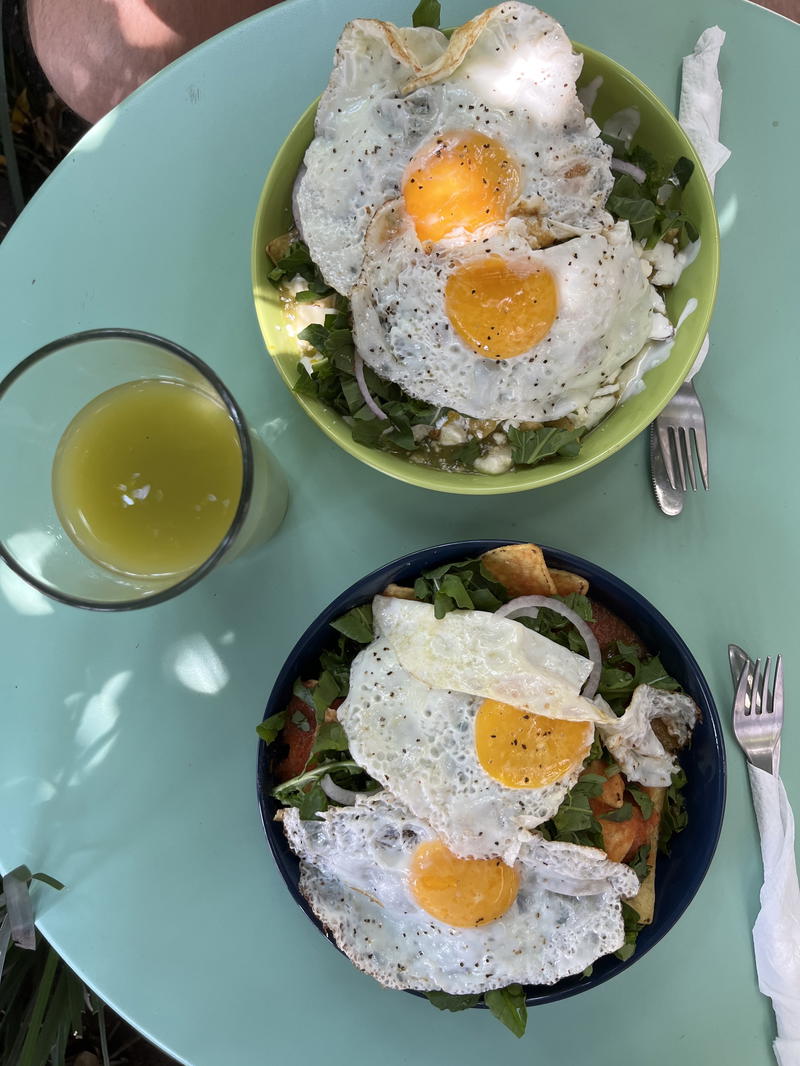 Look for kosher-style, Hindu or Buddhist restaurants
When traveling globally, seek out eateries that follow religious guidelines, and you may be surprised. For example, for vegans - did you know that Kosher eateries will be either meat, or dairy?
A "meat" restaurant will not use ANY dairy products, so ordering something like a vegetable dish is sure to not have butter. Similarly, for vegetarians, a "Dairy" kosher restaurant will never have meat on premises — nowhere in the kitchen, because it's not allowed! — making vegetarian dining very simple.
For Hindu restaurants, you'll see less red meat, and at Buddhist restaurants, you may see completely vegan or very vegetarian-friendly menu items.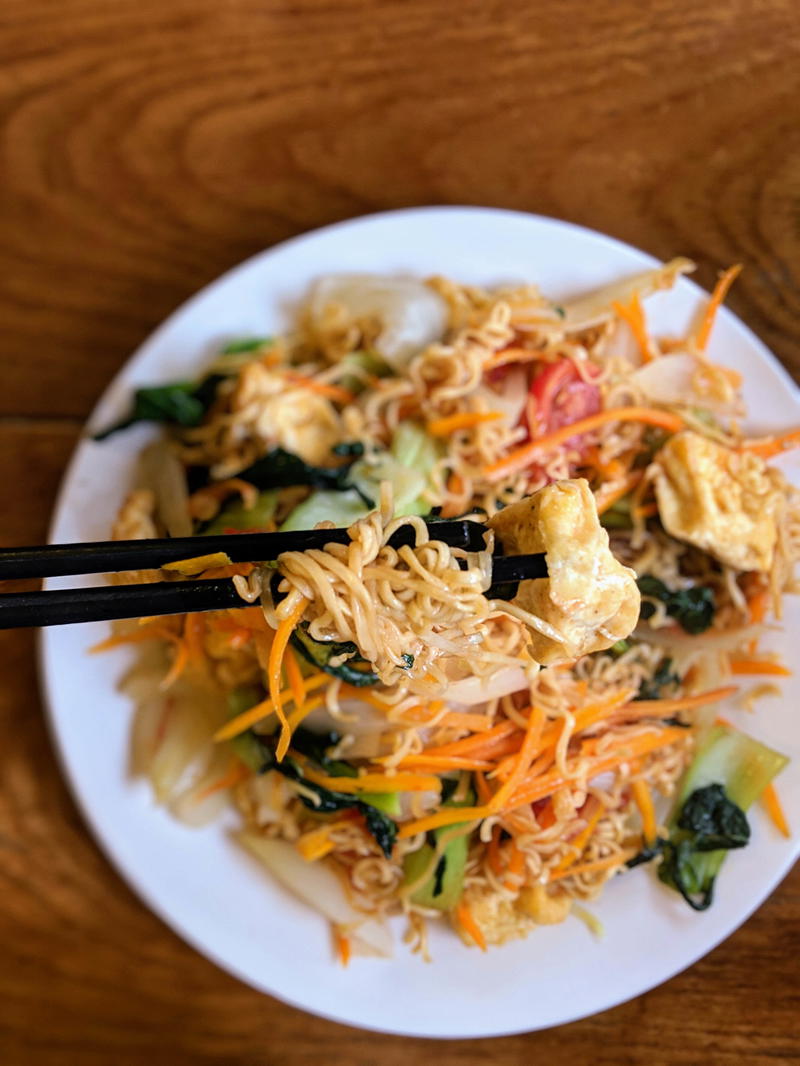 Seek out buffet-style eateries
Try buffets, and you could be surprised with the variety of things to eat, even in a cuisine with which you are not familiar!
You can feel OK with loading up on vegetarian-friendly food, whereas some restaurants may only have a boring side salad or side of fruit that won't be substantial enough for an entire meal.
Shop local
When we were in Lisbon, Dan got bread from a bakery, local vegetables and eggs from a small shop and some local cheese. He put together a sandwich with these ingredients and solved the issue of a lack of vegetarian
On our road trip in Portugal, we kept sandwich materials in our truck for a week and made food along our road trip stops.
We also learned this trick from when Dan traveled in Iceland!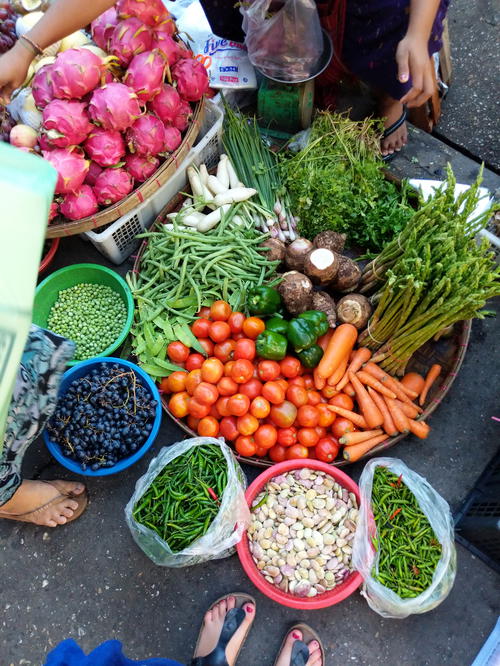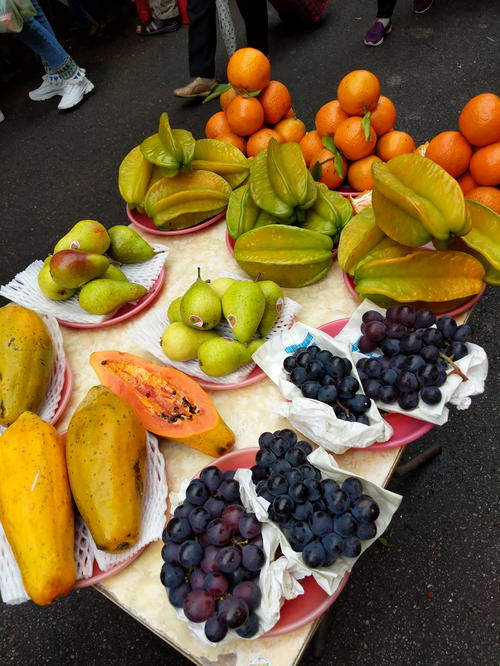 Have a backup plan for worst-case scenarios
There will always be a time when you're out to dinner with a group, or it's late at night and few restaurants are open, and you've got nothing veggie-friendly to eat.
What do you do?
It's times like these when I do one of three things:
Keep on trying. Look for whatever is open, and see if they have any menu items that could be abridged to become vegetarian, or vegan, or put together several side dishes to form a meal.
Use Google Maps to track down a supermarket or convenience store. If you find a supermarket, you can pick up fresh foods and put together a haphazard meal, knowing that this'll be a one-off. If convenience stores are the only thing open or available, try to find the healthiest items that serve an assortment of food groups and check your boxes.
Make do with what's happening. Go into the stash of snacks in my luggage, treat myself to a few, and promise myself that I'll get the biggest, most filling veggie-heaven meal the next morning first thing.
I'd say worst-case scenario is probably a bowl of white rice.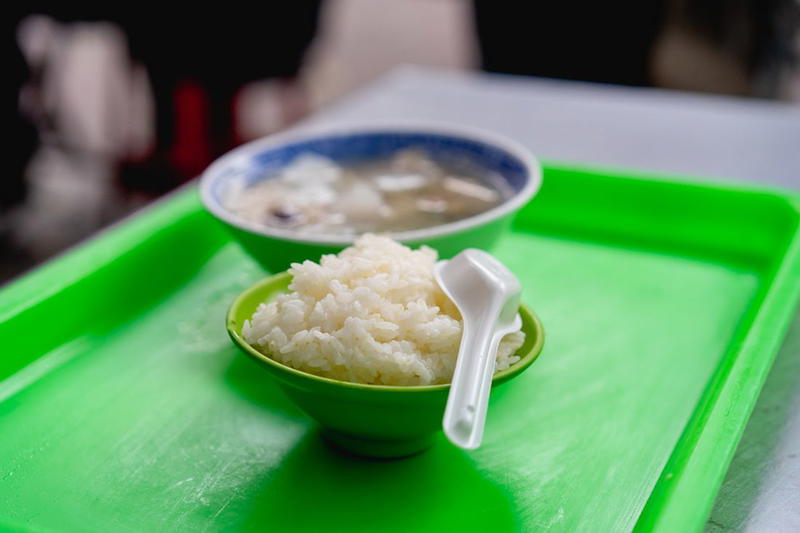 Keep cooking supplies in your backpack or luggage
When we road tripped the Wild Atlantic Way in Ireland, and in the Alentejo in Portugal and in Gran Canaria (Canary Islands), we did what I'd seen backpackers do years ago: we traveled with our own olive oil and spices!
This makes it easy to show up at your next Airbnb and already have your cooking supply of condiments.
Another idea to ensure that your cooking will be sharp, literally. You can travel with some of your own silverware, cutting utensils, grinders, Tupperware, you name it. Take anything along, or buy it along the way, to make cooking, storing and consuming food a breeze while you're on your vegetarian-themed trip.
In our guide to sustainable travel, we talk about a great product called Eco Lunchboxes, which are some of the best non-plastic ood containers for travel that we have found, to date.
Celebrate your small wins
Traveling looks easy, but comes with lots of challenges. If you've traveled a lot, you're well aware of this!
Traveling as a vegetarian or vegan is next-level. Therefore, celebrate all your successes as a plant-based eater or as someone on a diet that excludes meat. The world is a BIG place, and there are so many foods out there. If you're doing your best to sticking to your food preferences and your beliefs, then you're doing an amazing job.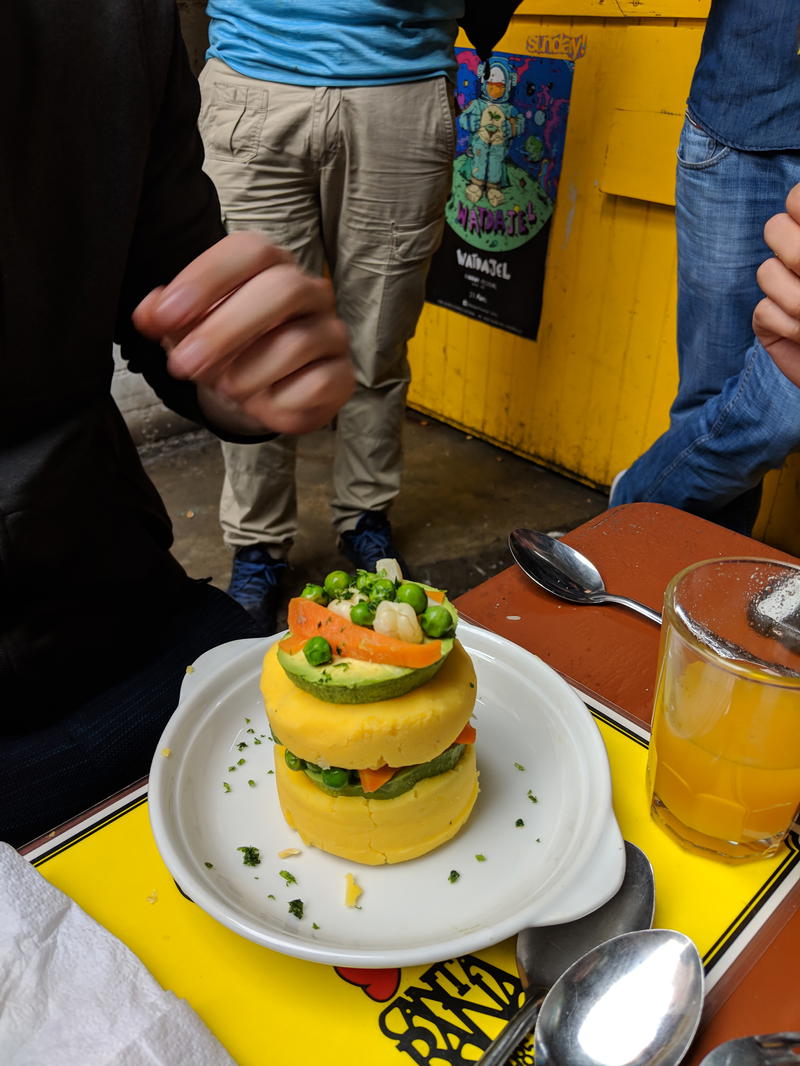 Take home a few plant-based goodies
What would a trip be if you didn't take home some of the delicious vegetarian or vegan treats you find that are non-perishable and will go swimmingly through customs upon your return?
Wow, do I just love taking coffee back from Colombia, or guava paste candies from Ecuador, or tea from Sri Lanka, home to my kitchen. I'd also be lying if I didn't say that I took an entire pack of corn tostadas home from Mexico (check the ingredients on the package!).
Share your advice when your trip is done
Share your wins, and your best tips and tricks when you get home, especially for other vegetarian friends who plan to travel where you went.
This goes for simple tricks like "ask if there's fish sauce in the curry" to giving a whole list of vegan restaurant recommendations for Antigua, Guatemala.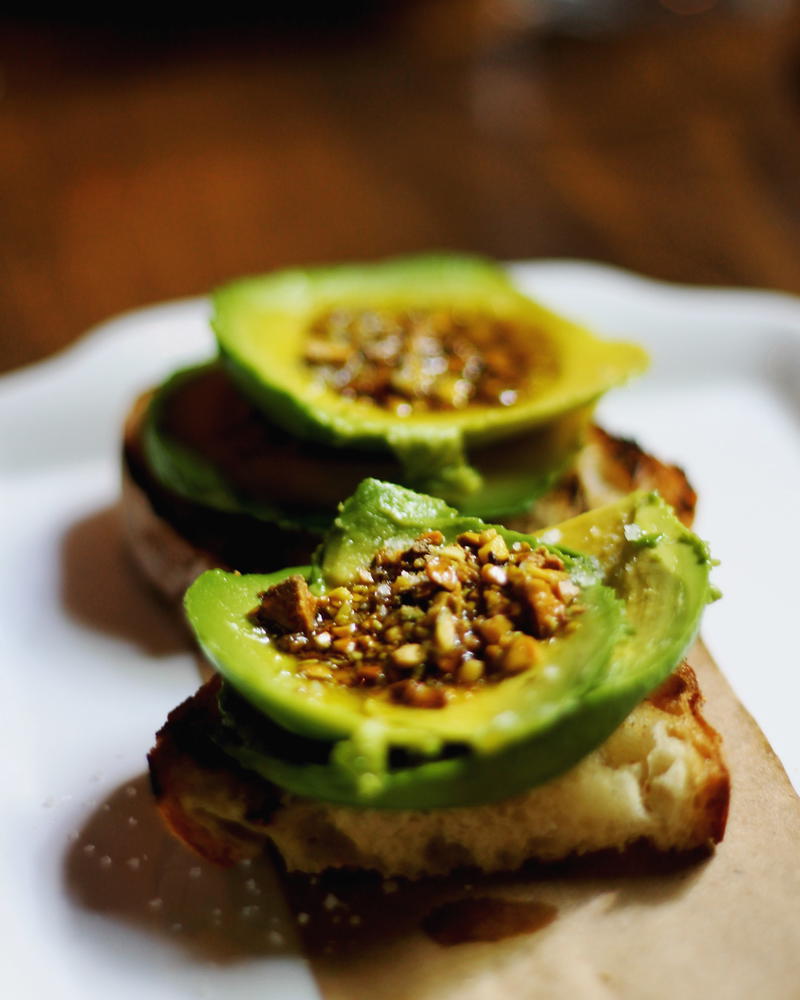 Enjoyed our article?
Consider supporting us! We're a 2-person team (learn more about us here) and your support enables us to create quality content. Thank you!