Everything You Need to Know About Inle Lake
Written by Becca
•
Updated on September 11th, 2023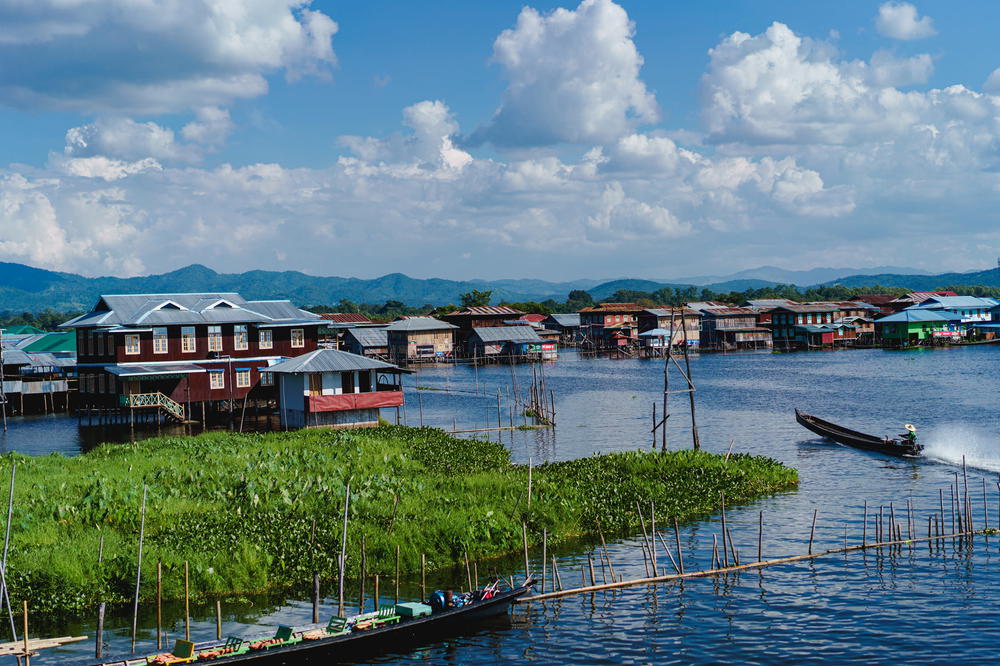 Plan an itinerary for Inle Lake with our best tips and things to do, including how to get around Inle Lake, what to see at Inle Lake and the best activities. See our 2-day, 3-day and 4-day itineraries for planning a trip.
This article may contain affiliate links. We earn a small commissions when you purchase via those links — and it's free for you. It's only us (Becca & Dan) working on this website, so we value your support! Read our privacy policy and learn more about us.
2023 update: Myanmar is still going through a period of civil unrest, according to the US State Dept. at travel.state.gov. Travelers are asked to "reconsider traveling to Myanmar (Burma) due to armed conflict and the risk of wrongful detention of foreigners. The Travel Advisory for Myanmar (Burma) was renewed on July 24, 2023, as "Level 4: Do Not Travel." For more information on this topic as well as developments, please visit the US Dept. of State website.
Congrats! You decided to stop by Inle Lake on your Myanmar trip. You're going to really like this region of the country.
Inle Lake is a beautiful area, where an 11-mile-long lake is framed by soft green mountains. Spending time there is a great way to cool off and chill out after touring through Bagan. Are you ready? See our best tips here.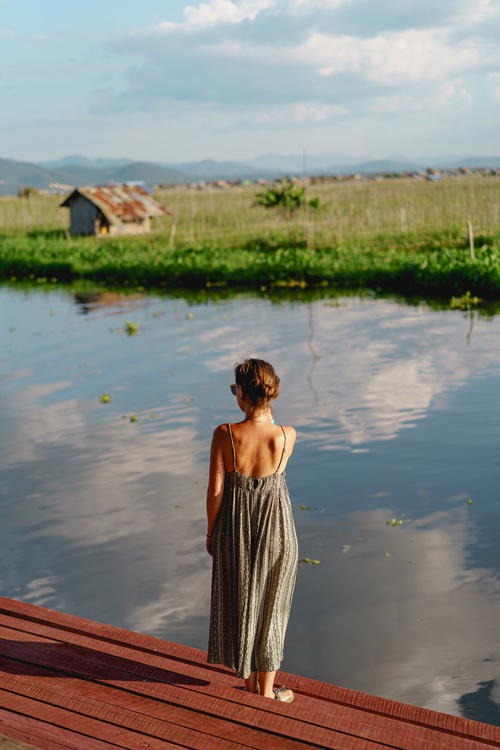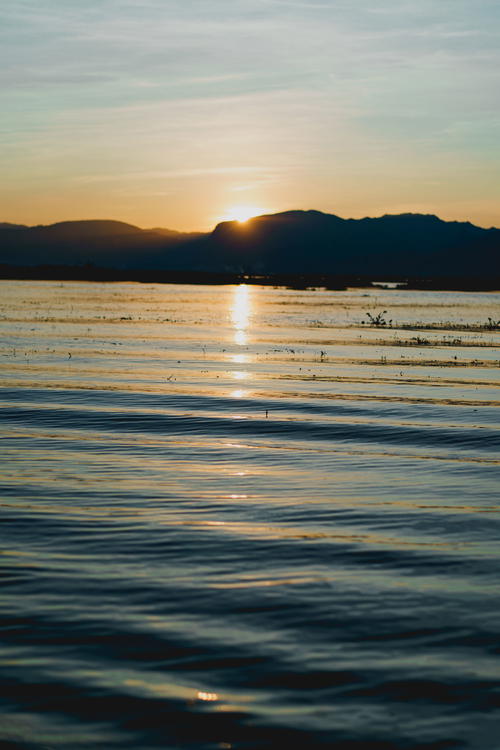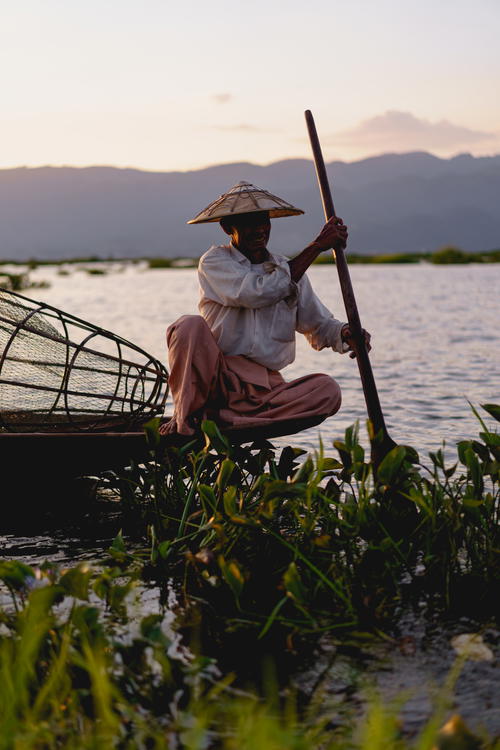 Before you go: Essentials for travel in Myanmar
Where to stay at Inle Lake
It's good to know that most travelers who come to stay at Inle Lake are actually staying in a town called Nyaungshwe (or Nyuang Shwe). This town is located at the very top of the lake, and while it's not the most charming, it's certainly convenient for doing all types of activities and being connected to shopping. We stayed at Baobabed Hostel because we wanted a private room and the things we love about hostels like common areas, ways to meet other travelers and social atmosphere.
If you opt for a hotel on the lake, you can find one at a site like Booking.com. Staying on the lake will get you sunrises and sunsets on your bungalow balcony on the lake, but keep in mind that you'll be less connected to the town and most other activities.
Helpful Tip
Use this Booking.com link to get $25 off your booking for all lake-side hotel properties.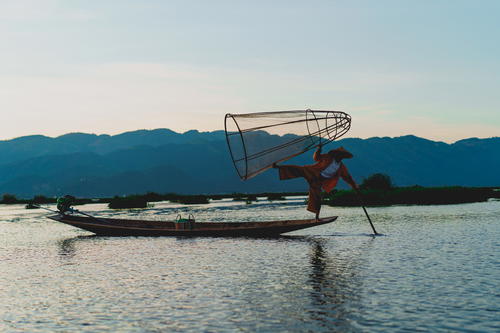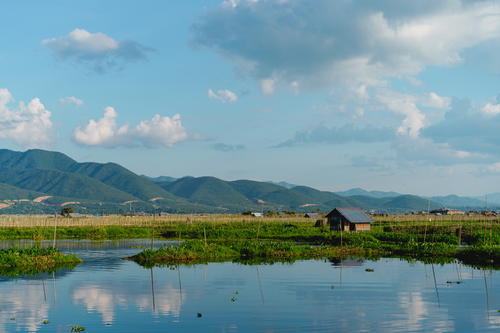 Best things to do at Inle Lake
There's actually more to do at Inle Lake than seeing the lake. Make sure your time at Inle Lake is varied by picking some of these activities.
Stay at a hostel with a rooftop in Nyaungshwe
When you're deciding on accommodation for your trip, consider the added extras that will be great to wake up to, like rooftop sand pools.
Nyaungshwe is the 'Inle Lake town' where all the travelers stay (unless you choose to stay on a lake-side resort, but we voted against doing that). We stayed at Baobabed Hostel Nyaungshwe, which had a bunch of cool amenities. Our room was new and had a massive bed, like out of a hotel! Breakfast, which is included every day for every guest, is served on the rooftop overlooking various parts of town every morning. There's also a pool table and cafe area for hanging out in the lobby.
Rent a mountain bike and ride to Maing Thauk Bridge
We rented bikes from KKO Mountain Bike Rental (Ko Kyaw Kyaw Oo) on Youne Gyi Road. These bikes were far superior to any others we saw, and we were able to negotiate a rental fee for the two of us for 6 hours. The seats were padded, the bikes worked nicely and we got helmets included. Safety first!
Helpful Tip
We heard mixed reviews from other travelers who tried biking to the hot springs you'll see on the bike map. We heard it was either nice but not overwhelming, or not worth it. We decided to bike only to Maing Thauk and then to the winery.
Bike to Red Mountain Winery
If you start off and bike eastward out of town, follow the map from your hostel or bike rental spot and you'll see a sign after 20 minutes for Red Mountain Winery. Make sure you've passed the one traffic light, and then turn right.
Beware - the entrance to this winery set up on a hilltop and unless your bike has great gears, you'll have to walk your bicycle up the hill. Don't worry, because there's wine (and cold water) in your future!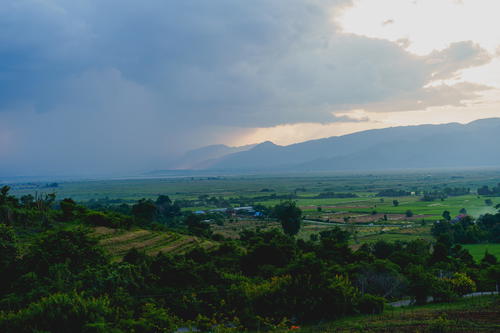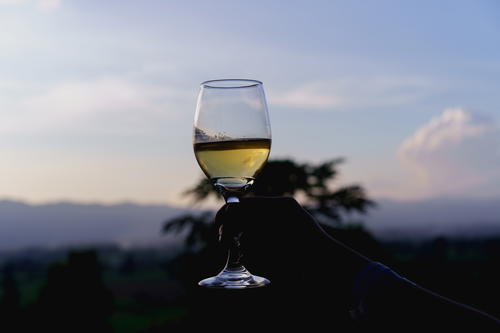 Helpful Tip
While the ride was pretty straightforward, we're glad we had some helpful travel apps for mapping and solid Google Fi cell service in case anything happened while we were out bicycling on rural roads.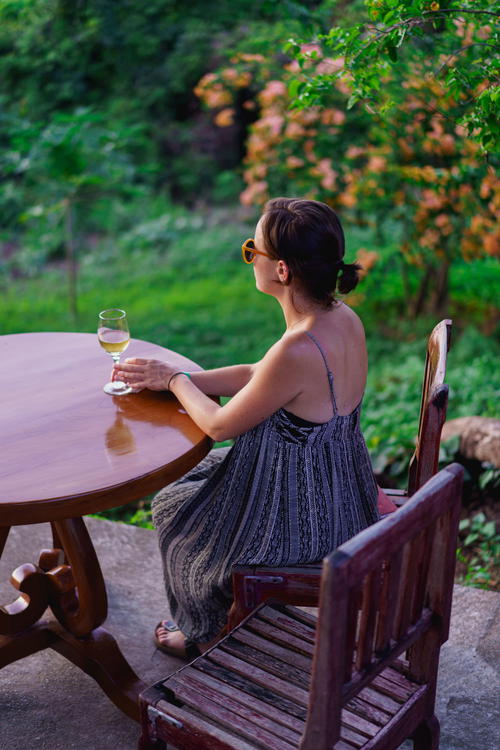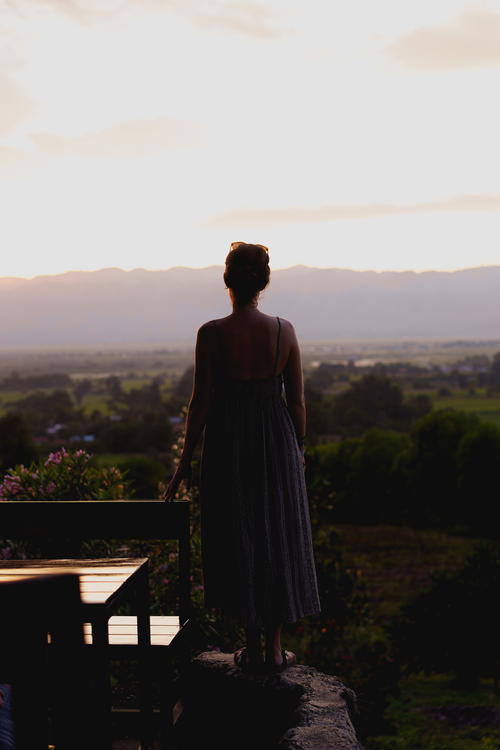 Watch sunset while trying Burmese wine
If the weather is good, try to get to Red Mountain Winery around 4 pm in order to not miss the golden hour. From the top of the winery and restaurant, there is a view toward the lake, of the farms and of the town below. It's really pretty! You can try to take a photo with your wine glass paired with the mountains.
Helpful Tip
Planning to edit photos on the go? Get Adobe Lightroom, which is how we edit all our photos to enhance how they look. You can use the Adobe Lightroom mobile app and then share right after your edit, on social media.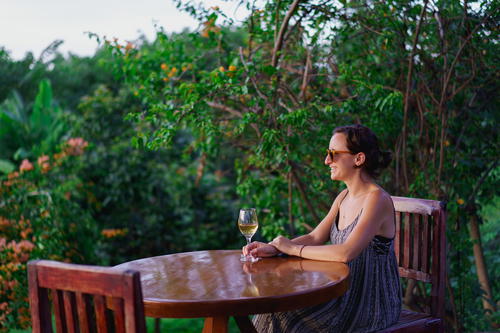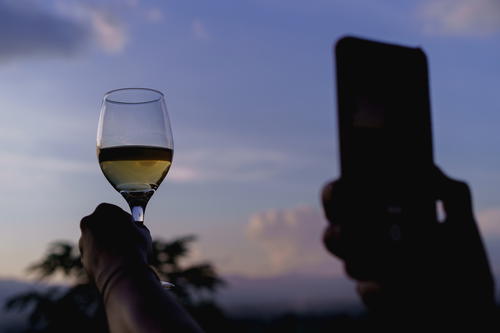 Have a happy hour cocktail at Ostello Bello Rooftop Bar
Ostello Bello Rooftop Bar is the best hostel in the downtown Nyaungshwe area. It's big, has lots of amenities like the rooftop bar and restaurant, free daily breakfast, free maps and helpful staff.
The prices are not high, either. Their happy hour is pretty awesome because you can get a cocktail for 2500 Kyat or a beer for 2000 and watch the sun go down, or enjoy the small-town lights after dark.
Helpful Tip
Bring bug spray, as it can be buggy up there.
Take a full-day boat tour on Inle Lake
The best way to see Inle Lake is undoubtedly with a boat tour. By 'tour,' we don't mean a guided tour with a large group; rather, the only way to get around within the water is by going with a local boat driver. You can either hire one on your own by going down to the piers, or take up offers from anyone who approaches you on the street, or ask your hotel or hostel to help you arrange one.
If your hotel or hostel is able to 'order' you a boat tour via phone and via a trustworthy company, you'll usually get a complimentary pick up from your accommodation that takes you right to the pier from which the boat will leave.
Helpful Tip
Learn your travel language: Our boat driver really liked that we could say hi and thank you in Burmese. See our tips for learning a language for your upcoming international adventure.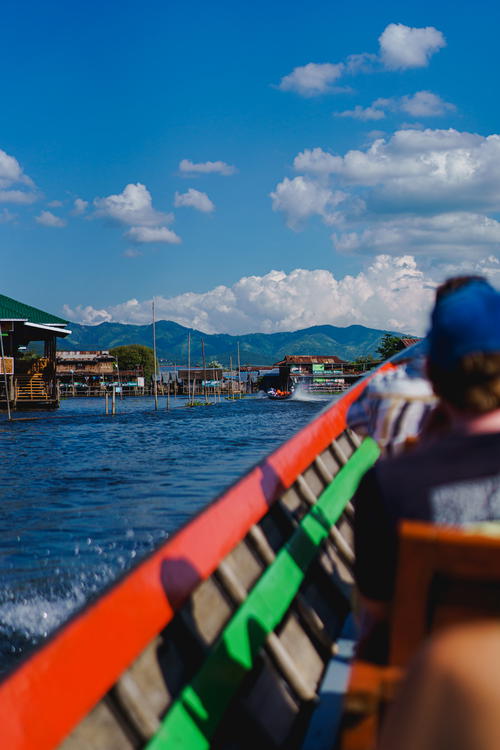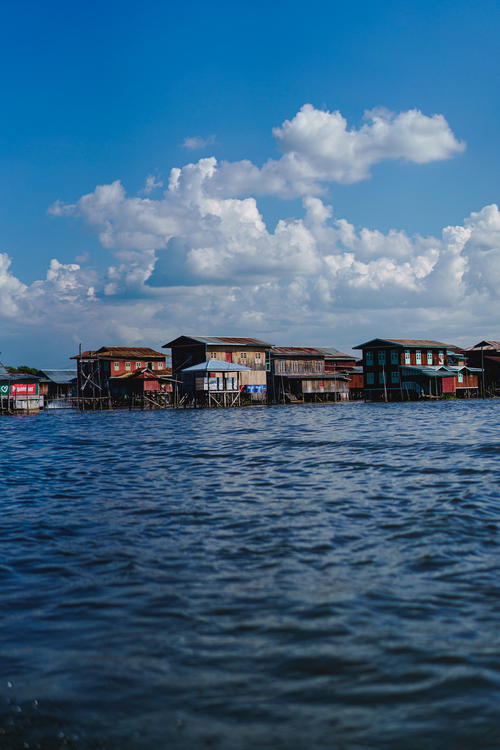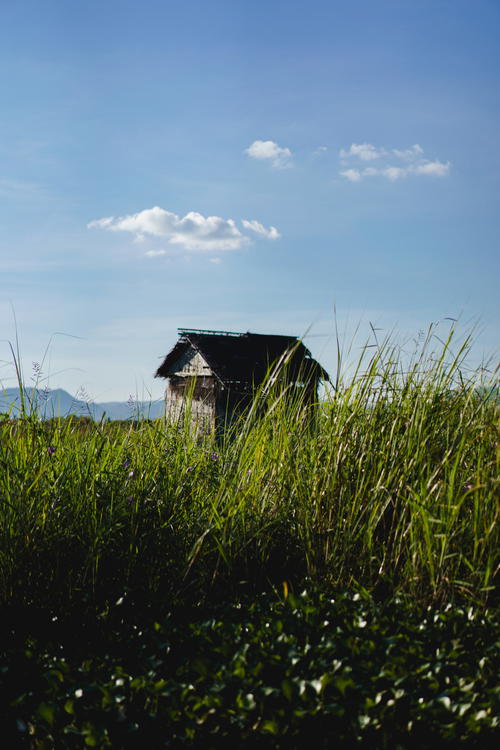 See the dancing fishermen (and always give a tip!)
Rumor has it that the fishermen don't really fish so much anymore because they've found that they can make more money posing for photos and getting tips than actually fishing. We didn't mind, as these men are ready to balance on one foot for you at sunset, making the absolute perfect photo.
Helpful Tip
Make sure you have an appropriate and versatile camera lens for capturing these quick moments.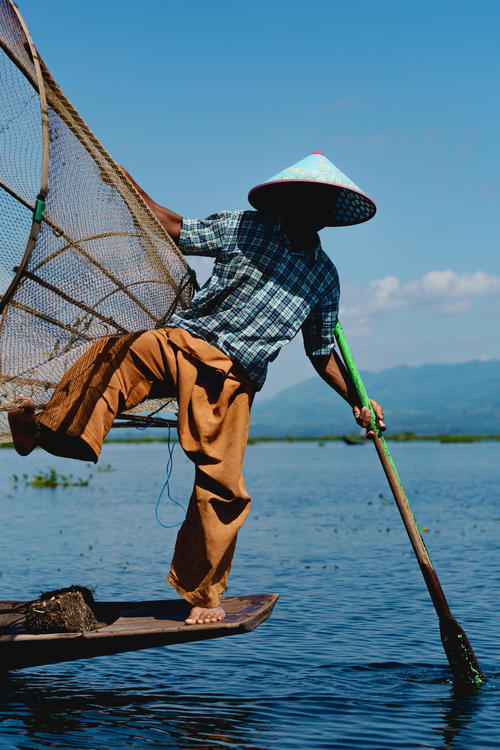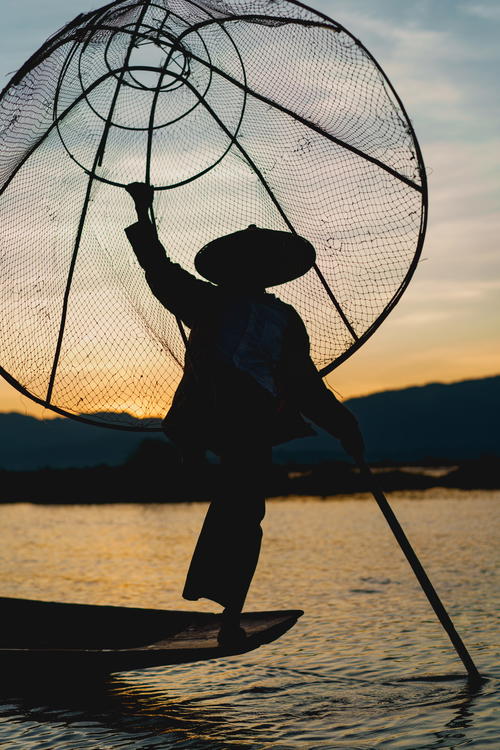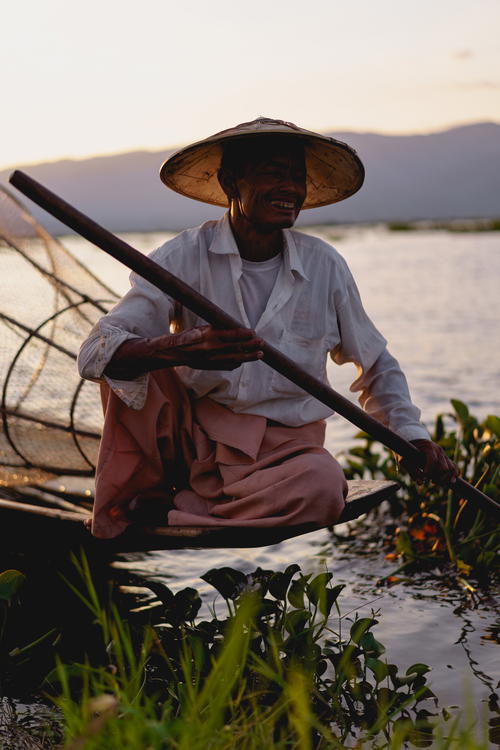 Go to Indein (Inthein)
A standard full-day boat tour, as it will take you to every artisan shop in the area (silversmiths, cigar-making, long-neck women making crafts, lotus weaving and the cat monastery) of Inle Lake. If you want to do something more unique, take a full-day boat tour to Indein. It is also spelled 'Inthein.' Inthein is a village with a massive collection of stupas on a hill. It makes great photos.
Helpful Tip
Be prepared: going to Indein costs more than the standard day-long boat tour because Indein is relatively far. From Inle Lake itself, Indein is located down another river, so the drivers charge a premium. It's worth it!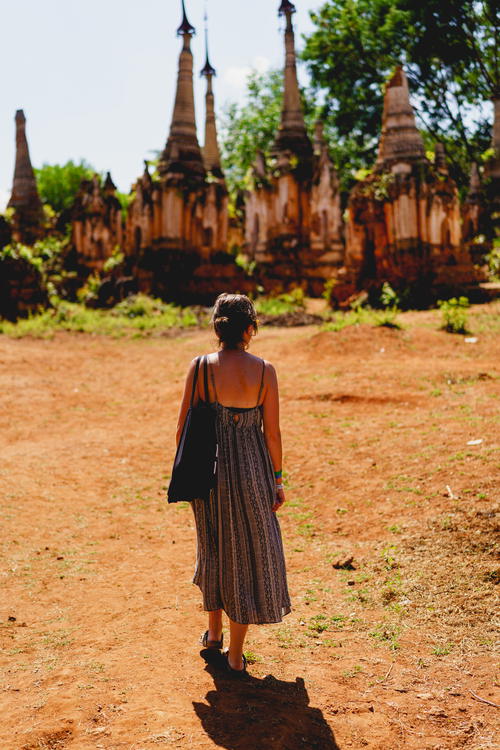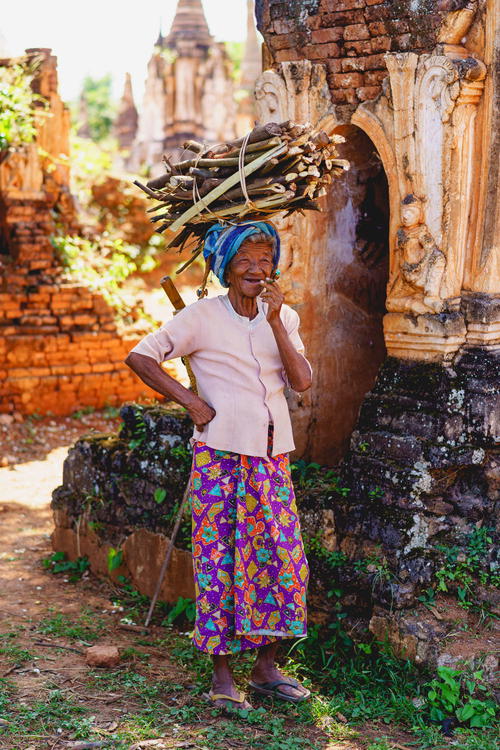 Shop at the Indein Market
When you enter the Indein Market, you might not expect it to go on for what feels like a mile. The Indein Market is a long covered corridor that takes you from the road near the docks all the way to the Indein Temple. In the market, you will find mostly crafts, from flowy dresses and pants, to silver items (hard to say if they're real silver) to bead-work and little Buddhas.
Helpful Tip
You might find that all the vendors are selling the same type of thing after a while so… try to bargain.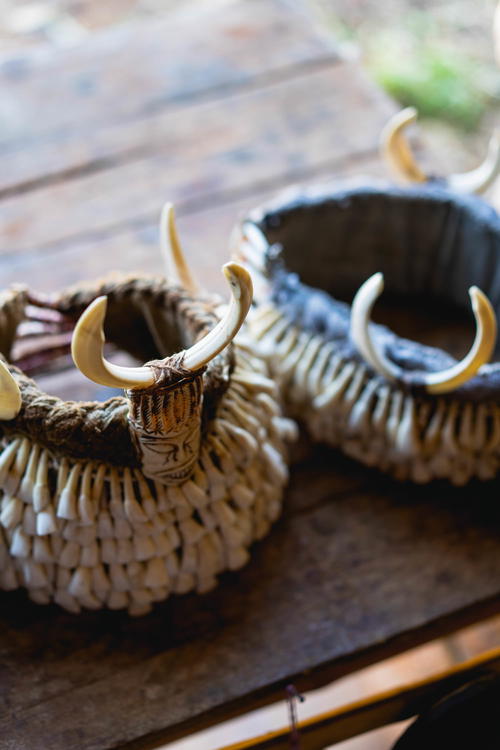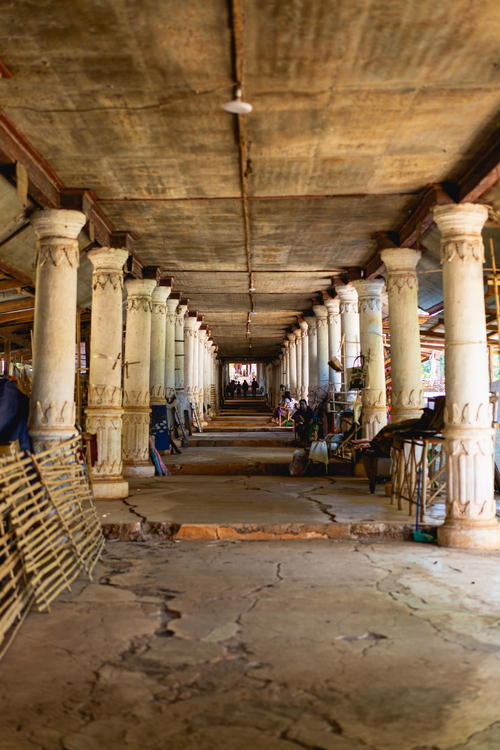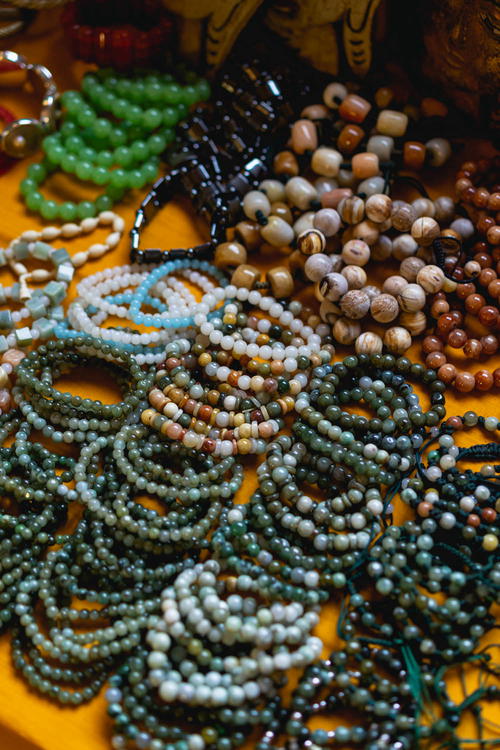 Visit the Shwe Indein Pagoda
The Indein Temple can't be missed! This is where you can walk among the golden stupas, which are arranged in an organized manner next to the temple. You'll probably also see some monks. Inside the temple, remember to take off your shoes (you can leave them outside) and have a shoulder-covering ready in order to be dressed modestly.
We really liked that we kind of had this place to ourselves and avoided the crowds.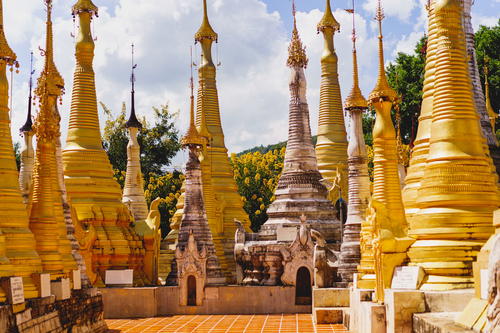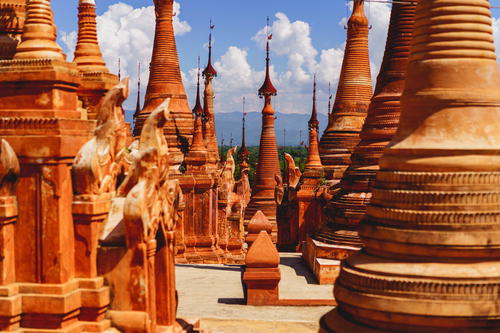 Take photos among the Indein Stupas and Pagodas
There are some stupas that are overgrown and more reminiscent of ruins like Angkor Wat in Cambodia, and as you go up the hill, the stupas are re-made and built new, in gray cement and painted gold.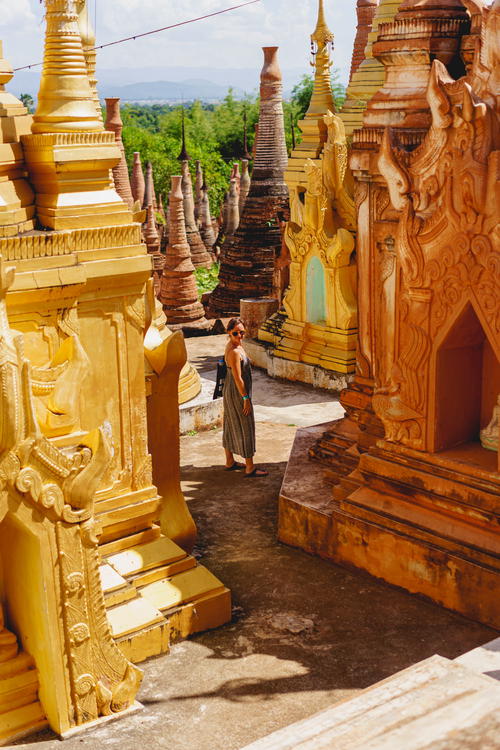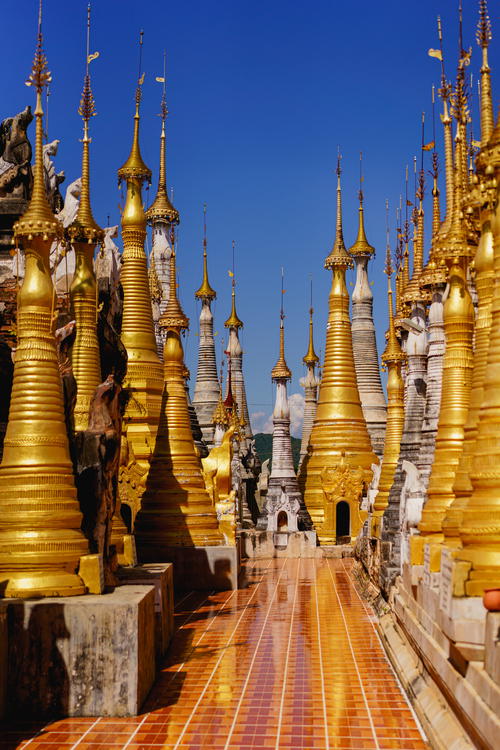 Eat Indian food and listen to Eminem at Inlay Hut
After only one day in Nyaungshwe and the Inle Lake region, we had already heard from multiple backpackers in our hostel that the highlight of their eating experiences so far was eating 'amazing Indian food' at Inlay Hut. We had to see for ourselves, so we went on the later side and got a table.
Sure enough, the guy who owns this place is obsessed with Eminem and speaks perfect English. He has decorated the restaurant with tributes to Eminem and Detroit. The Indian food does happen to be somewhat amazing, and we met people who had gone twice in only a few days because it was so good.
See the Nyaungshwe Night Market
The Nyaungshwe Night Market is a chance to mingle among locals, see vendors selling handicrafts and eat some street food. From skewers to the famed tea leaf salad and other traditional Burmese food from the region, you can find it all here, set up in a big parking lot. Every night, the lot turns into a market and begins around 6 pm.
Take a Burmese cooking class at Bamboo Delight Cooking School (perfect half-day activity)
Our cooking class at Bamboo Delight Cooking School and Restaurant was one of the highlights of our trip to Inle Lake! With a bus departure to Yangon at 5 pm on our last day in the region, we were looking for something fun and worthwhile to do. Luckily, we came across a Burmese cooking class with this cooking school, owned by an awesome couple named Lesly and Sue.
Helpful Tip
This is a great thing to do especially if you're traveling solo, because you'll automatically meet so many people.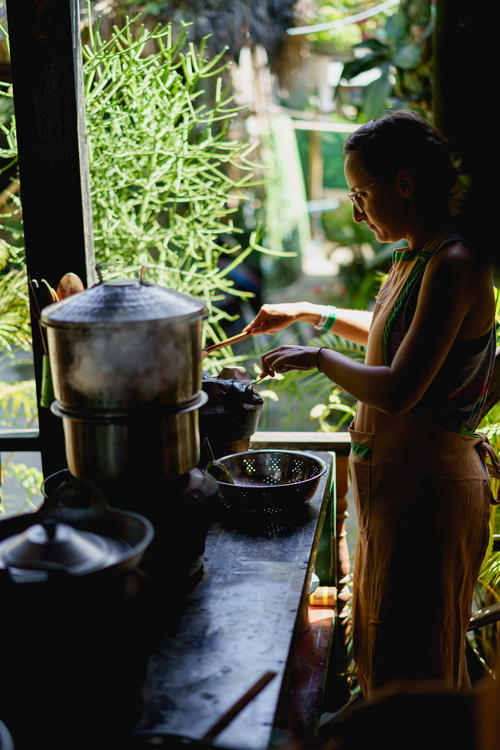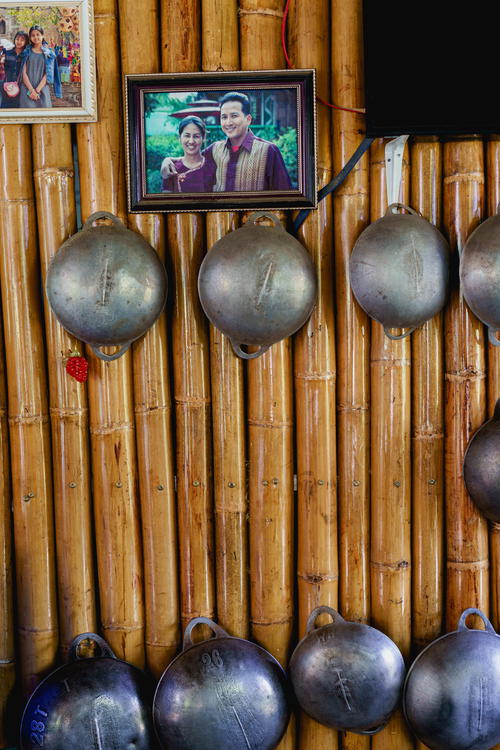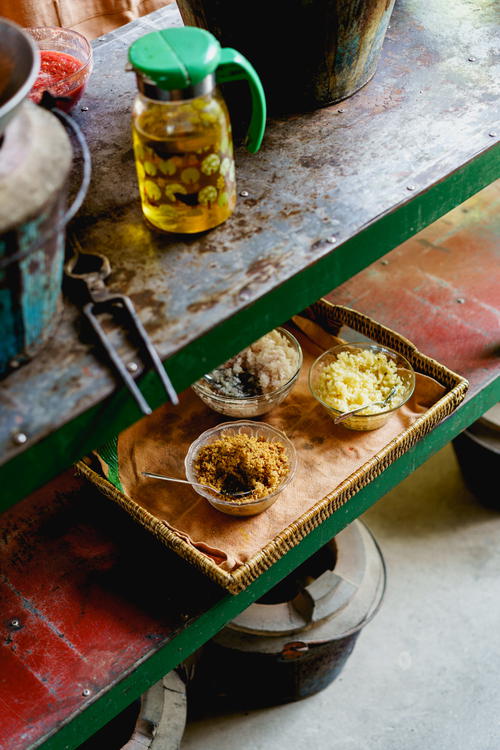 Over the course of four hours, we went through the city market to learn about the local produce, and then we spent the next few hours preparing a delicious Burmese meal as a team with other travelers.
We also learned about Lesly and Sue's amazing story — they opened the cooking school to share their passion of bonding over food with people coming from around the world, and now they give proceeds of profits toward funding a summer school for local children!
Helpful Tip
Lesly and Sue prefer that you book through WhatsApp rather than email so that they can get back to you as quickly as possible. Check the Bamboo Delight Facebook page.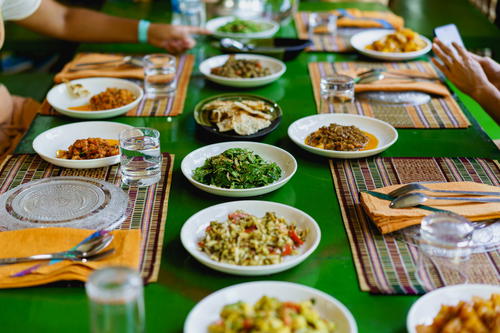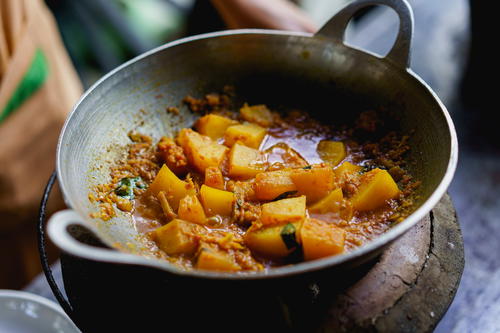 Check out the Mingalar Market (city market)
This city market is located right in the middle of the Nyaungshwe town. Here, you can see all sorts of special produce that comes from local farms. Buying local snacks is a great way to save money while you travel!
You will also see seafood, fish and meat. Everything is very fresh and it's a great place to get some fruit and veggies for snacking, in addition to learning about how Burmese people shop.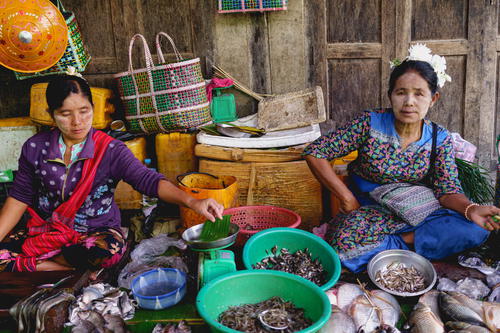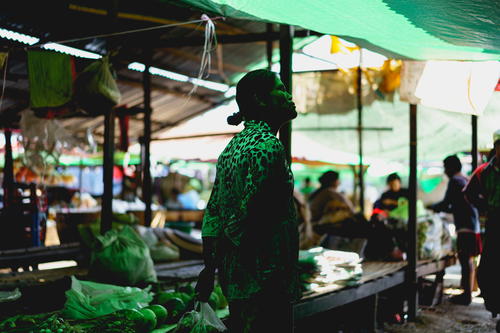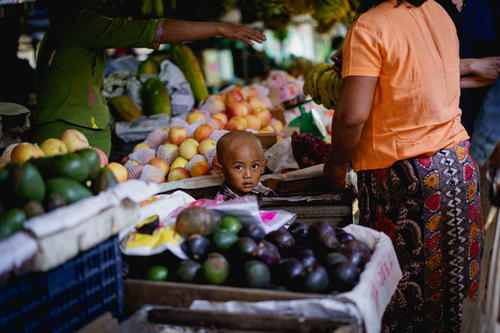 Eat healthy food at Sunflower Restaurant
We love focusing on health while we travel. What caught our eye at Sunflower Restaurant were the signs in Hebrew that said "salad, shakshuka and bread." We went for salads, fruit, tea and smoothies one night, and the servers were all exceptionally friendly. The prices are great, too.
Visit (or re-visit) Ngapechaung Cat Monastery (Jumping Cat Monastery)
Ngapechaung Cat Monastery is a crucial stop on any Inle Lake boating tour. While this looks like a stilted monastery alongside the lake, it also has lots of cats walking around freely. Some of the cats really liked Dan and followed him.
Helpful Tip
The back of the monastery is equally beautiful, and make sure you head to the boat dock off to the side for a gorgeous scene in the distance.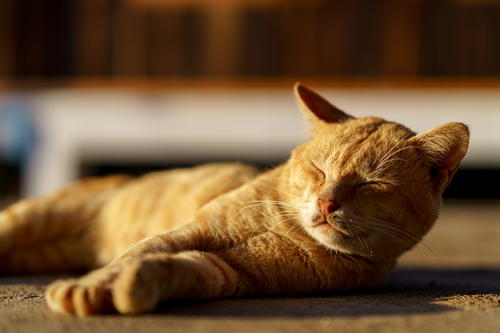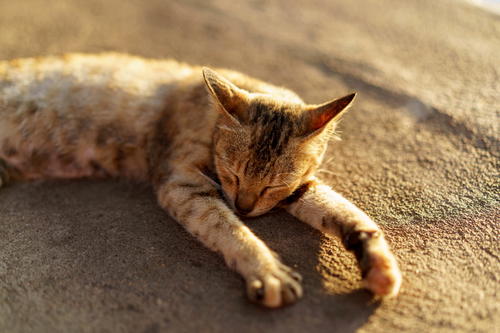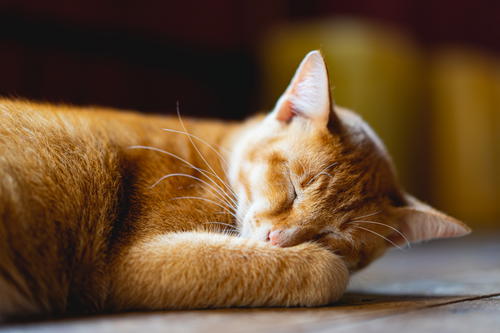 Lunch with a view at Kyar Nann Taw Restaurant
This restaurant was a great place to eat. We came here with our boat tour during our first day, and on our second boat tour, we requested that our driver that we wanted to eat here. This restaurant is on stilts above the lake and if you sit on the second floor, you can get a great view of the lake communities. Also, the food is excellent!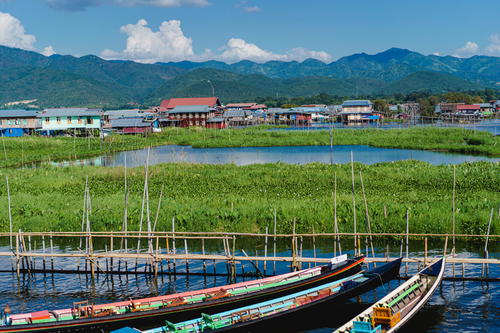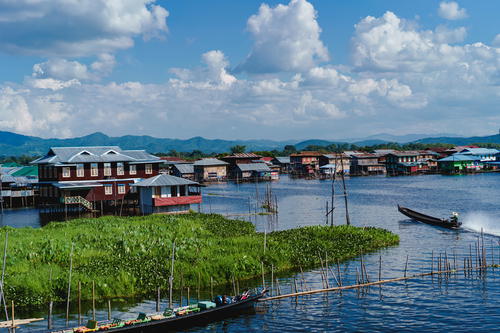 See the Buddha blobs at Phaung Daw Oo Pagoda
The Phaung Daw Oo Pagoda is another important stop on an Inle Lake boat tour and your boat driver will undoubtedly bring you there. Inside the pagoda, which is like a big temple, and popular with locals who come to pray, you'll see a raised platform. There is a sign that says, 'No Women Allowed' and you kind of just have to roll with it. Also, it didn't matter because no one's really going up to the platform and women are allowed everywhere else.
What you see on the platform are five golden blobs. They're Buddhas that have been covered with so many gold leaves that they're unrecognizable.
Get a massage (or have your laundry done) at Venus Massage
To beat the heat or kill some time, treat yourself to a massage at Venus Massage near Baobabed Hostel. Also, they have a laundry service and it is not expensive at all.
Book your trip back to Yangon with JJ Express Office Search Nyaungshwe
After trying two different bus services, JJ Express is the best one (and will guarantee you an English-speaking bus guide). JJ Express is the favorite among backpackers and travelers. For both our bus trips with JJ Express, our hostel helped us make a booking so that we didn't have to navigate their website. The JJ Express bus got us to Yangon in less than 12 hours overnight, with multiple stops.
---
How to get to Inle Lake from Yangon
To get to Inle Lake back from Yangon, or from Inle Lake to Yangon, you can either fly or take a night bus. While the night bus is not as glamorous as flying, we were on the bus with lots of travelers who all felt that it was convenient and an affordable choice.
How long is the bus ride?
The bus ride will last between 10 and 12 hours, depending on traffic and stops.
How far is it between Inle Lake and Yangon?
It is only 638 km (approximately 400 miles) from Inle Lake to Yangon, but due to the nature of the roads, it will take between 10 and 12 hours for the drive.
How to book the bus
Our hostel staff called JJ Express directly and made our booking, but you can also do it yourself if the site cooperates, at the JJ Express ticketing website.
---
Our 4-day Inle Lake itinerary
How many days do I need at Inle Lake?
You could enjoy two days at Inle Lake, or four, like we did. With one day only, you'd be able to do a full-day boat tour with all the highlights. With four days, you can have time for a cooking class, an excursion to Indein, and surely some bicycling to the winery and villages.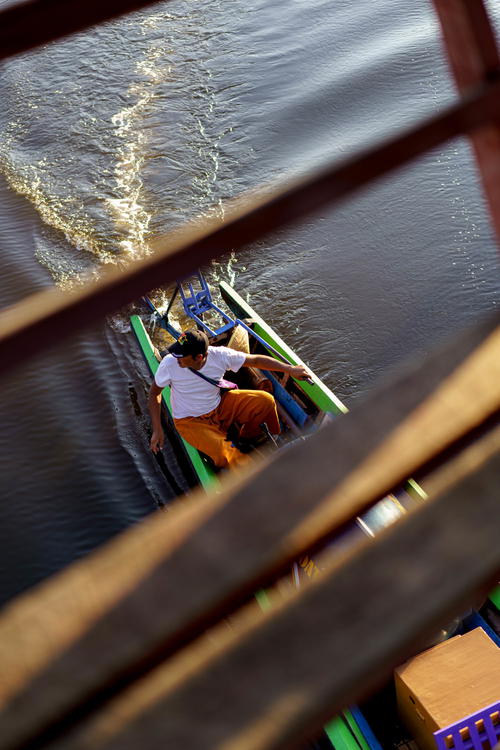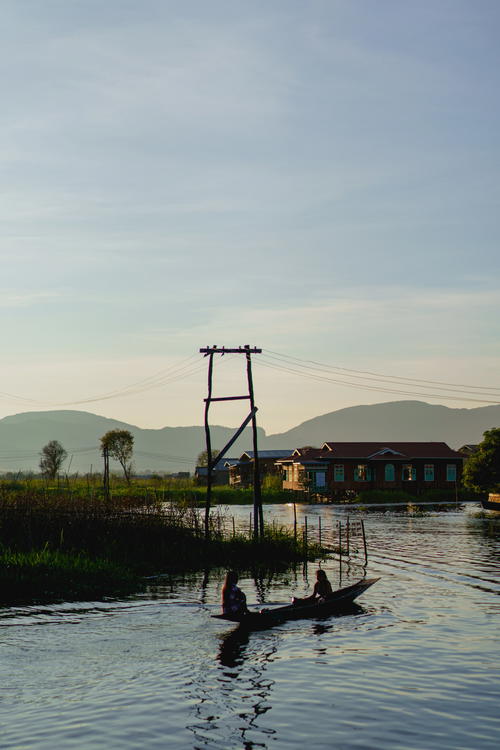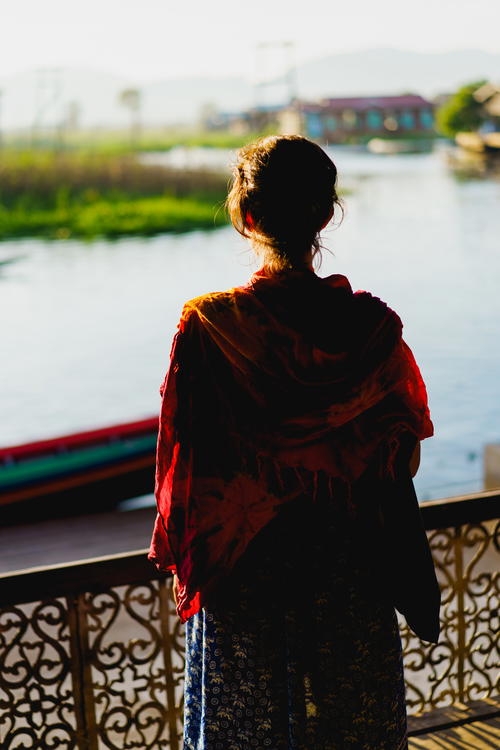 Day 1
With four days like we had, get an introduction to the lake with a full-day sunset boat tour on day 1. Remember to bring sunscreen, and a handy travel camera!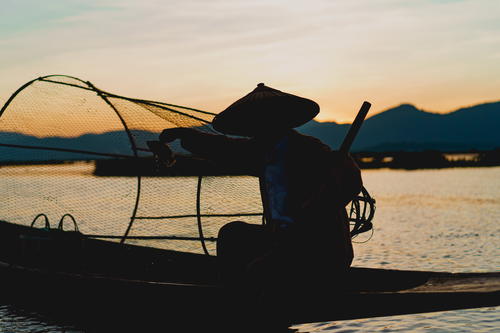 Day 2
On day 2, enjoy breakfast at your accommodation, and then hunt down your bicycle rental. Bike to the Maing Thauk Bridge and explore the villages, arriving at Red Mountain Winery. Stay here for sunset, and bike back before it gets dark. Try Inlay Hut for dinner.
Day 3
Hire a boat for a day trip to the Indein Pagodas and market. Stay out on the lake for sunset (it's different every day!).
Day 4
Sign up for a morning cooking class and walk through the Mingalar Market with Bamboo Delight Cooking School! Make sure you do this on an empty stomach, as you'll want to eat everything cooked during this fun class. Afterward, relax and digest, and get ready for your night bus departure on toward Mandalay or Yangon.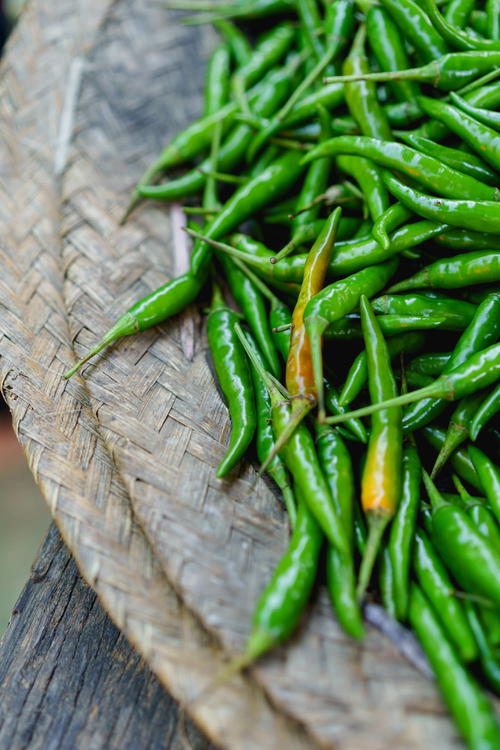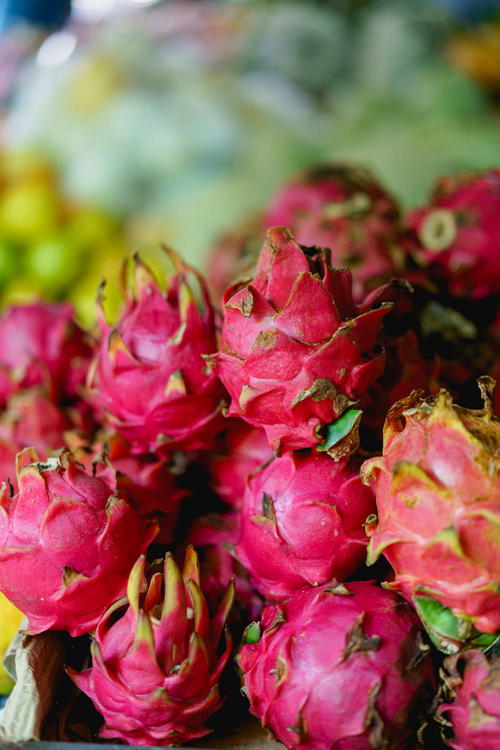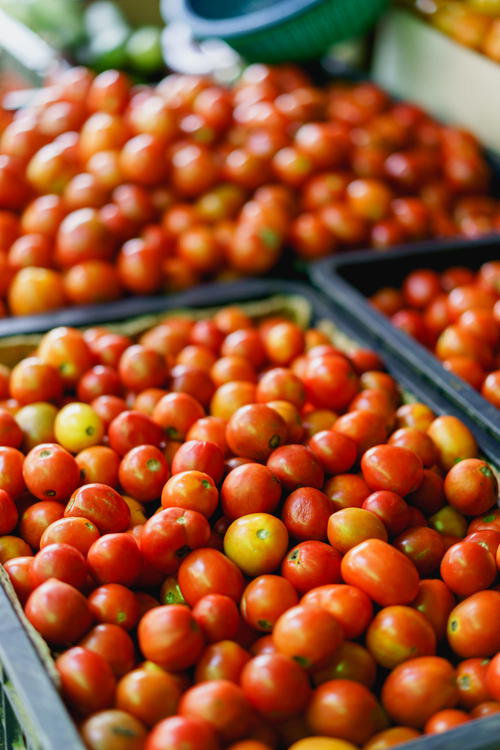 Are you heading back to Yangon? See our list of the best things to see in Yangon.
Enjoyed our article?
Consider supporting us! We're a 2-person team (learn more about us here) and your support enables us to create quality content. Thank you!