Things to Know before Traveling to Gran Canaria
Updated on November 21st, 2023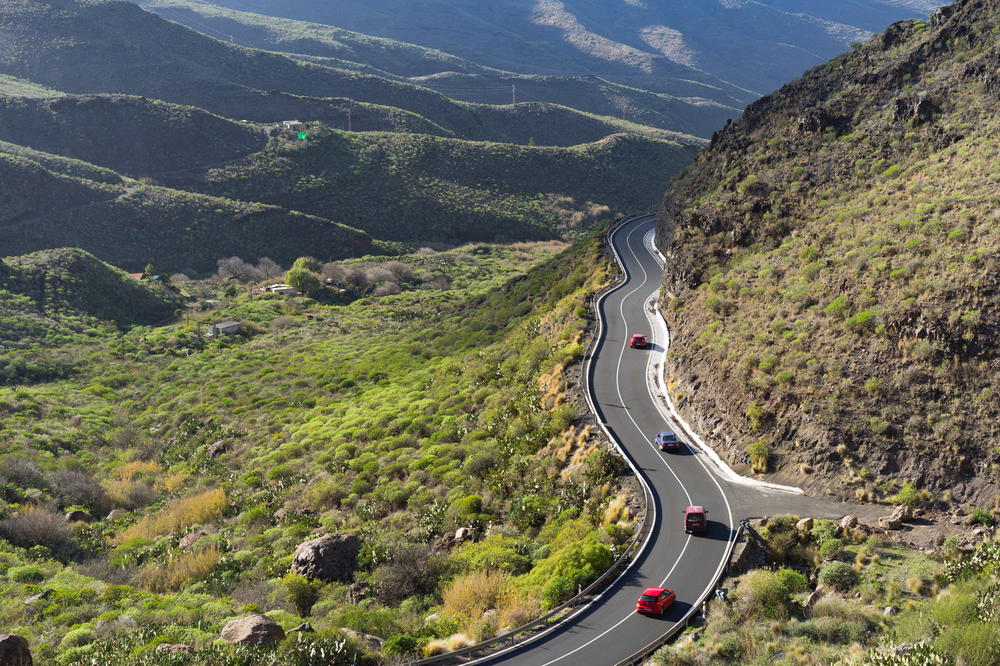 We visited Europe's warmest winter destination and found scenery as varied as an entire continent, and a local dish that will surprise you.
This article may contain affiliate links. We earn a small commissions when you purchase via those links — and it's free for you. It's only us (Becca & Dan) working on this website, so we value your support! Read our privacy policy and learn more about us.
The Canary Islands are a well-known destination for European travelers, who flock to the relatively nearby islands' beaches from Germany, Scandinavia, Italy and the UK. For Americans, though, this destination is totally off our radar.
After reading a little about the islands, we chose to spend nearly a week in Gran Canaria, one of the major two islands of the largest seven (the other is Tenerife).
What did we learn in the Canaries?
What are wrinkly potatoes?
Sounds weird, but papas arrugadas are actually quite delicious. Boiled in sea salt, they are served with 'mojo,' and every restaurant has its own recipe. Mojo was sometimes mild and sometimes packed a punch. The wrinkly potatoes were sometimes sprinkled with sea salt and were sometimes so salty from being boiled in salty water that salt had crystallized on their skins.
Papas arrugadas go for EUR 3-5, depending on the caliber of the place where you're eating.
You can get your desert dune money shot at Maspalomas (but don't spend a night there).
Maspalomas is the second-largest city on Gran Canaria, located on the south coast, where the weather is nearly almost better than in the north.
By putting 'Dunas de Maspalomas' in Google Maps, we parked our car on the street and entered a long walkway next to the RUI Hotel. From the end of the path, you start seeing endless sand dunes, and it is totally wild.
Check out more maps!
Unlock more maps like this with your email address! You'll automatically be signed up for more map and location related things from us in the future.
Beyond the dunes is the Atlantic Ocean. We had never seen anything like it. If you keep walking into the dunes, some are really high, and you'll see people clumsily trying to slide or surf down them.
Beware - it gets windy, and a little cold! Bring a windbreaker and be prepared for all sorts of change in temperature as you make it down to the water and then hike back to where you began.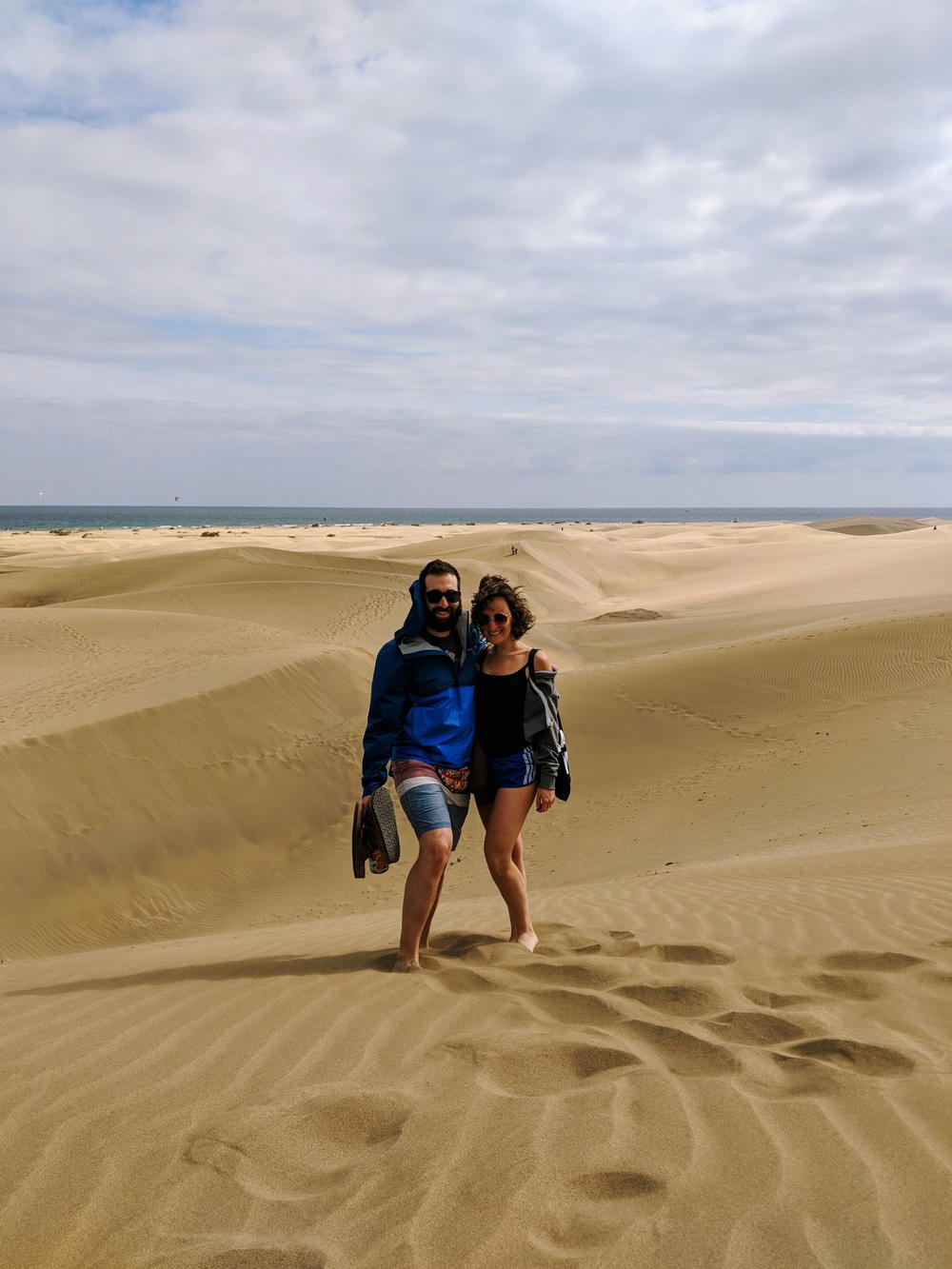 We climbed dunes and at most points felt like we had the place to ourselves. Few backpackers stay in Maspalomas due to the fact that there are no hostels; rather, there are only Airbnbs and many resorts that attract German and British tourists in the 40-65 range.
Follow the hostel trail to link up with other travelers of the backpacker type.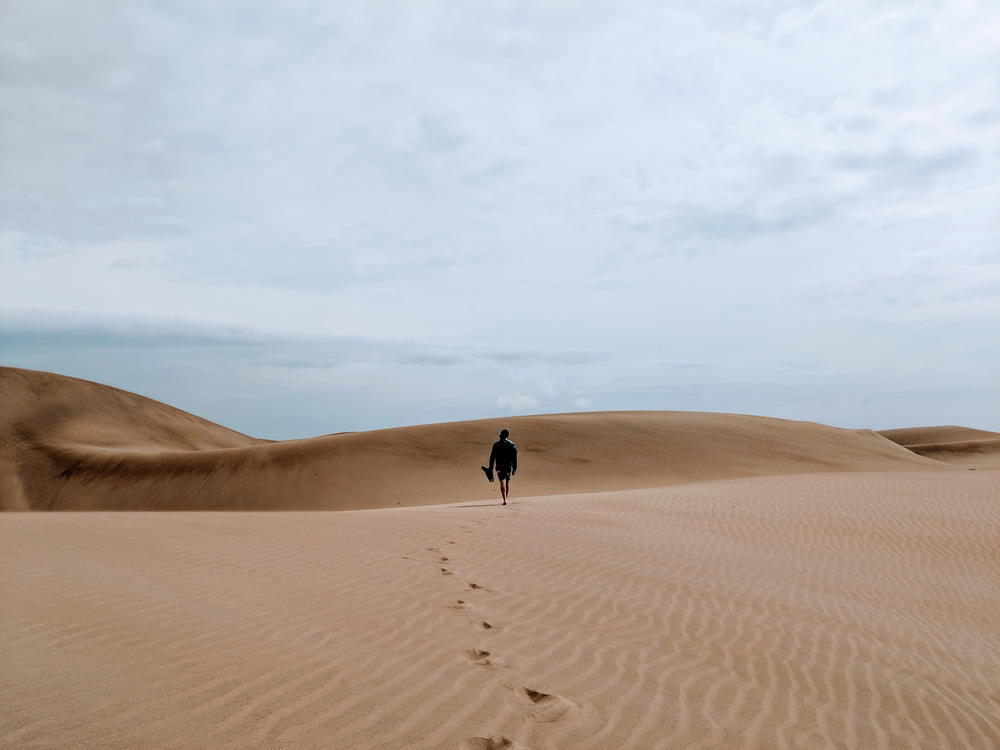 The weather is better in the south of Gran Canaria.
On day one, we drove from Las Palmas (the biggest city on Gran Canaria, located in the north) halfway around the island to Puerto de Mogan, a port town on the south coast where, sure enough, the sun was shining and temperatures were up to 25C/75F. We were so glad to have left the clouds and gloom in Las Palmas behind!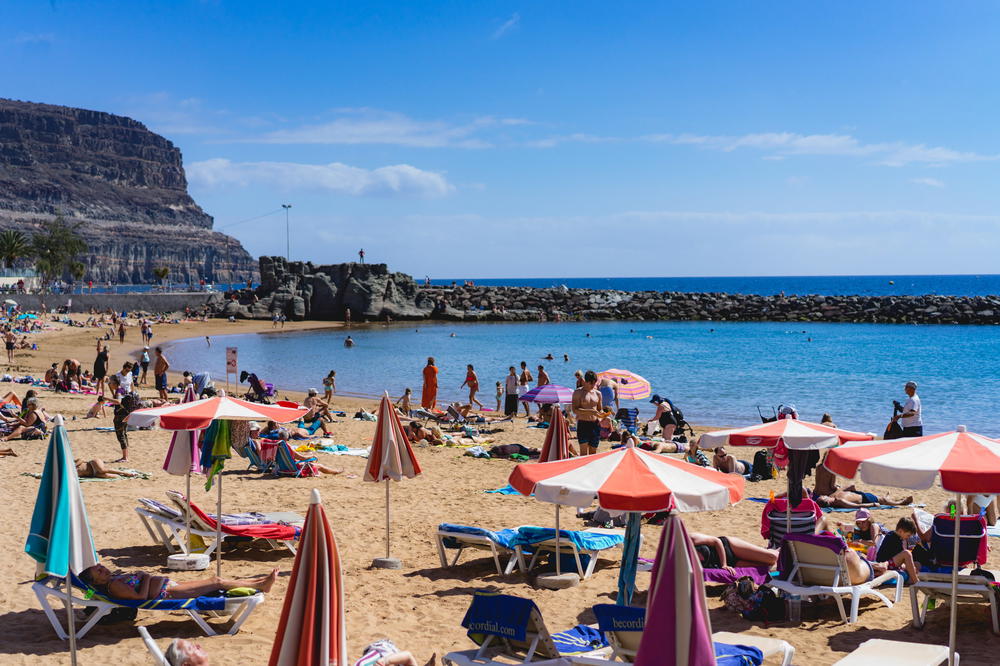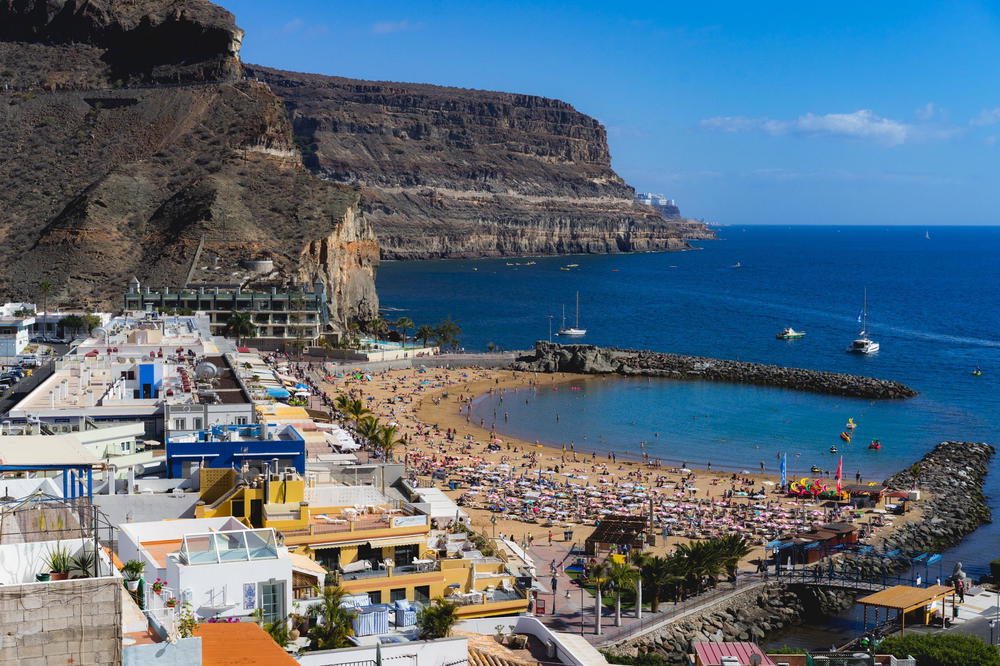 Although touristy, Puerto de Mogan has some lovely architecture and whitewashed buildings with splashes of bright colors and flowers hanging everywhere. The town has a nice bay where you can swim any time of year if you're ready for some cold Atlantic waters.
Keep in mind that the beautiful warm coasts of Gran Canaria make some of the best places to visit during winter, as you will find the Gran Canaria coast to be some of the sunniest places in the EU from December to March.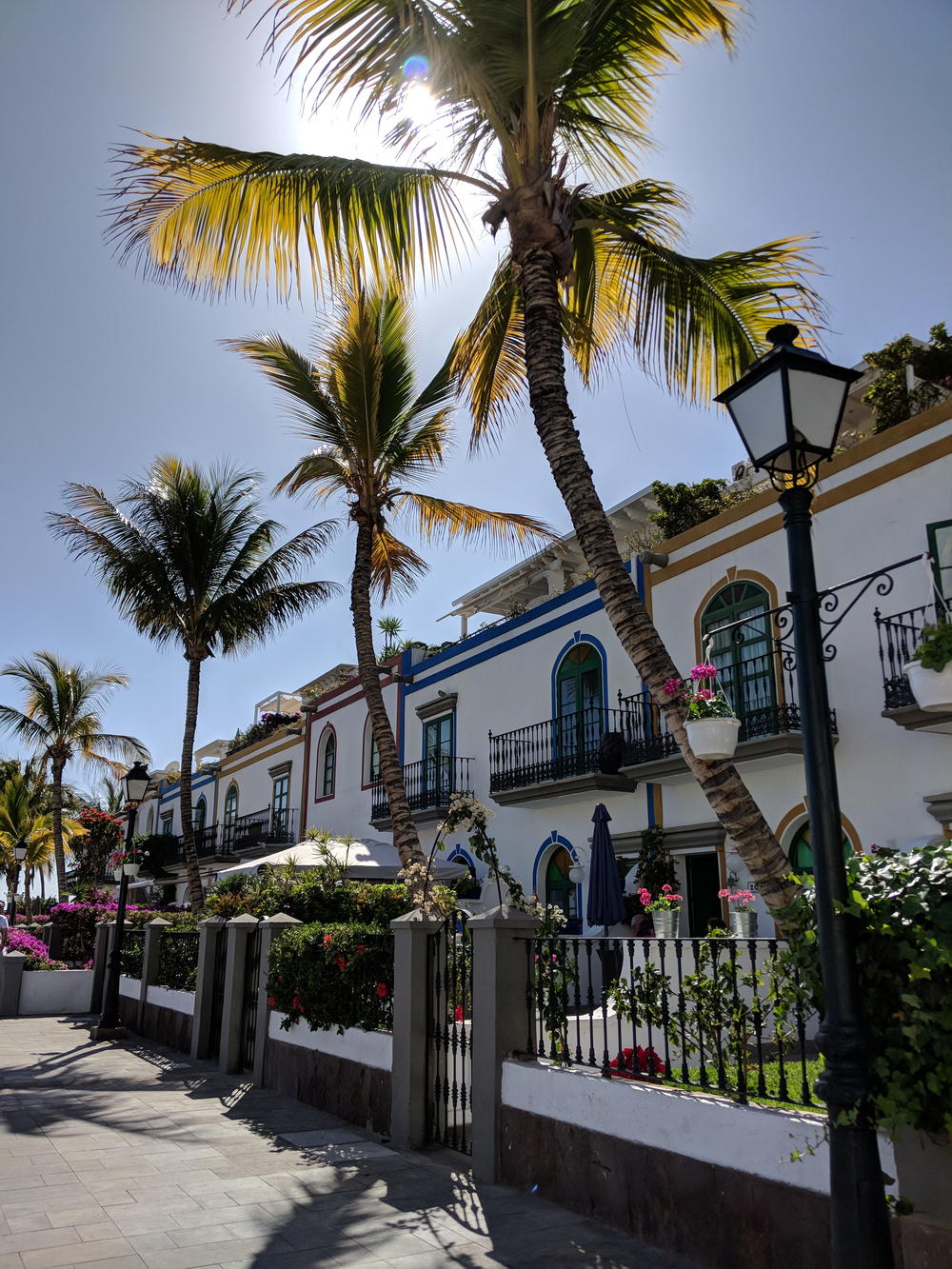 Find your perfect starry night sky in a mountain village like Tenteniguada.
There's no better place to look at the stars than in the mountains. Check out this photo from Tenteniguada, a tiny town where we spent a night at Black Pig Hostel.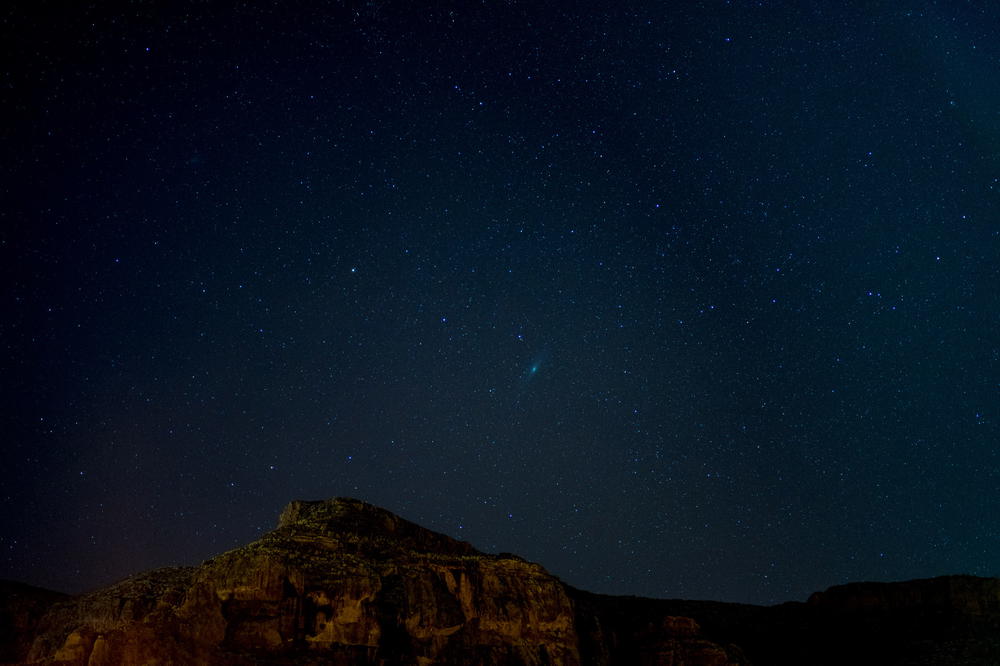 The islands are steeped in Spanish history.
It's impossible to be in the Canary Islands and not learn about how these islands near Morocco came under Spanish rule. When you realize the value they provided to traders in the 1600s, you realize the Spanish were some brilliant people.
The location of the Canary Islands allowed them to serve as the gateway to the Americas and to Africa. Christopher Columbus even stopped there before his voyage to the New World! We also learned that petrol is cheaper in the Canaries (when compared to the rest of Europe, they said).
The "Old Town" of Vegueta in Las Palmas is rich in Spanish colonial architecture, cathedrals and small lanes that now house cafes, museums and galleries.
The best views are the ones off the highways in Gran Canaria's southwest.
Take road GC-200, for example. This road covers the southwest quarter of Gran Canaria, while highways GC-1 and GC-2 serve the rest of the island as smooth 4-lane highways that anyone could drive on.
GC-200 is full of blind turns, sharp descents, switch-backs and dangers of rocks falling. It's worth the challenge, though, as this is where you'll find the Azulejos, colorful rock formations that look nearly rainbow, and views down valleys that proved better than any hike we found.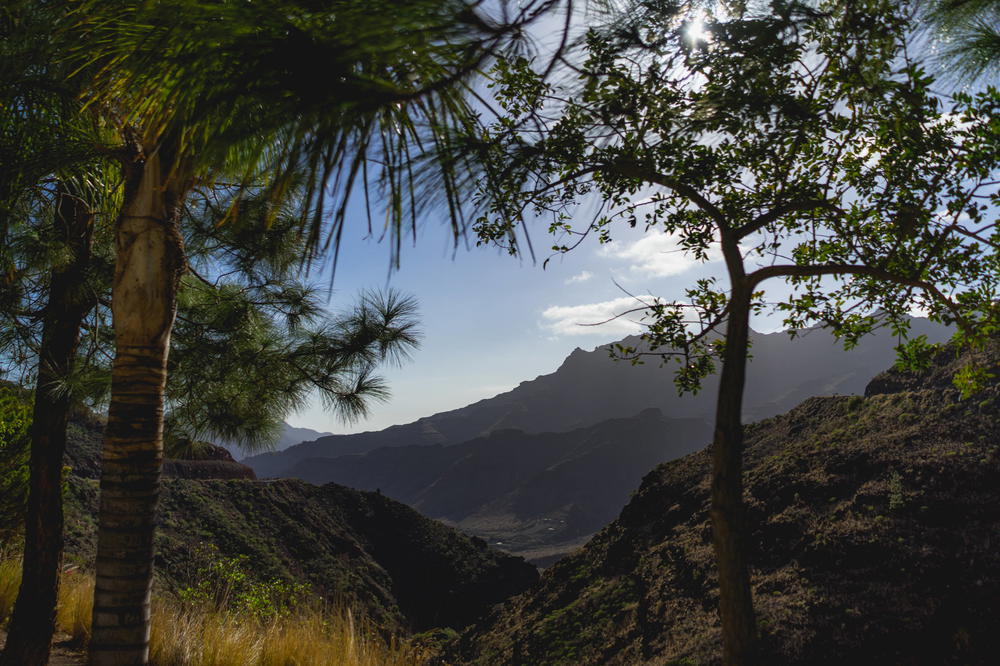 The roads to Agaete, while driving northbound, had views of a range of mountains known as Dragon's Back, a series of sharp jagged formations rising into the sky.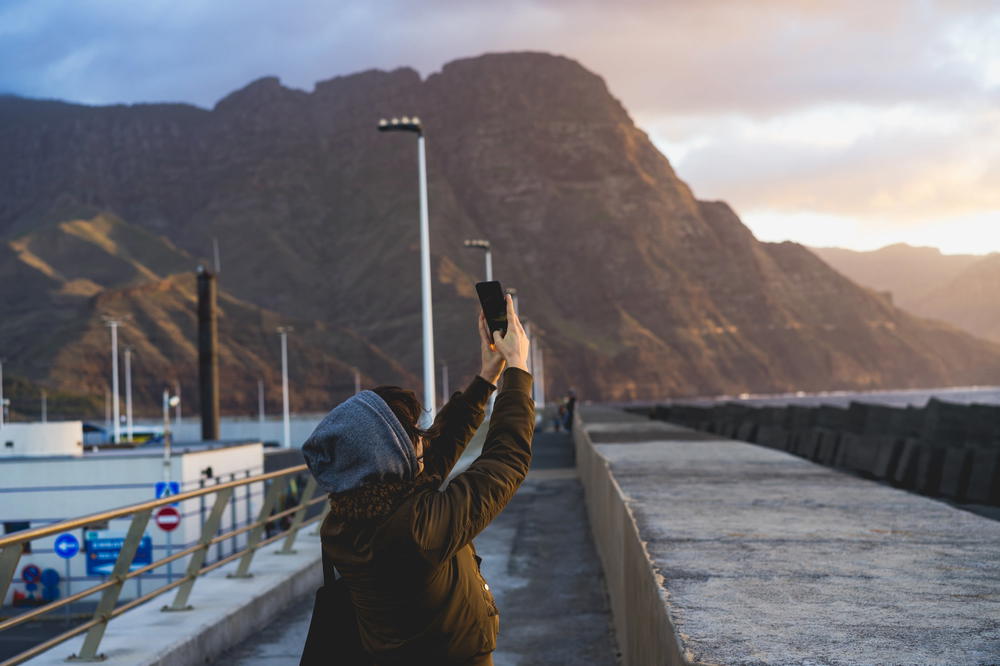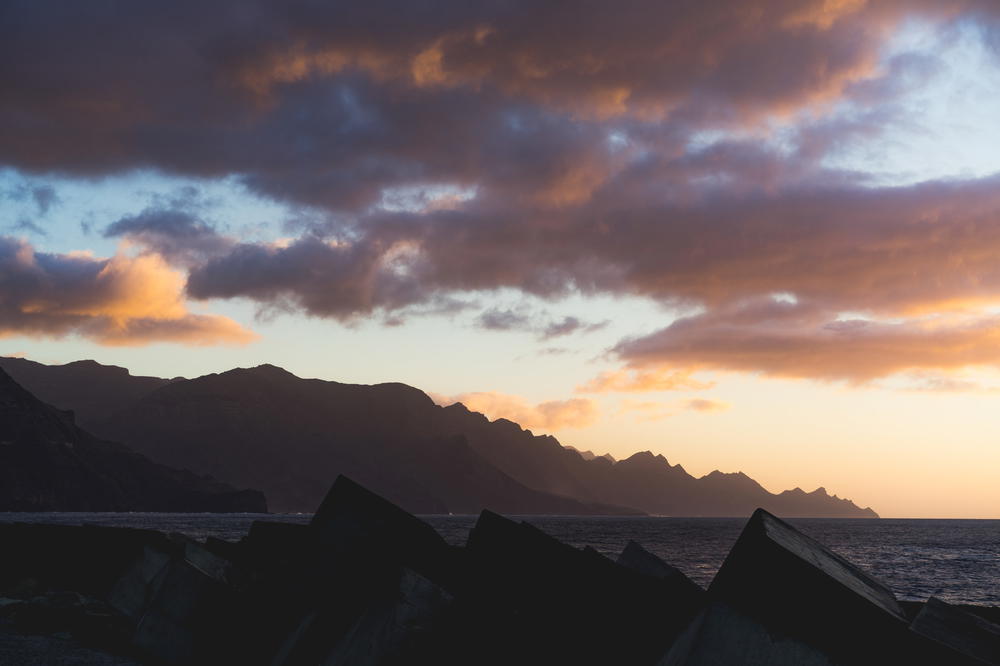 You might wind up in a sea of Spaniards dressed up in costume for Carnival.
By arranging our trip to Las Canarias in February, we didn't even look into when the Carnival celebrations would begin, but we landed on one of the first days of the festivities.
As we made our way into the Old Town of Las Palmas, we passed men dressed in drag, people dressed as jellyfish, chants of "NOOOO, NO TENGO FRIIIIIO," live music in the streets, beers in the streets, drunk revelers in the streets and dancing in the streets.
What a scene. Too bad we had left our costumes at home!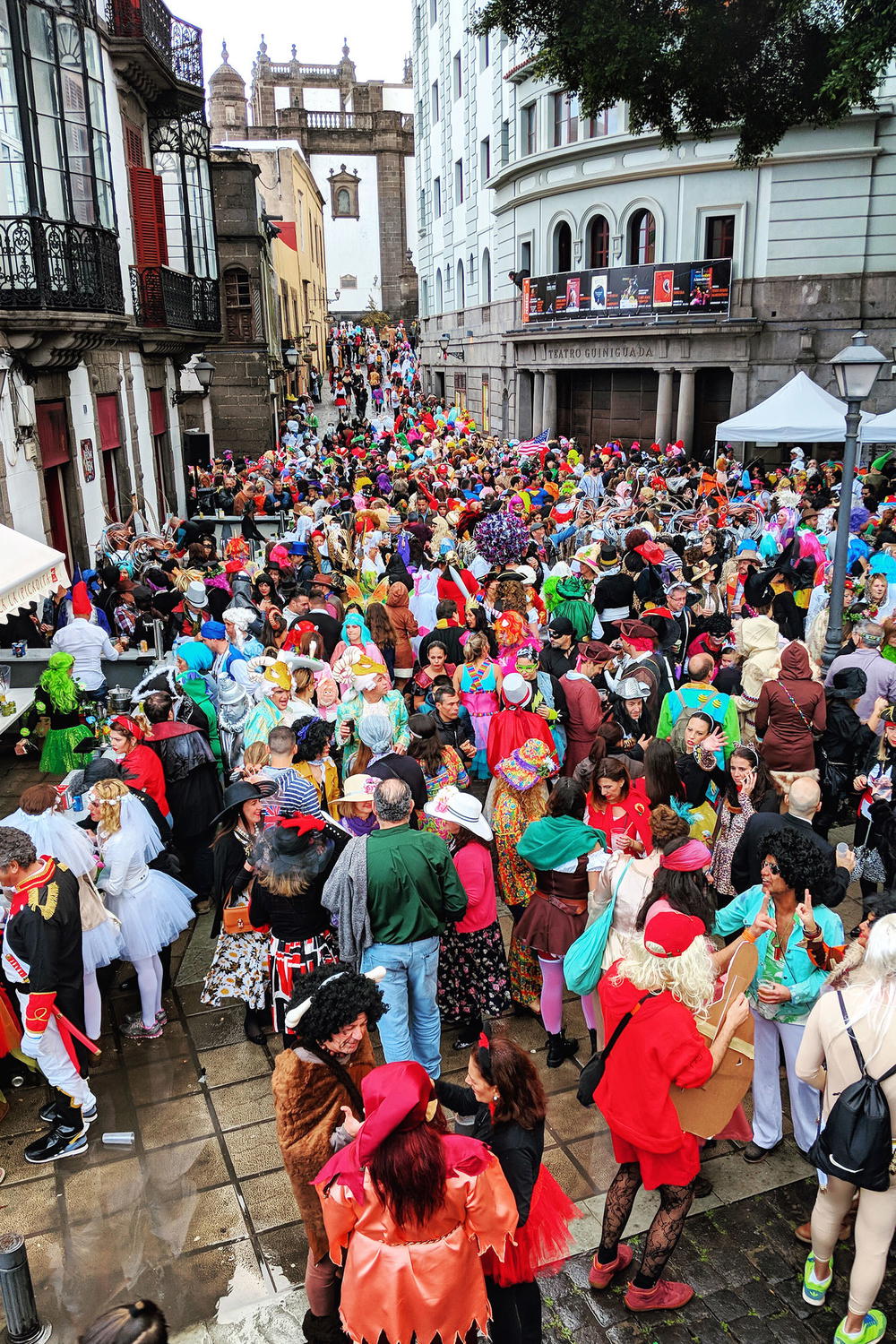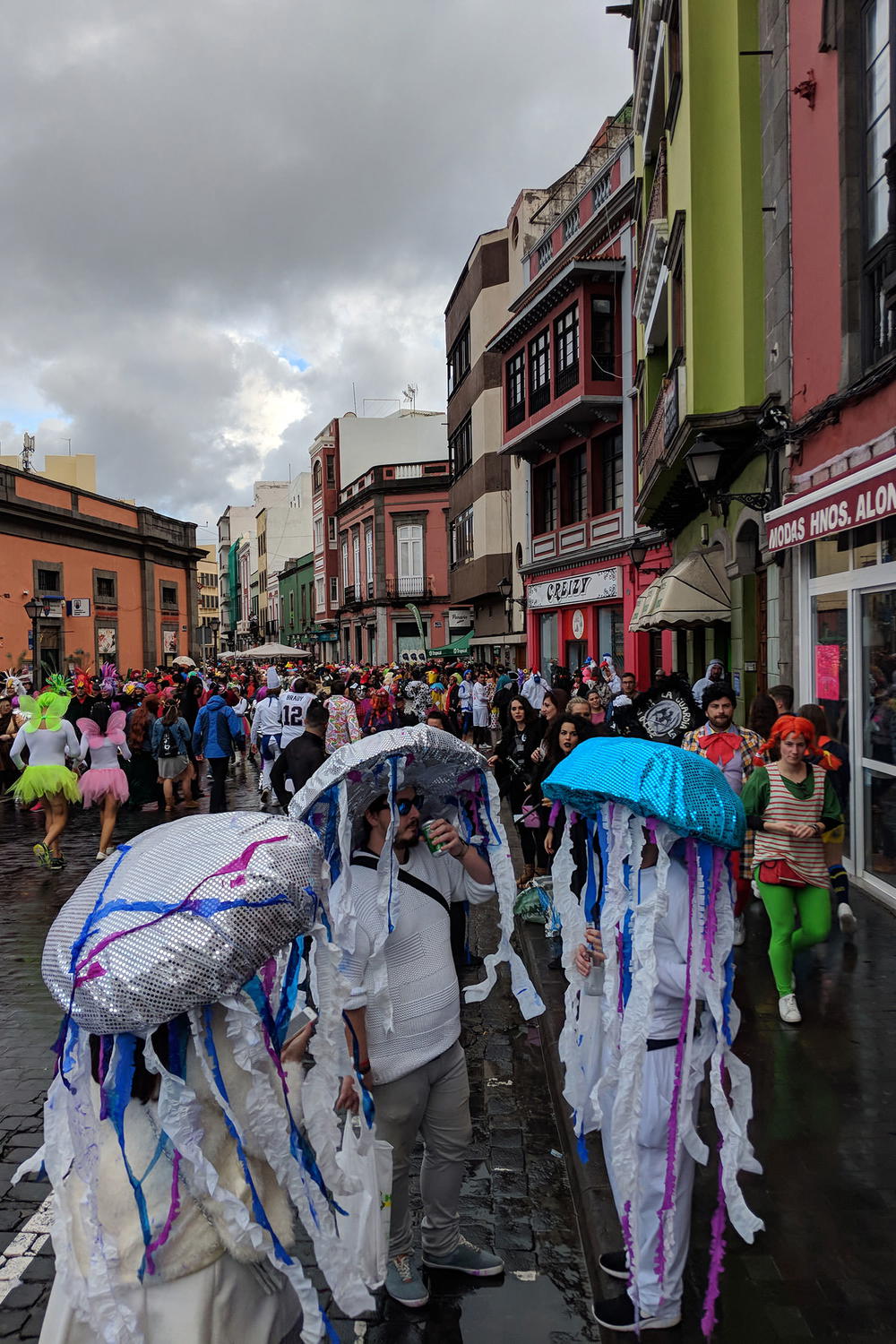 Should you visit Gran Canaria?
Gran Canaria's landscapes left us intrigued and mystified, from desert dunes to pebble beaches to green sweeping hills and farmland to volcanic cliffs. Although there is no clear backpacking route, the challenge is open to make your own.
Hostels are not hard to come by, but it pays to look into which type of place each destination is, whether 'quiet beach with no grocery store within 5 miles' or 'private home turned hostel in village of 500 on a mountain.' We were never far from civilization, but at times we felt worlds away.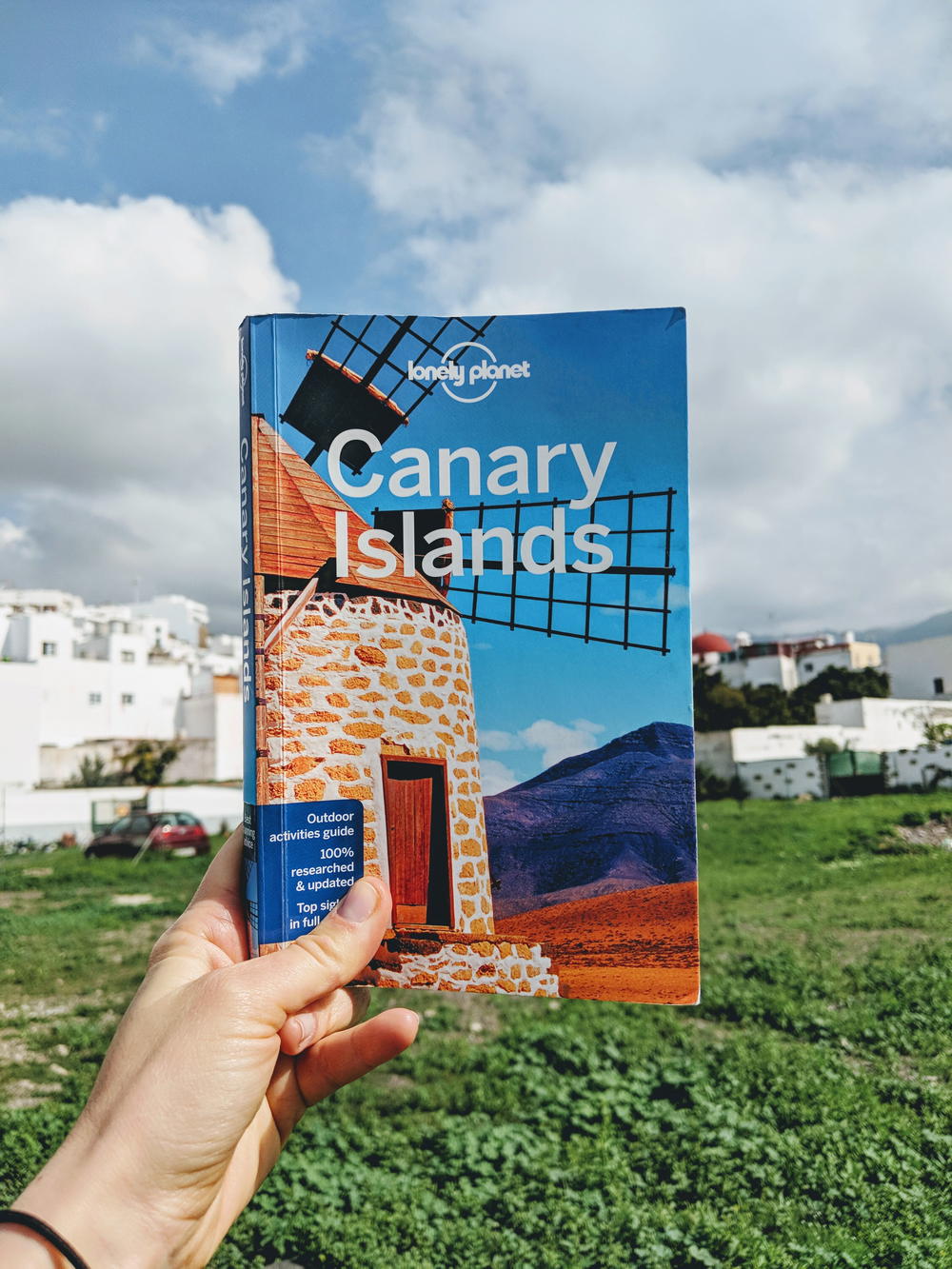 Do you have insider tips or local secrets about Gran Canaria or other islands in the Canary archipelago? Don't hesitate to let us know!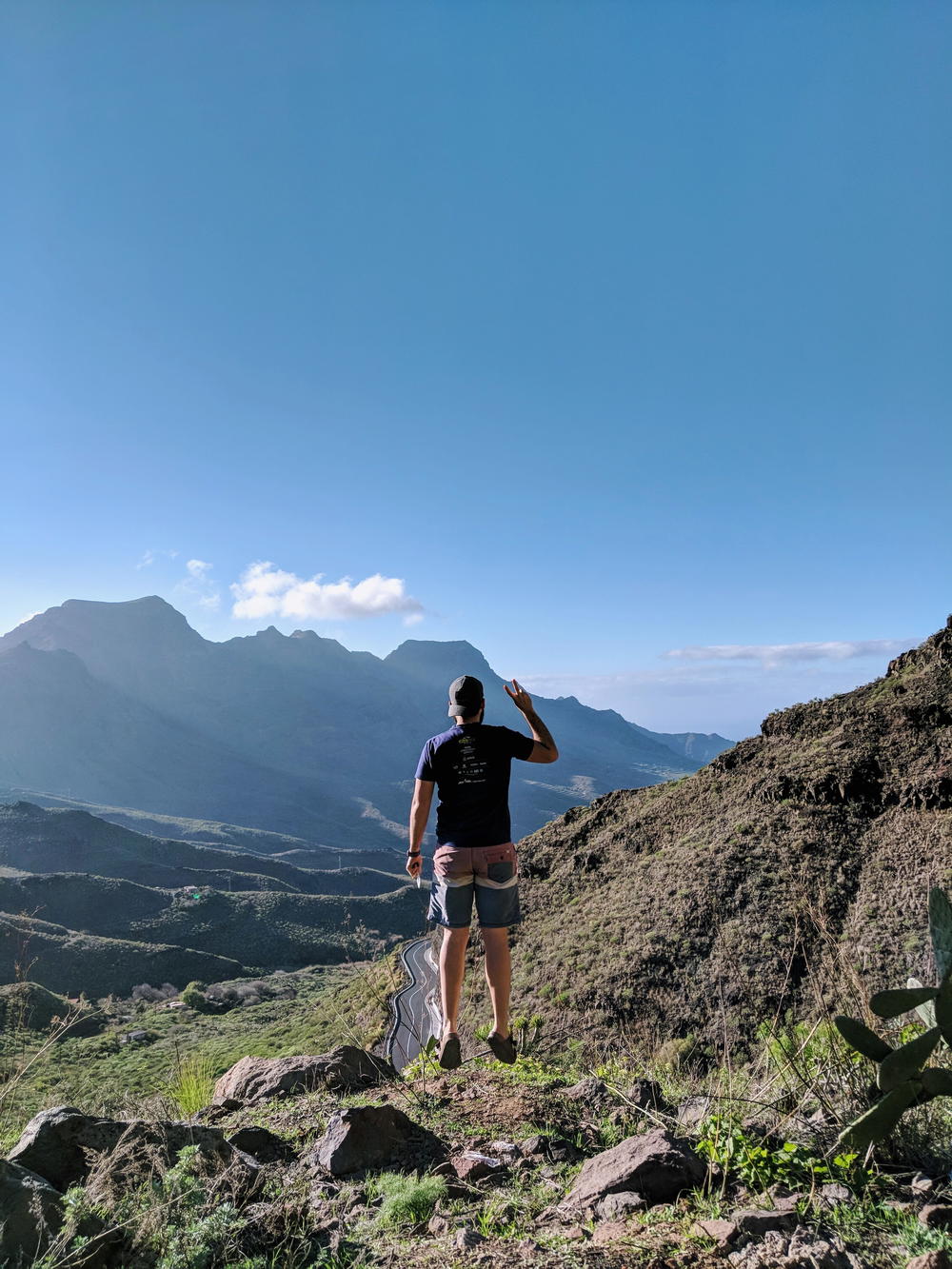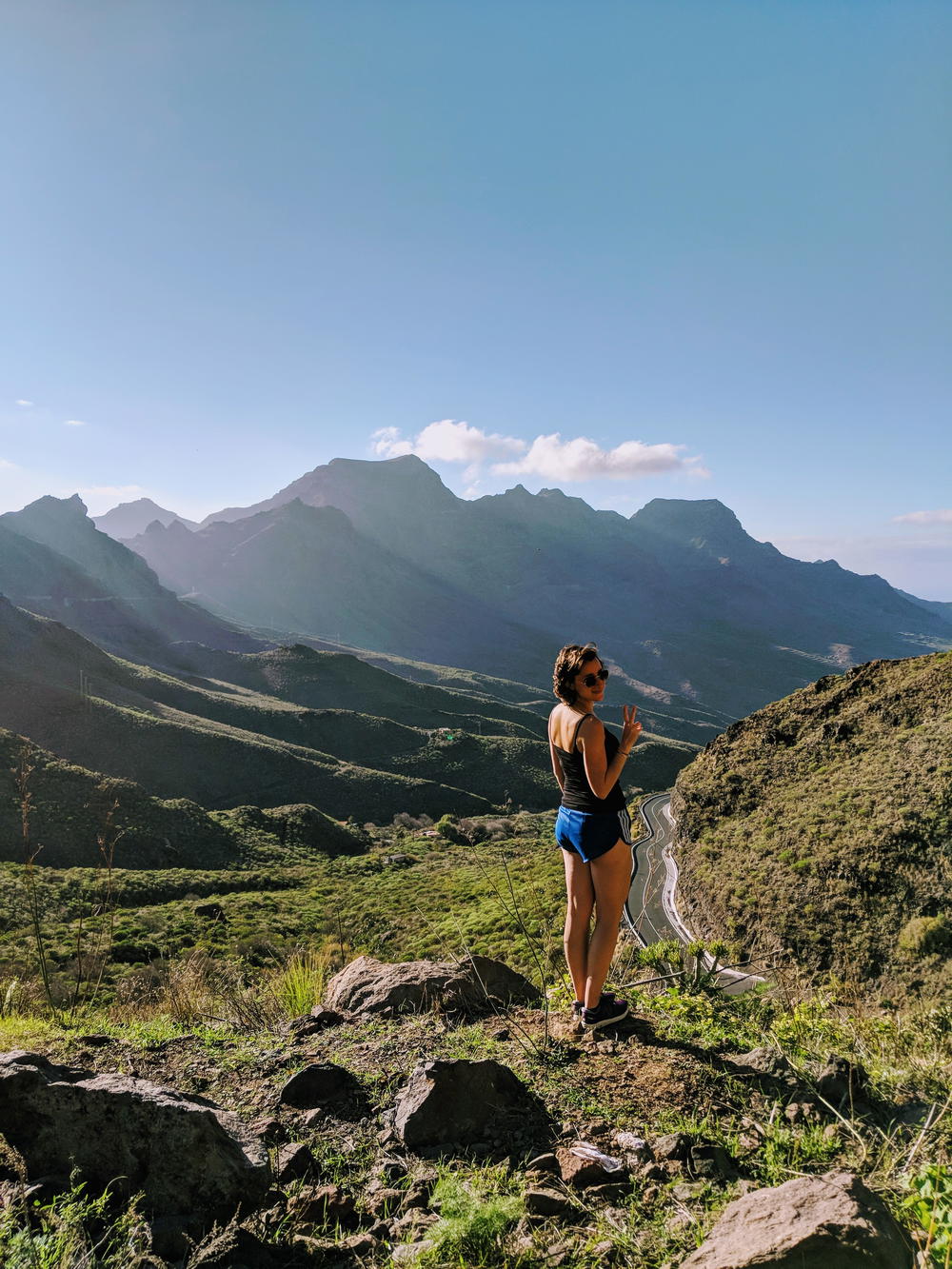 Enjoyed our article?
Consider supporting us! We're a 2-person team (learn more about us here) and your support enables us to create quality content. Thank you!