Livingston Manor Travel Guide: Small Town Escape in the Catskills
Written by Becca
•
Updated on November 13th, 2023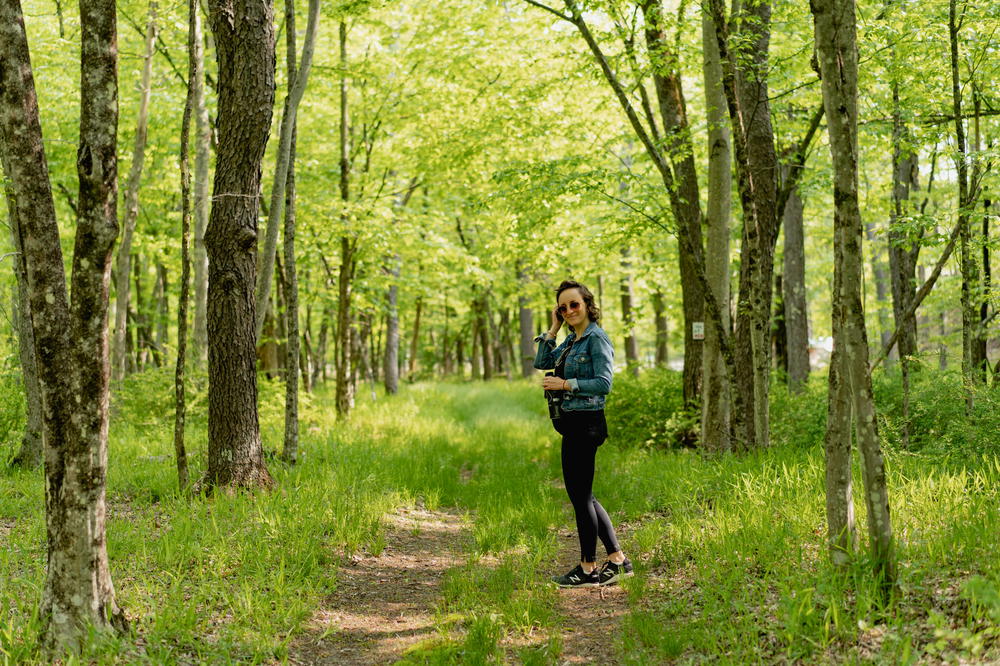 Plan your Catskills escape to Livingston Manor, New York, and immerse yourself in nature's beauty. Discover hiking trails, breathtaking landscapes, and charming small-town vibes in this hidden gem.
This article may contain affiliate links. We earn a small commissions when you purchase via those links — and it's free for you. It's only us (Becca & Dan) working on this website, so we value your support! Read our privacy policy and learn more about us.
Table of contents
Close table of contents
There are lots of Catskills towns to choose from for your upstate trip, but if you chose to visit Livingston Manor like we did, you're in for a treat!
When it comes to picking a vacation destination upstate, I'm always overwhelmed. There are so many towns in the Catskills and Hudson Valley region, and the driving distances can pile up if you wish to visit a few.
I was in Livingston Manor at a friend's aunt's country house about seven years ago, but unfortunately didn't get to visit town! Ironically, the town has really changed since 2020 now that it attracts city folks and weekenders, is what we learned from talking to locals on our trip.
What we can tell you from our trip below is that we chose to go during the week in late spring, and traveled by car from the NYC area. If you like a quiet trip and don't mind things being closed during the week, try a weekday stay.
Livingston Manor is, much like other Catskills towns, more of a weekend place that gets poppin' with visitors from Friday to Sunday.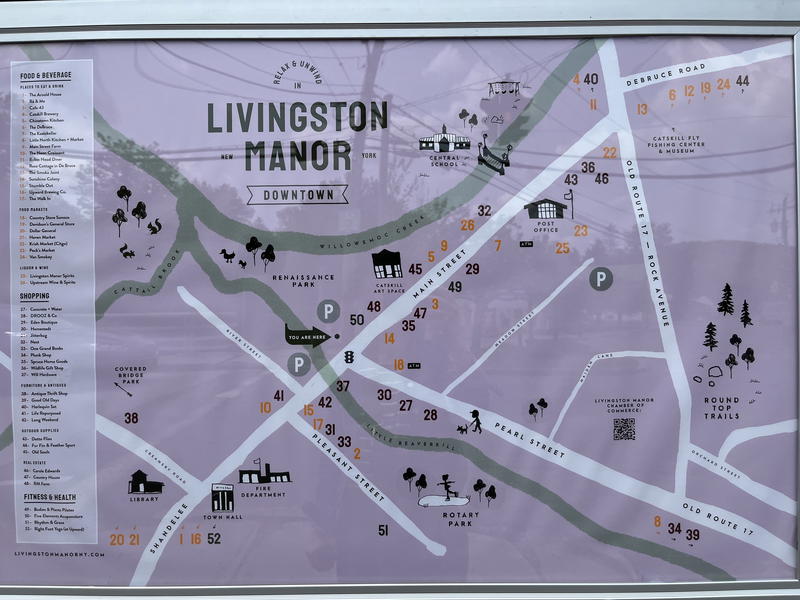 Our travel guide here has everything you need to know for your travels. I'll list where we stayed, where to eat, where to drink (breweries!) and what to do with your long weekend or day trip.
Make sure to pack a camera, and a few warm layers for winter (days and nights), and for summer (some nights). No matter which time of year you've chosen for your trip, we're excited for you, and we hope you like all our trip photos to show what to see in Livingston Manor, NY!
Quick note: we visited Livingston Manor from a Monday to a Wednesday, so many shops and restaurants were closed. If you go during a holiday weekend, or a weekend from spring to fall, you will find the town much more lively!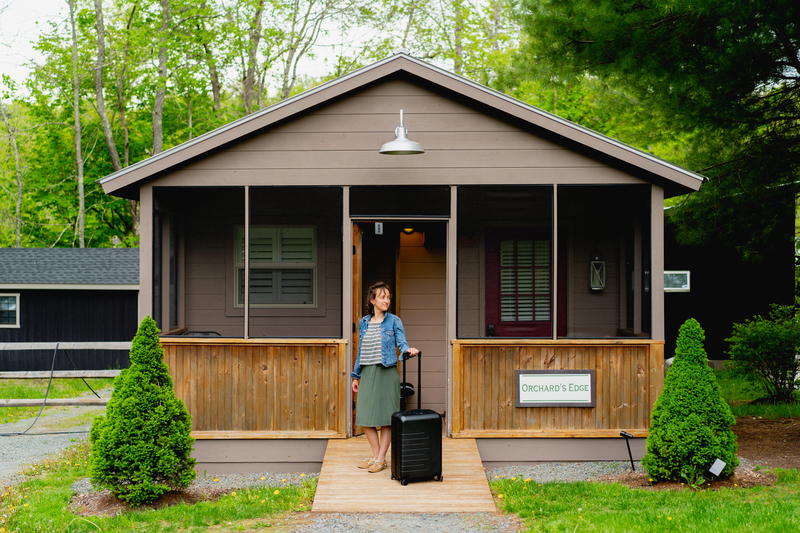 Where to Stay
Livingston Manor is not a big place, and there aren't an excessive number of hotels or Airbnbs.
Very specifically, there is a handful of Airbnbs in the town itself, or right outside, and a few hotels or B&Bs. More hotels are available in the nearby towns of Roscoe, Callicoon and beyond, if you find that everything is booked up!
Here is where we stayed and what we recommend.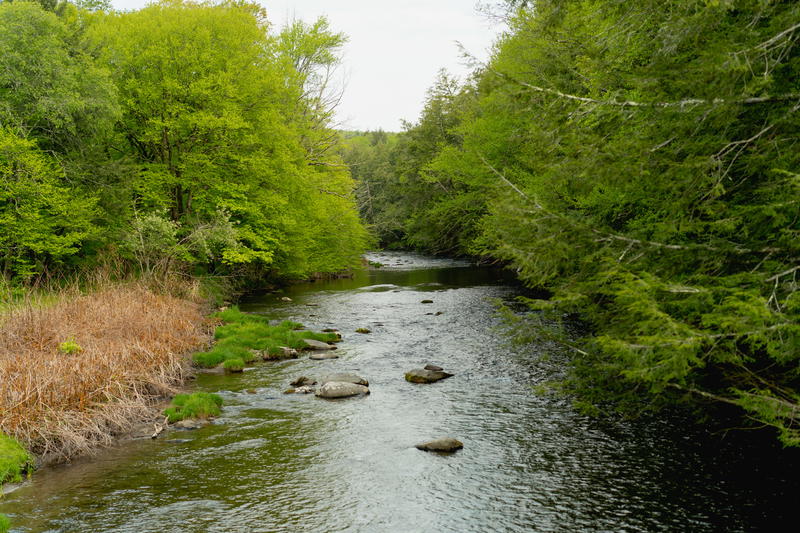 We like Antrim Streamside as the #1 best choice for where to stay near Livingston Manor, NY. It's a boutique Catskills stay located on 250 acres of charming property next to a stream, and we thought it was perfect as a destination of its own!
You can use the code HHT10 for 10% off your stay when you book directly!
See our review of Antrim Streamside!
The hotel consists of six cabins that range in size, as well as an events space that hosts weddings. We stayed in the Orchard's Edge cabin, next to a small collection of apple trees. We got our own designated parking spot, our own "front lawn" and views of nature.
When we travel, we like to have our own space and have access to things to do. Staying at Antrim Streamside gave us just that: a chic upstate cabin with all amenities needed, right the private walking trails, natural views and the nearby Beaver Lake Farm at our fingertips.
You can book Antrim Streamside, and when you speak to the staff, say you learned about the hotel through Becca and Dan from Half Half Travel! If you'd like to see more about how the hotel was created, check out my interview with Diane Beveridge, the co-owner of the property.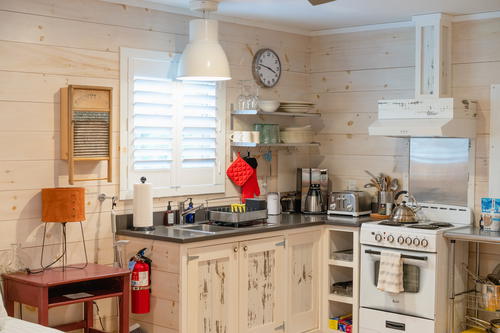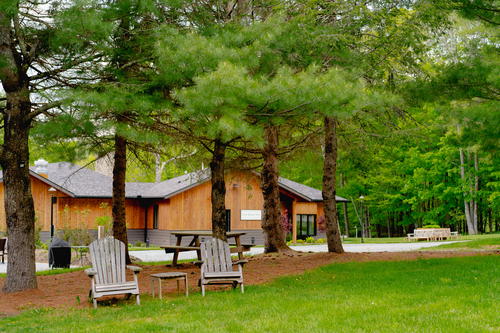 As a disclaimer, our Antrim Streamside was gifted to us; however, we would like to clarify that this does not affect our reviews nor opinions in any way. We received no monetary compensation for writing positive feedback about Antrim Streamside. We genuinely enjoyed our experience and would recommend it without hesitation to friends and family!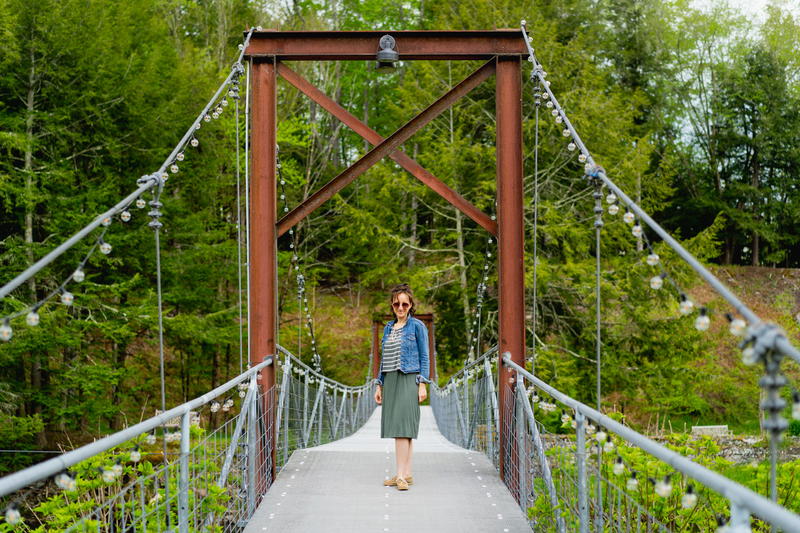 For a luxury stay nearby, and a few more minutes down the same road from town, there's The DeBruce. It is a thoughtfully-curated and intently-designed hotel featuring only 12 rooms that create a Catskills experience of perfection.
On the property there's also The DeBruce restaurant, which features a tasting menu and lovely views of the Catskills. The hotel also is located on a beautiful set of forested lands, and guests have access to hiking trails and private river areas for fly-fishing.
The DeBruce also offers its spaces for private events and celebrations. Check out the hotel's Instagram, which is quite beautiful.
Hotels in Roscoe, NY
My parents would stay in Roscoe whenever they came to visit me at my summer camp in Hancock, so when hotels in Roscoe popped up in my search, I knew there must be a few OK ones! Driving from Roscoe to Livingston Manor takes 8 minutes.
Because Livingston Manor is such a small town, you might need to search beyond the town itself if you come in high season (Memorial Day to Labor Day). Roscoe is located northwest of Livingston Manor, up Route 17, and there are quite a few hotels that I'll list out here.
Airbnb in Livingston Manor
At the time of writing, there are about six Airbnb listings in Livingston Manor (the town proper). If you're game for a 10-minute drive, you'll find about 12 additional Airbnb rental properties for accommodation in the surrounding area radius.
These range from barn stays to "tiny homes" to luxury cabins, as well as cottages and entire homes. Check out which accommodations are available on Airbnb.
Where to Eat
There are quite a few places to eat in Livingston Manor, and there's something for every budget. Whether you like dining outside under the stars at a brewery or grabbing a meal to go if you're just passing through, check out the list below.
One thing to note is that many places for eating and dining in Livingston Manor, much like in other upstate New York towns, are open on select days of the week. Many are closed on Mondays, or Tuesdays, or Mondays through Wednesdays.
Before you plan your trip around a restaurant, check the Google Maps listing, or better yet, call them to clarify their open hours.
As our trip was a Monday through Wednesday, we had slightly slim pickin's for where to eat, as you'll see below. We made the best of the timing and ate and enjoyed drinks everywhere we could, given which restaurants and bars were open!
You'll have tons better luck from Thursday to Sunday for having a shot at all restaurants and shops being open. It'll depend on your trip itinerary!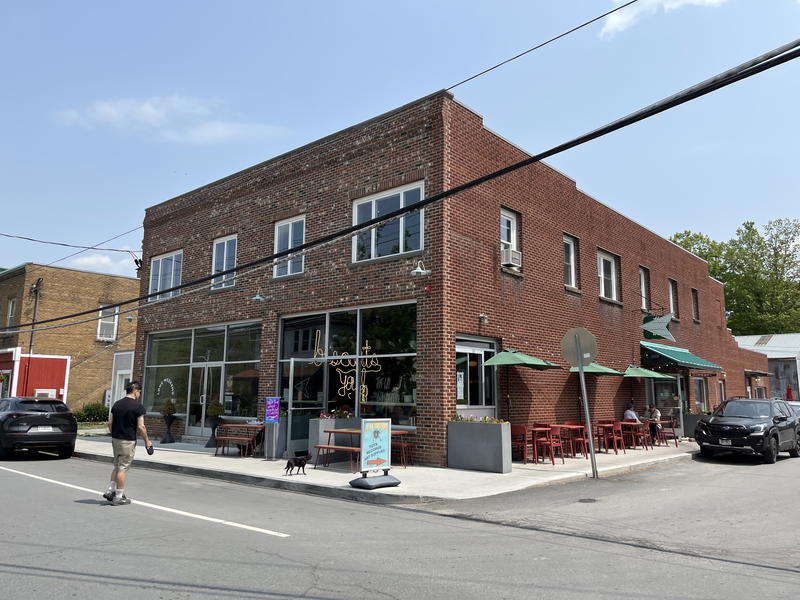 The Kaatskeller
This highly-rated pizza restaurant has awesome wood-fired pies and is great for the whole family or road trip crew. There's also a wine list and cocktails. Sit outside at the picnic tables and check out the oat milk gelato truck! Find it here on Google Maps.
Note: The Kaatskeller is ONLY open Friday through Sunday.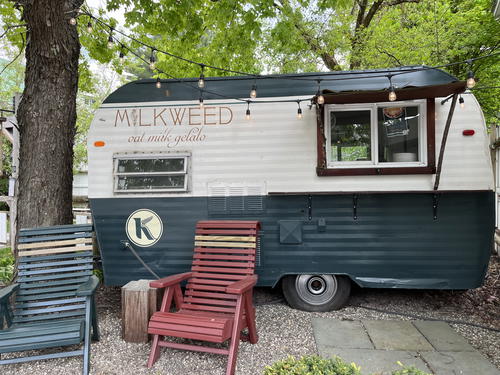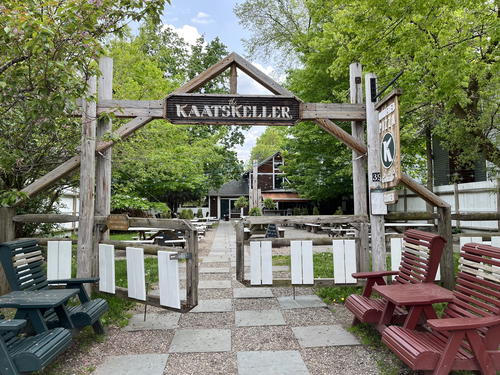 The Walk In
Open every day of the week from 8 to 3 (yay!), this cute breakfast and lunch place features perfect biscuits (from a homemade recipe) and bagels, sandwiches, salads and sides. We both had salads and they were honestly really good. There are vegetarian options and a soup of the day.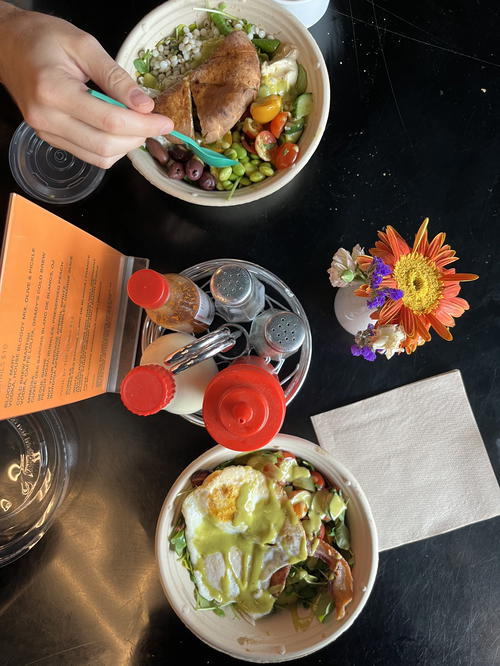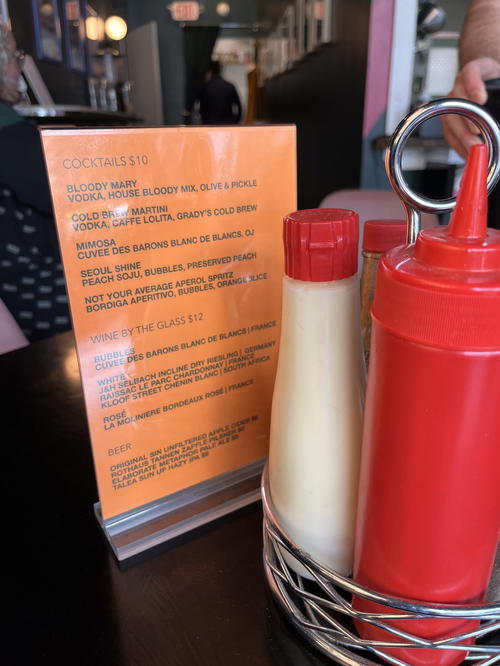 There's an excellent coffee menu (you can feel free to come with a laptop and get work done during the day) and "boozy beverages" at the chic bar, too. We were there on a Tuesday, so we didn't see the bar crowd, but it seems like it's a really hoppin' place on the weekend.
There are tons of tables outside and a few that are inside on the bar area. You order around the right side, and then pick up your order inside at the counter.
Find it here on Google Maps.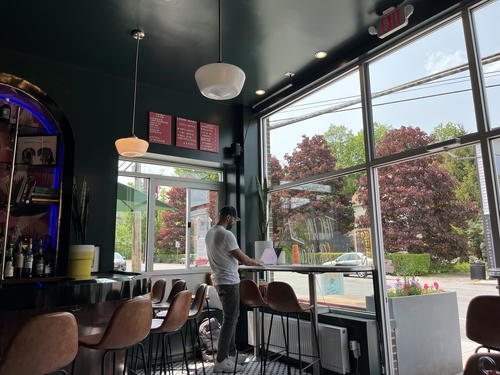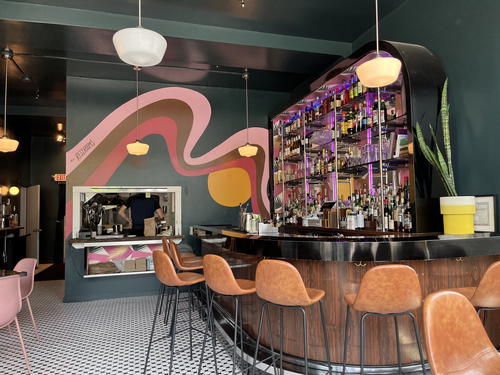 Main Street Farm Market Cafe
The Main Street Farm Market Cafe is (luckily!) open every day from 9 to 6, and on Fridays, til 7. Here, you'll find provisions like delicious sandwiches, salads and soups, baked goods, fish, cheese, hot sauce and gifts. There's also a coffee bar.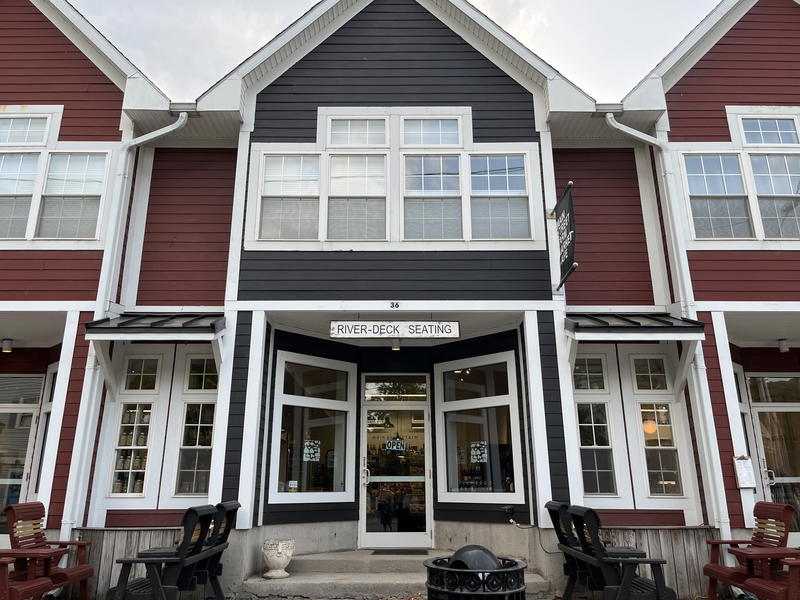 Note that the kitchen closes in the afternoon, but they have a fridge of ready-made sandwiches, a "falafel kit," premade egg salads and cold noodles for takeaway. We got the egg salad, quinoa salad and some crackers. There's indoor seating near the counter at the right side entrance, and tables and chairs out front.
Find it here on Google Maps.
Robin Hood Diner
On the edge of town is the Robin Hood Diner, which serves up bacon and eggs, coffee, pancakes and omelettes with charming local service.
If you're into authentic breakfast and diner food, give it a shot, as this place is also open every day of the week (only until 2pm on Mondays, Tuesdays and Thursdays, but til 6pm the rest of the week). Find it here on Google Maps.
The Smoke Joint
This family-run operation serves ribs, fries and mac and cheese, with outdoor seating and (sometimes) live music! The brisket, along with the BBQ chicken sandwiches, come highly recommended.
Helpful Tip
For vegetarians and vegans: there are menu items marked vegetarian and vegan, so if you're coming with some carnivorous friends, you can still indulge in side dishes like the house cornbread, mac and cheese, coleslaw and collard greens. There are also bottled "hard drinks" to enjoy (think fruity vodka and rum-based casual cocktails).
Note: It is ONLY open Friday through Sunday.
The Neon Croissant
Find giant drool-worthy croissants at this local bakery in town, as well as cinnamon buns, breads and donuts. Find it here on Google Maps.
Note: The Neon Croissant is ONLY open Friday to Sunday.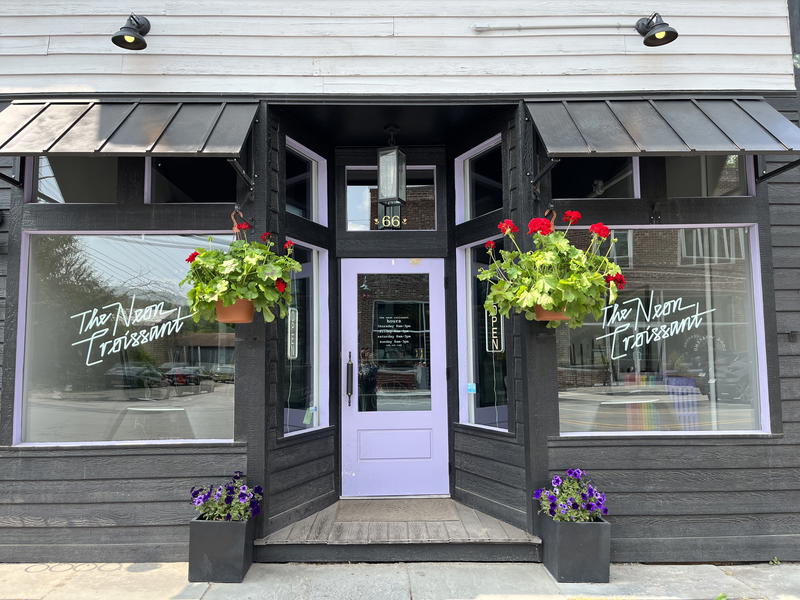 Madison's Main Street
This place is now a cash-only soft serve ice cream stand right on Main Street. Find it here on Google Maps.
Note: It is closed Monday and Tuesday.
Café 43
Cafe 43 is open every day from 7am to 1pm, for getting your fix of pastries, pancakes, sandwiches, coffee, tea, omelettes and bagels. It's an old-school sort of place and we came for a late breakfast.
We both got eggs, hash browns and toast and it was about $5 per person before drinks, which is a stark comparison to the $15 salads and sandwiches elsewhere. Prices are affordable in comparison to the newcomer restaurants on Main St.
The staff is friendly and will chat you up in if you ask about how the town has changed over recent years.
Note: there's only a small handful of tables, with the largest seating four, and there are no outdoor tables. Find it here on Google Maps.
Little North | Kitchen + Market
A little ways outside of town, Little North Kitchen & Market has friendly staff, rotisserie chicken and a great yard for kids to run around in. There's snacks and coffee, and don't miss the shrimp skewers, sausage and rotisserie potatoes. Find it here on Google Maps.
Note: It is closed Monday, Tuesday and Wednesday.
Chinatown Kitchen
This nondescript standard Chinese takeout spot might be good for when nothing else is open or you need quick takeout. That's how it worked for us on Monday when we arrived, and everything else was closed or about to be closed. So, I ordered a fried rice and frankly, it was pretty good.
Have cash ready unless what you're ordering is over $10. Find it here on Google Maps.
Note: It is closed on Sunday.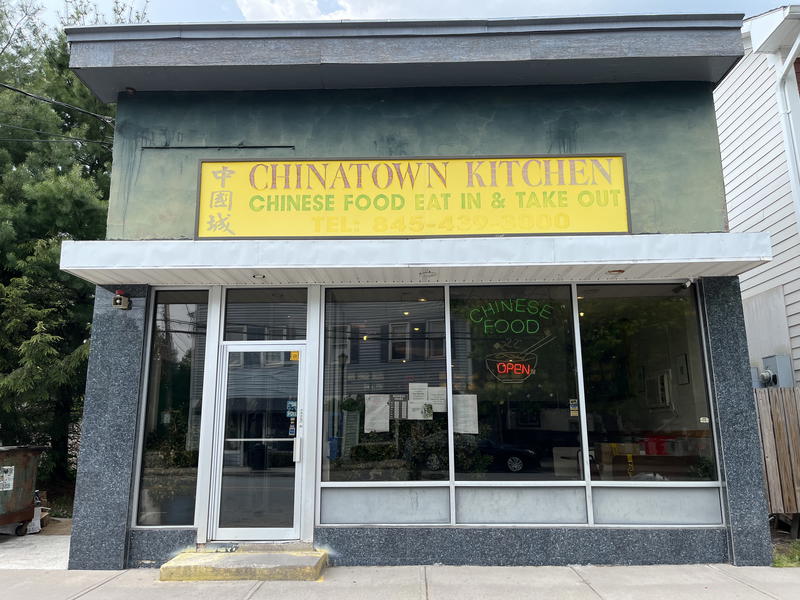 Where to Drink
Livingston Manor, despite its petite size, is home to not one, but two (!) great upstate breweries to try, whether you're the type who travels for craft beer or whether you just like the outdoor chill brewery vibe. Check out the list below for where to grab a drink in and around the town.
Upward Brewing Company & Upward Kitchen
We looooooved hanging out for an afternoon at Upward Brewery! It's only a few minutes of driving south of Livingston Manor's town center.
The brewery opened in 2019, so it's pretty new. It has excellent food, flavorful local brews from upstate breweries, awesome atmosphere and a dog-friendly outdoor area.
Helpful Tip
There's a hiking trail to a point called Beer Mountain, with its trail head located right next to the picnic table area.
The indoor taproom and dining area has sleek couches and tables, and delightful views of the Catskill mountains. Bring a camera! I couldn't stop taking photos of the decor and the interior.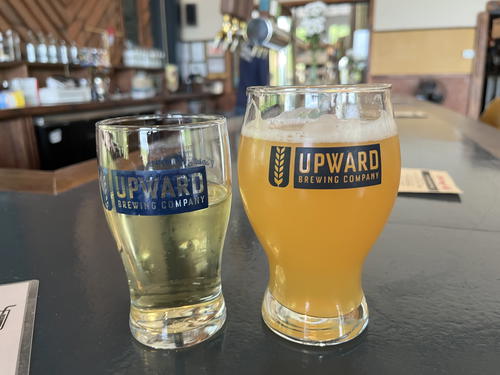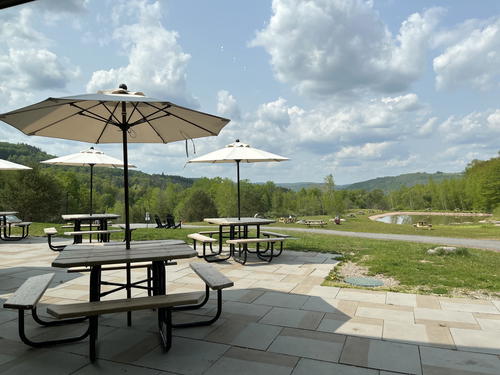 You can also get food to go from the kitchen menu. We got salads and burgers (they make an Impossible Burger for vegans!).
See the website here.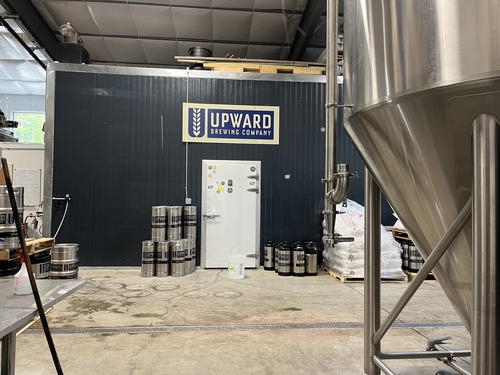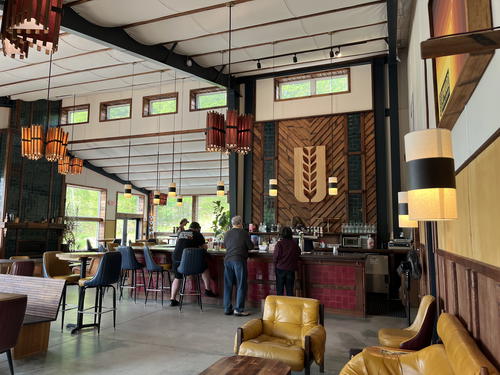 Note: It is closed on Monday.
Catskill Brewery
Catskill Brewery is just as you picture it in your head: great beer out in nature, good service, and food like tacos, burritos and salads. Sit outside at picnic tables and enjoy their food truck, and leave with a Catskill Brewery hoodie. Head straight to their website to find out more.
Note: It is closed on Tuesday.
Sunshine Colony
What a lovely little bar at 47 Main Street! With great vibes, drinks and tapas, what more could you want? Also, the decor is kind of like an indoor lawn party. Find it here on Google Maps (but with a grain of salt, because apparently Google Maps marks it as 45 Main Street).
Note: It is ONLY open Tuesday, Friday and Saturday, and closed Monday, Wednesday, Thursday and Sunday.
Stumble Out Bar
This fun and neon bar in town has awesome cocktails, great service and a menu that changes weekly. Dogs are welcome! Find it here on Google Maps.
Note: It is closed Sunday, Monday and Tuesday.
Van Smokey Meat Shop Restaurant & Bar
Dine in or stop by for shopping at the Van Smokey Meat Shop, where the cheesy sausage comes recommended. If you'd like to bring a little something home, go for the spicy pickles, hot sauces or jerky. Also, despite the name, there are two vegetarian tacos on the menu: the Bean Soft Taco Supreme and the Jackfruit Norteño. Find it here on Google Maps.
Note: It is closed Monday and Tuesday.
Things to see and do
When it comes to planning a trip, I always focus on the question, "But what will we DO there?" I like to look for a variety of dining, nature and culture.
In the towns of the Catskills and Hudson Valley, we've usually sought out nature walks and scenic views, and paired them with afternoons strolling the streets of small towns like Cold Spring, Catskill, Hudson, Hunter and Beacon.
Livingston Manor is located in a unique spot with lots of access to streams and creeks that are well-known for trout fishing, so this an important area for fishing hobbyists. In fact, we got asked several times if we had plans to go fishing.
In Livingston Manor, the town has been revitalized in recent years and appeals instantly to the NYC metro area traveler looking for a quaint town where the backdrop is the Catskills. See this list of what to do and where to go on your trip to Livingston Manor.
Beaver Lake Farm
This private farm is near the Antrim Streamside cabin property and is under joint ownership with the hotel. For guests staying there, you can make an appointment with the hotel staff to ensure that the farmer, Nathan, is available to show you around!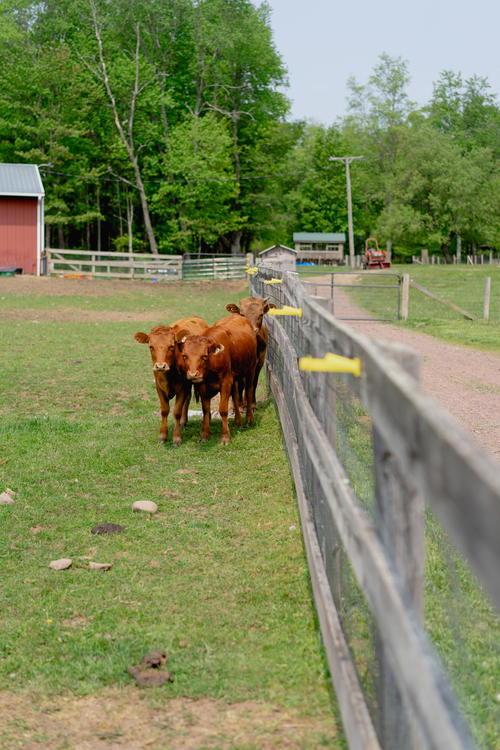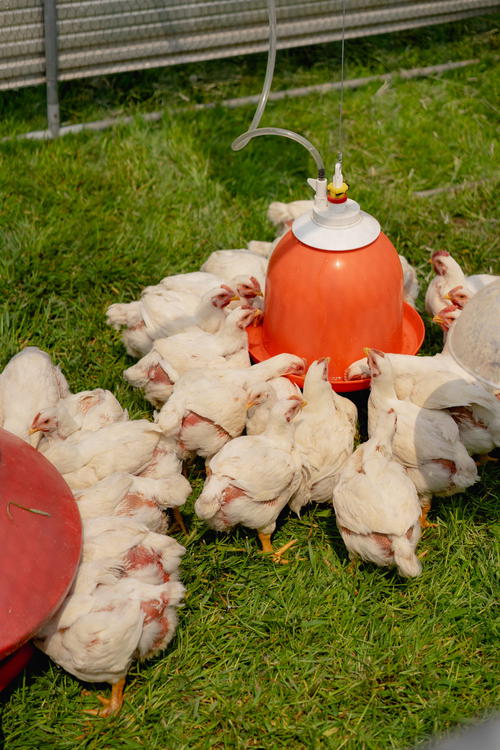 The farm specializes in cattle and livestock, and you can purchase meat items at retail pricing to take home, but it's smart to contact the farm beforehand through the website to see what's available. We liked seeing the baby sheep and the baby chickens. They were so cute.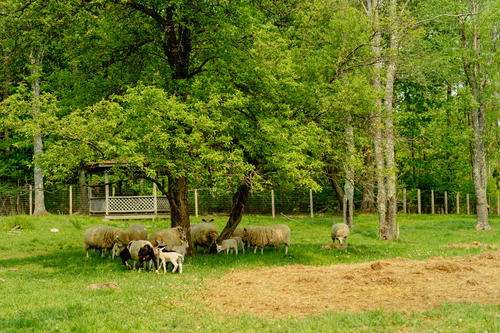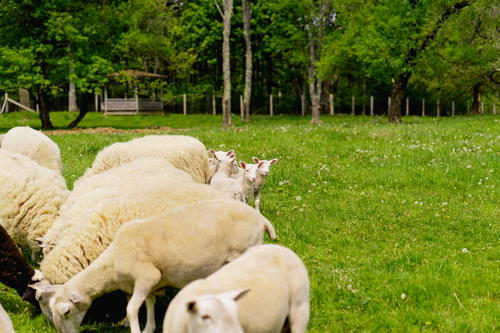 Nathan answered all our questions about the farm livestock and was very personable. He let us get up close and personal with the sheep in their pen. Finally, we got to take home some farm fresh eggs.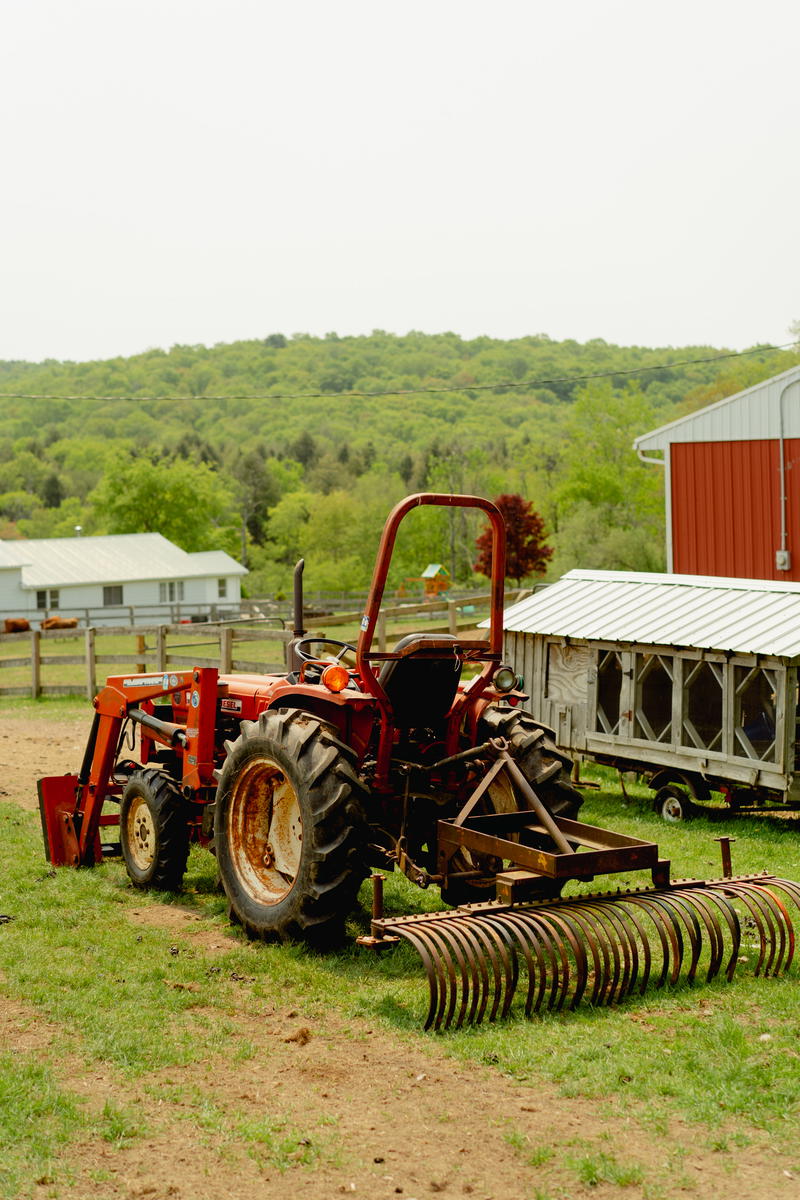 Round Top Trail
This wooded hiking area is near Livingston Manor's town and is good for a day hike. There are a bunch of rocks to climb, and a nice view at the top. Be sure to bring your own food and of course, leave no trace (LNT) that you were there, to keep the nature pristine. The trailhead is here.
Livingston Manor Covered Bridge
This picturesque and historic covered bridge is a great photo op for photographers visiting the Catskills. It was built in 1860, if that describes how old it is! It's located here, on (very aptly) Covered Bridge Road.
Catskill Art Space
This modern and local art gallery with rotating exhibits is worth a visit on your trip! Here's the website.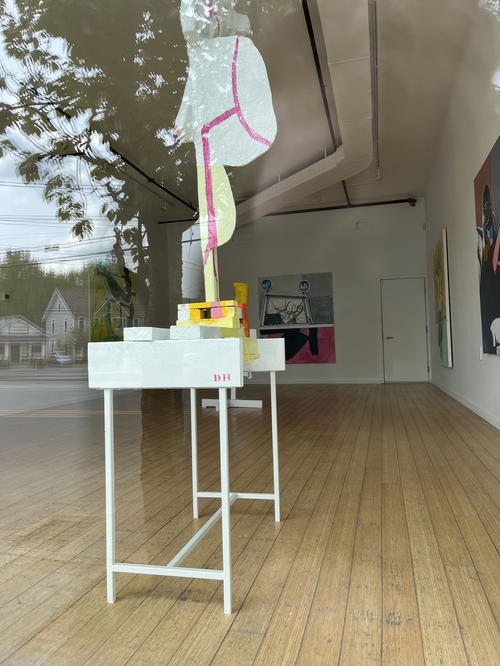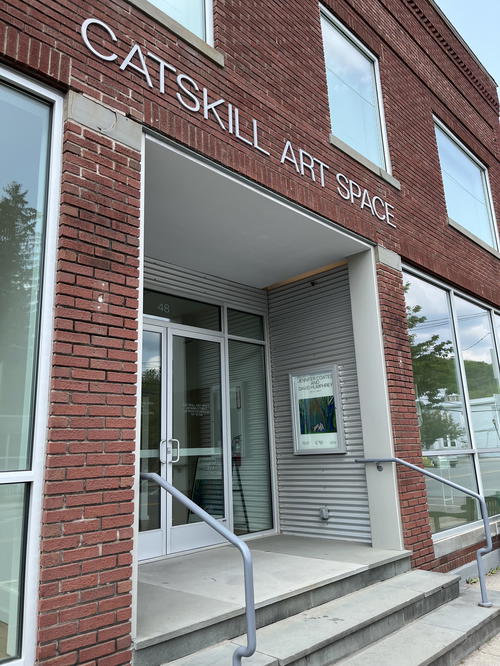 Note: It is currently only open Friday through Sunday.
Catskill Fly Fishing Center & Museum
The South and Western Catskills are well-known for fishing, especially of brown trout. Do you love fishing, or want to learn more about it? For fishing enthusiasts and those who are curious, the museum has fishing artifacts, history and pictures for kids to marvel at.
Find it here on Google Maps.
Note: It is currently only open Friday through Monday.
Hunter Lake Campgrounds
If you're into camping, check out the campgrounds at Hunter Lake. There's a website that describes the camp sites and facilities.
Willowemoc Creek Public Fishing Spot
More local fishing takes place at this fishing spot where you can come with your bait and hook, or simply admire the pretty surroundings off Debruce Road next to the creek.
Dundas Castle
This haunted-looking 100-year-old Gothic Revival castle is located in nearby Roscoe, NY. This unique spot is (unfortunately?) private property and doesn't offer tours, but it is definitely really interesting to look at. For the adventurous: the location is here.
Coworking at Barnfox
We stumbled upon this coworking space for anyone working remotely during some traveling at the edge of town and it looks brand new, with a great design and a cool backyard I took a look at. Learn more about coworking at Barnfox at the website.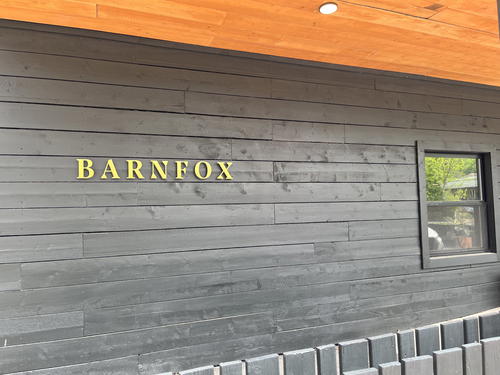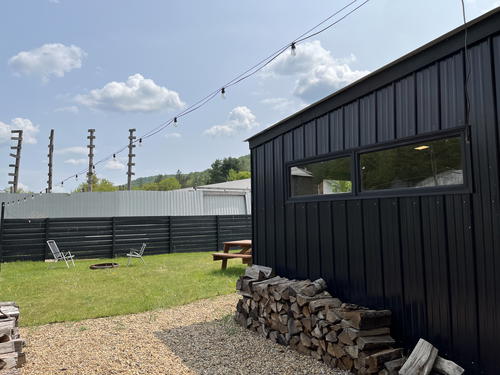 Where to Shop
If you've longed for cute shops and boutiques, Livingston Manor is the place for that on your upstate Catskills trip. See the options for shopping below, and you won't be disappointed, as we certainly were not!
Old Souls
Old Souls is a nice boutique that has great brands and authentic gifts with a cabin chic/glamping-friendly/outdoorsman vibe. It also has a location in Cold Spring in the Hudson Valley. The website is here, and the Livingston Manor location is at 46 Main Street, here.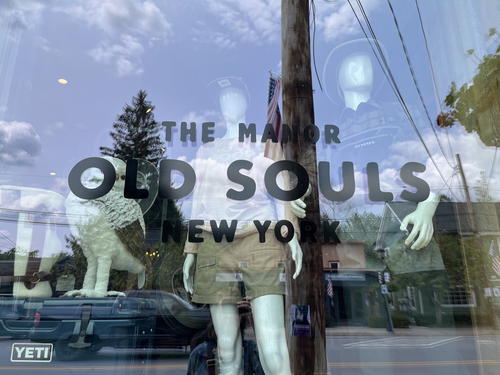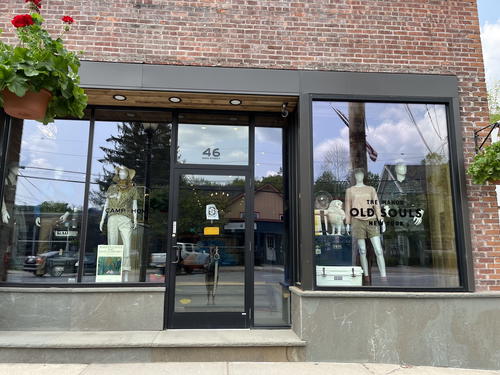 Life Repurposed
Life Repurposed is a secondhand goods shop for collectors and thrifters. There's reasonable prices and great variety. Find it here on Google Maps, also on Main Street!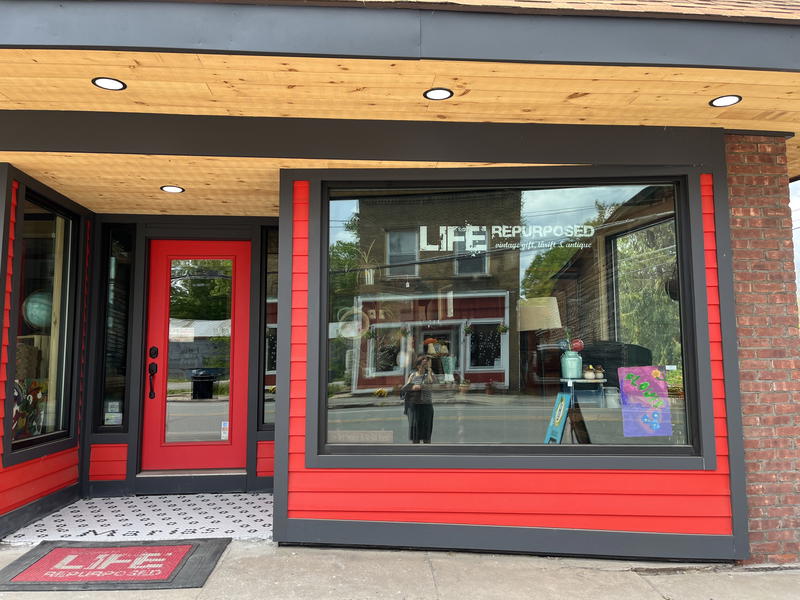 Long Weekend
This shop is a home goods store with a great design aesthetic. It used to have more furniture, but lucky for travelers, it now sells items and gifts that fit in your bag or car, so you can bring home candles, soaps, mugs or coffee table books.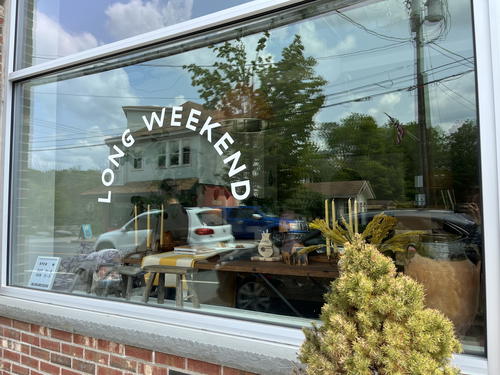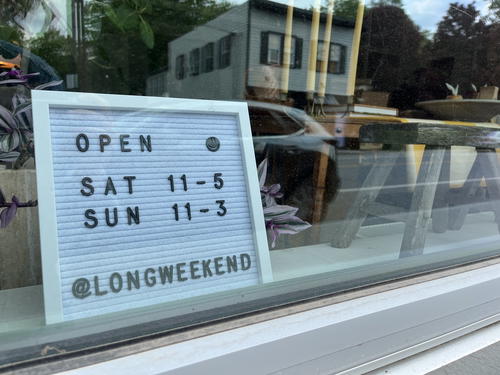 Upstream Wine & Spirits
If a wine store were lovable, it would be this one. Upstream Wine & Spirits, located at 34 Main Street, hosts weddings and events as well as tastings and hopefully classes in the future. The staff was so friendly when I walked in, and they'd love to answer any type of question about the wines they stock.
In addition to being popular on Instagram, here's the website.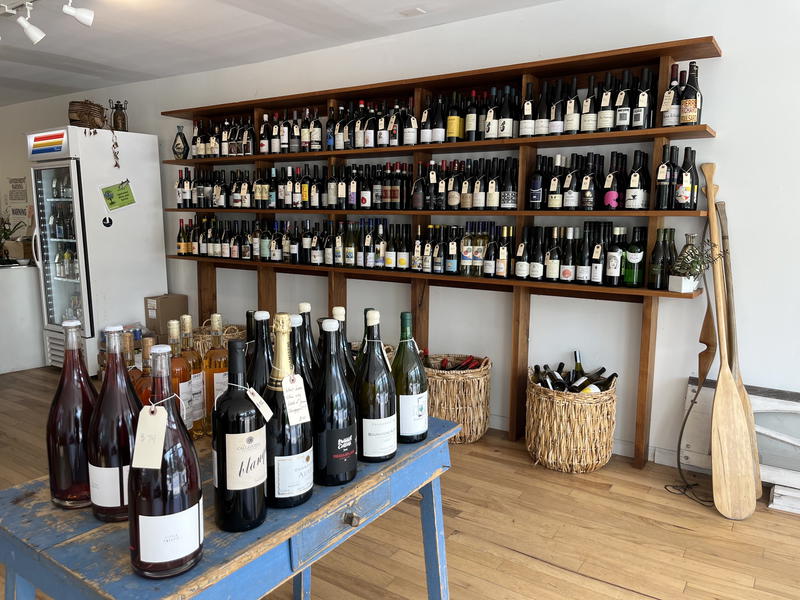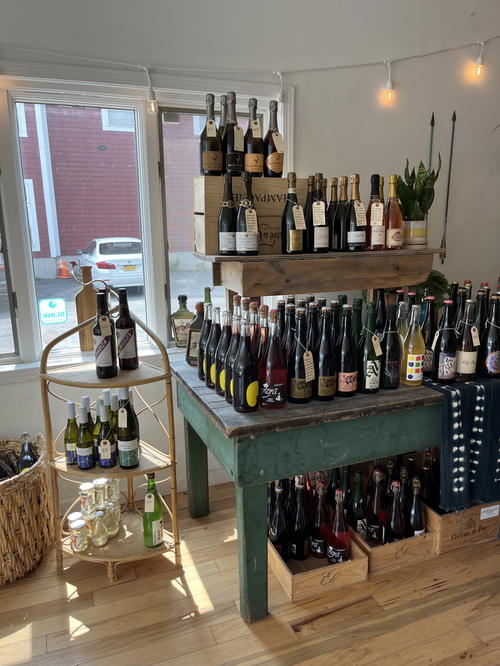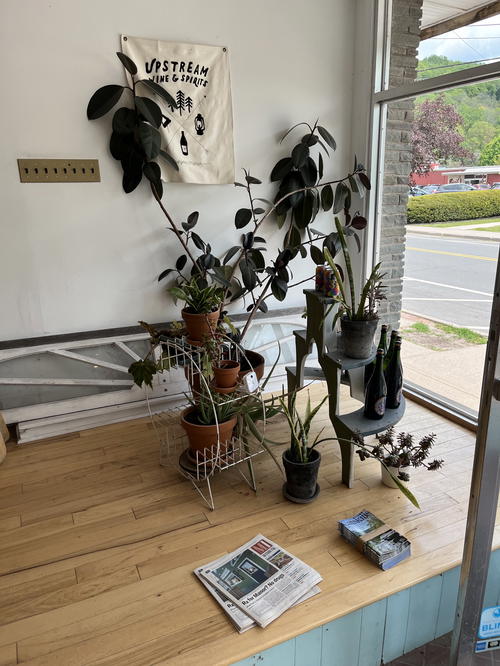 Livingston Manor Farmers Market
This farmers market in town is only open on Sundays from 10 to 2. There's potentially some information on the Facebook page.
How to get to Livingston Manor
Livingston Manor is located in the Catskills region of upstate NY. Specifically, the town is located at the southwestern part of the Catskills region, so if you've found our guide to the other towns in the Catskills like Catskill or Hunter, that's between a 90 min to one-hour drive.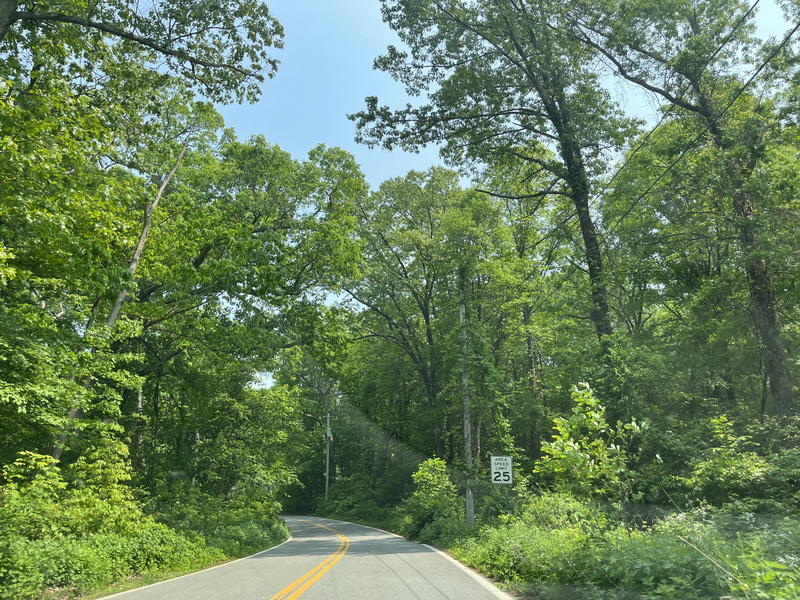 How to get to Livingston Manor from NYC
The best way to get to Livingston Manor from NYC or the surrounding region (Westchester, Long Island, New Jersey) is to drive. I wouldn't be the first to recommend taking a bus, as I've done it (and I think I did it for my first trip to Livingston Manor back in 2015!).
For driving from the city, expect to leave the Five Boroughs via the George Washington Bridge, and then expect to be driving on small highways the rest of the way. From Midtown Manhattan to Livingston Manor, it's about 115 miles and the drive takes approximately 2 hours without traffic.
Note, though, that on a summer weekend, you'll hit all types of traffic and delays exiting the city. I recommend leaving in the morning and returning late Sunday night if possible!
How to get to Livingston Manor from other parts of Upstate NY or PA
Livingston Manor and nearby towns like Monticello are located a lot closer to Pennsylvania than to other parts of upstate NY.
If you're considering a trip with multiple upstate locations, make sure you map out your route, as Livingston Manor and the southwestern Catskills are rather far from places in the Hudson Valley like Hudson (it'll take an hour and 45 minutes at least).
To put it in perspective, Livingston Manor is two hours southwest of Albany, two and a half hours from Syracuse and an hour and a half to Scranton, PA.
Enjoyed our article?
Consider supporting us! We're a 2-person team (learn more about us here) and your support enables us to create quality content. Thank you!