Travelpayouts Review: A Monetization Must for Travel Bloggers?
Written by Dan
•
Updated on November 15th, 2023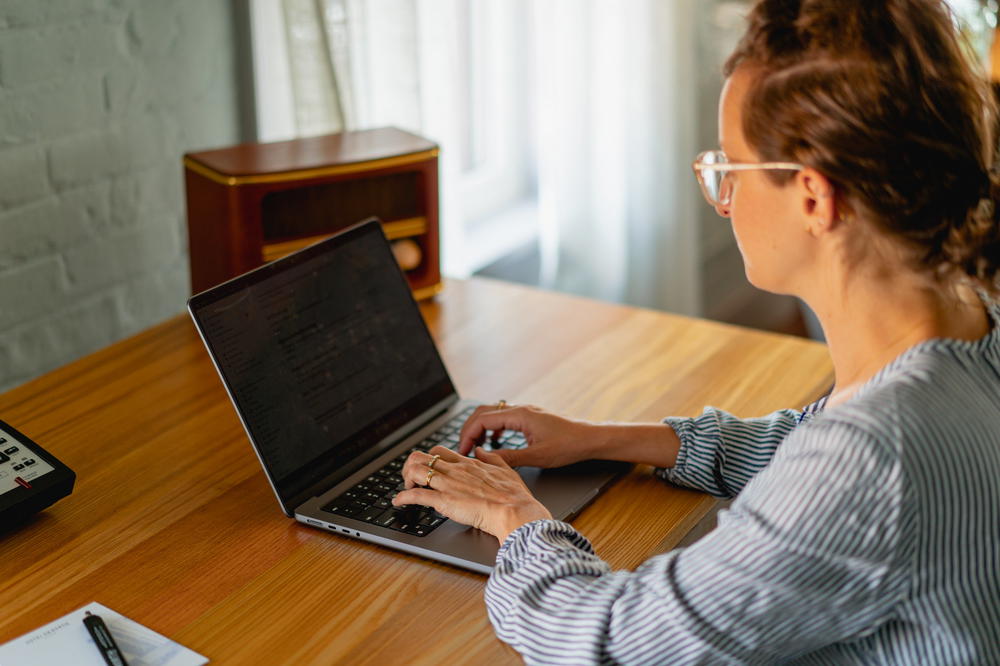 Is the Travelpayouts affiliate program network worth it for growing your website revenue? In this review, I discuss it as a must-have for monetizing our blog.
This article may contain affiliate links. We earn a small commissions when you purchase via those links — and it's free for you. It's only us (Becca & Dan) working on this website, so we value your support! Read our privacy policy and learn more about us.
Table of contents
Close table of contents
We started our website (HalfHalfTravel.com) in 2016. While I knew how to make websites then, I knew nothing about implementing SEO, blogging or how to make money blogging.
Now, throughout our years growing this blog, I've learned a lot about how to get from a blank page to a website, with 1,147,911 words, 495 articles and 10,577 photos.
I've read a lot of blog posts about how to make money as a travel blogger. I know you want to see big flashy numbers, like, "Earn $25,000 a month and see results right away!" The truth is, or at least for me, is that this is hard work, and takes a lot of dedication!
One of the tools that has helped quickly monetize the travel portion of our website has been Travelpayouts. Here, I'll show you all the features I've learned about, and how it can work for your website.
As a heads up, Travelpayouts has sponsored this review; however, all of the thoughts you'll see here are my own, and this review has been created based on my own genuine experience!
Let's check out how to start monetizing blogs with Travelpayouts.
Why does your blog need Travelpayouts?
Travelpayouts is right for your blog if you are writing travel destination guides and are interested in monetizing your recommendations. To put it another way, if you want to aggregate all of your travel-related affiliate programs into one place, you can use Travelpayouts.
To stay organized, I have several groups of bookmarks to keep track of all of the affiliate programs that I belong to for this website. In fact, it was easier for me to build this page, which I export from Google Sheets as a CSV file. It's what I use to maintain a list of affiliates.
Every one of these programs requires some maintenance. The maintenance can either be related to payment, negotiating rates, applying to the program initially, moving all of the links if the program ever closes (or moves) or other reasons.
Travelpayouts makes the entire process of being an affiliate publisher easy by having a platform of travel-related affiliates in all aspects of the industry. Travelpayouts provides a platform for different advertisers in flights, hotels, tour operators, rental cars and more.
You don't need to apply to various different programs for each vertical. Back to my example with so many individual affiliate partnerships, I can manage a lot of relationships in one easy place, with Travelpayouts.
What is Travelpayouts?
Now that I've mentioned why Travelpayouts is useful for your blog, we can get into the details about what Travelpayouts actually is, and what it looks like to use.
For you starting out for the first time, you don't need to be an expert blogger to get started. Travelpayouts will work for bloggers of all skill levels.
Travelpayouts is an all-in-one travel monetization platform that empowers you as a goal-oriented travel blogger. You'll spend less time scaling your blog revenue, which can help turn your blog into a rewarding business that you enjoy!
We'll get into more of the features and why Travelpayouts is unique, later in this article!
What makes it different from other affiliate programs or affiliate networks?
Travelpayouts is unique because it provides a centralized location for many of the travel-based affiliate programs that you might want to join. When you join, you'll see many affiliate programs connected on the platform.
Many of these programs have an instant connection, so as long as you have an active account with Travelpayouts, you can sign up for a new affiliate partnership and start promoting brands right away.

With other affiliate programs, you may need to wait for an application to be approved, or you might even need to sign up for a new affiliate network. This can take time.
Like I mentioned above, our blog (Half Half Travel) has lots of affiliate partners, so adding a new affiliate network starts to add a lot of overhead.
At its core, the way that Travelpayouts comes preloaded with advertisers to promote right away is one of the major differences.
What are the key features of Travelpayouts?
The reason I actively use Travelpayouts on this website is because of all of the unique features. Let's explore those offerings.
No minimum audience
Travelpayouts would love to have you, even if you're new to the travel blogging space. Most affiliate networks and programs that I've joined have some type of form that asks for website traffic and maybe even social media stats.
When I first started this website, I got rejected from a lot of applications, and I think "low site traffic" was a factor.
Commission rates
With the programs that you join, you'll get a clear and easy-to-understand idea of what your commission structure is. I belong to some affiliate programs that constantly change their rates and terms, and it's not always easy to find my commission rates. Travelpayouts makes it clear, and easy to find.
For certain programs, your commission rates might even be higher than what the direct program will offer. For example, TripAdvisor (through which users can book tours) has an 8% commission rate through Travelpayouts and 4% on CJ. It can be surprising!
For hotels, Travelpayouts gives you 50% commission rates, while it appears that the default CJ contract gives 40%, despite CJ's website quoting 50% as well. This was what I found.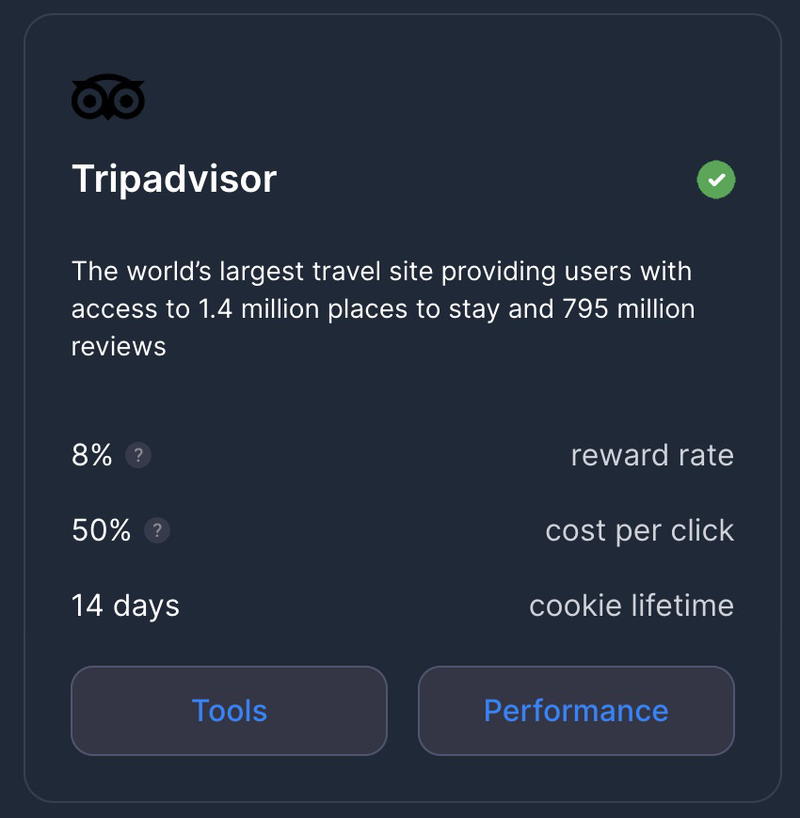 Learning programs
For travel bloggers of any skill level, learning new things about our industry is important for staying current with the latest trends. Luckily, Travelpayouts has a resource all about learning. You can access it when you join and visit the Travelpayouts Academy section.
You'll see a bunch of self-paced learning videos. I watched a couple! When I watch tutorials, I usually play videos at 2x speed. Because these videos are hosted on YouTube, you can easily do that with the player. It helps me save time.
Helpful Tip
Click the settings icon and change playback speed from "Normal" to "2x".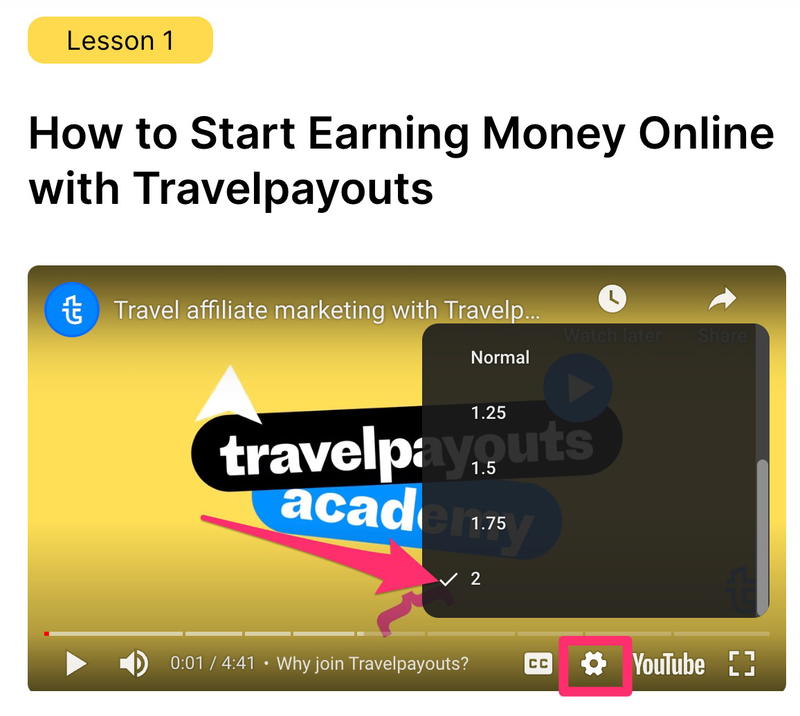 Other course platforms lock down your video controls, which isn't a good user experience, in my opinion.
LinkSwitcher
LinkSwitcher is a snippet of JavaScript code that you can add to your site to convert direct publisher links into Travelpayouts affiliate links. For example, if you use a link directly to a booking.com property, the LinkSwitcher will automatically convert the link to an affiliate link, which will earn you a commission.
You can learn more about LinkSwitcher here.
White labeling
It's not uncommon for travel affiliate programs to "white label" their platforms for you to use on your own site. If the idea is new to you, I can explain below.
To "white label" something is similar to what Trader Joe's, Costco and many US grocery stores do with their store brands. Take a bag of coffee, for example: Trader Joe's has its own brand (the Trader Joe's brand) and you can read all about the TJ private labeling story.
For Costco, it was obvious that Starbucks roasted the Starbucks coffee sold there, because it says so on the bag! It'll say "Kirkland Signature House Blend Coffee," and the brand is Costco's Kirkland brand, but it says, "Custom roasted by Starbucks."
What does coffee have to do with travel blogs?
Just as stores can white label their stocks of coffee, you can white label Aviasales (for flights) and Hotellook (for hotels). If you have a lot of site volume or you have a good way to send users directly to a page to search for a flight or hotel, you can use these tools and keep your branding.
Your audience may not be aware that you didn't develop this tool on your own.
This help center category page at Travelpayouts Support will go into much more detail than I covered, if you're interested in learning more.
Easy-to-use widgets, links and banners
All programs that you belong to in Travelpayouts will have a way for you to "deep link" to their program. Some programs have widgets and banners.
The widgets are what I use and tested on some different travel destination guides. Integrating them on my website was easy, and I didn't need to do anything other than drop the code into my blog post.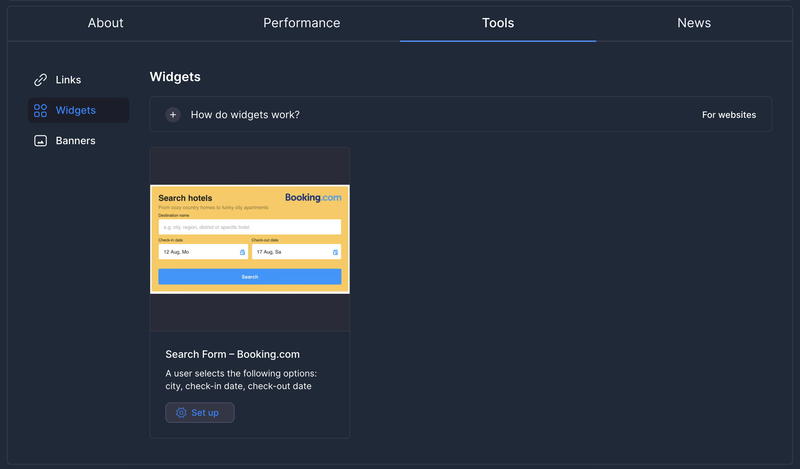 I personally don't use custom banners for our site, but that process is also simple. You will have access to a number of different banners.
I use links fairly often, and that's mostly how I link to certain partners. I wrote a custom script to automatically create Travelpayouts affiliate links for Booking.com and TripAdvisor. Most bloggers would likely use the LinkSwitcher option!
WordPress plugin
Like I mentioned above, the WordPress plugin can help you integrate Travelpayouts into your website. Read the description to get a sense if the plugin is helpful for you.
Our website is custom built, so I can't go into too much detail about how it works. In the last few years, I haven't had much experience using WordPress, believe it or not!
From what I can tell, it's actively maintained and bloggers generally have good experiences using it.
Access to travel-specific affiliate programs
I haven't actually said this explicitly, but when you join Travelpayouts, you'll be able to only join travel affiliate programs. You won't see products or services from other industries (like insurance, physical products or general retail) offered to promote.
The experience is designed to cater to travel bloggers, so any widgets or tools are built with the travel blogger (and site visitor seeking travel) in mind.
Clear reporting
Some affiliate programs have complicated reporting infrastructures. Or sometimes, it's hard to find your data and understand your blog's performance metrics. This has been a challenge for us.
I've found that the way that Travelpayouts reports on your metrics is easy to read, fast to change your parameters and well-designed. I appreciate these features.
These are things that you'll appreciate with Travelpayouts when you need to get your info, if you're comparing to a tool that hasn't thought out the design and user experience.
You can download a CSV of your data, if you'd like to do any more analyzing on your own.
AI monetization with Emerald (in beta)
I'm currently beta testing Travelpayout's new program called Emerald. It will read through your blog posts and automatically find the best spot in which to place a grid of travel CTAs and tooltips from a variety of affiliate programs within their network.
Here is a group of CTAs that it generated on one of my posts.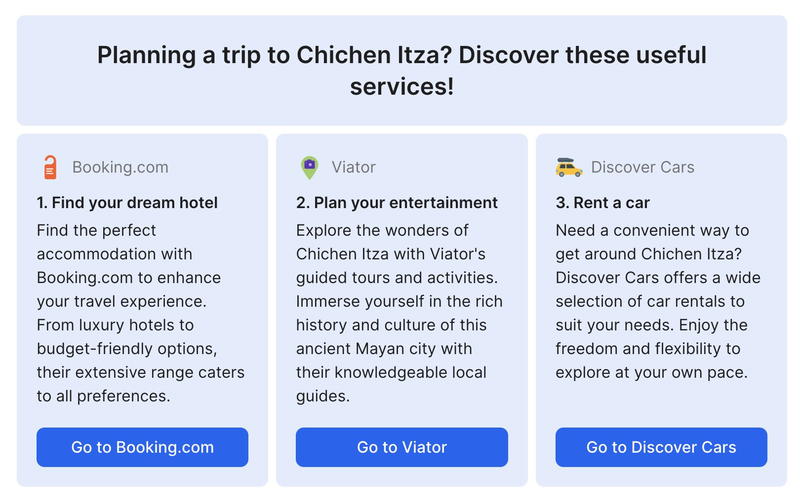 The tooltips are pretty neat and they will pick up on certain mentions of travel services to add an interactive popup to learn more. In my case, it found a mention of a popular destination, and automatically added a link (with popup) to the tour. Here's what they look like.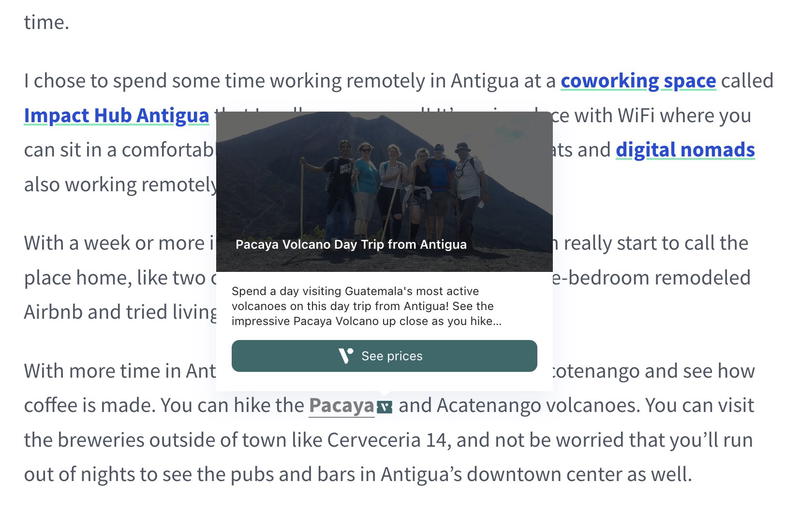 You don't need to explicitly apply for these programs, either. It seems like it has a lot of potential.
Referral program
With Travelpayouts, you can refer other travel bloggers and receive 7% of their earnings for the next two years! This is huge for your potential bonuses. If you can refer a top blogger or someone passionate about promoting travel, you'll both win.

I do this, and I mention Travelpayouts in my article about the best affiliate programs for travel bloggers. I have seen great results! I've been happy with the performance of the Travelpayouts referral program, and I'm glad I learned about it.
You can learn more about the referral program here.
Delegated access
If you have other people on your team, you can use the delegated access feature to set up another person to have limited access to your account. These users will be able to perform specific actions within your account without you having to give them your password or disclose any of your personal information.
Not all affiliate programs have this feature, and it's a great way to let someone into your account, but limit access to certain things like changing account or payment information.
You can learn more about delegated access here.
Widgets
I experimented with adding two types of widgets to our travel destination pages. I added a Booking.com widget, and a Kiwi flights widget.
I generally experiment a lot with our website, and I'll remove a feature if it doesn't perform to our benefit. I'd rather keep our site easier to maintain, and not have old code, if it's not performing well.
During my testing, I found that the Booking.com widget performed fairly well, so the overhead of keeping this widget installed is worth the effort!
I had a hard time converting users with the Kiwi flights widget, though. There's absolutely nothing wrong with it — the low sales could be attributed to the nature of how consumers book flights nowadays.
I will continue to experiment with other flight affiliates within Travelpayouts, and I'll see if my results change at all.
What I like about Travelpayouts
For my specific use case, I get the most value out of the Travelpayouts referral program. I'm happy that I've been able to empower so many different travel bloggers onto their affiliate journeys.
My next favorite feature is the widgets, and especially the widget from Booking.com. I like that I can easily provide a way for people reading our travel-specific content to book a hotel directly from our page. As someone who books a lot of accommodations, saving a click and a page load sometimes goes a long way.
Lastly, access to various affiliate programs is a feature that I wouldn't think would have been so valuable to me!
When I first created this blog (Half Half Travel), and started learning about affiliates, I got access to CJ and I applied to TripAdvisor. If I recall correctly, CJ accepted me, but eventually, my account was dropped. It was likely because of low performance. I never got a real reason, though.
As I created a few more travel articles, our blog still wasn't considered a credible source, and Booking.com and Priority Pass both rejected my applications.
It was at this point that I found Travelpayouts. I was therefore able to become an affiliate at all of the sites that had rejected me, and I never looked back!
What I don't like about Travelpayouts
If I had to choose some negatives, I'd say that some of the hotel and flight vendors within Travelpayouts aren't necessarily where I would personally book my hotels and flights.
I think that people booking travel are used to sites and platforms where they feel comfortable. I book most of my flights directly through the airline websites and on Google Flights, or on the rewards programs of my travel credit cards.
When I look for services to promote, I don't think that my first choice would be to book through a service that isn't as familiar as Google Flights (for example) or a hotel brand's website.
But that's my opinion. Other people may have preferences that align more with the options provided by Travelpayouts. Consumers outside the US may also have a preferences toward other websites of which I'm unaware.
How to set up Travelpayouts on your website
There are a few different ways in which you can get started adding links and automating part of the process. Learn some of these things below.
Set it up for WordPress
You can download the WordPress plugin from the place where WordPress plugins live. Like I said above, I don't have a lot of experience running Travelpayouts on WordPress. I would encourage you to check it out and read the documentation.
In reading the guide in the help center, it appears that you'll get access to widgets and tables with this plugin.
Set up automatic link creation
For all websites, you'll need to add a JavaScript tag into the <head> of your website. Some WordPress templates have a native way for you to update this code. All other WordPress installations can leverage the Head, Footer and Post Injections plugin.
Additionally, you can use Google Tag Manager (GTM) to inject this script if you already use this for other third-party services. I wouldn't set up GTM only for this one use case, though.
You're specifically looking for the "Money Script", about which you can see more information in the Money Script at the Help Center.
Their website does a good job of breaking down what the script does. I'll go into a little more detail, if you'd like to follow my short guide!
Here's the script template:
<script async src="https://www.travelpayouts.com/money_script/money_script.js?marker=1234567&exclude=93" type="text/javascript"></script>
Where to put it
You'll see the recommendation to put the script right before the closing </head>. This is the recommendation, so that the script can execute right as your HTML is parsed. Having the links change quickly prevents any issues from a visitor clicking on an unaffiliated link.
For me, I care about page performance more, so I'd rather my content download first. I keep almost all of my scripts after the critical HTML loads. It's more of a habit and a safeguard because having the async attribute on the script tag also won't render block your page.
What each part of the script tag means
The async will load independently of other scripts on the page. It won't render block your other contents from loading. This is a good practice to implement in general, to keep your content from being served to visitors as fast as possible.
The script src
The script source part is required.
https://www.travelpayouts.com/money_script/money_script.js
The next pieces, with the ? and the & are called "query parameters." Query parameters work by starting with a ? after the full URL (or in this case, a JavaScript asset) and each additional parameter is an &.
The next segment you need is the market query param: marker=XXXXX. This is your Travelpayouts ID that you can find in the top right corner of your account dashboard when you are logged in.
And lastly, the exclude URL parameter provides options for you to exclude certain programs from being converted. If you work with Hostelworld directly, you may want to include their parter ID as that parameter value. You can find the value by visiting the partner on your Travelpayouts dashboard and looking at the ID from the URL.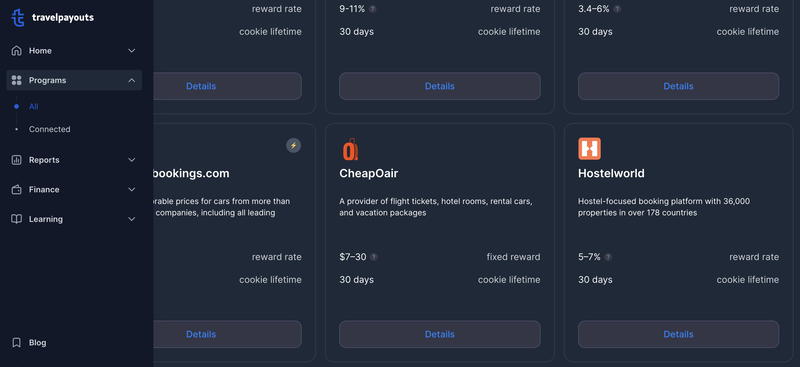 And you can see in this image below, if you look closely, you can see that the ID is 93.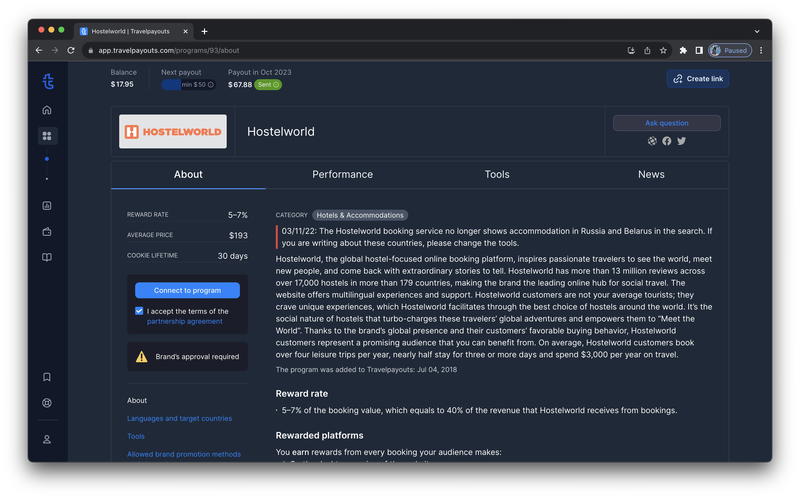 So in my case, my full script tag would look something like this:
<script async src="https://www.travelpayouts.com/money_script/money_script.js?marker=1234567&exclude=93" type="text/javascript"></script>
Multiple excluded pages would look like this: 93,94,95 with no space.
If you're still confused, no worries. You can visit this guide on the Travelpayouts help center to get more info.
Create custom links
You can easily create custom links. On the top right corner of your dashboard, there's a "Create link" button. When you click that, you get a dropdown that looks something like this: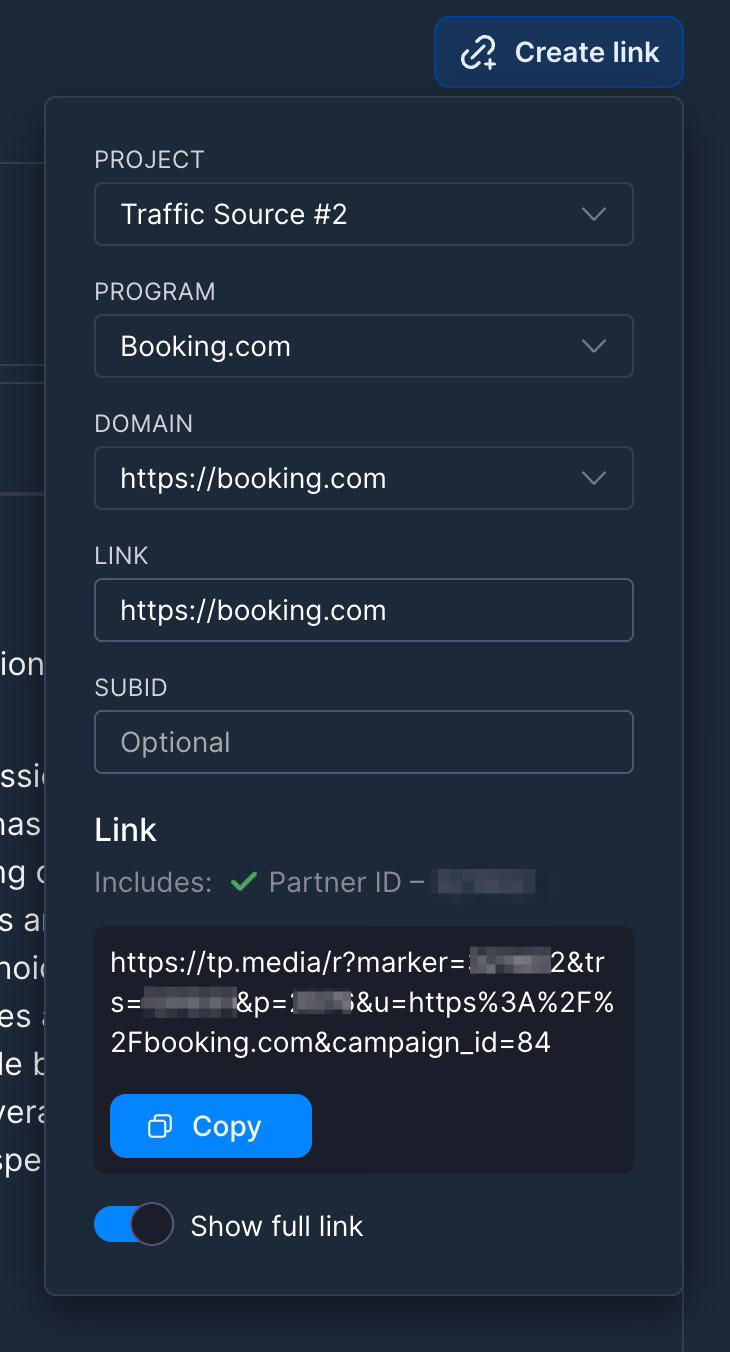 You can choose a program and add some additional information.
And more!
Visit the Travelpayouts help center page on Affiliate Tools to learn more about all of the other opportunities. I have not experimented with landing pages nor with the Chrome extension that is mentioned. There's also helpful guides that should hopefully answer most of your questions.
How to get the most out of Travelpayouts
In this little section, get some of my quick insider tips to make the most of your Travelpayouts partnership.
Subscribe to the Travelpayouts newsletter
You may automatically be signed up for the newsletter when you join the affiliate program. If not, they make it pretty hard to sign up for any newsletter.
Either way, the newsletter gives a good idea of what kind of new content is being created by the Travelpayouts team. You'll see a mix of their blog content and any other news that might be relevant to you.
I stay fairly light with the amount of newsletters that I subscribe to, but I generally keep affiliates in my inbox to remind me to keep tabs on the newest features and benefits.
Check your integrations often
Every few months, we try and visit our older articles and click all of the links to confirm that places we recommend are still open for business. We do the same for products that we recommend.
It's a pretty hard job, especially once you have lots of posts to go through. We typically audit some of our more popular posts and spot check them. We also get into the habit of clicking on links when we come across a recommendation.
We frequently make sweeping updates across Half Half Travel to make sure that we keep everything up to date. That's everything among article accuracy, grammar updates, new links, updated tips and more. For example, if we come across a hostel we stayed at, as far back as 2017, it's usually something to click and check.
I say "we" for all of these article updates because Becca and I are the only people that work on this website!
We've done this several times this year and realized that a few different accommodation properties have since closed. We've then searched around for similar replacements.
Checking your integrations means you'll be sending your visitors to accurate working links. Otherwise, if users "404" when visiting a property's website, they might lose interest and try to visit another site with more up-to-date recommendations.
Confirm that clicks are going through
When you first get set up, click on your links a few times and check your Travelpayouts dashboard to confirm that you see your clicks. There's nothing worse than having a popular article lose out on potential commissions because you forgot to add an affiliate link!
It's happened to us a few times, and it's such a bummer.
Leverage the tracking features
When you create a link, you have the option to create a custom Sub ID. This will attribute the specific link to an eventual conversion.
I didn't do this for the longest time. Now with it enabled, you'll be able to attribute sales to the granular links you have throughout your posts and pages.
I use a tool called Affilimate to help automate the insertion of Sub IDs.
If you decide to use Affilimate, make sure that the scripts are in order. There's a few things that have loaded that are essentially changing links after the page loads. There's no problem with this approach, but make sure to do your testing and confirm everything is properly being changed!
Keep your payment information up-to-date
When I had my account set up for a few months, Travelpayouts reached out to me because I hadn't taken a distribution of my earnings yet. Oops!
I forgot to add my PayPal account information, so they couldn't send any money. I'm glad they reached out. Don't make that mistake like I did! Update your payout info and adjust your minimum payout amount as well.
What results can you expect with Travelpayouts as a new travel blogger?
This ultimately depends on how your site grows with traffic, how transactional your audience is and the type of content that you write.
We write about the theme of travel, so "travel destinations" isn't our primary pillar of content anymore. We write a lot about travel tips, traveling as a family, travel product reviews and then remote work, photography tips, freelance and home.
When we first started and were traveling full-time, our destination guides received a lot more traffic than they do now. I wish we had joined Travelpayouts back then!
Because our content structure is fairly "wider" than it is tall, our travel vertical only gets a small piece of the pie. Embarrassingly, I came to the realization that we haven't been doing the best job of adding a "quick recommend" of where to stay in our city destination guides.
We had entire city travel guides with no recommendations of where to stay. Like I said, we're always learning just like other bloggers are, and no single website is 100% perfect.
I quickly added this feature by implementing a simple list of the best places to stay in [XYZ].
Why am I saying all of this?
All this is to say that our Travelpayouts revenue isn't all that great over the last few months (as of 2023). This is because of the factors above. In the game of transparency, here's a snapshot into our real earnings!

Use this as a benchmark to either come close to what our earnings are, or beat us! I really hope that you can push out great content and surpass our earnings quickly.
If you do, please let us know. We love chatting with fellow creators, and are always happy to hear success stories!
Wrapping up
Even though Travelpayouts sponsored this review, I spent a lot of time going through all of the aspects of how I use Travelpayouts on Half Half Travel. Affiliate marketing is hard! And getting set up with a travel blog isn't always the easiest.
My closing recommendation for you is to "provide great value for people that land on your website." Your blog posts and pages should be helpful pieces of content where visitors can get what they are looking for, quickly and easily.
At a certain point, most sites will monetize with display ads (we did!). You want your recommendations for flights, hotels, cars and experiences to feel authentic, and not like ads.
The tools that Travelpayouts provides allow you to follow that strategy. For me, I interpret this as adding text links and not making first-party recommendations feel like ads.
I'm excited to continue to grow with Travelpayouts as my partner in quickly and easily monetizing my travel content, and I hope you do the same.
Enjoyed our article?
Consider supporting us! We're a 2-person team (learn more about us here) and your support enables us to create quality content. Thank you!