The 17 Best Women's Travel Shirts for Any Kind of Trip
Written by Becca
•
Updated on September 19th, 2023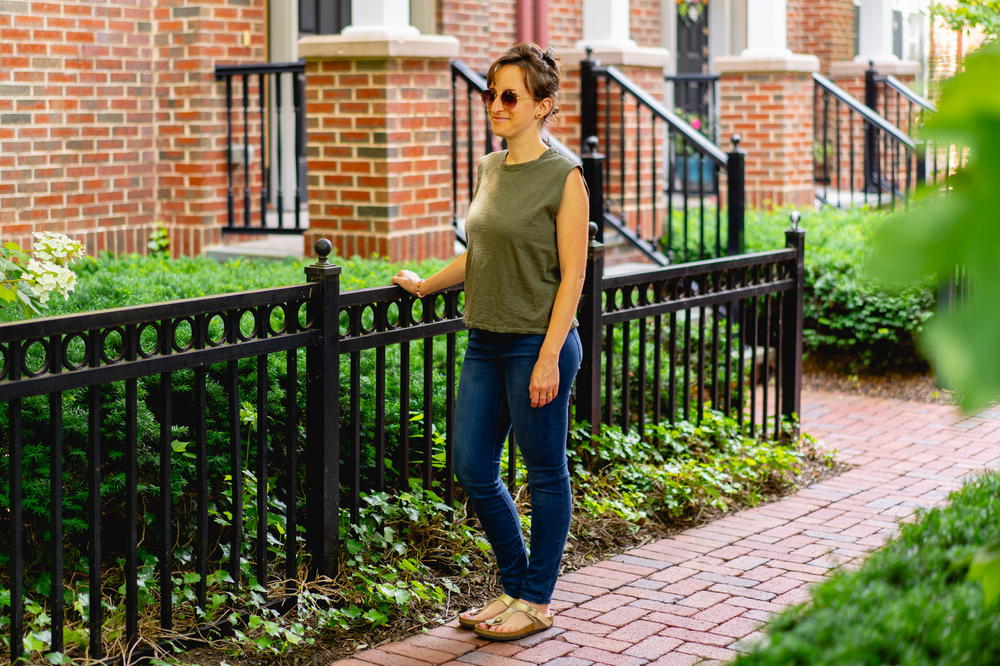 Lightweight, packable and versatile, this list of the best shirts for women travelers includes merino wool and comfy fabrics for business trips, athletic trips and flying.
This article may contain affiliate links. We earn a small commissions when you purchase via those links — and it's free for you. It's only us (Becca & Dan) working on this website, so we value your support! Read our privacy policy and learn more about us.
Table of contents
Close table of contents
Ah, travel shirts. Why is this the simplest yet also the most challenging part of packing?
In the past, I've been plagued by my collection of shirts that show sweat, and patterned blouses that I can't (or shouldn't) be memorably wearing in every photo. I pray that none of my shirts will wrinkle, and I'd benefit from shirts that could be worn more than once without washing.
These are some struggles that led to my learning about shirts for travel, as a woman on the go. There are shirts out there that won't wrinkle, won't smell after a day, will 100% look great with multiple outfits and will be wearable in multiple seasons! I wish I had known about all these popular brands years and years ago.
Are you ready to see the best in women's travel shirts? Let's begin.
I started wearing the Mott & Bow slub tees and tanks this year and packed a few on a trip to the Catskills in Upstate NY. Because they're pretty thin, and good for spring and summer, you can pack quite a few of these into a packing cube, and they don't take up a lot of space at all! (I actually really enjoy folding them into little squares).
They're made of soft pre-washed cotton, and come in basic neutral colors that'll match everything. I didn't think I'd gravitate toward Military green, but I did, and it's my favorite slub tank besides the white one that I find goes with every summer outfit.
As for the fit, the slub tanks are nice and loose, so I wear a cami under them. The tees are much snugger and fit the form a bit more. Both styles are very affordable and can go right into your pack for your next adventure to wear with your travel pants of choice.
The short-sleeve pocket tee from Ibex can be a cute shirt to wear with jeans, or can be the top you throw on for a mountain biking trip. I'm newer to the Ibex brand, and I enjoy the down-to-earth feel of their products. This shirt is so soft and lightweight, which pleasantly surprised me when I wore it for the first time!
Either way, this travel shirt is totally versatile and has a comfy and relaxed loose fit (not body-hugging). Most body types will look flattered by this shirt. If you find it short, I recommend layering a cami tank underneath for either warmth or modesty.
A shirt like this can work well with my Naha joggers, jeans, shorts or even a relaxed skirt, while on the go.
I'm newer to the Foehn brand and I like the European feel that all the products have. The Foehn Keats Merino T-shirt is one of the first merino wool tees I've owned, and from the start, I saw how easily it went with other clothes I already owned for my trip gear.
Foehn is a company that started from the desire to pair performance with a modern aesthetic. Foehn clothes are technical, and made sustainably with an environmental commitment. The styles are heavy on Euro-style design, so they feel like styles I don't necessarily shop so often.
The merino wool Keats tee is a timeless go-to shirt for the avid traveler and the merino wool regulates temperature and wicks moisture all in one. I was surprised how nicely it worked out with my Public Rec All Day pants, which you can see in these photos.
Much like the rest of the Bluffworks women's collection of apparel for travel, the new Cowl Neck top is a classy travel top for women who may have dressy or business needs during a trip.
It has a draped and gathered neck line that'll look perfect under a blazer or cardigan during spring, fall and winter. It's excellent on its own, too, as a top to wear with a skirt or shorts during summer.
As a note for petite women like me, this one comes in petite sizing! I'm 5'2'' and wearing a size Petite XS.
As for travel features, check it out: the Threshold fabric is moisture-wicking, quick to dry and winkle-resistant, and what's more is that it has a secret zipper pocket at the side for handy essentials or valuables.
It's basically a theft-proof shirt for women, and it's about time we had one!
This essential tee is exactly what Public Rec invented it for — the shirt you reach for when you just need the perfect top to go with literally anything in your travel wardrobe! I've worn mine with jeans, joggers, patterned bottoms and gym shorts.
I like how fine it feels, and the fit has always been perfect on me from the start. I find it is sized true to size, and it also is a good fit on petite women, even though Public Rec doesn't carry specific petite sizing. It's a cropped fit, but it fits me how I like my shirts to fit: hitting right before the hip.
The fabric on this tee is soft Supima cotton with Public Rec's TransDRY technology that helps it dry fast. It comes in four simple bold colors: white, black, blue and red.
In my full review of the Essential Tee, you'll see more photos of the fit.
This performance tank is a pretty athletic-leaning top that I just started wearing for travel. I like the performance fabric that seems pretty novel, especially for stuff that I tend to wear. It's made of Pima cotton, Lyocell and spandex for a fun stretch.
This travel tee is specifically good for layering, and it kept me cool on a rather hot day in summer when it was really humid. I like the slimming fit and the unique sleeve design.
This tank top comes in four colors right now, with sage and pink as the subtle hues and black and white as classic defaults. I like how the pink goes with my Public Rec joggers that have worked great for trips, too.
Mott & Bow's original tops were what I first tried as travel shirts in 2022. These super lightweight shirts pack up teeny tiny in my bag when I take them on a trip in a packing cube. They're made of 50% Pima cotton and 50% Modal.
They're simple basics, which is something I'm always on the hunt for, especially as a quick decision for an outfit when I'm on the road.
The Crew Marcy tee comes in quite a few colors, so it's kind of hard to decide which to pick; however, there's a deal: you can load up on a few and save anywhere between 20-27% if you choose a three-pack or six-pack.
If you'd like to see more of what Mott & Bow offers as a brand, I've reviewed a lot of the products in this guide, with photos.
The Bluffworks Threshold fabric is the important part of this basic tee for travel. Bluffworks invented this proprietary fabric in the early days as one of their mainstay materials, and you'll see why!
This breathable travel shirt has UPF 50+ sun protection, breathable and odor-resistant abilities, dries fast and is machine washable. It pairs effortlessly with jeans, shorts or joggers.
I tend to like V-necks better sometimes, and the Threshold tees also come in flattering "V" necklines version. Both are clean-cut travel essentials that can effortlessly be dressed up with jewelry and a blazer for an event or a dining out experience.
This comfortable top from Lululemon, comes in inclusive sizes 0-20 and quickly became one of my favorite travel shirts!
This one is another Pima cotton tee, but the Love Crewneck has added Lycra for stretch. This shirt has a classic fit, so no crazy surprises, and is built for being on the move. It's a casual fit and not too form-fitting, so it can hide your middle if you're going for that.
It comes in 16 colors, and I'm really digging the stripes patterns to help stand out in a crowd! The stretch feels awesome when I'm wearing it, and what I like is that for my build, it fits in both the shoulders and the bottom hem without specifically being sized 'petite.'
What's more is I could easily dress it up with a skirt, or any of my favorite travel pants that are a step above joggers or leggings, like jeans or even business casual bottoms. This one gets 5 stars from me!
I hadn't heard of Seadon until I tried the W's Traveler Merino Tee in XS. Finally: a true-to-size XS top that I can wear as a perfect fit travel shirt!
For a little more information about Seadon, the company makes women's and men's apparel, as well as accessories like totes, beanies and underwear (which I tried, and really liked!).
What I like about Seadon so far is that they have plastic-free packaging. My Seadon apparel arrived at my house in a biodegradable envelope mailer, and it can even be composted in your compost bin.
Back to the shirt, though, it's an adaptable merino wool shirt that I commented to Dan is ultra lightweight, soft and stretchy. A few qualities of Seadon's merino wool fabric are it's biodegradable fabric, UPF 30+ sun protection, water and wrinkle resistance, back hanging loop and responsibly-sourced material.
I'll be back to try more Seadon products like the cool Verano Camp Collar Shirt and Daymaker Tank Top.
This merino travel top from Woolx is a classic V-neck shirt that's great for women of all heights and slim builds. I say that because I'm petite, and I like how this shirt fits me!
Because this top is from Woolx, it is of course, merino wool. For that reason, it's a shirt that has breathable and moisture-wicking qualities, wrinkle-resistance, temperature regulation and the ability to dry fast. Don't be fooled, though: it packs up small so you can travel light.
For the fit itself, this tee has a tailored body-hugging style with a straight bottom hem. I like that the first time I put it on, it just "felt" good, and I wore it on our trip to Halifax.
From outdoorsy brand KUHL, this best-selling top made from a polyester and Tencel-spandex blend is roomy and tailored with a flattering silhouette. When I wear it, I layer it under a zip-up hoodie or a windbreaker, and I'm be ready for hiking the trails with Dan in no time.
Even as a petite woman, I find that this shirt is only a "little" big in the shoulders, and it doesn't run too long. Keep in mind that I'm 5'2" and about 110 lbs.!
Overall, I find the fit pretty nice, and still loose, which is good for a travel day. If you typically wear standard sizing, you'll have no issue in ordering the standard size you wear across other brands.
KUHL made this one with UPF 50+ sun protection for bright days while you're traveling, and it's versatile enough for one-shirt wear whether you're out to lunch or starting a biking journey across a few states.
Jack Wolfskin's casual and sporty loose V-neck travel tee for women is plain and comfy, so it's a perfect staple for an active trip at home or abroad. The fabric (polyester and elastane) is breathable and antimicrobial slub jersey.
I recommend this shirt for a trip when you'll be engaging in physical activities like hiking, trekking, trail walking or biking, because it's one of the looser shirts I'm recommending in this list. As you can maybe see in how it fits me in these photos, it's a totally relaxed style and runs a dab long, so it works for taller women, too.
This oversized merino wool tee has a lounge-style aesthetic with its draped sleeves and loose hem. The relaxed fit will be great for travel days when you want to have a layer on under a big cozy hoodie, or when you kind of want to feel like you're in pajamas on a flight, but not really.
The 100% merino wool fabric helps resist odors, and the shirt is machine washable. It's just recommended to not put it in the dryer and hang dry instead.
I think this shirt does best with women who like loose-fitting relaxed styles. I tried this tee in a size XS, and it ran too big all over the place. That's because I'm 5'2" and 110 lbs. though, so I run petite. This relaxed T-shirt is best if you are standard size, wide-shouldered or tall.
Anatomie's products are up a level of luxury, and the Melissa Pima Cotton T-Shirt is a subtle statement shirt for a stylish traveling woman. The mesh sleeves, slimming fit and crew neck turn this solid tee into a top to wear for a special occasion (and on regular days) while on a trip.
This shirt is made of Pima cotton, modal and spandex, for an easy wrinkle-resistant fit. It's like an upscale T-shirt, and I have come to like having one of these in my suitcase for when I want to look nice in photos or maybe go to a casual wedding weekend event. The Melissa shirt comes in three colors (Navy, Black and White) and in sizes XS-XL.
From the Pima Cotton collection at Everlane comes several options for your next trip, including this awesome long-sleeve bodysuit with a unique square neckline that'll have your friends asking where you got it.
At a very affordable price point of $45, and made of Supima cotton and elastane, it's a cool item to be wearing under high-waisted pants, loose jeans or any other type of comfortable travel pants.
As a clarifier on Supima cotton, it's a special type of cotton grown only in the US and because of its long fibers, it absorbs moisture better than regular cotton.
For a tank-top style bodysuit, there's the Cutaway Tank Bodysuit (note that a main difference is the cut in the backside).
From travel brand prAna, a company featured in my guide to the best travel dresses for women, is this scoop neck tee made from hemp, recycled polyester and Tencel Lyocell.
Because of the fabric, it has natural odor-reducing abilities, and with the laid-back scooped neckline, it's a great item to have in your pack for summer and early fall when days are still warm.
prAna designed this tee to be a closet staple, or rather, an essential item in your packing cube. As for fit, this product comes recommended for busty women who may have trouble finding styles that fit otherwise.
The affordable Elevation T-Shirt from one of my favorite outdoors brands, The North Face, is a plain and simple shirt for travel days or as a hiking layer. It comes in quite a few pastel colors, along with some bolder ones, and you'll see it's available in an all-encompassing array of inclusive sizing from XS to 3XL.
Through its recycled polyester build, it's lightweight and wicks moisture. This is a superb combo for when you're out getting some activities in, and then you hit a brewery or lunch spot with travel friends right after.
How I chose these shirts for travel
Over the years, I've pretty much figured out what I don't appreciate in travel apparel and travel shirts. I can't stand shirts that show perspiration, wrinkle after coming out of my bags, smell after getting sweaty on a bus ride and/or don't fit in a flattering way. Based on these setbacks, I've decided what I do like my travel shirts to do for me.
What I've developed in this list is a range of shirts from those that could suit business casual events to the ones you want to wear for your next hike or trek. Some are for both! Here are a few of the things I've considered.
Brands
The shirts in this list come from my favorite travel brands. Some of these brands I've been able to try out first from their travel pants or travel dresses, and some I've been recommended by friends or found online. I trust these brands for making quality gear, and I hope you will too.
Cost
These shirts come in a range of prices. I've absolutely included shirts at every budget, from the really affordable ones in the $30-40 range, to the ones you'll want to dish out for at the $80+ range. My budget for travel clothes has changed throughout the years, and I expect that the women reading this guide will have varying budgets for travel clothes.
Fabrics
From merino wool to recycled polyester to hemp, there are quite a few looks to consider for travel apparel. The same goes for travel shirts. The sportier shirts are stretchy and are made from quick-dry blends, whereas the merino wool shirts are high-quality and usually sustainably-sourced items with marks of excellence.
Technical features
I always appreciate a travel product with really impressive features. That might be the thoughtful hidden zipper pocket in the Bluffworks Cowl Neck Top, or the asymmetrical or square necklines on some shirts and bodysuits you see in my list.
Style
The shirts in this list range from relaxed tanks to bodysuits to tunics to simple tees. Every woman has several lenses of her style, and the same goes for me. Some days I'll like a simple crew neck top, and other days I'll be in the mood for a top like the Public Rec Muscle tank. I am also assuming you'll be taking a few shirts in your luggage for your trip (but if you have only one shirt for travel, I'll be truly impressed).
I hope you've enjoyed this list of travel shirts and even if none of them work for you this time, I hope you've learned a bit about the types of shirts that are out there for the future.
Why trust me?
I'm someone who, despite years of travel, can never decide which shirts to bring on a trip. I think I'm finally in a place where I have my go-to travel shirts (from this list!) and those are the ones that will be my travel staples.
I've been traveling independently since my early 20s, from Asia and then to Latin America, and later, from Europe to Africa. I've been in all types of weather and elevation levels and I've been on tons of different methods of transport. For me, having a travel shirt that doesn't make me sweaty, stinky or annoyed, is what I need!
From this list, I hope you were able to figure out some travel shirts to try and I hope they become useful for you in your next adventures.
Enjoyed our article?
Consider supporting us! We're a 2-person team (learn more about us here) and your support enables us to create quality content. Thank you!