17 Best Travel Dresses for Women (Pockets Included)
Written by Becca
•
Updated on September 20th, 2023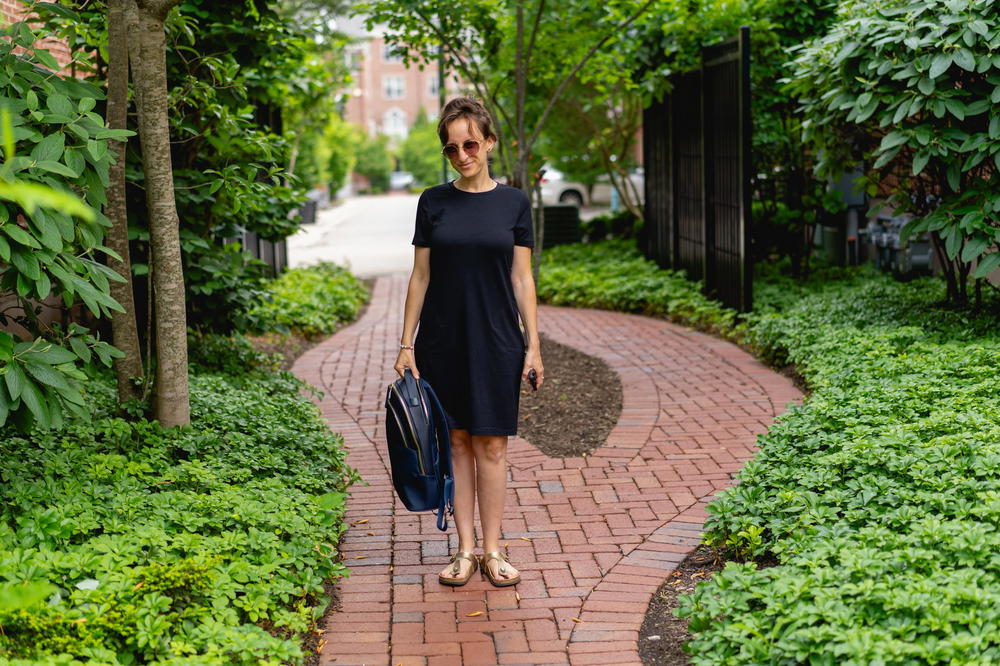 I figured out the best dresses for travel, and they're a mix of cute and versatile styles with wrinkle-resistant fabrics and even pockets. See the list here.
This article may contain affiliate links. We earn a small commissions when you purchase via those links — and it's free for you. It's only us (Becca & Dan) working on this website, so we value your support! Read our privacy policy and learn more about us.
Table of contents
Close table of contents
For me, it's always been a challenge to pack a bag and choose just one or two dresses that will be versatile enough to wear in different types of weather and various occasions for a single trip.
In fact, one thing I never let myself do was explore the different types of cool travel dresses out there, for women on the go. I've always packed a patterned maxi dress, layered it with a jean jacket, and called it a day. But I could be doing better!
I've learned that there are travel dresses out there made by great brands that have invented fabrics that zap moisture and sweat, minimize odors (who doesn't get stinky on a plane?) and come with pockets.
In the list that follows, I've picked a few of the best dresses on the market for women travelers, so that you don't have to do the work! Let's dig in.
If there was ever a T-shirt dress that really rocked my world, it's this new one from Bluffworks, the brand that builds great travel clothes for women. In the past, I've found T-shirt dresses to hit the wrong places on my body, but this one is both flattering and comfy.
The Threshold T-shirt Dress is made from the Bluffworks proprietary Threshold fabric, which is moisture-wicking, wrinkle-resistant and of course, machine washable. It has UPF 50+ sun protection too, which is great for anyone who plans to spend sunny warm days exploring a new city or on a cool excursion.
My favorite part of this dress is that it comes in petite sizing and I actually feel great in it. I feel like I struck gold, because dresses often hit my legs too far down and look like I am drowning. It comes in regular sizes by default, and if you're short like I am, opt for petite sizes!
I think this T-shirt travel dress is priced pretty affordable for all the versatility it provides. I could wear it from spring to fall, layered with scarves, cardigans or tights and boots for cool nights on a trip. In these photos, I'm wearing it with my Troubadour Momentum backpack.
I'm so glad that Public Rec has come out with some dresses! The cousin of the Public Rec Go-To Dress, the Go-To Tank Dress is a nice travel staple with a funky open back for style. It has a flirty fit and a top half that reminds me of the Public Rec muscle tank that I enjoy wearing as a travel shirt.
With a blend of Pima cotton (which I first discovered in the Public Rec Essential Tee) and spandex, it's an athletic fit and the material is durable. This one is great for travel in pretty hot temperatures and could be paired with my Public Rec Adapt Belt Bag.
About the sizing: Public Rec typically runs true to size, as I've seen in my experience with the Public Rec Essential Tee, which is a true XS and fits like one. With the Go-To Tank Dress, it runs a bit wider than I'd like, so I have some fabric gaps at the side that will probably make this dress less of a "go" for me. Keep this in mind about your build if you like this dress, because it's good for larger-chested women (proportionally) as well as women who might feel like they have more of a standard (non-petite) body type.
This long-sleeve denim-look travel dress from Aviator is a new one of my travel finds. It's a sturdy chambray and I can dress it up with sandals in spring or boots in the fall. What stands out to me about this dress is of course, the pockets, which even have Aviator's signature YKK zippers. I like it so much I wrote this detailed review about it!
If you've seen my review of the Aviator jeans for travel in my list of the best travel pants for women, you could consider this the "dress version" of those.
This chambray dress has a waist tie for closure and flattery, and comes in sizes XS to 2XL, which I find really inclusive of the folks at Aviator. I prefer to wear it with the sleeves folded up, as I'm not one for the long-sleeve look.
I'll note that for my Aviator travel dress, as I'm petite, I had to have it additionally altered and taken in at the shoulders and at the length because I'm short. Now it fits great! Most women say it fits between "to size" and "on the big side."
If you're looking for other layers from Aviator, check out my review of the merino wool hoodies for travel.
lululemon's tank dress is a form-fitting ribbed sleeveless dress that could be a travel essential for you when you venture into hotter climates. The company's trademarked Softstreme fabric is made of recycled polyester and dries fast, which is helpful for sweaty travel days.
It's designed for an above-the-knee look, which will probably only work out if you're average height or tall. I wouldn't recommend this one for petite women 5'3" and shorter (like myself), because I find that dress lengths below the knee make me look even shorter.
This dress has a slight racerback design in the back, making it somewhat sporty, but able to be dressed up for a night out in a jiffy if you add a jean jacket, sweater or scarf. Given that it doesn't have pockets, I'll wear my gray lululemon belt bag with it.
I'm a fan of Quince, and can't find much wrong with everything this company makes, especially at such affordable prices. The Quince European Linen Dress immediately makes me wish I was strolling the streets of Lisbon and about to take a quick photo with a hand-painted tile wall. Know what I mean?
It has a timeless style and it has pockets, so you have somewhere to put some (not too valuable) essentials while on the go and on vacation. For things that hold real value like your credit cards, I'd go with a travel fanny pack or belt bag, just because the pockets on this dress don't have zippers like the Aviator dress does. Nevertheless, the price can't be beat for being made of linen, and I adore the color palette it comes in.
Another note for short women: this one may hit too low on your leg, so check out Quince's other dress options for a dress like the Quince Smocked Mini Dress that I can't wait to try! I'm looking forward to putting them all in my Quince carry-on suitcase.
The Threshold Tie-Waist T-Shirt Dress is the second dress from Bluffworks for women travelers that really packs a punch. It has a flattering look that is not too tight, and originally the tie-waist scared me off, but it works out really well. It can be worn in the front (my preference), or even the back. Check out the photos here.
At an affordable price point for the quality you get with Bluffworks, I think this one's an easy decision. This type of dress can be totally casual for a day to day while traveling, and would look nice as a base layer for more business casual outfits if you have that use during your trip.
This one differs from the Bluffworks original T-shirt dress because it has the nice touch of cuffed sleeves, and I like this a lot. The Threshold fabric that you'll also find in Bluffworks' Threshold tees for women is great for travel because it's moisture-wicking, odor-resistant, has UPF 50+ sun protection and is machine-washable.
What's the best about this travel dress are the pockets, and you can expect great pockets in women's attire from Bluffworks. There are six! Two are interior phone pockets, nested inside other pockets. Somehow this dress has almost as many pockets as my Bluffworks travel joggers.
One of the biggest benefits is that this tie-waist style is a classic, so if you put your budget toward a dress like this, it'll last for years.
I recently learned about the Icebreaker brand because Dan really likes his Icebreaker merino wool crew sweatshirt. I was glad to find out that Icebreaker makes great women's apparel in their signature merino wool blend.
Merino wool is one of the best materials for travel, because it's soft and strong, as well as lightweight and fine. The Granary Sleeveless Dress is 100% merino wool and is a minimalist travel dress with a subtle cap sleeve and a modest knee length.
A dress like this would be good if you plan to take a trip that involves some sightseeing that requires modest dress, like religious temples or sacred places — think Israel or Sri Lanka.
As for fit, it runs pretty long and overall, I think Icebreaker runs big in women's sizes. If you are a pretty standard build and average height, you still might want to size down. I have Icebreaker's merino tee for women, and that runs big, too.
I became familiar with Athleta via my Athleta leggings with pockets that I mention in my list of the best travel pants for women. They make dresses, too! The Elation V-Neck Hybrid Dress is a pretty and flattering summery dress that I can't stop looking at because it's so breezy and easy.
It's an ultralightweight dress made of polyester and spandex that comes in inclusive sizes of XS to 3XL! It's fitted at the torso and then flares out for keeping you cool.
This super casual v-neck dress from the brand Toad & Co. comes in both solids and stripes, and has hand pockets to boot! I'll pair this one with sneakers or sandals for sure because it has a cool T-shirt vibe to it.
It's made of hemp and organic cotton, so it dries fast, controls odors and is lightweight, making it a simple option to roll up into a packing cube for a tropical trip.
As a bonus, like with other products from Toas & Co., you can often find a few of the colors on sale at any given time.
The Hattie dress from Anatomie is unique in its asymmetrical neckline and is for a stylish woman who travels. If you're not familiar with the travel clothes from Anatomie, they are a step above the rest, and prices to reflect that. I can wear this dress either with fun sneakers and a baseball hat, or with heels and cool jewelry while I'm on any type of trip, whether backpacking or on business.
It's made of a stretchy blend of Pima cotton, modal and spandex, and is a good addition to your suitcase for a trip in spring, fall or winter.
The TreeLinen A-Line Dress from tentree has pockets — can you believe it? This travel dress is a Lyocell Tencel dress in a flattering A-line shape that pretty much will never go out of style.
I really like the back slit with a button closure at the back, for a feminine touch. The high neckline is also nice for having a piece of fun jewelry from your travels sit up top near your neck.
This dress is specifically meant for summer, and for keeping you cool with the gentle fabric. Lastly, it's easily machine washable.
I was surprised to see this classic schoolgirl-style dress from Jack Wolfskin, a company from which I have the packable ultralight down jacket as a travel piece in my winter wardrobe.
This light and airy (and modest) dress for travel has side pockets for your hands and for a few items you'd like to carry, and the recycled polyester blend has UPF 40 protection.
For sizing, check out the product page because Jack Wolfskin products are sized in European sizes. I tried an XS, and found out that it runs BIG. As someone who is 5'2'' and petite, this dress is a no-go for me, sadly, because it runs much too long and a bit wide for my build. Keep in mind when choosing your size to size down. I'll recommend this one for the tall women travelers out there!
There are pockets in this travel dress, too! This dress is quite a looker, with its shirttail hem, vented slit at the back and flattering silhouette. If you need to pack just one dress in your suitcase, this one could be it.
prAna's Railay dress has four-way stretch fabric (polyester and elastane), for performance and function. You could get away with wearing it to a business casual event, dressed with the right accessories, or even with fun sneakers on a big walk around a new city during your travels.
KUHL is an adventure and outdoors brand, so I was glad to see they have a dress available for women travelers. The Vantage dress comes in four bold colors, and is sized XS-XL.
As all KUHL products are created for being on the go and being active, the dress has moisture management, odor resistance, sun protection at UPF 50+ and a four-way fabric stretch. There are pockets right below the elastic waist!
This travel dress is fairly casual, so if your trip is active (I probably wouldn't wear this dress for biking or climbing) like if you're camping, doing a lot of walking or going on an easy hike, pack this dress in your bag.
Yay, REI makes a travel dress and it's geared toward the backpacker or active traveling woman! The main gist of this dress is that it dries quickly, so if you get caught in a downpour in monsoon season on the other side of the world, it could be dry by the next day.
As for the fabric, the Aoraki Travel Dress has a water-repellent finish on the four-way stretch polyester fabric, and drop-in hand pockets (a crucial point to make!).
REI makes a point that this dress is geared toward women of all ages, from teens to more mature women looking for a dress that's fresh, easy and modest.
I'm new to the WoolX brand, and I have the Mia V-Neck, which I name as one of the best t-shirts for travel. The company's Lexie Dress & Cover-up is a blend of Australian merino wool, nylon and spandex. For washing, just machine wash it inside-out.
Because it's so lightweight, it packs up small in a packing cube and won't take up much space. The merino wool fabric is quick-drying, breathable, wrinkle-resistant and moisture-wicking. The dress can double as a beach cover-up if you're on a trip where you may pass by the water. WoolX gears their products toward not having to wash them much.
As for a fit, this dress is best geared toward women who do not need petite fits. What that means is that the dress has a standard fit and is best for someone taller than 5'3'' all around. I tried the XS, and overall, it was too wide in the shoulders and the length, so I probably could've been an XXSP, if that existed. I hope this helps you decide which size to get!
WoolX offers free shipping, free exchanges, and fast shipping from within the US (NY state, actually). There's a 100% satisfaction guarantee for all WoolX products.
I've been shopping at Uniqlo for over a decade. I've had a Uniqlo down jacket for travel (I lost it in Bolivia unfortunately), Uniqlo bras and Uniqlo tops. I often don't wear Uniqlo's dresses because they're made to fit women on the taller side (in my experience), but I want to recommend this particular dress for travel, for all the non-petite women travelers out there!
Uniqlo's AIRism stretch fabric has quick-drying technology, which makes it ideal for having in your pack during a trip. This dress, despite its affordability (at less than $40), has a refined and elegant silhouette that will look great in travel photos.
There are pockets on both sides of this dress, making it an awesome find for putting your hands somewhere or stashing some little objects for the day. Like a few of the longer-length travel dress options above, this one is made to hit between the knee and the ankle, so it's useful for if you plan to go to any religious sites (think India, East Asia or Islamic nations) that require modesty during your trip.
Why should you trust me?
I've been traveling on my own since 2009, and I know what makes a good piece of clothing to have in my suitcase!
I've been through items that have broken or ripped during trips, as well as clothes that have shown sweat, haven't washed easily and haven't stood the test of time.
The garments I recommend in this list are clothes I have personally tested already, or ones I plan to wear, and I'm happy with how they look and how they feel.
Also, the brands listed are ones from which I already own other travel clothes (check out my list of [the best women's pants for travel, as well as the best women's shirts for travel).
Enjoyed our article?
Consider supporting us! We're a 2-person team (learn more about us here) and your support enables us to create quality content. Thank you!