The Best Travel Shoes for Women (30+ Options & Styles)
Written by Becca
•
Updated on November 18th, 2023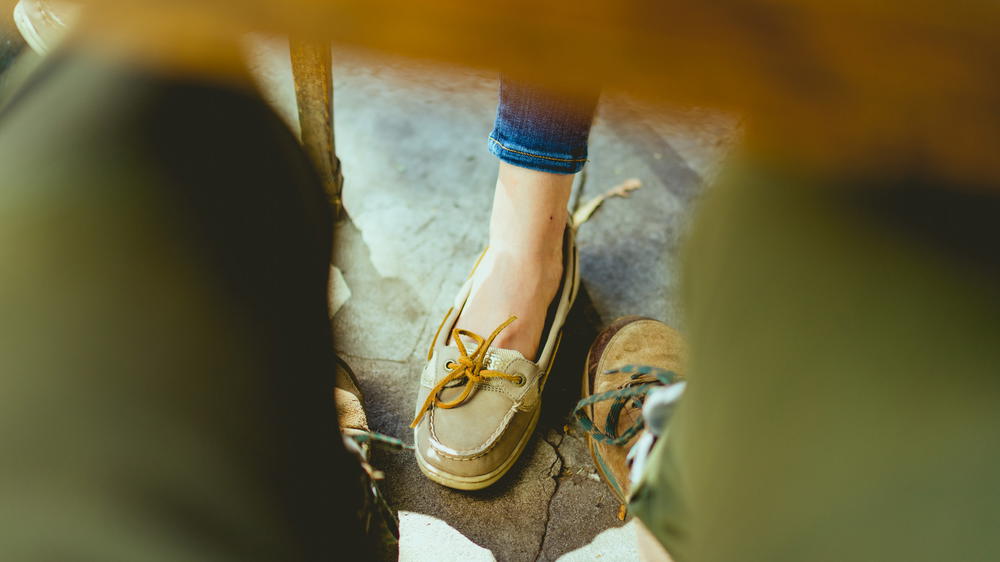 What kind of shoes are best for taking on a trip? For women travelers, I list several types of shoes, including sandals, flats, walking shoes and hiking boots.
This article may contain affiliate links. We earn a small commissions when you purchase via those links — and it's free for you. It's only us (Becca & Dan) working on this website, so we value your support! Read our privacy policy and learn more about us.
Over the years, I have struggled with which types of shoes to bring on a trip. When I decide how many pairs of shoes to take, it's hard to decide which ones!
I break down "shoe types" into several categories and try to visualize them with the types of activities or events I'll have during my trip. In this list. Check out the kinds of travel shoes you can consider, along with my best suggestions!
Shoes I pack for traveling fall into a few categories:
Comfortable: The most comfy shoes for travel will be sneakers, tennis shoes, walking shoes or waterproof sneakers.
Decent and casual: For a summer trip, I'll choose classy sandals, and for other times of year, a comfortable rubber-soled flat.
Practical sandals: Travel sandals should be comfy and good for walking. I wear Birkenstock sandals, as a default travel sandal.
Flip flops: I take lightweight flip flops for using at the beach or using in a shared restroom shower.
My shoes wish list: Scroll down to see what I have my eyes on!
The best shoes for travel: my list
The shoes I pack for travel are either durable and multi-purpose or take up minimal space in my bag. I've learned to buy shoes in colors that will go well with a lot of the clothes in my bag, so I mostly choose blacks and grays, and base my sneaker color off of the leggings or shorts I like to wear.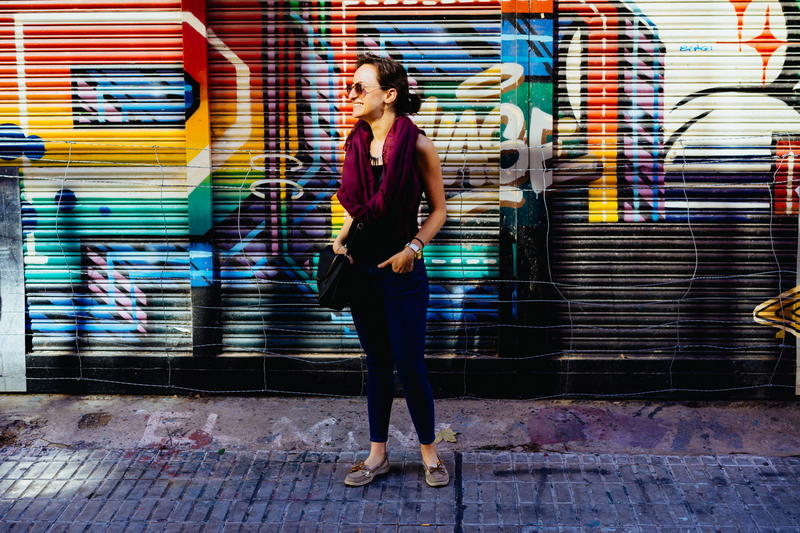 Travel sneakers and running shoes for women
Travel sneakers come at lots of different budgets and for different purposes! Here are a few of my preferred brands.
Overall top pick for stylish travel sneakers
The Nike Women's React Infinity 3 are my favorite new walking shoe for travel. Deciding which type of travel shoes for being out all day to get is tiresome, and I have been waiting for an easy answer. These sneakers are what I plan to wear for all my upcoming trips, and they're modern and stylish.
They look great with any of the best travel pants for women I always have in my bag. In the photos below, I'm wearing them with Nike leggings.
As I have flat feet, I often have to do a bit of research before investing in walking shoes. I look for a supportive arch, stability features and a responsive cushion. The Nike React Infinity sneakers have all those things, and the cool FlyKnit exterior comes in bright color choices.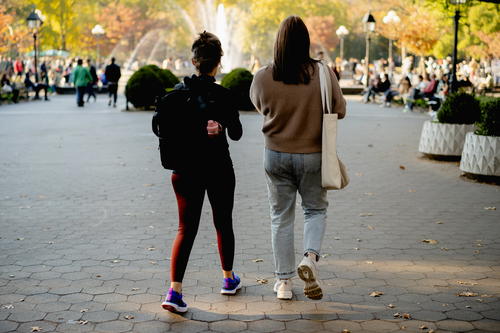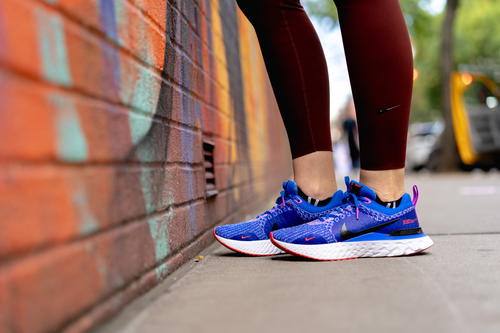 As a short disclaimer, Nike gave me this product to try, and the opinions above are completely my own.
For hiking and trail running
As I often find myself hiking, but not at an expert-level, I bring trail running sneakers like the ASICS Trail Running Shoes. These types of running shoes came with me on all my hikes with Dan in Sri Lanka, and in Colombia.
I would bring hiking boots if I were going on a serious hike, like a five-day trek. Most of the time, I'm just out for a day hike, so sneakers with some texture and grip on the bottom work out fine. Plus, they double as walking shoes.
For street running
As I've gotten into running as a hobby, I bring a flatter running shoe on trips. I had the New Balance 880v12 for heaps of trips recently.
I got them in dark purple so that they wouldn't show too much dirt or mud. I put them through a washing machine three times after muddy hikes in Medellin, Colombia. They held up well.
For general walking
If you like a cooler design and unique combination of colors, a similar running shoe is the New Balance Fresh Foam X More v4. I always recommend these without hesitation when friends ask me about my favorite walking shoes for travel. I add Remind insoles inside for some support.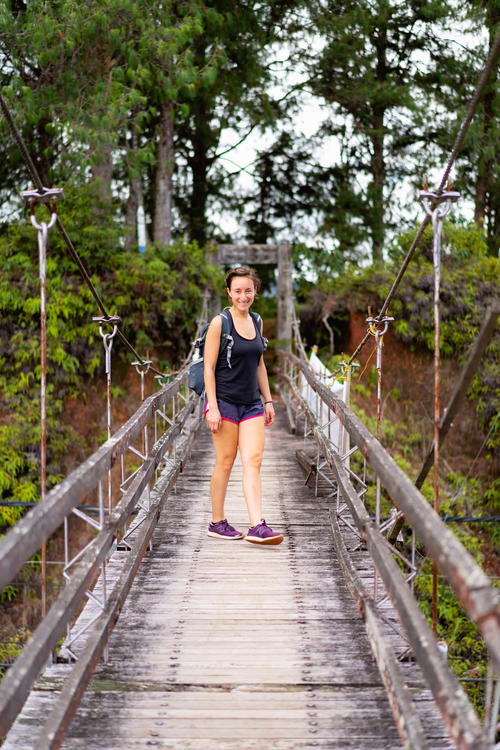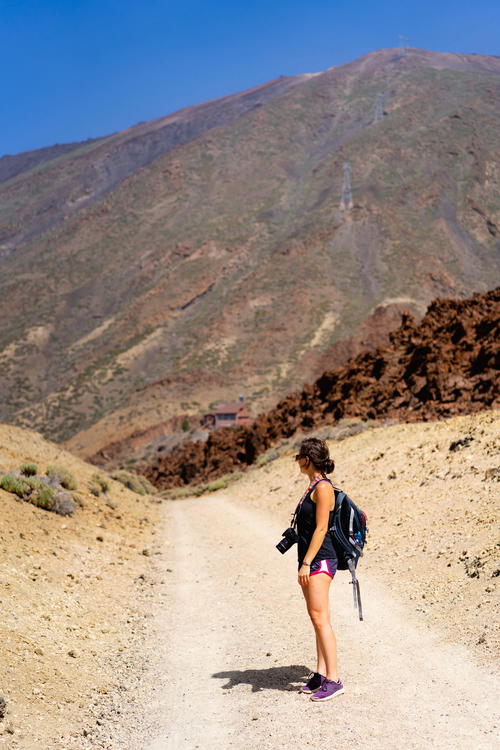 Birkenstock sandals
I was late to the Birkenstock sandal game, but I'm glad that a pair of Birkenstock sandals are in my bag these days when I travel to summer destinations.
Helpful Tip
Watch out for fakes! Check Birkenstock's guide for how to spot counterfeit Birkenstocks. Buy directly through Zappos rather than Amazon, where fakes are rampant. Take it from me — I know friends who've gotten duped!
I feel like my feet are in good hands (feet?) when I slide into a pair of my Birkenstock sandals, and that's because I know there's a high arch for support, sturdy sole and the materials are durable. So many women recommend Birkenstocks for travel shoes because of this.
The thong style Gizeh sandal is the style I own, and although I had to get used to getting tan lines from this design, I like that the design of the sandal material itself goes high up on the foot for ankle support. This is how I'm able to walk around ALL day in these sandals and my feet don't hurt even after sweating. I prefer it to the double-strap design.
Another style to consider is the original and timeless Arizona, which is a unisex style and is good for slightly wider feet (in my opinion, having tried them on). Dan wears them all the time, and often, with socks.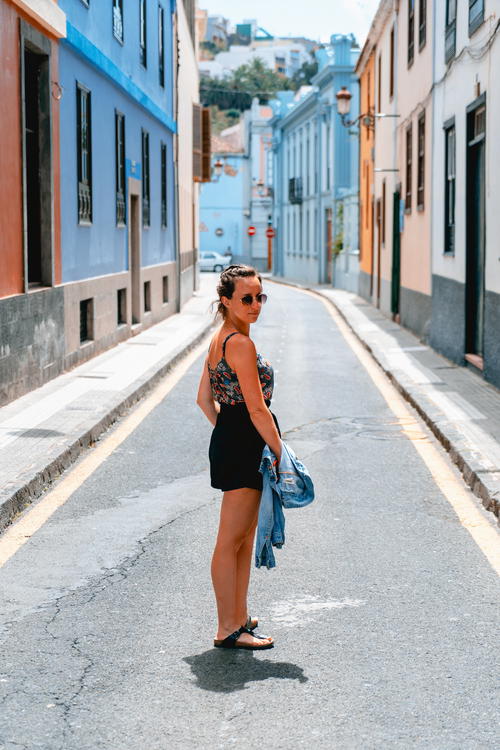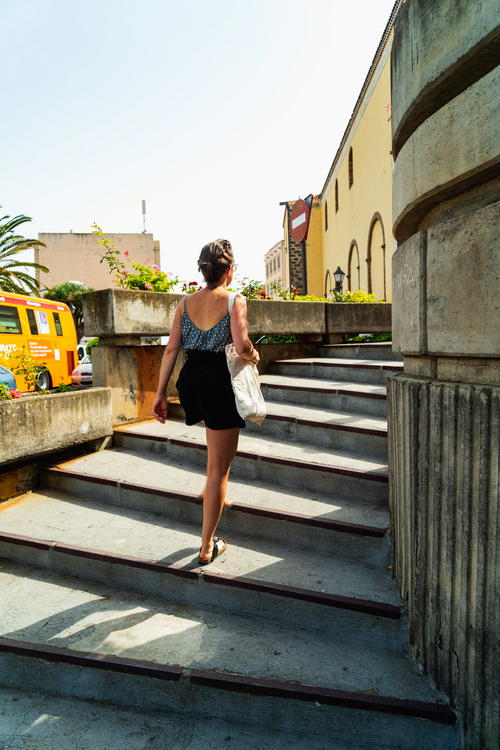 Travel flats for women travelers
I have black ballet flats that fold up flat and small in my bag. They're great for a night out, a date, switching an outfit to looking more decent or a religious event while I'm traveling. I love the Felicia black ballet flats by Sam Edelman and the Charlotte ballet flat as well.
If you prefer a completely simple black look, the Dr. Scholl's flat and the Nine West SpeakUp Flat.
I will say that most flats will stand the test of time because if you get them in a neutral or dark color that pairs with lots of outfits in your suitcase, they can get you really far in looking decent and put-together.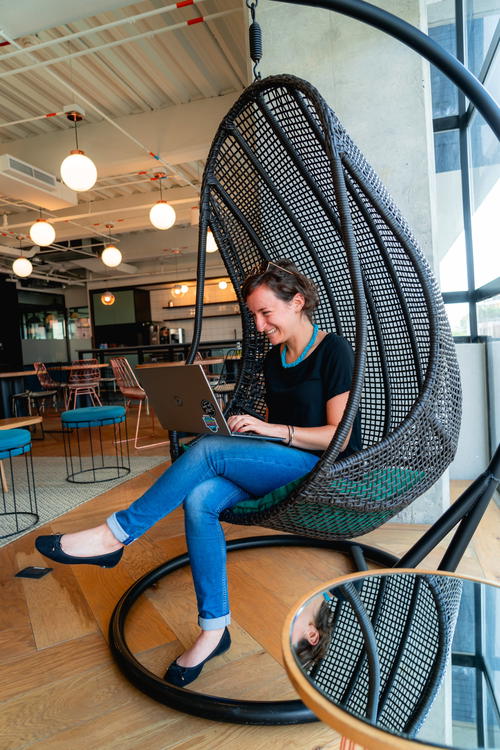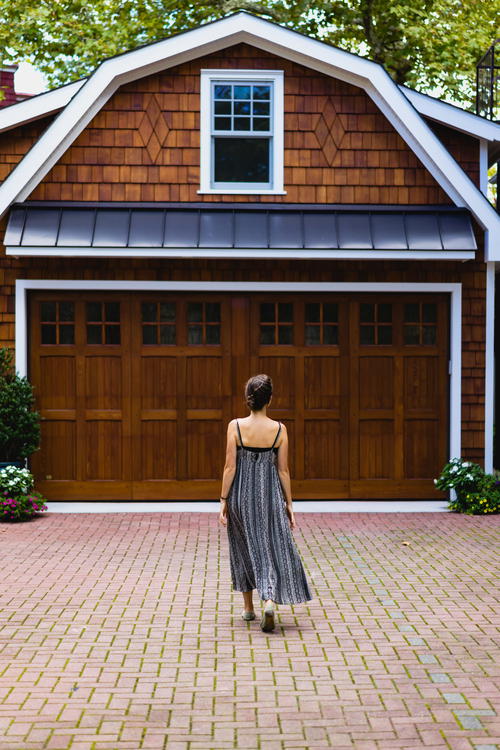 Women's Teva sandals for travel
The only people who can make Teva sandals look good are Israelis, but I tried anyway (for a few years). What I like about Tevas is you can do lots of activities in them, from using them as beach shoes to wet-dry hiking shoes (hiking to a waterfall that you want to also swim in, for example).
I wore Tevas on my Guatemala and Peru trips for lots of walking and for use in weather with frequent short storms.
The Teva universal sandal is a great starter sandal, and it holds up in all sorts of warm weather (your feet don't slide out of them during a rainstorm or monsoon), and they also compress pretty flatly in your bag.
A style like the Teva Original Universal has a stronger, more adventurous sole, with cushioned comfort, and I like the woven straps. I've owned both.
Teva has also recently come out with trendy shoes in "flatform" and "midform" platforms that my friends have gotten into for just running errands around town or wearing out as a casual shoe in summer!
Cute strappy sandals for travel
While my absolute favorite gold metallic gladiator sandals were from Zara in Kuala Lumpur, Malaysia, and are no longer made, there are lots of very similar ones made nowadays like these awesome gold strap sandals by Salt Water.
I also like a slight wedge for an elevated look. If you take a look at the Flowt Wedge Cork Sandal from ECCO, these sandals that are made for all-day comfort have a lightweight platform, a footbed that molds to your feet, a lightweight sole and a Velcro ankle strap that's easy yet classy.
Both are similar to what I used as my 'cute shoe' to wear with travel dresses in warm climates, from Central America to Southeast Asia. They'd also go with most of my essential travel pants.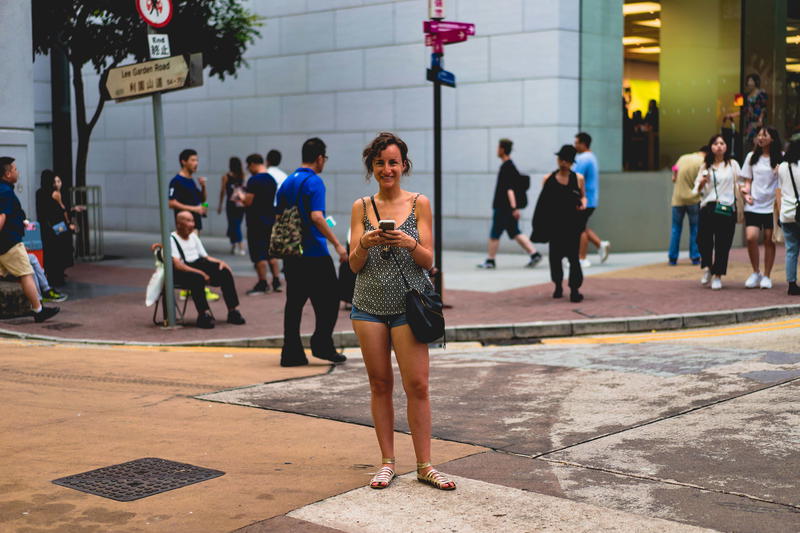 Lightweight travel flip flops
I've had pretty basic flip flops like these from Old Navy for most of my travel years. There's no need to be fancy with these, as I usually even wind up buying a new pair during most trips if my current ones have worn through or if I leave them somewhere (oops).
If I were to step it up, I'd probably get a flip flop like the Teva Olowahu, which are more durable and likely last longer than anything else. In the past, I've also had the Premier Leather Sandals from Rainbow, which are a strong flip flop-style sandal that you virtually cannot wear through.
The only thing with these is that I didn't want to wear them in the shower.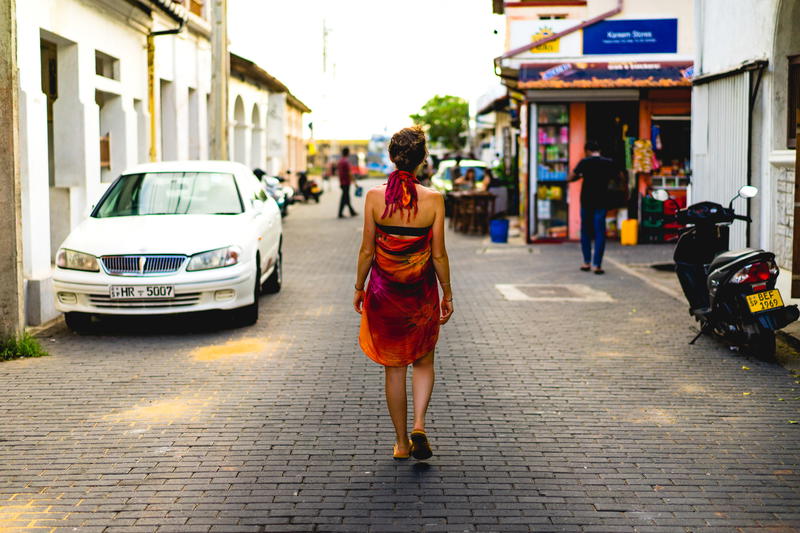 Allbirds walking shoes
Allbirds are a great choice of walking shoe for a trip because they are lightweight and casual. With Allbirds as a versatile travel shoe for women, you can wear their cute sneakers out to a bar with jeans (like my DUER Fireside fleece jeans, in winter) or a dress, and you can walk around in them for a day while sightseeing.
Get free shipping!
Order your Allbirds by Friday 12/8 9am PST (12pm EST) for FREE delivery before 12/24. No code needed.
Plus, they come in airy slip-ons, flats, high-tops and runners. To see more photos, check out my Allbirds Pipers review.
Incredibly, all of Allbirds' shoes for women tend to look great with leggings or joggers, like the women's joggers from Public Rec.
Helpful Tip
For a pair of jeans that looks great with all types of shoes, I'm recommending the DUER Performance Mid-Rise Denim Skinny. It's a sure choice that I'm so excited to dress up and dress down with shoes.
Waterproof travel shoes for women
Now, what about those trips you're about to take when you see the forecast and it's seven days of gloom and rain? I found a shoe that fixes the dread surrounding that type of travel concern.
This year I learned about Vessi: the cool shoes that are waterproof and come in a variety of different styles. I chose to try out the Chelsea, a sneaker-meets-rain boot remix, to replace my Hunter rain boots I've had since 2014 (yikes).
I write a Vessi shoe review if you want to check that out and learn more!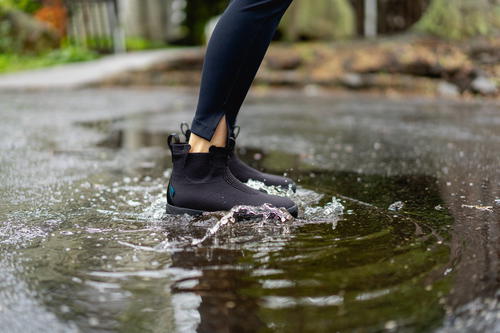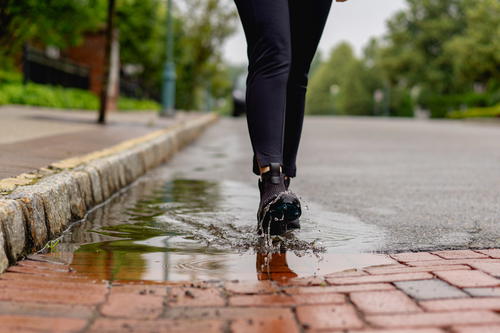 The company uses their own waterproof technology to make these shoes that keep water out! I really couldnd't believe my eyes when I tested them out: rain droplets bead up and just flick off the surface of Vessi shoes. When I walked through puddles (and I really mean I walked through them and splashed), my feet stayed dry.
The Chelsea shoe is meant for cool weather because it's a full-coverage shoe and is meant to provide some warmth. If you're taking a summer trip, consider Vessi's products that are waterproof sneakers. Wearing it with leggings, I thought it looked pretty stylish and trendy. I also got the Alta High Top, which is a winter-ready Vessi shoe that has a warm interior and a high top to keep out the elements of winter weather (snow, sleet, slush) during a trip.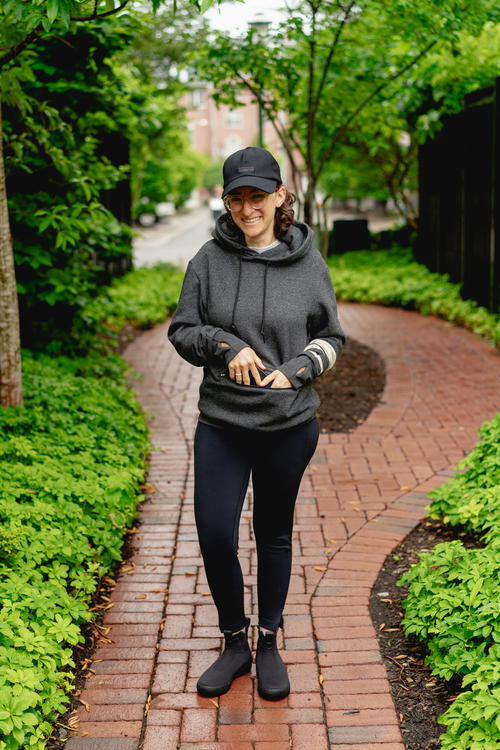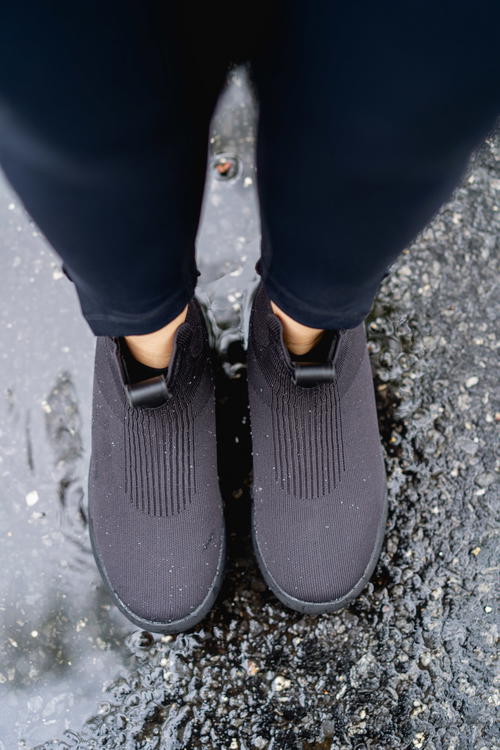 Check out the styles called the Weekend Sneaker, Cityscape Classic, Everyday Classic, Boardwalk Slip-On and the more adventure-ready shoe Stormburst. These Vessi styles combat precipitation like mud, slush, snow, drizzle and puddles. They are a smart move if you are going to a destination where there's a chance of rain.
My travel hiking boots wish list
If I had to buy new hiking boots tomorrow, I'd be going with Columbia waterproof boots with ankle support or these mid-rise waterproof boots, which look closer to sneakers and would be better for hot weather when you may heat up while trekking.
---
Choosing versatile travel shoes
Given space in bags, chances are you will only be able to choose three or four of the above suggestions. The good news is that you can find so many ways to make these types of shoes versatile.
A cool idea for if you are traveling long-term and will be in all types of climates, you can offload a pair you no longer require and give it to a person in need! Most travel destinations have stores and markets, so you can always replace and buy along the way.
Helpful Tip
Traveling soon? Looking for new proven ways to save money on flights and airfare? The easy solution is to sign up for Going, the leading way to find flight deals and mistake fares, directly to your inbox. Looking for a discount? Use HALFHALF20 to get 20% off!
Shoes to pack for traveling in cities
Given that cities involve (a) walking and (b) sometimes looking decent (bars, restaurants, parties), I pack four pairs: comfy sneakers, a pair of flats (probably black ones for winter, to match with any given outfit, and for summer, light-colored or linen flats), flip flops (for potentially having to share a bathroom in a hostel or guesthouse) and my Birkenstocks in case I may wind up in a park or beach where I want to take my shoes off and not deal with socks.
Shoes to pack for traveling in Central & South America or Southeast Asia
Central America and Southeast Asia are rather warm (save for the north of Thailand and Vietnam, and places at higher altitudes) all year round, so on a trip to these regions, I'll take sneakers, Birkenstocks or gladiator sandals, flip flops and summer flats.
Shoes to pack for traveling during fall or winter
While I am no fan of the cold, I've traveled within the US and China during colder months, and this is where my feet will get numb! To combat the cold, I'll pack sneakers and probably wear them on most days with leggings.
I'd bring hiking boots if I'm going to be doing any hiking activity, flip flops (again, for hostels and guesthouse bathrooms or to use as slippers) and winter flats like black ballet flats to wear with jeans on a night out or to any sort of event.
Instead of bringing flats, depending on the type of trip I think I'll have, I'll bring Sperrys.
Shoes to pack for an adventure trip
For a trip to a country where I don't think I'll be engaging in any sort of activity where I need to dress business casual, like my trip to Medellin and the Zona Cafetera of Colombia, I'll take sneakers for walking, running and hiking.
I bring flip flops (for accommodation and to wear outside if my other shoes get soaked through from rain), gladiator sandals as something to look cute in at night or on a day with relatively little far-distance walking. My Birkenstocks or Tevas, are great to wear for farther distances in cities or towns.
How to pack your shoes
If you have luggage and need to fit your shoes somewhere inside a bag, consider a shoe cube. They help keep your shoes neatly organized in your luggage and can help save space. They also keep pairs of shoes together if you are packing several pairs.
I use these a lot, especially when I need multiple pairs of shoes for multiple occasions. Check out the shoe cube from Nomatic!
Need insole recommendations?
I came across Remind Insoles and finally gave in to doing something good for my feet. I have low arches in both feet, with the right foot more extreme than the left, and in the past I've had bad luck with getting insoles for flat feet that could help with comfort when I'm traveling.
I wound up with the Remedy Custom Arch Heat-Moldable insole pair from Remind Insoles and started using them in my New Balance sneakers for walking. They definitely give my feet more support and structure while walking, and I walk a lot, especially when I'm in a new city or doing a week of hikes. Remind makes several other products as well, from insoles for pain relief to insoles for low and mid arch types.
Enjoyed our article?
Consider supporting us! We're a 2-person team (learn more about us here) and your support enables us to create quality content. Thank you!