23 Best Photography Backpacks in 2023 (multiple Size Options)
Written by Dan
•
Updated on November 20th, 2023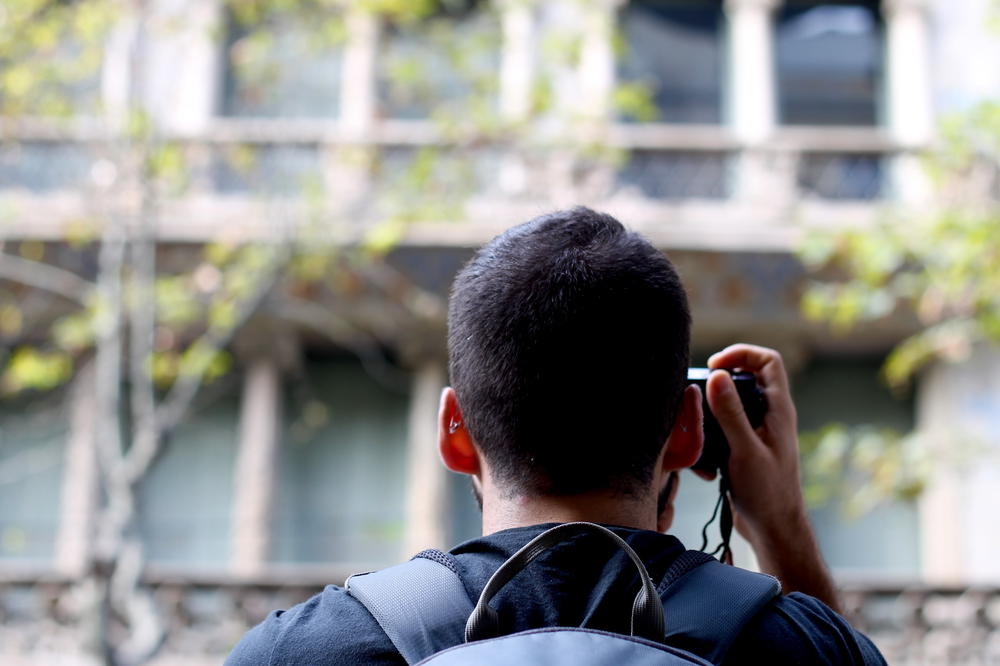 This year's best ideas for photography backpacks, include bags that fit laptops, photo bags that are great for travel, sling bags and photo backpacks for every type of photographer.
This article may contain affiliate links. We earn a small commissions when you purchase via those links — and it's free for you. It's only us (Becca & Dan) working on this website, so we value your support! Read our privacy policy and learn more about us.
I have a long history with photography backpacks. The amount of photography gear that I have, and the amount that I need to carry around, changes based on the type of photography that I am doing.
Sometimes I'll go out for the day with a small camera. Other times, I'll need to carry two camera bodies and several lenses. The bag that I choose to use matters a lot, in these cases!
In this article, you'll learn about different size options for camera backpacks. I'll mention if I have used the bag in its current model, or a previous version. I'm excited to share some of my experience with you, and I hope that this list of photography backpack ideas helps you choose the right backpack for your photography.
Small photography bags
Small photography bags are perfect for times when you want to carry a camera along with other items. This type of photography bag should be somewhat padded, or should at lease have plenty of pockets in which to stash some spare batteries, cleaning cloths and memory cards.
During most of the times when you are carrying a single camera, you'll probably be carrying other items. You may want to check out a padded camera sleeve. I've used this one, and I've put my camera in a regular backpack, and it works pretty well.
There are three types of small camera bags, in my opinion. There are small backpacks, which I'm focusing on in this article, and there are slings and messenger bags. There are a lot of camera sling and messenger bag options and I am going to mention a few, in case that fits what you're looking for.
Camera slings
Slings are relatively useful because they are designed to be small. They carry your camera and aren't designed to do much more. Because they typically sit on your back with one strap, they generally are nice and comfortable.
You can access your camera quickly by slinging the bag around to your front. I suppose that if the bag is small enough, you could also wear it on your front. The "front-style carry" is a great way to access your bag quickly if you need to change your lens or grab something small.
If you are looking for something to protect and stash away your camera as you go on a photography adventure, consider the options below.
The Peak Design Everyday Sling v2 has 3L, 6L and 10L options in a choice of three colors: Ash, Midnight and Black. If you've read my guide to the best camera accessories for photographers, you're aware of how great I think the Peak Design Field Pouch is!
In general, Peak Design makes excellent products that are worth the price tag. The design for all of their products is well thought-out and the materials are excellent and durable. All of my Peak Design products still look new and have no major issues.
The Everyday Sling is packable and foldable, and it's great because it can be adjusted for right or left side carrying (great for lefties or ambidextrous people!). All three sizes are designed to be worn snugly, and the dividers inside the sling create surfaces that will cradle your lenses.
Note: only the 10L model fits a laptop (a 13" one, to be exact). The other two smaller sizes will not accommodate a laptop (they will fit an iPad, though!), but they will be exceedingly smaller, more compact and slightly lower in weight.
One more notable feature is the handy clamshell opening with a high-quality zipper, which will let you reach in and grab what you need among those dividers mentioned. Check out the product page to see more details.
The Moment Rugged Camera Sling comes in smart 6L and 10L options. This sling can be configured to be modular, with its padded dividers, and is designed for cross-body comfort that will be easy on your back during a long day.
A notable feature is the Stability Strap, made for keeping the slight tight when taking photos, or even while hiking.
What fits inside? This sling is ideal for a mirrorless or micro four thirds camera setup - think any of the mirrorless cameras you'd find in my guide to the finding the best travel cameras. You could also consider fitting a mini drone setup, or a DSLR and an accessory.
Does it fit a laptop? Not quite. You'll find that an 11" tablet can fit in the Moment Rugged Camera Sling. This translates to pretty much any iPad with a Smart Keyboard.
A benefit of this bag is that its total weight is 1 lb 12 oz, and that's including its waterproof NPX body material. See more here.
This simple and affordable sling camera bag will fit up to a "large" mirrorless camera and four lenses, all in its compact build!
You won't get to fit a laptop in here, but for those who are into their tablets, you will indeed fit a 7.9" tablet (an iPad Air is perfect), and there's a special padded zipper pocket at the back of the bag for that.
For me, the important feature of this sling is the number of lenses it's designed to hold. For more of your camera accessories, there are more pockets and a 3" interior divider.
The Nomatic McKinnon Camera Sling (8L) is naturally popular with fans of Peter McKinnon, who you'll find in my guide to photographers on Youtube. Not only is Nomatic a super popular brand I've been following for a while, but anything under the McKinnon name is a great bet.
What I think is cool about this bag, especially for travelers, is that it can be worn three ways: over the shoulder, cross-body and on your back.
What does it fit? Typically, a DSLR camera (mirrorless or small, specifically) and one extra lens.
And FYI, if you're interested in other Nomatic gear, you can check out our Nomatic review round up with many more of their products.
Another travel bonus is that it has a 'trolley strap,' which can be attached to your rolling luggage while you are in transit. This would be great for all those times you have to switch terminals at an airport during a layover!
The Lowepro Slingshot SL 250 AW III is a unique bag because it's more narrow than it is wide, yet it is still long and vertical. This would be a good bag for Becca, who's 5'2" and pretty narrow in her shoulders. It's hard for her to find backpacks that don't fall off her shoulders without having a cross-chest strap for tightening.
As for this sling bag, it'll hold a DSLR or Mirrorless and three or four lenses, depending on the size of them. A few things I appreciate this bag are its oversized zipper pulls, which are great for quickly grabbing when trying to access your stuff fast (even if you're wearing gloves in winter), and the weather-resistant polyurethane coating, which makes this bag a bit resistant to rain and humidity (for hot trips in summer).
Camera messenger bags
Camera messenger bags can be a bit of a challenge because they start getting boxy really fast. The boxier the bag, the more bounce it has while you are walking around — or at least that is what happens to me while wearing one.
I don't really prefer messenger bags. They either hang too low and are uncomfortable and bounce, or they sit too high and the strap slides close to my neck. Some people love messenger-style bags (especially people who bike to get around), but I've never had good luck with them. That's just me!
If I were to try any messenger bags, I would try any of these options.
While the look of this bag is more of a standard camera bag than a messenger bag you would've worn in college, its primary use is function. It can store 1-2 digital SLR cameras with 6-10 lenses and accessories, so that's quite a bit, when compared with the last section on sling bags.
This one is for sure an example of a boxy bag, but it has more of a lower profile. A bonus is that it has a good number of pockets for stashing your accessories, and it has a removable hand carrying strap.
This down-to-earth shoulder bag for a camera can carry a combination of everything, from lenses to a 15" laptop. That'll make editing on the go pretty easy. I like the removable carrying handle as well as the water bottle holder. A travel-friendly feature is a luggage pass-through flap for travel days.
What stands out to me about this belt bag is that it can be used as a shoulder bag or a hip bag, depending on your preference. It's definitely a bit on the rugged, rather than sleek side of design, so you might like it if you're often in nature or if you like the natural palette of colors.
The most useful features for using this bag outside is its water resistance and gripper shoulder strap. It fits a DLSR or mirrorless camera, along with lenses and accessories like filters.
Small backpacks
Most small bags will fit small laptops or an iPad; however, you can usually fit plenty of photography equipment inside! A small camera bag is a good opportunity for having a bag that can be converted into a regular backpack when you're not doing anything photography-related, like travel or sightseeing.
For example, I had the small Brevite camera backpack, and I was able to take out the photography insert and use the bag for something else like being out for a day in the city.
I owned this bag a few years ago, and we brought it to Mexico a few years back! What I like about it most is that it's affordable, and well, this is because the materials are lower quality than other bags on the market. But, consider that it's lightweight, which is nice, because you could even pack it in bigger luggage.
Because of the price point and the shorter lifespan (I'm not saying it's going to break, but it's not a lifetime warranty built-to-last product) means it won't last forever. If you are rough with your photography gear, this might not be for you, but, if you are more of a hobby shooter, and want a light bag, this bag is a good first small photographer backpack to check out.
Lowepro is one of the older and trusted brands in photography bags, and this particular camera backpack is small and compact, which I think is great. It contains sternum straps and a waist belt, which helps distribute the weight. It also has a pocket for a 7" tablet, which is nice if you plan to take it as a personal item on a flight, for example, and watch stuff or do express-style edits on your iPad.
This fan-favorite bag is popular in the photography world, and Moment is a great brand to start exploring into if you aren't yet familiar! This backpack is what I'd call minimalist and attractive, as in, I'd wear it on a day-to-day basis, out with friends or family or as a daypack on a little trip.
It's an "everyday" backpack that has tons of internal pockets for things you might need as a photographer. You'll have no problem stashing away cables, memory cards, a laptop and a tablet. I have the 17L and I put my mirrorless camera in a padded camera wrap in the main compartment. I love this bag!
Here's an example of the padded camera wrap from Domke.
Check out the 17L and the 21L version.
As the next iteration of Moment's original photography backpack, the MTW, the Everything Backpack is a duo for most fans of the brand. Why does it have double use cases? Put quite simply, it's both an everyday laptop backpack as well as a photographer's favorite day bag.
I used this backpack on the go, out for a day in NYC shooting with Becca in Soho and the Village. It worked out best because it has a clip-in feature for Moment's 4L camera insert cube.
A few of the standout features of the bag are the lightweight materials, the heaps of pockets in the laptop compartment, double zippers, a handy front pocket with a slide-in phone pocket and a great mesh back panel. To see a full list of my thoughts on this one, check out my review of the Everything Backpack.
I had an early version of the Brevite bag. I had the company's first bag from their Kickstarter campaign! I think they've really upgraded it since I first got my hands on it several years ago, and it now looks more modern, with some nice features for photographers like ways it lets you carry a tripod, zippered side pocket for easy camera access and lastly, room to store a 16" laptop.
The camera insert on the bottom was perfect when I used this backpack because I always carry a camera and a lens, along with some other things that I wanted with me, for the day.
This backpack is a smaller version of the 20L Peak Design that I own, and I've had it for around five years. All-around, the Peak Design Everyday Backpacks are winners. They're versatile. They look great.
They're also unique-looking in a good way, because they're expertly built to be weather-resistant. They have high-quality zippers (a very important feature for me). Overall, they're an attractively constructed clamshell-style bag that also has side openings great for small tripods, lenses and camera bodies.
Medium photography bags
A medium-sized photography bag gets you more of a standard-size photography bag. With these size of backpacks, you can usually customize the inside with your chosen cubes, and rearrange and reconfigure the inside to fit multiple situations and photo setups.
These bags should be able to hold a 70-200 f/2.8 lens and should likely fit your laptop.
This backpack, of course, is my favorite long-term, durable and reliable medium-sized camera backpack. I've been using it and have been traveling with the first version of the Peak Design Everyday Backpack since my travels in 2016.
The 20L size is good for carrying 1-2 camera bodies and 1-2 lenses. I've had no issues fitting my camera stuff inside. I set my bag up using three compartments. I put my camera gear in the bottom two, and I leave the top compartment open for a jacket or for my Peak Design field pouch or tech kit.
The bag by itself is heavy and the materials are dense, and it gets especially heavy when you load it up. Keep this in mind. It is pretty comfortable, though, and is well-balanced and well-designed. If you need more capacity, check out the slightly larger 30L version.
I originally had my eye on this camera backpack for a few of its travel-friendly and outdoors-friendly highlights. Namely, these were the luggage handle pass-through which make it a good stacking backpack for using with a suitcase, the water bottle pocket (you know me by now, and this is a priority!) and a padded laptop sleeve that'll keep laptops up to 15" safe inside this bag.
Hex is a cool brand I've been introduced to recently and I also have their small backpack and waist pack/belt bag. What I like about the Ranger DSLR backpack is the full ability to customize the interior with dividers and organize my camera gear like that. I also think the clamshell design is both unique and highly useful, as I can zip it open, see everything inside and take out exactly what I need. It comes with a rain cover, too.
WANDRD is a great brand that you'll see in the photography world. They make handy products that the experts tend to really enjoy. This roll-top style backpack is nice when you're not using this bag for photography. You can stuff things inside. We've used a similar bag for groceries.
This is a cool dual purpose daypack that fits a camera cube inside, letting you pack in a DSLR or mirrorless camera, tripod and two to four lenses. Like a backpack for hiking or traveling, it has a set of two waist straps that distribute the weight.
I'd say its minimalist style sets it apart, along with the weatherproof materials and coating. This bag comes in lots of different sizes, so look at the product variants. You can consider putting the different variants in each category if you want.
This is a traditional camera bag from MindShift and with its clamshell opening, you can immediately see how it compartmentalizes camera accessories for a photographer on the go. You can fit a lot of things inside this bag, and to that end, it has a lot of support in the straps and the waist straps for if your gear gets heavy.
One thing to note is that this backpack is not practical for a hobby photographer who's looking to take a camera out for the day. You'd use this backpack when you're traveling and need a lot of cameras and lenses. The BackLight 18L is also useful for hiking up to a destination (maybe for night photography or a related specific use) when you are bringing a lot of options with you.
We mentioned Nomatic in the beginning of this article, and the brand is still a fan favorite for photographers who want versatile and modern backpack options. The McKinnon Camera Backpack in 25L is expensive, but high quality that will last you for decades.
I really enjoy this bag because it's both lightweight, super versatile and made from quality materials. When you buy it on Nomatic's website, you can choose from a variety of options with what to fill the main cavity with.
I chose to use 2 small camera cubes to be able to use the bag for other things other than photography, like travel.
Even when you don't fill the main cavity with camera lenses and other accessories, the top access has enough room for a camera body and 1 or 2 small lenses.
It's Peter McKinnon's bag, and it offers tons of options for custom-building the inside compartments. It's meant to switch from photographic use to daypack use in no time. It also fits a laptop up to 16" so you can consider remote work while you're out using this bag.
For travel, it also has a trolley strap so you can attach it to your luggage at the airport.
Large photography bags
A large photography backpack should have the disclaimer that you should know what you're signing up for! Someone short, or with a narrow frame or someone who gets frequent back pain should think twice before getting a large backpack that will handle tons of heavy gear.
For everyone else though, the benefit of large photography backpacks is that you might need one if you're going on a trip and need a lot of variation in your camera bodies and lenses. Here are the best large photography backpacks on the market right now for you to check out.
I have this backpack exactly, and it is one of my favorite backpacks for travel as well. As mentioned above, Peak Design is a durable and trusty brand and that's why I've invested into their products for my travel and photo needs.
This travel photography backpack comes with the medium camera cube. Peak Design sells two sizes of camera cubes. The small one can fit a body and about two lenses, whereas the medium one fits two cameras with grips and lenses.
The benefit of this 45L backpack is that you can also put in Peak Design's other cubes, like the field pouch and the tech pouch.
The medium cube is modular inside, so it makes it nice to be able to customize and configure the bag interior how you want.
One thing to watch out for is the laptop sleeve is held together by a Velcro flap. Be careful about your laptop as you open the bag. I've never had it fall, but because the laptop is on the same part that you unzip, it's something to be careful of.
This backpack has come with me on more trips than I can count and I wholeheartedly recommend its usability, versatility and durability.
This standard, yet nearly 25-L camera bag for travel, is from trusted brand Lowepro. I think its best features are that it provides targeted support for carrying one or even two DSLRs, along with space for up to eight flashes or lenses. The interior laptop pocket not only protects, but suspends, laptops up to 15" so that you can edit photos on the go.
The Think Tank Photo StreetWalker has a unique shape in that it's long and narrow at first glance. Among its best features are that it weighs only 3.5 lbs when empty, which, for all its straps, interior padding, rain cover and dividers, is not too hefty for a camera backpack!
Note: while this backpack can hold a 10" tablet, it is not meant for toting a laptop, so keep that in mind during your decision-making!
Think Tank is a trusted brand and this backpack does it all. It has features that I'd consider useful for travel, like an adjustable harness, removable wait belt, water bottle pocket (you know now that this is important to me!), handles on three sides and a top zipper pocket that's good for storing a passport.
This backpack is built for efficiency, especially for those heading out on trips where photography is a priority.
You can't miss this one: it's bright orange. The f-stop TILOPA 50L backpack is a sizable photography backpack and its features are no joke. It will hold all your photo gear, protected by the rain cover it comes with, and the padded back panel/straps/belt make it a good photography bag to hike with.
f-stop has pretty much thought of everything during the creation of this bag, from the water-resistant outer to an integrated whistle (watch out for bears!).