7 Best Things to Do in Guatape, Colombia
Updated on September 6th, 2023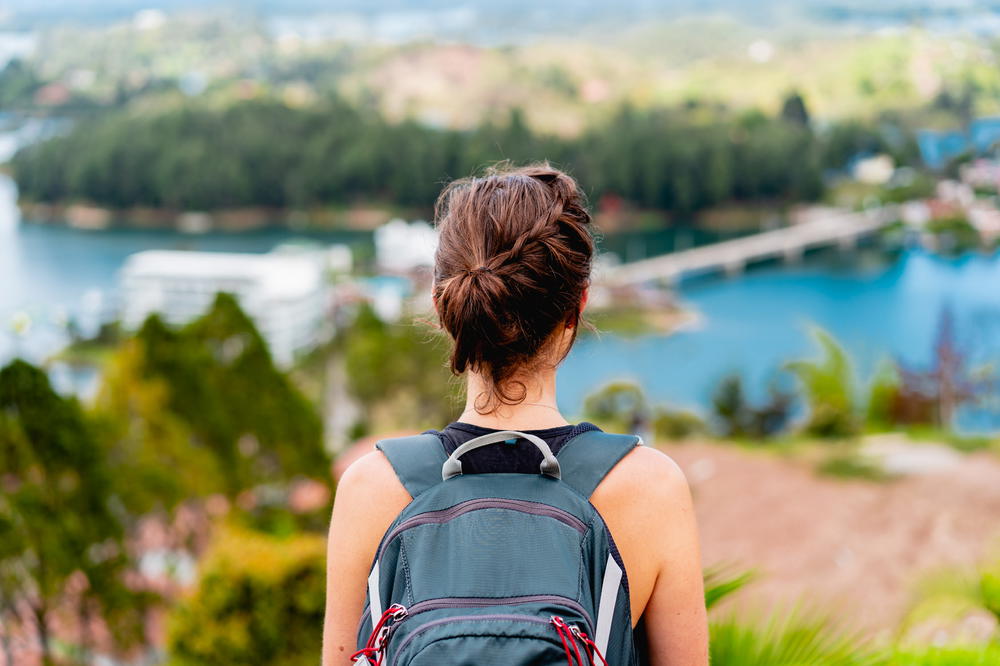 Discover things to do on your day trip to Guatape or where to stay overnight with this list of things to do and what to see in Guatape for backpackers and travelers.
This article may contain affiliate links. We earn a small commissions when you purchase via those links — and it's free for you. It's only us (Becca & Dan) working on this website, so we value your support! Read our privacy policy and learn more about us.
Table of contents
Close table of contents
What can you do in Guatape, Colombia?
Guatape is an excellent day trip from Medellin because it's accessible, scenic and rather interesting. We really enjoyed the colors, the green scenery and the adorable decor on mostly every building. We've actually been to Guatape twice! Our first trip was a day trip. We saw the Piedra del Peñol (the huge rock), walked around some of the downtown, ate lunch and then headed back into Medellin.
Keep reading to learn more about the Piedra del Peñol. Our second trip was an overnight trip. We were able to take our time, relax and enjoy a slightly slower pace.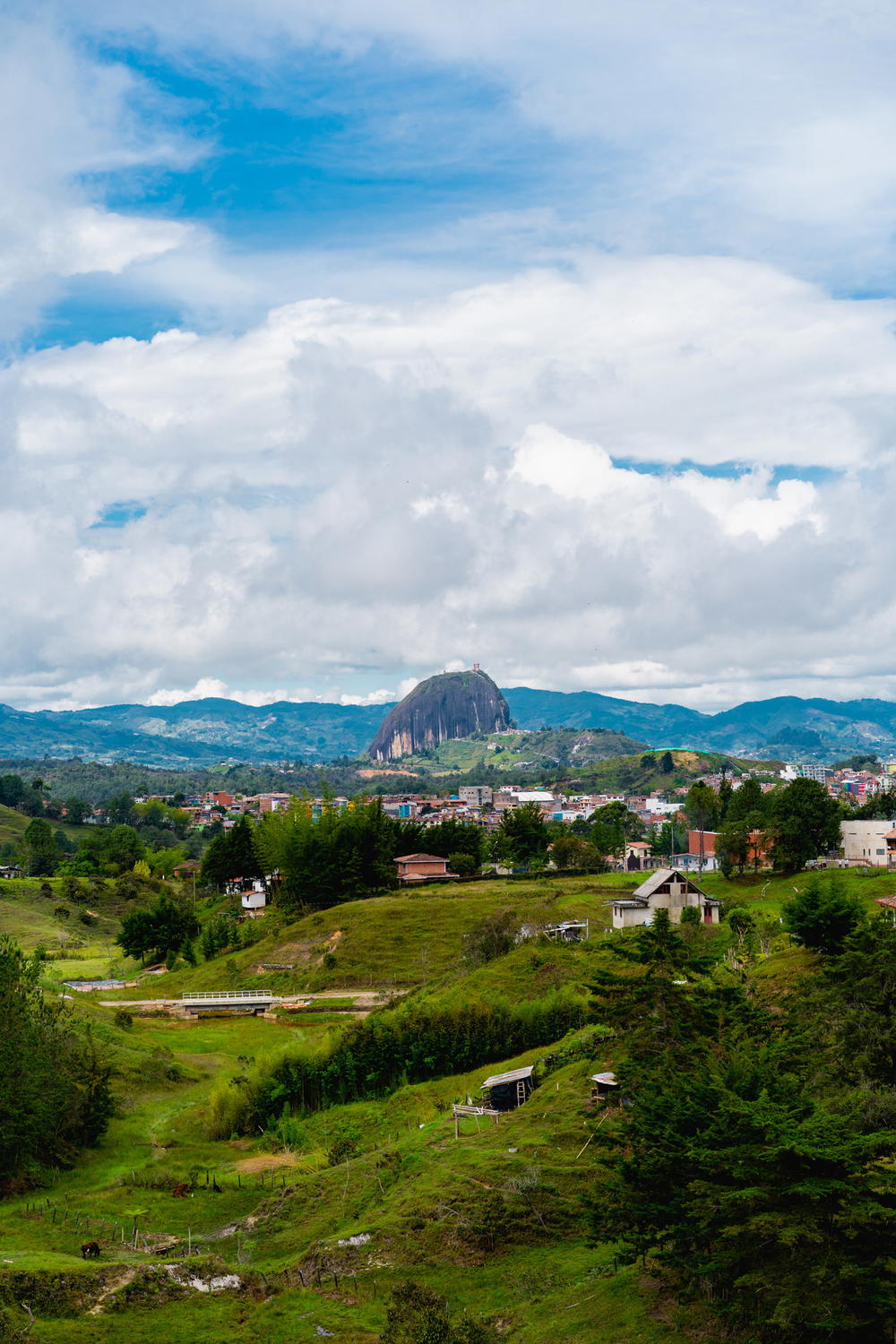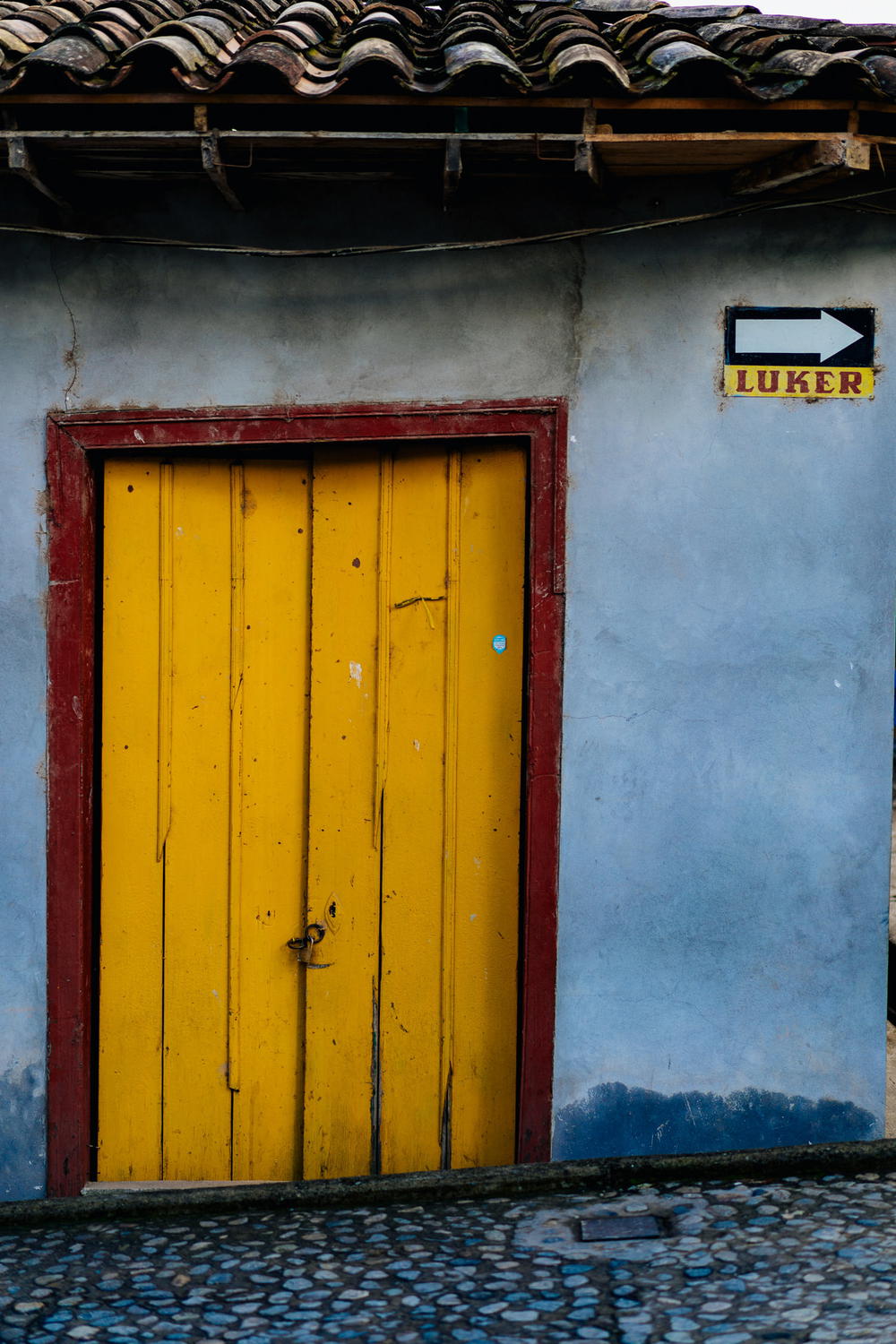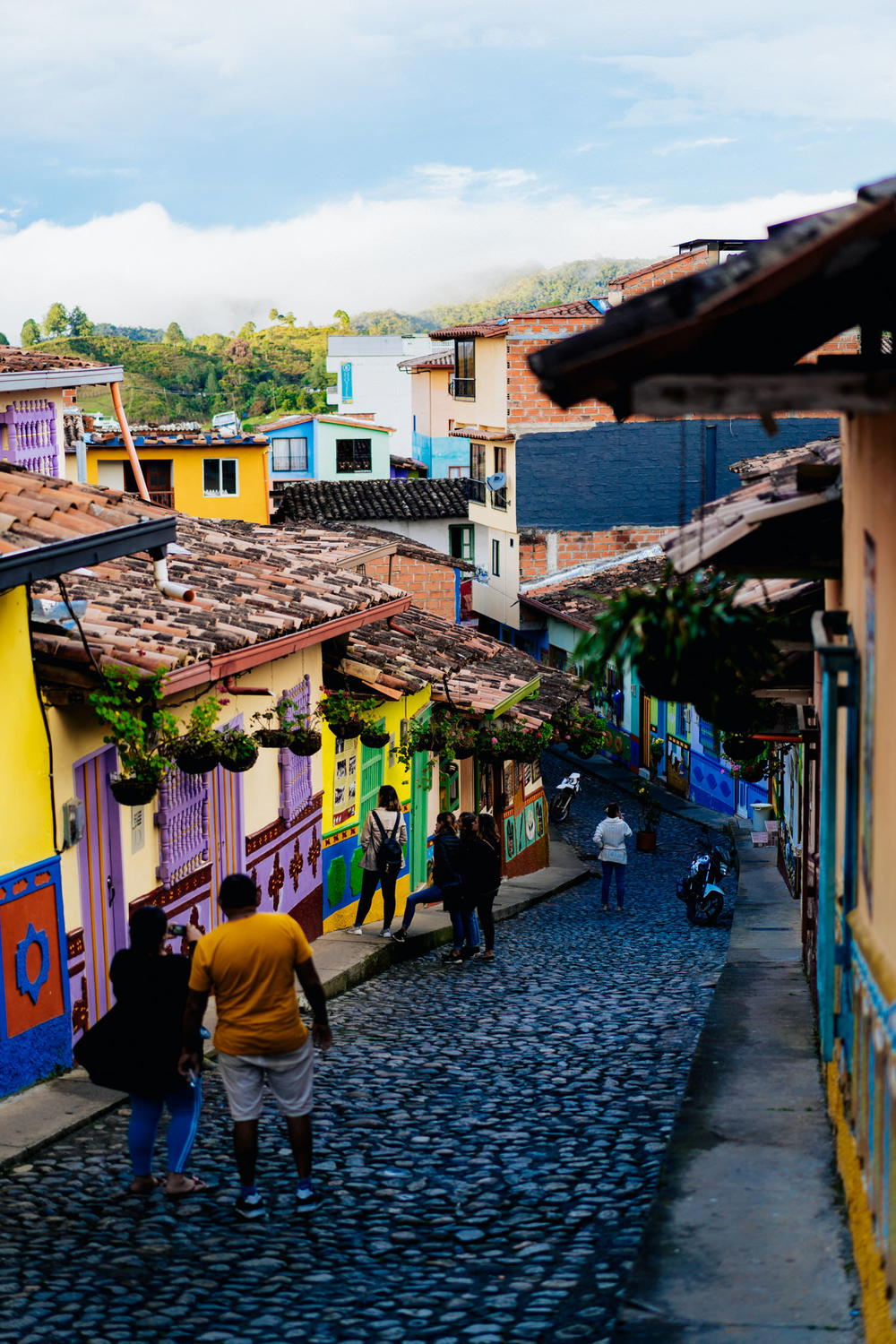 First, decide if you'll be going for one day or for more. Then, check out how to get to Guatape from Medellin. We stayed for one night at Estaciones Hostal, which is a 30-minute walk from the town, up some rural scenic roads.
Walk around Plazoleta de Los Zócalos
Could this be the best photo spot in Guatape? Probably! This little plaza is surrounded by some of Guatape's tallest buildings (they're only five stories) and every one of them is painted with lots of bright colors. There's also colorfully-painted steps that lead up to the top of the plaza.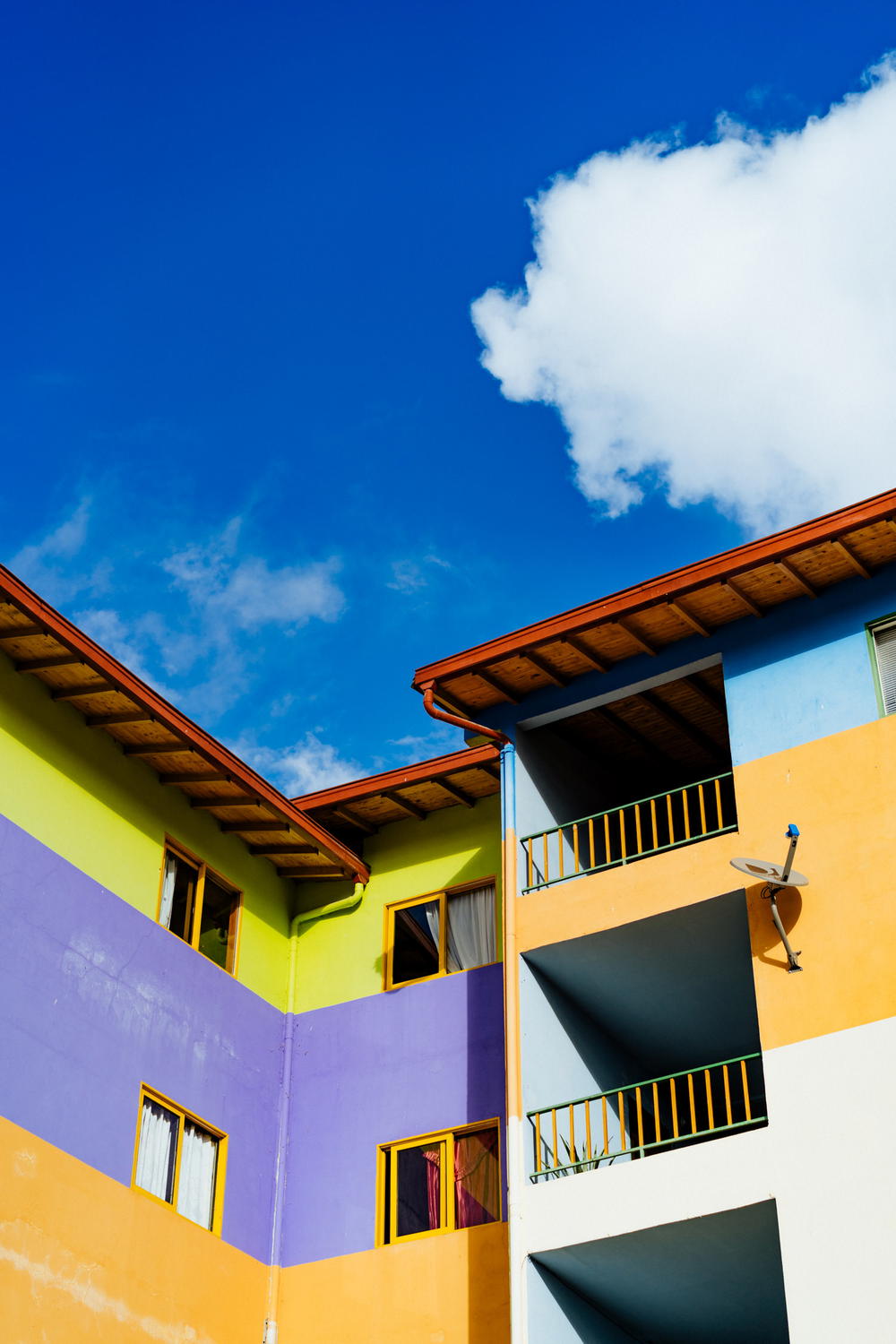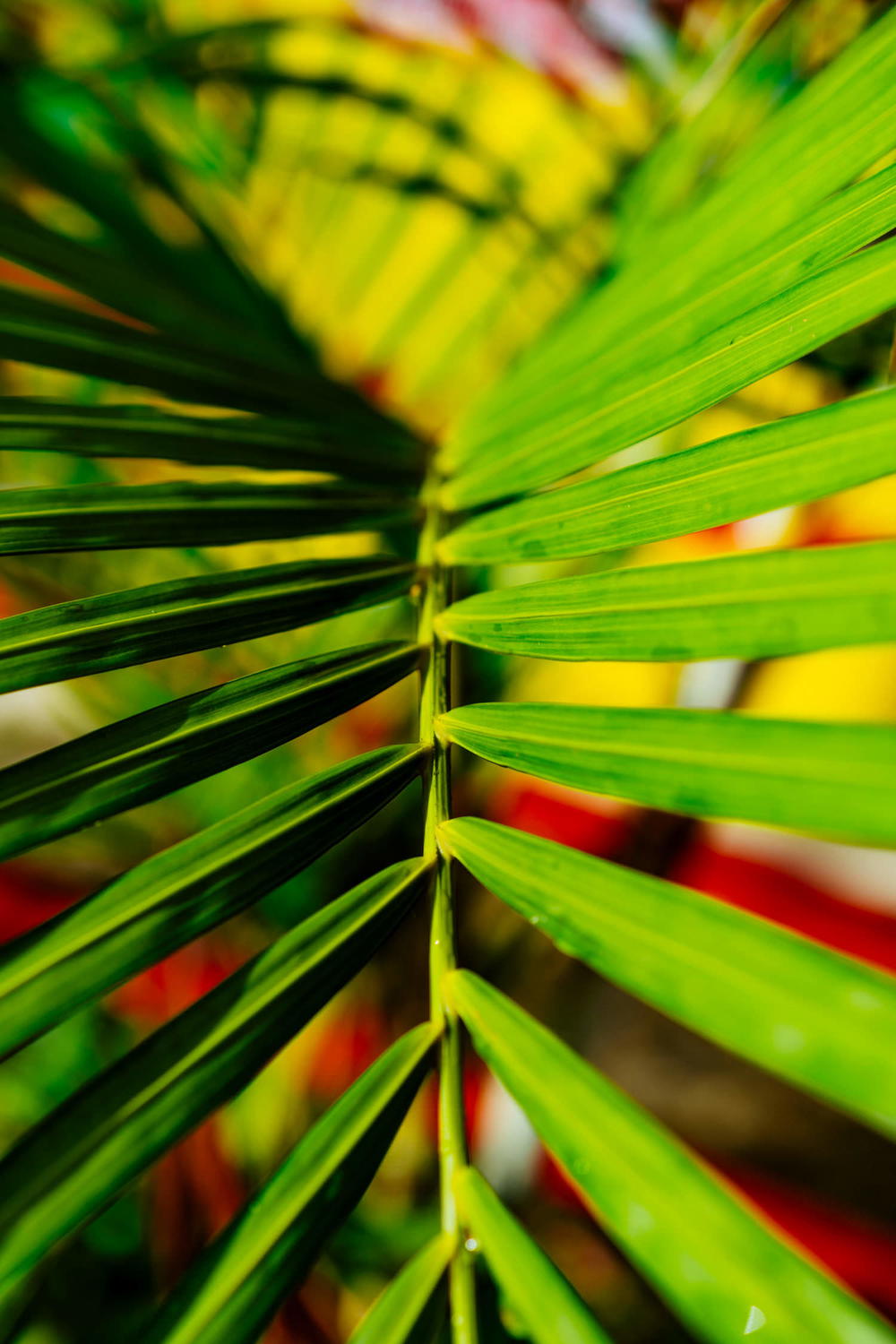 On both the bottom and top of the plazoleta you'll find little cafes that sells sweets and coffee, and some gift shops. We had coffee at Martine, toward the steps back up to the main square.
If you take the ramp up the left side of the Plazoleta, don't miss the little window where a man sells empanadas starting at 500 COP! We basically lived off of those empanadas!
Walk around the main town square and its church
Parroquia Nuestra Señora Del Carmen is the town's 'iglesia' (church) and it's set right on the main square.
The church is white and red, and you can walk inside to see the interior. Next to it is a small garden that you can visit as well.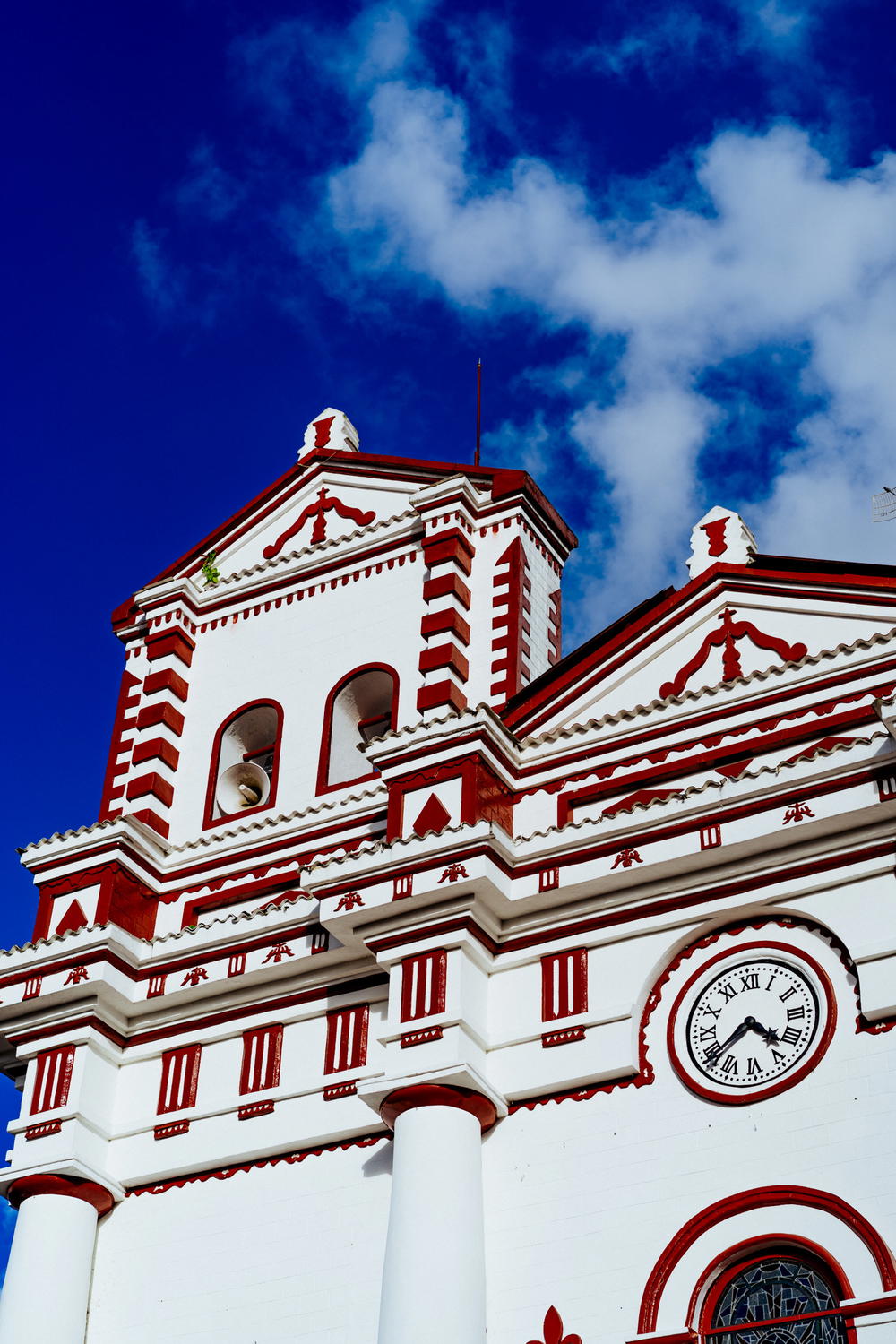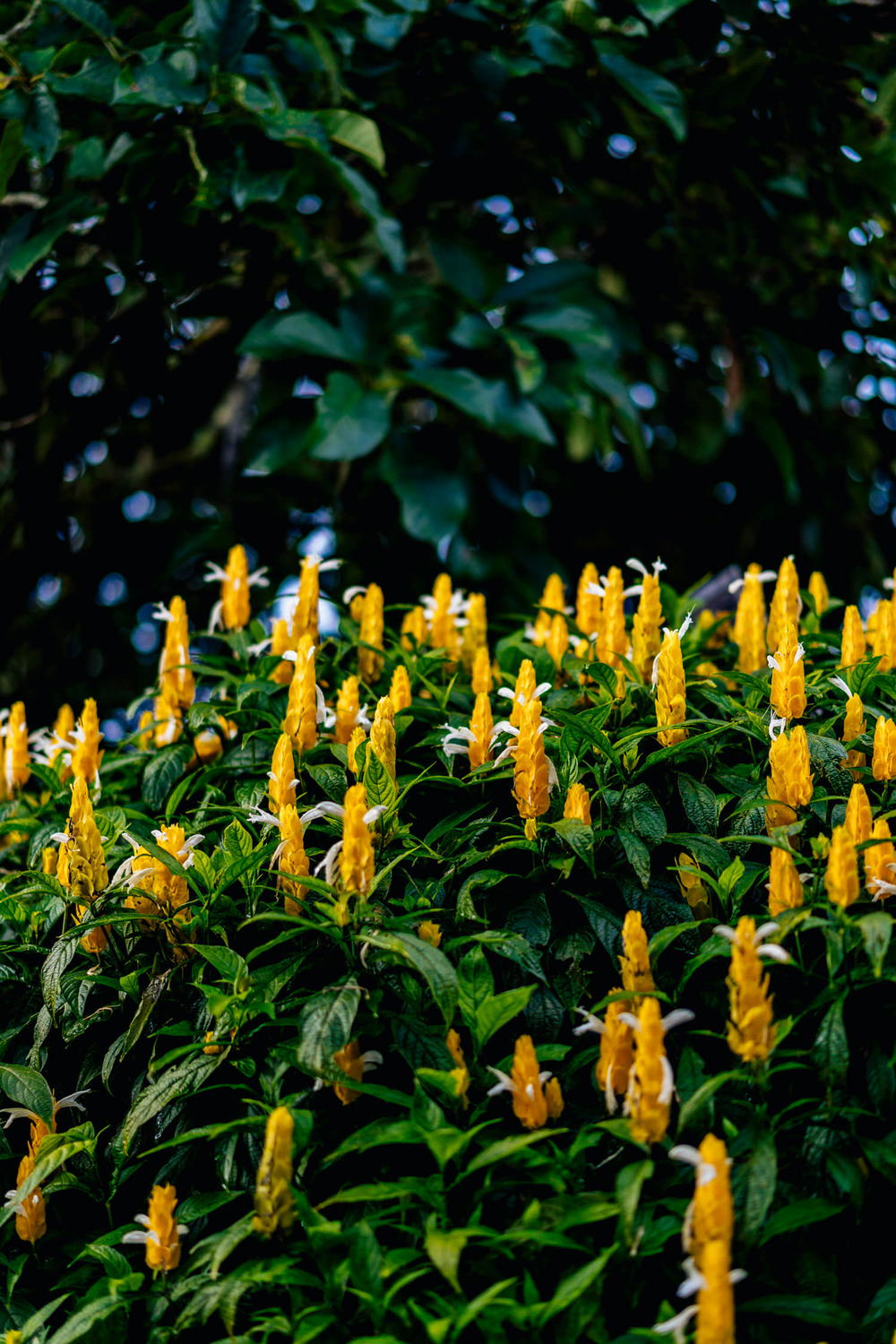 Pick a restaurant and watch people go by
Guatape's restaurants are all located near the bus station and along the water at the Malecon, or surrounding the main square. We found that they all serve mostly the same food!
You can order bandeja paisa, breakfast foods like eggs and meat or try baked goods and dessert at the bakeries. You can also sit outside at the tables with a beer and watch people go by. We ate at Restaurante Bar Kennedy for breakfast and it was delicious!
Keep in mind that a bandeja paisa is huge. We recommend ordering 1 and sharing it.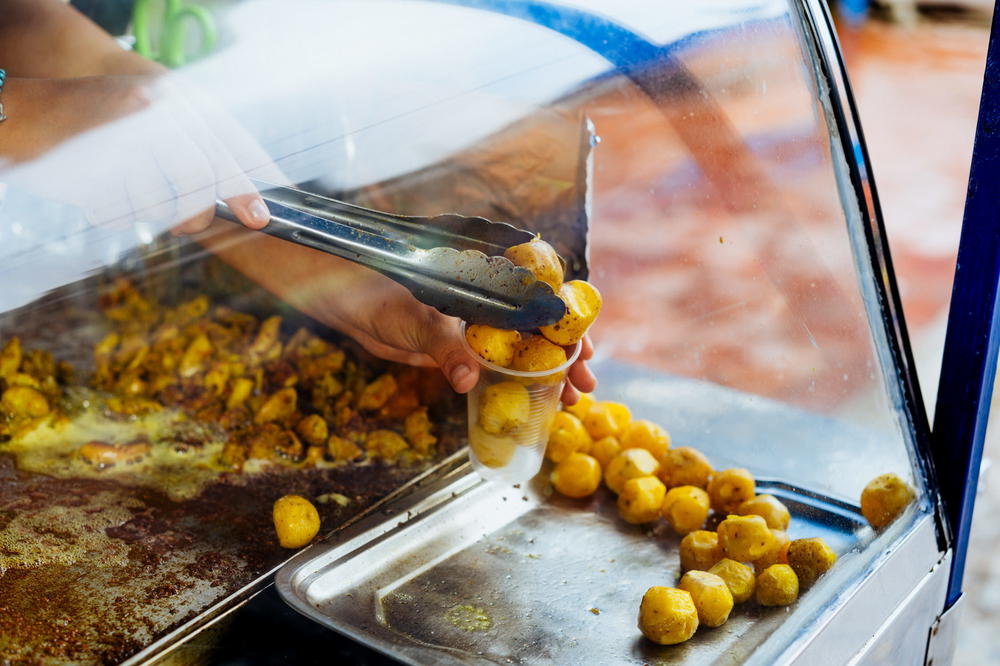 Walk in the colorful streets of Guatape
As you walk away from the main square, the streets get quieter and you can see into Guatape local life. The entire town is safe and the locals are quite accustomed to the daily stream of tourists. Try to see how many different types of painted decor you see on the homes!
This can also be your opportunity to take a tuk-tuk. You can find some really colorful tuk-tuks around the street!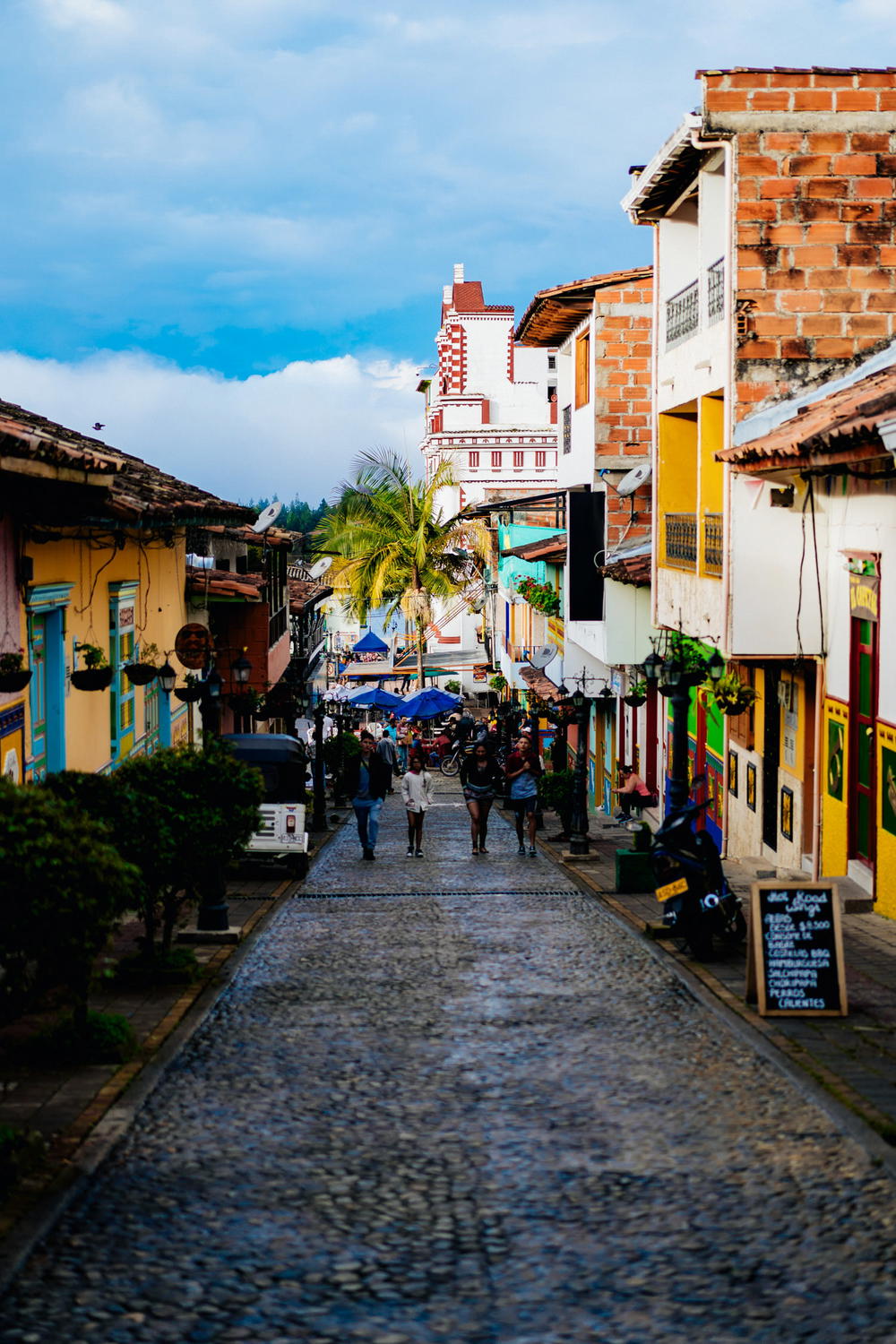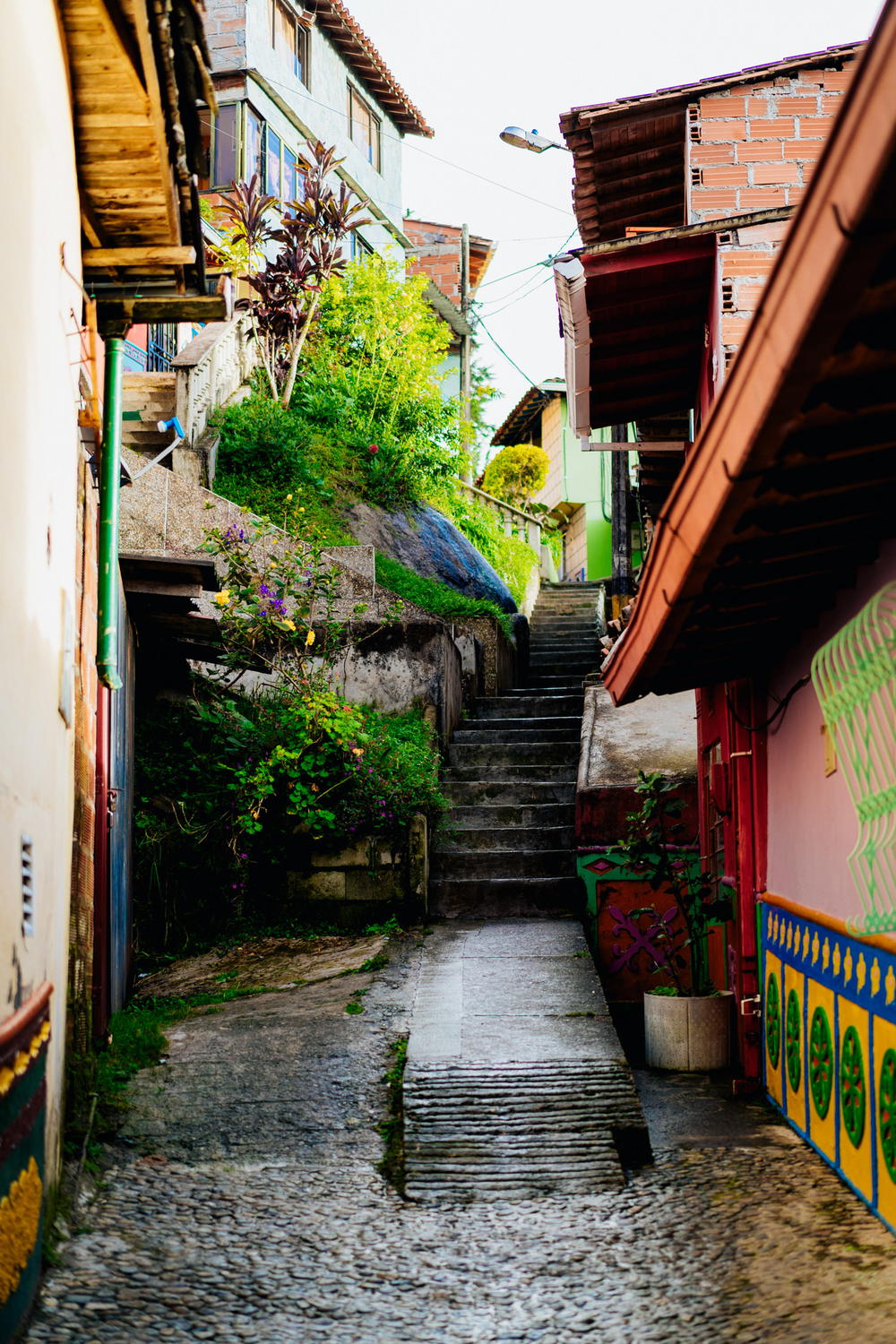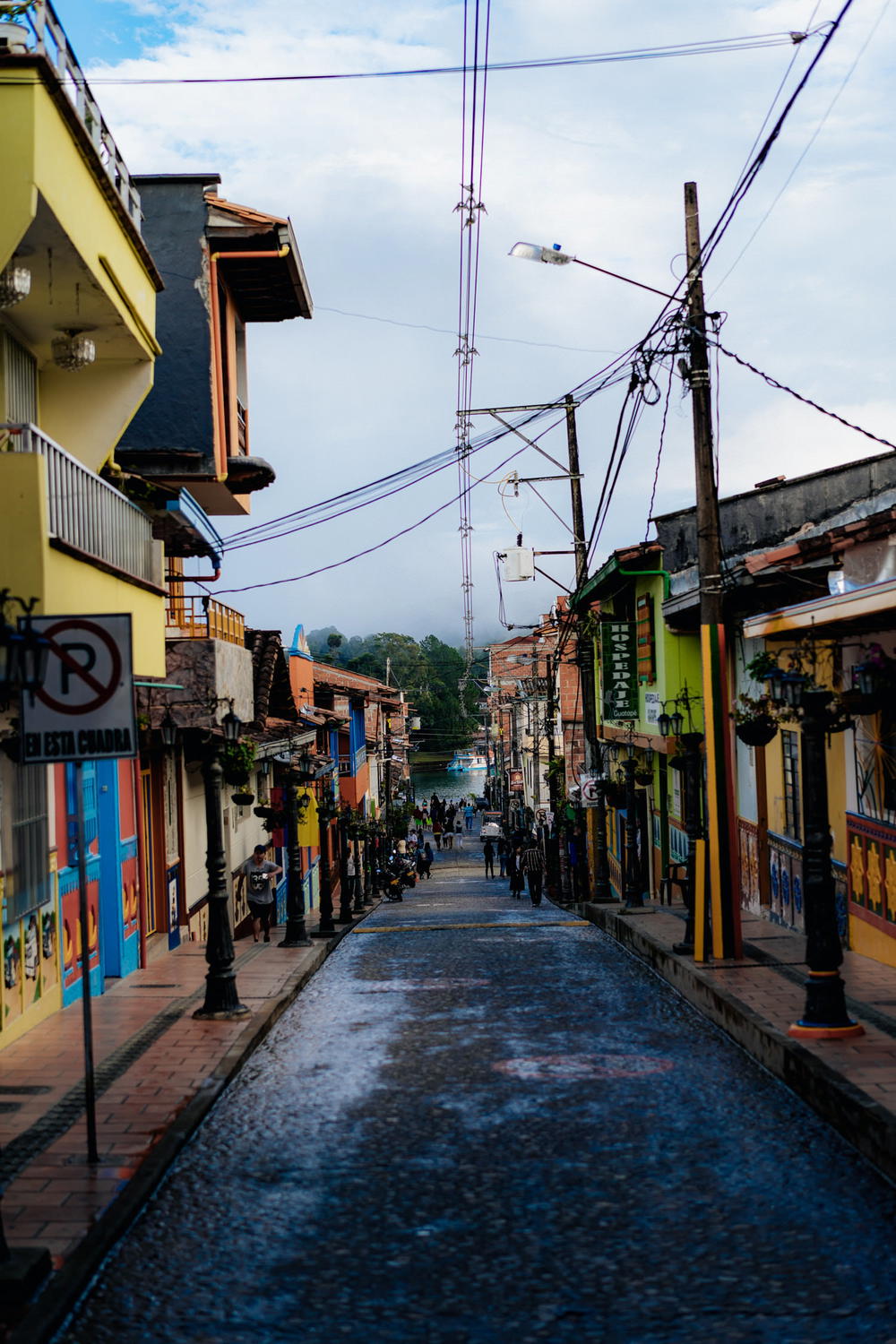 Hike from town to la Piedra
If you take a tuk-tuk from the town to the Piedra, it will cost you 10,000 COP (approximately 3 USD). The ride takes about 10 minutes at most.
If you'd like to see some views and warm up your legs before climbing the rock, you can walk there, like we did on our day trip! The walk is rather straightforward and you'll follow the main road that directs all cars out of the town center.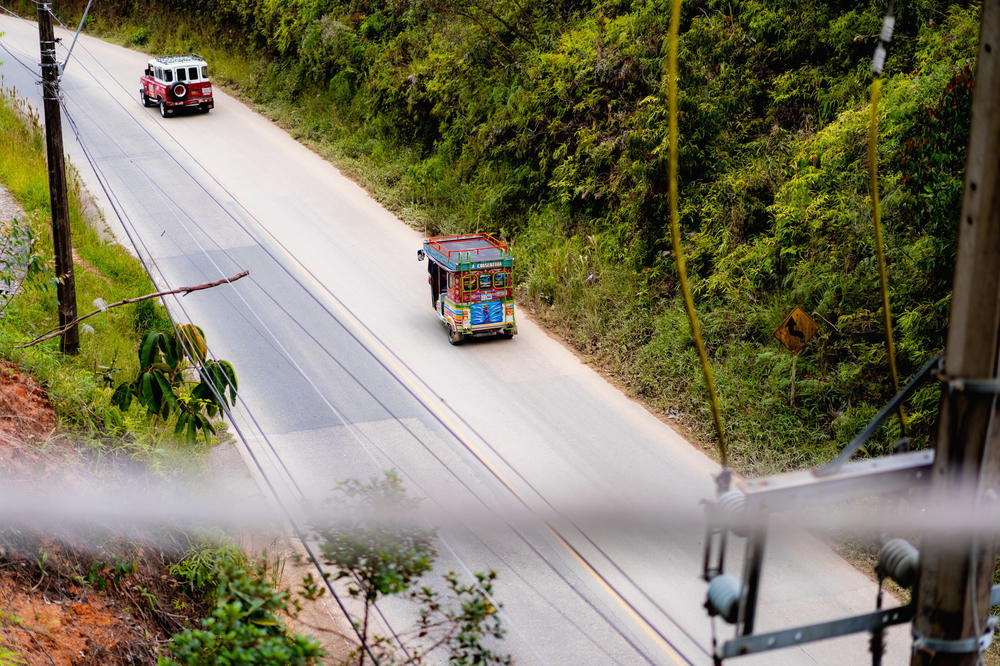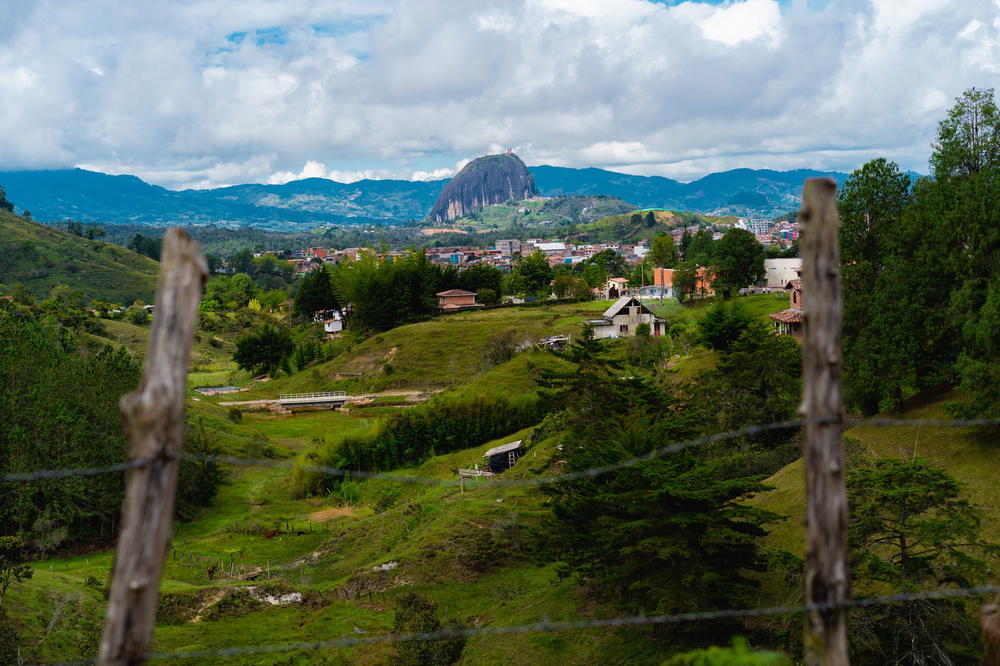 There are not sidewalks during the entire length of the walk (43 minutes and 2.0 miles), but we were surprised to find that some of the sidewalks were stone steps built into the hills. There was even a wooden suspension bridge that takes pedestrians from one side to the other.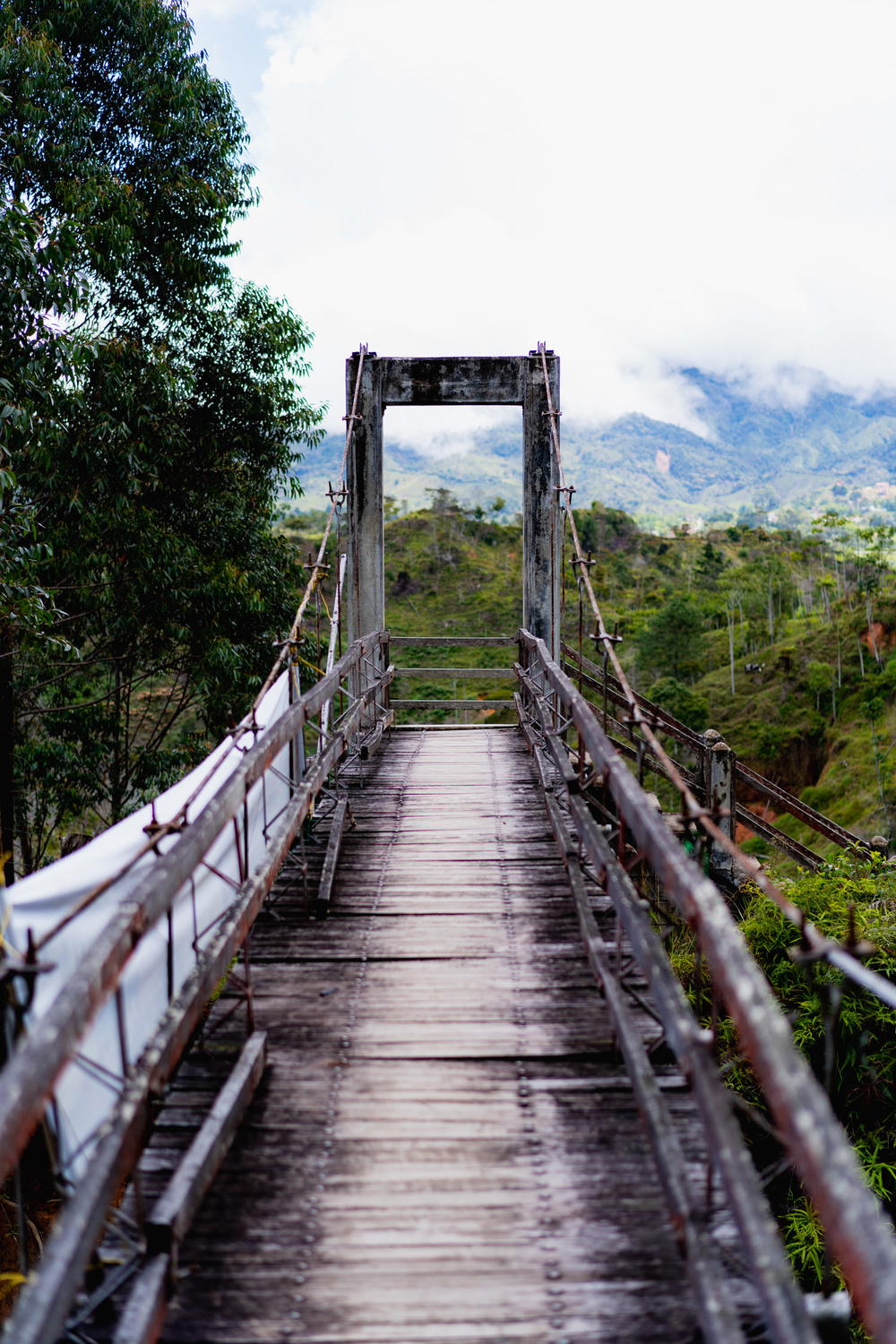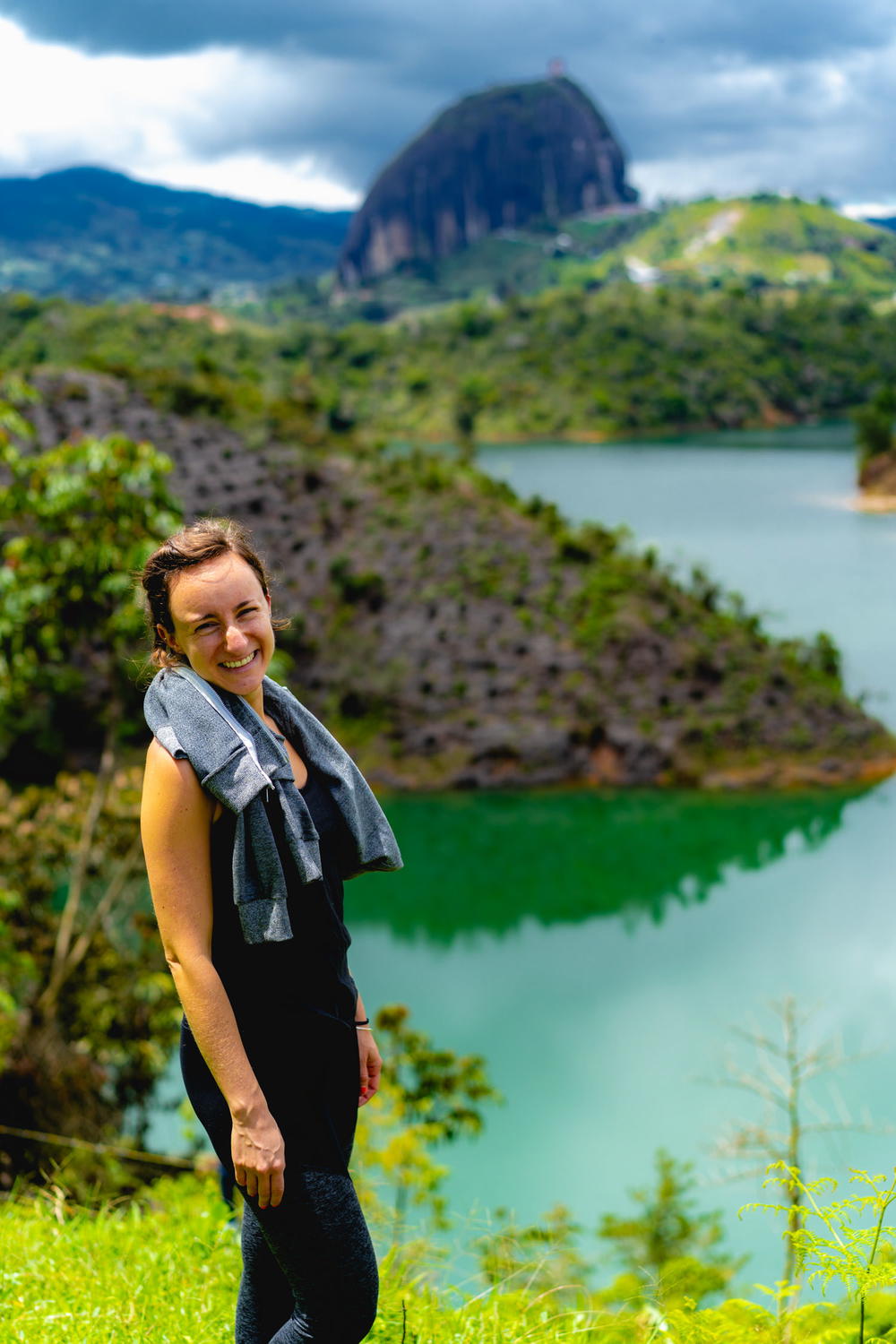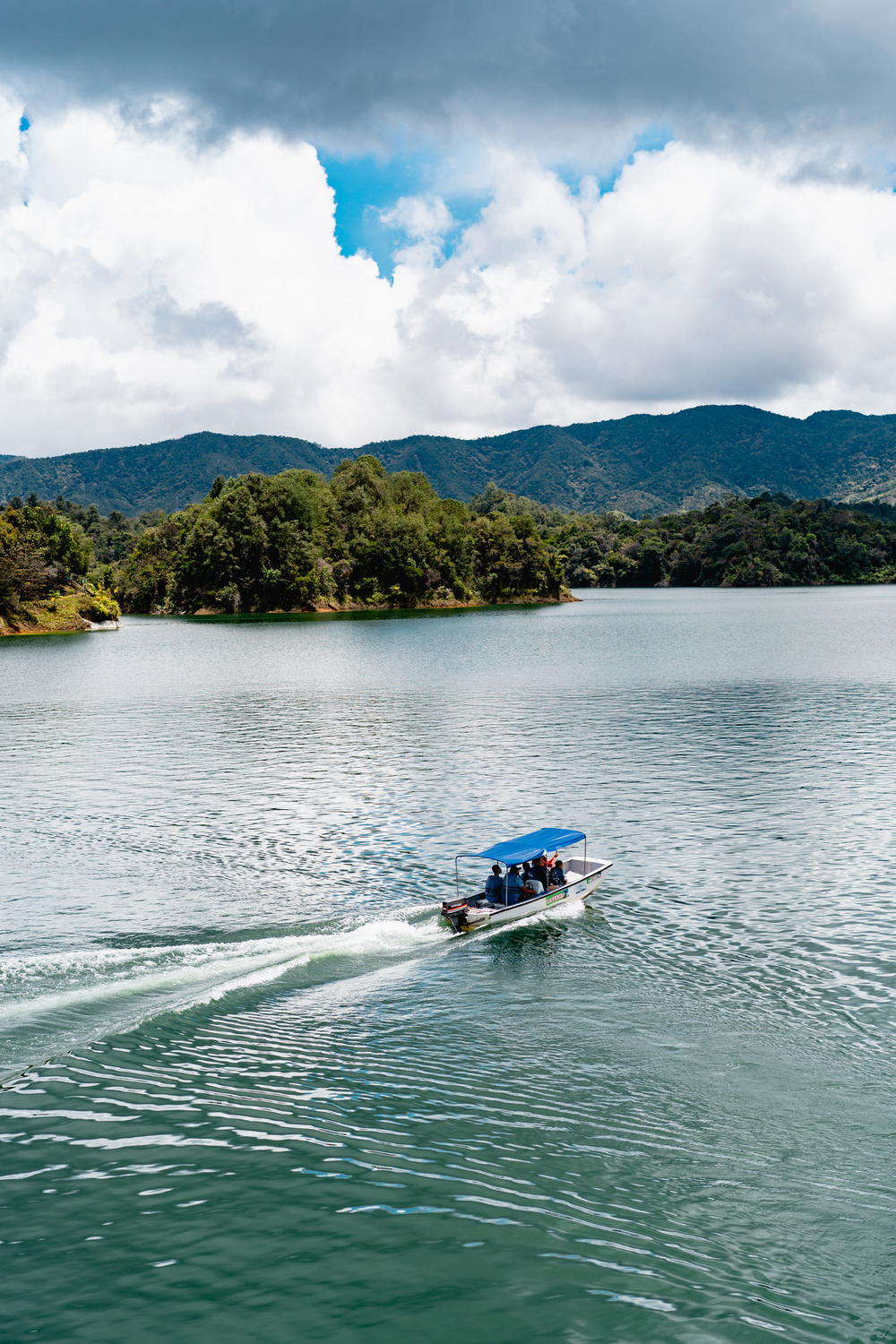 Along the walk are some unique views of the rock that you cannot find elsewhere. This is why we recommend taking this route to get from the Guatape town to the Piedra.
Most of the photos that you see are of the rock up close. We like being able to see it in scale of the landscape to really appreciate how unique it is.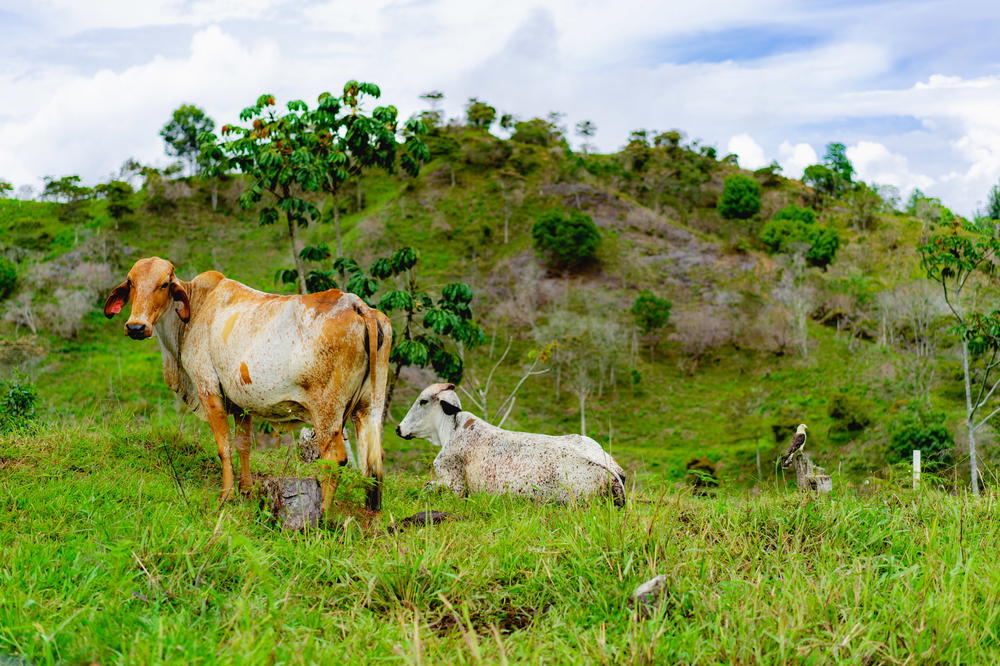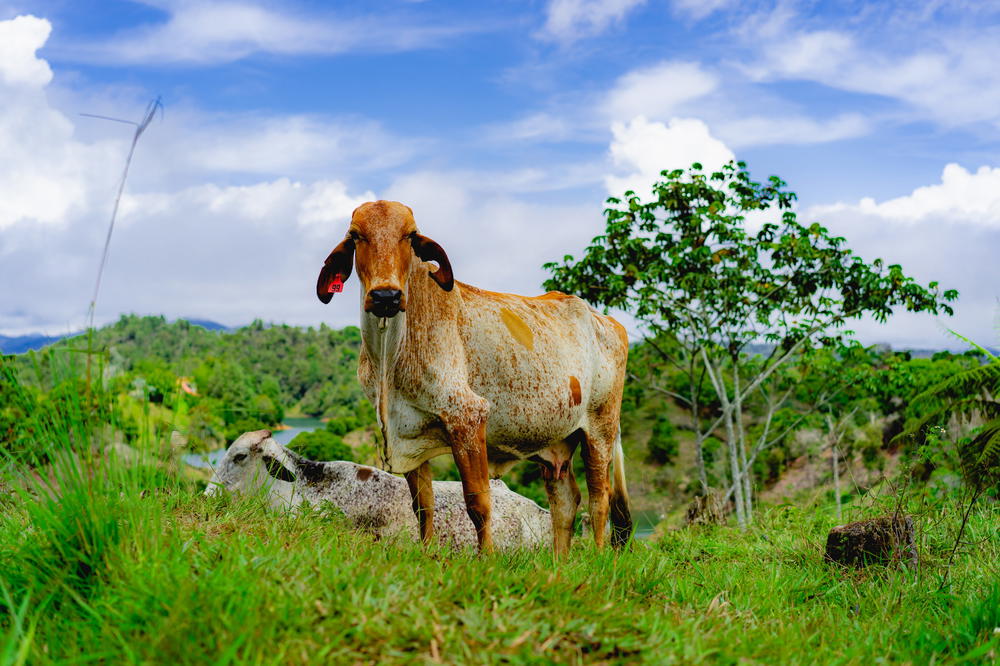 Hike the Piedra del Peñol
The Piedra is a mammoth 220-meter (721-foot) rock that you can climb if you pay for an entrance ticket. There are 740 steps! The views from the top are lovely, and you can see a lot of the surrounding lake region on a clear day. There are vendors who sell snacks and drinks at the top (they're a little more expensive than anything you'd find in town).
When you get off the bus, you'll see the first hill, which has a restaurant and a small shop. You can walk up steps or walk around the side ramp to the parking lot to the Piedra del Peñol. It's in the parking lot area where most of the markets, shops for souvenirs and food are.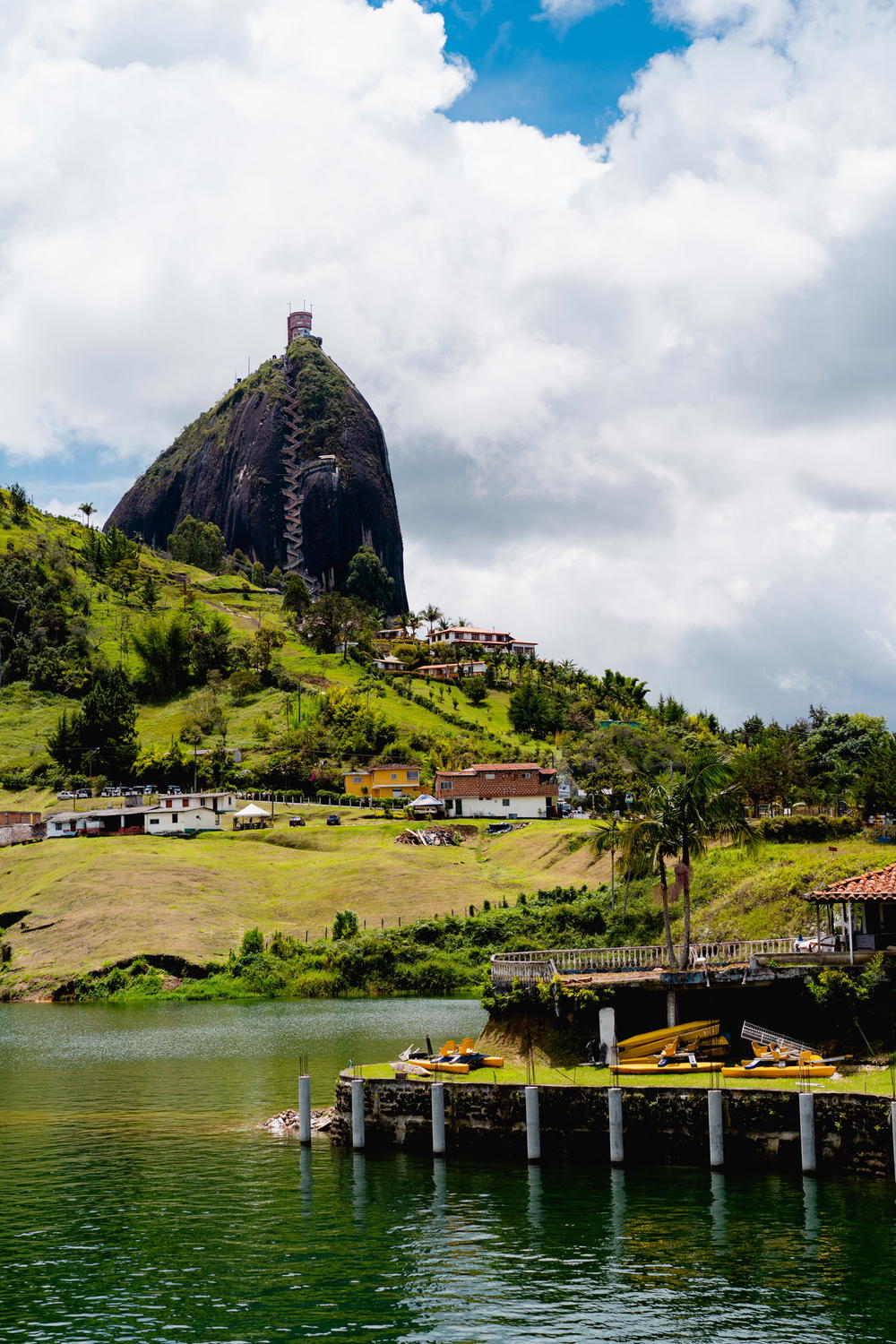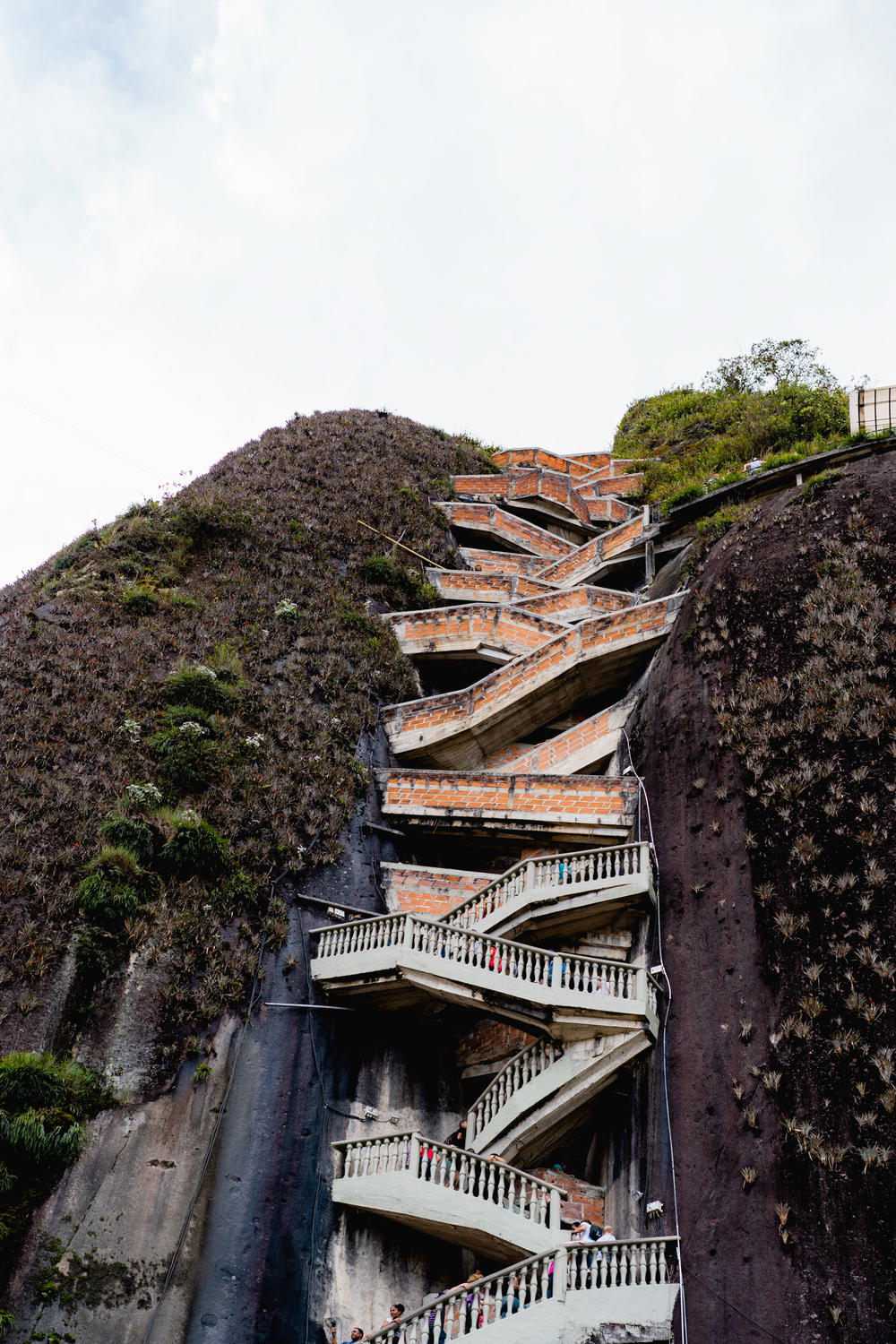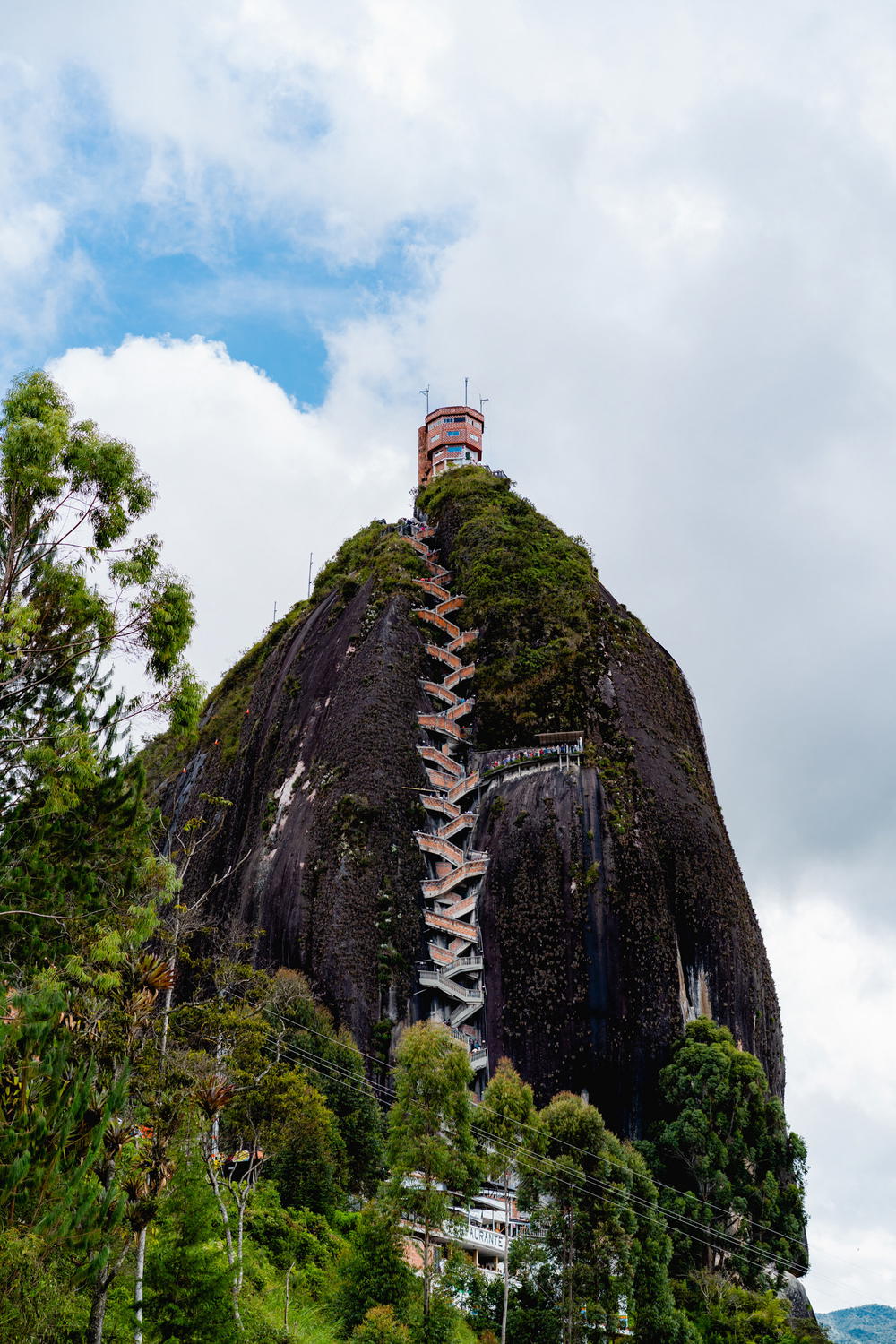 The rock closes daily at 6:00 pm each day and tourists are told to start heading down the steps at 5:30 pm. If you would like to stay for sunset, don't worry! There are viewpoints that you can access near the parking lot, before the ticket booth.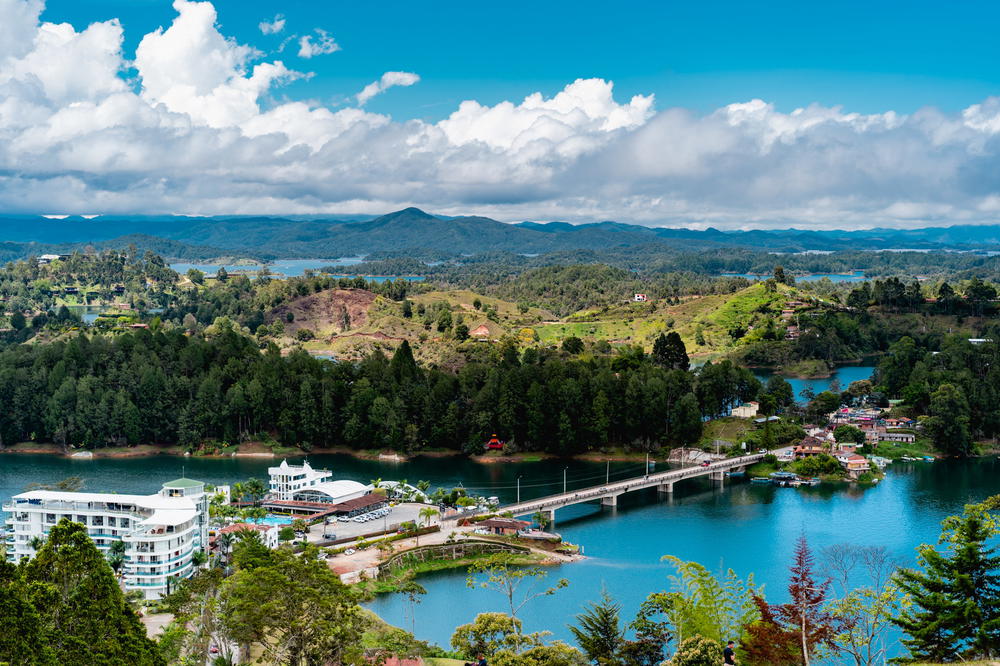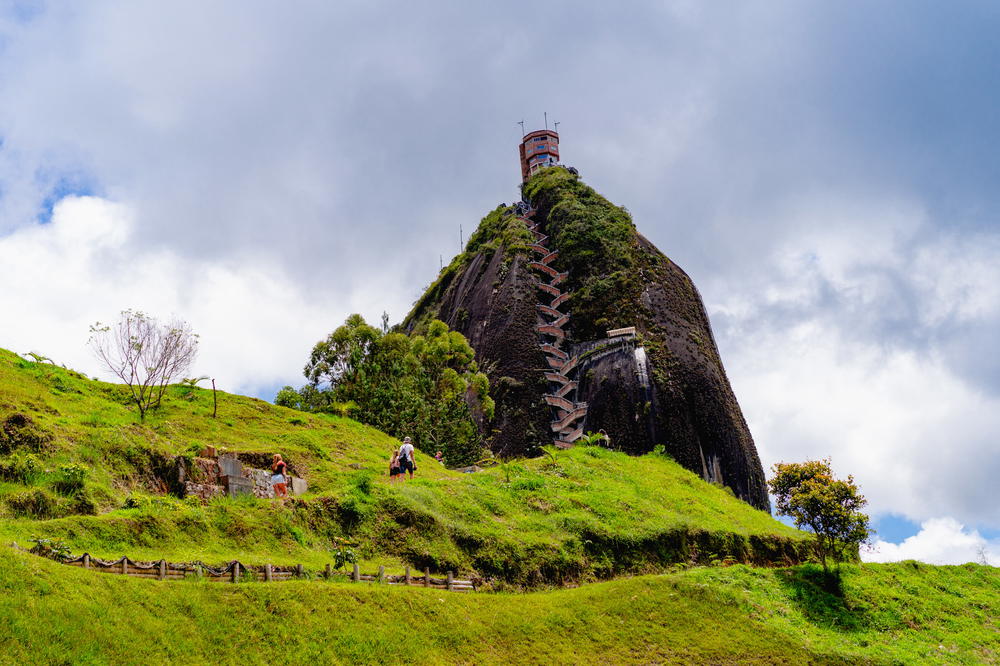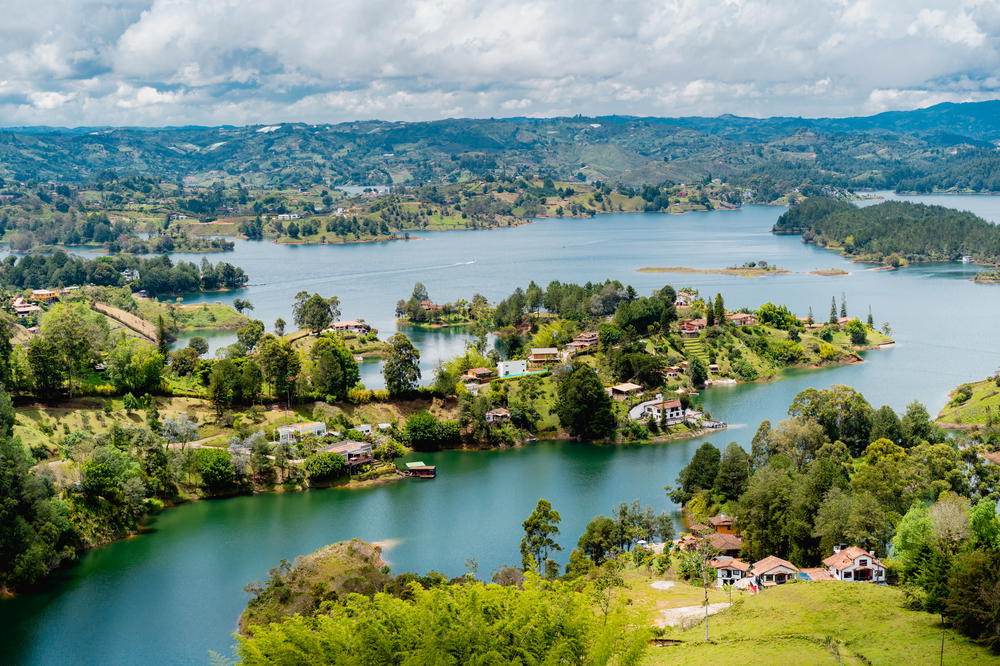 Helpful Tip
Bring enough cash for buying entry tickets (18,000 COP per person), a bus back to Medellin or a tuk-tuk back to Guatape and food or drink at the top of the Piedra. We couldn't find any ATMs at the rock, as they are all located in the town of Guatape itself.
We hope you enjoy your trip to Guatape! For more inspiration, check out our Guatape gallery.
Staying overnight? See where to stay in Guatape!
Guatape has a wide variety of different places to stay. Check out some of our top picks for where to stay in Guatape!
Enjoyed our article?
Consider supporting us! We're a 2-person team (learn more about us here) and your support enables us to create quality content. Thank you!
Find the Best Things to Do In Guatape