Best Chicago Street Photography Spots
Written by Becca
•
Updated on October 27th, 2023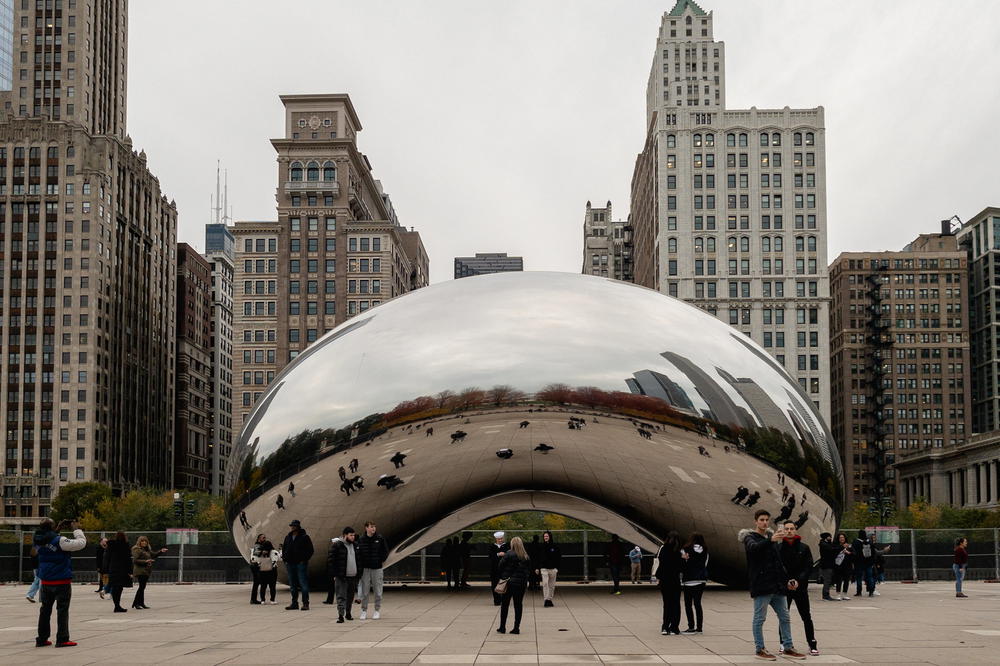 Where are the best Chicago street photography locations? We checked out some of the best hidden photography spots and the best places for Instagram shots in Chicago in this list.
This article may contain affiliate links. We earn a small commissions when you purchase via those links — and it's free for you. It's only us (Becca & Dan) working on this website, so we value your support! Read our privacy policy and learn more about us.
Table of contents
Close table of contents
Where are the best places to take photos in Chicago during your trip?
For us on our recent trip to Chicago, we did all our research beforehand so that we could be sure we'd be visiting Chicago's most Instagrammable photo spots. This is our preferred way to explore cities!
Most of Chicago's photo spots are outdoors, and several are indoors. If you're into photography, Chicago is a great place to go because of the varied architecture, streetscapes, waterfront on Lake Michigan and cavern of skyscrapers on the city's namesake Chicago River.
Many of the places we're going to share in the list below are awesome photo shoot locations, along with the best selfie spots, street photography locations and a few hidden photography spots as well!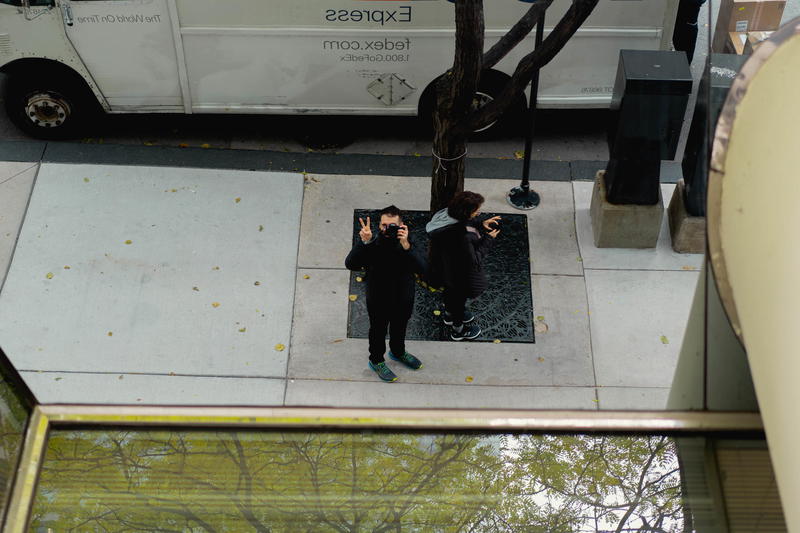 One more thing to mention is that we strongly prefer to take photos outside and in natural light. We visited all these places for which you see photos, during the daytime, but many of them would be beautiful places (some of the best) for taking pictures in Chicago at night.
Ready for the list? We hope you have a camera ready!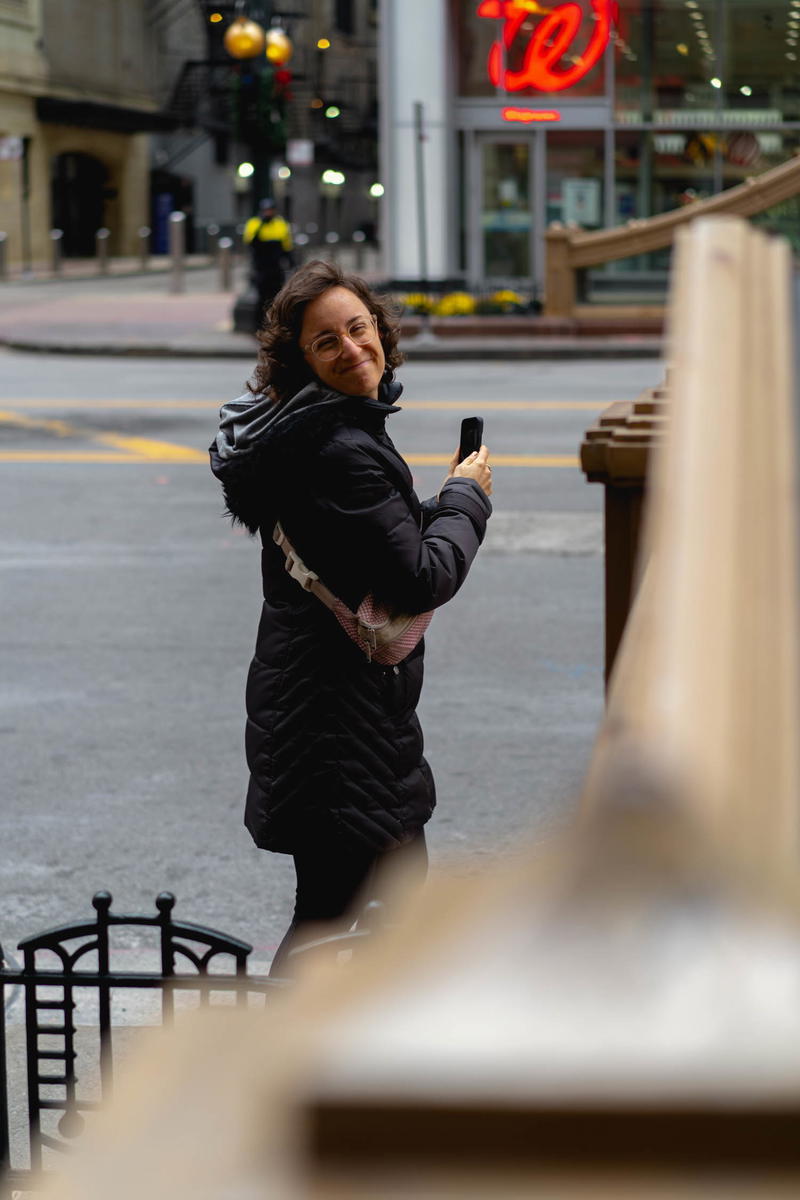 Near North Side
The "Near North Side" is the part of Chicago's downtown north of the Chicago River. Here, you'll find lots of businesses, hotels, law firms, restaurants and a bunch of historic landmarks and churches as well.
In the Near North Side, we focused on outdoor spots and streetscapes. Here's where to take photos in this Chicago neighborhood.
L Train S Curve @ Wells Kinzie Parking Garage
To get to this secret photo spot in Chicago, you'll have to pretend your car is parked in the Wells Kinzie Parking Garage. Wondering what we mean here?
To see the "L train S curve," this particular spot where the Chicago metro train curves at a funky "S" shape spot as it heads into downtown, enter the Wells Kinzie Parking Garage at 401 W Kinzie St. Look for the windowed lobby on the corner where there will be a security guard, and take the elevator to the 7th floor.
When you get out of the elevator, head left toward the west side of the garage, toward the cars parked at the right side. Then, have a look out the gaps between the cement barriers, and you'll have a clear view of the S curve elevated train! You'll only have to wait a few minutes for a train to pass.
The best times of day to visit this spot would be golden hour, or nighttime after dark, if you'd like to take a time lapse.
Find it here! 401 W Kinzie St, Chicago, IL 60654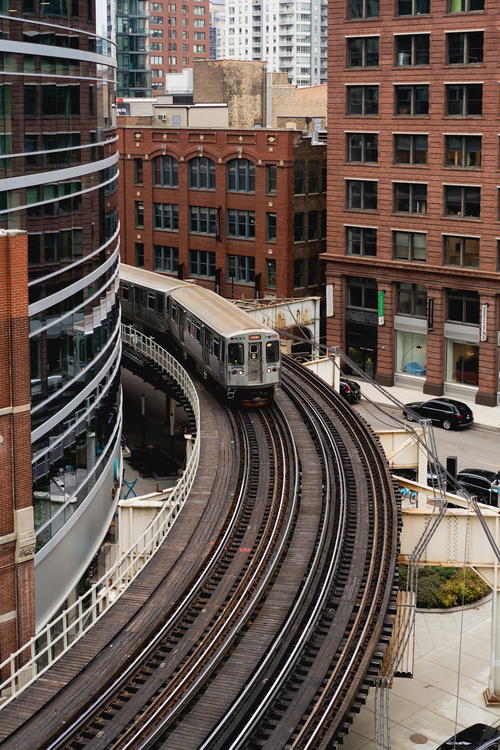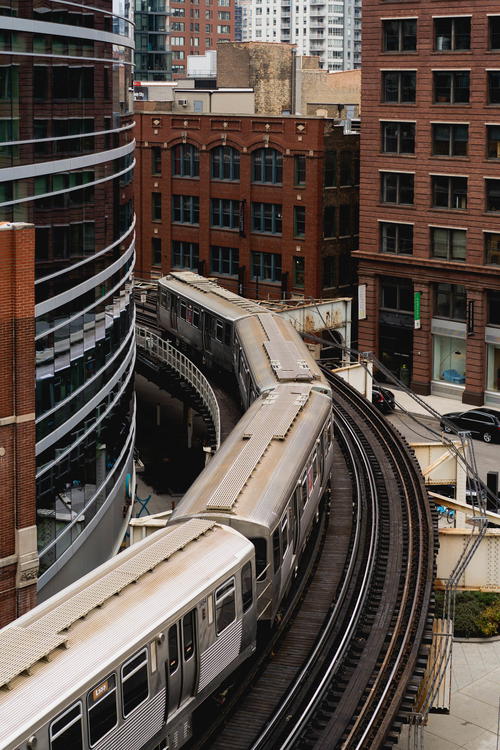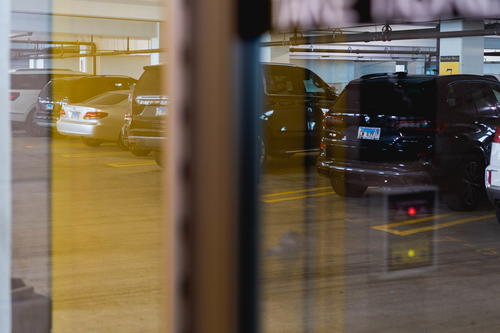 Cable House
The Cable House is now a corporate office, but that doesn't affect that fact that it this landmark was finished in 1886, according to the plaque outside, and is a great example of Chicago's architectural history.
Find it here! 25 E Erie St, Chicago, IL 60611
Tribune Tower
The Chicago Tribune Tower is an architectural masterpiece in Chicago right near the Chicago River and it may remind you of Hogwarts due to its gothic style.
Tours are available and visitors regard it as one of the best Chicago experiences for tourists and history lovers. A fun fact is that it is decorated with rocks from landmarks from around the world.
Find it here! 435 Michigan Ave, Chicago, IL 60611
The Wrigley Building
The Wrigley Building is a splendid piece of Chicago architecture that will be a great Instagram or essential photo to have in your trip pictures. Now a business center with a CVS in the bottom floor, it is a flagship part of the Chicago skyline due to its height and grandeur, and it has a skybridge.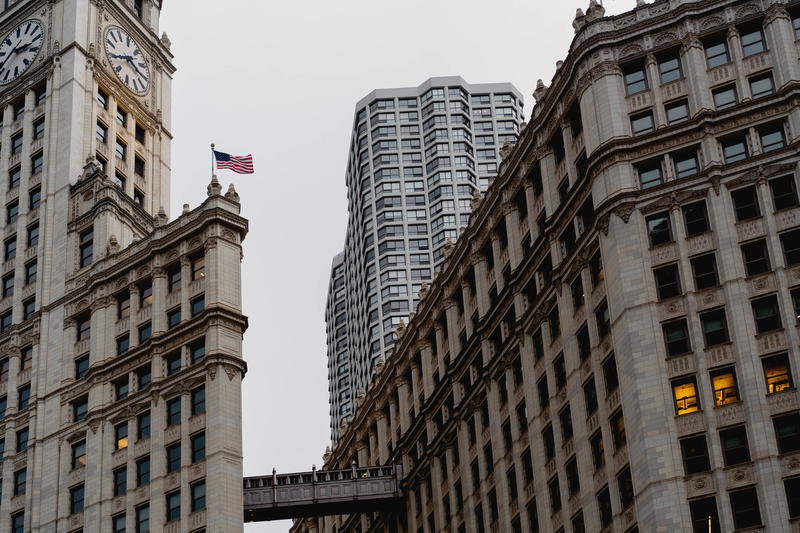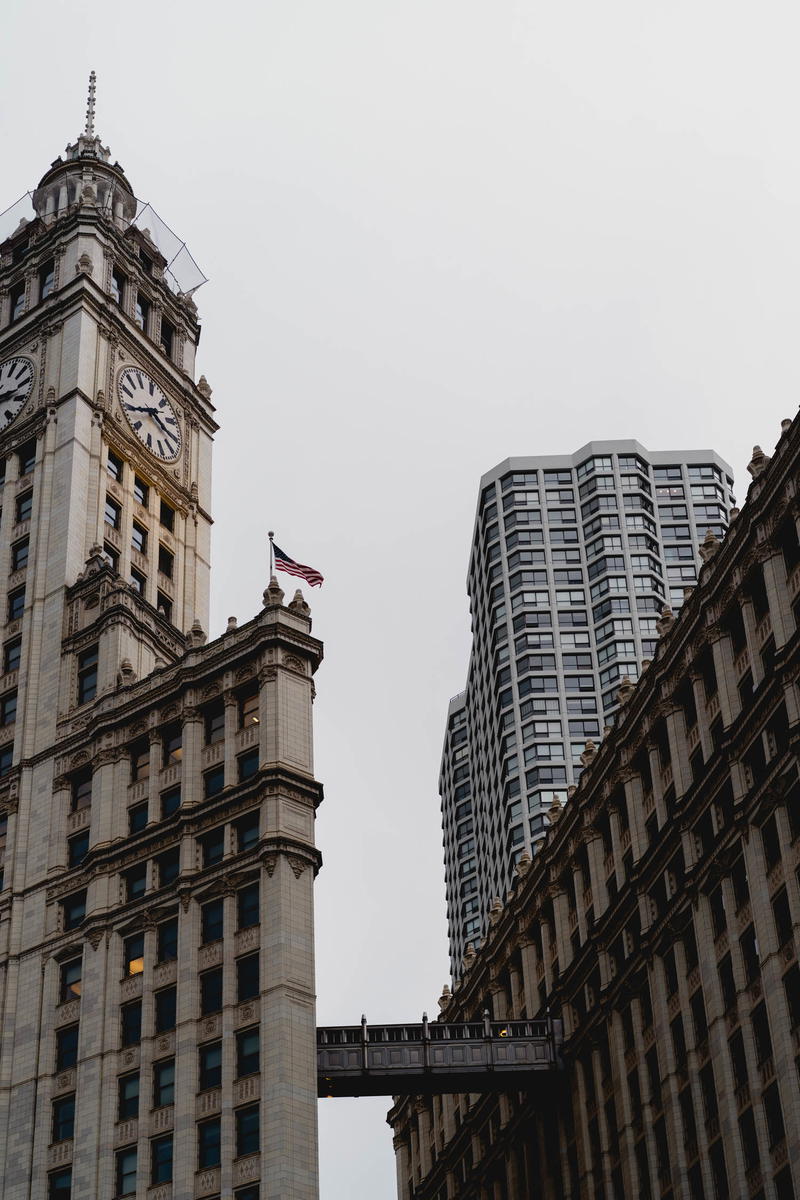 DuSable Bridge / Chicago River Walk
The DuSable Bridge is the quintessential bridge over the Chicago River where you will want to snap a must-have photo. This photo spot lets you see the cavern of skyscrapers along the Chicago River, looking west, and will be great at sunset.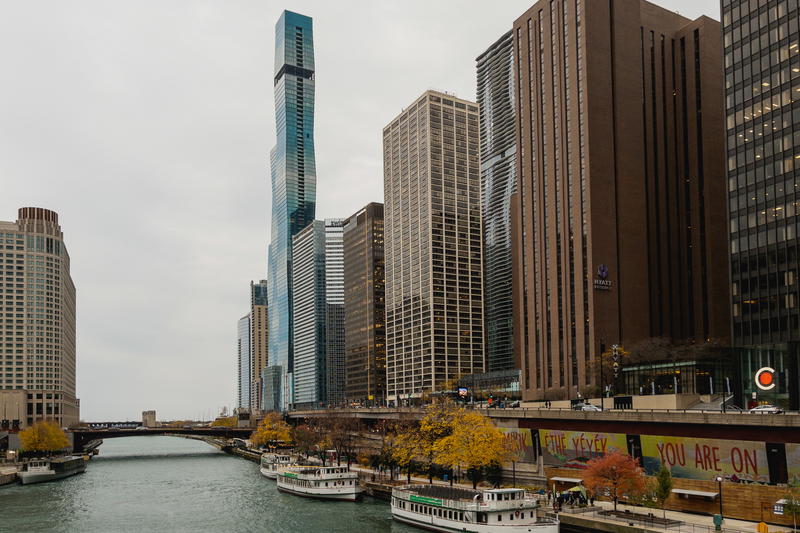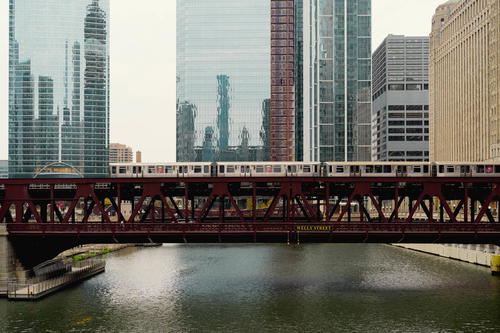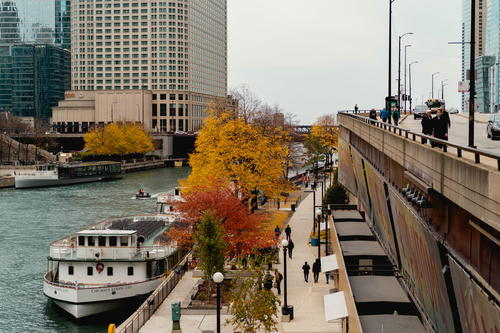 Helpful Tip
It's approximately at 333 Michigan Ave, Chicago, IL 60601.
Mantonya Facade Historic Row House
If you're into architecture, look for this interesting 1887 rowhouse with intricate Middle-Eastern details. It even has a stained-glass "keyhole" and it makes a good stop during a photo walk in the Gold Coast neighborhood.
Find it here! 1325 N Dearborn St, Chicago, IL 60610
Chicago Historic Water Tower
While the inside historic gallery is temporarily closed, you can check out the exterior of this historic 'water tower,' which regulated water pressure and served the municipal water supply in the 1800s. See more information at chicago.gov.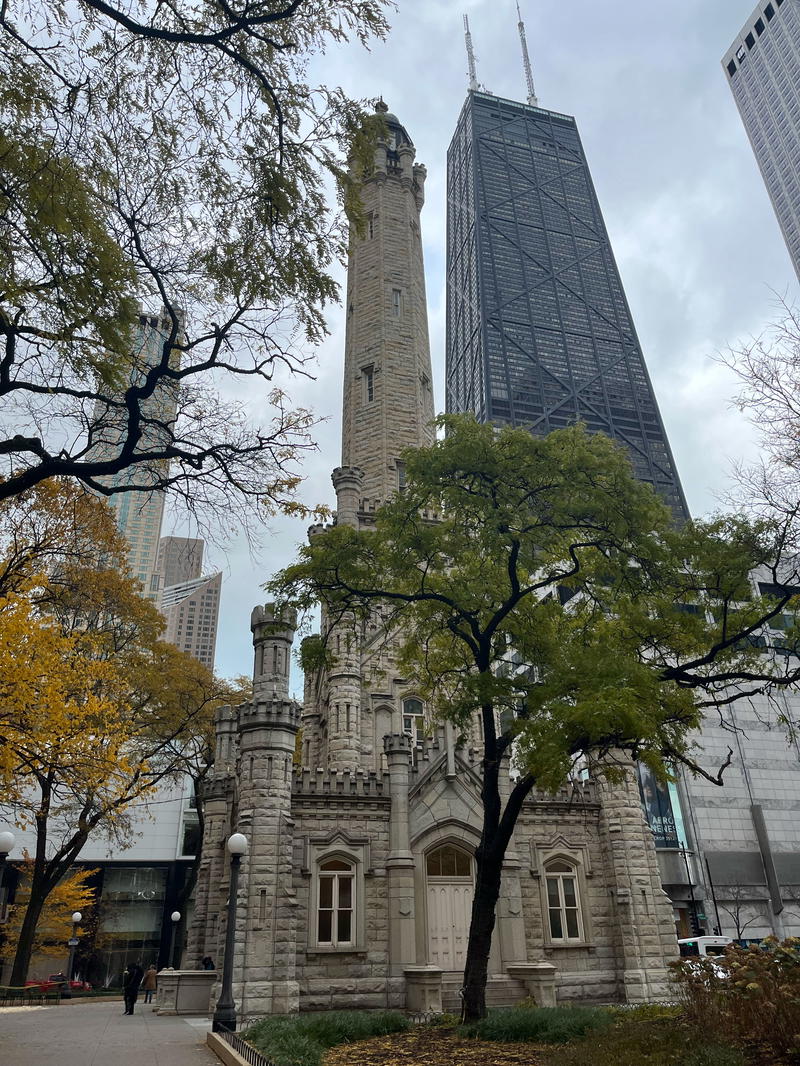 Marina City Towers / The "Corn Cobs" Condo Buildings
Best seen from the south side of the Chicago River, or DuSable Bridge, these condominium towers that look like corn on the cob (allegedly, and you can form your own opinion!). These condos are for sale (some of them), so you could even own one if you wanted to have a place from where you can look down at the Chicago River. Until then, they make a really interesting photo.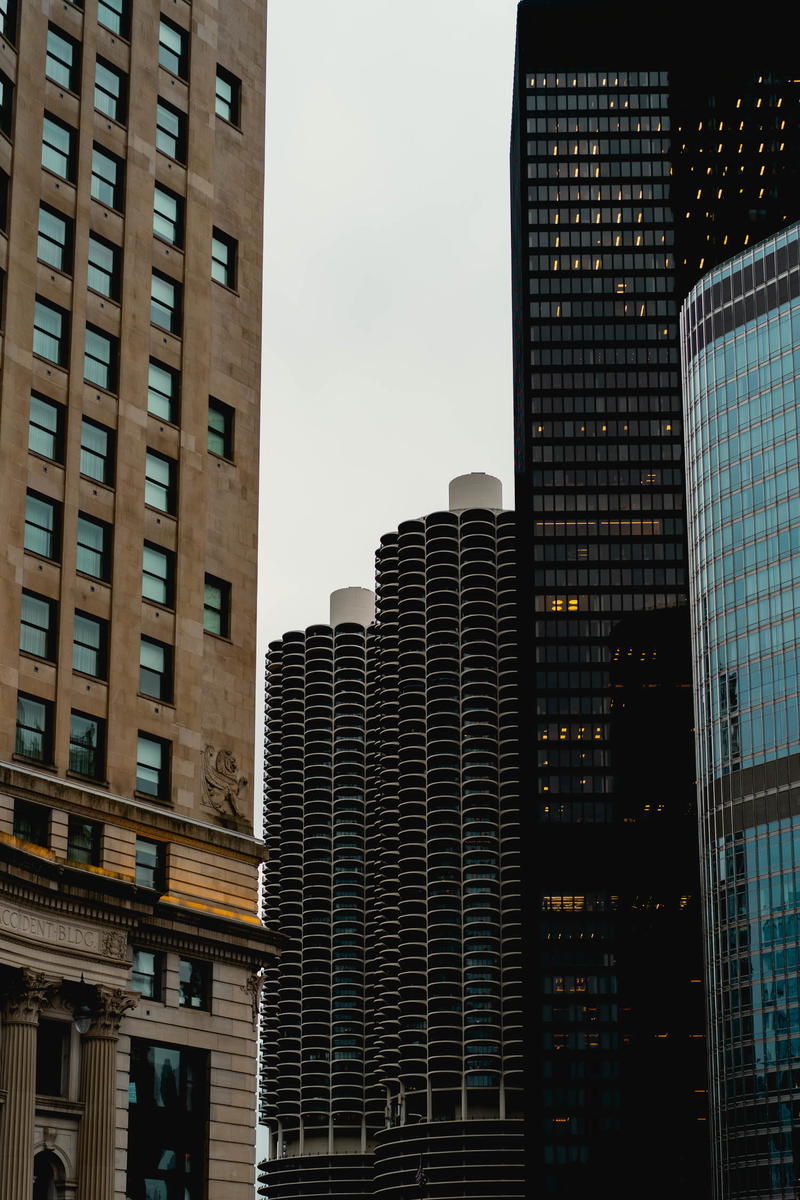 Find it here! 300 N State St, Chicago, IL 60654
The Loop (Chicago Downtown Core)
The Loop is Chicago's downtown business district. This area of Chicago is located south of the Chicago River, in a square shape, west of Millennium Park. Here, you will see lots of office buildings, hotels and shopping, and you can pinpoint some great architecture and sculpture work as well.
iParkit Reflective Photo Spot
This is one of the other secret photo spots in Chicago that we surely wanted to try during our 8-mile photo walk on day one of our trip. To take photos here, we recommend having a camera (or phone) strap in your camera accessories or iPhone accessories. This is because you'll be leaning out the side (shh).
To get to the iParkit Parking Garage at 200 N Clark, make sure you are actually using this address, because Google Maps may point you to a garage on LaSalle or nearby if you use the name of the garage and not the address.
Once you enter the lobby at ground level, look for the elevator to your left, and casually ride up to the 8th floor.
What you need to know here is that the photo spot is not entirely obvious. If you exit the elevator and head toward the right, you will see what looks like dark glass, with three very strong black cables in front of it. If you are adventurous enough, step over the cables, step up on the cement ledge, and stick your arm out with your camera.
To get the photo, you'll want to peek to see if you're getting both the train tracks below and a reflection in the glass. If done correctly, this can be a really cool urban street photography image.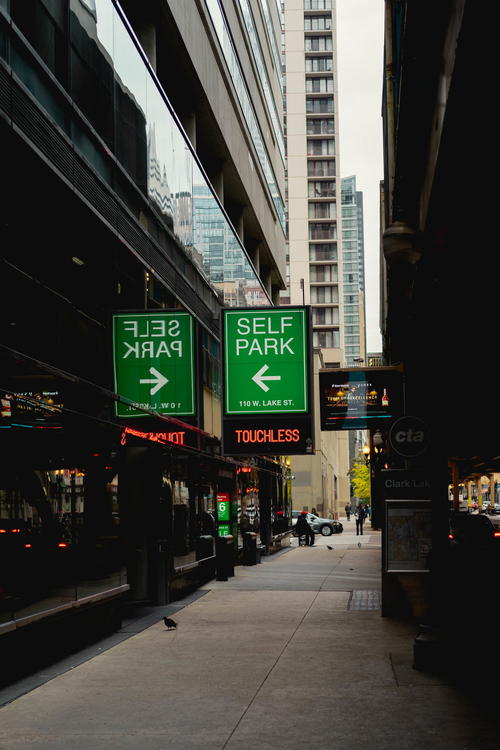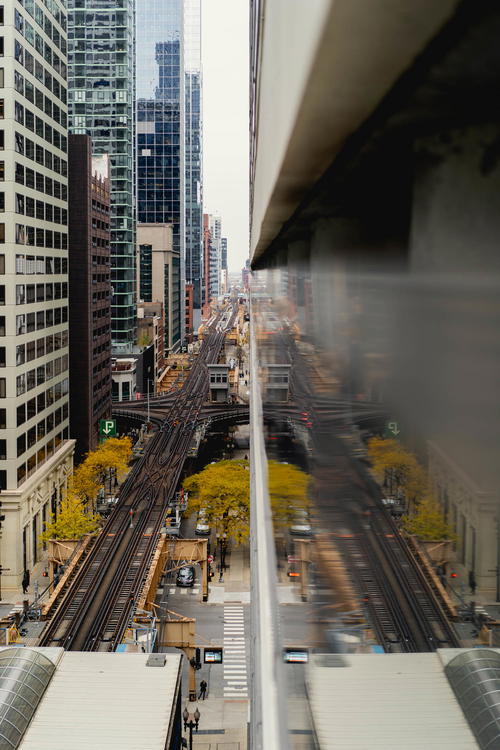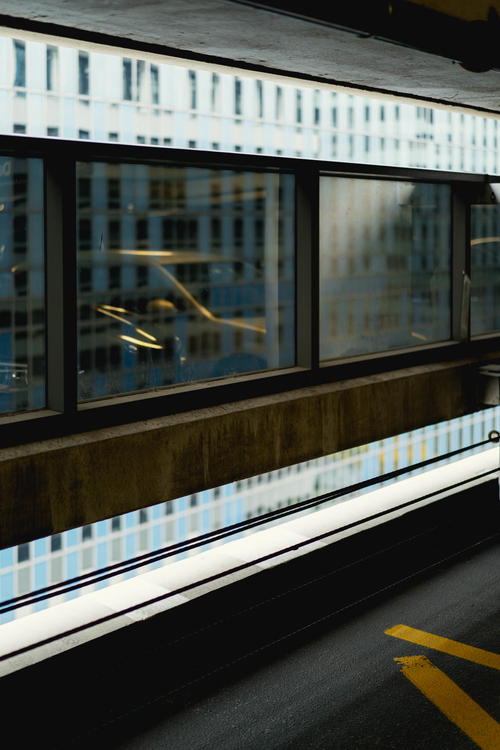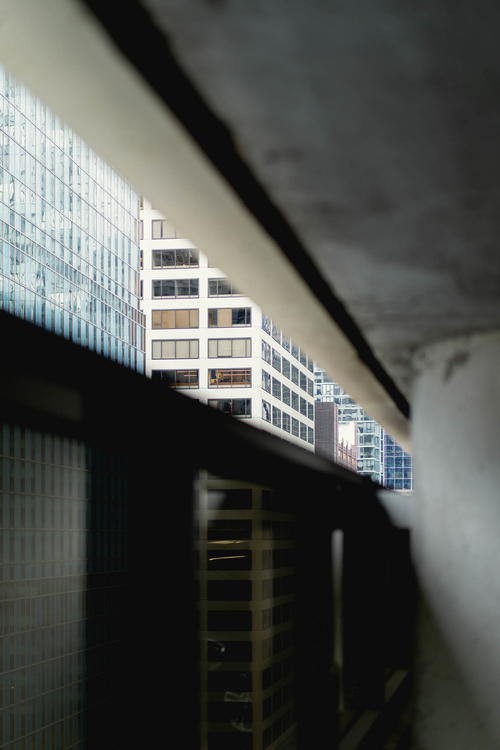 Find it here! 200 N Clark St, Chicago, IL 60601
The Chicago Theatre
The Chicago Theatre is like a picture-perfect Chicago postcard! This one is easy to find. Walk down State Street and you won't even be able to miss this big theatre with its massive and bright "CHICAGO" vertical sign.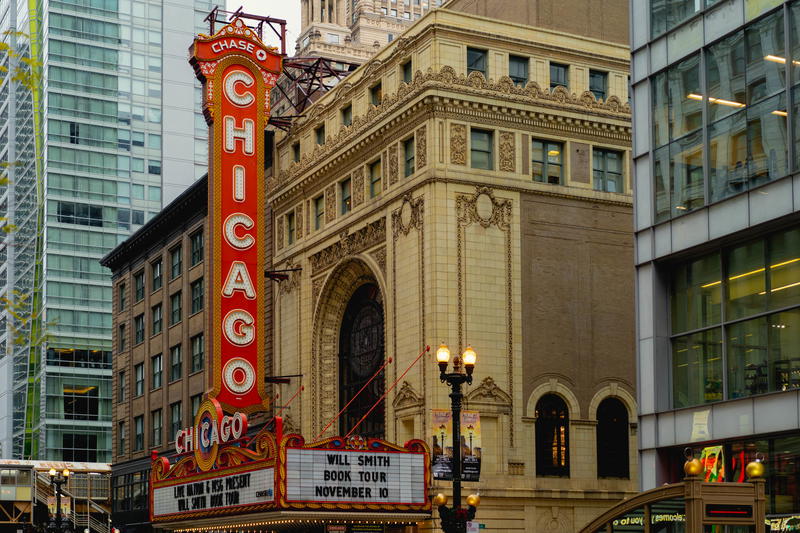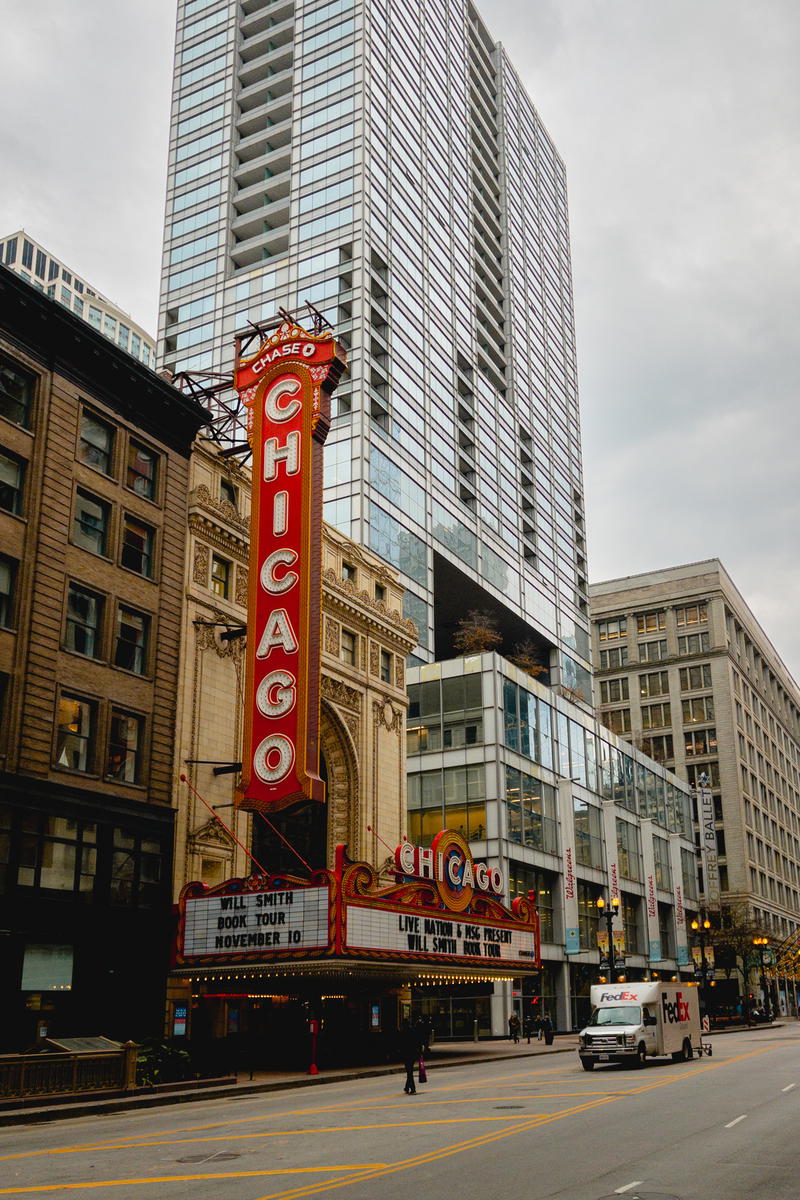 Find it here! 175 N State St, Chicago, IL 60601
The Target Facade on State St.
With its cool address at 1 S State St, Chicago, IL 60603, the exterior of this Target store may make you stop and stare. The building itself has what is called cast iron scrollwork, and this metalwork facade is from 1899. It makes a really surprising Instagram photo to send home!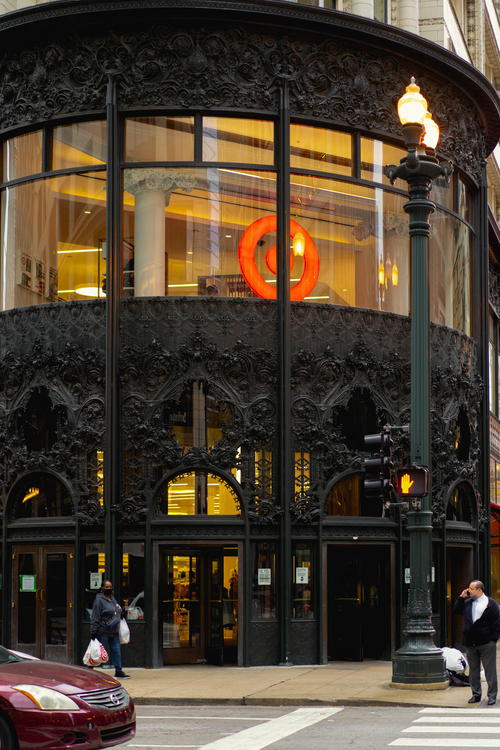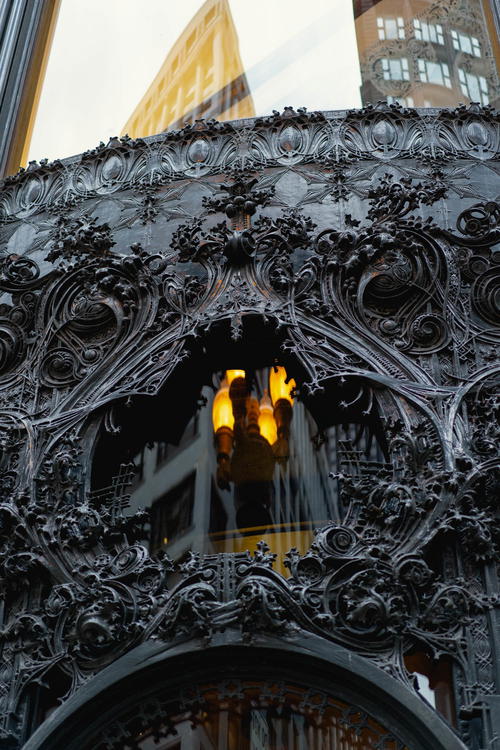 Find it here! 1 S State St, Chicago, IL
The Palmer House Hilton lobby
I attended a wedding at the Palmer House in 2016 and was lucky enough to stay there for a long weekend. This famous hotel was built in 1871 and was apparently the first hotel in Chicago to have elevators!
The hotel interior lobby (enter the main entrance and walk up the steps) is not to be missed, and the Palmer House is (as it claims), one of the most "iconic hotels in the US." Is it? You will have to see for yourself. (Bonus: there is a lobby bathroom, and bar.)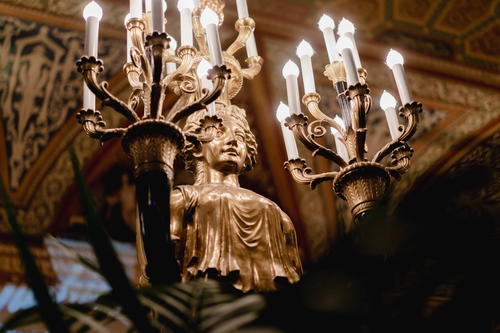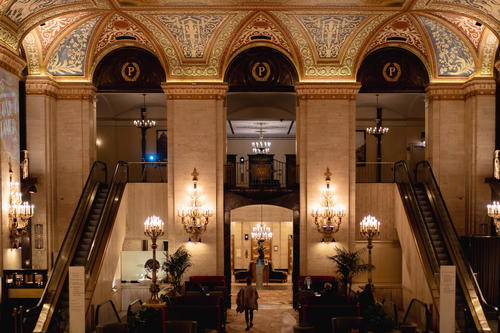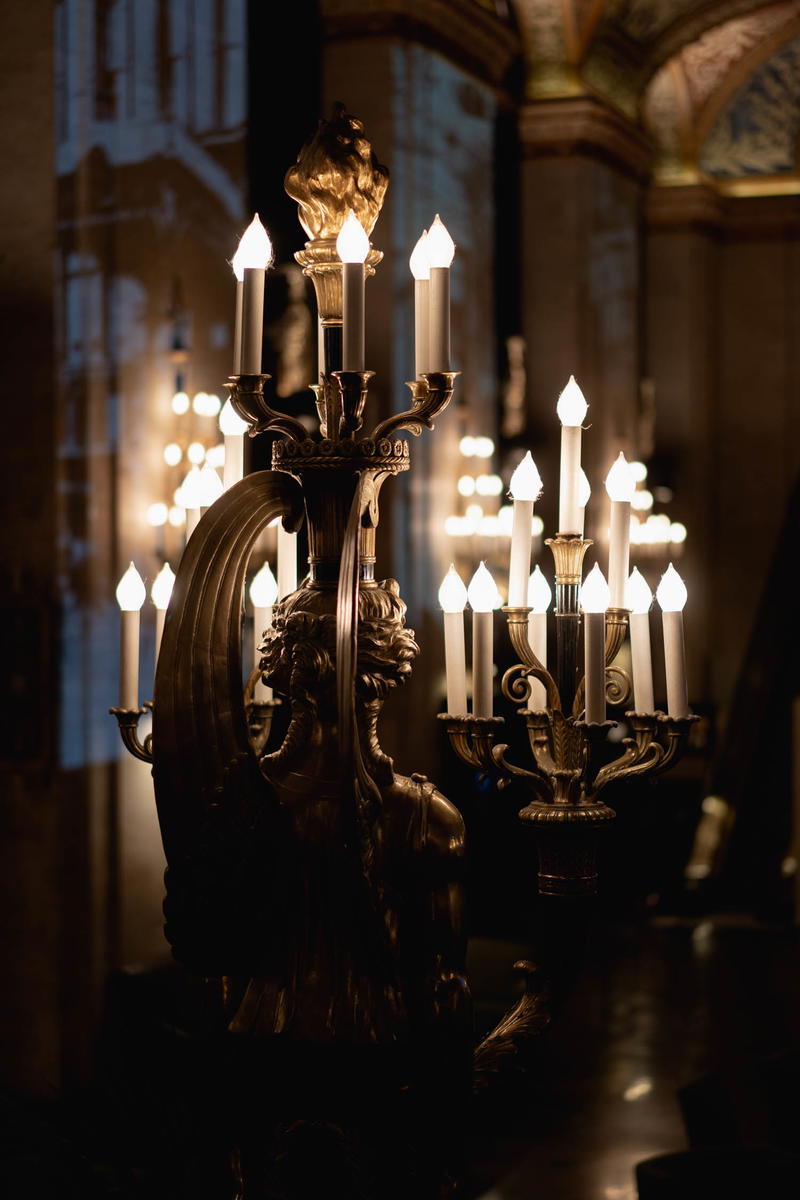 Find it here! 17 E Monroe St, Chicago, IL 60603
The Flamingo Sculpture (Calder's Flamingo)
This stand-out urban sculpture is a big vibrant statement against the deep black office towers in this public square. It was designed by Alexander Calder in 1974, and its strong hue makes an awesome photo spot!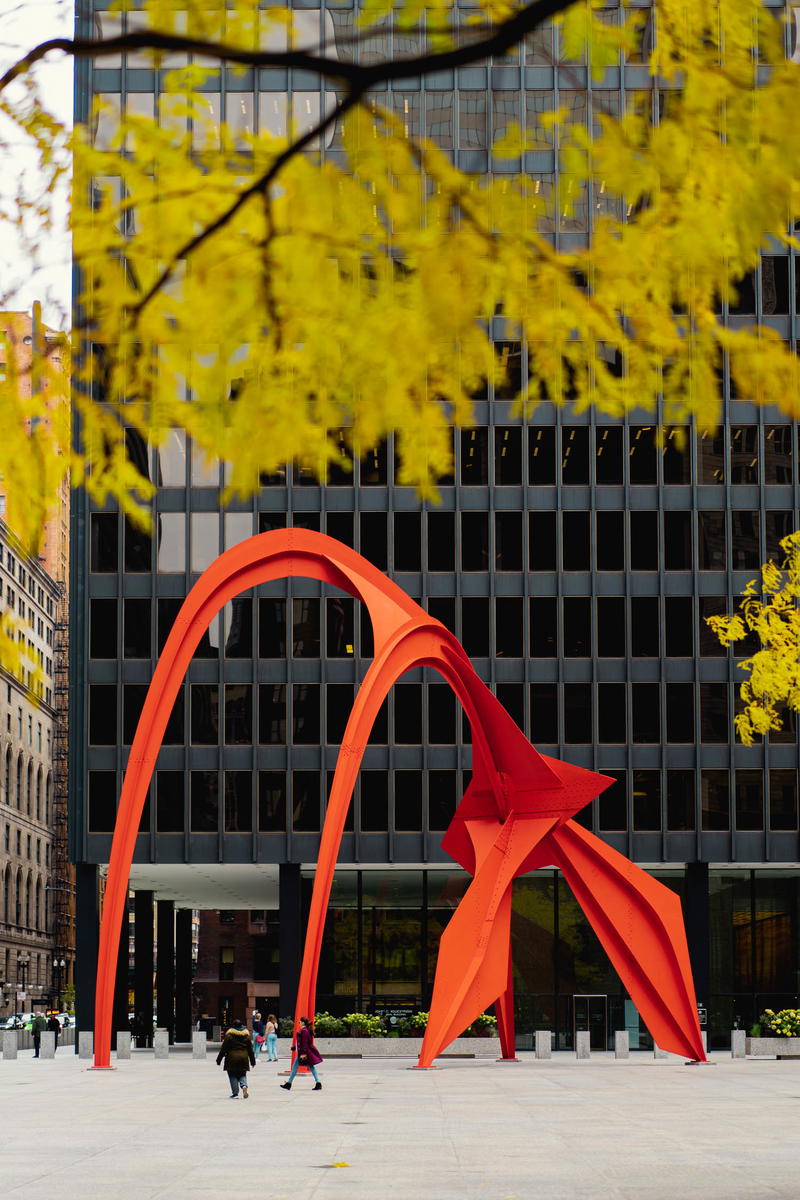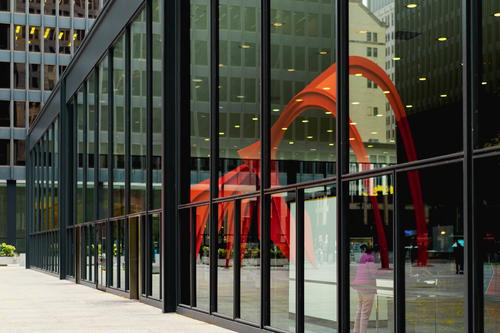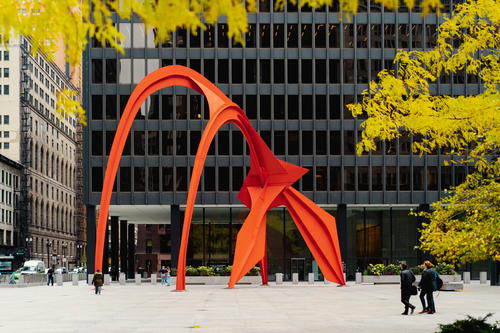 Find it here! 50 W Adams St, Chicago, IL 60610
The Rookery Building (interior courtyard lobby)
This 1888 Chicago landmark might not impress you from the outside, but for free, you can enter the main entrance by telling the security guards that you just want to look around, and you can see the interior. The lobby is a unique central light "court" designed by Frank Lloyd Wright, one of the most famous American architects of all time (of course!). You can also take a guided tour.
Find it here! 209 S LaSalle St, Chicago, IL 60604
Helpful Tip
We always try to find things to do for free when we travel, and sometimes the best things to do on trips don't cost money at all! See more of our favorite money-saving travel advice, here.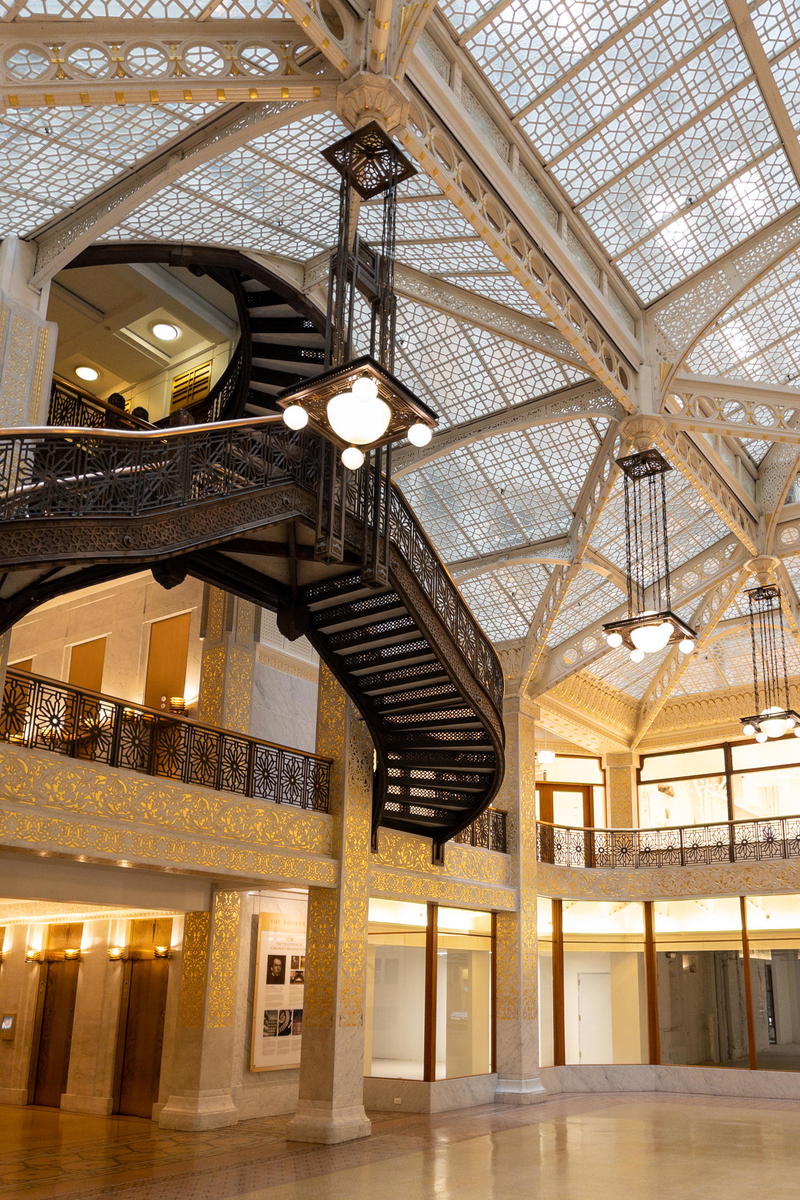 Federal Reserve Bank of Chicago & Chicago Board of Trade Building
The Board of Trade Building is a hulking federalist building was built back in 1922, and the Federal Reserve Bank of Chicago is a city landmark and art deco building finished in 1930. It might remind you slightly of Rockefeller Center or Empire State Building in NYC. This is a dramatic and urban intersection at which to take photos.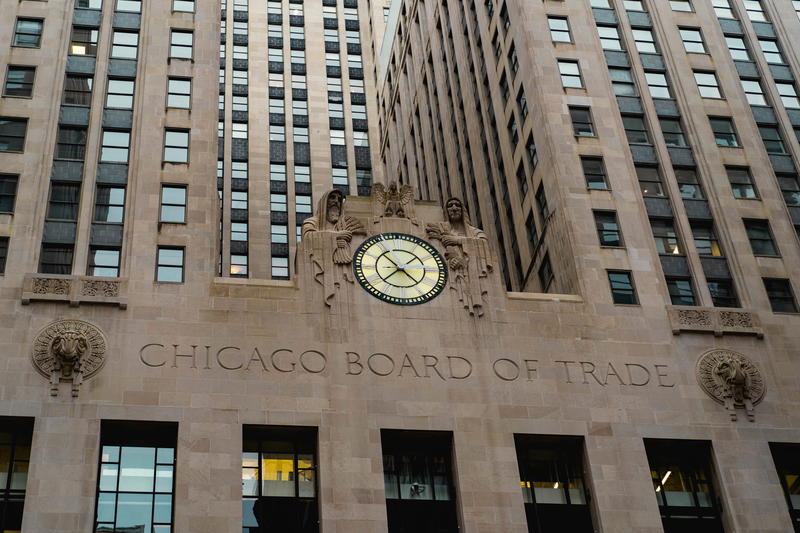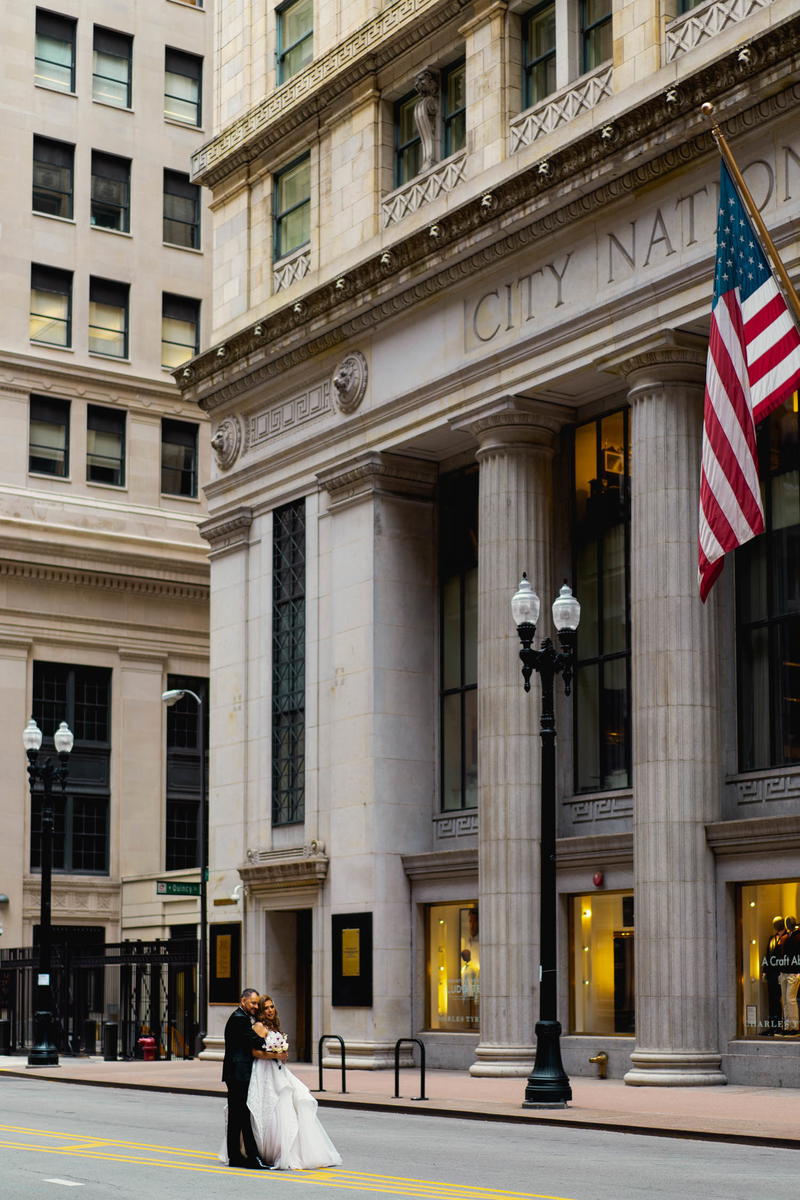 Find it here! 141 W Jackson Blvd, Chicago, IL 60604. The Federal Reserve will be on your right.
This is a secret gem photo spot thats a bit hidden. HERO Coffee Bar is sandwiched between two hugely tall buildings on Jackson Blvd, and if you peer into the alley, you'll be delighted with the lit-up sign of this cafe, along with its string lights and unique location in an alleyway.
Find it here! 22 E Jackson Blvd, Chicago, IL 60604.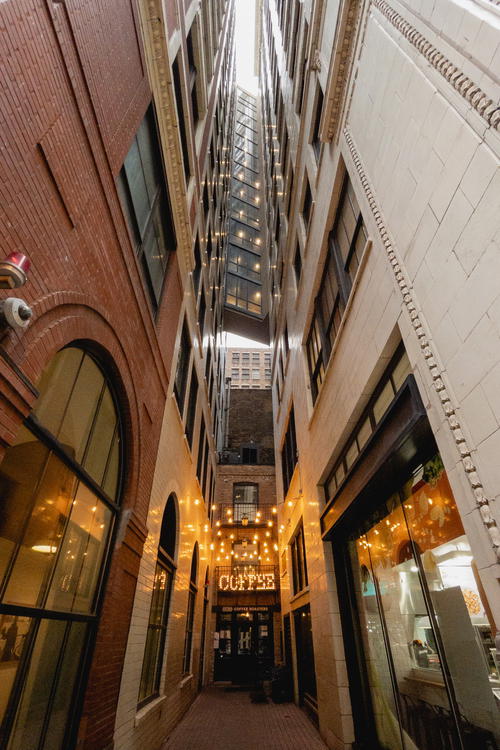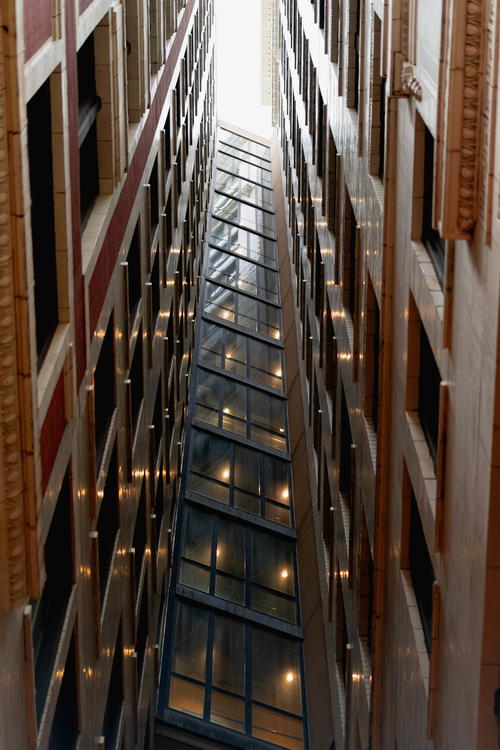 Historic Route 66 Begin & End Signs
These small signs will be exciting to road trippers who have driven the Route 66 highway out west or plan to. At Adams Street and Jackson Blvd, one block away from each other, you can see the landmark signs of where Rt. 66 begins and ends.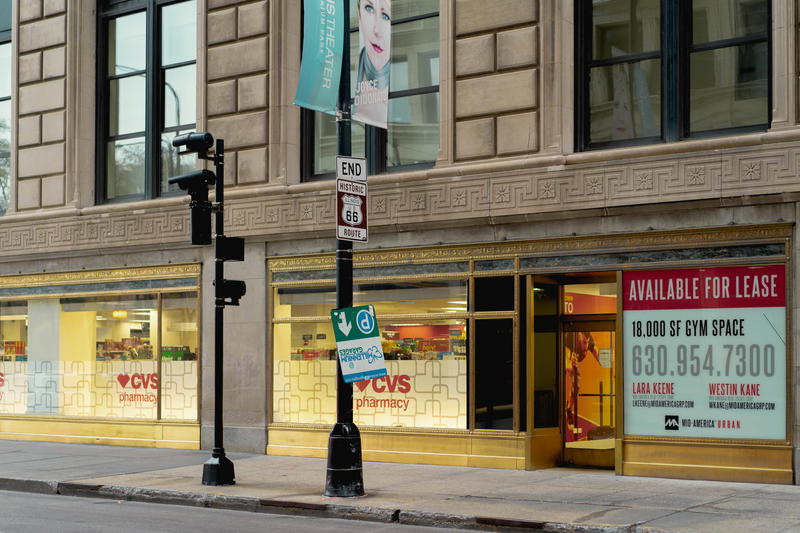 Find it here! 78-98 E Adams St & 98-66 E Jackson Blvd, Chicago, IL 60604
The Carbon & Carbide Art Deco Building
This art deco building may only catch your eye if you walk by. If you are into architecture, which is (as you can now tell) one of the top attractions for visitors to Chicago, you may appreciate this grand art deco facade that was built in the golden days of 1929!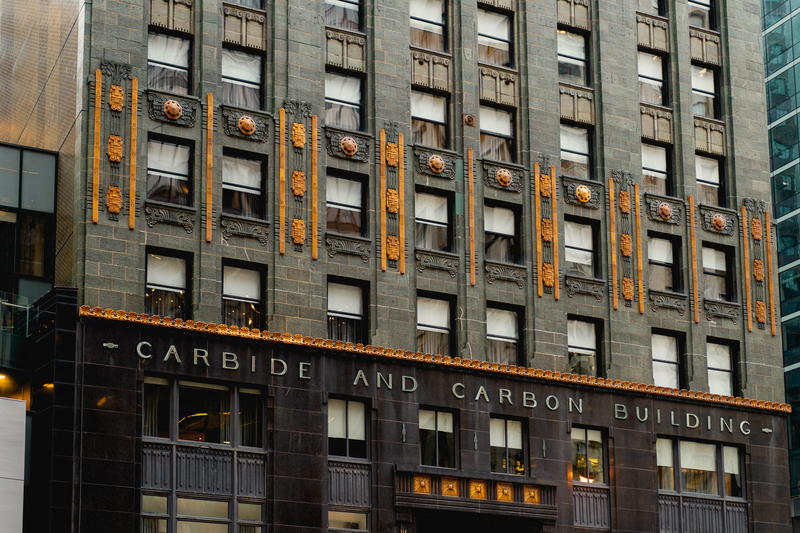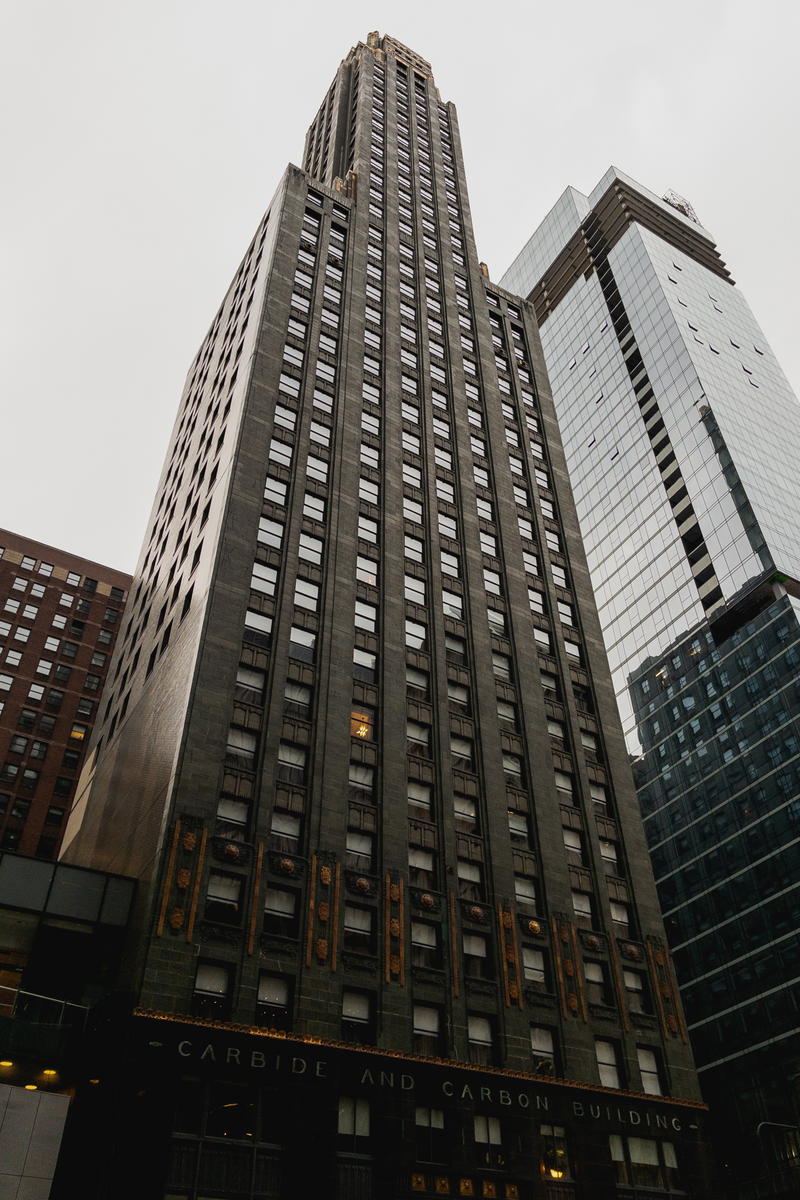 Find it here! 230 Michigan Ave, Chicago, IL 60601
Millennium Park
Millennium Park is where Chicago goes to hang out and enjoy the outdoors! This absolutely massive park is vertically-shaped and is the top tourist destination in Chicago by far. It covers 24.5 acres of gardens, bridges, theatres, art installations, galleries, pavilions and places to work out and exercise. Of course, this is where you can go to take photos in Chicago for hours on end.
The Art Institute of Chicago
The AIC is a regal building with some green lions out front that flank this Chicago landmark. The lions will sometimes wear clothing like sports jerseys, so watch out for special times like that. To visit or tour the institute itself, check out the website.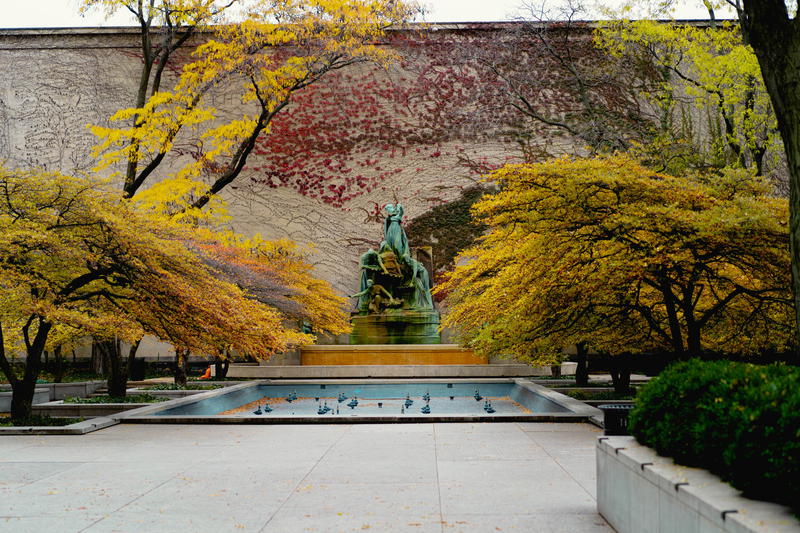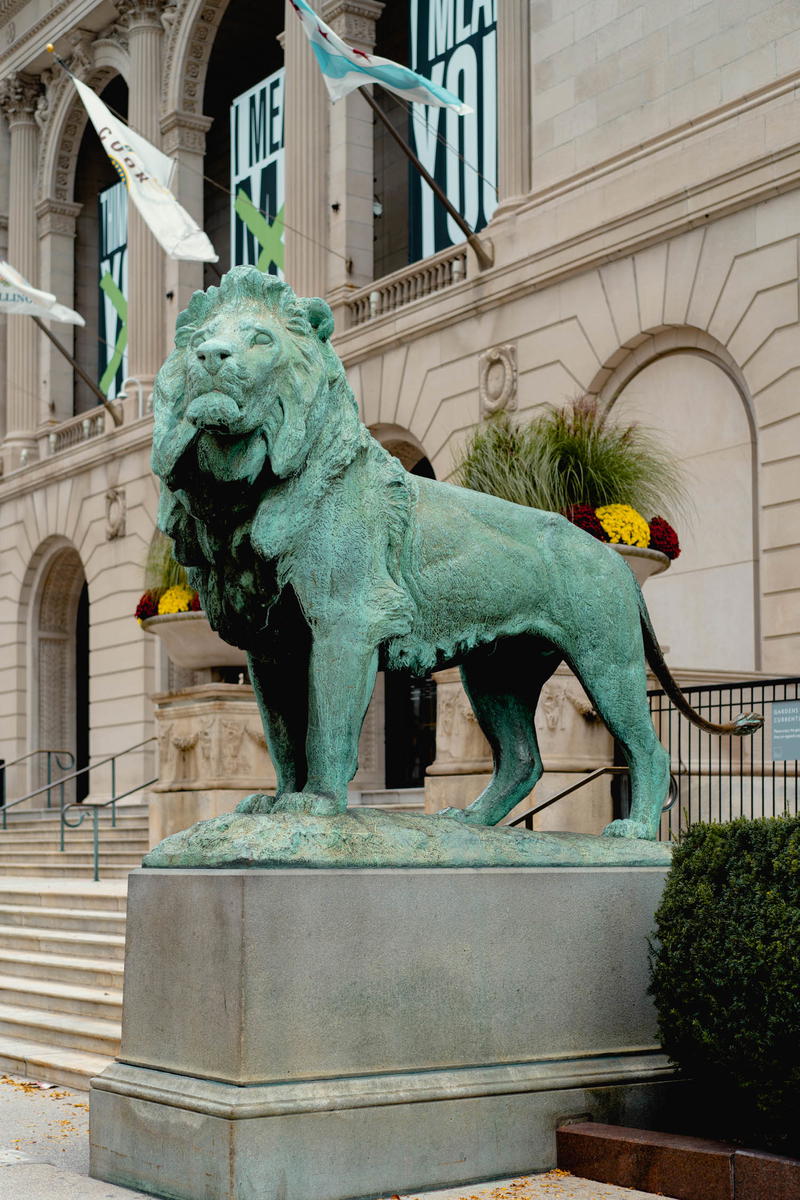 Find it here! 111 S Michigan Ave, Chicago, IL 60603
Crown Fountain Art & LED Sculptures
Crown Fountain is the location of a current art installation of LED sculptures that feature human faces. It's really quite a sight, and it makes a cool photo spot because the LED images are so bright and big, and they contrast against the gray buildings in the background.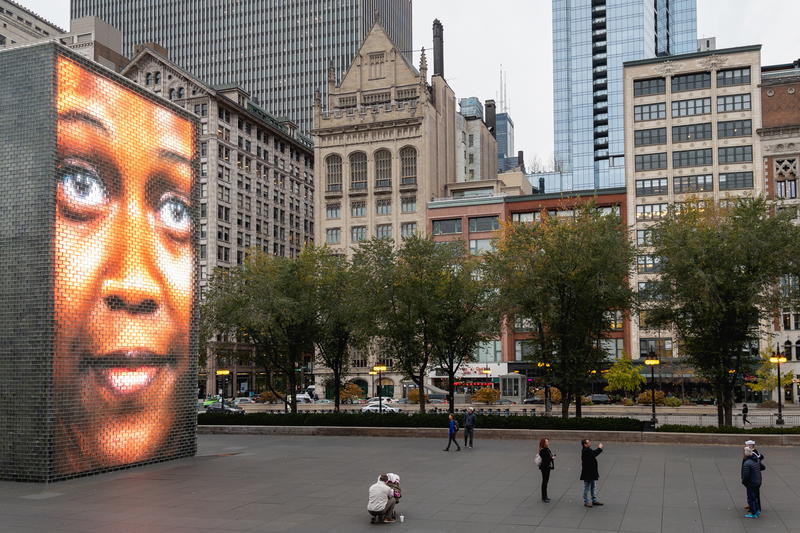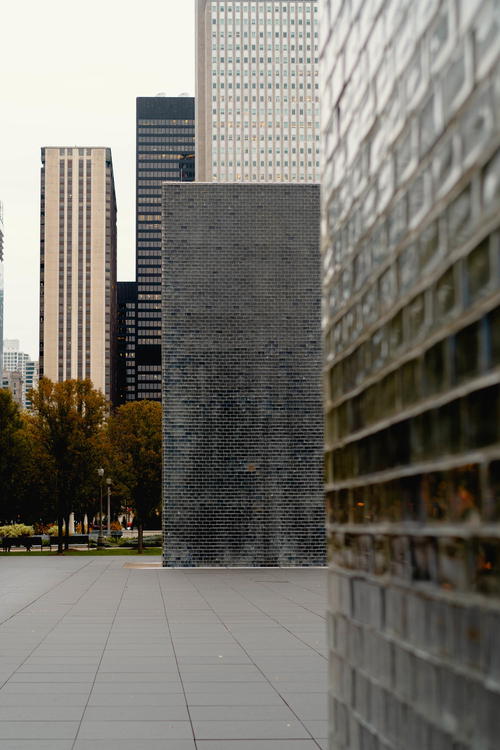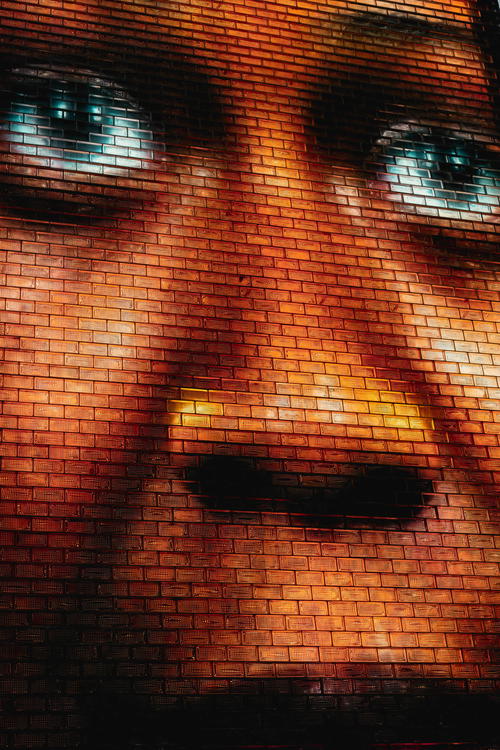 Cloud Gate / "The Bean"
You have probably seen photos of the Bean so many times if you've been researching your Chicago trip! Well, it's true: the Bean (AKA Cloud Gate) is super fun to visit. First, take a trip in front of the Bean, and then go into the underbelly of the Bean to see multiple reflections of yourself, warped into all kinds of shapes. This is also an incredible photo spot to have a reflection of the Chicago Skyline.
A fun fact is that Cloud Gate was designed by Anish Kapoor, an India-born British artist and sculptor who often designs with reflective surfaces. He did a fantastic job with this piece of public art that everyone can enjoy!
Kids of all ages like taking photos at the Bean. Now we know why Chicago is considered one of the best family-friendly travel destinations!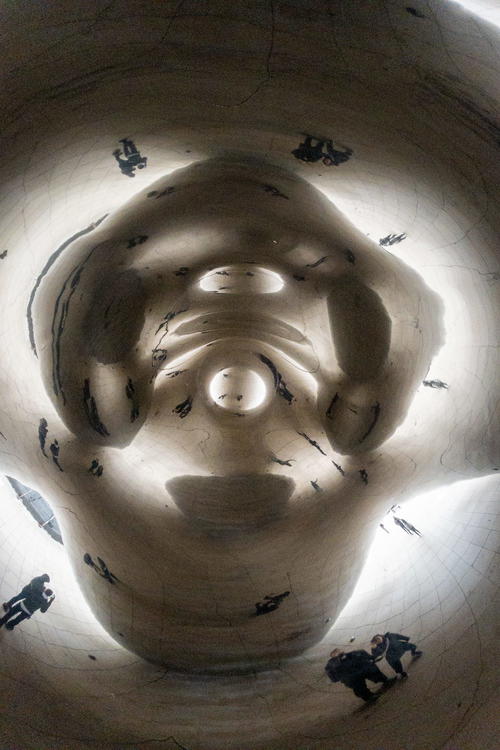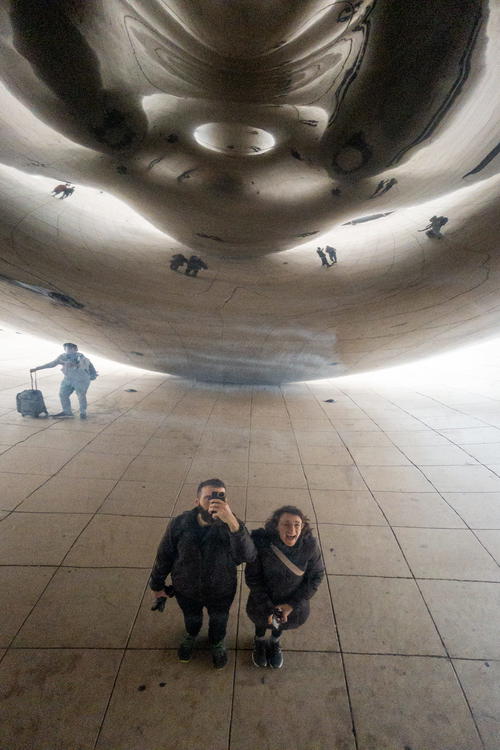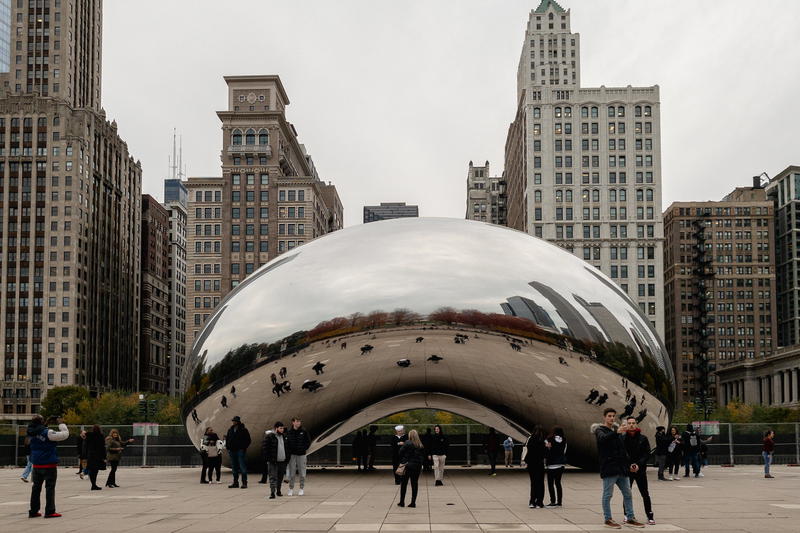 Millennium Monument & Wrigley Square
This monument with its striking columns and fountain commemorate the founders of Wrigley Square, and you can hang out on the lawn here in warm weather. It's a nice photo spot for taking photos with friends, or family.
Lurie Garden
Location: approximately at 220 E Monroe St, Chicago, IL 60601 Lurie Garden is regarded as the secret garden in Millennium Park! In spring, its pretty flowers make such a pretty foreground for a shot of the Chicago skyline and the boardwalk makes the place feel like an urban oasis. Great for a photo shoot!
Buckingham Fountain
This fountain is one of the biggest in the world, and that is why it'll make an excellent photo idea in Chicago. It's famous for its light and water shows and you can Find it here on Google Maps in Millennium Park.
Wrigleyville
Wrigleyville is a neighborhood outside the Chicago city center where you'll find the famous Wrigley Field and some neighborhood gems! Let's check them out.
Wrigley Field
If you're a photographer who is also a fan of baseball, you may want to head out to Wrigley Field for a shot of the baseball stadium, or, attend a baseball game to have a photo of the inside while the Chicago Cubs are playing.
Find it here! 1060 W Addison St, Chicago, IL 60613
Music Box Theater
The Music Box Theater is located not far from Wrigley Field and has an old-school exterior facade, which is even more of a treat when it's lit up with pink neon at night after dark.
Find it here! 3733 N Southport Ave, Chicago, IL 60613
Chicago O'Hare Airport
Chicago O'Hare Airport is where you'll probably land if you are flying into Chicago. If not here, then Chicago Midway Airport, but we're not sure that one has any photo spots.
Rainbow Neon Photo Spot (The "Neon Light Tunnel") at O'Hare
This 90s-neon vibe rainbow neon spot is on your way from the United terminal to all the points for ground transport. It's a big underground moving-walkway corridor decked out in the most rainbow of neon lights.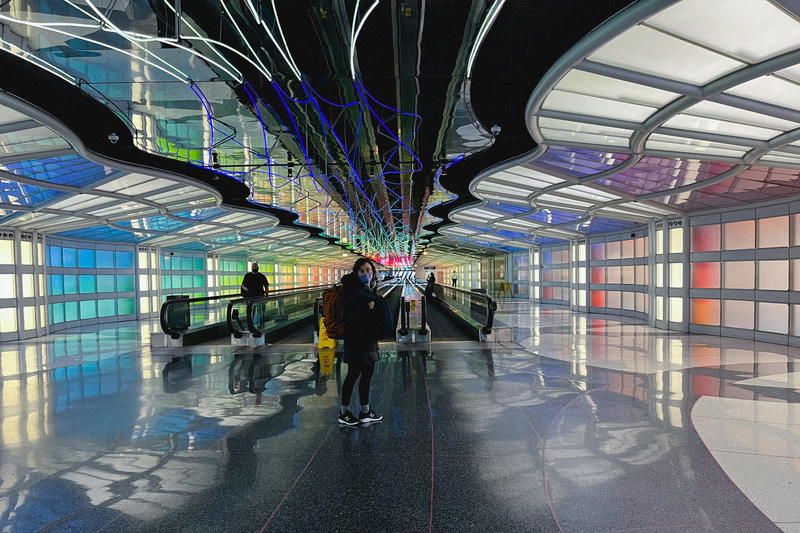 Chicago Beaches & Waterfront Piers
Some of the best Instagram and photo shoot places in the Chicago area are, naturally, at the lakefront beaches on Lake Michigan and a handful of piers. See these outdoor places to take photos, whether at daytime or night.
North Pier
North Pier is located the closest to the Chicago River and is a nice place to have a shot at seeing the Chicago skyline at night, illuminated by the water. Get there by following this location.
Navy Pier
Navy Pier is one of the classic photo essentials for visitors and travelers in Chicago. It is family-friendly, and you'll find carnival rides, restaurants, shops and a view of a big Ferris Wheel.
Ohio Street Beach
The Ohio Street Beach is a great spot if you want to watch the sunrise at Lake Michigan. If you're looking for an actual view of the skyline, you may want to check out the photography locations below, because the Ohio Street Beach is very close to the "skyline" itself.
Oak Street Beach
This is a top Chicago spot for a picture because it is a wide sandy beach right within the city and during lifeguard hours, you can go swimming. It is located at this map pin.
The Concrete Beach
This lakeside Chicago beach is exactly what it describes: an urban beach with concrete. You can visit it by following this pin, and you'll be sure to have a viewpoint of the skyline for your photo.
The "scenic spot at North Ave. Beach"
This spot does not have an address, so you have to follow the map location here. What's really nice is that this scenic spot is located at the end of a cement walkway jutting out into the lake.
North Avenue Beach
This beach on a J-shaped peninsula has a southbound view of the Chicago downtown skyline and is very picturesque. There's plenty of sand, and a bike path.
Education Pavilion in Lincoln Park
This is a really cool architecturally-interesting pavilion in Lincoln Park where you can snap a fantastic photo. This structure frames the skyline and is located in the greenery of the park.
Montrose Beach
Check out the Chicago Parks website for more information about this park! It even has the "Montrose Beach Dunes Natural Area" which will add some sand to your photos.
31st Street Beach
This beach, located to the south of the city center, has a cool view of skyscrapers as you're looking northbound.
Bonus: photo spots outside Chicago (Chicago suburbs)
There are indeed places to take photos in the suburbs outside Chicago, so if you have a car, or if you have time to venture to the places several miles outside the city, you will be in for a treat at these Instagram places in Illinois!
Bahai' Temple
This is a special temple from a religion you may not have heard of before: Bahai'. This temple, located outside the city center of Chicago, is a beautiful and intricate building that makes beautiful photo backdrops. While you visit, make sure to check out the visitors' center.
Find it here! 100 Linden Ave, Wilmette, IL 60091
Gillson Beach
Nearby in Wilmette is this pretty urban-suburban beach that'll be a stone's throw away from your visit to the Bahai' Temple above.
Enjoyed our article?
Consider supporting us! We're a 2-person team (learn more about us here) and your support enables us to create quality content. Thank you!
Find the Best Things to Do In Chicago