12 Day Trips From Halifax (Easy Excursion Ideas)
Written by Becca
•
Updated on September 12th, 2023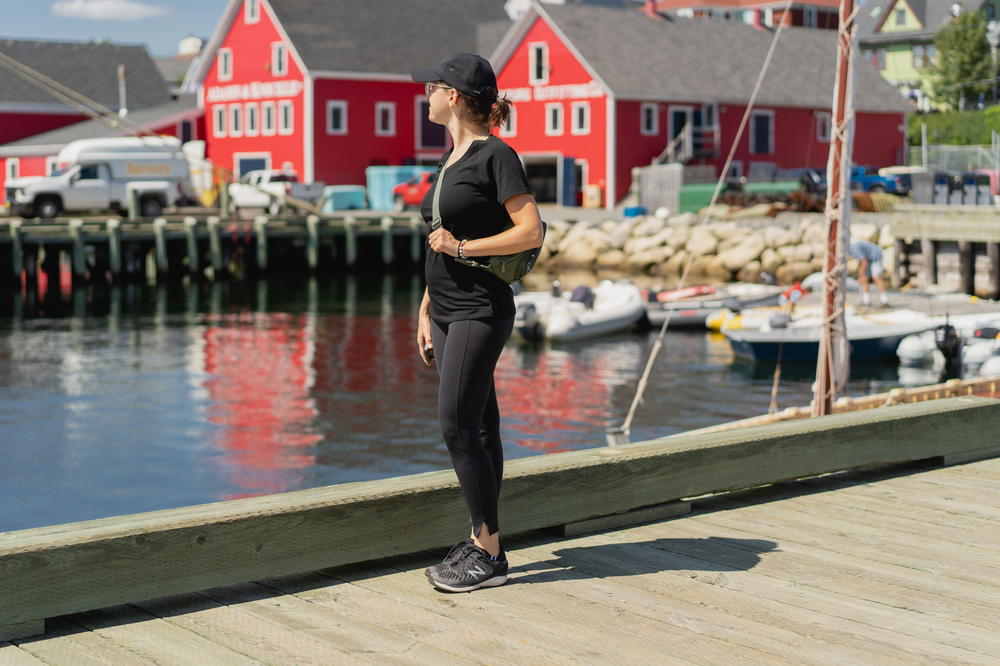 Which day trips are the easiest to take during a trip to Halifax, Nova Scotia? See this list of some worthwhile excursion ideas for short road trips from the city.
This article may contain affiliate links. We earn a small commissions when you purchase via those links — and it's free for you. It's only us (Becca & Dan) working on this website, so we value your support! Read our privacy policy and learn more about us.
Table of contents
Close table of contents
As I planned out our Halifax trip itinerary, I couldn't help but look at photos of all the options for trips out of the city we could take with a rental car.
I wanted to see nature, and history and beautiful traditional architecture, and I only wanted to be out for a day because our time was a dab limited. We were recommended places like Cape Breton Island, and it looks absolutely stunning, but it's too far to go in just one day.
So, I started compiling ideas of where we could go on day trips out of Halifax. The drive had to be easy, as we were first-time visitors in Nova Scotia, and I didn't want to be so far away that it would be treacherous to get back.
We settled on a day trip to two of the most popular destinations that are reachable from Halifax in a day: Peggy's Cove, and Lunenburg; however, there are lots of options for day trip excursions within one to two hours of Halifax.
See this list for your upcoming trip to Nova Scotia, and you may be surprised how many places there are to see just within short reach of Halifax! Looking for how to spend your trip to Nova Scotia? Start with our travel guide for Halifax, written with a few days of sightseeing in mind.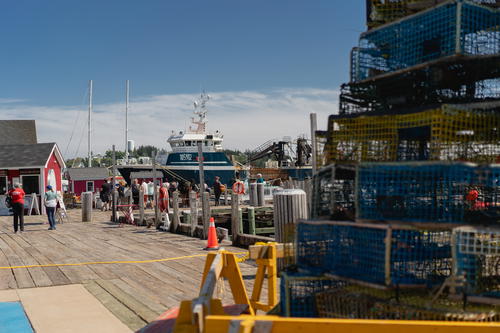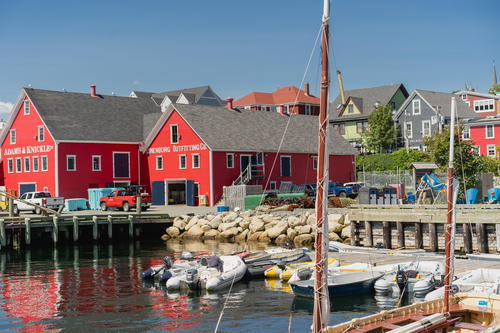 What kind of day trips are there from Halifax?
Nova Scotia is a region with a lot of variety, which we really liked. From Halifax, we chose to see both a lighthouse and a fishing village (I get into all the details below!). If we had been blessed with more time, I certainly would have liked to also visit a beach, some hiking trails and some more historic sites.
In the list below, you'll find that these day trips are something for everyone, and quite a few of them can be visited in a single day.
For each entry in the list, I will note the driving distance from Halifax. For some context, we stayed in downtown Halifax at the very centrally-located Muir Hotel, where we parked our rental car for the duration of our trip.
If you have chosen not to rent a car, I will mention a few guided tours that include transport, for a few of the destinations below, if such a tour is available!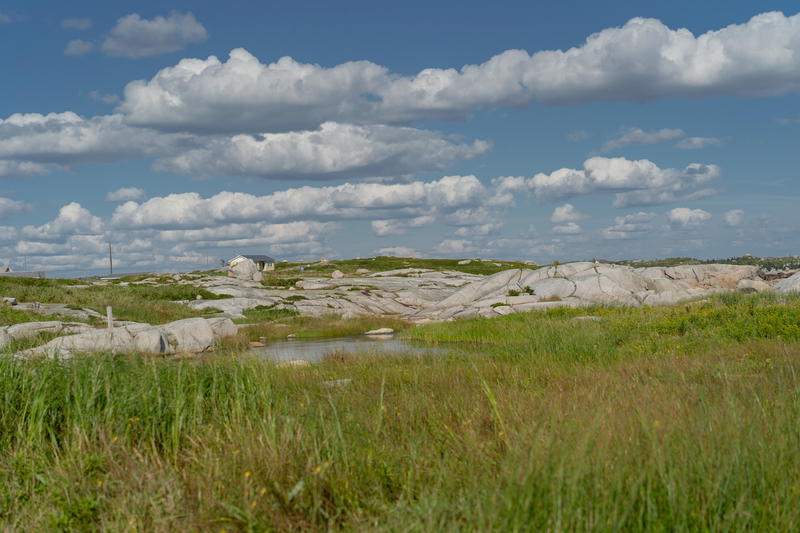 Visiting Peggy's Cove is almost synonymous with a trip to Halifax, save for an entire trip to Nova Scotia. The iconic lighthouse is on postcards, magnets, keychains and posters, and it's the nearly the inanimate mascot of the province.
I knew I wanted to get us out on a day trip to Peggy's Cove, and I started looking up driving distances and routes.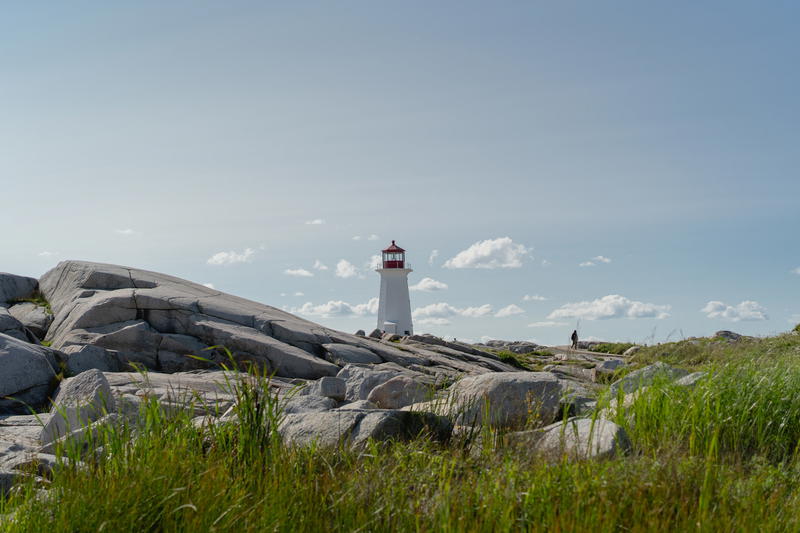 Driving to Peggy's Cove
Peggy's Cove was, down to the minute, 46 minutes of driving from where we stayed at The Muir Hotel in Halifax, to the parking lot for the lighthouse. This is a pretty acceptable distance for anyone without much tolerance for spending time driving during a preciously short vacation!
The drive to Peggy's Cove is very pretty, as it's a journey down some fairly narrow country roads that wind down the peninsula that it shares with Crystal Crescent Beach Provincial Park (mentioned below). While the roads themselves are rural and quiet, once we got to Peggy's Cove, it was clear we were in a tourist zone!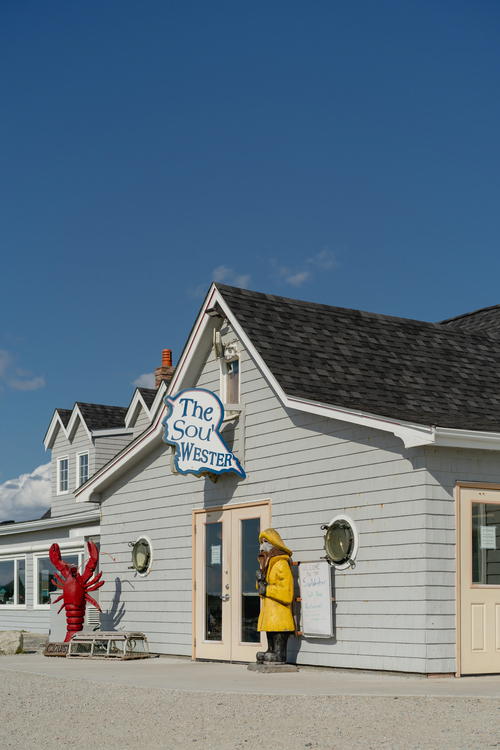 Visiting Peggy's Cove
The tourists themselves don't take away from the experience, though — at least for us. We visited the Peggy's Cove Village on a beautiful summer day, and had a clear view of the lighthouse itself, as well as the pretty rocks that surround it, and the clean walking paths that are lined with railings and Adirondack chairs.
Visiting the lighthouse was free, to my surprise! You can walk right up to it on the pathways.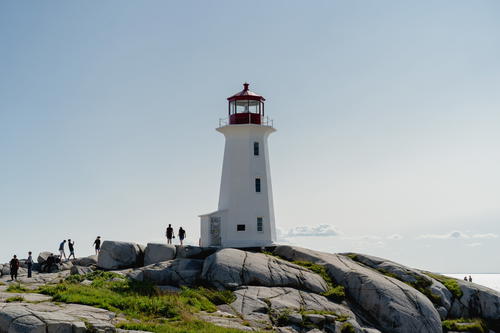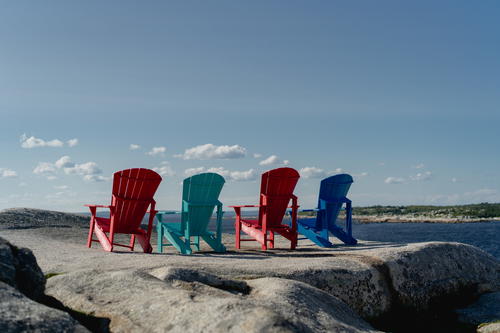 I really liked our stop in Peggy's Cove, and my suggestions for what to bring are:
As a bonus, parking was free, right near the lighthouse in the lot called Peggy's Cove Car Park.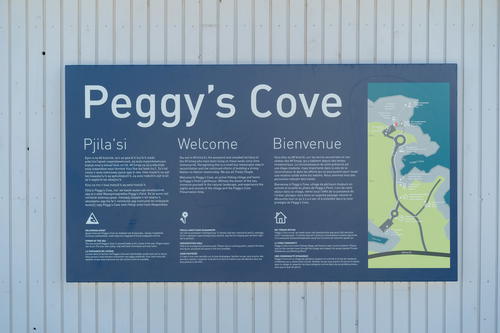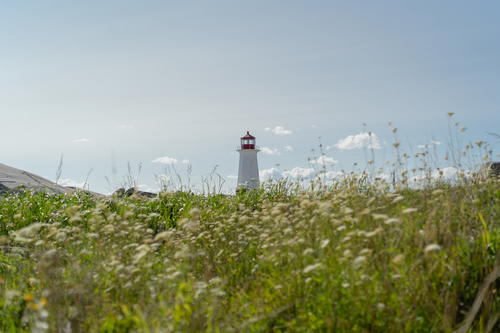 Peggy's Cove Village
Peggy's Cove comprises the Peggy's Cove historic lighthouse, as well as a small village (which has its own full-time residents who live there all year … about 30 of them!).
In the village, you'll find Tom's Lobster Shack, Central Smith Ice Cream, several gift shops, a Peggy's Cove Information center, the Peggy's Dogs hot dog stand and the William deGarthe Art Gallery. There is also the Peggy's Cove Bed & Breakfast, for accommodation, if you choose to make it an overnight, rather than a "day" trip.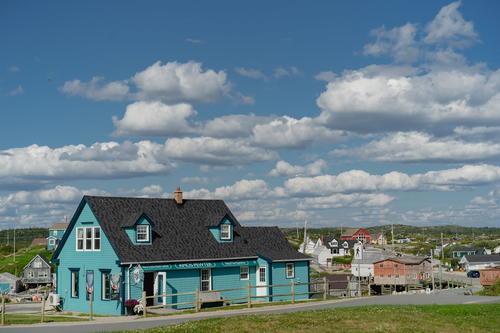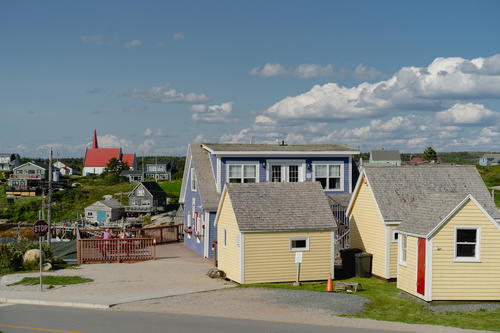 Guided tour option for Peggy's Cove
A trip to Halifax doesn't necessarily require a car rental, and if you're doing your trip without a car, check out an option for a guided day trip tour out to Peggy's Cove.
When I saw photos of Lunenburg, I felt like I had to find a way to make this historic fishing village & UNESCO Heritage Site part of our Halifax itinerary! Luckily, by mapping out some options, I found that Lunenburg and Peggy's Cove could be done in the same day trip.
Lunenburg is an 18th century British-style fishing town that got its place on the map for rum-running, once upon a time. The buildings are all painted different colors, which makes it fun to walk around as a visitor, and according to tale, this came from leftover paint from sailing ships.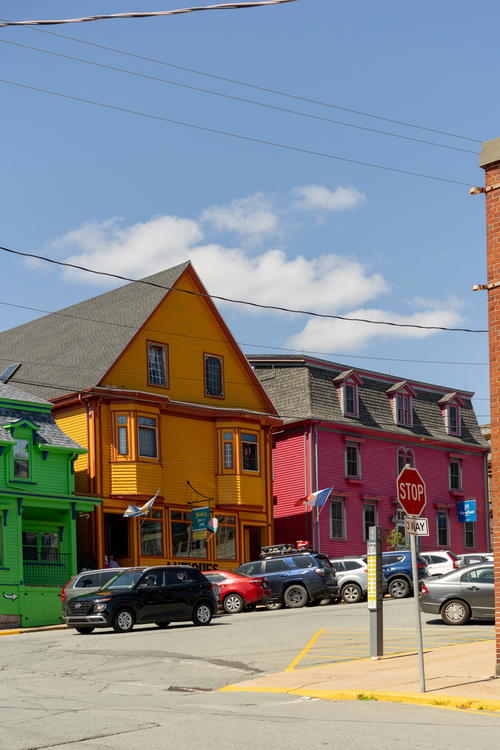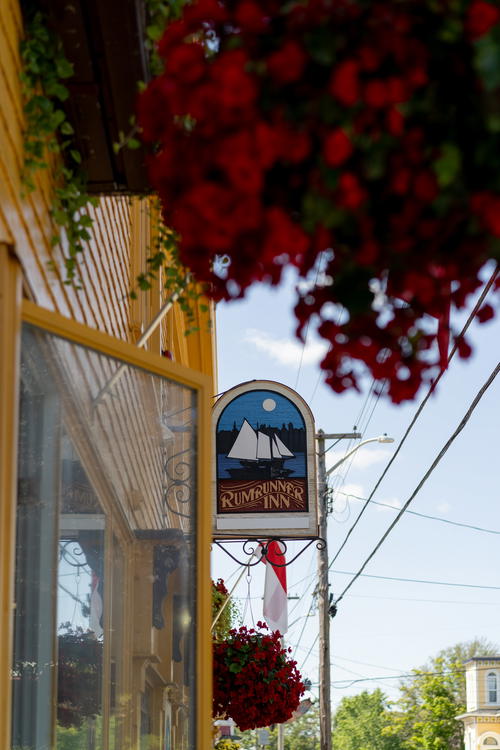 Today, Lunenburg is a great place for day tripping from Halifax, because the drive is simple, and the area is very pretty. I was surprised that Lunenburg is so incredibly popular for cruise travelers and tours, but I should've known! It's a great spot to be taking photos, eating fresh seafood and dining outdoors on all the patios, decks and sidewalks at the restaurants.
From our experience, I recommend combining Lunenburg and Peggy's Cove into a full day trip out of Halifax. It'll be an hour and 15 minutes to Lunenburg from Halifax, an hour and 15 minutes from Lunenburg to Peggy's Cove, and 45 minutes from Peggy's Cove to Halifax downtown.
What to do in Lunenburg
There are several things to do in Lunenburg, from structured things to do like touring the Ironworks Distillery and doing a tour through the Fisheries Museum of the Atlantic or the Knaut-Rhuland historic house.
As we had a baby with us (and we were starving when we arrived), we got parking in the lot by the Fisheries museum and started looking for our lunch spot!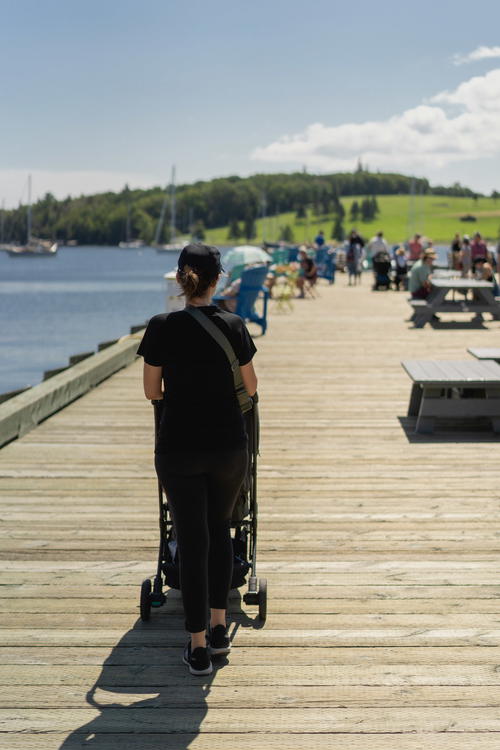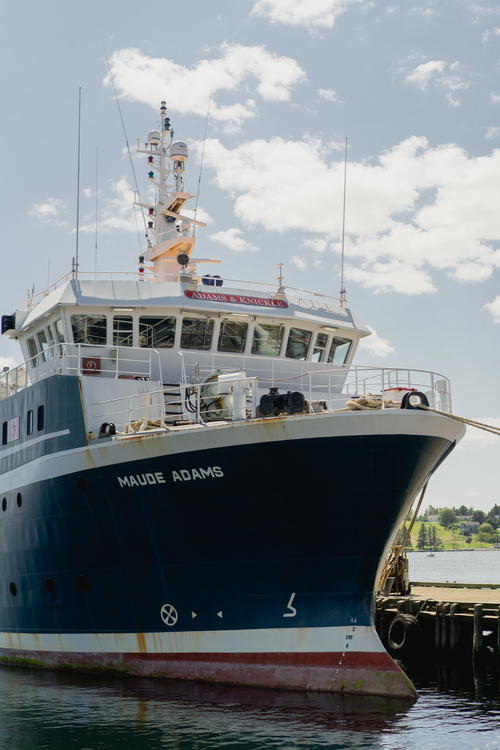 Where to eat in Lunenburg
Several restaurants in Lunenburg come highly recommended. We ate at the Salt Shaker Deli, which was great, especially for vegetarian and gluten-free diets.
Had we not gotten a table there (it gets really busy!), I also looked at menus for The Savvy Sailor Cafe, The South Shore Fish Shack, Rascals Run Burrito Bar, Grand Banker Bar & Grill and The Old Fish Factory Restaurant, among others.
What to see in Lunenburg
I recommend walking around the straightforward town grid of streets, seeing old Victorian-style homes, perhaps an old car or two, horse and buggy riders and of course, the small harbor.
This main waterfront boardwalk and the boardwalk along the Zwicker Building have Adirondack chairs set up for visitors to sit in and admire the green grassy land on the other side of the water.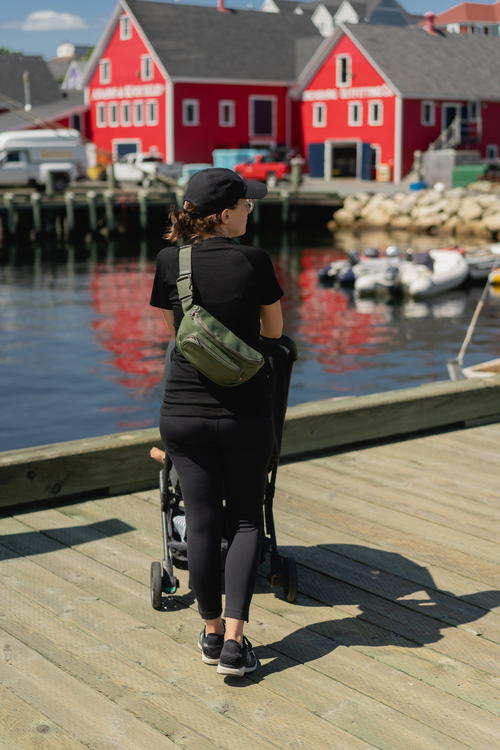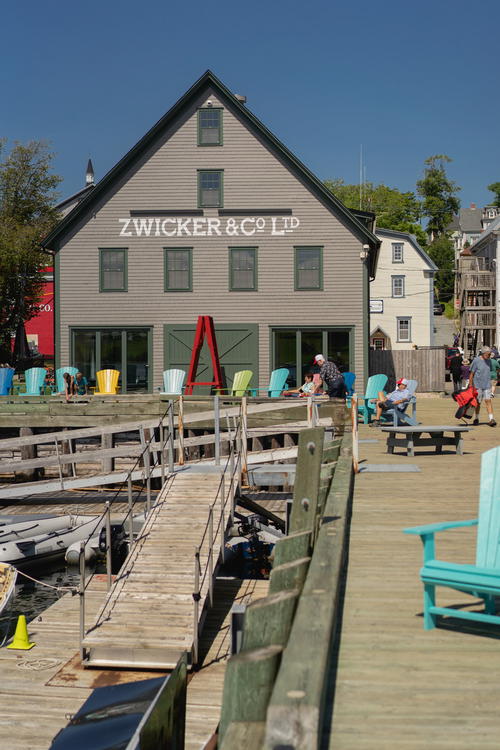 If you're up for driving five minutes past town, there are two spots on Tannery Road and Cove Road, past Lightship Brewery, where you can take a clear photo of town. Both are marked on Google Maps as "Lunenburg Photo Spots."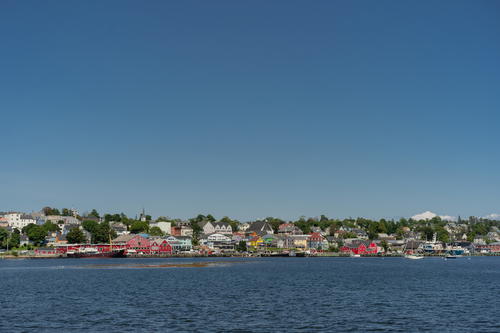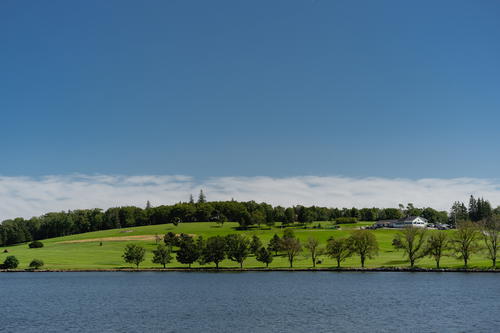 Looking for a guided tour option for Lunenburg?
If you're visiting Halifax without a car, don't worry. There are many operators that run frequent day trips to Lunenburg.
Across the river from Halifax city proper is Dartmouth, which is what some may call the Brooklyn of Halifax. While just a quick ferry ride away, Dartmouth has tons to offer visitors, from trendy dining (see: The Canteen on Portland) to cool cafes like Cafe Good Luck just a few streets from the ferry.
Dartmouth Commons is a pretty park with a new disc golf course and an off-leash dog section. There's also a 0.9-mile loop trail. Right next door is Dartmouth Common Skateboard Park.
If you choose to stay on the water, check out Ferry Terminal Park, which is good for kids with all its climbing options at the playground! This is also a nice spot for catching a sunset.
If you'd like a day trip or excursion from Halifax that has the potential to be 1 hour flat of driving, check out the village of Mahone Bay.
This destination to the west of Halifax is a charming town, known as one of the most picturesque in all of Canada (can you believe it?). It's worth a visit for its attractions alone, and I wish we had had more time to stop there on the way to Lunenburg, as it's only 15 minutes away. This being said, if you're able to leave Halifax early for a day out to the western attractions like Peggy's Cove, stop in Mahone Bay at least for an hour.
Mahone Bay is not big, but it is full of quaint streets, artisanal shops and the famous photo op of the "Three Churches," which is three distinct small churches lined up at the water's edge. Here's more about the Three Churches, at the Three Churches Foundation website.
Mahone Bay has its own offerings of accommodations, including several cute B&Bs, an inn and a lodge.
Considering an overnight stay?
If you fell in love with Mahone Bay, you can turn your day trip into a brief overnight stay with these options for accommodation.
High Head Hiking Trail came recommended directly to me by a Halifax local, and I was grateful for that! This picturesque trail offers scenic views along the water, which is a pretty attractive aspect for visitors to Nova Scotia who want that dreamy panorama!
If you choose to hike the whole trail, expect to walk a little less than 5 miles in total. And don't worry, this trail is far from remote, so you'll see other people fishing, hiking and running, most likely.
This hike is part of the Dr. Bill Freedman Nature Reserve, which sits on a peninsula within a peninsula (quite typical for Nova Scotia's coastline), not more than 40 minutes from Halifax city proper.
This dreamy park and hiking trail is a quintessential Nova Scotian natural area featuring blue water, sandy beaches, rocky shores, boardwalk pathways and wildflowers. What more could you ask for in a place that's accessible with a day trip from Halifax?
The Crystal Crescent Beach area has three beaches, to be exact, as well as the Pennant Point Hiking Trail, which is known for birdwatching. The park itself is only 29km (18mi) from Halifax proper. It'll take you about 45-50 minutes to get there because of some slow country roads.
You can see why Crystal Crescent is great for a full-day or even half-day trip from Halifax: it's like a stone's throw from the metropolis, but you'll feel like you're worlds away from the streets of downtown Halifax.
The Pennant Point Hiking Trail is a 6-mile loop trail, and it's recommended to bring enough water to get you through the hike (there's nowhere to buy anything during it). You also may encounter some muddy or marshy waters, so wear good hiking boots or be ready to get your toes a little wet.
If you want to kick back in a chair on Nova Scotia's coast, opt for a day trip out to Conrad's Beach, a favorite of Halifax locals.
What to bring: a towel, sunscreen, flip-flops and a camera, for catching a beautiful sunset. A few other things to know: there is not much parking and there are not so many opportunities for a washroom.
For an easy trail, check out the Conrad's Beach Trail, a short 1-mile path that stays quiet and is a good place for birding. For getting there, budget 1 hour and 25 min of driving, from downtown Halifax.
This beach is only 30-35 minutes of driving from Halifax, depending where in the city you're staying. This is the beach you'll want to go to for surfing in Nova Scotia!
For anyone interested in swimming though, beware: tides can be strong and currents have the potential to be intense.
There is a walking trail nearby, and there are facilities like washrooms, changing rooms and showers, too.
This provincial park natural area is a dab more of a ways out from Halifax, at about 1 hour and 25 min.
Why is it worth it though? Visitors to Taylor Head may be shocked at the sparking blue and turquoise water against white sand beaches. Is this really Nova Scotia?
As one of Nova Scotia's best hiking destinations (and so close to Halifax, at the end of the day!), the park is rather rugged, and special, with its evergreens and plant life right next to the windswept sands.
There are more than 8 miles of hiking trails, and the beach is dog-friendly! Visitors can enjoy all the natural wildlife, scenic views and open expanses of vistas. As with any hiking, please remember to pick up after yourself and leave no trace (LNT).
Would you have ever guessed that Martinique Beach is the "longest sandy beach" in all of Nova Scotia? And it's under an hour's drive from downtown Halifax!
Martinique Beach is crescent-shaped and features white sands against the Atlantic Ocean. During high season of July and August, there is supervised swimming, as well as changing rooms. The environment has sand dunes, picnic areas and tall grasses.
As a fun fact, this beach is a protected area for the piping plover, which is a really cute little coastal North American bird!
As a reminder, the park closes at dusk.
I'm an absolute fan of sunsets, and Rainbow Haven Beach is where you'll find a good one if you can stay til the end of the day.
This beach and trail are located under 30 minutes from Halifax, so if you are short on time but want to leave the city during your trip, this is a day trip for you. Rainbow Haven Beach is technically part of the "Halifax Metro region," if that describes how close it is to Halifax proper.
Rainbow Haven Beach is a good excursion to consider if you're taking a family trip in Halifax and you're looking for an easy place to take the kids for an afternoon.
A long boardwalk leads out to the beach from the parking area, and there's a "change house" where showers are available.
A different type of day trip from Halifax, the York Redoubt National Historic Site is located only 20 minutes from downtown Halifax and is a Canadian national historic site. It's part of the "Halifax Defence Complex" and sits on top of a bluff, to help protect the port. It was built in 1793 and has three centuries of history.
There's a lot to do here, so check out the experiences list at the Canada Parks website.
Right nearby, and to be done in the same afternoon, is Herring Cove Provincial Park Reserve, a very pretty natural paradise of wildlife, beach and plant life.
For hiking the Herring Cove Bluffs, check out this trail map on Alltrails. The best times to visit the trail are May through October, and you can catch some opportunities for birding. The trail itself is out-and-back and takes about a half hour. Note: despite the land around it being flat, the path itself is rocky and requires good shoes.
Enjoyed our article?
Consider supporting us! We're a 2-person team (learn more about us here) and your support enables us to create quality content. Thank you!