Why Valladolid Is the Most Authentic Yucatan City
Updated on November 21st, 2023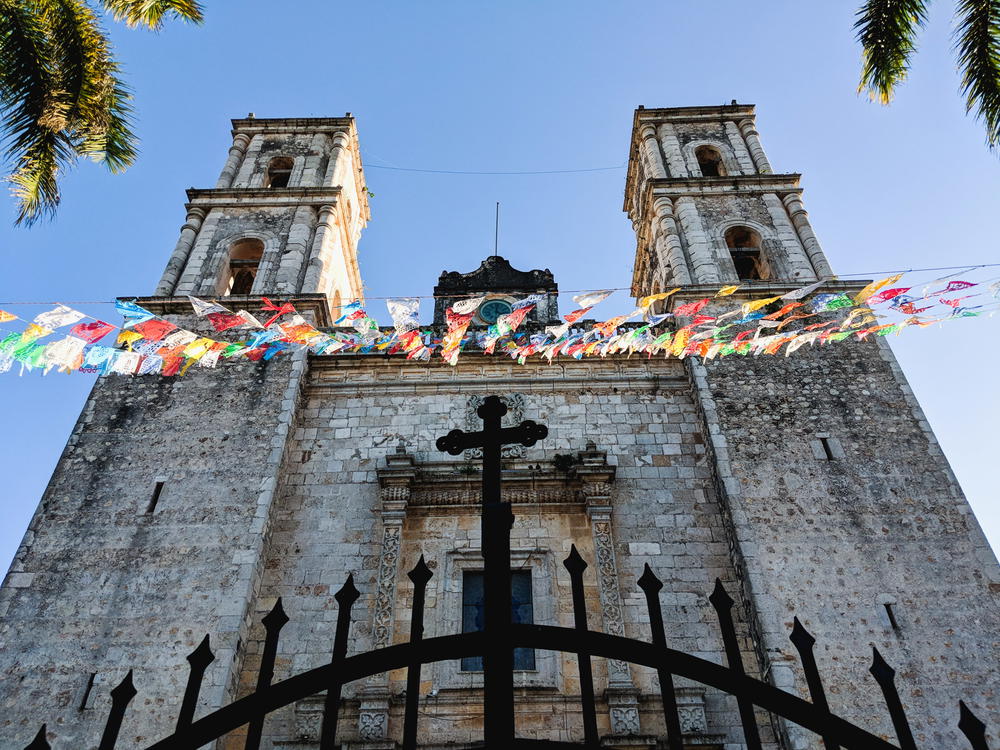 Discover why this little-known city in the Mexican state of Yucatan should be at the top of your list for authentic travel experiences.
This article may contain affiliate links. We earn a small commissions when you purchase via those links — and it's free for you. It's only us (Becca & Dan) working on this website, so we value your support! Read our privacy policy and learn more about us.
Table of contents
Close table of contents
Valladolid is absolutely worth visiting. It is a charming small city of 48,000 people with a compact town center, colorful homes, historic colonial 'iglesias' and authentic Mexican life, free of many outside influences. Valladolid is an excellent city for spending several days, with lots to do and see close by as well.
How to Get to Valladolid
Valladolid does not have a major airport and is best accessible by bus (or taxi, if you have the budget to splurge on such a luxury!).
Get to Valladolid from Cancun
We landed in Cancun airport (airport code CUN), having come from the US and we immediately looked for the ADO buses outside the terminal. ADO is a big bus company and will get you to many points of importance in the Yucatan region.
We got tickets (it helps to know some Spanish, actually!) for an ADO bus in first class to Valladolid, via Merida. The journey would be two hours.
It's helpful to note that a second-class bus would take more than three hours, so we saved a bunch of time for only a little bit of a higher price.
Our bus arrived at the small bus station of Valladolid, and we set our clocks back an hour, as we were now in Yucatan province!
Get to Valladolid from Merida
From Merida, Valladolid is a center point between this city and Cancun. It's about smack in the middle at the two-hour mark from each.
You could surely visit Valladolid as a day trip from Merida, or similarly, visit Merida as a day trip from Valladolid.
Either way, you can get an ADO bus ticket for frequent departures (try to check online, or if you prefer, go to your local station to ask about timetables and book in advance).
How to get to Valladolid from Izamal
If you're in Izamal and planning to go to Valladolid next, you're in luck. Izamal is only 1.5 or 2 hours away from Valladolid. You can take a simple second-class bus from the Terminal de Autobuses Izamal.
How much time do you need in Valladolid?
Because of its size, you only need a few days Valladolid.
It's a perfect weekend trip from some of the bigger destinations, like Merida, Cancun, Playa del Carmen or Tulum. You can enjoy your time walking around, seeing the unique charm and eating at some restaurants.
Where to see history and architecture in Valladolid
Valladolid isn't big, and that was the whole charm of it. The historic center is authentic and well-kept, and outside of this, the streets become a dab less beautiful, so it wasn't overwhelming.
It seemed incredibly safe. Locals were smiley and friendly, and it didn't seem anyone's intentions were to cheat tourists.
The main cathedral is the Catedral de San Gervasio, which is a landmark of its own and has pretty flags decorating its front side, which faces the park.
The Convent of San Bernadino is another historic attraction that is located at the end of Calzada de los Frailes.
Colors and cars of Valladolid
Valladolid is full of colors and vintage cars. There were so many vintage Beetles in the downtown area! They were adorable, with the backdrop of the pastel walls on every block.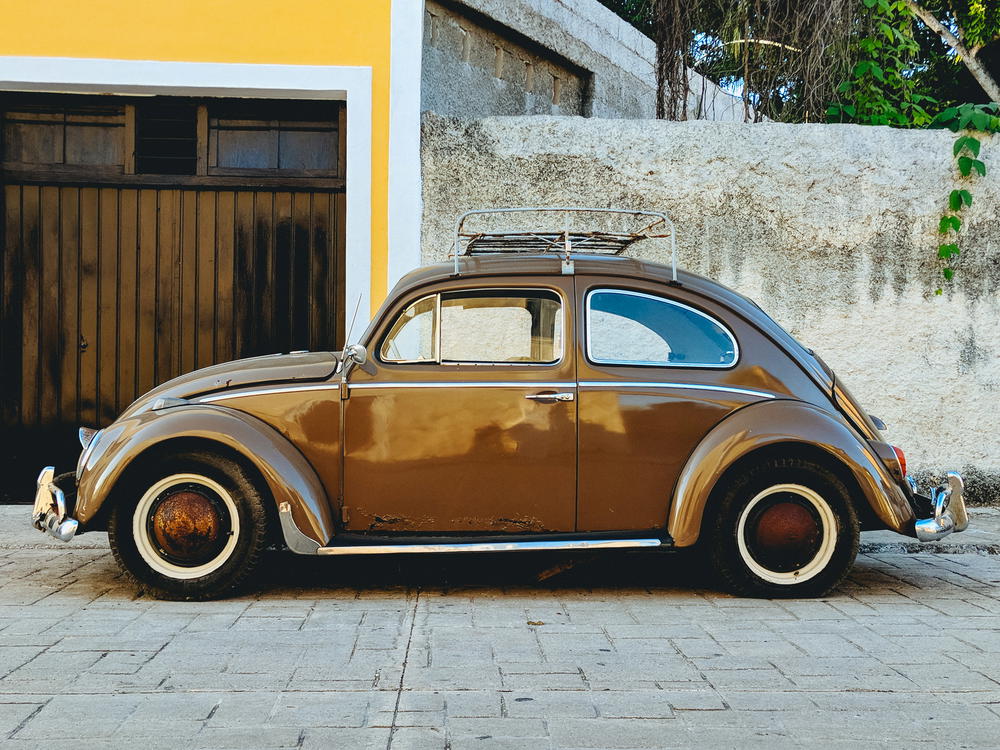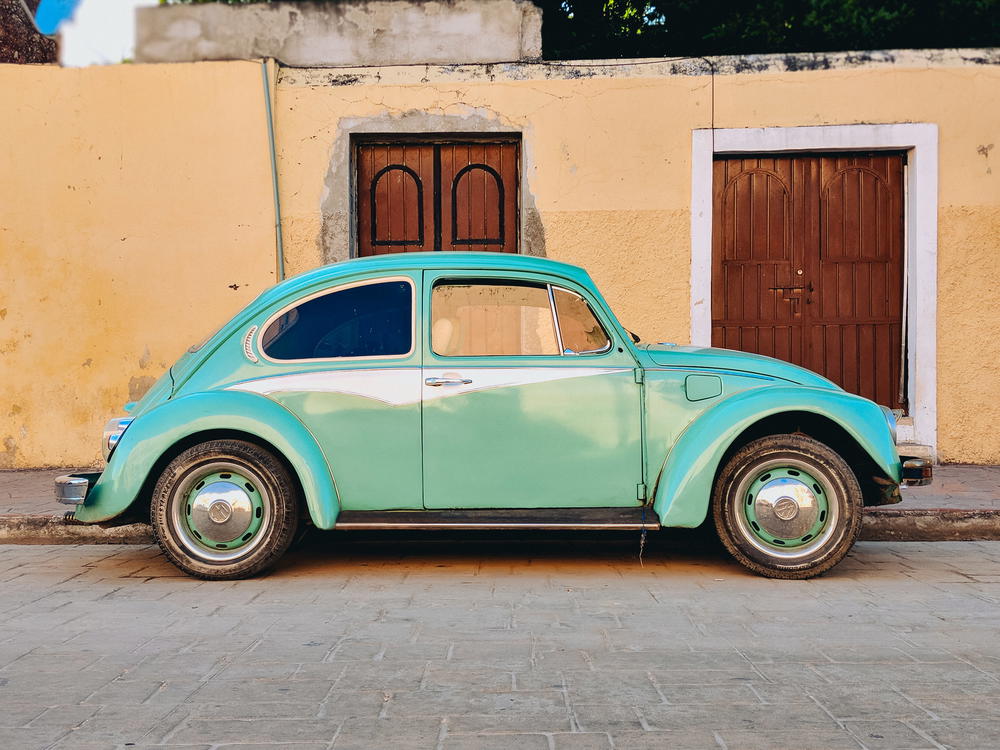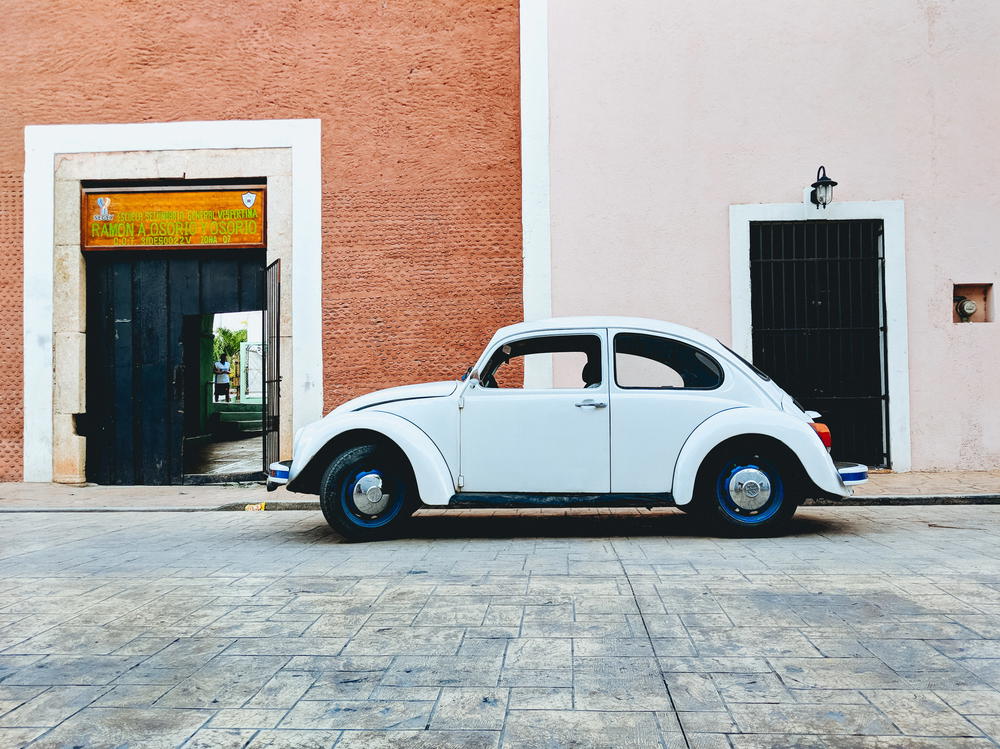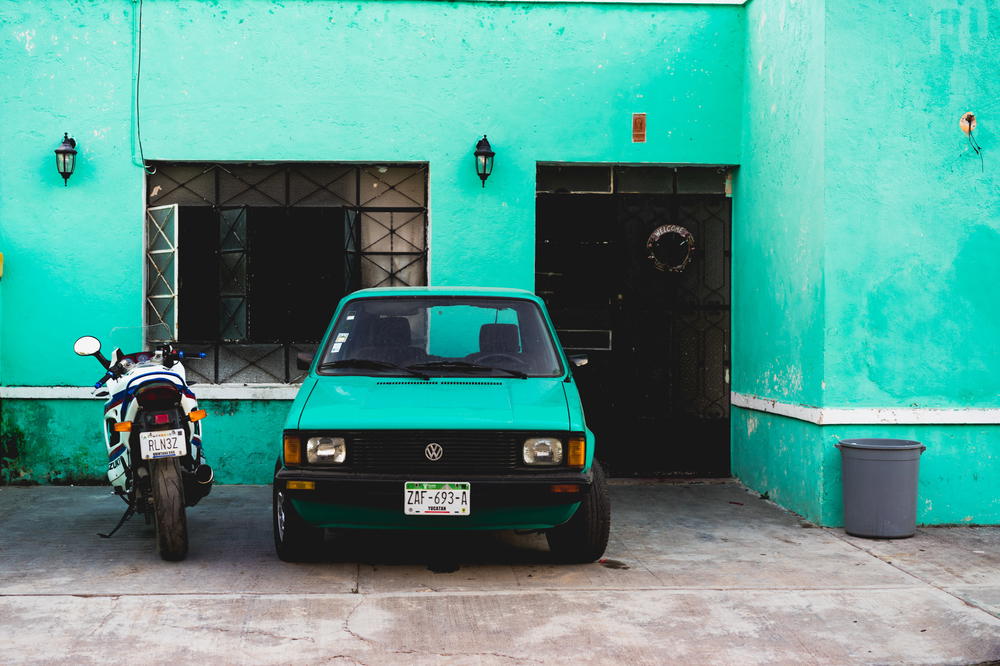 Our favorite street was the famous diagonal street of Calzada de los Frailes.
This street faces west, so you can walk toward the sunset (actually, this street will lead you to the convent and a big park). On Calzada, you'll see new boutique shops that sell crafts, bags and fashion.
There's also a hostel and some restaurants that have narrow entrance ways and lead to garden dining. We made it to Calzada de los Frailes as the sun went down and turned the sky a bubblegum-pink gradient.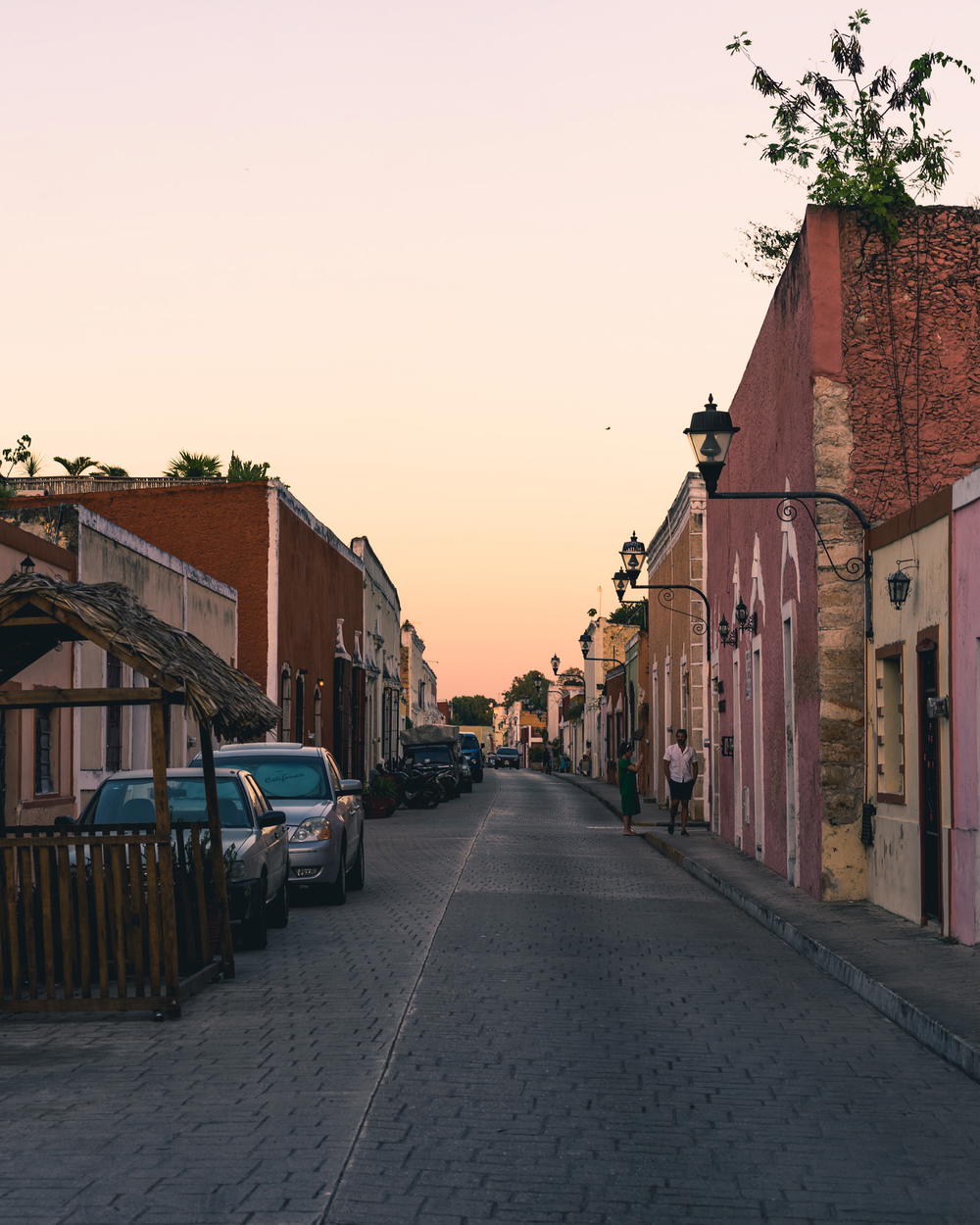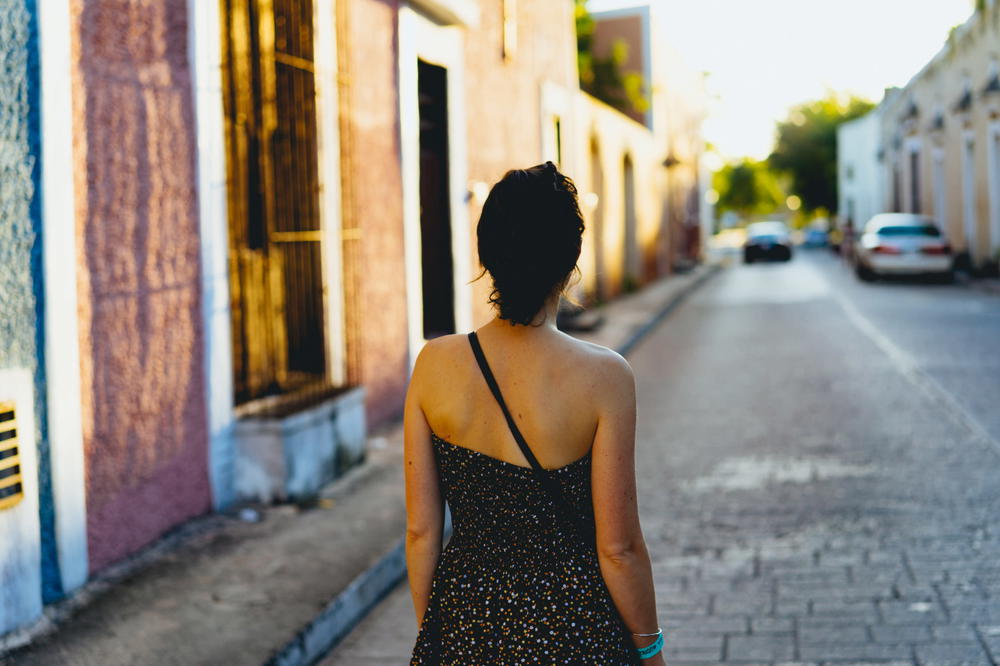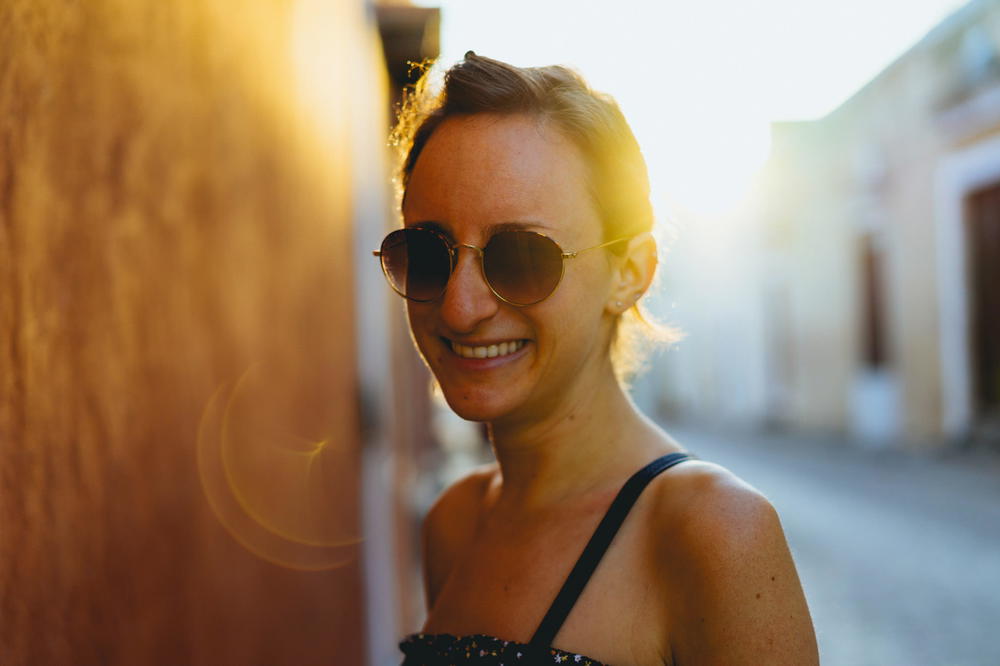 Valladolid's city grid
The streets of Valladolid were confusing, to say the least. The up-and-down streets are even numbers and the streets perpendicular to those are numbered with odd numbers. You could be at the intersection of Calle 41 and Calle 42.
Our hostel was at Calle 35 in between Calles 42 and 44. You could turn the corner from Calle 39 onto Calle 38. We had never seen such a type of city grid before.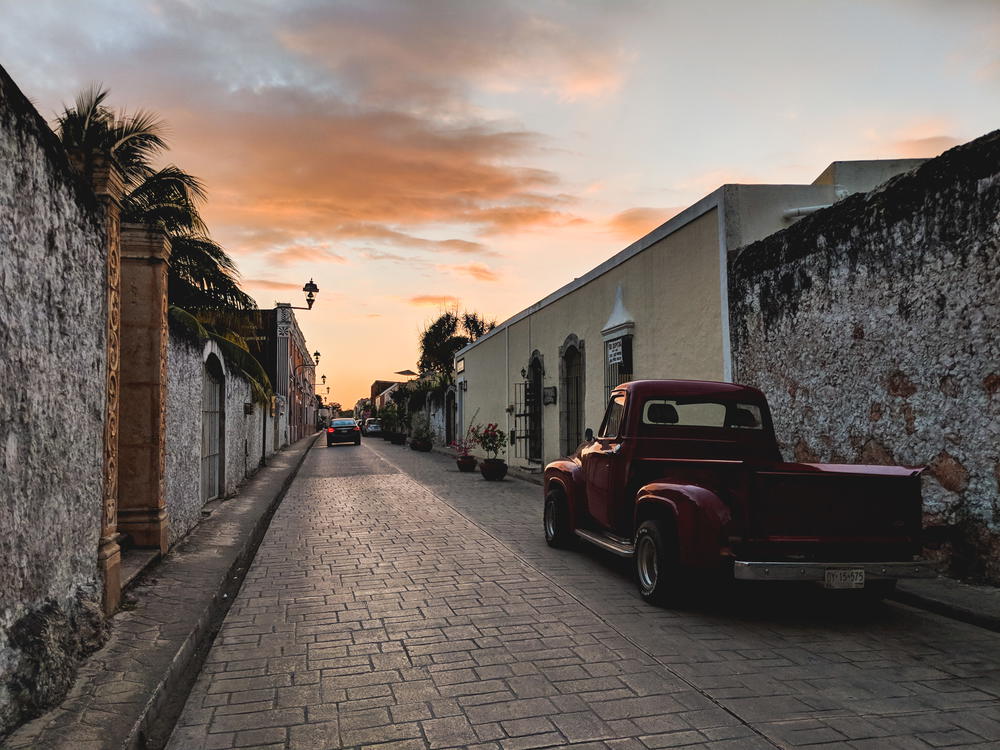 Where to Stay in Valladolid: Hostel La Candelaria
Hostel La Candelaria is a garden hostel located off a small square park in the city center.
The location is ideal, with not too much bustle, but still a five-minute walk from the main plaza and basilica, and close to other points of interest.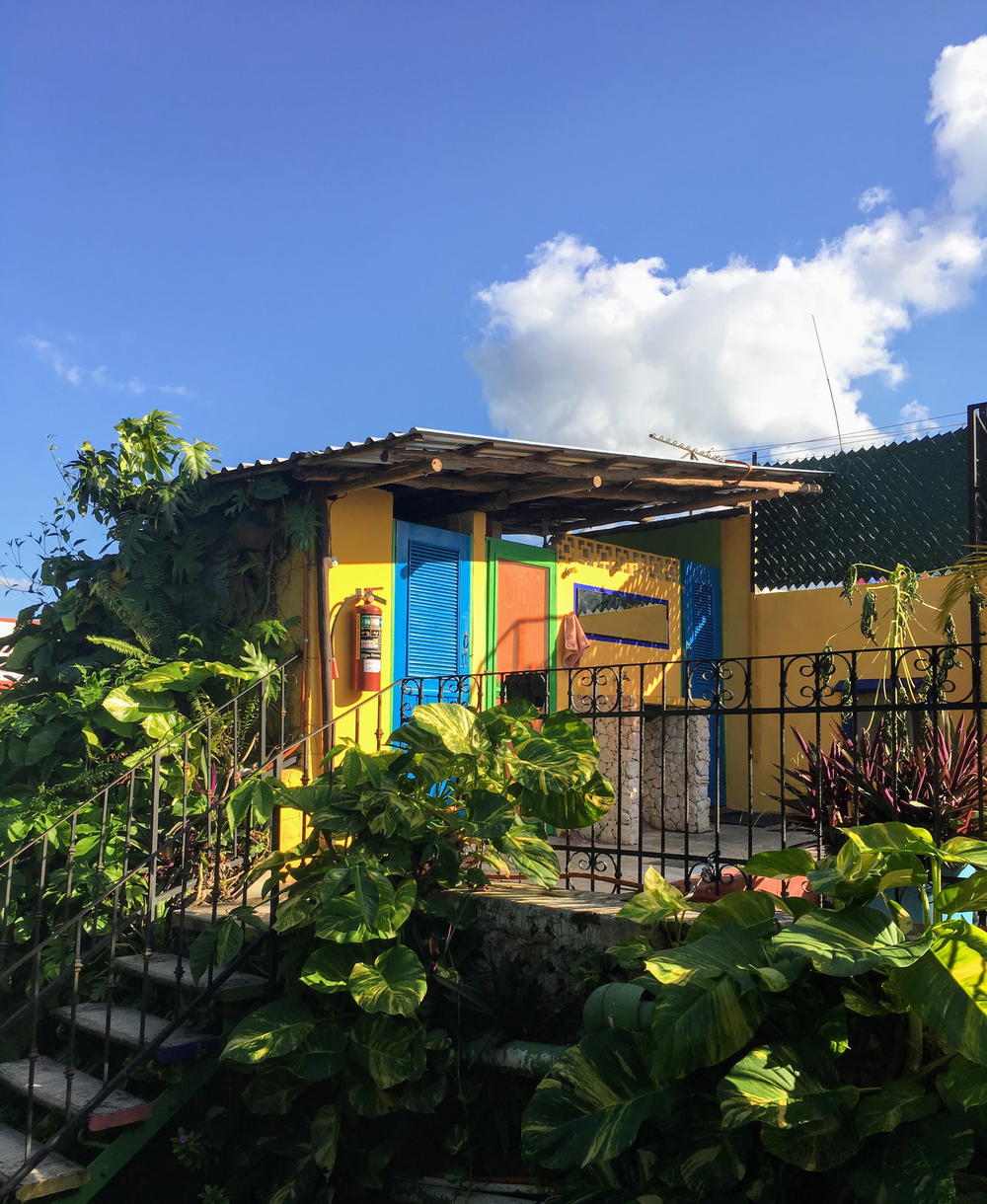 Hostel La Candelaria is located at Calle 35, between Calle 42 and 44, only three blocks from the bus terminal, and a five-minute walk to the Parque Central, where you'll find the center of city life.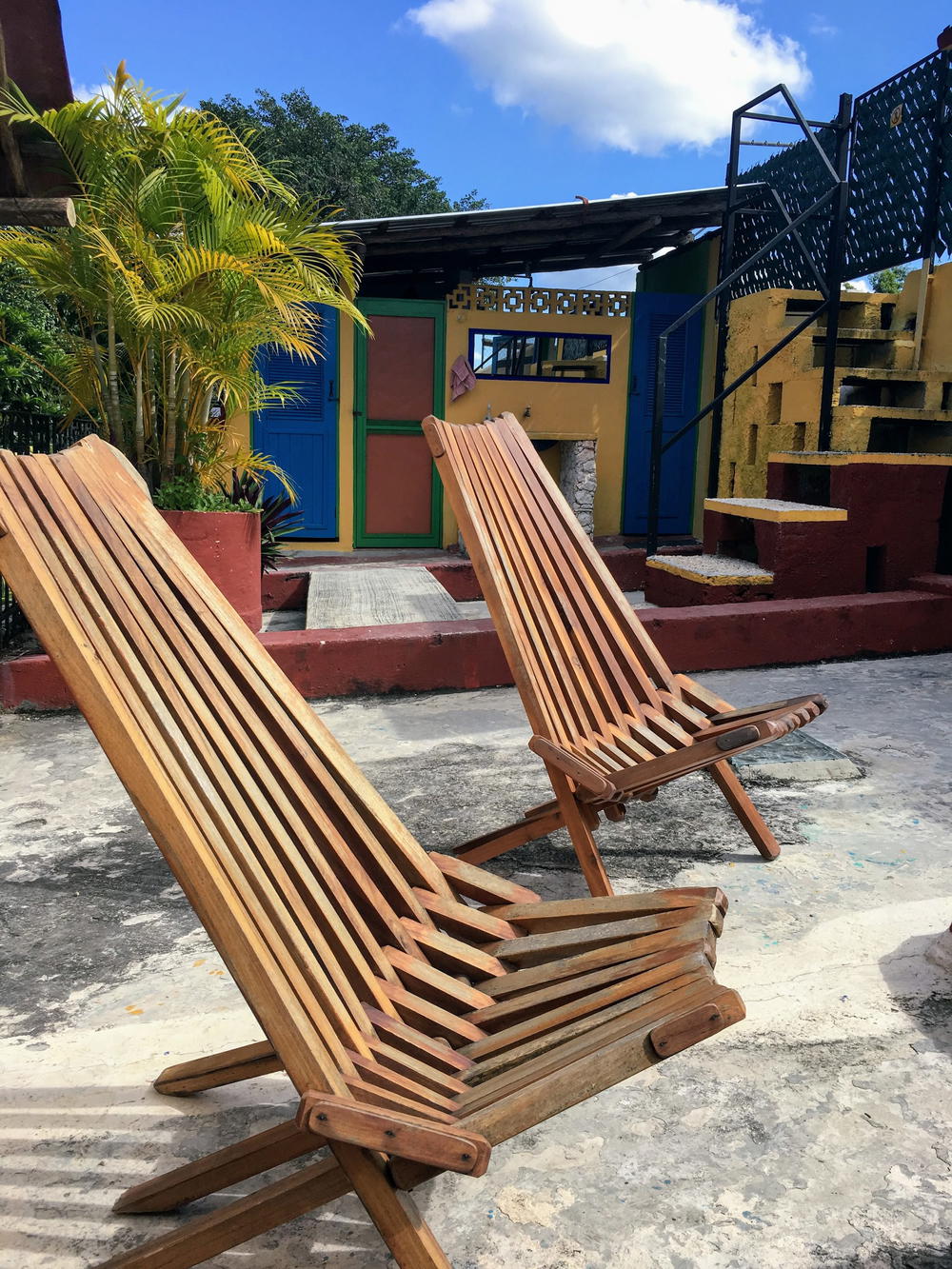 We were surprised to find a seemingly-never-ending garden as the hostel's yard. We loved all the greenery!
The kitchen is located in the garden, with places to chill out in front of it and after it, with more tables, and hammocks flanking a large tree all the way in the back. It's a private jungle.
Our private room was on the top level near the roof deck, with the cleanest shared bathroom we had ever seen in a hostel, ever. The room was spotless as well.
Breakfast is included with a reservation and consisted of pancakes with fruit, cooked by hostel staff. There's also plenty of coffee! The kitchen has storage space and cubbies for keeping everyone's food safe and away from their rooms.
Where to eat in Valladolid: Candelitas for smoothies
There's an adorable cafe called Candelitas with friendly staff located right near Parque Candelaria in the public square.
We liked sitting there so much that we went twice, for smoothies. It's a good spot for people-watching and the nearby streets are quieter than the rest of town.
Where to drink in Valladolid: Cafeina
With sunset at 5pm in November during our visit, there was not so much to do after dark except relax. As the sun was going down on Calzada de los Frailes, we sat down for some local drinks at Cafeina, a bar that's popular among backpackers due to Woods Chamal Hostal next door.
We got shots of mezcal, which were served with Mexican spice called Tajín and local orange slices. Becca tried a "mojito de fresa" (strawberry mojito) made with mezcal, which comes from agave, instead of rum. Yum!
Where to go from Valladolid on a Yucatan Itinerary
We chose to head to the coast and with Tulum as our destination, we took an ADO bus to Tulum from the central station. This bus was two hours in total.
Don't forget to turn your clock forward when you enter Quintana Roo (shortened as "QR") province! It is in a different time zone, one hour ahead, of Yucatan State.
You can also head west to Izamal, the Yellow City, to see one of our favorite places in the Yucatan.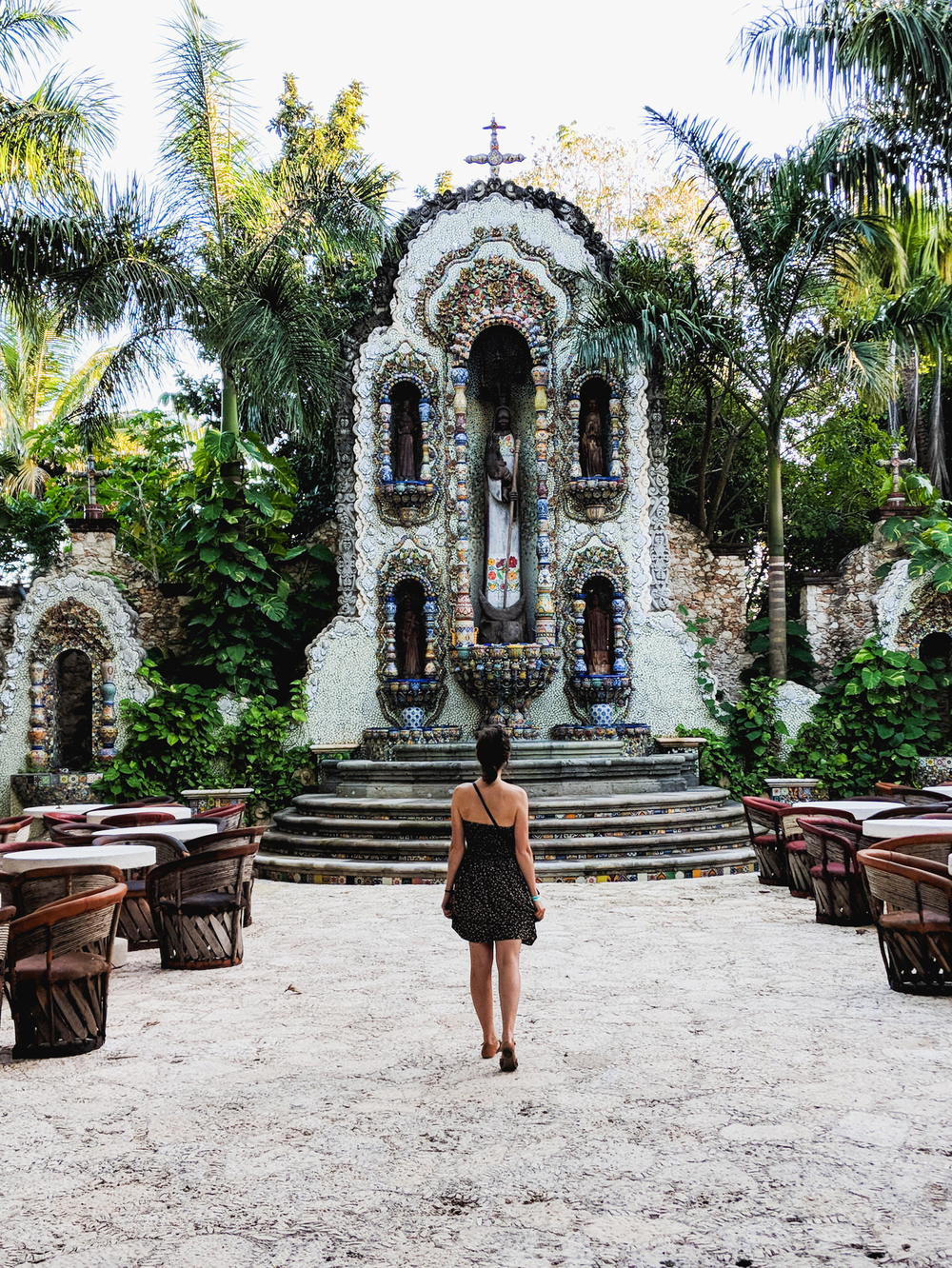 Enjoyed our article?
Consider supporting us! We're a 2-person team (learn more about us here) and your support enables us to create quality content. Thank you!