The Neon Tea Party: Crafting with Global Inspiration
Written by Becca
•
Updated on September 6th, 2023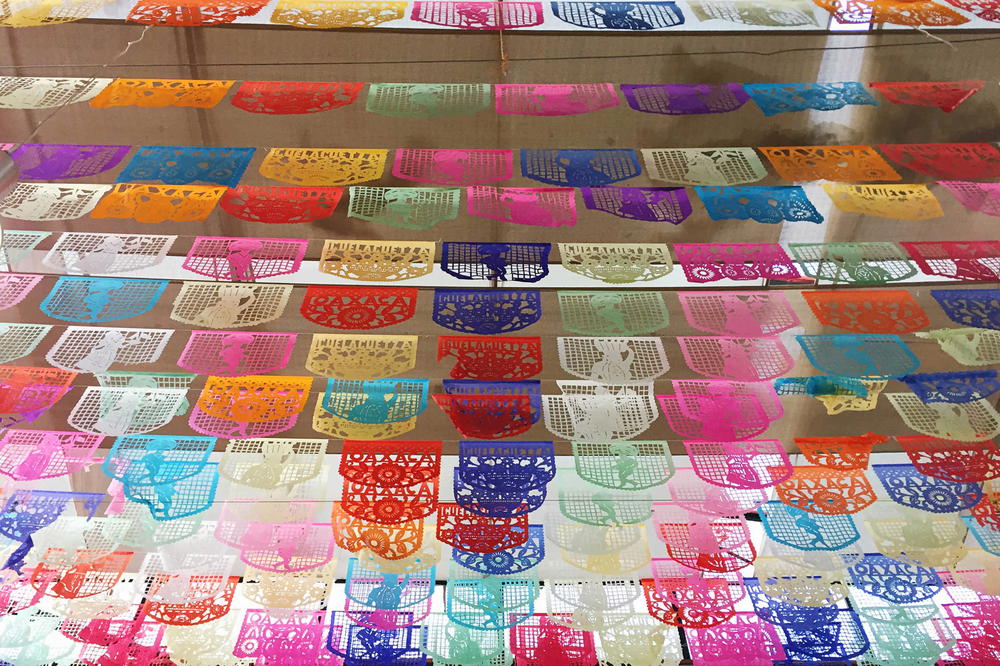 Marisa started her crafting business and creative brand from a love of world travel and global inspirations, from Mexico to India. She turned her love for colors and patterns to teaching crafting classes!
This article may contain affiliate links. We earn a small commissions when you purchase via those links — and it's free for you. It's only us (Becca & Dan) working on this website, so we value your support! Read our privacy policy and learn more about us.
---
Becca met Marisa in fifth grade in Livingston, NJ, and they've been friends since then! Starting when they had both lived in NYC for a few years, Becca first helped out Marisa with photos for her Instagram when she launched The Neon Tea Party to be the beginning of a personal brand.
In the Age of Instagram, both Becca and Marisa started promoting each other in order to help gain momentum - Becca, through her lifestyle photography business and Marisa, through her growing creative brand on Instagram.
What we love most about Marisa's themes and motifs are the bright colors that remind us of one of our favorite places… MEXICO! Read on to find out how she got inspired from patterns and colors from around the world.
Introducing, our friend Marisa Morrison - The Neon Tea Party!
Hey there! I'm the founder of The Neon Tea Party, a colorful globally-inspired crafting education business based in New York City. My business card says I'm a pom pom expert, as pom poms and tassels are my all-time favorite category of crafts to make and teach!
Additionally, I teach friendship bracelets, macrame, jewelry making, piñatas and more, both in-person at workshop and private events, as well as online via our blog, Instagram and online courses!
So, you're a crafts teacher (with a neon edge, of course). How has travel influenced your choice in crafts to teach?
I've always been drawn to colorful handicrafts from around the world. The types of crafts I love mostly fall under what I refer to as "tchotchke" territory: small accessories, home decor items and party decorations that add color and joy to one's wardrobe and home.
Whether I'm discovering crafts from my own travel or those that I discover in photos from around the world, I teach projects that draw from global inspiration, while not belonging exclusively to one community or culture.
From where and from which countries or cultures do you draw artistic influences? How did these fascinations begin?
For my whole life, I've been inspired by the colors and design details of cultures around the world, mainly those of Mexico & Central/South America, as well as India. Living in the United States, it's hard not to come across decor elements from Mexico that show up in boutiques, at Mexican restaurants and in photos of Americans' homes.
India is more personal to me, as I grew up with two best friends whose parents both emigrated to the US from India. Having had a strong draw to design my whole life, I'd always been inspired by the detailed decor in their homes and by the vibrant party outfits they and their families would don for special occasions. On the occasions when my friends would travel to India to visit relatives, they always knew to ask me for my shopping list of accessories and small decorative items that they could pick up for me from the markets.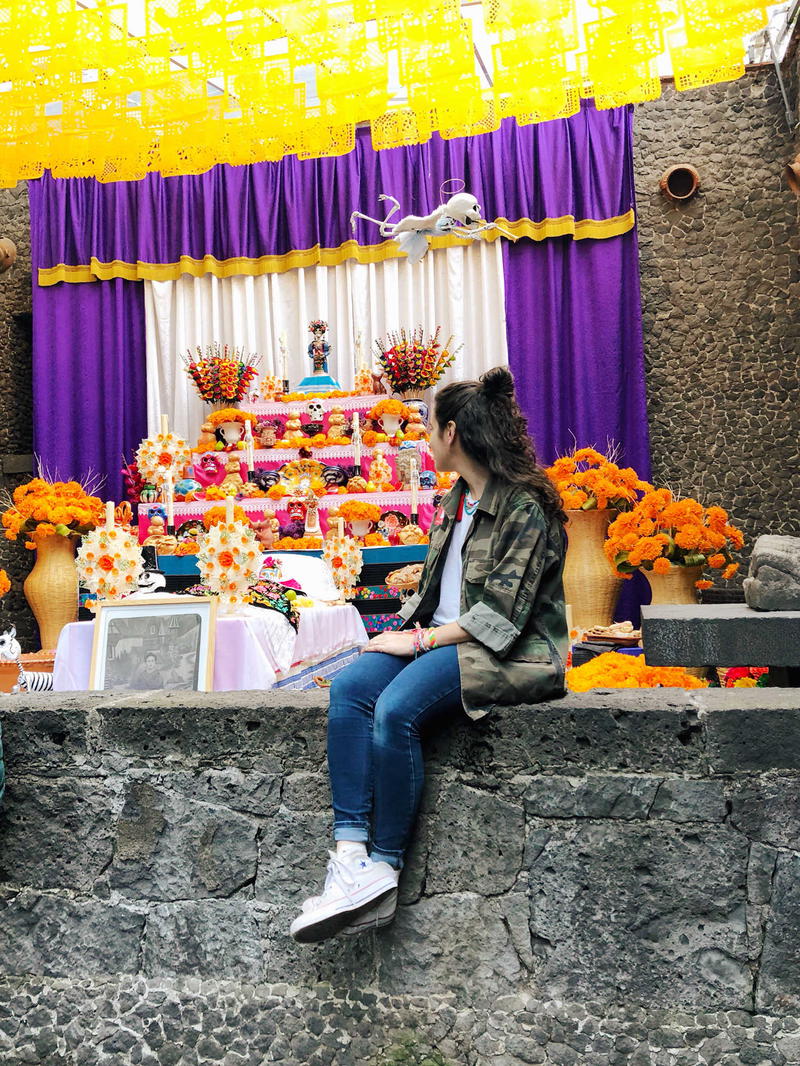 I'm also tremendously inspired by Moroccan and Middle Eastern design, as well as that of certain Southeast Asian cultures that utilize bright colors and threads in the woven handiwork. Basically, if there's a native handicraft that's colorful, detailed and whimsical, I'm all about it!
Do you have any specific role models or favorite artists you look up to?
Anyone who's been following The Neon Tea Party for any amount of time knows I adore Frida Kahlo. I first became enamored with this Mexican artist after seeing a show of her work at a museum in Brussels in 2010 while I was studying abroad in Europe, and I've been obsessed ever since.
Frida suffered from many tragedies in her lifetime, including a number of major medical traumas, which informed her artistic sensibility and even the way she dressed herself. I love her for the reasons so many others do — for her strong sense of self, pride in her Mexican heritage, vulnerability in her work and groundbreaking, unapologetic artistic subject matter (not to mention her love and use of bold color, of course).
Have you done any traveling in relation to The Neon Tea Party for exploring artistic and design ideas? What were your biggest takeaways?
I've made it a point to travel to Mexico once a year for the past few years, to gain a closer education about the handicrafts there, begin forming relationships with artisans and other locals and simply to establish a closer connection with the culture of the country that is so entrenched in my spirit.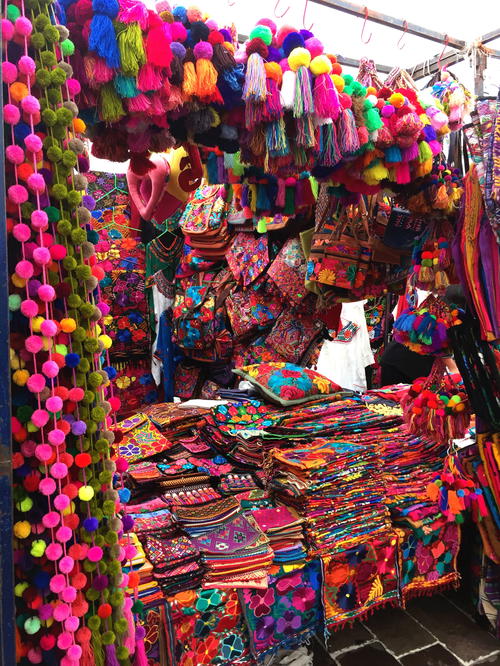 Two years ago, my husband and I honeymooned in Mexico City and Oaxaca, and last October I returned to Mexico City with a friend to experience Día de los Muertos and all the fanfare that goes into the festival holiday.
These two trips exposed me to native art and handicrafts that I'd yet to explore. The travels inspired my ideas for how to incorporate some of these crafts in a way that would allow me to work closely with the artisans themselves, and build programs that could provide an income source for them while shining light globally on their inspiring handiwork.
How is travel playing into The Neon Tea Party more and more nowadays?
I have many ideas of how global travel can be incorporated into the business a bit further down the road. Currently, I've been focusing on local travel, bringing our workshops to new cities around the United States. Most recently, I taught in St. Louis, Chicago and Boston, and I'll be traveling to LA and San Diego in May!
What are your biggest plans for the near future in regard to travel and growing your business? Tell us everything!
It's a little too soon to say, because the ideas are quite abstract, but I do intend, as I mentioned, to form relationships with artisans in countries such as Mexico and India, and to build craft programs with them. You'll have to stay tuned!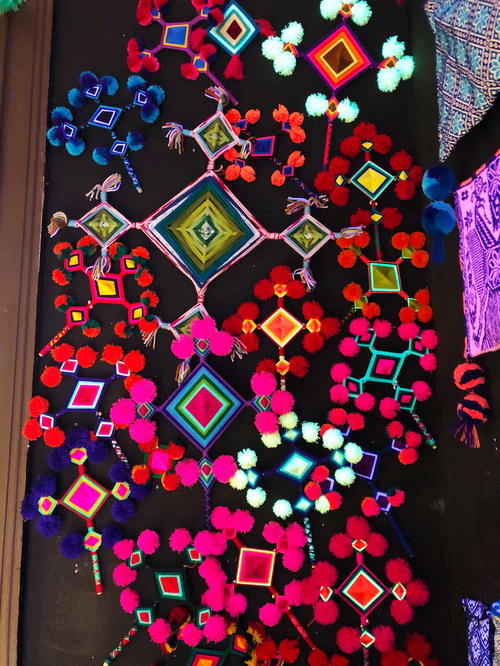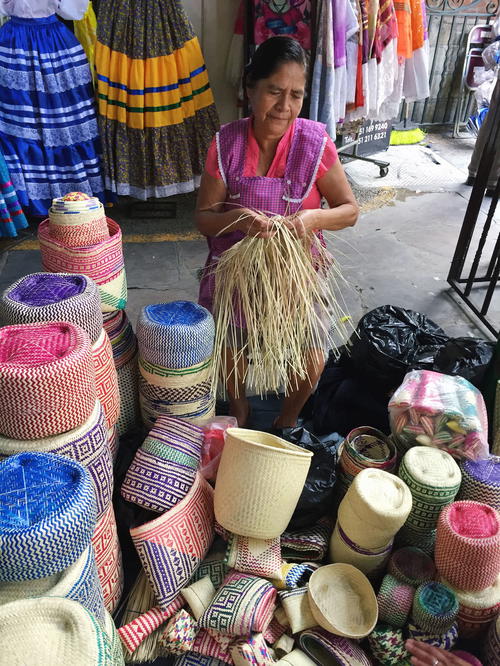 How do you continue learning and exploring your favorite aesthetic influences like the patterns and color schemes we've seen on your website and Instagram?
Instagram is obviously such an incredible discovery platform. I love following brands that work with global artisans to see the kind of work they're producing, as well as other craft and DIY content creators to see what they're making and what's inspiring them.
I'm also still a Pinterest girl at heart, so I spend a lot of time poking around there as well.
How has Instagram helped you grow your brand and your business? What are some rules of thumb you've developed for engagement and staying authentic?
I would not be where I am with The Neon Tea Party if it weren't for Instagram. I've been able to connect with most of my customers through the platform, as well as begin to grow our crafty community, The Neon Tribe, on there.
My rule of thumb is to be completely 100% myself, to talk to the camera as much as I can, show the real behind-the-scenes on what I'm doing (both the pretty and messy sides of it), and to communicate to everyone as if they're my group of best friends, because in a way, they really are!
I couldn't do most of what I do without the enthusiasm and support of everyone I've connected with on Instagram.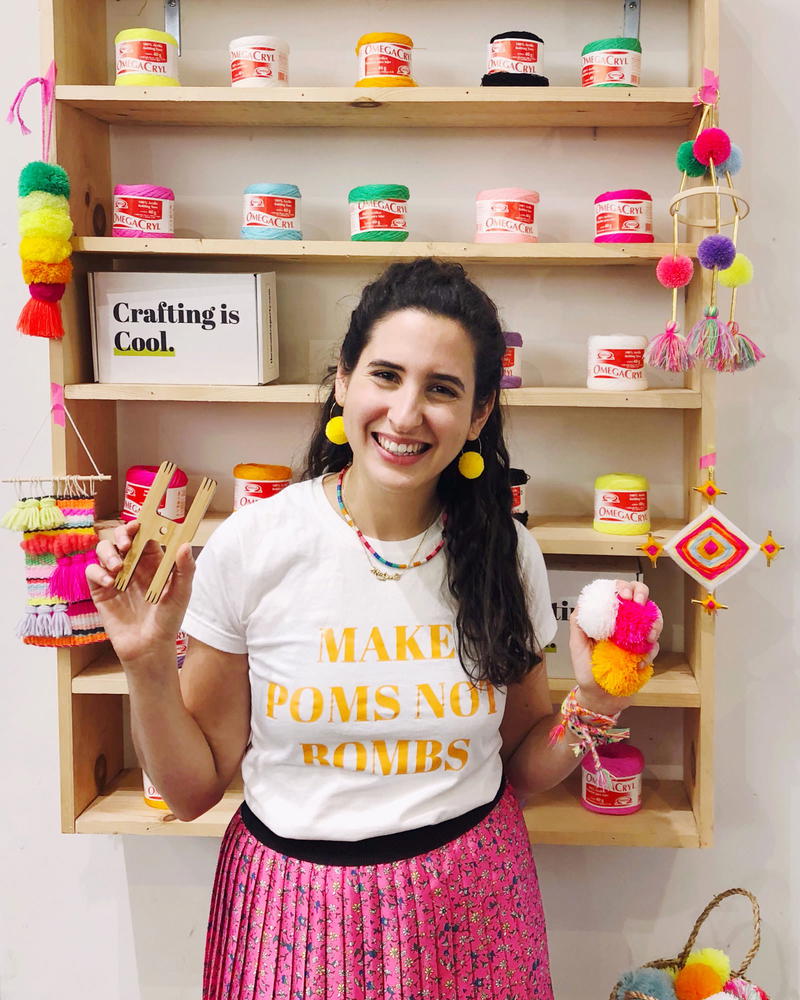 What can we expect to see soon from The Neon Tea Party as you move toward going global?
As I mentioned, the more exciting global aspects of the business are a little ways off, but as we expand our workshop offerings, I intend to incorporate more education on the global origins of the crafts we teach.
Also, once we have a studio space, I'll maybe even get to bring in international craft teachers to share their local handicrafts with New York-based students. We shall see!
---
Follow Marisa, @theneonteaparty
We'd like to thank Marisa for giving her time in sharing all of these cool aspects of her business and her inspirations from around the world.
To follow Marisa as she grows her business and brand, check her out!
Enjoyed our article?
Consider supporting us! We're a 2-person team (learn more about us here) and your support enables us to create quality content. Thank you!