How to Feed a Baby During Travel (Nursing, Bottles, Formula & Solids)
Written by Becca
•
Updated on September 23rd, 2023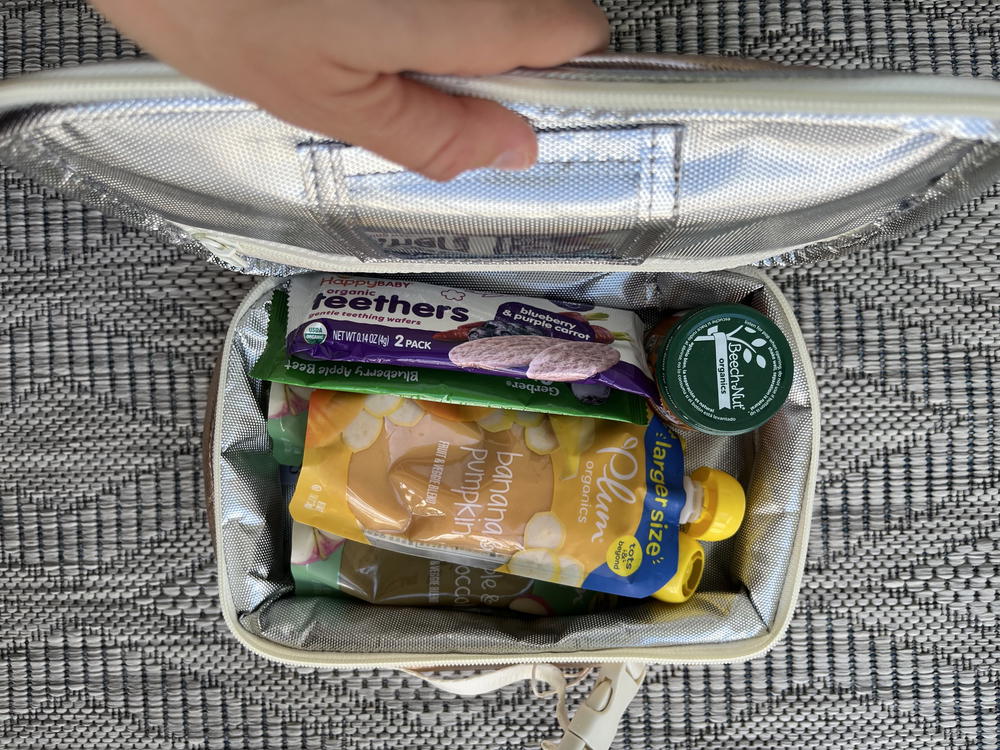 Whether feeding your baby by nursing and breastfeeding, with bottles, formula or solids, there are lots of products to help with feeding a baby on the go. See my best travel tips for your next trip!
This article may contain affiliate links. We earn a small commissions when you purchase via those links — and it's free for you. It's only us (Becca & Dan) working on this website, so we value your support! Read our privacy policy and learn more about us.
When I first started realizing we had to figure out ways to leave home and feed our baby on the go, I was overwhelmed. Well, most parts of being a new parent are overwhelming, but when it comes to one of the most important parts of your baby's life — their feeding — you want to get it right when you're away from home.
Given, there are many ways to feed a baby, and for many parents, they're combining a few of the following: nursing, bottle feeding, formula feeding and solids, as the baby becomes older. With all of these ways to feed a child, nailing it when you're on the road, on the go and on vacation is an art.
In the following tips, I'm combining my practices in feeding my daughter with my sister's tips, because between the two of us and our children, we have experienced all four of these ways to feed a baby. We've put together the handy products that have helped us set up comfortable feeding environments on the go, whether in the car, in a hotel room, in an Airbnb, on a cruise ship or on a plane.
Let's see all the creative and proven ways to feed a baby while away from home!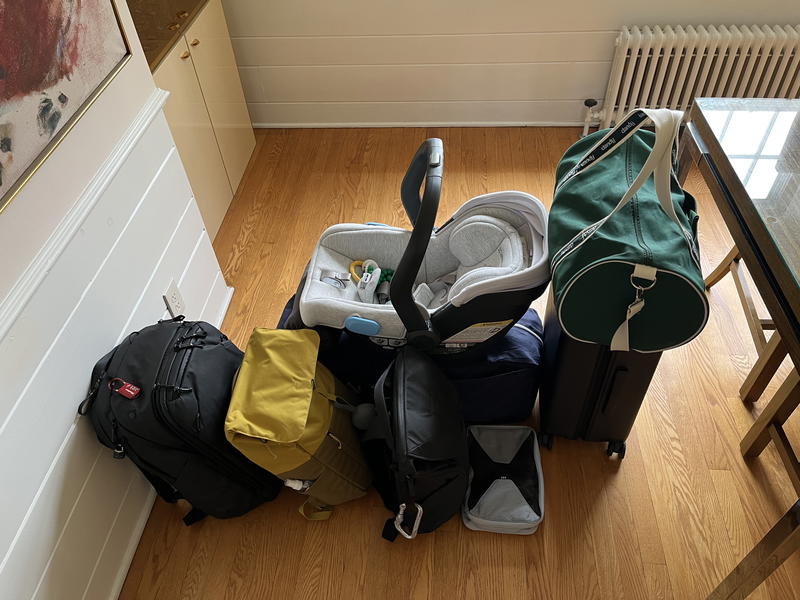 Nursing (0-12+ months)
Breastfeeding by definition doesn't truly require many products, as the main goods are already on your body; however, there are some tips and tricks in terms of what I've been able to find for when I'm on the go and traveling.
Specifically for when I'm on road trips with my baby, I want to have everything ready for nursing if we need to have a feed in the car in a parking lot or rest area.
Milkies Milk Saver
I started using this slim silicone "milk saver" as a way to catch drips and save milk, both at home and on the go. I started using this product during our trip to the Litchfield Hills and I'll always have fond memories of nursing our daughter on the couch in the living room at our Airbnb.
The Milkies Milk Saver is dishwasher safe, and when I first took it out of the box (it also comes with a plastic carrying/storage case), we sanitized it in boiling water and then gave it a run in the dishwasher.
I think it's a handy and simple product that fits great in a diaper bag, and it even can be "stood up" if you lean it against a large mug, bottle or other upright surface.
Helpful Tip
For all the items I mention below that require washing, it's crucial to bring your own dish soap. Until our most recent trip, we had always stayed in Airbnbs or hotels with kitchenettes, so there was always dish soap available. If you're staying at a hotel with no kitchen, bring your own! I had the idea of bringing along a tiny 1.5-oz. milk vial full of dish soap from home, but I just found out that you can get Babyganics foaming dish soap for travel in a TSA-approved 100ml volume! Even better.
Travel-sized Hakka hand pump
I was introduced to the Hakka hand pump when I first gave birth to our daughter. I found out later that it comes in two sizes — 4 oz. and 5 oz. I keep the larger one at home, and I keep the smaller one in our diaper bag for when we are on the road.
The small Hakka pump can be used in two ways: first, it can also be a milk catcher, and can create suction to draw out more milk on the side from which you're not feeding. It can also be used to pump, if you can get the hang of it (some women like to keep it on a nightstand to "comfort pump" in the middle of the night if they are feeling discomfort).
It's small and because it's silicone, it is slightly bendy, so it's also easy to keep in a diaper bag or suitcase.
Medela hand pump
The Medela hand pump is something I've kept at the bottom of my diaper bag for travel for a while now. While it is not squishy silicone like the Hakka, its saving grace is that it can be broken down into a bout five pieces.
I've used this hand pump on the go if my baby refuses to take one side, and the sides feel uneven. I can use the manual pump to express a bit, and then put the milk into the bottle with the yellow Medela cover, right into a fridge or the Medela insulated carrying case.
Disposable nursing pads
If you tend to have leaks, opt for disposable nursing pads that you don't have to come back home with (anything for a lighter bag on the return trip, right?).
A few of these are good to keep in a diaper bag or in your toiletries bag while traveling, especially when you have a newborn and your supply is acclimating.
Ceres Chill Breastmilk Chiller
I'm not an owner of this rather revolutionary product in the world of nursing on the go, but I found out about it recently from a friend, and had to look into this one!
The Ceres Chill Reusable Storage Container is a breastmilk cooler that keeps milk at safe temperatures for 20+ hours. It also connects to most major pumps (Medela, Evenflo and more). It's ideal for commuting, road trips and even being out at work for eight to nine hours.
It holds up to 24 ounces of milk and is dishwasher-safe and compact. Adapters are available for making it compatible with breast pump brands with which is is not a direct fit.
Medela pump wipes
These sanitizing wipes from Medela help clean a pump while you're out and away from a dishwasher.
Transporting refrigerated or frozen breastmilk
We do bottle feeding at night, so if we're going to be away for even one night at minimum, we bring that night's milk in a cooler and ice pack set when we leave the house. Recently I've been packing some refrigerated milk bottles from the fridge, along with a pack or two of frozen breastmilk from the freezer.
On our last road trip, we left home at around 9:30 am, stopped for lunch for about 90 minutes and then got to our Airbnb by 1 pm. The first thing I did was put the milk in the Medela cooler into the fridge, and like magic, the fridge milk was still cold and the frozen milk was about 95% still frozen.
Milk bags for the freezer
I have tried milk bags for the freezer from various brands, and I think the Lansinoh freezer bags are the best. They have the easiest zipper to close, and all you have to do is put the milk in and label it with a Sharpie.
Remember: breastmilk in a regular freezer is good for up to six months! I go by the CDC guidelines for breastmilk safety. That list is available here.
Refrigerator milk bottles
For milk in the fridge, I wind up using the bottles that come from my Spectra pump. These are also the bottles I'll take on a road trip in the Medela milk cooler, and they fit perfectly because they're a standard 5-oz. size.
I also have some Lansinoh storage containers, as they're for the Lansinoh bottles that my daughter takes as soon as we put the Lansinoh nipple on those. While we mostly use Comotomo bottles, I like that the Lansinoh bottles are a more standard size, so they're less bulky in a diaper bag.
Medela milk cooler with ice pack
The Medela milk cooler is also not something I knew I needed, but I am so glad that I have it for being out and about or on a trip.
With this handy travel milk cooler, we could (if we needed to) bring up to 20 oz. of fridge milk in bottles, to our destination.
Typically I have a few fridge bottles and one or two frozen milk bags in there during a travel day.
Medela mini milk storage vial
For hand pumping or saved milk from a nursing session, I keep small amounts of milk (at room temperature for up to four hours as recommended by the CDC) in these vials while on the road.
Feeding breastmilk on the go
Now that you are able to store your breastmilk during travel, what about feeding it to your baby with bottles (if not breastfeeding)? Here are a few tips from my sister, who has done this more than I have, due to exclusive pumping for four months.
A diaper bag with insluation
My sister has the Bluekiwi diaper bag, which can fit four narrow 8-oz Dr. Brown's bottles.
In the center insulated pocket, she'll fit two bottles, plus an ice pack. The side insulated pocket can fit one bottle (without an ice pack). The fourth bottle-sized pocket is not insulated.
"Breastmilk pitcher"
This is a bit of a hack and workaround: my sister bought this smoothie/water bottle to use as a "breastmilk pitcher."
When she has defrosted bags of breastmilk, she has poured them into this pitcher. Sometimes for travel, she'll bring milk in this, and put it in a lunchbox with an ice pack.
Bottle Feeding & Formula Feeding (0-12+ months)
When my sister goes out of town, she usually packs four bottles. This is a good number of bottles to cycle through while also always having a clean one.
She washes her baby's bottles in the dishwasher, and she brings a dishwasher basket (mentioned below) for the small bottle pieces. She and I both travel with a collapsible bottle drying rack, which again, helps keep things organized because there are so many bottle pieces (and pump pieces).
When Lily's baby was younger, she avoided the dishwasher, and they hand washed the bottles and used the microwave sterilization bags. If you're interested in microwave sterilizer bags, try these for times when you're away from home.
Travel formula dispenser
While Lily and her husband are on the go, they bring a Munchkin travel formula dispenser. She just mixes the pre-measured formula with water, and shakes it up.
This dispenser has an easy spout, a snap-on lid for security, and holds enough formula to make three 8-oz. bottles.
Baby bottles for travel
Every parent (and baby) certainly has preferences about which brand of bottles to use. Before our baby was born, we had noooo idea that this was even a thing!
After experimenting with various brands of bottles (NUK, Dr. Brown's, Comotomo, Spectra and Lansinoh) over her first three months, we came out with two contenders for the #1 favorite: Comotomo and Lansinoh.
My sister's baby, however, prefers Dr. Brown's bottles — the "skinny" type with the small nipple. I'll leave links for all these types below!
Comotomo
Comotomo bottles are somewhat "modern" in that they're very round (in the 5-oz. version) and have a bowl-like nipple. I like that they're squishy. Our baby also likes playing with them in the bath (ha!).
Lansinoh
Lansinoh bottles were recommended to us as bottles for breastfed babies because apparently the nipple mimics the "real thing." We've had good luck with these, and I like that the small version is not so bulky when I pack one up in the diaper bag for a trip.
Dr. Brown's "The Skinny Kind"
My mom group refers to the two models of Dr. Brown's bottles as "the fat one" (or "the wide one") and the tall/narrow version as "the skinny one." My niece specifically takes the Dr. Brown's skinny bottle, and has started feeding herself the bottle!
OXO Bottle brush travel kit & drying rack
This travel-sized drying rack was something I didn't know I needed, and it's so useful in serving as both a travel bottle brush (with a tiny bottle brush as well) and drying rack.
Check out Dan's review of the bottle brush.
Open the folding case, and there's a brush, along with a complete bottle or pump part drying rack. During our trip to Livingston Manor in the Catskills, we used this because we didn't have a dishwasher in the hotel room. It was incredibly handy and kept our baby's bottles clean for two days, making it one of the best items for surviving a hotel stay with a baby.
Portable bottle warmer
While you very well could use a hot mug of water to warm up a bottle where you're staying, the Tommee Tippee travel bottle warmer is good for on the go. It fits into a changing bag and can warm up a bottle when you're traveling.
It's a mobile bottle warmer because it doesn't require an external power source; it securely stores hot water with insulation, so that you can pop a bottle right in, whether you are camping, or in and out of a hotel.
Dishwasher basket for bottle parts
If you're staying at a friend's house, family member's house or a vacation rental house, hopefully there is a dishwasher and you can use it to wash bottle and pump parts. Having the Munchkin dishwasher basket is pretty necessary for tiny things like bottle nipples, bottle tops and small parts of a pump like the small duckbill parts.
What's great about this one is that it has two "levels," with the lower basket big enough to hold things like sippy cup parts.
Feeding solid food while traveling (6+ months)
Babies are messy eaters, and unfortunately, our daughters both cannot be trusted to eat neatly without a high chair tray! If you're up to feeding solid food while you're on a trip, check out these ideas of how you can make the experience more seamless for you and your baby.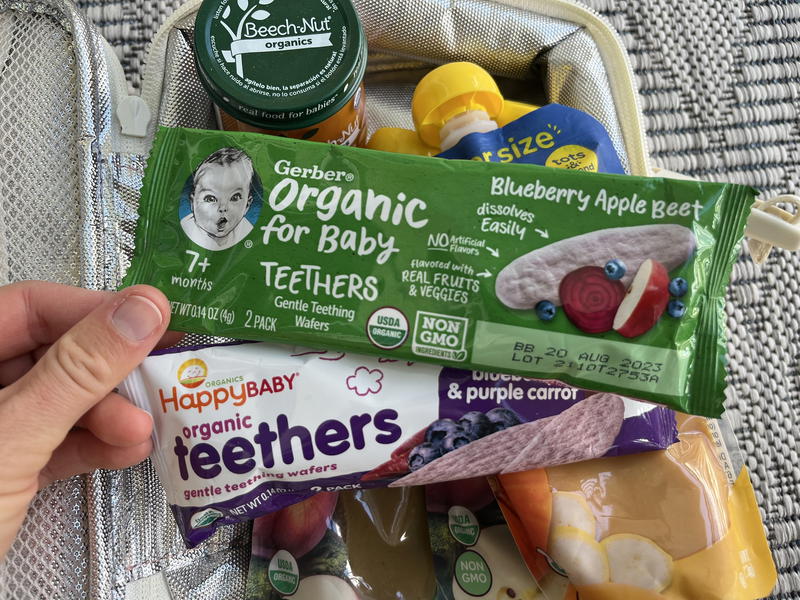 Travel-sized lunchbox
We're using this adorable travel lunchbox from the new baby & toddler product line at Quince! It's made from recycled bottles and has a mesh zipper pocket for holding toddler or child silverware, along with a clear sleeve for a name tag. Check out how our baby food fits inside.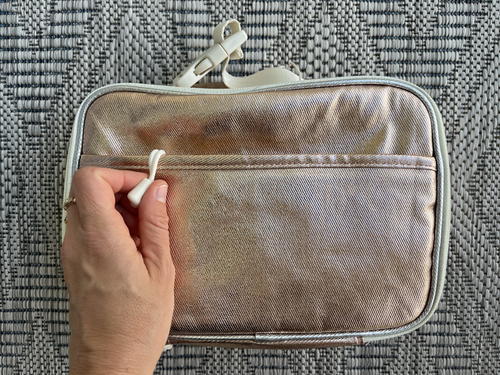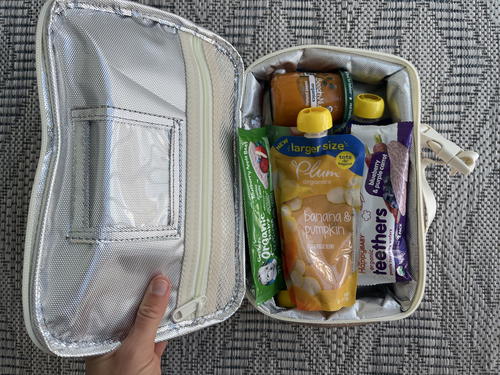 Booster seat for travel
My sister has the Chicco Pocket Snack Booster Seat, which stays at Grandma's house. It has a good-sized tray and supportive seat back. It's also totally packable for a road trip.
Canvas folding high chair
She also has the PandaEar portable canvas folding high chair that folds up into a little fabric travel bag. It's very lightweight and can go right into the backseat on a road trip, or in the trunk of a car. You can strap it to a dining chair like a booster seat.
She can throw it into the stroller basket when they are having a picnic (it can be used on the ground and stands up on its own) in the park, or when heading to a restaurant. The weight and size of it are super convenient, although my sister admits that the tray is quite small, but it does have a cup holder. However, the "flat tray" is important to her.
Travel-friendly placemat
This is a placemat that she intends to buy, to bring to restaurants during trips. It would be good because if it is sticky after the meal, you can fold it shut and it won't make the rest of your belongings sticky.
Container of puffs and cereal
My sister keeps a container for puffs/cereal in the diaper bag when traveling. She likes this leak-proof plastic container because it's small!
Also, the lid won't fall off (it's a screw lid, which is also pretty baby-proof). If you had a Ziploc bag, the cereal would get squished to crumbs.
Silicone bib
This long-sleeve bib is popular also and comes recommended by friends. It avoids having to use up an outfit change during a trip! Seems foolproof for babies eating solids, right?
Cereal puffs
Lily also buys these cereal puffs from "Happy Baby" because many Gerber products have added sugar, which is good to know.
Puffs and finger-food cereals are great starter solids for being on the go because they're not super messy. The older babies at my weekly baby/parent meetup often munch on these when they're outside of the house.
Pouches
Having a pouch of spoon-feedable baby food is going to be great for times when you're feeding purees to your child. Also, we got our own pouches for purees so that we can make our baby's favorite foods at home, put them in pouches, and take them on the go. One of these would even safely fit in our Baby Tula Compact Lite Baby Carrier for convenient travel days.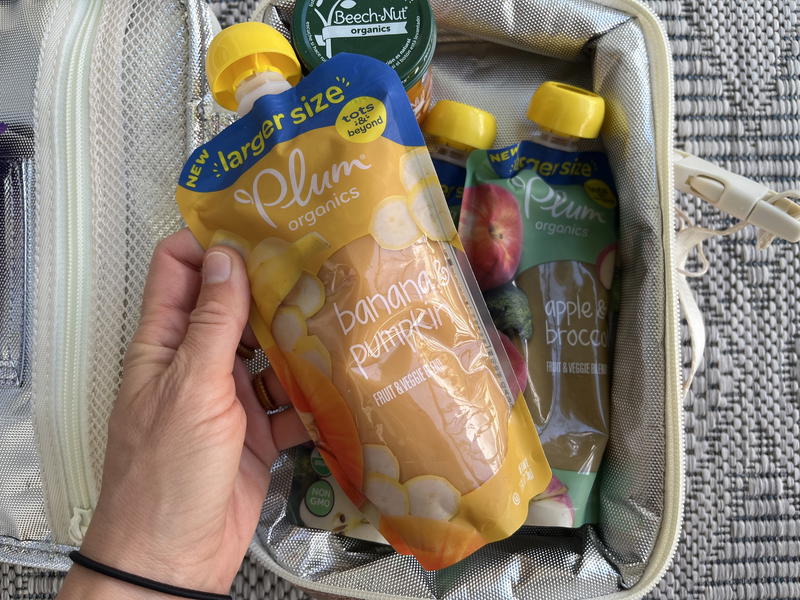 How to pack your baby's feeding essentials for travel
When you're at home, you don't necessarily think about how to make your set up mobile. Here are a few quick tips for taking your kit on the go.
On a road trip
For a road trip, like the ones we've done, we've taken our daughter's milk in the small milk bottle cooler, and any baby food like jars or pouches in a food bag with our food and snacks. If you have a baby or toddler who's eating what you eat, whlie at restaurants, that's even more convenient!
The only thing to keep in mind about the milk cooler is that if you are thinking of leaving it in the car and it's hot during summer, consider bringing it in with you into a rest stop or restaurant to keep it less hot, while the car is heating up in the sun in a parking lot.
In a personal item
On most airlines (at least in the US), your diaper bag is considered the lap infant's personal item, meaning if you and a partner are already traveling on a flight, your diaper bag "does not count" toward the personal item allowance between the two of you.
In the diaper bag, you can keep enough food to feed your baby during the flight itself, and hopefully enough to sustain the baby before the flight and after landing as well.
As a measure of security, please check with your airline regarding its allowances for diaper bags, bags of formula or milk and baby food.
In a carry-on
If your food or milk for your baby or toddler won't all fit in the diaper bag, consider splitting it up between a carry-on suitcase or backpack, as well as a checked bag. This way, if your checked bag gets lost, at least you will have some of your baby's food in the carry-on, which came on the plane with you.
In checked baggage
If you have your baby's feeding essentials (or half of them) in checked baggage (which is pretty realistic, if you are flying and going away for more than a day), consider pickin gup Apple AirTags for the trip. This way, if your luggage gets stuck during connecting flights somewhere, or even just stuck in holding at your destination, you can track the location of the bag from the Find My app on your phone.
Enjoyed our article?
Consider supporting us! We're a 2-person team (learn more about us here) and your support enables us to create quality content. Thank you!