Best Tech Organizer Bags for Your Cables and Electronics
Written by Dan
•
Updated on November 27th, 2023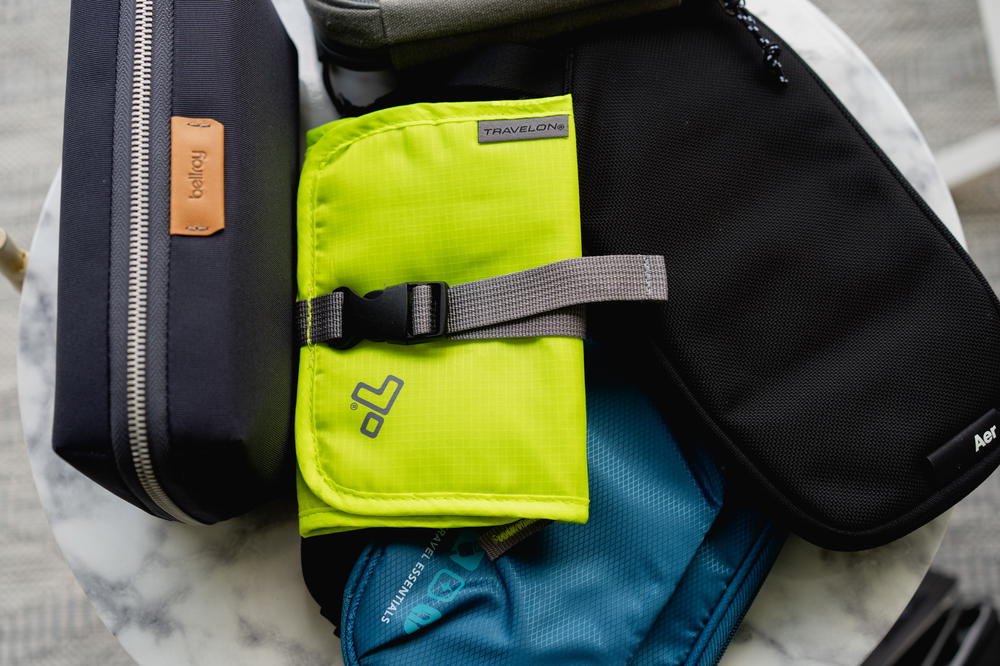 Keep all of your tech products organized by finding the perfect small pouch and bag. Let's explore some options for storing the various cords, cables and small electronics you bring with you while traveling.
This article may contain affiliate links. We earn a small commissions when you purchase via those links — and it's free for you. It's only us (Becca & Dan) working on this website, so we value your support! Read our privacy policy and learn more about us.
Table of contents
Close table of contents
If you are traveling with multiple chargeable devices, it would be a good idea to organize all of your cables in one place. This can help you easily find and navigate a charging cable or an adapter when you quickly need something.
For me, my primary use case is photography and working remotely. I'll often need to carry memory cards, small hard drives, charging cables, power adapters and more. And when I travel, I need a place to keep all of these things.
Let's check out some of my favorite choices of tech bags to keep yourself organized!
The Peak Design Tech Pouch is one of my favorite travel assets.
With the tech pouch, there are tons of sleeves and compartments that you can use to configure and organize all of your tech and cables.
I have a few lightning cables for my phone, my mouse and keyboard. I'll bundle them together and stuff them to one side of the pouch.
I'll keep some solid-state hard drives in another compartment. I have a case of camera memory cards that I keep in the tech pouch. And I'll even put my mouse in the tech pouch! Everything goes in the tech pouch.
Aside from keeping everything together in one place, this works great for your travel days. If your phone is low on battery, you know where your charging cables are without having to dig through your bag. I pack the tech pouch with the carry-on, so everything is really easily accessible.
If you're doing any type of remote work on your trip, you can bring the tech pouch with you to make sure you don't forget any important cables or dongles.
Peak Design gear fans can leverage the anchor system and attach a camera strap to this bag. The anchor system is universal to PD gear, so you can sync around all their products with the handy anchoring system.
If you're into carrying a small and organized pouch with you, this could be a great option.
The Field Pouch from Peak Design works as effectively as the tech pouch, but is a bit smaller. It features a roll-top design and is a bit more versatile. You can slide this onto your belt or use it as a small shoulder bag.
I have been using my field pouch since 2017, and it's held up great. I barely notice any major wear and tear.
The actual pouch is durable and weatherproof. The quality is great, and you can use this product in a lot of different applications during travel.
Inside, you can fit some of your smaller items, like pens, keys, small cameras or really any small valuable or important item.
I like using the field pouch for photography to keep my cleaning cloths and small parts, like tools, microphones and tripod plates organized.
The Aer Slim Pouch has a minimalist footprint, but it doesn't stop its total practicality. Inside, it offers plenty of storage for your most common tech items.
You'll have no problem putting away headphones, a small notebook, some pens and a small mouse. All together, it can hold 1.5L.
I figured out on a trip that it fits a MacBook Air charger and a MacBook Pro charger perfectly.
You have access to a high quality pouch because it's made from 1680D Cordura ballistic nylon and has YKK zippers. This basically means it will last you a long time, even if you're a little rough with it.
The Aer Split Kit has a really minimalist footprint, especially when compared to the Aer Slim Pouch.
It can only hold about 0.4L, so it's going to be the smallest tech bag on this list. Don't let the size stop you, though. It's expandable when you zipper the bottom and makes a nice sized compartment for your smaller items, like a mouse, small notebook or your charging cables.
You still have the side (or top?) compartment that's always going to be great for pens or something low profile.
And if you're looking for something a little smaller, check out the Aer Split Kit.
The Moment Tech Organizer Mini is what I think about when I want to organize my cables and chargers. It has everything you need and is affordable.
It's designed to contain your slimmer and low profile items, as the pouch itself isn't very deep, like some of the other options. That shouldn't turn you away, because it makes a perfect solution to organize your charging station. And it's designed to fit inside of the MTW Tech Organizer as well.
After you've organized your low profile items, you're ready to check out the Moment MTW Tech Organizer. The (non mini) MTW Tech Organizer has a lot of great features, like zipper compartments inside and stretch pockets. It sits upright, so it's great to have on your desk and easily pick out some of your essential items.
For Moment fans looking for a daypack or airplane personal item bag to keep their Moment tech pouch in, check out our Moment Everything Backpack review.
Bellroy makes quality products and that's why the Tech Kit originally caught my eye.
The size is optimized to take with you on any type of trip. It can be going to work every day or taking a few cords and cables with you on a longer trip. It should accommodate lots of options for you.
What's nice is that when you open it, the Tech Kit lays flat. This is perfect to allow you to quickly grab your most used items and not have them get lost in some stash pocket along the way.
You won't have to worry about any bad quality. The zippers and material are all high quality.
The Bellroy travel backpack that I have balances being lightweight and high quality at the same time.
And you may also want to check out the Desk Caddy for something a little smaller. It's available on Amazon or directly on Bellroy.
The Ghost Whale Organizer Pouches are a choose-your-own-size-adventure because they offer 4 different sizes for different applications.
All of the organizers have curved L-shaped openings which allow you to access the contents quick and effortlessly. The materials are what make all Tom Bihn products stand out, and you can expect the same from the Ghost Whale Organizers. They are made with high quality nylon and #3 YKK coil zipper.
Super mini
You can pick from the mini size, which is great to wrangle a pair of AirPods, some business cards, coins and so on.
Mini
The mini is your personal companion and can fit a mini notebook and pen.
Small
The small is what you're going to expect for a typical tech bag. You'll have the best luck putting your cables, cords and chargers in here. Additionally, you can fit travel utensils or pens.
A5
The A5 will fit a standard A5-sized notebook and pens.
Check it out
If you like being organized, any of these size options have utility in helping you stash away your goods!
And if you're looking for more of a traditional tech pouch from Tom Bihn, check out the Snake Charmer.
By now, you probably know about the company Away. They made a name for themselves breaking into the luggage game with their rolling suitcases.
We're long time fans of their luggage and backpacks. They even have a packing cube or two (see the round-up) that I've had my eyes on as well!
The tech case is going to be more like a cooler for your tech. It's taller and boxier than most of the options on this list. It's good to through something like a small camera or your bulkier charging bricks inside.
It has a few compartments and straps to keep your primary headphones and charging cable at the ready.
I was really impressed by the CIVIC Access Pouch. It is one of the more expensive items on this list. It has a few features that contribute to these prices, so let's check them out.
First, it stands up on its own when you unzip the main compartment. This is fairly unique and allows quick access to items without the hassle. It has a really neet look on the exterior.
It has a top zipper pocket, which is perfect for your stray pens, keys or any other loose items. The materials are top-notch, with weather resistant materials and quality zippers. There's a handy red key clip that comes out of the top zipper pocket, and the zipper sleeve pocket in the inside is good for loose items that lay flat.
The shape of the entire interior is nice because I can fit something like my Macbook Pro charger in there. The zipper divider is also movable, so you can change the layout based on what you pack inside. Finally, the exterior is padded, which is not a feature you see in most tech pouches.
As a bonus, you can customize the patches and zipper pulls, so this makes a great gift for travelers!
I'm a long time fan of the bags from Topo Designs. I like the utility of their Tech Case a lot.
I think the design is smart, having mindful compartments and places to put whatever you need to commute or travel with regularly.
Unlike other tech bags, it's big enough to stash away some of your larger over the ear headphones or mid-sized tech items. It has a lot of padding, so you won't have to worry about anything getting damaged in transit.
And there's plenty of internal features, like a tablet sleeve, pen loop and exterior pocket to make sure you stay really organized.
The accessory bags are also great.
If you're looking for something affordable and no frills, check out the Travelon Tech Accessory Organizer. It's going to be for any soft and flexible items. That's because the flagship feature is the ability to roll up. Rolling will help save space.
Watch my hands-on review!
Travelon also has a few other products that are very affordable and functional. Their 2-in-1 jewelry & tech organizer is good becuase you can stash things away and keep the separate.
It has a tiny little bag on one of the sides, too.
Lastly, they have a more of a standard tech organizer that you would expect. The quality is ok when compared to some of the other makers on this list. But if you're looking for something functional and medium quality, this would be great.
It opens flat and has plenty of places to put things.
The Thule Subterra is highly recommended. Thule is a top brand and stands behind their quality. And it shows with quality material and YKK zippers.
There are a few different size options that you can choose from depending on what you need to stash away.
For me, I like being able to put away my larger headphones, AirPods, all my cables, charging bricks, a Kindle and whatever else I think I might need.
For photography, needing to store stray memory cards, batteries and camera cleaning equipment are a prefect use of a tech bag like this.
If you have an IKEA near you and are craving a hotdog or meatballs, check out what your local IKEA has in the accessory bag department.
You'll typically find bulk-quality (I like IKEA items) products that are highly affordable.
The WANDRD Tech Bag is a thoughtful design and integrates well with other Wandrd bags, like the PRVKE and DUO.
And, you can use it as a sling when connecting an optional carry strap. You can likely use an existing strap. Pay close attention to the webbing loops.
There are a few sizes which are all optimized for slightly different types of items and functions. The WANDRD Tech Bag variants range from 1L to 3.5L.
What's really unique is that you can attach them all together and make some type of mega tech bag.
As another affordable low frills option, you can check out these mesh zipper pouches on Amazon.
They can store your cables, pens, low profile power bricks and anything else you want to stash away. They're good for travel because you can designate a bag for each person in your family.
You have a lot of options with a simple bag like this.
The Brevite Cable Kit offers you a stylish option to store some of your smaller items, like cables, a phone, small hard drive, a mouse, AirPods and so on.
In my opinion, you choose Brevite because of the style and color options available. The cable kit has a slightly protective outer shell, so things won't get as crushed in a pouch without any type of padding.
And for something a little smaller, you can check out the pouch that they offer.
Lastly, if you're a photographer, the photo kit is especially useful! It has room for batteries and memory cards. It fits into other bags while protecting some of your smaller and easy to lose items.
The Native Union Stow Organizer is a high quality and coated canvas tech bag. The compartments are fairly large and can fit plenty of low profile charging bricks, an Apple Pencil and whatever else you can store in the elastic loops.
The zippers are waterproof. That plus the coated canvas finish make this one of the more water-resistant bags on the market. If you think you're going to be in any wet environments, this might be a good option for you.
Why trust me?
I've been traveling for years now, and tech bags became a part of my packing around 2017. Given the fact that I usually travel with a photography backpackfor travel photos and I'm usually working remotely on the go, I have a lot of tech with me.
Tech bags have helped to keep my wires organized, as well as my memory cards, lens caps and things for working like dongles, plugs and bricks. I always make space for one of my tech pouches when I'm packing up my Peak Design travel bag.
Regarding the products themselves in this list, I have tested out as many as I could. I recommend looking at the detailed product shots I've taken above, to see the details in some of these bags like the ones from Bellroy and Aer, to name a few.
My aim is to help you narrow down the bunch so you can optimize which features will be most important for your travels. I hope this list has helped you find your next tech pouch, as there are a lot of awesome ones on the market and this list is just scratching the surface.
Enjoyed our article?
Consider supporting us! We're a 2-person team (learn more about us here) and your support enables us to create quality content. Thank you!