How to Set Up a Home Office in a Small Apartment
Written by Becca
•
Updated on September 13th, 2023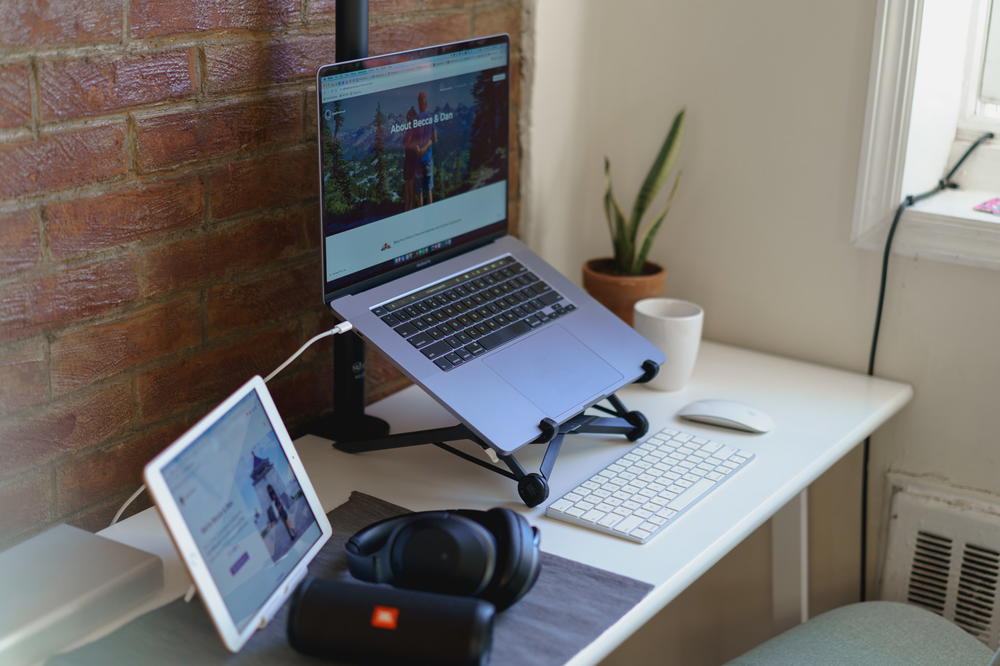 Need ideas for a small cozy home office? Here's our best tips for creating a home office in a living room, or how to make a home office in a small space, small room or small apartment.
This article may contain affiliate links. We earn a small commissions when you purchase via those links — and it's free for you. It's only us (Becca & Dan) working on this website, so we value your support! Read our privacy policy and learn more about us.
If you roll out of bed, start checking your emails in pajamas and take your first meeting as you remember you're not wearing pants, then yup, you're still working from home.
Got that work from home schedule all worked out? Is your home office a place you enjoy sitting from 9 to 5, and then again from 9 to 10 pm? (not a joke)
You're probably still learning how to set up a home office, or at least, a peaceful and inspiring place in your home where you can work.
Whether you have a new remote job, a job that 'went remote' or are looking for a remote job, you're at the right place!
Your home office should be more than a spot on the couch where your WiFi is strong. Maybe you're going to try to emulate coworking space vibes or simply try to forget you're working in your studio apartment with your plants, or with your significant other.
A home office should be conducive to getting work done and should be a place where you feel inspired, focused and motivated.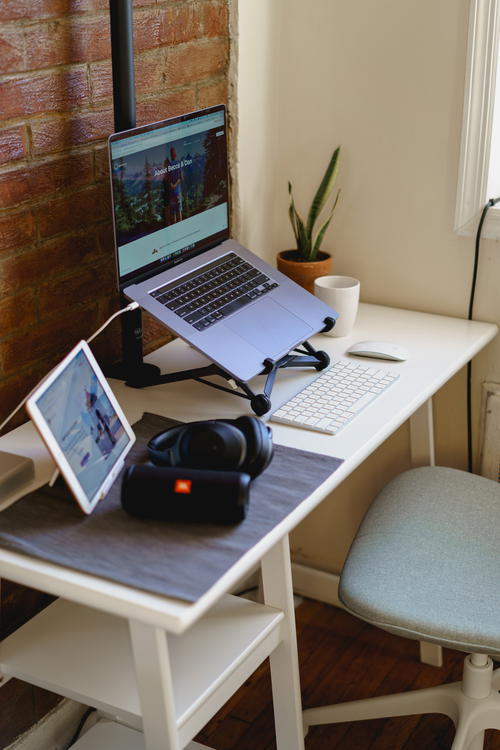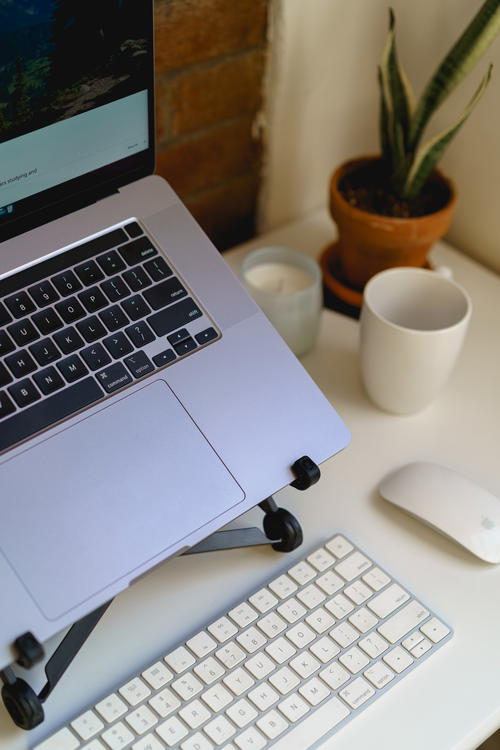 This is much easier said than done, as you may have never in a thousand years pictured that you may need to set up a desk in your living room, or carve out a corner of your bedroom to be a workspace, in order to work from home productively.
Work is changing all the time, as are what companies need and what companies want.
What you need and what you want is also changing all the time as well, which is why adapting is such a great skill. During your continued transition of making your home office better and better, you can avoid one of the most common mistakes when starting to work from home by choosing to actively set up your home office space.
I never in a million years saw myself as the type of person who'd wind up working from home permanently.
I started working remotely while traveling, and it was a bit different because I hardly had to set anything up.
I worked from coworking spaces around the world, and got my first taste of learning that you need a conducive working environment the first time I took a company meeting from the bedroom of an Airbnb in Porto, Portugal only to find out that the WiFi didn't completely reach my location.
These days, I have ditched my former 4 pm spot on the couch (I call it my 'weekend office'), and I work from a designated desk in our apartment that I've given proper workspiration elements.
I make sure to follow all the rules of sharing an office space with my partner, Dan, when we're working from home at the same time.
How hard is it to set up a home office, especially in an apartment?
That probably depends on who you ask. For anyone who has a vision for this, the answer is, "easy."
If you reside in one bedroom of a four-bedroom Manhattan or San Francisco apartment and live with a revolving door of roommates, the answer might be: "a dab more challenging."
So, how can you set up a home office that's both comfortable and conducive to a productive schedule?
The key is in your products and your home office setup.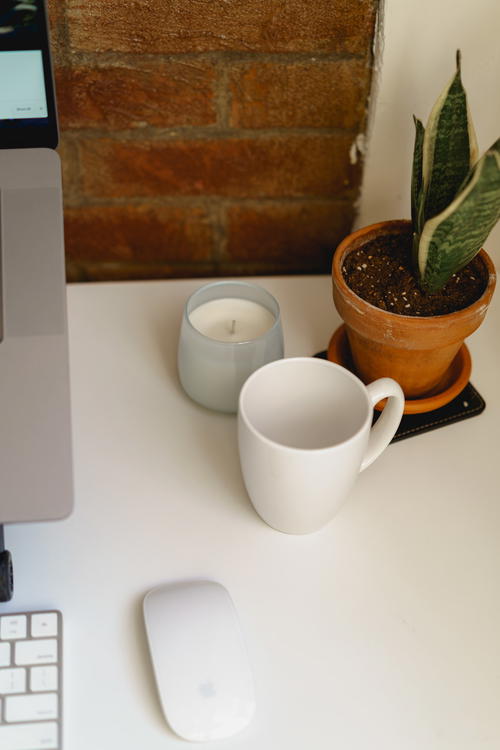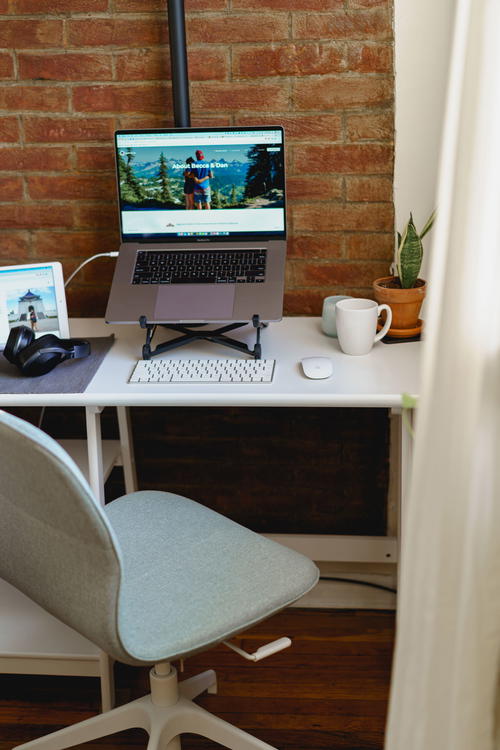 Our favorite products for setting up a small home office
If you think you can sit down at your dining room table with your laptop and charger and you'll be ready to go, you could be doing yourself a favor by working remotely from home in a much more comfortable way.
As a home office should be a place where you feel both focused and motivated, consider that a few more handy items make the journey much more comfortable.
Get a laptop stand to create a work setup you're used to
More recently, we've added dedicated laptop stands for both of our desks. I have the Curve by Twelve South and Dan uses this stand from Rain Design.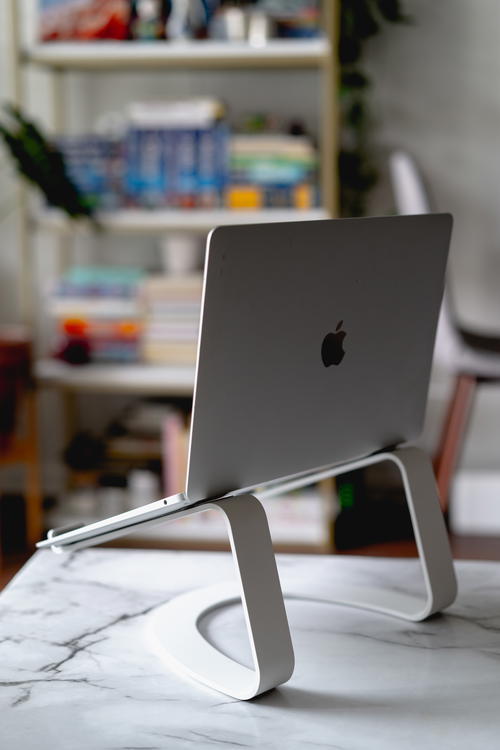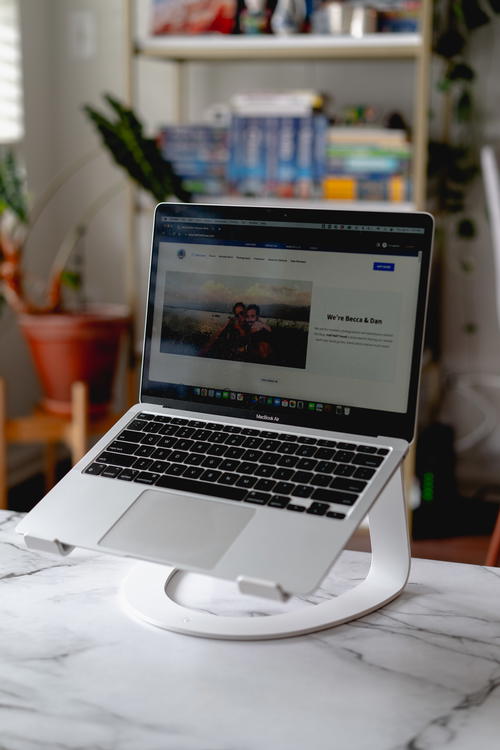 Because we do a lot of travel, we like the adjustable and portable Roost Laptop Stand as our work-from-home favorite. It's fully collapsible, has a universal fit for all MacBook and PC models and finally, can give you a 'lift' between 6 and 12 inches.
We have a review of the Roost if you'd like to get even more information.
For times when we want to work remotely while traveling, we fold up our laptop stands and put them right into our luggage.
A less expensive alternative to the Roost Laptop Stand is the Nexstand. I've used this one as well, and it's definitely lightweight and affordable for a laptop stand. The downside is that it's less sturdy than the Roost.
This laptop stand is great for people who don't want to crane their neck too far down or up, depending on the height of the surface at which you're set up. We think it's a great choice for working remotely from home.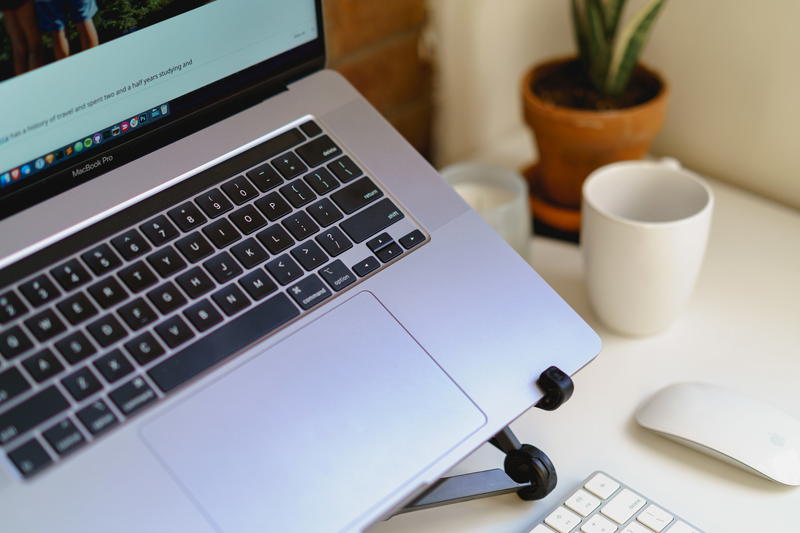 Find a wireless mouse you actually want to use
Personally, I'm a fan of wireless mice.
I traveled for four months with Remote Year, and during this time of moving from city to city as a digital nomad remote worker, a travel-size wireless mouse was part of my remote work tool kit, so to speak.
For working from home, we recommend the Logitech MX Master Wireless Mouse.
This one's not as travel-sized as my small palm-sized Logitech mouse, but it's good to have at home where you don't have to move around constantly like during travel.
We also recommend Apple's Magic Mouse or Magic Trackpad because it's sleek, attractive and will match your Mac setup.
Helpful Tip
If you want to use the MX Master with two computers, use a USB Unifying Receiver with a USB hub. The mouse will work with both computers with no Bluetooth required. Dan uses this method to use the same mouse with both of his laptops.
The Logitech MX Master Wireless Mouse has a comfortable contoured shape for your hand so that you don't get cramps and avoid carpal tunnel syndrome. (*We are not doctors, and this is our consumer hunch only!)
It also has a speed-adaptive scroll wheel and a unique thumb wheel in its build. Lastly, you can use it for cross-computer control, navigating on up to three monitors.
Buy a wireless keyboard that makes typing feel great
We like the Apple Magic Keyboard.
It's great for us when we travel and it's convenient for our home office. We can easily stash it away when we're not using it. It's a Bluetooth rechargeable keyboard and it lets you type quietly. It's a lot like a laptop keyboard in that it takes up hardly any space.
Dan alternates between the one above and the Anne Pro 2 keyboard, which has up to four weeks of wireless usage and has 'tall keys,' which is good for you if that's your preference.
He usually leaves it plugged in, though. The Anne Pro 2 is great because it's highly customizable. It's perfect for storing away when you're not using it, or bringing it back and forth to an office.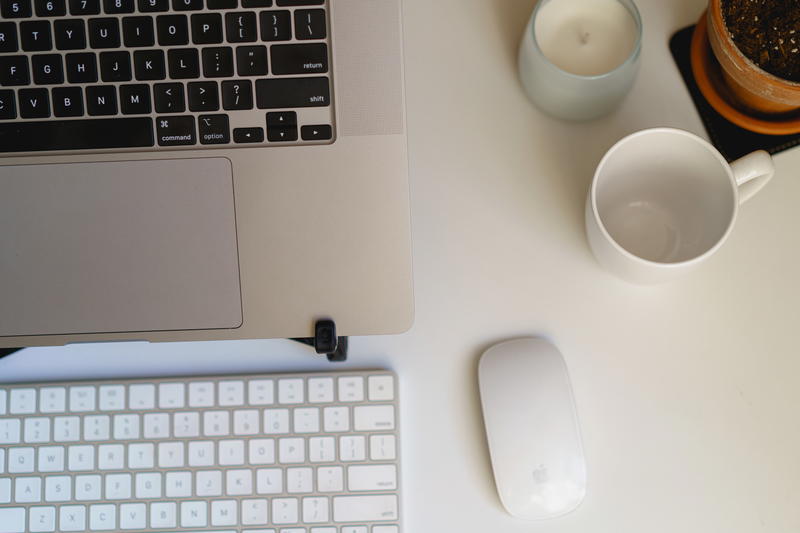 Pick a desk or writing table that's an appropriate height for you
We mentioned in our article about how to start working from home that your designated office room or area will determine how big of a desk you can get.
If you're not happy with your kitchen counter or dining room table as your home office desk (and you most certainly should not be!), check out a writing table like this minimalist white work desk.
We got a similar one recently. Right now, I'm using a cute desk like this white and wood minimalist laptop desk. It was important to me, when choosing a desk for my home office, to have a desk with drawers. This sleek home office desk is also a great choice if you'd like something trendy and attractive for your bedroom, living room, den or dedicated office space at home.
If you're sold on working from bed, at least do yourself a favor and invest in a laptop table for working from bed!
Choose an ergonomic chair that won't give you back pain
The amount of space you have, and the desk or table you're using, will determine what kind of chair you can get.
For a chair with wheels, we like something like this ergonomic desk chair and if you're feeling more wild and want to lose the wheels, we considered getting this patterned chair for home office use.
If you have the budget and are looking to make an investment, consider a Herman Miller. It's one of the best chairs that you can buy, but it's very expensive.
One interesting quirk with our apartment is that we have uneven floors. Luckily, we figured out a way to stop our chair from rolling on the uneven floors!
Make sure that your chair:
Is the right size for you (if you're very tall, or short, for example, then do some research)
Is padded, rather than plastic or wood, for comfort during an entire workday
Has wheels, if you're used to this from your 'real office'
Fits with your room aesthetic so that your home office design makes you happy
Fits under the desk surface when it's pushed in, or else it may cause space issues (we had a mishap with this one)
Our friend Sara studied ergonomics, and has some additional tips to add about your home office chair.
Keep your legs at a 90-degree angle.
Lumbar support (spine alignment) is the most important thing to keep in mind. Your back shouldn't be twisted or feel uneven.
You need ergonomic arm rests; even if you're using a laptop, stack up some books to bring the laptop to eye level (or use the Roost).
Order noise-canceling headphones to block out noise and focus
Dan uses his Sony Bluetooth wireless noise-canceling headphones to take meetings while working at home, in order to keep distractions for me to a minimum. So thoughtful! He loves these headphones to get into a deep work focus.
When we're on the road, those headphones are one of his favorite travel things to pack because they drown out noise when we're on a plane, train or bus. Crucial.
When we're working from home as a couple, Dan will use his noise-canceling headphones to block out my voice, if I'm the one on a phone call. Headphones will also help to minimize echoes in your home office.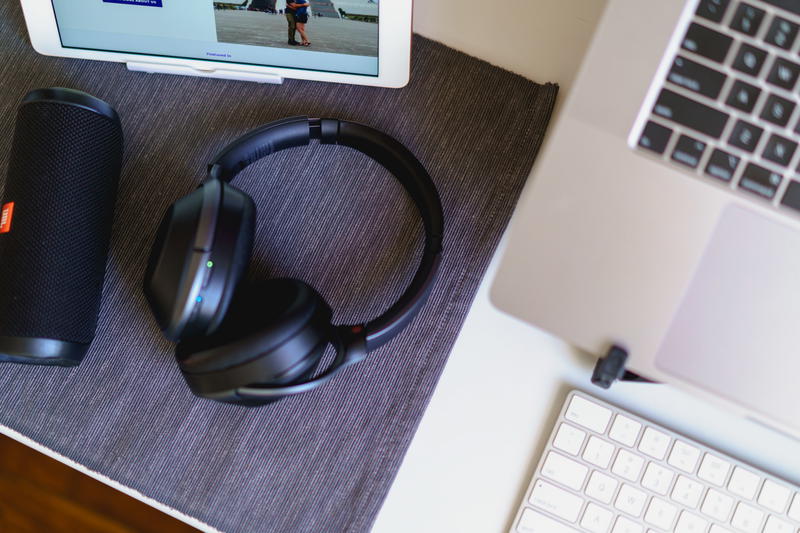 Opt for a second monitor or iPad
Dan found a way to start using an iPad as a second monitor so that he can work from home with a two-monitor set-up.
Having two monitors may be something you're used to at work. It may be a set-up that you need to recreate at home in order to feel efficient.
Set up your iPad monitor with this small and simple iPad holder that barely takes up any space. It's also travel-sized.
If you use an iPad as a second monitor, guess what: you can use it as an iPad later, or within the same day! After Dan's work is done, we "watch TV" on the iPad (but really, we're watching YouTube cooking shows).
Looking for a whole guide about ways to prop up an iPad while using it as a second monitor? We wrote a whole guide to help you find the best tablet stand for your desk.
Treat yourself to a strong mini Bluetooth speaker
Our pick is the JBL FLIP Portable Bluetooth Speaker and we like it because it charges quickly and it's small enough to sit on a table, ottoman or counter-top. We found that it has some of the best audio quality and deep bass from other speakers that we've tried in the past.
It has sound that fills our apartment, so when we're working from home (or entertaining friends), we put on some jazz or salsa (have you ever tried 'working to salsa'? It's the best) and it sounds great.
Update: we just upgraded, and now we have the JBL Flip Bluetooth speaker. It's a dab bigger than the Flip 3, and comes with a cool carrying cord.
Consider a place mat or laptop case to keep your laptop from sliding
We use a few gray place mats, which are durable and perfect to use as surface cover in an office. They also double as our eating placemats!
I also tend to use a laptop case as a soft base for my laptop. This felt laptop sleeve we recommend is compatible for 13" MacBook and PC laptops, like my Dell XPS 13. It's made of felt, so it's soft and the gray color matches mostly anything.
When it's not being used on a table, I use this case for transporting my laptop to cafes or other places that I am working from.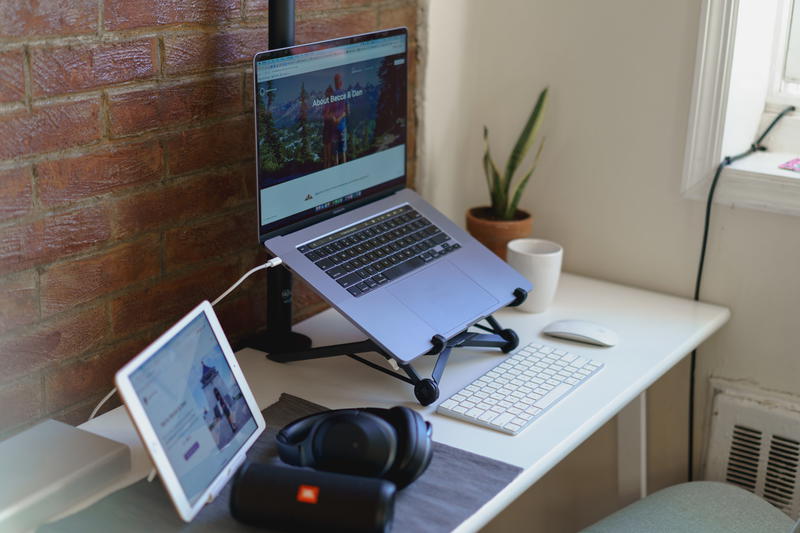 Bonus things for a home office when working from home
While these items are not as crucial as the ones above (which are more like hardware), the secondary items below are based on preference, taste and how you function as someone who now works from home.
Your coffee apparatus of choice
Whether it's a traditional coffee maker, a Chemex, V60 ceramic pour-over or a French Press, you'll want to have a coffee-making device that suits you.
An array of teas in your cabinet
Pretend your home office is a coworking space, and have a set of teas to choose from in your cabinet.
We like Yogi teas, which come in an array of delicious unique flavors.
A cute succulent or plant in your space
Having a living being (plants are alive!) in your space reminds you that an office doesn't have to be stale.
If your home office is a guest bedroom that hasn't been decorated yet, or a small room with a narrow window, having a plant nearby will clear your head.
Try a cute and green succulent family to add to your office space.
A SodaStream for seltzer all day long
Dan will tell you that he can't function without his SodaStream Sparkling Water Maker, because it's how he stays hydrated throughout the work day when working from home.
Consider that every time you use your SodaStream and make a liter of seltzer, you're saving a plastic bottle! It's one of our favorite ways to lead a sustainable lifestyle.
A mug that you love
We have a few simple minimalist white mugs that we like, as they all came from a set. We also have a few wildcard mugs like a massive one from my parents' house, and a vintage ZABAR's mug that's pretty cool.
Make sure your mug is one that you like looking at and one that's big enough to hold a cup of coffee or tea to last you through a whole meeting.
Helpful Tip
Avoid using disposable cups or goods in your home office. It'll make you feel wasteful and less comfortable than using a ceramic mug or glass mason jar. Using reusable and durable goods is a way we like to form sustainable habits during travel and while at home.
Extension cords that don't tangle
It probably goes without saying what these do for you, but if you're taking up real estate in a new part of your house or a new space in your living room, making sure that your laptop charger and all your ports are connected is a big plus.
A desk-riser for creating a standing desk setup
What's a desk-riser? Well, it's a great alternative to a standing desk, because you can use it with a regular desk.
We recommend this adjustable desk-riser, which is affordable and will fit your laptop or an external monitor with a keyboard, very comfortably.
You can even get mini desk risers just for a laptop if you don't work with any external monitors.
Helpful Tip
Why work while standing? Well, working while standing allows you to stretch your back and not get locked into a single sitting posture. You can even do stretching while you're in a phone call, or squats!
Soft lighting options like lamps
Maybe you like working under fluorescent lights, but… we don't.
By default, we set our home vibe with soft lamps, and we have three in our living room alone.
Depending on how much floor space you have, you might opt for a floor lamp, and depending on how many shelf surfaces you have, you might want a lamp that sits on a surface with no tube.
Helpful Tip
We like minimalist lamps that don't distract from the workspace itself. Check out this simple and chic metal desk lamp.
Curtains or blinds for shading your space
Maybe you've never sat at your dining room table for an 8- or 9-hour work day and maybe you never noticed that at 3 pm, the sun shines through so brightly that you need sunglasses to look at your email.
Consider getting curtains or blinds, if your windows are lacking. While this can be overwhelming, because it basically brings you back to the days you moved in and had all these decisions to make, something white and simple will do the trick.
We had these white floor-length curtains for two years and they worked great at that 3 pm sunshine hour.
A small candle or two for cozy vibes
Guess what — you work from home, so you call the shots!
If the sun is setting early at 4 pm during winter (I see you, New Yorkers and New Englanders, and all of Canada), light a small candle near your desk (away from your mouse area) and feel the warm vibes come into your workspace.
For a while, and until I burned through it, I was using a vanilla soy wax candle that smelled fantastic.
A yoga mat near your workspace
We mention in our work from home schedule article that having a yoga mat near your work area is inviting, and will give you the idea to do some stretching in between meetings. This is a way to keep your health in check, as a remote worker.
We recommend the ultralight mat by YOGO because it's made from vegan plant-based materials and looks great in your home. This is my go-to yoga mat that I love putting down for a full-body stretch before and after the workday at home.
Helpful Tip
See more easy at-home fitness ideas and tips in our guide for staying active and healthy when you work from home. The opportunities for staying healthy start here!
A compact fan for circulation
If you work so hard that you get overheated (people in my office surely used to seem overheated all the time, even in winter), you might need a short fan or tower fan to keep air flowing and keep your focus in line.
We have a Honeywell TurboForce fan, and it's strong enough to cool down our space if we need some air circulation. It measures about 10.9" tall.
If you're looking for a tower fan for your home office, let us recommend this AmazonBasics tower fan, which Dan keeps next to his desk.
A notepad and pen for taking notes
If you like to write out handwritten to-do lists, or if you typically receive calls during the day and like to jot down notes in a scribble, have a notepad nearby. It doesn't have to be big or cumbersome, but a small notebook will do.
And, as we'll describe below, make sure it matches your vibe, so that you like having it there and feel that it fits in. This helps ease the mind, when everything matches and fits together.
Remember: your home office is a part of your home, which is a place to live, and also, a place to work.
Ideas for a productive home office in your apartment
If you want to know how to set up a home office in your small NYC or city apartment, consider it a challenge accepted. In an apartment of 580 square feet, or less, or more, if you're lucky, you're not going to grab an entire guest-bedroom-worth of space.
Here's what we've done with our home office, in order to maximize space and use our living room efficiently as a work-from-home workspace.
Choose a space that gets the least amount of distraction
Here's where it gets tricky: if you have roommates, consider that the living room is considered a communal space, and talk with your roommates before deeming it the best spot to conduct your work.
Helpful Tip
Whether you live alone or with a partner, I recommend opting for your home office space to be in your living room. Carve out a section and designate it the workspace.
This could be a specific side of your dining table, kitchen counter or a corner of the room that is saying, "Pick me! A small writing table fits here!"
In all three of our apartments in Brooklyn, we've now created three different home office spaces.
In our Brooklyn Heights apartment, Dan chose a sleek bamboo full-sized desk, and we arranged the rest of the living room furniture based on his need for a desk area with a fun patterned rolly desk chair.
In our second apartment, we had a home office desk like this white wooden minimalist writing table we mentioned above.
Before we moved, Dan was using a sturdy home office standing desk, and Dan also started using the FlexiSpot Soutien desk chair. The duo worked like a pretty good match, in the corner of the living room farthest from the bedroom and kitchen.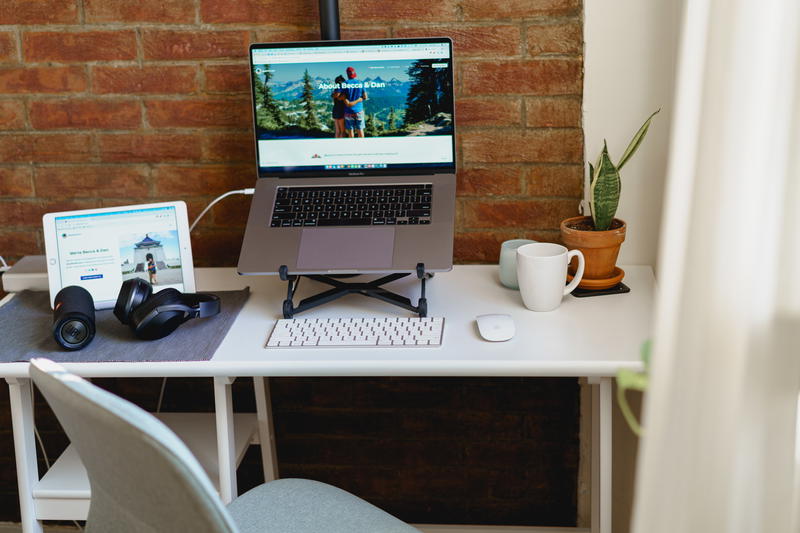 In our current apartment in yet another neighborhood of Brooklyn, I use the bedroom as my designated office space with a two-drawer desk and a Steelcase desk chair that has wheels. Check it out on Amazon or Customize it on Steelcase.com.
Consider if you like to work in natural light
In considering where to make a workspace, we considered the natural light for both rooms in the apartment.
If you thrive off natural light, take this into account when picking your home office space. If you have some choices, think about where the light hits your windows during the daytime, specifically. Also consider the placement of your desk: will you appear "back-lit" during meetings if you have sun behind you? These are good questions to think about so that you can avoid having to shift your position during meetings.
Set up your computer to face a wall
This might sound boring, but it actually may make you feel more like you have less of your home to look at.
For me, when I look at my kitchen, I think about how I could do a few of the dishes or put away the ones drying, and when I look at the bookshelves in the living room, I start thinking about how I really should rearrange the books in alphabetical order!
The solution? Face a wall. It'll help you stay focused and on task.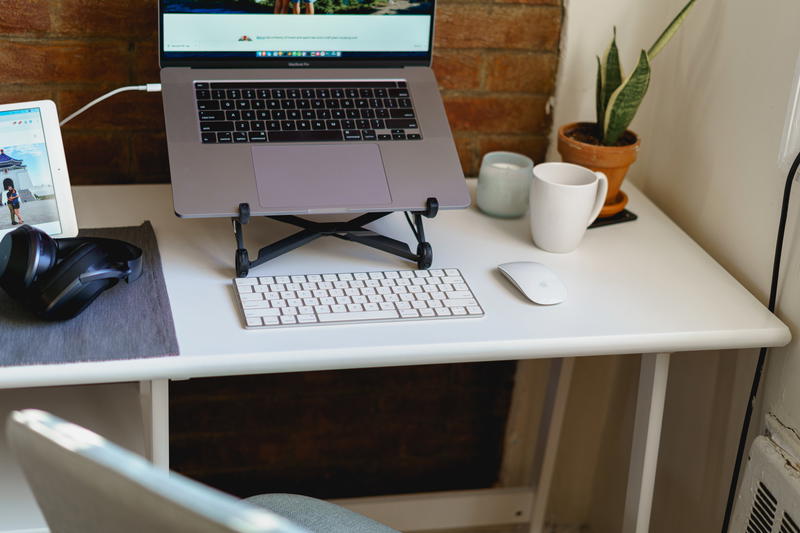 How to have a minimalist vibe in your home office
This is simple. Avoid having lots of things.
In reality, getting rid of things is hard, so a good fix is to get a desk with some drawers. Keep the surface of the desk clean, and keep your accessories in the drawers.
Pick one cup to drink from
Pick a water cup, and a coffee or teacup. Use each for its intended purpose, and put your coffee mug or teacup away when you're done sipping.
Avoid busy artwork or distracting photography for your decor
It's no wonder the 'minimalist vibe' is an actual vibe. If you are looking for ways to decorate your home office space, choose something simple, like art with shapes, or photography of scenery.
Helpful Tip
Oh hey, we know a photographer with some great scenery shots. Have you seen our photo galleries?
Put away the magazines, books and other distractions
Think about what you have on your desk in your office. My desk in my office in Midtown Manhattan used to pile up with papers of all sorts: mail, contracts, brochures, promos, postcards, you name it.
I also would pin every single photo I took in a photo booth at a work event onto the thumbtack-able pushpin half-wall behind my monitors. Distracting!
Your decor for your home office should be (in my opinion) a piece of art you like, so that you don't have a blank wall, a plant and perhaps one photo of friends or family. Currently, I keep a set of photo prints in a small wooden stand. I can cycle through the photos so that I feel like I am always looking at something fresh.
If you make your home office too comfortable, you might never leave (kidding).
The key is to make sure that your home office space is for work, and your bedroom and living room are places where you want to live.
Conclusion
We hope this article was truly helpful in describing what we feel are the most important aspects of designing a home office in a small apartment.
Helpful Tip
Once you're home office has been established, you may find yourself wanting even more home office improvements to make your workspace a truly inspiring place. Luckily, our guide has some tips for you!
As we said, whether you live alone or have more roommates than you can count, or if you live with a family member, a spouse or your children, there is a way to find peace, quite and focus when you carve out a space to call your own.
Best of luck in setting up a home office in your apartment!
Enjoyed our article?
Consider supporting us! We're a 2-person team (learn more about us here) and your support enables us to create quality content. Thank you!