20 Quick Home Office Improvements You Can Do Today
Written by Dan
•
Updated on September 14th, 2023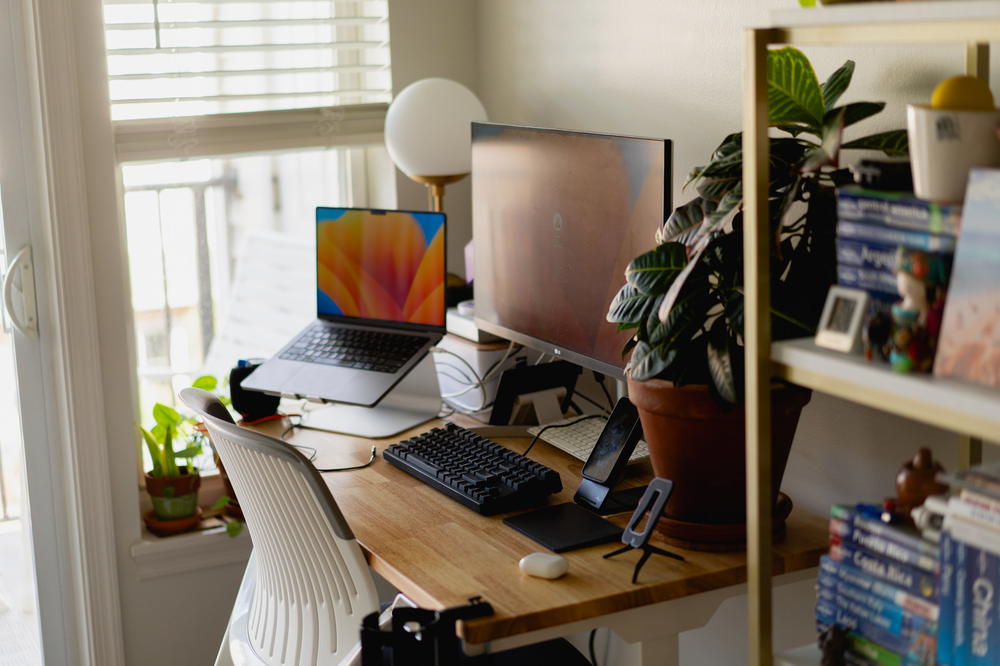 How can you improve and update your home office setup? Check out our newest ideas for office improvements you can make when you work from home.
This article may contain affiliate links. We earn a small commissions when you purchase via those links — and it's free for you. It's only us (Becca & Dan) working on this website, so we value your support! Read our privacy policy and learn more about us.
Table of contents
Close table of contents
As I've been working from home since 2016, I've been in a lot of different home office, coworking and office settings. Throughout the years, I've always had some type of flexibility in which I can work from home.
These days, I am fully remote at my full-time job, and having a dedicated, clean and efficient space where I can get my work done is important for my mental health and productivity.
And as a quick side note, in 2011, I used to drive an hour each way to and from work for three years! I'm 100% all-in with the benefits of remote work, like saving time with commuting.
Let's get right into the list of how you can improve your home office right now.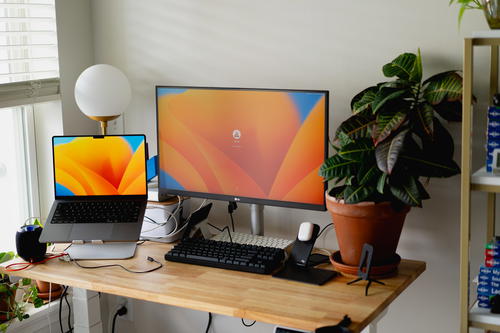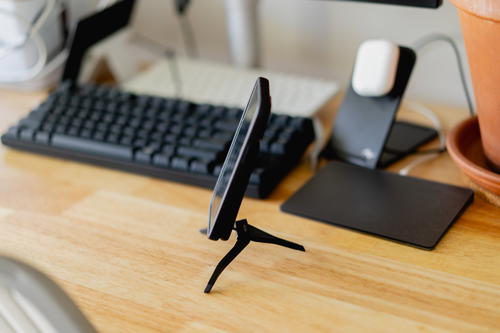 Get a laptop stand
If you're using a laptop, you might not notice that you're constantly looking down and probably hunched over a little bit. A laptop stand is one of the quickest ways to improve your posture when sitting at a desk, and it's essential for the perfect work-from-home setup.
When I was traveling and working remotely, I would use the Roost laptop stand, because it is small, lightweight and easy to take with me if I needed to go to an office or coworking space a few times per month.
My desk currently has the Rain Design mStand because I like the way it looks, and it's a good place to quickly dock my laptop. It also helps to keep it higher on my desk.
Becca has the Twelve South Curve on her desk and it has a much smaller footprint. To get a closer look, I review it in this video.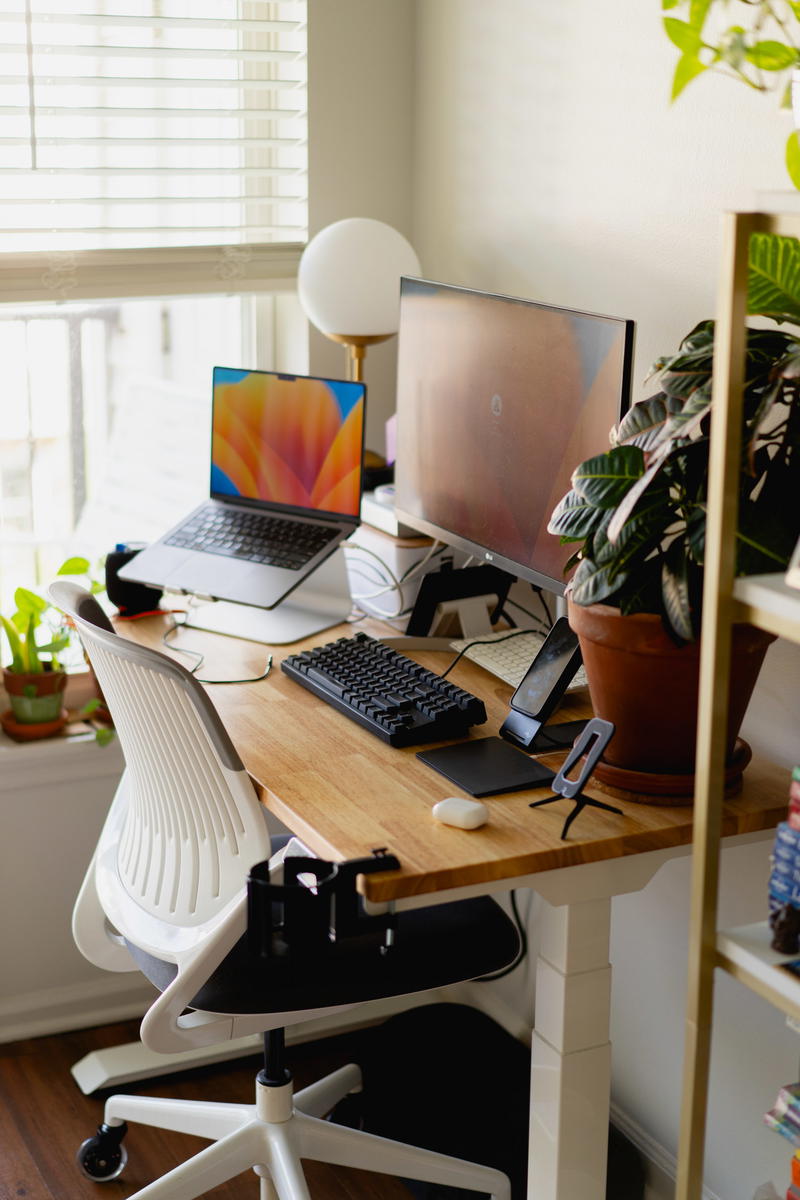 Get a monitor riser
If you're using a monitor, and especially a monitor that might not adjust, a dedicated riser is such a good idea. My current desk does not have one, and I wish I had one. I'm in the market for one, so keep an eye on this post for an update!
I think a monitor riser is a great idea because:
It allows you to store things under your monitor.
It gets it a little higher off your desk and brings it to be more level with your eyes.
It looks cleaner and more minimalist.
You can store other things on it and it might allow for more organization opportunities.
My primary reason for wanting a monitor riser is because my monitor stand has a curved design. I can't push my keyboard far enough back. And where the keyboard and monitor stand meet, it's not the nicest to look at. Therefore, I can't store anything in that area.
The Ugmonk Gather is going to be my upgraded pick for this system. You get the monitor riser and other integrated products that nicely fit. You get excellent quality and thoughtful design. Also, buying one will support a small business.
If you're looking for a different option, consider the:
Dust your desk regularly
I hadn't realized this until I took some detail photos of my desk, but — oh wow, do I ever need to dust! I will absolutely start dusting on a regular basis.
I know that for me, a clean desk helps with my peace of mind, in knowing that I don't need to do anything other than work.
Now that I know that I have a ton of dust on my desk (you'll see this from the photos 😬), it's all that I can think about. So, I will 100% clean everything now.
Replace your office chair wheels
I replaced my wheels with rollerblade castors and I am 100% sold on doing this to every office chair that I get in the future. There are so many benefits for this choice, and I love telling people about it when they come over and see my home office.
For starters, I have an edge where the hardwood floor meets a carpet. Other desk chairs struggle to climb over that gap. The rollerblade wheels have no problem doing it, and it makes moving around on the chair much easier.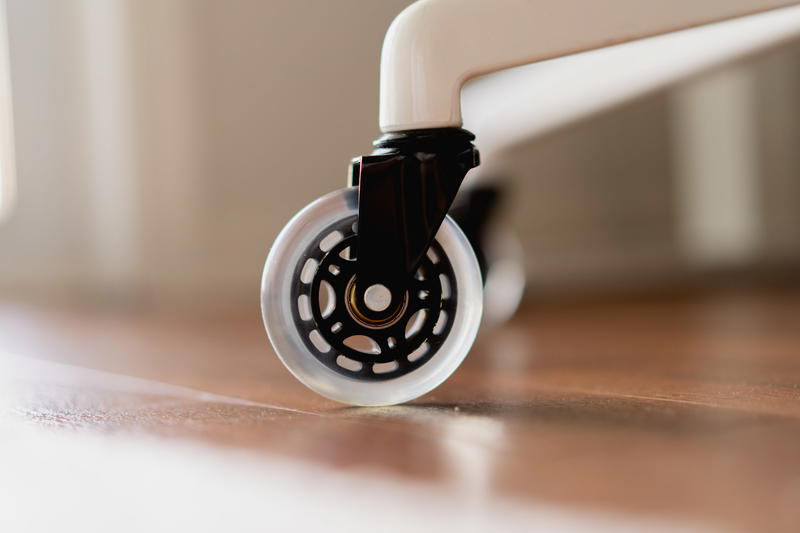 You can glide much better with these wheels. Because they spin using a ball bearing, I roll more easily in my chair than with other wheels that are more or less plastic against plastic.
These wheels won't scratch your floor. The ones that I have are made from a hard polyurethane, and not plastic. The floors in my apartment are rather thin(?), meaning they scratch easily. Cheap chair wheels might scratch my floor over extended use.
I know this because my barstools scratched my floor after a few months of use.
Lastly, if you have neighbors below you, rollerblade wheels will make your chair a little quieter. The wheels "glide" instead of pushing, if that makes sense. In my mind, standard chair wheels have a habit of getting stuck.
When you have a stuck wheel, and you move, the slacker wheel will push and not roll. The pushing motion might cause unwanted noise for you and your neighbor below if you have a home office in an apartment.
Get a walking pad
One trend that is top on my list if my home office ever had more space would be to add a walking pad. A walking pad, or under-the-desk treadmill, is a cool option to help you stay active while working at home.
When you work from home, it's easy to fall into the trap of getting up only a few times during the day.
Being active and walking while doing small tasks, like emails or listening in on a meeting, can boost your daily step count.
I know that I am 100% guilty of waking up, getting breakfast, starting to work and barely getting up throughout the day. I try to go to the gym to run every day, but on days when I don't, and especially in the winter, I barely move! It's really bad!
Clean up your wires
Something that you can do to make your desk feel more tidy is clean up your wires. Cable management is a really hard problem to solve if you have as many things on your desk as I do.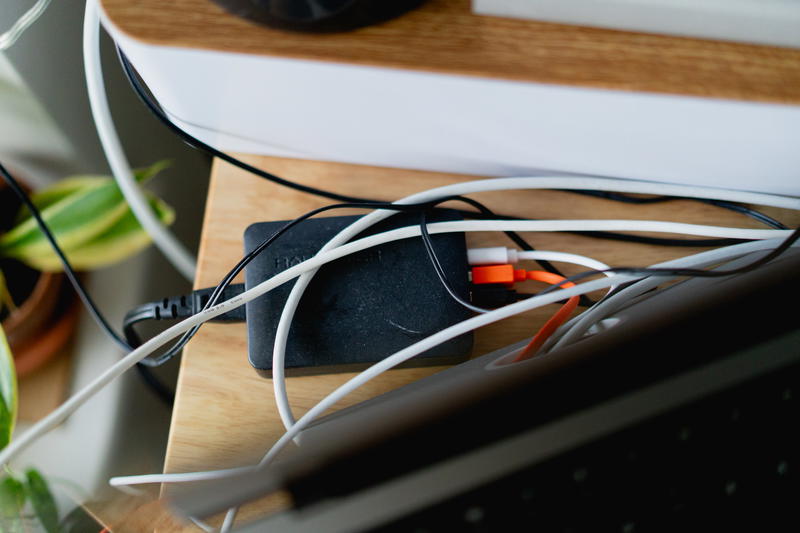 Hiding your wires
Looking around, I have a phone charger, a device where I can charge other things (like a bluetooth speaker), an external hard drive, a lamp, cables for my standing desk, an additional charger for my MacBook and probably a few other things that I forgot.
All of these cables can start to pile up into huge nest if I don't manage it properly. One easy thing that I did is that I got a cable management box. I have a power strip in there, where everything is plugged in. I feed the wires out of the box, and it helps my desk stay tidy.
Without it, I don't even want to think how messy it would look. Having my wires tamed and having a desk free of excess is ultimately an important productivity hack for working from home.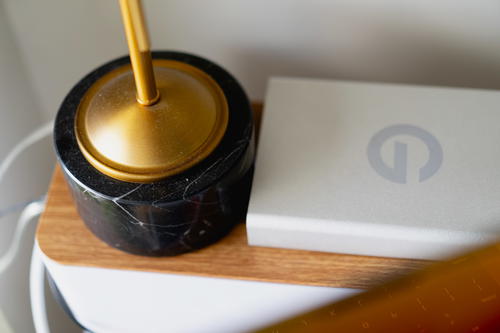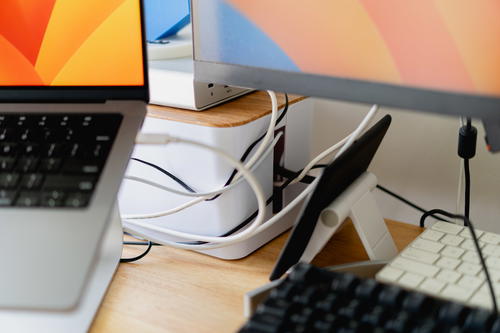 Wrangling your wires
Another quick win to improve how your home office looks on the whole is getting something like these cable clips.
I have a standing desk and the wire used to hang under the desk. It would hit my legs when I would scoot too far under my desk. I stuck one of those clips under my desk, and it helps secure the wire close to the frame.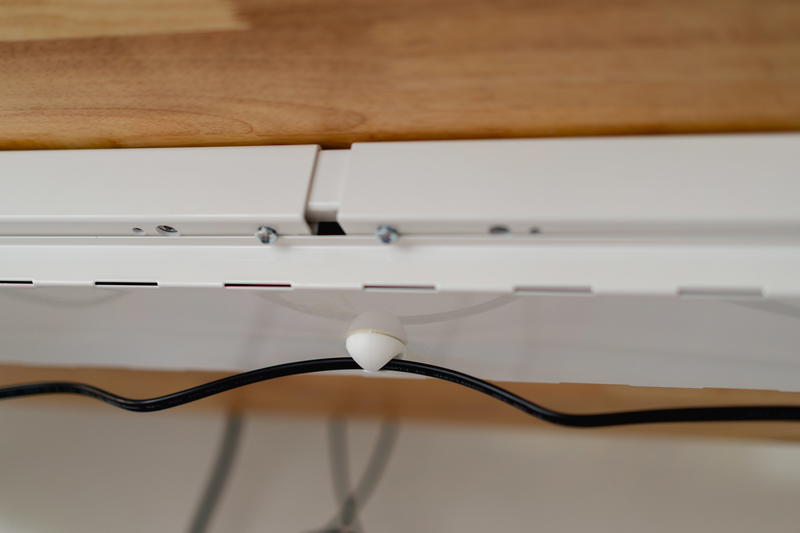 I really should get more of these because they can help create some order to a lot of loose wires. I mentioned that I have a device that charges the electronic things on my desk. The byproduct of that is that there are a lot of charging wires without being attached to anything.
A few of those cable clips will help keep some order to those cables, instead of them hanging off the corner of my desk.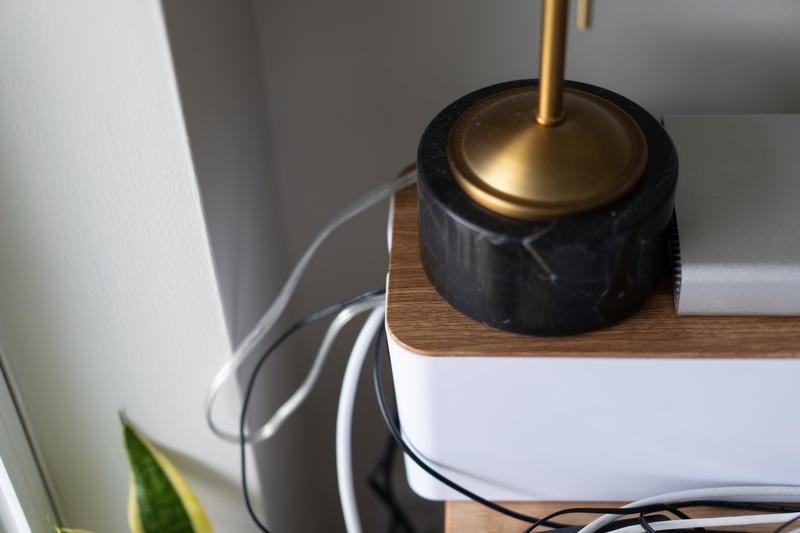 Get a standing desk
If you're sitting all day, a standing desk can really help boost your productivity while spending a lot of time working in your home office.
I mentioned in this article how a walking pad could be an effective use of your time. You can only do that with a standing desk or a desk riser.
I've had a standing desk for a really long time and the benefits are nice. Not only can you stand, which can help break up the work day, but you can also make micro-adjustments to the desk height.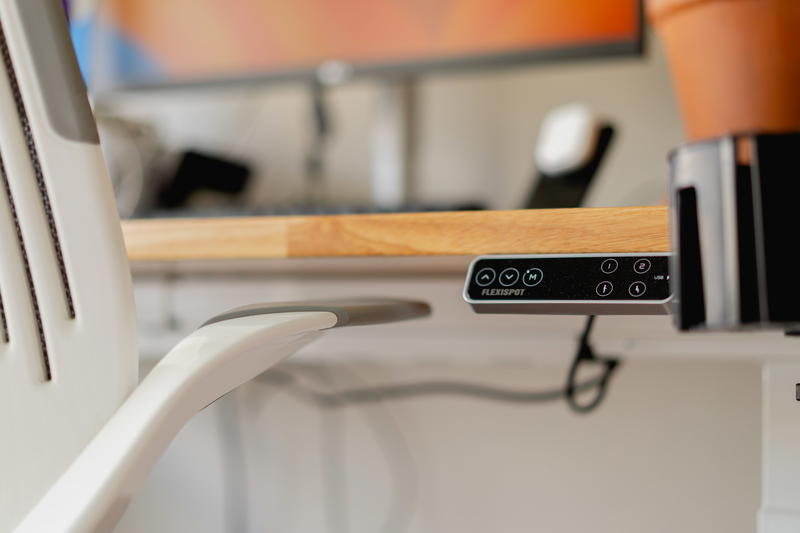 I've had some chairs that have had trouble fitting their arms under normal desk heights. And sometimes, those chairs don't go low enough.
Well, the standing desk will allow you to raise your desk enough to fit the arms under it. Then when you're working, you can bring the desk back to where you need it to go. Becca used to have a non-adjustable writing desk that she'd use for work, and with the Steelcase chair she was using, the arms actually never were low enough to fit under and nest within the desk. It created wasted space.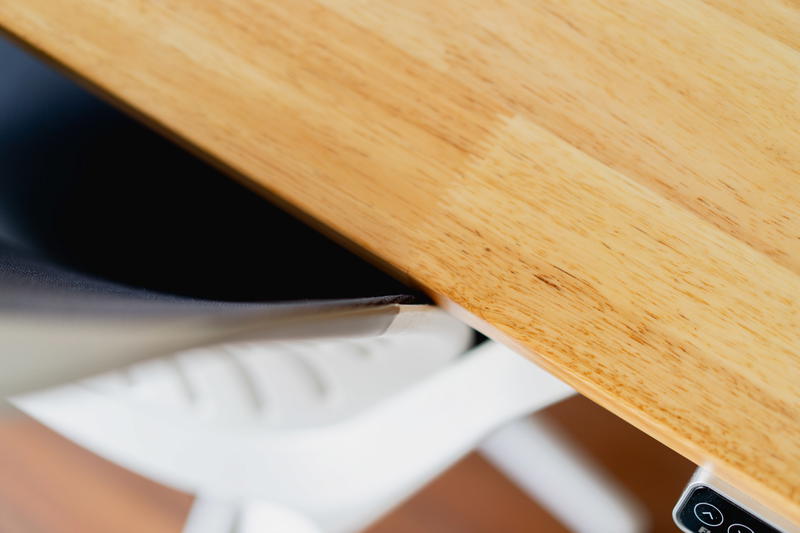 I have this FlexiSpot desk (you can read my FlexiSPot E7 desk review here if you're interested in learning more) and it has programmable settings. You can use the (1) setting for your normal work height, and the (2) for increasing the height to be high enough to fit your chair.
The programmable options are also great for easily having your desired sitting and standing heights, instead of needing to fine-tune those exact heights every time you want to sit or stand.
Get a desk lamp
If you want your home office to feel more homey and cozy, a desk lamp could be a good fit. I have this lamp and I couldn't be happier with it. I set it on top of my cable management box so it gets tucked away near the back of my set up. It was not expensive, and it creates the type of soft lighting that puts me at ease.
When I'm working at night, or in the winter when it gets dark really early, I like working with it because it helps to brighten up the room without having any harsh overhead lights. I hate overhead lights (you know, those kinds you find in city offices?).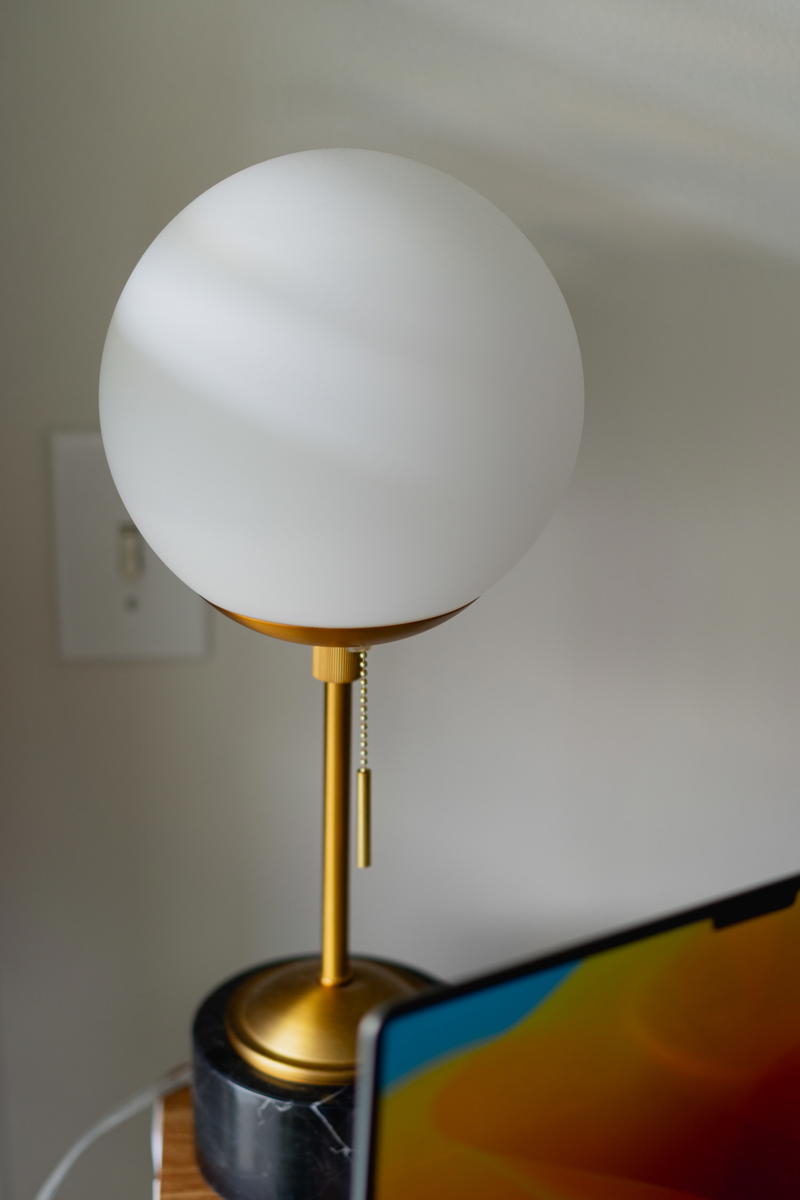 One thing that we have all around our apartment are these LED dimmers. They work by limiting the amount of power that is sent to the lamps. They become dim without needing lamps that have dedicated dimmer functions. It's a great hack.
One quirk is that if you have lower quality LED light bulbs, and if you limit the power to about 10%, I've noticed the lights start to flicker. I haven't noticed this at any other power settings.
For a different kind of lamp, check out the Amazon Eco Glow. You can control this from your phone or voice assistant, and you can change things like color and brightness.
We have one in our daughter's room, and it's a nice and affordable little light! You can easily pop this on a shelf above your desk for a nice seamless look.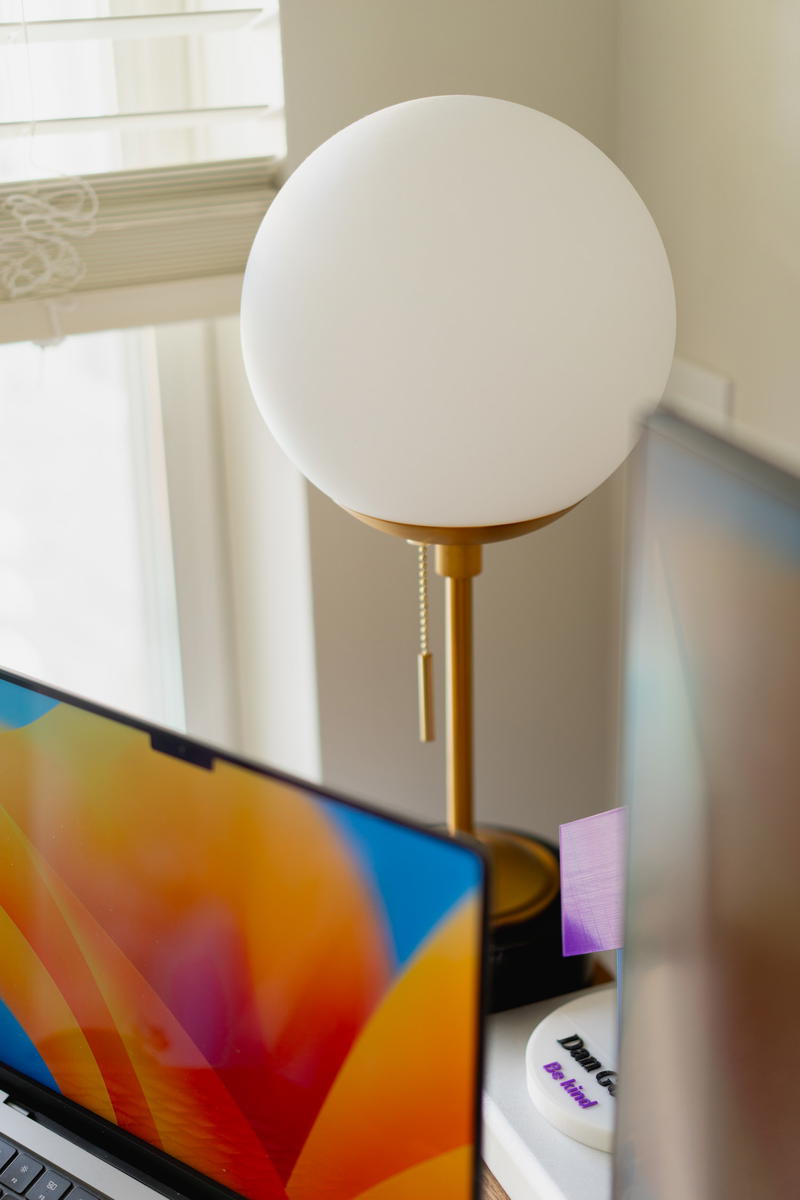 Use a Cup-Holster
I found this Cup-Holster product and it has been a great accessory for my home office. I always have some type of water on my desk, and kept running into issues if my cup or bottle got in the way of my typing or mousepad use.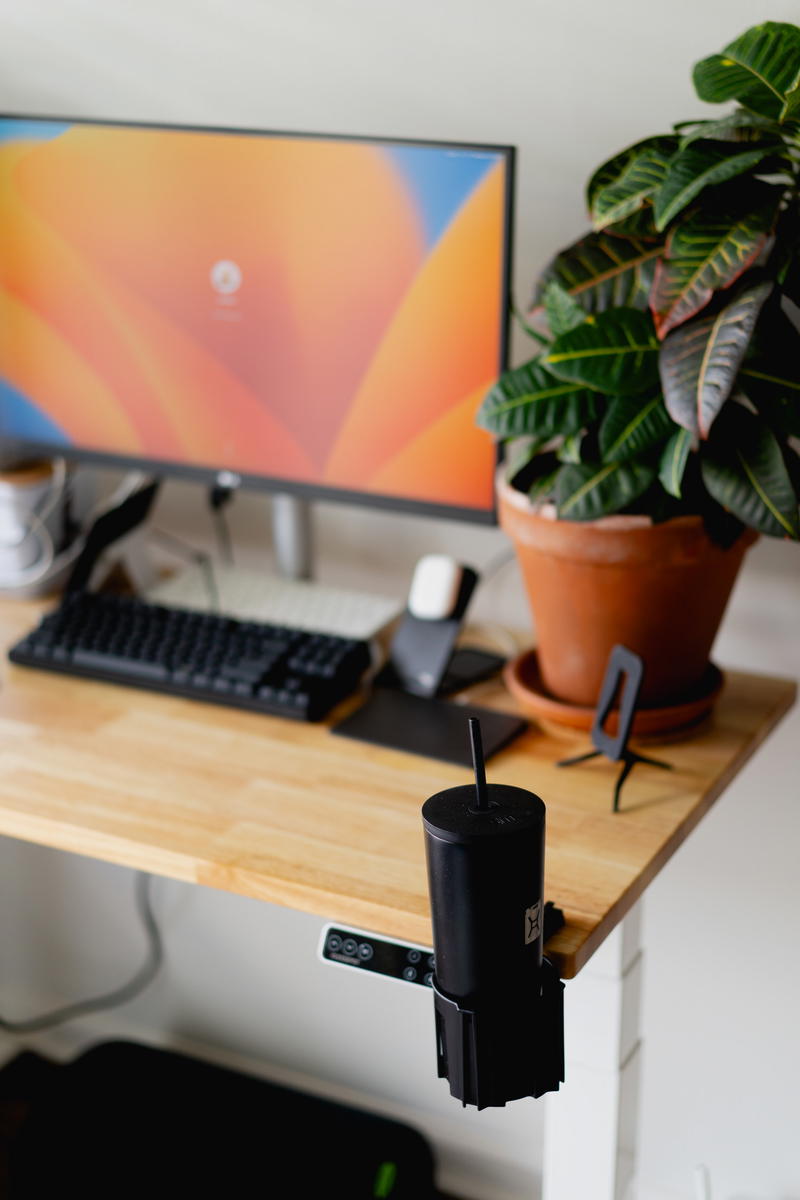 This little cup holder will clamp onto the side or end of your desk surface, and will allow you to put anything inside. It's great for cups, like water, coffee, tea or any drink container.
You can also use this for other things, like charging your phone, stashing away a portable speaker or even keeping a small plant or succulent/cactus on your desk without the fear of it damaging your desk from water or dirt stains.
Install shelves over your desk
I mentioned in this article how keeping a lamp on a shelf might be a nice look. A shelf has a lot of other practical uses. You can use the shelves for books or other decorations. If you're using a stationary desk, you could use the shelf to place your webcam.
Because I use a standing desk, a shelf doesn't work for me. Moving my desk up and down would mean the shelf would change its effective height.
In an older apartment, my desk was in the corner of the room. I did utilize a shelf in that setup! I would stash away some of my hard drives or other things that I needed to reach regularly. I also had a headphone rack (it was a cheap and small coat rack) on which I used to keep a few pairs of headphones.
Get a second monitor
If you have the space for it, getting a second monitor can boost your productivity. One screen can be your main work station and the other screen can be your work messaging app, email or something else you need to glance at every now and then.
Because I have a laptop stand on my desk, and my laptop is open, my laptop is my second screen.
Like I suggested, it's usually where I keep my Slack for work. And because I'm a web developer, it's where I often keep a design open, so I can reference it when I'm coding a website.
Whenever I'm in a meeting, I keep Zoom open on my laptop, because I use the default webcam from my laptop.
When I'm editing photos, I keep a second display of the photo on my laptop screen so that I can compare the edit on my monitor against my laptop screen.
When I didn't have a dedicated monitor, I would plug my iPad into my laptop and use Sidecar to give myself some extra space off of my laptop.
Upgrade (or get) your webcam
There are a lot of situations in which you might need a good webcam. Or, you might need a webcam because your computer either doesn't have a functional one, or you have a laptop and you keep it closed when using your dedicated monitors.
Whichever the case, a webcam can be a upgrade to your home office to help you get some work done. And, it's one of those things that you set up once, keep plugged in and never have to think about again when you need to pop onto a quick meeting.
There are a lot of home office webcam options to choose from. To make your selection, start with your budget and figure out how much you want to spend. Once you have your budget, you can shop for the features that you want. To keep this short, I have a few options for you to check out if you're interested!
Try an external microphone
If you're in meetings frequently, having a dedicated microphone can boost the overall impact of your job by being heard clearly. You can also use the headphones that you like without having to worry about the quality (or lack of) microphone that comes onboard.
There are a lot of options to choose from and it can be a little overwhelming, to be honest. I picked up this microphone and got this accessory to help position it on my desk. These days, I only use it if I appear on a podcast, which is kind of a niche thing.
I know that this microphone and this one (a cheaper option) are generally well-reviewed and useful for a lot of professionals working at home. I've been on meetings and have seen this microphone on the other end of the call pretty often!
File away your papers in a cabinet
I have a bad habit of getting mail or papers and letting them stack up on my desk, in my kitchen and everywhere around the house.
I've started being better at taking a photo of some papers and then recycling them and saying goodbye. But, bad habits come back ,and my desk is usually the final resting ground for papers that I need (but don't want to look at).
A file cabinet can spruce up your home office by allowing you to have a place to keep papers or important documents. You don't have to imagine the metal file cabinets from the 1950s, either. There are plenty of good options for the modern age.
For stuff like this, I usually go to Ikea. My old office had a lot of these file cabinets and I've grown to like the design of them. They're not cheap, though!
If you have a printer like mine (and it's the one that everyone seems to have!), it fits nicely on top of a file cabinet as well. We have ours on top of a bookcase in the living room.
Try an under-the-desk foot rest
You're at your desk all day, typically, and if you're sitting, then having a place to rest your feet is a nice luxury. It's a quick win for any home office, in my book.
In 2020, my company gave "remote work money" to help spruce up my "home office," which at the time was a shared home office with Becca. I bought a few things so that I could work from home more nicely. None of them lasted, but the foot rest has stood the test of time, and I've been using it ever since.
Becca now has one at her desk, too, and we both like them a lot! I have this one, and I recommend it.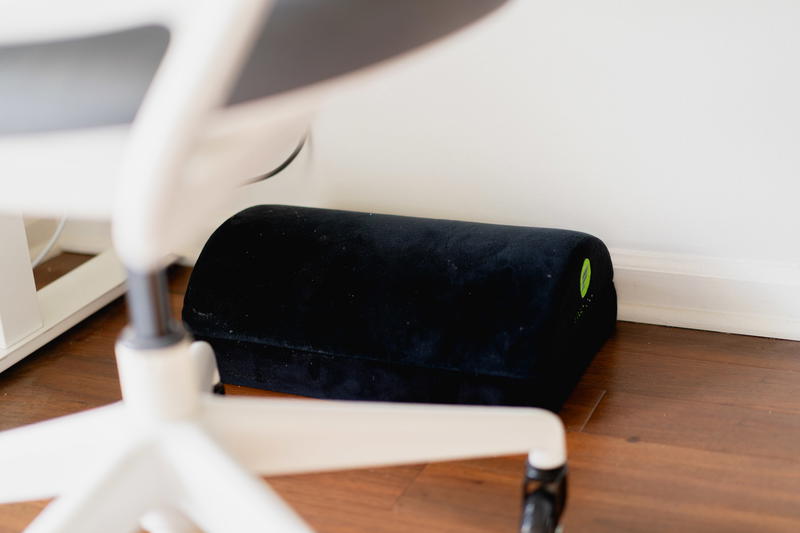 Add a plant to your desk or office
Plants can help bring life to any room. We live in an apartment and have plants scattered around, to help every room brighten up. I have a good track record of having a green thumb, but unfortunately, I did let one plant go. It never took off, and it wasn't in the best place for light. Alas, I digress.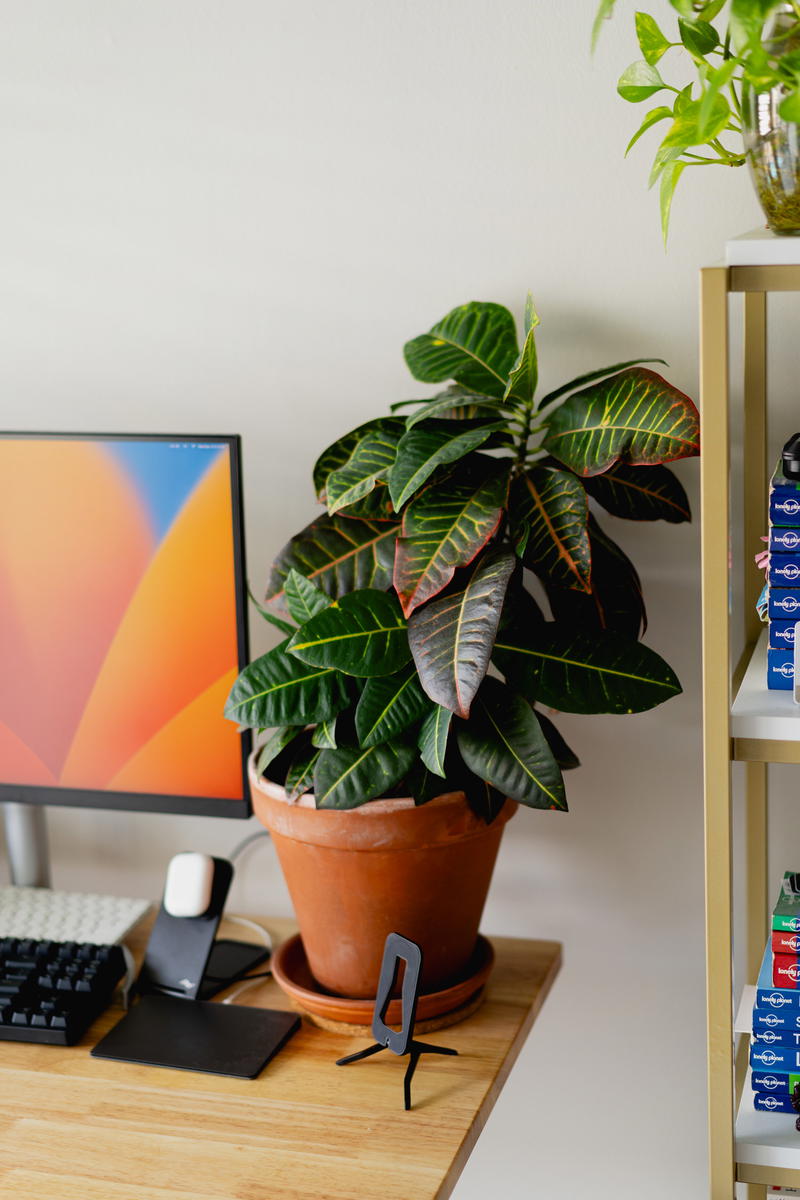 It's important to know which type of light you have, and match it up with the best plant. If you don't know, a good fall-back option is a succulent. They're generally easy for anyone to care for, and they don't require a lot of water nor light. They make a good desk companion as well!
I would check out your local plant store. You can show the staff a picture of your office and the amount of light that it gets. They can help you pick the best plant for your space.
If you're looking for a more offline option, you can check out The Sill. They have this nifty plant quiz that might be worth checking out. Even if you have no interest at shopping at The Sill, their plant library is pretty nice for inspiration, too.
Rearrange your furniture
Sometimes the current layout is not the best layout option for your home office. I'll often get bored and rearrange my furniture once or twice per year until I find the setup that makes the most sense.
We don't own a house yet, and we still move every one or two years for various reasons. In the time frame of every apartment's one-year lease, I've probably rearranged the layout of the living room (AKA my home office) two or more times.
I do this because I sit in my office a lot when I'm working. I want a space where I can feel creative and not have this mental stress of knowing that something is wrong with the room that I am sitting in.
I'm sure there's some theory of feng shui that can be applied to how you have a desk setup in a room. Going off of feeling, I like to not have my desk against a wall and I like being close to a window. Not every apartment layout has that option, so my dream is to have a house with a dedicated office that I can design from scratch!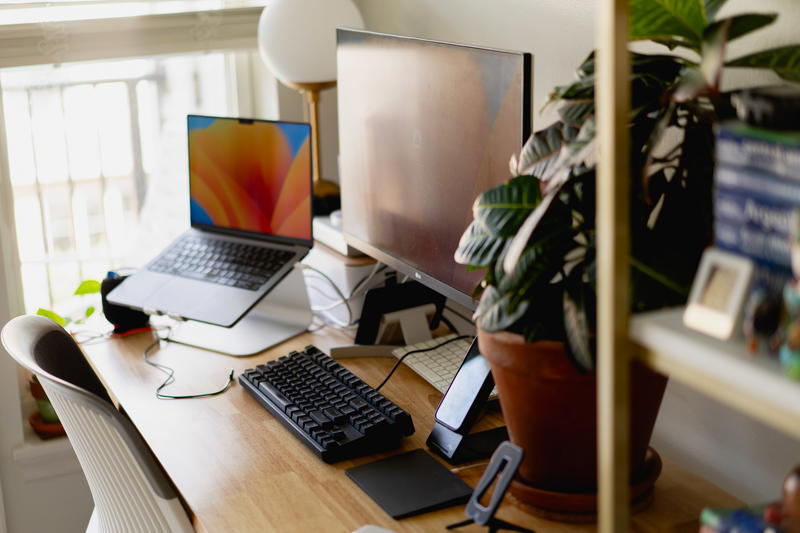 Get noise-canceling headphones
There is noise all around us, and some people are better at canceling it out themselves. For times when you can't do that, noise-canceling headphones usually come to the rescue!
In the past, I've used these Sony headphones and they've been excellent. They're good for working and for helping create a little "bubble" in my office to help block out unwanted noise.
Recently, I've been using the Apple AirPods Pro and they've been great because they're small and do a decent job of blocking out noise.
I mentioned in this article that we live in an apartment, and there's been a lot of noise in almost every apartment that we've lived in. If we're not on the top floor, we hear the upstairs neighbors. If the floors are too thin, we hear the downstairs neighbors. If we live on a busy street, we hear car honks.
If you're in an important meeting, the noise-canceling headphones can help you stay focused and are a critical thing for a home office if you don't have peace and quiet.
And now that I think about it, even if you had a house with a dedicated home office, and you have kids, they might be the biggest distraction of all!
Use a more ergonomic keyboard
I currently use two keyboards (three, if you count my laptop) and the one that I'm typing this article on is the best that I have out of the three. It's nothing special. It's a mechanical keyboard that is slightly inclined. When compared to my Apple Magic keyboard, it's a world of difference having more key travel and the incline.
The reason that I even have the Apple Magic keyboard is for the noise. Late at night, I like to type on it because it's silent. My keyboard probably annoys our neighbors!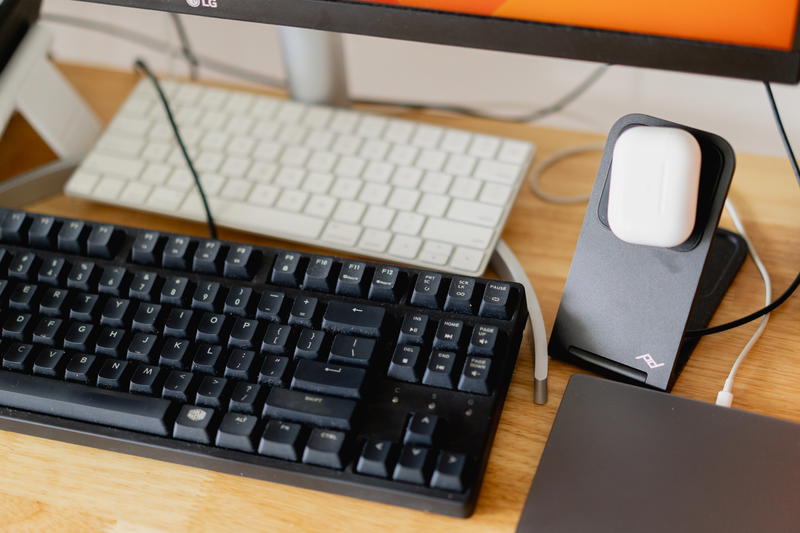 Again, you're at your desk a lot and are probably typing your thoughts all day. Getting a good keyboard is a must, in my book. Here are some options that are worth considering:
Add some photos or something that brings you joy
Your desk is your space and it's where you spend a big portion of the day. You should incorporate decorations or photos of the things that bring you joy.
You're the best judge of these things and I won't make any recommendations for products to check out.
Think about what would make you happy if you glance over to give your eyes a rest. If you're having a bad day or come out of a bad meeting, what would you want to look at that might make you happy (a framed photo of a kitten?)? That's the thing that I would recommend that you add to your desk or wall space in your home office.
---
Why are these improvements necessary?
As I've been working from home and have a dedicated place to work, feeling empowered to do my best work is necessary in excelling at my job and everything that I do for work.
Aside from my full-time job, I work on this blog with Becca and the way we spend our time matters.
Having a place to work is important in getting the most value out of my time. I go through periods of disorganization, which is why I've come up with the product recommendations above. They have all helped me solve a problem in some shape or form.
Be realistic with your home office
I intentionally took the photos of my desk to show you that not everyone has an "Instagram worthy" perfect desk. Lots of desks have a little bit of clutter and not the best cable management. Let's be realistic! I try my best to at least clean up what I can without going over the top.
The product options and other suggestions that I showcased can hopefully help inspire you to try new things for your own home office to get the best set up possible!
Let's recap
There are a lot of products out there for any home office. My recommendations, like I said above, have solved specific problems to how I like to work. You may have other products that you can think of that solve your unique problems.
I'll leave you with a framework to help improve your home office. Think of things you do every day that might take a few seconds or minutes out of your day. Investigate a solution to help eliminate that time.
In practice, this means that during the work day, I moved my water cup five to ten times to get it out of the way of my mouse. So to fix it, I have a dedicated place to keep my cup off my desk. That's purely an example, and you can apply that thought to lots of different areas of your home office.
I hope this all has been helpful and I'm glad that you're taking the next steps in improving your home office!
Enjoyed our article?
Consider supporting us! We're a 2-person team (learn more about us here) and your support enables us to create quality content. Thank you!