Best Budget Standing Desk Options For Home Offices
Written by Dan
•
Updated on November 27th, 2023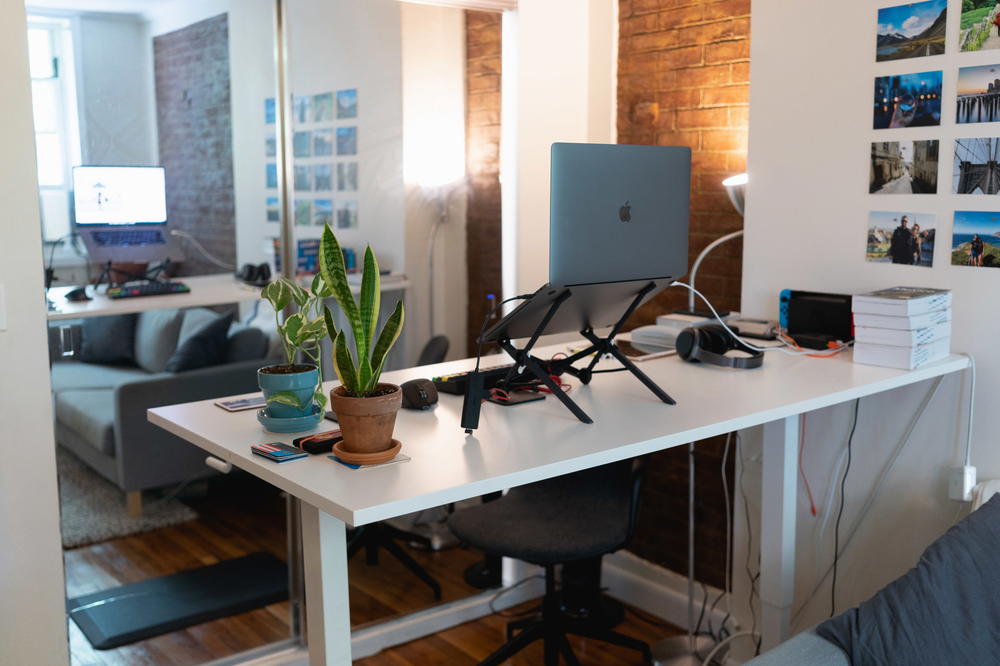 Looking for the best affordable standing desk for a home office? Use our list of inexpensive options for electric standing desks, adjustable standing desks and manual sit-stand desks.
This article may contain affiliate links. We earn a small commissions when you purchase via those links — and it's free for you. It's only us (Becca & Dan) working on this website, so we value your support! Read our privacy policy and learn more about us.
Table of contents
Close table of contents
Is it time you finally bought a standing desk for the home office you spend so much time in?
Have you been sitting all day in the same position (slouching on the couch like I am doing now) or working from a desk that isn't right for you?
A standing desk can fix most ergonomic issues you might have, which is why standing desks are one of the most popular trends for working from home.
In my home office, I've created a flexible workspace that allows me to sit or stand easily. In this article, I'll discuss some of the best cheap standing desk options for your home office. Keep in mind that my criteria for "affordable" is under $300 (approximately).
Check out my top 4 picks!
Let's go see the list!
#1 Overall Top Pick
As our #1 featured standing desk idea, the FlexiSpot standing desk is right on the edge of the "affordable" limit. I can't begin to tell you how much it has been a huge home office improvement.
It's the most affordable option for electric standing desks. There is a simple up-down button feature, which would work for me, because I don't need any specific memory settings.
If you choose to go with this budget standing desk option, find a spot on the wall or on yourself to use as a measurement. This way, you always know how high to move the desk up, and you will limit the need to fidget with it to get the correct position.
Flash Sale Extended!
The Flexispot deals are now live. Get up to 70% off sitewide. No code needed.
The FEZIBO hits the limit of the high end of affordable options for standing desks at home. It does, however, have all the bells and whistles of some of the more expensive options for sit-stand desks. Let's see more about it.
This standing desk contains a memory feature. I think this is only useful if multiple people are using the desk, but that could be great if you share a home office with another person.
The memory feature would also be useful if you really want to be precise with the sit and stand orientations for yourself. I imagine this is useful to have in an office setting, where you have a dedicated monitor, keyboard and mouse for a few people who share it in a hot-desk style.
It also contains a cable tray. For what it's worth, it's an interesting feature because cable management for standing desks can be tricky. Having a dedicated space to put chargers would be a good idea if you have a lot of electronic products charging on your desk in your home office.
Helpful Tip
I do have quite a few electronic products charging on my desk. To manage all the charging, I use a USB power hub that I recommend.
Check out the FEZIBO Standing Desk
This electric standing desk is a nice choice if you're looking for a wooden table surface in your standing desk. I think a wood tone is really nice when you want your home office to feel cozy. Make sure to choose "Color Top/Frame" to see the wood tones.
It has electric lifting, allowing for that simple healthy movement to be a part of your day working at home. The desk also has a very solid frame, so there won't be any shaking, and you can be sure it'll feel sturdy on your floors (even if they are slightly uneven, like mine).
The Small Height Adjustable Standing Desk Workstation by Vivo is an awesome option for when you don't have the space for an entire standing desk in your home office.
If you've never heard about desk risers or mini desk risers, hear us out: this is an add-on to add ergonomic efficiency to a home office without investing in an entire standing desk, which is great especially if you're building a home office in a small apartment.
This Vivo desk riser in particular functions like a monitor riser, so you get a sit-stand tabletop converter that comes out to about 30 inches. This will make your daily work-from-home office life a bit more comfortable and ergonomic without the big desk option.
You can transform your desk space with this dual-tier desk riser that allows for multiple monitor layouts and smooth transitions.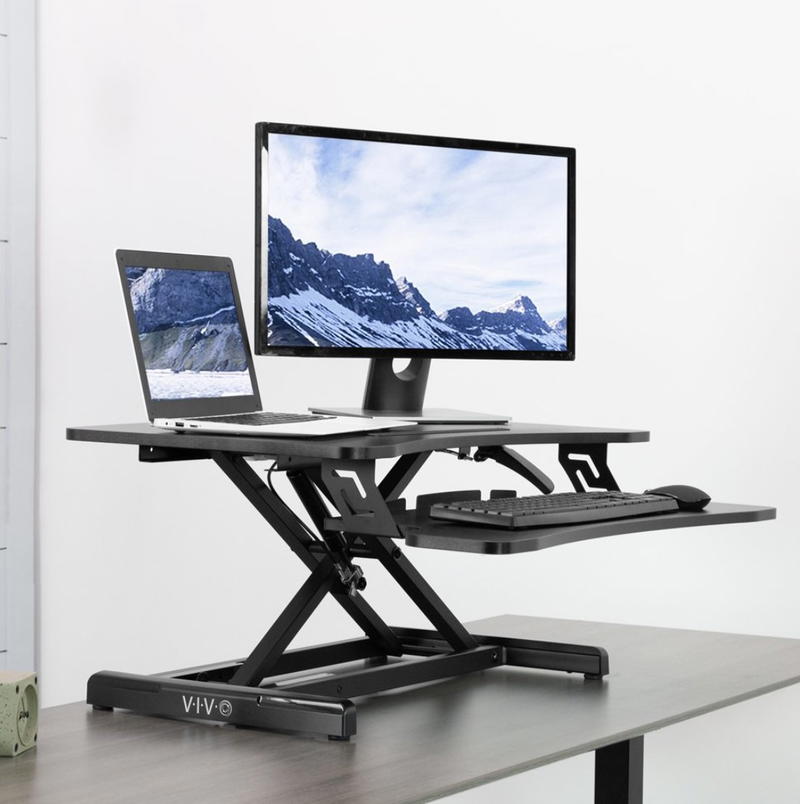 The FlexiSpot desk riser is an affordable option to a common problem. And that is: if you want a standing desk but are unable to replace your actual desk.
What's nice about this desk riser is you can customize your size and color. If you have a small desk or a large desk, you should be covered with the range of 28-42 inch desk riser options. You can also pick from several wood finish colors!
The FlexiSpot desk riser is unique in that it can be raised by a single hand. It collapses fairly small, so you'd keep this on your desk, and only set it into the rise position when you're ready to stand.
I own several FlexiSpot products, like their standing desk and ergonomic chair. I've always been impressed by the quality of their products. I'd imagine the desk riser is no exception!
Another desk riser on the market is the WorkFit-Z Mini Sit-Stand Desk Converter.
This one supports up to 25 pounds of monitor weight and has a Z-shaped design to fit even the most compact environments, like if you share a home office with someone else.
A cool feature of this home office desk riser is the compartment for a tablet and a smartphone, to keep them out of the way, but also in your line of sight, if you work across multiple devices during your workday at home.
The YangMing Electric Standing Desk is a nice option for a home workstation and for creating a flexible ergonomic home office solution.
With electric lifting and a large workspace area on the tabletop, it allows for a personalized approach to working at home or in an office. A cable connector on the desktop space gets your cables all in one spot and cleaned up.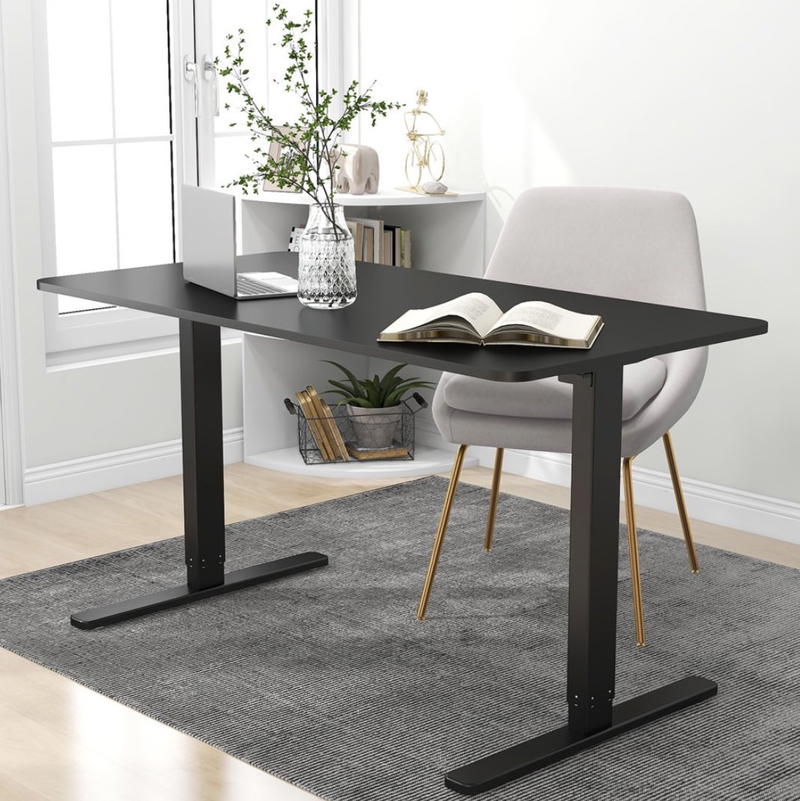 Order this Electric Standing Desk Workstation
Helpful Tip
One of the biggest mistakes when you work at home is working from a desk that makes you slouch, hunch over, feel cramped or feel too stretched out. A standing desk fixes your ergonomic setup and allows for variation in how you work.
This budget-friendly option for a standing desk is the Height-Adjustable Desk with Casters also by Atlantic. This one comes in a sleek black color for anyone seeking a darker style of a standing desk.
As an alternate option, this version of the Atlantic desk comes with wheels and it's usually marked down/on sale.
If you have issues with your desk rolling away, we made a guide for how to deal with a rolling chair on uneven floors. The same concepts apply for a standing desk with wheels!
What we like about this standing desk is its under-table cable and storage basket that you can use for wires or products that are used less frequently. The height of this desk adjusts from 28" to 41.3" and has four casters for increased mobility. These work great around a small shared office or a home office in a house or in an apartment.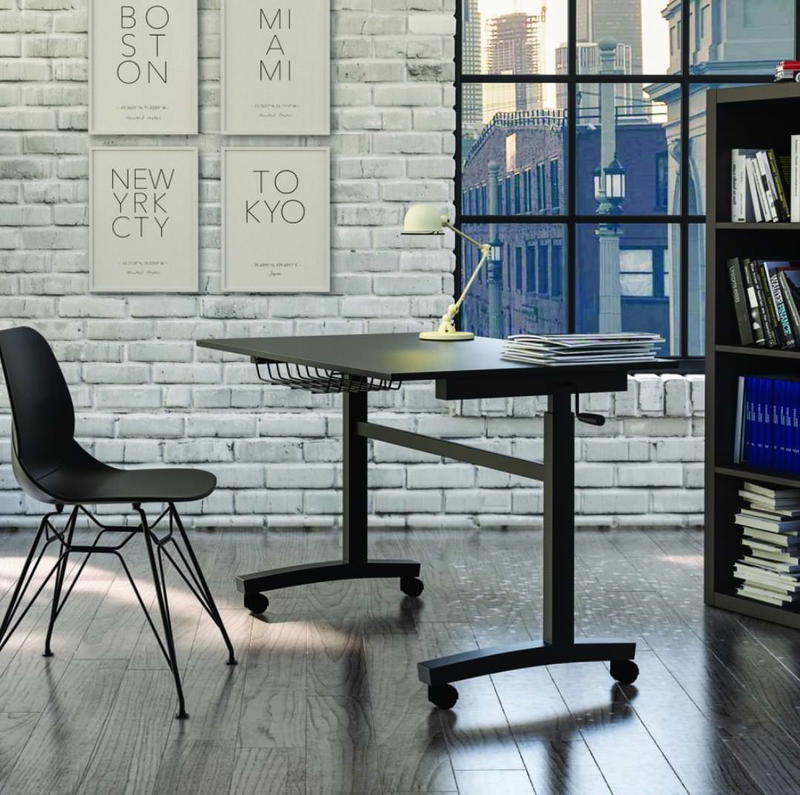 Get the Atlantic Height-Adjustable Desk with Casters
The Mind Reader Multipurpose Home Office Computer Desk is, incredibly, one of the most affordable options on our list and comes with a set of great features.
It is height-adjustable with two desktop tiers, and as it can roll around with wheels, you can even use it for mobile presentations, or for using it in different rooms or areas. The four wheels can lock or unlock, and you can move this standing desk around your home.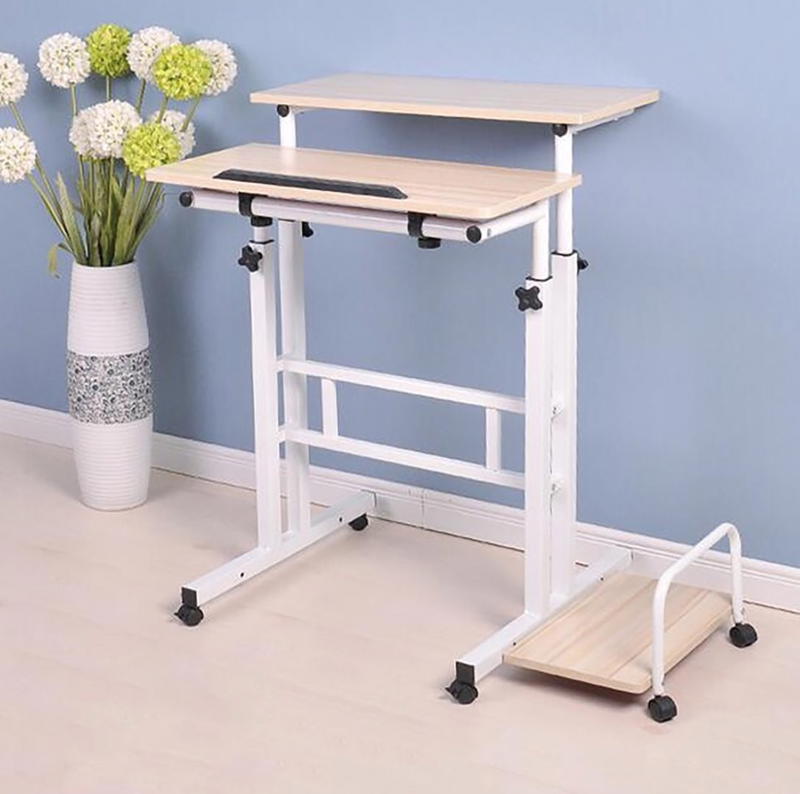 Order the MindReader standing desk
The Mainstays Standing Computer Desk is a pretty attractive budget standing desk for anyone who wants a standing desk that looks more like furniture and less like a bulky desk. It gives a clean-cut and industrial feel to a modern home office.
While it does not height-adjust, it provides a way to be permanently standing at a standing desk. You could also pull up a high office chair or bar stool to work from this higher-style desk.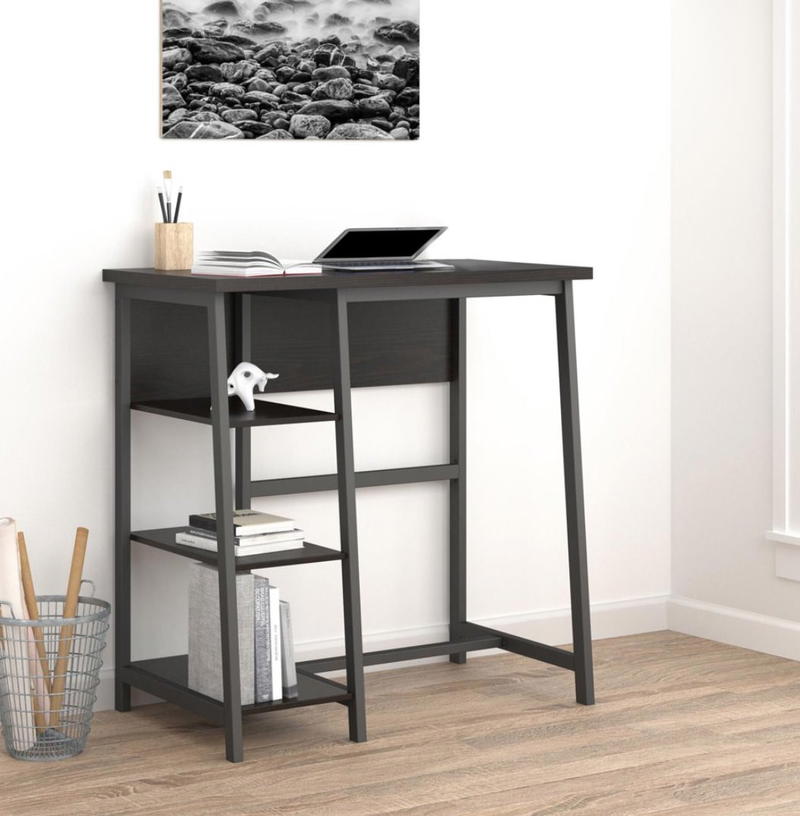 See more about the Mainstays Standing Desk
I'm a huge fan of IKEA furniture and any time that I've set up a new apartment, I've picked up some sort of desk from IKEA.
IKEA has a few standing desk options and have seemed to rename (or slightly redesigned) my SKARSTA desk to the TROTTEN.
I like that this is a budget-friendly(ish) standing desk and is straightforward to set up. I took it apart and moving it is simple and easy to do.
Additionally, I appreciate that it is manual rather than electric, and doesn't need to be plugged in. It's fewer parts to break, which is a huge bonus if you want to keep this desk for a while.
Cable management for standing desks is sometimes a struggle, and not having power cord, because the desk is manual, is sort of a blessing in disguise.
I've had good luck with IKEA furniture as the affordable furniture option in our apartment, and I can almost always trust that the quality will be good enough for a few years. For this desk, that statement is true and turned out to be a great investment.
I now have the smaller size of the two IKEA standing desks that are currently available. I used to have the larger one, and I have liked both. For me, it comes down to the available space in my home office space.
The IKEA standing desk is incredibly sturdy. There's almost no shake when I'm typing in the sitting or standing position. I've tested a few other standing desks, and I'm impressed with this desk!
The larger dimension variant is a good size for keeping various items on your desk, like you would at your regular office. When I had it in the larger size, I had a few plants, my laptop on a Roost laptop stand, a Bluetooth keyboard, a wireless mouse, my hard drives and my iPad as a second monitor.
Helpful Tip
If you want to read even more information about the Roost, see our Roost review!
Helpful Tip
Still on a budget? We've listed a selection of budget-friendly iPad stands for using that iPad as a second monitor on your standing desk.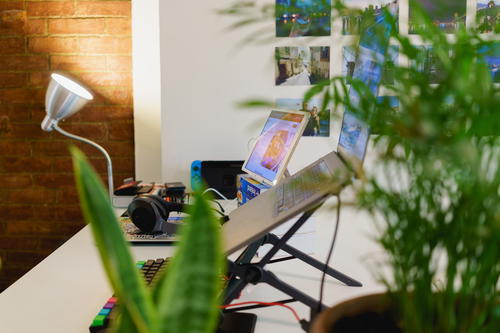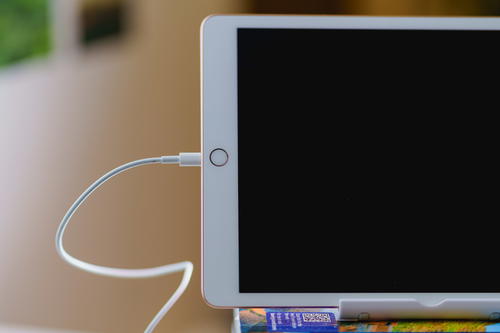 I also had enough room to take physical notes on real paper from time to time.
Why did I have the bigger option by accident? It's because I got this desk used, rather than new!
Here's what happened: We measured out the room where we have our shared home office for two and decided that the smaller standing desk would fit the best.
Then, I found the larger-size SKARSTA (now called the TROTTEN) desk on Craigslist (and also listed on AptDeco, which is a great place to buy and sell used stuff). I was so excited that I could get it delivered that I forgot to double-check the measurements.
When it arrived, it was much bigger than we thought it would be, because it was the larger size, not the smaller size. Despite it being the bigger option, it still fit in our apartment, and I'm glad that it's the one that we got.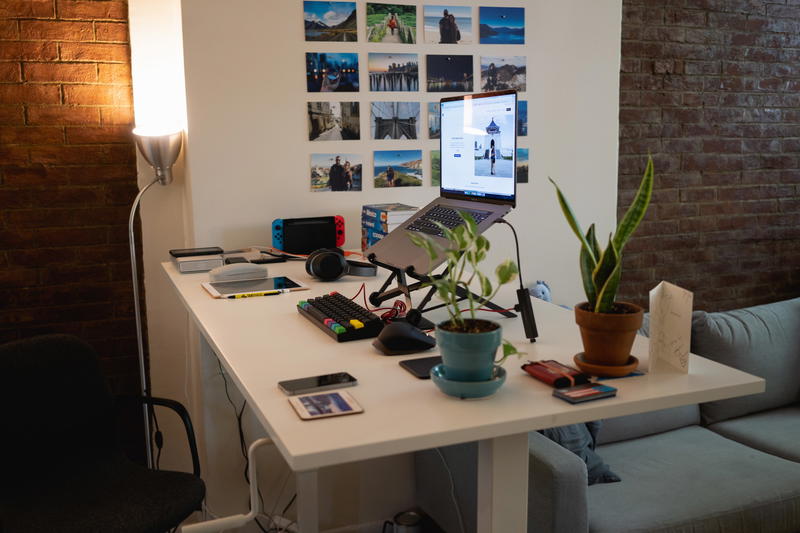 Learn about the TROTTEN standing desk
This standing desk option is good if you want a second desk in your home office space to use for standing.
This affordable standing desk option would be good if you have the space for it. You won't be able to have all of your things on the surface, but it would give you the flexibility to use it for other tasks and projects.
If you like to take notes or draw, you can use this standing desk as a dedicated space for those types of activities. It's budget-friendly as an investment for your permanent home office.
Check out the Stand Steady Joy Desk
I wouldn't call this standing desk a traditional standing desk. It's more of a fixed-height shelf desk. I like this as an option because it has vertical storage space. It also has wheels, so you can easily cart it around the house (on the same floor) if you'd like. That's a cool bonus.
Because this sit-stand desk doesn't have a lot of horizontal space, I would consider this as a secondary desk for you, with a standing option. Or, if you have limited space like in a small apartment home office, this option might be good if you can't fit a traditional desk, but want to have a standing option.
This standing desk has vertical storage, which I consider to be good for home entertainment, like speakers, media storage, and game consoles. If you are into video production or photography, this storage could also be utilized for hard drive storage.
Explore the Safco Computer Cart
The original IKEA standing desk hack
Beware: this recommendation is not an 'actual standing desk.' It's a hack for a standing desk.
The "IKEA standing desk hack" will set you back around $20 in total. It won't be the most glamorous option, but it will be the cheapest option for a standing desk, by far.
It's not a dedicated desk, but it (a tiny table) goes on top of your existing desk. The options are endless with how you can use it. If you live near an IKEA, this will be an excellent option if you have a tight budget. Check out the original idea from Colin Nederkoorn at his blog post about the IKEA standing desk hack.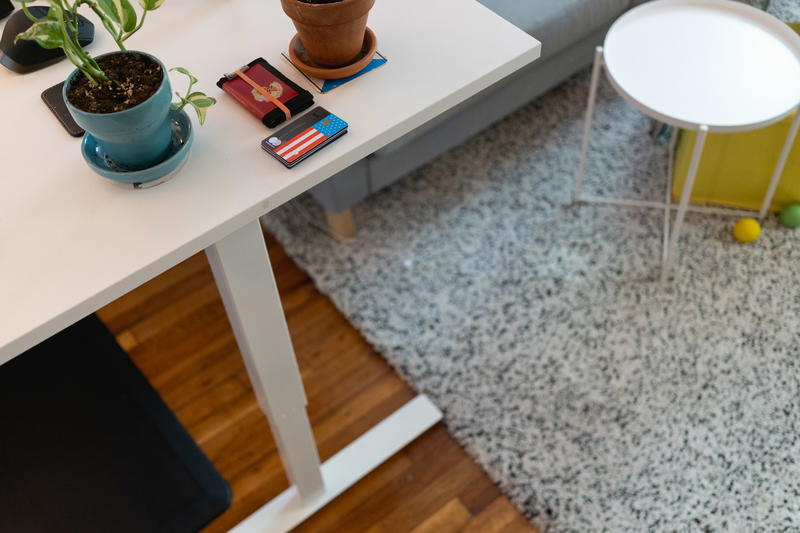 Upgrade picks
During your reading of this article, you may have considered that your budget is bigger than you previously thought it was.
If you do have a bigger budget, I'd consider checking out these options below. These standing desk ideas set the standard for standing desks and have various pros and cons to consider. I don't go into too much detail here, because they're not as budget-friendly (averaging $500 or so) as the standing desk options I've discussed above!
This electric standing desk allows for fast setup and apparently is even able to be 'assembled in minutes.' I guess you'll have to see for yourself, or see how fast you can set up a standing desk. It has "T-legs" for enhanced stability (no shaking while you type!) and four programmable memory settings. Fancy!
This standing desk comes with a walnut wood-inspired finish and was rated the "Best Standing Desk by Wirecutter."
It has a 'shallow' depth in order to save space, and for this reason, it's recommended to use monitor arms to float your monitors. The main idea here is the more shallow desk footprint in your home.
It also has built-in wire grommets to hide your wires. That's pretty handy if you are a minimalist.
The Jarvis desk is a leader in standing desks for professionals who work from home, and the product is prized as a "tough, beautiful, active, Earth-conscious" standing desk. They were one of the first brands to break through into the standing desk category.
I believe old company, Fully, is not operated by Herman Miller. This is an extremely premium pick as Herman Miller makes some of the nicest chairs and office furniture money can buy.
I think the most surprising aspect of it is that it elevates as high as 50 inches, and as low as allowing you to even sit on the floor. The outside laminate is made from a waterproof scratch-resistant material and is available in black and white, so you can choose based on your home office design theme.
Helpful Tip
Make sure to go to Rakuten to see if you can get any cash back with your purchase! If you're a new customer, you'll get $40. Check it out!
This standing desk is strong and robust! It has four convenient programmable height settings and silently rises and lowers at the touch of a button.
The desk color itself comes in a choice of two colors, wood or natural bamboo, and comes in two sizes: classic and extra-large.
The frame comes in white, black and gray, so you can personalize. Assembly is required, but it's considered "easy."
Why should you trust me?
I've been working from home full-time since 2020. And before that, I started working from home in 2016 when I realized that I could travel and work remotely. In that 2016-2019 range, I did a mix of working in coworking spaces and bouncing around various hot desks.
When I switched around different desk set-ups, I realized how effective a standing desk was when I started getting mild back pain.
And back to 2020, I decided to get a standing desk to help provide variety to my workspace at home. I'm very budget conscious. Even though I know more expensive upgraded picks are worth it (and sometimes there is a time and place for them), I still wanted to shop for a deal.
My first Ikea standing desk served my well and in fact, even after moving I bought another one because I liked it so much. When I started doing more research and after talking to friends, I started to know and trust what I saw from FlexiSpot. Now, I have 2 standing desks from the and even a chair! You can see my review of the FlexiSpot Comhar and the FlexiSpot E7 Pro Plus here.
You can shop my #1 pick from them on Amazon.
Why I decided to get a standing desk
Above, I briefly mentioned that being in an office provides an opportunity for getting up from your desk more frequently. I noticed that when Becca and I are working from home, I tend to sit, way too much.
Becca naturally gets up often. She's good about getting up to stretch — one of the best ways to still stay fit when you work from home, walking around the neighborhood or to grabbing something from the kitchen.
I can go hours without getting up and need a lot of encouragement in order to not be sitting. I guess I need to read up on those fitness hacks for people who work from home.
This is why I wrote our list of tips for using a standing desk at home, mostly so that I make good use of this handy advice.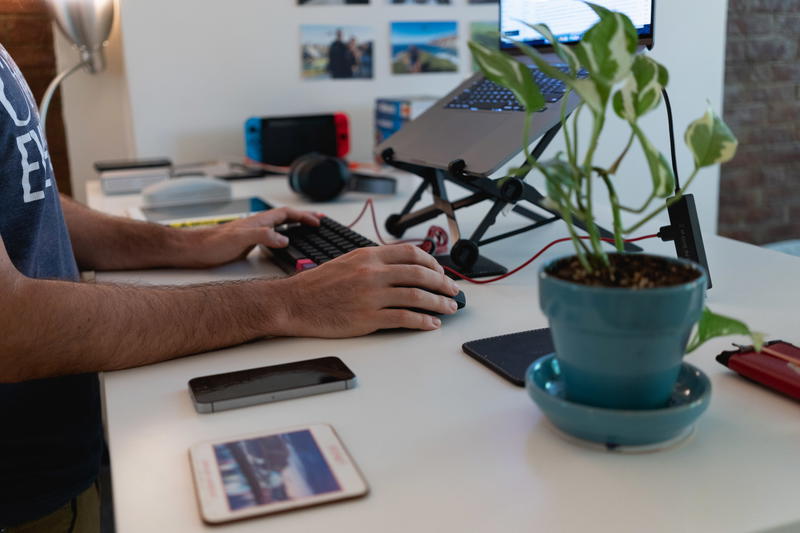 Because we don't have a lot of space in our small apartment home office, the chairs we selected aren't the most ergonomic. We wanted something that would double as additional seating space if we entertained others and didn't want the look of a traditional office chair.
If we had more space or a dedicated room for working from home, we may have opted for more traditional and ergonomic chairs.
I've noticed that my posture starts to slip a bit when I'm sitting down for a while. If I get tired toward the end of the day, I might move towards sitting on the couch. When I'm on the couch, I'm usually laying down or hunched over. Even if I'm fairly upright, I'm not in a great posture.
I decided to get a standing desk early on in my remote work and work-from-home career because I wanted to prevent injuries and start forming good habits for working efficiently. I didn't want to form a habit of working from the couch or get used to being hunched over all the time.
What I've liked about my standing desk since I switched over from a traditional desk
While my schedule when I work from home varies day to day, it's typical that I could have a series of meetings that last one to two hours.
Like I mentioned earlier, my chair isn't super comfortable. While I could fix this by getting a new chair, I actually prefer to stand because I think it helps me become more alert during the meetings. If I'm sitting in on a series of meetings for two hours, it starts to feel like a movie.
In comparison to being in an office, I usually have more interactive meetings in which I would write something on a whiteboard or change meeting rooms to get a change of pace.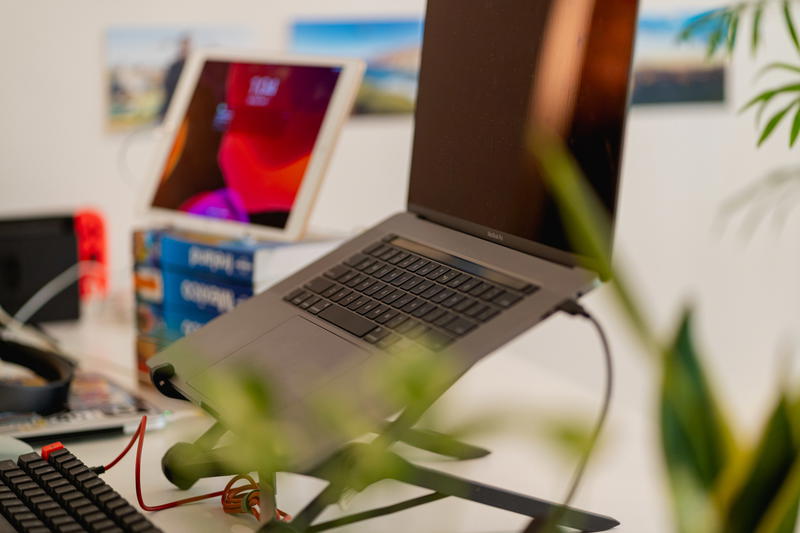 Standing for some parts of the day helps me with prioritizing some work. Before a meeting, I might adjust my desk to the standing position and then work like that for the rest of the day. It's a minor thing, but it helps change the scenery enough and provides a tiny bit of variety for the day.
Standing while working helps me focus and work on smaller bits of work, so I feel like I'm using the best practices of using a standing desk at home. Instead of embarking on a long three-hour task, I know that I might not want to stand for that long, so I'll intentionally break up that work.
---
We hope this article has helped you out with being less overwhelmed by all the decisions that exist when you're choosing a sit-stand desk for a home office.
There are lots of affordable standing desk options on the market, so it's up to you for whether you want to focus on finding a standing desk based on size, like a small standing desk for a small room, or a manual vs. electric automatic standing desk.
Of course, keep in mind what your desk setup looks like, how much space it takes up, and how you like to arrange your desk accessories.
The choice is yours, and we hope you find your next best ergonomic addition to your home office setting.
Enjoyed our article?
Consider supporting us! We're a 2-person team (learn more about us here) and your support enables us to create quality content. Thank you!