9 Tips for Working with a Standing Desk at Home
Written by Dan
•
Updated on September 6th, 2023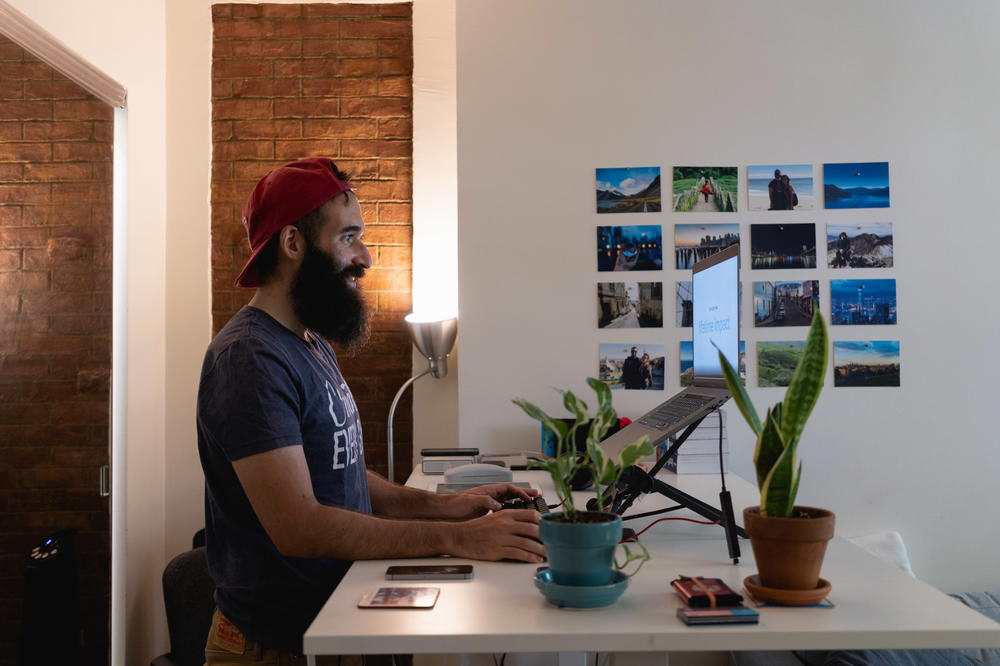 What are the best practices for using a standing desk in a home office? Get the most out of your ergonomic standing desk at home with these helpful tips.
This article may contain affiliate links. We earn a small commissions when you purchase via those links — and it's free for you. It's only us (Becca & Dan) working on this website, so we value your support! Read our privacy policy and learn more about us.
Are you working from home and figuring out how to weave the things you miss from your office into your home lifestyle?
That's how I felt when I decided to get a standing desk for a home office. It's actually a funny story — I meant to get a smaller home-sized standing desk and wound up buying a desk that became available for pickup in the larger size of the two.
As you can (usually) do with any type of furniture you wind up with, I found a way to work this new — and rather sizable — standing desk into the shared home office I use with my partner Becca.
The standing desk has brought back memories of my office in that offices these days, if 'done right,' give employees ways to diversify how and where they work. When I worked in an office, I used to sit in a bean bag chair, or in other creatively-designed spaces.
Helpful Tip
If you didn't have the option to stand or sit in a creative type of space back at your office, consider the advantage of your new standing desk as one of the many benefits of working from home.
When I was transitioning into working from home full-time, I had to find a way to make my home office interesting, comfortable and ergonomic.
My standing desk has introduced a type of versatility I haven't gotten from other home office products in that I can spend some of my day standing during a "stand-up meeting" (ha) and sitting when I'm focusing really intently on a project.
After using my standing desk for a few months, I have a few tips that I want to share about getting the most out of it. Hopefully these will help you feel great, work productively and make your home office a place you really want to be motivated.
Helpful Tip
A crucial part of the standing desk setup is a laptop stand, which will help you avoid neck strain while working from home in a standing desk configuration. I recommend the Roost laptop stand, which allows me to have my laptop set up at eye level.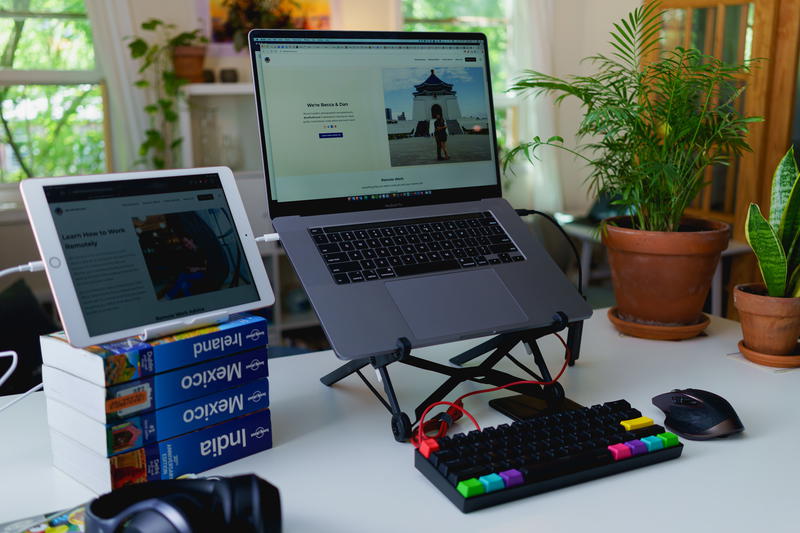 Don't stand for too long.
I like to stand during long meetings, or as a way to break up the day.
Everyone is different, but I recommend finding the amount of standing time that works for you. For me, I find that two hours is a good amount of time, and I'll oscillate between sitting and standing several times per day.
There are some rare days when I might stand the entire day, or for half a day. You have to find what works for you and for your productivity.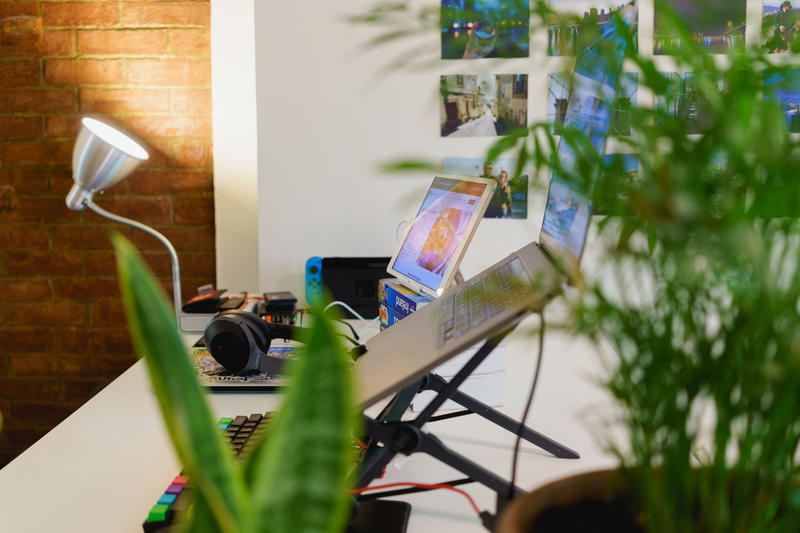 Get a good mat to stand on.
I picked this standing desk mat to stand on initially because of it's recommendation from The Wirecutter.
After using it for a few months, It's been a great addition to my setup in the home office I've created in a small apartment. Here's what to know about a standing desk mat:
Standing desk mats create an additional ergonomic aspect to your standing desk setup in your home office.
They feel like in-soles for your feet, especially if you're barefoot on a hardwood or tile floor and your feet would otherwise feel sticky, sore or achey.
It's really just a comfortable thing to have, and if you think about it — chairs are comfortable because you sit your whole body in them, so if you're standing, you'll want something comfortable for your feet to sink into while you're working.
The mat I bought is really durable and has made standing comfortable rather than kind of awkward. It also doesn't stand out too much on the hardwood floor of my apartment and I barely notice that it's there.
Use a lacrosse ball to roll out your feet.
This might not be for everyone, but because I run a lot, I spend a lot of time rolling out my feet with a lacrosse ball.
Using a lacrosse ball helps strengthen my arches and relieve tension that has built up from higher-mile days when I'm working out after a day in my home office.
I usually do this as part of my running recovery, but when I'm standing, I'll roll the ball around with my feet. It's a way to avoid sore feet during the standing portion of my day spent in front of my computer.
I recommend getting some of these for anyone who's never tried rolling these dense balls along the inner arches of your soles. You may be surprised at what something so simple can do for you.
I use these lacrosse balls by Champion Sports that you can pick up online.
Find the perfect height for your standing desk.
There are lots of guides for setting up the ideal ergonomic of a standing desk at home.
I found that as long as my arms are at a 45-degree angle, it's comfortable to use my standing desk comfortably. With both my desk and Becca's Comhar standing desk from FlexiSpot, we can set the perfect heights and then program the desks to remember them, and adjust to these heights in pre-set settings.
I also try and stand up straight, while lightly activating my abs.
Helpful Tip
During weekends, bring the standing desk back down to its sitting height so that it doesn't feel overpowering or too massive in your living room. This is one of the conclusions we came to because our shared home office actually doubles as our living room in our apartment.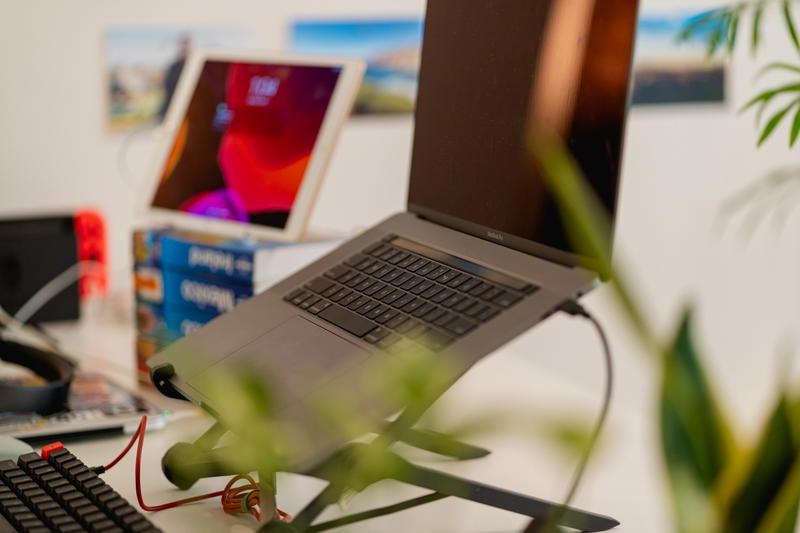 Use standing at your standing desk as a way to stretch.
If you have a standing desk, chances are that you're into fitness and interested in being more conscious about your health and wellbeing.
I recommend using the opportunity to stand as a way to stretch parts of your body, especially so that you can stay fit and active while working from home.
I mentioned using a lacrosse ball above, but you can also stand on one leg. You can do a good quad stretch. You can easily stretch your calves. These are all simple ways to get some stretching in during the workday.
The people in your Zoom meeting won't even see!
Find a good standing schedule that works for you.
If you have a predictable work schedule, try and use your predictability to your advantage.
If you have a recurring meeting, try and always stand during that meeting. It'll be good for your posture and how you appear on screen. You may even feel more mentally awake.
If you like starting your day standing, then do that. If you want to stand after lunch, they try that. It's ideal to get into a habit and stick to it for a few weeks, especially if your standing and sitting alternation coincides with certain tasks that are a part of your work day.
Be mindful of your cables.
Make sure that the configuration of the standing desk works with your sitting and standing.
If you have a lot of power cables, consider setting up a cable management system, so when your desk adjusts, you don't put stress on any cables.
The last thing that you want to do is pull your power cable out of your laptop while your desk is adjusting upward. It would be terrible if your laptop fell off the desk because of that!
My cable management is still a work in progress, just like the rest of my desk accessories.
Be mindful of what's under your desk when you transition from standing to sitting.
When I first got my standing desk, I adjusted the desk to its down position, and I wasn't really paying attention.
My chair got stuck under the desk.
Because I was able to continue to crank down the desk (my desk has a manual crank for raising the height rather than a button that automatically adjusts it), the desk started lifting off the ground!
It looked like I was changing a car tire at the part where the jack lifts the car off the ground. You can easily avoid what happened to me and instead, make sure that you know what's underneath when your desk transitions from the standing to sitting heights.
Consider a new ergonomic desk chair that fits when the desk is low.
My current chair is meant for sitting. There are some chairs that allow you to still use your desk in the standing position, but sit in a higher position.
This is especially useful if you have a dedicated desk that is in a higher position. So, see what's right for the standing desk you chose and be sure to take measurements if you're in the market for a brand new ergonomic desk chair.
If you are tight on space and prefer a stool, an adjustable ergonomic home office stool like the Seville Classics Airlift 360 (or this upgraded pick from Vari) will help do the job because it rotates and adjusts quickly as you adjust yourself to a standing setup during a workday.
At a slightly higher price point, you can find a stool for your standing desk that has more support for your body, like standing desk stool with more support.
Standing desk alternatives for ergonomic home office setups
If a standing desk won't fit in your home office space, or if you think it'll look too big or bulky, opt for an alternative home office setup.
We recommend a small or compact home work desk or writing table, paired with a desk riser or mini desk riser, which will be okay if your setup doesn't include any large external monitors.
Don't forget to get a laptop stand so that your laptop is always at eye level. This way, you won't have to worry about looking 'down' at your laptop and getting a neck-ache.
The other aspect of a laptop stand setup is an external keyboard. We recommend the Apple Magic Keyboard or the Anne Pro 2 Keyboard which has 'tall keys' and is wireless and customizable.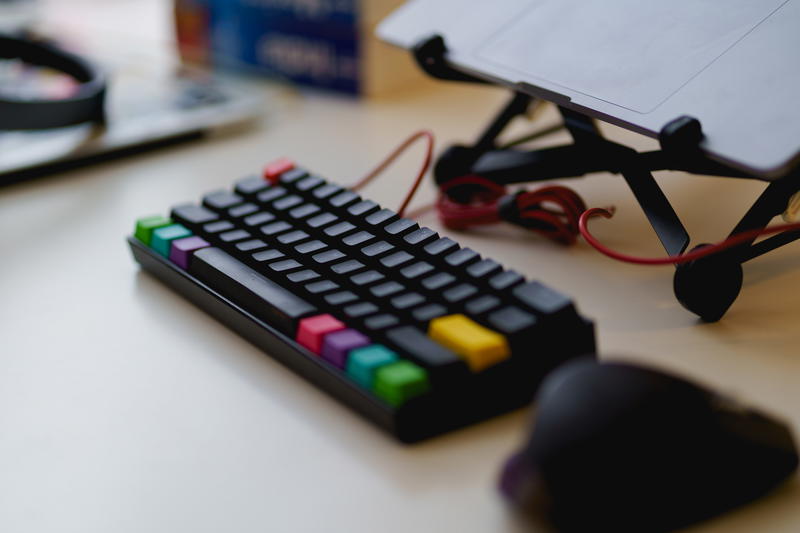 Enjoyed our article?
Consider supporting us! We're a 2-person team (learn more about us here) and your support enables us to create quality content. Thank you!