23+ Things You Need for a Perfect Work from Home Setup
Written by Becca
•
Updated on September 6th, 2023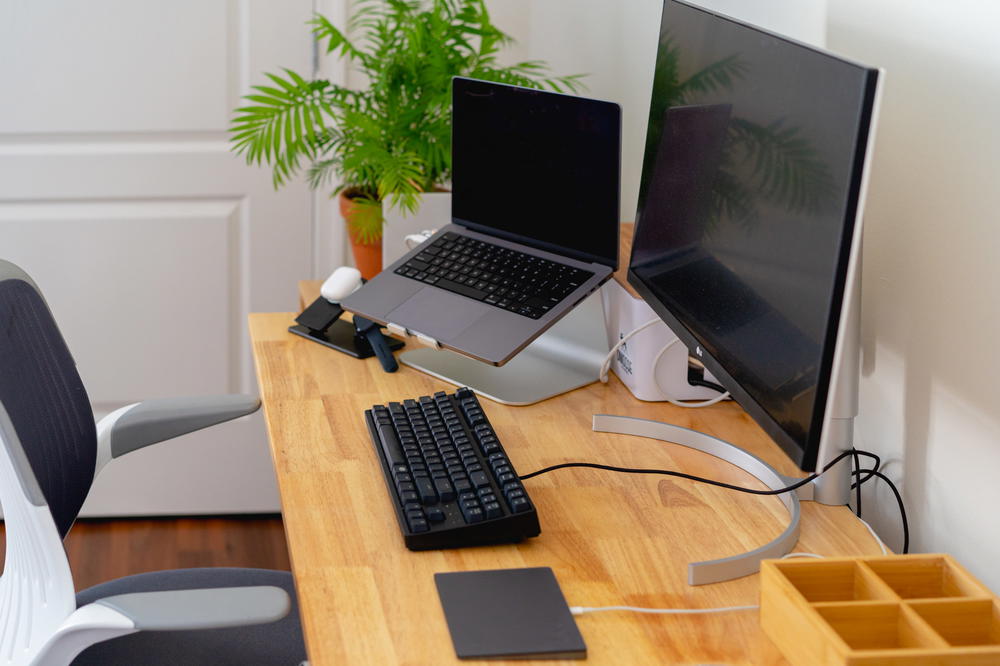 We've tested the best gadgets and devices for remote work essentials! These remote work must-haves are innovative and will let you travel with your work-from-home equipment.
This article may contain affiliate links. We earn a small commissions when you purchase via those links — and it's free for you. It's only us (Becca & Dan) working on this website, so we value your support! Read our privacy policy and learn more about us.
Table of contents
Close table of contents
Every remote worker needs some must-haves, whether those are essentials for working from home, or dedicated gadgets and gear for working remotely and traveling.
Having been working remotely since 2016, we've got a few tricks up our sleeve in terms of accessories and equipment that make our home office productive and comfortable. We also have a list of useful products that'll take your remote work trip from good to great.
Want to see what's in our list of innovative remote work products? See the list below for all your needs.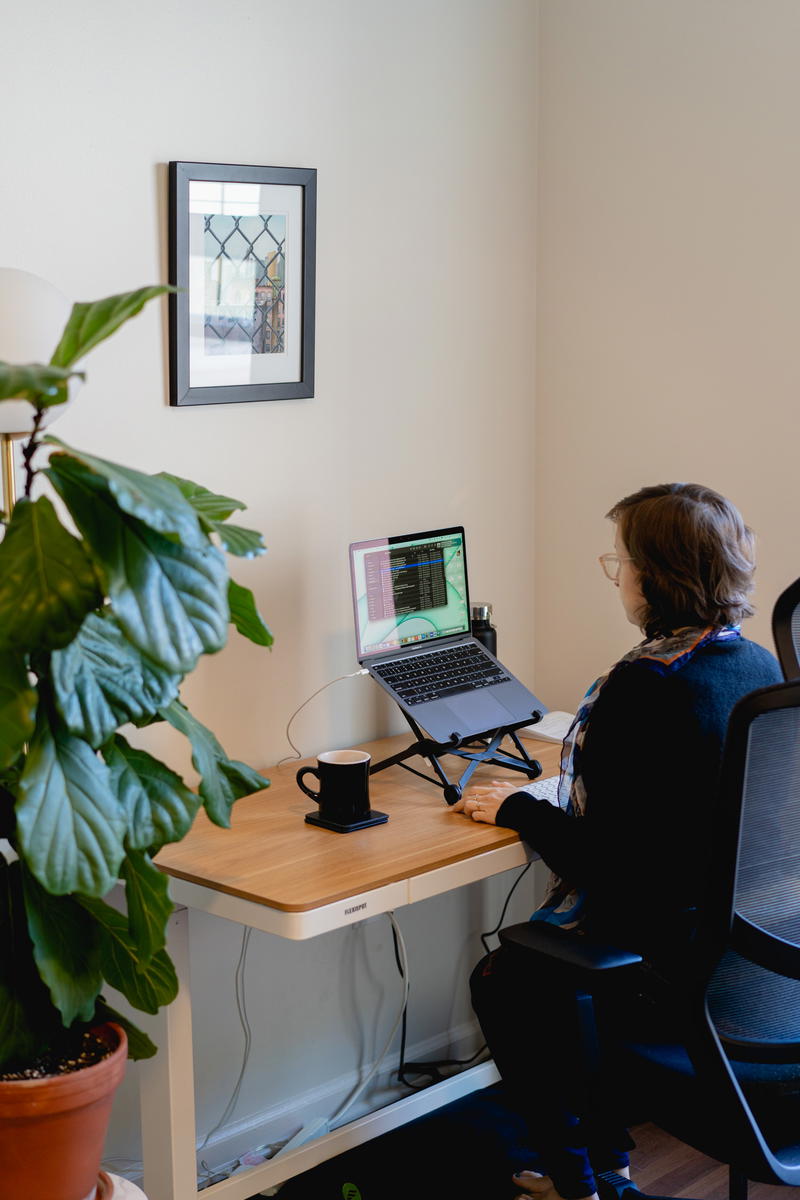 We reviewed the FlexiSpot Soutien desk chair and we highly recommend it as a default home office chair for when you're working remotely. It has excellent lumbar support, head support and a great system for adjustment.
Dan started using the chair and we eventually traded. Now that I use it, I can speak highly to the lumbar support. It's one of my favorite features and why I would recommend this chair to others. It's also affordable for the quality when compared to other chairs with similar quality.
If you think this is a good addition to your remote work setup, you can buy it at this link.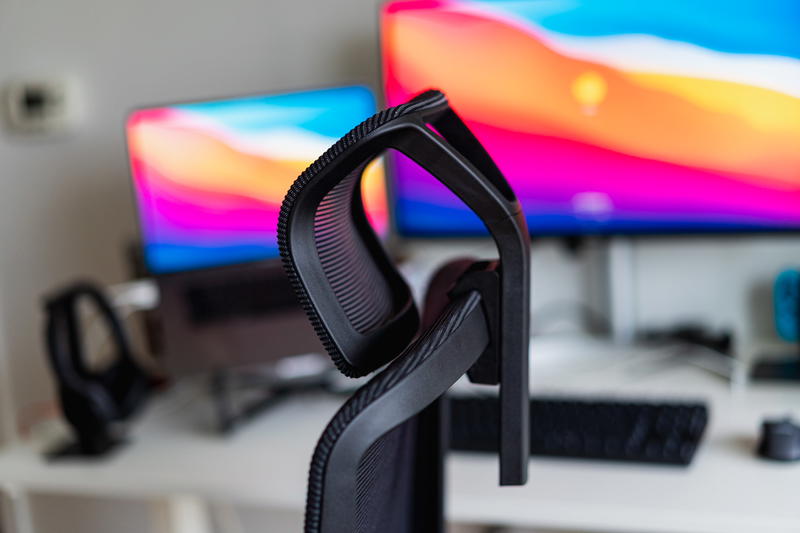 Also, are you sick of your desk chair rolling? Check out these upgraded wheels that Dan got for his desk chair. They give a smoother feel and the experience has been great, when comparing these to hard plastic wheels.
The biggest benefit bas been using them to roll over the edge of carpet. But even if you are on carpet and having trouble rolling, these wheels will be a great choice.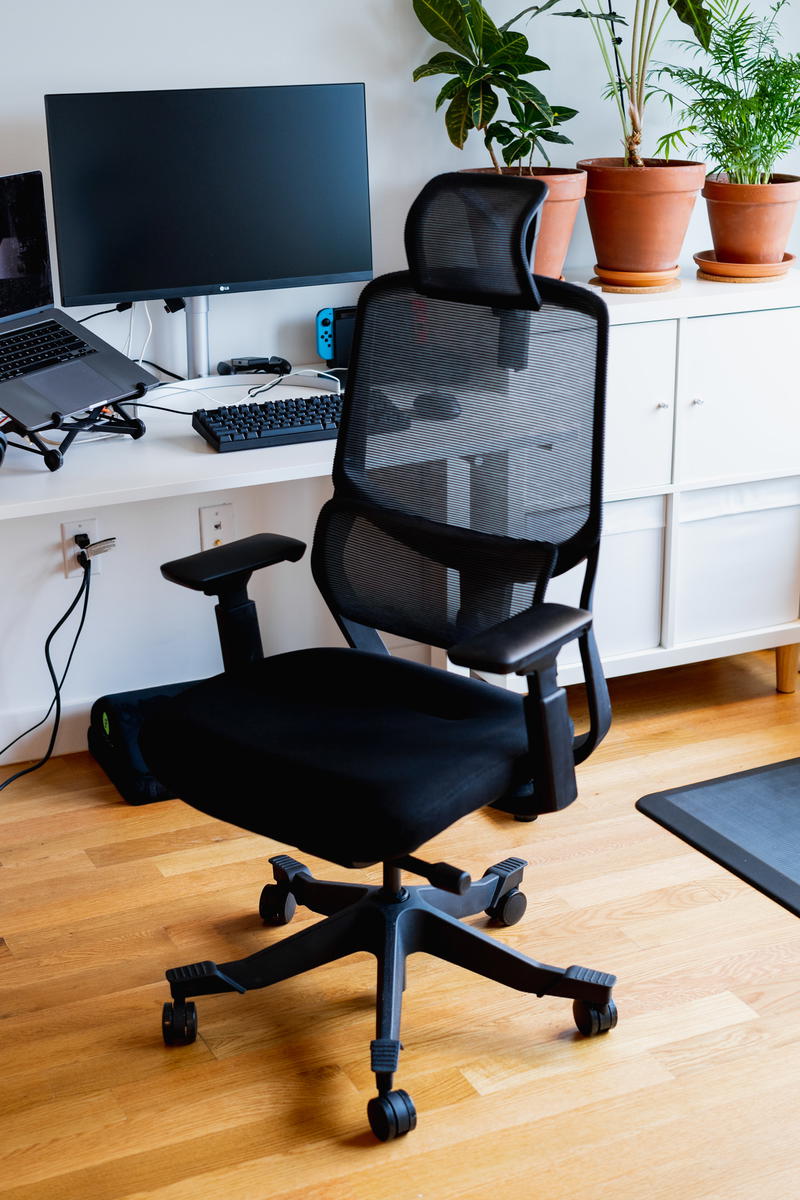 Dan has the FlexiSpot E7 standing desk and I have the FlexiSpot Comhar standing desk. We both think our standing desks are awesome for working remotely, especially when you want to change position.
These desks have enough space for an external monitor, our laptops on a laptop stand, an external keyboard, mouse with mousepad and some desk accessories.
The Comhar standing desk is a more budget option, while the E7 standing desk is a pretty luxurious upgrade with dual motors and a real hardwood surface.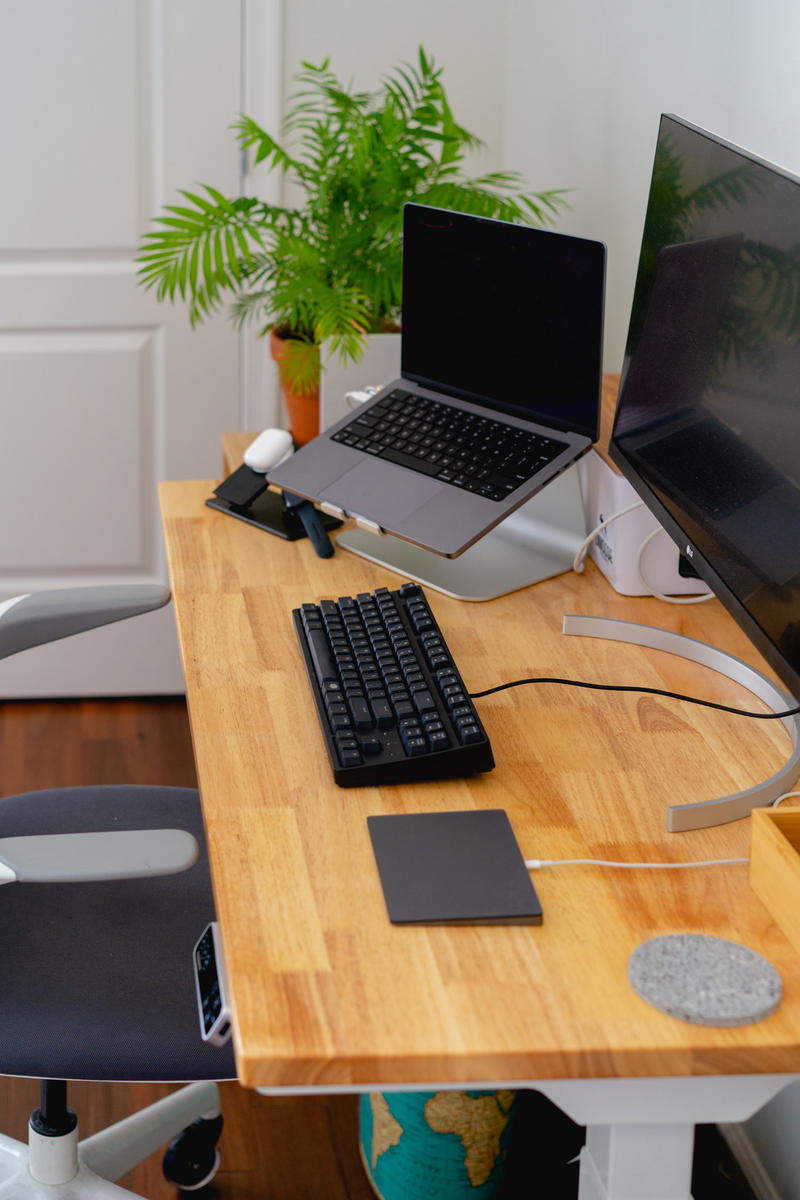 It's a great time to mention that if you're venturing into the world of standing desks, we have a few tips and best practices for using one. For example, be mindful of buying a desk chair that doesn't fit the desk height when it's in the low position!
If you're looking for more ideas for standing desks, we've got just the list for you. Check out this roundup of the most affordable standing desks.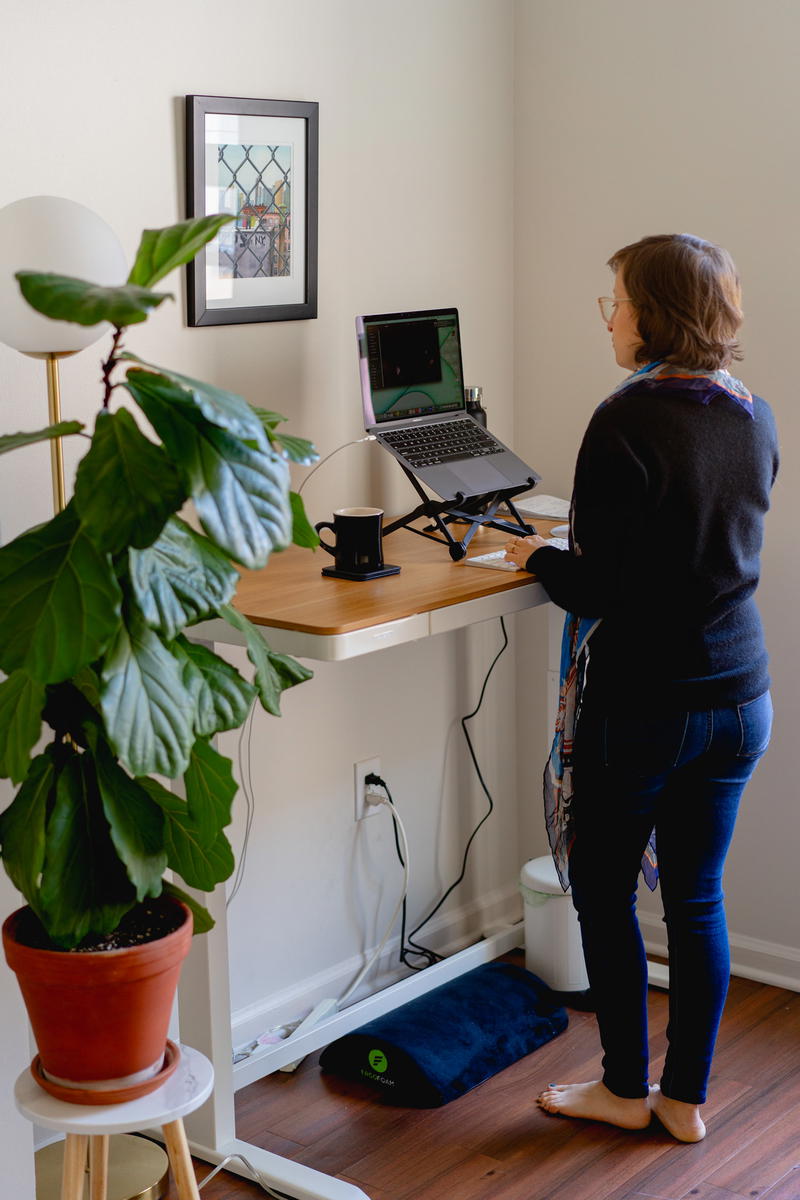 Are you working remotely from a small apartment or in a house where you're just running out of bedrooms and space?
Check out the idea of a standard room divider to divvy up space as you work remotely.
We never needed this, because most of our apartments were actually too small to divide the room! We've seen other studio apartment units in the apartment buildings that we've lived in that had some of these dividers. They create a good separation between your working space and your living space.
You can also get a few of these cubical organizer units that can really divide a large room up into sections, while also acting as a place for you to store stuff.
If you don't have a standing desk (not everyone has the budget nor physical space for one), but you want to rise up your desk at some points during the day, we recommend a height-adjustable desk riser.
Great for the laptop workstation of a remote worker, you can heighten your productivity (as well as your body) by standing at some points during the day, all without a standing desk. It's a cool accessory to have, and it's space-efficient for your home office.
My mom uses one of these and stands most of the day. Go mom!
The AirPods Pros are an upgrade from the classic AirPod models because they have active noise-cancelling, which is incredible for when you're working remotely somewhere potentially noisy.
I have the regular AirPods and Dan has the AirPods Pros. From talking with him, the noise-cancellation is amazing. It removes tons of ambient noise that we get through our apartment.
There are 3 settings, also that make them pretty sweet. You can enable noise-cancellation, turn it off or enable transparency mode. These options make them versatile and can work in a lot of different situations.
They're great for taking meetings, or interviews, or attending virtual conferences and events. Then, after you're done working, they're great to take on a run or walk if you're into staying fit while working remotely.
I like the Apple Magic Keyboard for using as my external keyboard while I'm working from home. It connects via Bluetooth to my MacBook Air, and when I have my laptop on my laptop stand and I'm working with a second monitor, it's the glue that holds all my work together.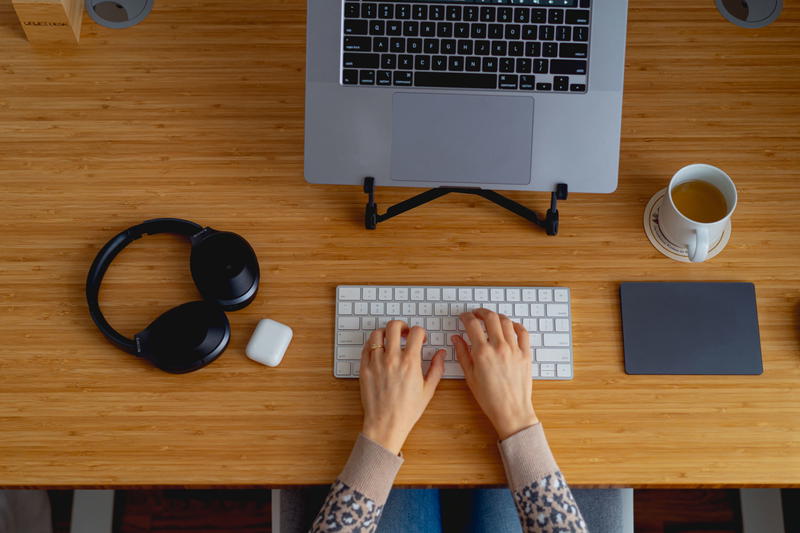 I like also that it is super thin (the thinnest Bluetooth keyboard I've seen to date), so it packs well in a bag if you plan to work remotely and travel sometime soon.
The latest iPads from Apple are sleek, slim and fast. They're great accessories for a home office, or a remote worker who frequently changes location.
As someone who works from home, having an iPad is like having another little trick in your pocket. An iPad is good for drawing or sketching (with an Apple Pencil), if you're a designer or engineer, and it's also good for taking notes like a digital notepad.
Or, really, if you're anyone who works from home and sits in a lot of meetings, a dedicated note taking device like an iPad can really make a difference in your productivity and efficiency.
In certain situations, it could replace your laptop. You can take Zoom or Slack meetings on it if you feel like multitasking (i.e. cooking lunch in the kitchen at the same time as the meeting).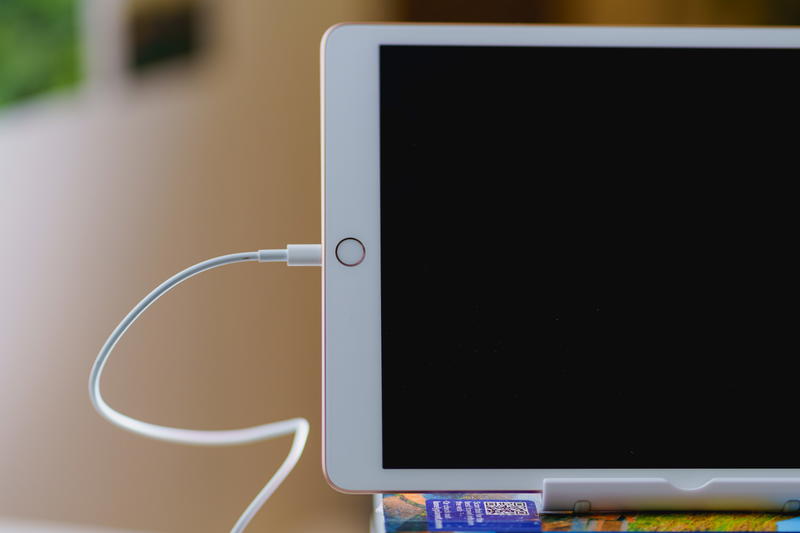 If you have an iPad, or any other tablet, it's no surprise that you need a stand for it! Luckily, we already rounded up the best tablet and iPad stands so that you don't have to.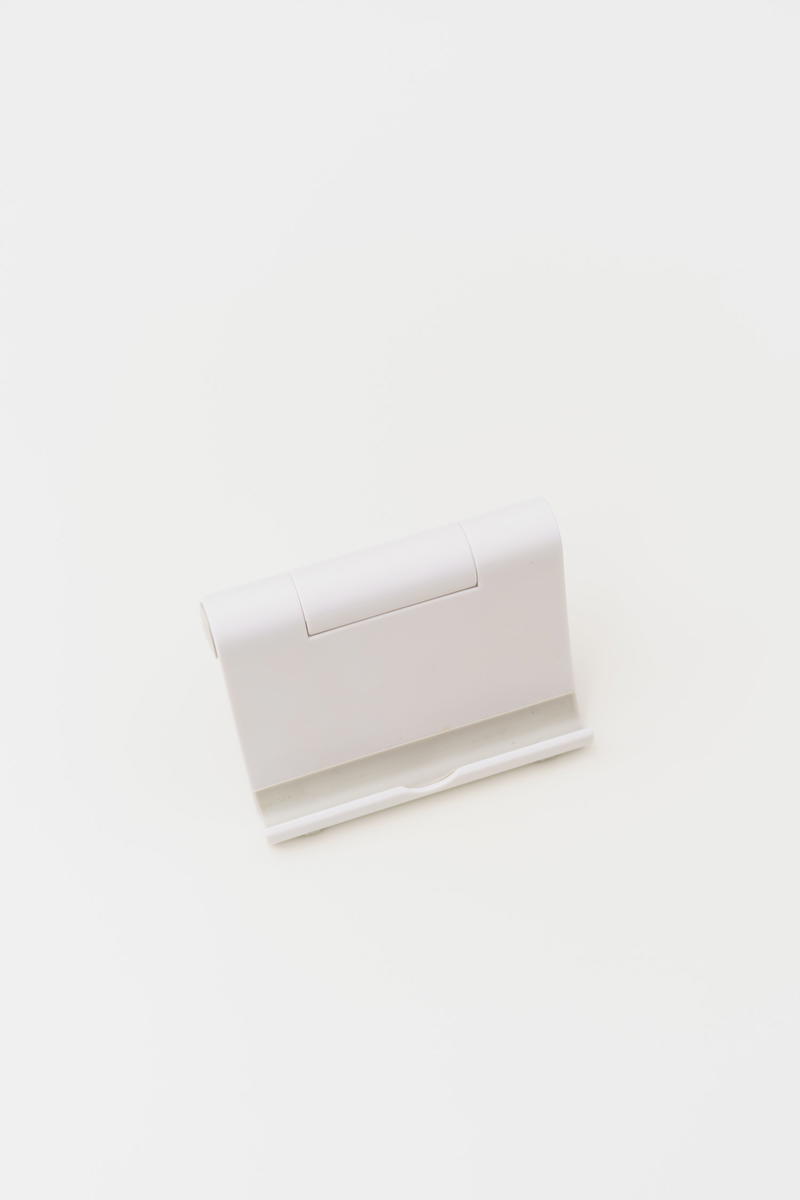 Nothing beats this simple and cheap iPad stand. We have a few of these and they work perfectly.
We bring them around the house, from the kitchen to the living room and back to our home offices, and they fold up tiny so that you can pack them in a backpack or duffel if you're working remotely from elsewhere.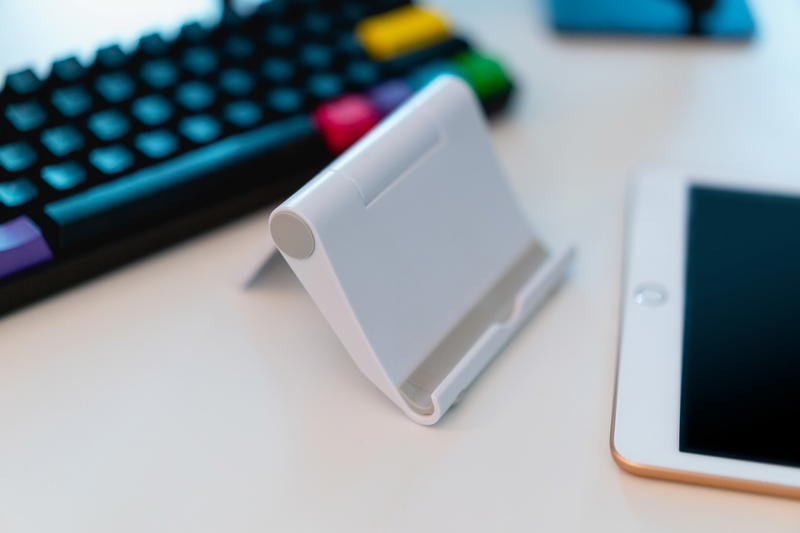 I have this 27" second monitor from LG and I am really happy with it. I tried another monitor first, and the resolution kind of made me dizzy, so this was the second upgrade that I opted for.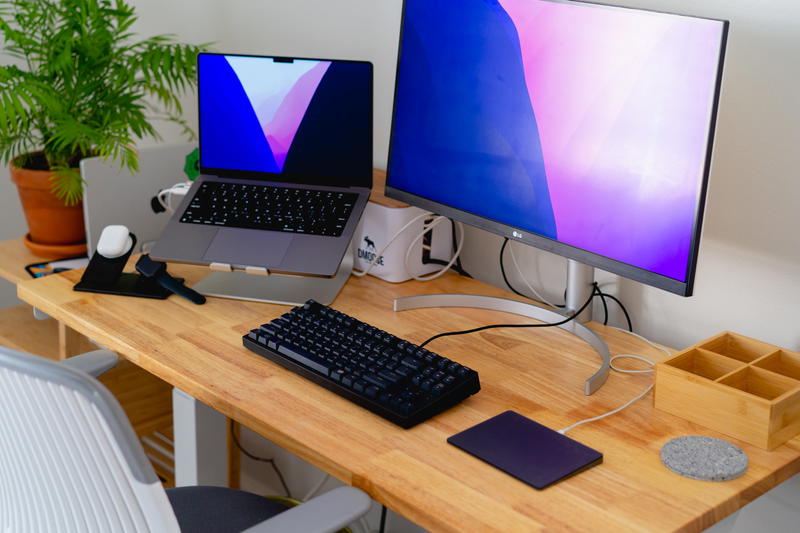 If you're accustomed to a dual or triple-monitor setup from your former company office, then it's no surprise that you need a high-quality monitor for proper remote work. This one elevated my remote work setup completely, and I'm happy about that.
It comes with a stand that I think works fine at my desk!
The Logitech MX Master 3S ergonomic mouse is a great tech accessory for remote work. I like that it's wireless with super-fast scrolling and it's fairly ergonomically. Or at least, it's more ergonomically than my Magic Mouse. Maybe I should switch!
For your work-from-home setup, don't get stuck with a mouse that doesn't check all the boxes. A wireless Bluetooth mouse like this one helps your hand avoid cramping, and it also has quiet clicking.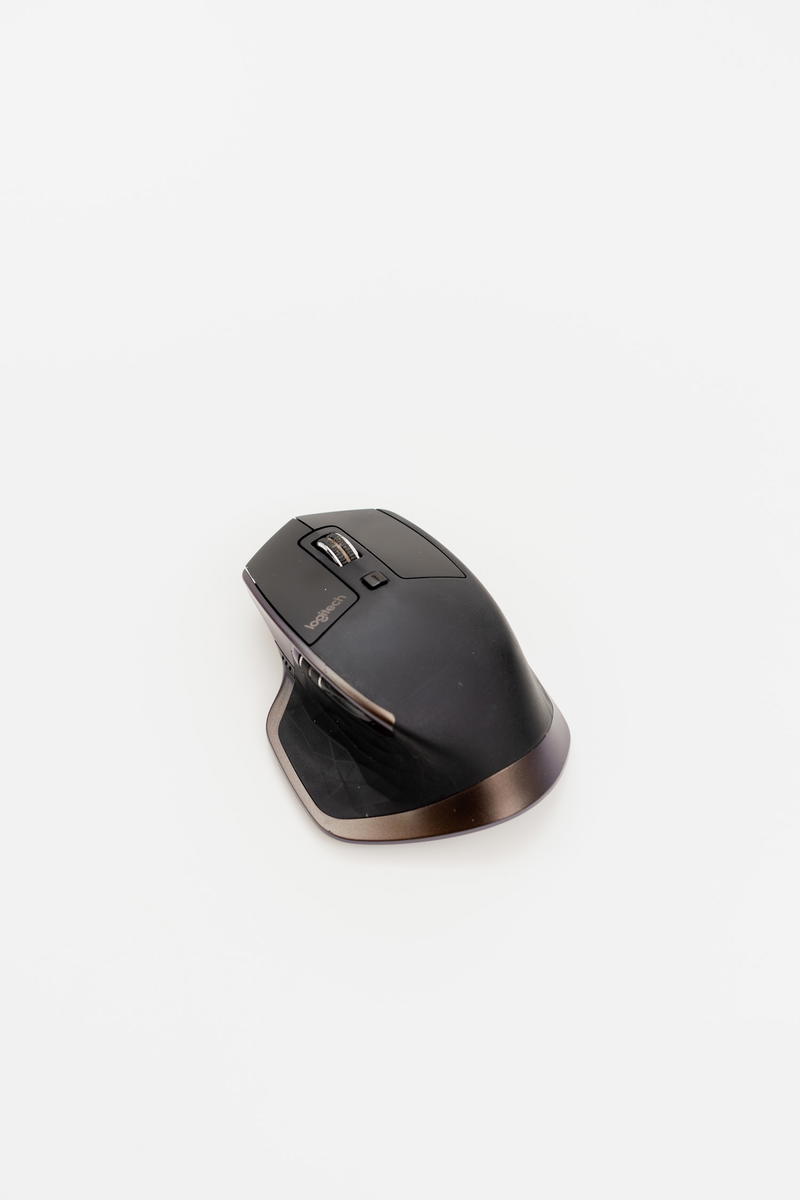 Dan reviewed the Roost Laptop Stand because it really changed how he started building his remote work equipment arsenal. It's perfect for travel, but when we're not working remotely and traveling, I actually use it on my desk.
These days, laptop stands are commonplace, as they help to elevate your laptop to head-level so that you're not looking down. Plus, if you have a multiple-monitor setup, a laptop stand is an essential home office accessory because it'll stand your laptop up at the height of the other monitor(s).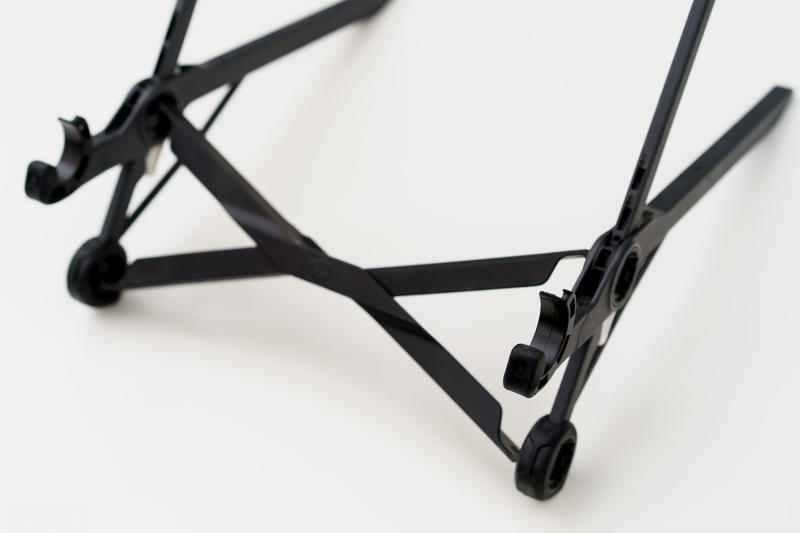 The laptop stand from Roost, in my opinion, is best in class.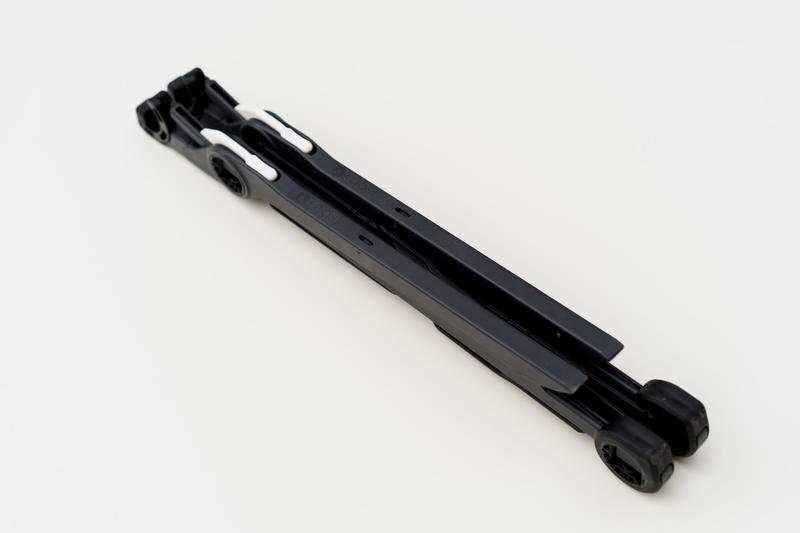 We have this dimmable touch-control desk lamp and it has been a great addition. We've tested it and approved it for you!
We like it because it has extra USB charging ports, and we keep an Apple charging cable permanently in one of the ports to charge our iPhones and AirPods.
This lamp also has no buttons, because you tap to turn it on and off with the touch control. I think it's a nice and tech-savvy feature that makes this lamp feel particularly modern.
Plants do a lot of things for a home office (you can't really take them on the road if you're working remotely elsewhere). They bring in serene greenery, make you feel like you're in a small jungle and they're also great for a Zoom background.
Did you know that plants also help reduce echo in your workspace?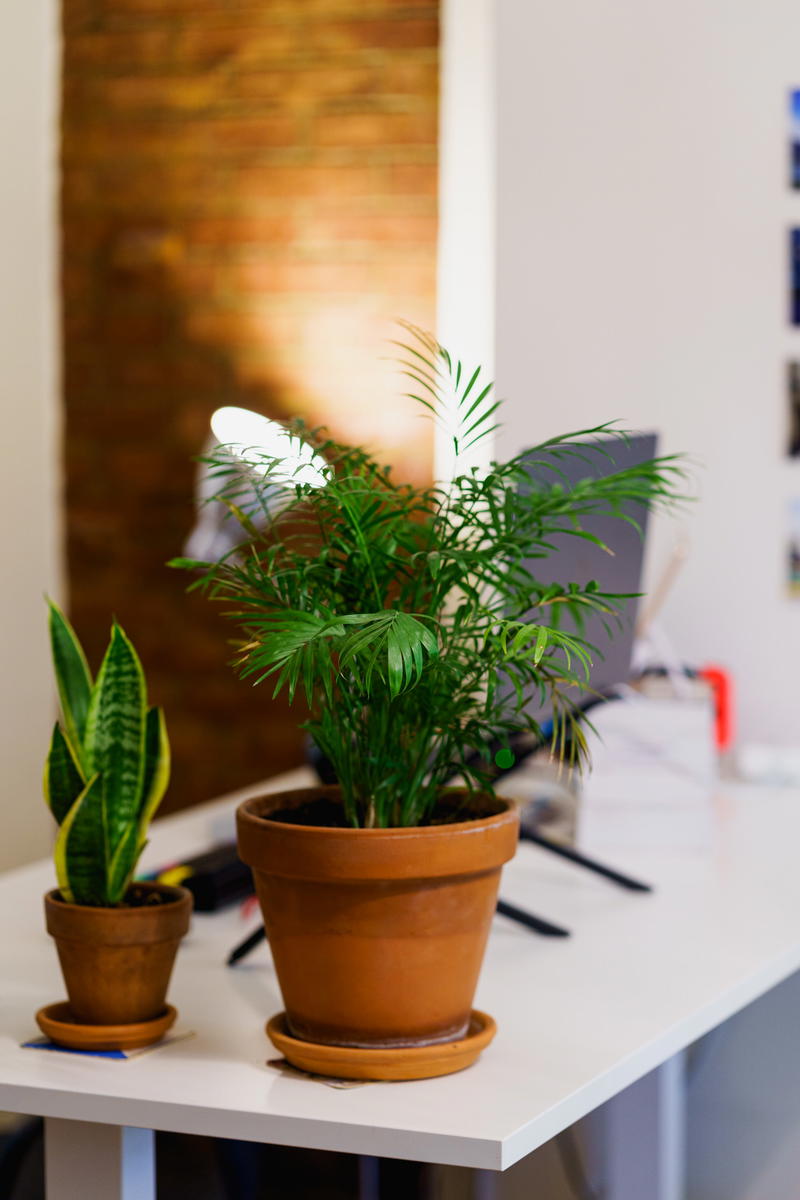 Behold the cuteness of a family of succulents that you can easily order to have in the window of your remote workspace at home. If you travel for work and you're not home often enough for the plant caretaking responsibility, opt for some good fake ones.
From about October to March, I'm very happy burning a candle at my desk or in my window while I'm working remotely. Right now I'm into the Homesick Candle series, like this New York City-scented wax candle that both looks nice and smells pretty. If you're into richer smells, try these luxury scented soy candles.
Having candles (as long as you light them safely and blow them out after 2 hours) makes your remote working area cozy and can calm your senses on stressful workdays.
We have a few of these bamboo desk organizers around our apartment. They are perfect for organizing small items, and they're very affordable. When items collect on and around your desk, these are perfect storage for those various things, to get them out of sight and stay minimalist.
Also, take a look at Ugmonk for some pretty sweet desk organizers!
Do you want to be the remote employee who is actually working from a bean bag chair? How cool would that be?
If you have the space in your home office, make a corner for a bean bag chair like this one. It's just one more nifty workspace product that can take your remote work from stale to fun.
If you have kids, you can get multipurpose use out of this as well.
For Dan, he really likes spending time working from home in different places around our apartment. He'll start the day at his desk, move to the couch and sometimes sit at the kitchen counter.
If we had more room, a beanbag would be a great addition and add to the variety of places to sit and feel inspired.
I never thought I'd be a lap desk person, but alas, when I'm on the couch, I use a lap desk like this one to have my laptop propped up on a flat surface.
If you plan to go on a little road trip workation, this is even something you can bring with you. As long as you can carry something like this from place to place, it's a good remote work accessory to bring the office wherever you are.
A nice (and portable) remote work accessory that Dan has come to really enjoy is this Sandmarc dock for both an iPhone and Apple Watch. The magnetic spots also hold an AirPods case and can charge it up.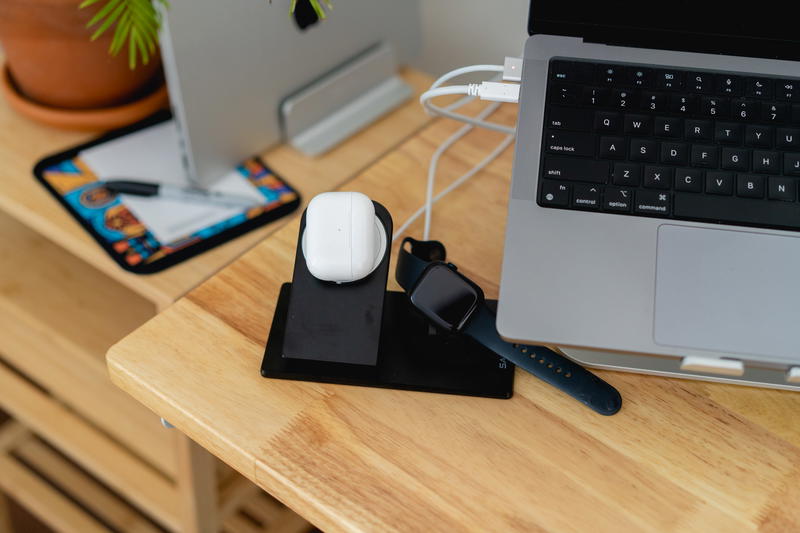 If you're interested in this type of desk accessory, Anker also makes a wireless charging station with a power adapter for your Apple products.
For working remotely at home, or on the go, see if you're into having a yoga mat for a little bit of staying fit while you work remote.
I have the YOGO yoga mat, and what I like about it is that I've never had a yoga mat that folds up so small and thinly. I take it to yoga class, and then I roll it back out when I'm home and need a mid-day stretch.
For those who want to work remotely and travel, consider that having some of your own fitness gear with you makes working out possible, even when far from home.
Call it being over protective, but wouldn't you rather be safer than sorry if your laptop got stolen while you were working remotely in a cafe in your city, or in a great destination abroad?
A laptop lock can tether your laptop to a solid fixture when you're working remotely at a cafe, restaurant, bar or coworking space.
This is exactly the type of product I wish I had earlier, even though I've never been a victim of crime. But, we have friends who've experienced crime as remote workers while traveling abroad, which is why we've written articles like "Is Mexico City Safe?".
This laptop lock will work if your laptop has a lock port. Note: it will not work with most newer-version MacBooks!
If you'll be traveling for a little while (and working remotely), consider a luggage lock as one of those items to safeguard your valuables.
Having your luggage broken into (especially when your luggage contains things like your laptop, laptop stand, headphones, mouse, keyboard and more) would be a total pain if you have the obligations of work while on the road.
If you're a Mac user, you can actually use your iPad as a second monitor to use, if you're traveling and need a second screen. Look into Sidecar if you didn't know this was possible.
You can look into the HoverBar Duo from Twelve South. It'll allow you to prop up your iPad in a few different positions based on your working environment.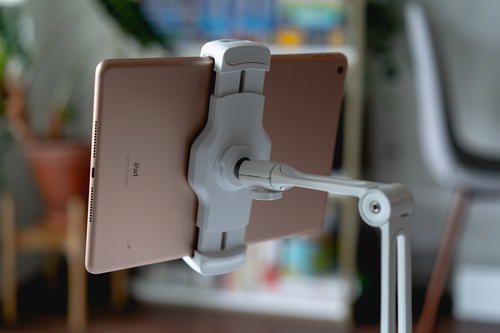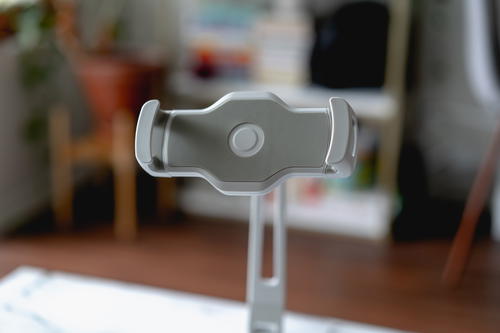 If weight is a concern, and you want to take this set up with you on the road, you should be able to still leverage the clamp attachment and the arm. The base is the only item in this kit with substantial (only about a pound) weight.
Not only is it a solid idea for when you're traveling, but we also had this iPad "sidecar" setup when we worked remotely from a tiny apartment.
This is an awesome remote work hack for anyone who plans to 'workation,' because toting a 27" external monitor is not entirely possible when you're confined to a carry-on and personal item!
For non-Mac users (or even Mac users who want a bigger screen), you can use something like the ASUS ZenScreen Go MB16AHP 15.6" Portable Monitor, which I find to be an impressive option.
If you travel internationally while working remotely, and you've got your whole remote work setup, you might need one of these all-in-one universal travel adapters, which is a worldwide power converter that has dual USB charging ports.
I've been that person who worked remotely from Lisbon andHanoi, and believe me, having a travel adapter let me get my work done!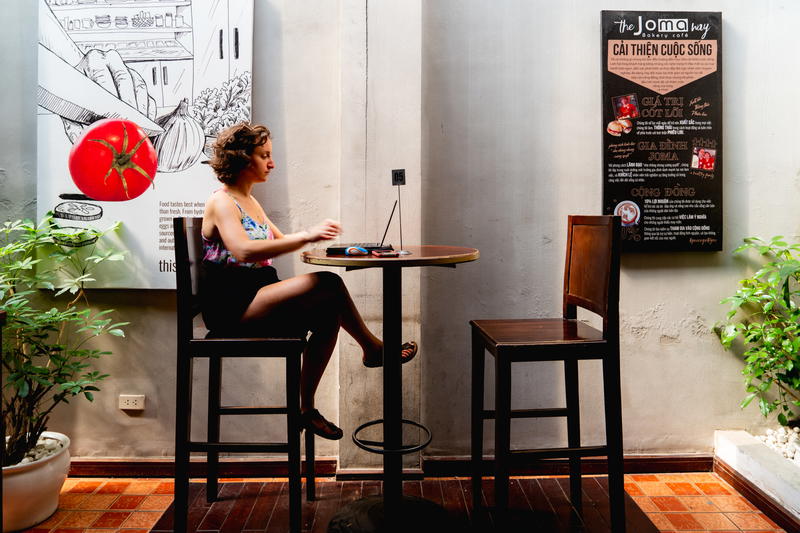 Enjoyed our article?
Consider supporting us! We're a 2-person team (learn more about us here) and your support enables us to create quality content. Thank you!