What to Know Before You Buy Mott & Bow Apparel
Updated on September 9th, 2023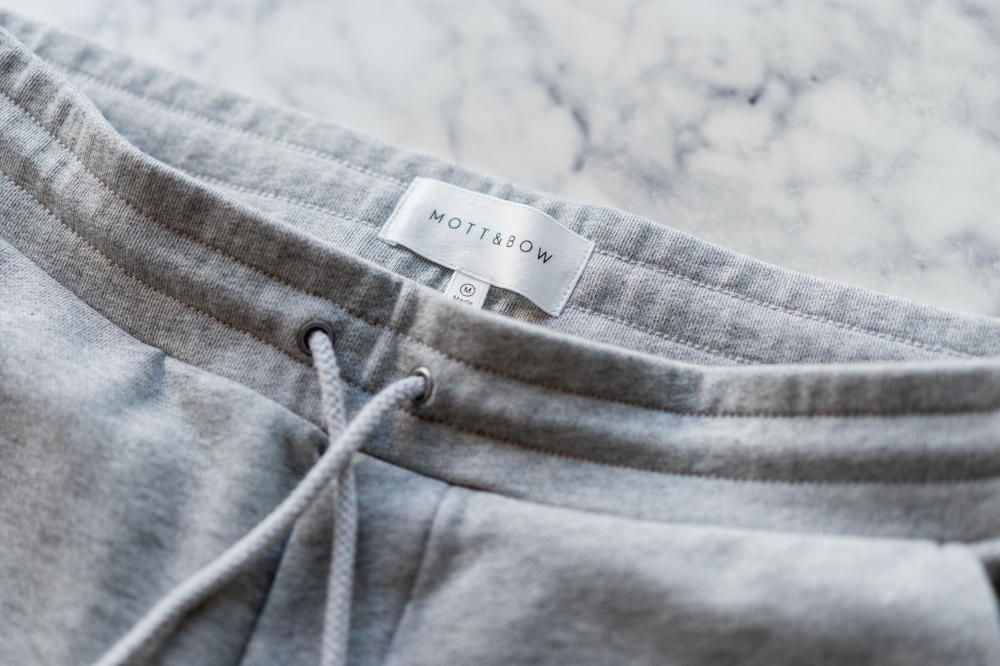 Is Mott & Bow legit? We tried the women's slim boyfriend jeans, the men's slim Mercer jeans and sweats, the fitted tee and the cashmere sweater in this honest review for sizing and fit.
This article may contain affiliate links. We earn a small commissions when you purchase via those links — and it's free for you. It's only us (Becca & Dan) working on this website, so we value your support! Read our privacy policy and learn more about us.
Table of contents
Close table of contents
Mott & Bow is a NYC-based clothing company that strives to provide premium-grade jeans at a reasonable price. They specialize in jeans, but also sell some other items like shirts, accessories, sweatpants and more.
We decided to try a few Mott & Bow products to get a sense of the quality and determine if they're worth fully recommending to you.
As a note, before you start reading, it's important to say that we (Becca and Dan) are regular people. We aren't models — far from it. We've taken all the photos you see below, of how Mott & Bow products fit us, and there hasn't been any tailoring. Everything is right out of the bag.
This review is not sponsored. Mott & Bow sent us items to review, so we gave everything a test run and started incorporating these products into our regular wardrobes. All opinions below are completely our own, based on what we thought!
Are you interested in the women's Mott & Bow products? If so, skip down to the women's product reviews or check out the Mott & Bow website.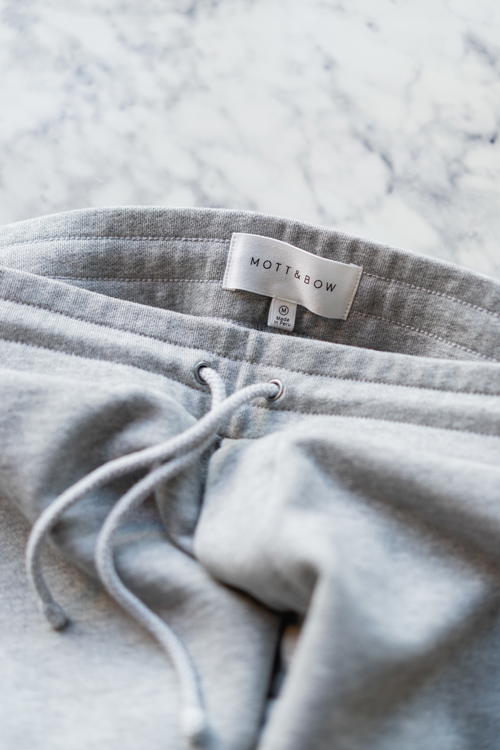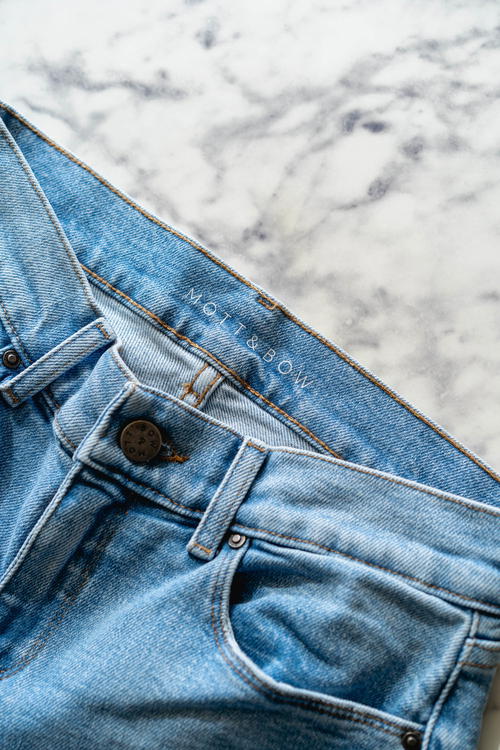 We enjoy the quality and durability of everything that we've tried (if not, then we say so). Everything feels premium (well, to our standards) and is a step up for our wardrobes (which are nothing to write home about). We tend to hang hold onto our clothes for a long time and we give our favorite items a lot of use. Neither of us are terribly fashionable, but we like being completely comfortable, casual and looking decent and fresh.
When Dan likes a pair of pants, they are usually the only pair of pants he wears, and for Becca, she sticks to jeans that fit perfectly. If it's anything less, she won't settle for it.
Some of what makes Mott & Bow so unique is their production process for jeans. Each pair goes through quite the journey before they arrive at your doorstep. You can learn more about their process on their website.
We're going to get started with reviewing some of the new products, as well as staples, that Mott & Bow sells online.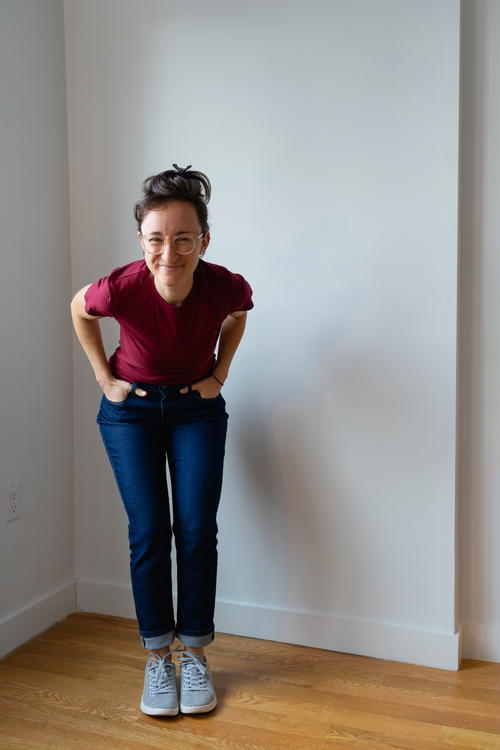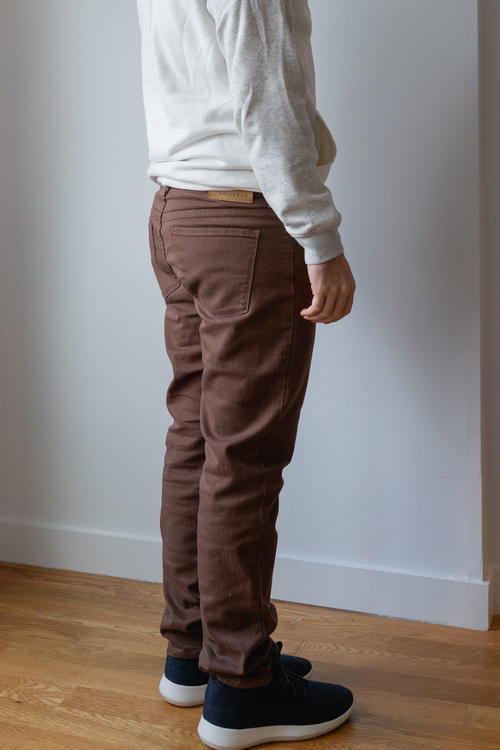 Mid-Rise & High-Rise Skinny Stretch Collection for Women
Believe me when I say that besides the boyfriend-style women's Laight jeans from Mott & Bow, the mid-rise and high-rise skinny stretch denim jeans are my favorite everyday high-quality bottoms.
As I write this, I'm wearing the mid-rise skinny Ann jeans in medium blue. They go with everything, and they're a great choice for travel pants for women.
They have a flattering fit, and if I can't figure out what to wear, I choose these. I also got the mid-rise Orchard jeans in Dark Gray, and the high-rise Jane in light blue.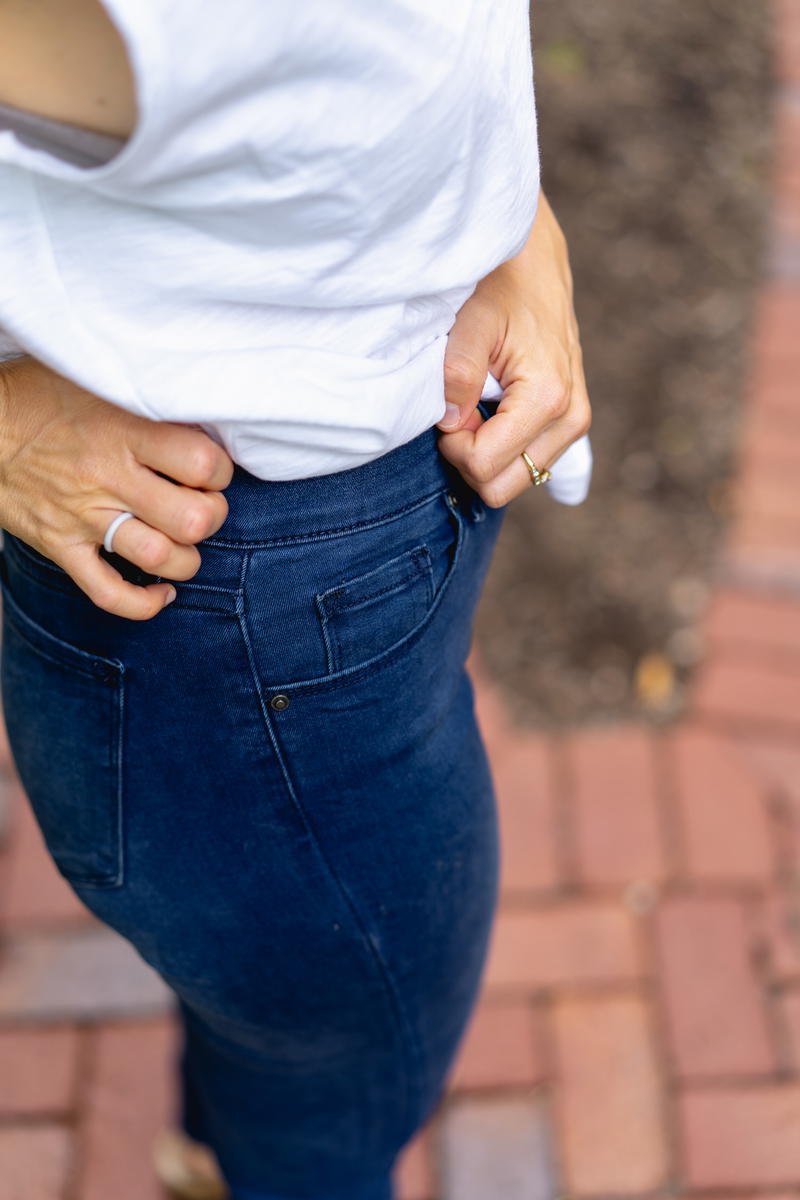 The flattering style
Mott & Bow has a good track record with me for most of their styles fitting me without needing tailoring. It's a good feeling to slide on a pair of jeans when I know my size, and to feel great about them.
After trying a mid-rise style and a high-rise style, I felt more flattered in the mid-rise front rise and opted for the mid-rise instead of high-rise on the Ann, which I received later.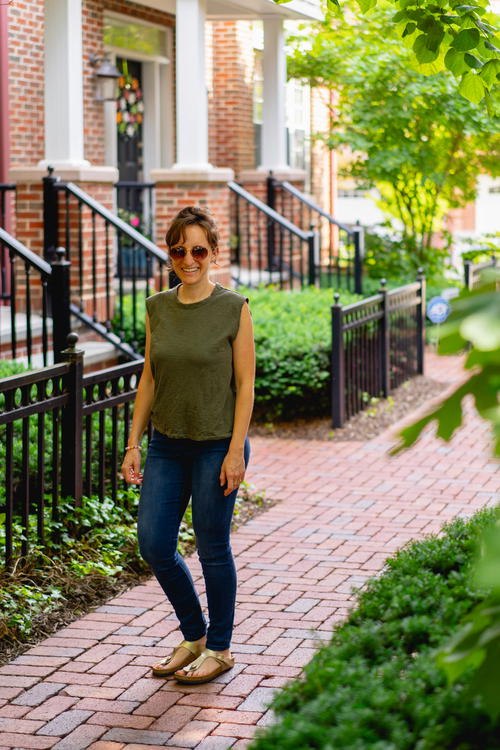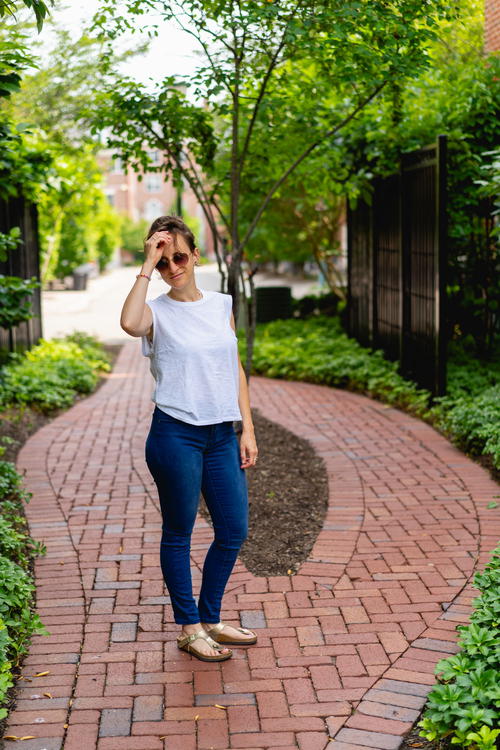 The fit
With the mid- and high-rise skinny jeans from Mott & Bow, namely the Ann, Jane and Orchard jeans, I found that a size 26 waist and 28 length were perfect for me. I had been looking for jeans with stretch, as the Laight jeans, while they fit awesomely, are definitely not a stretch jean.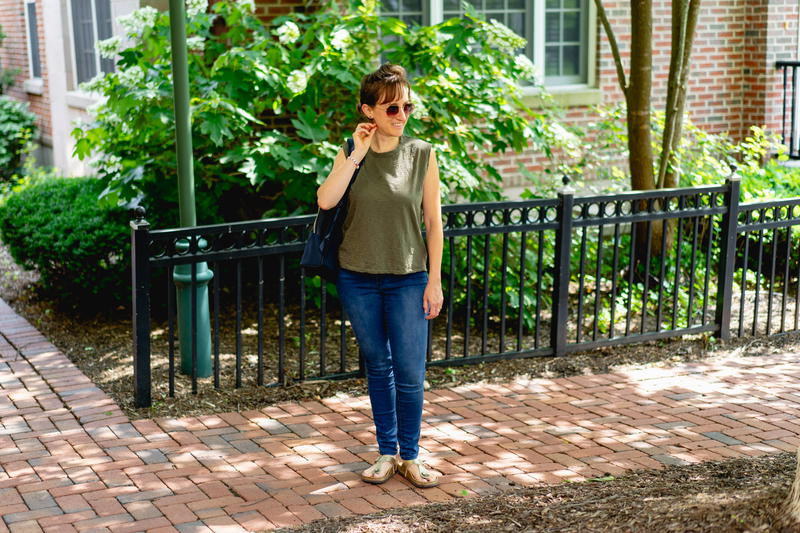 Stretch factor
I found that the mid-rise Ann had the "most perfect" fit for me, out of these three. The Orchard, in dark gray, were a big snugger, and the Jane (high-rise) fell in the middle. That being said, though, the Orchard jeans boast the highest-powered stretch factor, classified as a superpower stretch by Mott & Bow.
I should also note that the Ann and Orchard have 53% and 55% "stretch factors," respectively, and Jane is a 45%. You can feel this difference when you wear the jeans like I do.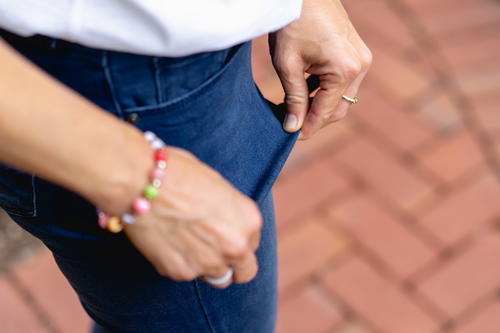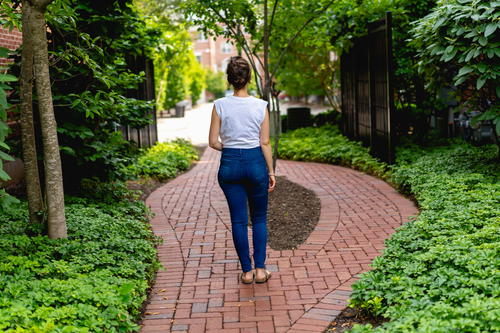 Denim thickness and weight
In terms of which of these jeans is the lightest-weight, it's also the Ann. Mott & Bow suggests that the Ann jeans might be your favorite jeans for travel, as, with a good folding technique, they'll fold up small in a packing cube in your luggage.
The Orchard jeans come in next for fabric weight and thickness, and then Jane. Even though it's slight, you can feel the difference. Therefore, the skinny Jane would keep your legs warmer in the winter, and Ann might be ever-so-slightly better for a spring and summer pair of jeans.
For Mott & Bown's fall collection, I mysteriously wound up trying the High-Rise Skinny Bond Jeans in Black, sized in 26x28. I was like, "Did I even order these?" and legitimately did not remember deciding on these, but gave them a shot when they showed up at my door.
Surprise: the Bond jeans fit great. They have 43% elasticity, and whereas I wasn't 100% over the moon with the high-rise nature of the Jane jeans, the Bond jeans in high-rise felt like a more natural fit somehow.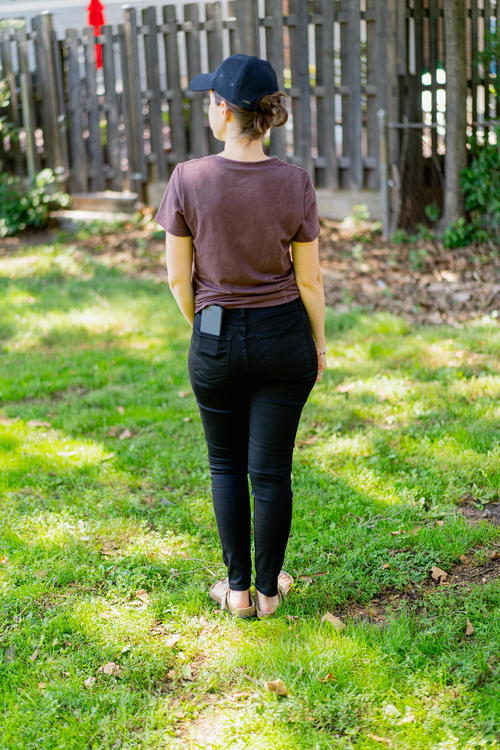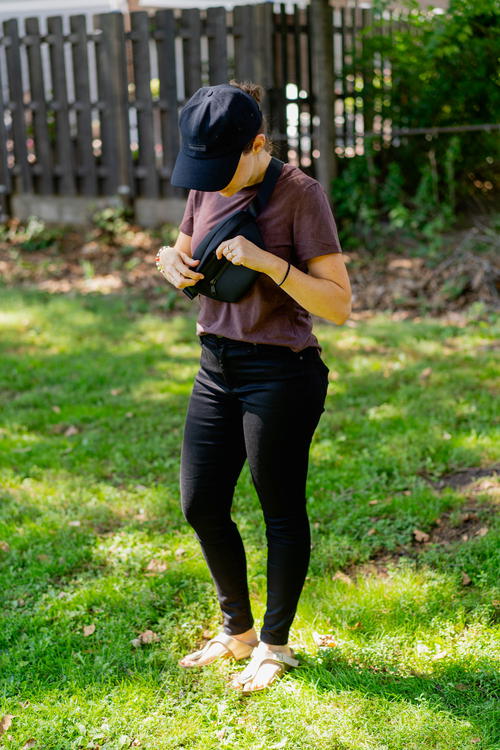 This one has a comfortable "power stretch" and you can see in my photos here that they flatter me, have a slimming effect and (you can't see this, but I'll tell you anyway) have a medium fabric weight of 11.5 oz.
How do you think they look? I went really casual with how I styled these, pairing an outdoorsy travel day shirt with a neoprene belt bag and sandals. I think the women's Bond jeans go with anything, and I'd be glad to dress them up with a blazer and blouse.
Where to buy Mott & Bow jeans
Mott & Bow is only available online. There are currently no stores to visit where you can sample and try on their clothing. Fortunately, their returns are free and easy.
I received the Women's Slim Laight Boyfriend Jeans in Dark Blue, size W25 x L28. I also tried the Ridge, Hubert and Mercer styles and kept them around as close seconds (but Laight is my favorite).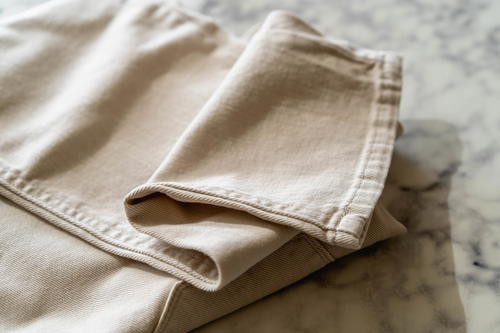 I opted for the Laight jeans because I only have two other pairs of boyfriend-style jeans (lower-rise than high-waisted skinny jeans) and I liked the classic deep blue wash.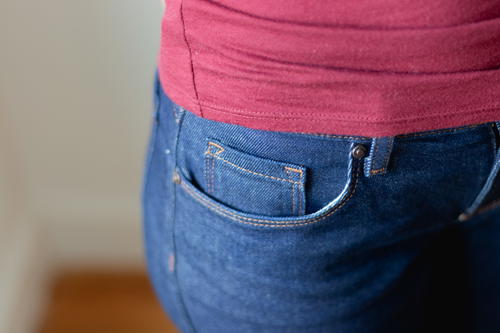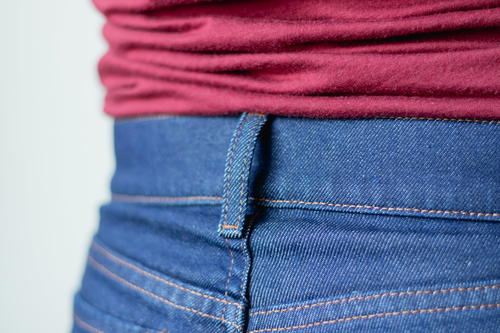 When I buy jeans, I am always skeptical. For many years, it was hard to find jeans that hit my ankle in the right spot due to my being petite at 5'2".
I also would avoid shopping for jeans because I never like the risk of having excess fabric at the front crotch area. For this reason, jeans shopping is never something I enjoyed, and I've typically had only two to four jeans that I cycled through during a given year.
Then came the day our Mott & Bow package arrived. I put on the Mott & Bow Women's Slim Laight Boyfriend Jeans and, I will explain the rest below.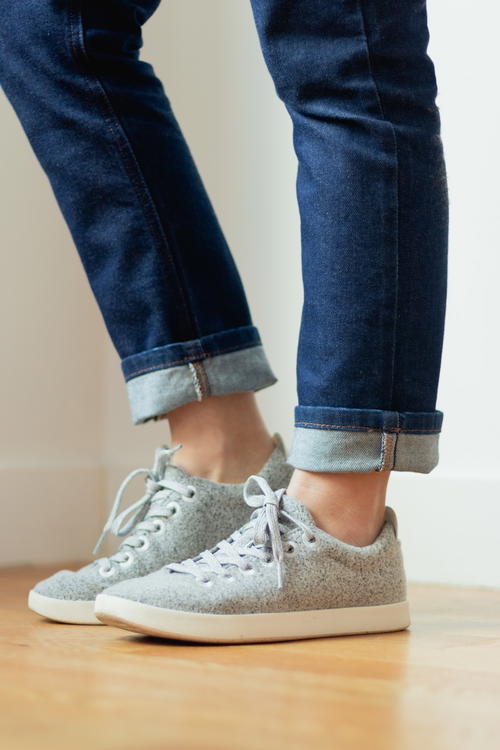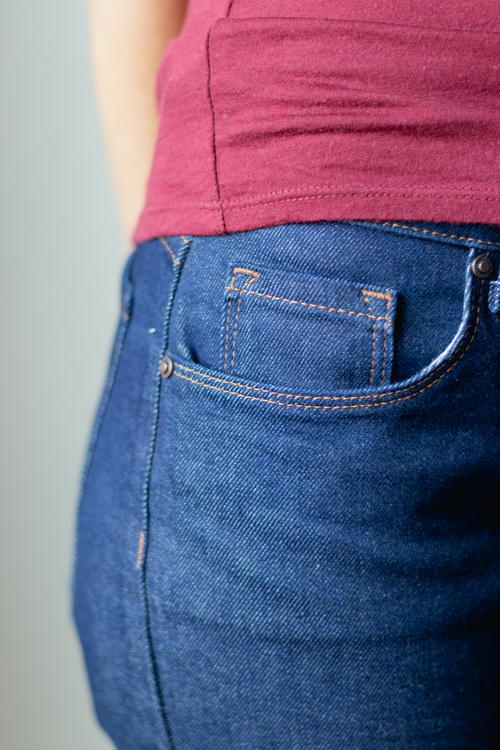 The fit of Mott & Bow's Slim Boyfriend Laight jeans
The fit of the Laight boyfriend jeans is what Mott & Bow calls a modern slim boyfriend fit with a mid-rise front. Their website does note that their boyfriend jeans are not baggy, like a "traditional boyfriend jean," which I now see as being true.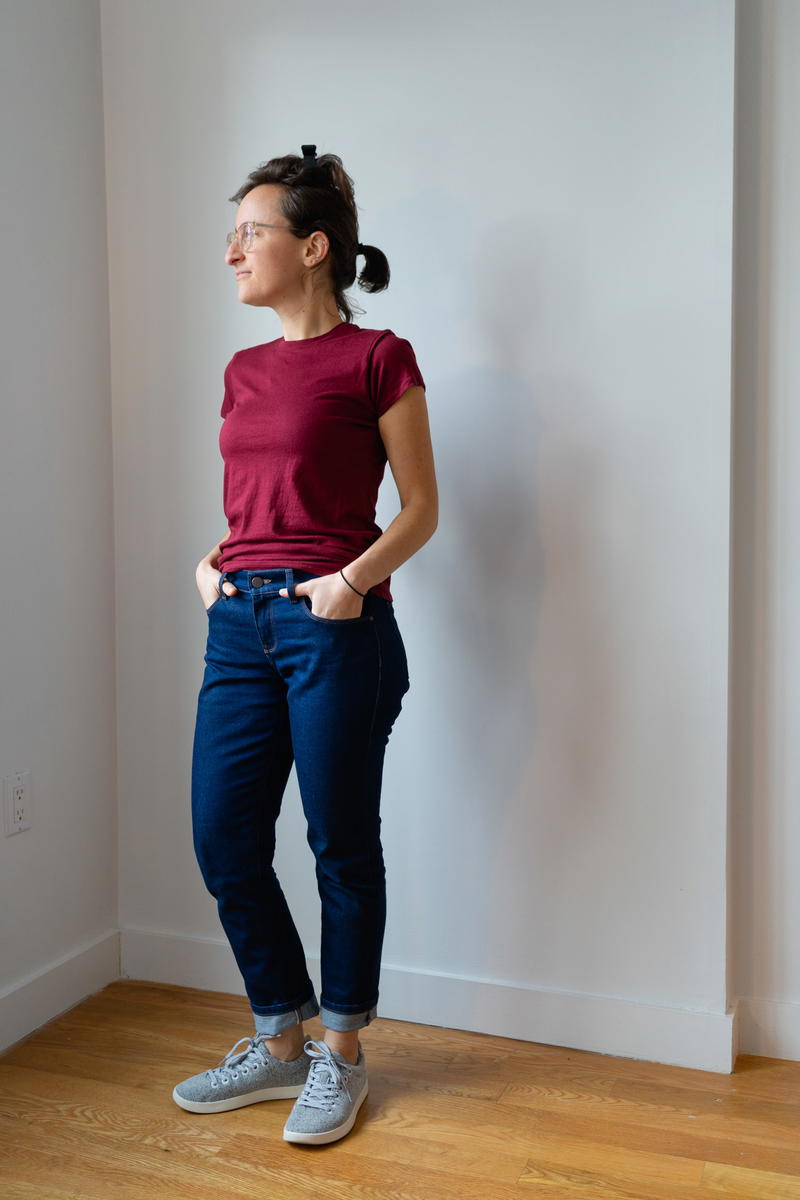 These jeans fit with a straight and modest feel. They are not too tight or too stretchy, and because they're mid-weight, I do not feel like they are hugging my form too closely. I have worn these jeans to work, and out to run errands with boat shoes or sneakers.
Now, what you should note is that the model on their website is noted as being 5'11" and wearing a size 26.
I'm 5'2" and I'm perfectly normal-sized, and I wear one size down at a size 25. The jeans are hitting the model's legs about 2 inches above her ankles, and the jeans are doubly cuffed. I also cuff the jeans twice to get the ankle look, but with bigger cuffs.
I was honestly very impressed that these jeans slid right on and made me feel good. These boyfriend jeans are indeed not baggy, and so they look decent. They're a nice alternative to skinny high-waisted jeans, which are my other go-to in my wardrobe.
They're also more decent-looking with their dark blue hue, and I'd be likely to dress them up instead of my other boyfriend-style jeans, which have a lighter wash and some distressing.
The fit for Ridge, Hubert & Mercer Slim Boyfriend styles
I found these styles to be true to how Mott & Bow discusses their denim weights. Hubert is a "heavy" fabric weight that you can really feel as being thick and sturdy, Ridge is "medium," with 23% elasticity (I could feel this too) and Mercer is a "lightweight" denim that (with 20% elasticity) for sure is a spring and summer pant.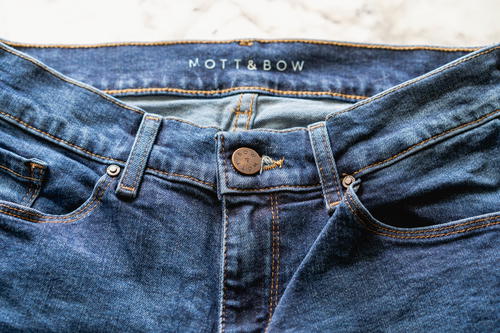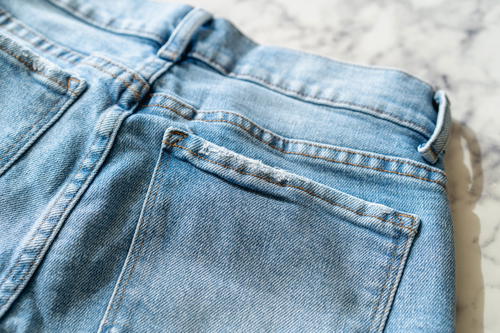 I found that at 28L, these pants all hit the correct spot at my ankle and foot (they're not a crop style like the Laight), and were mid-rise styles true to how they're expressed online.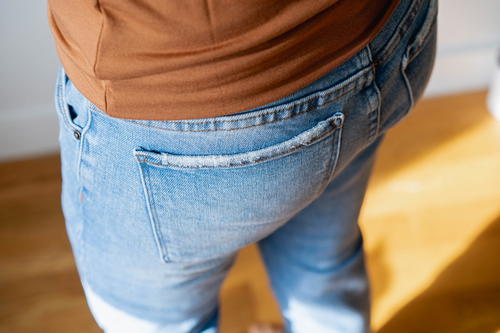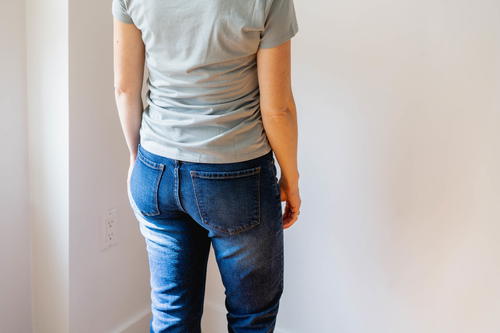 Comfort
The Women's Slim Laight Boyfriend Jeans are really comfortable. I think this is because they are not too tight in the behind, nor in the legs, nor at the calves. There is a touch of stretch for comfort, which comes from the 98% cotton-2% elastane blend, but it is not overly stretchy and feels and looks like real authentic denim.
Care
For care, like the men's jeans, the women's slim boyfriend jeans should be washed inside-out if possible, and tumble dried on low or hung dry. Most of the time, I hang-dry my jeans to preserve their fabrics, after learning that dryers (on high) can really do harm to most garments.
Another interesting thing is that Mott & Bow suggests that 'washing often is not required.' I feel like I've rarely seen this on clothing websites; however, this works for me, because I avoid washing my jeans too often. I don't want to over-wash and get breakage in blends and fabrics, and because I hang-dry my jeans, it can sometimes take a day.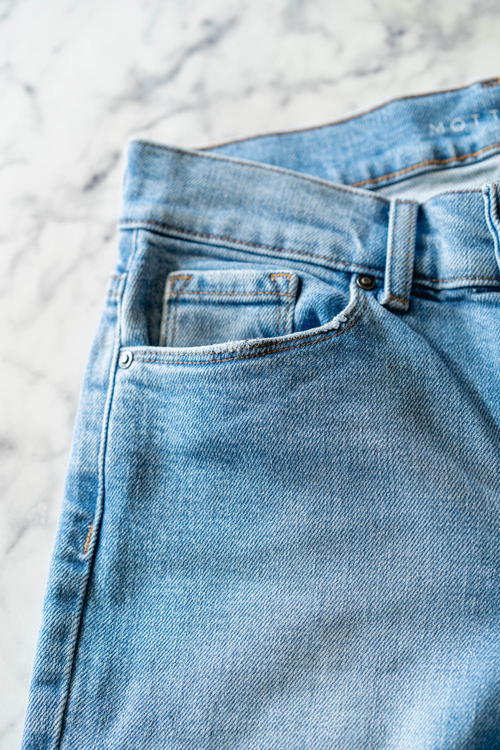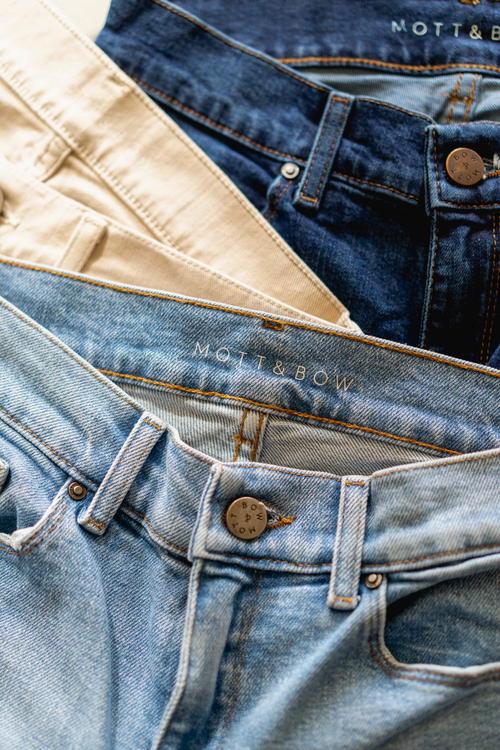 Typical Use
As mentioned, I wore my Laight boyfriend jeans to the office with (surprise: I did not mention this!) my Mott & Bow fitted Marcy tee, and a cardigan. I cuffed them twice and paired them with my Sperry boat shoes for a classic and sophisticated look.
I have also worn the Laight Boyfriend Jeans while out shopping, with a hoodie, and with my Allbirds Women's Pipers. They are decent, yet casual, and definitely chic.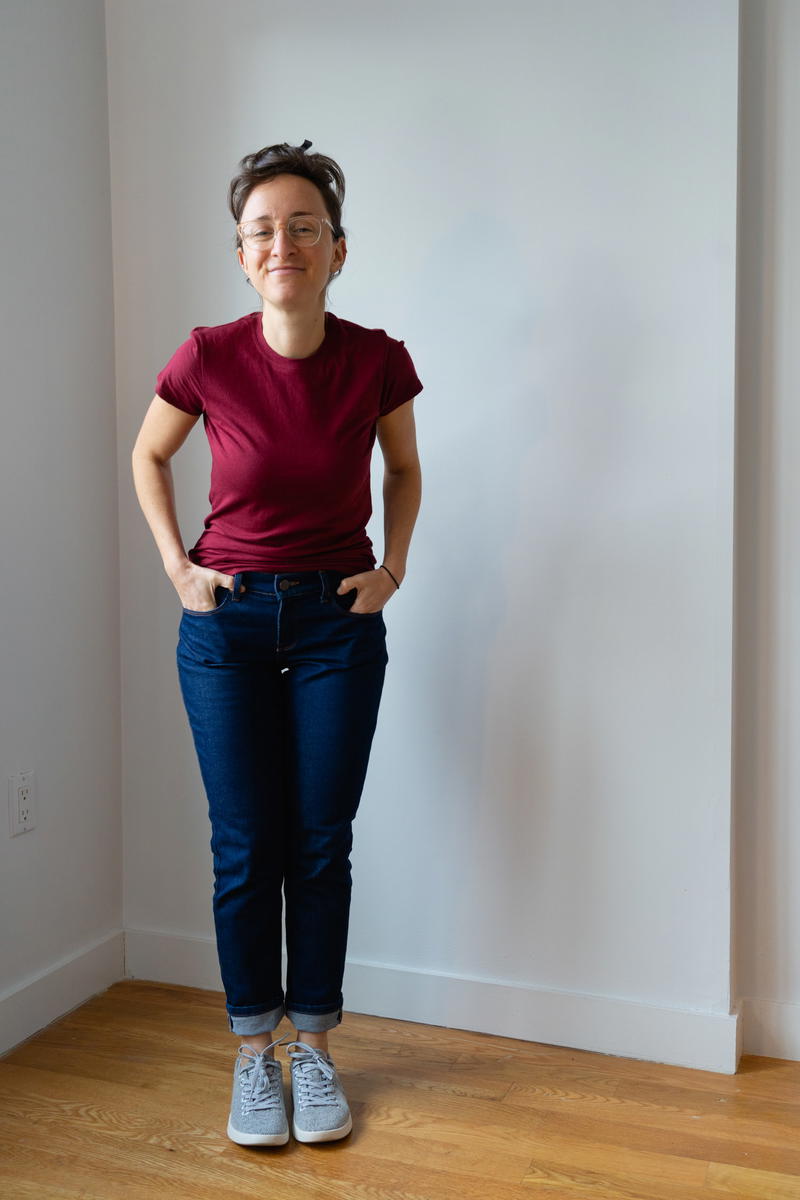 Do I recommend the Mott & Bow Slim Boyfriend jeans for women?
I really do! I think there is something special about the fit of the Slim Laight Boyfriend jeans for women that other brands may not have perfected, and this is a boyfriend jean that is not too baggy and not too casual.
What I mean is that it is effortless to dress up these jeans a bit more, wear them with flats, heels or booties, and look perfectly chic and ready for the day.
As for the other styles (Hubert, Mercer, Ridge), consider if you like a heavy denim that feels sturdy, or a lightweight denim made specifically for those warmer months.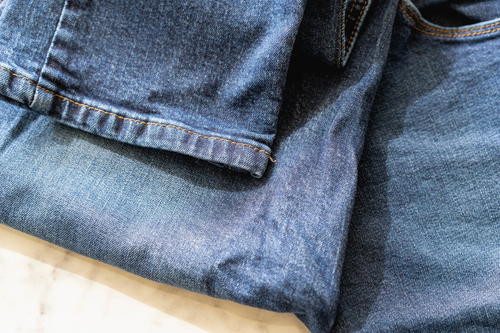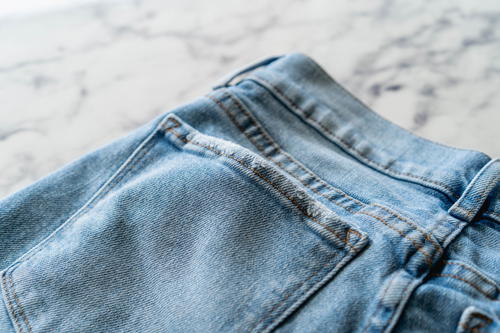 I received the Women's Fitted Marcy Tee in Crimson (red) and size XS, and the Fitted V-Neck Marcy in Cardamom, Light Camel and Vine (a pale blue-green).
I chose these fitted short-sleeve tees because I am usually at a loss for T-shirts that go well with a cardigan or sweater, or are suitable on their own to be dressed up with jewelry.
These Marcy tees hit the spot, and I'll tell you why! I opted for both the crew neck and the V-neck, in order to compare these styles and fits against my other favorite, the Public Rec essential tee.
A fitted crew tee is an essential, especially when packing for travel. It's lightweight, and form-fitting, but not tight. Having a V-neck tee is also great, as you'll get that more open-neck breathability, which I like, on travel days.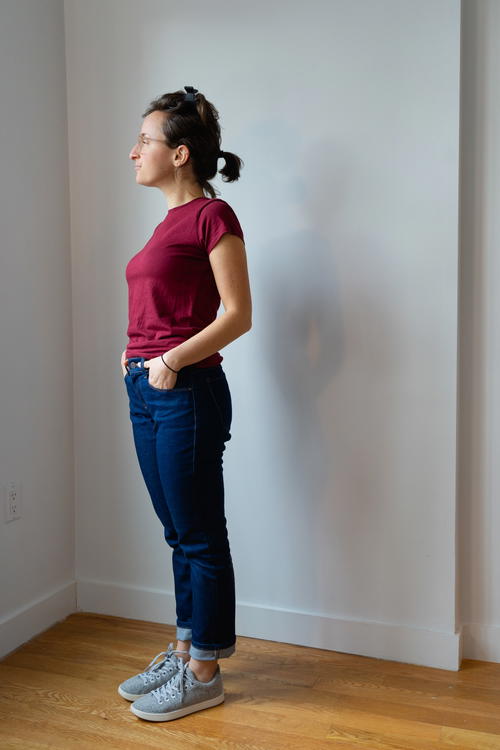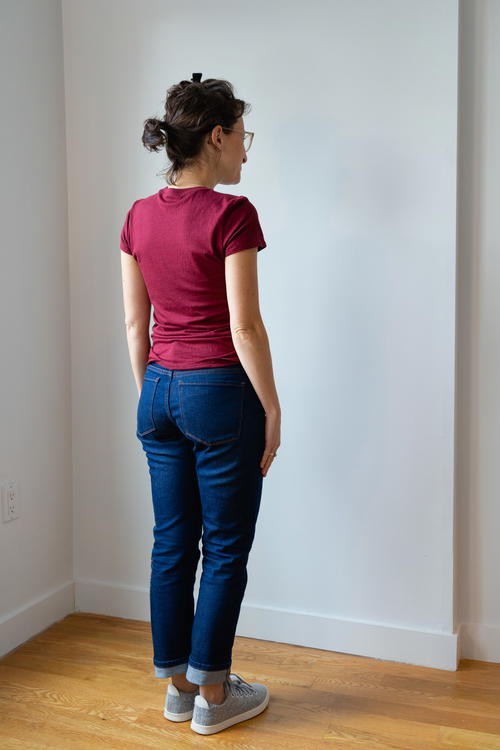 The fit
Like I mentioned above, the fit of both Marcy tees is actually perfect and true to size, which I appreciate. I've shopped with other brands in the past two years and sometimes a Petite size 0 or a standard XS are too big for me, or too small.
I like to think I am a XS by the book, and the fitted crew Marcy tee from Mott & Bow fit superbly upon the first try. It fits great in the shoulders (not too narrow, not too wide), and so it makes me feel flattered up top.
It's relatively tight in the chest, but it is not so tight past the midriff. It makes me want to tuck it into jeans, for a sophisticated T-shirt look.
With the V-neck, it's the same fit. It might seem a little larger (marginally) in the shoulders, but that's only because the neck is more open and could move around.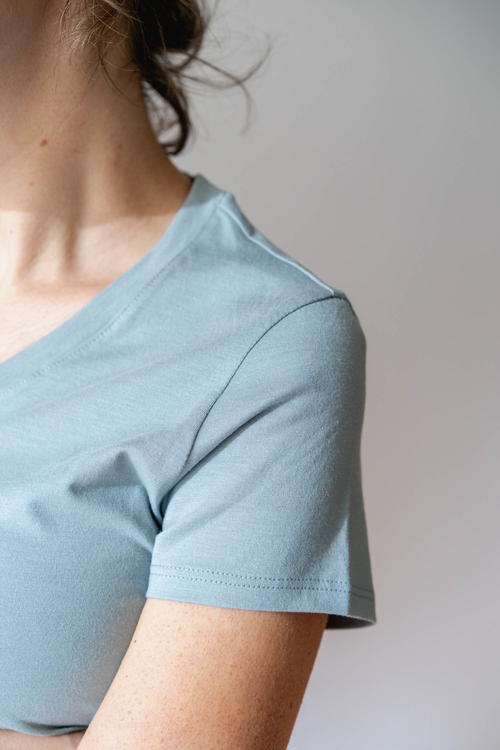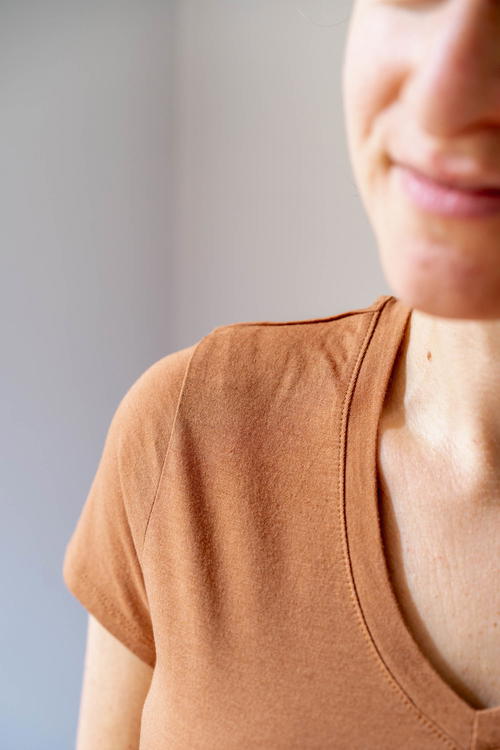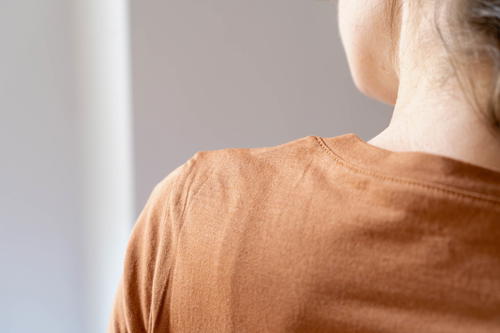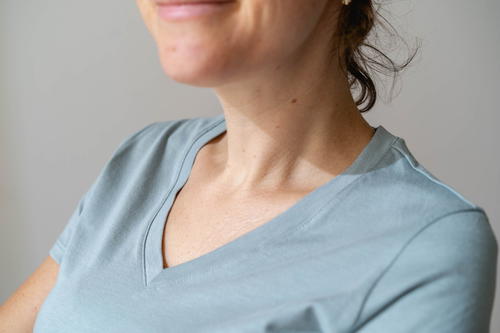 Comfort
This shirt is really comfortable. It's lightweight, but not sheer or see-through. It's 50% Pima cotton; 50% Modal, so it avoids rayon (which I really dislike in my clothes). The whole shirt weighs 140g.
There's also no tag, so you never have to worry about it being itchy or having a tag stick out. The tagless comfort feature is a win.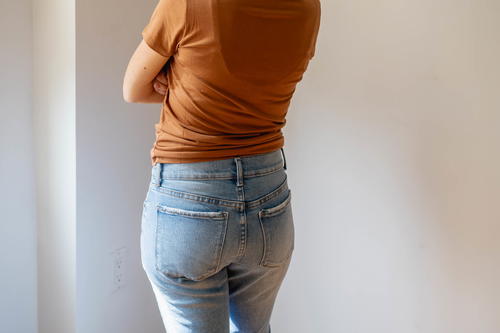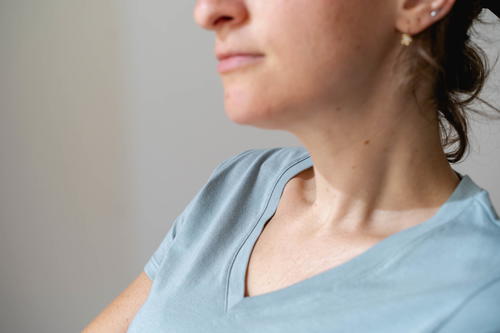 Care
For care, I already put the Marcy tee in the wash and immediately hung it dry on a hanger. Due to it being lightweight and feeling a bit delicate, I washed it in a small garment bag in my washer, on cold.
Mott & Bow's website says you can tumble dry the Marcy tee on low, but I'm avoiding this, just due to the fact that I once put a rayon tee in the dryer and it got completely messed up. I'm not so familiar with Pima and Modal, so I am playing it safe.
Update: Recently, I forgot to put the Marcy tee in a garment bag, and then I accidentally also put it in the dryer with my cottons. After taking it out, it had a hole, likely due to the mistreatment of the fabric, or the heat applied. Remember to wash these cotton-modal T-shirts on delicates if you don't have a delicates bag!
Typical Use
I plan to wear this tee on weekends and also to work. For both occasions, I'd wear this shirt and dress it up with chunky jewelry, a jean jacket or fun earrings, because it is monochrome and solid. It goes well with a cardigan and/or a scarf.
This is a casual shirt that can also be turned business casual with the right accessories and outfit components. For example, I'd also wear it with work slacks, or a skirt.
Do I recommend it?
Yes, I certainly recommend the Mott & Bow Marcy Fitted crew tee for women. This is a great wardrobe basic, and because it fits true to size, I don't have to hang around explaining which size you should get.
The shirt has some stretch, it's perfectly versatile, it's lightweight, and the price point is moderate. So far, it also makes a great outfit with my Mott & Bow boyfriend jeans for ladies.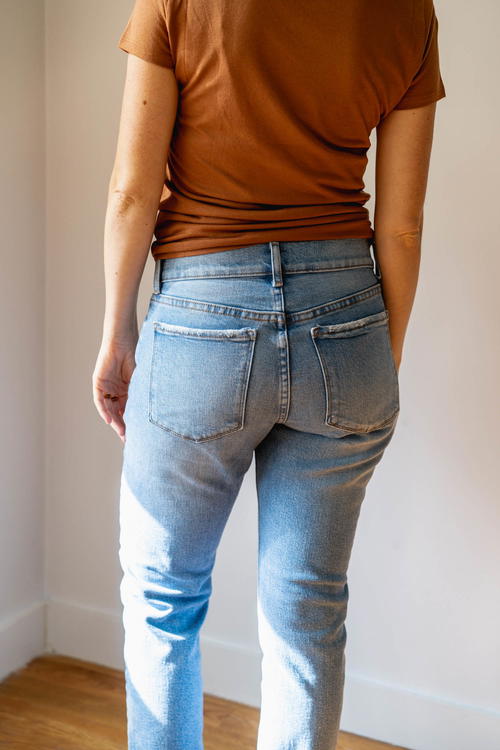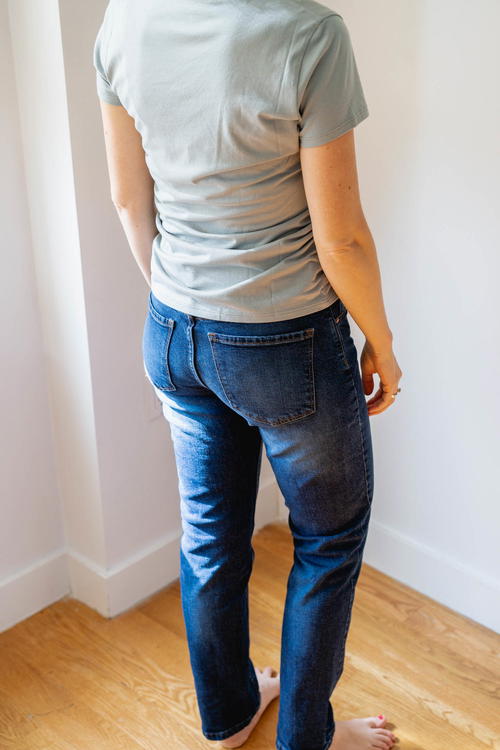 Both have been welcome additions to my summer wardrobe and they're great for when I look at my closet and think, "Uh, what am I wearing today?"
Both are very breathable cotton jersey tops, and I'll note that the fit on each is surprisingly different. While the Classic Crew Slub Tee for women isn't skin-tight, it's certainly a more fitted tee than how the tank fits. The slub tank has tons of room, and I have never owned anything like it except for old T-shirts with the sleeves cut off.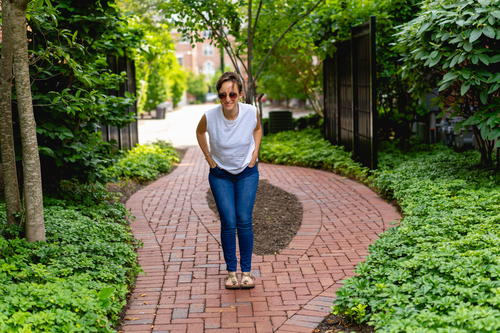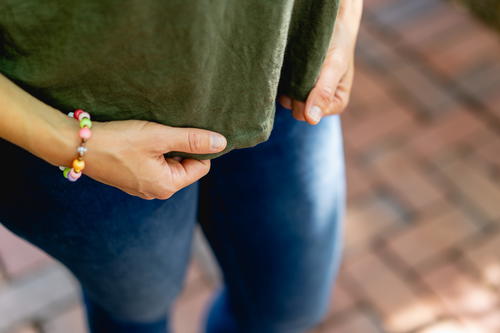 The fit
These fit true to size. As per my usual sizing with Mott & Bow, I got an XS on both styles. I got Military Green and White for the tank, and Black and Bone for the tee. All the colors are versatile and go with blue jeans, black jeans, black leggings or patterned bottoms.
The crew tee hugs my middle a bit, but it has a little bit of space. I think it looks good with shorts. And as for the slub tank, I'm enjoying the relaxed fit that's breezy for warm weather. I like to pair it with jeans. I think it would also look good with high-waisted bottoms, or leggings.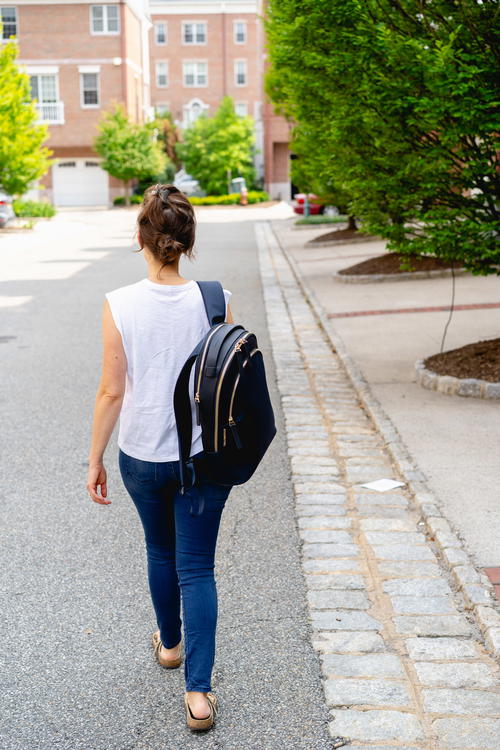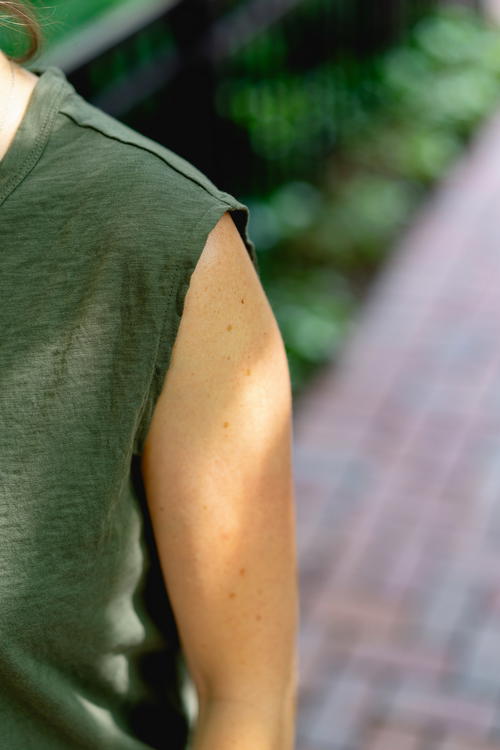 Comfort
Both the Crew Slub Tee and the Slub Tank are really soft and comfortable… really. I wore the crew tee on a recent flight, and both are some of my favorite travel shirts for women.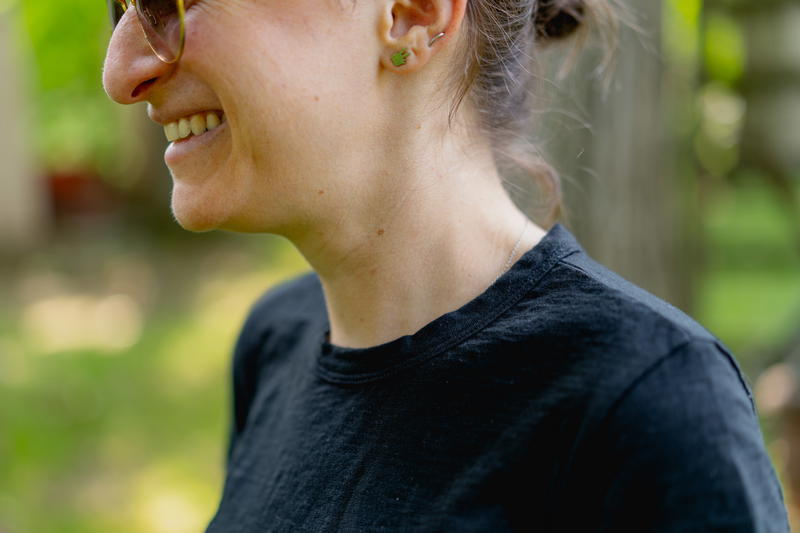 Care
Both the tee and the tank are 100% cotton, so they are machine-washable and I just throw them right in. They're thin, but durable. I'm probably unique in that I put my cottons in the dryer, but I peek in after 5-10 minutes after starting my dryer to take out some items that I don't want to shrink too much (even though both are preshrunk!). Both slub tops fall into that category, so I hang them dry with my delicates after a few minutes of "fluffing."
The last women's product I picked up from Mott & Bow is their Women's Turtleneck Sweater in Black and size XS.
I've never tried to own a cashmere sweater on purpose, much to the fact that I don't typically avoid anything that is hand-wash only or dry-clean only. I did really want a turtleneck sweater for winter, though.
Update: exciting news! I got the Mott & Bow women's V-neck cashmere sweater this year and I looooove the fit.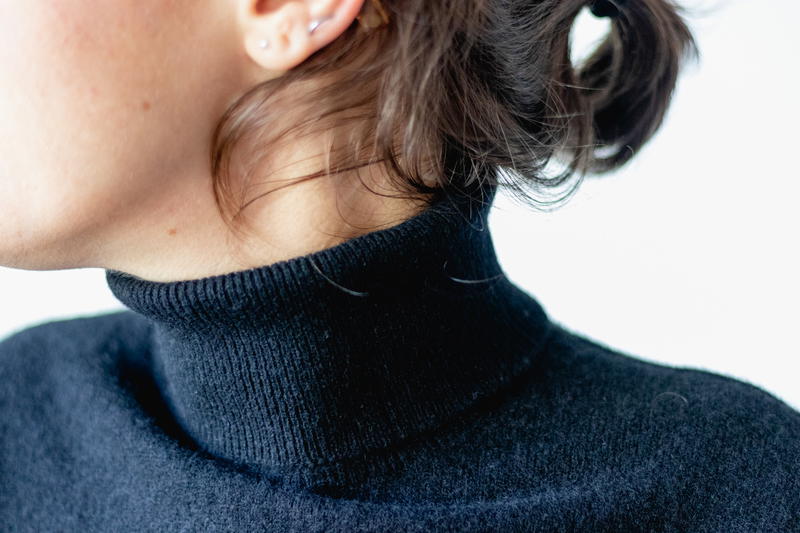 The fit
Mott & Bow says that their women's cashmere turtleneck sweater is "slightly oversized for a relaxed fit." When I first got this turtleneck, I was disappointed with the fit being overly large, as I had been so content with the true-to-size fitting of the Marcy Fitted Crew Tee.
However (!), a year later I changed size (or maybe the sweater did?) and now it fits a bit more true to size, without the "oversized" feeling being too strong. (Believe it or not, I also wore this sweater when I was pregnant.)
In line with the sweater feeling too big at first, I felt like it was both too long and the shoulders were too wide. I am all for an oversized sweater, but something about the sweater did not feel flattering.
The V-neck on the other hand, is quite lovely. I put it on and liked it right away. I also have the Crew-neck cashmere sweater and I'm happy with this one as well, although I think the V-neck is just really the perfect sweater for me.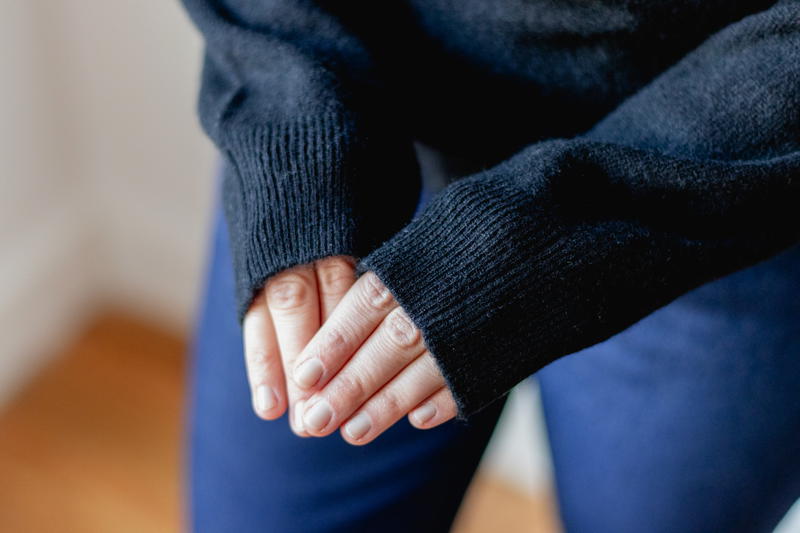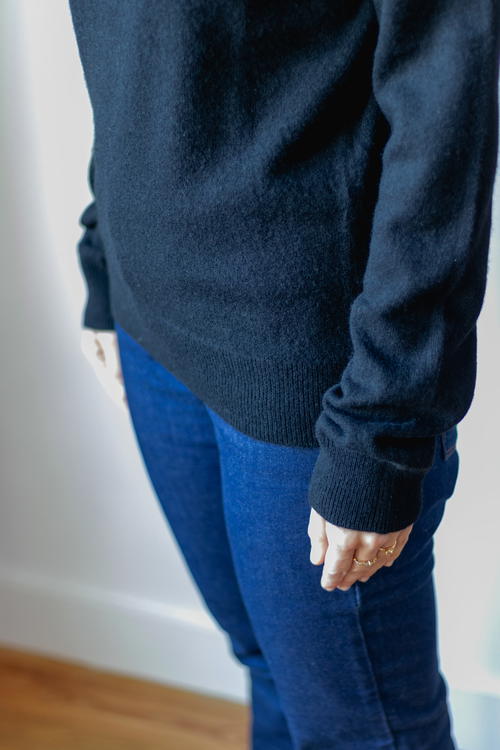 Comfort
The Mott & Bow cashmere sweaters are perfectly soft and the turtleneck is cozy. All three styles are also lightweight. They feel pretty thin, but I can tell that they're all warm and cozy.
Due to the oversized nature of the turtleneck sweater that was a bit big on me all around, I felt that the product was comfortable. The V-neck, on the other hand, was closer to five stars.
Care
As these sweaters are pure 100% cashmere, care is a big topic for treating them as delicates. All three should be hand-washed, which is always truly a pain (wah). I do not know how I am going to manage this.
I usually wear a fitted scoop neck tee under sweaters that fit looser than how a "fitted sweater" would. This is to keep them clean and odor-free from the inside. I also try to be super careful around spills and crumbs in order to avoid washing delicate sweaters.
This being said, I have yet to wash the sweater. If I somehow got it hugely dirty, I would opt for the second care option, which is dry cleaning.
Typical Use
This is a cashmere sweater to wear to work, to an event, out to dinner, to a bar or to a party in the winter.
Mott & Bow says on the product page for this sweater that it's lightweight for year-round use. I appreciate the idea, but I can't really see myself wearing this turtleneck sweater in summer just to feel cozy. If I lived in San Francisco where the summers are cool, then maybe!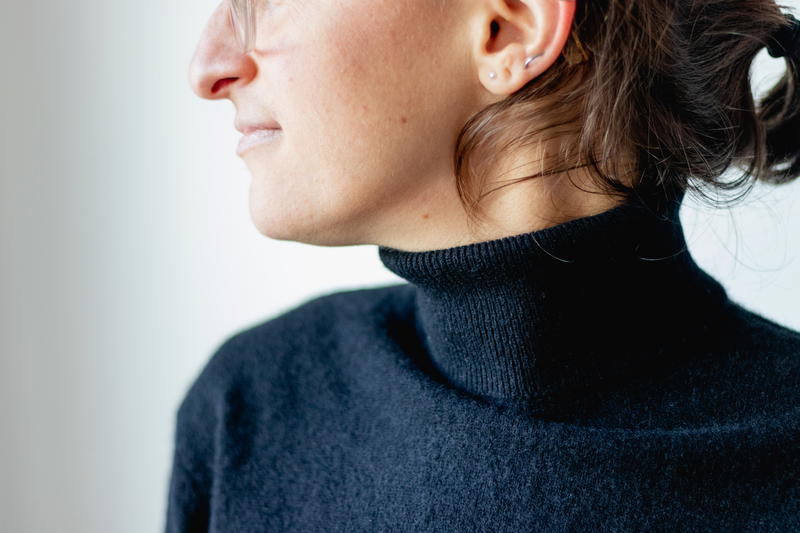 Do I recommend them?
Based on my experience of the Women's Cashmere Turtleneck Sweater, the fit had me hesitate a little. If you're more of a V-neck person like I seem to be, try the Cashmere Oversized V-Neck Willow Sweater. This was the honest winner for me.
If I had tried on the turtleneck in a store, I probably would've passed on it and said it wasn't for me. If you're really into turtlenecks and if you have a different build than I do, give it a go.
I also think you might like the Cashmere Raglan Crew Cambridge Sweater if you are curious about owning cashmere at a relatively affordable price point.
I have this pair of the Men's Slim Mercer Jeans because I wanted to try something that has versatility integrated into its core features.
These jeans are marketed as a garment that you can wear to help you be comfortable at work, and also to not be too restrictive for anything outside of work.
They have a small amount of stretch to them and are made out of 98% cotton and 2% elastane.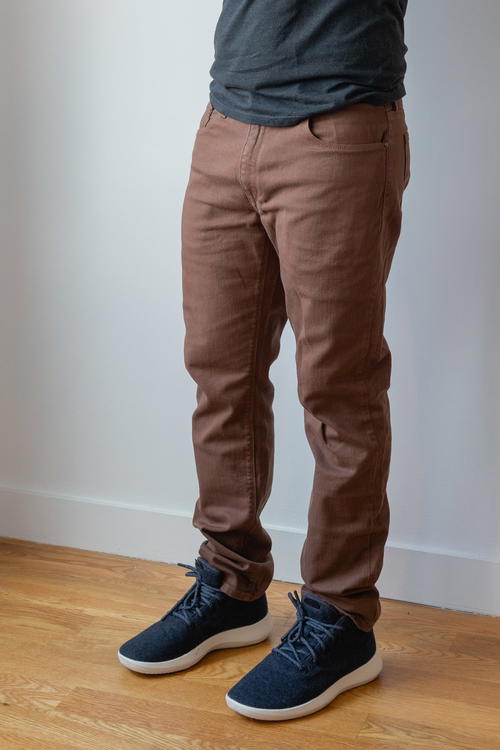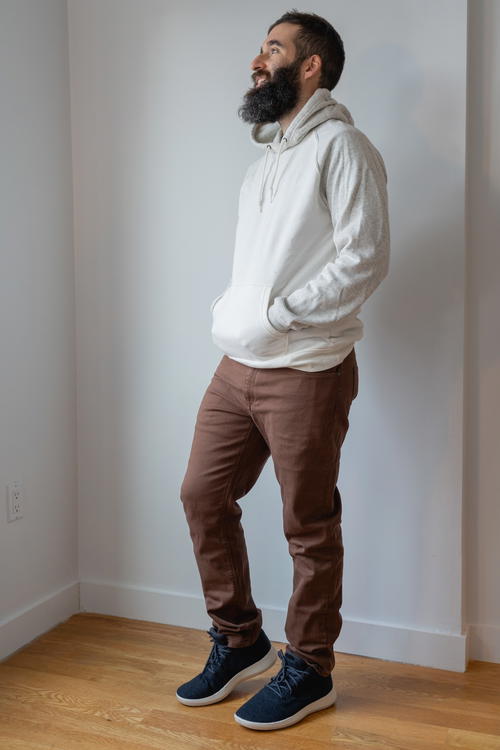 The fit
I usually struggle with pants and was surprised that these mostly fit as expected. The waist fits perfectly and there isn't any excess material in the seat of the pants, which I usually have issues with.
I wish the legs had more of a taper, but that is a personal preference. They do run a bit long, depending on your leg length and your height.
I like my pants on the shorter side, so that they don't bunch up when I am wearing certain types of shoes. It's fashionable to do a little cuff, so that's an option and has been what I have been doing while wearing these.
The crotch feels a little high, compared to most pants that I have. It's not a huge issue though, and I tend to wear these pants a little lower on my hips.
Regarding the size, I fit into both a 32 and a 33. The size 32 Mercer definitely hugs my body more, and the 33 has a bunch more space in the legs. Pictured is me in the 33.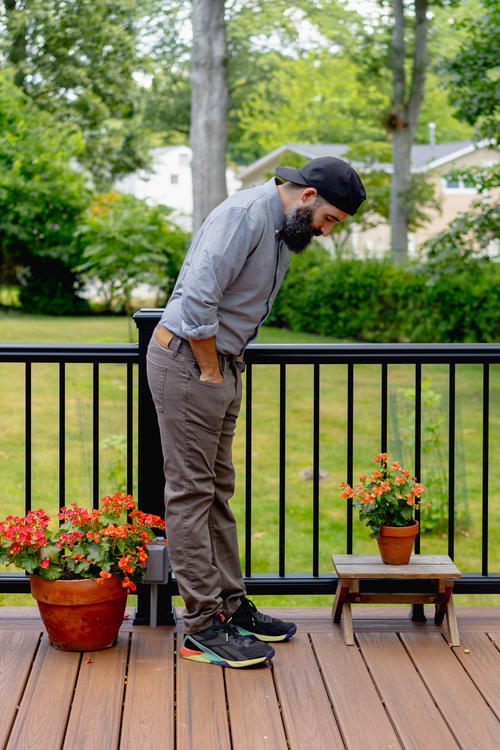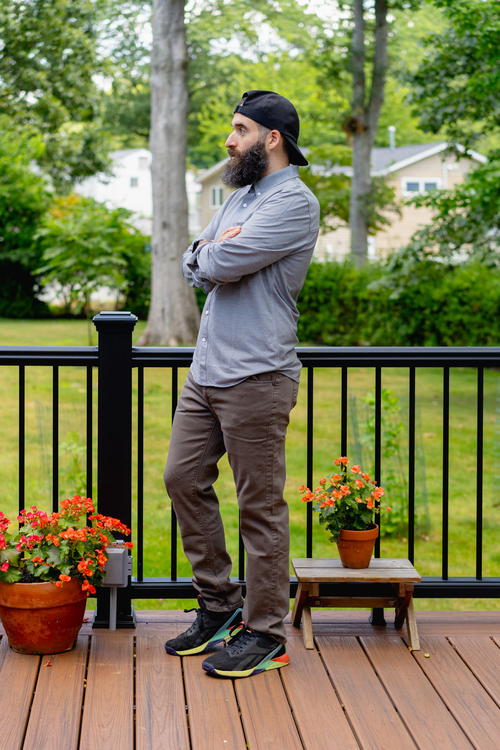 Comfort
For everyday use, I think these pants are comfortable. They aren't a 10/10, but they are going to be good for long walks, working in an office or hanging around on a Sunday afternoon.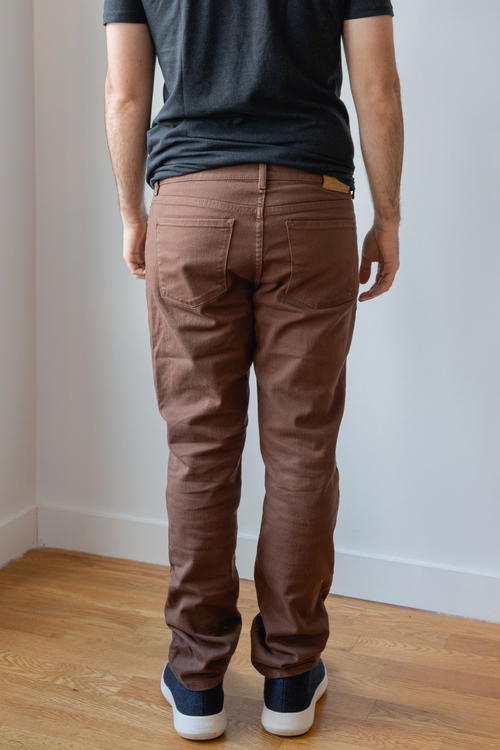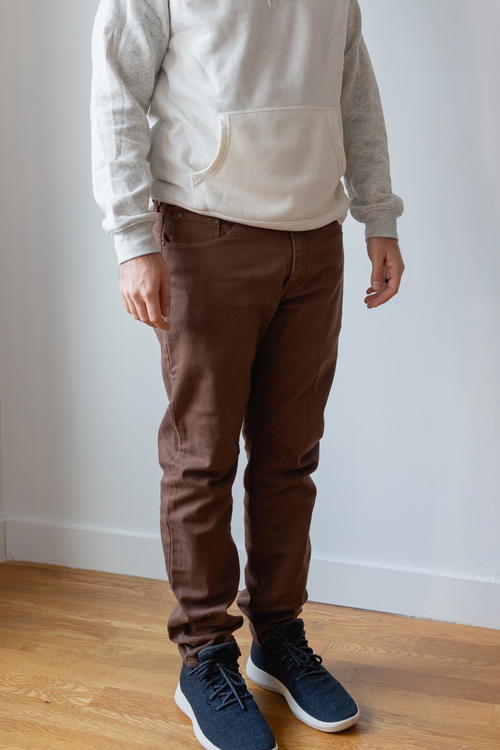 Care
You don't have to wash these very often unless they are actually dirty (like, if you have mud on them, then maybe you should wash them).
Mott & Bow recommends washing their jeans inside-out in cold water. For drying, you can tumble dry low or hang dry. Hot water or a hot dryer may end up damaging the elastane (the material that makes them stretchy).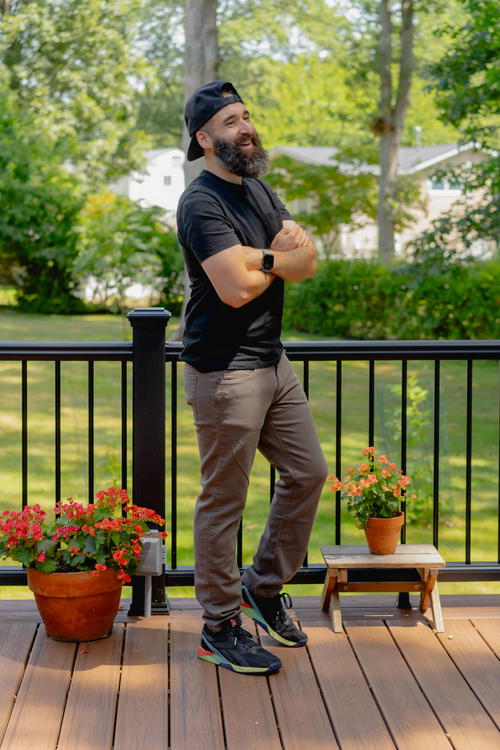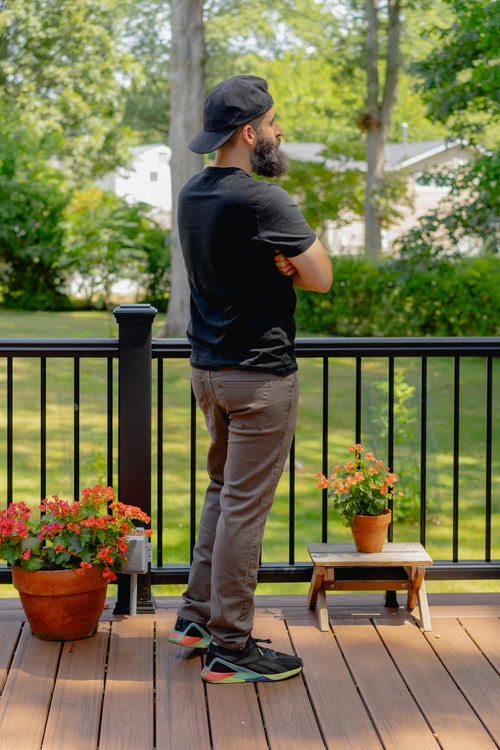 Typical uses
Any pants that have elastane are typically stretchy and allow you to bend and move in certain ways, where other jeans don't allow you to do so. I think the stretchiness factor is pretty low in these pants. This isn't an issue, but I would like to make that clear before you buy them and think otherwise.
The 2% elastane will make them much more comfortable and forgiving than other pants, but don't expect to do a yoga class in them.
As far as real life uses, you can put these on for anything that you would normally wear jeans for. The benefit of these particular pants is that you can dress them up or down. They look great with a T-shirt, and they look good with a dress shirt on top.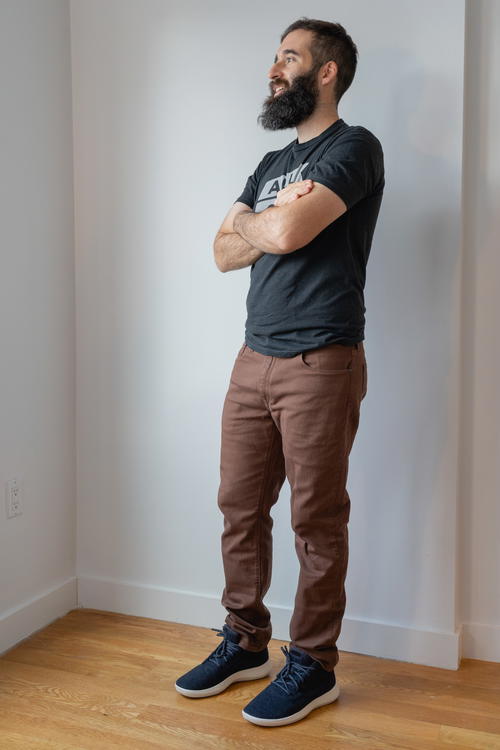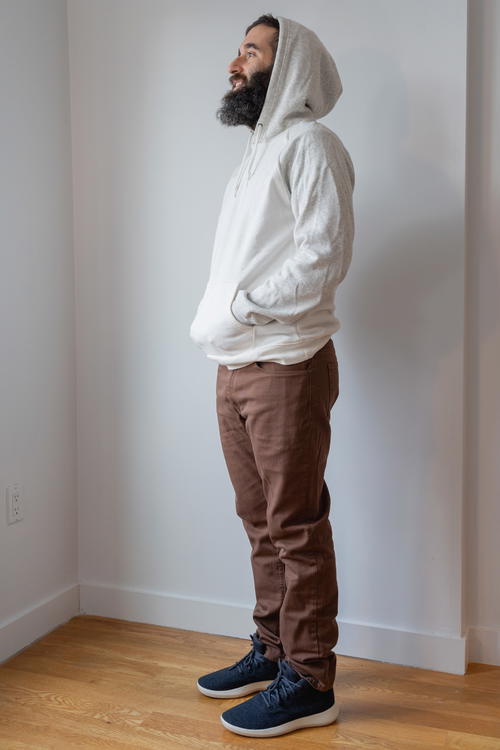 Do I recommend them?
Yes. In terms of having a quality pair of pants, I think these are great. They will have much more intention than a pair of H&M jeans. They will be more affordable than some $300 pairs of jeans that you can buy.
These Mott & Bow men's jeans fall right in the middle with quality material and a reasonable price tag.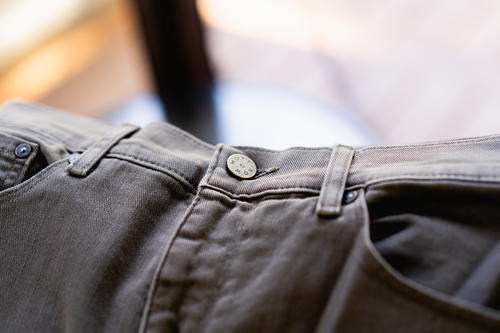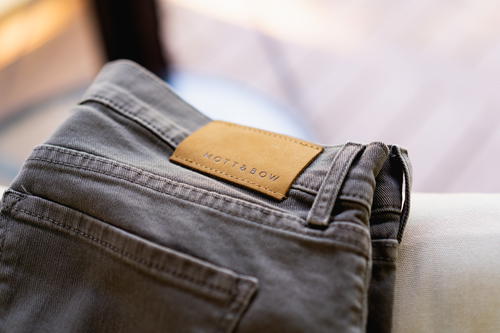 For colder months, a quality pair of sweatpants is essential. We tend to keep our apartment on the cooler side and don't turn the heat on unless we absolutely need it because we don't like the feeling of stuffy heat at home.
New York City gets cold in the winter, and having a nice pair of sweatpants to have on while walking around or doing errands is really a nice addition to a wardrobe.
I've been wearing the Men's French Terry Sweatpant Hooper while working from home for a few weeks, and they have been great. They feel nice and warm and the material feels high quality and much more versatile than my seven-year-old Adidas sweats.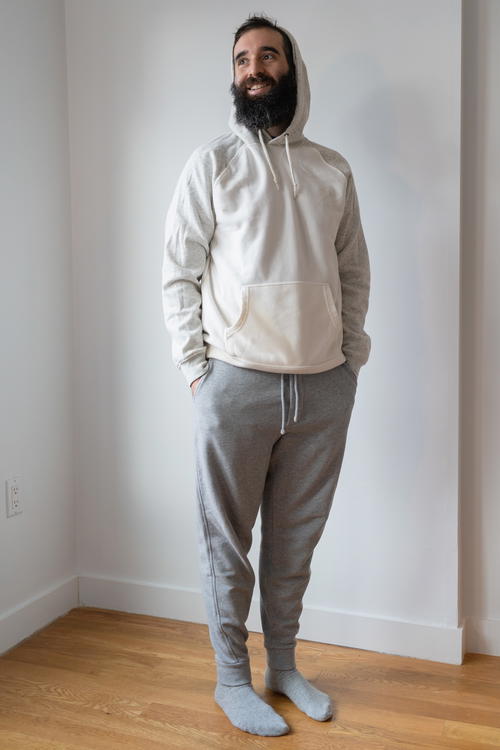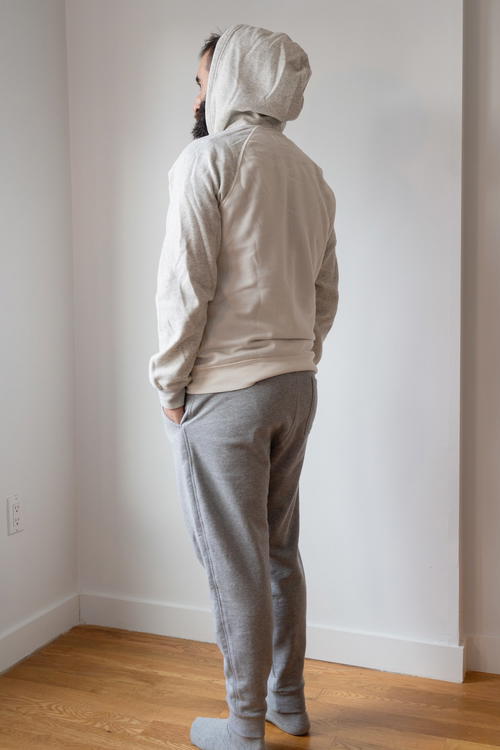 Mott & Bow specializes in jeans, not sweatpants. I think this is a situation like when you order a garlic knot at a pizza place. It will be good, but not the thing that they worked hard on perfecting; however, these are my new favorite sweatpants, and that is not a lie.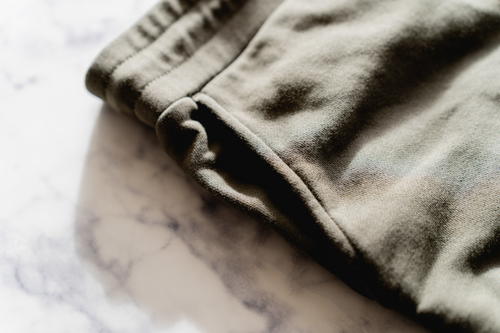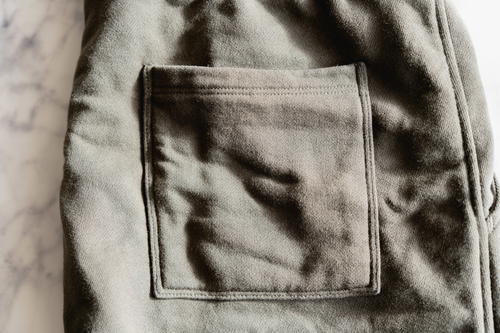 The fit
On me, they fit more on the snug side. I am usually a medium with pants. A size small usually doesn't fit around my hips and quads. A size large is usually too baggy. With the medium, they fit perfectly, but without much wiggle room.
The medium does fit my waist very well, however. I wear anywhere between a 31-33 waist depending on the brand, typically. The length of 30 was pretty true to fit. I did get the 32 length to try out as well, and you can see the difference here.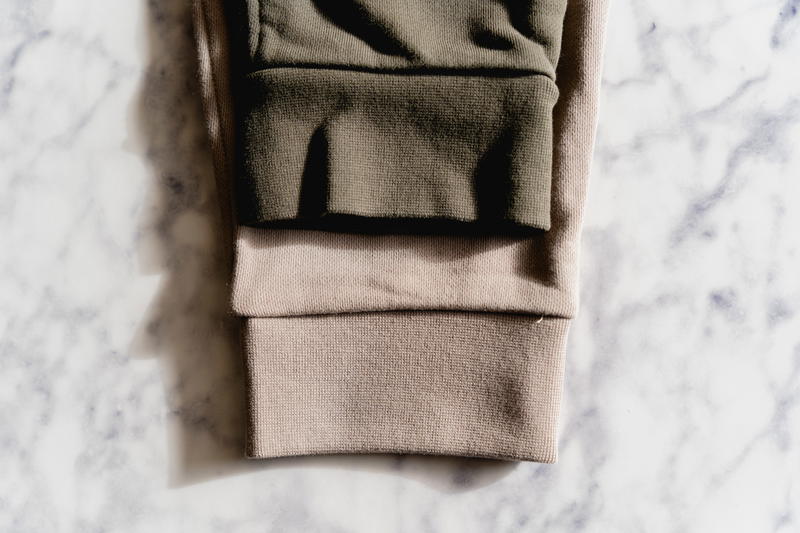 Regarding a fit, it's up to you. The longer one bunches up around my ankles. If you're tall with a slim build, you may want to go longer. The ankles are super tight-fitting, so it's not like the ankles would go past your foot in any way.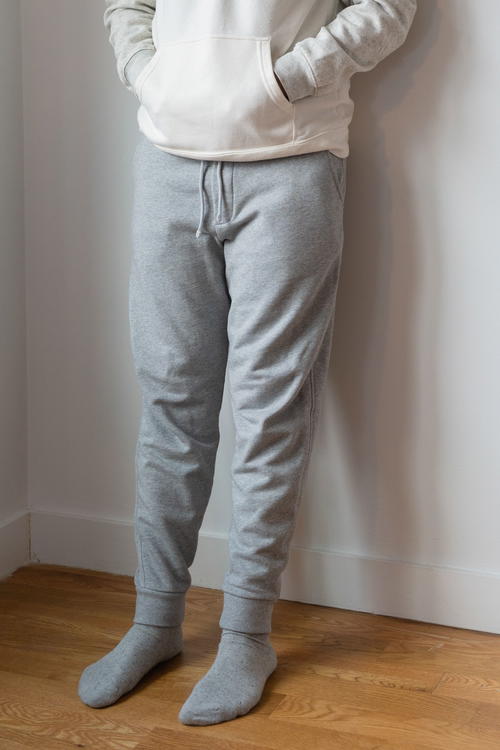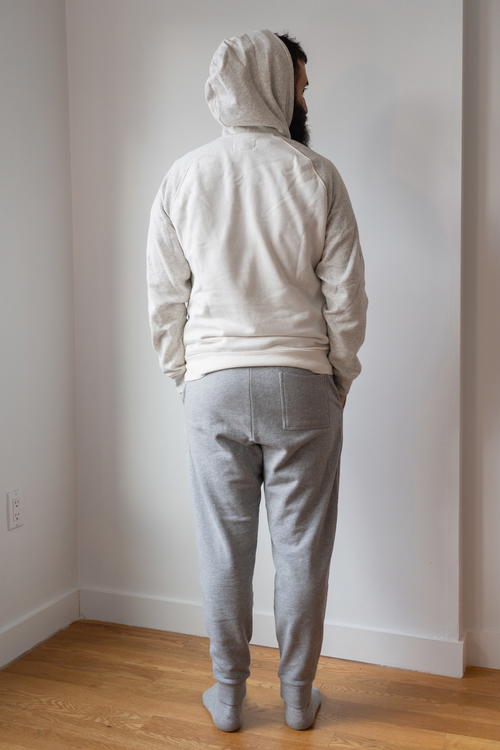 Comfort
I can sit in my desk chair with these all day and I don't feel any discomfort. I've even slept in them a few times and have had no complaints.
The pants are super soft and super comfortable, and the material is a medium-weight 100% Peruvian cotton. They feel sturdy, and I really like wearing them inside on rainy and cold days. They also have a lot of structure to them, so they don't look like your dad's old sweatpants from 1980s.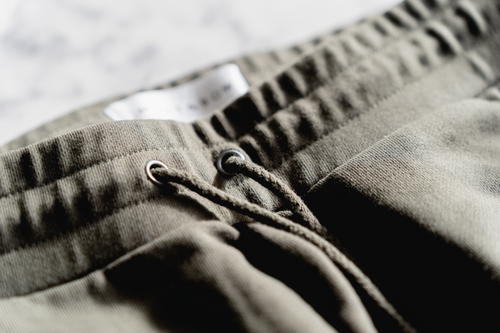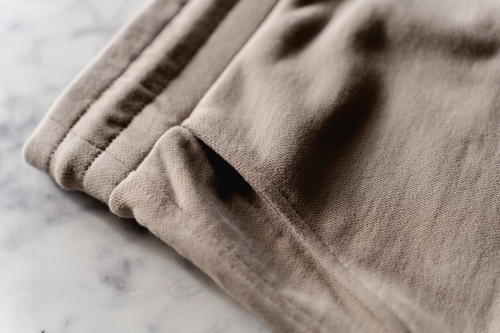 They look and feel modern and trim, to the point where I'd feel fine if a friend stopped by my apartment while I was lounging around in these.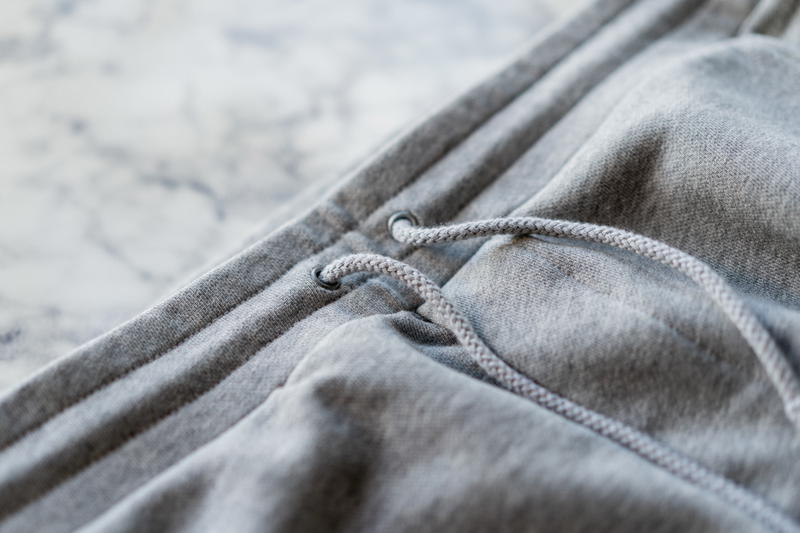 Care
You should wash them in cold water and tumble or hang dry. I didn't notice any shrinking when washing, but we never dry anything with high heat.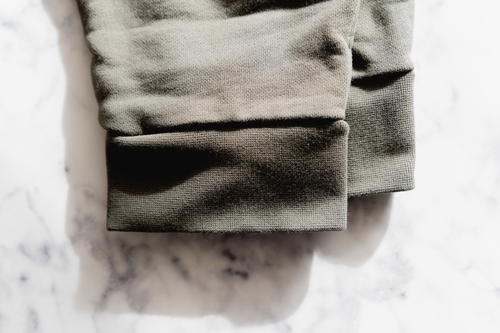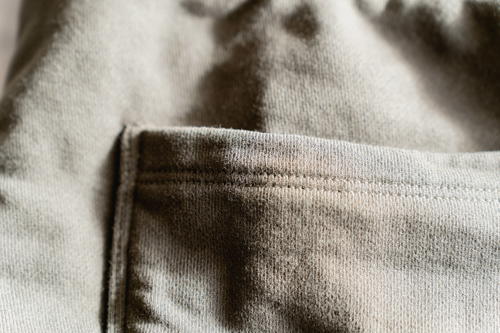 Typical uses
Because they fit me more on the snug side, I personally won't run in them like I might with other pairs of sweats or joggers. Plus, because they are medium-weight, running probably isn't the best activity for these sweatpants.
For going to the gym, I think they would be fine. Light lifting and especially upper body workouts should be okay in these men's sweats.
The Mott & Bow Sweatpants are great for lounging around, hanging out with friends or going on a walk. You can dress these up a bit with a nice shirt and some casual shoes. I wouldn't show up to a wedding in sweatpants, but they can look presentable with the right outfit choices.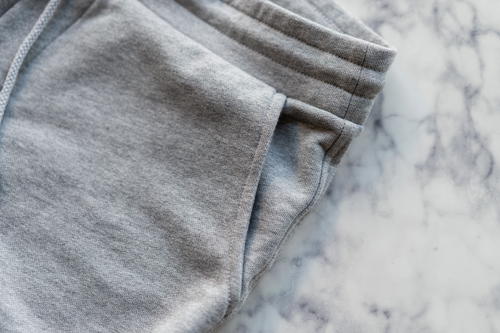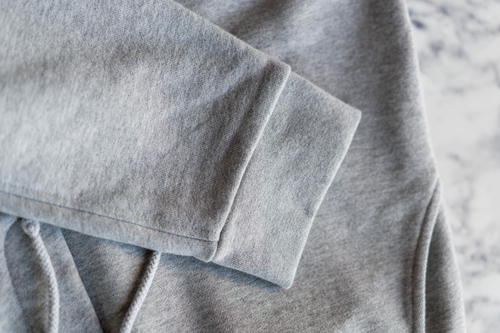 Do I recommend them?
Maybe. I think there are a lot of different types of sweatpants on the market. If you're sold on Mott & Bow as your next favorite brand, or if you found this review, then yes: I think you should go for them.
The only hesitation I have with these sweatpants is that the drawstring feels a little cheap in how it's built and how it feels. If the brand skimped on anything while producing these sweatpants, it may be the drawstring.
If you are wanting to have sweatpants for a specific reason, make sure that this reason aligns with some of the thoughts that I mentioned above. You can get the Mott & Bow sweatpants here.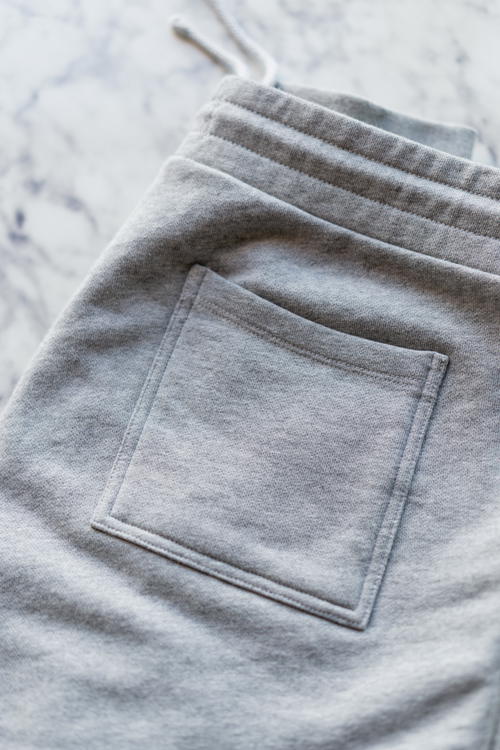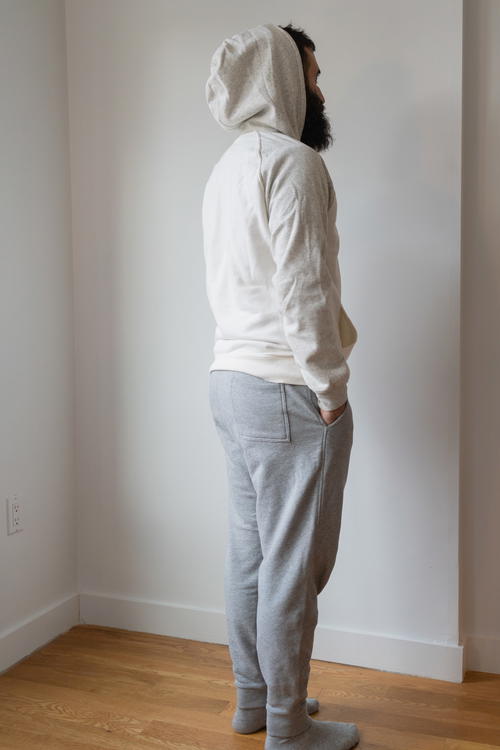 The men's T-shirts by Mott & Bow are great essentials to have. In fact, I've been on the hunt for the "perfect T-shirt" for a while, given that I pretty much live in T-shirts both on weekdays and on the weekends.
I have a particular affinity for the Men's Midweight Pocket Tee Amity in Black. This is basically the type of shirt I could own 50 of, and wear it every day, not really getting bored of it as long as the fit is perfect.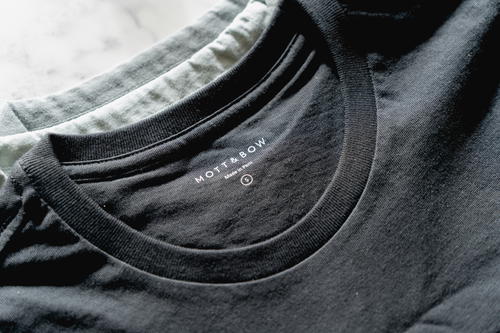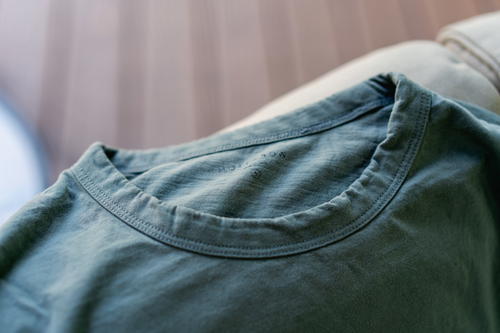 The fit
I ordered both the Small and Medium, in both the Men's Midweight Pocket Tee Amity and the Men's Classic Crew Driggs.
I have an athletic build, and the S fit best. It's not tight around the chest or the waist, and it's still roomy in the shoulders.
I like the fit a lot. The tees are not too long on me, and this is super important. With other brands, length has been a consideration. These shirts have more of a boxy fit rather than a trendy, long slim fit that does not work for my body type.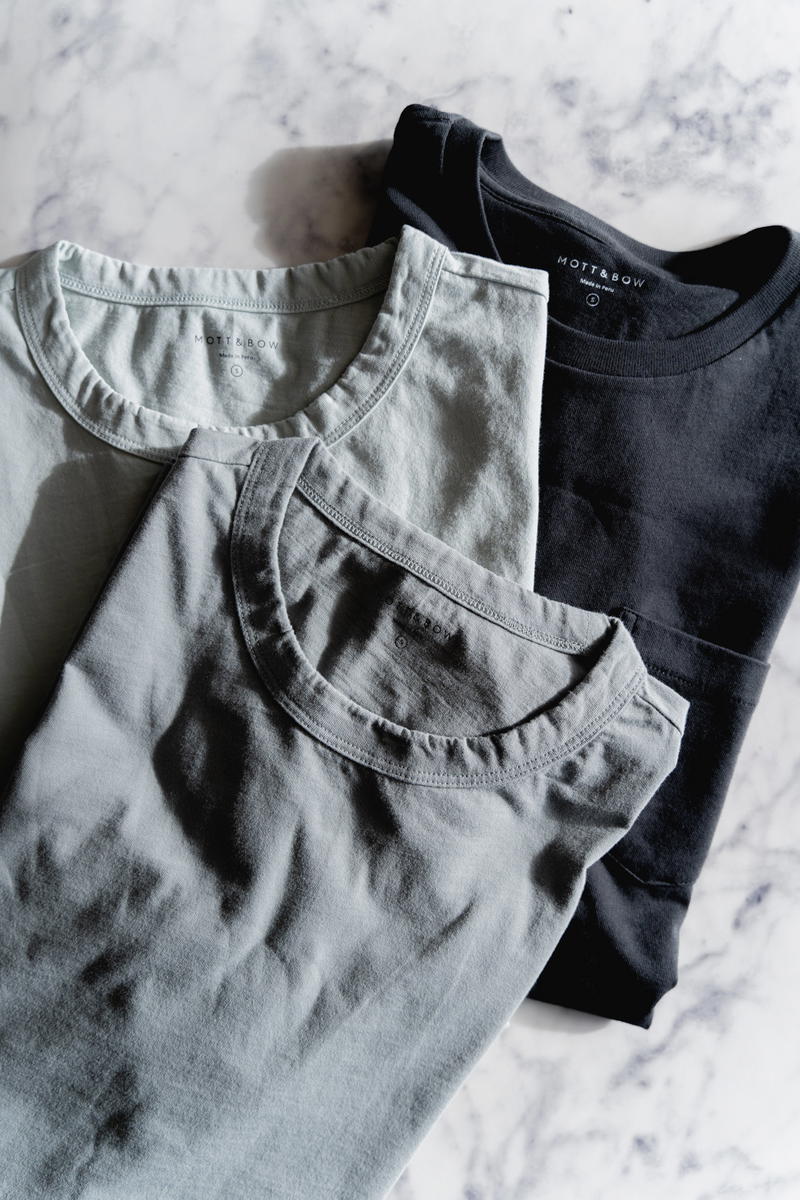 Comfort
The material is nice and soft and also feels very durable. Both styles of shirts are made from 100% Combed Peruvian Cotton. The difference is that the Amity tee is slightly heavier, and you can definitely feel this when you take it out of the bag and compare it with the Driggs Crew.
For summer months, keep in mind that if you sweat, go for darker colors like black. Sweat immediately shows in the lighter colors like the minty green - I learned that the hard way.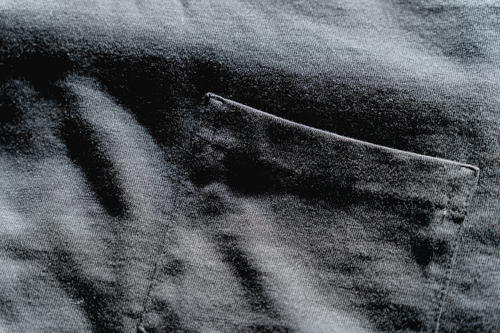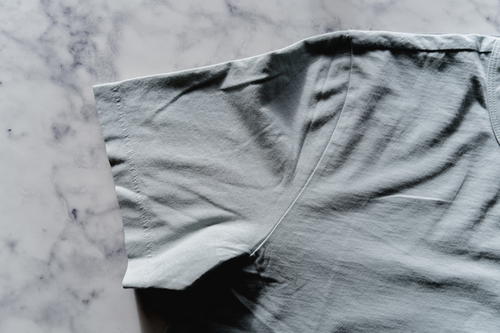 One last plus is that each shirt has "tagless neck branding," for itch-free wear. This means that the shirts don't have annoying tags that stick out. There's simply a branded imprint with the company name and the size, at the back of the neck on the inside.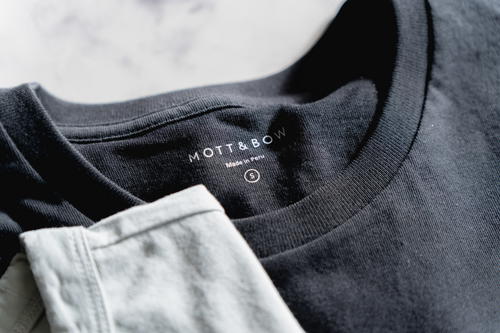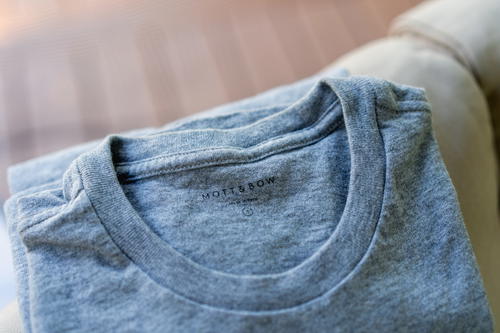 Care
Care is easy for these tees. All you have to do is machine wash on cold with like colors, and tumble dry on low. We typically do a fluff cycle and then hang clothes to dry on our laundry rack to save energy.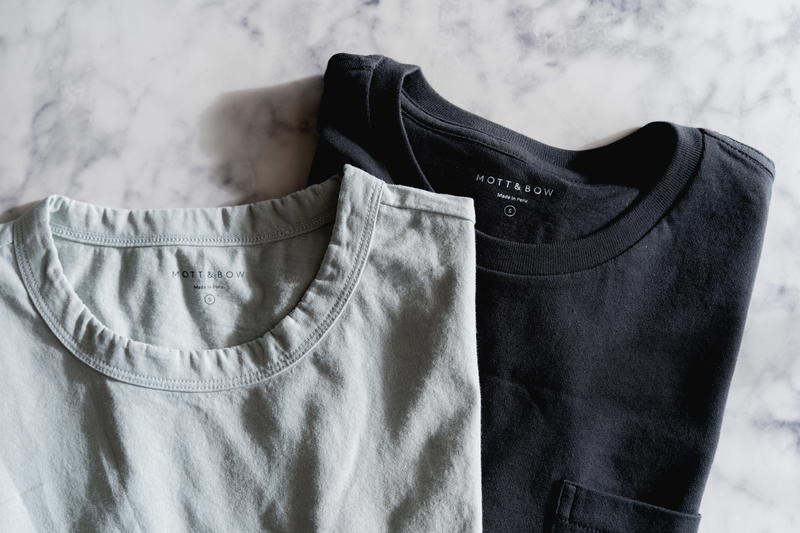 Typical uses
If you know me, this is an every day shirt that I'm happy to wear while working from home, stopping by the office. I also find these to both be 'decent T-shirts' I could wear to a bar, a restaurant in the spring or summer or a family event. The shirts are also great as base layers under sweaters, hoodies or light jackets.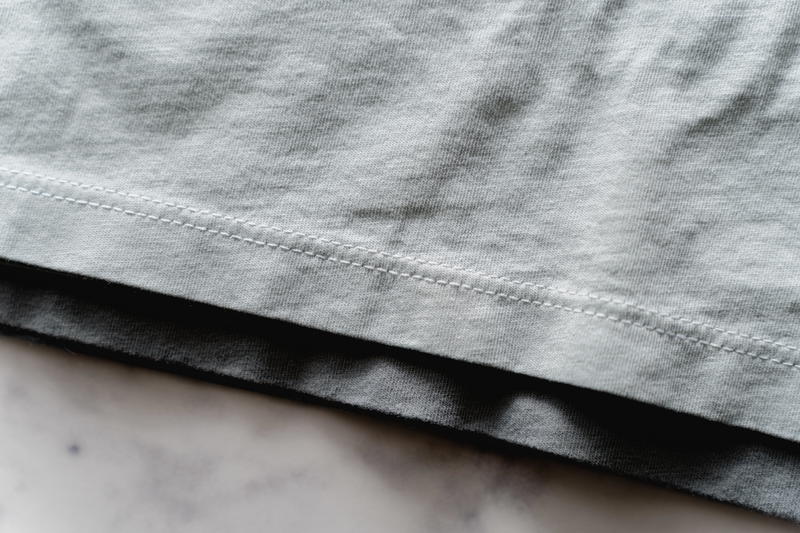 Do I recommend them?
Without hesitation, I recommend the Men's Midweight Pocket Tee Amity. This is a shirt I can't wait to wear. The cotton blend is the perfect weight and I find that my sweat doesn't show through it if I'm out for the day and it gets really warm.
I hesitate before recommending the Men's Classic Crew Driggs, but that's mostly because I tried this shirt in the light summer colors of "Gray Green" and "Surf" and I found that I sweat through them, which I don't like.
This is why I tend to get black shirts and dark charcoal tops. If I tried this shirt in Black, I may have a different opinion.
Either way, if you're looking for the perfect essential tee for daily use or travel, I don't think you will be disappointed with my new favorite, the Midweight Pocket Tee Amity.
I easily get into the habit of only leaving the house once per day to go for a run Monday through Friday. It's a combination of getting wrapped up with work and not having any errands to do during the week when I'm working from home.
While this is a personal problem, one thing that I've tried to do to fix this is to wear nicer clothes around the house. It makes me feel more professional than when I wear sweats or activewear shorts, even though most people don't see the bottom half of me when I'm in video meetings.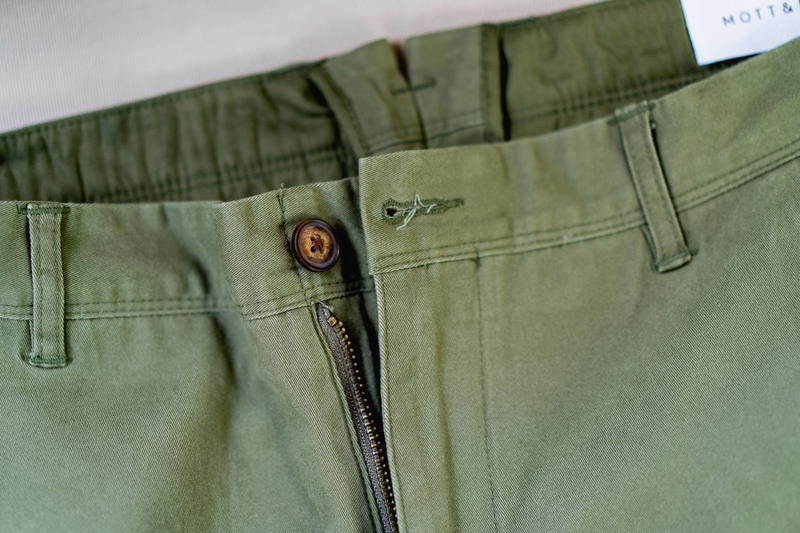 I've found that when I wear more decent clothes, it encourages me to want to run an errand or take a quick walk when I have a free moment.
That's one of the reasons that I like Mott & Bow's Men's Twill Chinos. They're incredibly comfortable during all aspects of the day or night. We'll explore some of the other features of these cool pants in the sections below.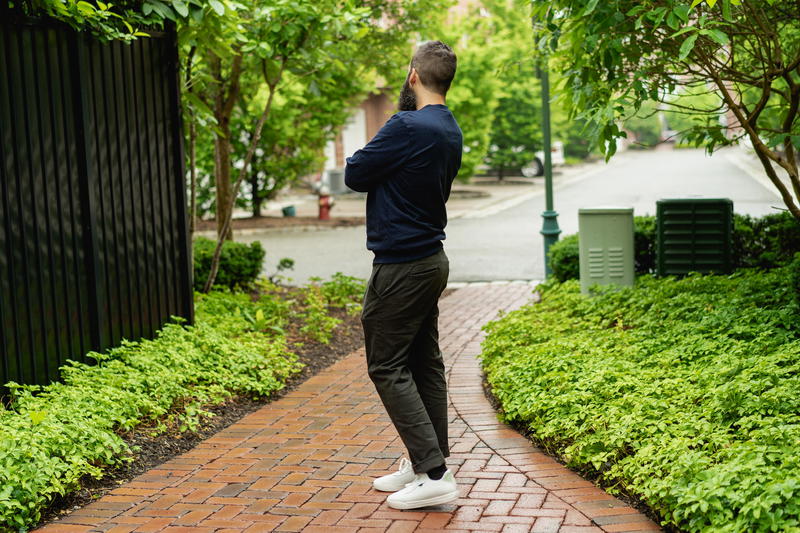 One of the unique features that you may notice is the "V" notch in the back of the waist. I haven't seen this in any other pair of pants and it's a nice design touch in these chinos.
The fit
The Twill Chino Charles only come in "Slim," which I've found to be the perfect match of "not too tight" and "not too loose." I think they're flattering for my body type. The 32x30 fits true to size. In fact, they fit so well that I don't need a belt most of the time.
For style, I like to add a cuff on the bottom. When I wear dress shoes with these, they hit the shoes at a good spot and I haven't felt the need to make any additional alterations.
I like my pant legs to be tapered, and I enjoy the level of taper that these pants have for a flattering fit.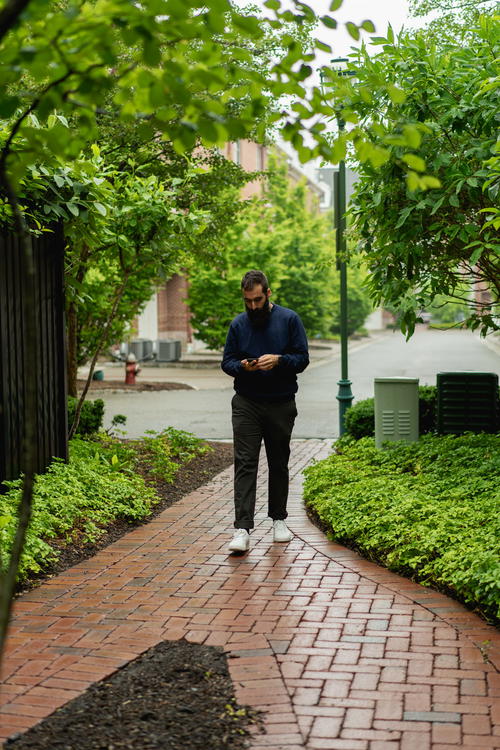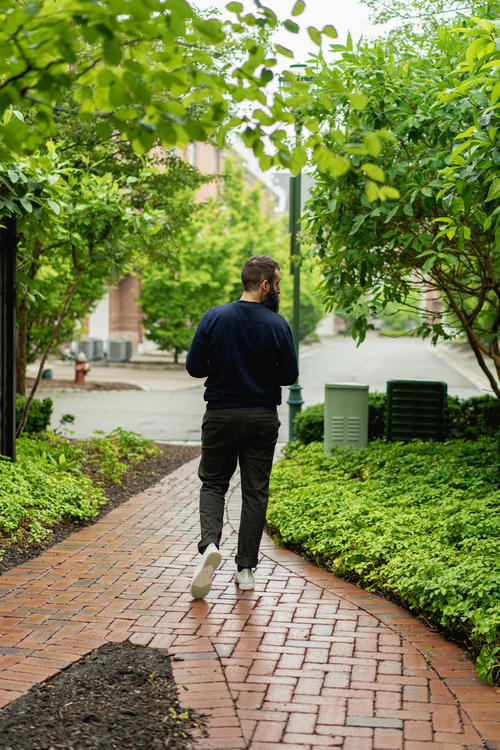 Comfort
These chinos are medium weight and are made from 97% cotton and 3% spandex. Even though there's 3% spandex, it goes a long way, and these pants are rather stretchy. It's enough stretch where you don't feel constricted bending over or kicking up your feet to lay down, and I often lay down on the couch during breaks in the day so I'm doing this quite a bit.
The blend of materials is soft and feels very high quality. When you run your hands up and down the pant leg, you'll know what I mean. It makes wearing these pants a dream because you don't feel like you're walking around in low quality chinos.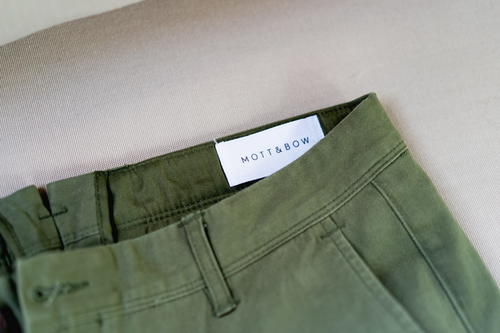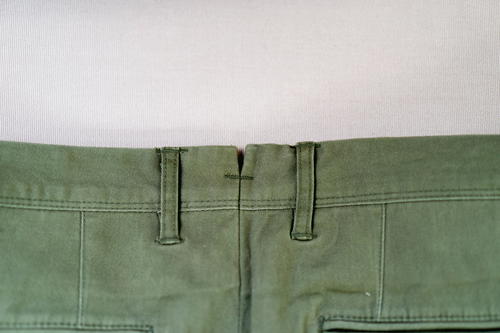 Care
Since I've had these pants, I actually haven't washed them once. Maybe I should? After reading Mott & Bow's website, it doesn't seem like washing often is required, so maybe not!
I'd say that you can wash the Twill Chino Charles pants after many times of wearing them, or if you actually get them dirty.
When you decide to wash them, try to use cold water and even turn them inside out if you can. I hang dry most of my clothes, and I would do that with these pants. You can tumble dry low, which might be a good idea to get the wrinkles out, for a few minutes before hang drying them until they're ready to wear again.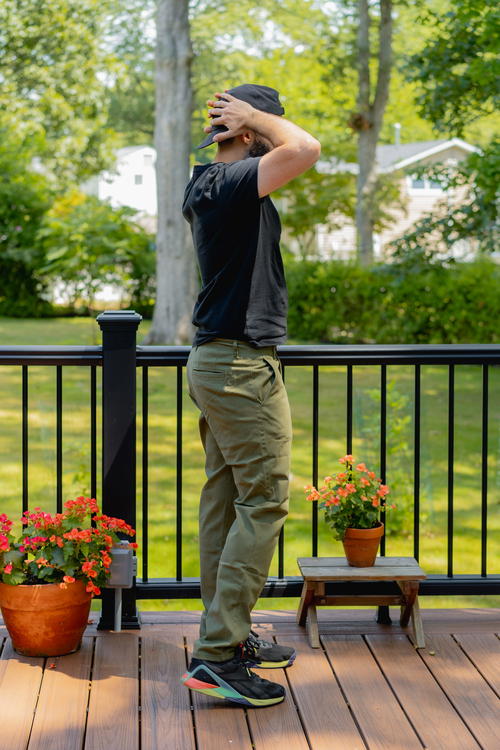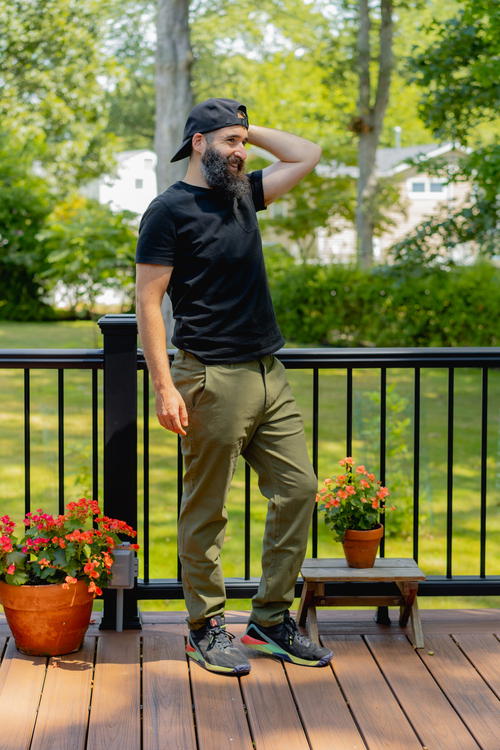 Typical uses
You can wear the Twill Chino Charles for a lot of different occasions. They look great with a T-shirt or a basic sweatshirt like my merino wool Icebreaker crew neck sweatshirt. They also look great with a nice dress shirt or blazer as well.
If you're familiar with the chino style, then you'd wear these like any other pair of chinos.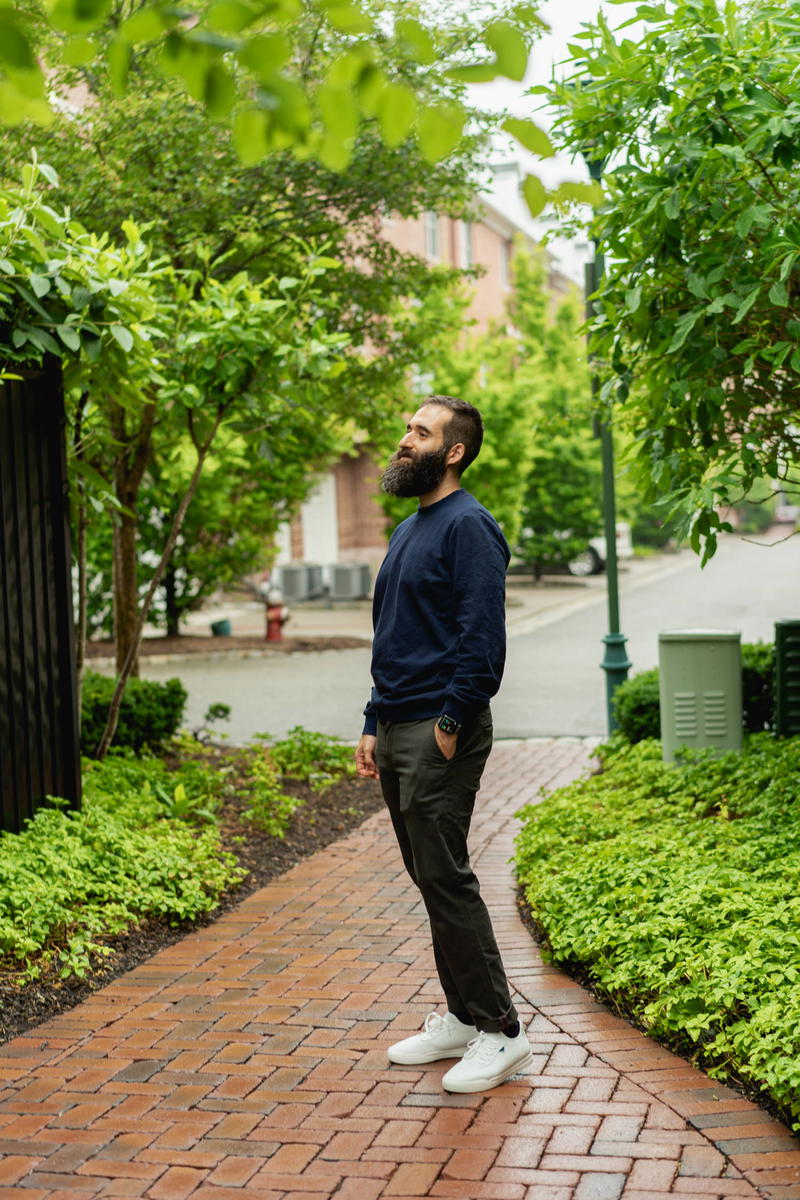 Do I recommend them?
Yes, I really do recommend the Mott & Bow chinos. For their price and quality, I would absolutely recommend them to someone who is looking for versatile and durable pants. Chinos can get rather expensive based on the brand that you get. Mott & Bow's "quality-to-price" ratio has always been great and it resonates through the Twill Chino Charles.
Enjoyed our article?
Consider supporting us! We're a 2-person team (learn more about us here) and your support enables us to create quality content. Thank you!