The Best Laptop Stands for Bed
Written by Dan
•
Updated on August 4th, 2023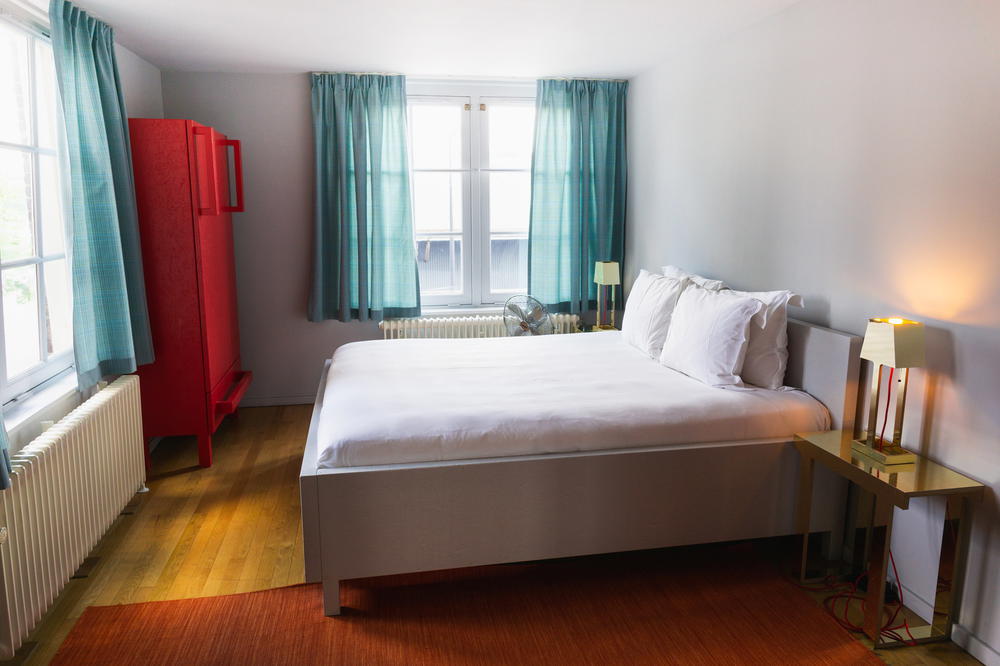 What are the best practices for using a standing desk in a home office? Get the most out of your ergonomic standing desk at home with these helpful tips.
This article may contain affiliate links. We earn a small commissions when you purchase via those links — and it's free for you. It's only us (Becca & Dan) working on this website, so we value your support! Read our privacy policy and learn more about us.
Table of contents
Close table of contents
Being able to work from anywhere really means, well, anywhere. A bed is no exception to that rule. You may be in a scenario where you need to be able to use your laptop from your bed.
I've compiled a list to help you find the best laptop stand to use from bed. I'll do my best to provide a range of products from all price ranges and feature sets.
Let's get started!
Bamboo Laptop Desk
The Nnewvante is my favorite design for a bed laptop desk. It looks good, is functional and has a variety of different uses, aside from just using laptops.
Sure, it's a great laptop desk for your bed. If you need to be in bed for an extended period of time, you can also use this desk for eating, watching a TV show on a tablet or reading.
The benefit of this versatile design is that it's also a great height for small children!
There is a small drawer that you can use to store items, like a mouse, charging cables, pens and maybe a small notepad.
The legs are adjustable, so you can raise the height of the surface if you need to.
Nnewvante sells a larger version and a version with a fan
Wooden Laptop Desk (budget option)
Amazon Basics sells a simple adjustable laptop table. It doesn't have any major features, like compartments or a place for a mouse. Because of this basic build, it turns out to be very affordable!
I personally like the simple design and it can fit well into many decor scenarios. You are able to save space and collapse the legs. If you need to store this under a bed or in a tight space, you're able to do so. It makes this product pretty convenient, especially if you are short on storage space.
Sofa-style laptop desk
Zoopolyn makes a design for a laptop desk that can slide next to a bed or the edge of a couch.
The option is great if you want a laptop desk to double as an end or night table, in addition to being used as a laptop workstation.
The table is straightforward to put together. It does not have any adjustability. You'd be using the surface as-is, and you won't be able to tilt or store anything with this option.
Rolling adjustable laptop desk
This option from Seville will allow you to make height adjustments and also move the desk around freely.
You've probably seen this desk option in medical settings or in a classroom setting.
There's no reason why this wouldn't work well for using a laptop to work, in your bed!
Make sure to check out the different variants and color options. They offer some versions with an extendable mouse arm.
LapGear lap desk for a laptop
If you don't need a table-top situation, you can check out this option from LapGear.
You will have a dedicated section for your mouse and phone, as well as a stopper, which allows your laptop to stay put.
This lap desk will fit most laptops up to 15" or around this size.
This product is ideal if you are sitting up and you need something to rest on your lap. Most laptops generate a lot of heat, and this option prevents any of the heat from getting to you.
LapGear small lap desk
If you're looking for a smaller and cheaper lap desk for your laptop, this is the one for you.
You'll find that it fits a laptop and pretty much nothing else. This allows you to focus on your laptop and not get distracted by your phone or other distractions.
You can't beat the price, and this is one of the most affordable options for a laptop lap desk on this list!
Honey-Can-Do lap desk
The Honey-Can-Do lap desk is also a very affordable option for you to use in bed.
It has a handle, which allows you to easily store the desk under your bed, and pull it out when you're ready to use it.
The top surface is MDF, so it's easy to clean and makes the entire desk very lightweight.
There is even a small pass-through that you can use to keep your power cable or other charging cables nice and tidy. This is one of my favorite features of an affordable standing desk, and many people like this type of feature for having their cords out of the way.
Mind Reader adjustable laptop desk
This lap desk from Mind Reader is great. It's small, lightweight, portable and functional.
It has almost everything you need for making this effective laptop desk one that you can use in bed.
You're able to tilt the top surface up with pre-set height notches. The desk will need to rest on your lap. That should be no problem, because the cushions underneath are nice and soft.
TigerDad adjustable laptop desk
This option from TigerDad has some interesting features to note. You can wheel this around, adjust the surface angle, adjust the height, lock the wheels and more.
With this desk option, you get a lot of adjustability features to fine-tune your experience and dial in your comfort when using your laptop in bed.
You're able to slide the bottom end under your bed to get the top surface closer to you.
All of the locking mechanisms are tight and secure, so you don't have to worry about anything slipping on you during use.
VASAGLE table top surface
This option from VASAGLE is pretty no-frills. It wins in the style category, though, for laptop table surfaces.
Being primarily a living room table, it's designed to fit at the end of your couch, and would be suitable in a home office in a small apartment. I would double check the dimensions to make sure the surface lines up with where you'd expect your laptop to go.
With the shape and design of this laptop surface stand, you can slide this desk pretty close to the edge of your bed for use.