What to Do in Medellin in 2 Days
Updated on November 21st, 2023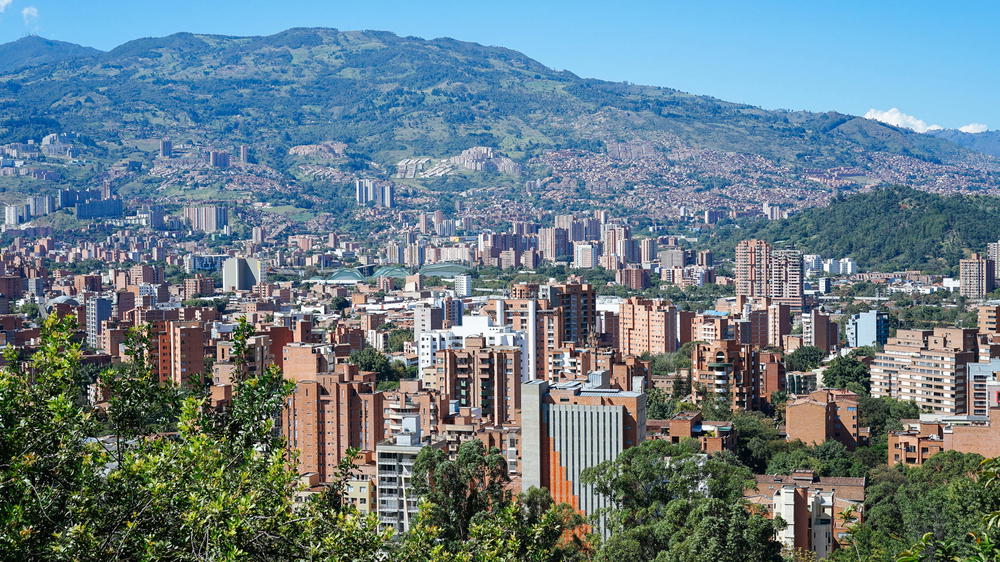 We rounded up the best things to do in Medellin if you have two days. Want to check out the best cafes in El Poblado? Looking for an easy Medellin itinerary? Check out this list of things to do.
This article may contain affiliate links. We earn a small commissions when you purchase via those links — and it's free for you. It's only us (Becca & Dan) working on this website, so we value your support! Read our privacy policy and learn more about us.
We can't say enough good things about Medellin.
Don't let anyone's face of shock when you say, "I'm leaving for Medellin," stop you from going to this incredible city.
For years, Medellin was a battleground, with warring cartels, drug lords vying for power and innocent citizens getting in the way of the violence and sometimes losing their lives.
Medellin is a new city.
It's so lovely that we've each between twice, spending nearly over three months there between the two of us.
During our extensive travels in Colombia, from Bogota to Guatape and from Salento to Cartagena, Medellin stands out as a place that became home.
We like to call Medellin one of the best cities for digital nomads because it's safe, well-connected, comfortable and has favorable weather.
In several neighborhoods, you can mostly get around with English and some limited Spanish, although we always recommend to brush up on language skills before going to Latin America!
Medellin is also an affordable place to travel, where a daily spend of less than what you'd spend at home will get you far. From the local food to accommodation, it's probable that staying in Medellin a while will be good for your wallet.
Medellin is also a place where we could focus on health while traveling, as we tried running the Ciclovia on Sundays. Ciclovia is when several miles of one of the main roads is closed down for runners and bikers between 7 am and 1 pm. It's amazing for a free workout, surrounded by other talented fitness enthusiasts.
We typically like to travel in the off season to save money, and that's a great time to visit Medellin. In fact, Medellin is a great place to visit all year round — incredible! The weather is always humid and warm, and the sun sets and rises at approximately the same hours all year long because of the city's proximity to the Equator, relatively speaking.
And now, here's our list of what to do in Medellin in 2 days.
---
Reserve your spot in the Medellin Free Walking Tour.
The Medellin Free Walking Tour is an incredible tour led by certified Medellin tour guides who are all locals. Our guide was incredible, and came from a theatrical background, so she was great at telling stories.
During this tour, which is run every day and multiple times per day with different guides, you will learn all about Medellin, starting with the history really far back.
By the end, your guide will bring you to the future of Medellin and explain a vision for what's to come, along with all the challenges.
Along the way, you'll see lots of culture, local music, markets and more. It is a great way to be shown around during your first few days. Check out more here.
Take a Medellin City Transformation Tour
The Medellin City Transformation Tour, led by several operators, takes on lots of emotional information in describing how the city came from very dark days to the very forward-thinking times that the city now is experiencing.
Our guide was an incredible individual who told personal stories of how family members and friends were, against their will, involved in the violent conflicts started by the drug wars of the 1980s and 1990s. His stories were touching and really struck home for listeners.
This tour also took us to the "Casa de la Memoria," or the Museum of Memory, dedicated to those who perished during the years of conflict, and how the city is reinventing itself. We'd recommend this to anyone who wants to better understand the city's years of conflict in detail and with a talented guide.
Get off the beaten path in Santa Fe de Antioquia
While it's not actually in Medellin, part of visiting Medellin is seeing and experiencing the nearby pueblos, or towns.
It took us until our second time in Medellin to visit Santa Fe de Antioquia (it has a very long name), which is the less-touristy choice between visiting this town and the very famed Guatape.
Santa Fe de Antioquia is charming — laid-back, not crowded, authentic and local-feeling. It's also hot, ALL the time. We detail that in this travel guide where we also talk about where to stay.
Hang out in 'backpacker central:' El Poblado
El Poblado is the traveler/gringo district where you will find leafy streets, taco shops, bars, cafes and hostels. There are a few supermarkets and convenience stores and everything is walkable. There is a cute park, too!
Catch the city view at Pueblito Paisa
Pueblito Paisa is a traditional attraction set atop a hill. It seems wildly popular among Colombian tourists and locals alike. We got here by taxi. This Colombian village was recreated in a traditional style, and it's actually tiny, but there are look-out points all around via paths through greenery.
We didn't stay too long, but had the best time on top of the museum, where we found 360-degree views of the Medellin valley.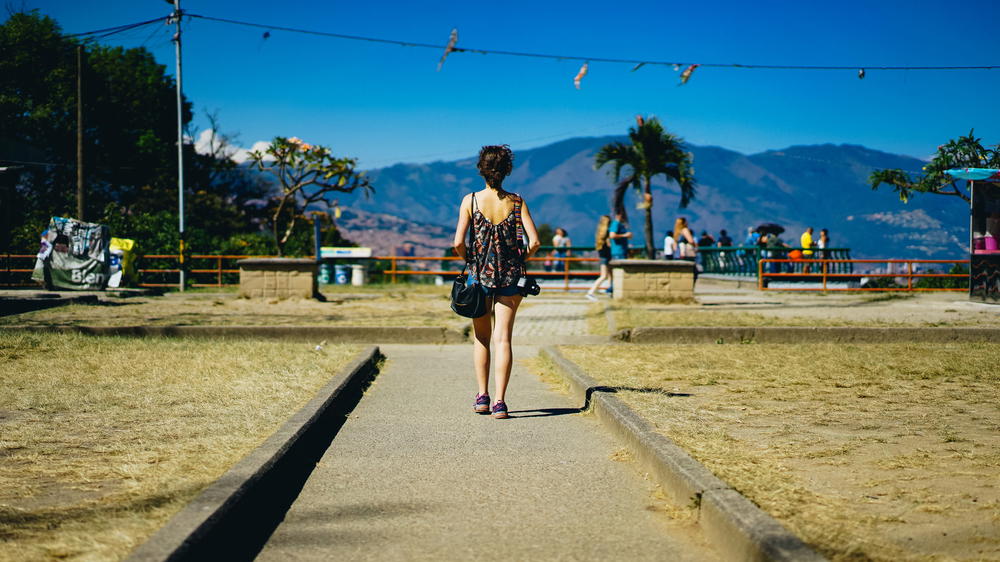 The Medellin Botanical Garden (Joaquín Antonio Uribe Botanical Garden)
The Medellin Botanical Garden was worth a trip, and we'll tell you why. Admission was free, and on weekends, Medellin locals come here to lay in the grass and hang out! It was like a big park scene that had pockets of cool cacti, palm trees, flowers and bamboo.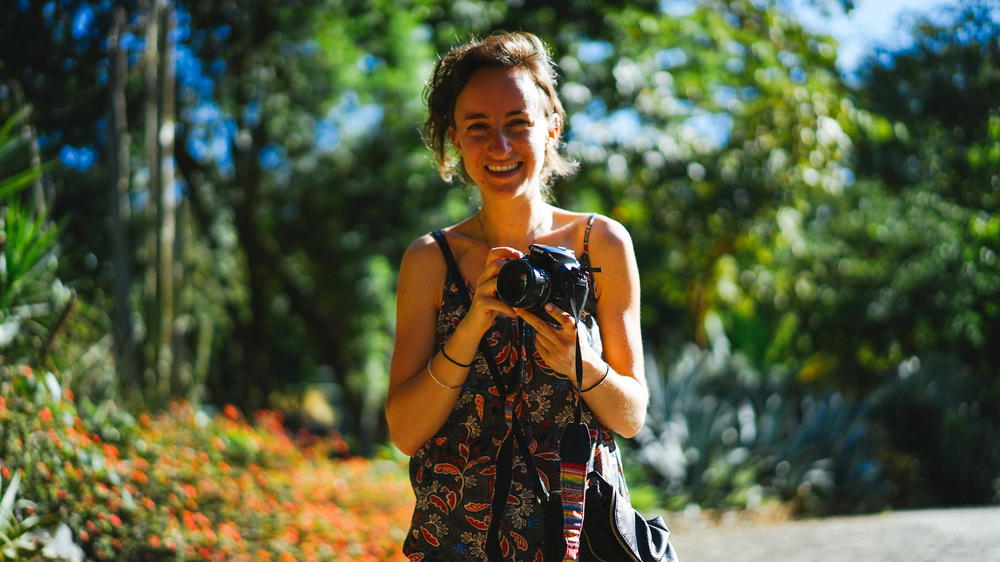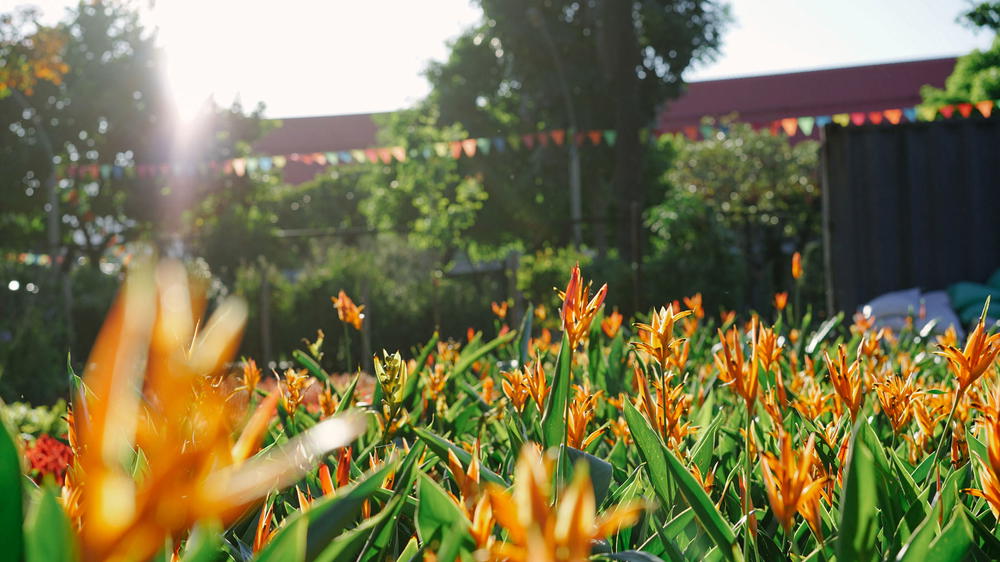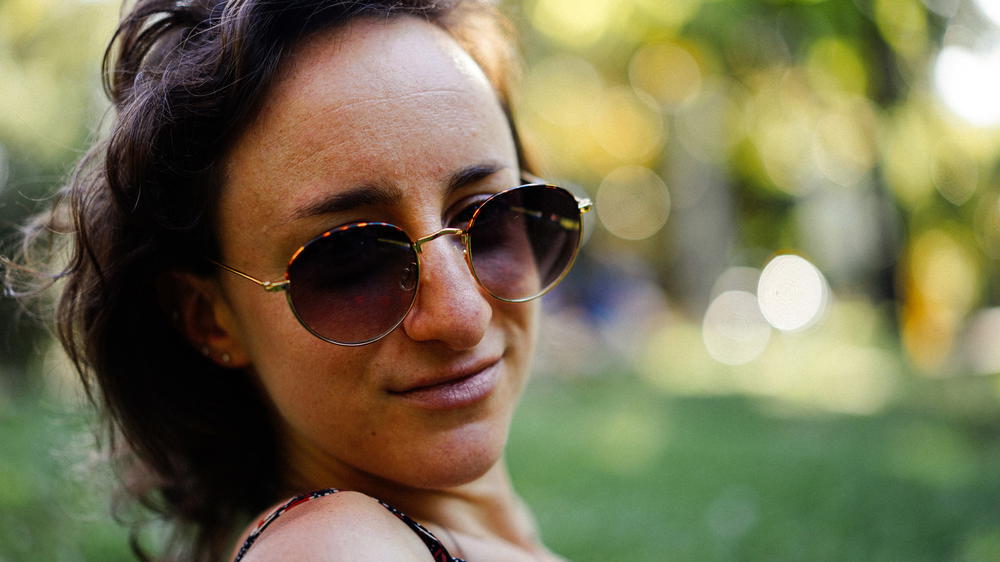 Outside, it was like a small carnival with people selling all sorts of street food, children taking rides on small donkeys and performers.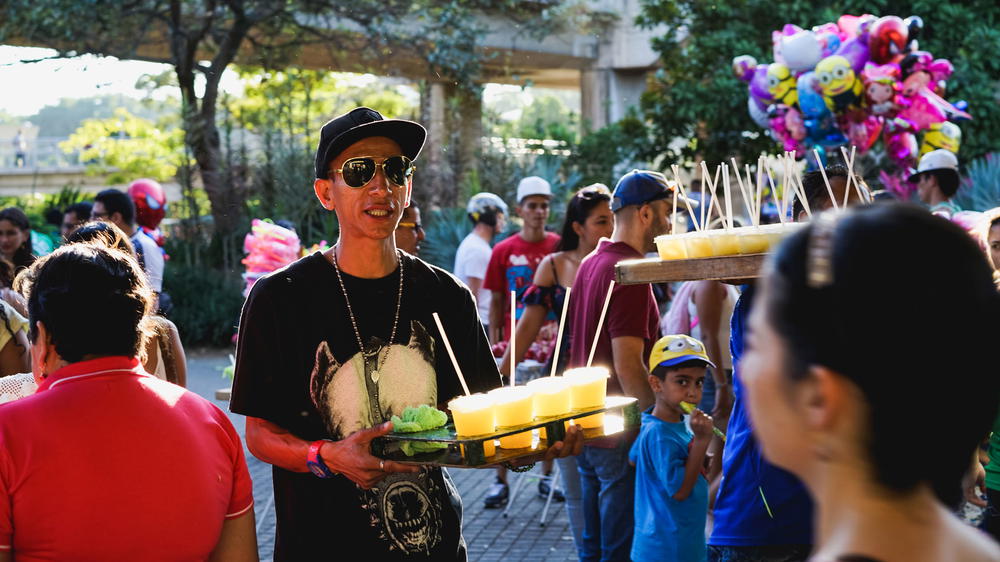 Try the coffee at the city's best cafe, Pergamino
Pergamino came recommended to us by not one, but two friends, because the coffee is 'actually' good.
If you read our Salento travel guide, you'll see how we learned that Colombians tend to drink instant coffee, as the high-quality beans are saved for export. The cafe also sells Colombian coffee to take home. Also, they sell stickers! Dan has a few Pergamino stickers on his laptop.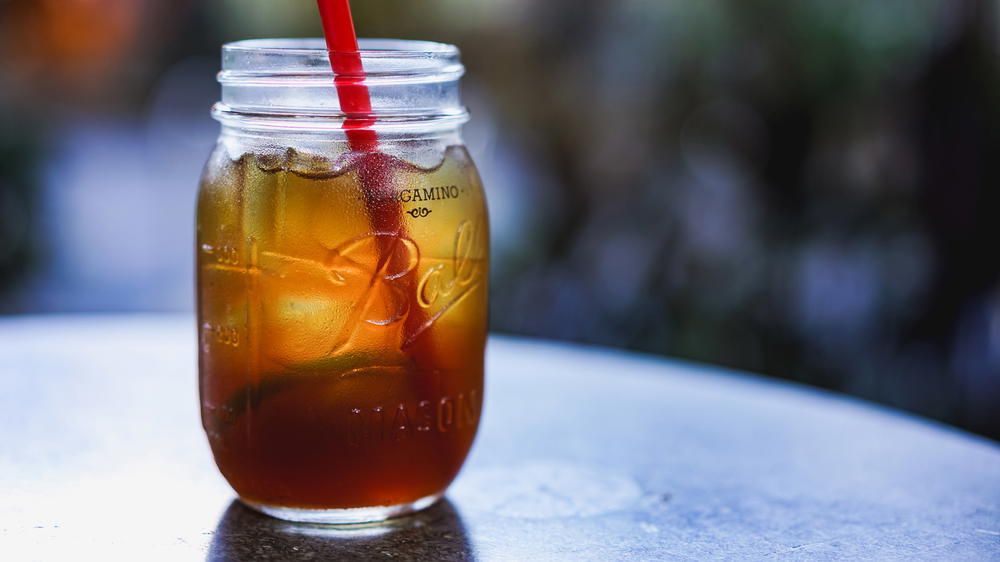 Take a day trip (or overnight) to Guatape
Want to know how to get to Guatape from Medellin? It's pretty easy, as far as simple day trips go, and that's why we recommend that taking a little trip to Guatape should be part of a trip in Medellin.
Guatape itself is a colorful town, two hours from Medellin proper. That's not so far, considering how big Colombia is. You can walk through the town, have lunch or a drink on the city's square, and look at the church and people-watch.
OK, if that doesn't sound exciting to you, what about climbing hundreds of steps up a massive monolithic rock? If we had you at 'monolith,' check out our Guatape travel guide.
Want to get straight to Guatape?
Book a one-day Guatape tour directly from Medellin and see what this giant rock is all about!
Get groceries and tropical fresh fruits at Carulla
Carulla is a huge grocery store right in El Poblado. We like to hit the grocery store to get snacks and a meal or two if we're staying somewhere for a few days. Bring your beers and wine back to the hostel roof (see our recommendation below) at sunset!
We also really like to check out the fruit choices in Carrulla. The store caries tropical fruits that you will NOT find at home, in great quantities. Have you ever had a tomate de arbol? Or a maracuya? Try all the varieties for great prices.
Find where to stay in Medellin
Best Backpacker Hostels in Medellin
Having gone there ourselves, we recommend Casa Kiwi Hostel. It's a big, conveniently-located hostel in El Poblado and is always busy.
Up to 75% off bookings!
The Hostelworld deals are live now through December 4th. Get up to 50% and 75% off sitewide for the travel period of 11/14/2023 to 4/30/2024!
The property has kitchens on several floors and a rooftop deck where you can kick back with a beer and enjoy the views while meeting other travelers.
Spend some time to plan a trip to Salento.
It won't be long before everyone's going to Salento, but for now, we'll just tell you that this probably our favorite scenery in all of Colombia and we want you to see it, too.
Salento is not super close to Medellin. You can fly, or to travel sustainably, travel in a public bus all the way down to Pereira for the Salento mini-bus transfer.
Ride the cable cars and go to Parque Arvi
Did you know that Medellin's public transportation system includes cable cars? It even has three separate lines of them!
The cable cars were built to connect poorer neighborhoods, always located at higher altitudes in the hills, AKA farther from the 'rich' city center in the valley, to the rest of the city and metro stations. The network is extensive and incredible, and from them, you'll feel like you're getting drone shots.
Riding the cable cars is not expensive, and you can ride them to the end, and back, especially at sunset when the lighting is best.
Try coworking at Selina (or go straight to the bar for happy hour)
If you're on a trip where you need to get some work done and you're looking for an affordable coworking space, look for the big Selina in El Poblado.
This is a good coworking space with a digital nomad community. You can get a day membership, week membership or month membership! There's outdoor space like a sunny balcony, bean bag chairs, hot desks and phone booths for taking a phone call. Also, you can drop in for a yoga class on the patio.
Check out Selina in Medellin!
Selina is also a backpacker hostel that you can book for a night or even a month in a dorm bed or private.
Comuna 13 Tour
Famous for its graffiti and colorful walls, Comuna 13 is another place to learn about the history of Medellin's recent transformation through art and young culture.
Due to safety reasons, we do recommend going with a tour group and not going on your own. As with other neighborhoods that are traditionally lower in the economic spectrum, this 'comuna' is located up the hills of the valley, so there are good views to be had.
El Social #2, El Poblado
El Social also has a #1, but #2 was right near where we spent a month living in El Poblado with Remote Year. The vibes are retro and friendly, and you can sit at a crowded table on the street drinking beer, having cocktails and eating guilty fried snacks like … you'll just have to go see for yourself.
Take the Medellin Metro (Metro de Medellín)
This impressive metro system is really new, which makes it all the more special to see in action. It's super affordable to ride, and rather safe as well (do watch your pockets, but nothing crazy ever happened to us).
The metro stations are usually one per neighborhood and along several main roads, and they go along with the shape of the valley. El Poblado has a metro station all the way at the bottom of the hill.
What we were told by various guides and locals is that Medellin locals are VERY proud of their metro, and you'll see that it has barely any graffiti, litter or damage. It's a symbol of how the city pushed into the future and out of dark times.
Try small-batch Colombian cuisine at El Trompo
El Trompo is a special restaurant in El Poblado that gets very creative with ingredients from all around Colombia. This restaurant's menu will show you that there's no such thing as 'Colombian food,' because Colombian food can be from the Pacific coast, the Caribbean coast, the Andes foothills and the Amazon. Incredible.
Ciclovia Avenida El Poblado
As we mentioned above, get your running, biking or plain walking for fun in on Sunday mornings from 7 a.m. to 1 p.m. at Medellin's weekly Ciclovia.
Ciclovia is held to encourage public health and fitness among members of the city (and those who visit!) and it's enlightening to see so many people excited about being outdoors and exercising.
Along the way, stop (with cash) to get snacks from local vendors, see some musicians and more. Do watch out for traffic, but luckily there are Ciclovia staff people to help manage it.
Plaza Botero
Plaza Botero is found in downtown and central Medellin near what you'd call a cluster of museums that comprise the cultural center of the city in a traditional way.
Ironically, we did not see Plaza Botero during our first visit to Medellin. We got to witness the glory of the big bronze Botero sculptures on our second visit, two years later.
Should you miss it? Probably not. You can probably get time at Plaza Botero on any walking route with Medellin's Free Walking Tour, and if you take any other type of downtown walking tour whether with a guide or on your own, you'll cross paths with it.
Botero's work is undoubtedly fantastic. It's unique, easy to recognize and aside from that, pretty funny.
Museo Casa La Memoria
Museo Casa La Memoria was mentioned above with the City Transformation Tour information. This is a museum that is not like others. Unique to its name, it's the 'house of memories.' It serves to pay respect to the groups of people who lost their lives during Medellin's years of conflict.
The museum, which is excellently done, also shows visitors how farmers, innocent people and families suffered during the years when drugs destroyed the country and its image. We'll let you discover the rest for yourself.
Eat a massive bandeja paisa at Mondongo's
Bandeja paisa is the guilty pleasure of Medellin. If you haven't heard, a bandeja paisa, or the paisa's platter, is a meal that got its start from laborers who would bring a ton of food amounting to a heap of calories in order to get energy for their days on the job doing hard labor.
Now, it's something you eat in one sitting (share it with a friend if you're smart) and wonder how you'll burn it off. A bandeja paisa is served usually on an oval plate and consists of any combination of the following: rice, arepa, avocado, fried plantain, egg, beef, chorizo, beans, cheese, pork and/or beef.
If that wasn't enough to overwhelm you, it's also super affordable when it comes to how this thing is priced, so it's hard to say no.
Mondongo's is what I like to think of as a Colombian diner - friendly, consistent and casual. Go with friends.
Criminal Taqueria
As you know about our love for Mexican tacos, you know we like to find them anywhere outside Mexico. We passed by Criminal Taqueria on the main strip of El Poblado during our first visit to Medellin, and marked it as a star on our map for later.
While the place is along the sidewalk and only has three actual tables (also outside, on the sidewalk), don't prepare to sit, but consider standing the way to consume your Criminal taco delights.
They also sell fun drinks.
Centro Comercial Santa Fe
While not necessarily something you 'have to do' in Medellin because it's a slightly upscale Colombian shopping mall, we're putting this on the list in case you needed something during your travels from a proper shopping mall.
Burdo Tragos y Comida
This is our splurge item: Burdo is BEAUTIFUL. Located also in Poblado and only a few doors down from Criminal Taqueria above, we [unashamedly] ordered tacos here. They have yummy brunch food, cocktails and chic decor. It's also a bar at night.
Want to see even more?
No worries! Book a private Medellin city tour and see all the best sights with a local guide.
Enjoyed our article?
Consider supporting us! We're a 2-person team (learn more about us here) and your support enables us to create quality content. Thank you!