Travel to Jardin, Colombia
Updated on September 6th, 2023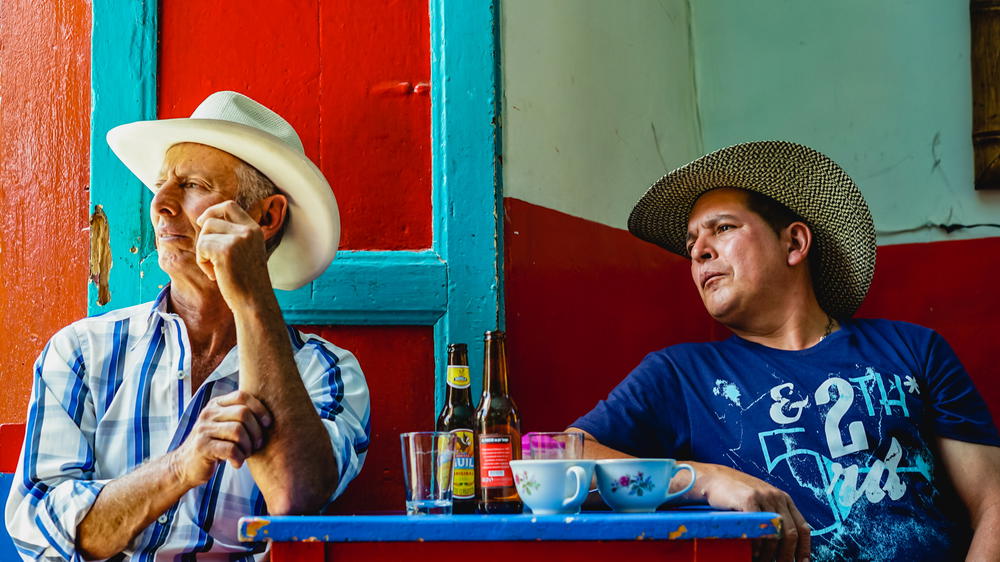 Travel to Jardin to get a sense of a colorful, quiet and authentic town in Colombia. We were enticed and we had to find a way to get there.
This article may contain affiliate links. We earn a small commissions when you purchase via those links — and it's free for you. It's only us (Becca & Dan) working on this website, so we value your support! Read our privacy policy and learn more about us.
Table of contents
Close table of contents
Jardin is an authentic Andean town in Colombia, located south of Medellin. We had heard about Jardin from friends who told us that it was pretty 'untouched' by tourism. It's actually true and we love Jardin!
We did our research and determined that 1-2 days was plenty, as the list of 'things to do in Jardin' doesn't run too long. Our goal for Jardin was to relax and enjoy the ambiance of small-town life.
How to travel to Jardin?
We recommend taking a bus from Medellin to Jardin. Go to the terminal early to ensure that you get a ticket! Also, to allow for enough time to spend a full(ish) day in Jardin. We arrived to the bus terminal at 8am and were on the first bus out.
How long does the bus take?
Keep in mind that the bus ride takes about four hours. It's a perfect way to watch 2 movies or see the sights out of the window.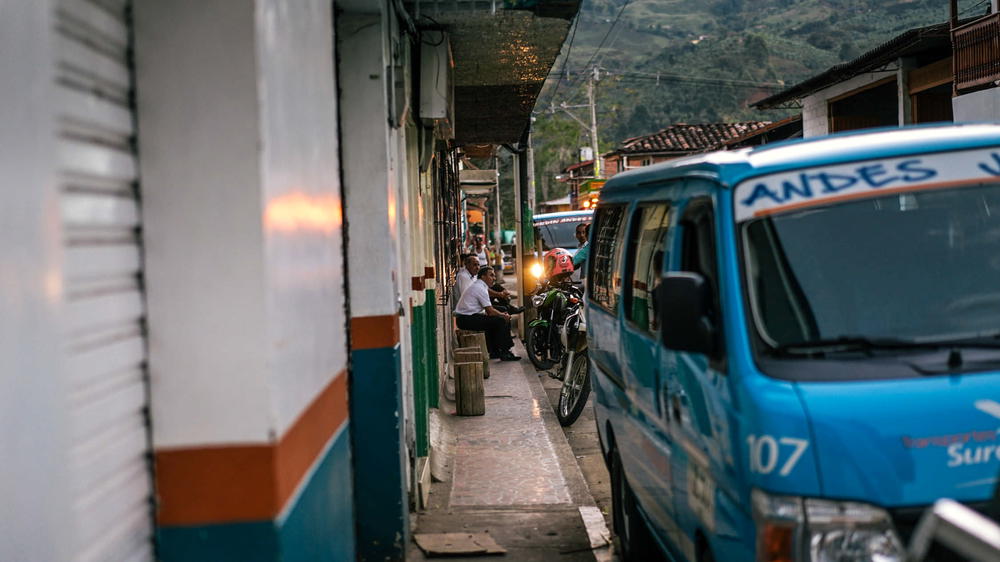 Where to stay in Jardin
We really liked this small hotel, Kantarrana Hotel. Our favorite part was climbing up the steps to a part of the hotel that has a covered deck, where you can get a nice view of the mountains and the town's tallest church.
Where to find food (aka comida) in Jardin
In the streets that surround the public square, you'll find family-owned establishments that offer typical Andean fare like the famous 'bandeja.' Bandejas consist of a spread of all the parts of a Colombian main course - meat, eggs, rice, plantains, salad, beans and usually an arepa. They're supposed to be shared as they are a giant plate of food!
For drinking, there are local bars surrounding the public square. We opted for coffee at the of the cafes facing the plaza. Note that while in Colombia, and doing what locals do, you'll wind up drinking instant coffee; we learned that the 'good stuff' is prioritized for export, and Colombians rarely drink the coffee their country produces in its pure high-quality form.
What to see in Jardin
Basilica Menor Jardin
Jardin's main cathedral looks rather out of place in a town that's otherwise painted in bright colors and looks like it's from a postcard. The cathedral is stone and dark on the outside, but go inside! It's bright, with tints of blue. Overall, this is a unique building.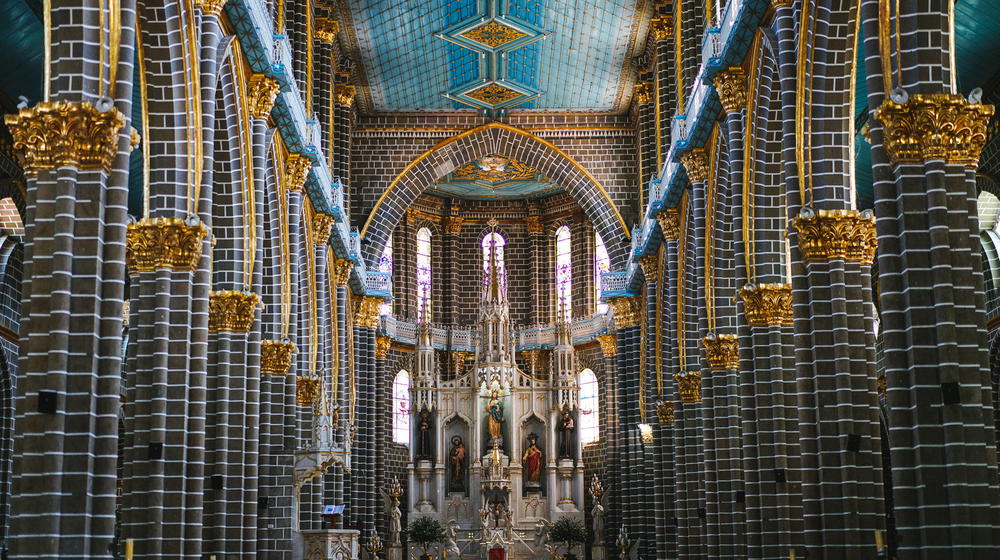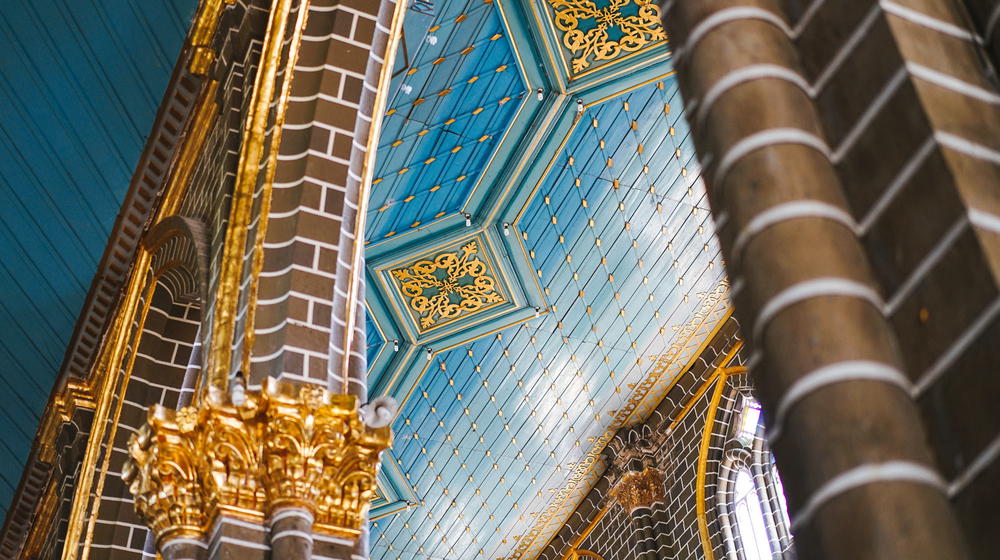 Jardin's Town Square
It's kind of quiet here, but the cafes and restaurants surrounding the square set up tables and chairs everywhere, so people mill about and sit out for coffees and beers.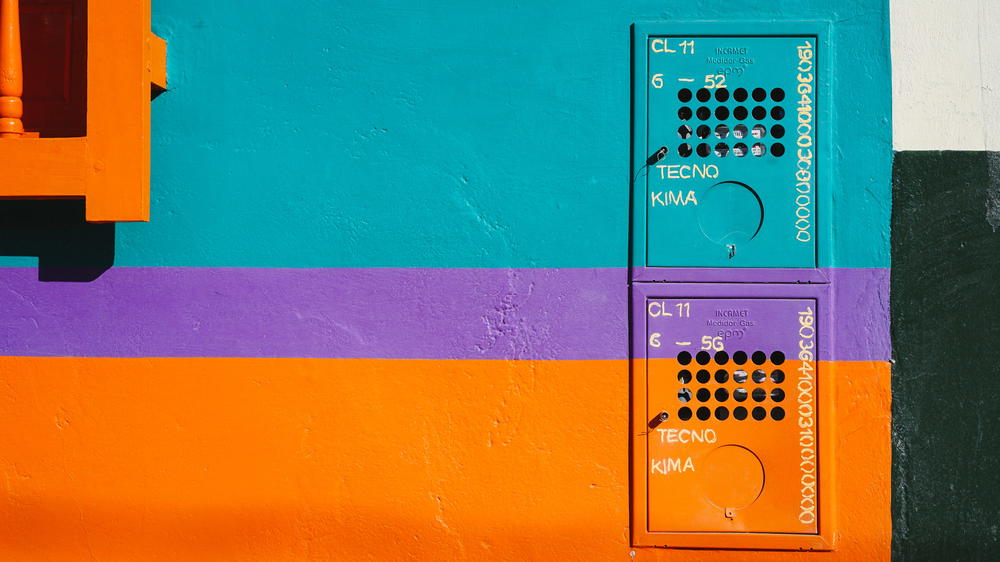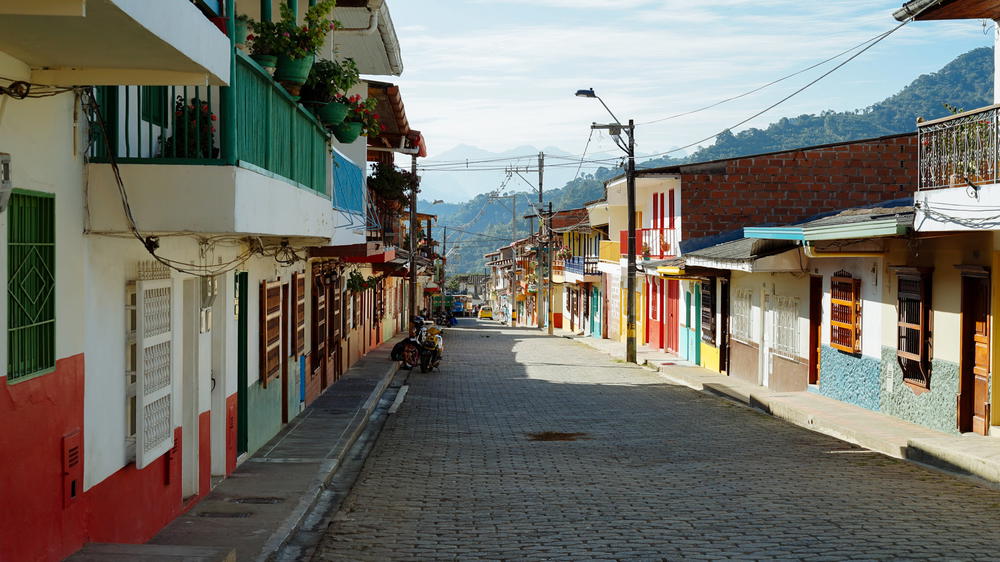 Teleferico de Jardin
This is a small cable car with nice views that leads to the mountainside from where you can catch a sunset. We were directed vaguely by locals in a direction (there are two - an old and a new, but it seems no one is directing anyone to the old one anymore).
It costs about $1-2 USD per person and the ride up takes about 5 minutes to the top of the hill. From the top, there is a cafe and some wooden benches with a fantastic and unobstructed view of the small valley, some farms, and an expanse of the town.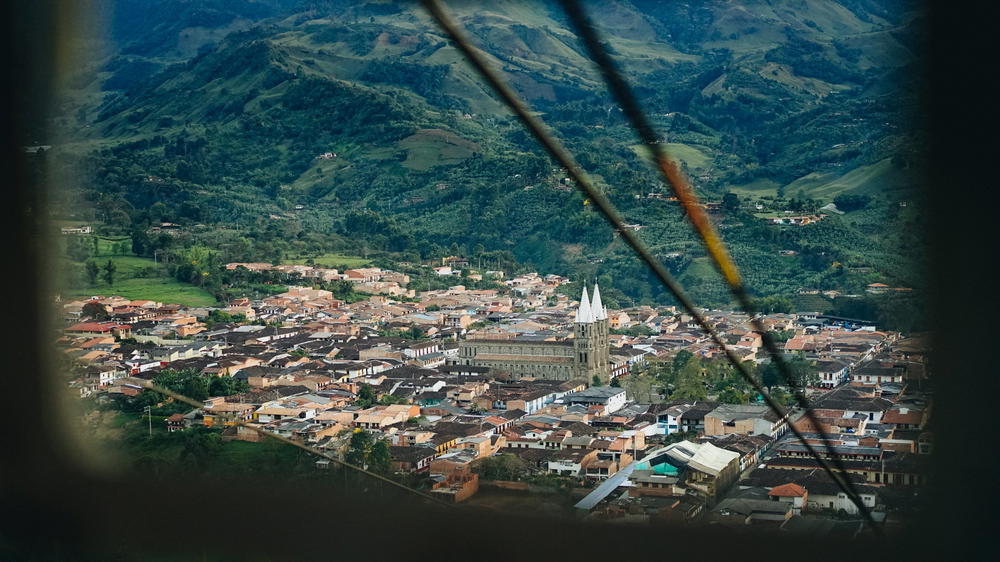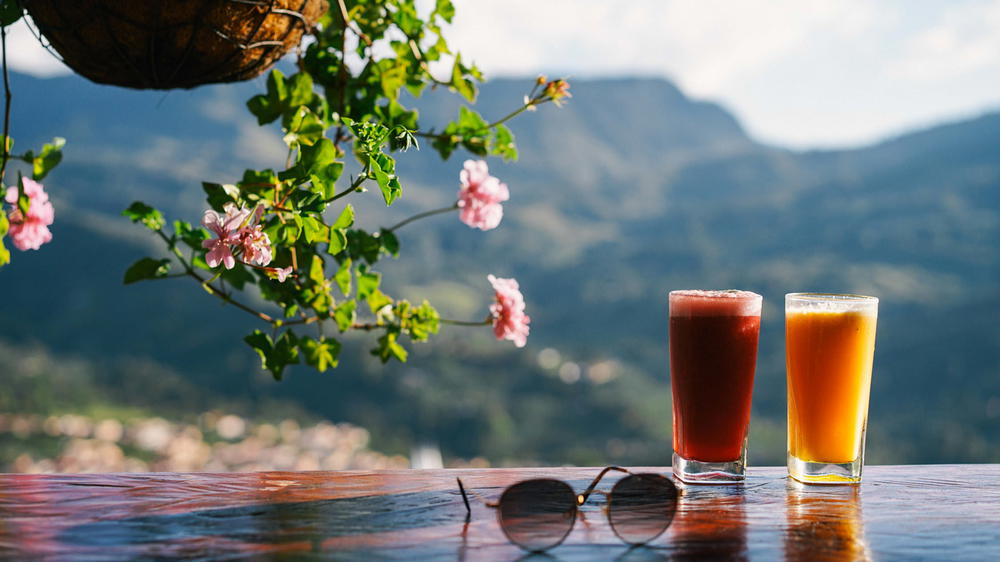 Where to travel from Jardin
Jardin is the 'end of the road,' so to speak, and it pays to look at the most up-to-date information you can find when choosing where you should head next. It nearly made sense to go 4 hours back to Medellin on a faster bus than heading northward to an interchange where we could head south to Salento.
Getting to Salento took 10-12 hours due to bus transfers (aka 5 or 6 movies!), so we recommend allowing time for bus timetables and changes to your itinerary.
Note that if you choose to rent a car and drive in this region, you'll have greater flexibility and can avoid the transfer time.
---
Jardin is a charming place, and we recommend visiting to enjoy small-town Colombian life and a sunset from the top of the valley.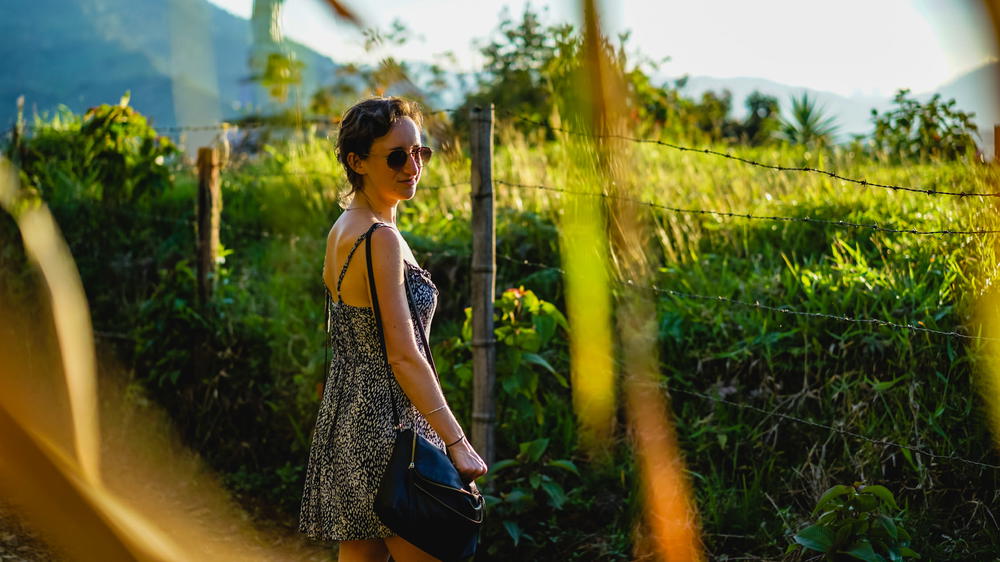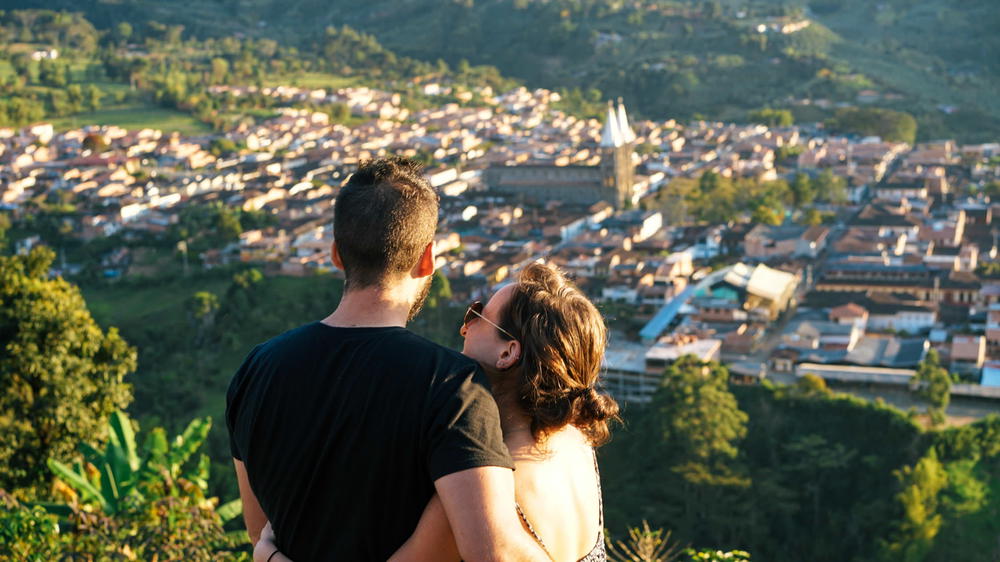 Enjoyed our article?
Consider supporting us! We're a 2-person team (learn more about us here) and your support enables us to create quality content. Thank you!