How to Get to Guatape From Medellin
Written by Becca
•
Updated on September 17th, 2023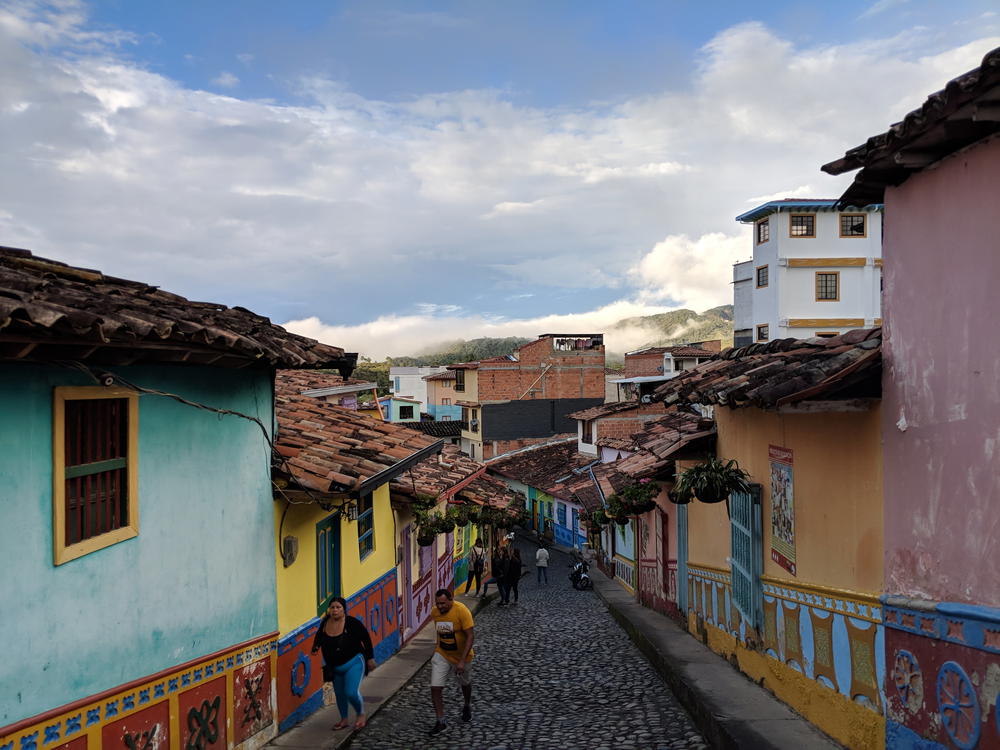 Going to Guatape from Medellin (or Medellin to Guatape) is one of the simplest day trips or short overnight trips! We've gone to Guatape from Medellin for a day trip and also for a weekend trip. Follow our step-by-step outline of how to reach Guatape from Medellin, by bus.
This article may contain affiliate links. We earn a small commissions when you purchase via those links — and it's free for you. It's only us (Becca & Dan) working on this website, so we value your support! Read our privacy policy and learn more about us.
Is a day trip to Guatape, Colombia one of the easiest and safest things to do if you're in Medellin? Yes!
Guatape is a popular side trip for travelers experiencing the Medellin region. It's a small town with a few super colorful traditional streets, a town square and of course, El Peñón de Guatapé (Piedra del Peñol), the huge monolith situated outside the town that bedazzles visitors.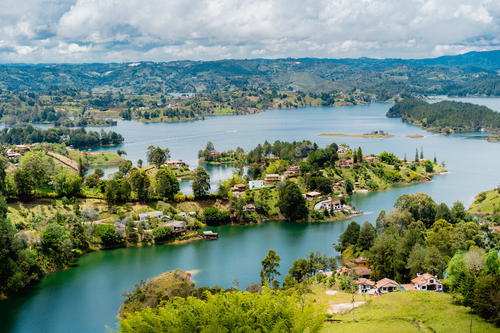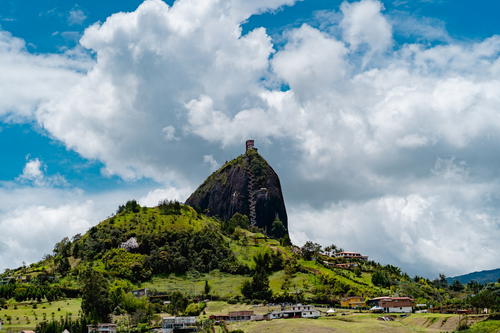 We've gone to Guatape after exploring Medellin both for the day, and as a weekend getaway trip. Traveling in this region is incredibly safe, making both Guatape and Medellin great and safe destinations for first-time travelers or experienced globetrotters.
To reach Guatape, you'll have to take a public bus. Here's how to get from Medellin to Guatape with our guide. Also, if you'd like to do the trip from Guatape to Medellin, use this guide backwards!
Go to Medellin's Terminal Norte.
Terminal Norte is the bus station for all routes north and east in Colombia, from Medellin. Guatape is a bit to the east, so any bus for Guatape leaves from this terminal.
To get to Medellin Terminal Norte, you can take a taxi or Uber. You can also reach Terminal Norte by the Medellin metro system Line A (blue) to the Caribe station.
Remember that bus stations can be confusing, so it pays to arrive early, or as early as possible. There is not much English in Medellin's Terminal Norte, so feel free to use a travel app like Google Translate!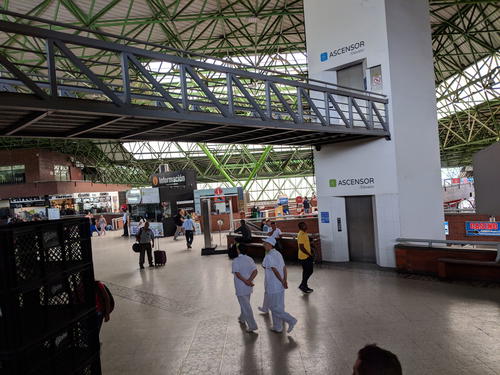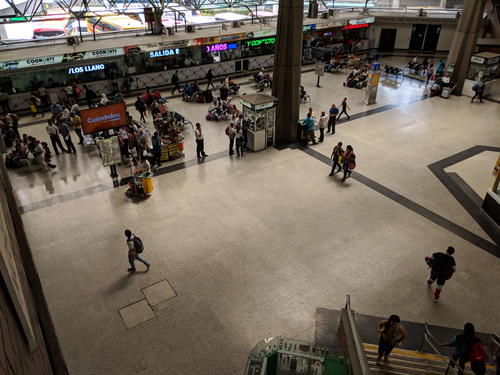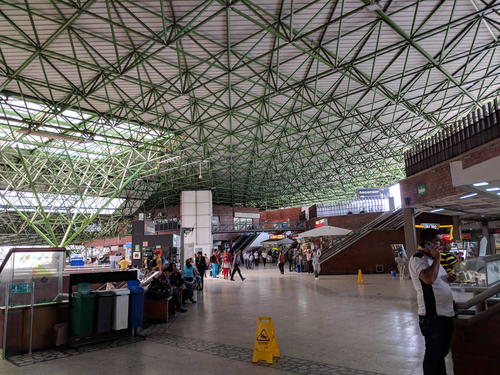 Consider booking a bus ticket from Medellin online
We took the adventurous route by figuring this out by ourselves, several years back. We asked around with multiple expats and locals in order to get the most up-to-date details on how to get to Guatape.
These days, we'd rather book online from a reputable source, with the peace of mind of knowing that a ticket is reserved for us.
We recommend checking out gottoGO! You can book a bus directly to Peñól de Guatapé, which also has a bus stop of its own.
This is a sure way to travel conveniently and to your destination and avoiding confusion.
Head down to the ground floor of Terminal Norte.
You will likely arrive at the terminal on the top floor, where a bridge connects from Medellin's metro, and where incoming taxis can drop off travelers. The top floor has mostly retail shops and a few cafes, like Dunkin Donuts.
When you get to the bottom floor, you'll know it is correct because you will see all the ticket booths and bus company signs. There are quite a few, and they transport people all over Colombia, which is amazing (because Colombia is gigantic!).
You can take the escalator or elevator to get to the ground floor. Notice that each window is for a bus or transport company that works with a certain route of destinations.
Find ticket booth #14 for buses to Guatape from Medellin.
The bus company is called "Sotrasanvicente & Guatape La Piedra," which is a long name. If you get lost, you can ask anyone for Guatape, and they'll point you toward ticket booth #14.
Tickets to Guatape or to "La Piedra" ("The Rock," known as El Peñól de Guatapé) will cost 14,000 COP one way. It's equal to $3.41 USD (as of the rate in 2023) per person.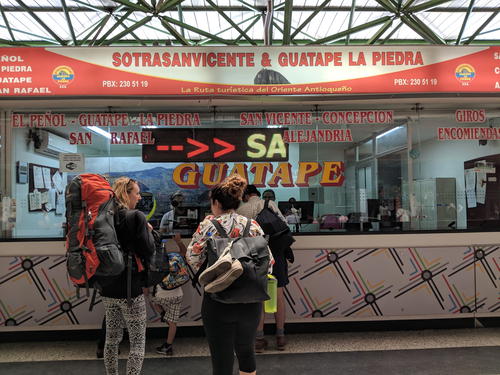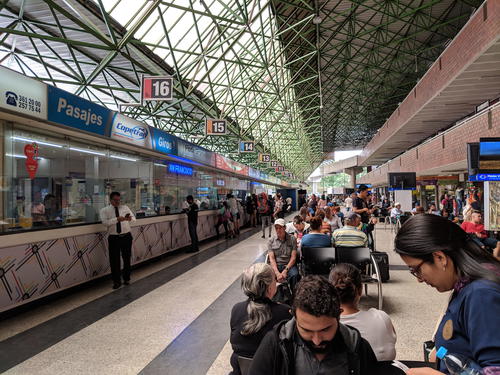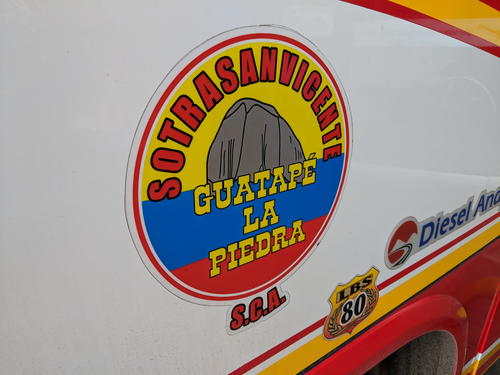 Now, grab coffee and a snack for your Colombian bus trip.
We found some nice coffee from a place called Deli on the top floor. As you may notice from our other travel guides, we're happy to try coffee anywhere!
There are also snacks all around, from empanadas to fresh juices. If you have time, you can explore all the options. We also found a fresh juice stand on the ground floor near the bus ticket booths.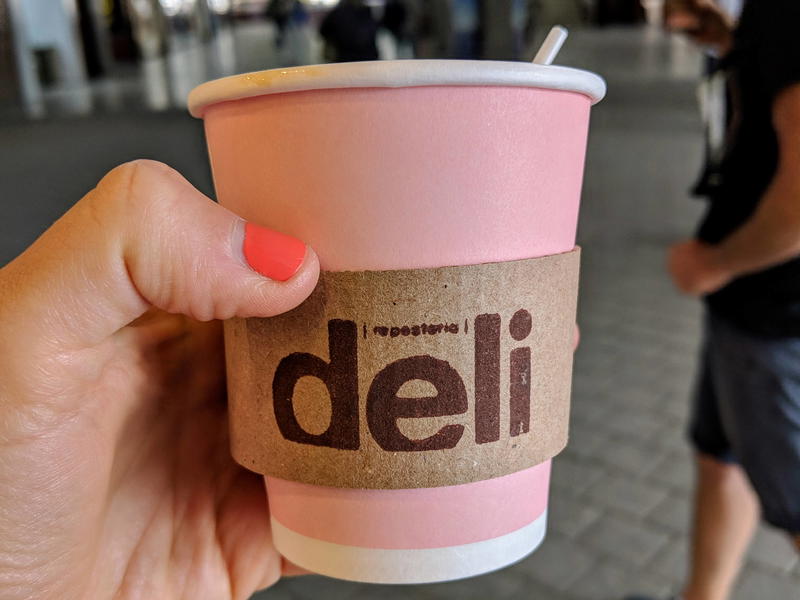 How do you read a Colombian bus ticket?
The ticket will be all in Spanish. Make sure you differentiate between "puesto," which means seat, and "rampa," which means gate.
It is unfortunately pretty easy to confuse these words and their meanings. While in the station, we ran into someone we knew. He had confused "puesto" with "rampa," meaning he went to the gate number of his seat assignment. In a big hurry, he had to then run across the terminal with minutes to spare before he found the correct bus gate.
Helpful Tip
In Colombia, bus seats are assigned when you buy a ticket. This is a good thing, because you can sit next to your friend, and you don't have to scramble to arrive first to get a good seat.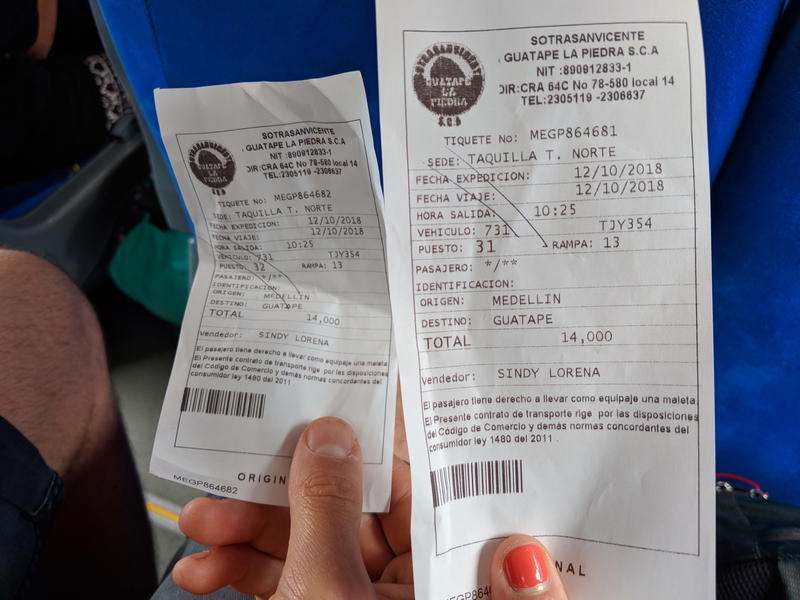 How long does it take to get to Guatape from Medellin on the bus?
The bus will take roughly two hours to get to Guatape from Medellin. This is a fairly routine route, and you'll find a mix of locals and tourists joining you for the trip.
It's possible that a local vendor might get on to sell small snacks in between stops throughout your route. This is fairly common in Colombia, and you will probably notice this both on bus trips and while walking around city or town squares.
Try to use the restroom right before you depart. The bus may or may not stop because the trip from Medellin to Guatape is considered a shorter route. You can expect stops for longer routes, like from Medellin to Bogota or from Medellin to Jardin.
While on the bus to Guatape from Medellin…
If you want to get off at the Peñól de Guatapé (the monolith) before you go into the town of Guatape, you can tell the driver. The driver will let you off at the entrance to the Piedra ("the Stone"), which will be ten minutes before the arrival in the Guatape bus station. Keep an eye on your Google Maps, or just look out the window!
Helpful Tip
Keep in mind that the Piedra would be an hour by walking distance from the town center of Guatape. We actually gave this a shot during our second trip to Guatape, and it's not the most exciting walk, but it can be done if you really have the time.
While on the bus, you will see a few types of people board the bus: people begging for money, people selling small snacks and people playing music and then asking for money.
You don't have to feel obligated to give anyone money, nor to buy anything. Most of these types of vendors will stay on the bus for a few minutes and then leave.
When you reach Guatape, congratulations: you did it! Now you can enjoy a bandeja paisa (yum) and a the sights to see in Guatape.
Where to stay in Guatape, Colombia, as a backpacker
Guatape has an array of different places to stay, from hotels, to hostels, to Airbnbs. In recent years, there have been some awesome Airbnbs that have popped up, from cabins to tiny homes to some luxe vacation homes for rent.
For the backpacking crowd, there are several hostels located in the heart of the town, some hostels near the Piedra (it's a 45 to 60-minute walk from most parts of the town) and some hostels up near the farms to the other side of town.
Having once already gone for a day trip to Guatape, during our second trip, we decided to go for a more rural experience and stayed at Estaciones Hostal. We were awoken by the sound of roosters at dawn, and had some cool views of the Piedra when we walked back to town in the morning.
We walked for about a half hour from the bus station in Guatape's town to Estaciones Hostal and got to appreciate the rural and small town scenery. We got to take a whole bunch of photos, too!
Looking for more Medellin side trips and day trips?
Going to Guatape from Medellin is only one excursion you can do during your trip to this region of Colombia.
For more ideas on places to go from Medellin, look no further than our Santa Fe de Antioquia travel guide and what to do in Jardin.
Last, make sure you've checked out our Medellin travel guide as well!
Enjoyed our article?
Consider supporting us! We're a 2-person team (learn more about us here) and your support enables us to create quality content. Thank you!