Ryan & Alex Duo Life: Couple Travel & Fitness Motivators
Written by Becca
•
Updated on September 6th, 2023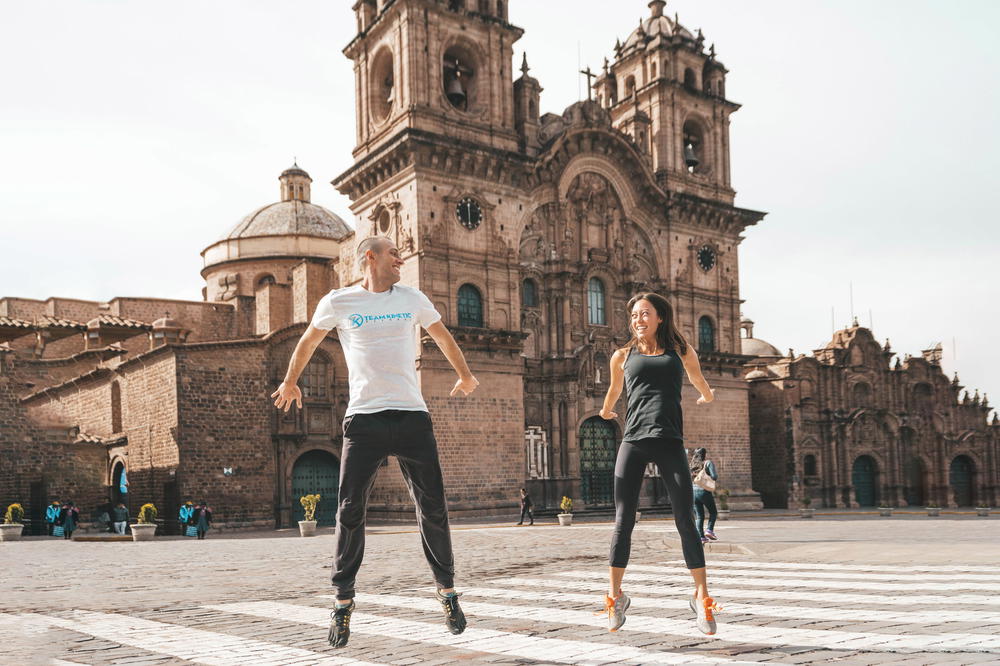 What's new with our friends Alex and Ryan, the "relationship goals" fitness couple of Duo Life? They inspire us daily for pairing traveling and fitness, together.
This article may contain affiliate links. We earn a small commissions when you purchase via those links — and it's free for you. It's only us (Becca & Dan) working on this website, so we value your support! Read our privacy policy and learn more about us.
---
We're so proud of our friends, Alex and Ryan, for following their dreams, being adventurous and above all, striving to spread the love of working out and not letting anything stop you!
Becca met Alex through a mutual friend in 2011 when they were both living abroad and working in Shanghai, China. Becca didn't meet Ryan until he came to visit Alex in spring 2012. Alex and Ryan were dating long-distance at this time, and eventually became one of the, "Well, if they did it, so can we," inspirations for our dating long-distance for a year while Dan traveled around the world working remotely.
Who are Alex and Ryan of Ryan & Alex Duo Life?
Alex and Ryan dated for years before getting married in October 2017 in a beautiful destination wedding in San Antonio, TX (USA). Now, they are a husband-and-wife duo - engineers who left their stable corporate jobs in the US to work on a fitness business together while traveling.
Their mission with Ryan and Alex Duo Life is to inspire couples to "engineer a life you love with the love of your life." Isn't that incredible? They're motivating their audience daily to transform their bodies and minds while strengthening marriage or relationships, and emotional connections.
Ryan found his niche in the fitness industry and promptly brought Alex along. There still was a remaining question though, which sparked the name for their brand, and the question was, "How can I get my spouse to work out with me?"
Acknowledging that health and fitness can be a challenge for couples, whether they're in the first year of their relationship or the fortieth, Alex and Ryan sought to change this. Through months of research and experimentation, they brought to life a program to help couples "Duo Life" together.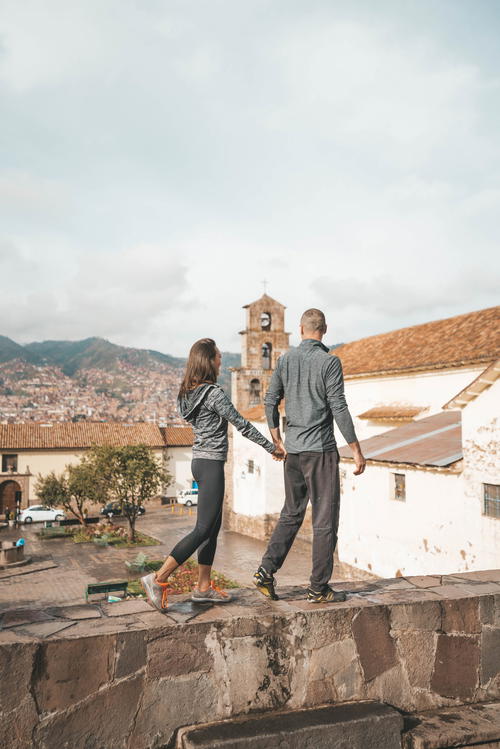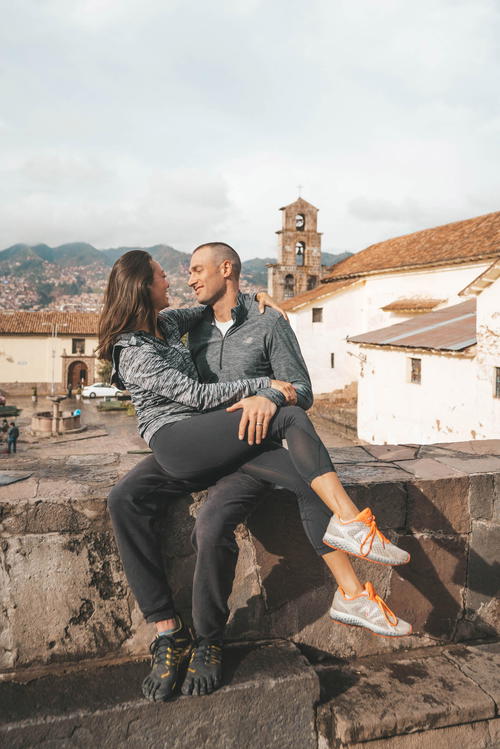 ---
Tell us a bit about your brand and your online business. How did you start with Duo Life?
Ryan and Alex Duo Life was born from a single question that many of our fitness customers asked: "How do I get my spouse to work out with me?"
We realized that this was an untapped and underrepresented topic, but is so instrumental in creating a healthy foundation for any couple. Once a couple starts working out together, other aspects of their health, like nutrition, mindset, and goal setting, begin to fall into place.
When did you first know you loved to travel?
I've loved to travel since I (Alex), was four years old! Seriously! With half of my family in Asia, I spent every summer growing up in Hong Kong. I loved the crazy Kowloon nightlife colors, tantalizing dim sum smells, and sounds of a bustling Asian city.
As I grew older and started my corporate career, life in the US seemed too comfortable and too easy. Every day was the same. I missed the challenge and chaos of living abroad.
Once out of college, I accepted a three-year engineering assignment in Shanghai. As I was about to leave, I convinced my then-new boyfriend, Ryan, to move abroad with me. He did.
Now, about Ryan: Ryan has been traveling on family road trips to national parks in the US for as long as he can remember. Moving from a rural Minnesota town of 25,000 to Shanghai, a city of around 25 million, was a big change, to say the least. As you might have guessed, he got hooked and together, we never looked back.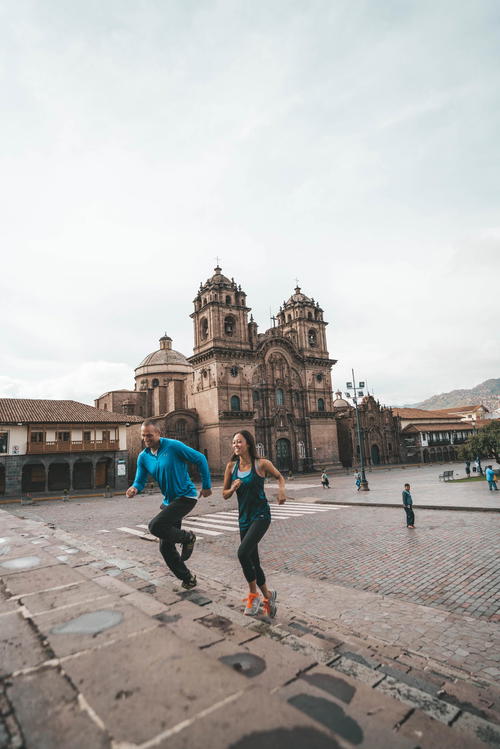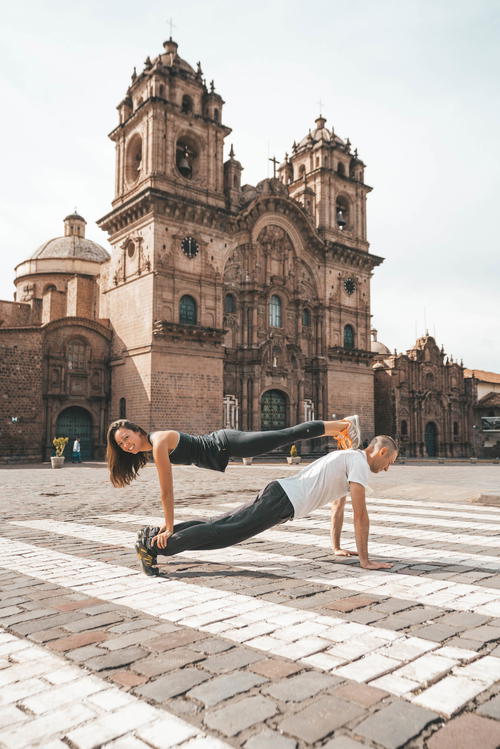 How has travel shaped both of your careers, or how did your careers shape your travel?
Our desire to travel was the driving force to create a life outside of the US and outside of convention. We had a taste of it when we worked as corporate engineers in China, but then after returning home to the US for a while, we wanted full freedom to travel and work as we pleased.
Simultaneously, Ryan had a side business in fitness for many years through Beachbody. This seemed like the perfect opportunity to focus full-time on his passion, and we created a company to help couples get healthy together through fitness, nutrition, and mindsets.
All of the pieces came together as at this point, we now had a business goal and remote work that we could manage while traveling.
How did you two meet? Has fitness always been a passion?
Ryan and I (Alex) met on my first day of work at my first job out of college in 2010. It sounds corny, but it was love at first sight - through pairs of safety goggles in the engineering lab! Romance at its best, right?
In a nutshell, we started dating in Minnesota, moved to China for three years, moved back to Texas for three years, and then got married in October 2017. Starting several months later, we left home, and we've been traveling in South America ever since.
Throughout our years of dating, we both experienced the same health struggles that face many people in their office jobs: sitting too much during the day, making poor nutrition choices and never finding time to work out.
From there, the idea was born to teach couples how to work out together, as we started researching and experimenting … with ourselves!
When and how did you decide to leave your jobs and travel in South America?
The idea to leave our jobs and travel started incubating years before we actually took the plunge. We were already exposed to living abroad after working in China and knew how rewarding it was.
We made a pact that after our wedding, we would put in our notices to our jobs. We chose South America because of the convenient time zones in which we could continue working with our American and Canadian fitness customers with Ryan's side business. And, if you're wondering, no - we didn't speak Spanish!
The actual act of leaving was easier than we both anticipated. For me, I had a great relationship with my boss and gave her three months of notice, which put my mind at ease.
Ryan gave two months of notice, and his company ended up hiring him as a remote consultant for the first few months we lived in Ecuador in 2018.
You might be surprised as to how open your employers are to sabbaticals or gap years, and remote work! You never know until you ask.
What has travel allowed you to discover about fitness?
Fitness around the world is fascinating and takes on different forms in different countries. In China, fitness is holistic, coinciding with the body's energy (think tai chi).
In South Korea, women prefer group and social fitness as opposed to the "sweat your heart out" gym sessions. In Ecuador, fitness was also communal within small neighborhood parks for pick-up soccer and volleyball matches. Here in the US, we see trend shifts toward streaming workouts, online communities, multi-functional fitness and eco-friendly "green" gyms.
Outside of this, the biggest thing we've learned is how critical it is to have a program that works anywhere; seriously anywhere - from the airport, to a beach, to a rooftop terrace.
The fitness program also needs to be well-rounded, focusing not only on strength and cardio, but also on flexibility and dynamic motion to avoid injury. This keeps you healthy and sane while on the road.
For our workouts, we rely on streaming, at-home programs and travel with our favorite yoga mats and resistance bands. Don't forego your HIIT, cardio, or weightlifting simply because you're living out of a backpack!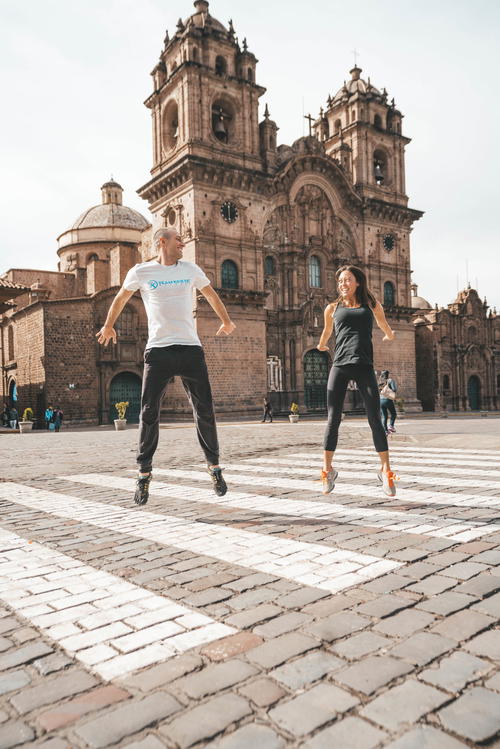 What are the best parts of traveling with your significant other? What are the challenges?
The best part of traveling is absolutely the high-quality time we spend together. While working as engineers, we were constantly apart on business trips. Also, like Becca and Dan at @halfhalftravel, we endured several years of long-distance dating.
Nowadays, we are literally together 24 hours a day, seven days a week. We even ran the calculations and discovered that two years in South America equates to seven years' worth of time together if we had stuck with our previous engineering jobs!
The biggest challenge for us has been choosing places to live that suit both of our needs. Seeking a rental in a new country is already tricky enough between searching through Facebook groups, local classifieds, Airbnb and local housing websites without even considering our different preferences.
In these situations, we have learned not to rush our decisions and to give ourselves at least three days in a hostel upon arrival, which is when we take time to look for housing. From there, we do our best to compromise for each other and balance it out with our budget.
Our biggest tip for housing? A quality mattress = happiness.
What would you say to someone who wants to try some of the lifestyle choices you've made?
Follow our mantra and "Just Duo It!" Commit to living a healthy and spontaneous life - especially if you have a partner to join you!
Also, as you might expect two health coaches to say, get the most out of your travel by getting in shape. Being fit allowed us to summit snow-capped volcanoes in Chile, backcountry ski through untouched Patagonian mountains in Argentina, rappel down a seven-story cave in the Ecuadorian Amazon and save thousands of dollars by trekking unsupported by ourselves through the mountains surrounding Machu Picchu in Peru.
Regardless of whichever adventure you dream up for yourself, being healthy can make it more enjoyable.
How has Duo Life grown since you've been 'on the road'?
We started Ryan and Alex Duo Life once we started traveling. Traveling gave us the time and clarity to build and grow our newsletter, free Just Duo It program for couples, our website and our blog.
One unexpected benefit of traveling is that you never know who you'll meet on the road. We've made friends with website builders, marketing gurus and traveling fitness celebrities in random corners all over South America. With these unexpected friendships and their fresh perspectives, our business has taken shape in innovative and newly-focused ways.
What do you think are the biggest mindset changes you've had since living abroad and traveling long-term?
Traveling full-time has shown us that it isn't only a "young" person's game. For so long, our friends and colleagues encouraged us to travel because it was the " perfect" time: we are young and without kids.
However, that's all misleading! We see people of all ages and with full families traveling the world to create enriching and unconventional lives for themselves. We have come to realize that, for us, there are better ways to earn money than by progressing up the corporate ladder.
We now believe life can be as fluid as you want it to be, especially by utilizing opportunities to work remotely and by being open to new experiences.
---
You can follow Ryan and Alex to get motivated and inspired by their fun travel couple style, fused with fitness and wellness tips!
Enjoyed our article?
Consider supporting us! We're a 2-person team (learn more about us here) and your support enables us to create quality content. Thank you!