Perfecting the One-day Business Trip: Tips and What to Pack
Written by Becca
•
Updated on September 6th, 2023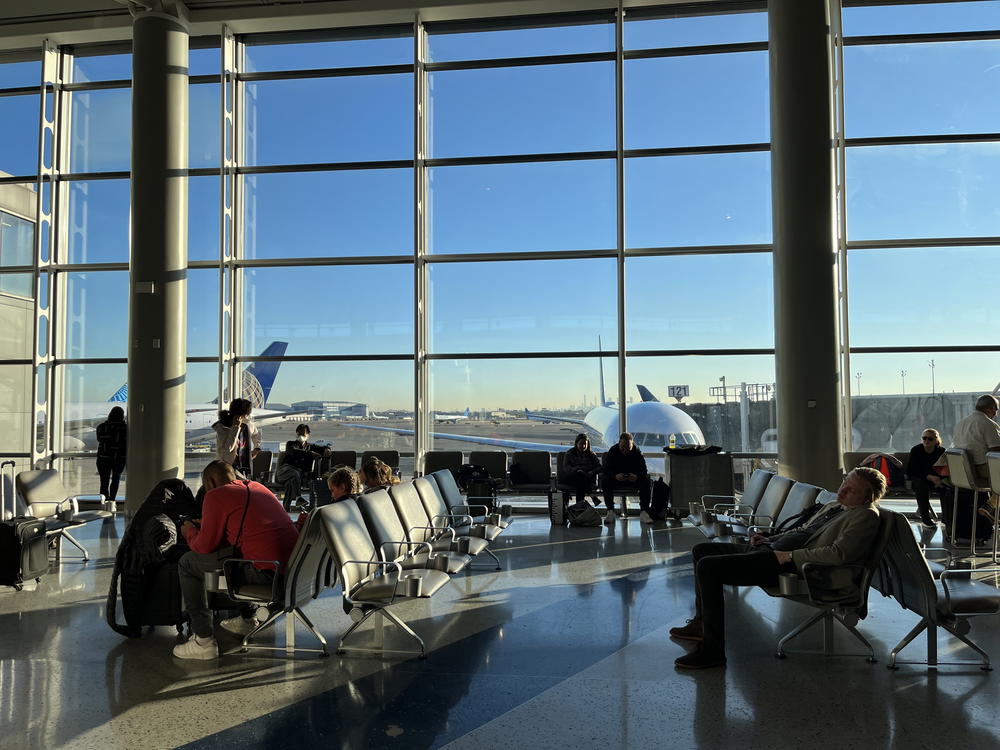 I took a very short one-day business trip, flying back the same day! Here are my best tips for how to survive and what to pack, to make this work travel worth it and easy.
This article may contain affiliate links. We earn a small commissions when you purchase via those links — and it's free for you. It's only us (Becca & Dan) working on this website, so we value your support! Read our privacy policy and learn more about us.
Table of contents
Close table of contents
I was recently presented with the opportunity to take a one-day business trip, departing in the morning and returning home the same night. It was mildly thrilling as I first considered it.
I'm no longer a wide-eyed twenty-something taking her first business trip across the country to a conference, extending the trip to visit and crash with friends and enjoy some sightseeing, staying away from home as many days as possible. Therefore, I am delighted, as a woman in her mid-thirties, to travel halfway across the US for a single in-person meeting, and go home to sleep in my own bed the same night.
How do you take a same-day business trip, though? Is there any secret hack or tip I needed to uncover? How do you survive the early morning flight, the late night return and looking fresh and put-together in between?
Take it from me: I first researched the other tips out there from business travelers who nailed the one-day business trip, and these are my best suggestions of how to do it and what to pack.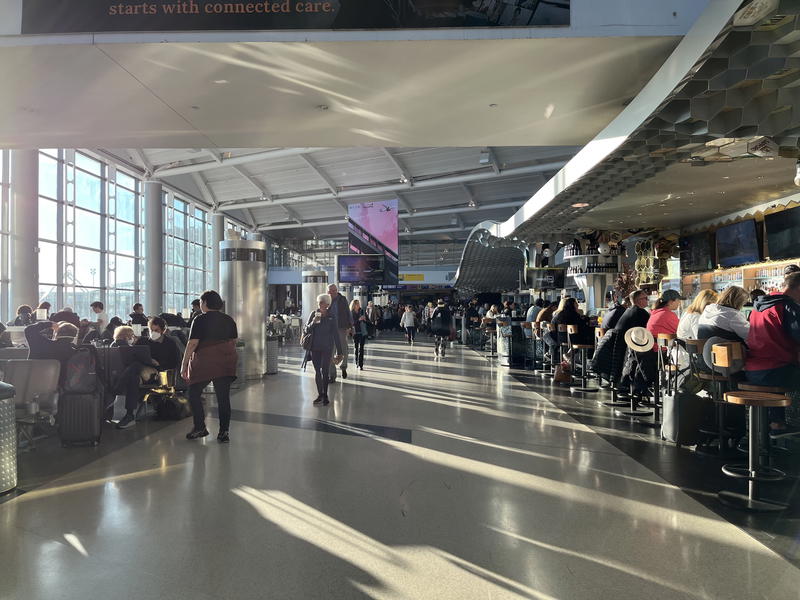 What to pack for a same-day work trip
Packing for a same-day work trip isn't hard, but I thought through it a few times. Here's what I went with, from the bag I strategically chose to the back-up smart items I packed in there.
Your business travel bag or luggage
While business travel websites and pro business travelers out there recommend a short carry-on suitcase like the Daily Carry-On from Away, I found it perfectly appropriate to take a professional laptop travel backpack.
I swear by the Bivy Tote Backpack from Troubadour, which is my dedicated work backpack for when I head into the my Manhattan office.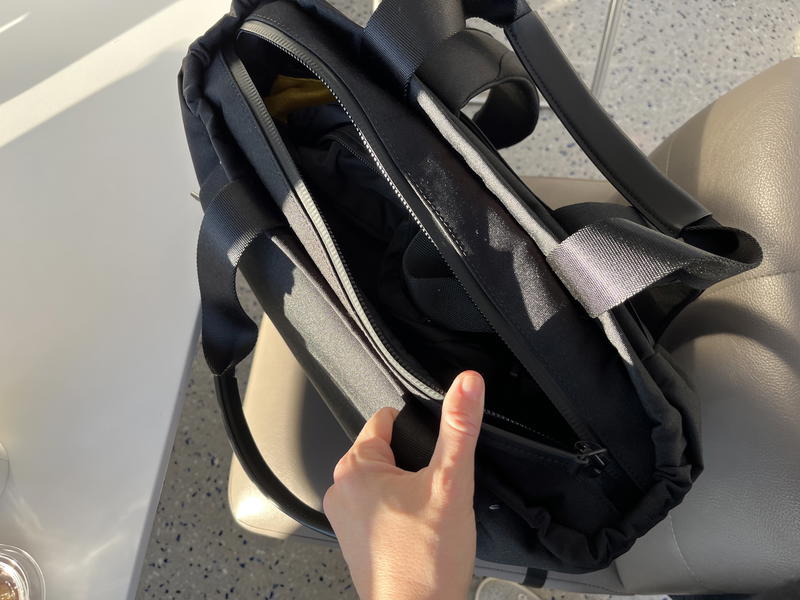 With room for a laptop and a central cavity that fits a slim packing cube, accessories and chargers, it was a no-brainer to take this awesome travel backpack on my business trip. I was considering taking the Troubadour Adventure Carrier tote, which I also have in my closet, but decided that I didn't want to be stressing either one of my shoulders during all that walking through airports. I'll use this lovely and spacious tote for another occasion.
I chose the Bivy backpack for my one-day trip in order to manage weight on my shoulders effectively while walking through airports twice in one day. Here's what it looks like.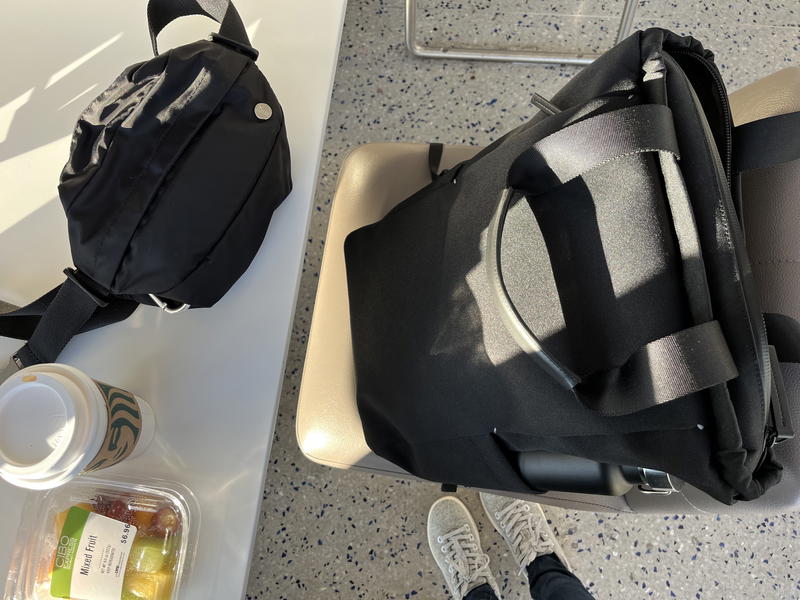 Travel (waist pack) accessory bag
I've mentioned in other gear articles of ours that I really like having a waist pack during travel days. During a same-day business trip, you do quite a bit of travel in just a few hours!
On this trip, I took the Public Rec Belt Bag, which I used both in its fanny pack method and its sling bag setup. I find this bag is to be so convenient for keeping my passport, wallet, phone and AirPods handy and close to my body. I keep it in my lap during the flight as well.
Not interested in the look of this convertible fanny pack? Check out the list of my best fanny packs for travel to see more options.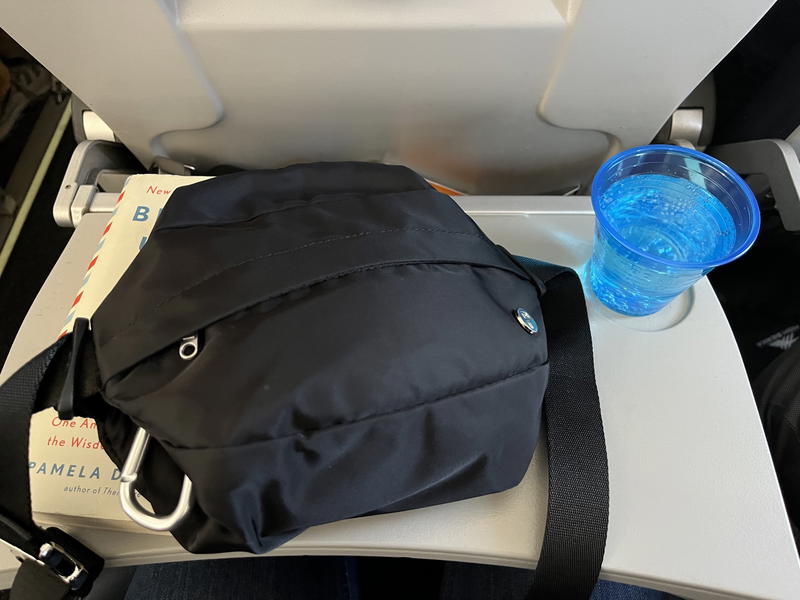 Work items to pack
Make sure to take your work laptop, laptop case (I use a simple neoprene one I bought on my own) and your laptop cable or charger. I usually pack these the night before.
One tip is to make sure you don't take your personal laptop instead of your work computer, as that would be an unfortunate mistake. Pack these while you're not in a rush, ideally not in the minutes before you're running out the door.
Other travel accessories
In addition to the standard "travel things" like a phone cable and an external battery pack or power bank (great for when you have an old plane with no outlets!), you could consider bringing compression socks for the flight (mine are from NxStop) and a neck pillow (I recommend this easy one from BCozzy).
You'll also want a reusable travel water bottle! Pack the one you'd take on any trip. I recommend the YETI or the S'well bottles. Fill up your bottle at a water fountain before you board your inbound flight, so that you're not parched and tired upon arrival.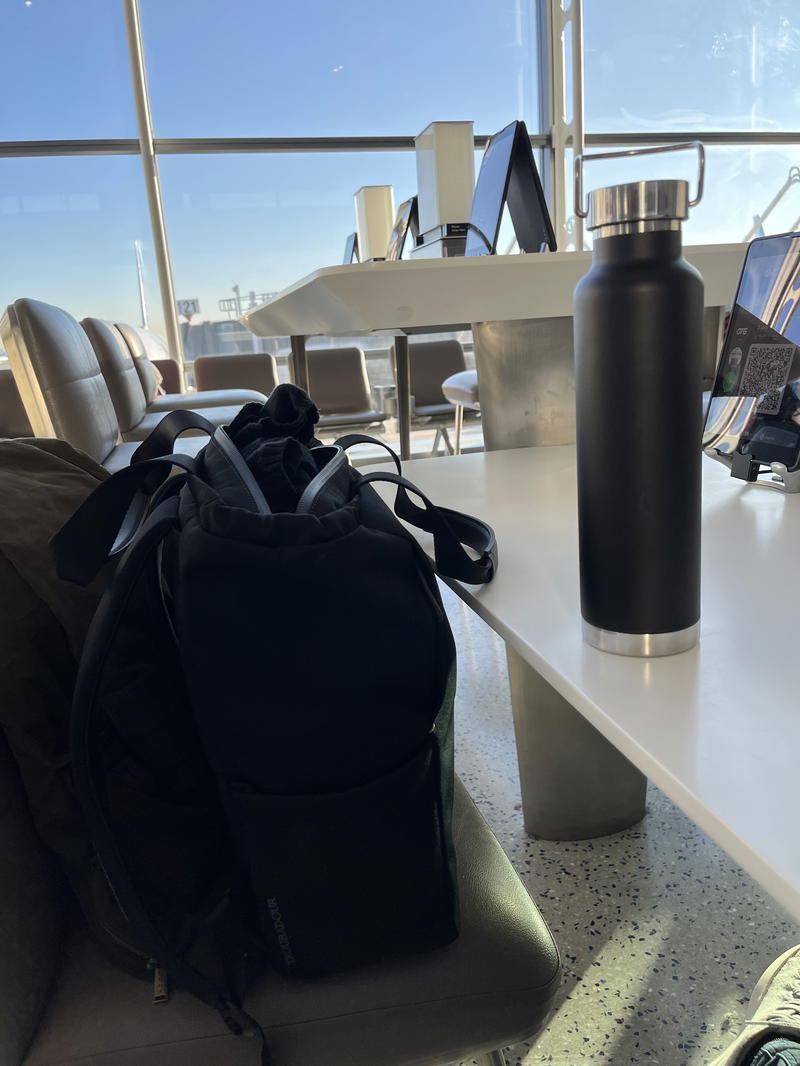 Toiletries to bring
When leaving home for just a day, you might think, do I need toiletries?
I opted for "yes" on this question, after reading some recommendations of bringing a toothbrush and travel-sized toothpaste for these reasons:
So that you can freshen up by brushing, after a flight, if you fall asleep and feel groggy
In the rare case that your return flight is cancelled, you'll be glad to had a spare toothbrush and toothpaste
I also brought aromatherapy scented travel-sized hand cream for battling the dryness of the plane, plus having an attempt at smelling nice before my meeting. I packed one tube of mascara as a quick makeup fix, one lip balm and one mini Vaseline, also to combat airplane dryness.
One more thing: a last-minute item I threw in my backpack was a travel-sized hairbrush to use post-flight in case I looked messy. For men, you could consider bringing a beard comb or small set of travel-sized grooming items.
If you often perspire during flights, or just tend to feel smelly, opt to bring along deodorant and apply it either in the airplane bathroom before the descent, or in an airport bathroom right when you arrive.
Clothing, accessories and shoes
As my trip was during the fall, I was lucky to be able to wear a sweater as my casual top that doubled as a layer on the flight and a base that I could "dress up" before landing.
How did I do my "dressing up before landing?"
I packed a set of a matching necklace and bracelet that I could put on, along with a solid-colored pashmina that could add a pop of color to what I was wearing (which was dark jeans and gray Allbirds Pipers).
I also expertly applied mascara as the plane was landing, by using my phone as a mirror. Luckily, I did fine.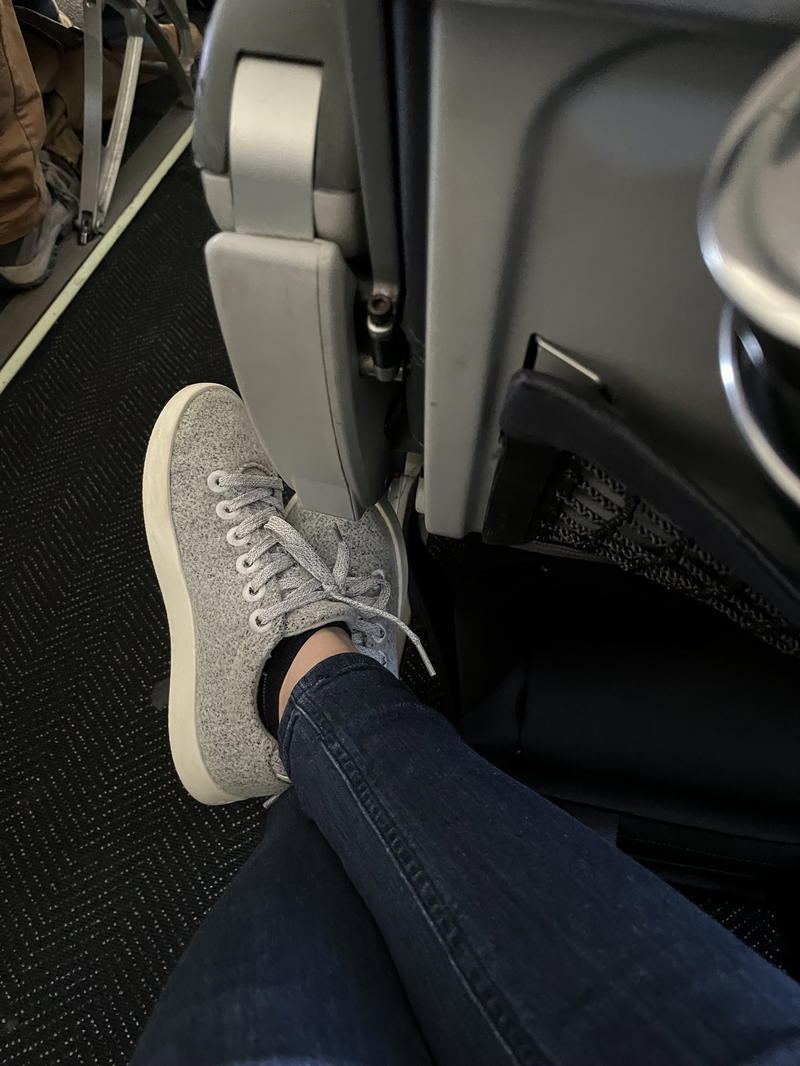 I should mention I also wore my black leather band travel watch by Victorinox, which is always a classy item to have on my wrist in professional environments.
In a small packing cube, I packed one extra pair of underwear and one extra top, along with a pair of leggings, for two possible reasons:
In case I wanted a change of clothes for the flight home the same night
For the same reason of (in a rare case) my return flight getting cancelled and my needing to spend a night in my destination
Tips for taking a one-day work trip
Remember: this business travel guide is for anyone taking a work trip that lasts only one calendar day, not a 24-hour trip that involves one night in a hotel. I've recently done one of those as well, and the difference is that you really do require a whole night's worth of things.
For anything I mention here, it's in regard to leaving in the morning, going to a meeting or event out of town, and coming back the same night. I'm not really speaking to red-eye flights, which would start the night before and get you into your destination in the morning, essentially. The tips here speak to waking up at a "more or less" normal morning time and getting home before midnight the same day.
Here are my best tips for making your trip successful and not getting too tired!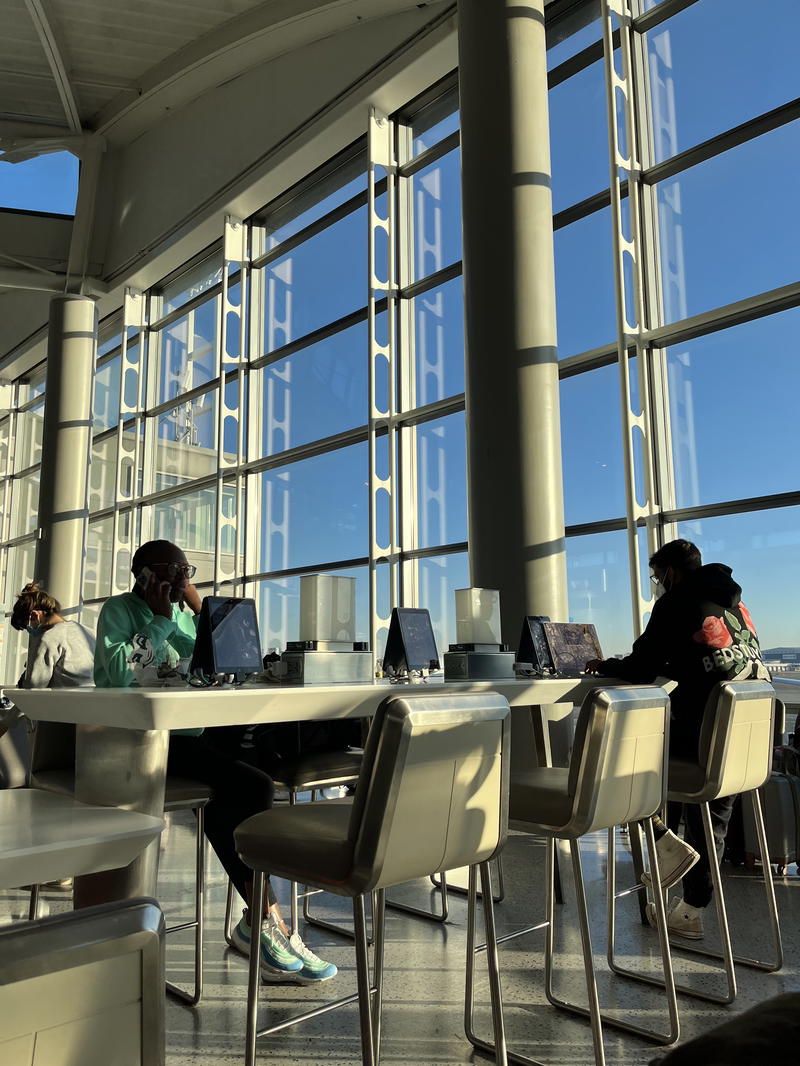 Get a good night of rest the night before
I really recommend trying to go to bed at 9, 10 or 11 pm the night before your same-day work trip, depending on if you have a 6, 7 or 8 am flight.
I had a 9:30 am flight out of an airport not too far from where I live, so I lucked out. I went to bed around 11 pm the night before (and of course didn't sleep very well because I always fear I'll miss my early morning alarm!). I left home a little after 7, and was already through security and grabbing a latte 45 minutes later.
Check into both your flights the day before
Because your flights are both on the same calendar day, you can check in online the day before you leave and save a lot of time at the airport.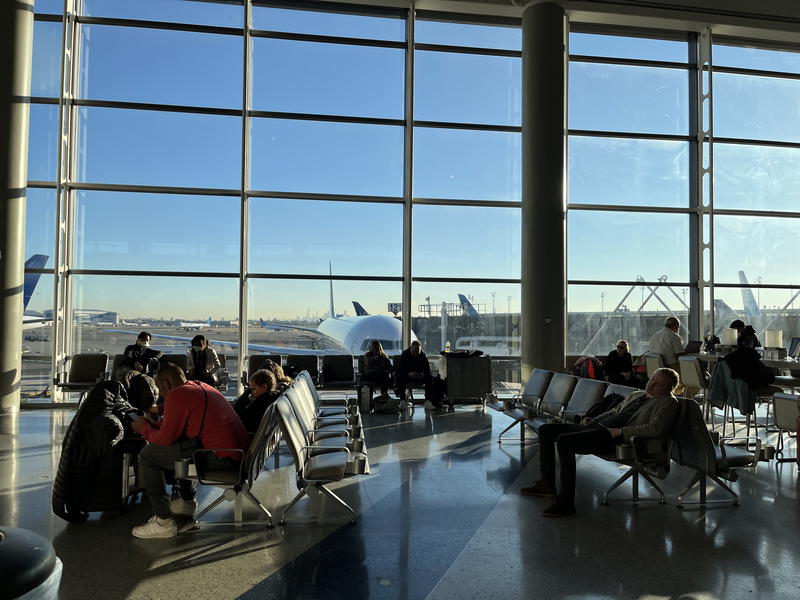 Perfect that one-day work trip packing list
Despite being such a brief trip, as you can see from the packing I did above, you may be challenged by fitting all these "what-if" items into only a backpack or mini carry-on.
Pack your trip bag beforehand
Pack your entire carry-on or backpack the night before your trip and make a short list of the finishing touches for the morning. For me, this list tends to be my phone charger, phone, battery backup power bank and a few other things.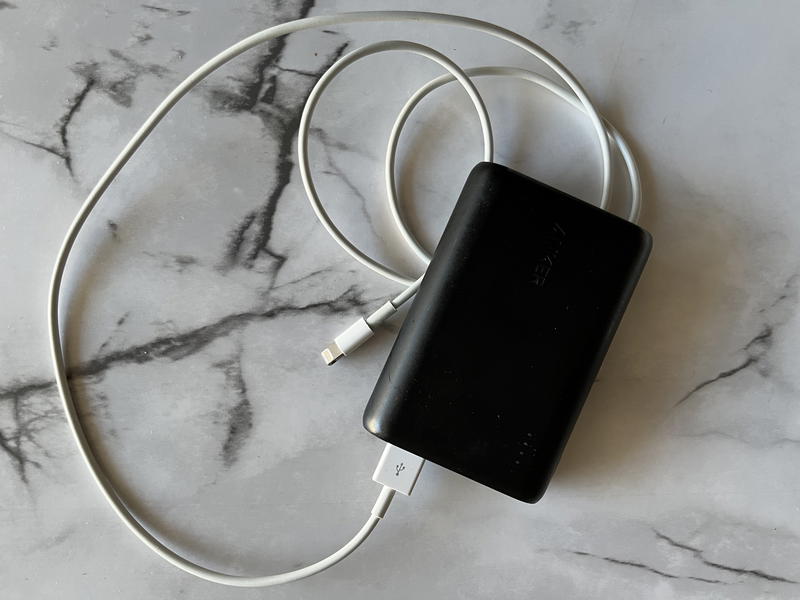 Keep in touch with colleagues or clients
If your flight is delayed, or even if it takes off early, ping your coworkers also traveling or your client/partner on the ground at your destination to let them know your status.
I texted my coworkers as soon as I landed, and we texted the business partners with whom we'd be meeting, nearly immediately, to tell them our ETA at the office campus.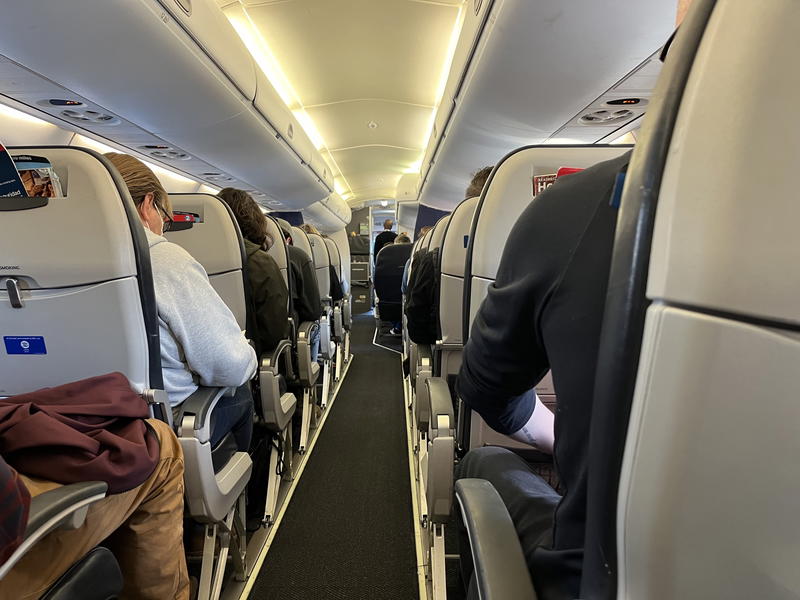 Have a freshen-up plan
For me, my plan was to put on my jewelry, fix my hair and have my makeup done before landing, as I was meeting colleagues immediately in the airport and heading right to the meeting with another company!
Your plan could look different. Think about if your tight schedule allows time to change clothes in an airport bathroom, have a meal before picking up your rental car, etc., so that you can have a game plan.
Regarding meals, we're talking about that in just a second!
Make sure to eat on the way in
Luckily, I picked up both breakfast and snacks at airport shops in the morning and ate enough to hold myself over for a while, as well as have snacks for the afternoon if food wasn't available or being planned. Truth is, you never know if others came from having lunch and assume everyone has eaten.
It was fortunate that I prepped in this way because I headed with colleagues to our meeting, forty minutes outside the city we landed in, and we wound up not going out to lunch for another two and a half hours. If I hadn't been able to sneak a snack, I would've been starving!
(As you can see here, I'm a bit of a health nut, and I focus on nutrient-rich foods full of protein and fiber on travel days. I try to avoid chips and pure sugar junk as long as possible.)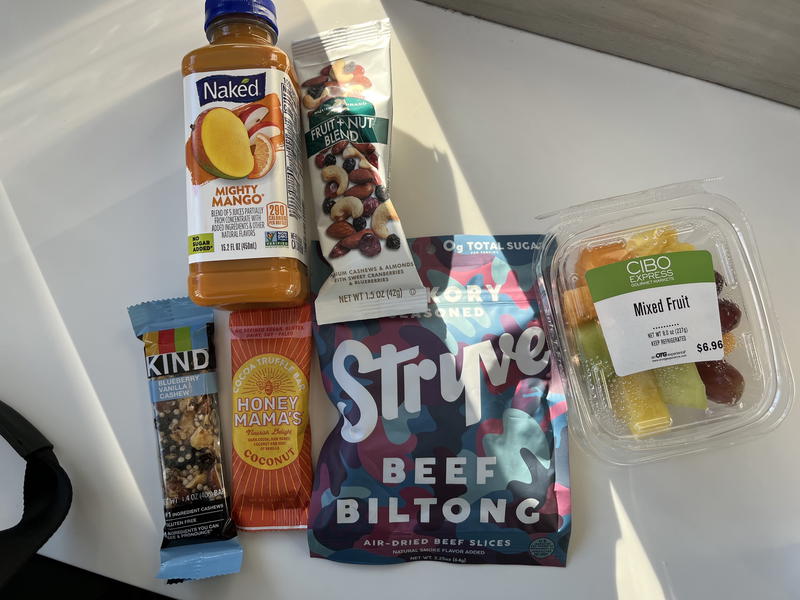 Be communicative about your time frame
What with departing the same night back home, keep your coworkers and business partners at the meeting or event informed of your departure timeline so that no one encounters any stress.
We were in luck that we went out to a business lunch after meetings were done, and our timeline for getting in an Uber and being en route to the local airport for the flight home was absolutely perfect.
Plan around that flight back home
Sleeping in your own bed tonight is surely the end goal, so make it a priority to not miss that flight back to your origin airport!
Calculate the distance between where you'll be spending the day, to the airport, so that you can get through security and to your gate on time. Hopefully you've had a chance by then to have a successful business meeting or event, and even sample some local cuisine!
For me, I went right from the airport to a meeting at an office campus in a suburb, and then went right back to the airport with coworkers to make our return flight to NYC.
Prepare for delays
This is standard travel advice and also standard business travel advice, of course. Would you ever know it? While I was with colleagues waiting for our flight home to board, we got a notification from the airline app that our flight was delayed more than 90 minutes.
I had a moment of agony and then was thankful I wasn't alone, but surely could've been if I had been heading to a different home airport than the others.
Fortunately, there were food options nearby, as well as WiFi. Eventually, our delayed flight wound up being able to board earlier than expected and we made a mad dash for that!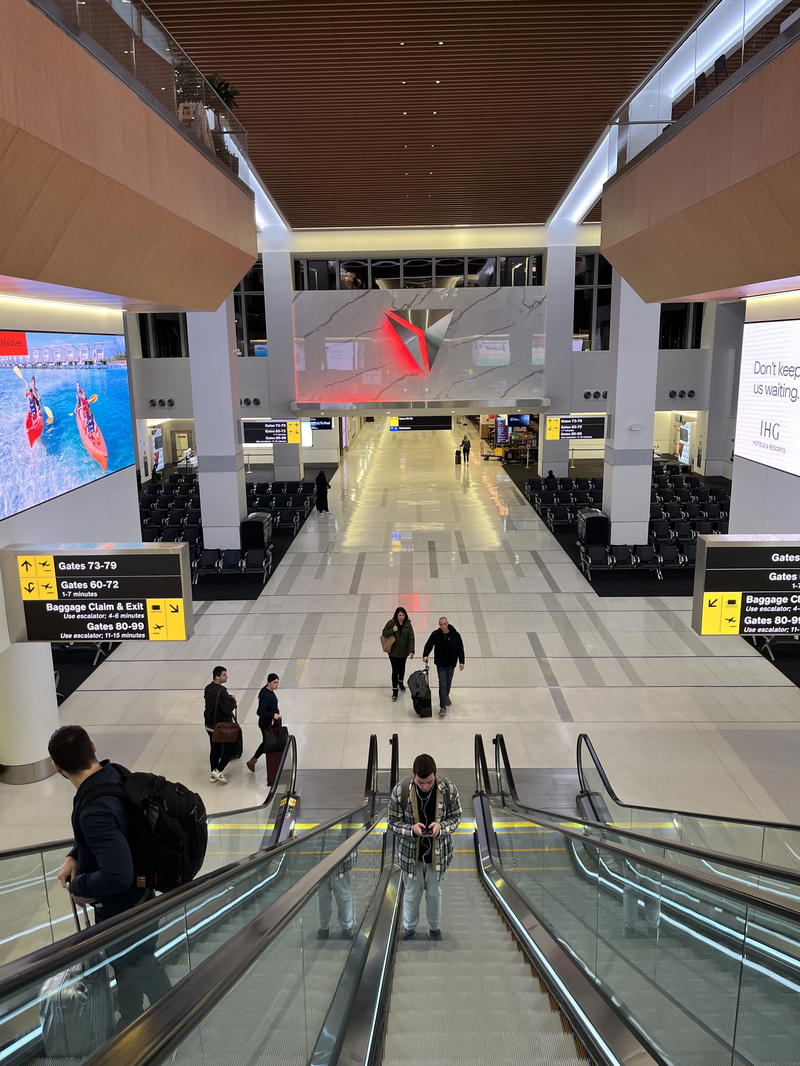 Final thoughts on a one-day business trip
I think my same-day work trip went fairly well, considering that I did travel halfway across the US and return home in the same period of less than 16 hours. Air travel really never ceases to amaze me for how it gets you from Point A to Point B, so fast.
A few things that brought me success were staying relaxed, keeping an eye on the time and knowing that I had everything with me that I needed in case of an unexpected scenario.
I hope your same-day trip for business goes swimmingly and that these recommendations were good reminders of what you can do!
Enjoyed our article?
Consider supporting us! We're a 2-person team (learn more about us here) and your support enables us to create quality content. Thank you!