Airport Lounge Guide: Everything You Need to Know
Written by Becca
•
Updated on October 26th, 2023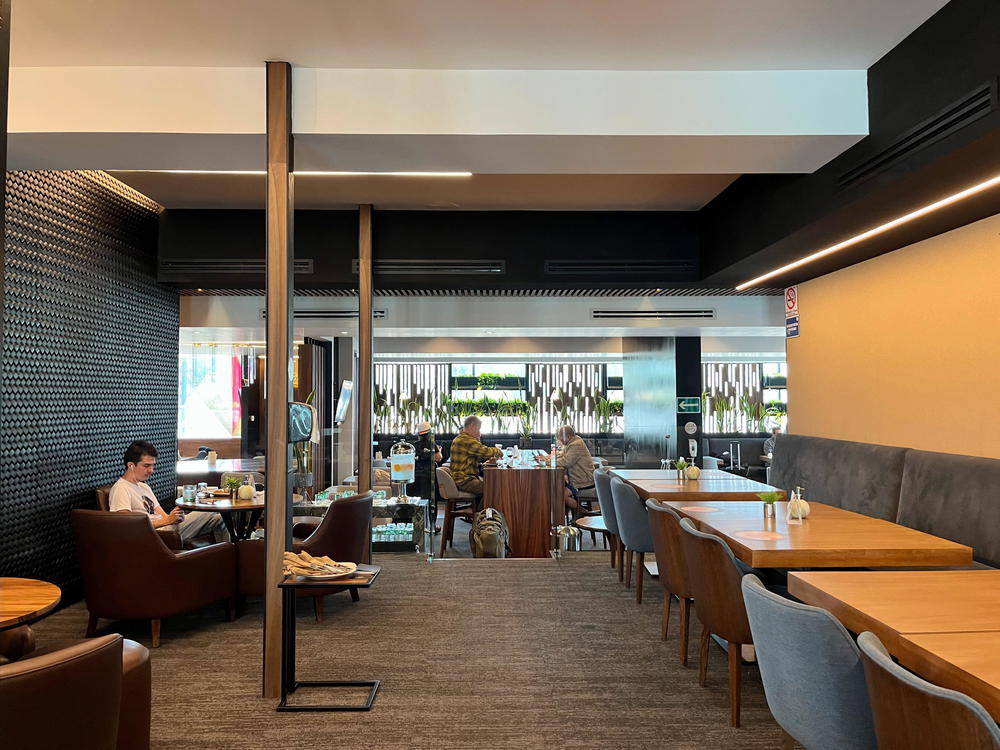 Is lounge access worth it? Discover all the kinds of airport lounges, the best ways to get into airport lounges and the amenities and benefits of lounge access during travel.
This article may contain affiliate links. We earn a small commissions when you purchase via those links — and it's free for you. It's only us (Becca & Dan) working on this website, so we value your support! Read our privacy policy and learn more about us.
Table of contents
Close table of contents
Airport lounges have become an essential part of how we travel.
Before my days of lounges, I remember being in airports around the world with no phone service and trying to find WiFi, all while jet-lagged, tired and thirsty. I specifically remember this in Panama City, and in Kuala Lumpur, Malaysia, before I knew what an airport lounge was.
Now, airport lounges are something Dan and I look forward to. If we know we have a connecting flight in a new airport, we'll go on a hunt to find out which lounges are available for hanging out in while we wait for our next flight.
We also get excited about going back to airport lounges we really like, and trying multiple airport lounges in the same airport.
Are airport lounges worth it? We say 100% yes, but there's a caveat to how we got here, as airport lounge experts who find joy in the lounge experience. Read on to learn all about airport lounges and how you can start lounging as soon as possible on your next trip.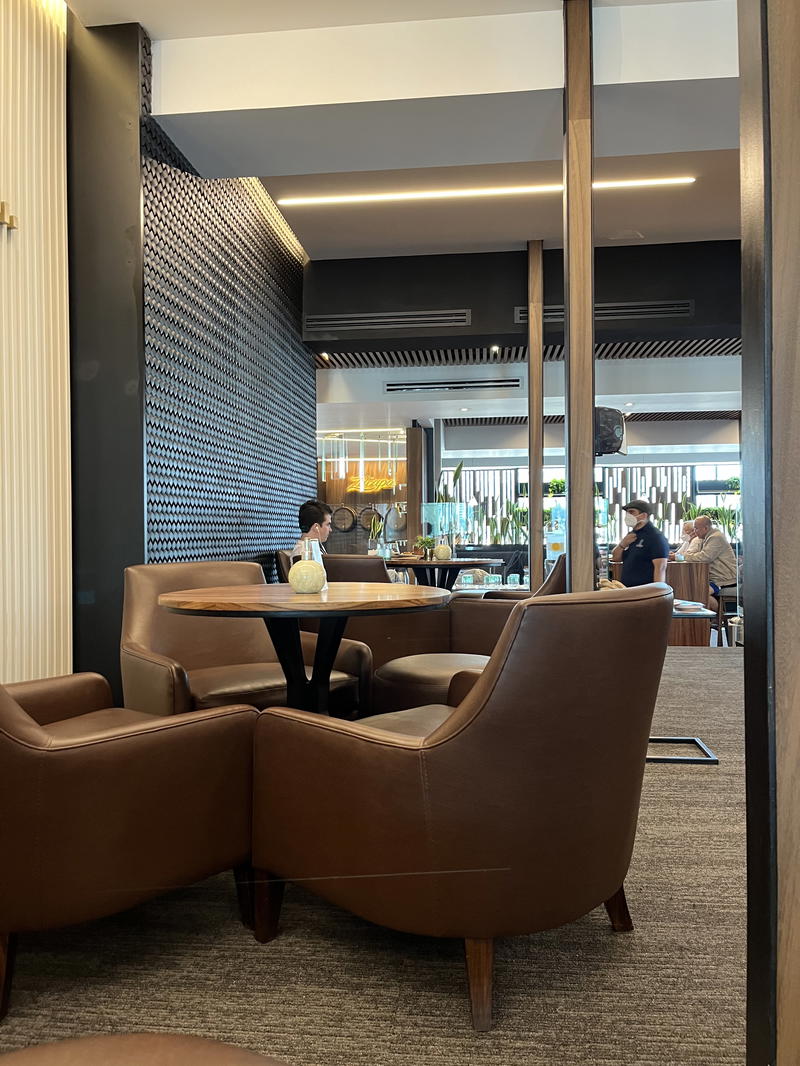 Are there different types of airport lounges?
Yes, airport lounges came in many forms. Some airport lounges exude luxury (most are outside the US) and some are basic.
Throughout our travels around the world, we've seen airport lounges that were ones we hardly wanted to leave, to ones in which we counted the minutes til our flight (still better than sitting in uncomfortable seats at the gate, though).
With our Priority Pass membership, we've been to airport lounges with unlimited buffet meals and massages, to "lounges" that were really just simple private rooms with a TV, chair, snacks for purchase and some outlets.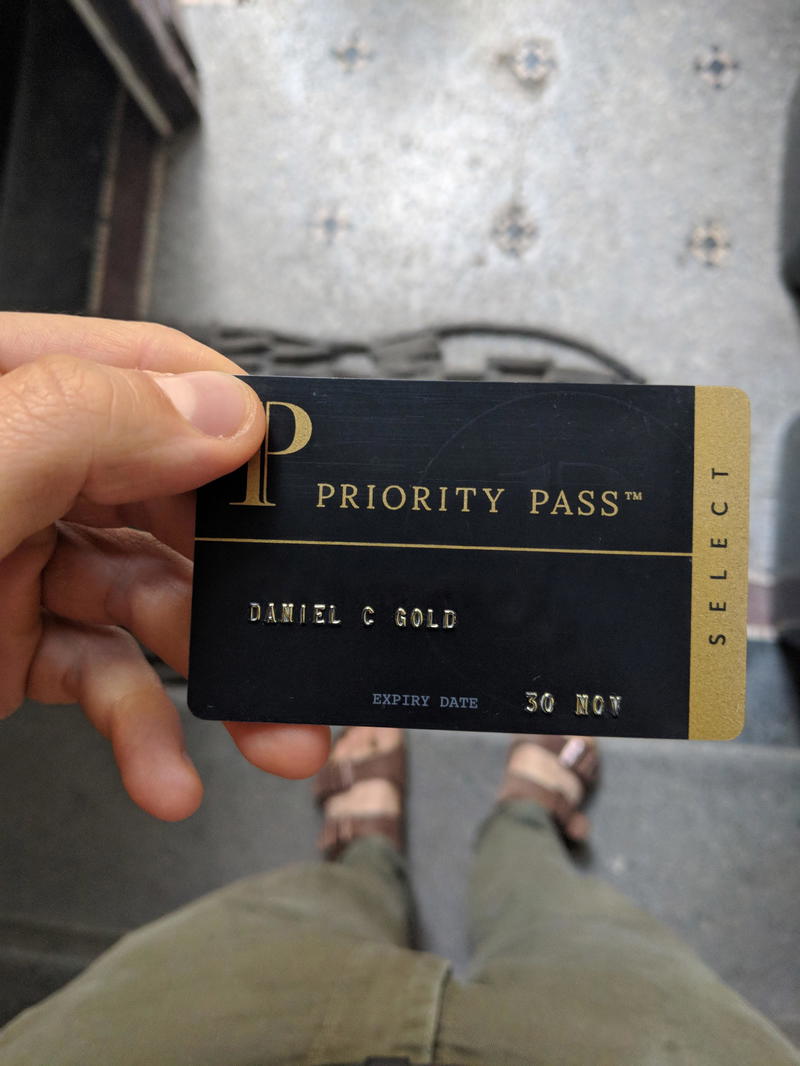 Next, there are some airport lounges owned by airlines. For example, we have been to the United Lounge in Newark Airport, the Alaskan Airlines lounge in LAX and the Avianca lounges in Medellin and Bogota, Colombia.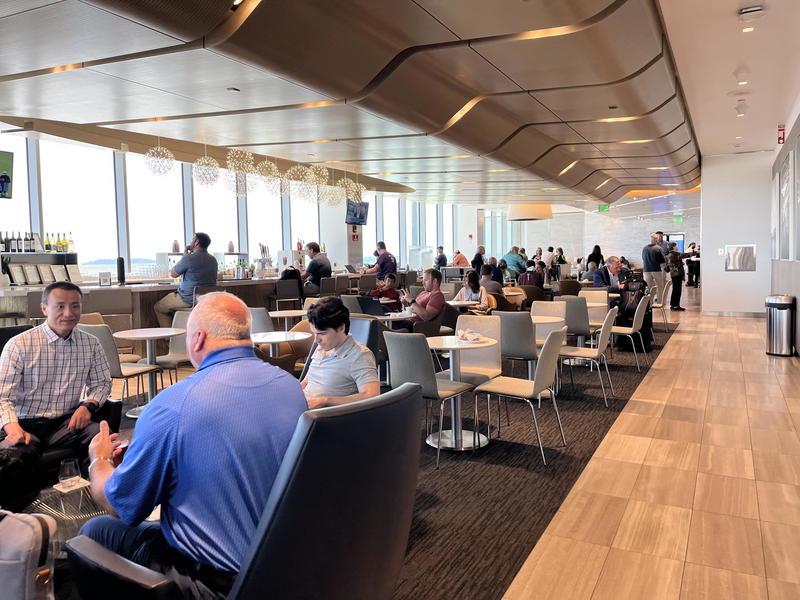 Then, some lounges are owned by private companies. Others might be owned by banks, or credit card companies, like the Capital One lounges that are popping up across the US. Lastly, some lounges may in fact be spas, or private rooms for hire like the Minute Suites Express at LGA in NYC.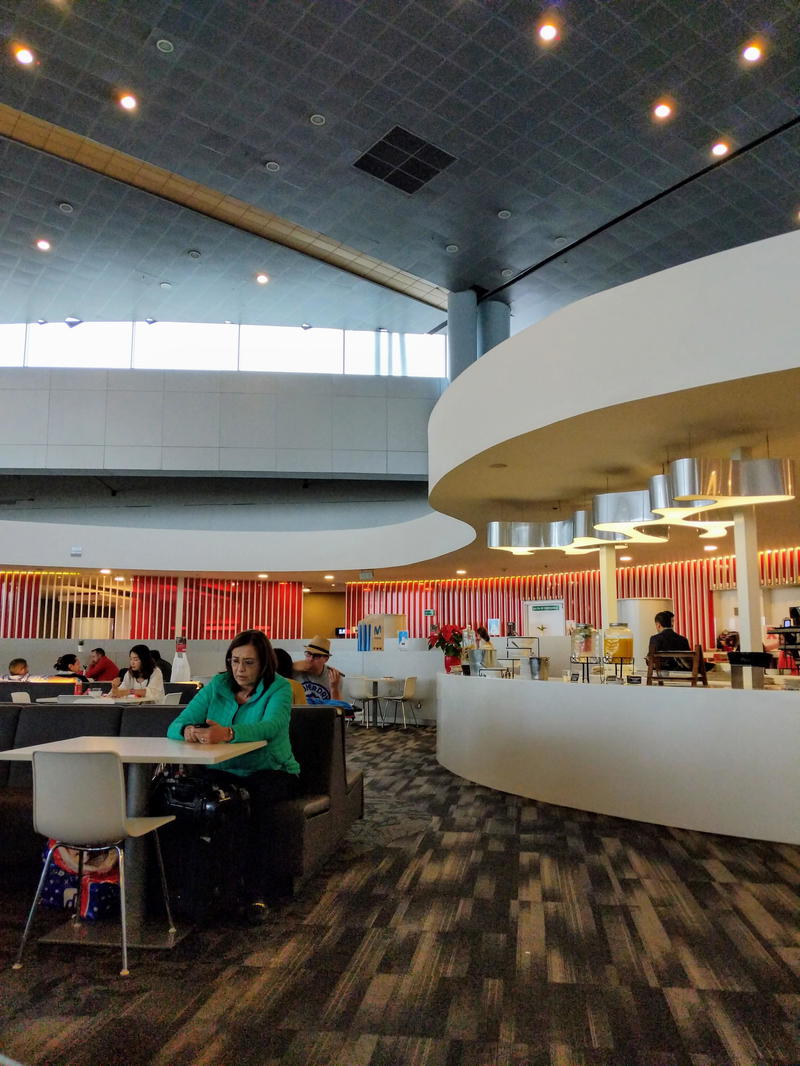 How to get into an airport lounge
There are a few ways to get into an airport lounge. For starters, it depends on the type of lounge, and we recommend being familiar with what the lounge offers in terms of amenities.
Can you do a walk-in?
Yes, you can, for the most part; however, it will depend on if the lounge accepts passengers who don't fall into the selected type of member. For example, United lounges may only accept passengers flying on United flights, or partner airlines from the Star Alliance group of airlines.
Most airport lounges have a check-in desk, and this is where personnel will check your boarding pass, membership type (whether Priority Pass, credit card membership or airline status card).
Less "elite" lounges allow walk-ins, so it's worth checking in advance online, if you plan to rely on having lounge access during a layover or before a flight, if you need a nap, shower, WiFi or dedicated meeting space.
What are the fees like for walk-ins?
Fees for walk-in access to airport lounges may be anywhere between $25 to $75, depending on the type of lounge, location, country you're in and the level of amenities the lounge has.
For us, with a third party membership to international airport lounge access like Priority Pass, a simple one-year fee covers access to all lounges in the Priority Pass network. We've never paid a fee for a walk-in. We use lounge networks instead, to save money while traveling.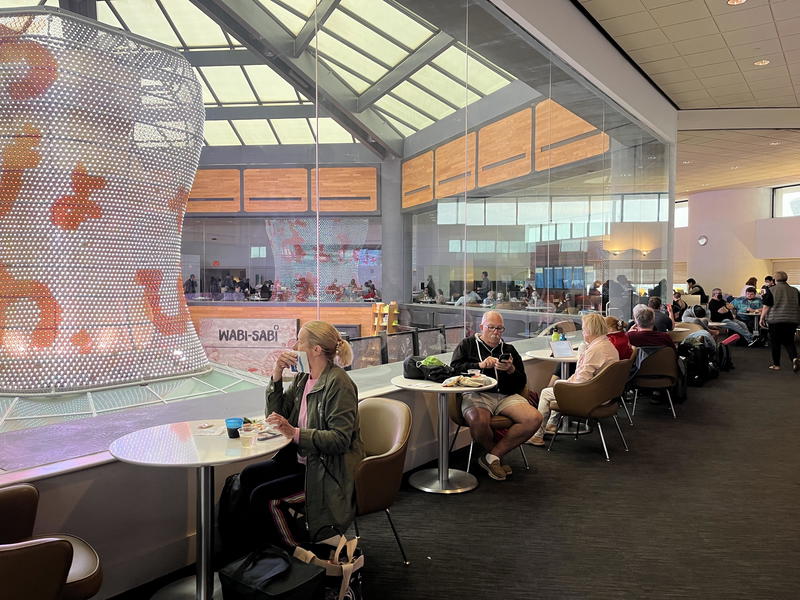 How long can you stay in an airline lounge?
This is a great question because some lounges have time limits, whereas others do not keep tabs on how long you're staying.
We typically use the Priority Pass website to look at the different stipulations for various lounges. Some may list a time limit per passenger of two hours, whereas some may not list any sort of time limit.
We've been in lounges when a flight was delayed, sometimes one, or two hours, and luckily, we've been able to hang around and keep eating, resting and enjoying WiFi and power outlets for charging our phones and electronics.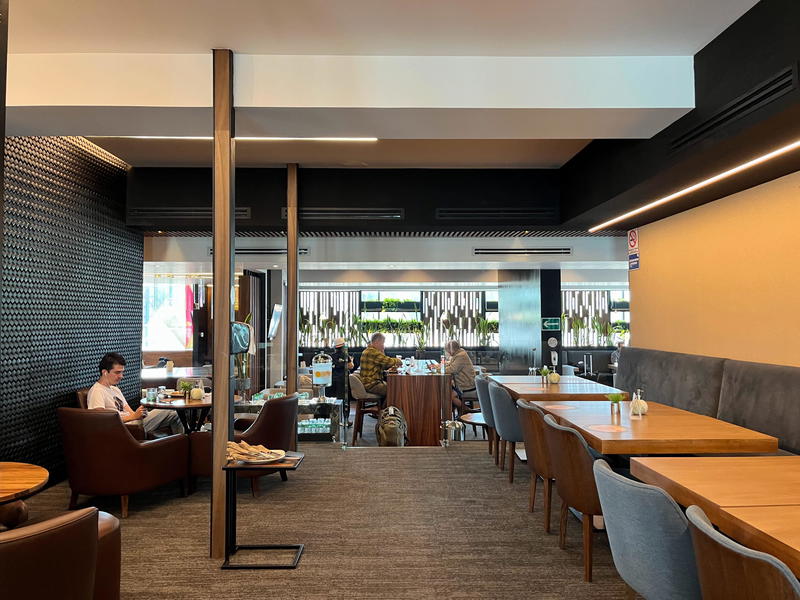 We've never been kicked out of an airport lounge (or, not yet). Luckily, most either do flight announcements (the one in Cancun does this) or will have a flight board showing departure times and updates.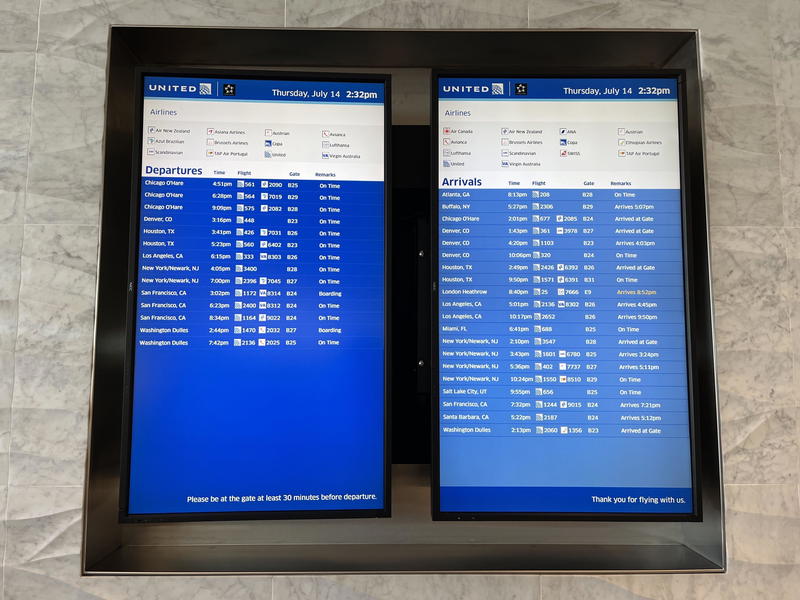 What to wear to an airport lounge
I think that the days of dressing up for travel are somewhat gone (unless you are on a strict business trip). Because of this, I personally love traveling in my favorite athleisure, which typically consists of Public Rec joggers, my Aviator merino wool hoodie, comfortable Birkenstock sandals and a breathable essential tee.
So, this is what I wind up wearing when I head into an airport lounge, and Dan is right alongside me in jeans, sneakers and a T-shirt.
Before I ever stepped foot in an airline lounge, I presumed they must be fancy places where everyone is in a suit or a blazer, sipping on wine or whiskey, and looking at laptops holding business meetings.
In reality, airport lounges are a place for every type of traveler. I've gone to airport lounges in my pajamas on overnight layovers, and I've certainly showed up with my full set of backpacker gear, like my handy and beat-up Quechua backpack.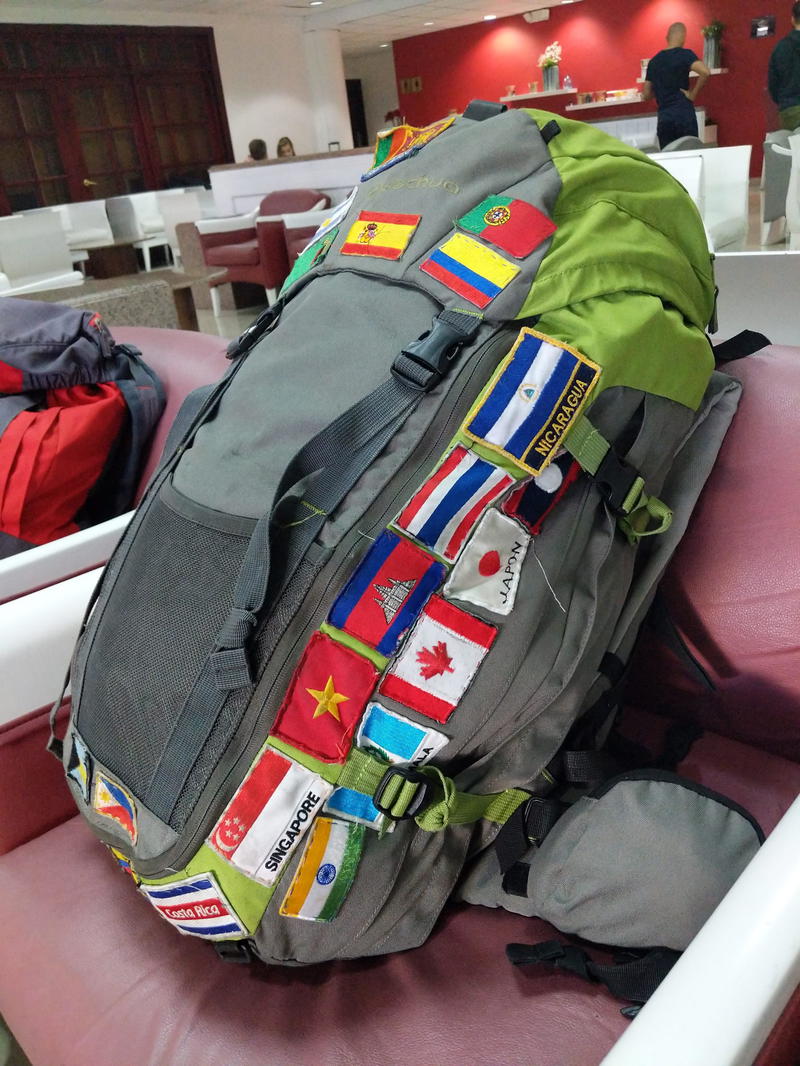 In some instances, you may feel underdressed, especially if you're an airport lounge that caters to business travelers and you are there on a weekday. On weekends though, when business travel kind of halts, you'll see families, young travelers, solo travelers, couples and elderly folks.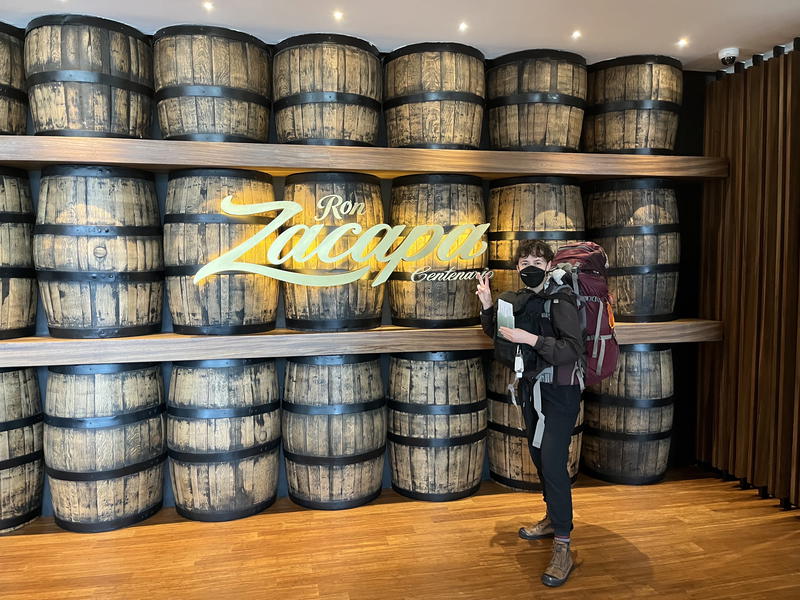 Do airport lounges have food?
Yes, about 98% of the time. We've had some absolutely excellent food in airport lounges, like in Hong Kong, Guatemala City and more.
Buffet style
The airport lounges that stands out most in my mind are the various lounges at the Hong Kong International Airport (HKG). If you've ever flown through or around Asia, maybe you've even wound up there!
Thanks to our Priority Pass membership, we were able to research our lounge options ahead of time, according to our airline and terminal, and wound up being able to try two different lounges in HKG during our trip to Hong Kong and Sri Lanka.
The food at the lounges in Hong Kong Airport is top notch and should not be missed. Buffet-style is a common way to serve food at most lounges because it lowers costs, but they are not all like that!
Here's what the food looks like at the United Lounge at Newark International Airport.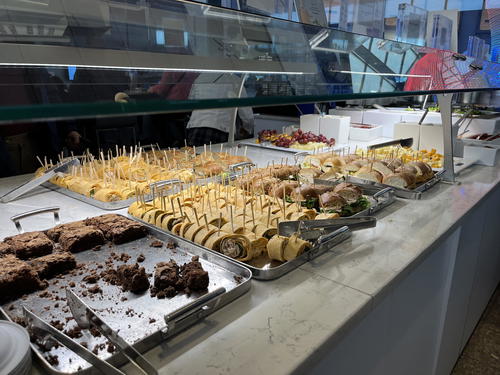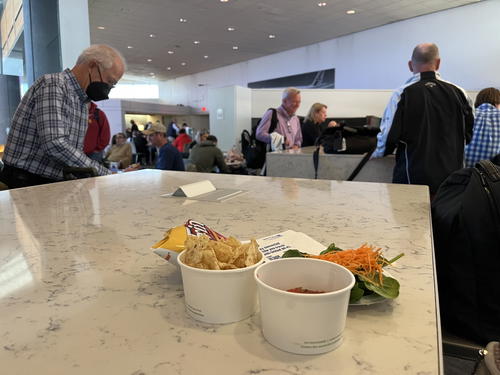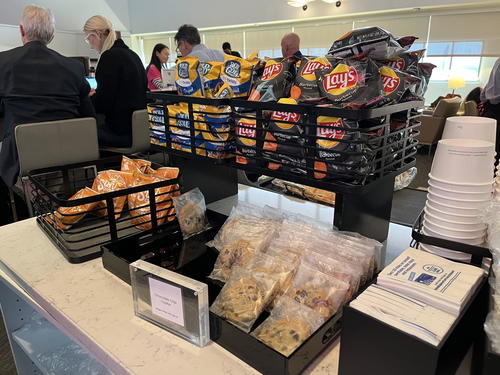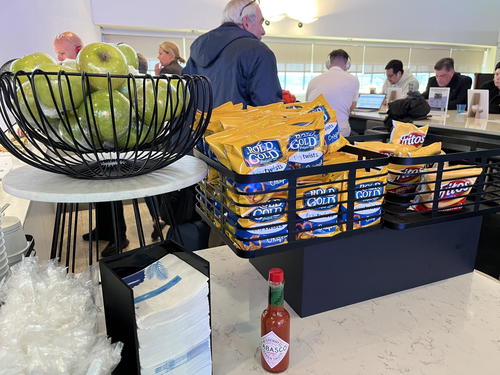 Here's what it looks like at the United Lounge in Boston Logan: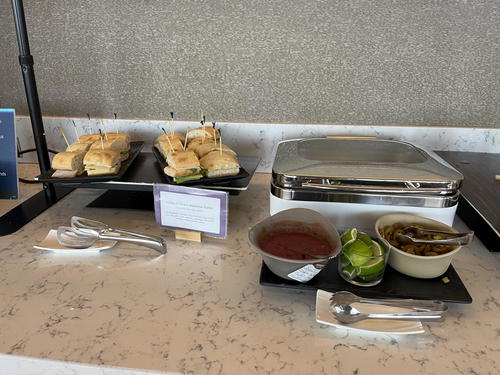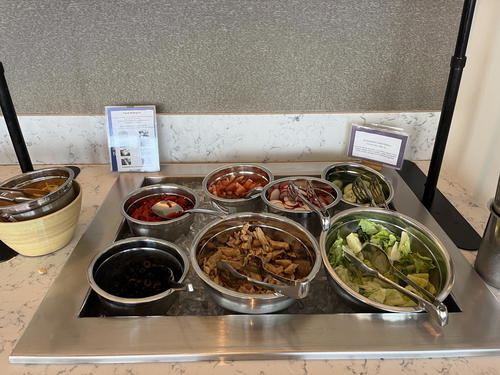 Set meals from a menu
In Mexico City, Cancun and Guatemala City, most memorably, we received a menu upon arriving and were able to order a small (or large) meal, brought out by waitstaff to our seat in a few minutes.
Yes, this type of food is included in the flat fee cost of entering the lounge! And it's pretty incredible.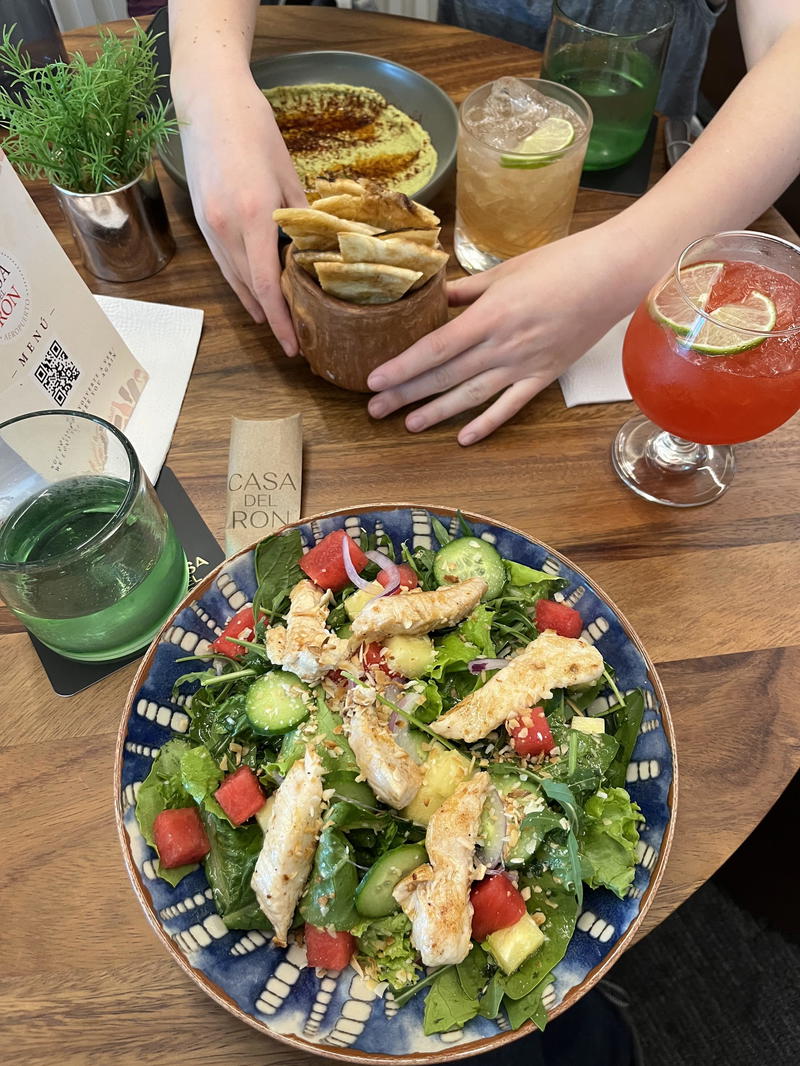 Some lounges don't have food
Some lounges do not have food. The Minute Suites Express at LaGuardia Airport in NYC is one of these, and I tried it for the first time a few months ago. Upon entering with my Priority Pass card in my Apple Wallet, the staff at the desk reminded me that there was no food, and all the lounge consisted of was a private room with a TV, desk and chair.
For my purposes, that was fine! I just needed some private space to rest and chill out, because it was 6:45 am!
How to get into airline lounges for free
"Free" is a tricky word, but we can tell you how to get into airport lounges for "almost free."
Perks from credit cards for lounges
Over the years, we've learned more and more about perks from credit cards for airport lounge access.
United Mileage Plus
Right now, we have the United Mileage Plus credit card, so that gives each of us two United lounge passes to use within two years.
If we're traveling together (and most of the time we do), we'll get to use one of our two lounge passes together, on the same day.
The only time these don't work is if a lounge is so packed full of people that they put a limit or a stop on people who want to use the one-time lounge passes. In those cases, you either have to wait, or you can't go to the lounge.
Capital One Venture X
With our Capital One Venture X credit card, we can get access into a Capital One airport lounge (there are a few in the US as of now and we have yet to try one).
Chase Sapphire Reserve
Lastly, with our Chase Sapphire Reserve credit cards, one of the best member benefit perks is the complimentary enrollment into the Priority Pass program.
With the Priority Pass membership as a "free" benefit of the credit card perks, this is where our enjoyment of lounges began. (Note: many credit cards offering Priority Pass as a benefit will have an annual fee, like $550 for the year as with Chase Sapphire Reserve).
American Express & Centurion Network
The Centurion Network is a lounge network of more than 40 lounge partners worldwide for eligible American Express card members. The network is complimentary access for the AmEx global Platinum Card, Delta Skymiles Reserve Card and Centurion Members.
The lounges in this network are exclusive to the holders of these AmEx credit cards. It's the most luxe and exclusive offering yet from AmEx, so if you're into these types of perks, check out opening one of the travel credit cards that would get you into Centurion.
Priority Pass
We're pretty obsessed with Priority Pass. It's what you could call a global lounge membership network, and by presenting our Priority Pass membership at partner lounges around the world, we get instant access to WiFi, snacks, drinks, outlets, desk space to work at and more.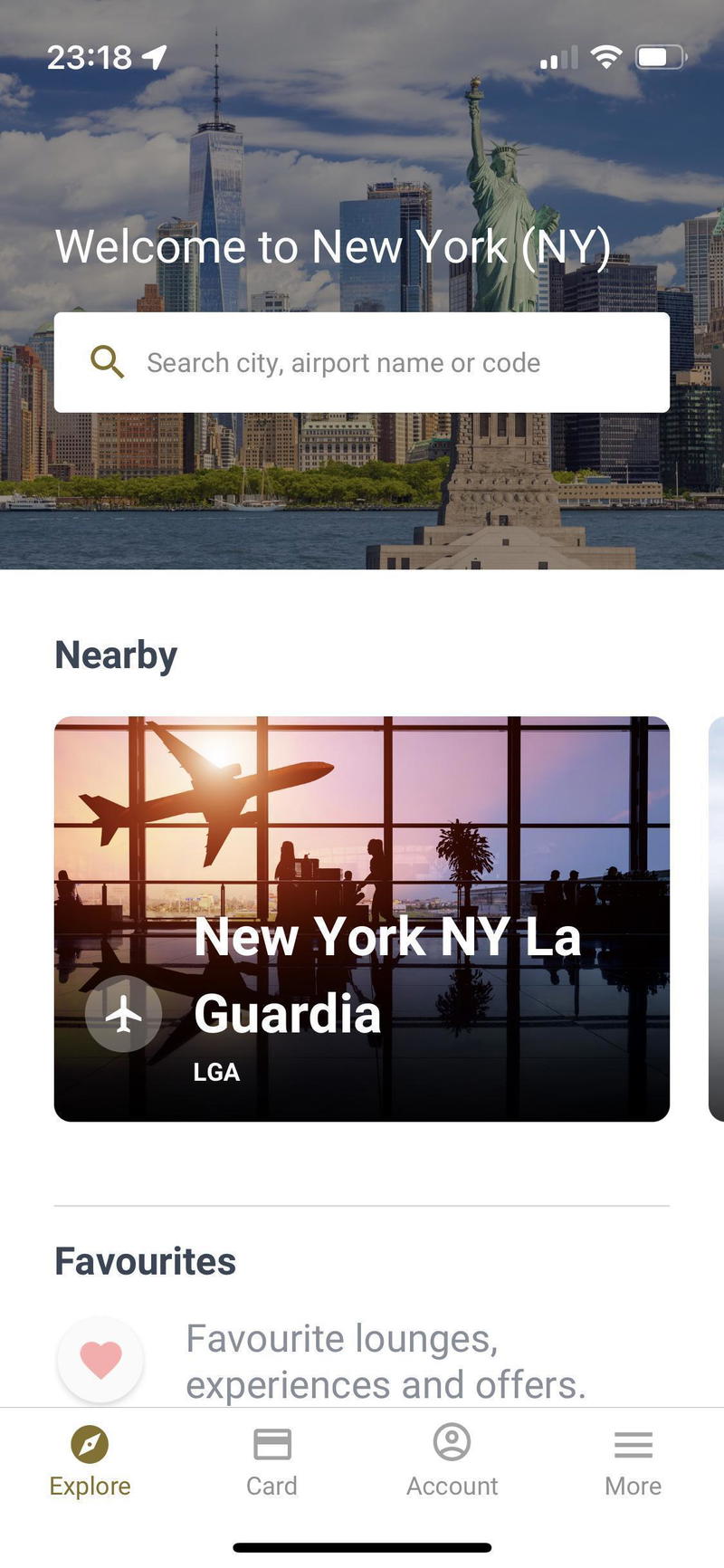 We have used Priority Pass more times than we can count, and the more we fly during a single trip, the more lounges we'll visit. We've sometimes stayed in airport lounges for three hours, making something like our Priority Pass memberhip an essential thing to have for long flight days.
When we flew from NYC to Hong Kong and then round-trip to Sri Lanka and back to Hong Kong (and home to NYC), we enjoyed lounge access during every layover and before every flight.
As mentioned above, we have always received Priority Pass as a member benefit for our travel credit cards like the Chase Sapphire Reserve or Capital One Venture X, but it's not to say you can't sign up on your own: you totally can, and you can sign up for Priority Pass here.
Other worldwide lounge memberships
Other possible airport lounge memberships include DragonPass, a Chinese lounge network in East Asia that will help you out if you often travel there.
Another helpful tool that's not a membership per se is the LoungeBuddy app, which can show you all possible lounges at the airport where you'll be, with information on amenities, reviews, opening hours and how to get access.
Airport lounges in the US vs international lounges
In being very honest with you, we've found that lounges outside the US have rated better than lounges within the US. That's just our opinion. Let us know if you feel otherwise. Of course, this isn't a blanket statement, as the airport lounge in Ukraine International Airport had nothing on the luxury lounges of Hong Kong International.
What are the best airport lounges?
The best airport lounges are by far in East Asia. The lounges in Hong Kong are incredible, with never-ending buffets of delightful cuisine and desserts. In Beijing International Airport, you'll have access to unlimited drinks, dessert carts and buns and dumplings.
Then, in Guatemala City, I went to an airport lounge that was more like a rum den, where my access with Priority Pass got me and one guest each a cocktail, a lunch meal and what seemed like unlimited time to spend in comfortable seats and tables.
(This photo here was taken at the lounge in Beijing International Airport, where the WiFi didn't completely work, to my recollection.)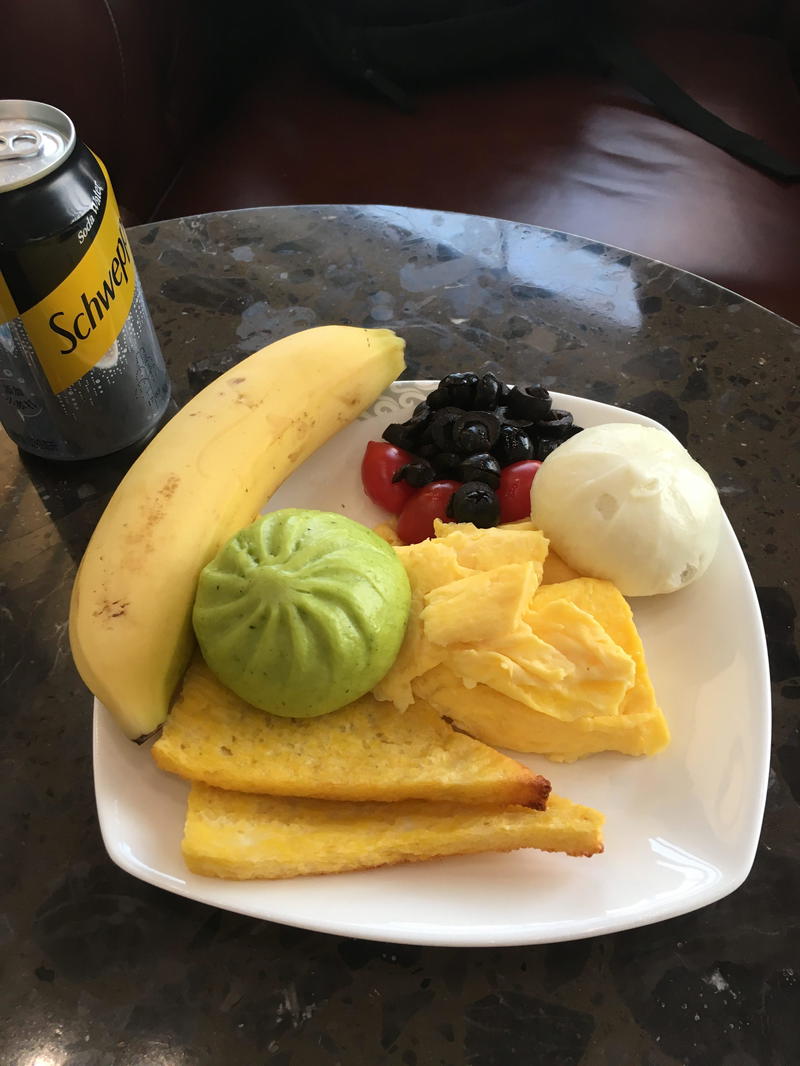 What kind of amenities do airline lounges have?
Airline lounges come in lots of shapes and sizes, so the list of amenities varies greatly.
Food
As discussed above, some lounges have delicious buffets that change throughout the day (so it may pay to have your flight delayed, so you can keep eating!), to complimentary cocktails.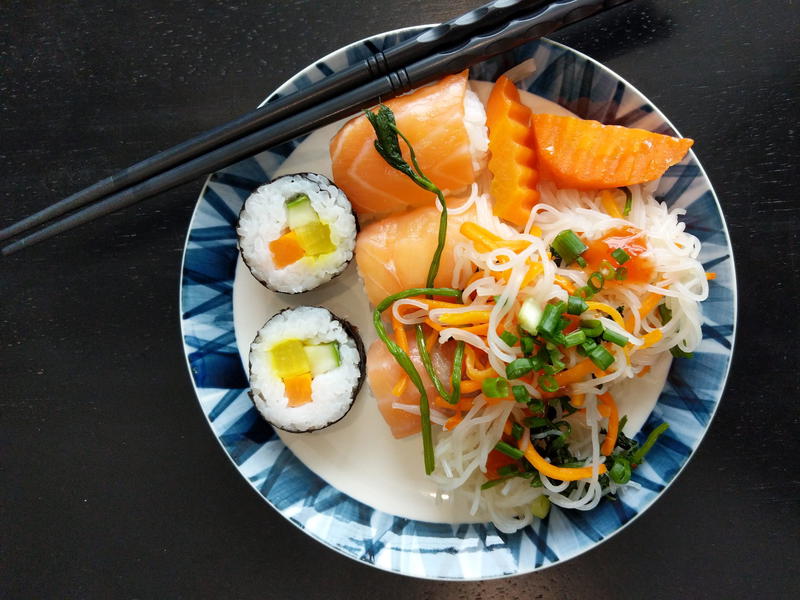 Some have very basic food (Ukraine airport) like cereal and chocolate. Some, like the minute suites in LGA, have no food at all, and they're very clear about that.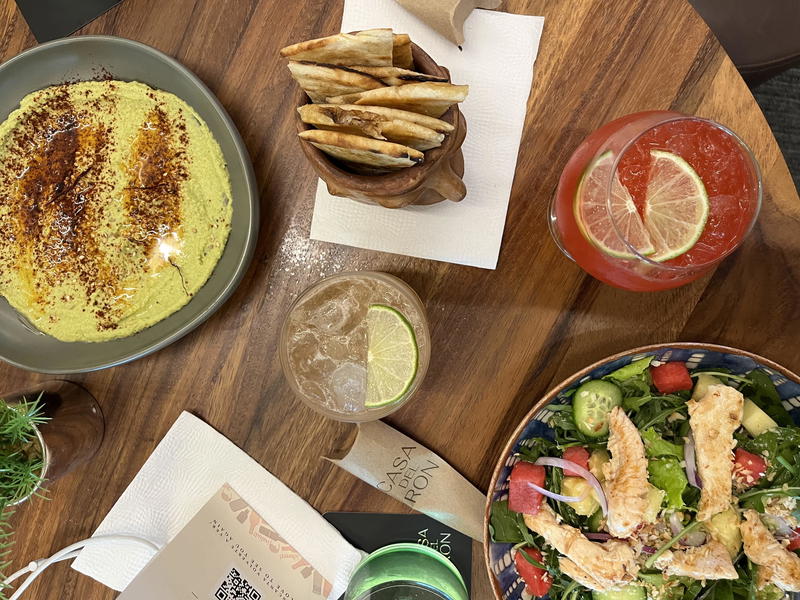 Drinks
Drinks is another aspect that has a lot of variety when it comes to lounges around the world. Lounges may offer unlimited alcohol (this is more common in Asia, from my experience), to one drink per person included (and the rest billable when you leave), to no alcohol or soft drinks at all.
Many lounges will have a bar, where you can order a drink and pay out of pocket, or get a complimentary beverage, depending on the stipulations of your lounge pass or membership.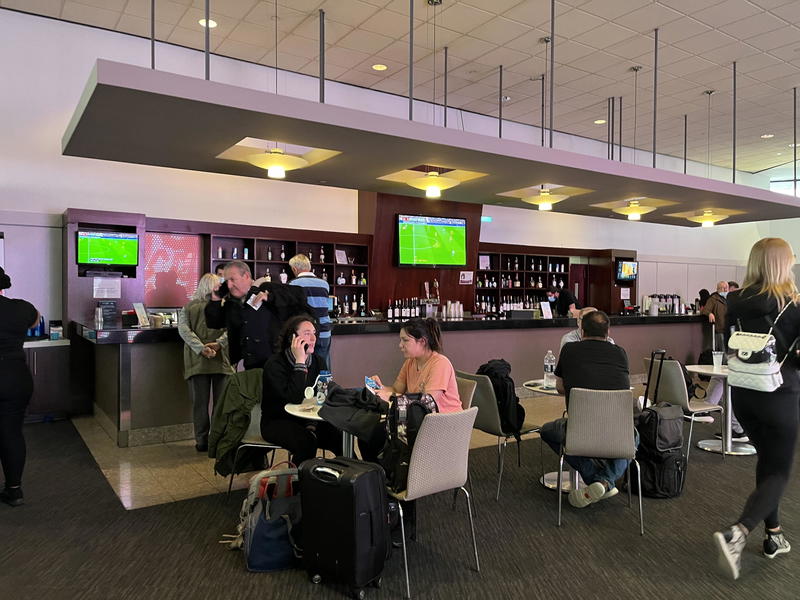 Some airline lounges will have a set drink menu, showing you in a brief online menu what's included in your pass, and what would be an extra charge.
You can use the Priority Pass app or website, or the LoungeBuddy app, to figure out these things in advance if you'd like to know.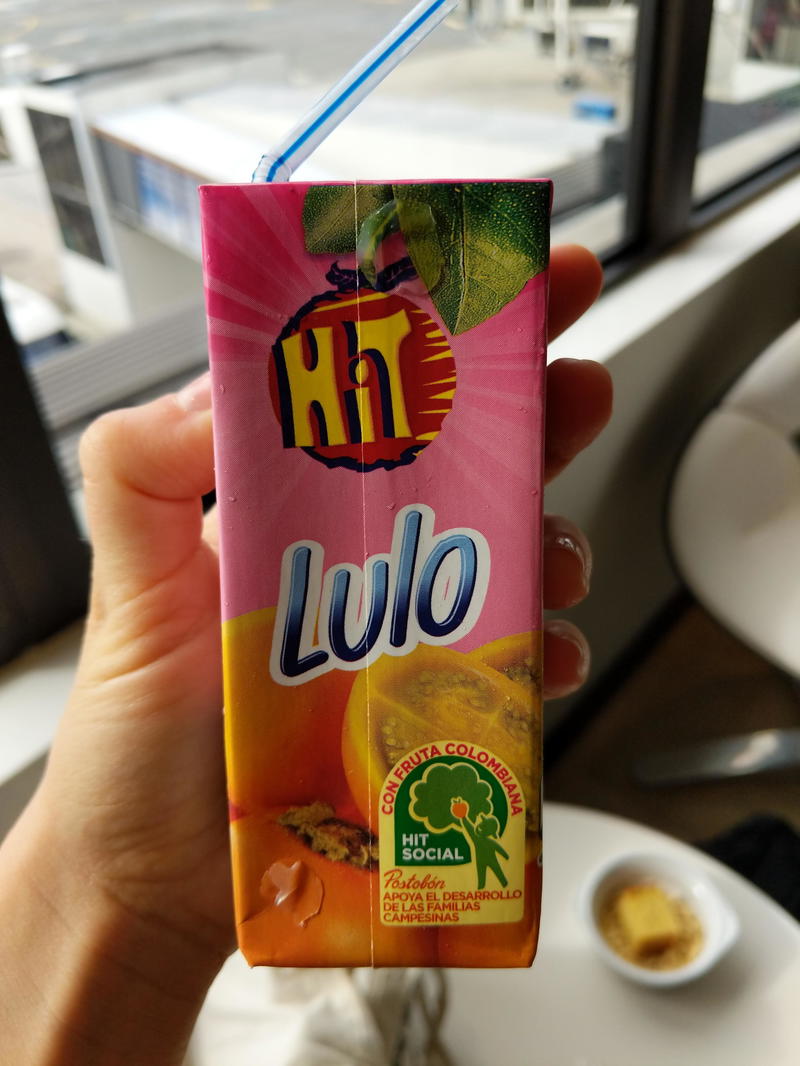 WiFi
Most lounges nowadays have WiFi. It's one of the biggest draws to going into a lounge at all, especially if you wind up in an airport where the airport WiFi network a) is not free, b) does not work at all or c) requires a local domestic phone number to sign up for WiFi service.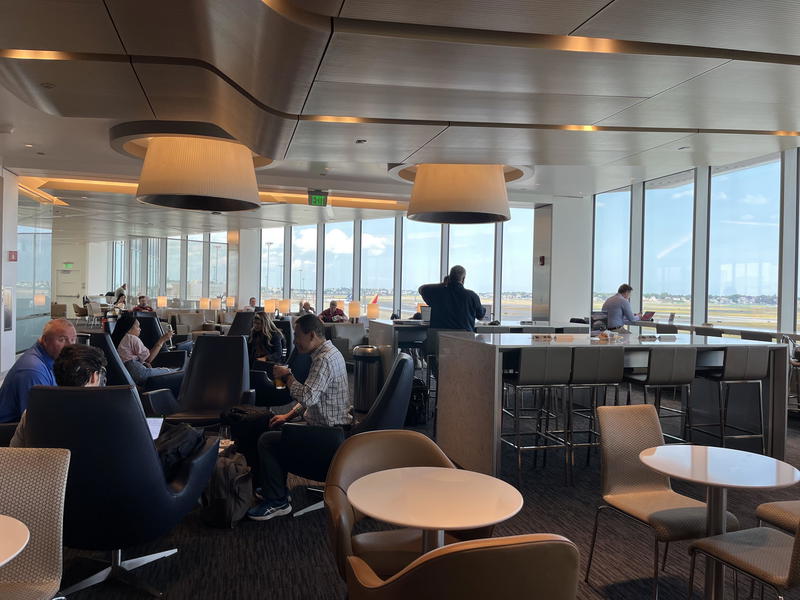 Nap rooms
The most memorable nap rooms were those in the airport lounge in Lisbon, Portugal. These come in really handy if you arrive at 3 am and your flight out isn't until 11 am!
Showers
Some lounges have showers that you can use to freshen up during a long layover. The desk staff will typically be able to provide towels for you to use. We've rarely used these types of showers and used our travel towel because the desk didn't have anything to use.
Outlets for charging
Most lounges nowadays have outlets for charging your phone or portable devices. We do recommend having adapters for the country to which you're headed, in case the lounge does not have US-style plugs.
Outdoor space
Some lounges have outdoor space! The Sala Galdos lounge in Gran Canaria Las Palmas had an outdoor patio connected to the lounge, and it was so nice to be able to get some fresh air (with really loud sounds of airplanes) before our flight.
Family Suites & Meeting Rooms
Lounges in airports are always coming out with more ways to please passengers. Some of those include family rooms (rooms where you could let your children take a rest) and meeting rooms, which are designated small office-style rooms, great for if you need to take a meeting with a desk.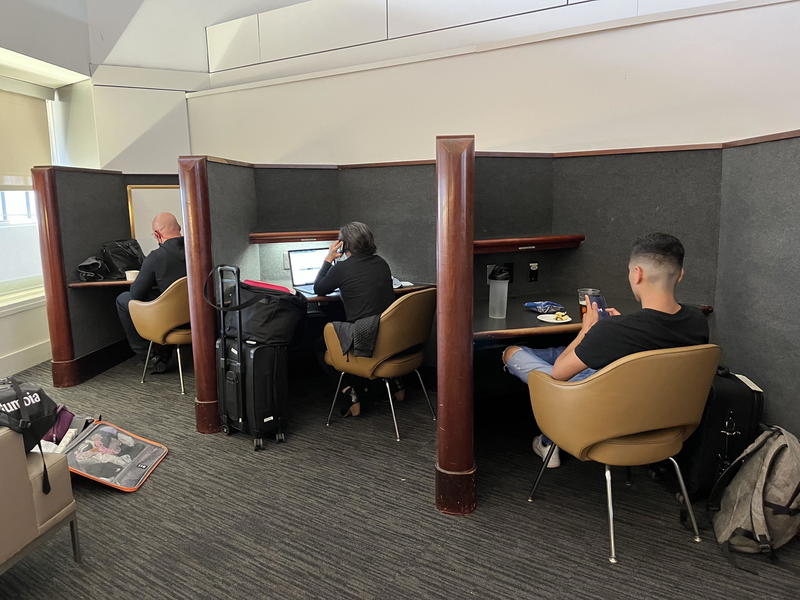 Is it worth paying for a lounge?
If you don't have Priority Pass or access to a lounge with your credit card, is it worth paying? Ultimately, this depends on you and your budget.
If you had an endless budget, or are able to expense the price of the lounge if you're traveling for work, then sure!
For us, rather than forking over $50 each, we're frugal, and we'd rather sit in the general waiting area for a few hours than pay a high fee.
However, there are some exceptions when we might want to actually pay…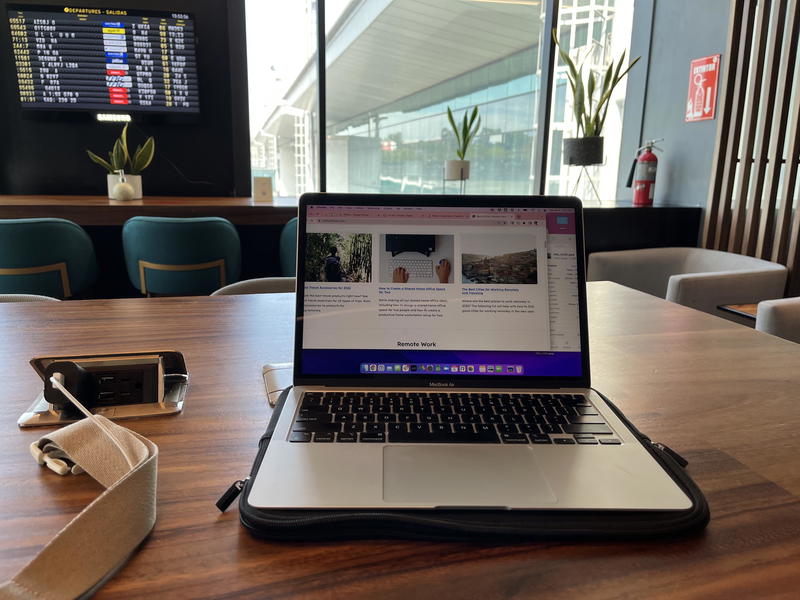 Long layovers
During long layovers, paying for a lounge might be worth it.
Let's say you are stuck in an airport for more than 8 hours. Getting access to a lounge will mean you get several meals and drinks, a comfortable place to sit (and maybe nap) and access to plenty of outlets to charge your things.
Some airports aren't designed to have the best waiting areas, and if you can find an all-star lounge where you'll get comfort and peace of mind, then go for it.
It's worth mentioning to do your research about the lounge before committing. We've been in some lounges that barely have food and are not fun to hang out in (lounges in JFK, Kuala Lumpur and Ukraine come to mind). We wouldn't normally pay for these.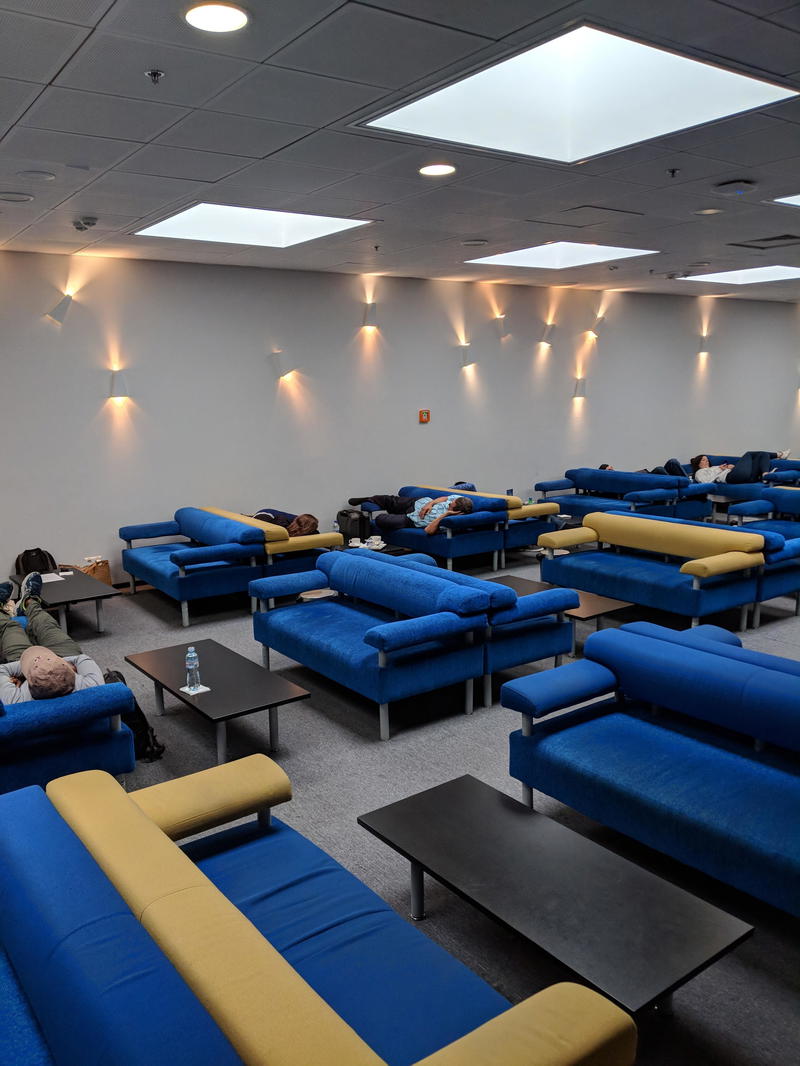 There are other lounges that have it all. Showers, lots of great food, nap pods, great natural light and outdoor space are perks that make it worth it to pay for a lounge if you want to elevate your travel experience.
We would totally pay for these types of lounges during long layovers.
Needing some quiet time to do work
There have been times when we've gotten to the airport several hours early, with the exact focus in mind of needing to get work done. Mostly, this happened during the year when we worked remotely and traveled, but it happens time and again these days as well, especially if we're in the middle of working on this website.
If we need WiFi that doesn't tap out after 30 min, and designated desk space, going to an airport lounge is well worth the short-term investment if it'll let you work in peace and confidence.
Enjoyed our article?
Consider supporting us! We're a 2-person team (learn more about us here) and your support enables us to create quality content. Thank you!