Selina Chicago Review: A Unique Boutique Critique
Written by Dan
•
Updated on September 6th, 2023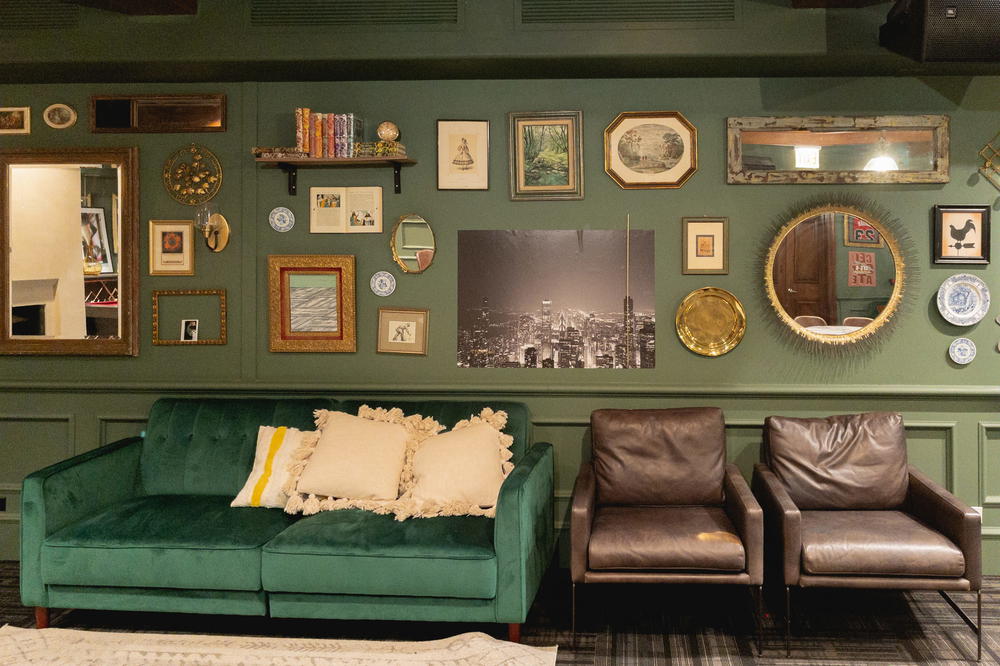 Here is our honest Selina Chicago hotel review, including details about what it was like to work remotely and travel by using the coworking space at this upscale hostel.
This article may contain affiliate links. We earn a small commissions when you purchase via those links — and it's free for you. It's only us (Becca & Dan) working on this website, so we value your support! Read our privacy policy and learn more about us.
Chicago is a great city to visit in the US, and it has a lot of different options for hotels and Airbnbs. There is no shortage of places to stay, and every option has its pros and cons.
We picked the Selina Chicago hotel because Remote Year is now merged with Selina, and we were able to use a points credit we had from years ago, to stay at any Selina property, on this trip.
When we looked at different hotels in Chicago, we liked the location of Selina's Chicago location and it had plenty of unique charm. It also had a few different options for us if we wanted to work for a few hours in a coworking space.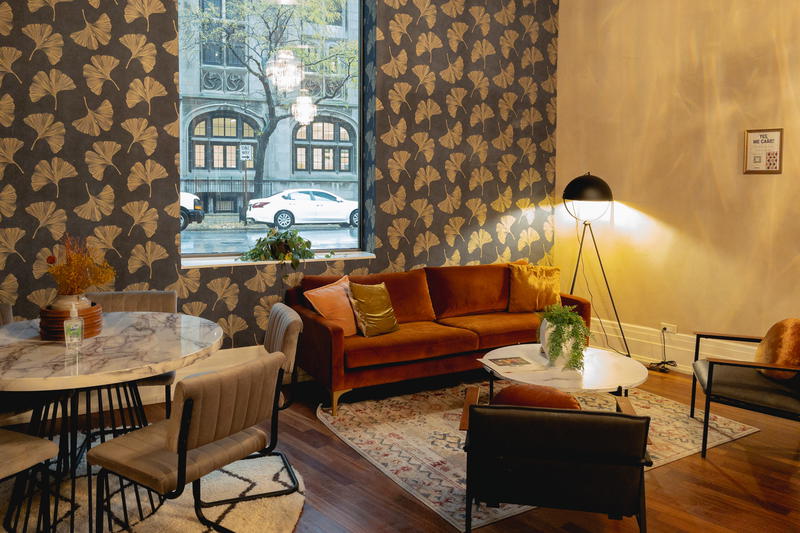 This review is not sponsored and we are giving our honest feedback and opinion of our stay, which we booked on our own.
When we stayed at Selina in Chicago, the location had only been open for about three months, as it opened its doors around August-September 2021 after being renovated. We stayed during a long weekend in mid-November. We imagine if you're reading this or if you're staying in Chicago at a different time of the year, your experience may vary.
Our stay was interesting and we want to tell you all about what we liked, what was good about Selina Chicago and what was bad about this hostel-hotel in the Windy City.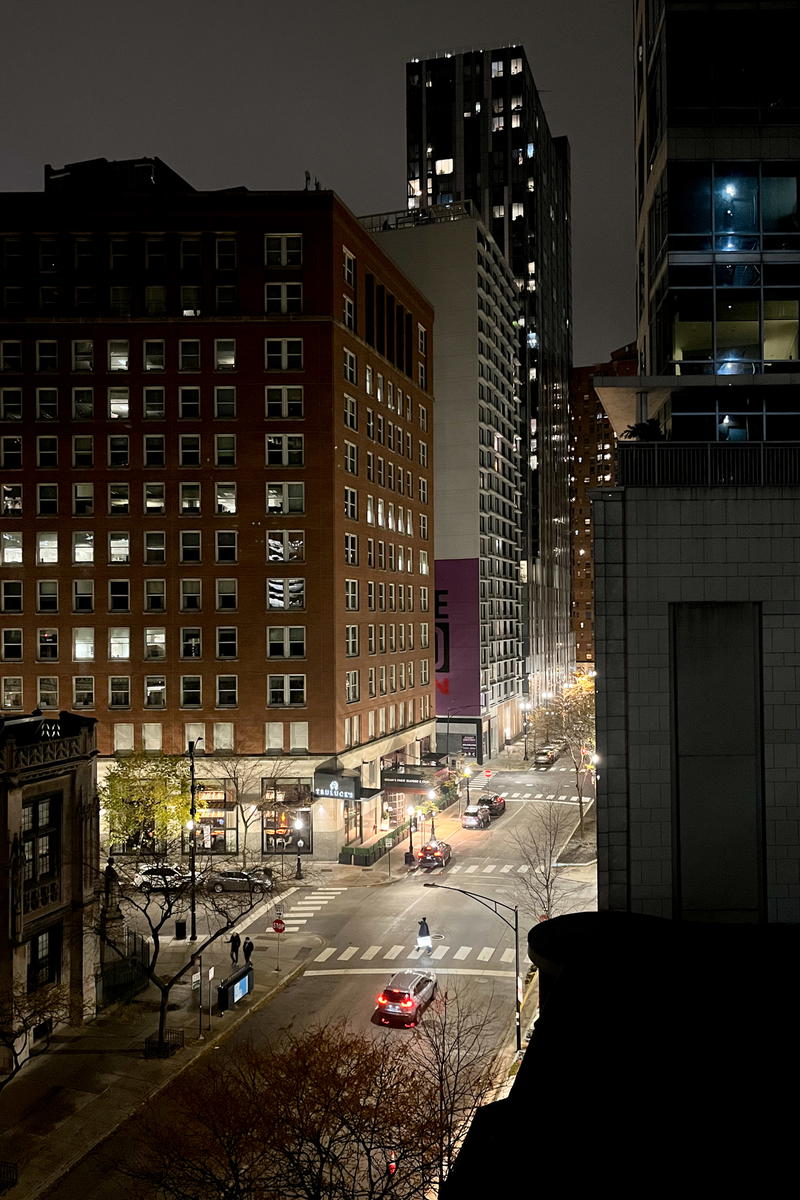 First impressions of the Selina Chicago Hostel-Hotel
Right when you walk into Selina Chicago, you see the coworking space to the left and some open space to the right, which connects to the restaurant. There are lots of unique finishes that catch your eye. The check-in process was simple and a bit basic.
The woman at the reception desk let us check in early because we arrived a few hours before the actual check-in time of 3 pm. She was able to switch us into a room that was ready, thankfully, because we had just flow in from NYC and wanted to get going with sightseeing as soon as possible.
In the event that your Selina room is not ready when you check in, they have the option to store your bags in a safe location behind the desk.
Helpful Tip
If you are looking for a hostel where you will meet other travelers and have a super social and friendly hip environment, this is likely not the place for you. Due to the high ratio of private rooms to dorm rooms, most guests are couples, ranging in age from 20s to 50s, from what we saw. This Selina is not like the backpacker young crowds you'll find at Selina in Latin America and Europe, likely also due to the price point.
How is the location of Selina Chicago?
We're not experts of the Chicago downtown, but Becca had been to Chicago twice before and had some geographic context. She also did a lot of research about the best photography spots in Chicago, and picked Selina because of how central it is to things we wanted to see.
We unfortunately had a lot of rain and bad weather like a brief snow during our long weekend stay in Chicago. It was November when we stayed, and we didn't get to experience much of the lake, river or Gold Coast beaches. For summer and spring stays, the Selina location would be even more ideal because Selina Chicago is closest to the Oak Street beach, and that sounds exciting.
The area surrounding Selina Chicago does have a lot of hotels and tall buildings, mostly for offices, we imagine. Within five minutes of walking, you have a lot of fancy stores and restaurants, toward the north on Rush St. in the Gold Coast area, and toward the south, on Michigan Ave and State St.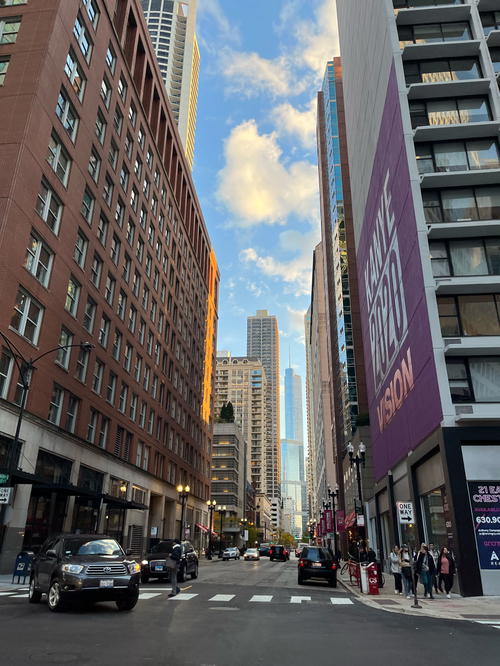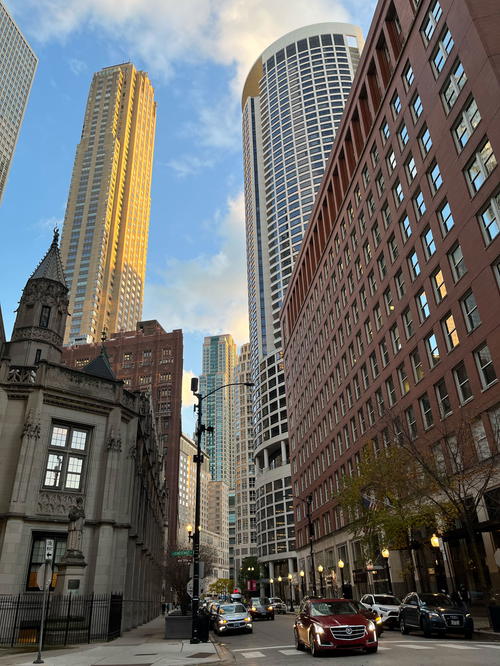 Walking around five minutes to the south gave us the more down-to-earth options we seek out when we travel, like typical Chicago urban charm and a train station at Chicago and State on the red line of the CTA metro network.
Why is Selina Chicago unique?
First off, it's old. Really old. This particular Selina is the newest iteration of the Tremont House. The namesake dates back to 1833. You can read all about it here. It's interesting that Selina is keeping the building alive, but sad to see such old history take new ownership.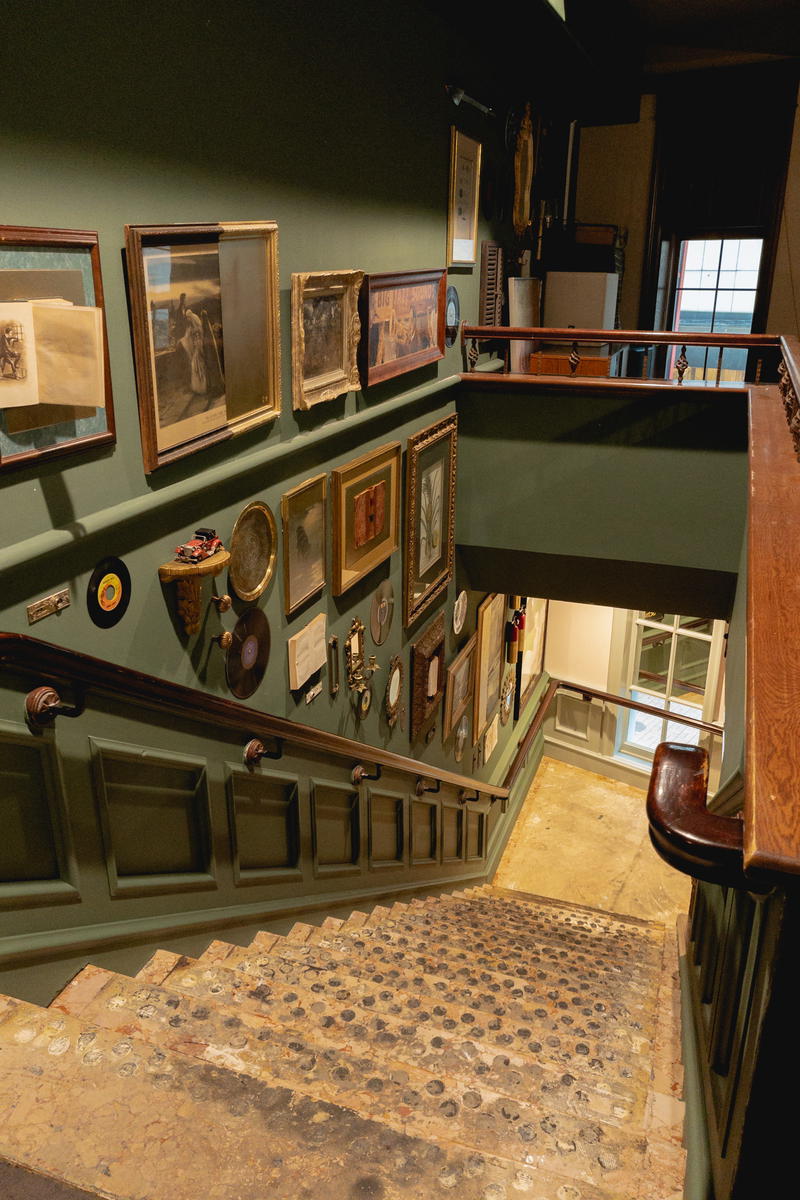 Note that this is typical for Selina's model: the company buys old properties and renovates them slightly, putting on "millennial" touches in terms of the decor, and mostly keeps the structure as-is in terms of how the rooms are already laid out.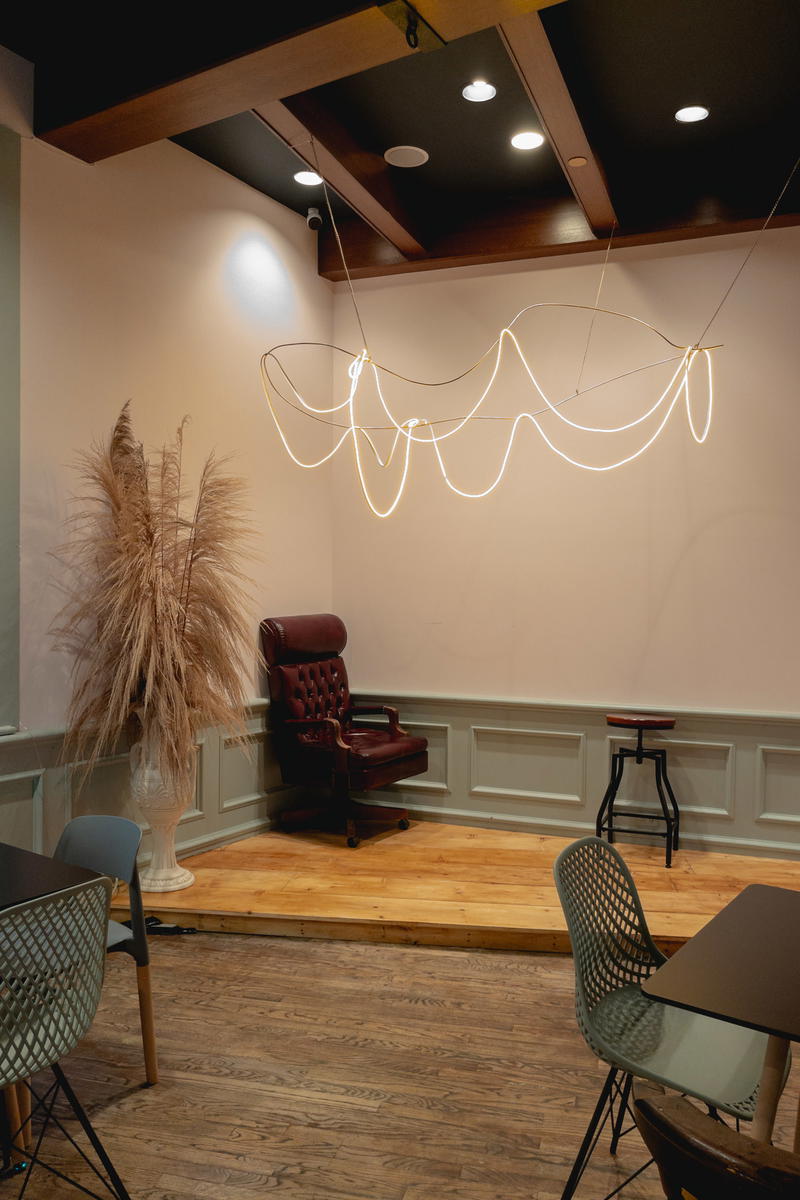 All of the Selina properties that we've been to offer unique decoration, coworking and "charm." What is charm, you may ask? Well, charm is synonymous with sacrifices. Put another way, things might go wrong due to what seems like the haste with which all Selina locations are renovated, built and put on the hotel market immediately. Read a little further to see what I'm talking about.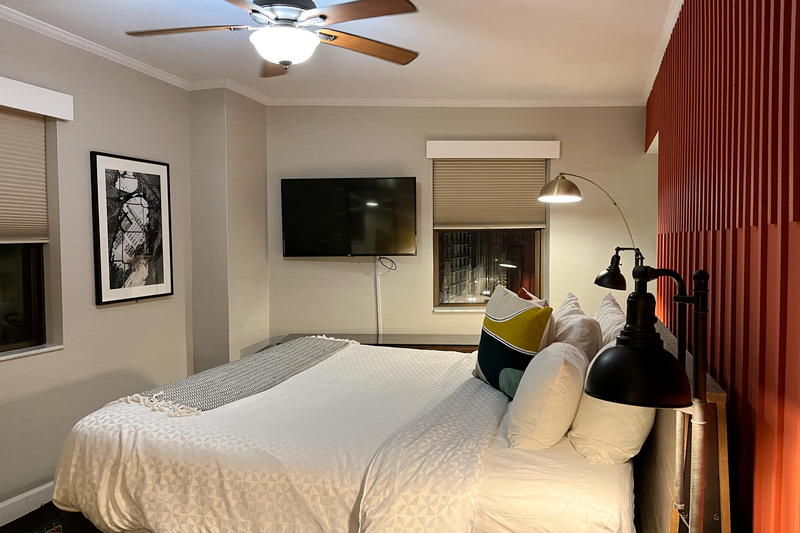 What are the benefits of staying in Selina vs. another hotel or hostel in Chicago?
While I personally can't speak to a one-to-one comparison with other hotels because I have only stayed here, Becca has stayed at the Sheraton Grand Chicago on a business trip and at the Palmer House Hilton, for a wedding.
In our research, we did find that Selina's prices are competitive with other hotels, but the value is debatable.
The Selina does have a (small) gym, a communal kitchen, and desks in the private rooms. This is all similar to most offerings at other big-name hotels. It's important to say that there are no desks in the four-person dorm rooms.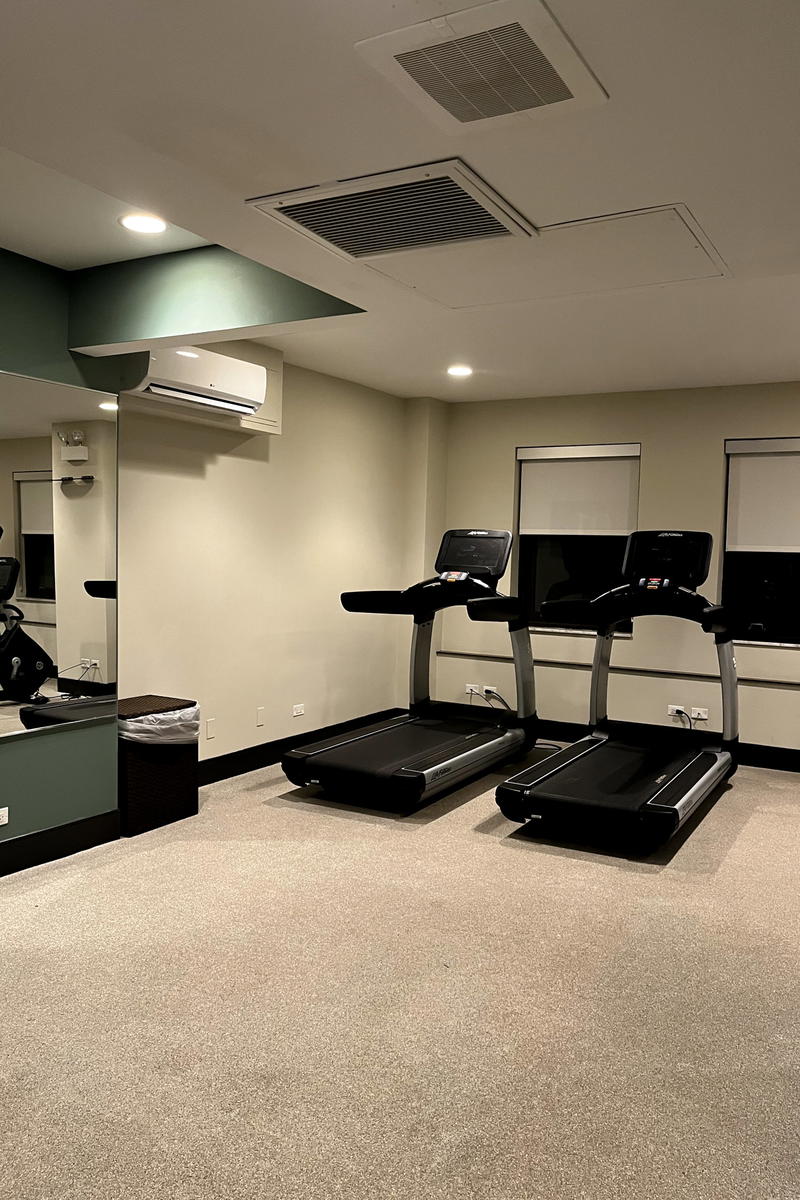 The biggest benefit that I noticed in the Selina Chicago hostel-hotel is the amount of communal space. Aside from the hotel rooms, there is a coworking space (although it's rather open and connected to the lobby), a private upstairs event room, a cinema room and a few small meeting rooms.
Helpful Tip
In being completely transparent, we did not see any socializing between guests going on while we stayed at Selina Chicago, so if you are solo and traveling alone, you may want to look into a more hostel-vibe place to stay. Selina Chicago feels like a millennial-friendly hotel, putting it briefly.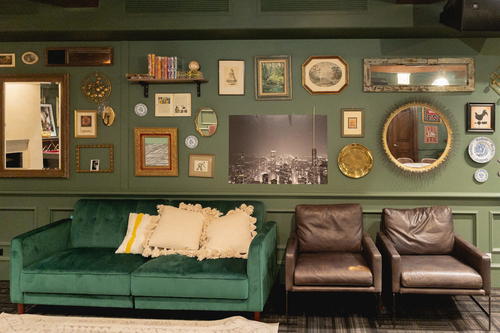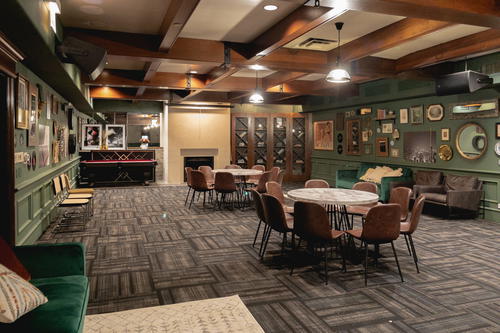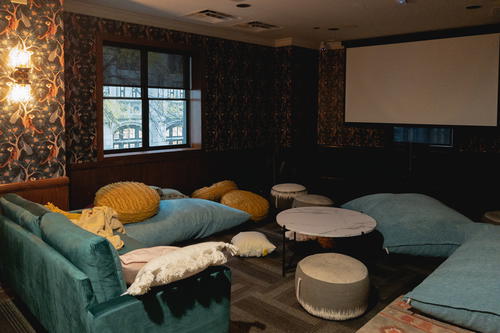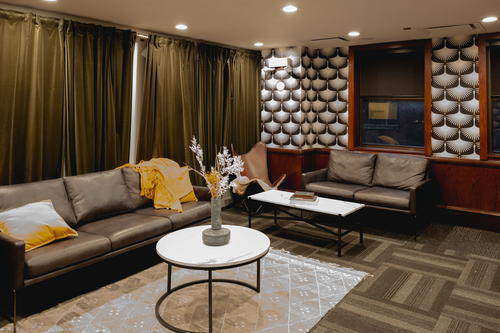 The rooms have interesting decorations and furniture choices, which give a really old and vintage vibe (kind of like mid-century deco) to the stay here. We've stayed in other business center hotels and it feels like there is no personality. This Selina location almost feels like you're walking into a time machine back to a mix of the early 1900s.
I can picture bigger groups of people coming here and being able to all hang out in some of the public spaces.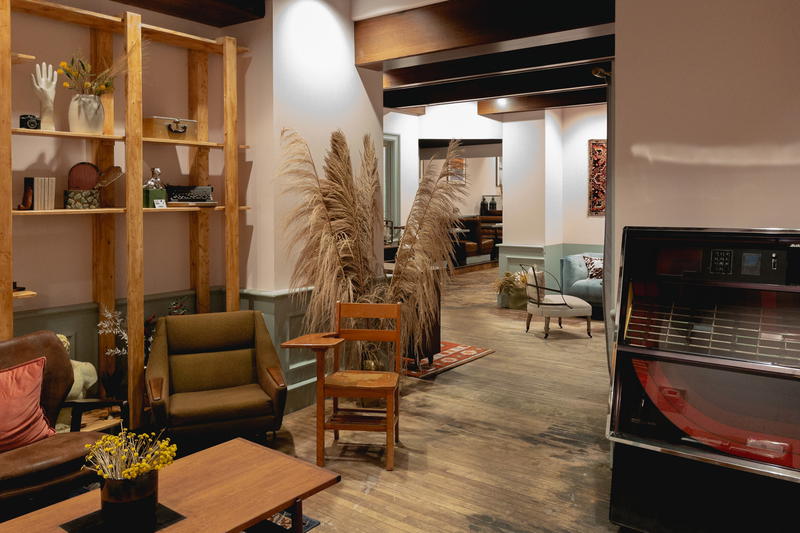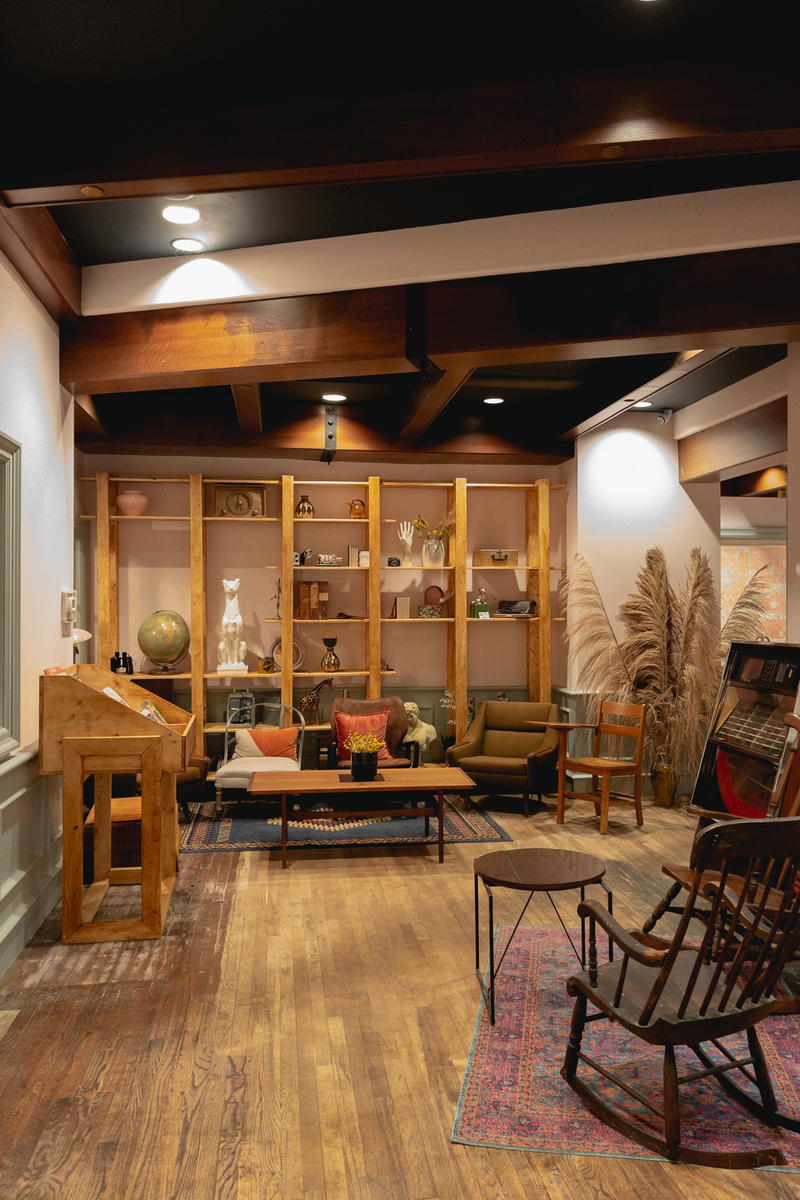 I can also picture someone staying here for a longer-term stay because of the coworking options and the communal kitchen. With other hotels, your options are limited for food because there rarely are options for cooking. For example, any Sheraton, Hilton or Hyatt isn't going to have a kitchen space you can freely use or store leftovers in.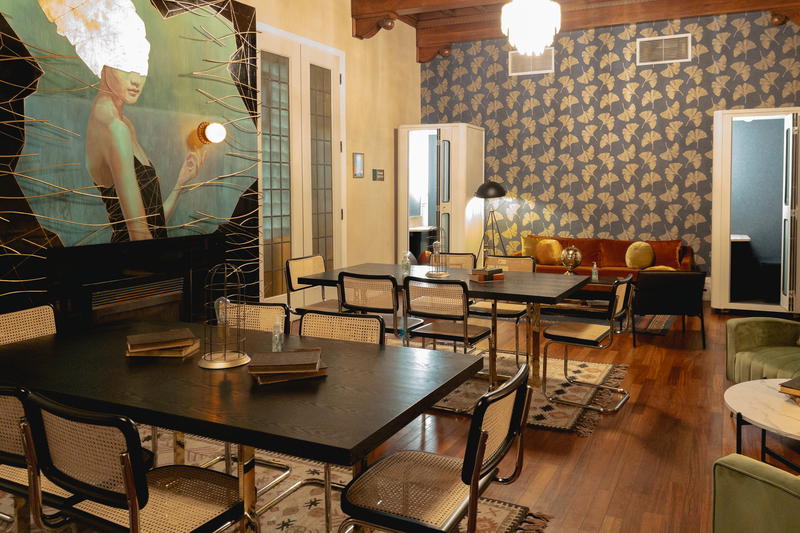 How was our stay at the Selina Chicago Hostel-Hotel?
This is probably what you came for: our Selina Chicago review.
Overall, we liked staying at Selina. We give it a thumbs up, but to be honest, we're not super picky and it's rare for us to give a thumbs down or have a bad experience. We make the best of things, we take things at face value for what they are, and we're empathetic to people running businesses in the hospitality industry.
When we got to our room, we opened the blinds and realized we were facing a brick wall, a large metal unit on a rooftop and not much else. We had no direct light in the room.
The bed frame was a little cramped and Becca banged her leg into the frame corner twice because it stuck out from the box spring and mattress and the walking space was so tight.
The room felt old and dated (the bathroom is kind of like early 1990s beige style), but did sort of have that charm I mentioned above. In our case, the sacrifices we had were space (but we accepted that we were staying in a major city) and natural light (none). The vibe was interesting and unique, but it would have been nice to have some natural light or views.
We would have done well with more space to spread out, especially because Becca had to use the desk to take a 90-minute meeting on our second day, and the desk was so close to the bed with a chair that didn't push in all the way. We had to squeeze by it and it felt really awkward, just as in being able to move about our hotel room.
We had a weird situation in which the ceiling fan light turned on by itself at 6 am both nights despite not being on a timer and despite being turned off when we went to bed. We told the front desk on our third night, and they were happy to provide a new room for us. We appreciated the upgrade, a lot!
When we arrived in the second room, which we figured out to be the "Standard+" private, our perspective of staying here was totally different. That's what a room upgrade can do to your perception of a place, right?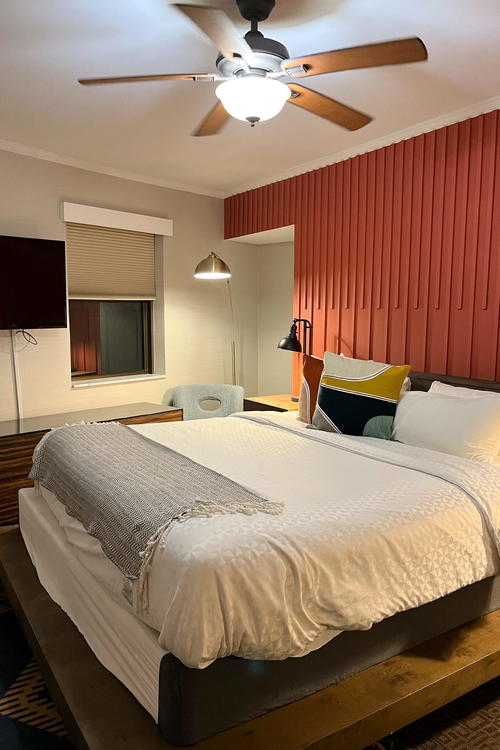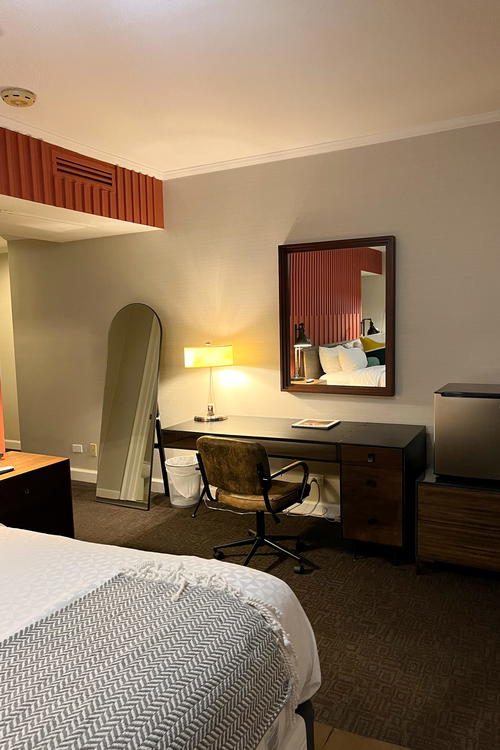 We got a corner private room that overlooked the street. The room was much bigger, had more room for us to unpack our things and felt much more comfortable to us.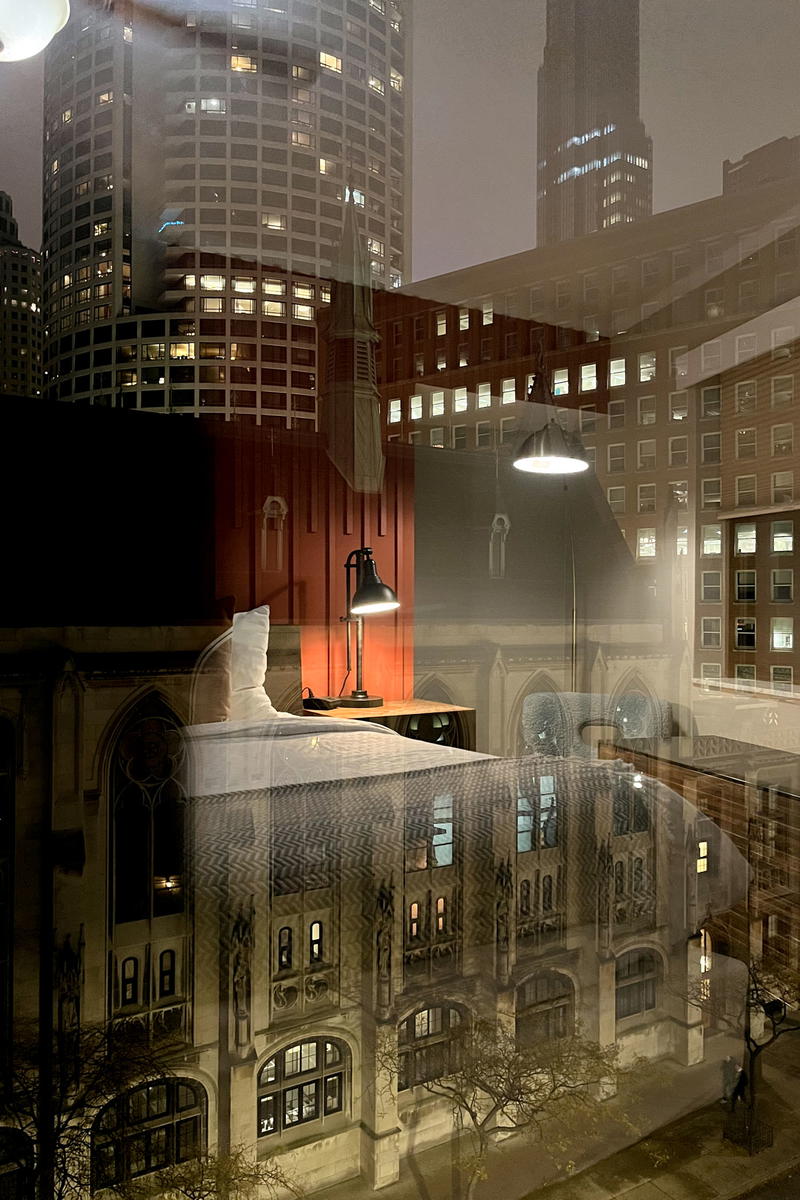 There was both a full desk and a dresser, a mini-fridge, two night stands with table lamps, three big windows, a comfy chair, full-length mirror and a wall TV. This was a really comfortable room to be in, with everything functioning, looking good and feeling like a chic stay in the city.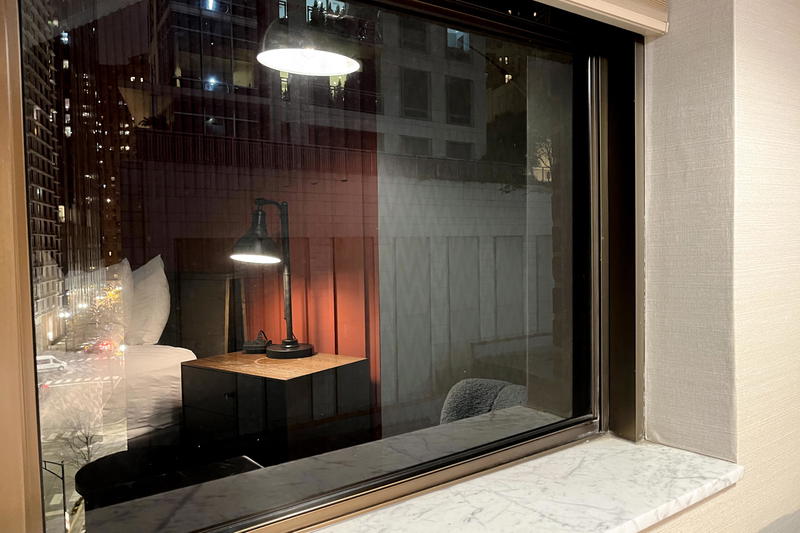 What were the bad parts of staying at Selina?
We stayed for three nights, which I feel like is long enough to form an opinion of a few different situations that we encountered at the Chicago Selina hostel-hotel.
One night, we got home at around 1 am. There was no security and I was able to walk right in. The way the lobby is positioned is that the front desk doesn't have a great view of the door. Frankly, that is a big concern in a city like Chicago. The River North/Gold Coast area seems perfectly safe, but Chicago as a whole has a rather alarming crime rate.
Like I said, this neighborhood of Chicago felt safe to us, at night. I think I would have expected some additional security, like a buzzer, someone in the lobby area or more visibility of the front door to the desk staff. This seems like a logistical oversight.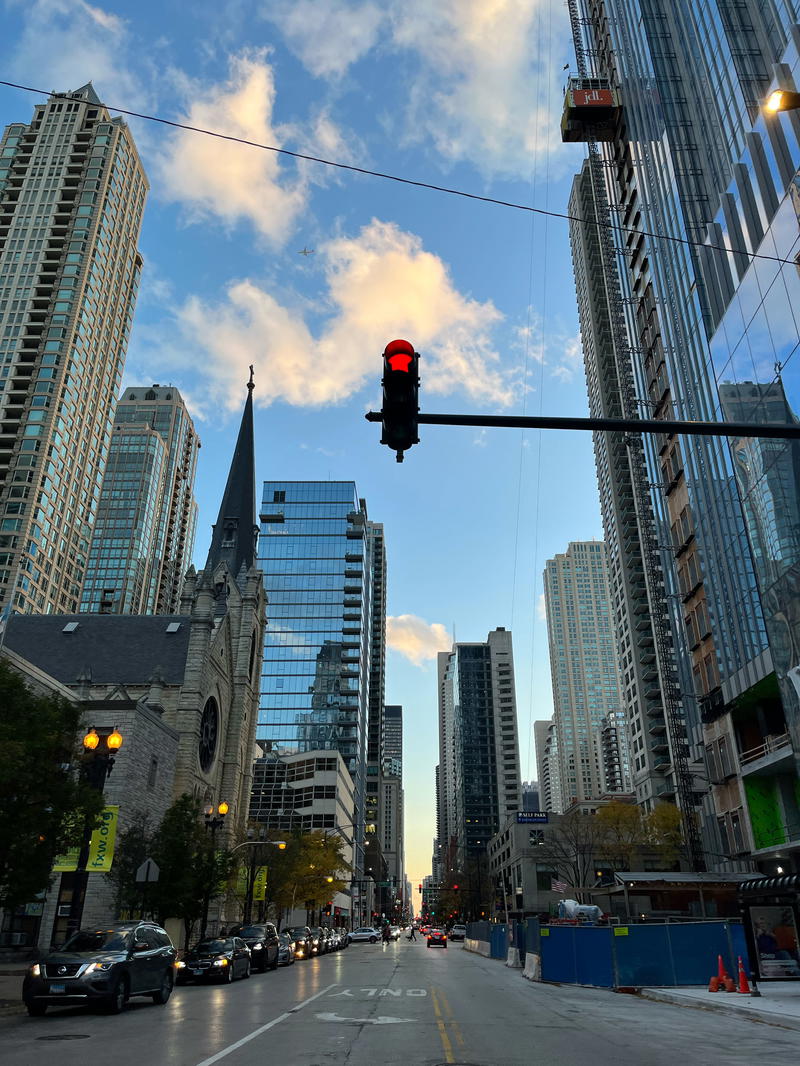 One last thing we noticed during our stay that our floor had a weird smell, kind of like a plumbing issue, for a few hours one afternoon. I imagine that the pipes in the building must be very old. Having lived in New York City for so long, we're used to this type of thing and we understand that it happens.
What were the good parts of staying at Selina Chicago?
Because we are Remote Year alumni, we had a discount (but only 10%). Also, because we had some credits, we got two out of the three nights free. We paid $150 out of pocket in addition to our credit used up to book the three nights for a private.
Without that discount, we would have shopped around to find the best rate, and found that nearby hotels like the Freehand, the Godfrey and the Swissotel were not much more expensive.
We were glad that we stayed here because we utilized the desk in the room and the coworking space downstairs. For us, that was one of the biggest perks because the space was made for people like us who want to work remotely while traveling, as an option.
Because we had a lot of rain, we were able to hang out inside, take in the interesting vibes and do some work like edit photos and write new travel articles for our website!
If we lived in downtown Chicago, I could see myself coming back into Selina to work and change up my work from my home environment. Selina also has events like stand-up comedy from time to time.
One interesting snippet about the coworking space is that they have two phone booths. The phone booths are perfect for taking meetings. They are small, though, so if you are claustrophobic, you may struggle inside of them.
Because Selina is new, it wasn't very crowded. We didn't feel like we were sharing the space with a lot of people (in fact, we wondered where everyone was?). I can't imagine this will be the case for the summer months or more popular times to visit. Nonetheless, it was great for us because we like traveling to places that let us avoid the crowds.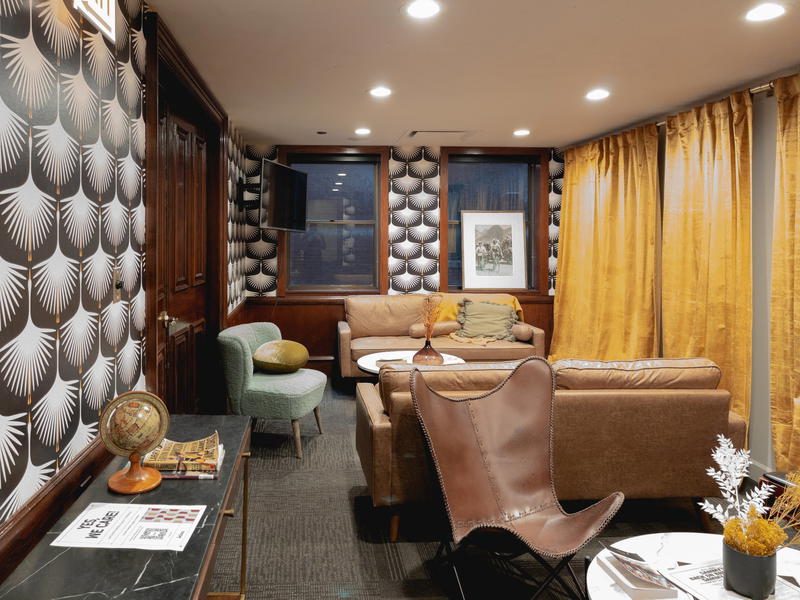 There were a lot of similarities between this Selina location and the Selina Downtown Mexico City location that we co-lived in for three weeks.
We would, however, differentiate this Selina location from the more tropical and backpacker-vibe Selina locations that really come off more as 'hostels' rather than hotels,' like the Selina Hostel in Medellin, Colombia.
Is staying at Selina Chicago worth it?
Yes. We think so, especially if you can get one of the Selina sales and get a discount on a booking. Staying at Selina checks all of our boxes because the prices are competitive, the neighborhood is good and there is a coworking space.
It's often difficult for us to choose accommodation among Airbnb, hotels and hostels, and staying at the Chicago Selina provided a crux at the middle of all of these due to the hybrid hostel-hotel experience, along with amenities like a kitchen and laptop-friendly coworking areas.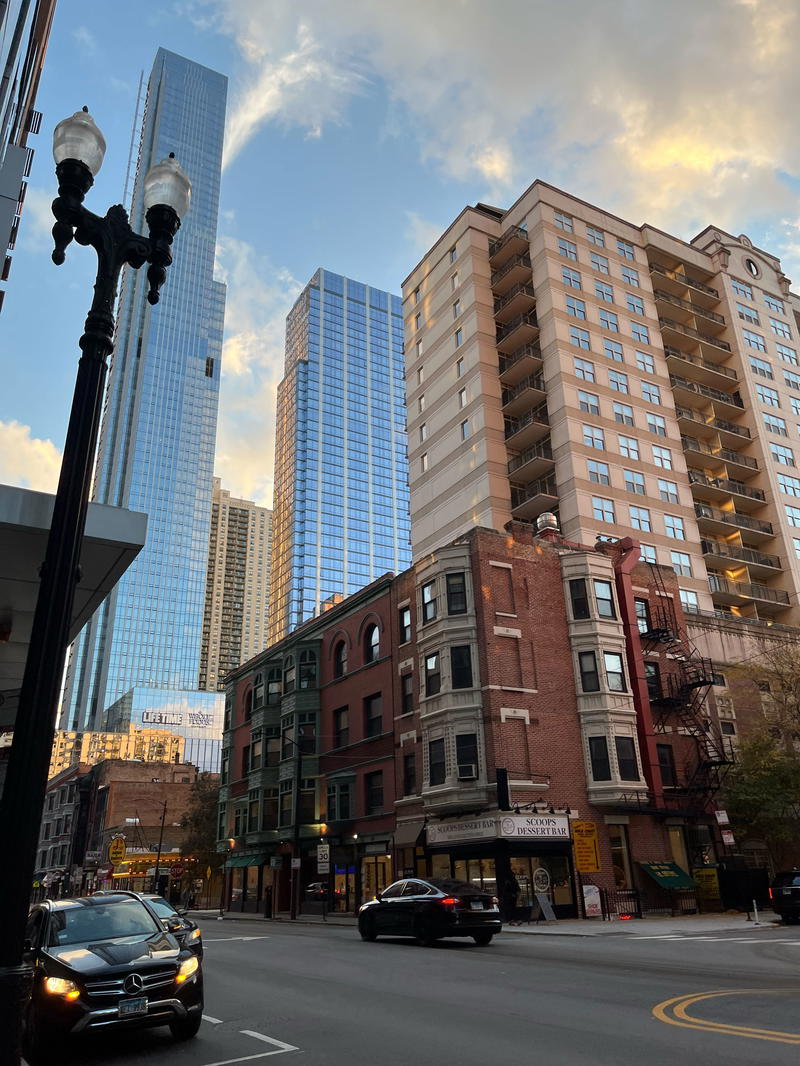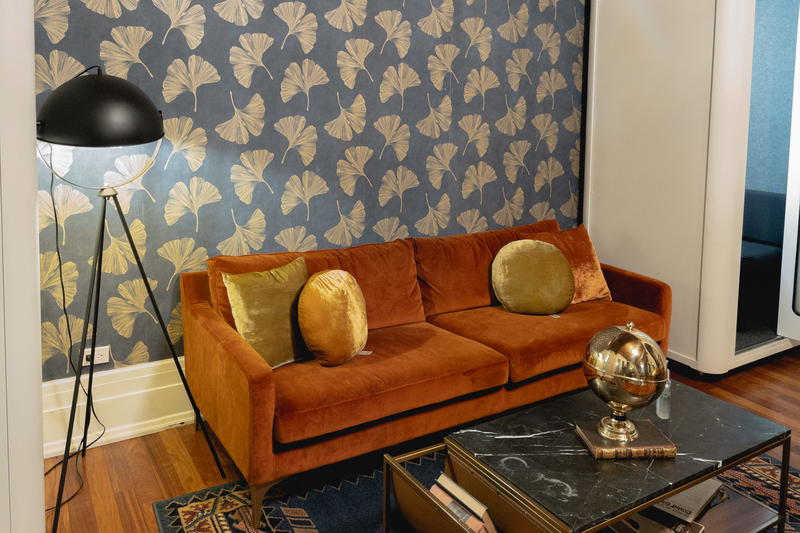 Sure, there are things that can be improved (like the seemingly high prices for private rooms, comparable to other nearby options), but we rarely encounter a situation when we travel where we are absolutely blown away.
The only time I can think of was our stay in Lisbon at the Lisboans, which was like perfection to us. We don't expect this level of awesomeness all the time when we travel.
How to book a stay at Selina Chicago
You can book this Selina hotel directly at the Selina website, at Hostelworld.com, which has a free membership, or at Booking.com.
Enjoyed our article?
Consider supporting us! We're a 2-person team (learn more about us here) and your support enables us to create quality content. Thank you!