How to Make Great Coffee While Traveling
Written by Dan
•
Updated on September 6th, 2023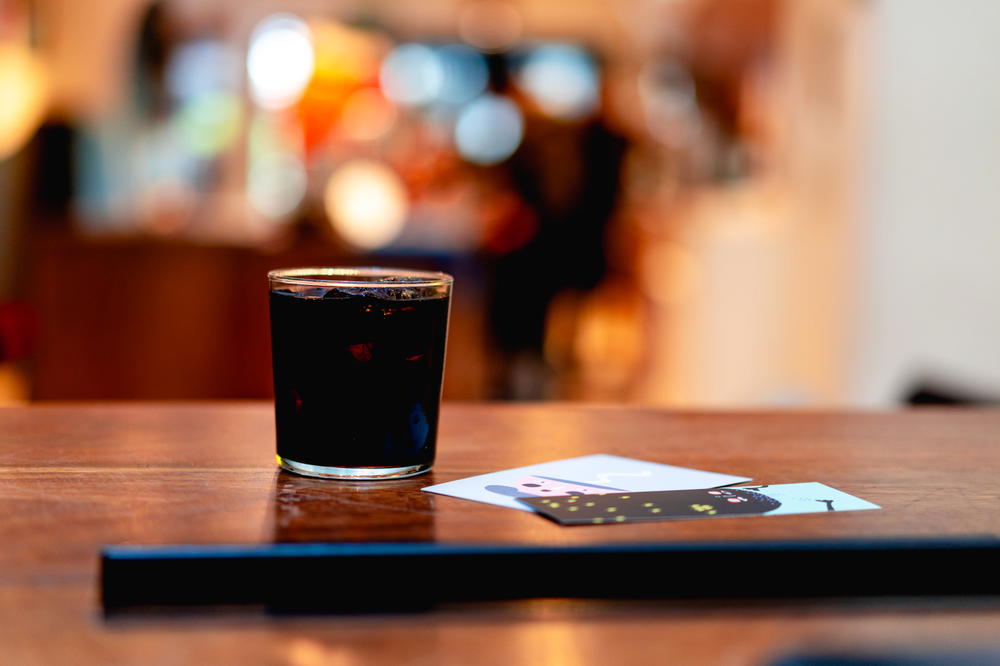 Traveling with coffee? You need tips for how to make coffee on the road and on the go. Here's how to make coffee on a vacation and how to create a coffee travel kit.
This article may contain affiliate links. We earn a small commissions when you purchase via those links — and it's free for you. It's only us (Becca & Dan) working on this website, so we value your support! Read our privacy policy and learn more about us.
While you are planning a trip, you're probably focused on your experiences, booking your accommodations and packing.
But have you thought about coffee?
If you're anything like me, most of your mornings (and sometimes afternoons) start with coffee.
In my kitchen, I have all of the brewing methods, like a Chemex, V60 pourover, French press and AeroPress.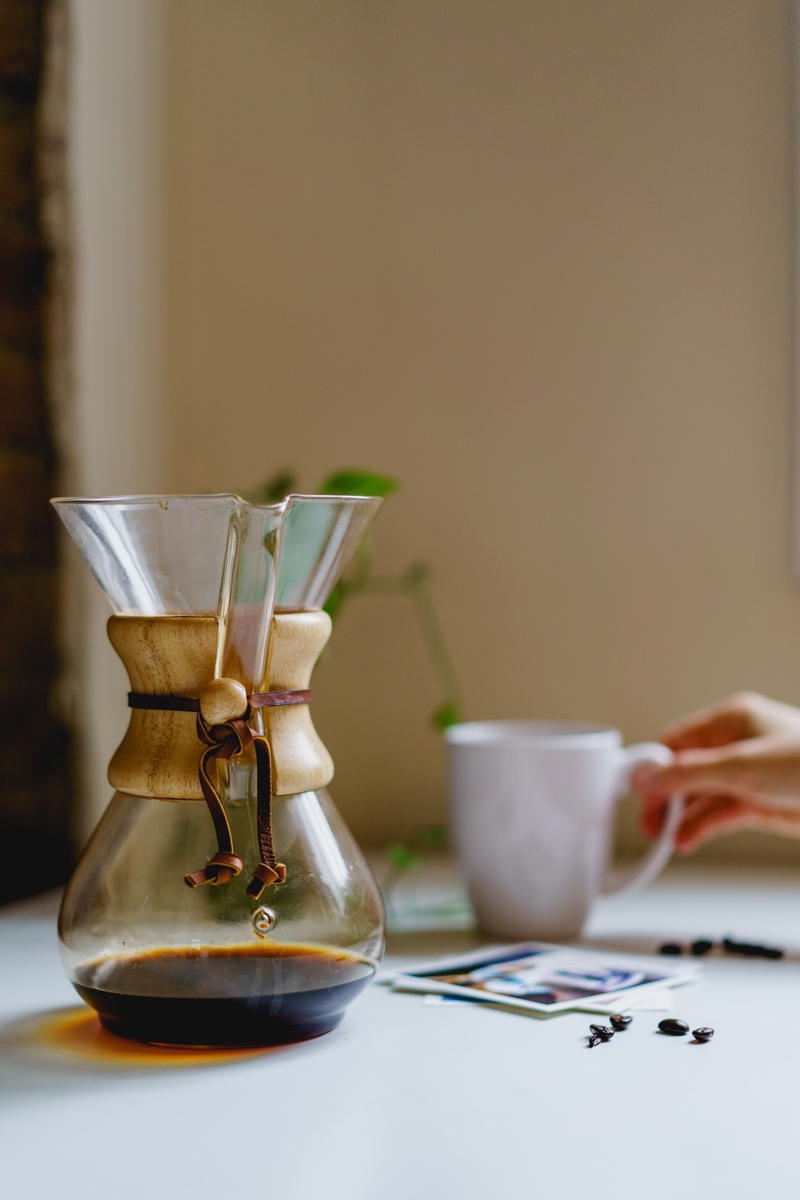 They all serve a purpose and I enjoy using them all.
But when I travel, I am at a loss. Sometimes I'll drink the bad hotel coffee in the room or in the lobby. Maybe I'll skip a day of drinking coffee completely. Or, maybe I'll pay $5 for Starbucks.
When we've traveled in the past, we enjoy visiting local cafes (like in Mexico City!), and we like working remotely from inside the coffee shops in a travel destination.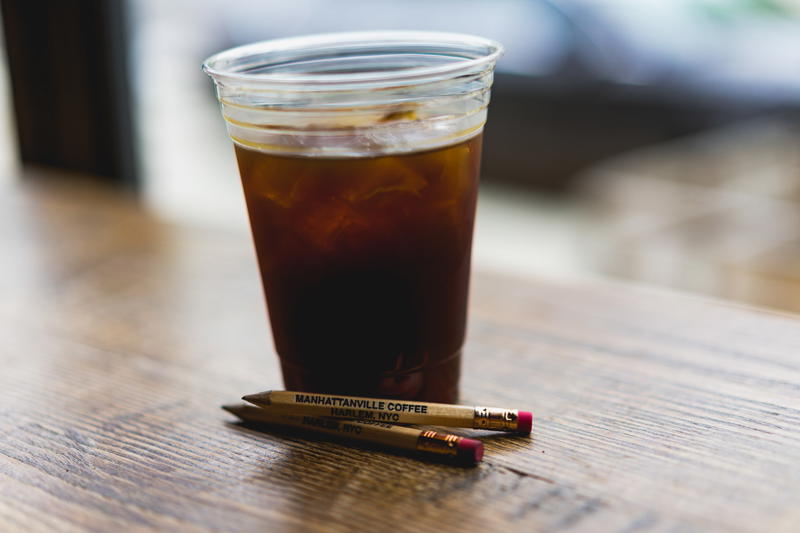 Now that times have changed a little bit, we've shifted our preferences, and now we like to make coffee at home.
We also take it very seriously.
It's our morning ritual, we find it satisfying and on weekends we drink coffee together on the couch or at our dining table.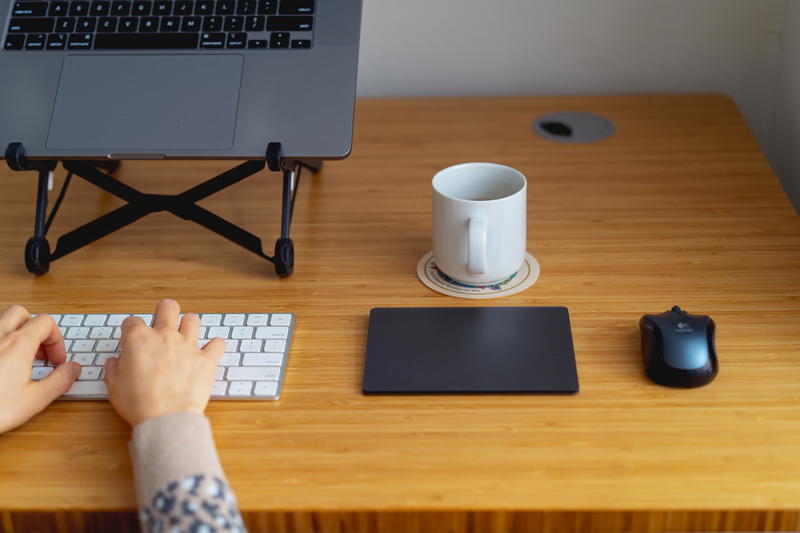 When we travel now, we like to keep that tradition of finding ways to make coffee everywhere.
Come find out how we make coffee while we travel!
What you'll need to make great coffee while traveling
I've put together a lightweight coffee travel kit that you can check out.
Below I'll go into more detail about how to use all the coffee products, and we'll let you know if you need some of the specific items in the travel coffee product kit.
Here's everything mentioned below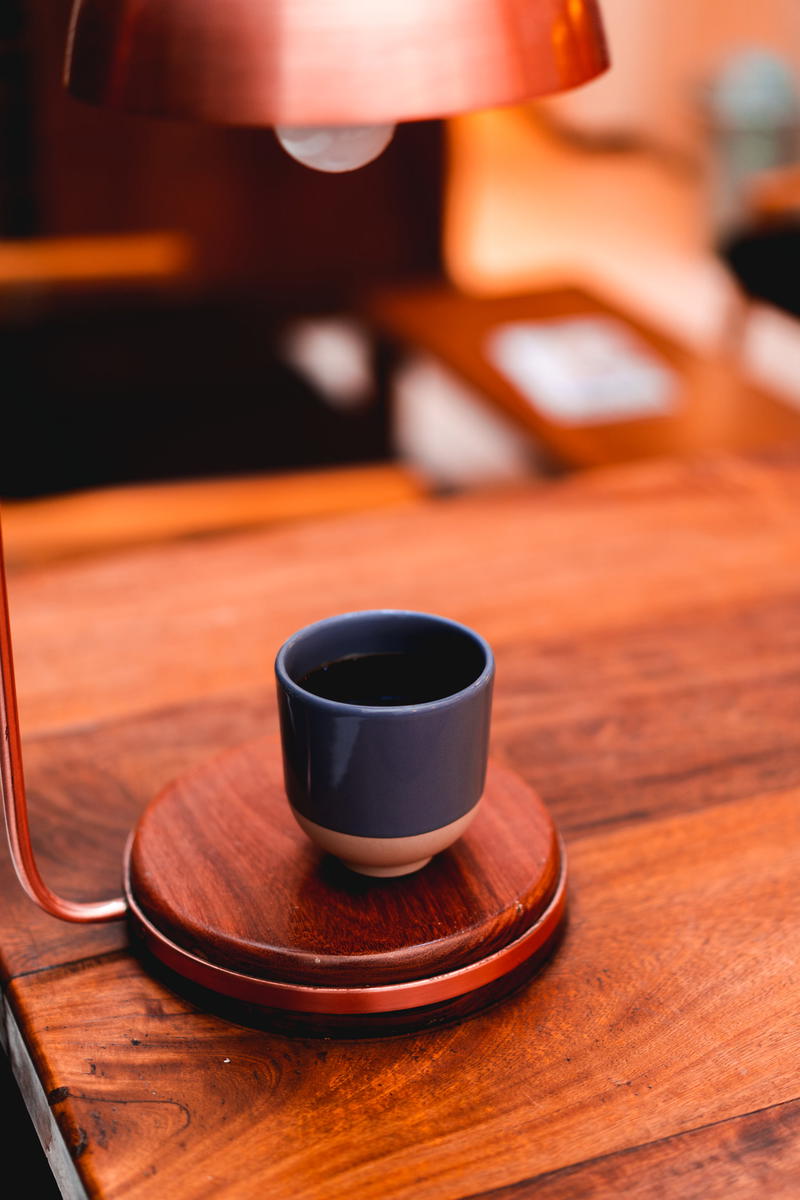 AeroPress
The AeroPress will be your primary source for brewing coffee. It's small, packs well and it's great for daily use even when you're not traveling. We use ours at home as a treat.
Coffee beans
Head over to a cool local cafe or check out the supermarket in a new city for a type of coffee that's sourced or roasted locally. You're in a new location so trying the local coffee is something fun and exciting to do.
We recommend cafes in Taipei, Brooklyn, New York and the Dominican Republic, to name a few.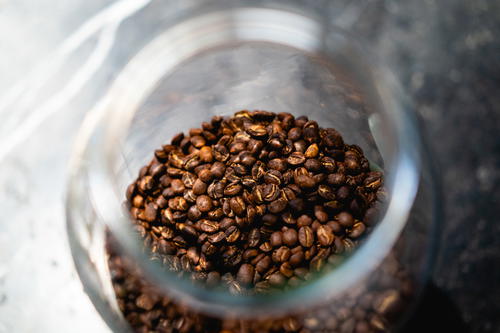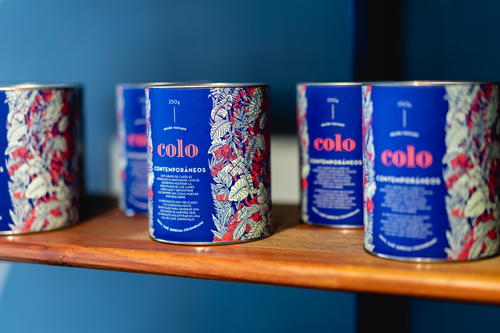 Coffee grinder
You'll need some way to grind your coffee! Depending on how long you're traveling for, you might be able to get away with having a coffee shop grind your coffee for you.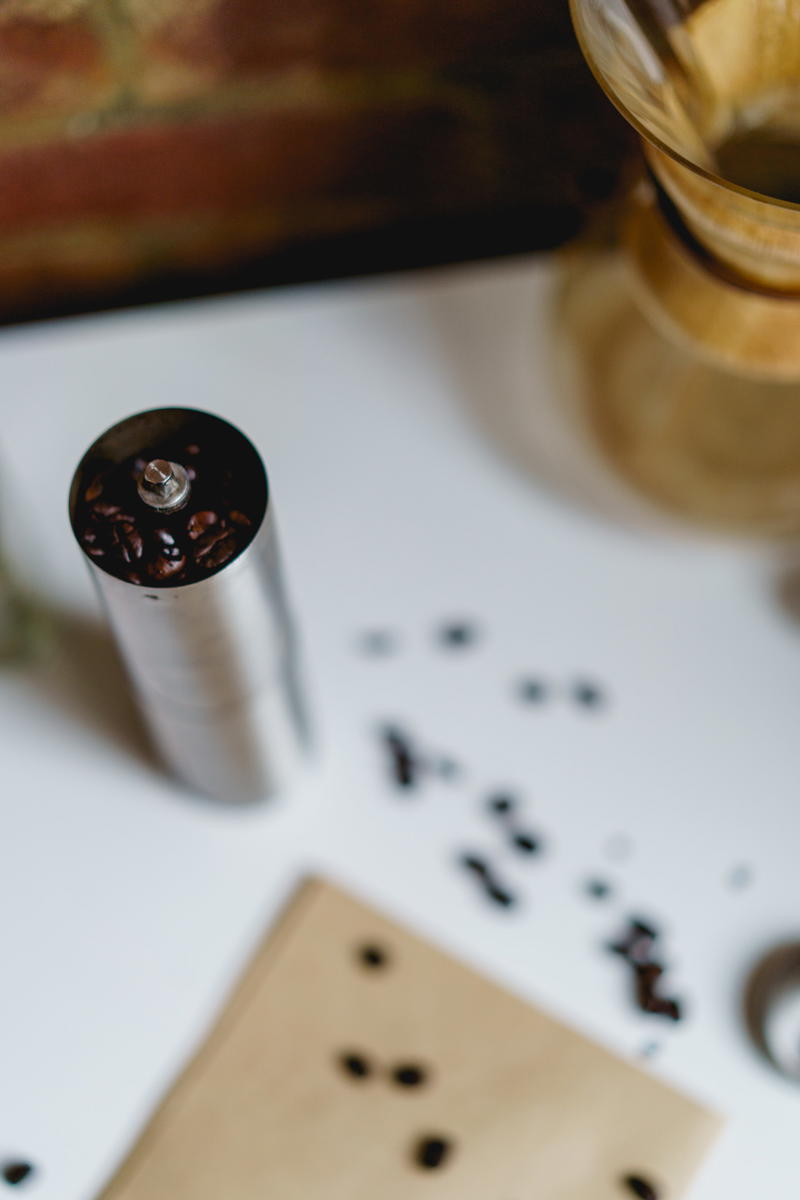 Immersion Heater
If you don't have a way to heat up water, having a Portable travel kettle will be your best bet. Be careful, as these things can get dangerously hot, really fast.
Coffee mug
If you want to make coffee to help you enjoy your morning, having a great non-breakable travel coffee mug will help your overall experience. Check out this set of two stainless steel coffee mugs you can pack in your bag.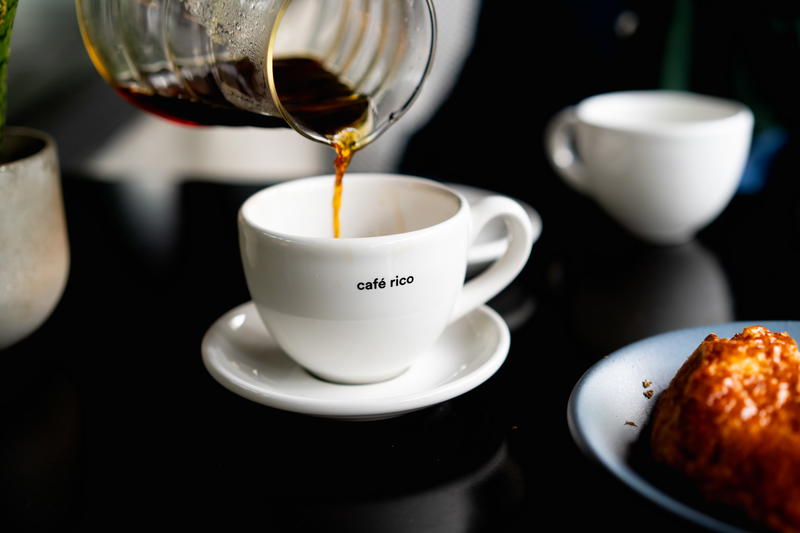 Travel coffee thermos
If you are more of a coffee-on-the-go type of person, then an insulated thermos is what you need. The travel coffee tumbler from YETI is great because it has a double-wall engineered build, so it keeps things hot and cold for a long period of time. It's also dishwasher safe.
I like YETI a lot, and I swear by their 26-oz. travel water bottle.
Tips for making the best AeroPress coffee
AeroPress is one of the quickest and easiest ways to make coffee. It's easy to get started, but does have a bit of an intimidating element to it.
Experiment with your AeroPress before you travel
You now have a new coffee making product! Use it and practice, before you need to use it.
At home, I have my water temperature, grind size and roast type all dialed in during my coffee-making procedure.
When I travel with an AeroPress, or when I have to make coffee in a different environment other than my own home, I use the opportunity to experiment and try different brewing methods every morning.
If I don't have a hot water kettle with a thermometer, I'll experiment with getting the water to boil and waiting a certain amount of time before pouring the water in, when brewing.
I'll experiment with different roasts and grind sizes to really dial in to how I prefer to drink my coffee.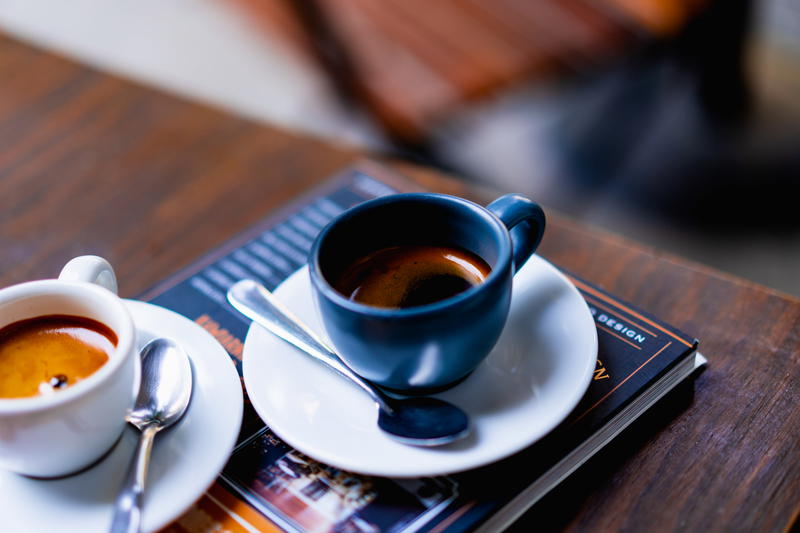 Cleaning up your coffee-making station
One of the best benefits of using an AeroPress when traveling is minimal clean up. After your coffee is brewed, unscrew the coffee filter lid and plunge the grinds into the trash, or compost.
It's really easy, all being said and done. After the grinds are separated from the AeroPress, you can do a quick rinse and then dry it off.
I find this to be one of the most minimalistic coffee-making methods, and everything is non-breakable when you use an AeroPress, which is a huge plus.
Don't fret the details
Don't have a gooseneck kettle? No problem.
Don't have a thermometer? That's okay, too!
Don't have a scale to measure out coffee? You got this.
Whichever types of issues arise, you'll figure it out. You can always make a second cup and try again tomorrow. To learn even more about AeroPress, check out the video to get started.
Other ways to make coffee while traveling
There are other creative and interesting ways to make some coffee while you're on a trip away from home. Check out these ideas and see if any of these coffee methods will work for your taste.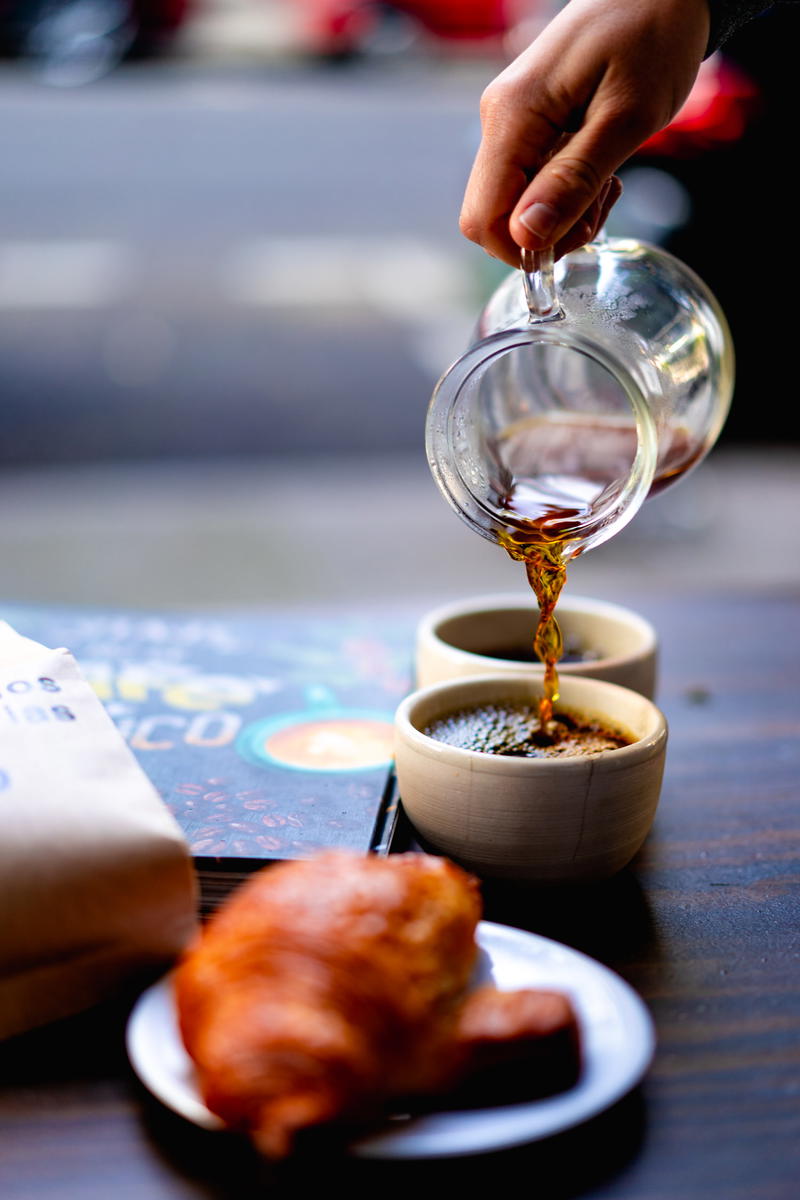 Reusable Keurig cups
Some hotels and places where you stay may have a Keurig. I've never been a huge fan of them because they produce a lot of waste. Most coffee seems to be a bit too watery and in my head I know that it came from a pod.
The coffee with a Keurig never really tastes pure. That could be the age of the device or something else. I'm not sure!
A reusable K-cup would be a great option if you pick up some local coffee and don't mind using the Keurig machine.
French press
There are a few single-serving French press options that would work well for travel.
Because a French press has two components, the lid and the beaker, it's easy to pack (if you have a non-breakable plastic French press, as I would not recommend traveling with a glass French press, ever).
The lid of a French press breaks down very small and can fit into a lot of small areas of your pack.
You can fill the beaker with other items, like shirts or other soft items that you're packing if you need to condense items in your luggage.
A French press is also a great way to enjoy coffee.
For daily use, I don't like French press because the clean up can get sort of messy; however, a lot of people swear by the taste of French press coffee, and I respect that.
Cold brew
Making cold brew with a French press is a perfect option for you if you don't have any hot water source or power.
This is an amazing coffee hack for when you're on the road, and you either have a fridge where you're staying, or some mildly cold outdoor temperatures (like the trunk of a car at night on a road trip!).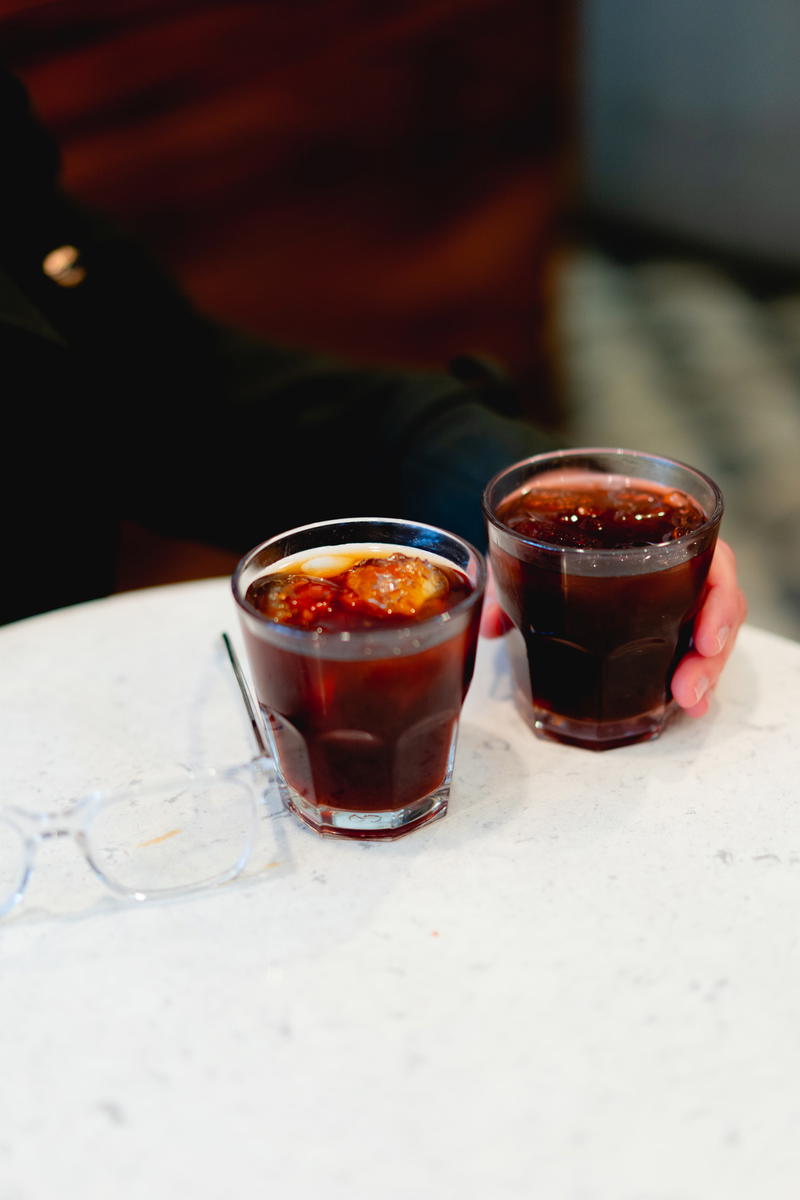 All you need is time (8-10 hours is suggested for brewing cold brew if you're pressed for time, and between 16-24 hours is considered ideal).
To make cold brew while you're traveling with a French press, mix your coffee (ground) and water into the beaker and don't press down on the lid yet.
Right before you are about to serve your coffee, the next morning (most likely), strain the grinds by pressing down on the lid and plunger.
It's that easy! You'll be serving cold brew to some very impressed travel buddies in no time.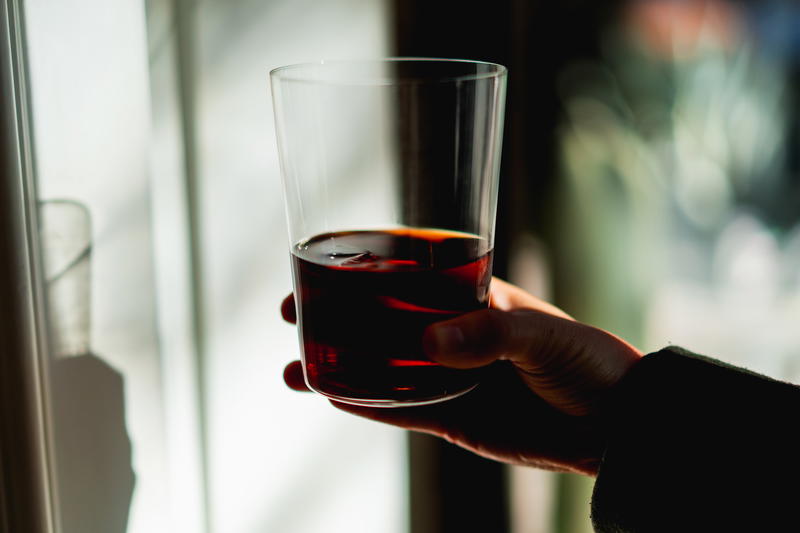 The JoGo Brew Straw for Coffee
What is the JoGo Brew Straw? Well, if you've ever had "mate" in Argentina, you may be familiar with this metal straw contraption that has a coffee filter at the base. The JoGo has made it into an updated, special and patent-pending version specialized for your coffee.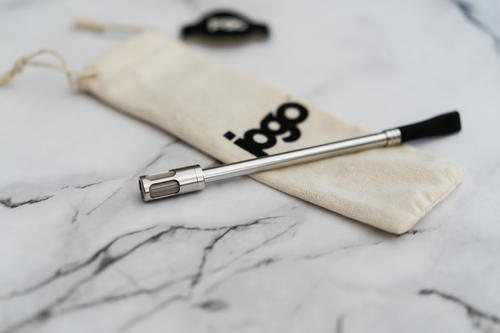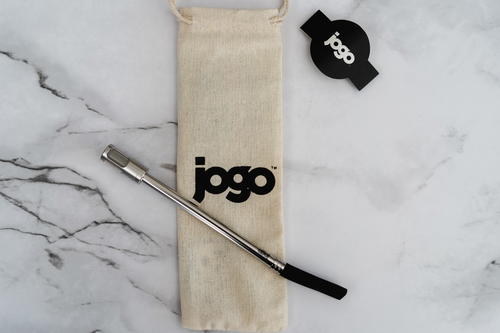 What does this mean? It means that this new product allows you to travel without a coffee-making contraption, and all you'd have to do is put your coffee grinds into a mug, add water and then sip.
The JoGo is a sustainable and waste-free way to have a cup of coffee while on the road, camping or in an Airbnb anywhere in the world! It can also be used for tea.
We also have the Silicone Tip Color Pack, which are the BPA-free silicone straw tips designed for the JoGo's flow control, and if you want an a la carte filter, you can order it on its own.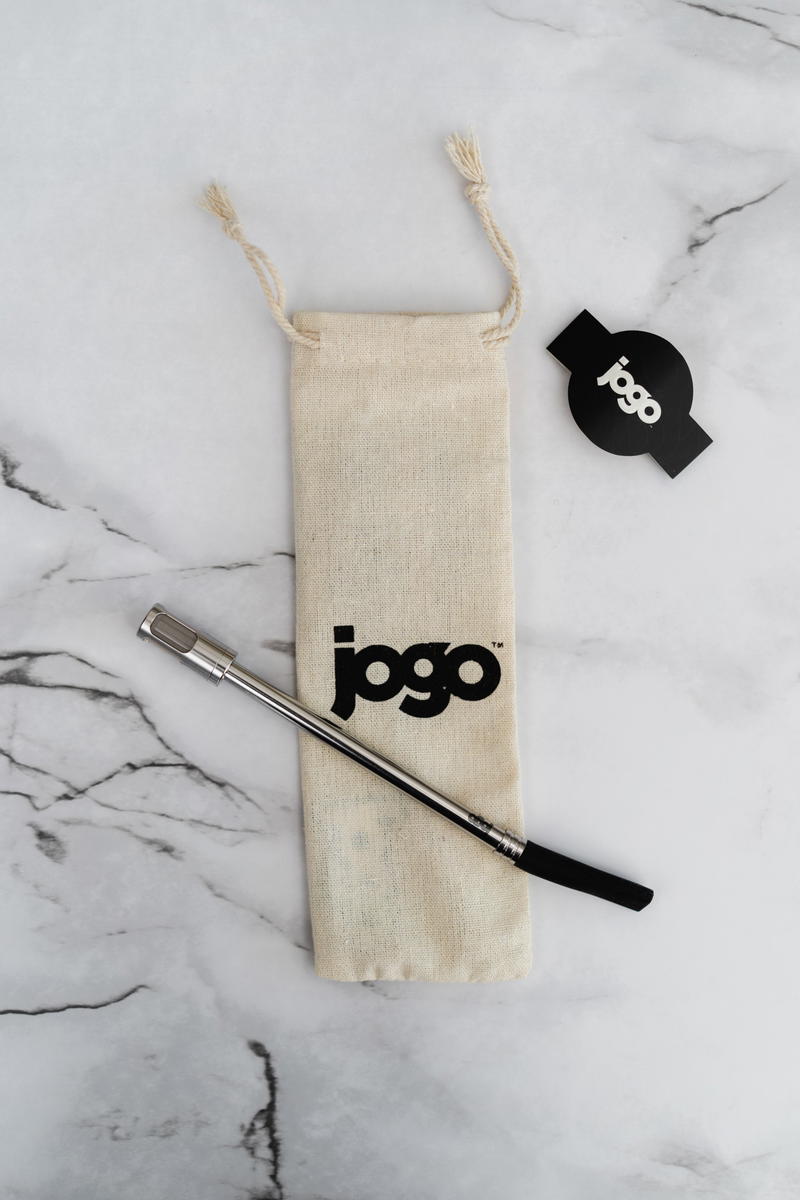 Cowboy coffee 🤠
If you don't want to travel with any type of coffee-making device or coffee equipment, you can make "cowboy coffee."
To make it, start with a coarse grind.
Next, boil your coffee and water together for a few minutes. The grinds should sink to the bottom.
Pour out the brewed coffee into a mug, and cup and that's it. You're a cowboy coffee pro, and now you see why any ole cowboy can do this while on the road.
Concentrated cold brew
Most stores sell concentrated cold brew nowadays.
If you were once a cold brew newbie and you drank a full cup of concentrated cold brew, you're familiar with the onset of a caffeine headache and feeling a true overload of intense buzz. That's because cold brew concentrate should ALWAYS be watered down in its intended ratios.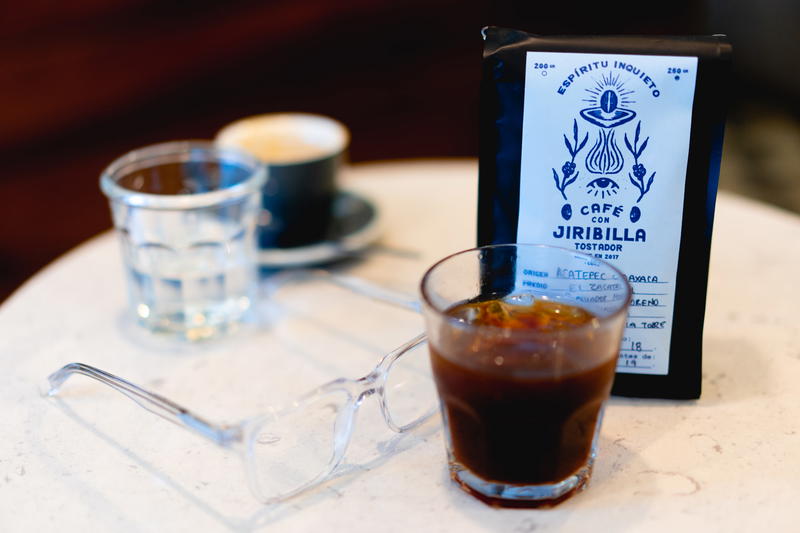 Concentrated cold brew coffee is generally a good option if you want to save money during travel and not be buying coffee every day.
Cold brew concentrate is also ideal if you have no desire (or time) to make cold brew coffee by yourself, on your trip.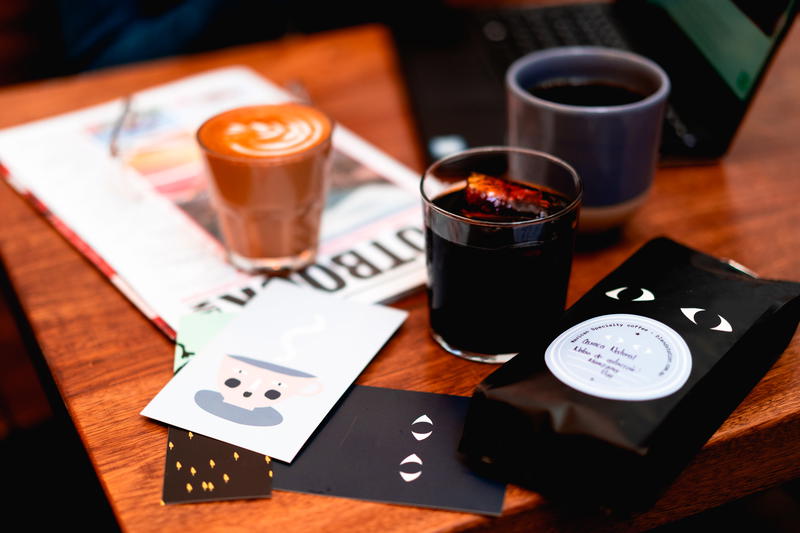 The concentrated cold brew should last you a few days if you buy a bottle, but it does depend on the size of the bottle you buy.
Funny story: I went to a brunch at a friend's house and poured some store-bought cold brew into my cup and didn't realize it was concentrated.
I drank probably the equivalent of three or four cups worth of coffee in one sitting. Big oops. Depending on your weight or body mass, this can be sort of dangerous!
My advice is to watch out and read labels when it comes to cold brew. Look for that word 'concentrate' on the label, and you'll be fine.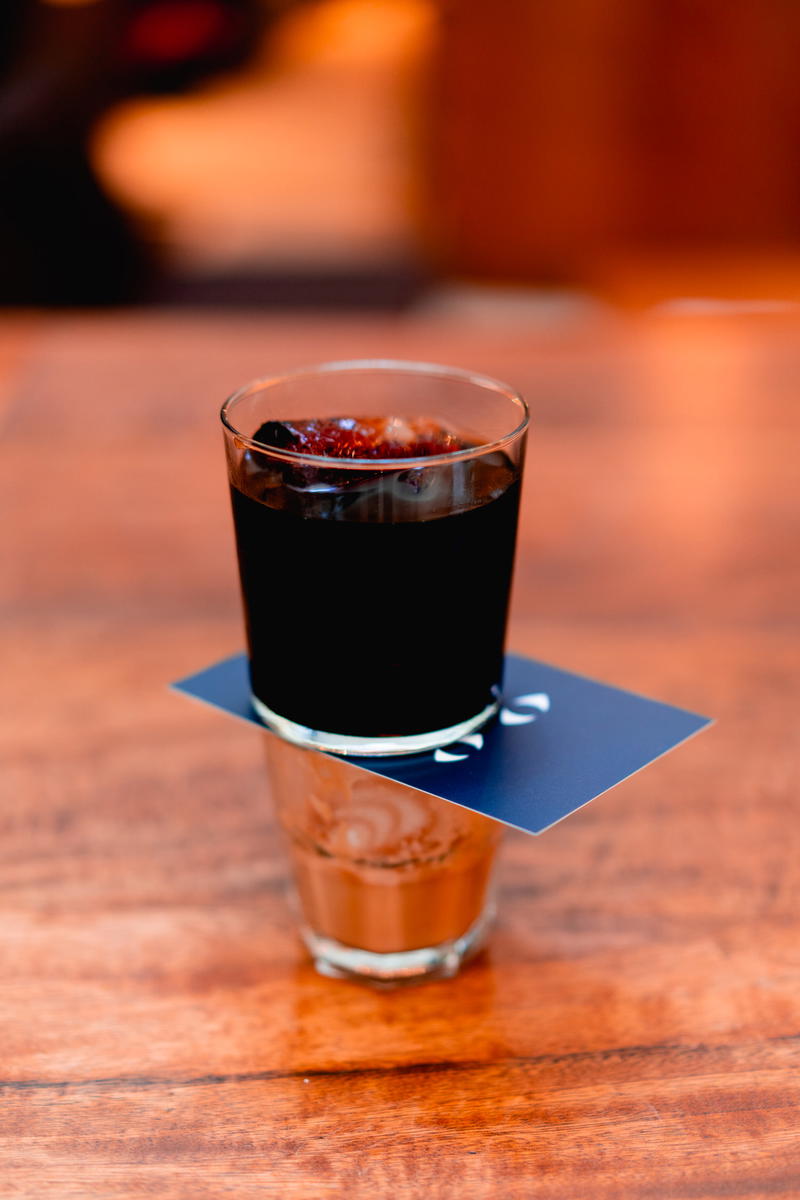 Coffee tea bags
One thing I can say is that I've experimented with making my own coffee tea bags and it didn't work out too well.
The coffee ratio that I tried wasn't quite right and it wasn't my favorite method. It also kind of reminded me of tea, but it was overly very convenient and stress-free in terms of coffee-making methods while on the road.
If this sounds like something that you want to get into, check out Steeped Coffee, or, from the makers of the Big Island Coffee Roasters Espresso Bites comes the travel-friendly Hawaiian Coffee Singles. These coffee-bag sachets just have to be steeped in hot water and then you have a cup of pretty darn good coffee.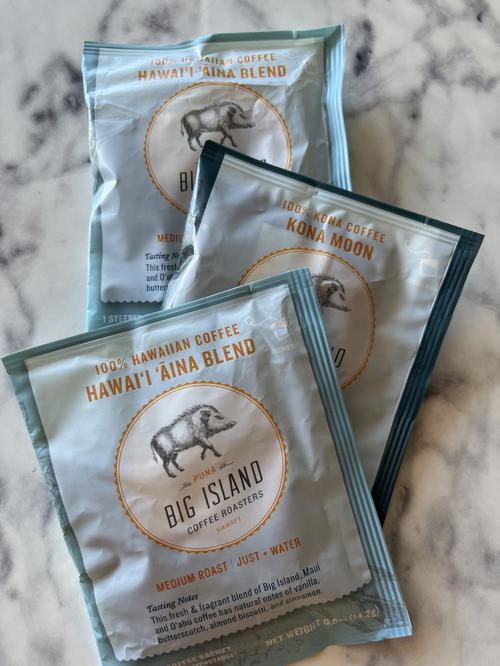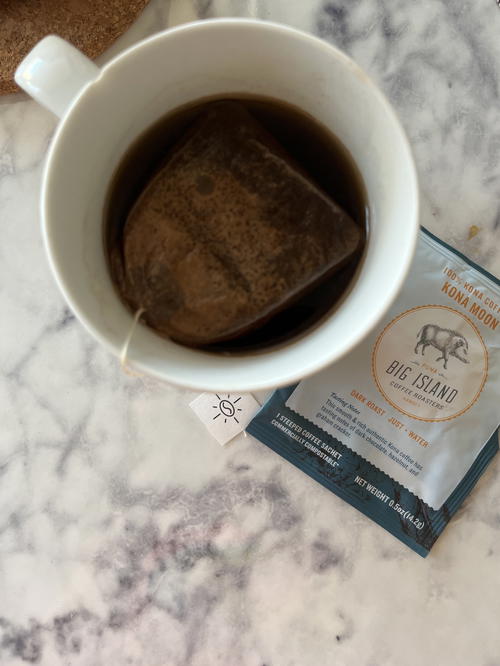 Drink tea instead of coffee
I know this is a coffee article, but tea is pretty good.
Tea is also very easy to travel with, and a few tea bags will have that caffeine kick if you're in a pinch!
Becca has done a lot of research into the caffeine levels of tea (mostly because she's a caffeine addict). If you want to nearly mimic a caffeine kick with tea in case there's no coffee around, try these:
Yerba mate (popular in Argentina)
Black tea (it comes from Sri Lanka a lot of the time!)
Green tea (most popular in East Asia, and welcomed around the world)
Instant coffee
Lastly, there's instant coffee.
Some people actually enjoy instant coffee. During our trip to Merida, Mexico, our first Airbnb had a coffee maker, but no filters, and no good coffee.
We didn't want to buy a nice bag of ground beans that might go to waste, because we were also planning on being at our coworking space nearby most days, and there was unlimited coffee there.
So, for the days on which we didn't attend the workspace, we drank instant. First, we got bad instant coffee, from a convenience store, and it was terrible. We then got a bottle of Nescafe instant coffee at Walmart, and used half of it. One of us tolerates instant coffee better than the other (we won't tell you who).
If you "tolerate" instant coffee, it's not a terrible backup plan if your accommodation has a way to heat up water, or a hot plate with a pot.
What are the benefits of making your own coffee while traveling?
If you want to save money while traveling, but you love coffee oh-so-much, check out the benefits of making your own coffee while traveling. We guarantee you'll be enthused to try making your own coffee in your hotel room, Airbnb, hostel or RV.
Save money
Did you ever think about how much people spend drinking coffee and going out to cafes?
Don't get us wrong, because we absolutely love trying new cafes, especially all over the world.
The catch is that this stuff really adds up, between the cost of coffee, and then add-ons like syrups, non-dairy milks, getting a bigger size, and then adding tax and tip, and you could be in for $5-6 in some parts of the world.
On one of our most recent trips to Montauk, in the Hamptons we drank complimentary hotel coffee in the morning instead of going out to chic cafes nearby. If you consider this like a save of $10 between two people per day, you could save $70 from a week-long trip just by drinking coffee in the hotel.
Try local coffee
For making your own local coffee while traveling, try buying roasts and blends from sources nearby.
This is one of our most favorite parts of traveling in coffee regions like Colombia and Mexico. In fact, when we went to Mexico, we found out that Mexico has a robust and growing coffee trade.
We never would've known that if we hadn't started our coffee tour of Mexico City at a cafe like BUNA, where we saw locally-sourced cafes from regions like Chiapas, and the same goes for cool cafes like Quentin.
Our advice here is to support local cafes by buying a bag of coffee, whether beans or ground, and if you're traveling somewhere in which the language is not English, learn how to say these words in the local lingo. For example, to say 'ground' in Spanish is 'molido.'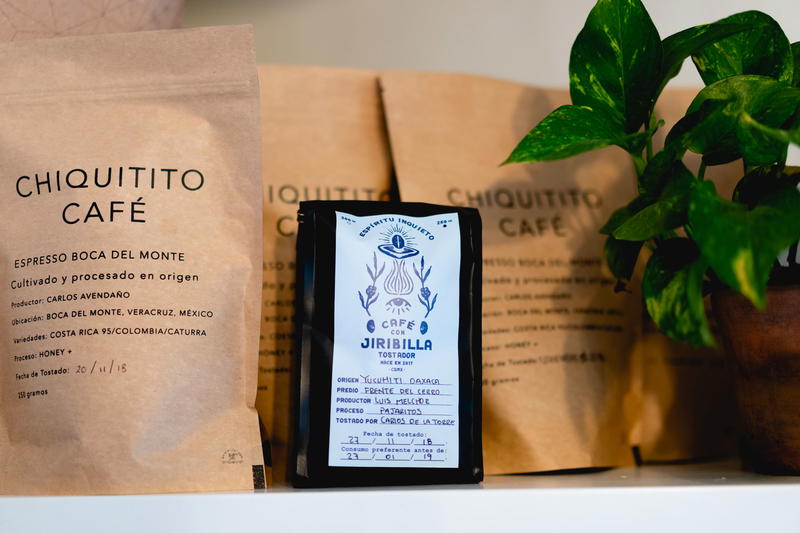 Support local businesses
Hand in hand with the above, when you buy locally-sourced coffees, you're supporting local businesses.
What we really liked in Bogota, Colombia, at cafes like Azahar was that you can learn all about the coffee shops' relationships with local farmers and coffee-growing families who are supported by the coffee you can buy there.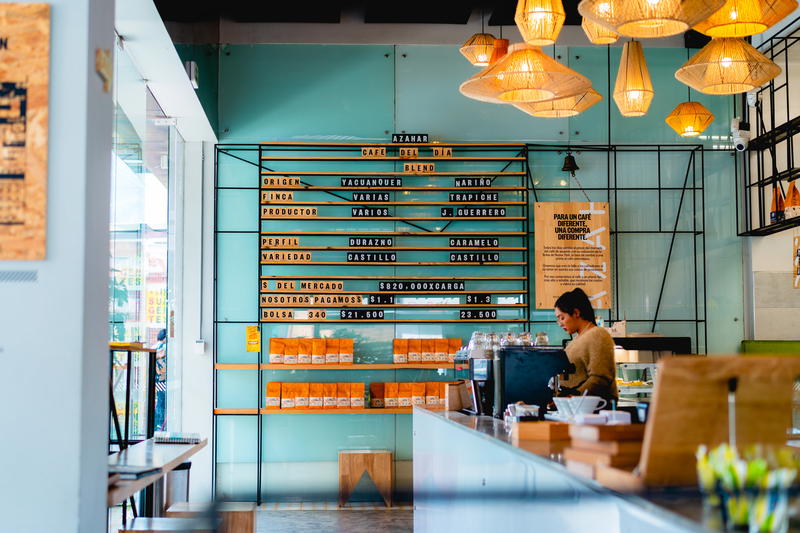 If you're heading to a city in a 'coffee country' like Bogota, Colombia, check out more photos of local coffee shops and experience a cafe like Colo Cafe.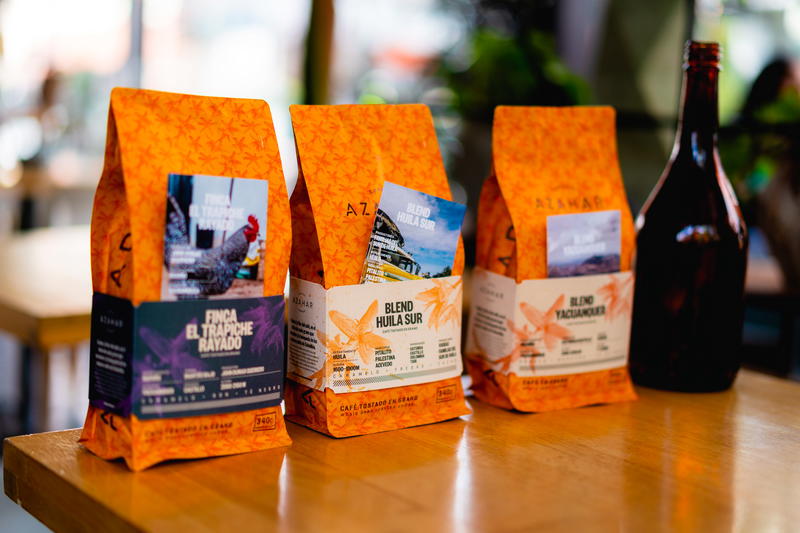 Have coffee on your own timeline
Let's say you're jetlagged and wake up at 4:00am. Wide awake. Cafes don't open for another four hours and you really want to get your day started.
Good thing you brought your mini coffee-making kit because this way, you're good to go!
When you travel with coffee-making supplies, you can make coffee whenever and wherever you want.
Other helpful tips to know through your coffee journey
Drinking good coffee is one thing, and making it well is another. It's why we're open to experiences like learning about coffee in a coffee brewing class to get better at the art of coffee.
It's even a third thing to travel well with coffee. Here are some more tips to consider for your coffee logistics during travel.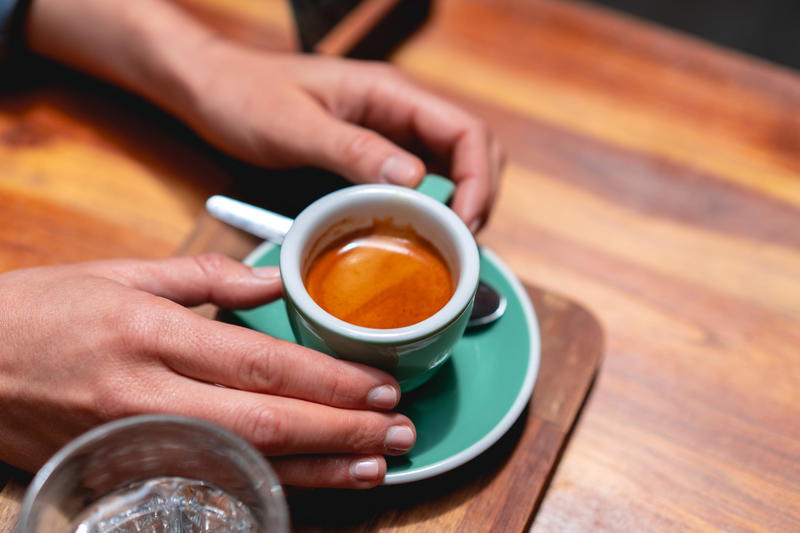 How to pack your coffee making kit
If your coffee kit is breakable, we don't recommend traveling with any of it. That's why we recommend a non-breakable plastic French press and the AeroPress we talked about, above.
Be prepared to declare any international coffee you buy
Upon re-entering your home country, or upon entering a second country on your trip, you may be asked to declare items that were near farms, agriculture, animals and the like.
Keep in mind that if you buy coffee on a coffee farm or if you pick it and roast it yourself or what have you, this might qualify as a good that must be declared. If you wish to err on the side of caution, you can ship coffee home from destinations on your trip, or order them by mail when you get home.
Have a lightweight resealable bag where you can transport your open coffee
No one likes a mess when they open their bag after a flight or train ride! In fact, it's one of the most disappointing things to realize you didn't close your shampoo correctly and now it's all over your clothes in your suitcase.
Traveling with coffee can yield the same type of challenge.
We recommend traveling with a resealable food storage bag, in which even if your coffee bag rips or spills, it's contained within a sturdy and thick bag that won't let the smell or the grinds leak onto your clothes or valuables.
Donate your leftover coffee to a local hostel or another traveler
We like hostels and communal spaces where travelers get to share things. One of the perks of a hostel kitchen is that people leave behind food items they can't take with them, and the newcomers get to benefit. We've been on both ends of the occasion!
We recently stayed at the guest house of a couple of friends, and knew that they had a visitor coming a week after us, so we left our half-used ground coffee in a cabinet for that person. It feels good to pass on the love of coffee, don't you agree?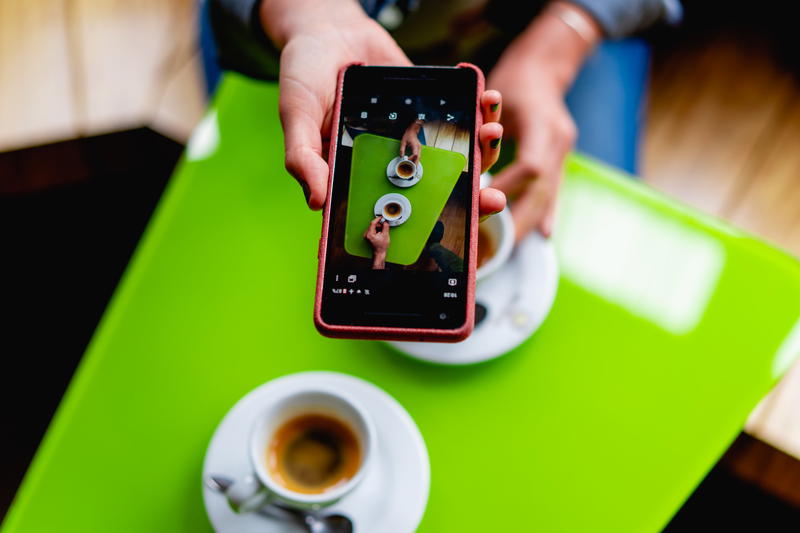 Enjoyed our article?
Consider supporting us! We're a 2-person team (learn more about us here) and your support enables us to create quality content. Thank you!