Adam's Coffee: Exploring Travel through Coffee
Written by Becca
•
Updated on September 6th, 2023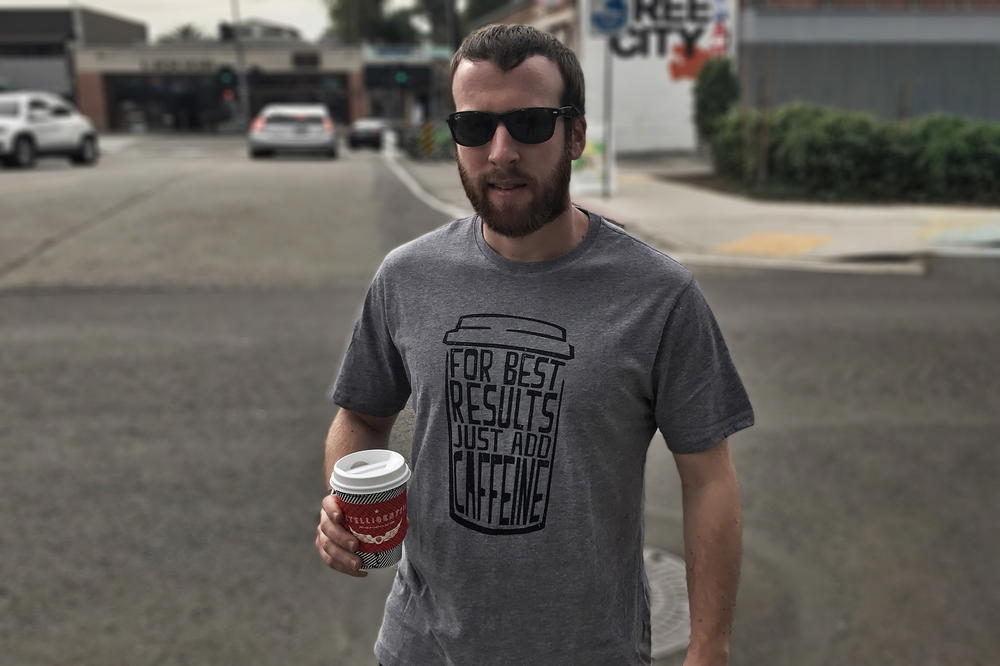 Ever think about traveling around the world for coffee? Our friend Adam started his Instagram to combine his love for coffee and travel. In this interview, he's sharing how it all began.
This article may contain affiliate links. We earn a small commissions when you purchase via those links — and it's free for you. It's only us (Becca & Dan) working on this website, so we value your support! Read our privacy policy and learn more about us.
---
How we met Adam is a true story of how Instagram turned into real life. There was one day when he posted a photo of half of one of his coffee photos with another half of one of his coffee photos, and he put them together to make one perfect image.
A friend of his said it was reminiscent of a recent photo seen on Instagram with halves of photos put together (ours, on our Instagram @halfhalftravel). The friend of Adam's forwarded our Instagram to him, and he sent us a message.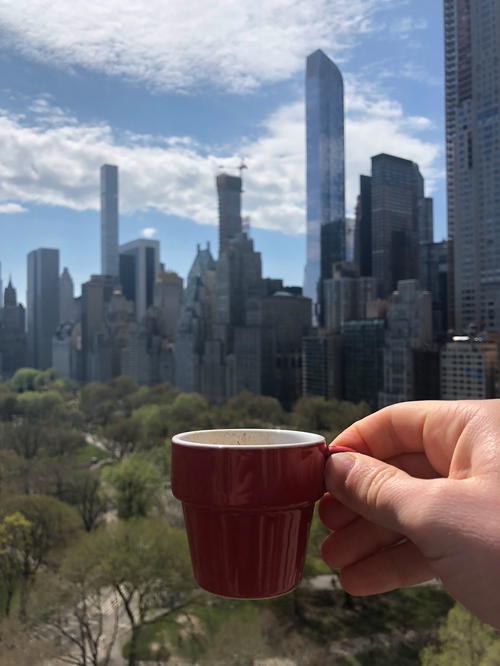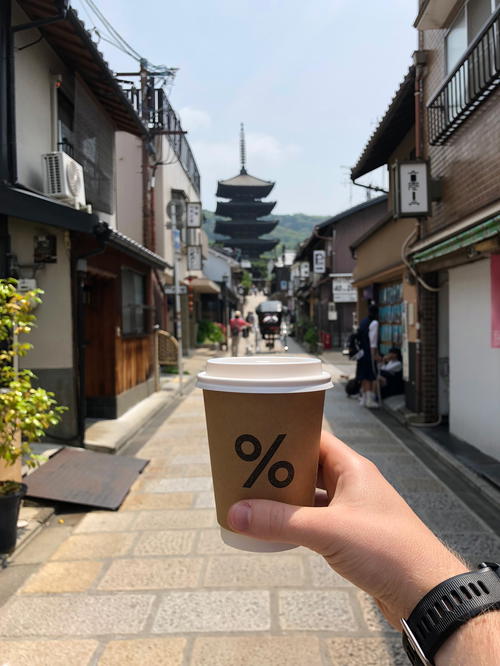 From there, using the small-world Israeli network, Becca realized she had a friend (or two?) in common with Adam - friends who had lived abroad in Israel and had met him several years back. We started talking. While Dan was still away on his year of travel, Becca met Adam (yes, for a coffee!) during Adam's trip to New York.
It was another several months later when we were in Israel that we had a chance to meet Adam in Tel Aviv and introduced him to some of our friends who have moved to TLV. Since then, we've hung out again all together in NYC (for coffee, naturally) and hope to see Adam in other parts of the world!
What we love about his work is how his photos on his Instagram transport us to a moment - a moment usually when he has just bought a coffee from a cool cafe and holds it up to the surrounding scenery. Something quintessential about a place will speak thousands of words before you even read the caption, like his coffee with a bamboo forest, with a Japanese pagoda, with Jerusalem's Old City or with the skyline of Shanghai.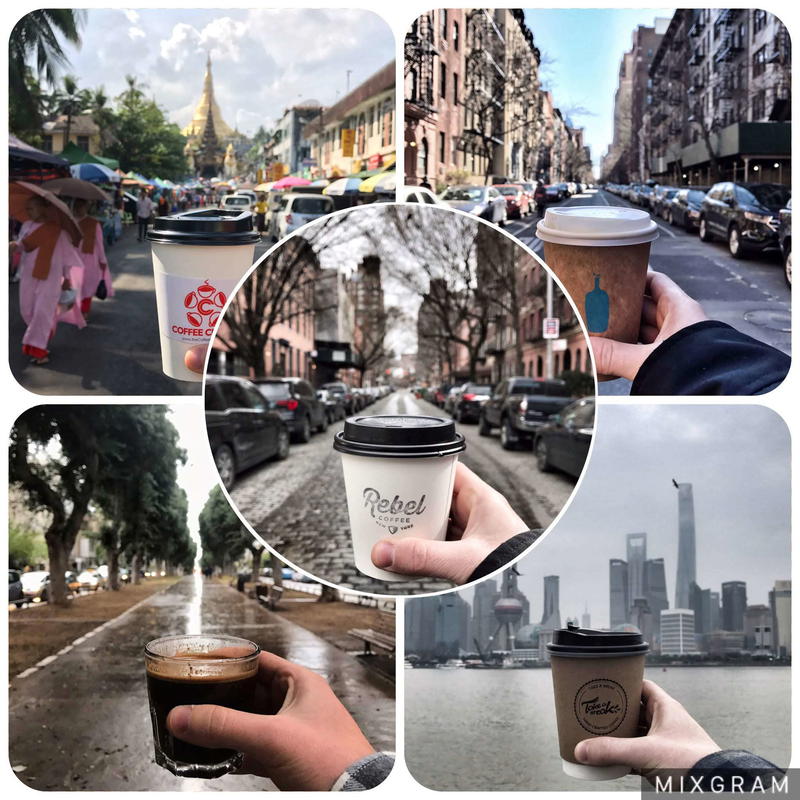 How did he start out with combining two things he loves into a type of art that has attracted thousands of fans? We interviewed Adam to find out.
Tell us a bit about yourself and @adams_coffee!
I am originally from Israel, but I have lived in five different countries over the last seven years.
Throughout my travels, I discovered my passion for coffee and found it to be a great way to travel and explore. My greatest achievement with my @adams_coffee Instagram account would be my account's quick growth, thanks to the many coffee and travel lovers who joined my journey, which is something I am very grateful for.
We had a whole bunch of questions for Adam about how his travels and his love of coffee began, and when he started combining the two into his unique coffee photos.
When did you first start your passion for coffee?
I would say that coffee is very much part of Israeli culture, so the answer would be quite early. With that said, I found my true passion for coffee once I started traveling more, and once I moved my life abroad, around six years ago.
When did you start with the coffee photos and think of the Instagram idea?
I started taking my "adams_coffee"-style photos back in 2012 when I flew to Argentina to surprise my brother, who was traveling in South America. I sat in a local cafe in Buenos Aires, ordered an espresso and saw a local artist playing the saxophone in the middle of the lively street.
For some reason, I thought to raise my espresso cup in the air and capture that moment. I then found it to be an awesome way to capture memories and started capturing more and more special moments throughout my travels.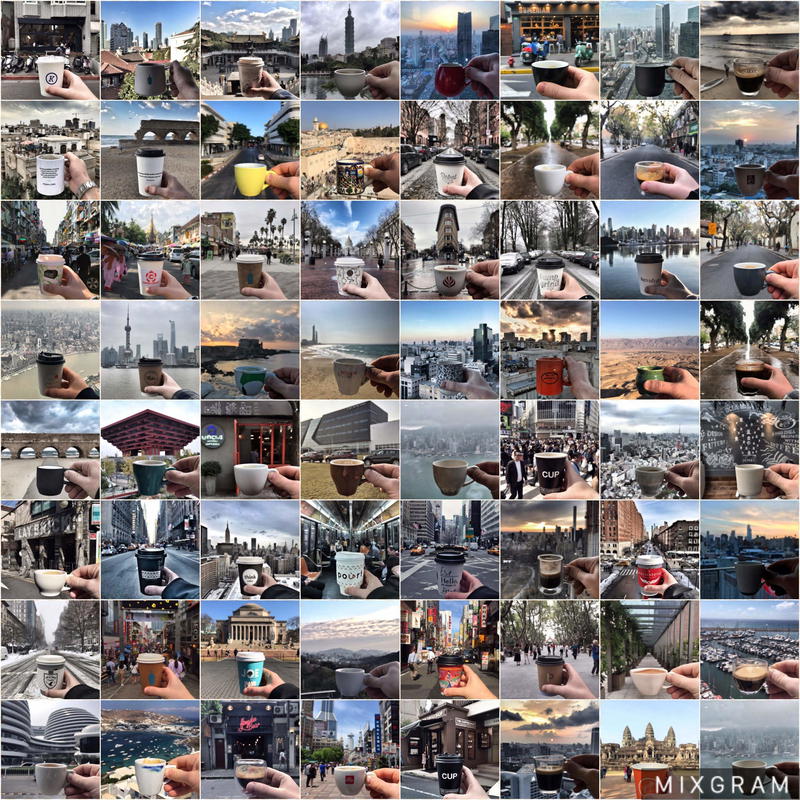 When did you start getting traction with the Instagram account?
I got traction with the Instagram probably around 2015 when I moved to Shanghai. I started exploring the amazing coffee scene in Shanghai and my account hasn't stopped growing ever since.
I think that people were attracted to the idea of traveling and exploring through a city's local coffee scene, which is something I am still doing today when I go to places I haven't been to before.
Where have you lived abroad, and how do you think living abroad changes your mindset about travel?
I lived in Tel Aviv, NYC, Shanghai, Singapore and now in Tokyo! Each and every place I have lived in has taught me a great deal about people, cultures and the different challenges associated with each move.
Moving has made me appreciate the little things that we usually take for granted and it also has allowed me to meet amazing people and see incredible places. Living in so many countries has broadened my horizons exponentially, proving to me time and time again how much is yet to be discovered - all of which I am truly grateful for!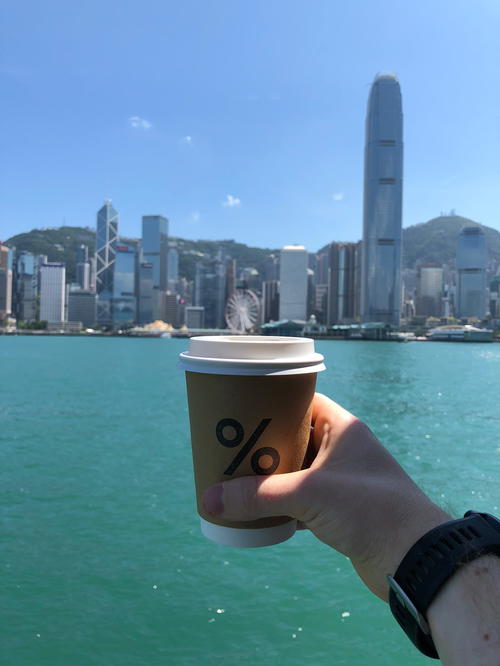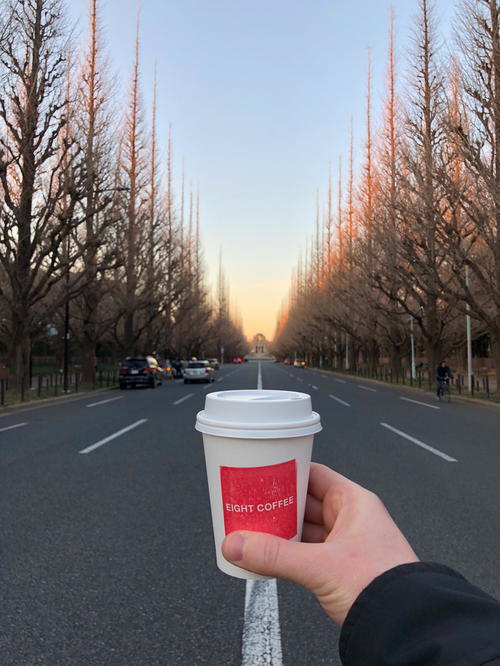 How do you think coffee allows people to explore the world?
I think that many people, regardless of where they are from and what they do in life, love traveling and love coffee. Traveling through coffee is an exciting way to explore new places and meet others.
Each city has its own coffee style, approach to coffee and so much more. Instead of looking at the "top 10 things to do in a city," I highly recommend going to visit the top 10 specialty coffee shops in that city.
You will be surprised by just how many top 10 things and places you will see along the way.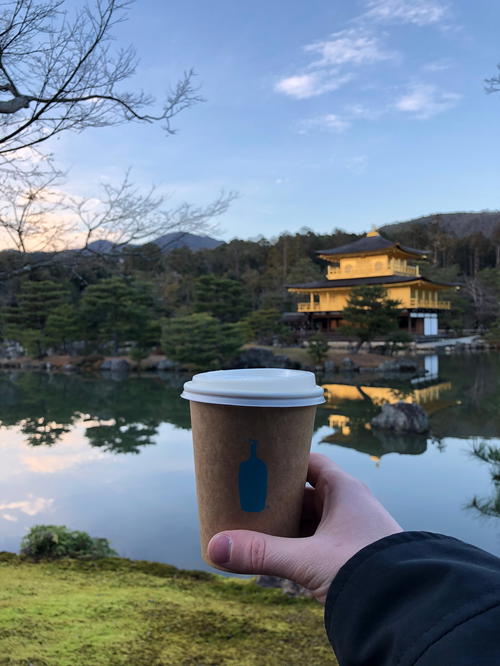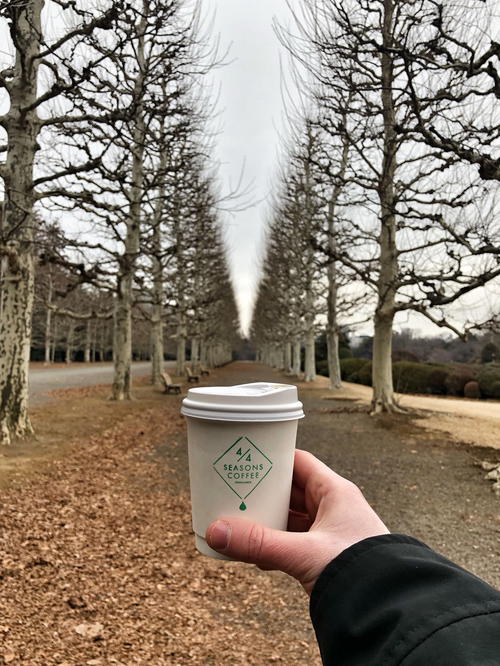 Where is your favorite place to have a coffee, and what's the best coffee you've ever had?
That's a tough one. If I had to choose a city, I would say Tokyo. Tokyo has some of the most stylish coffee shops I have ever been to. The attention to details, the design of the cafes and of course the coffee itself all combine into a perfect coffee experience.
If I had to choose a top experience, I would go with Angkor Wat (Cambodia). Just out of the main Angkor Wat temple, I found a small coffee truck that sold take-away coffee.
While it wasn't the best coffee I have ever had, it was certainly the most special one (check my Instagram account for that photo!).
In which other ways are you growing your brand?
I am not really putting too much effort in growing my brand. I really enjoy keeping my account authentic, which is also why I am not sponsoring noro advertising other accounts or brands. I love keeping it real, down to earth and authentic.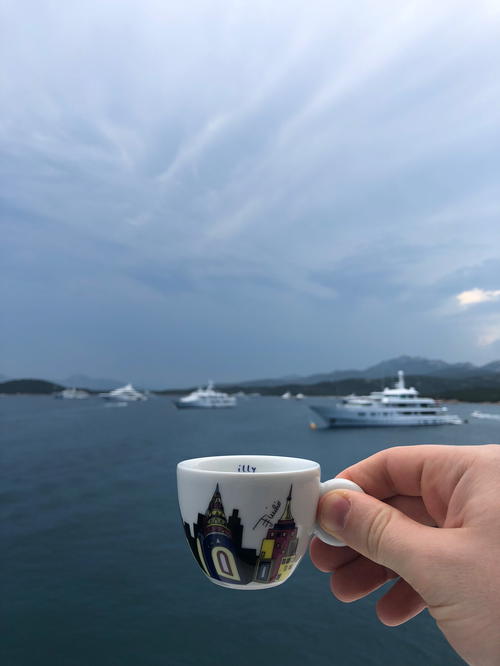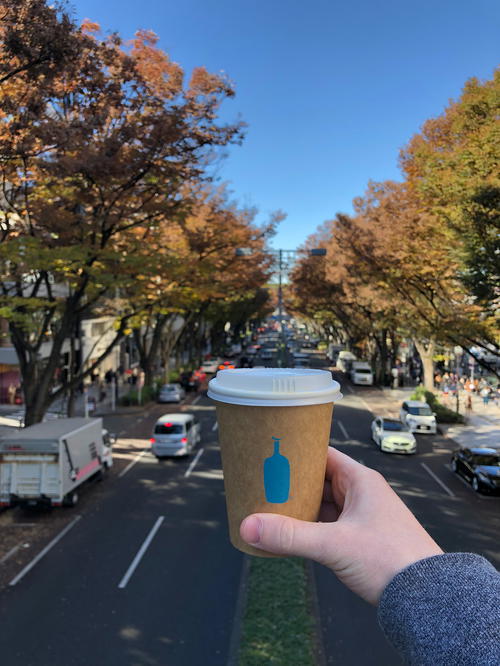 How's the coffee in Tokyo? Is there any type of community around it?
The coffee in Tokyo is incredible!
While many would think of Japan as a traditional tea culture (which in many cases it is), the coffee scene here is like nothing I have ever seen before.
There are dozens of specialty coffee shops all over the city that roast their own coffee beans and serve their coffee in a wide range of brewing methods. Combine that with the incredible local attention to detail (every single detail) and the stylish cafes (some of the most stylish places I've ever been to), and you get a perfect cup of coffee and a perfect experience!
What advice would you give to people who want to get into coffee hobbies and coffee photography?
Be authentic, explore as much as you can, try to add your own "touch," and most importantly - tell a story, one that will be uniquely yours. Good luck!
---
To follow Adam, check out his Instagram, @adams_coffee and be sure to say hi!
Enjoyed our article?
Consider supporting us! We're a 2-person team (learn more about us here) and your support enables us to create quality content. Thank you!