NYC Travel Influencers and Bloggers to Follow
Written by Becca
•
Updated on October 18th, 2023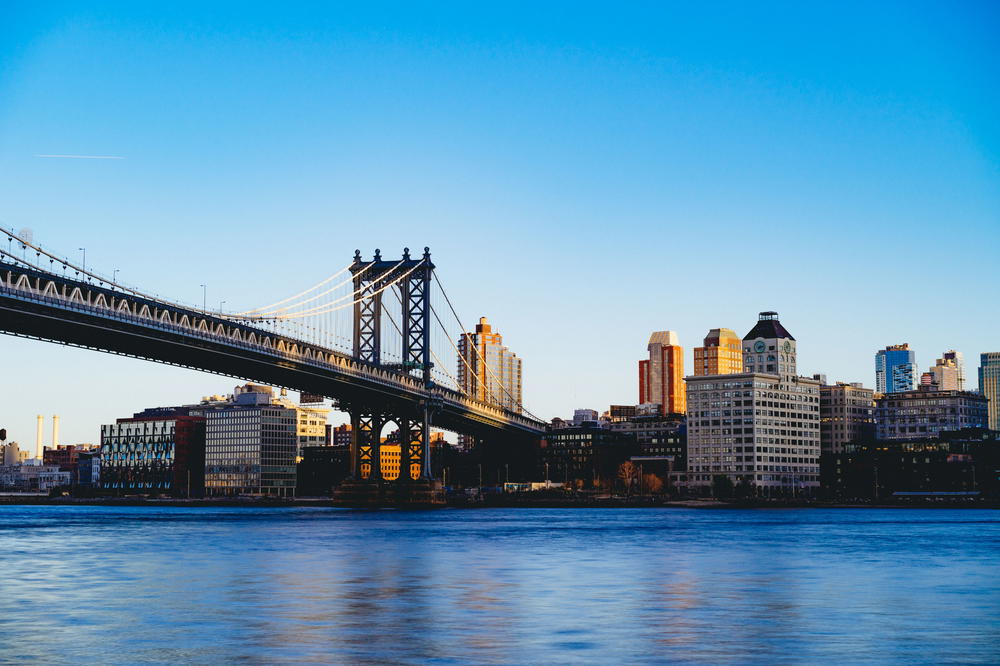 Looking for new travel bloggers and influencers who call NYC home? These NYC-based professionals are talented, and will give you inspiration to travel, in addition to exploring NYC.
This article may contain affiliate links. We earn a small commissions when you purchase via those links — and it's free for you. It's only us (Becca & Dan) working on this website, so we value your support! Read our privacy policy and learn more about us.
Table of contents
Close table of contents
As you know from our travel guides and travel advice, we love to see the world and experience all the beauty and culture that exists as soon as we leave home.
While we live to adventure to far-off places, we do have a home base, and that's in Brooklyn, NY! We've found that the more we find travel photographers, influencers and professionals with whom we interact over social media, the more we find that many of these people have home bases.
And, lots of them live in New York. Check out this list of NYC-based creatives, photographers and influencers who call the city home and travel at every chance they get.
Surprise, it's us! Are you following us on Instagram?
We're a NYC-based couple who met in 2015. Aligning over a love of travel, photography, exploration and learning about new cultures, we've traveled to more countries together than we can count (we stopped counting, actually). You can see our travels here.
Next, we both love living in New York City (it's the greatest city in the world). We like that you can feel like you're always seeing something new, because the city itself is massive and there's always something to do.
We like to do cool stuff like take photos from the top of the Empire State Building, go for a run in all of NYC's parks and tell you all about day trips you can take from NYC, because we've done them!
If you'd like to find us, we're probably out taking photos at our favorite photo spots in Brooklyn, or we're home on our couch writing this website.
Eager to learn more about us? Check out our story.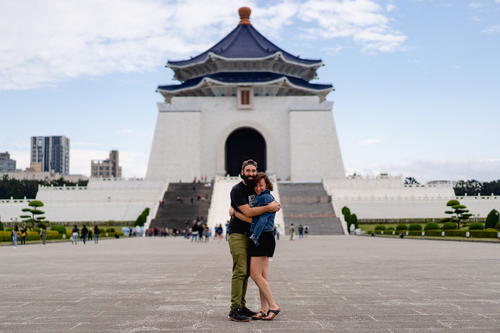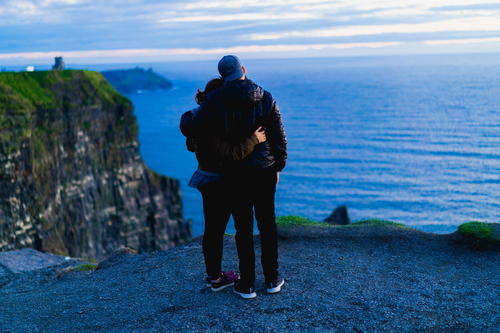 Jeremy Cohen has a great aesthetic and got a heap of press in 2020 for doing his creative (and adorable) "Bubble Boy" idea to serenade a girl on a neighboring rooftop during quarantine.
His Instagram @jermcohen has a massive following, and is varied, from shots around NYC to portraits from around the world. His additional portrait portfolio is on Instagram at @todayiphotographed.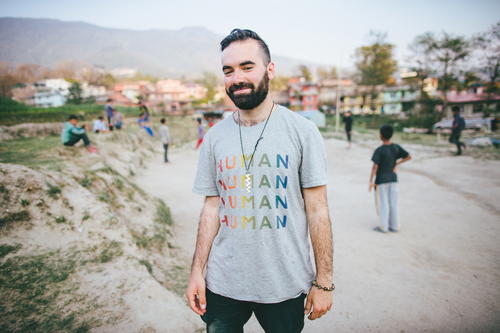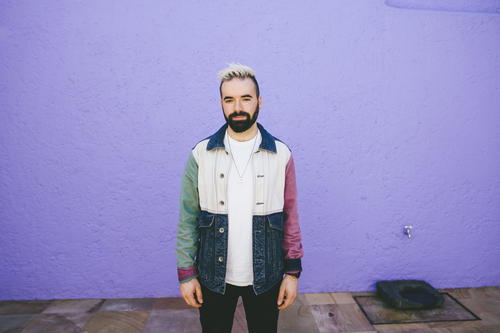 A bit about Jeremy Cohen:
I love to travel. I'm grateful I get to go so many places for work, but often while traveling for work, I don't have much free time for myself. My trick is to get my flight back home a couple days or so after the shoot ends, so I have free time to explore for myself. I like to think of it as a free mini-vacation."
How important is travel for his business?
It's imperative for me to travel as a person and as an artist. Its so easy to get stuck in our own bubble of only knowing how life works where we live, by traveling and seeing how different life is in other places, it gives me perspective. I'm in the business of photographing people, and meeting people from all over the world gives me a better understanding of people, which makes for better portraits.
Most memorable place you've traveled to recently:
Nepal.
How do you use NYC as a canvas for photography or emulate travel experiences in the city?
There are so many characters to photograph here in NYC, I like to walk around with my camera, and often I see someone that catches my eye and want to photograph. Doing this so much here built up my confidence to photograph strangers in other countries, even if there's a language barrier. I have a side project where I photograph strangers all over the world on IG at @TodayIphotographed.
Gabi & Shanna describe themselves as two lesbians in love, traveling the world, on their colorful Instagram. When they're not traveling, they're attending LGBTQ+ pride events in NYC, showing us their behind-the-scenes of making videos and sharing a 'slice of life' of living as NYC locals!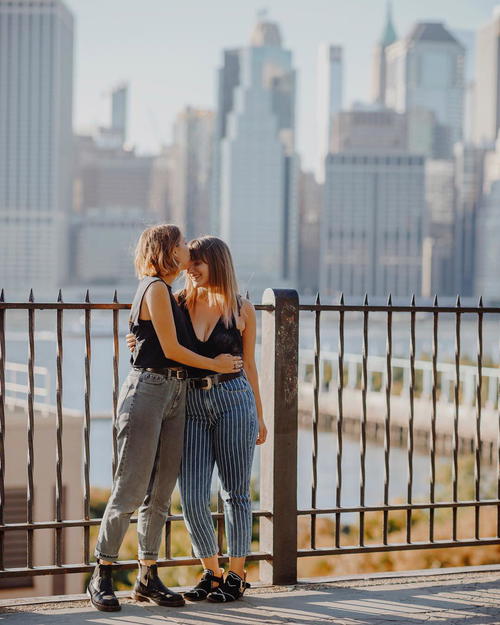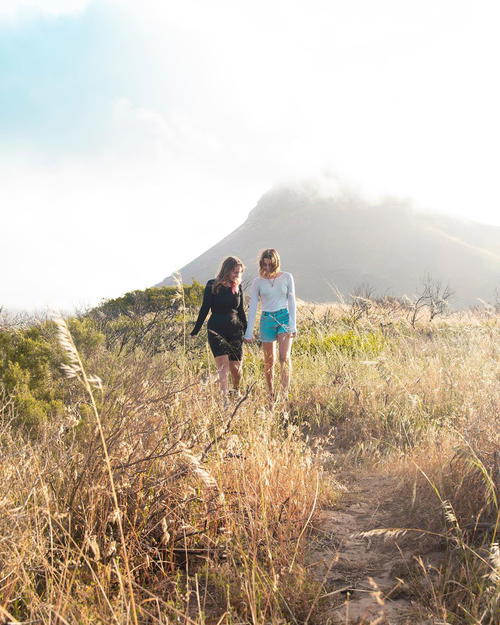 They also run a blog where they feature cool articles like a vegan guide to Curacao, where interestingly enough, one of them has some family ties.
Follow Gabi & Shanna on Instagram
Saunak Shah is one of our favorite portrait photographers to follow on Instagram, and we're so happy that he recently moved to Brooklyn!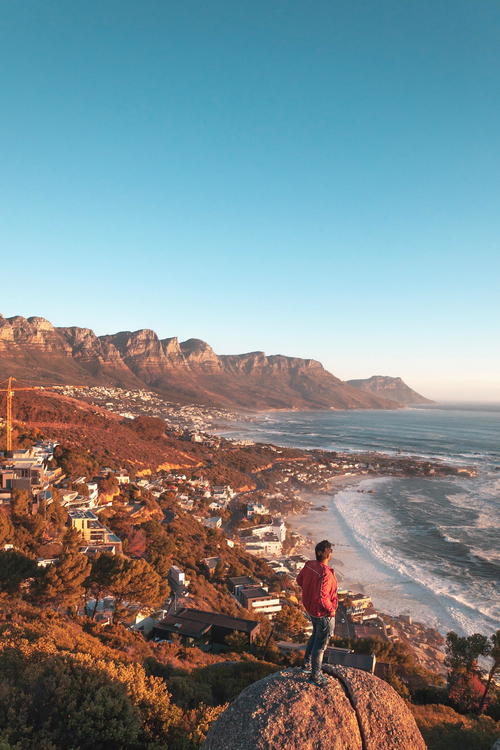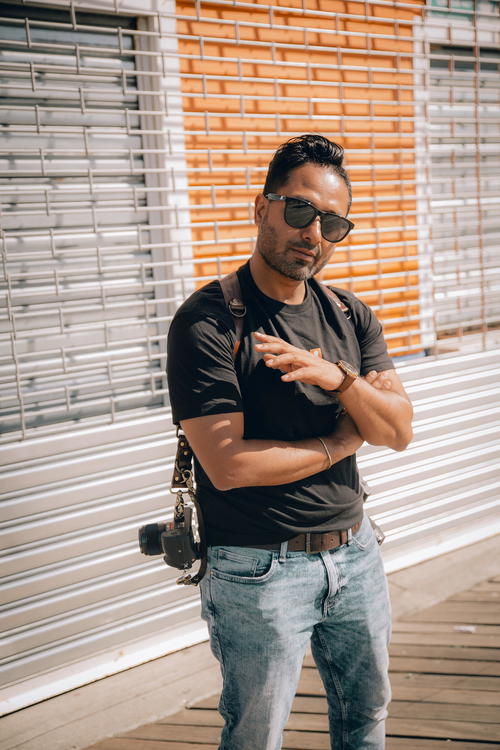 We met Saunak through the Remote Year professional network at an event called the Future of Work, and we've been virtual buddies ever since. Lucky for us, we've been able to attend two of his gallery openings this year in Manhattan and Brooklyn for his collective, Pursuit of Portraits.
Saunak is incredible because he has this special gift of creating community and linking talented photographers across the globe with each other. He's always on the road and has traveled to more than 35 countries across five continents, but now he calls NYC his home base as well.
Tell us about yourself, in regard to how you moved to NYC and still travel all the time!
Living in New York is tough, but I realized that if you can find a way to travel and get paid, it's a win-win if that's the lifestyle you choose to seek. I quit my corporate job, sold my car and rented my house in Jersey so I could get a small studio in Brooklyn with bare essentials and be able to travel when an opportunity arises.
The thing about a nomadic work culture is to not get locked into any one situation and to be able to pack a bag and set out on the road as often as you can. Eventually, you learn to strike a balance between what pays the bills and what truly drives you to live your life.
How travel is important for your brand & business?
Pursuit of Portraits was created with the mission to bring the global community of creators together. Fueled by our partnerships and sponsorship opportunities, travel has enabled us go places and meet creators in person.
In a digital landscape, we have been able to drive our mission by bridging the gap between online and in-person connections, capture visual stories and measure impact to provide value to our partners and brands alike. Travel from the onset has been essential and has been the DNA of everything we do.
What have been some of the most unique trips you've taken recently?
The month of November I visited Tulum in Mexico, Havana & Trinidad in Cuba and Antigua in Guatemala. The most memorable place was summiting the Mount Acatenango and witnessing the active volcano Fuego erupt on the summit from a distance at sunrise.
How are you using NYC as a backdrop?
Documenting elements of city life are key to my storytelling. People and places and how they co-exist among the landscape of nature, architecture and city life is what makes a place interesting for me. Needless to say, New York City is a constant rush and I'm often looking for everyday moments that otherwise get lost in the busy routines.
I'm always looking to create narratives in portraiture that surround themes related to identity, style and fashion, sense of place, color and overall mood.
Richard is a fashion and social media YouTuber and Instagrammer from Venezuela. In a recent move, he now calls NYC home, and he's brought his infectious smile and humor here! It's hard to watch one of his videos without laughing because he is so peppy and expressive.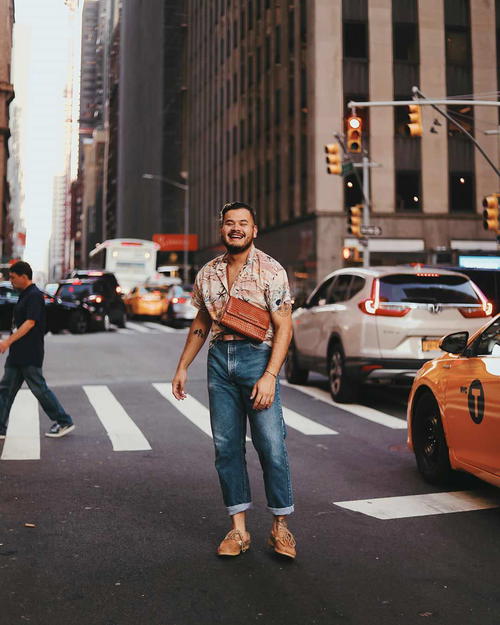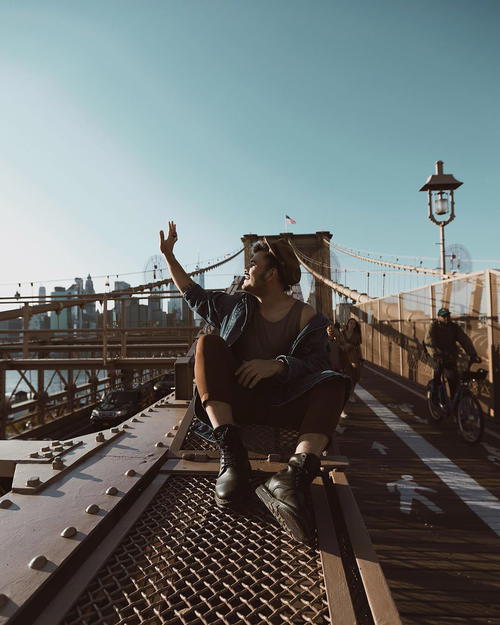 What's great about Richard's photos is that he uses NYC as a backdrop for showcasing looks in fashion and things to do. Just looking at his photos makes us want to hang with him at one of his fun photo shoots. It also makes us feel like we need to get out of the house more and explore the streets of NYC.
If you want to practice (or learn) Spanish, start following Richard and you'll start picking it up fast!
How does NYC make you feel now that you're here?
Living in the city has been the wildest experience in my life so far. New York makes you feel creative every single minute of the day.
Tell us about how travel is important for your brand & business
I want to connect with my community through experiences, and I think traveling is the number one on their lists. That's why I'm trying to add more traveling content to my platforms — so we can make it happen together.
What's your the most memorable place you've traveled to recently?
Miami. That was my last trip and it was great! I went there for Miami Fashion Week and of course, to visit my family and friends.
How would you say you use NYC as a canvas for photography?
Thanks to the city, I've learned that every single corner is special. Each can mean something to someone. Back home in Venezuela, I used to look for spots that had a "different look" from what they were. Nowadays, I'm looking for special spots for what they are.
Sebastian Modak is serious travel goals, because he was the New York Times "52 Places Traveler" in 2019.
This means he spent every week in a different place, from French Polynesia to Tunisia. Before he was jet-setting with no breaks, he was an NYC-based digital journalist for Conde Nast and a host of other publications. He has also lived on four continents. He currently is working as a writer for Lonely Planet and he enjoys biking in Brooklyn and beyond.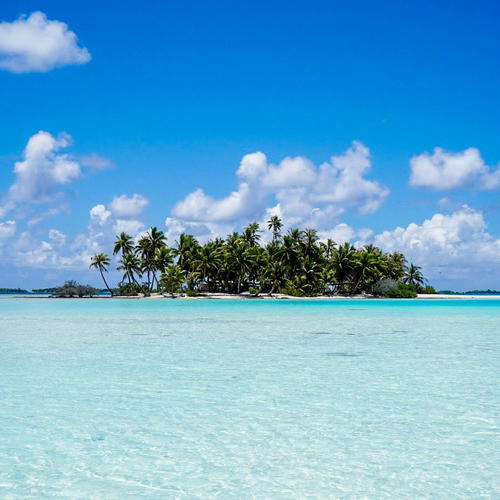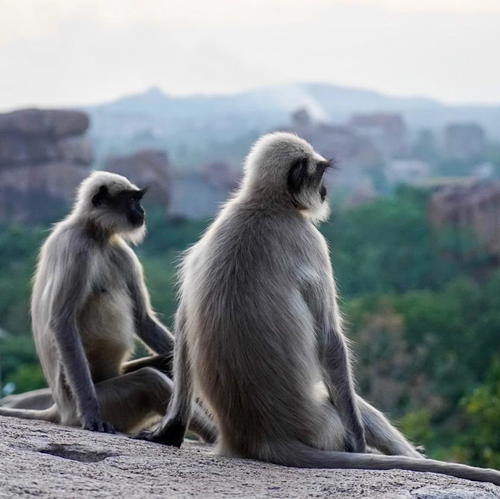 On his personal website you can read more about his published work about world travel, naturally, and also, the music scene in Botswana (he spent some significant time there, too).
Meir Kay (Meir Kalmanson), @meirkay
Note: Meir has since moved to Los Angeles!
Have a great day — it's Meir Kay! Meir is the perfect storm of public speaker, filmmaker, creative and icon for his generation in terms of his positive vibes and message.
Basically, you'll want to immediately start following his YouTube, where he posts videos filmed both in NYC and outside, about positive thinking, gratitude, helping others and being a good friend.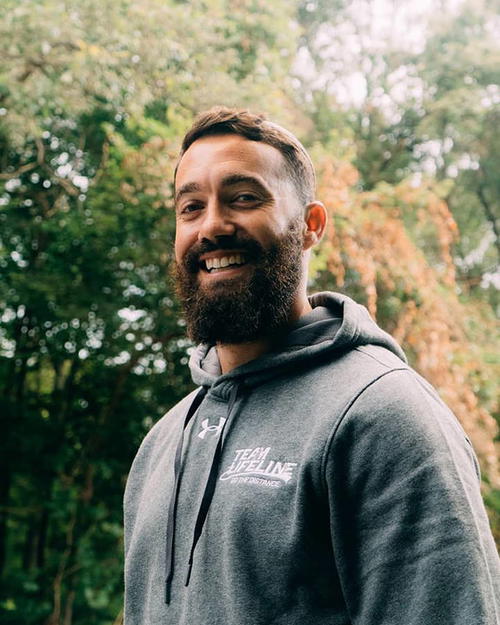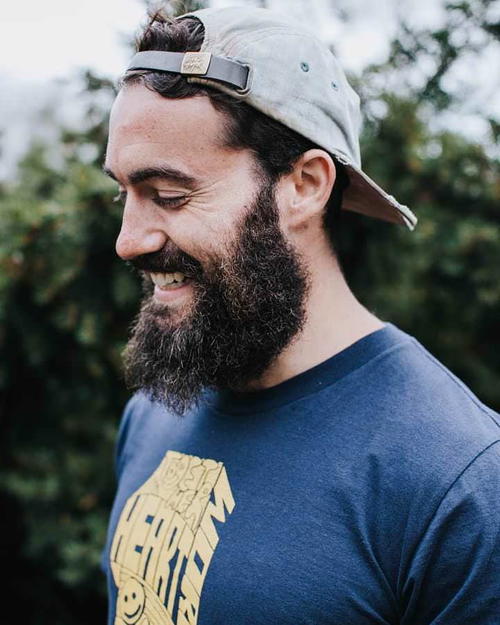 In addition to being present at home in Brooklyn and being part of the community here, Meir travels… a lot! He has created content in Africa, traveled recently to Ukraine (and documented it), visited Israel and you better bet he first went viral dancing around the world in 2012.
Lucky for all of us he just started a podcast series called The Great Day Podcast with Meir Kay. Can't wait to listen!
We met Dan Calderwood, who goes by @dancalders on Insta at a photo walk that we led in NYC last year. You can't tell by looking at him, but he grew up in Africa and moved to NYC in recent years. This is how he's able to have such an international perspective on all things photography.
With a love for travel, adventure, photography and a digital nomad career, his photography portfolio is super unique. In Africa, he had a corporate journalism digital career (in online video production!) for a decade before giving that all up to move to the other side of the world and experience living in New York City.
Now, he likes to travel the world as much as possible (who doesn't?) and shows us how it's done, from Cuba to Hong Kong.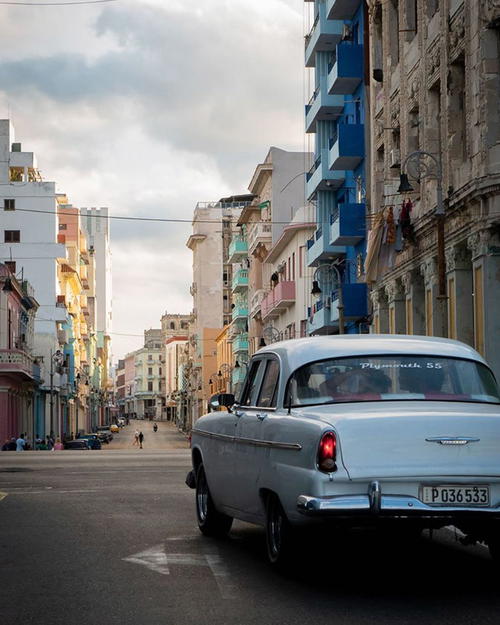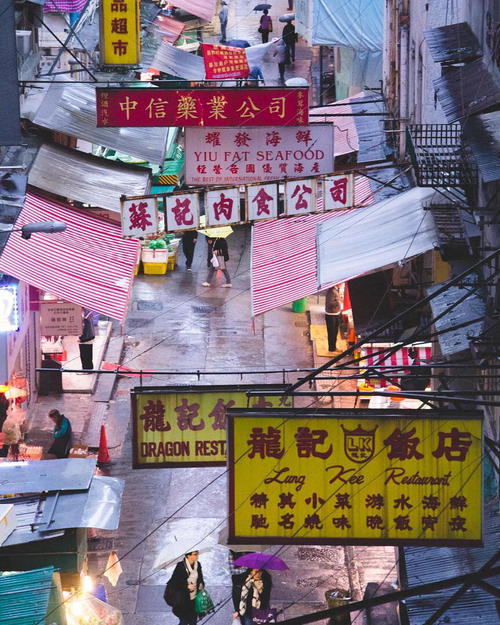 We met Krity at a travel event in NYC, and that was when we started keeping in touch over Instagram.
Krity is a fashion designer by day and blogger by night who focuses on beauty, lifestyle and travel on her Instagram. She uses various spots in NYC as her backdrops, from Central Park to SoHo and from Brooklyn to Bryant Park. Her goal is to make everyone, regardless of age, shape or background, feel like a 'million bucks' through what they choose to wear, from dresses to shoes.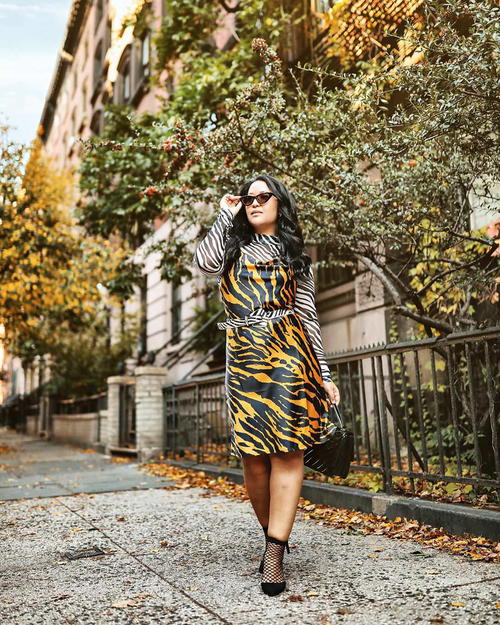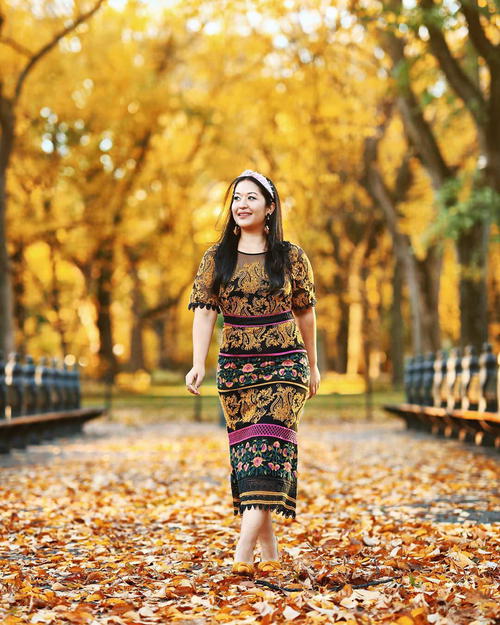 As for going places, if you browse the travel section of her website, you'll find guides to Iceland, Upstate NY and Miami.
Bethany is an NYC-based realtor who has a busy business and still finds time to travel. We really enjoyed her recent trip to Luxembourg (goals!) and her blog posts about South America. Did you know she's even been to Paraguay? It's on our list!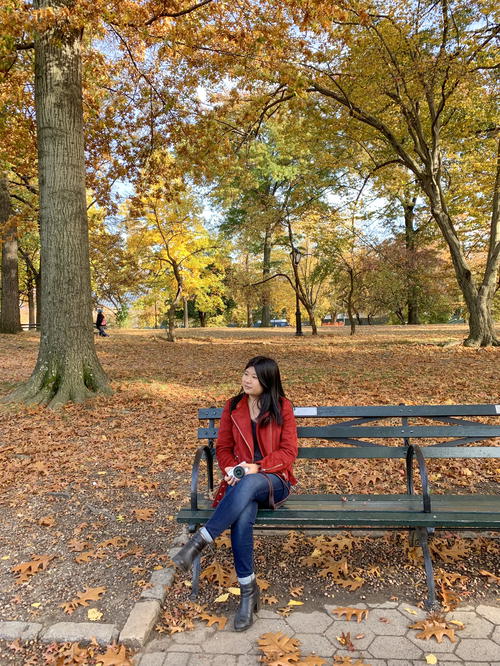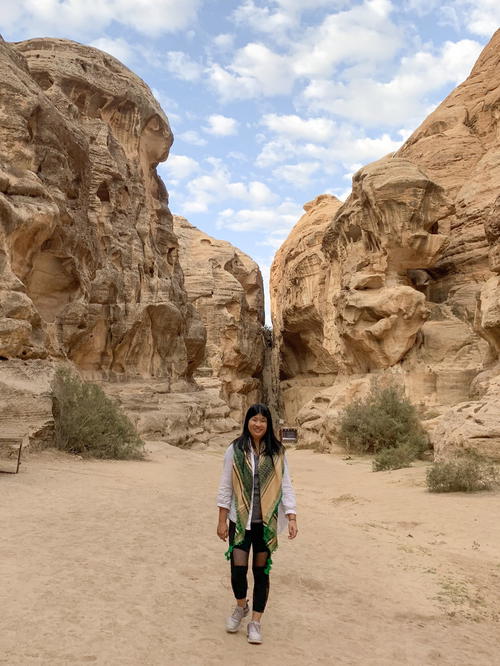 A bit about Bethany:
I work with my mom as a realtor. We take trips at different times to get away from the stress and for a change of environment as much as possible. Life is so fast-paced in NYC, so I find it essential to schedule trips at least once a quarter. Plus, it's convenient to travel out of the city, as there's so many direct flights from NYC.
How travel is important for your brand & business?
I've recently taken over as a writer and editor for www.thither.com, founded by my brother, where we write about travel experiences and travel gear that we've used and tested. I also occasionally freelance with a tourism board, so I like to do my own 'research' (my excuse for traveling!).
Favorite places you've traveled to recently?
I rarely travel to the same place twice, but when I went to Edinburgh last spring, I found myself going back there two more times in the last year.
How do you use NYC as a canvas for photography?
I schedule a day every month to pick a neighborhood to explore and shoot with a friend. I was born in NYC, but still feel like a tourist - going to streets, cafes and restaurants that I've never been to before.
Lauren is a double-whammy of Instagram photos. She started on Instagram with her love of food in NYC at @eats.and.the.city, and we can't get enough of her mouth-watering shots of everything delicious in New York.
Note: Lauren has moved to Long Island, NY!
She's giving back though, so read on: the 'link in bio' on her food account takes you to City Harvest, where she'd love if you could donate to make a powerful impact, providing food to 'feed NYC.'
Wait, though, because Lauren also loves to escape the city and travel! She runs @yournextbucketlist to inspire Instagrammers to travel to places they may not have heard of, from the Atacama Dessert to Mozambique. We're hooked!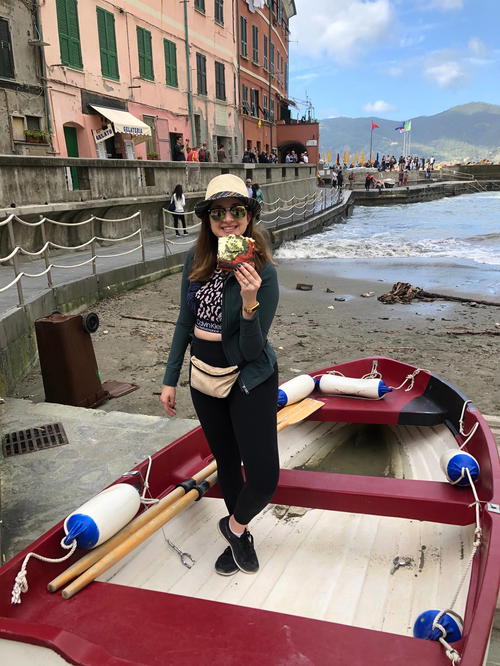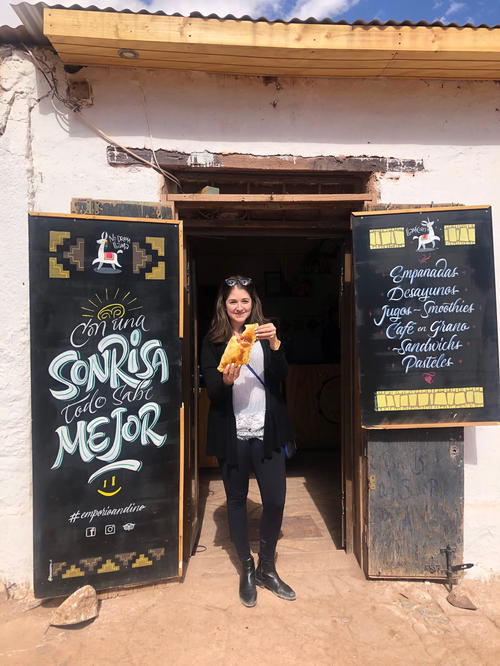 Lauren, you live in NYC, but how do you still find time to travel and focus on travel?
Traveling has always been a passion of mine. It started when I went abroad in Barcelona and since have made an effort to go to at least one country a year (if not more!). Before my grandma passed away, she told me traveling and learning about other cultures will change my outlook on life, and since, I've become a lot more open-minded and appreciative for what I have. I am also so lucky I have a husband who is as eager to see the world as much as I am!
How travel is important for your brand & business?
So important! As soon as I book a trip, I research the restaurants I am going to eat at (sometimes I do this before I even book the trip, to get excited about a new location).
Favorite/most memorable places you've traveled to recently?
South Africa, Chile, Peru and Italy (Lake Como, Cinque Terre and Portofino). We're going to Japan in March 2020 and I can't wait to eat sushi for breakfast for 14 days straight!
How do you use NYC as a canvas for photography or emulate travel experiences in the city?
I love being a tourist in my own city. For Eats & The City, I have my go-to restaurants that I will recommend over and over again, but I love trying new spots across the 5 boroughs (although, if it's out of Manhattan, it has to have an A rating with at least 4 stars on Yelp!).
Stacie is a self-described 'design-obsessed' traveler, and you'll find that out when you see her Instagram full of aesthetics in spaces and places. She has been to six continents and recently took an around-the-world trip with her husband, visiting 70 countries. Goals!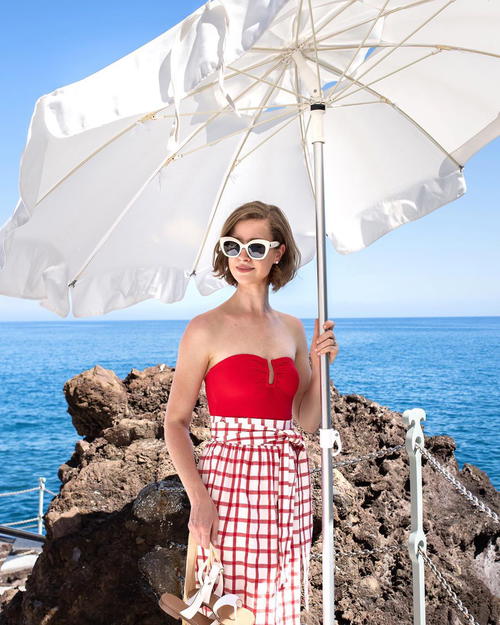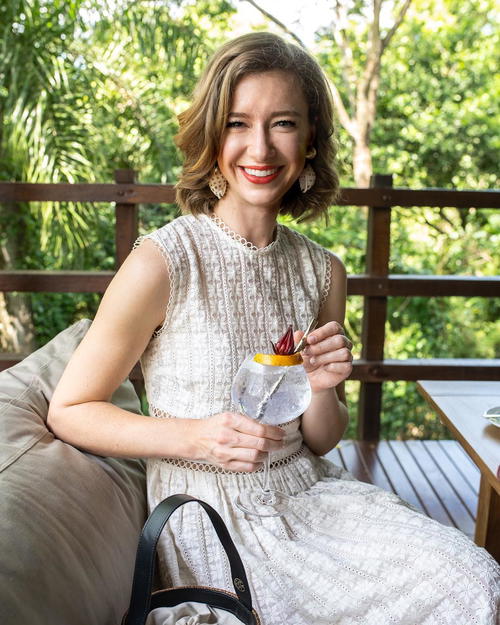 When she's not traveling, she likes to show her audience what she's wearing and how to get it or style it, along with the latest trends in interior design. You can be sure that her Pinterest page is an eye-ful!
Josh Katz is a buddy of ours who is a serious photographer (and he also likes to travel).
If you want to get a really good book, you can buy his book "On the Roof", complete with amazing photos of the things people did from their rooftops during quarantine in 2020. He expertly wrote and published this book with all his photos and donated all his proceeds to Doctors without Borders. Pretty incredible.
His website can be found at joshkatz.me where you can see some of his projects, including the times that really make him glow, like photographing NYC at Halloween, Pride week and more. He was recently also featured in Time Magazine.
Josh can find travel inspirations really quite anywhere he looks. He told us: "Sometimes I'll get on the subway without a plan and get off at a random stop. There are countless neighborhoods to discover, and just when you think you've seen it all, you'll discover a new microneighborhood with the richest community on the last stop of a subway line. I had this experience recently visiting Little Bangladesh on the last stop of the F Train."
Follow Josh Katz on Instagram here.
** 2022 Update: Greg & Corina have moved to Miami and you can find them there.**
We found out recently that Greg and Corina live in NYC, and they travel all the time. Their photos of places abroad and places within the city are truly beautiful!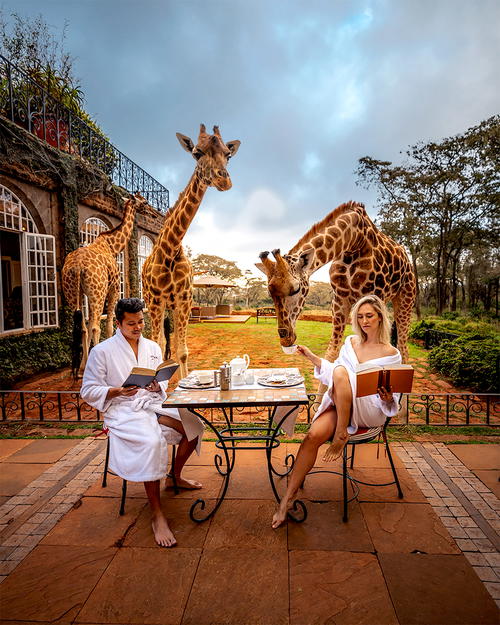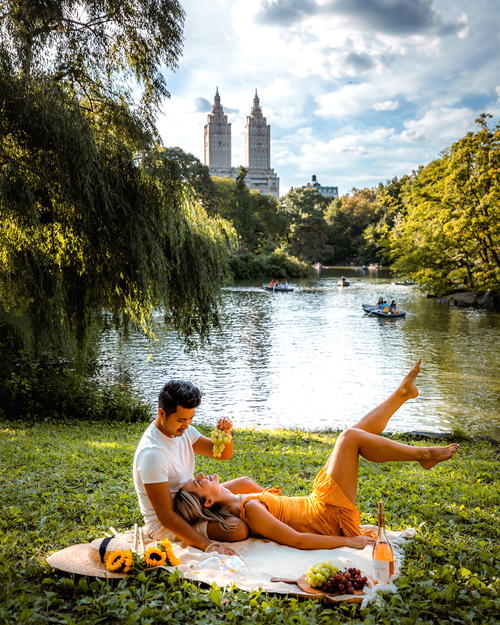 How do you find time to travel while living in NYC?
We loving calling NYC our home base for a number of reasons. One, it is very easy to travel to almost anywhere in the world from here. Two, while we are not traveling, we still feel like we are because of the energy NYC has. We are part-time travelers and Greg still has a full-time job in the corporate world. Corina works on our travel blog full-time. This really helps us keep our travel life/business going.
How travel is important for your brand & business?
We find brands prefer to work with us when we are traveling. This gives the brand an opportunity to have their product showcased in a location it most likely would have not been in otherwise.
Favorite/most memorable places you've traveled to recently:
East Africa, hands down! We did a 12-day safari through Tanzania and Kenya, ending the trip at the Giraffe Manor in Kenya. It was one for the books for sure!
How do you two use NYC as a canvas for photography or emulate travel experiences in the city?
NYC is a photographer's dream, with so many interesting places to shoot! This it makes it easy for us to continue our photography even when we are not traveling. We also find our followers really love to see this side of our life as well.
Follow Greg & Corina on Instagram
We interviewed Chase Guttman for our interview section because of his expertise on drone photography and videography. Chase is a travel photographer, born and raised in NYC, whose Instagram showcases beautiful patterns, landscapes and famous places from above.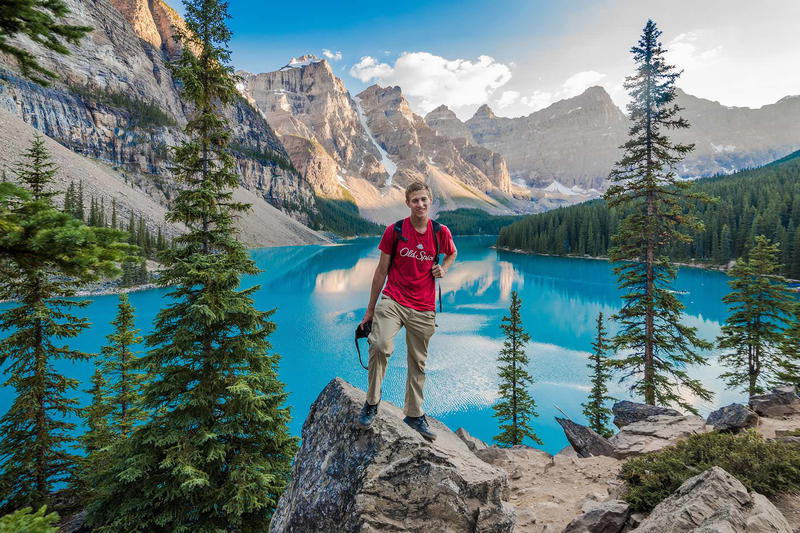 When he's not off to another continent, you can find him biking to far corners of the five boroughs, documenting under-the-radar communities within the city like rooftop pigeon-keepers and eel trappers, exploring secret underground and above-ground locales and enjoying the vast diversity of culture, festivals (such as the Giglio, Phagwah and the Idiotarod), and food (Uzbekistani, Ethiopian, Dominican) that New York has to offer.
We actually met Chase at a travel event in NYC, and it got us talking immediately about home (the city) and travel (all over the world). Chase has been to all 50 states and 82 countries, and he authored the The Handbook of Drone Photography: A Complete Guide to the New Art of Do-It-Yourself Aerial Photography for those who are interested in starting out.
We can't wait to see which types of beautiful scenes he captures next with his drone, so we're following along. To find out more about his accomplishments, check out his web site.
Originally from both Florida and Maryland, David has made a home in NYC where he kills it in the tech, marketing and spiritual scenes. If you check out his Instagram, you'll see all the things he works on, gets involved in and stands for.
In addition to being an engaging entrepreneur (he founded the dating app JSwipe, as well as a marketing agency), David loves traveling to Israel and has recently started several new initiatives for young Jews across the world to be more in touch with their spiritual selves. He also has rather wanderlust-y photos from Burning Man, Morocco, Mexico and Japan, and he's probably headed somewhere right now.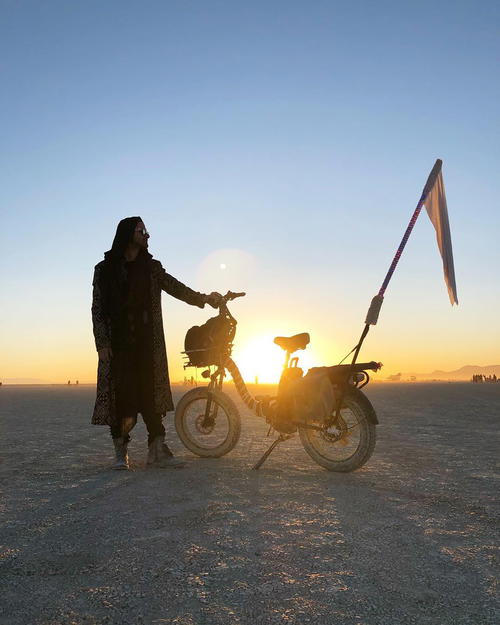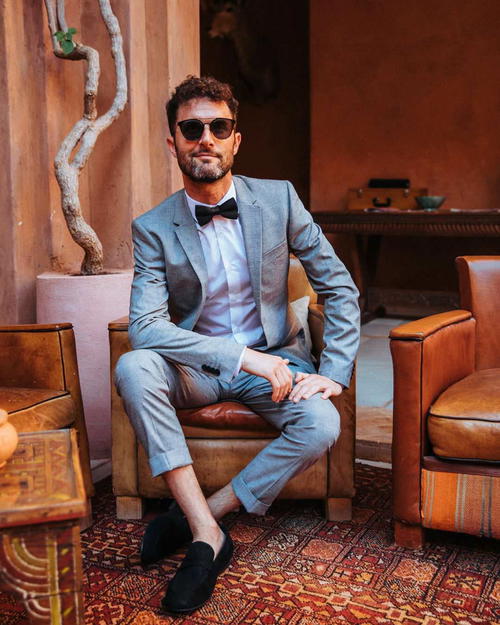 Enjoyed our article?
Consider supporting us! We're a 2-person team (learn more about us here) and your support enables us to create quality content. Thank you!