49 Best Photo Spots for Instagram in Brooklyn
Written by Becca
•
Updated on September 17th, 2023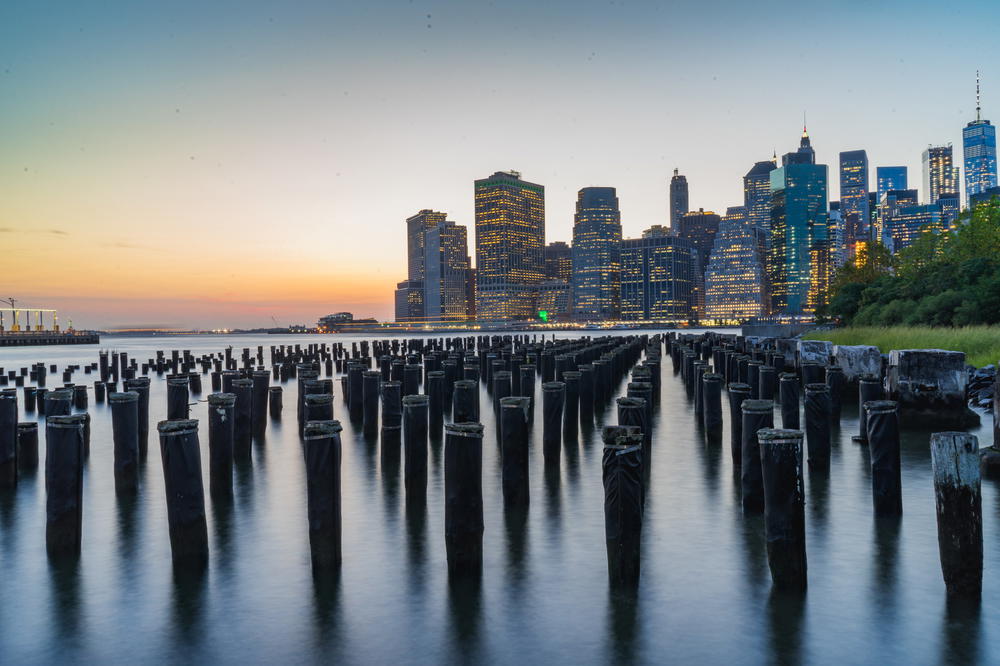 The best places to take pictures in NYC are actually among the most picturesque and scenic places in Brooklyn. See the list of these secret non-touristy places to take pictures in Brooklyn, New York.
This article may contain affiliate links. We earn a small commissions when you purchase via those links — and it's free for you. It's only us (Becca & Dan) working on this website, so we value your support! Read our privacy policy and learn more about us.
Table of contents
Close table of contents
What are the most Instagrammable places in Brooklyn?
In my years growing up in NYC and in the surrounding area, I've always known that Brooklyn was picturesque, full of variety, brimming with culture and very special to me and my family.
It was not until the "Rise of Instagram" that I started to realize just how incredible the many parts of Brooklyn are, for NYC street photography, famous photo spots, landmarks and architecture and the perfect Instagram that'll show your friends back home that you made it to Brooklyn on your NYC trip.
Where are the best spots for taking photos in Brooklyn, and what are the top Instagram-worthy places in this incredible borough of NYC?
Check out my list below, including some secret places for photography that you can add to your list of things to do when visiting New York City.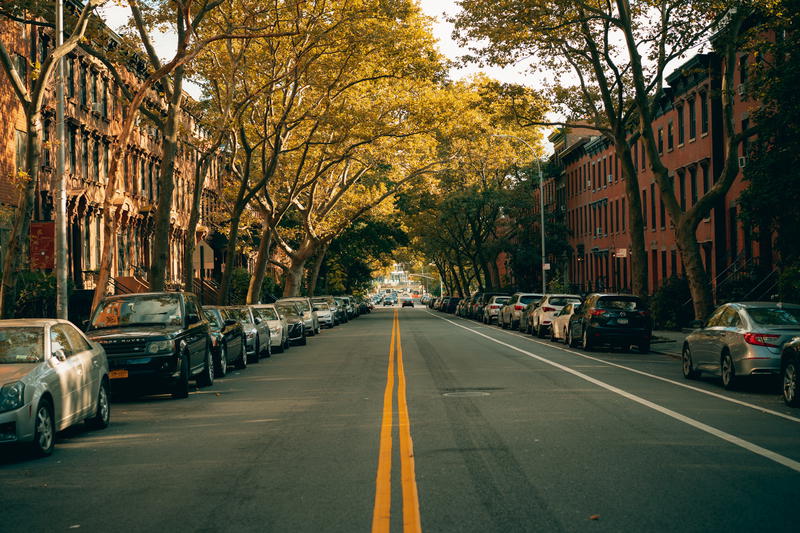 Williamsburg, Brooklyn
Oh Williamsburg! For many visitors, Williamsburg is their entry point to Brooklyn due to its proximity to Manhattan and the lure of lots of things to see like some of the best coffee shops in NYC. Here's where to take photos in the Burg.
Domino Park, Williamsburg
Domino Park is a waterfront park in Williamsburg, Brooklyn. It opened recently in 2018 after being transformed by a NYC real estate company from the former site of the Domino Sugar Refinery into this beautiful manicured park that anyone can enjoy!
This being said, it is definitely one of the best places to take pictures in Williamsburg, Brooklyn, due to having fantastic views of the Manhattan skyline, cool lawns, beach volleyball, modern architecture, an elevated walkway, street art AND some food vendors.
In addition, it is one of the most Instagrammable places in Brooklyn because it is right under the Manhattan Bridge, which will add a cool industrial vibe to your photography.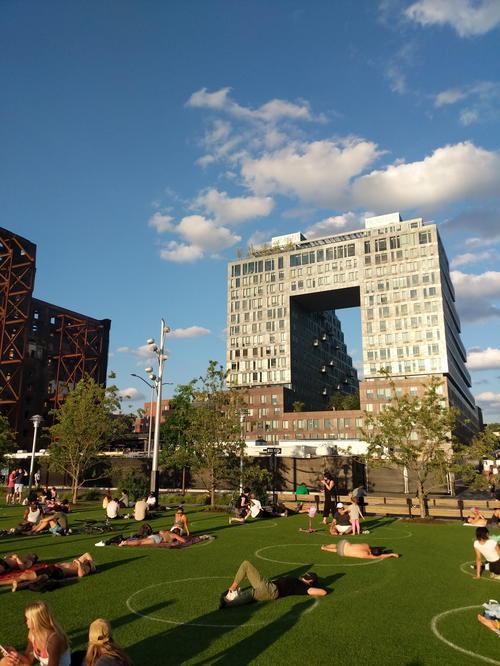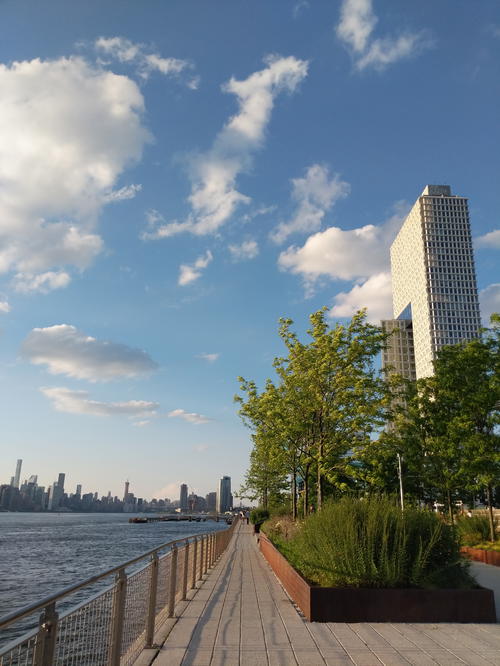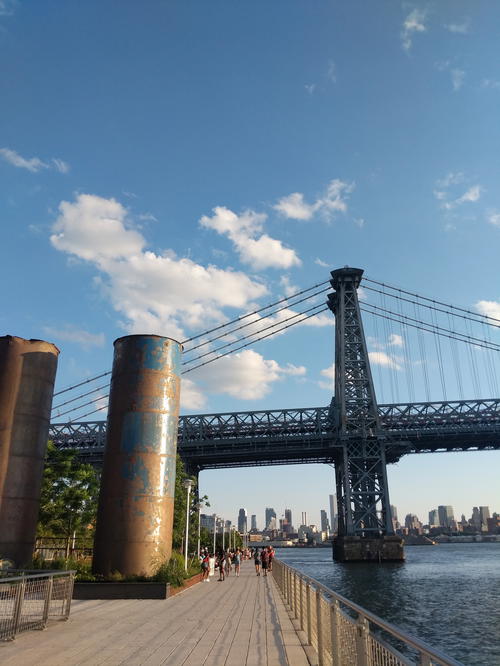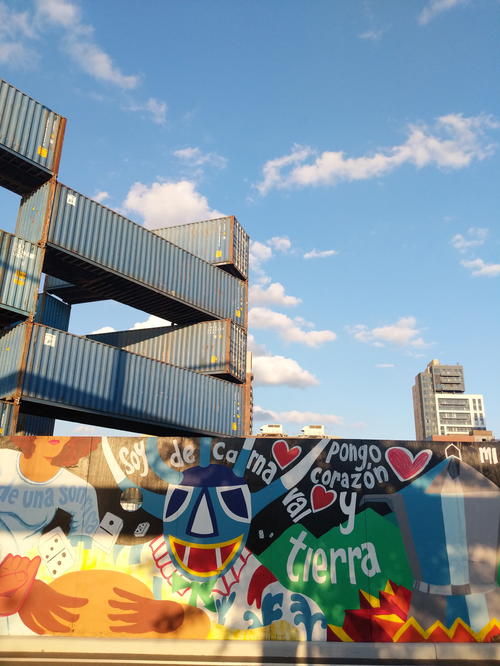 Williamsburg Bridge Walking Path
For places to take pictures in Williamsburg, Brooklyn, look no further than the Williamsburg Bridge Walking Path (or the Williamsburg Bike Path for bikers and rollerbladers). This is probably one of the classic free places to take pictures in NYC, and it's always open, 24 hours a day.
Whether you're crossing from Manhattan to Williamsburg or from Williamsburg to Manhattan, be sure to stop in the center of the bridge for a photo spot of the East River. This is especially awesome at sunset (and at sunrise). You'll find that it is one of the famous Brooklyn photoshoot locations due to the cool perspectives, graffiti and delightful views.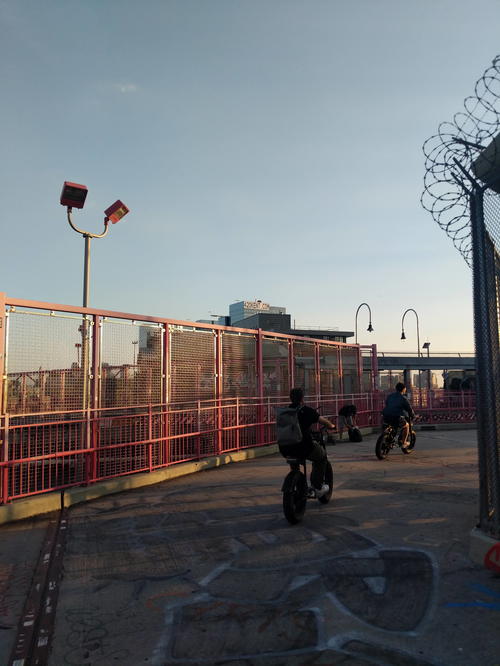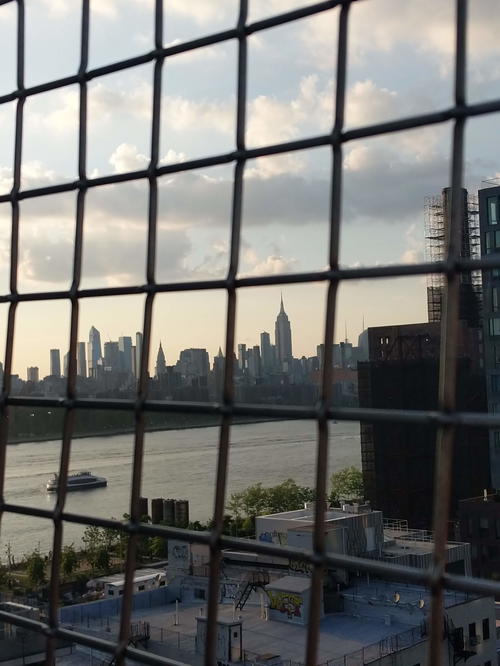 Schaefer Landing Scenic Viewpoint
Schaefer Landing is almost what I'd call a "secret place to take pictures in NYC," and that is because it's not quite East River State Park or Domino Park; it's a bit more to the south, and it's a little park behind some modern apartment buildings.
From here, you can get a good view of Lower Manhattan and also Midtown Manhattan. There are also some gazebos, walking paths, benches to sit on and spots for taking photos.
The bonus is that it is not touristy, so you can have this place all to yourself if you come on a weekday and you won't be dodging other tourists or crowds at all.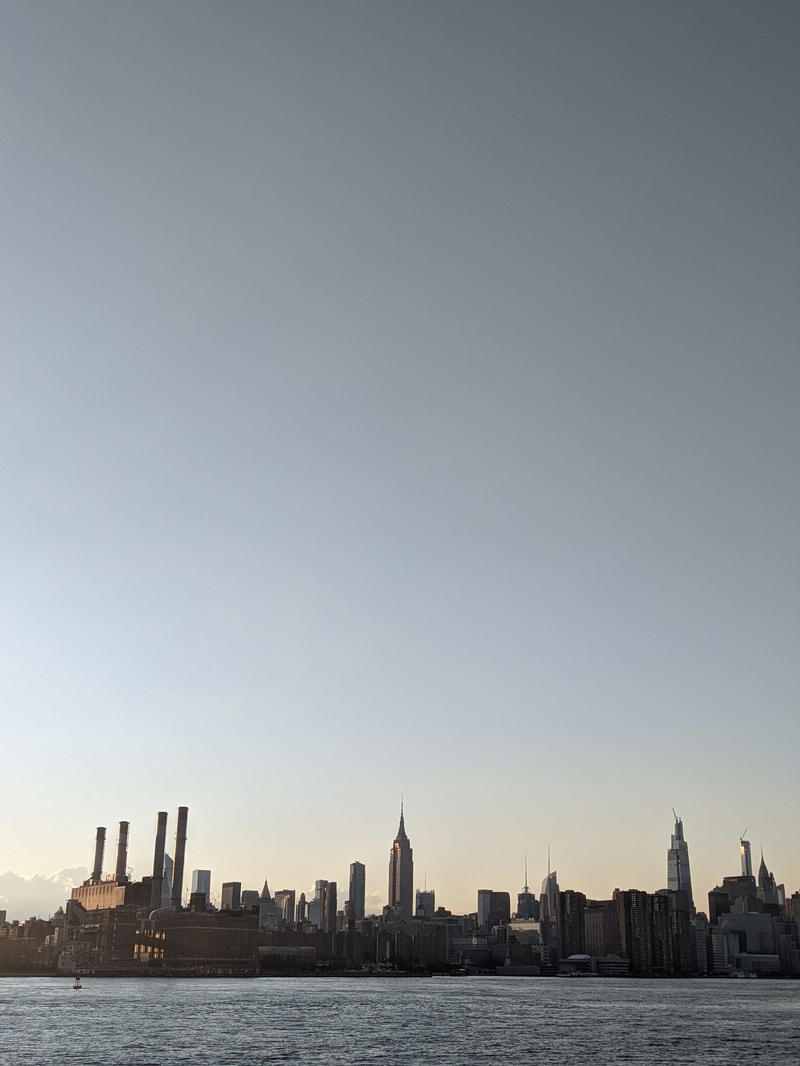 Bushwick, Brooklyn
Bushwick is a constantly-changing neighborhood east of Williamsburg with a lot going on in terms of new development, new businesses, cool coffee shops and a lot of art.
Bushwick Art Walls, Bushwick
The Bushwick Art Walls seem to keep growing in size every year, so it's great to have this collection of NYC art on your list of things to do in NYC when you visit (or if you're a local).
The Bushwick Collective, as the graffiti and street art walls are called, is one of the best places for fashion photography in NYC. It's hard to take a bad photo.
Can't find the Bushwick Art Walls?
Take a guided tour to the Brooklyn street art walls in Bushwick, and you won't miss a single Instagram moment!
By some accounts, this is some of the best urban street art in the world.
The Bushwick street art district is also undoubtedly one of the most Instagrammable places in all of Brooklyn, so I suggest making the trip out on the L train!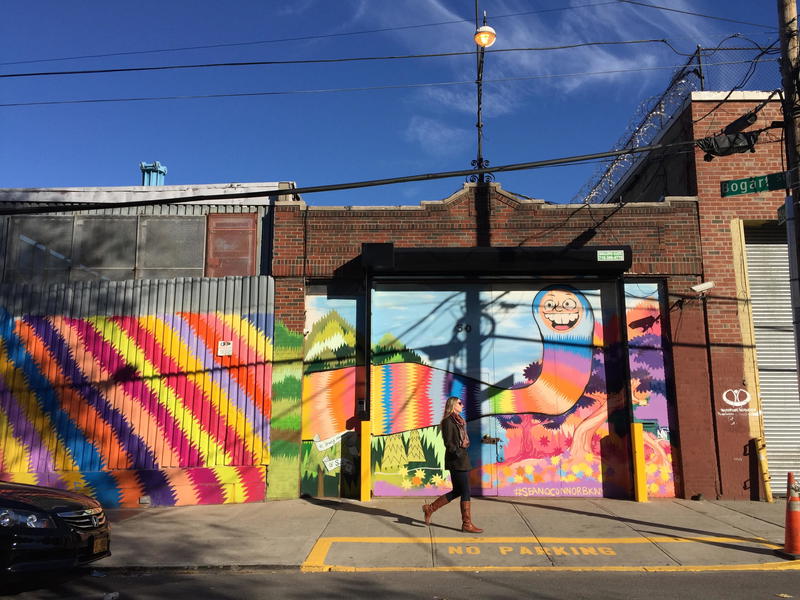 Fort Greene, Brooklyn
Fort Greene is our former and very beloved neighborhood. There are SO many photos to be taken here, and we're the experts who will tell you how to do it and where to go.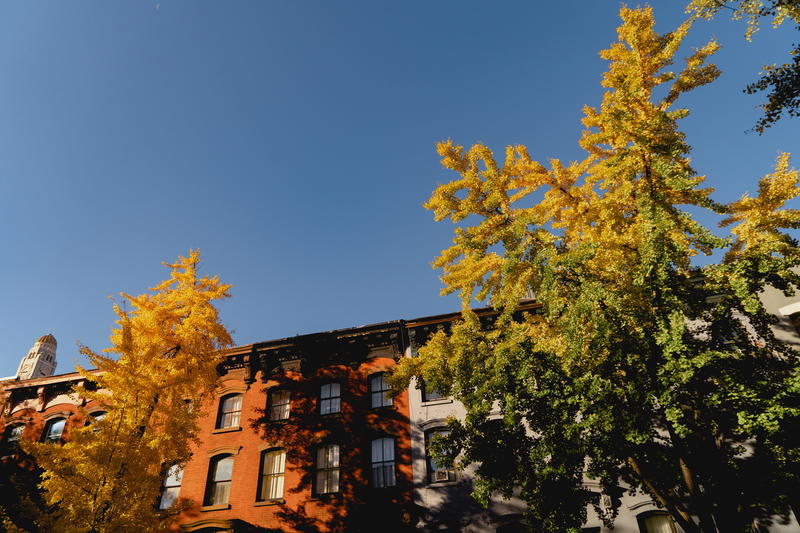 Fort Greene Park (Cumberland entrance)
Fort Greene Park is a dream come true in terms of city parks. At some points, it feels more like a country club! We hang out toward the south side of the park, close to the Cumberland St. entrance, where leafy trees have blooming flowers in spring and beautiful foliage in fall.
Head up to the elevated parts of the park for some of the best foliage in town with incredible yellows and deep oranges that are sure to make an attractive Instagram shot.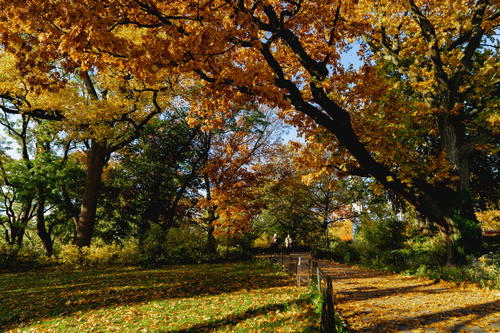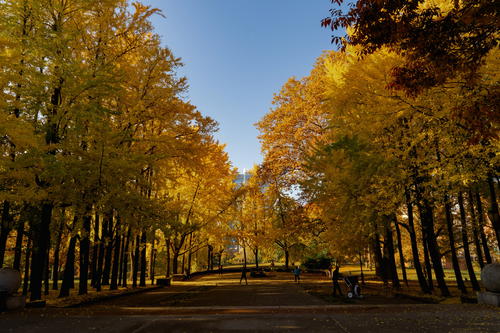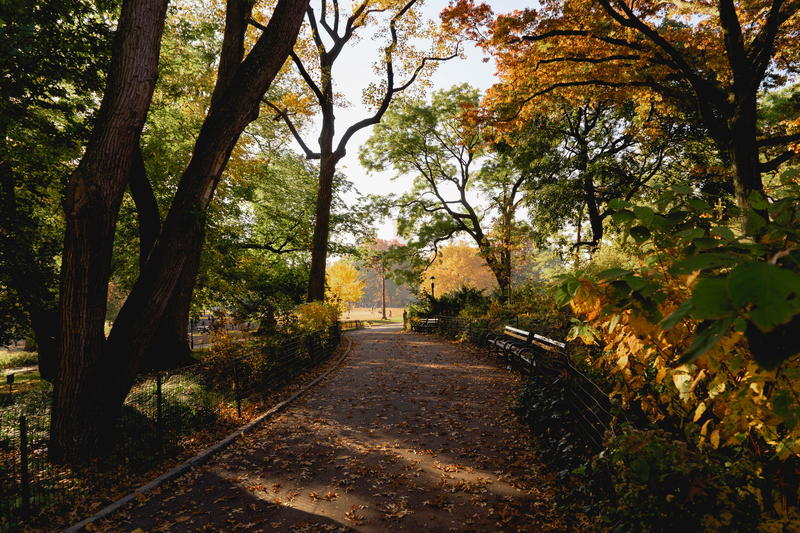 Historic Brownstone Streets: South Oxford, South Portland & Carlton Ave.
The incredible brownstone architecture on South Oxford, South Portland and Carlton Avenues are always stunning at any time of year. For great street perspectives, head to these streets, which are some of the most beautiful streets in Brooklyn, for a gorgeous photo experience at any time of year.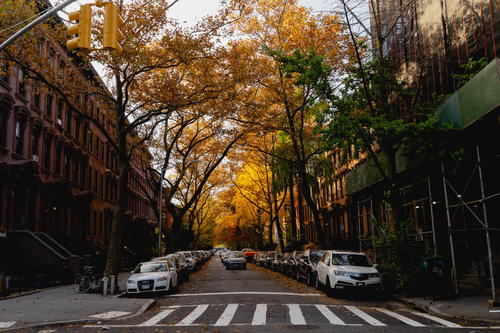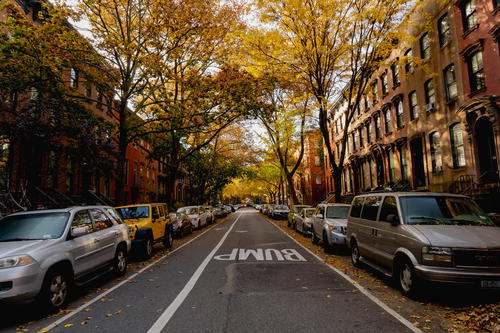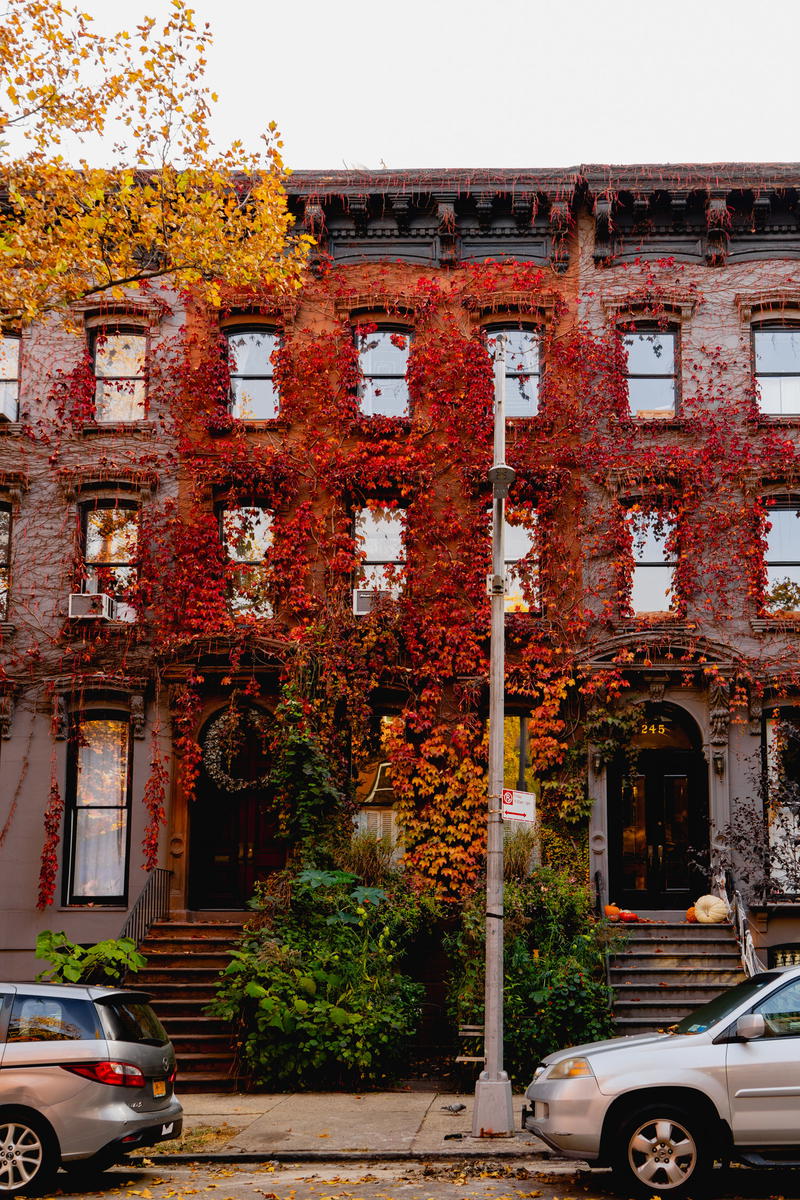 Spike Lee Studio
The Spike Lee Studio, called Forty Acres and a Mule, is easily one of the most photographed places in Brooklyn and it's also one of the most "Instagrammable places in Brooklyn" if you know where to go. So, we'll tell you. It's at 75 S Elliott Pl, Brooklyn, NY 11217.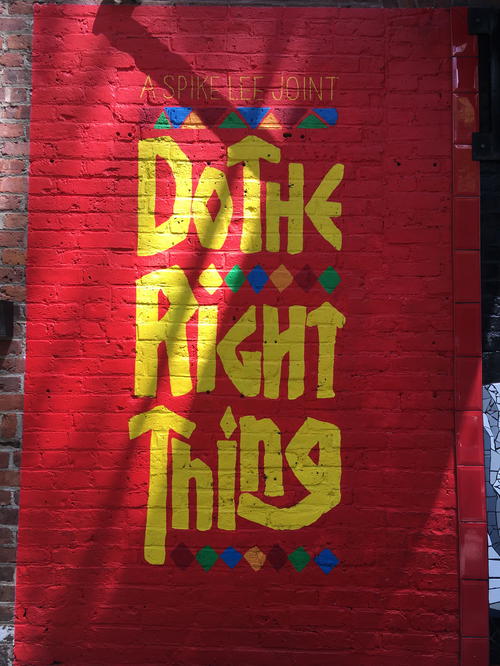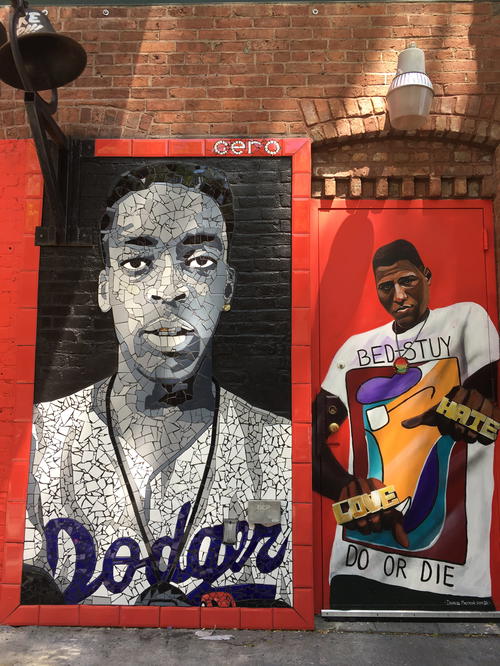 Downtown Brooklyn
Downtown Brooklyn is quite a mix of everything. It's Brooklyn's downtown, but it's not necessarily a place people travel to unless they have an errand to run at a big-box store. We'll tell you where to go and what to do for taking photos in this area nicknamed DoBro.
DeKalb Market Hall
It's like Smorgasburg, but indoors, so you can stay warm there all winter! DeKalb Market Hall is located in the lower level of the City Point Mall, and you'll find all kinds of local food vendors from cuisines across the world permanently here, amid lots of cool neon signage. I like to take photos of the neon in DeKalb Market Hall!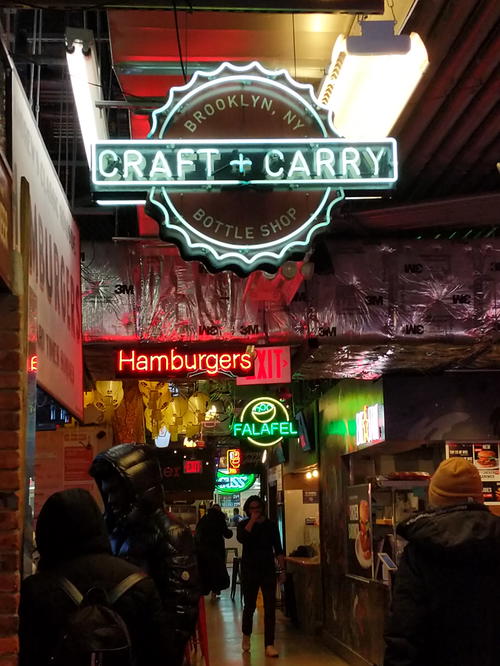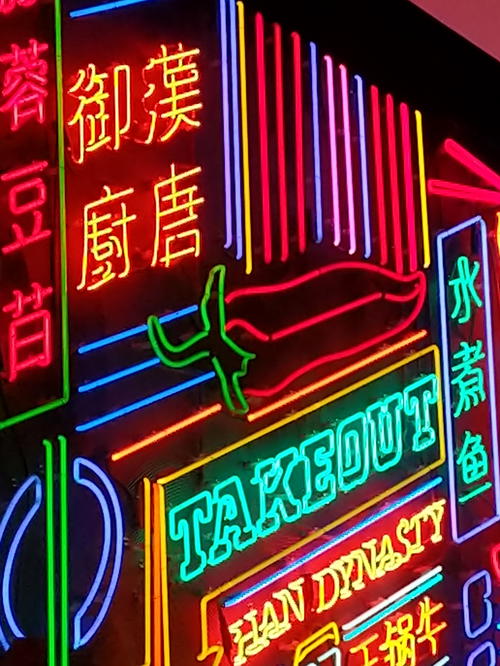 Manhattan Bridge Pedestrian Walkway
If you're a biker, the Manhattan Bridge has a bike path for you and if you are a walker, you can take the Manhattan Bridge Walking Path. I like going on either of the sides at sunset, where you can see the Brooklyn Bridge from the walking side, and the Williamsburg Bridge from the north-facing biking side. Either side is pretty awesome for free places to take pictures in NYC.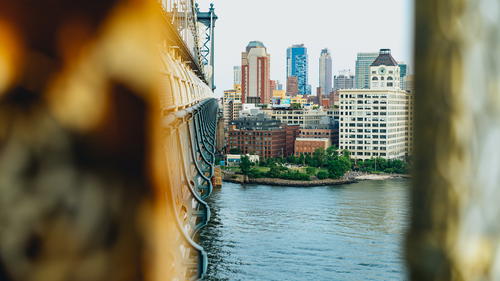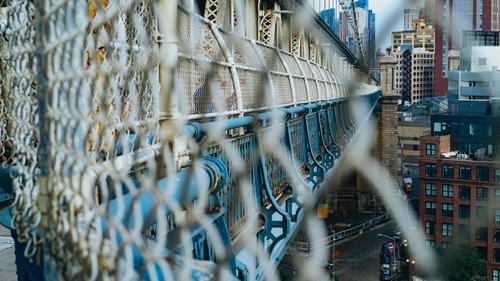 Brooklyn Bridge Pedestrian Walkway
You won't be surprised that this is one of the top spots for photography in all of NYC, and don't forget that the Brooklyn Bridge is of course accessible from both Manhattan and Brooklyn! The secret is that the Brooklyn side is a bit less trafficked due to most tourists originating their journey in Manhattan. That's our advice!
The Brooklyn Bridge, at any time of year, takes the cake for "most Instagrammable places in NYC" for very clear reasons: it is fantastic.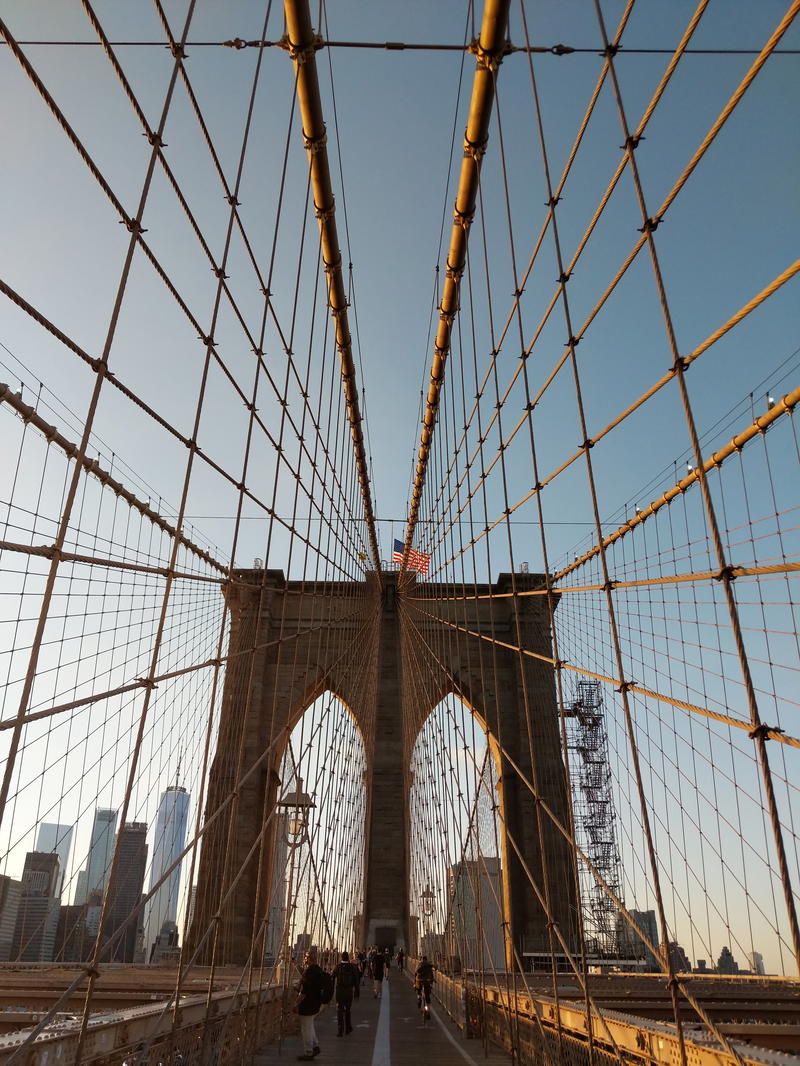 Brooklyn Heights, Brooklyn
We used to live in Brooklyn Heights, and we absolutely loved it. This charming neighborhood is relaxing, historic, classy and incredibly well-kept in terms of restored homes, cobblestone streets and great views of the water.
Brooklyn Heights Promenade
Enter the Brooklyn Heights Promenade from Montague, Pierrepont or Remsen Streets for one of the most famed views of the East River and Lower Manhattan! Especially brilliant at sunset, this Instagram spot is favorited by locals and visitors alike for its clear views of Manhattan and the Statue of Liberty.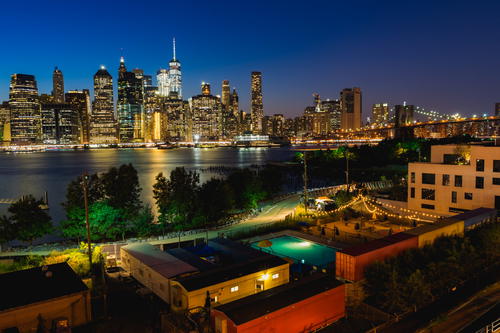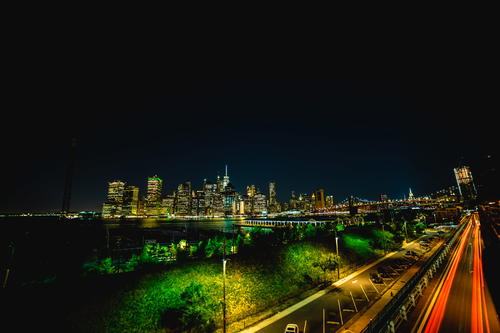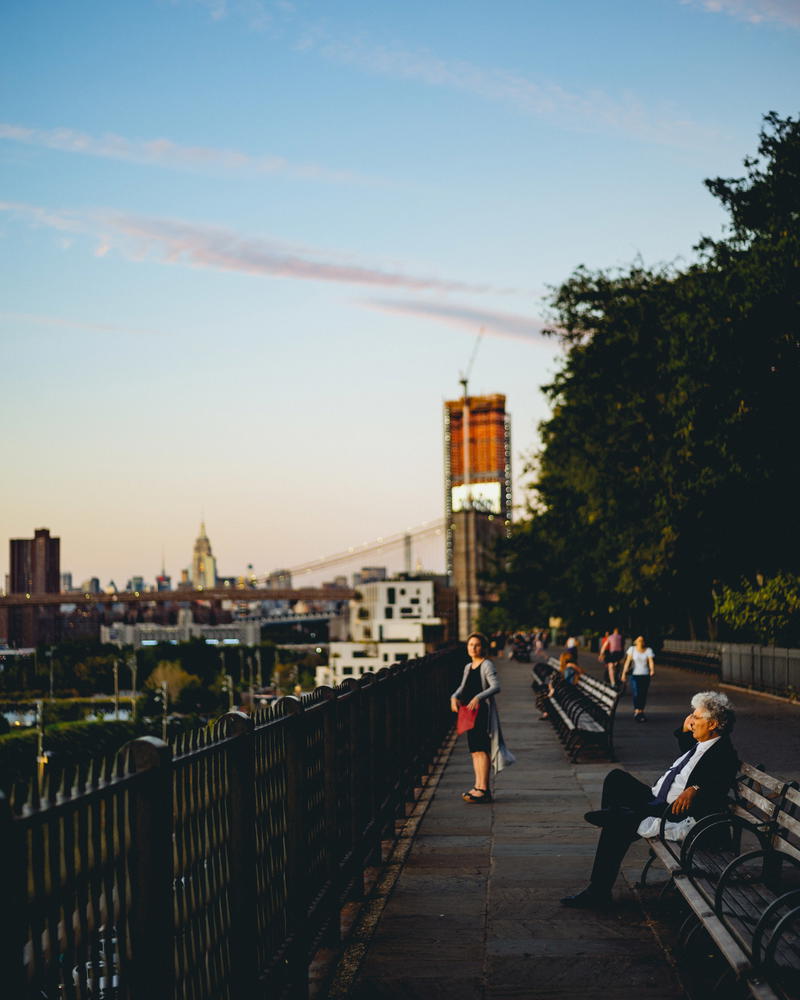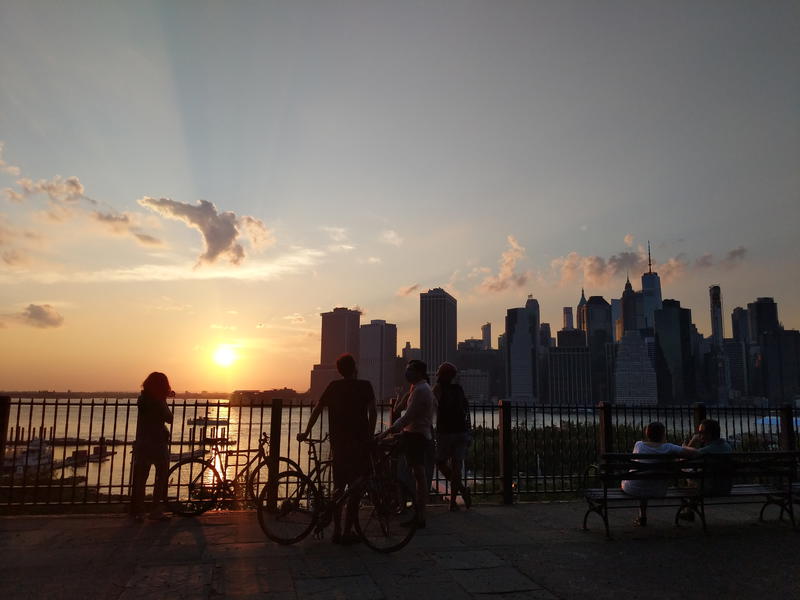 Hunts Lane & Love Lane
Did you know that Brooklyn Heights has some secret little streets? These tiny one-way dead-end streets were always part of the neighborhood as it was developed hundreds of years ago. The tiny streets are super quiet and are home to real people, so our advice to anyone who goes there to take some special photos is that you remain very respectful of the homeowners!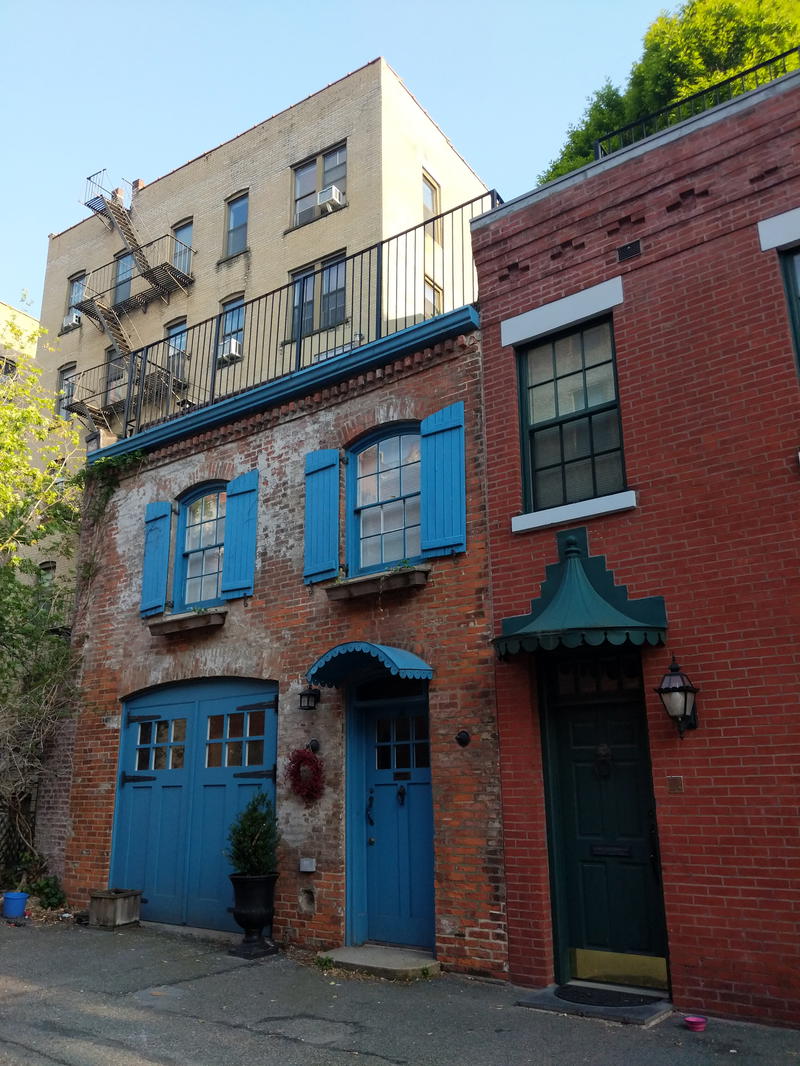 Squibb Park Bridge (Footbridge)
The bridge that connects Brooklyn Heights (high up, like the name) to Brooklyn Bridge Park (lower down, at the water level)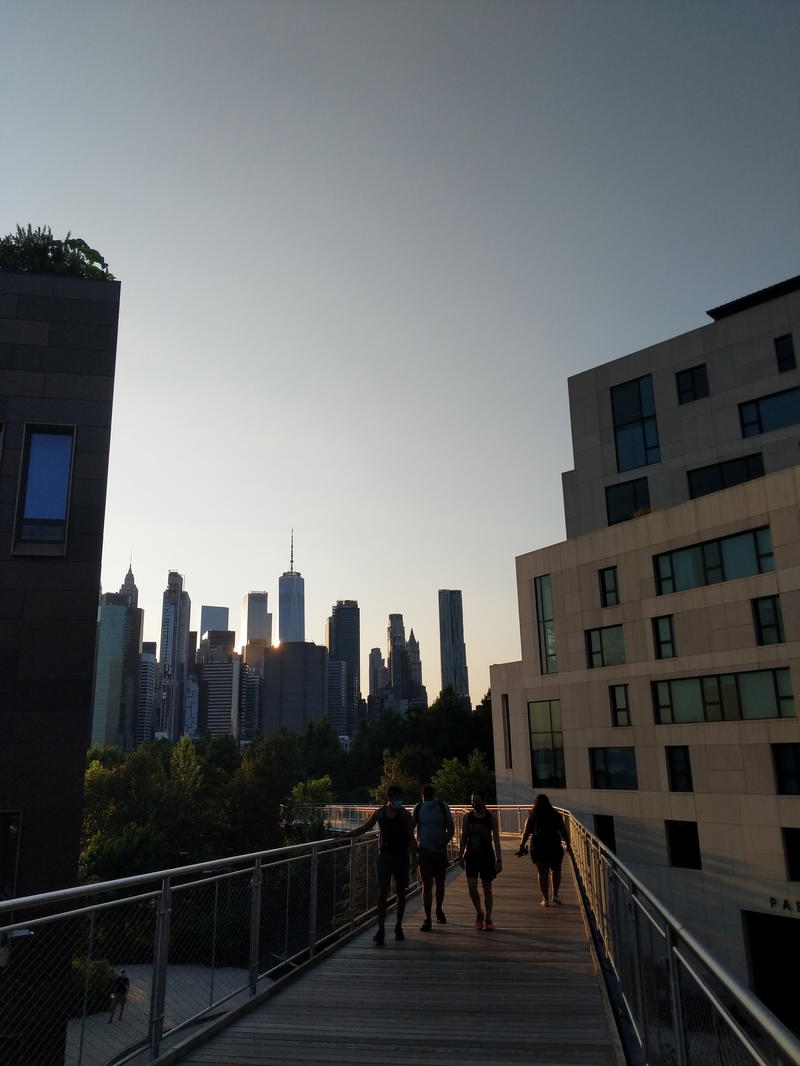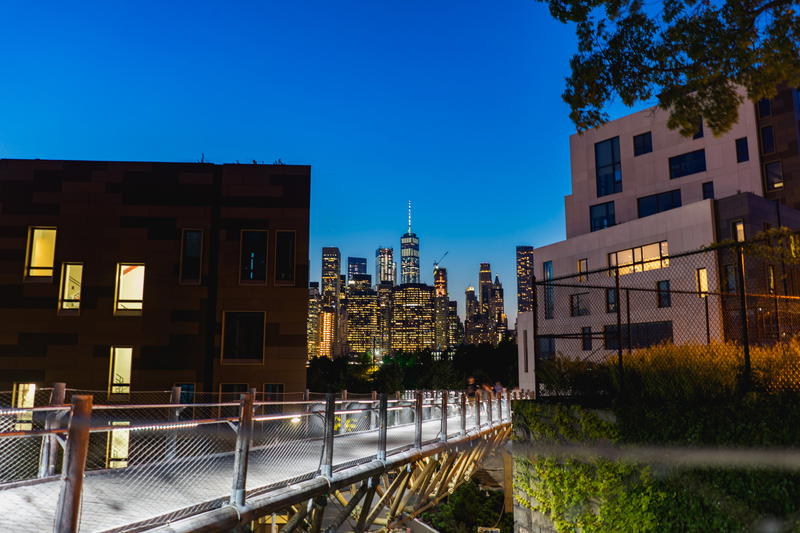 1800s Brownstone Architecture Blocks
Remsen St., Pierrepont St., Henry St., Clark St., Pineapple, Cranberry & Orange Streets, along with Joralemon Street.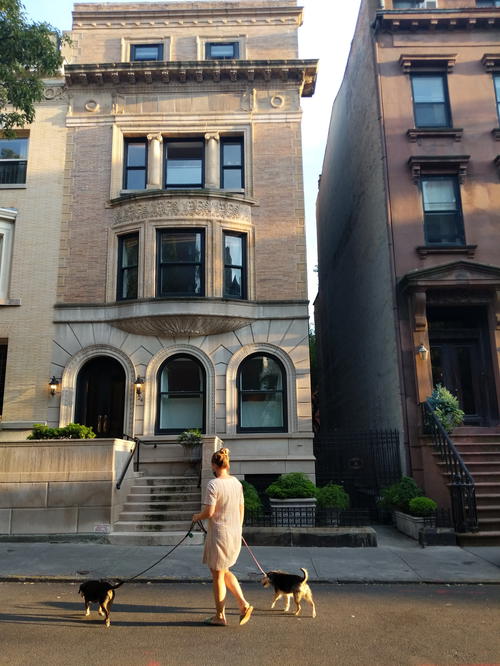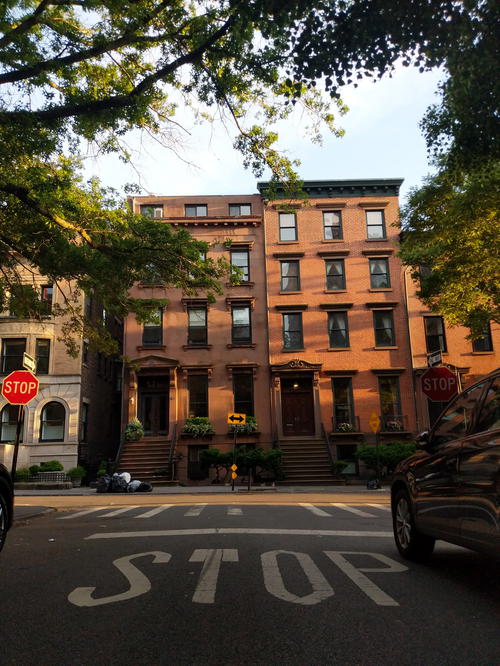 DUMBO, Brooklyn
Did you know that DUMBO stands for Down Under the Manhattan Bridge Overpass? Now you do! Get your walking shoes on and be ready to explore all the surprises in DUMBO through photography.
What's the best way to see all the iconic spots?
With a Brooklyn Bridge Park and DUMBO walking tour! Learn history with your guide while taking postcard-perfect photos.
Time Out Market
Time Out Market is new (ish) and it's one of the coolest places to take photos in DUMBO nowadays! From the plethora of places to eat in the dining market hall to the rooftop bar area with stunning panoramic views of the East River and Manhattan skyline, this is a destination to put on your photo hit list.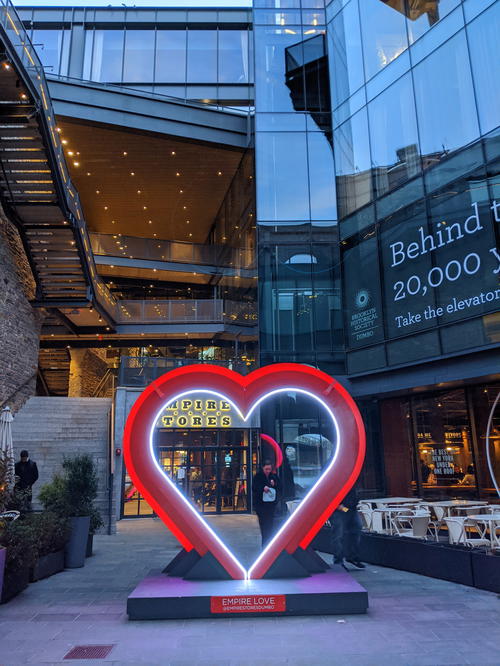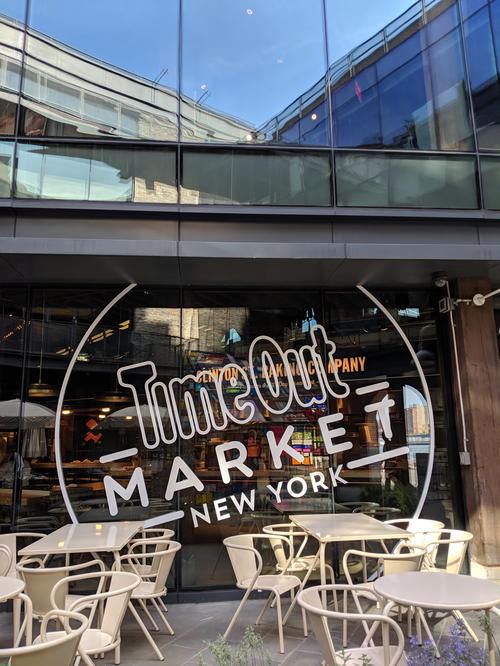 Washington Street Photo Spot
I don't have data telling us what the most Instagrammed or most photographed spot in Brooklyn is, but it is probably the "Washington Street Photo Spot" in DUMBO.
For context, you'll want to get to this photo spot pretty early in the day before the engagement shoots, wedding photos, group travel photos and model/influencers get there, because the end of this street right near the "Main Street Park" can get totally overrun by people and cameras!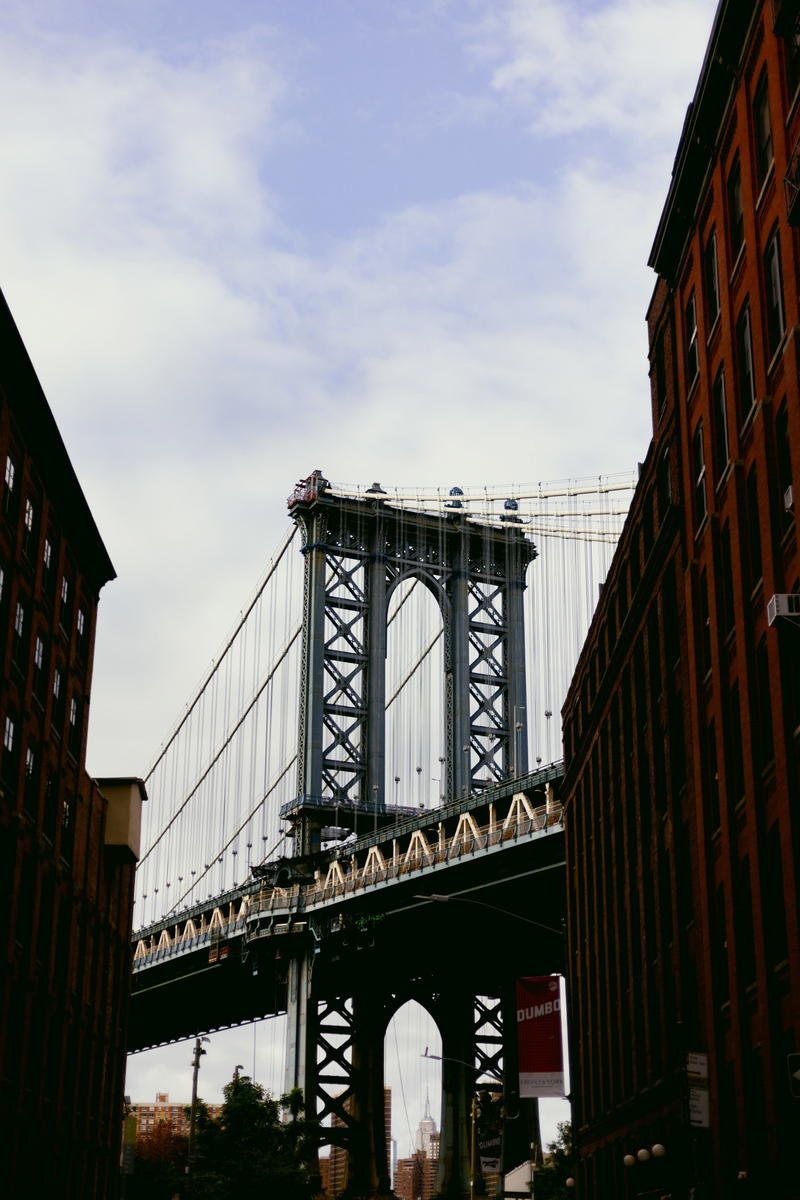 Vinegar Hill, Brooklyn
You may never have heard of Vinegar Hill, and that's because there is no subway stop and hardly any reason you'd go here, but I have a secret for you.
Hudson Avenue Architecture
The architecture on quiet cobblestoned Hudson Avenue reminds me more of a town in the Catskills than a residential neighborhood of Brooklyn just a 15-minute walk from the tourists snapping Instas in DUMBO. If you need a break from the bustle, walk around this neighborhood that kind of stands still in time.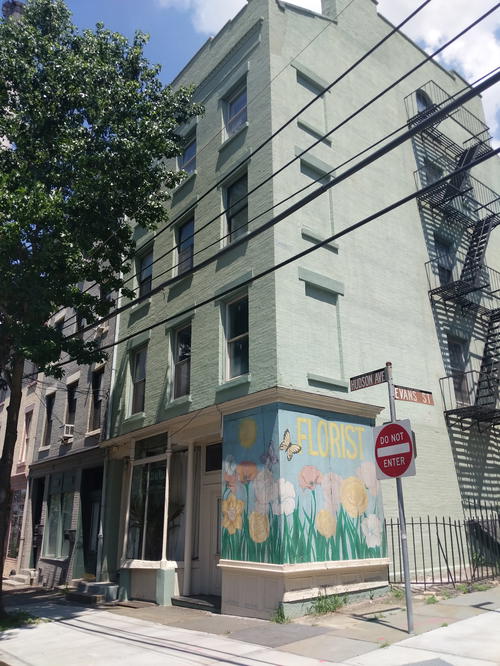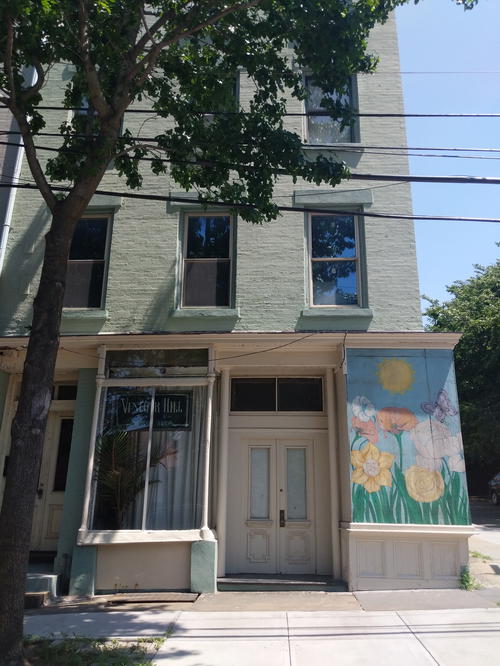 Clinton Hill, Brooklyn
We spent some time living in Clinton Hill, and it has a few sides to its personality from rough-around-the-edges to upscale row houses with unique architecture.
St. James Place Brownstone Architecture
I really like walking north on St. James Place northward from Fulton St. If you keep an eye out while on the left side of the street heading toward Gates Ave., you'll see some homes that stand out from all the others, and these are a good secret quick Instagram snap.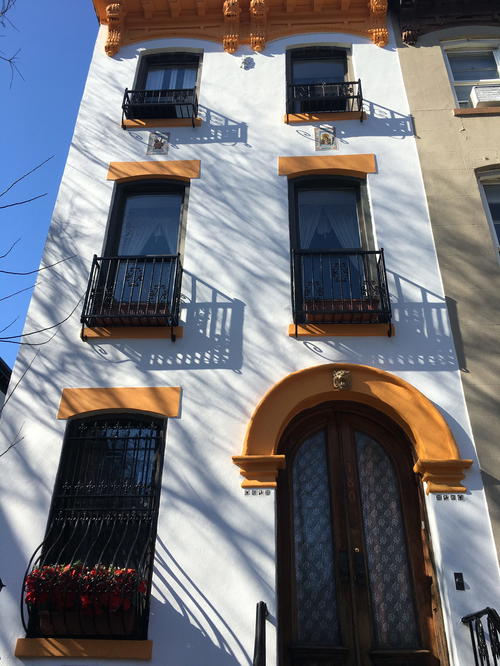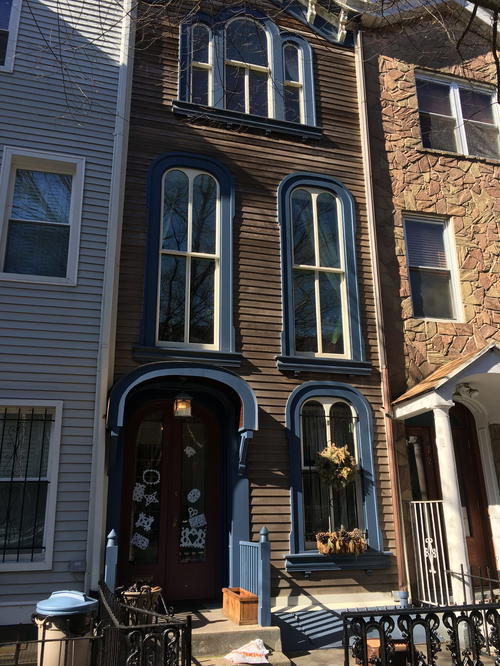 Boerum Hill, Brooklyn
Boerum Hill is where we currently live, and we can definitely say that if you want to take some great photos, Dean St. is gorgeous for its well-kept manicured brick rowhouses! Highly recommended.
Mosaic House (Wyckoff Street)
Mosaic House on Wyckoff Street is one of our most obscure and close-to-home fan favorites for taking visitors. The story goes that after September 11, Susan Gardner started outwardly expressing love and creativity through starting to vibrantly post knick-knacks and artful objects on the exterior of her house, which has now morphed into a complete zoo of colorful objects, including mirrors, shells, plastic ornaments and more, on Wyckoff Street.
This house was featured in Atlas Obscura, and it's surely one of the more interesting places to take an Instagram, in Brooklyn. Please be mindful while taking photos, as this is someone's real home.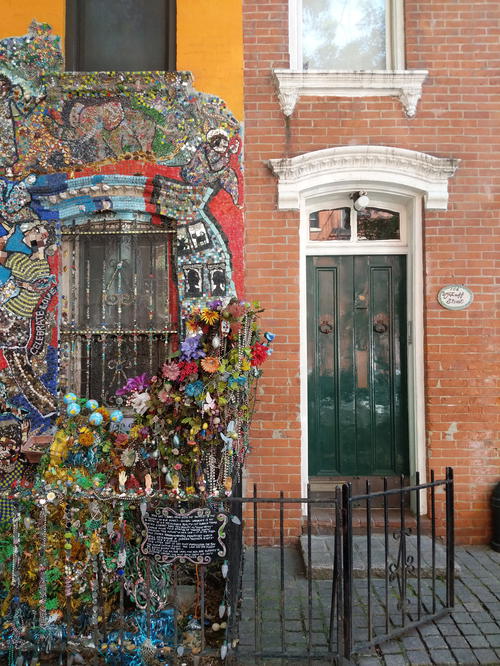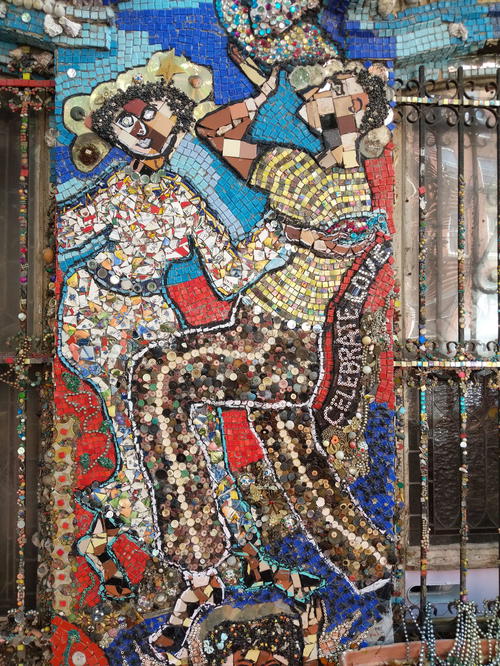 Park Slope, Brooklyn
All of Park Slope is pretty picturesque, from its brownstone-lined streets to the classic restaurant-friendly 5th Avenue scene.
Nitehawk Cinema, Prospect Park/Park Slope
Nitehawk Cinema is a cool retro spot for a photo in Brooklyn, and it's located right across from beautiful Prospect Park. This movie theater is housed in an Art Deco building on a really nice part of Prospect Park West.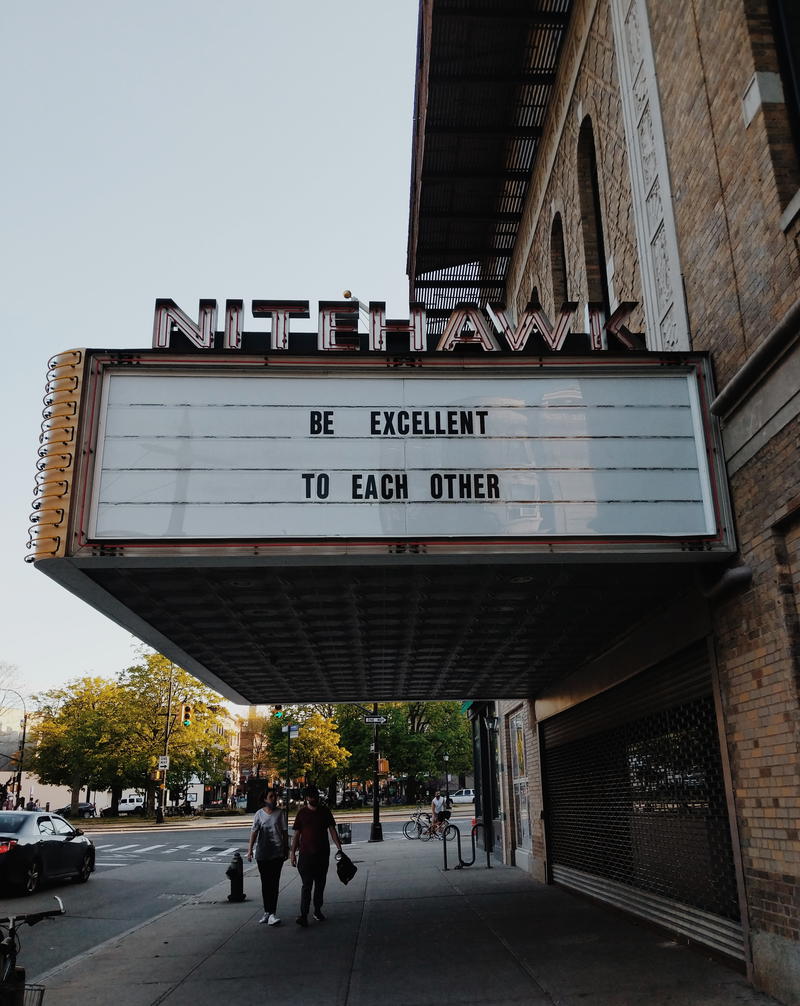 Prospect Park, Brooklyn
Prospect Park in Brooklyn is the borough's playground where people from all corners of the surrounding neighborhoods and from all walks of life and cultures gather for BBQs, outdoor games, events, yoga, nature-walking, bird-watching, hiking and playing baseball. Here, you'll find some of our favorite photo spots in natural green settings.
Prospect Park Boathouse
The Prospect Park Boathouse is a totally charming spot with a rather green lake next to a historic boathouse that was built in 1905! This spot is so fantastic for engagement photos, and we shot some here for friends.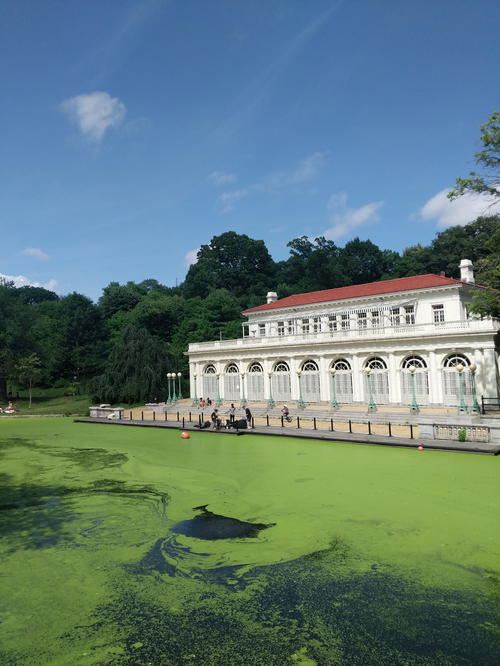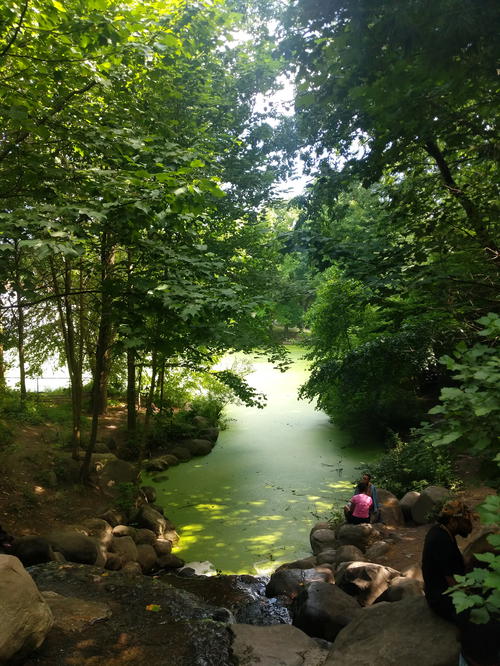 Prospect Park Lake
I once took a photo of Prospect Park Lake (south end of the park) and sent it to my friends, who thought I was either in Upstate NY for the day, or out in New Jersey somewhere. Nope, I was at the Prospect Park Lake, taking in one of the most scenic natural spots in Brooklyn that makes a great photo for the postcard you'll write home (electronically).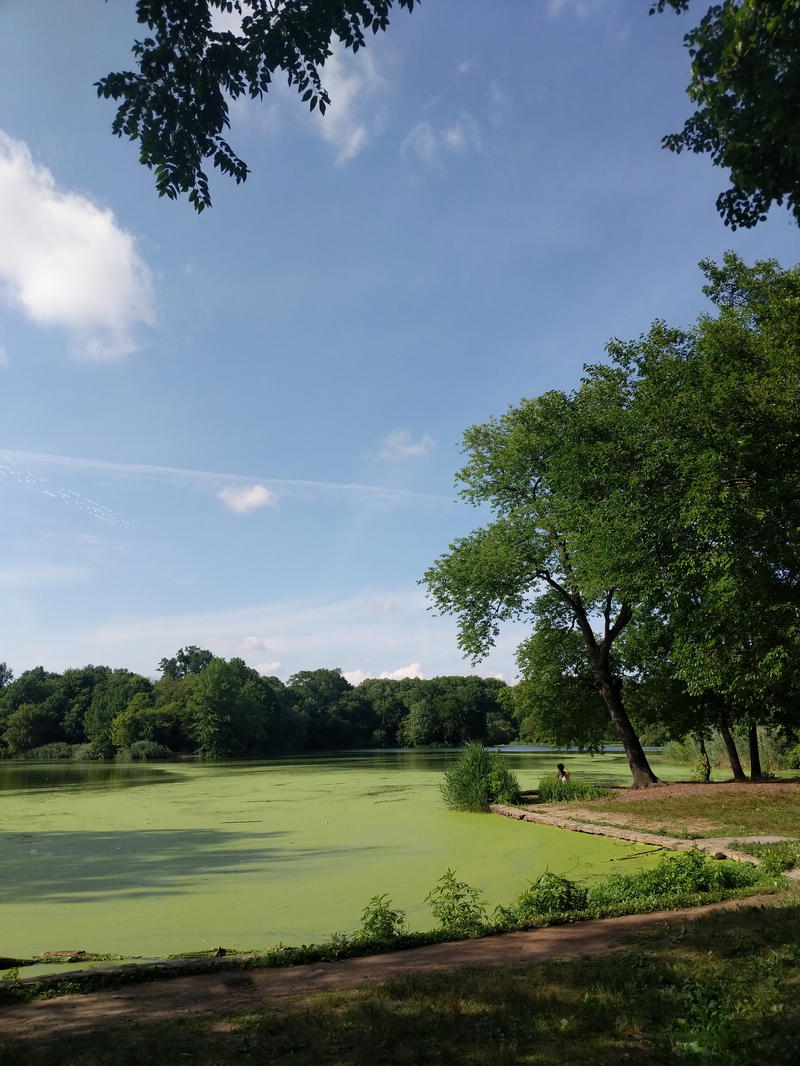 Prospect Park Long Meadow
The Great Lawn of Prospect Park, known as the Long Meadow, is most accessible from its west and north sides, and it's hard to miss. This wide open expanse of grass is where you'll find people picnicking, hanging out with their friends and dogs, throwing frisbees and flying kites, and in the summer, playing music and games. It makes for one of the best scenic spots in Brooklyn.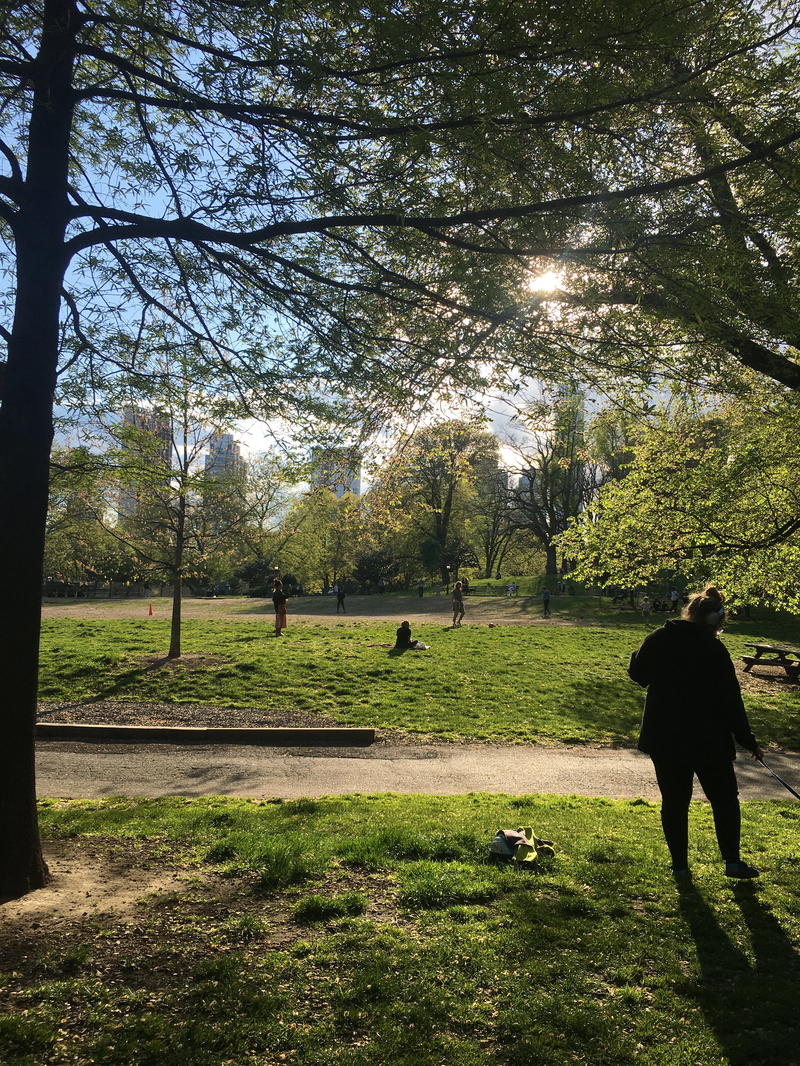 Brooklyn Botanical Gardens
Do you want more than oak trees and grass? The Brooklyn Botanical Gardens is an excellent place for a variety of photos from an indoor cactus garden to the wild tropical flowers that can make anyone's heart sing for nature. This is also a surprisingly awesome place to take photos in NYC in winter because you can go into the greenhouses and warm up.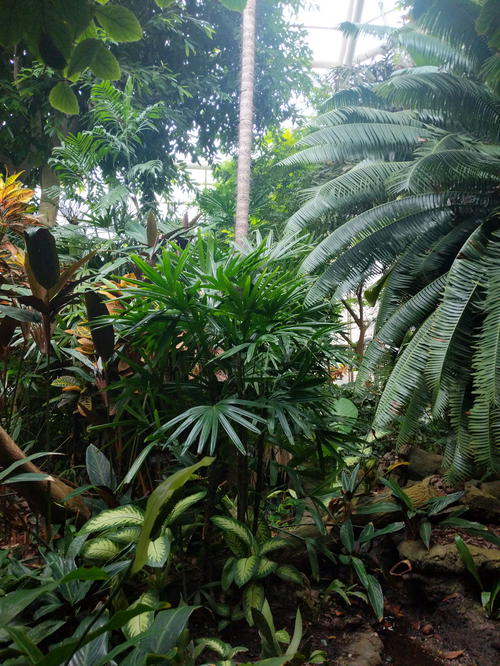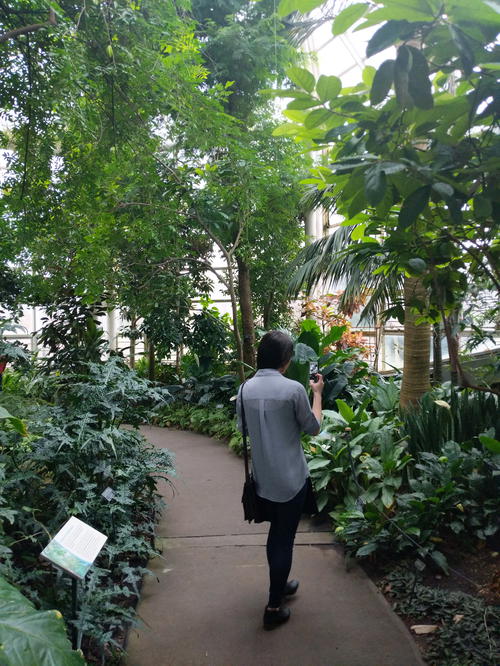 The Ravine (Brooklyn's largest forest)
Yes, Brooklyn has a very large forest, and in my Locals Know Best podcast episode about Brooklyn, I talk about the Ravine as the largest forest in Brooklyn, linked in our Brooklyn Heights travel guide.
Want to feel like you stepped into an enchanted forest and escape the sounds of the city (and tourists)? Dive into the center of Prospect Park at approximately this location for Brooklyn's largest and only forest, where you'll have one of the prettiest places in Brooklyn.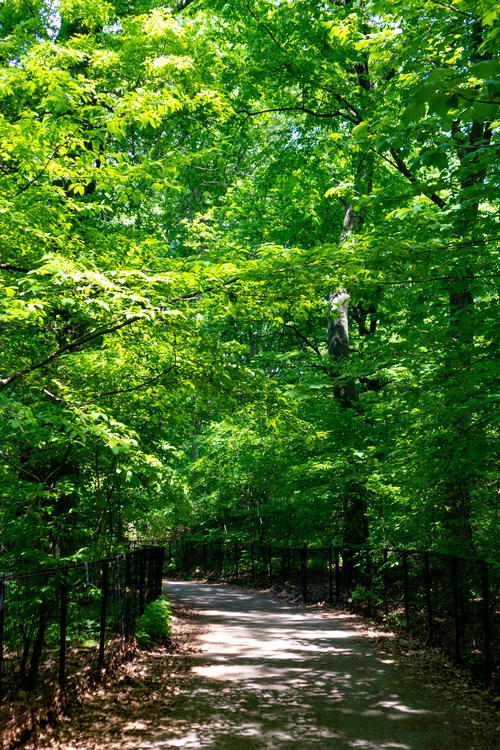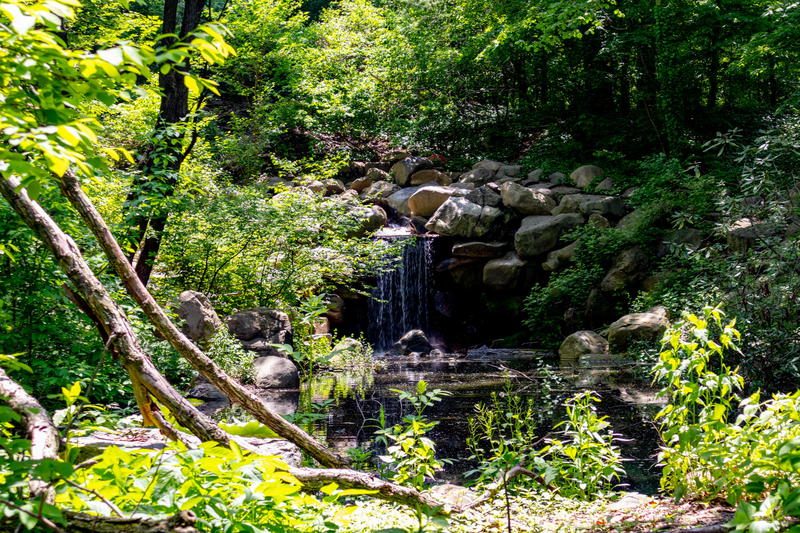 Lefferts Historic Farmhouse
A lesser-known photo spot here is the historic farmhouse inside Prospect Park. We stumbled upon this house during one of our walks during 2020, and if you can get a photo of it on its own, it really looks like you left the city for a walk in the countryside! This house was built around 1783 and is one of the older original homes in all of NYC.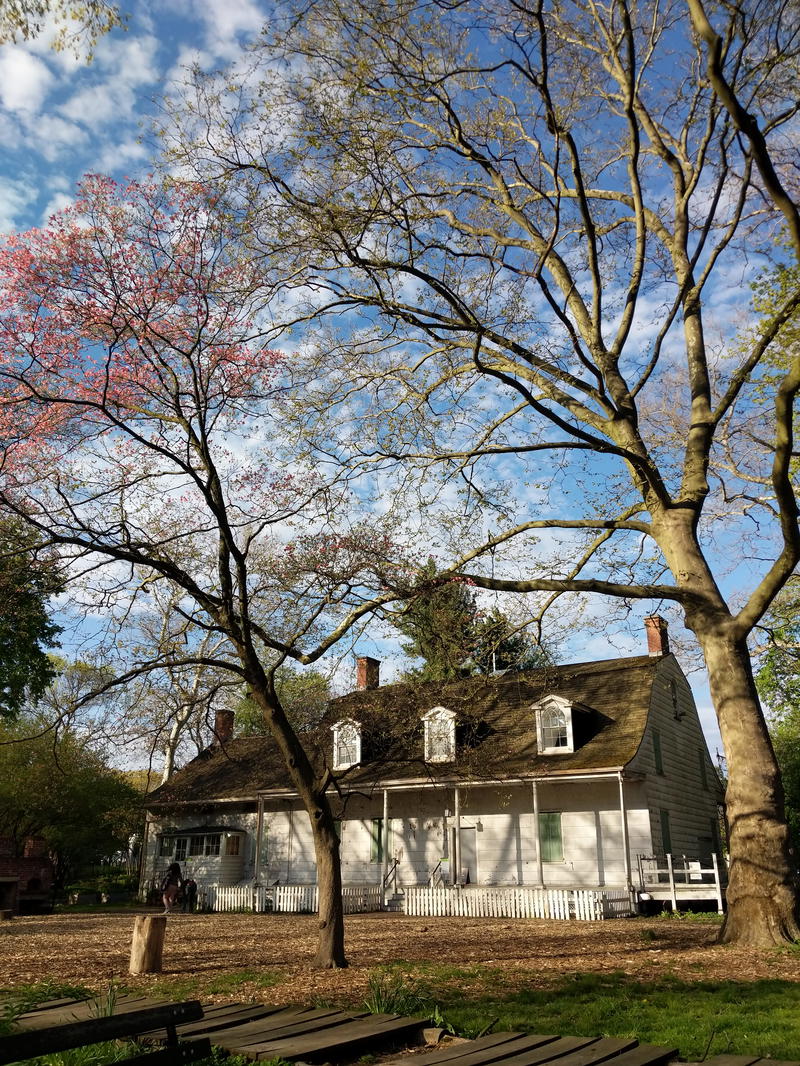 Prospect Heights, Brooklyn
Prospect Heights is a great local neighborhood in Brooklyn that is home to some pretty famous photography spots!
OY and YO Sculpture, Brooklyn Museum
This noteworthy fun and modern sculpture certainly packs a punch for a great photo spot outside the Brooklyn Museum, where people say it "has something to say." With its two cultural words of OY and YO, it's "very Brooklyn."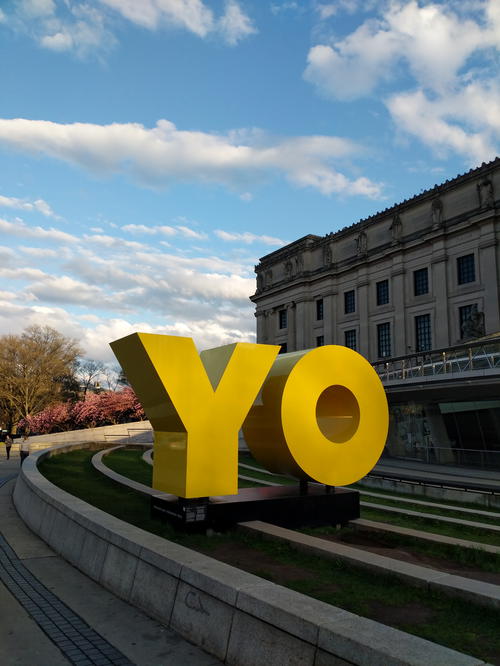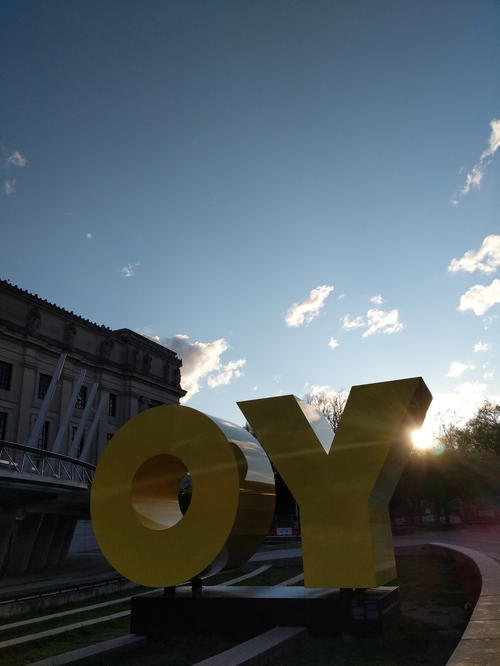 Brooklyn Public Library
BPL, as it is often abbreviated, is a fantastic and unique architectural and cultural landmark in Brooklyn that will make a great photo backdrop whether you're visiting from across the country or across the borough.
Its art deco design is some fantastic architecture that makes a surprising Instagram spot in Brooklyn.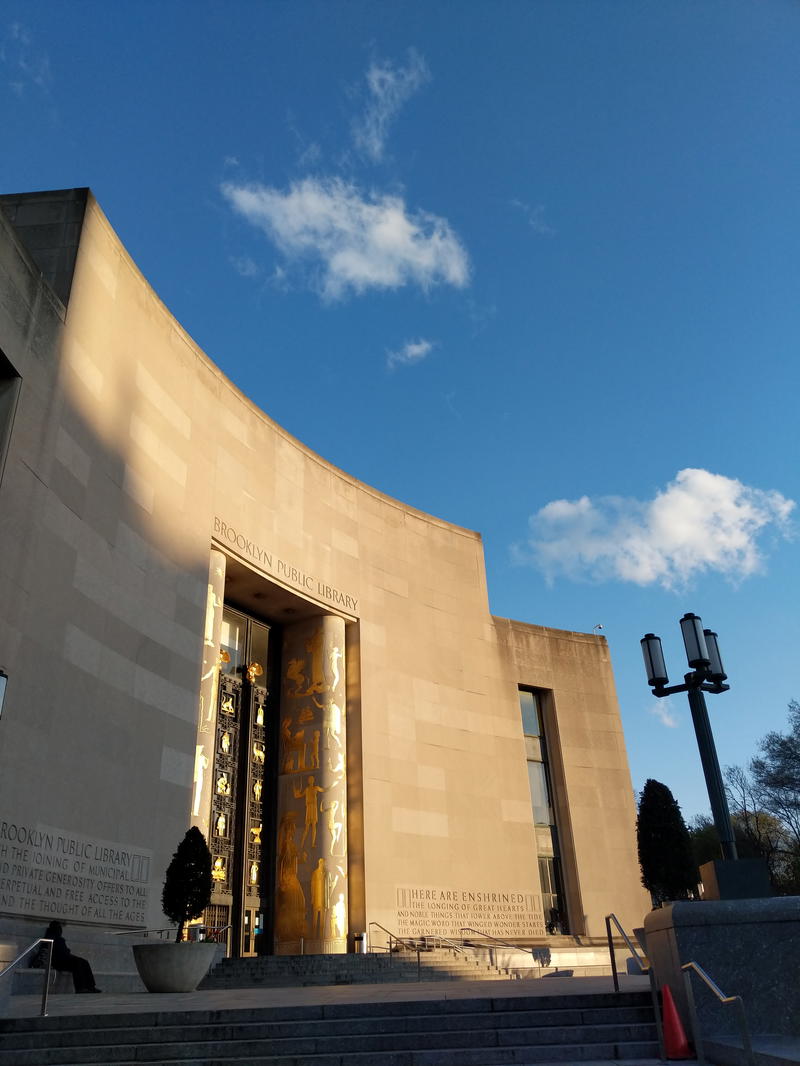 Soldiers and Sailors Memorial Arch
The second-most famous stone arch in NYC is this one, at the "top" of Prospect Park, across the street in Grand Army Plaza. It's a historical landmark that was finished in 1892!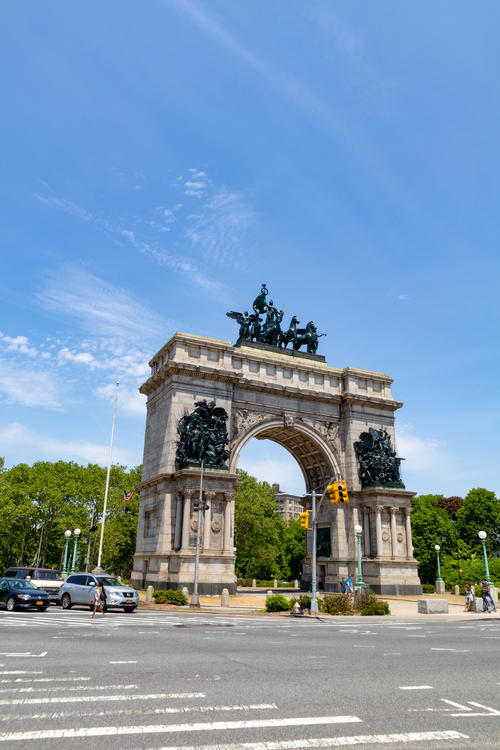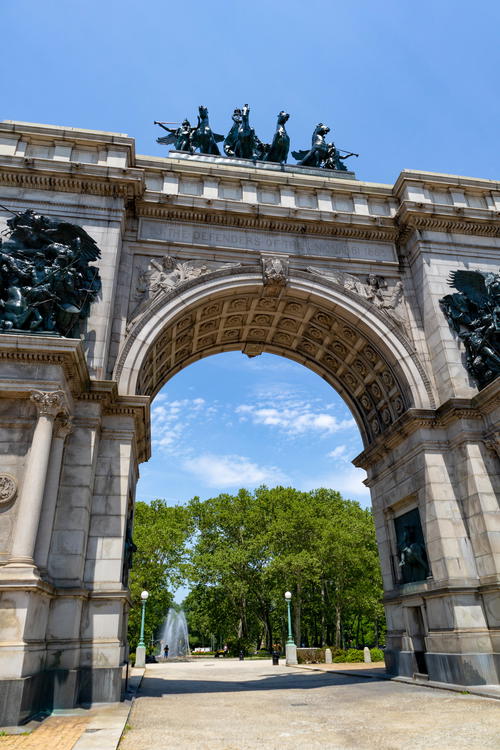 Carlton Avenue Overpass (view of trains)
This is a lesser-known spot on a pedestrian sidewalk that goes over the train tracks that lead into the Atlantic Avenue Barclays Center train station, along with the LIRR Atlantic Avenue terminal. Come at sunset for a directly west-bound view in spring and summer, with this unique viewpoint of the train tracks.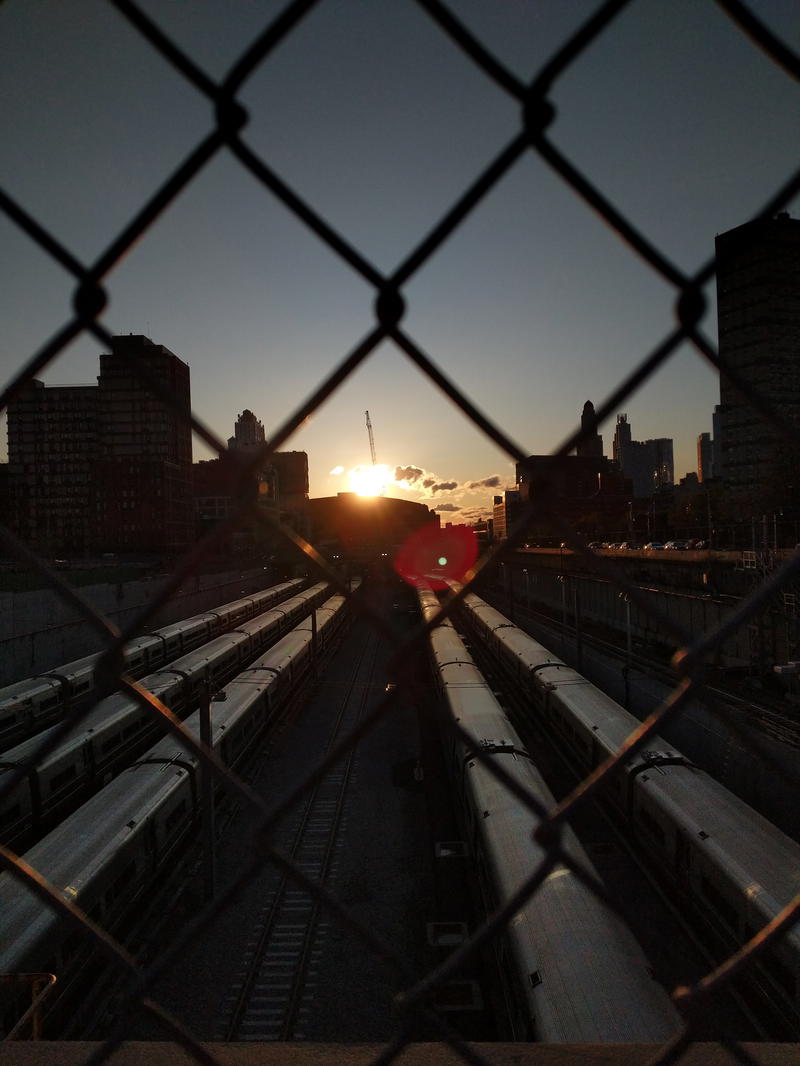 Brooklyn Bridge Park, Brooklyn
This huge Brooklyn park is full of its own special photo spots, with one for every type of photographer or Instagram fiend!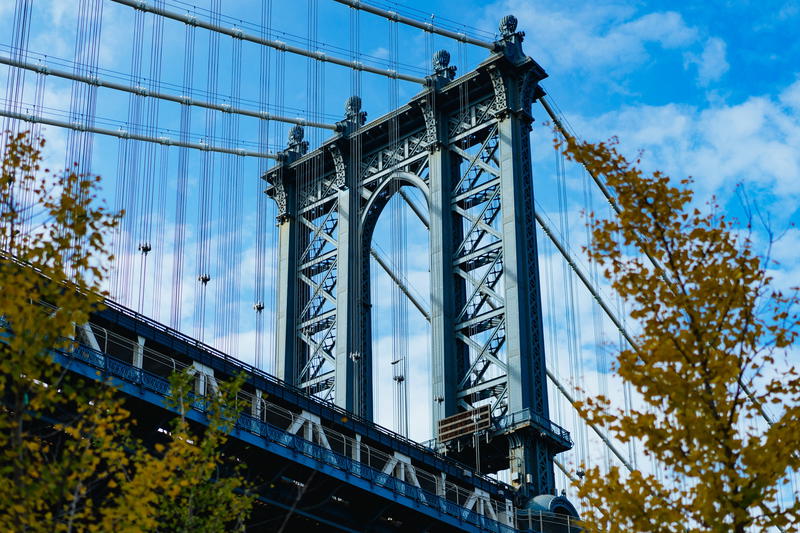 Pier 1 Viewpoint & Ferry Landing
Brooklyn Bridge Park - Pier 1 is the most accessible of all the piers in Brooklyn Bridge Park, and from here you'll get a superb photo spot for your Instagram by getting an unobstructed view of the Manhattan skyline next to the ferry dock and Brooklyn Bridge.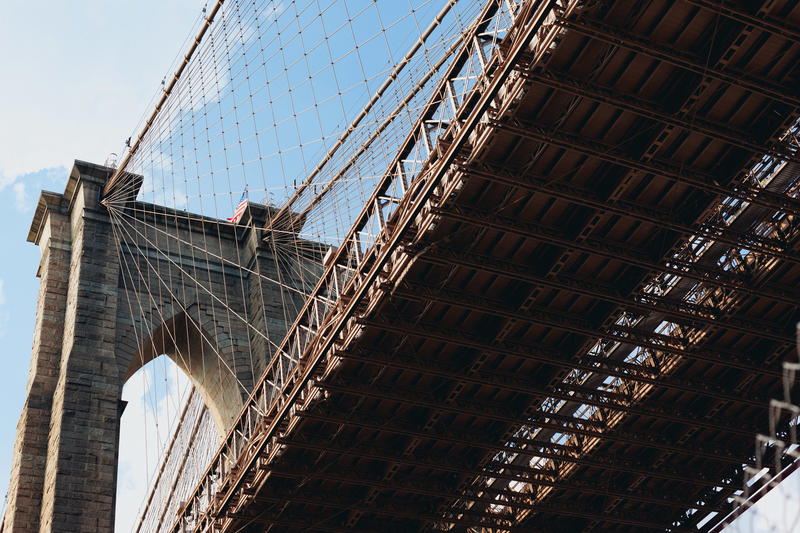 Old Pier 1 Docks Photo Spot
Undoubtedly one of the photography spots that people really come to Brooklyn for, the Old Pier 1 Docks take the cake for a romantic view of Manhattan and Instagram spot all at once. Come at sunrise or sunset, and definitely come during the week of September 11, when the city has the memorial lights coming from the former Ground Zero that reflect in the water right here at these former docks and rocky landing.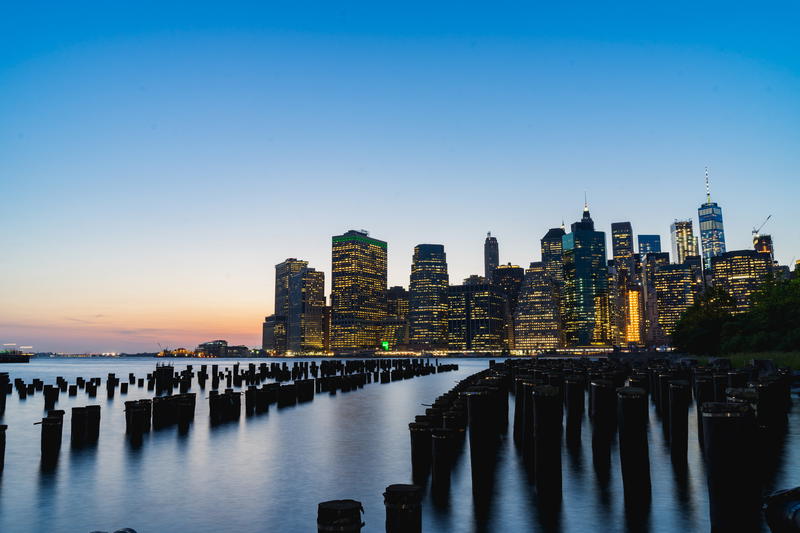 Helpful Tip
We also recommend going to the old docks at Pier 1 after dark, for night photos. For more tips on how to take photos after the sun goes down, see our guide to learn how to take better night photos.
Pier 4 Beach
Pier 4 Beach is my little secret photo spot, and I liked to call it my vacation beach close to home when we lived in Brooklyn Heights and Fort Greene. This postage-stamp sized patch of sand in between piers is a little photography spot of its own if you get down low and get the sand and wet rocks in a photo that captures the Manhattan skyline together.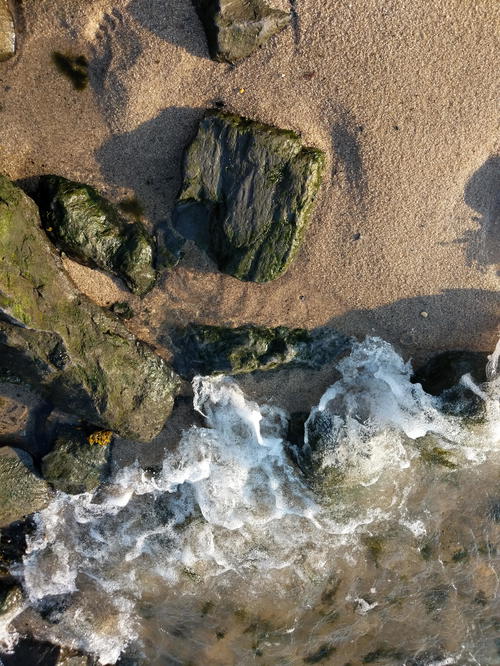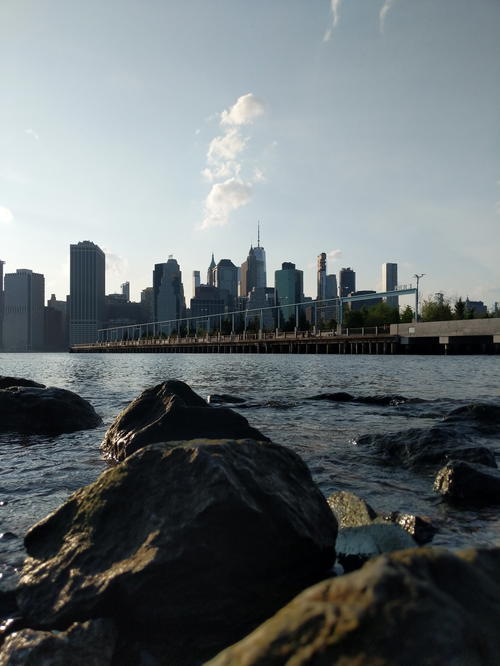 PILOT Floating Bar (Pier 6)
With this idea, I'm referring to both the boat bar "PILOT" and the Pier 6 Lawns from where you can take a photo of Pilot. Pilot is a floating boat bar that hangs out right next to Pier 6 and it is a lovely place to have a drink and do some serious photo-taking. If you don't feel like sitting down or you can't sang a table, taking photos of Pilot will make for some nautical and maritime-themed photos at this great photo spot in Brooklyn.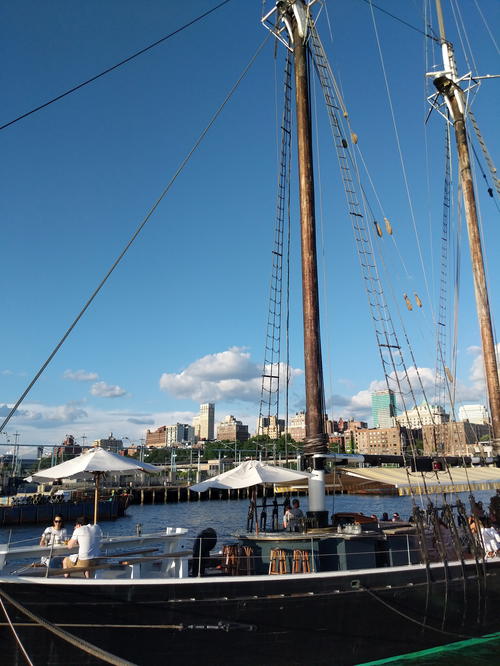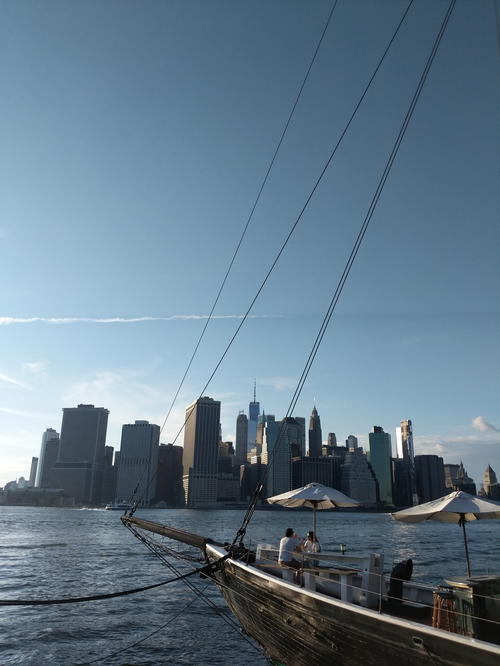 The lawn next to Jane's Carousel
The patch of grass on the hill next to Jane's Carousel is one of our favorite spots for taking photos with friends! It's also a nice place to see the sunset behind the Brooklyn Bridge and the Lower Manhattan skyline. We think this is one of the prettiest places in Brooklyn.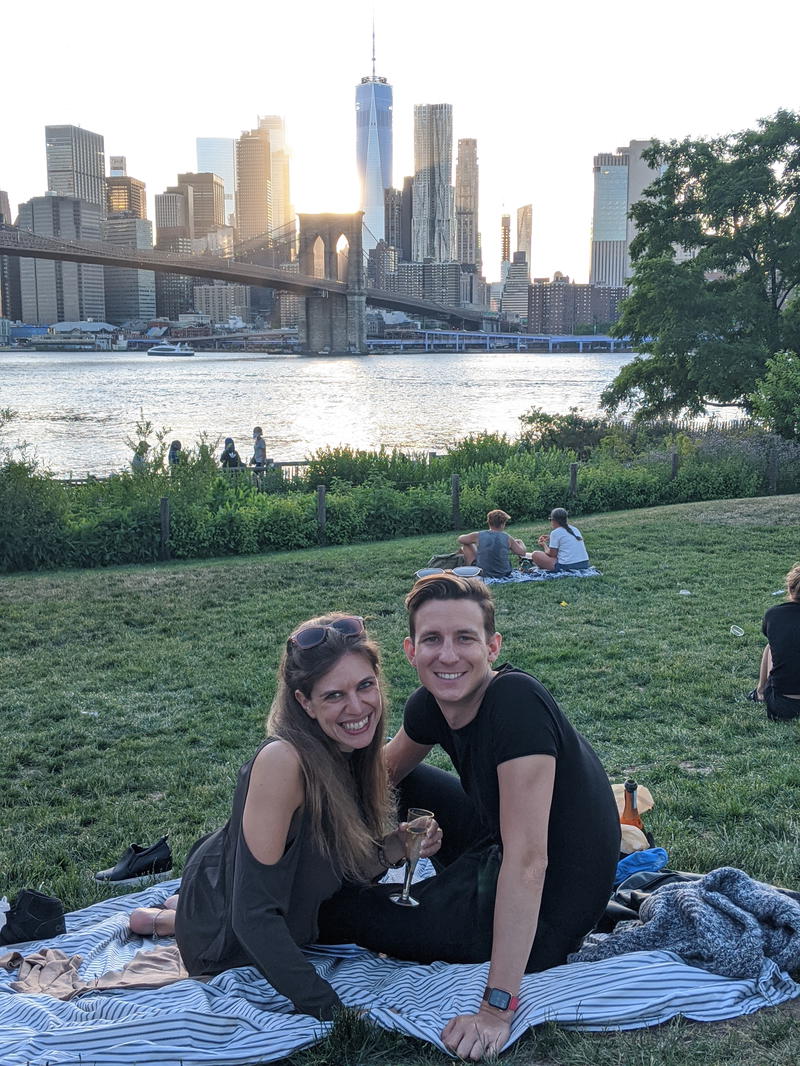 Pebble Beach (Manhattan Panoramic Viewpoint)
Pebble Beach is the ultimate photographers' spot for sunset in Brooklyn Bridge Park, and it's here where you can park up with other photographers at sunrise and sunset in a sea of tripods with cameras that are all snapping time-lapses.
Look to the right and see the Manhattan Bridge, and look to the left and you'll see Jane's Carousel with the Brooklyn Bridge in the background. This is a great photo spot for being in between both famous bridges.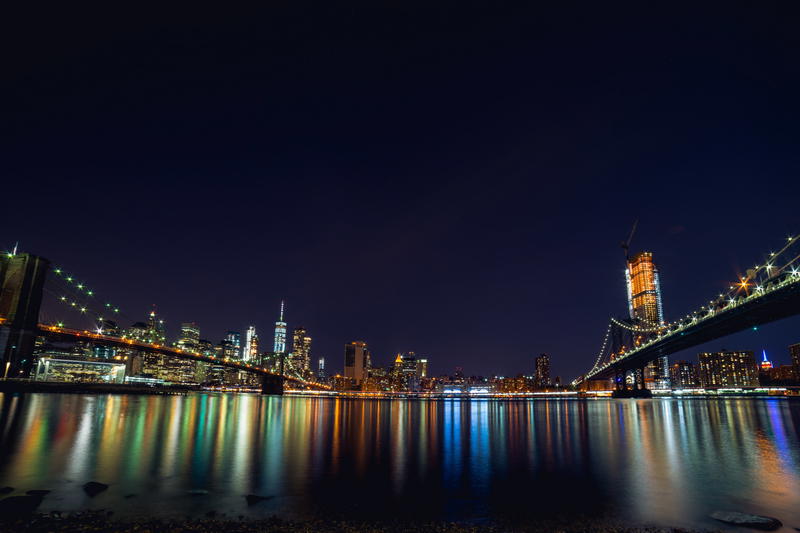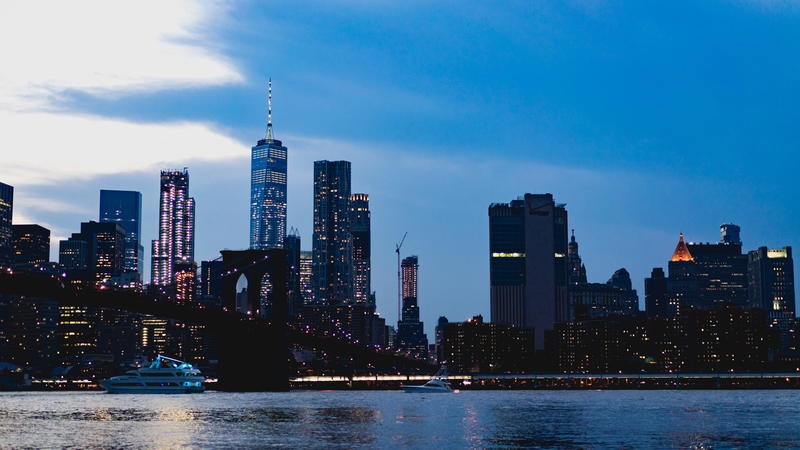 Coney Island, Brooklyn
Coney Island is an old Brooklyn middle-class neighborhood with, of course, the backdrop of the beach, boardwalk and amusement park that bear its name.
Coney Island Beach
While it's not the Jersey Shore and it's not the Hamptons, Coney Island Beach is our own slice of beachy paradise in NYC! It also makes a great Instagram spot where you can make it look like you really left town for a vacation, but you're still close to a subway home so that you can jet home when you get sunburned.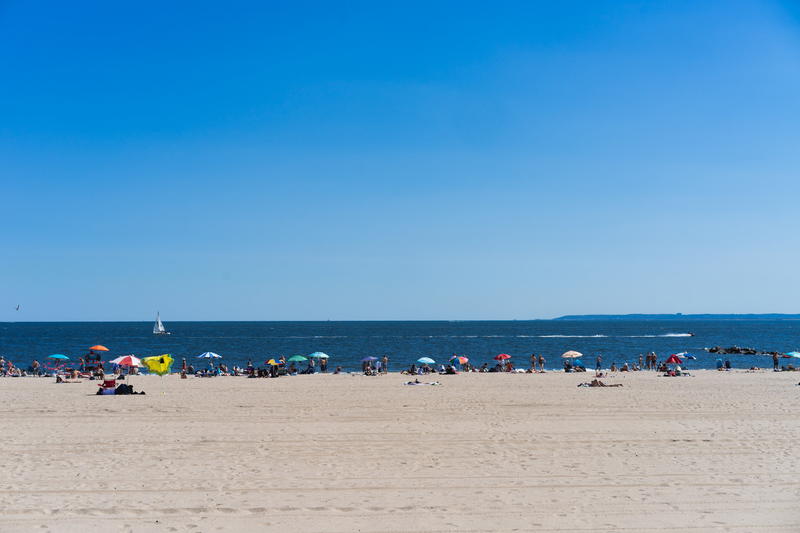 Coney Island Boardwalk & Luna Park
The ultimate Instagram spot for photography: Coney Island Boardwalk & Luna Park! This is an NYC essential and right here in Brooklyn, you can feel the whirl of this long-time Brooklyn staple at any time of year.
There are boardwalk food shops, street performers, people from every walk of life and of course, views of the water. The Steeplechase Pier is also one of the best places to take a photo in Brooklyn.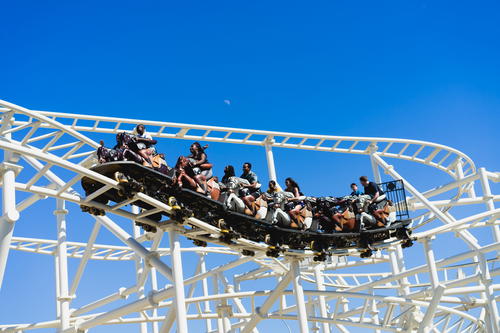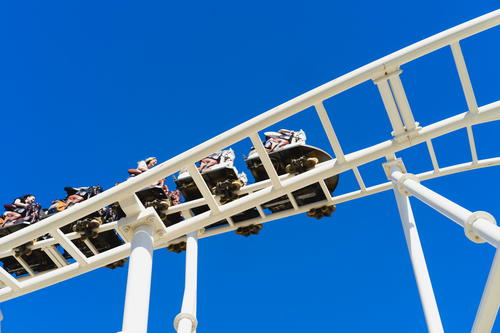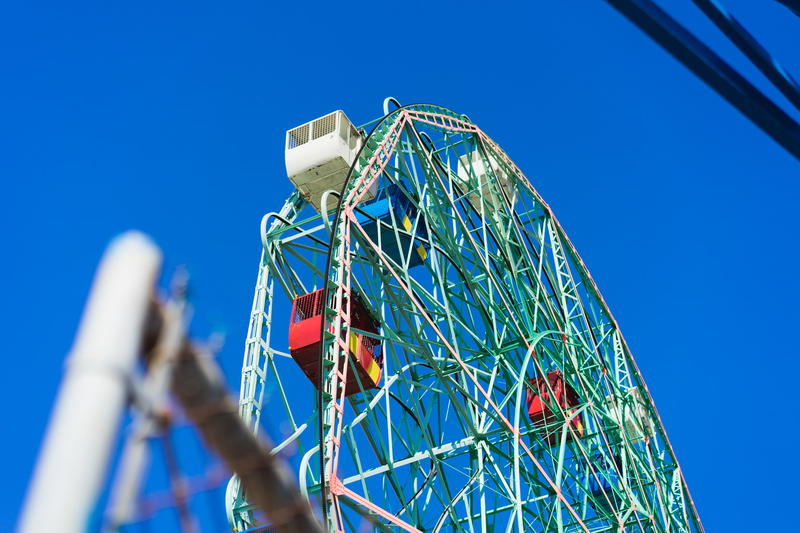 The Wonder Wheel
If you haven't seen a photo of the Wonder Wheel in your lifetime, I don't know where you've been. The Wonder Wheel is the quintessential NYC photo spot and a can't miss New York moment where you'll gaze up at this famous Ferris wheel for a glimpse at how people have been having fun on weekends for decades.
This is a top Coney Island photo moment and for sure one of the most important photography spots in all of New York City.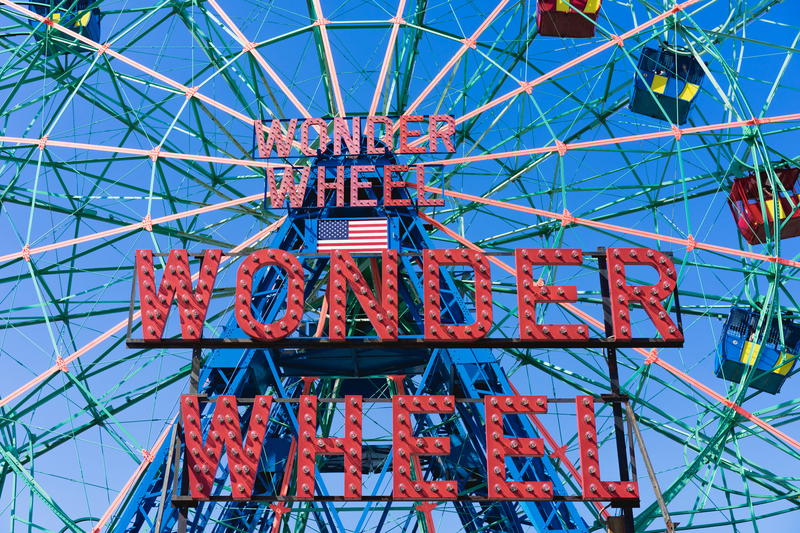 Nathan's Famous Hot Dogs
The ultimate landmark, Nathan's Famous is where you want to stop during a trip to Coney Island for one of the most famous restaurants in all of Brooklyn. The eye-catching colors, the old-timey sign and the hoards of hot dog lovers will have you on the money at this Brooklyn photo spot.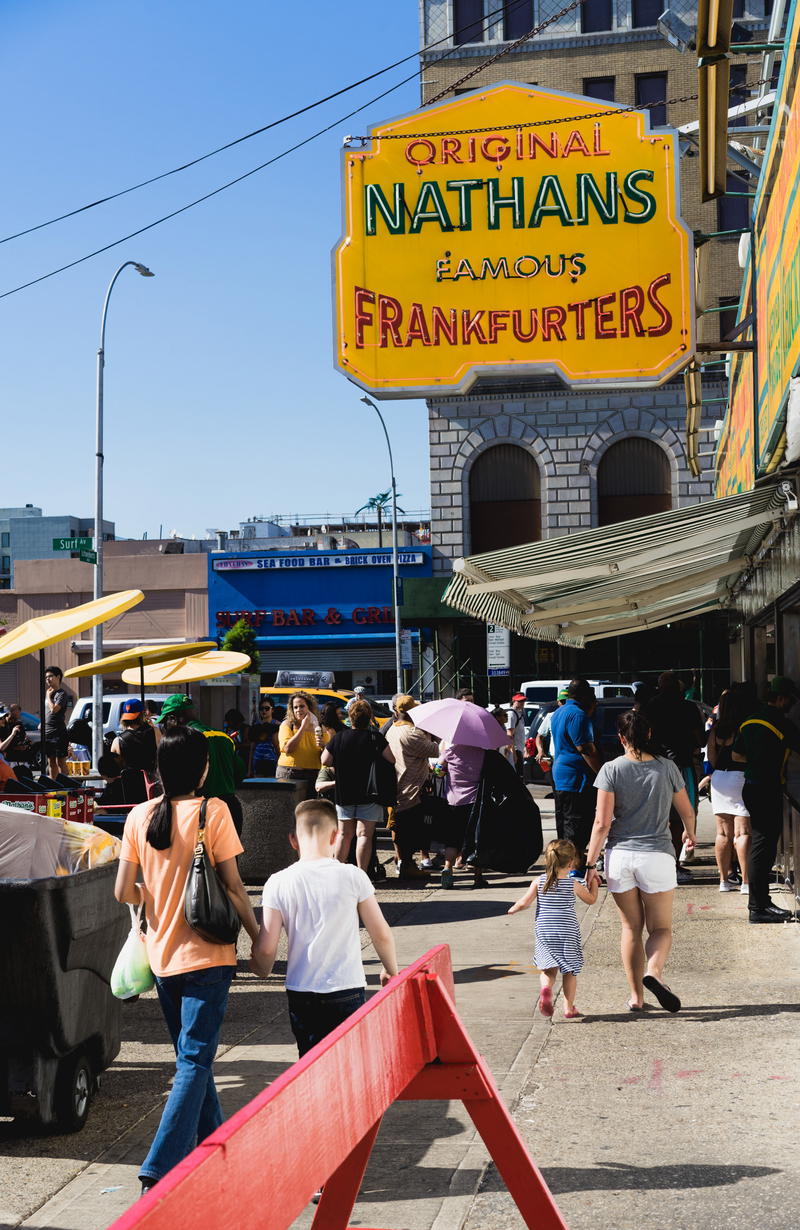 Brighton Beach, Brooklyn
It's easy forget that there are beaches so accessible in Brooklyn!
Brighton Beach Boardwalk
Brighton Beach Boardwalk is a bit more laid-back than the buzz of Coney Island Boardwalk, just a few minutes' walk from each other. Brighton Beach Boardwalk is a locals' hangout in this Russian and Eastern European neighborhood, and you'll surely see the four restaurants in a row that are all named TATIANA.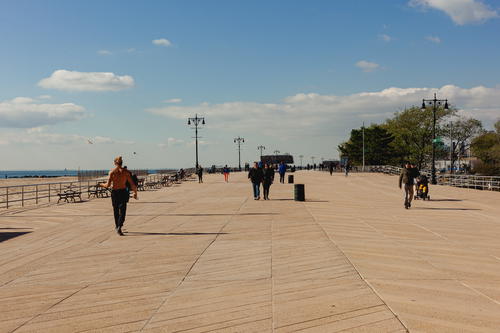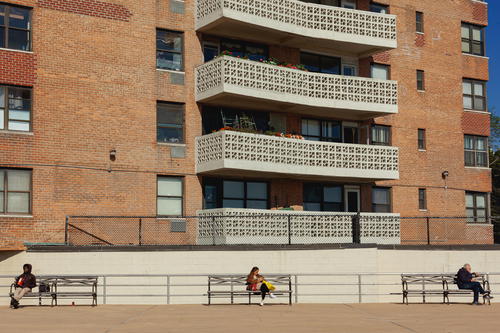 Brighton Beach Avenue Russian Neighborhood
If you feel like traveling the world within Brooklyn (and we always do), take a trip to Little Russia by hopping on the B or Q train and getting off at Ocean Parkway or Brighton Beach. Climb right down the stairs to the main street below the elevated train to see Russian vendors, Russian shops, Russian restaurants, Russian supermarkets and lots of Russian language here.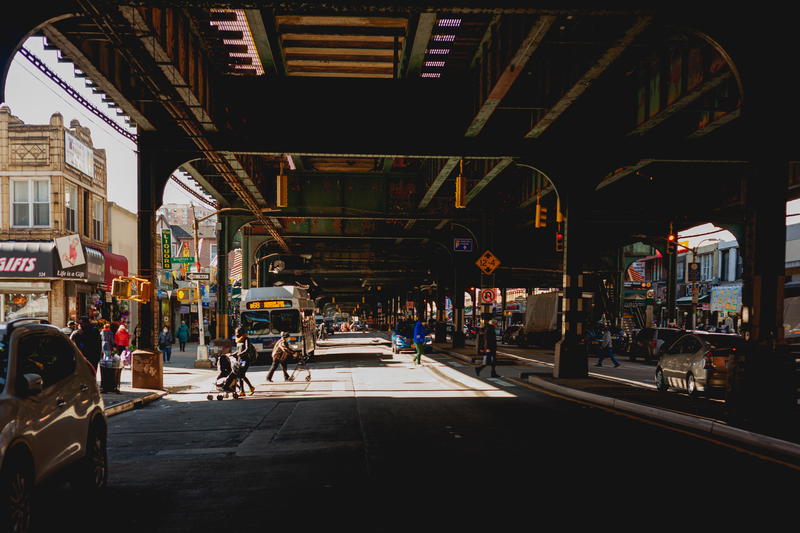 South Williamsburg, Brooklyn
South Williamsburg is a bit rougher around the edges than the new-age glam and hype of the rest of Williamsburg. If you venture inbound, you'll see the glitz wear away and you can see what the neighborhood looked like before gentrification made it the destination it is today.
Brooklyn Navy Yard shipping containers
Kent Avenue between the Brooklyn Navy Yard and Williamsburg becomes a bit drab as you round the corner from Classon Ave and until South 10th St. or so, but, maybe that's because you didn't give the Brooklyn Navy Yard shipping containers a minute of your time.
You want to be at Clymer St and Kent Ave. to take the photos below, which we think are one of the best under-the-radar places for fashion photography NYC (see our DUER jeans review in which we posed here) and it's also a dope spot for Williamsburg street photography.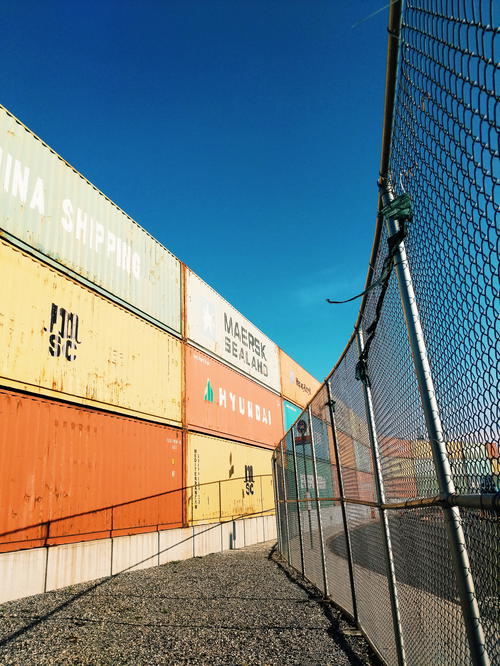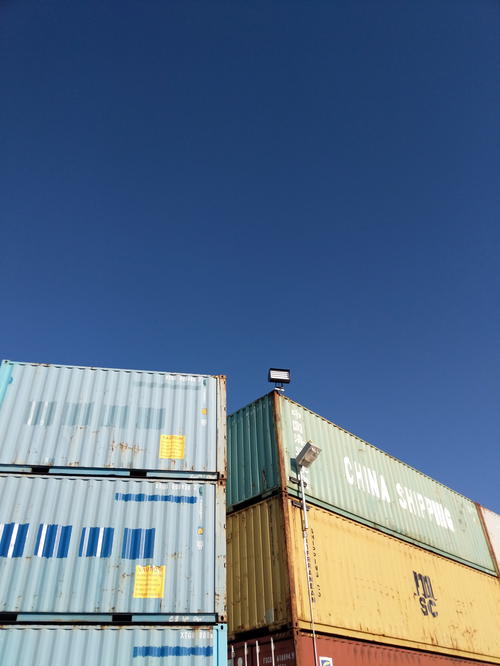 Lee Avenue Commercial Strip
Many people would not think to go to Lee Avenue at all, let alone for street photography or photographic moments during a Brooklyn trip; however, if you find yourself walking through Williamsburg or from the Brooklyn Navy Yard northbound on the Flushing Avenue footpath, plug Lee Avenue in your maps and explore this commercial section of the South Williamsburg Community.
This is one of the more unique places to take pictures in Williamsburg, Brooklyn, especially if you only have one idea of "Williamsburg" in your head and it's Bedford Avenue with a food truck and a jewelry boutique and Gen Z hipsters.
No, no, no. You need to have a half hour at least walking down Lee Avenue and admiring the old-school Hasidic shops, bakeries, butcher shops, Judaica stores and small synagogues and supermarkets that line this thoroughfare of the South Williamsburg Jewish community.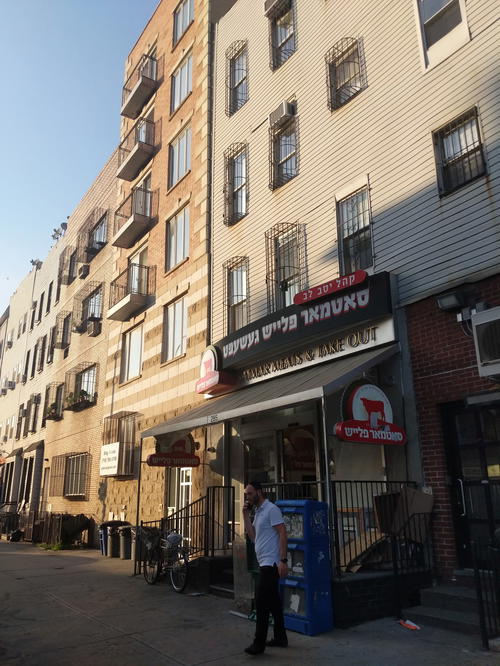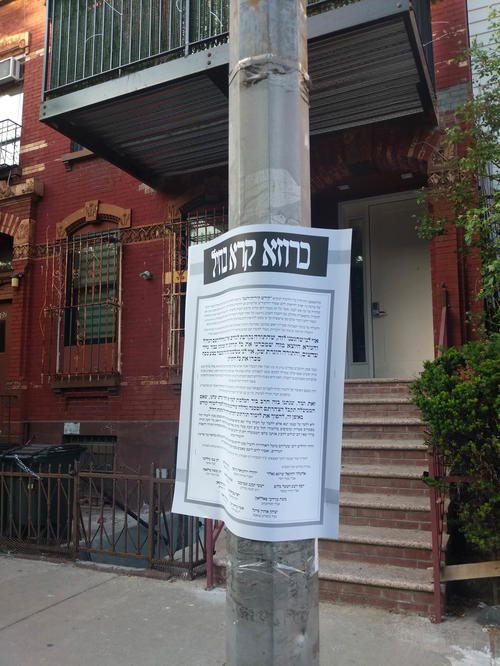 Sunset Park & Industry City, Brooklyn
Sunset Park is a predominantly Mexican and Chinese neighborhood south of Greenwood Cemetery that we really like to visit! Toward the water past Third Avenue is Industry City, as you'll note below.
Industry City Courtyard
Industry City, a fairly-new development on the edge of the Sunset Park neighborhood of Brooklyn, was built to revive the area and to give new life to decades-old structures that anchored the area's maritime trade in the first half of the twentieth century.
Industry City is now home to food, culture and entertainment, and is worth a trip during your adventures in Brooklyn. Head into the 'courtyards' of the massive concrete hulking buildings that house the businesses and food halls, to see this expanse of urban-jungle-turned-public-space and get your Instagram shot.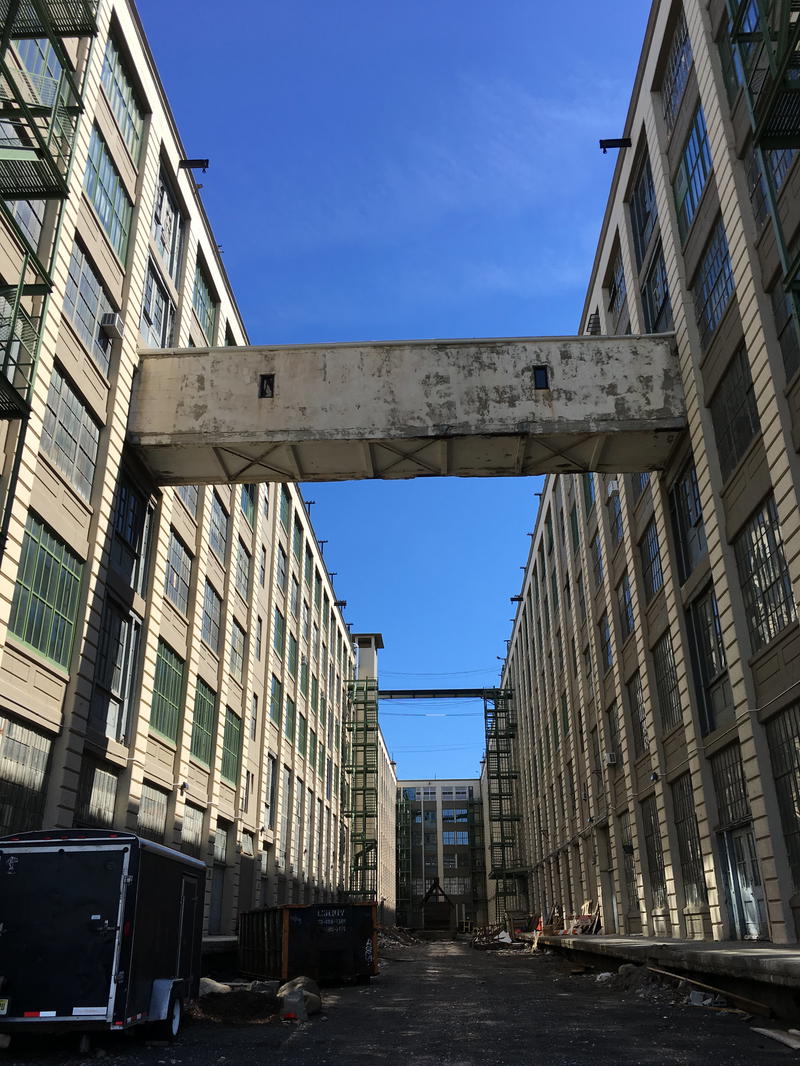 Sunset Park (hilltop viewpoint)
Yes, there is a park called Sunset Park in Sunset Park (neighborhood), and it's a very hilly park with one of the highest points (altitude-wise) in all of Brooklyn. What this gets you is a dead-on view of Manhattan, with a view of Jersey City, too! Make sure you walk up to the highest points, and go at sunset for your perfect NYC Instagram photo.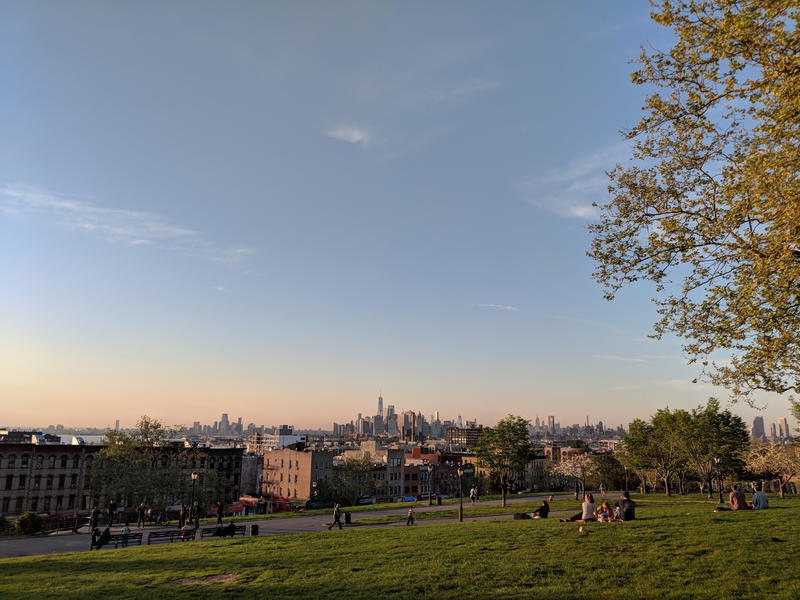 Dyker Heights
Dyker Heights becomes a draw for visitors during Christmastime, and in other times of year, I'd say there's not much to see here except a local neighborhood with some shopping, bakeries and a big park.
Dyker Heights Christmas Houses (seasonal)
The Dyker Heights Christmas Houses is a photo-worthy experience around mid to late December every year! This neighborhood of Southwest Brooklyn really knows how to party, and the houses on the blocks of 86th to 83rd Streets will give you the joy of holiday lights.
Be prepared for a 20-minute walk from the nearest subway, and potentially icy and/or snowy conditions, depending on the year's weather. I suggest dressing warm, as I chose to go with friends a few years ago and the temperatures were barely more than a few degrees. Mittens are encouraged as you head to one of the best outdoor photo experiences in a Brooklyn winter!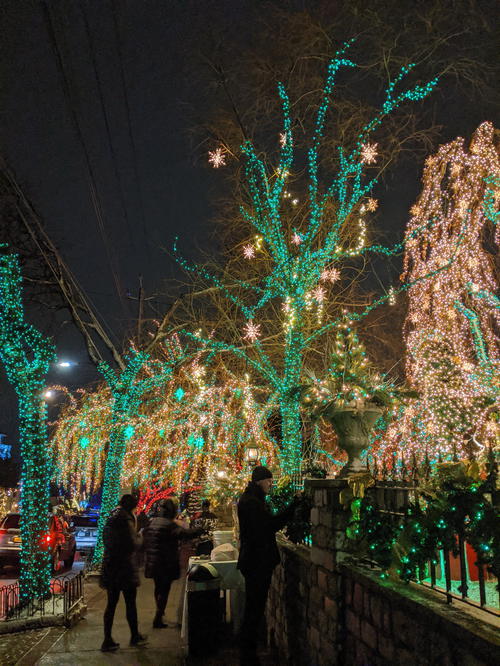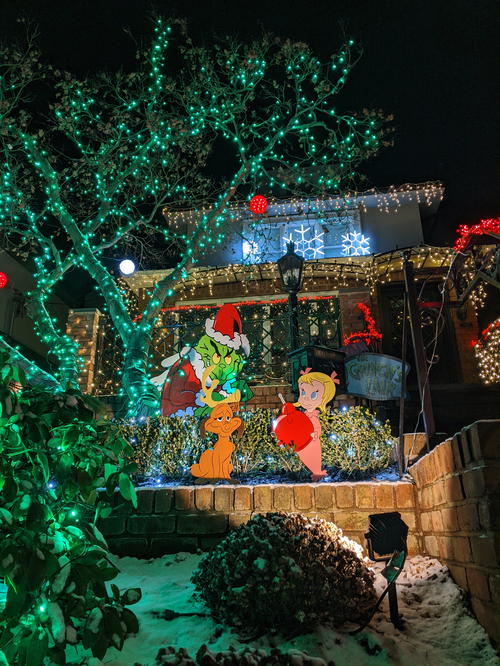 Gowanus
Gowanus is a formerly industrial neighborhood of warehouses that got (and is continually getting) a facelift since the 2000s. With the expansion of the Boerum Hill, Carroll Gardens and Park Slope demographics, Gowanus (despite being a flood zone) is now an area with restaurants, bars, cafes and bike shops.
Whole Foods Rooftop Bar
I tend to think the Whole Foods Rooftop Bar in Gowanus is one of the best kept secrets in all of NYC.
If you go to the Whole Foods Market at "Third and Third" (Third Avenue and Third Street), head up the steps until you can't go any higher and you'll be at The Roof, a totally laid-back beer and wine bar where you can bring any food you like purchased in the Whole Foods supermarket.
Time your visit with sunset, and you'll be delighted with one of the nicest places to take photos in New York City, not to mention one of the most low-stress rooftop bar experiences Brooklyn has to offer.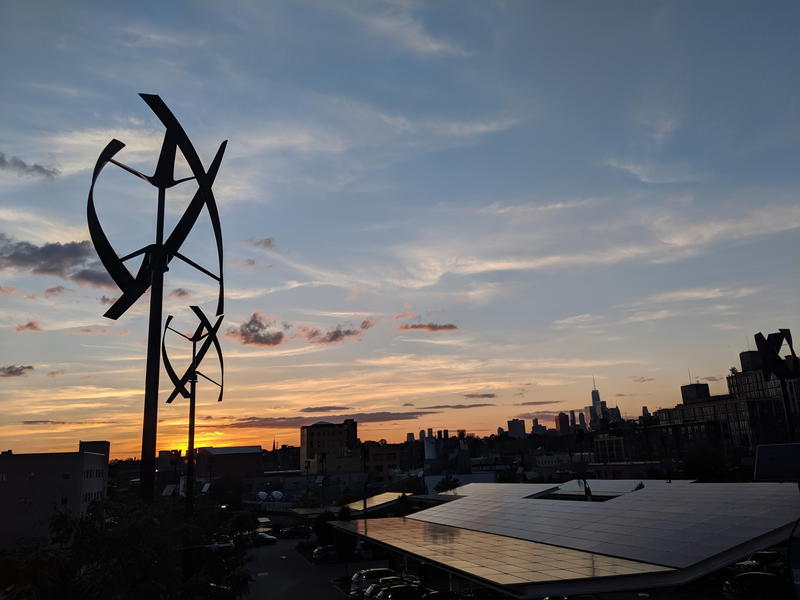 Gowanus Canal from Union Street Bridge
While the Gowanus Canal is often mocked for being smelly and polluted (both are usually true), this Brooklyn waterway is often overlooked as a place where you can see a cross-section of Brooklyn's neighborhoods from bridges across the canal, and it can be a surprisingly-okay photo spot that not many visitors (nor Manhattan day trippers) would think of.
So while this is not one of the golden Instagram moments of a trip through Brooklyn, it is a unique place to take a photo, when you find yourself in the middle of one of the Gowanus Canal Bridges, at either Union Street or Third Street.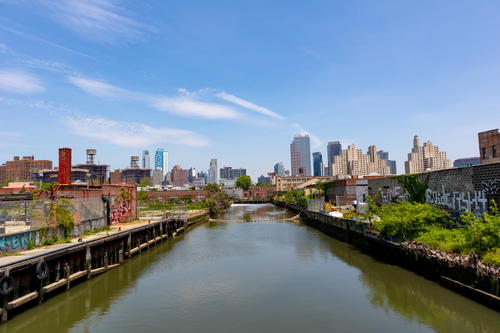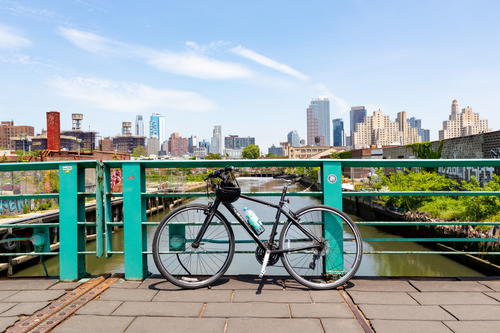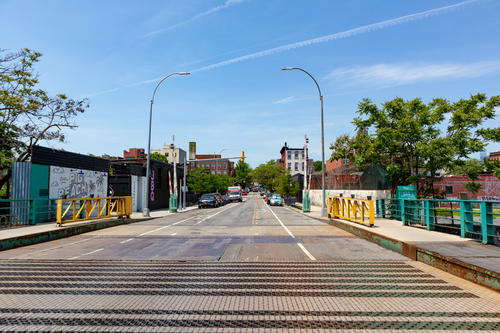 Enjoyed our article?
Consider supporting us! We're a 2-person team (learn more about us here) and your support enables us to create quality content. Thank you!