Kibou Fanny Pack Review: Best Minimalist Travel Diaper Bag?
Written by Becca
•
Updated on November 22nd, 2023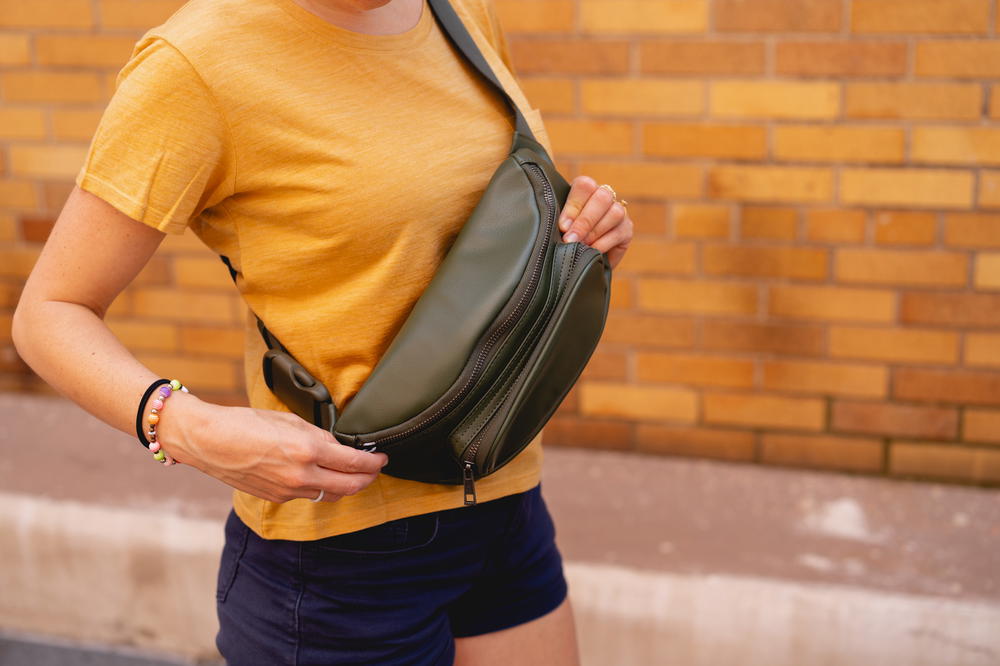 Is the Kibou minimalist fanny pack diaper bag worth it for traveling parents? See how this road trip and flight day must-have worked out for me on trips with a baby.
This article may contain affiliate links. We earn a small commissions when you purchase via those links — and it's free for you. It's only us (Becca & Dan) working on this website, so we value your support! Read our privacy policy and learn more about us.
When we started toting around all our baby's "stuff" in a diaper bag, I wanted to be uber-prepared. Diapers? Check. Several changes of clothes? Check. Wipes and diaper cream? Check.
Then I got into the what-ifs. Nursing cover? Check. Spare milk containers? Also check. Burp cloth? Check. Changing pad? Check.
As we traveled more, I realized we needed things like teether toys, spare hair clips, a travel bib and spare baby food pouches. Our diaper bag had become the size and weight of a piece of luggage.
Going on trips, and in and out of rest stop bathrooms, as well as restrooms in airports, zoos and parks, I realized it would be great to have something basic, minimal and handy.
This is where the Kibou fanny pack diaper bag came in. I didn't think I needed it, until I had it. I even started wearing it as a waist bag when my baby wasn't with me!
Get 20% off!
The Kibou deals are still live! Get 20% off sitewide, plus free shipping!
In my review, I'm detailing my experience with the Kibou, its versatility and if it's really the dual-purpose diaper bag and fanny pack it claims to be. Will the Kibou become part of your travel routine as a parent on the go? Read on to see how it works for me.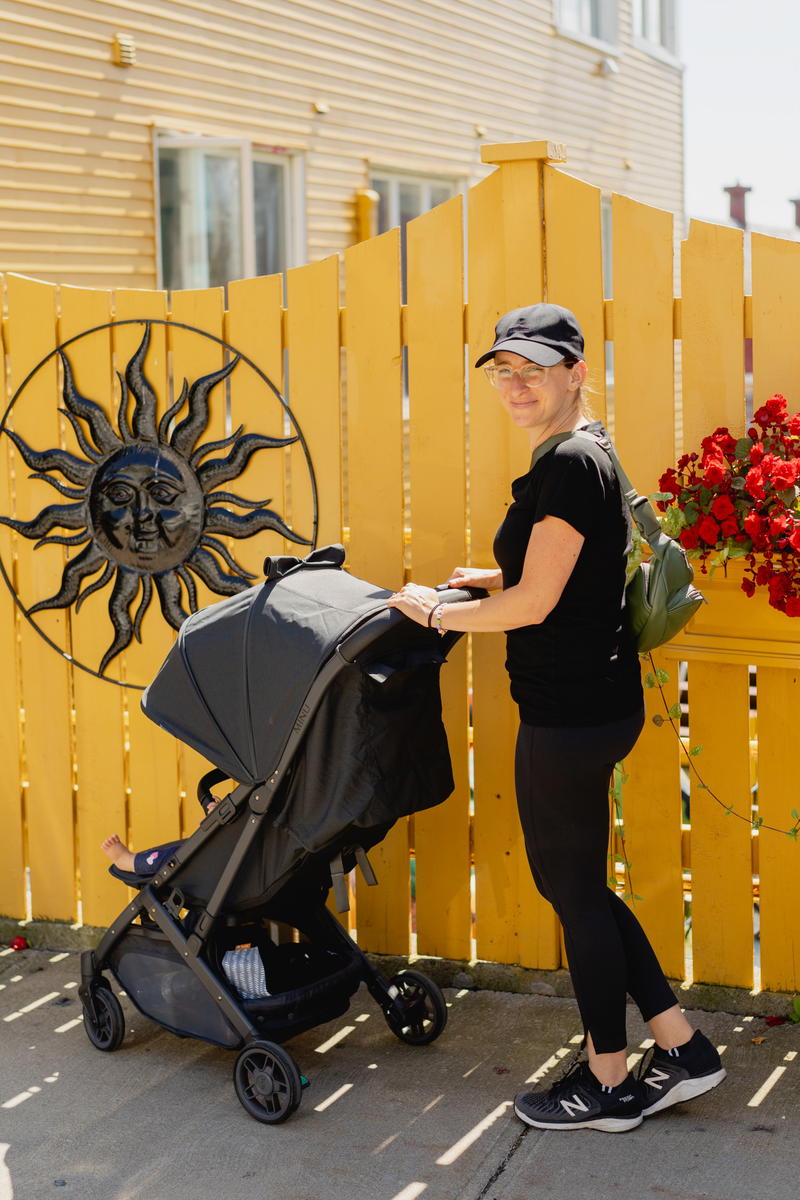 What is a Kibou? (the Kibou story)
Funny enough, I found out first about Kibou, and then found out that one of the co-founders (Nell Shapiro) was my college roommate's camp counselor. Small world!
My first glimpse of Kibou was a brand was in an Instagram ad. I saw a photo of a mom or dad with this fanny pack that I thought was "just a fanny pack," until I clicked in. I was so excited to see the Instagram account dedicated to cool parents on the go, in my new life as a mom who wants to travel.
The Kibou founders, Nell and Stephanie, met in Brooklyn (yay!) and had a vision of a minimalist diaper bag that looked "good," as the perfect thing to complement their lives as new moms. They carefully looked at fabrics and materials, and honed in on qualities that every parent wants in a daily bag: easy to clean, safe materials for children and high quality. They did a lot of testing, and came up with the Kibou you see in my photos.
Kibou creatively stands for "Keep it by you," which is what both women sought their product to be. The Kibou is a bag so versatile and handy that you don't want it to sit in a closet: it's meant to be used and worn! The Kibou mission is to help parents save time organizing "stuff" and stop being weighed down. The Kibou tagline is therefore "deliberately minimal."
Kibou also focuses on the real life stories of parents, as you can see in the feature about me and family travel, in the Kibou Blog!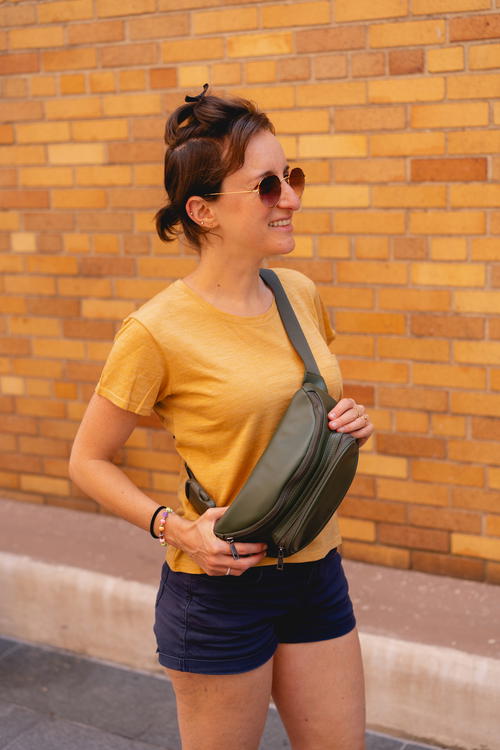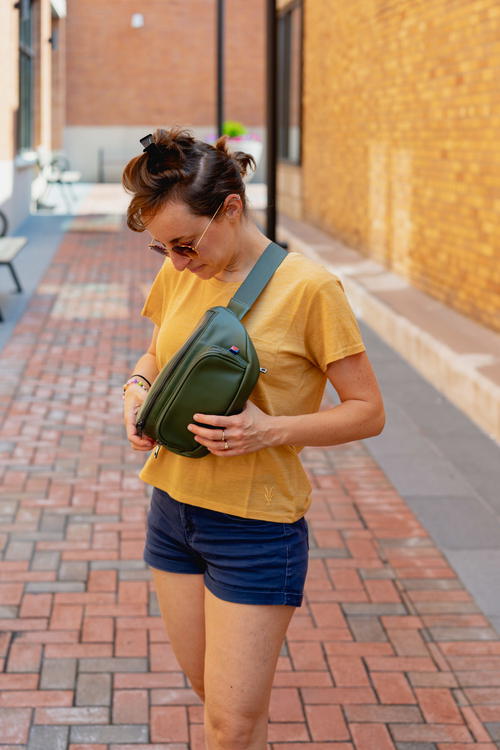 What are the Kibou and Kibou mini vegan leather fanny packs?
The Kibou Vegan Leather Bag and Kibou mini fanny pack-diaper bags are the first of their kind. They're made for the modern parent who wants to look good and doesn't want to look lame or bogged down with all the demands of parenting and running after a toddler or toting a baby.
The Kibou fanny packs look on-trend, I'll just say that. This is a waist pack that I detailed in my list of the best fanny packs for travel because, as a mom who loves to be on the road, this is my newest must-have.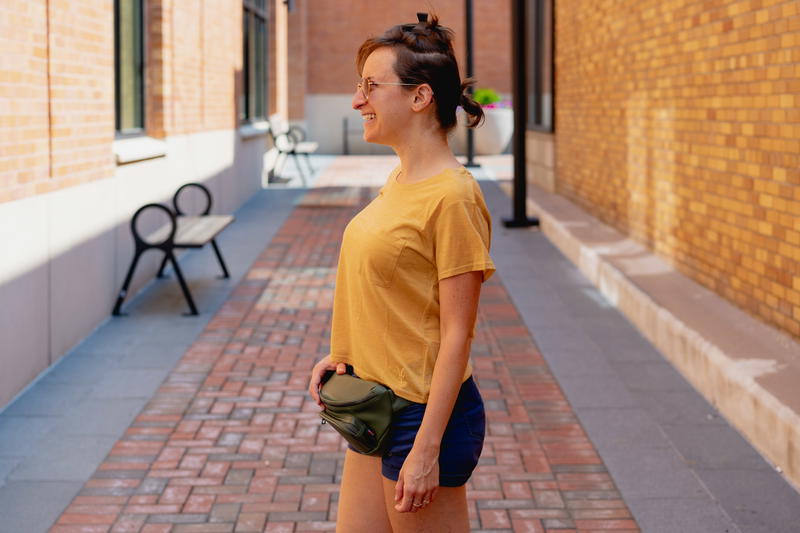 The original Kibou (and the mini) let you have the diaper-changing basics (not the full nine yards of a fuller-size diaper bag, to be clear) on the go. And you can still look chic, like the "old pre-baby you" would've loved to see. I think that's what I like best about the Kibou: that it's a cool mom accessory that doesn't skeeve me out like dopey traditional parent gear.
I've made "Kibou" a household term in our home, meaning if we're headed out the door, I say, "I have to take my Kibou," or, "Could you grab the Kibou?"
I make sure there are two diapers in there, plus a few wipes in the wipes pocket. I keep a travel-sized diaper cream in the main pocket, and I'll take a snack bar for me. I load in whatever else the day will demand, like a mini sunscreen, mini hand sanitizer gel and my cards and keys.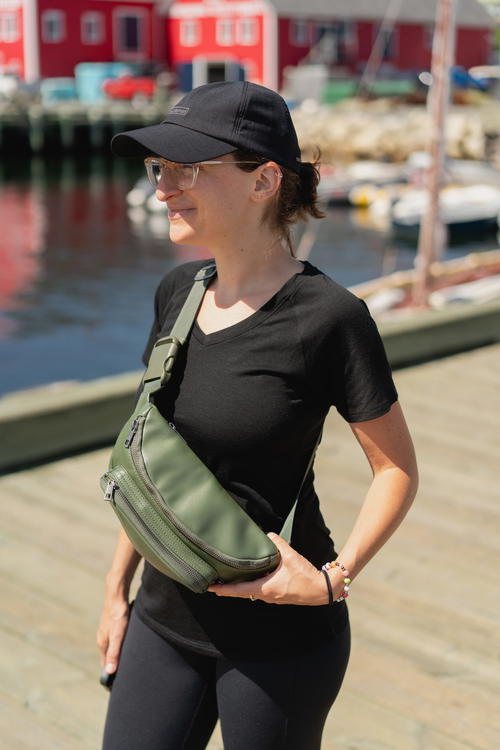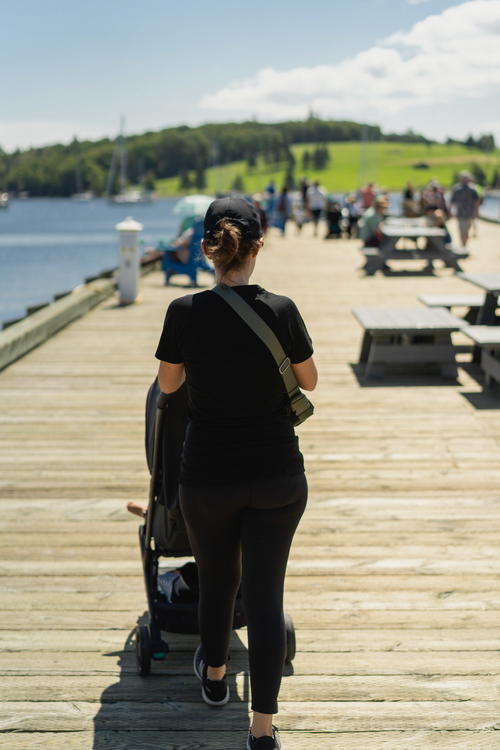 Helpful features of the Kibou
The Kibou bag is a well-thought-out product made by parents, for parents. It shouldn't be surprising that the aspects of the Kibou were made for function and purpose, and they're well-concealed in this great-looking waist bag!
Fold-out changing pad
I think this is the part of the Kibou fanny pack that I love showing off the most. I say, "You've gotta see what's hiding in this fanny pack…" and ta-da: I bust out the folding changing pad that's in its own pocket at the backside of the Kibou.
The changing pad is easy to fold out and fold back up, and it detaches and/or reattaches with Velcro. I usually leave it Velcro'd in, and use the Kibou itself as a little pillow for my baby when doing a change.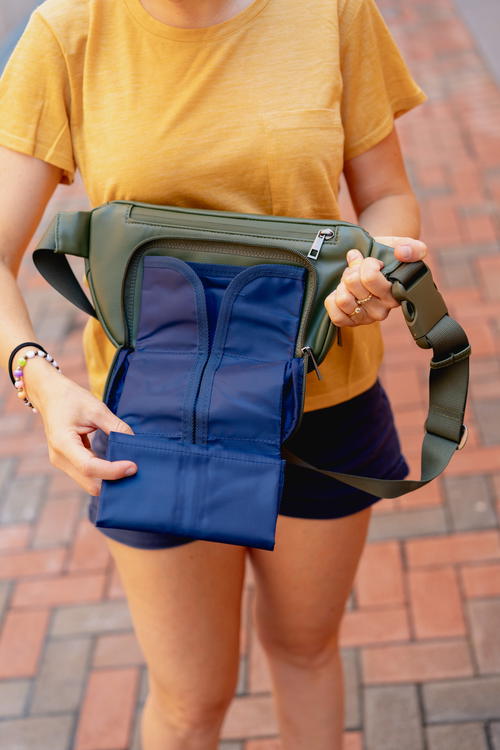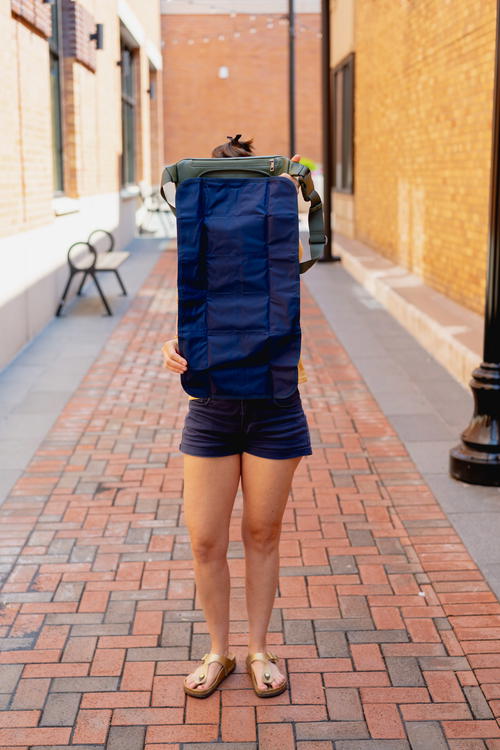 Zipper wipes pocket
Kibou claims that 20 wipes fit in this zippered-up waterproof-friendly pocket! I usually have five or six in there and I replace them frequently. This pouch is also good for anything wet (hey, you never know!), to separate it from the rest of the contents of your Kibou.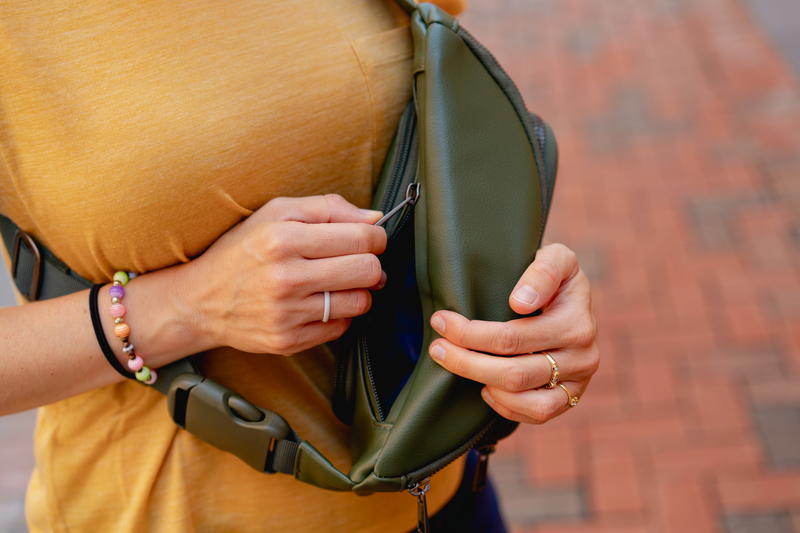 Main pocket with zipper pouch
The main pocket is lined with stain-resistant nylon. It has a zipper pocket at the back of the interior, which is where I put tiny things like sanitizing wipe packets and a lip balm.
In total, there's room for two or three diapers, diaper cream, a snack bar for me and even a baby food pouch, for feeding on the go. Some parents might want to keep a pacifier in here.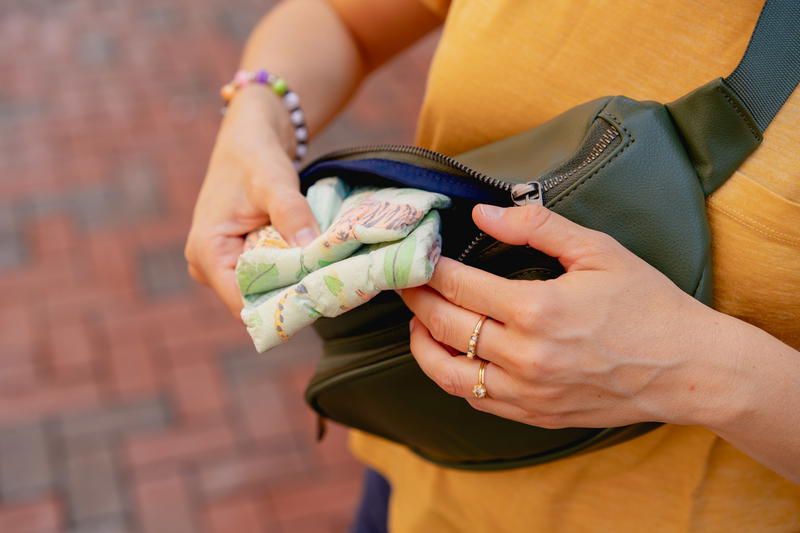 Front compartment with card sleeve
The front compartment is a smaller zipper compartment with card and cash slots. It has enough space for also keeping a travel-size bottle of sunscreen or hand cream.
Adjustable strap with buckle
The adjustable strap goes small enough for someone petite like me to wear the Kibou as a waist pack, and it lengthens for wearing the bag as a crossbody belt bag. I've worn it both ways. I'm still deciding which I prefer!
Kibou is size-inclusive, and offers a belt extender for free, to go up to size 3XL.
My only qualm is that the buckle can be a bit finicky, and I once got some finger skin snagged in there. Ow. Just be careful with it, because it can snap in kind of fast on you. If you use the belt adjuster, you might rarely have to un-buckle the plastic buckle.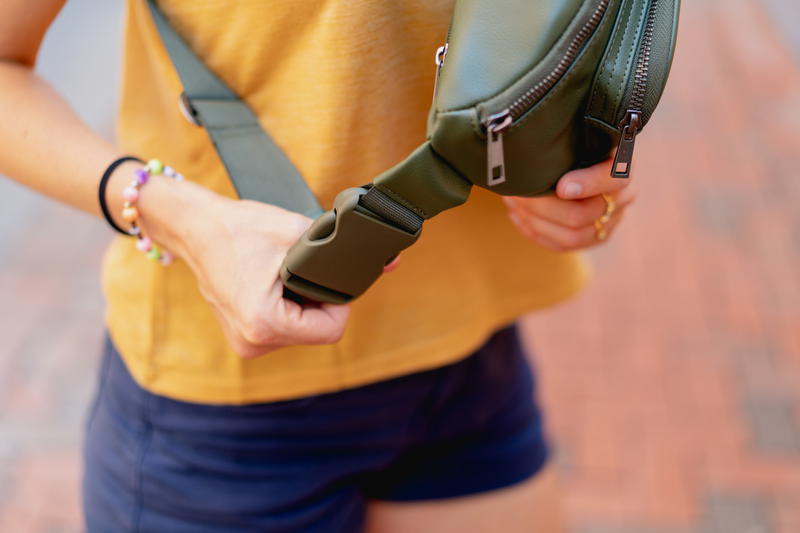 How did the Kibou work out for travel?
This is where I want to detail how the Kibou fanny pack diaper bag worked out for me on our family road trips with our baby, as well as our first "flying vacation!"
Taking the Kibou on road trips
I got the Kibou vegan leather pack when our baby was a few months old, but we weren't on the go quite so much until summer came around. On one of our first road trips with our baby, I realized that we had room in the car to spare (among all the baby stuff).
We took the full-size diaper bag (we use the changing bag from Nike, which I reviewed at this Nike Convertible Diaper Bag review). It's our "this is everything we need, at a hand's reach" diaper bag. (And sure enough, the need for an entire outfit change landed us at a picnic table off the highway in the Catskills.)
For the most basic on-the-go diaper bag in a minimalist version, I took my Kibou fanny pack. It turned out that it was very clutch for taking into a rest stop bathroom for a single diaper change, and then back to the car! I had my phone, credit cards, snack, keys and diaper essentials inside. I liked that it was simple enough to not even merit going in with the stroller, because I didn't have to store an entire backpack there. With the baby in our Baby Tula Explore Carrier, we were in and out, on our way up to Livingston Manor.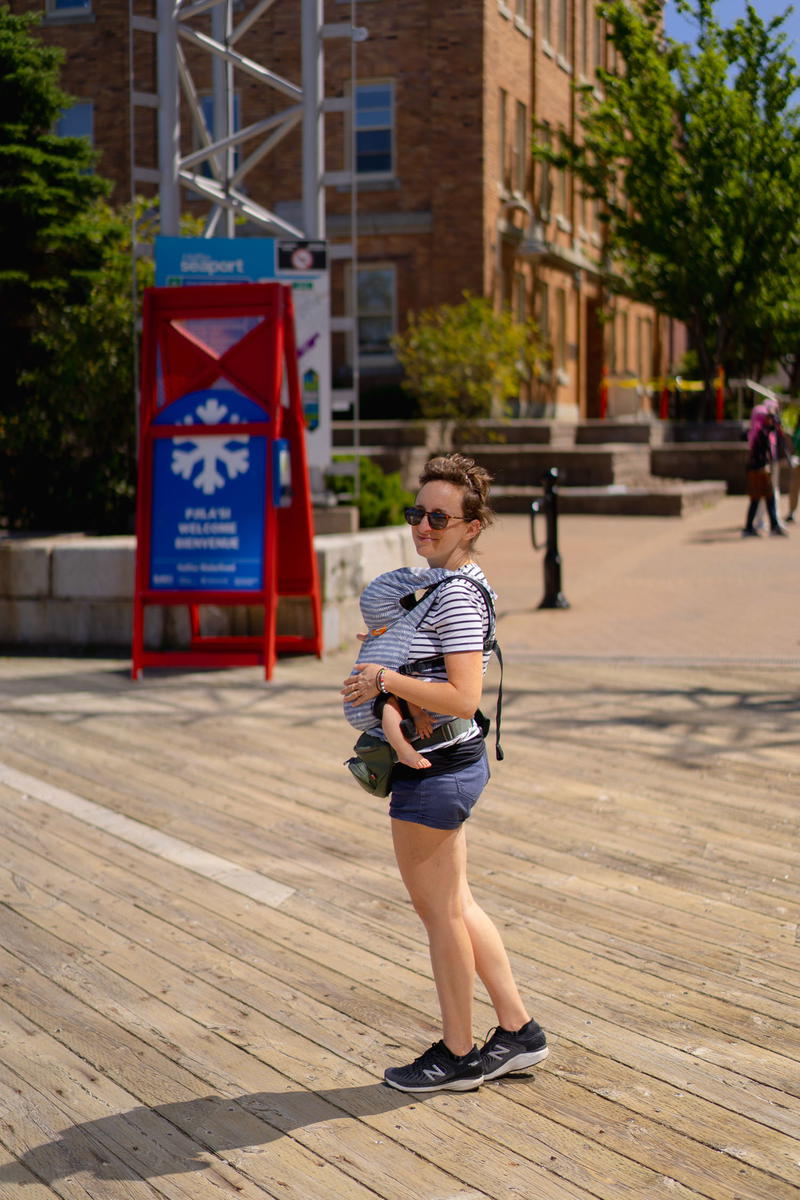 Taking the Kibou for flying with a baby
We first flew with our infant daughter when she was eight months old. With the Kibou, I felt ready to take on the stress of the airport, and the flight itself. I made sure I meticulously packed everything in TSA-approved travel sizes: 2-oz Bordeaux's "Butt Paste", Honest Diapers (not so bulky, yet very absorbent) and water wipes, and had my travel-sized Baby Tula Carrier Lite ready to go.
The Kibou came in really handy when I had to go into the airport restroom near our gate for "one last diaper change" before the flight. During the flight, I was ready to take the Kibou into the (TINY!) airplane restroom to change the baby, but luckily, we didn't need to on either flight to Halifax, Nova Scotia.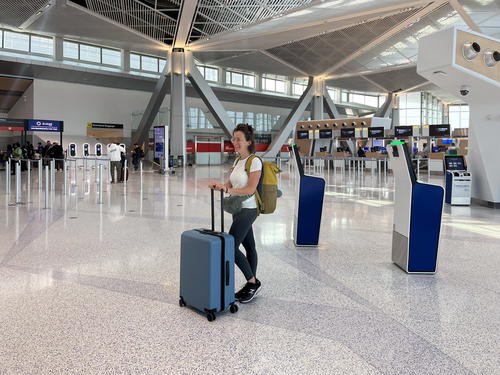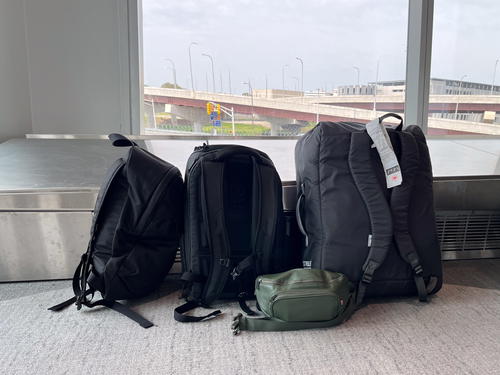 Out for a day of sightseeing on a trip
Most recently on our Canada trip, it was perfect to have a minimalist diaper bag like the Kibou. It was handy if we got out of our rental car for an hour, and didn't want the "whole big diaper bag" with us in our travel stroller basket.
Our travel stroller (the UPPAbaby Minu, which we love!) basket is smaller than the one in our regular stroller, and putting our regular diaper bag backpack there takes up literally the entire space. Oh and by the way, you can read our UPPAbaby Minu review here!
With the Kibou, I can either wear it as a belt bag or fanny pack, or throw it in the basket, and still have room for my gigantic water bottle, everyone's sweatshirts or windbreakers and some random baby stuff. Given, taking the Kibou out with us means we won't have all the fixin's from the diaper bag, but if we needed the change of clothes, we could head back to the car.
Here's me with the Kibou out on the boardwalks of the Lunenburg waterfront, one of the awesome day trips from Halifax we took with our baby on the trip.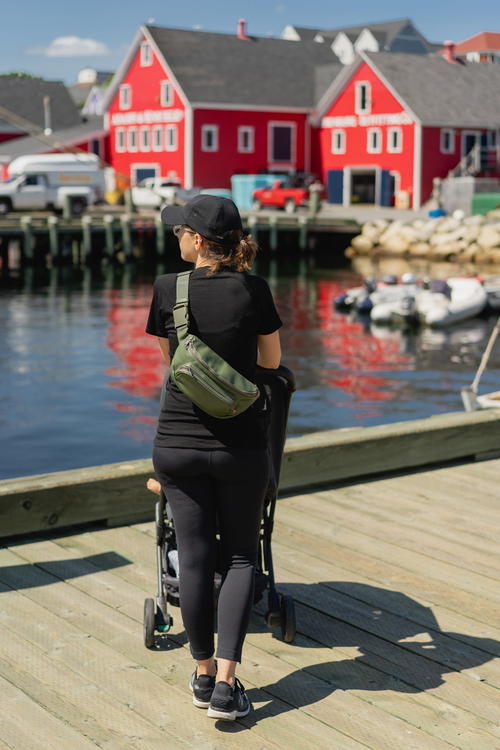 What else does Kibou sell?
I hadn't realized this until just now: Kibou sells diaper bag essentials (for baby and for parents) from awesome brands like Supergoop and Stasher. In case you realize you're low on needs for boo-boos, sunscreen or travel-friendly snack containers, check out the Kibou accessories page for ideas.
A lot of these make great gifts for new parents, or even parents on their second or third child: the On-the-Go Kit, "Bou-Boo Bag" and Kibou-branded "Hand Sanitizer Stash" are perfect travel accessories to have in tote.
If you're looking for a new baby gift, or even a first or second birthday gift, you can get inspired (like I am!) by the Kibou Gift Ideas page, built with awesome parents in mind.
Where can you buy a Kibou?
The best place to buy a Kibou is directly online from the product page of the Kibou bag you're envisioning for your life as a parent.
To shop in person, check out this store locator. In recent news, Kibou is now available at the GAP! Wow, go Kibou!
Enjoyed our article?
Consider supporting us! We're a 2-person team (learn more about us here) and your support enables us to create quality content. Thank you!