14 Best Travel Pillows to Get Great Sleep
Written by Becca
•
Updated on October 31st, 2023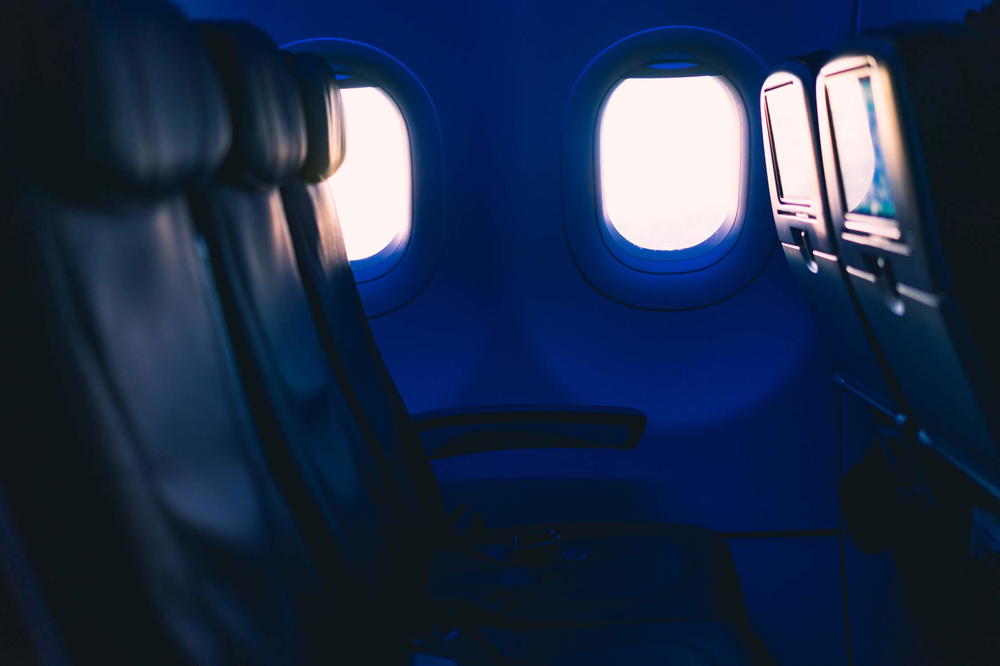 What makes a good travel pillow? In this list, check out neck pillows for flights and small travel pillows for comfort when on the go.
This article may contain affiliate links. We earn a small commissions when you purchase via those links — and it's free for you. It's only us (Becca & Dan) working on this website, so we value your support! Read our privacy policy and learn more about us.
Table of contents
Close table of contents
Travel pillows are the things you always wish you had, but also the travel accessory you never remember to bring with you when you travel.
This is true for me, as someone who falls asleep best on planes with a travel pillow, and I forget to pack it in my luggage despite this!
You may also think that a travel pillow is only for flights, but it's not always the case! I've used my travel pillow at hostels, hotels and Airbnbs before. They come in handle more ways than you might think.
Before going to a little convenience shop at airports (the ones that charge you $7 for a bottle of water) to buy a last-minute travel pillow, check out some of our personal recommendations!
I have really been enjoying my Cabeau Evolution Neck Pillow travel pillow since 2017. It was a huge asset for me on one of our long flights from Hong Kong back to New York City.
Dan and I had a rough flight with noisy seat neighbors, and the fact that this flight was 16.5 hours, but my trusty Cabeau helped me sleep soundly when I could.
It's one of the softest and most comfortable pillows because it has a high wall around the neck. Because of this innovative design, you don't have to tilt your neck as much. You'll also wake up from your deep slumber without neck pain (like the kind of pain you get from the travel pillows that are blow-ups or the kinds with small plastic beads inside. Those are the WORST!).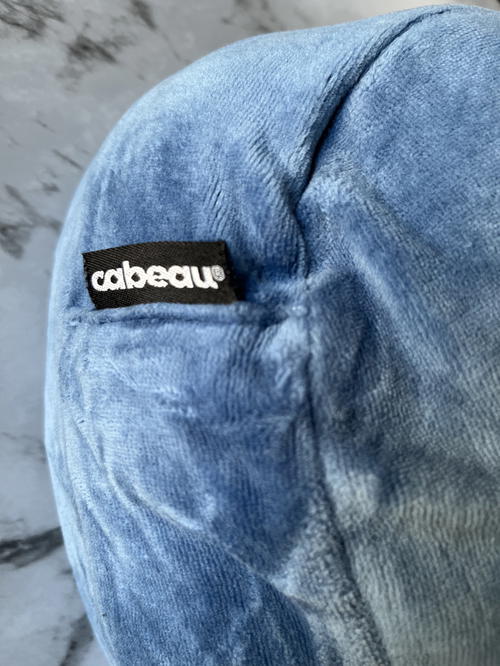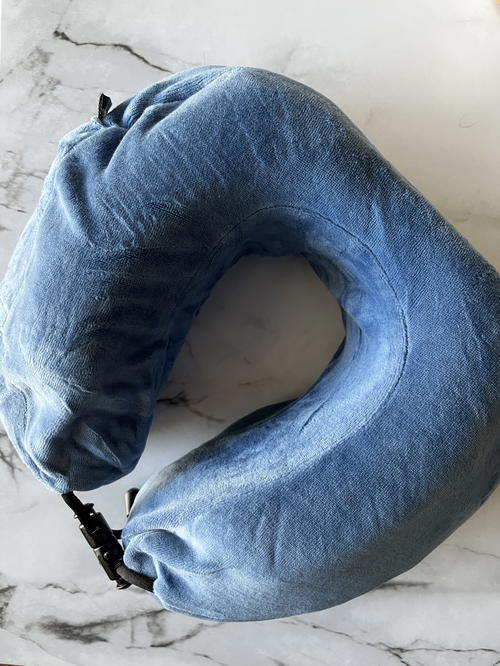 The Cabeau neck pillow is made of memory foam, so it doesn't get as hot as some other cotton or plush options on the market. We highly recommend this one.
You can wash the outside liner, so you can keep it clean! I did this after our last flight to Vancouver. I just hang the zippered outer covering on our laundry drying rack after a machine wash.
I've also had the same Cabeau pillow for over five years and it's held up really well. Check it out here!
The Cabeau Evolution Cooling Neck Pillow is a similar travel neck pillow from Cabeau, except it has some nice cooling features.
If you get sweaty on flights, or just find it hard to maintain your body temperature while flying, this is a good option. The breathable vents help to keep your neck cool and dry, and it has firm support from memory foam. The patented design aims to avoid neck strain, so you can be fresh when you step off that flight.
I like the design of the BCOZZY because you can shape it however you like. If you like a traditional neck pillow shape, you can arrange it as such. If you want to rest the pillow against the window of a bus or plane, you can do that too!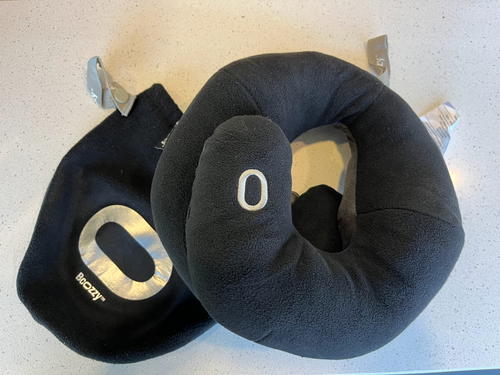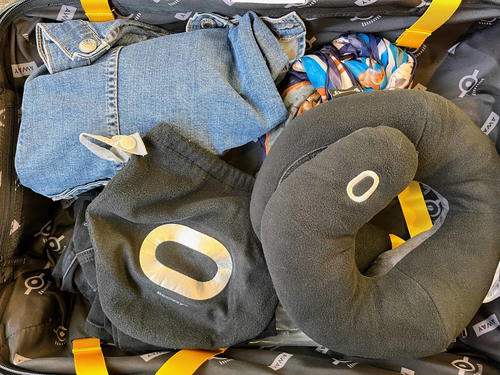 I tried out this neck pillow and liked how lightweight it is. I folded it into my suitcase and it wasn't as dense as other pillows, so it lets your luggage or carry-on stay light.
It's washable, which is a great added benefit to make sure it stays clean after being pressed up against dirty surfaces and spaces.
It's not the most compact, but I think there's always going to be a trade-off for something comfortable and compact in a neck pillow like this one. I'd say the main benefit on this product is the adjustability because you can fashion it in a variety of creative ways.
The trtl neck pillow for travel is an interesting one that, when used, looks like a sleeve of sorts. I think it's a cool look! It's also maybe a more aesthetic approach to a neck pillow that you could use on a business trip if you're with colleagues and you don't want to look doofy.
This neck pillow helps you avoid nodding off while snoozing through the ergonomic positioning that it creates. It's designed to look like a scarf, so it's the perfect way to blend in during a flight if you don't want to look like a full-on traveler.
Another big benefit is that the trtl neck pillow only weighs half a pound, so it won't weigh down your luggage and it could pack easily into a personal item.
Coming in as the most creatively-shaped travel neck pillow that I'm going to list, the Ostrich Pillow is pretty special.
Okay, it's hilarious-looking. This pillow is for if you're totally cool with looking ridiculous while you're on a flight. You could wear this neck pillow loud and proud. Or, it's ideal if you're flying alone (like for if you fly alone often) and no one will see you. It depends on your threshold for looking like the person who's wearing the Ostrich Pillow.
What's so cool about it? It's designed to be "immersive," and also functions as a sleep mask, which is something important to me, as a traveler who can't really sleep when bright lights are on.
I think this one makes a great gift for a frequent traveler or for someone who's embarking on a journey. Note, though: it's hand-wash only.
From the Ostrich pillow family comes this sleek-looking modern neck pillow that may even turn heads (except not yours, because you'll be dozing off before your plane takes off!).
I'm a huge fan of the design on the Ostrich Pillow Go. It folds up very small into a little pouch, and it is machine-washable (the sleeve). The high density memory foam is supportive and has an effortless ergonomic design for your head and neck.
The third Ostrich Pillow looks like a fun tube-like neck pillow. It's the Ostrich Pillow Light.
This one is a lightweight and smart neck pillow that you can wear in a few ways, namely, over your eyes or at the top of your head, to lean against a plane wall/window (or train or bus window!). I think this is such a cool idea that other neck pillows are not built for.
It is reversible with two nice colors, and has a pull-cord adjuster for size. You could also very well use it once you get to your hotel or Airbnb on a trip, because it can be worn as an eye mask or provide extra comfort with flat pillows.
What I like about the Huzi Infinity Pillow is that it comes in a lot of nice colors and it's designed for various positions of rest.
It looks like a small sleeping bag, and can be arranged into a figure-8 design. Then, you can choose quite a few ways to use it. Choose from a "desk pillow" (for those who can pass out on an airplane tray table, and actually, I used to be this type of person) to a neck-and-chin support position for taking a nap.
It kind of looks like a big cozy scarf, and when you're ready to put it away, it has a pretty classy roll-up that is completed with a velcro strap.
The Therm-a-Rest Compressible pillow is an actual pillow, not just a neck pillow! If you were looking for a real travel pillow, here it is.
This ultra-light and super compact pillow comes in quite a few sizes and colors, and is not only great for airplane sleeping, but also camping and backpacking. If you like the feel of it, it can even replace those hotel pillows that are way too flat.
For adjusting the thickness and fluffiness, you can use the adjustable cinch cord. The same cord locks, when the pillow is not in use, and you can pack it in a backpack or suitcase.
Let's take a look at the J-Pillow Chin Supporting Travel Pillow. It's designed to fill that gap between your head and shoulders so that you can sleep amazingly on a flight.
This travel neck pillow gets its name from the "J" shape that supports your head, neck and chin, all at the time. It was designed by a former flight attendant!
As a bonus, you can wash the entire pillow in your washer (as opposed to just the outer fabric). Try this one the next time you're taking a red-eye flight, or even just trying to take a nap on your couch at home.
This is a unique side-sleeper pillow shaped like a cube and its creators have designed it to make you fall asleep, fast.
Who are the side sleepers? They're people who sleep on their sides (I happen to be one of them). The shape of this pillow, which is a square-like cube, is meant to align your spine.
The makers of the Sidekick say this pillow will let you wake up happier. Is it true? You'll have to find out when you hit the hay with yours.
The HEST Pillow from REI is a simple camping pillow that will give anyone a soft surface to sleep on when they need a pillow away from home.
I like that it packs down small and then when you open it up, it hasn't lost its shape. For travelers, the curvature in the shape will contour with your head to stay in position. People who have this product say they like it so much that they use it at home, just because it's comfy.
This pillow is an inflatable pillow and while it's ideal for camping and backpacking, if you're really short on space, this airy pillow can be taken on any sort of trip.
Consider if you're flying with only one bag, or flying in basic economy with just a personal item, a pillow like this can basically come out of nowhere, inflate, and provide you with head support.
It packs down highly compactly, so it will take up probably the least space of any pillow in this list, in your travel pack.
This petite pillow, from the folks at Avocado Green Mattress, is a supportive travel pillow to be taken on the go.
It has a latex core, and regulates your temperature while also eliminating odors. The cover is removable and easy to clean. It's also good for side-sleepers (like me, and maybe you!). What's more to ask for in a small-size pillow you could take in your suitcase, if you have the space for it?
How did we make this list?
We tried a bunch of travel pillows to form some opinions about what works, what is practical and what specific features we like.
Size and Portability
Because sometimes you have limited space when you travel, bringing something that you'll only use for a few hours might not always make the most sense.
You have to balance the potential win in the ability to sleep, versus maybe not having enough room in your bag for everything that you wanted to bring on a trip. Space matters!
We make special call-outs in our round-up above if a travel pillow is especially big or small.
Durability
The material needs to hold up, for a travel pillow! Especially if you are planning on keeping your travel pillow for a few years, you will want it to last.
For most people, traveling happens a few times per year, but during the times you use any given travel pillow, it gets stuffed in a suitcase, gets rubbed up against plane windows or thrown into a handful of odd situations.
Your pillow needs to hold up!
Inflatable pillows
I'm not a huge fan of inflatable pillows. We only included one, for anyone looking for a pillow that compacts down to something exceedingly small.
I don't like inflatable mattresses, either. I think it's mostly that there's nothing but air inside that makes the experience uncomfortable. Plus, there's always a sense of air leaking out which gets annoying after a while.
When I've tried to use an inflatable pillow on a window seat, the pillow ends up making a sound like a balloon. Some of the cheaper pillows have a heavy scent of plastic. We've avoided those.
The benefit that inflatable pillows provide is their ability to save lots of space. When you're done with them, you simply deflate them and pack them away. With other pillows, they take up a real footprint that you need to accommodate for. So, there are pros and cons to each type.
Price and variety
Surprisingly, there aren't a lot of unique pillows on the market. There are a lot of brands producing the same low-quality pillow, but there only a small handful of brands producing new and innovative products.
I did my best to find a wide range of pillows that offer different features and benefits. I also left out any pillows that were suspiciously cheap or unnecessarily expensive. We hope this was helpful for you in making a decision of which travel pillow to get for your upcoming trips.
Enjoyed our article?
Consider supporting us! We're a 2-person team (learn more about us here) and your support enables us to create quality content. Thank you!