Secluded Stay in Andes (The Catskills) with A Blind Pig
Written by Becca
•
Updated on September 6th, 2023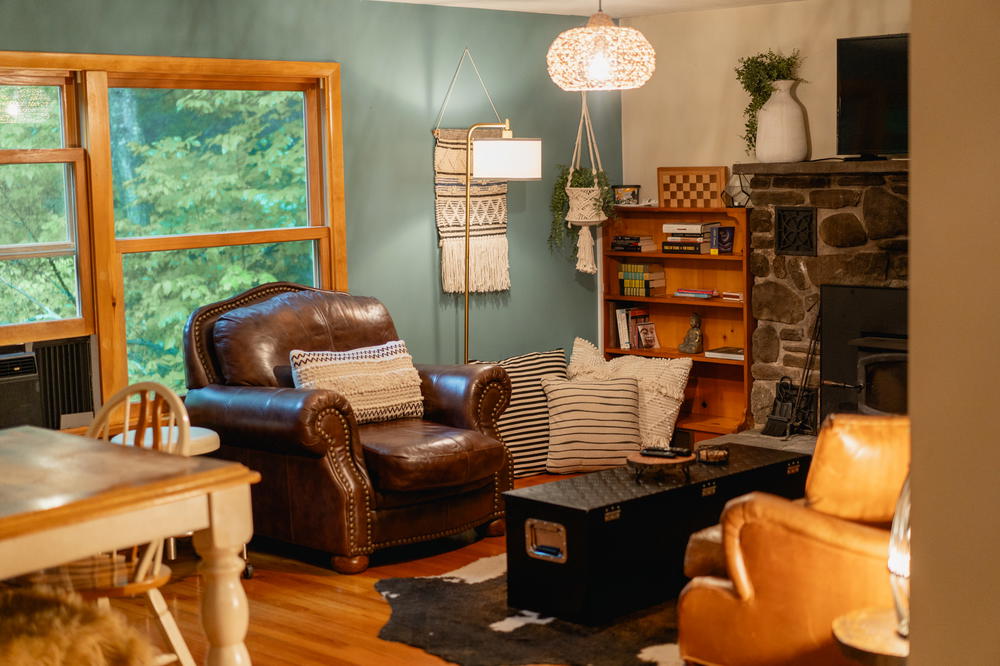 Where should you stay in the Catskills if you're looking for a secluded woodsy Airbnb accommodation? We reviewed the vacation cabin near Andes, NY, from A Blind Pig.
This article may contain affiliate links. We earn a small commissions when you purchase via those links — and it's free for you. It's only us (Becca & Dan) working on this website, so we value your support! Read our privacy policy and learn more about us.
Table of contents
Close table of contents
Usually when we go to the Catskills, we stay somewhere unique. We've stayed in hotels set next to streams in Livingston Manor, and we've even stayed at a cottage at a monastery. Until now, we had never stayed at an entire house set on the backdrop of a forest next to a river.
We chose to spend two nights and three days at a house on Airbnb run by A Blind Pig. The house is outside the town of Andes, NY, which has some up and coming things to do like the Andes Rail Trail and Wayside Cider.
What was our stay like, and is this a good Airbnb house for you to chose for your next getaway upstate? Read our review below to see what the Secluded Catskills Cabin was like!
Where is the Secluded Catskills Cabin?
For weeks before we even arrived at our stay, I had the cabin starred in my maps. It's not in a town or city; it's on a rural piece of property up a dirt road from a local road that hugs a nearby river.
The nearest town on a map is the tiny town of Arena, although the address of the house is in Andes. The other closest town is Margaretville, where you'll find the closest hospital and some larger stores like a supermarket.
In terms of the Catskills region, the house is in the northwest of the mountain range. It's 45 minutes from Phoenicia and 20 minutes north of Livingston Manor and nearby Roscoe.
It's 12 minutes to the closest place for food, so we planned ahead and packed groceries for cooking two simple dinners, two morning breakfasts and snacks galore!
Here are some photos of the nearby town of Andes, NY.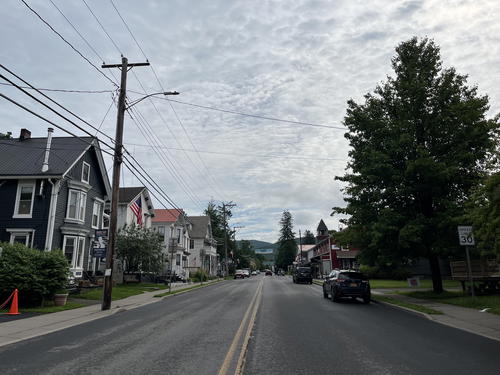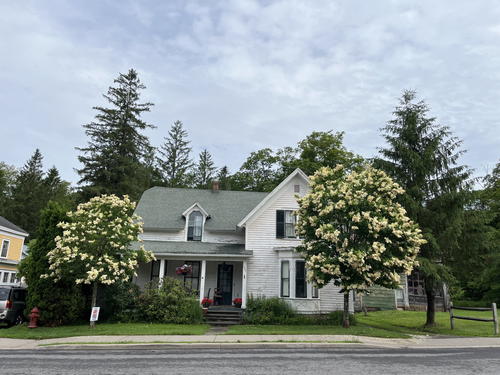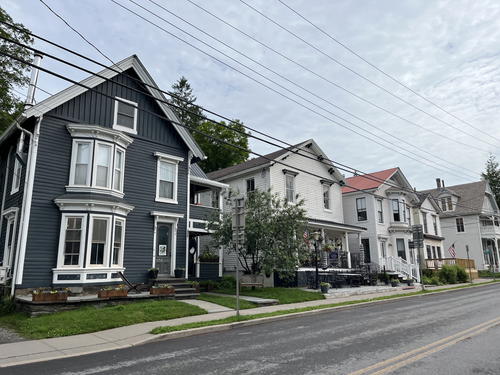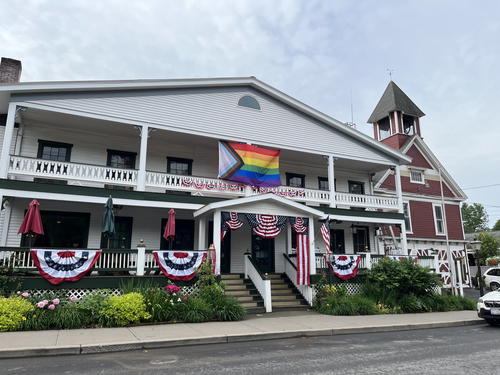 First impressions of the Secluded Catskills Cabin
Well… It's secluded for sure! Upon arriving, we actually forgot to read the specific instructions about which turn to take at the fork in the road and we went up driving up the gravel road that leads to a different private property. We had to make a turn at the dead end and head back down!
The roads leading up to the house were beautiful in summer: so leafy and green, with peeks at the river.
Upon arriving, the house was much cooler than expected, as it had been warm the day before. We definitely wouldn't need the AC, and it was the end of June!
The main house has two bedrooms and a bathroom, with a comfortable living room and dining area that opens into a sizable kitchen. Good thing we brought all our food to cook!
The house itself was exceedingly clean, and after finding all the light switches, we settled into the big chairs and couches to relax after our drive up.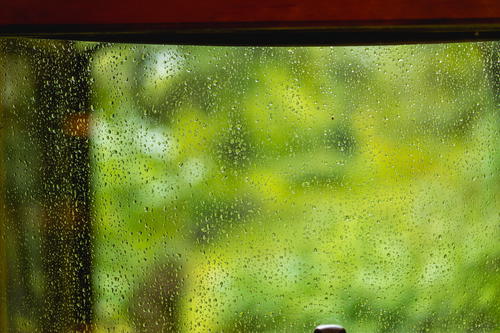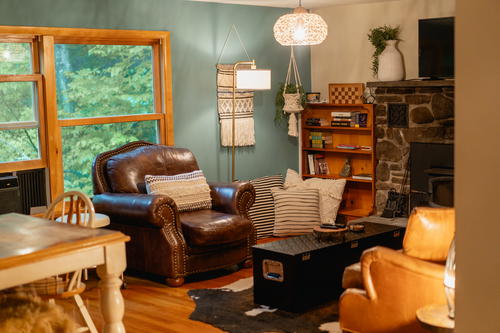 How big is this Catskills Airbnb?
The main house has two full bedrooms and a full bath, and the guesthouse has a bedroom and half bath. All in all, the entire property can sleep six guests. The guesthouse is like a studio apartment, so to speak.
Inside, the house is not gigantic, but you and your partner, friends or family will have ample square footage to sprawl out. There's a dining table for six, couch area for four to six people, and a kitchen with a wooden kitchen island where everyone can congregate or cook.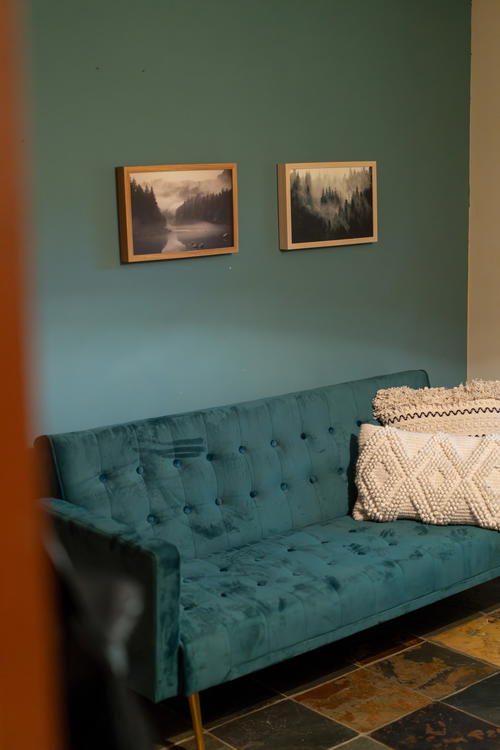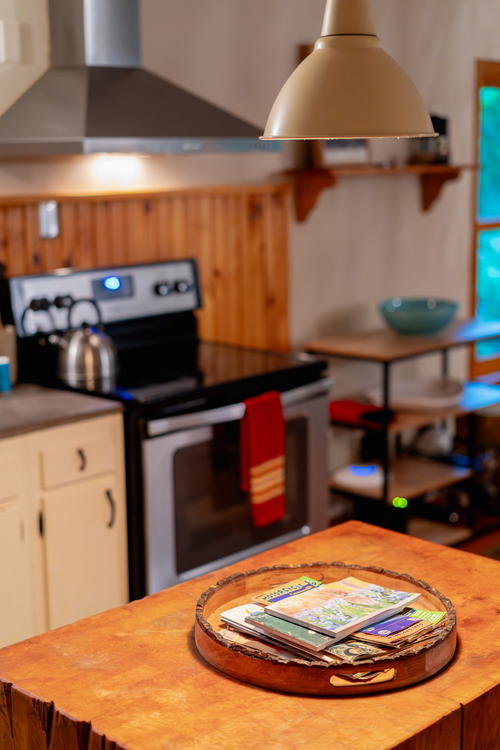 Amenities at the Secluded Catskills Cabin
I'll start off with our favorite amenity of this Airbnb house in the Catskills: the kitchen. Well, we always tend to gravitate toward staying in apartments, hotel rooms or houses that have kitchens where we can bring our own food (I have a lot of allergies) and cook. This type of thing helps keep costs down while traveling.
From doing our research and figuring out that the nearest supermarket was quite a few miles away and not much was open for dinner on Mondays and Tuesdays in these weekender towns, we brought our own groceries. We shopped on Sunday, before our Monday morning drive, and got our favorite ingredients for having a daily breakfast and what we each wanted for dinner and snacks.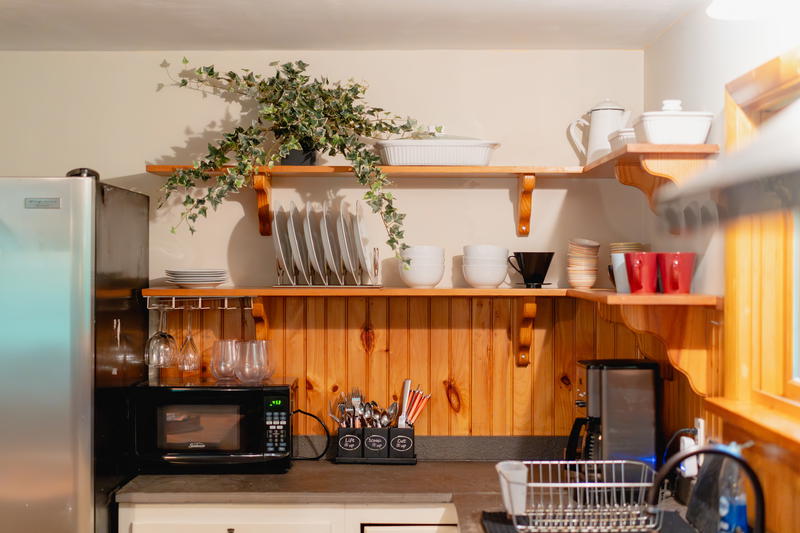 Additional amenities in the house the general things like complimentary toiletries, towels and linens. The living room has a smart TV, wood fireplace, board games and books. The kitchen has cooking essentials like oil and spices, along with plates, cups, bowls, flatware and pots and pans, so you don't have to bring any.
As for the outdoor spaces, there is a fenced-in side yard like a garden, an outdoor backyard patio, as well as an indoor sun room with screens, a fire pit and close access to the river.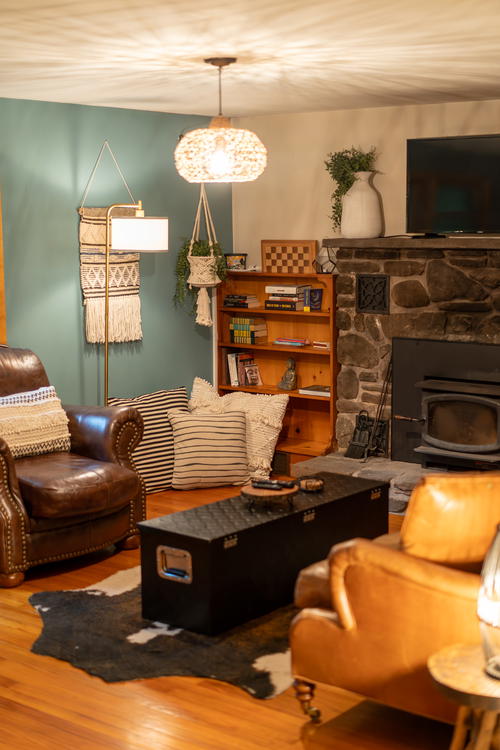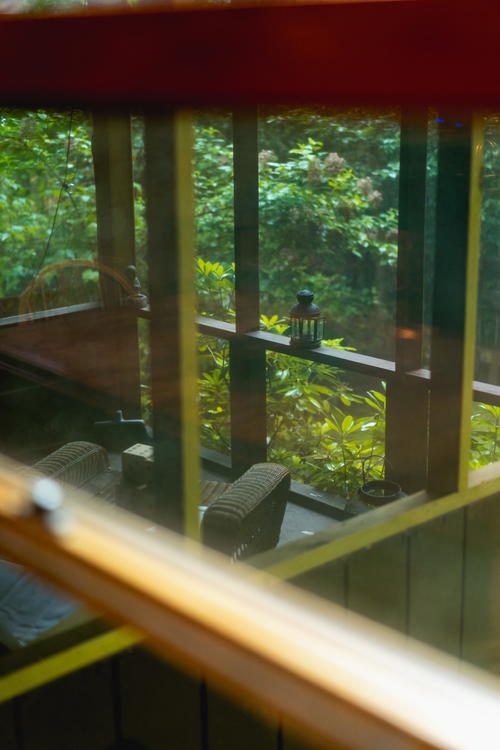 What kind of trip is this Airbnb for?
As we currently live in an apartment, it's always nice to travel and stay in an entire house, where we have space to unpack and unwind. We also don't have any trees to look at from our apartment at home, so being surrounded by nature at every window is a treat.
If you live in the city and you're looking for a natural and green escape, or if you live in the suburbs and you want to stay in an Airbnb where you can be 100% sure there are no neighbors except birds, this is the place.
The Secluded Catskills Cabin is a good house to rent for a few days while you explore the surrounding area, especially the food and drink options in Andes and beyond. It would be a good place to stay if you're having a family get-together, or a friends reunion or an away weekend with your partner.
Also, we should note: this property is family-friendly. We came with our six-month-old daughter (who is not yet mobile) and things worked out plenty fine. We were lucky to follow an extensive road trip packing list that worked out really well.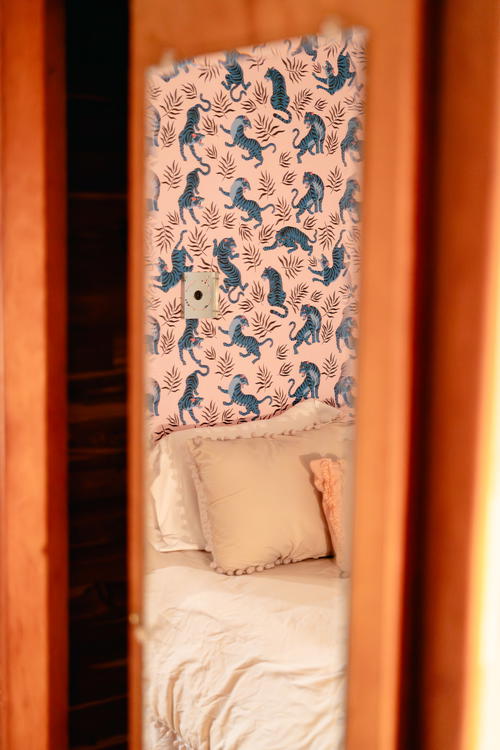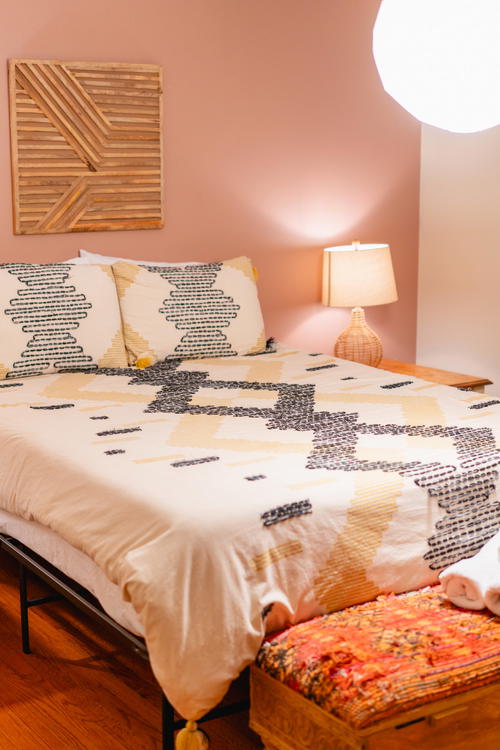 How is the host of this Airbnb?
We've had some unfortunate Airbnb hosts over the years (in Hong Kong, we thought we had locked ourselves out of our Airbnb apartment and the host was overseas in Italy, making it hard to communicate). So, we tend to look at ratings for hosts on the Airbnb app and website.
The host is A Blind Pig, a small company that manages several Airbnb vacation homes on the East Coast. Their properties are in the Catskills, the Poconos and Vermont. The company is a marketing team for Airbnb hosts, so that they don't have to do the work themselves (it can be overwhelming and tough to know where to even begin). By forming a small conglomerate, everyone seems to benefit.
You can see more about A Bling Pig's listings on their website.
What we were most impressed with were the lightning-fast replies that we had in the beginning, after booking. Then, two days before our stay began, we received new information about driving, WiFi and how to get in touch. The communication was constant, and made us feel welcome and confident, because the house is so secluded down small roads and in nature.
One thing I'd suggest for improvement is to really call out that the driveway for the property is a semi-unmarked turn off a private country road, and we missed it the first time. I would also suggest that they send all communications about the stay via the Airbnb app, which you can access over WiFi during your stay, as some of the notifications come through separately via SMS text, and there is no cell signal in the surrounding area.
Keep that in mind, to tell anyone you're regularly in touch with, if they might have Android phones and you don't communicate via iMessage. Get Whatsapp or talk over a service like Facebook messenger!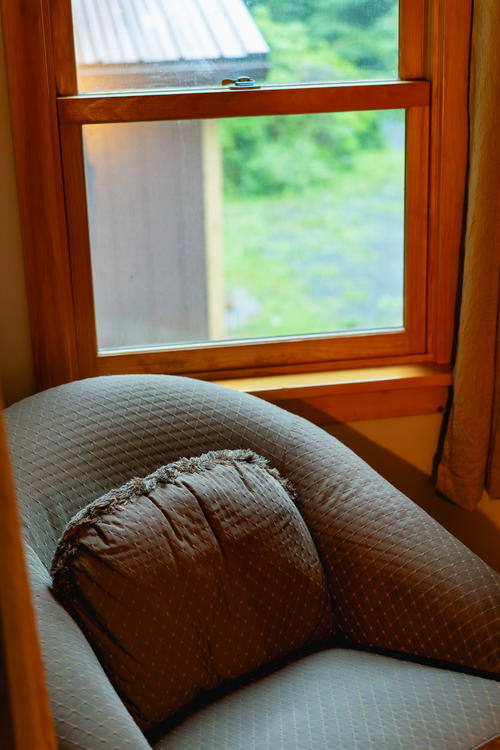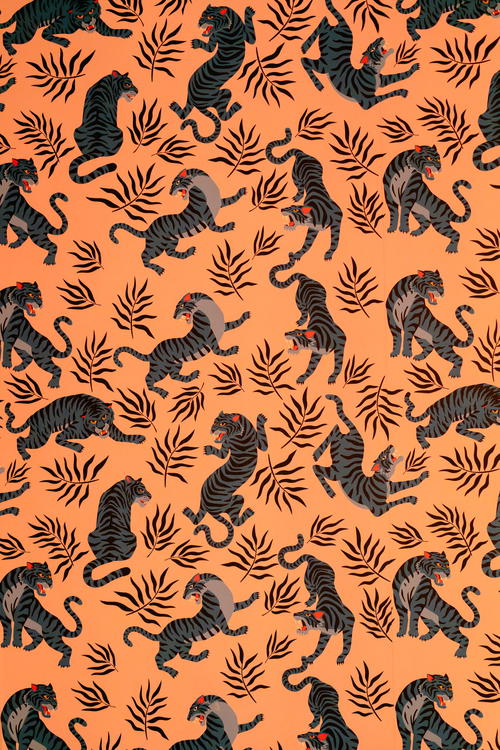 How to book the Secluded Catskills Airbnb
To book the Secluded Catskills Cabin, head to the Airbnb listing here. The staff is super quick to reply to any questions you might have!
I'll note this, based on what I see in the availability of this house: it is really popular to book in August, and also around the holidays.
One more thing: If you come in winter, be aware that the road up is bumpy, hilly and not paved, so having a four-wheel drive car is necessary because of potential snow and ice.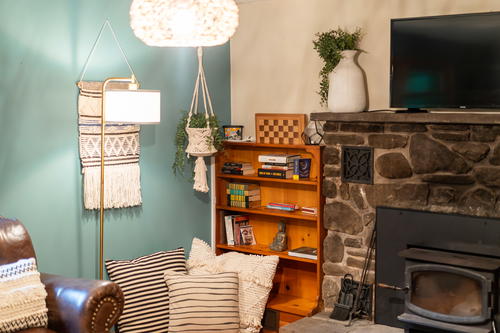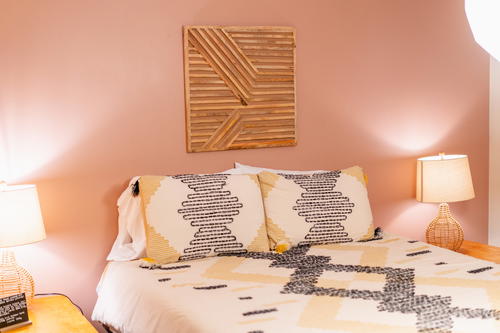 Enjoyed our article?
Consider supporting us! We're a 2-person team (learn more about us here) and your support enables us to create quality content. Thank you!