Where to Stay in Merida: Best Options for Every Traveler
Written by Becca
•
Updated on September 17th, 2023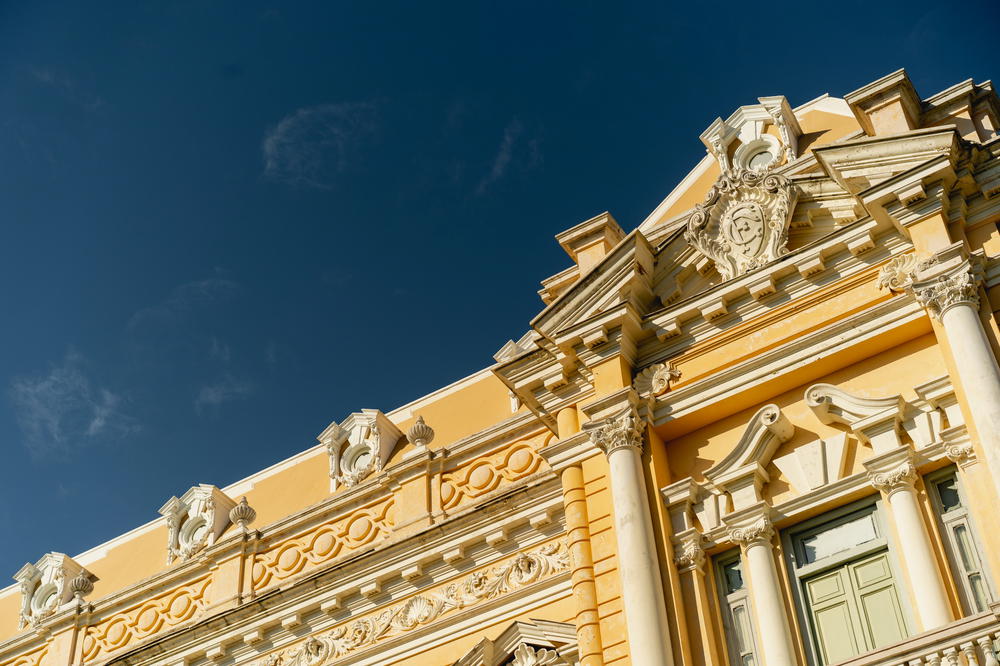 What's the best area to stay in for a visit to Merida, Mexico? We outline the best neighborhoods and accommodations in Merida, for proximity to the best things to do, for travelers, expats and nomads.
This article may contain affiliate links. We earn a small commissions when you purchase via those links — and it's free for you. It's only us (Becca & Dan) working on this website, so we value your support! Read our privacy policy and learn more about us.
Table of contents
Close table of contents
As soon as we started planning our trip to Merida, we started researching where to stay and which area of Merida would be best for an awesome time.
If you're an experienced traveler, you're well aware that where you stay during a trip can make or break the experience!
The great thing about Merida as a travel destination on the Yucatan peninsula is that it is a walkable city with a manageable size, and most "things to do" and "sights to see" are in a compact region.
Within the range of desirable areas of Merida to stay in, there are the action-packed spots near Plaza Grande, and then the quieter, more upscale neighborhoods where you could have a "live-like-a-local" experience.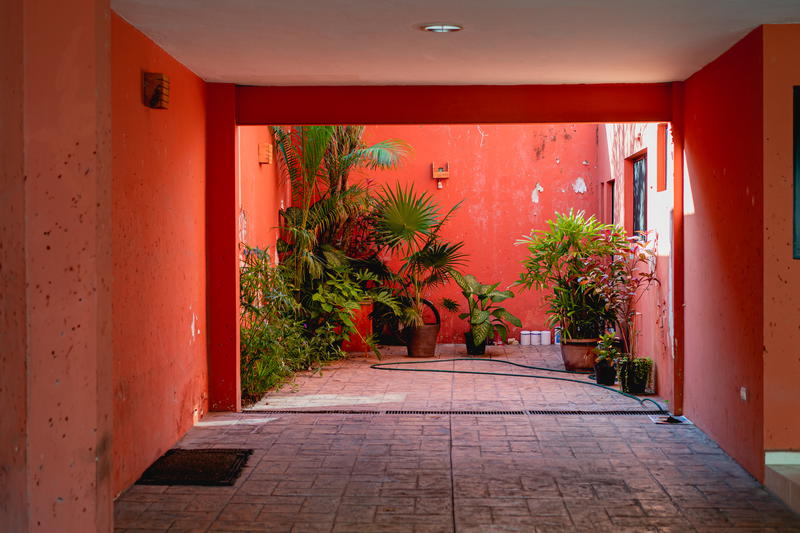 As for where to stay, in terms of a hotel, hostel or Airbnb or vacation rental, we have lots of ideas for you. During our stay, we stayed in two different Airbnbs, along with a mid-range four-star hotel, and visited several hostels on our wish list to take a look around.
If you're ready to book a stay in Merida, Mexico, check out our list of the top areas to stay in and which type of accommodation to book.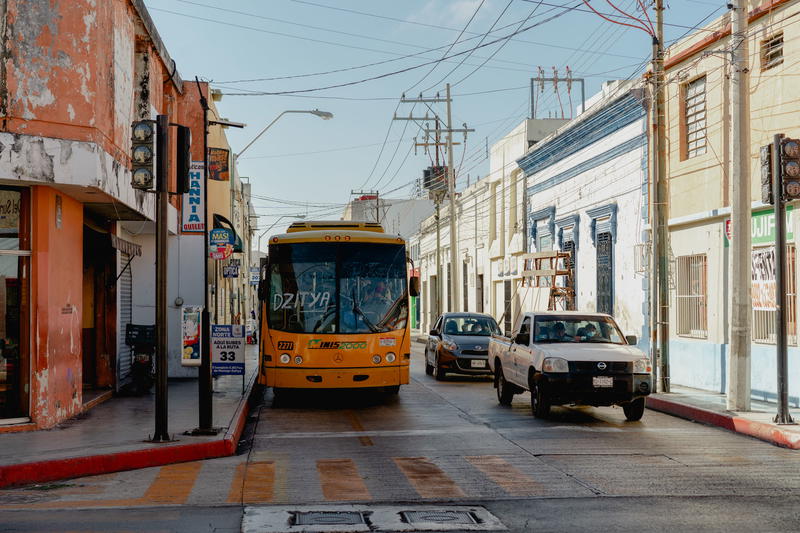 Best neighborhoods of Merida to stay in
Merida has a lot of nice neighborhoods to stay in. It depends on what you are looking for as a traveler, expat, digital nomad or family with kids.
In the north of the city, traditional markets disappear and it becomes less and less walkable. It can feel suburban, and you need a car. Most of the apartments for rent are condos in modern developments.
Toward the center of the city, this is where the action is, and it is very walkable. In fact, during one month of our stay in Merida, we took Uber only four times. We committed to walking everywhere.
A few neighborhoods span out from the center, and you can find them on a map. For more visuals on walking around Merida's neighborhoods, see our Merida photo gallery.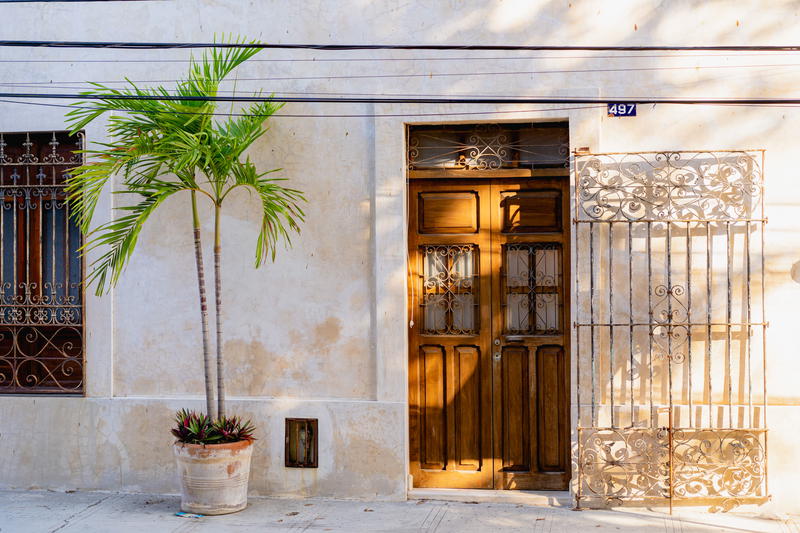 Zona Paseo Montejo
Zona Paseo Montejo is the immediate neighborhood that hugs Paseo Montejo, the main central boulevard.
Paseo Montejo itself is beautiful, with big green trees, wide sidewalks and the Ciclovia road closures every Sunday during which runners, bikers and families can safely work out from 9 am to 1 pm.
If you choose to stay in Zona Paseo Montejo, you will find yourself walkable to restaurants, bars, shopping and Paseo60, the shopping center that has the coworking space Conexion 60 on the fourth floor.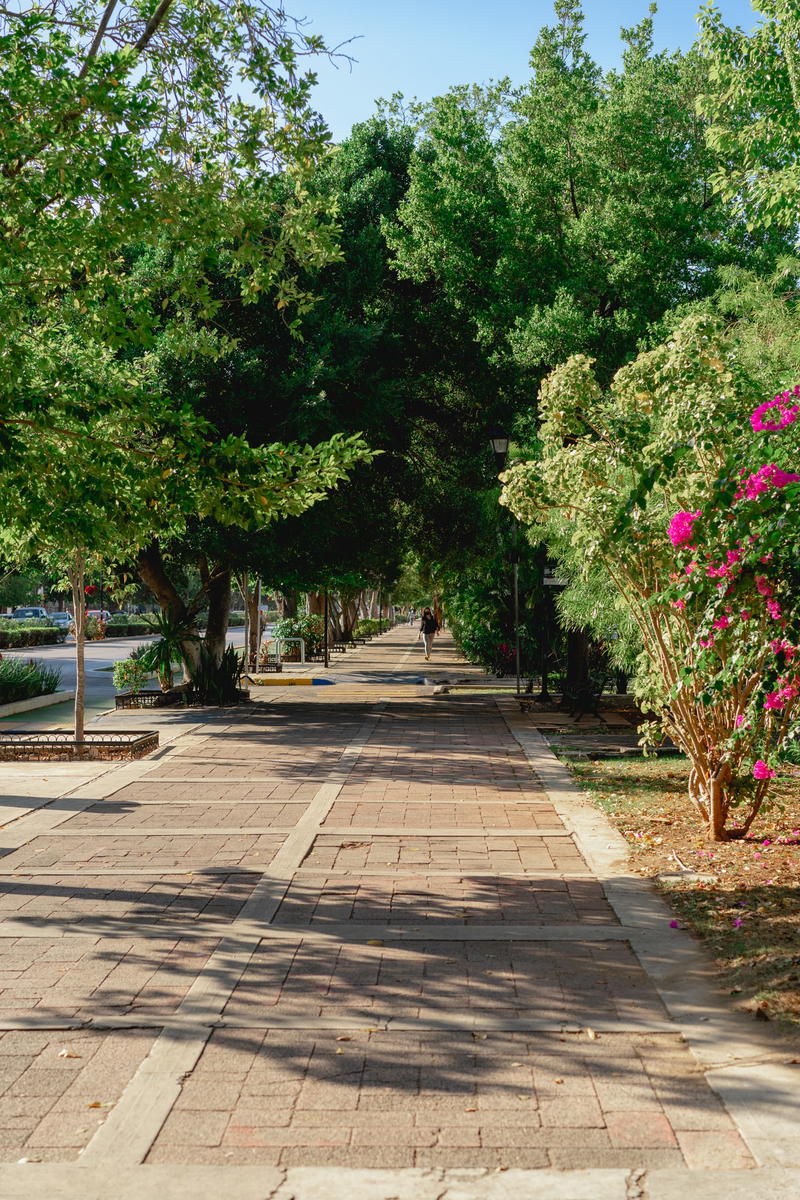 Centro Historico & Plaza Grande
For tourists and travelers, Centro is where it's at. It's one of the safest areas in Merida, and that says a lot when you consider how safe Merida is!
This area is where you'll find the city's oldest buildings, hotels, restaurants, bars, shopping streets and Plaza Grande. It is also where most of the museums, historical and cultural sights and tourism agencies are located.
What we do like about Centro is that it's where you'll find a lot of the best coffee shops and cafes in Merida . The food scene is also fantastic.
As a neighborhood, "Centro" has a downtown feel. It has few trees, fumes and traffic. It may not be an ideal to stay in with small children, as some sidewalks are very shallow and with the speed at which some cars come, families may only want to go sightseeing here rather than stay longer.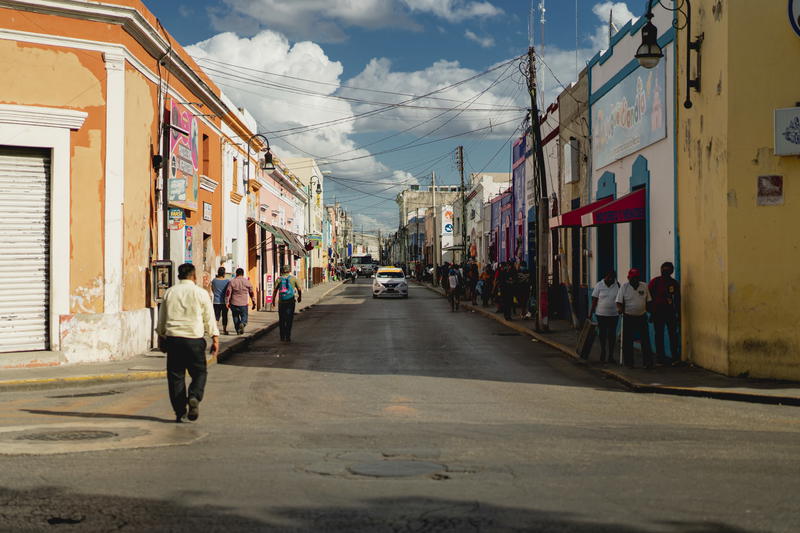 El Aleman, Colonia Mexico & Chuburna
El Aleman is located northwest of Zona Paseo Montejo and is an area for expats. Here, there is international food, some government offices and quieter streets with some nice properties.
The neighborhood has Parque El Aleman, which has food carts, and some carnival rides. Avenida Aleman has lots of stores, and in the subneighborhood of Itzimná is where you'll find Manifesto Cold Brew, a sure stop in our favorite Merida cafes.
Colonia Yucatan & Reparto Dolores Patron
Colonia Yucatan and the small area Reparto Dolores Patron are located to the northwest of Zona Paseo Montejo, from where the intersection of Avenida Colon and Paseo Montejo is.
Both neighborhoods get quieter very fast, and Calle 33D is where you'll find the weekly Saturday Slow Food Market, detailed in our guide of things to do in Merida. This is a gathering spot for vegan and vegetarian travelers, expats and locals involved in the vegan, vegetarian and organic food scene.
That's right: Mexico is a great destination for veggie-friendly travel.
Reparto Dolores Patron has some very nice streets with big homes and a slight suburban feel, despite being so close to the action on Paseo Montejo.
García Ginerés
The neighborhood of García Ginerés lies to the west of Zona Paseo Montejo and is truly quite large. Due to its size, it's also a bit diverse, and there are new developments quickly from people who buy old dilapidated homes and turn them around into attractive homes for sale and for rent.
The streets are quieter and have a neighborhood feel in García Ginerés, and many people are proud of Parque de Las Américas and its amphitheater, where you can find outdoor concerts.
Check out this article about this barrio in Yucatan at Home.
Santiago
The Santiago neighborhood is a favorite among expats and longer-term travelers who wish to be close to the conveniences of Centro and downtown, but stay on a quiet street.
In fact, had we not been so married to the idea of staying close to our coworking environment at Conexion 60, Santiago would have been a nice neighborhood to know about.
Luckily, we were invited to a party by a friend during our third night in town, and got to see what a home in this area was like. The homes are short, mostly one story, and the streets are quiet. There's a good chance that your Airbnb or apartment rental would have a nice yard or outdoor space with a patio.
The Santiago neighborhood is just a stone's throw from Plaza Grande, so if you like exploring and you also want a local feel devoid of tourists, this is a great area in which to search for your stay.
Altabrisa & Jardines de Mérida
Altabrisa and Jardines de Merida are two neighborhoods northwest of Zona Paseo Montejo and will have a more commercial feel. You could survive here without a car, but having a car would make things much more convenient, especially if you would like to stay in Merida for a while.
Nearby (and Western) conveniences are Sam's Club, the Plaza Fiesta shopping mall and Plaza Altabrisa, which has a Sears and two medical centers. There are also a bunch of car dealerships nearby, if that gives any indication of the level of commercial development in Altabrisa.
You will not find hotels or hostels in either area except the Hilton Garden Inn. One more convenient thing is that the ADO bus has a bus stop at Altabrisa, which provides a connection to points like Cancun and Cancun Airport.
Santa Ana
Santa Ana was one of our favorite small neighborhoods, and it's located near Parque Santa Ana. This is a great neighborhood for being in the middle of everything, as the side streets are quiet and have conveniences, and the area of Calle 60 near Parque Santa Ana is quickly developing with more boutiques and nice places to eat like Comedor Sabino.
Santa Ana is an area with quite a few Airbnbs and small hotels, so there's no shortage of ideas.
Best types of accommodation in Merida
Merida has so many places to stay in! From hotels to hostels to Airbnbs and longer-term apartment rentals, you can have any type of experience in Merida when it comes to accommodation.
For us, we tried a basic Airbnb between Zona Paseo Montejo and Garcia Gineres, a mid-range hotel right nearby and closer to Conexion 60 and lastly, an upscale Airbnb with a private pool (detailed below).
Here are the best places to stay in Merida, with photos we've taken and tidbits of info we have on having visited many properties.
Best budget and mid-range hotels in Merida
For a traveler who wants to stay in a hotel and get great value while sticking to a budget, Merida has a lot of hotels to choose from.
For a nice budget of $45 to $75 USD per night, you can land yourself a clean room with a big bed in a hotel with helpful staff and plenty of amenities like a pool, gym, buffet breakfast and more.
Hotel Palacio Maya came recommended to us, and we first recommended the hotel to a friend coming from Mexico City who stayed there for a weekend while visiting us.
Little did we know that we'd extend our trip and book ourselves a week in one of the suites at Hotel Palacio Maya, which is located on Calle 62 between Calles 37 and 39. It made the walk to Conexion 60 very convenient.
For about $65 USD per night (plus tax), we got a suite with a dining area, couch area, large balcony, two double beds, mini fridge and view of the pool.
We had a great stay at Palacio Maya and we recommend booking it on Booking.com like we did.
Bonus: there are two peacocks (one male, one female) that roam the property in the courtyard. Be sure to say, "hola."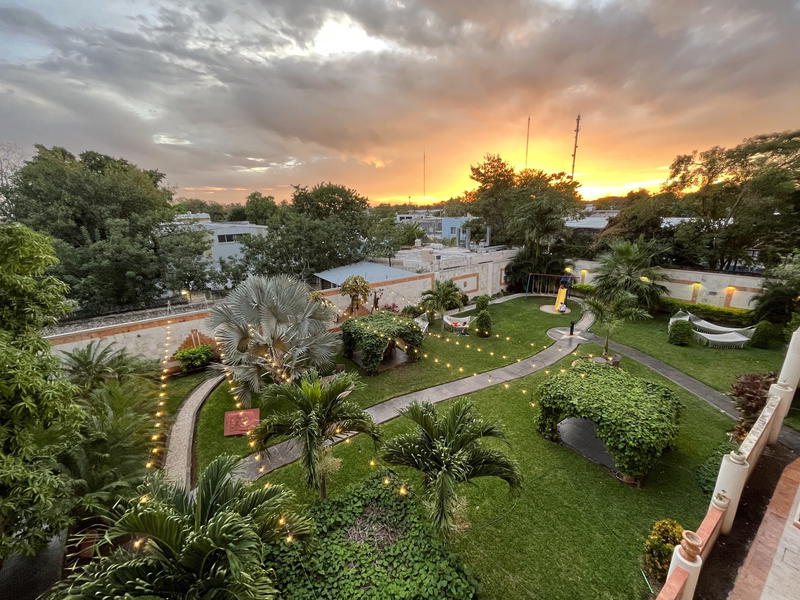 Hotel Medio Mundo was where some of our friends stayed and we were so glad to have the chance to see this delightful hotel.
This mid-range hotel has modest rooms, and then this great backyard garden with a pool, oodles of greenery and a restaurant-cafe that has coffee drinks, kombucha and health food.
As for the lobby of the hotel itself, it opens up into a typical Merida garden, full of huge tropical plants and great architecture. The owner is also very friendly.
You can book Hotel Medio Mundo on Tripadvisor as well. Rooms range from $48 USD (smallest) to $92 USD (family room for 4), per night.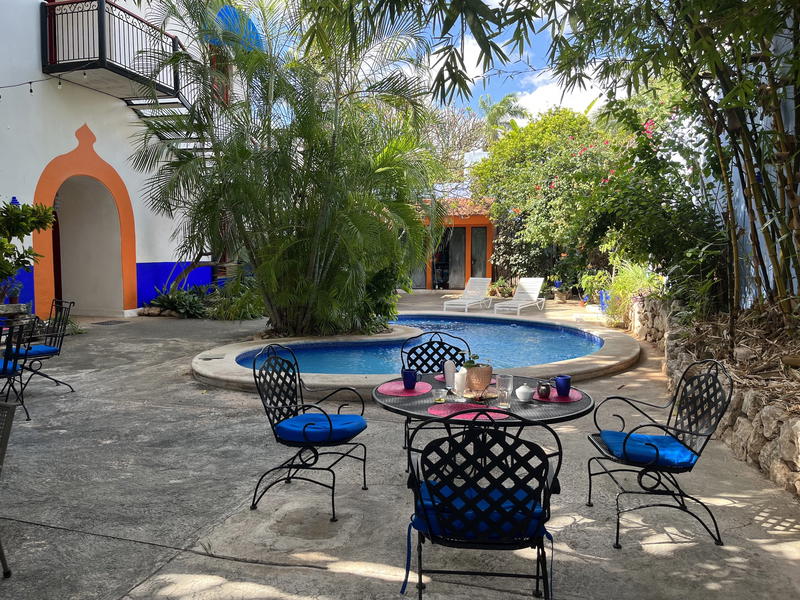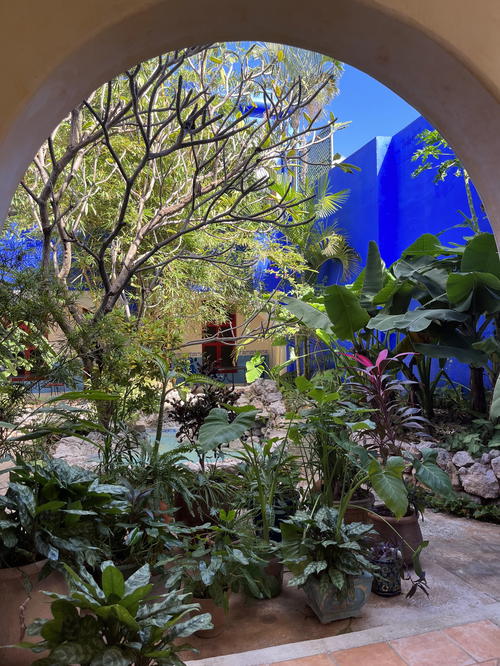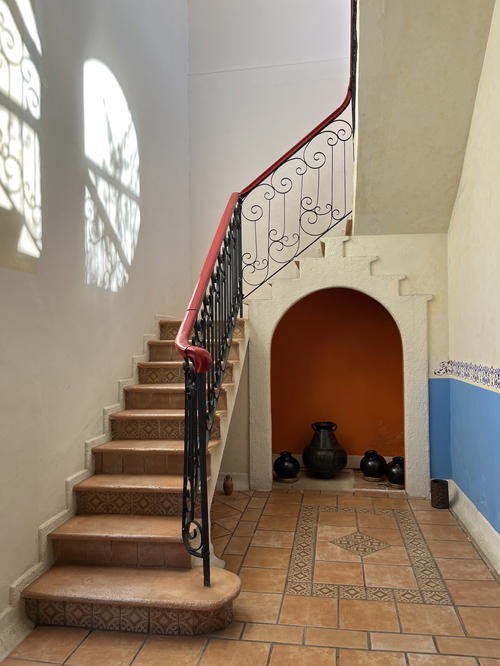 Hotel Casa San Angel is up one notch on the price scale. This hotel is located at the south end of Paseo de Montejo, right as it ends.
What's gorgeous about this hotel is its historic charm and beautiful inner garden that'll catch your eye as you walk in. Rooms start at $105 USD.
A great fact about this hotel is that they encourage sustainable travel and heat their water with solar power. Their gift shop also sells "non-aggressive" sunscreen, which is the type that doesn't contain chemicals that would harm fish when you swim in cenotes.
You can book Hotel Casa San Angel on Tripadvisor.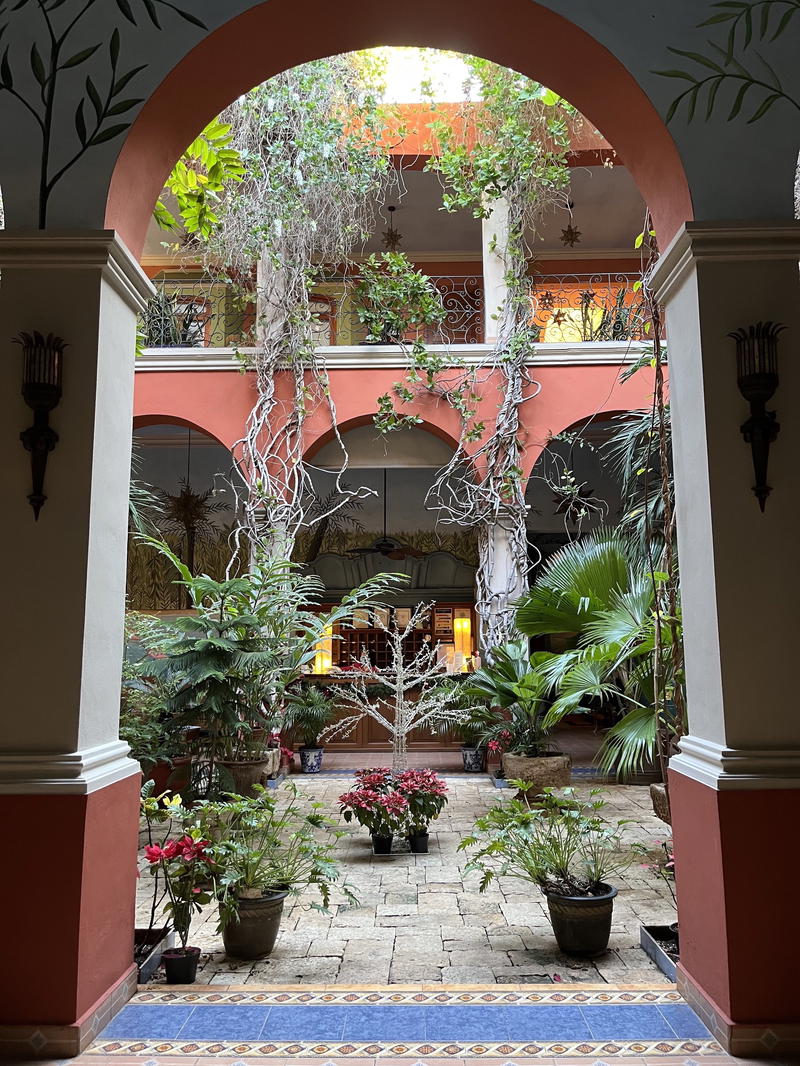 Best International Brand Hotels (to book on miles)
Got some frequent flyer miles or credit card points? You can use these forms of currency or regular cash to pay for any of the big-name international hotels that are located in Merida's downtown near Paseo Montejo.
We met a couple who was staying here and who had negotiated a month-long deal! The Hyatt Regency is located just a 3-minute walk from Paseo 60, which is great if you are into the live music that happens there multiple times per week. You might be able to get rates as low as $78 USD per night if you book on Tripadvisor.
The Merida Wyndham is beautiful and completely affordable, with rates as low as $60 USD per night. It's located close to the new Merida convention center. Try booking on Tripadvisor for a good rate.
With rates starting at $90 USD, this is a good hotel for value. You might like that it's located in Merida's historic center, rather than up near the top of Paseo Montejo.
Here's a link to easily book on directly on Marriott.com.
The location of the Holiday Inn Merida can't be beat, as it's central to all things near Paseo 60 and Paseo Montejo. There's an outdoor pool, business center and fitness center, and of course, it's only 15-20 minutes from the airport.
Book on Tripadvisor.
Best luxury hotels in Merida
Merida is becoming a fancy town, and from the historic to the newcomers in luxury, there are a list of luxury hotels that will give you a memorable stay.
Casa Azul isn't just a hotel: it's a historic treasure. This beautiful azure colonial building on Calle 60 is a showstopper, and you can't help but wonder what it's like to stay in side.
The rooms themselves are done up in what looks like late-1800s authentic style, so you'll feel almost like the upper class of Merida of yesteryear as you sip tea in the courtyard.
See more photos in the Tripadvisor listing.
Or book directly on Booking.com. Rates average $281 USD per night.
This luxury hotel is located right on Paseo Montejo and it is a stunner! It comes highly recommended as an upscale stay that's right in the heart of the city, with great service, quality amenities and of course, an Instagram-perfect photo opportunity.
You can book this hotel on Tripadvisor.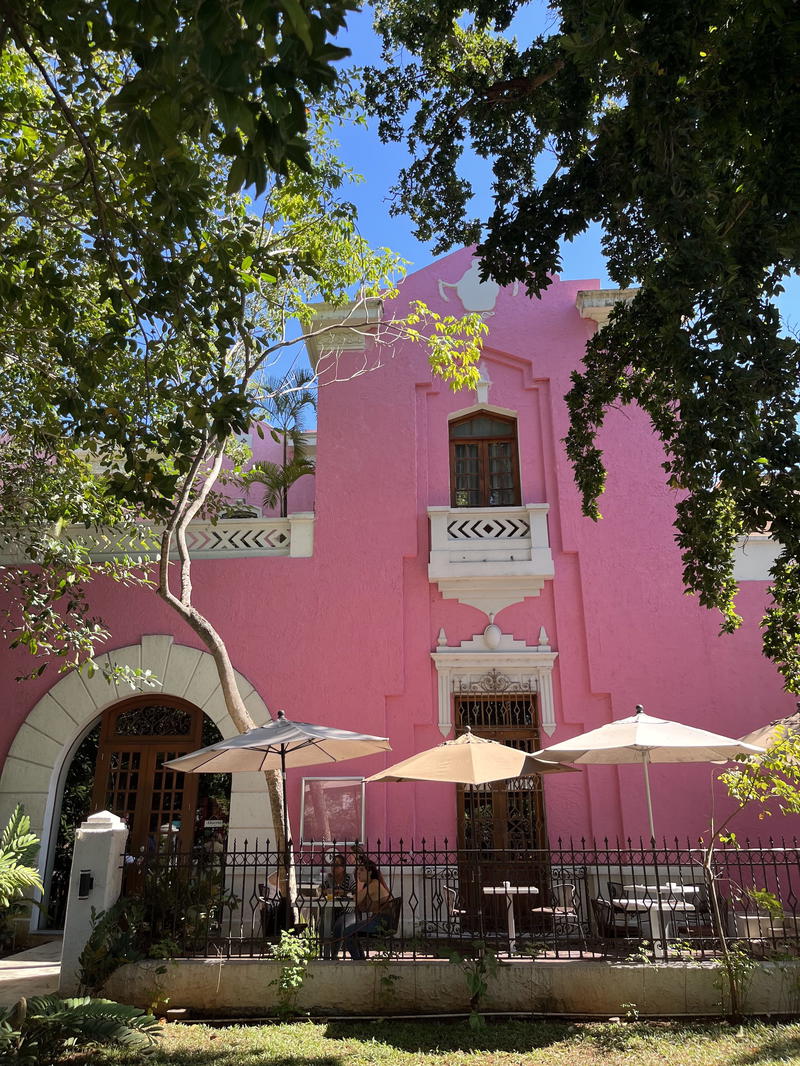 Best Luxury Airbnbs in Merida
Once you open up your budget, you will find great value for some amazing Airbnb properties in Merida. You'll fall in love with all the possibilities, which are all so unique, and all so much more affordable than what they'd cost at home.
Casa Vagantes - Calle 37/Zona Paseo Montejo
We splurged (we typically stay in budget accommodations!) for $140 USD per night (including cleaning and service fees) to stay at the lovely Casa Vagantes, an authentic and historic property that has been remodeled with an architect's eye. It is owned by the Vagantes collective, which has several stunning Airbnb properties for staying in within the Merida metro region.
Our little casita had a private yard with a small private dipping pool, loads of sunshine, and a picnic table for working at, outside.
Inside, we had a kitchen complete with a French press for morning coffee, full sets of dishes and wine glasses, complimentary drinking water, a Bluetooth speaker for our own use, and a hammock room to hang out in.
With this budget, you can stay in similar Airbnbs in Merida that will have some gorgeous features, from yards, to pools, to multiple levels and spiral staircases and more.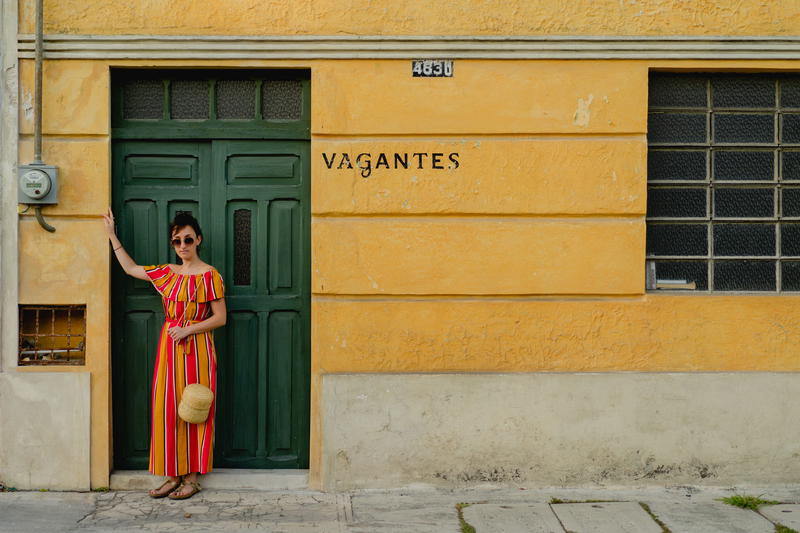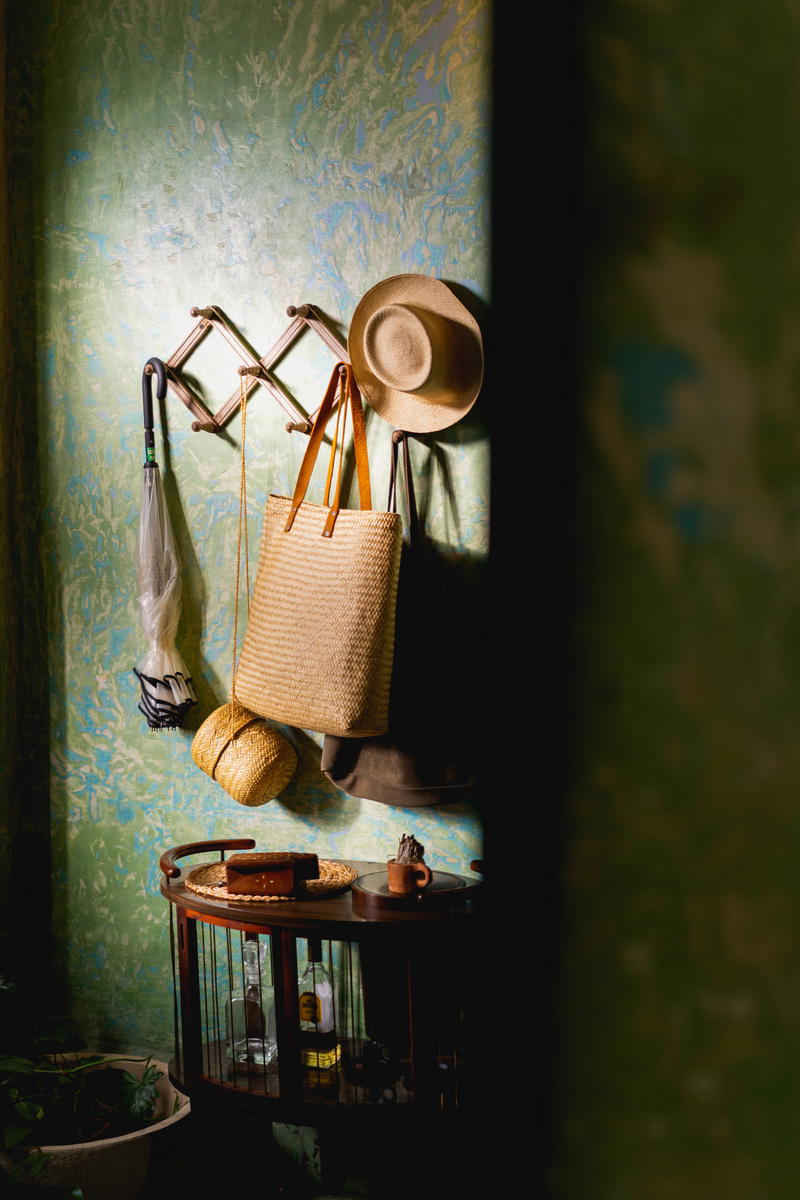 Best budget backpacker hostels in Merida
Merida is a budget backpacker dream, because of all the cool and great-value hostels to choose from. Most hostels are located near Centro and Plaza Grande because of all the great things to do around there, for travelers.
Nomadas Hostel is one of the original and most sought-after hostels in Merida, and they have a list of great amenities. There's a pool out back, tons of outdoor space to chill out in, friendly desk staff and lots of rooms. Plus, the location is cool, on Calle 62, in a more residential and local neighborhood than right up against Plaza Grande and the bustle of downtown.
Check out Nomadas Hostel for your hostel experience in Merida.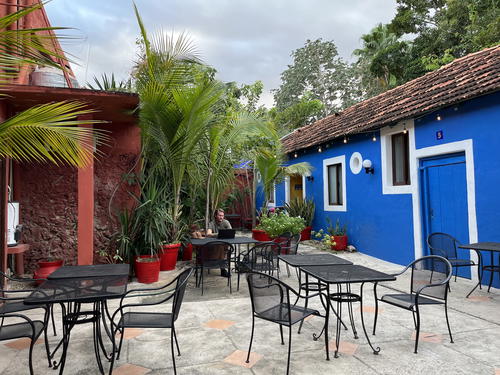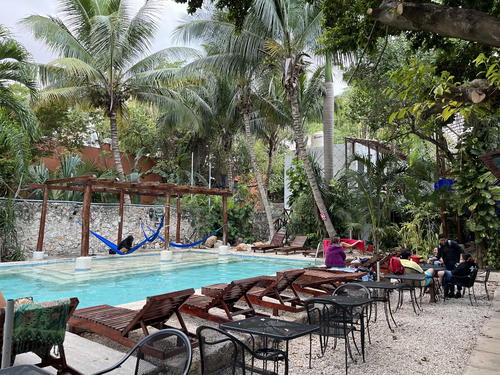 Best boutique upscale hostels in Merida
Hostels don't just have to be for backpackers. They can also be for anyone who wants a more social hotel-hostel experience with a few more frills.
Casa Garza Hostal is what I would call a boutique hostel because of all its fresh design elements. It doesn't have budget backpacker grunge, and instead, it has a reception area that looks like a library, a communal kitchen that looks like a cafe, a backyard that looks like a boutique hotel and lots of communal social spaces (like hammocks).
They were also really helpful in assisting us with arranging our tour to the Uxmal Day Trip Excursion, even though we weren't staying there! We'd be delighted to come back and spend a few nights.
Try Casa Garza Hostal for your upscale boutique hostel experience in Merida.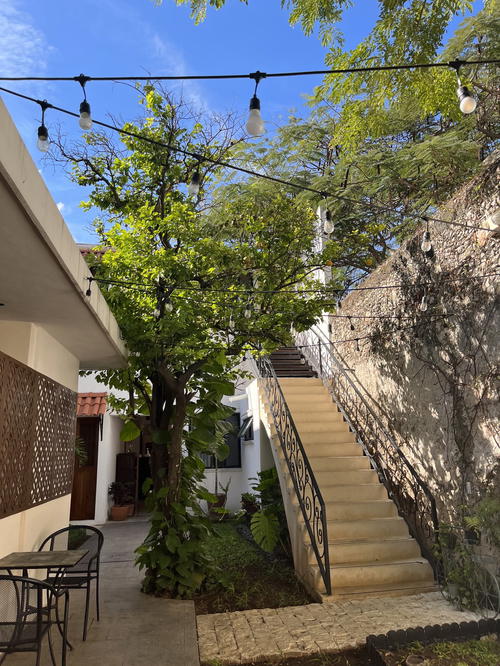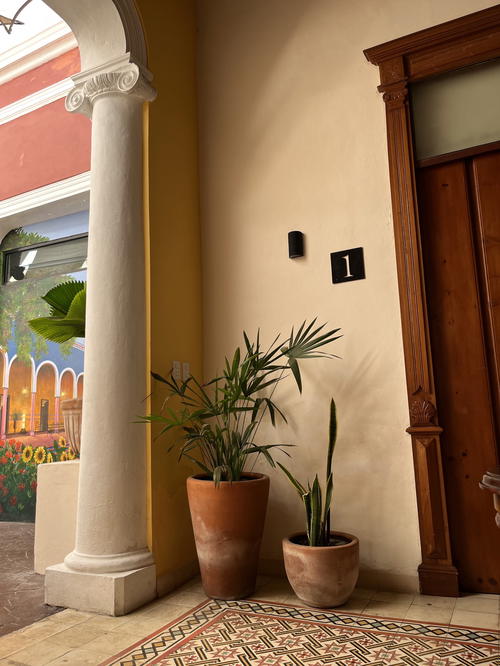 Best budget and basic Airbnbs in Merida (some ideas)
There are more budget Airbnbs in Merida, and if you want to scrape by on a small budget, you will find Airbnbs for $15 to $25 USD per night if you're willing to forego amenities like a kitchen, WiFi, parking, AC and a queen-sized bed.
Here's a prefilled search on Airbnb for you to start your discovery!
This being said, we stayed in a satisfactory Airbnb for $40 USD per night (and received the weekly discount) on Calle 37 near Garcia Gineres, and we had excellent AC in the bedroom, Netflix, a usable kitchen, dining table, cooking utensils and bathroom toiletries.
The only thing that was missing for us was a workspace, as we like to work remotely while we travel. This was something that we only would've searched for if we hadn't had our coworking set up elsewhere.
Enjoyed our article?
Consider supporting us! We're a 2-person team (learn more about us here) and your support enables us to create quality content. Thank you!
Find the Best Things to Do In Merida, Mexico