Hudson Valley Travel Guide: Great Ways to Plan Your Trip
Written by Becca
•
Updated on September 19th, 2023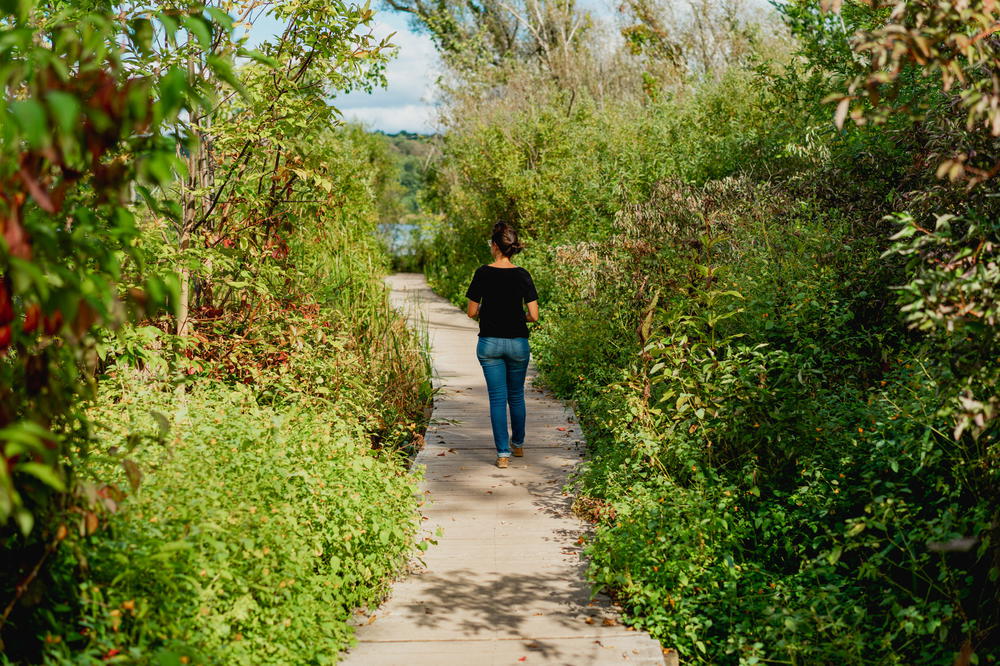 What are the best cute towns best things to do in the Hudson Valley in New York? Check out my top ideas for how to plan a great itinerary for an upstate getaway.
This article may contain affiliate links. We earn a small commissions when you purchase via those links — and it's free for you. It's only us (Becca & Dan) working on this website, so we value your support! Read our privacy policy and learn more about us.
Table of contents
Close table of contents
When I think of the Hudson Valley, I think of the golden glow of a sunset on the Hudson River, tasting wine at a winery outside Poughkeepsie and walking around cute towns like Beacon and Cold Spring, as well as dining at a new restaurant in Hudson or Catskill.
Then I sit back and think, wow, there is so much to do in New York's Hudson Valley.
Seriously, as someone who spent the last decade of her life living in NYC, watching the popularity of this region grow, it's incredible. I've been to friends' weddings in the Hudson Valley, gone up for weekend getaways with my husband, ventured into new areas to catch a pretty view and done my fair share of researching hikes and nature walks.
If you're about to plan a trip to the Hudson Valley, know this: it's hard to do it wrong. But also, if you want to do it right, follow my guide below, with tried and tested tips from my travels in the region.
And don't be shy to click into our photo galleries of pictures we've taken during our visits up!
Here's what to do in the Hudson Valley along with where to go and which places to see, once you begin your journey. Enjoy!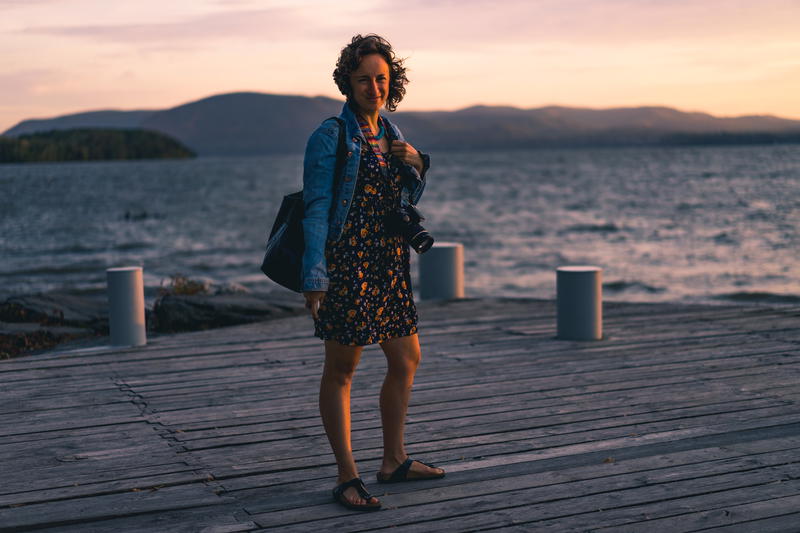 Where to stay in the Hudson Valley
There are lots of choices when it comes to figuring out where to stay in the Hudson Valley. We have stayed in Poughkeepsie, Fishkill, Wappingers Falls, Beacon and in an Airbnb near Catskill that was maybe technically in the Catskills.
For visitors to the Hudson Valley, I would first decide on your budget. If you budget under $100 per night, your options may be a private room in an Airbnb or a three-star hotel, if you come during the week. For budgets upwards of $150 and $250 per night, you'll find four-star hotels, entire home Airbnbs, bed & breakfasts and some other unique stays.
If you find that accommodation options are booked up in the "popular Hudson Valley towns," don't be disappointed! Staying within 20 to 30 minutes of any of these towns will allow you to explore the region if you come up with your car on a road trip!
Here are some easy best picks for where to stay in the Hudson Valley.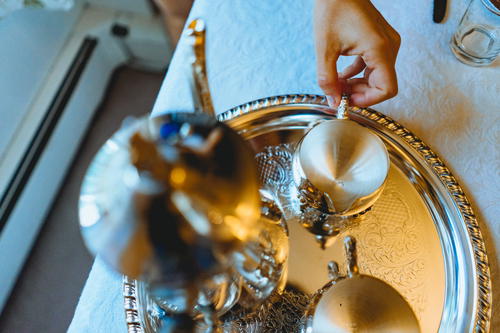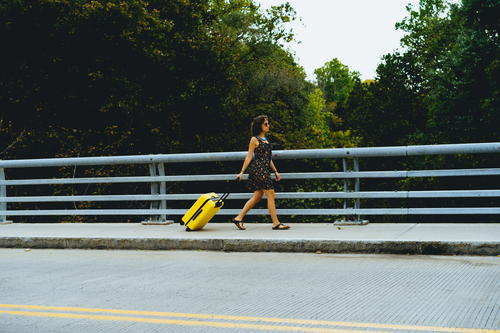 The best charming towns to visit in the Hudson Valley
The Hudson Valley is quite a big region, and by most definitions, the Hudson Valley begins in Westchester and goes all the way to Albany (if you're following the Hudson River, from which the valley gets its name!).
Most "city folks" will choose to visit towns between Beacon and Hudson, which still is a large swath of distance. These towns are where I've done most of my Hudson Valley trips.
One thing that's great about the Hudson Valley area is that many cities and towns are reachable on MetroNorth from NYC, or Amtrak (also from NYC). For this reason, you don't always need a car, if you're cool with getting off the train in a town like Kingston or Beacon, and walking everywhere, taking a ride share when needed.
We'll outline a few top picks for the towns to visit in the Hudson Valley: Hudson, Catskill, Saugerties, Kingston, Beacon and Cold Spring (and there are many more!).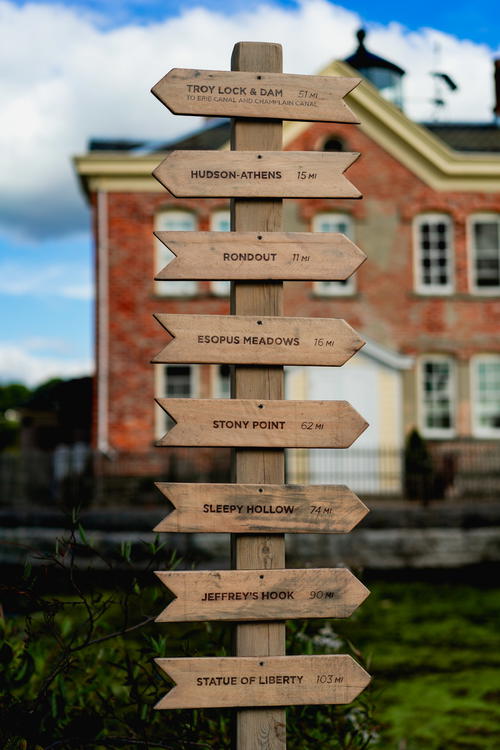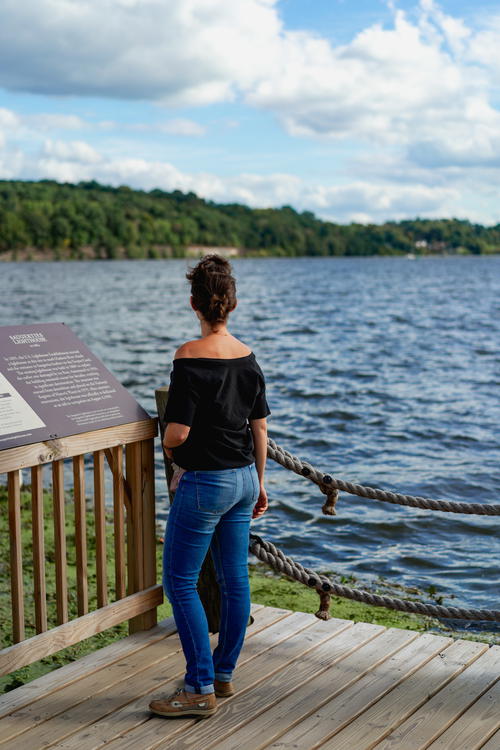 Hudson
Hudson was also at the top of our list for places to go in the Hudson Valley during a recent trip! We had heard from friends that it is a destination of its own in the Hudson Valley, and did you know that it's easily reachable by taking an Amtrak headed northbound from NYC? Pretty easy (if you don't have a car!).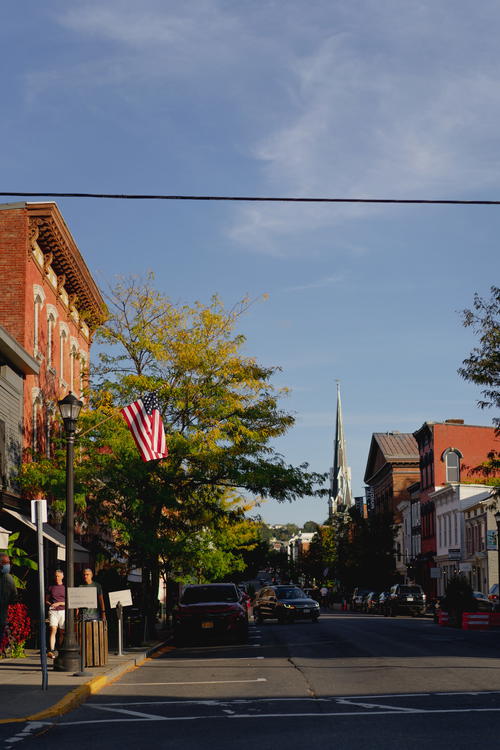 Hudson is (nowadays) what is referred to by some populations as the "Sixth Borough of NYC." Let me explain.
Hudson, with its gorgeous 1800s architecture and restored row houses, has a long history that you may not have heard of.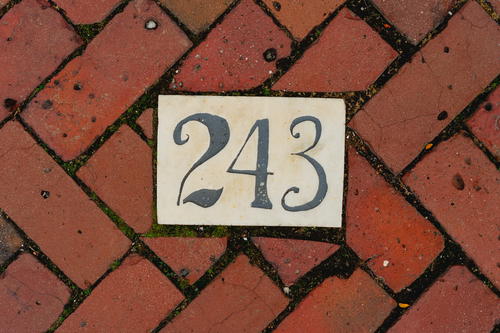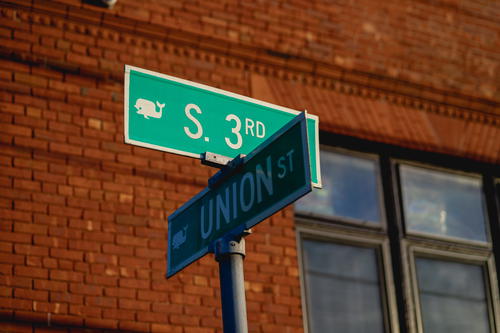 History of Hudson
Chartered as a city in 1785, Hudson became famous as the head of navigation for the Hudson River (and it is named for Henry Hudson, naturally).
As the whaling industry took off and boats departed Hudson's port, Hudson developed a red light district and was a center of gambling, for sailors at first, and then for soldiers during the world wars.
With immigrants and an influx of workers, Hudson was, at one point, the fourth-largest city in the state of New York, and at one point had fifty bars that attracted gamblers and revelers.
In 1951, the bars were broken up during a raid, and from there, things went downhill. Hudson lost a bunch of its population, its landowners went to the cities or left properties to their children who didn't know what to do with them, and the city was no longer the prosperous Hudson Valley commercial center it once was.
We mentioned more aspects of the history of Hudson in our photo gallery of its historic architecture.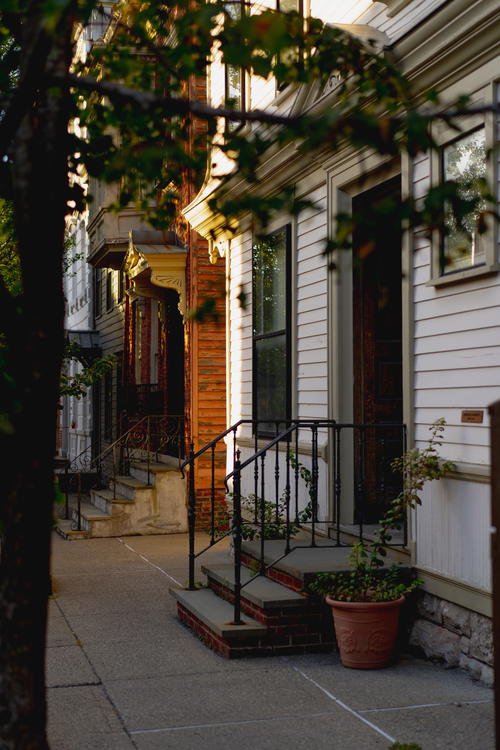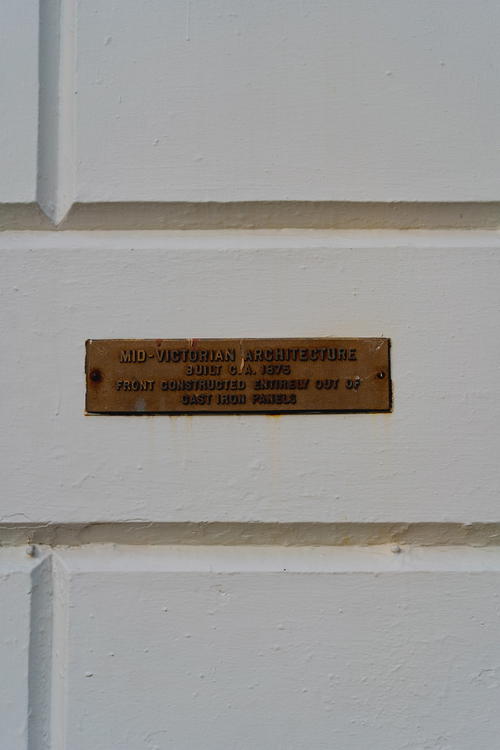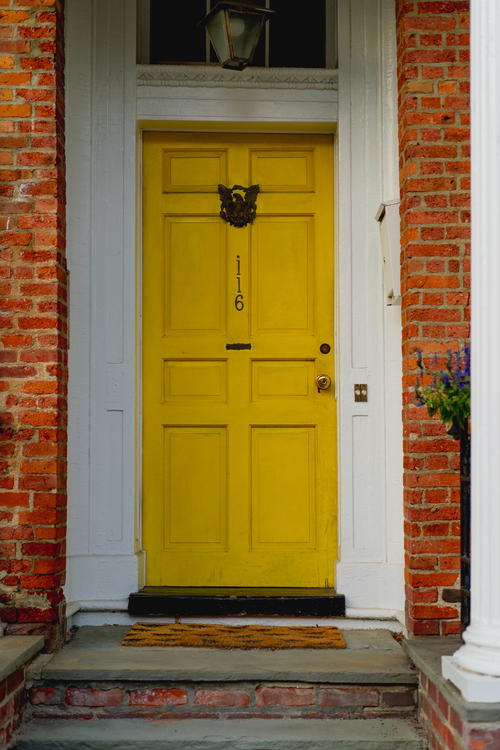 The revival of Hudson and beginning of new tourism
Things changed in the early 2000s, and with the revival of the main drag of Warren Street, along with developers, home-buyers and vacationers, Hudson now sports a majestic Victorian-meets-colonial vibe that, with the setup of posh stores and trendy eateries, bars and cafes, can't be beat, as a place to visit on your Hudson Valley itinerary.
So, what should you do in Hudson and what's on the list of the best things to do?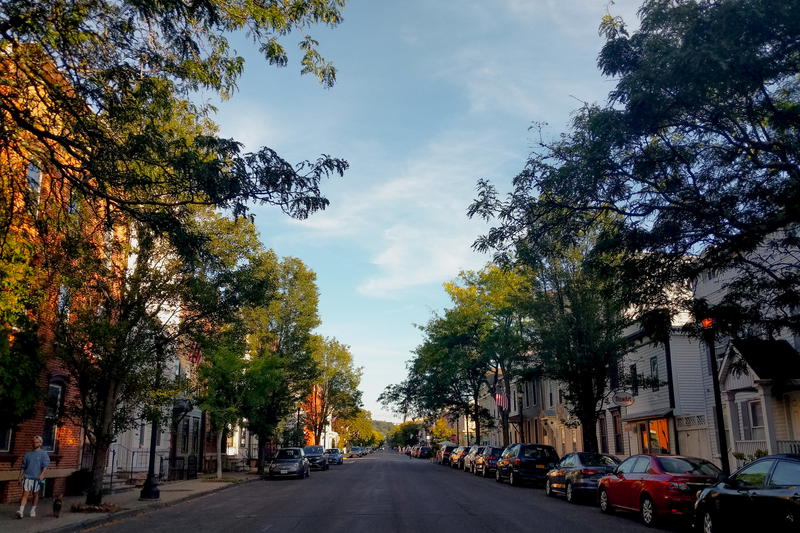 Best things to do in Hudson
Hudson has lots of restaurants, bars and cafes. Here's a starter list of some of the great places to wine, dine, caffeinate and enjoy a good beer, as well as a few nature walks right nearby.
Hudson Brewing Company
Yes, it's located "in a parking lot," but that's half the charm of this rustic-yet-modern craft brewery that sports a whole list of beers and ciders on tap. They also have sangria! There's a host of indoor and outdoor seating, and a taco truck right outside where you can get a food fix when you're a few drinks deep.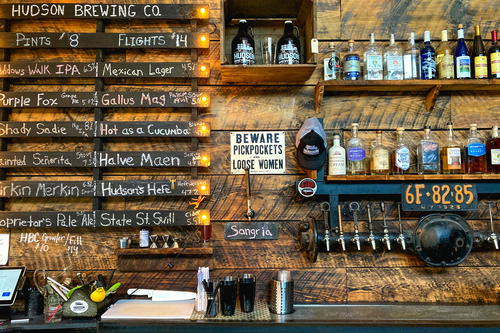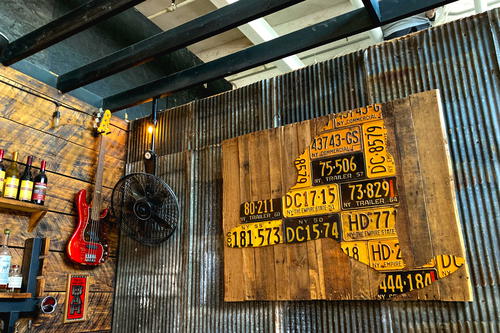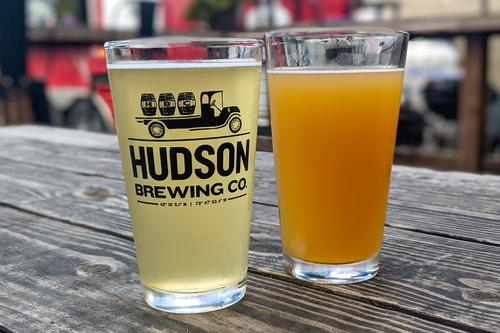 Warren Street
This is the main drag of the town, and if you start at South 5th St. and walk all the way to North 2nd, you'll probably have seen the whole town. As you head from the Victorian-style houses to the colonial and federalist row homes on Warren Street, you'll wonder if you're in Cobble Hill Brooklyn or the West Village of Manhattan.
Wylde Hudson Coffee Shop
This is a cool spot for going alone, with a travel buddy, or spending some time working remotely from any of the indoor tables where the wifi is strongest. In fact, we wished we had had more time, and our laptops with us, so that we could work remotely while on our trip.
Wylde has friendly staff, ample seating space, great design, cool outdoor seating on a patio and an excellent iced coffee.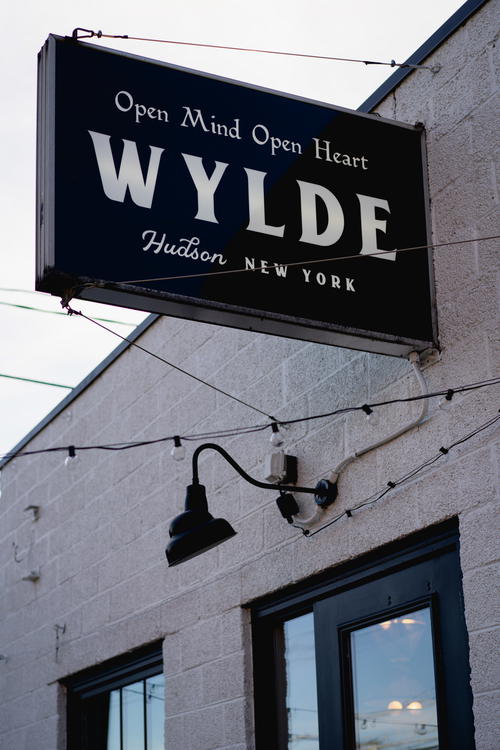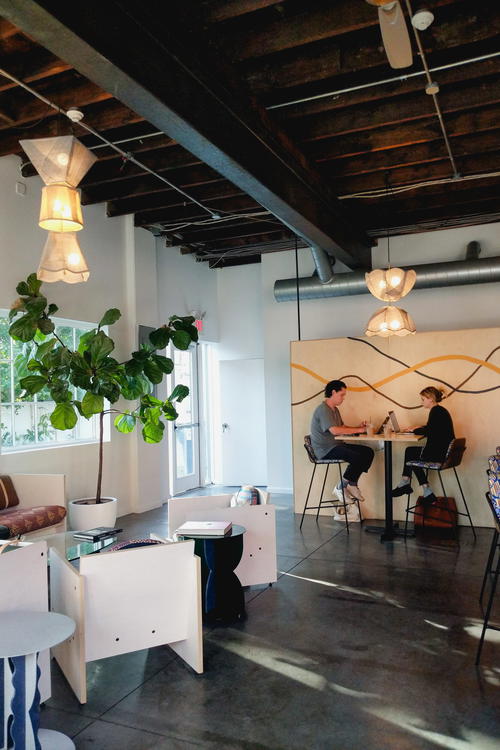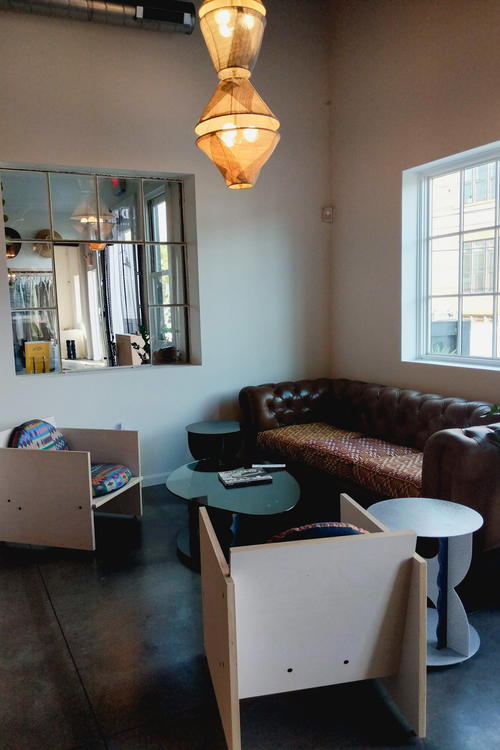 Breadfolks Bakery
This place comes highly-recommended as a bakery on Warren St. for fresh bread and pastries and the coffee is highly-rated as well. A Hudson essential stop!
Issan Thai Star
This small restaurant near the eastern side of town has excellent Thai food, especially the red curry (which we took home to our Airbnb at Joy Cottage). There's outdoor seating and a wide array of beers inside.
Casa Latina
This cozy and slightly-tight spot is even farther toward the eastern edge of town and has a set of outdoor dining tables (and few indoor dining tables). Menu highlights include enchiladas, and lots of them, and massive burritos.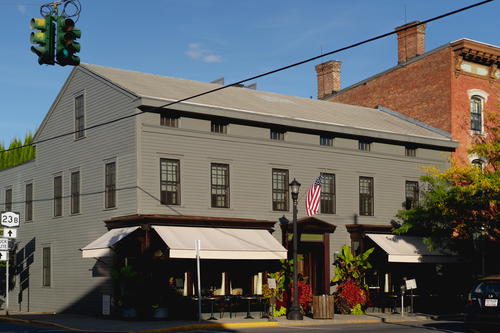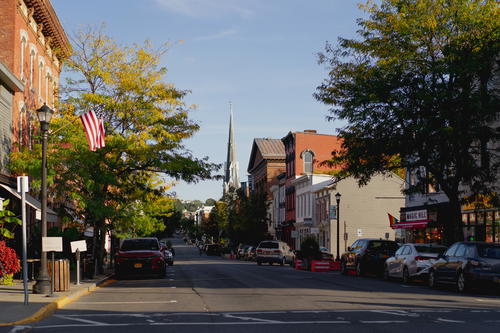 Greenport Conservation Area in Hudson
We went to the Greenport Conservation Area for a sunset spot that we heard about from the staff at Wylde Coffee shop (thank you!).
Here's how to get to this sunset spot on the Hudson River.
If you follow this point on a map for where to park your car in a small gravel parking lot, you'll find the Greenport Conservation Area nature walk for sunset.
This is a great place to see sunset, if not the best, in the Hudson region. This is because it faces west and is located next to the North Bay inlet, and there's a pretty gazebo at the end of the trail that makes a nice photo. You can see more of our photos here in our photo experience.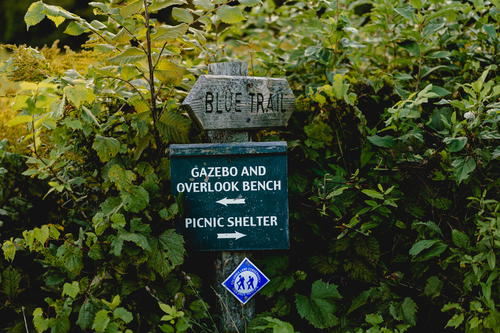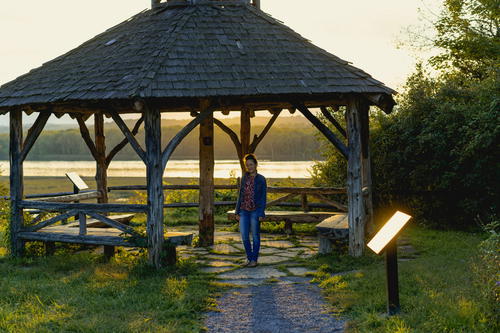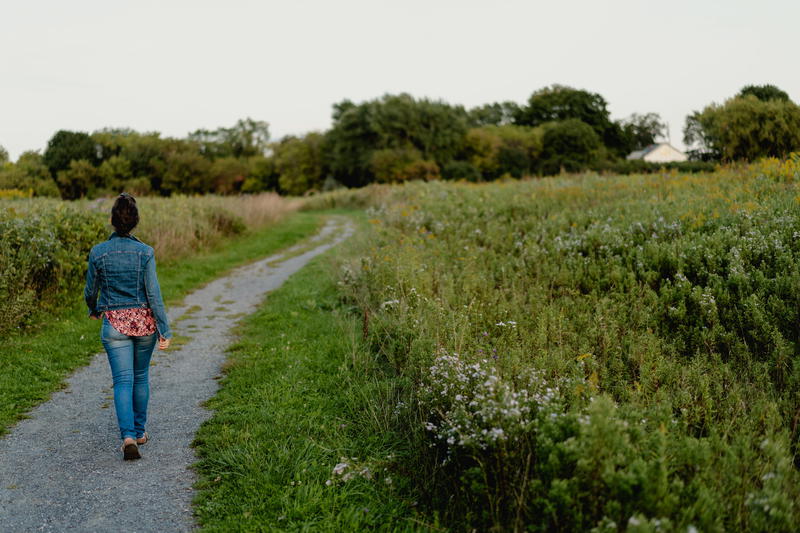 To get to the gazebo where the land ends, walk 10-15 min on the gravel path that will go through a wooded area and then a wildflower pasture. It's so pretty and peaceful!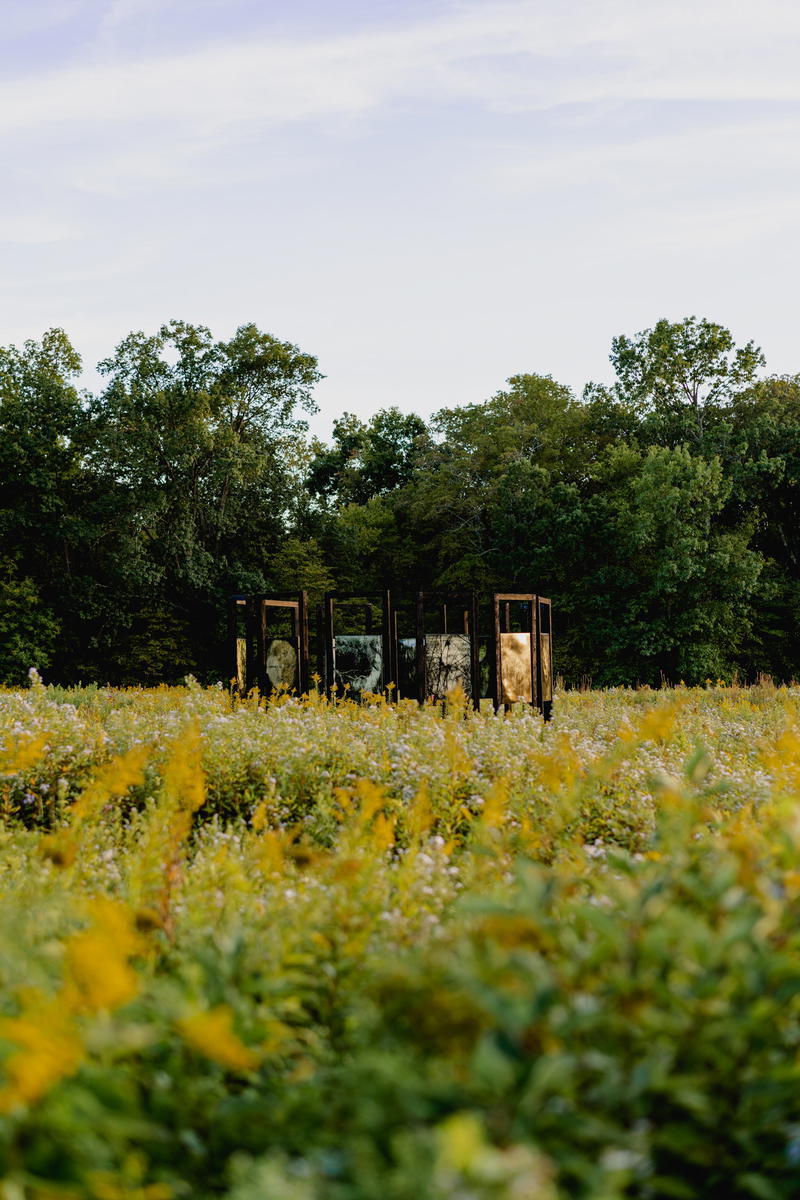 For the sunset spot viewing spot itself, it's this location on your map and after doing our research for places to see the sunset in Hudson, this proved to be the best location.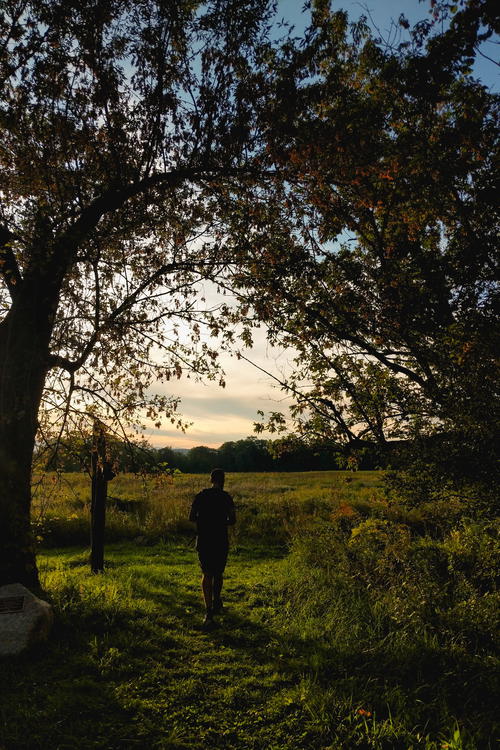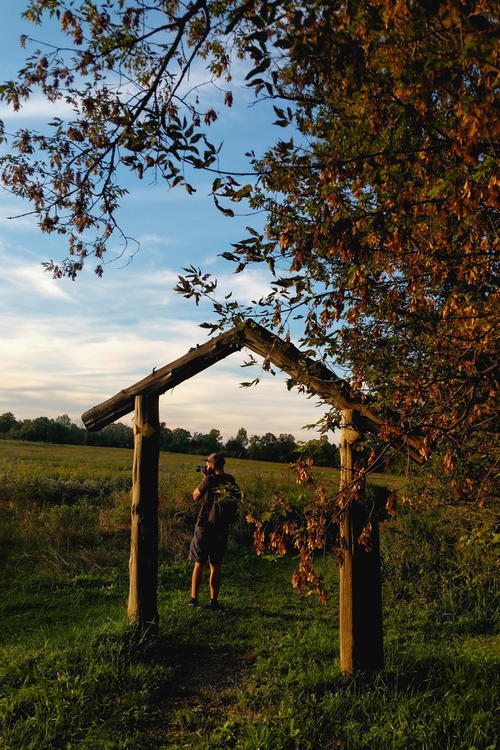 Olana State Historic Site
Let's be clear: I had starred Olana State Historic Site in my maps before we left home, and then I forgot.
While we were doing our nature walk at the RamsHorn-Livingston Sanctuary, an older couple we met atop the viewing tower recommended that we visit Olana, our way to Hudson.
We're SO glad we did, because we were looking for additional outdoor activities in the Hudson Valley, and Olana happens to be one of the most beautiful places in the Hudson Valley.
Olana State Historic Site is right off the Rip Van Winkle Bridge if you're coming from the west side of the Hudson to the east side.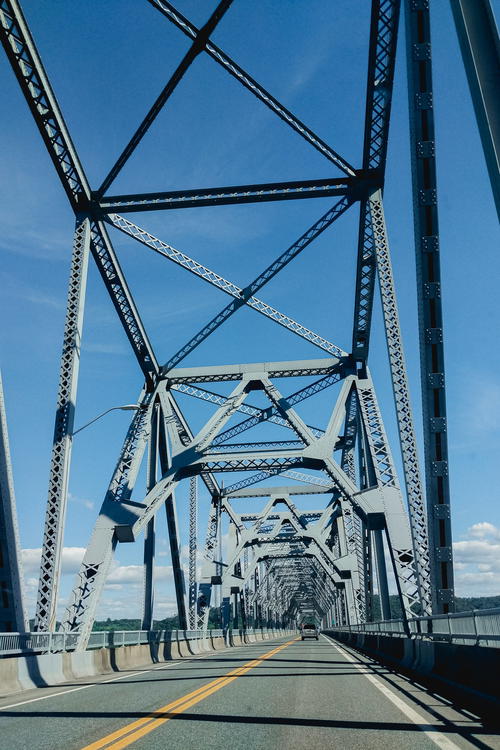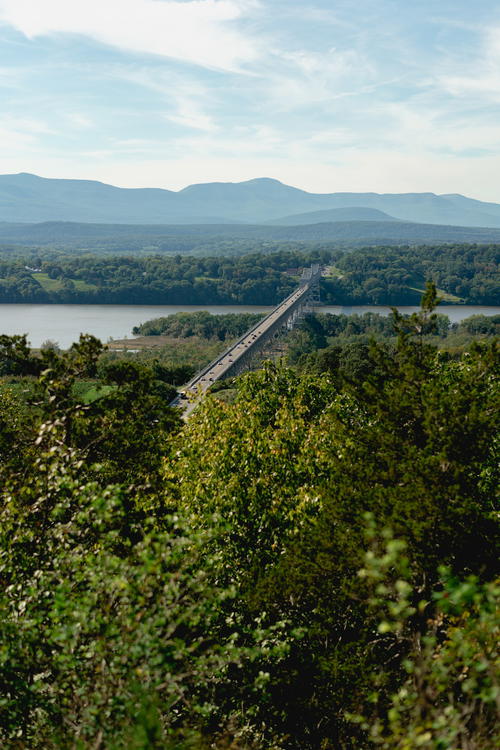 What is the Olana State Historic Site and Frederic Church estate?
The Olana State Historic Site is the former home of painter and artist Federic Church, who built the home in a Persian-meets-Victorian mix of architecture, and it is quite a sight to see.
In fact, we were completely taken by surprise at the beauty of this historic estate, and for this reason, it's #2 in our list of most unique things to do in the Catskill Mountains and Hudson Valley!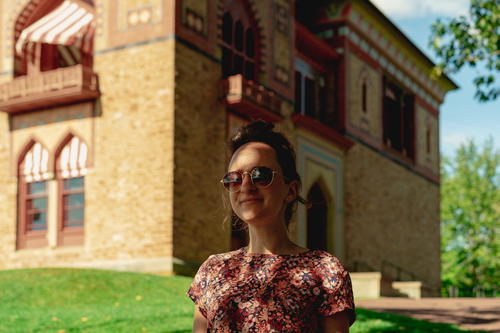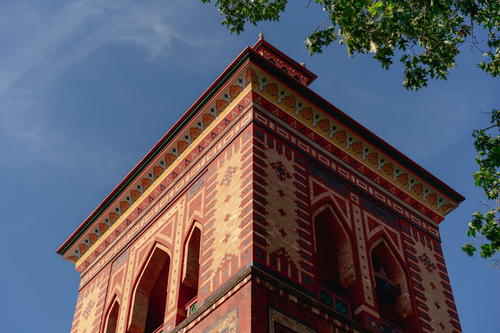 When is it open? The historic park is open every day from 8 am till sunset, which will depend on the time of year. It's free for the public (if you wish to take a guided tour, it is $20 as of when we most recently checked). We went without the guided tour, as the house actually seemed closed the day we went.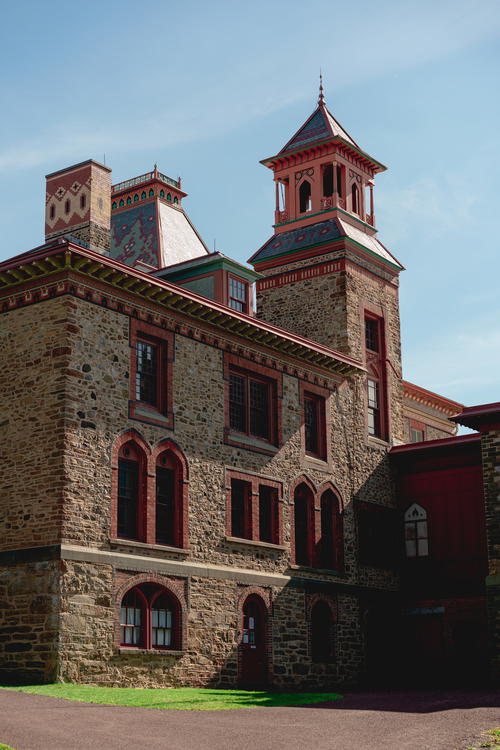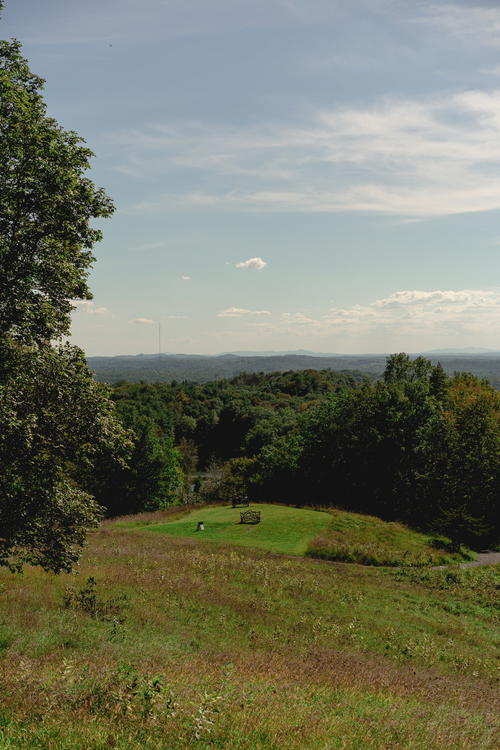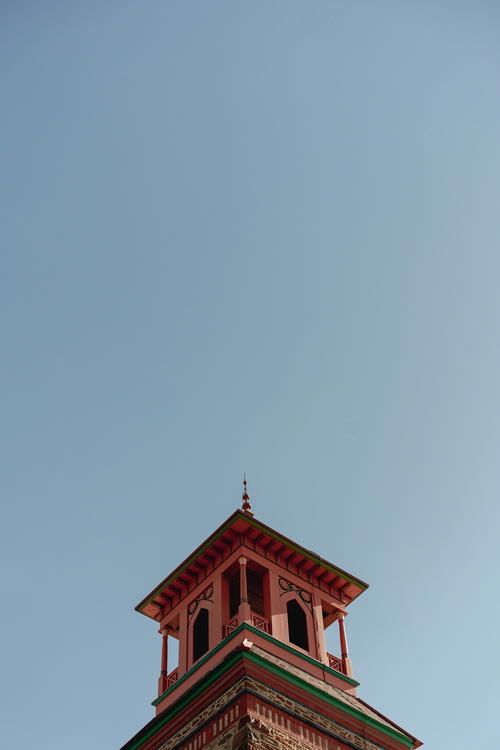 As mentioned, if you're looking for the best time to visit the Hudson Valley, it's pretty much all the time!
No worries if you can't enter the interior of the house. We spent quite enough time touring the grounds of the estate, getting as close to the mansion as we could to see the architectural detail, and then looking at the manicured flower gardens and views.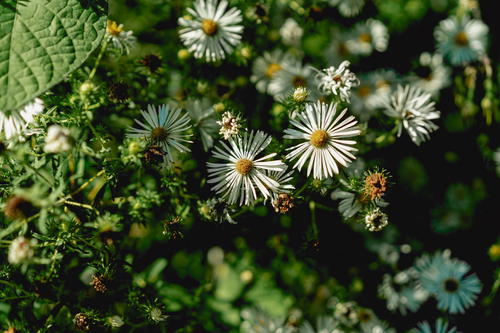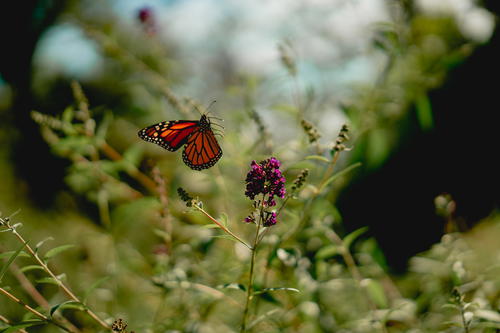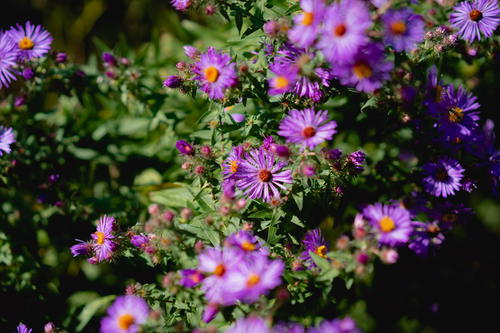 If you're thinking, "What is open in the Hudson Valley?" then chances are you can answer this question by driving right up to the Olana parking lot and touring around on your own because it's rarely closed. See olana.org.
Nature walk on Ridge Road behind the Olana State Historic Mansion
One thing not to miss, as it is an essential (and surprising!) part of your visit to the Olana State Historic Site is Ridge Road. This is a gravel walking trail behind the parking lot, and you will see some signs for it in order to start your nature walk.
The Ridge Road trail starts in a wooded area with tall trees on both sides, and as you walk toward your left, the space opens up into an expansive view eastward of farms and towns. It's super pretty.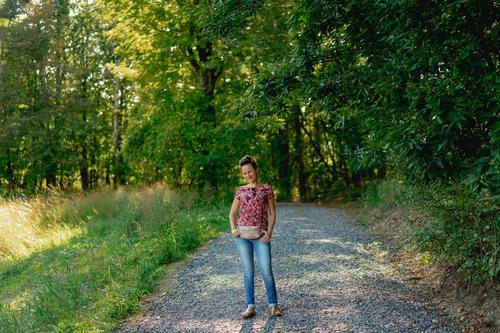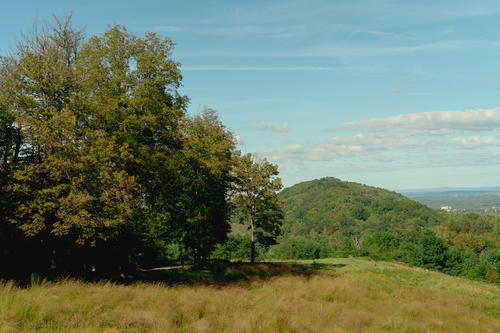 As you continue for another 5-10 minutes, be patient, because the next viewing point is a panoramic view from atop the hill, where you can look down at the Rip Van Winkle Bridge (it will look so small!), the Hudson River, the Catskills to the southwest and a lot of open sky.
Grab your camera, because this is the spot where the original estate owner would paint the sunset! For this reason, the optimal time of day to visit the Olana State Historic Park and Ridge Road walking trail is golden hour or around sunset (just make sure you have a flashing or phone light to guide you back to your car).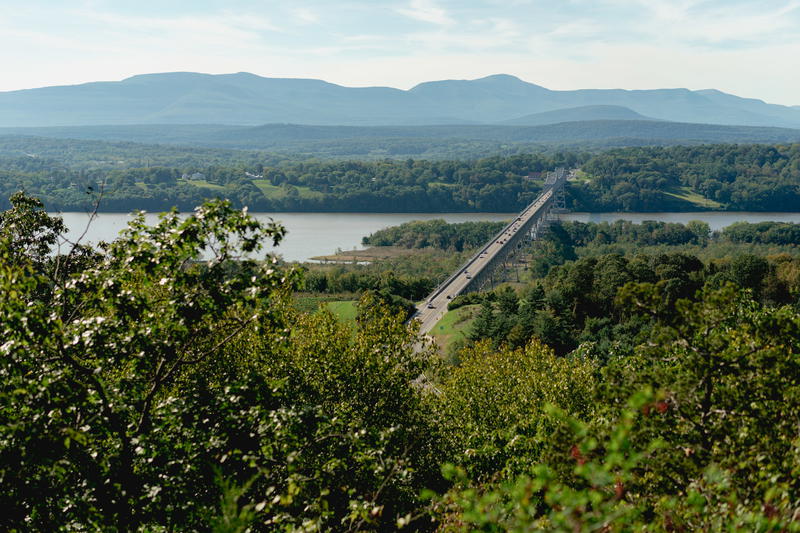 Helpful Tip
In the Great Northern Catskills region, you'll see a lot of references to Rip Van Winkle, starting with Rip Van Winkle Brewery and ending with Rip Van Winkle Bridge. Take some time to learn about Rip Van Winkle and the history of why he is the mascot of this region of Upstate New York!
Catskill
Catskill is a pretty and tiny town located right on the Hudson River, and conveniently, 15 minutes from Mahayana Temple and Joy Cottage, mentioned above.
The town of Catskill was for a long time, at the top of our wish list for a Hudson Valley weekend getaway.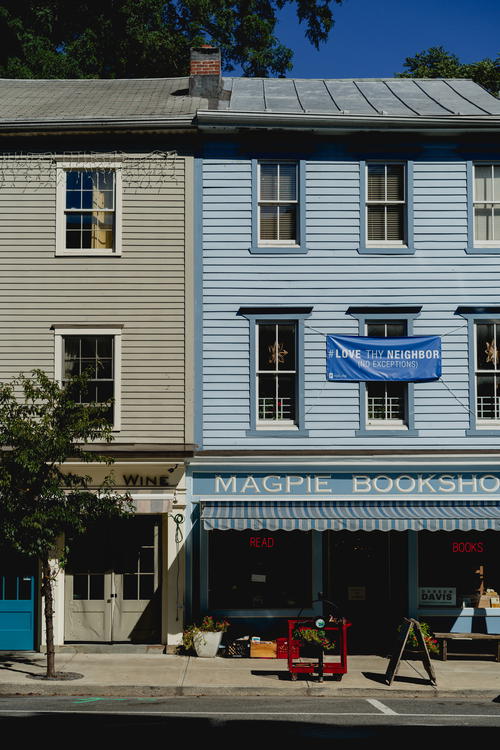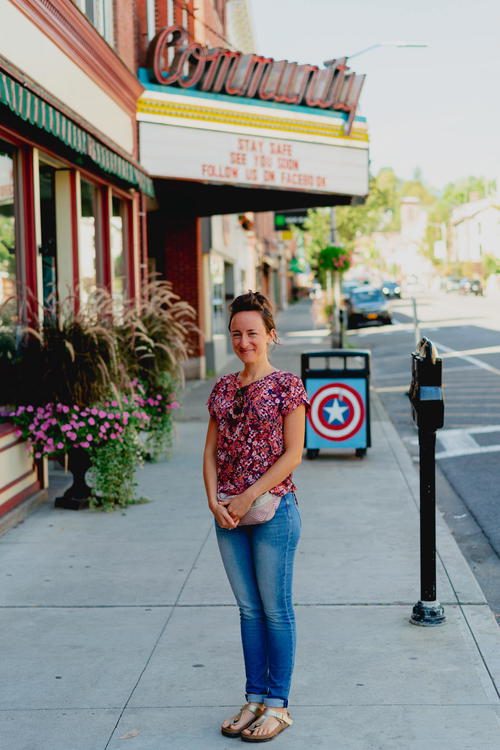 The rumors are true: Catskill is an adorable place to visit, with a single main street and lots of pretty houses that line the downhill streets leading downward.
The town has a long history, and was established in 1788. A lot of the original style of architecture is well-maintained, and much of the architecture on Main Street is revived, and painted in pastel colors.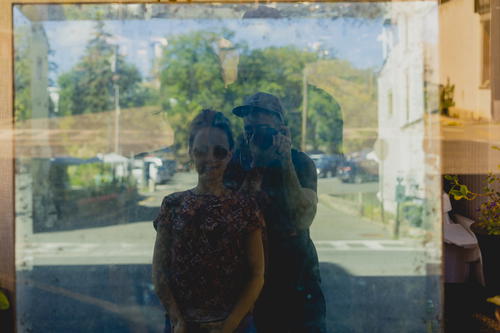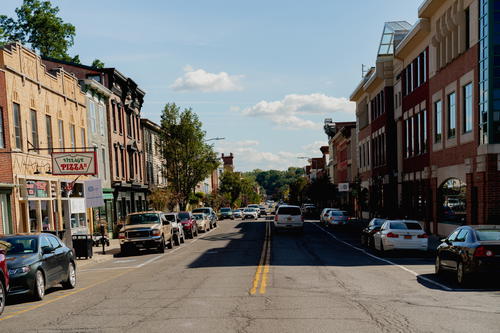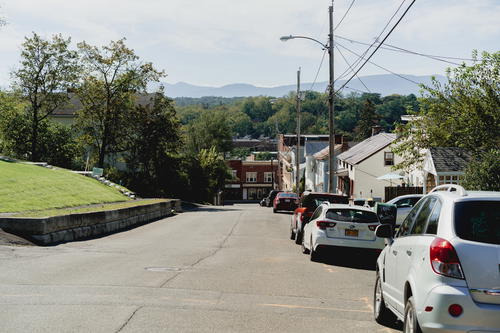 Whether rain or shine, you'll find things to do in the town of Catskill. There are nearby nature trails, restaurants, cafes, breweries and some bars. Here's what to do in the town of Catskill.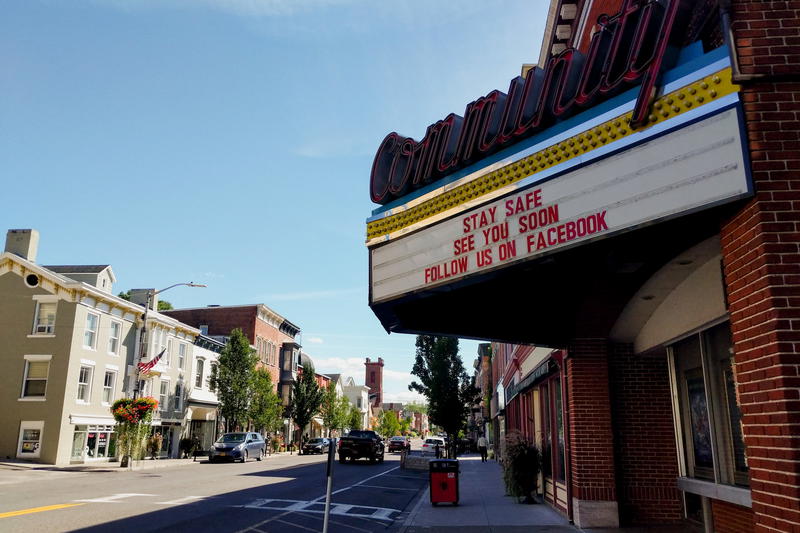 Things to do in Catskill
The town of Catskill is probably best described as a charming and cute Hudson Valley town right on the river. It's not big! We walked around the whole town in about 30 minutes.
RamsHorn-Livingston Audubon Sanctuary
As for outdoor activities, a great idea for adding to your Hudson Valley day trip itinerary or weekend getaway plans is to go to the RamsHorn-Livingston Nature Walk and Viewing Platform (Treehouse).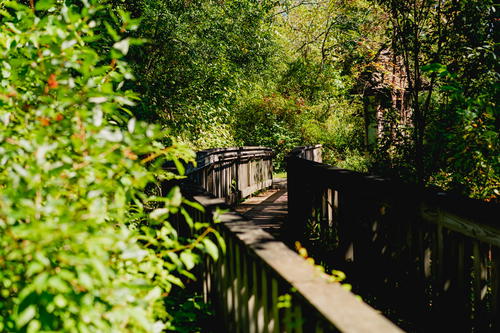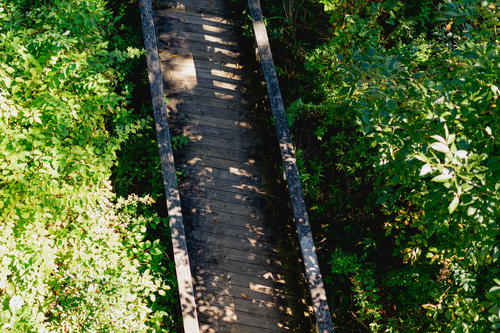 I have to be honest: I found out about this nature sanctuary in Google Maps while doing our trip research before we left home (which is Brooklyn!). I saw the photo of the wooden treehouse-style viewing platform, and I said we had to go there, because it reminded me of one of our hikes in Keremi National Park, Latvia.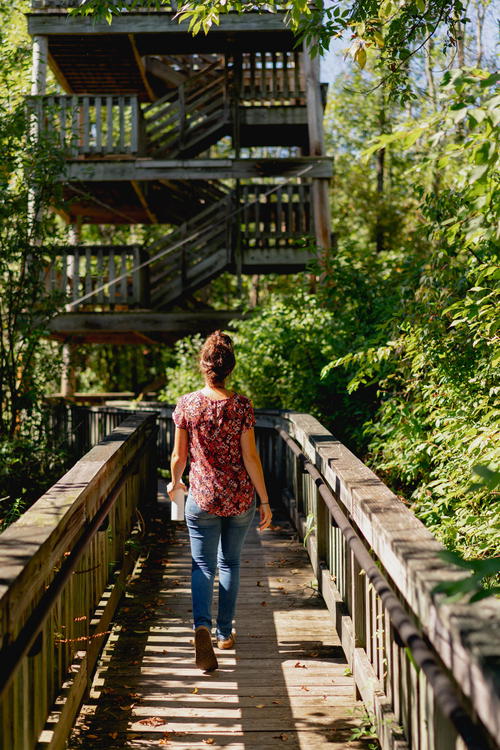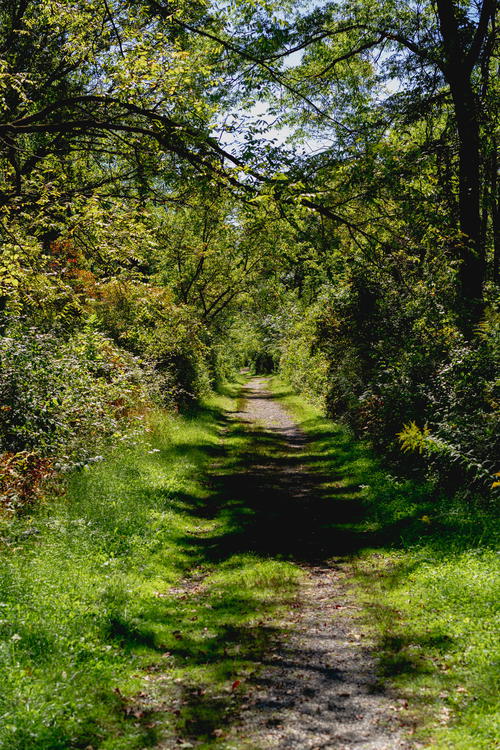 The nature walk itself starts off with a small parking lot that fits only a few cars, and it's first-come-first-served, but parking is free.
You start off on a simple path that's rather flat, and within ten minutes of walking through the tidal marshland and swamp, you'll see a right turn for a boardwalk to the wooden viewing platform.
If you go in fall, you'll undoubtedly get a great view of fall foliage in the Catskills and Hudson Valley, so we recommend that.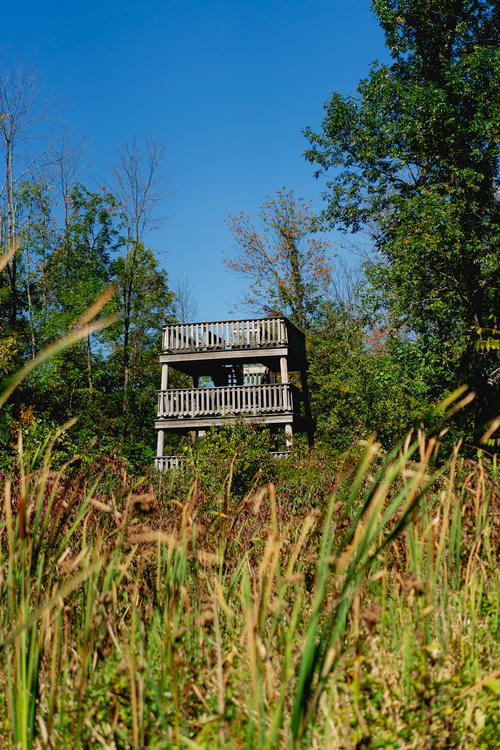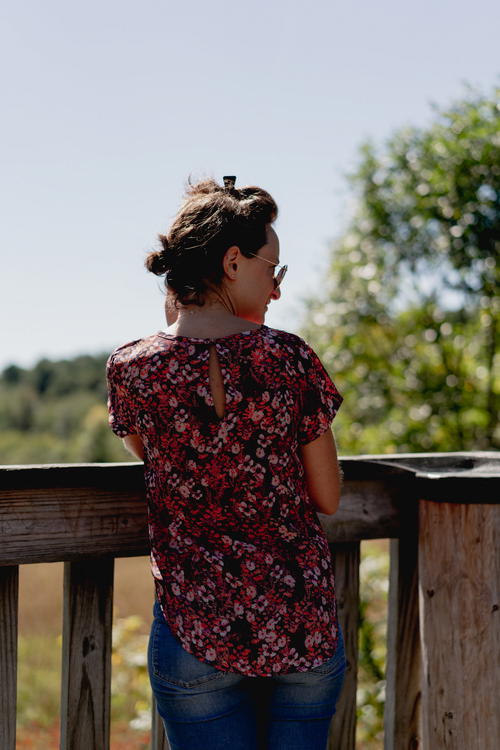 As for time of day to go, consider that the path itself is not very shaded, so if you tend to not do well in the sun, go early in the morning or later in the afternoon to have the potential for some shadows.
If you're into bird-watching, this is the place, and there's a bit of information about bird species at the entrance on a set of posters.
Helpful Tip
If you're looking for something else to do in Catskill, a unique thing to see here is the Thomas Cole National Historic Site, which is an accessible historic home of a 19th century painter, and the place has some nice mountain views!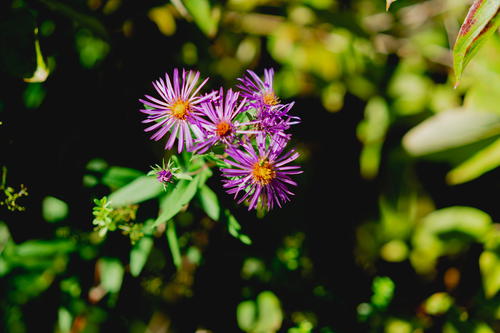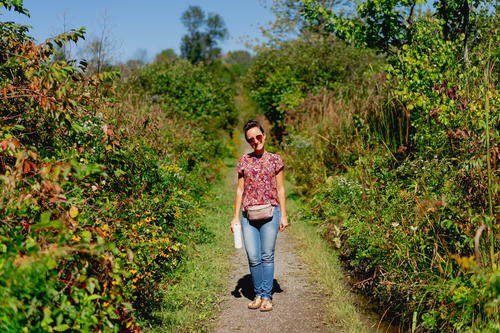 Where to eat and drink in Catskill
Catskill has a good variety of cute restaurants, bars and cafes! Here's a list for your trip.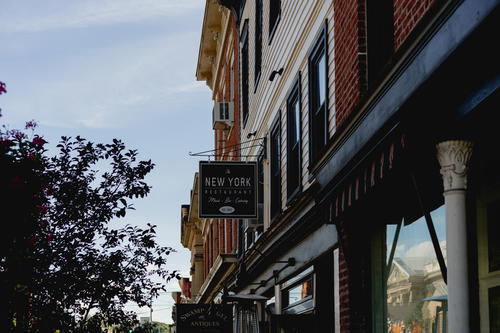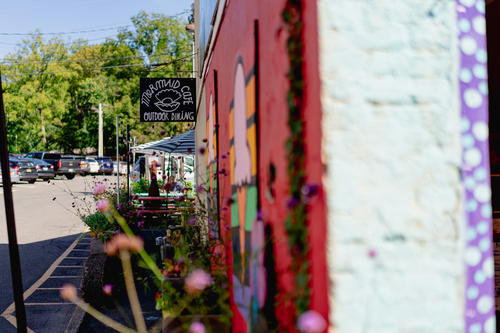 Mermaid Cafe
This is our top pick for where to eat in Catskill, and it's because they have a big menu of crowd pleasers, from tater tots to tacos and vegetarian health bowls. There's a good amount of outdoor dining in a side area and back area with picnic tables.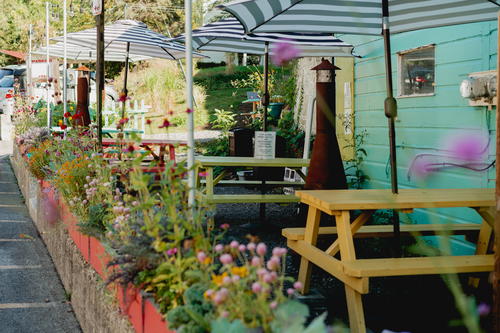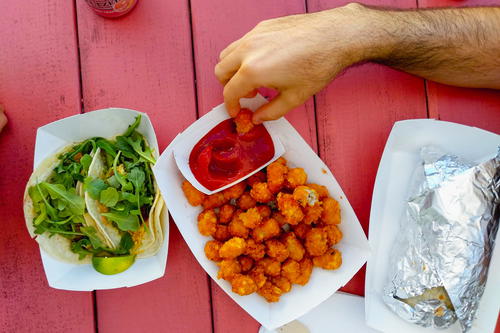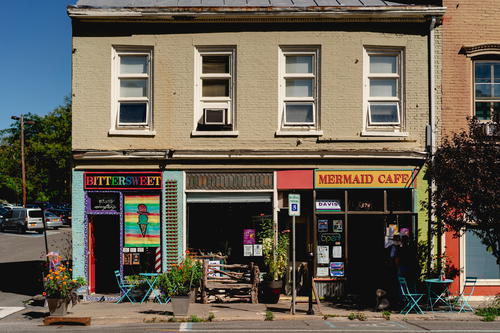 Bittersweet
Located next to Mermaid Cafe, this is a cool spot for ice cream, with one sidewalk table outside on the street.
HiLo Cafe
This is the town's top pick for coffee and treats. It's located on Main St.! Note that it's closed early at 3pm on Tuesdays and Wednesdays.
Crossroads Brewing Company
While we did not get the chance to have a brew at Crossroads Brewing Co., it has great reviews that tout its cool views, award-winning beers and friendly vibes. Note: It's closed Tuesdays.
Left Bank Ciders
We hope to visit Left Bank Ciders the next time we go up to Catskill. For now, we'll let you know that it also has excellent reviews of its small-batch Hudson Valley and Catskill ciders and meads. It's located near the river.
La Casa Latina Mexican & Latin Cuisine
If you know us, and by now you might, we seek out Mexican food everywhere we go (perhaps it's because we adored our time in Mexico City?). This place serves up burritos and the like, for lunch and dinner, every day except Sunday and Monday.
Subversive Malting + Brewing
Are you really into breweries, and are you leaning into a brewery tour of the Hudson Valley? I won't say we're not here to help. Head to Subversive Malting + Brewing for "outstanding atmosphere," pretzels, sourdough pizza and a local Hudson Valley brewery that produces its own malts.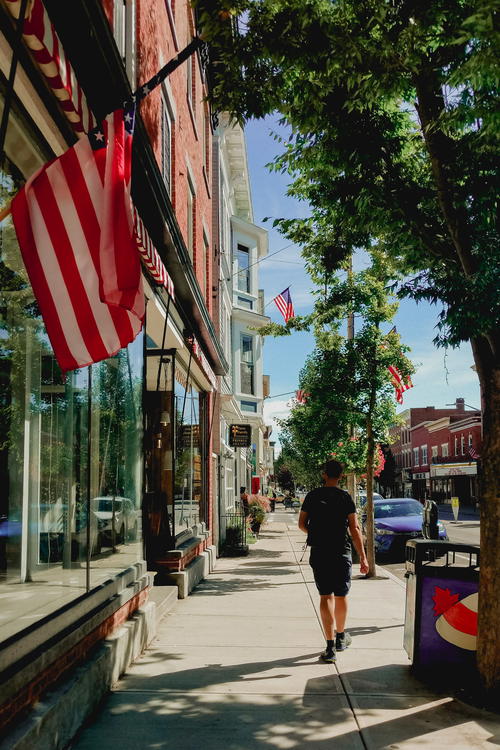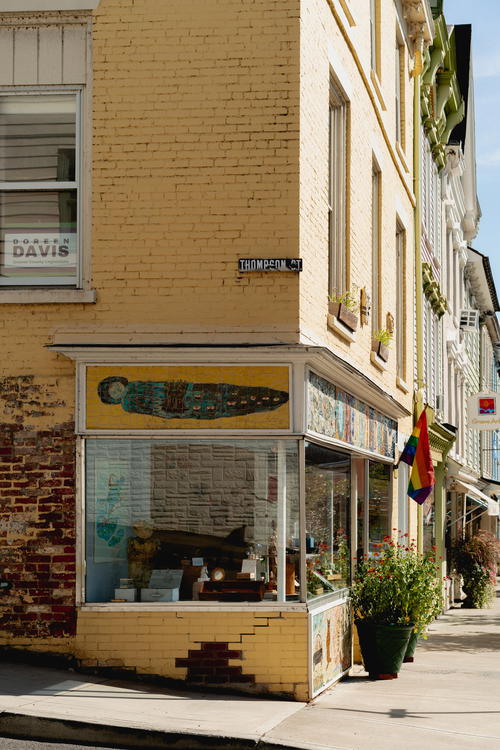 Saugerties
Saugerties is a Hudson Valley Town located north of Kingston and south of Catskill and Hudson.
It was once a quaint village, and now it attracts a younger crowd looking to escape the city and start a new Hudson Valley destination for travel. Actually, two of my friends just bought a house here so that they could rent it out!
What we liked about Saugerties was the location right on the river and no shortage of places to grab a bite.
Where to eat and drink in Saugerties
We liked the main streets of Saugerties, starting with Partition Street, which is home to bars, restaurants, bookshops and cafes and has a lot of great turn-of-the-century architecture.
We actually just found out that Jimmy Fallon is from Saugerties, as a fun fact of the day.
Saugerties is a town by the water, and makes a good day trip by car for its variety of things to do in the immediate area. Note: Saugerties does not have a train station. Despite this, it is still a great destination for a little trip of 48 hours in the Catskills or Hudson Valley, if you are driving.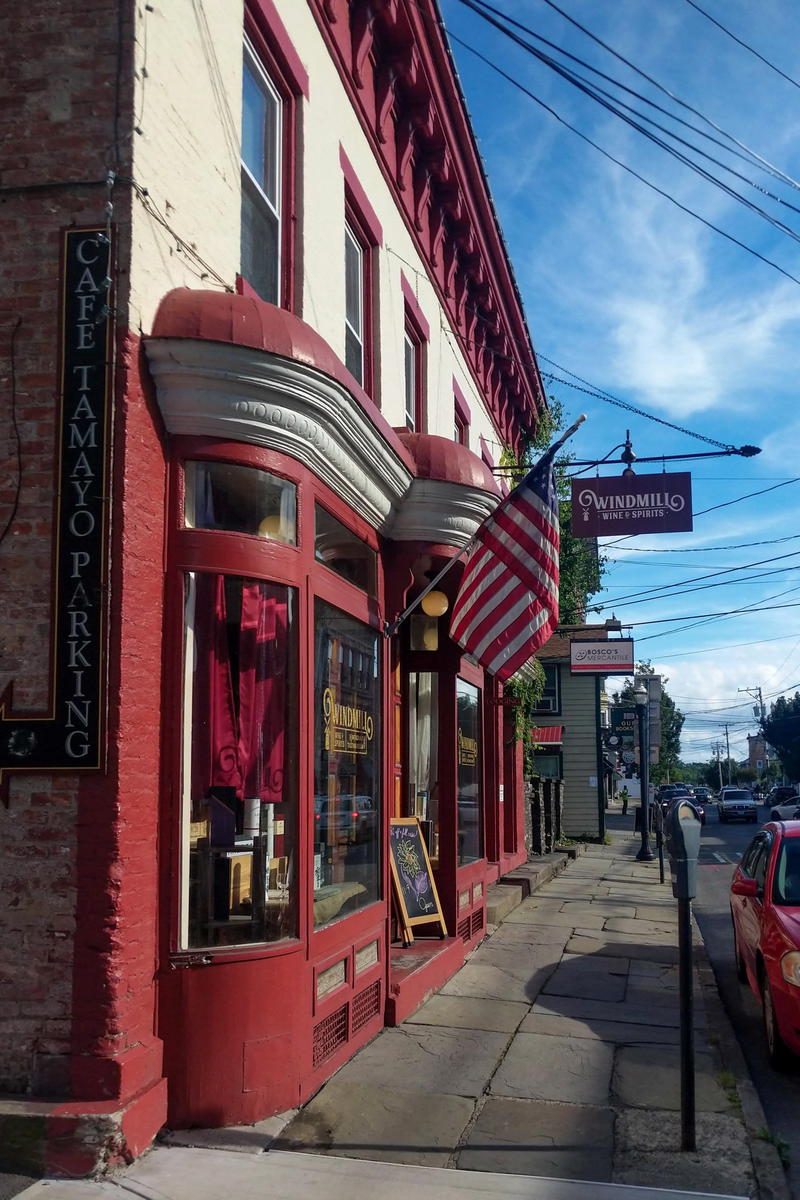 Our favorite thing to do in Saugerties was the nature reserve walk that leads to Saugerties Lighthouse. We'll detail this below as the best thing to do in Saugerties, and perhaps, the main attraction for things to do outside in the Hudson Valley.
Hudson Valley Dessert Co.
Come here for fresh breads and desserts, along with coffee drinks. They have two cute outdoor tables where you can people-watch.
Bluestone Coffee Roasting Company
This one's an original coffee shop that'll get you a hot espresso and some nice ambiance.
The Partition Bar
A bar set back from the street, this one features live music and a solid drink menu with a great atmosphere.
Stella's Station
This is the go-to for burgers, fries, sandwiches and a beer in the afternoon. This restaurant is located at the end of the main drag.
The Dutch
This restored tavern has plenty of brews on tap, with specials like garlic fries and German Chocolate Cake Beer, along with food from burgers to salads.
Miss Lucy's Restaurant
This more upscale dining spot has a sophisticated menu with pate, fried chicken and biscuits, mac'n'cheese and cocktails to boot.
Helpful Tip
A lot of these restaurants, bars and cafes are closed on Tuesdays, or before 4pm. Check Google Maps for their open hours and close dates.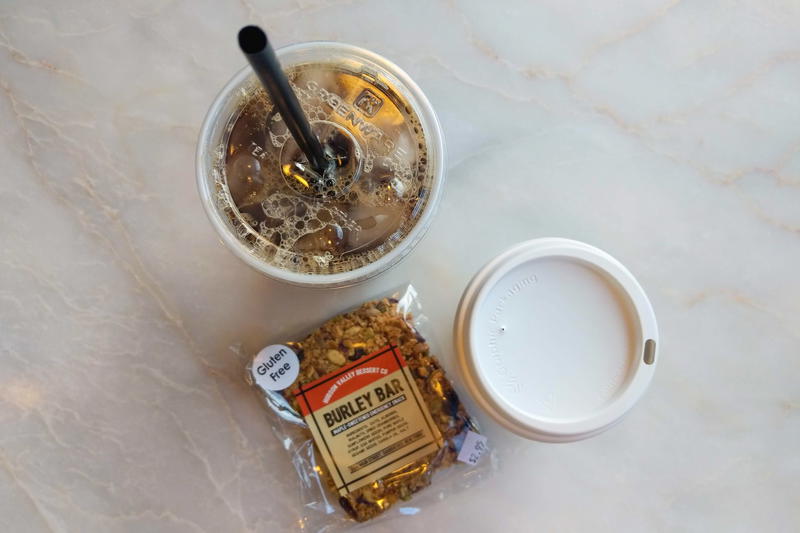 What to do in Saugerties
I think it's pretty clear what our favorite thing to do in Saugerties was! Read on below and use our photos to inspire your visit.
Visit the Ruth Reynolds Nature Preserve & Saugerties Lighthouse
In scouring our maps for things to do in Saugerties that were outdoor activities, we came across the Ruth Reynolds Nature Preserve & Saugerties Lighthouse in the top things we had to see.
Well, it went like this. I must have heard somewhere that the Saugerties Lighthouse was worth visiting, and then I found out that the only way to get there is via a 10-minute nature walk through marshland, officially called tidal wetlands.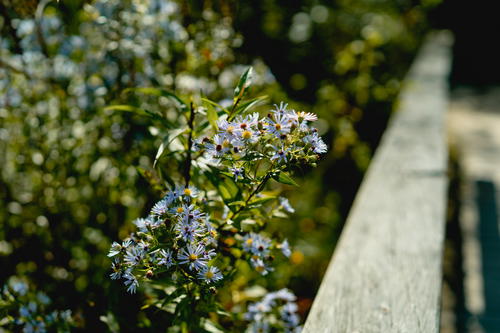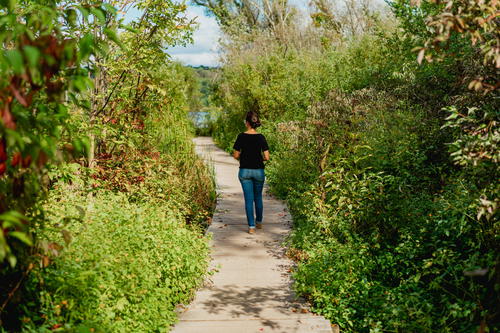 This was not a problem, as we had wanted to see nature, didn't want to break a sweat too much, and didn't want to be in for any five-hour-long hikes that would have us winded.
Cue the nature walk to get to the Saugerties Lighthouse! This is a nice and flat easy hiking trail that involves some newly-renovated wooden boardwalks over marshland.
We enjoyed this flat nature walk a LOT, and the destination (and dead end) is the Saugerties Lighthouse.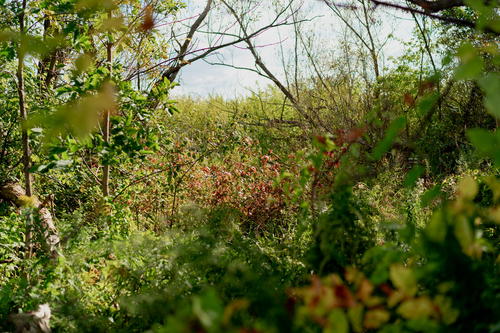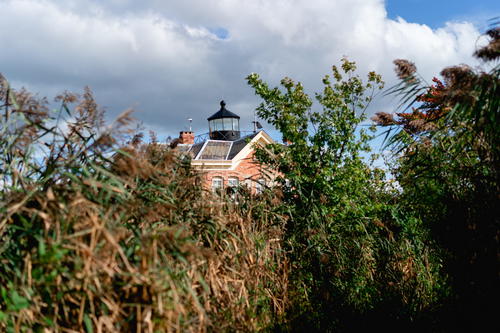 Saugerties Lighthouse is not like other lighthouses and this is because it is super unique. It is a B&B! It's a guesthouse that you can learn more about at the Saugerties Lighthouse website.
Once you're there, don't stop walking. Keep going to the back dock, which will leave you with delightful views of the Hudson River.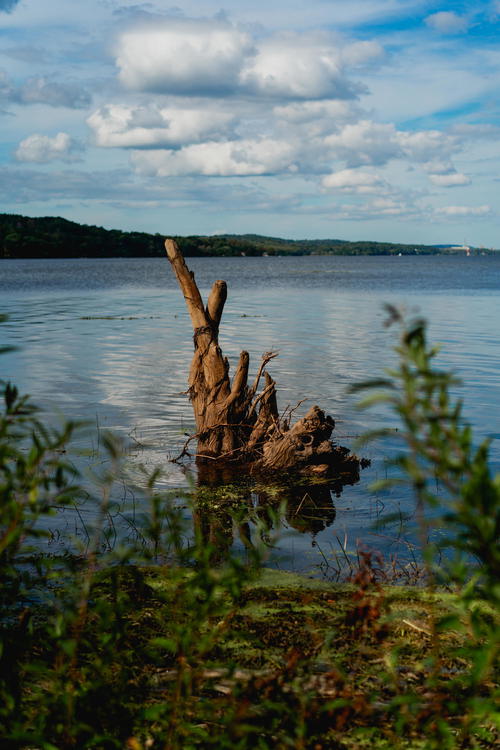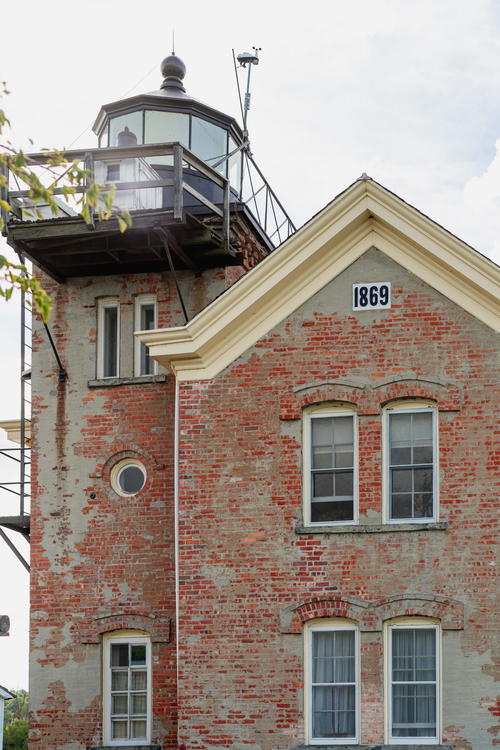 Then, turn back the way you came for a perfect 10-minute walk covering half a mile of ground, to your car in the small parking lot (parking is free, and the short hike is free).
Helpful Tip
Saugerties Lighthouse, because it is a bed & breakfast, is not open to the public for going inside; however, it's perfectly pretty from the outside, and the best photo you can take of it is during your approach before you cross the little bridge.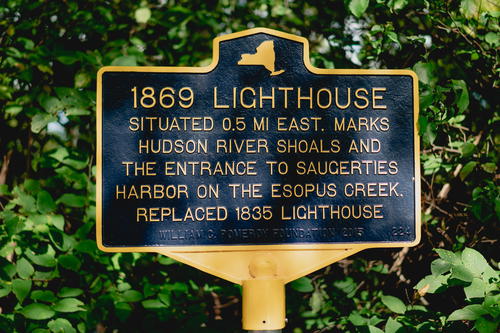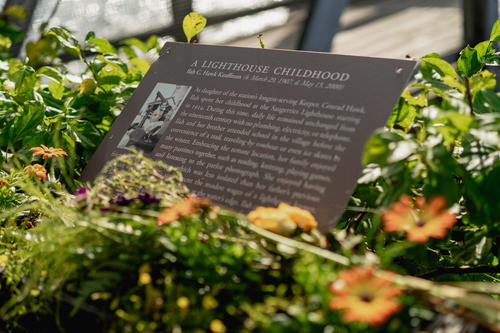 See even more photos of the Saugerties Lighthouse here!
Walk the easy trails at the Esopus Bend Nature Preserve
For more nature, visit the Esopus Bend Nature Preserve for easy flat natural walking trails with waterfalls.
This nature preserve is located just a few minutes from the city center, and with its picturesque hiking trails good for beginners, families, or anyone who just wants to get some steps, you're sure to get some peace and quiet.
Helpful Tip
Watch out for muddy trails after any rains in the previous few days, so wear proper shoes.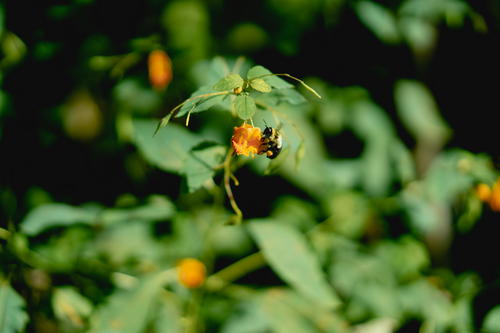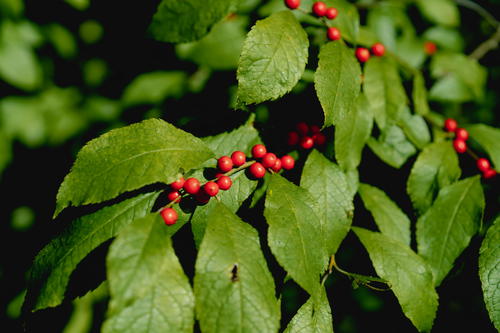 Kingston
Kingston is a vibrant upstate town with a cute downtown (called "Uptown") and some surprisingly-great historic architecture dating to the 1600s (!!!). Because of its train station, Kingston is great for a Hudson Valley day trip.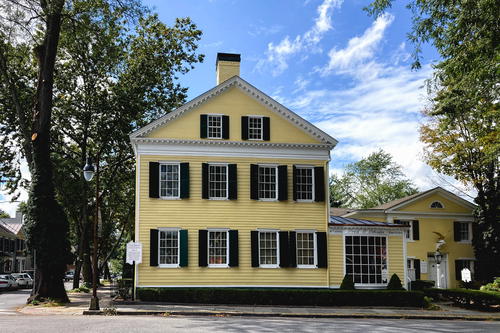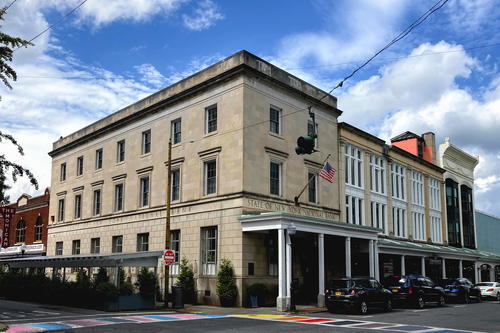 Kingston is a "real city," with a variety of neighborhoods, historic landmarks and a cool food scene. For your visit, start in Uptown and dine outdoors at spots like Opa Greek Gyros, Sissy's Cafe, "Outdated Antique Cafe" and Kingston Bread & Bar.
You can also enjoy the pastel-colored buildings on Wall Street (not to be confused with the Wall Street in Manhattan, as they are QUITE different).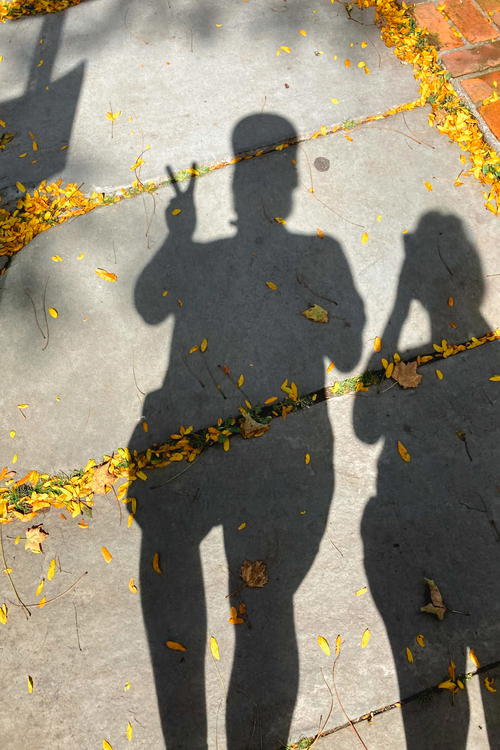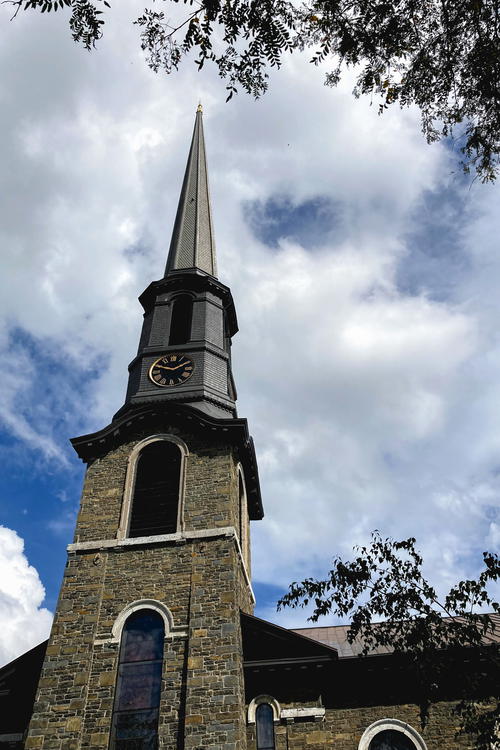 Then, check out the area down by the water, where you can "hike" the Kingston Point Rail Trail and snag a photo of the pretty Rondout Lighthouse.
From our friend Melissa, a Kingston native, here's her list of the best things to do in Kingston on your Hudson Valley trip!
Where to eat and drink in Kingston
This will be a short list, because we'll recommend that you visit our guide to Kingston! For now, here are a few of our favorites.
Rough Draft Bar & Books
Both a cafe and a bar, as well as a bookstore, this is a frequently-visited cafe for both locals and day-trippers to Kingston. I liked sitting outside on the picnic tables and leafing through books inside!
Sissy's Cafe
If you're into health food, gluten-free grub or vegetarian and vegan stuff, head to Sissy's without delay. I liked eating here, and couldn't even decide what to get. There are a few tables outside, so you can enjoy nice spring, summer or fall weather on the sidewalk. Try the smoothies! Here's the website.
Things to do in Kingston
There is no shortage of things to do in Kingston, as my friend Melissa can promise. We list all of the best ideas of how to spend your time with a day in Kingston, NY in our travel guide to Kingston, NY.
Beacon
Beacon started catching on as a weekend destination for folks in NYC, because of its short distance away from the city. It's a great Hudson Valley town with a lot that you can pack into even a day trip.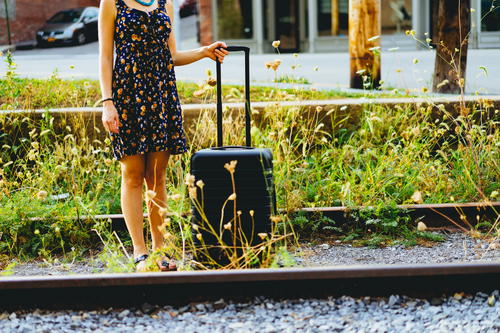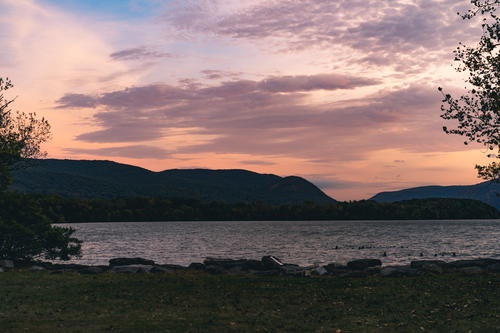 Things to do in Beacon
Beacon has loads of things to do, in fact! From nature to the art gallery at dia:beacon, everyone will find what they like. Check out our full travel guide for Beacon, NY, here.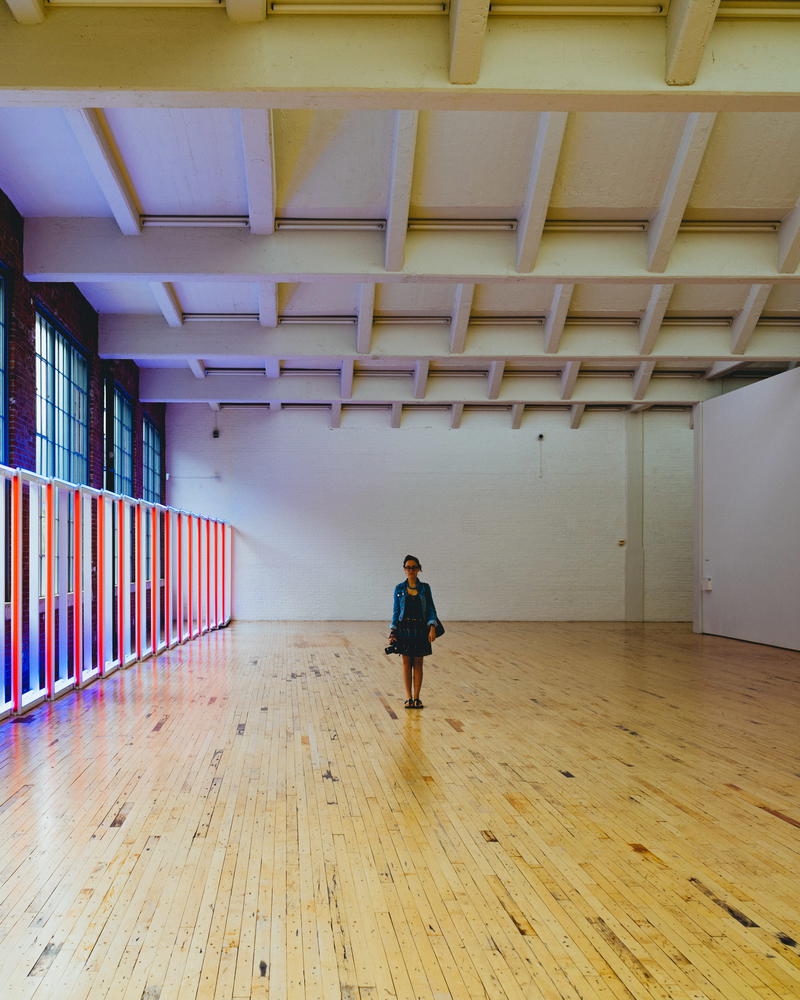 Nearby are lots of hikes, including Hudson Highlands State Park, Beacon Overlook and the famous Breakneck Ridge Trailhead.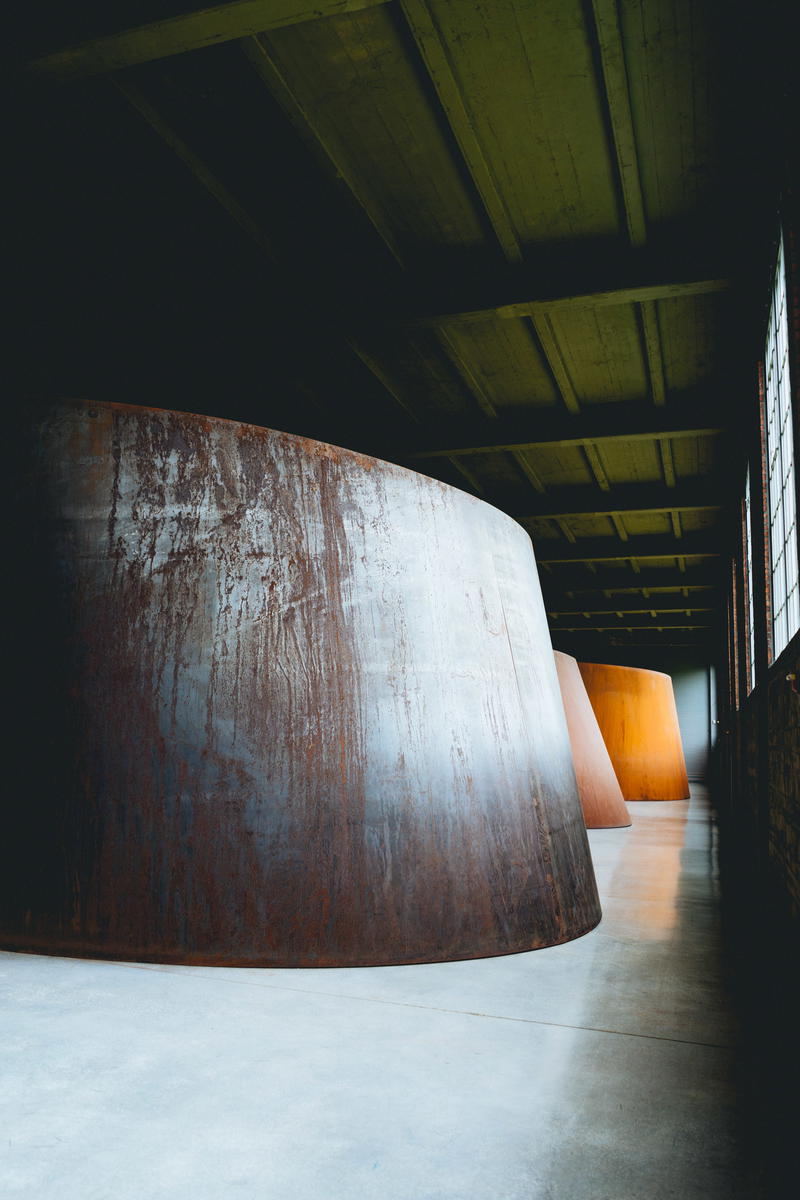 Where to eat and drink in Beacon
Beacon keeps adding more and more places to wine and dine! For all the places where we ate and went for a drink, check out the list in our Beacon guide.
Cold Spring
Cold Spring is a charming (and I mean that) town at the lower end of the Hudson Valley, in Putnam County, and is a great first stop as you're heading up from the NYC area.
My favorite part of Cold Spring is the gazebo in Dockside Park, which is a lovely vista out to the Hudson River. Aside from views themselves, Cold Spring is a little town with a picturesque Main Street, where you'll find the below places to eat and shop.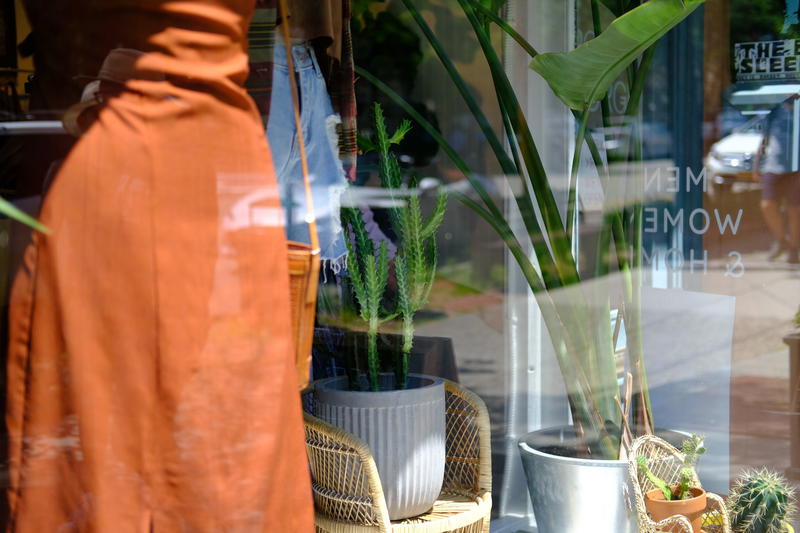 Where to eat and drink in Cold Spring
Cold Spring has a charming "main drag" leading up the hill from the train station. Surprise: most food and drink will be on Main Street.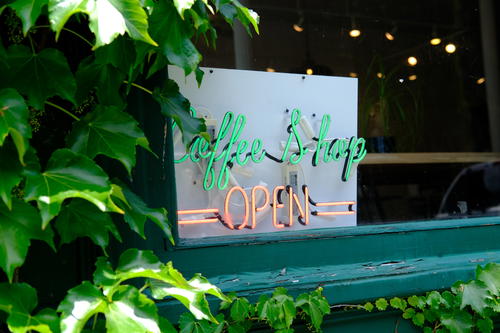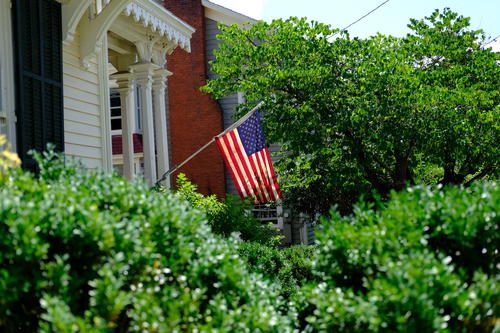 Cold Spring Depot
This popular restaurant has a great location and is known for burgers and steak. See the menu at the website.
Le Bouchon
This highly-rated French restaurant has a cozy ambiance and a garden. Preview the menu of the day at the Facebook page.
J Murphy's
Known for spare ribs, fish'n'chips and burgers, this joint is open every day except Tuesday, and serves up delicious mains with good service.
Things to do in Cold Spring
Cold Spring is a nice stepping stone into nearby nature! Here are a few ideas for your travels.
Little Stony Point Trail
This trail starts just a stone's throw from central Cold Spring, so it's your quickest option for getting in a natural experience if you have limited time. Within the trail itself, find lovely views of the Hudson and the rolling mountains nearby. While rated as "easy" on AllTrails, there is some intermediate moments on this one. Check out the trail itself to see if it's for you.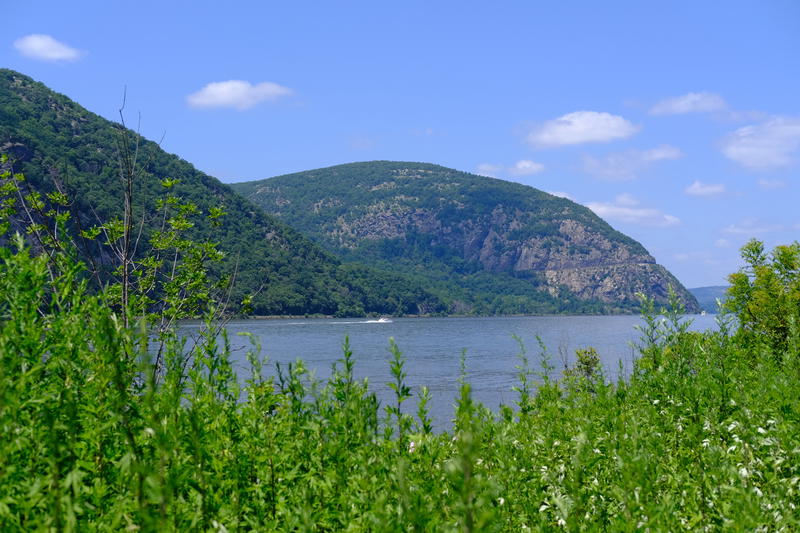 Boscobel House and Gardens
This beautiful mansion and manicured gardens is a lovely stop for your Hudson Valley itinerary. Explore the history of the estate through guided house tours, and see the trails (and waterfall) during Thursdays to Sundays. See more details on the website.
Constitution Marsh Audubon Center and Sanctuary
To see the "natural side of the Hudson River" after you're done dining in Cold Spring, turn to this natural tidal marsh sanctuary nearby. It's a six-minute drive from downtown Cold Spring.
Clarence Fahnestock State Park
Maybe not the most famous, but certainly not small, this state park was where we ventured to after a morning in Cold Spring. My one tip is to bring mosquito spray in summer! We did a short hike through a lot of greenery. There are a few beaches here! I recommend visiting the website for more details on park openings, trails and activities.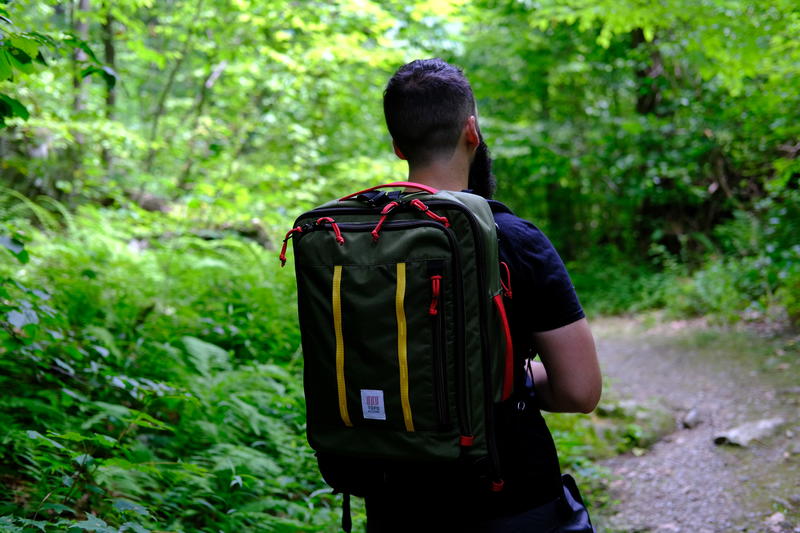 Enjoyed our article?
Consider supporting us! We're a 2-person team (learn more about us here) and your support enables us to create quality content. Thank you!