What Are Frequent Flyer Miles?
Frequent Flyer miles are a branded currency backed by any airline or major travel credit card company. "Miles," as they are referred to, provide travelers with a way to book flights on points accrued from previous bookings. If you remain loyal to one airline, you're more likely to rack up airline miles that can be used to cash in for free flights in the future.
This article may contain affiliate links. We earn a small commissions when you purchase via those links — and it's free for you. It's only us (Becca & Dan) working on this website, so we value your support! Read our privacy policy and learn more about us.
How do frequent flyer miles work?
Frequent flyer miles are types of programs that reward travelers with "miles," which are like an accrual of points that can be used toward future purchases.
Frequent flyer miles reward travelers who stick to a single airline, or several airlines, because you can watch your miles grow and grow as you fly more.
I learned about airline loyalty programs this the hard way when, in my earlier years, I would fly among lots of airlines, and didn't sign up for frequent flyer mile programs on any of them. For all those years, I was forfeiting some serious headway I could've made in earning miles toward future trips.
I was also always hunting for the best flight price, rather than paying a few dollars more to also get frequent flyer miles for my flights, and use miles later to get flights for free.
Frequent flyer miles are awarded by an airline to the traveler who joins the points or miles program, any time that traveler books a trip with the airline.
If you book a flight on United and you've already signed up for the United Mileage Plus program (as United's program is called), you would see in your online account dashboard that you earned some miles, after your trip was completed.
For small flights, like Boston to New York, you may only early 160 miles or so (this is just an example). For a longer trip, like New York to Hong Kong, you could earn a few thousand miles.
All miles are kept in the account holder's frequent flyer program account, and can be used to get free flights or discounted flights in the future. You can look into this more in our budget hacks for travelers.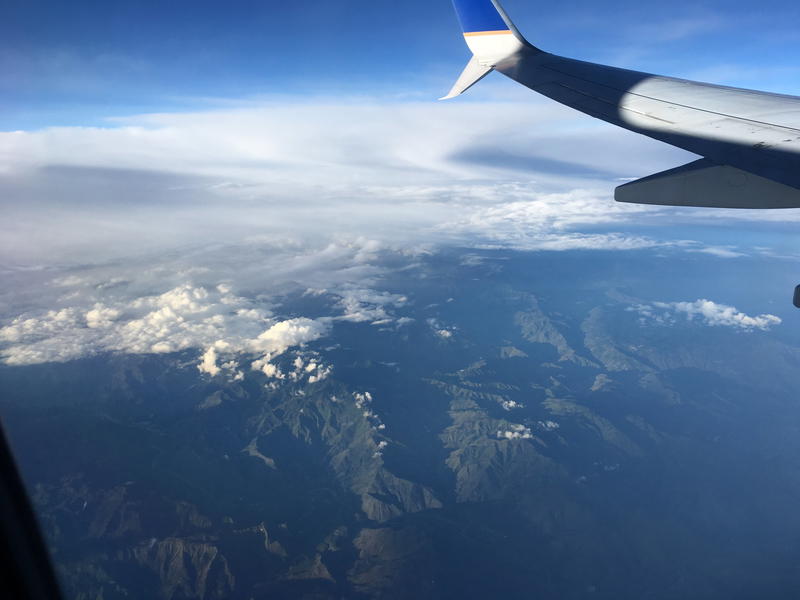 How to get frequent flyer miles
To get frequent flyer miles, sign up for a frequent flyer program.
A few simple ones are the frequent flyer programs with United, Delta, American Airlines, Southwest and JetBlue.
Among these programs, you will see that each have their own unique names. With United, it's the United Mileage Plus program. With JetBlue, it's the True Blue frequent flyer program.
You will start earning miles as soon as you book a flight (with real money, on your credit card) and complete that flight.
When would you not earn frequent flyer miles for a flight?
Note: if you buy a roundtrip flight and only take the inbound flight, you may not receive miles for the entire trip, because the airline counts it as unfinished.
So, if you want to be sure you'll get your airline miles for a flight you've booked, make sure to take both the inbound and outbound flights. Within one to two weeks, if you log onto the airline's website, you should see frequently flyer miles appear in your account.
You also might not earn frequent flyer miles for a flight if you book the flight on basic economy. This will be in the fine print of the purchase for each airline.
Can you fly for free using frequent flyer miles?
Yes, well, sometimes.
When you fly using miles, sometimes you need to pay a small fee for taxes. The taxes usually need to be paid when you fly internationally.
For example, on a recent flight from NYC to Guatemala City, the taxes amounted to US$ 5.60, paid at checkout.
For all of the times that I've flown domestically, reward mileage flights have all been 100% free.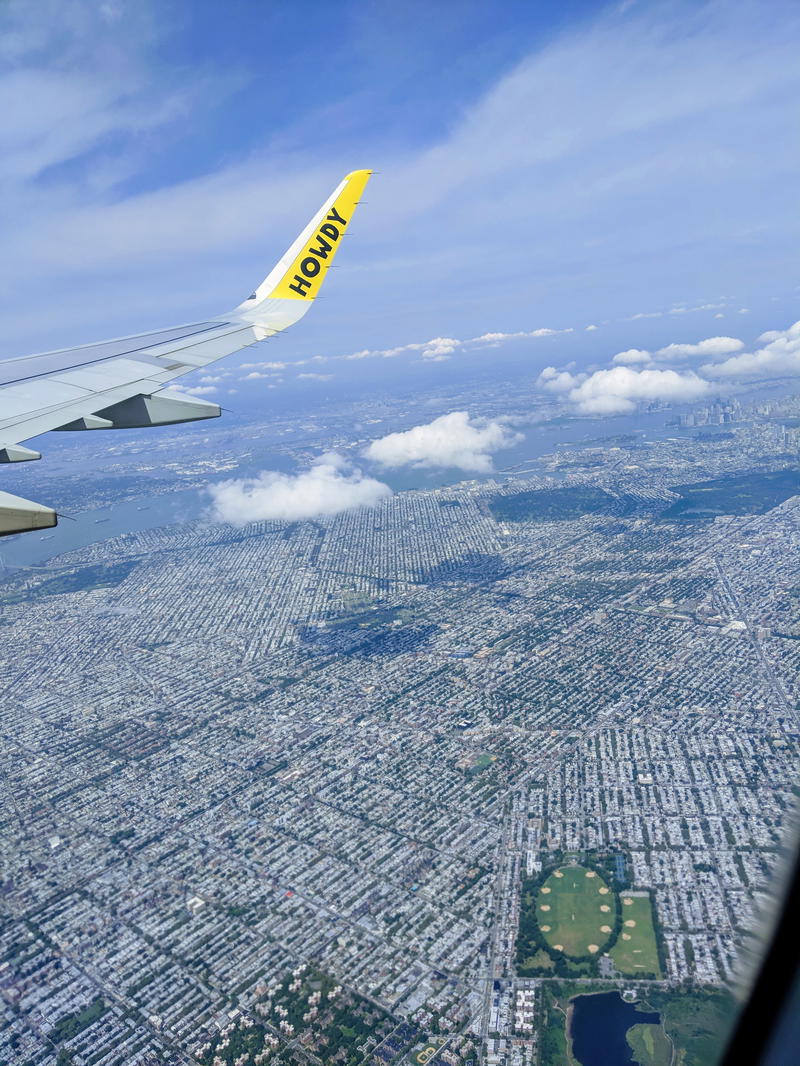 How do you redeem frequent flyer miles?
Every airline is different for how you can redeem your miles for flights.
For the most part, when you are booking directly on the airline's website, you'll see an option to pay with money (cash), or pay with miles.
For example, here's what JetBlue offers. In the filter bar, there is a toggle between "Dollars" and "Points."
You can switch back and forth between the two and determine which option makes the most sense for you based on some math.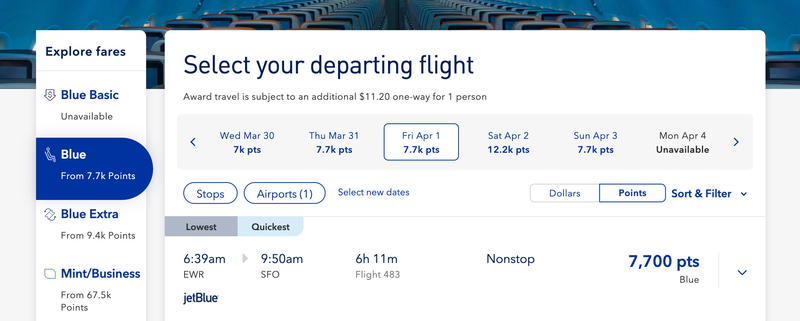 Note: sometimes you cannot combine miles with airline vouchers, so watch out for this limitation if you're trying to use a travel credit granted to you by the airline for a canceled flight, for example.
When should you book using frequent flyer miles or cash?
For some international flights, you may pay more than $100 in taxes and fees, alone. And, the flight itself might be 20,000 miles. Those 20,000 miles could be worth something like $200 dollars, at minimum.
In this generalized example, if the flight costs around $150 to $200, you're not getting the full potential out of your miles.
Because you had to pay $100 in fees and use 20,000 miles, you're effectively "spending" $300 worth of value. In my mind, I would rather pay the $200 in cash, for the flight, and accrue more miles.
I would personally save my miles for a flight where the difference of miles and money is farther apart. It's a great way to save money for travel.
Once the value of the flight is close to $400 to $500, using between 20,000 or 35,000 miles becomes more worth it.
How can I sign up for frequent flyer programs?
You can sign up for frequent flyer miles programs directly on some major airline websites! Here are the best frequent flyer programs.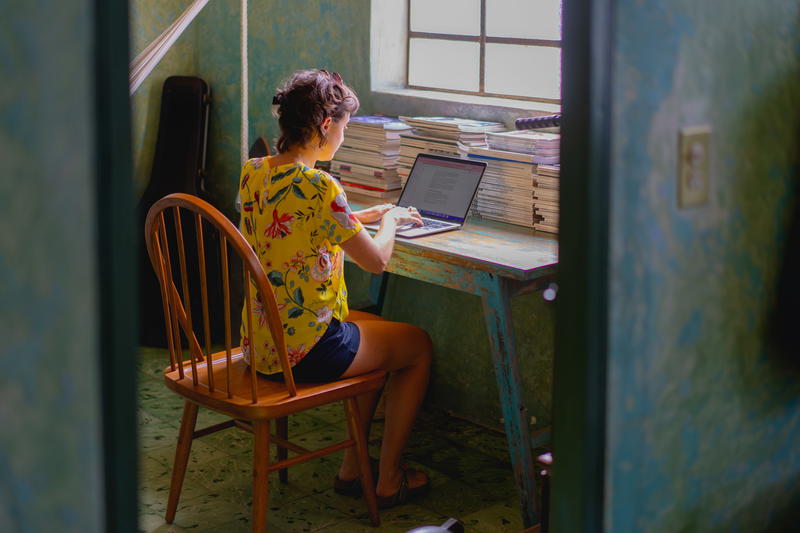 How can I get more frequent flyer miles?
Some of the best ways that I've gotten miles for free is with credit card sign-ups. Over the years, I've collected hundreds of thousands of miles using credit card bonuses.
My very first bonus was with the Chase Sapphire Reserve. It is a famous card because you used to get 100,000 miles for signing up.
With the card, you can transfer credit card points to travel partners (like United, British Airways and more) or use Chase's portal to book flights.
100,000 miles was worth $1,250 when booking through the chase portal. The card was a no-brainer. It also had a $450 fee, originally, $300 of which was a travel credit that was easy to spend on hotels, vacation rentals and transportation.
There are still great credit cards that offer bonuses. For staying on top of the newest credit cards, I trust Ask Sebby.
Applying for credit cards directly with an airline can typically get you anywhere between 1 and 3 flights for free.
I have the United Explorer credit card and upon signing up, I received 40,000 miles. This amount of miles is good for about 2 round trip flights, domestically.
This topic gets fairly complex, so this barely scratches the surface of what is possible!
How to earn airline miles without a credit card
It's' true: you don't need a United Mileage Plus credit card, or JetBlue's credit card, to get airline miles. It's easier than that.
All you have to do is sign up for the mileage programs on any airline (or hotel group, if you'd like to go after hotel points) website. I've listed the US ones, above.
If you're asking if you can earn airline miles and book flights without a credit card, that's a tougher question.
Most airlines will require credit cards as a form of payment. Only many years ago did I buy a flight in cash in China, and that was in 2010, and in a country where credit cards were much newer. It would be hard to buy any flight, or anything online, without a credit card.
If you are able to pay for a flight on a debit, that is more widely accepted. For other forms of payment, you'll have to do research into the airline specifically and maybe call their customer care department.
What's the difference between frequent flyer miles and travel points?
With the rise of the "Travel credit card," meaning credit cards that help travelers earn points into a rewards bank, "points" and "miles" have become somewhat synonymous.
In our experience, the difference with using the term "miles" is specifically pertaining to airlines. An airline "mile" means a unit of credit earned by purchasing a flight.
Remember: miles do not convert to real miles in real life.
Travel credit card points are different. To get travel points with a travel credit card, all you have to do is use the credit card to make purchases. I like the Chase Sapphire Reserve and also, the Capital One Venture X.
Both earn me travel points every time I make any kind of purchase. When I make travel purchases, I get higher multipliers of points; for example, if I buy $10 of medicine in a pharmacy, I get 10 points. If I spend $10 for a train ticket, I get 3x: 30 points.
Credit card travel points can be used in one of two ways.
First, they can be cashed in via the credit card company's travel portal to directly book hotels, flights, rental cars and more. I have done this recently to book a hotel for an upcoming trip. I logged into the Capital One Venture X travel point portal, and all I had to do was search my destination, use my dates, and pick a hotel, paying for the entire transaction in points, rather than regular cash.
Second, credit card travel points can be exchanged at a 1:1 ratio to partner airlines and sometimes, hotel partners. In the past, I have transferred our Chase Ultimate Rewards travel points from our Chase credit cards to United Mileage Plus, so that our travel points become airline miles. Then, I've booked award flights on the United website, to get to our destination completely by using our points.
To see more about Chase Ultimate Rewards, check out our list of the best tools for travelers.
Enjoyed our article?
Consider supporting us! We're a 2-person team (learn more about us here) and your support enables us to create quality content. Thank you!