Merida Photo Gallery: Inspiration for Your Trip
Written by Dan
•
Updated on October 26th, 2023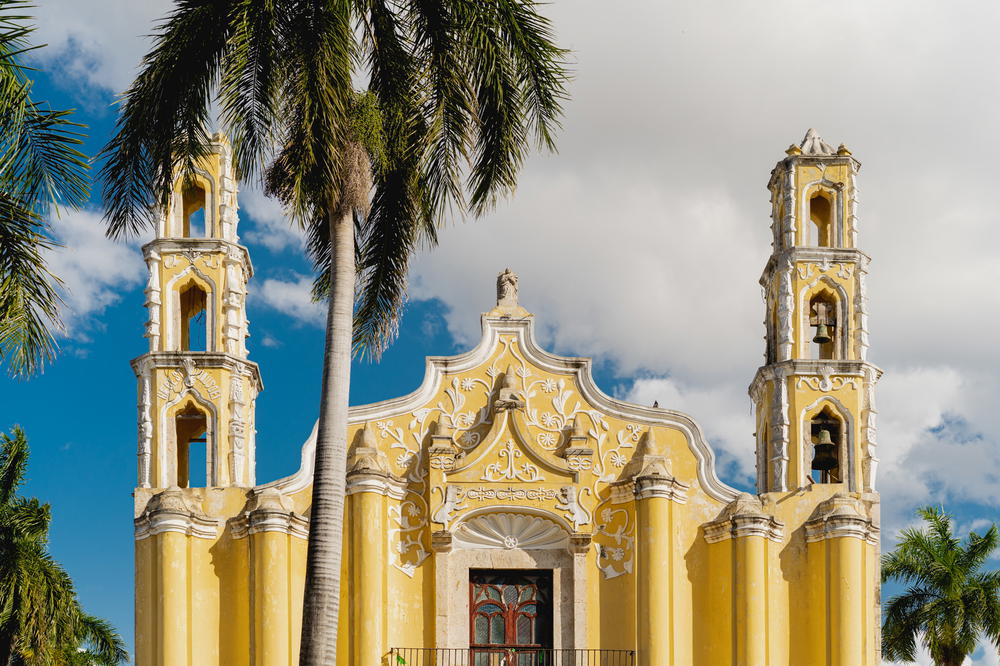 These photos of Merida, Mexico, show the incredible architecture, culture, heritage and daily life in the Yucatan's biggest city. Use this photo gallery to learn about more destinations outside Merida also.
This article may contain affiliate links. We earn a small commissions when you purchase via those links — and it's free for you. It's only us (Becca & Dan) working on this website, so we value your support! Read our privacy policy and learn more about us.
Merida, Mexico, will have a place in our hearts as a city in which we planned to come for two and a half weeks and stayed for four.
It immediately felt like home, from its tree-lined main boulevard to leafy pocket parks and friendly people.
Merida is a special place.
As one of the safest and most peaceful metro centers in all of Mexico, we felt at ease as we explored, took photos and ventured onto quiet streets in new neighborhoods.
Our photo gallery of Merida, Mexico, will show you all the aspects of this beautiful city, along with images of the day trips and excursions that travelers tend to take outside of the town.
Among the photos below, you'll see images from the Yellow City of Izamal, the Mayan Archaeological Ruins of Uxmal and of course, Merida's very well-known historic love bug cars.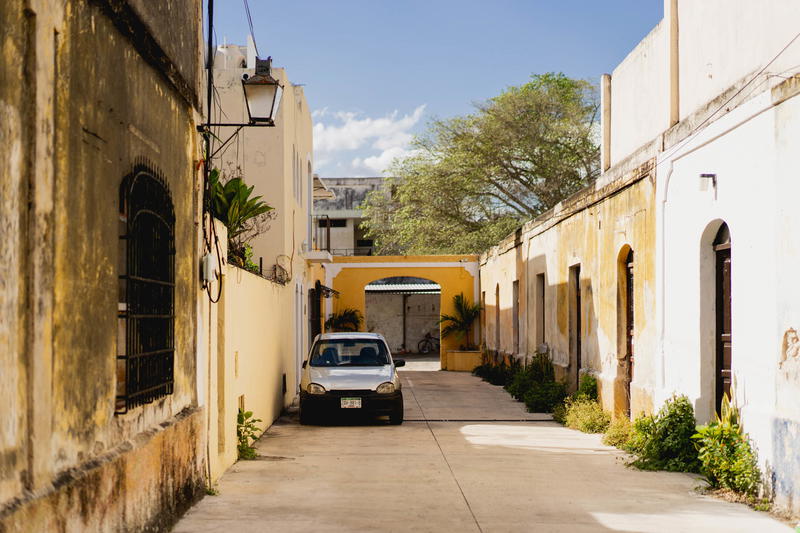 We start off with a walk in the Centro Historico, or historic center of Merida. This part of town has the most colonial character. Here, you may see small parks, yellow-hued iglesias (churches) next to tall palm trees, and street vendors, park-goers shoppers, commuters and tourists, all sharing the same streets.
This cheery church is the Iglesia de San Juan Bautista at Parque San Juan.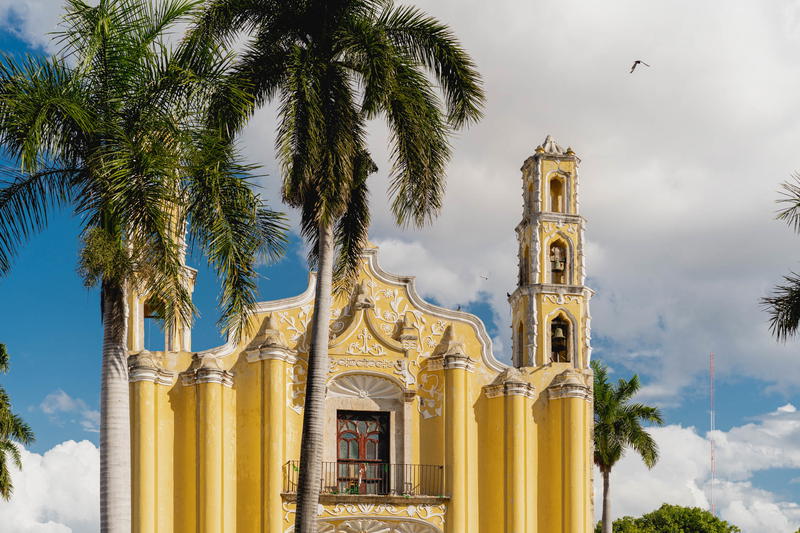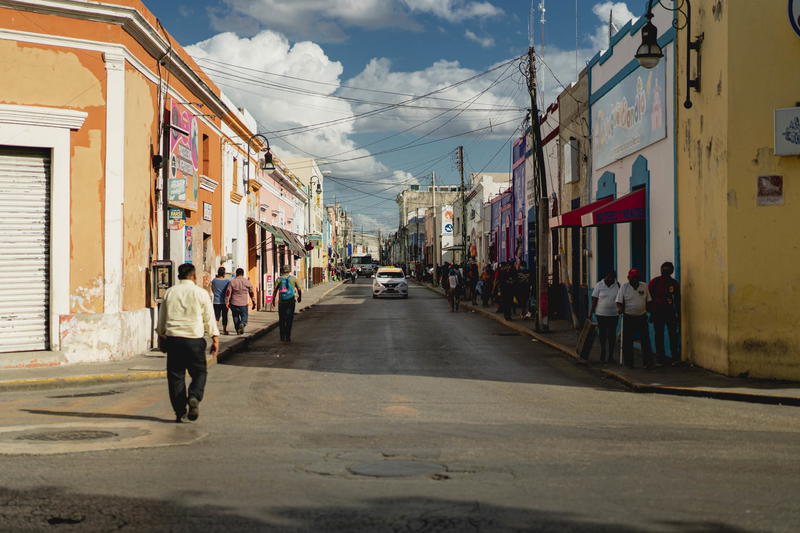 As you see above, Merida is a slow yet busy place. Centro (the central district) is lined with shops, restaurants, bodegas and hotels.
No matter which type of establishment is housed in any given building, what stands out are the awesome pastel colors in which all walls are typically painted in this area.
As you stroll through Merida, you'll see the types of cars that would turn heads back at home: the original VW Beetle.
In case you don't get to snap a photo the first time, don't worry: you will see these charming cars again and again during your stay, and you don't even have to look hard!
These vintage cars will be parked casually on the street, or will come when you're crossing the street, and you'll see a white one, a black one, a blue one and then a green one.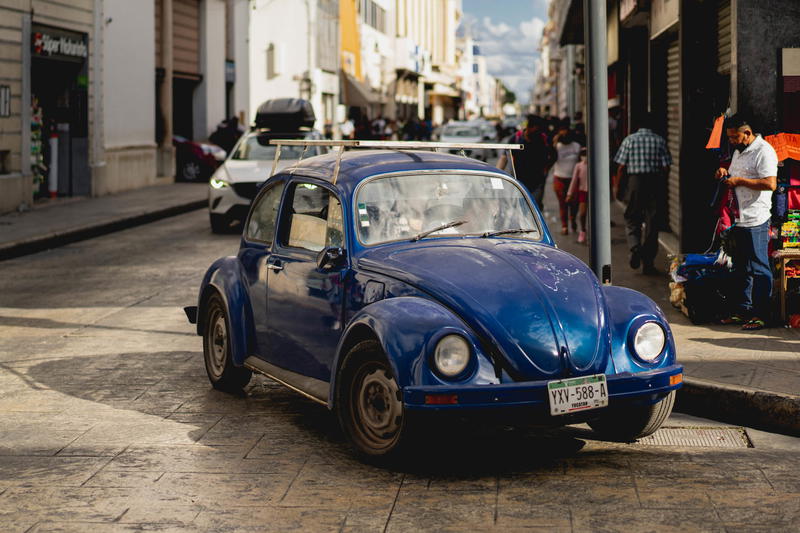 Approaching the famous Paseo de Montejo, you'll see the green trees start to line this picturesque boulevard.
Paseo de Montejo is a one-mile stretch of urban glory. The sidewalks are wide, the traffic is well-tamed and the park benches are plentiful.
On either side of Paseo de Montejo you'll see historic colonial mansions built in the 1800s which will remind you of Paris and Spain. They're incredible. They look interestingly out of place, and soon it's clear that they are essential to Merida's quality as an integral part of Mexican history.
One of the best parts of Paseo de Montejo are the wonderful places to grab a bite or a cup of coffee. You can see more of these neighborhood locales in our guide to the best cafes in Merida.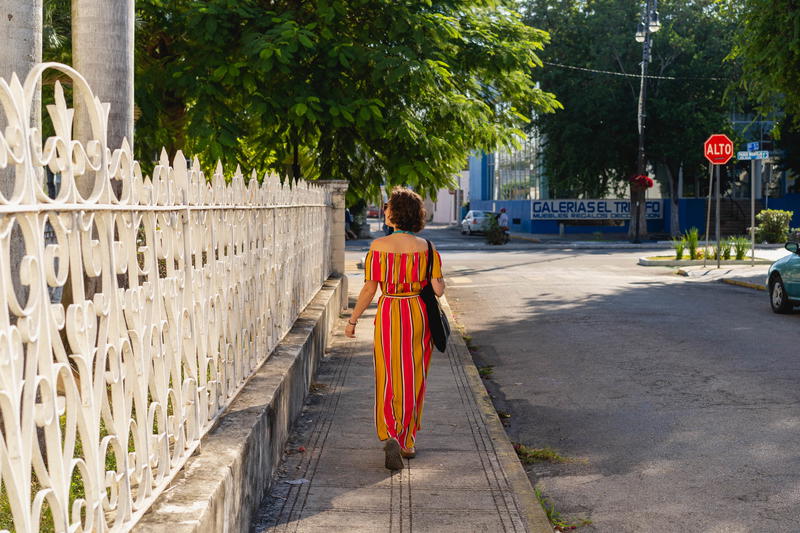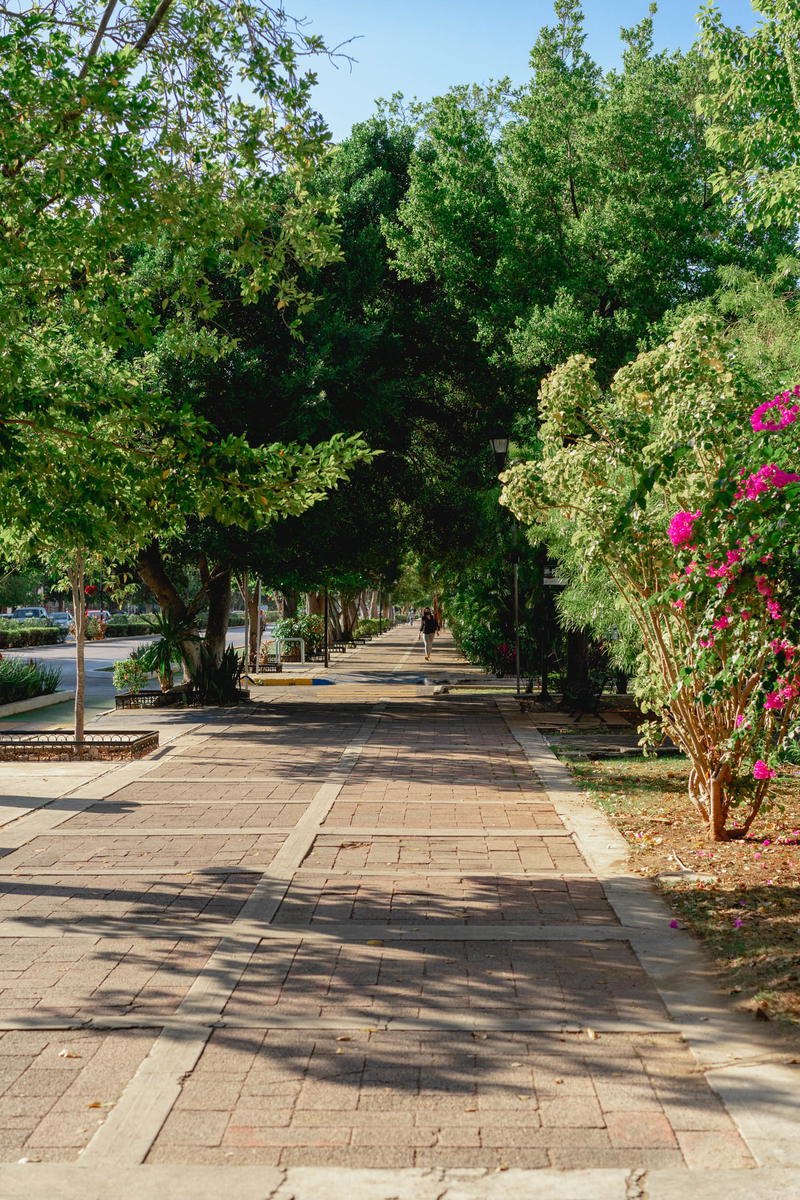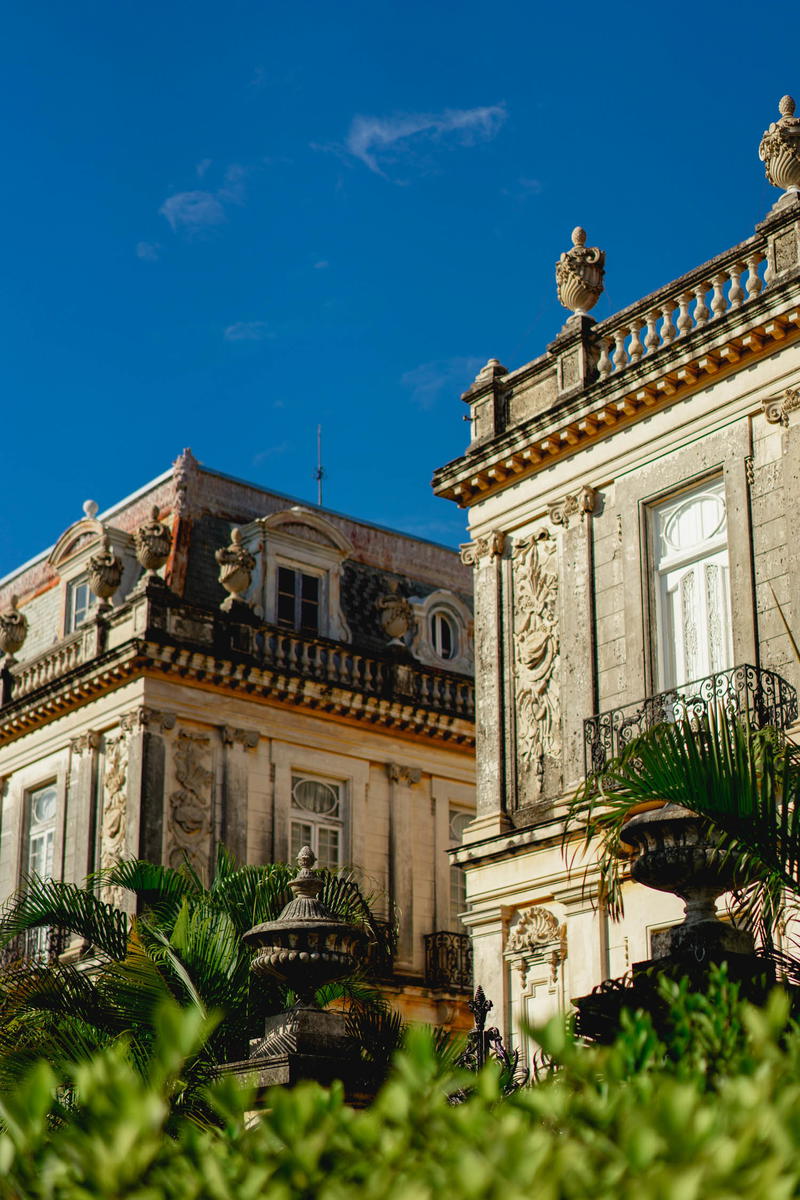 Throughout Merida, there are lots of ways to get around. From newer buses, to older buses, to taxis to (nowadays) Uber, you can always get somewhere if you don't want to walk.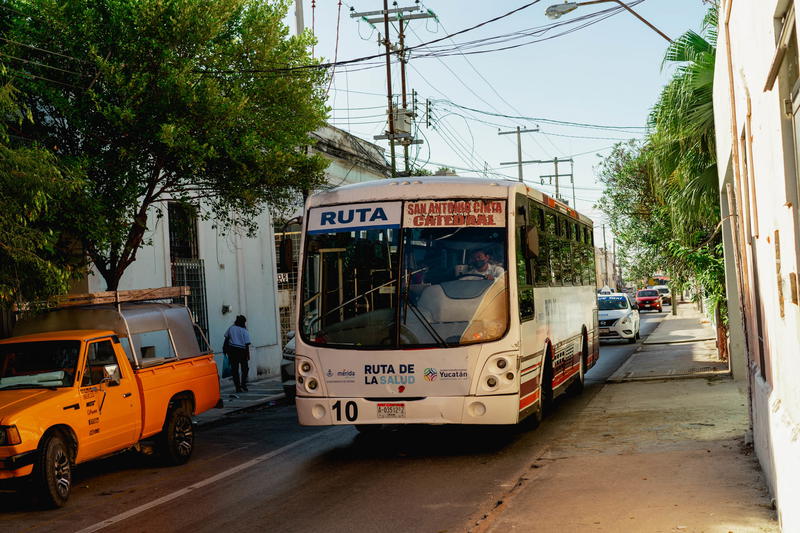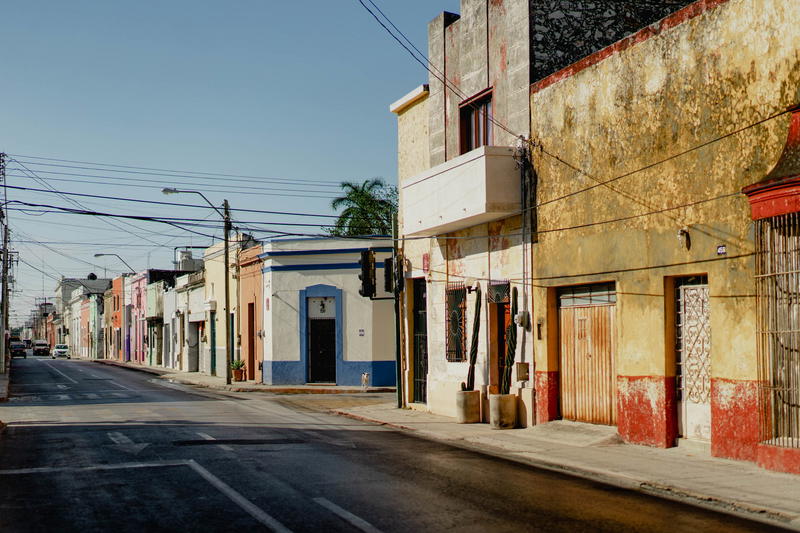 Heading past the main plaza, Plaza Grande, the city gets urban and the sidewalks get narrower. In fact, if you're walking by a line of people waiting to get on a bus, you'll have to basically squeeze by or dodge around them in the street.
Up against newer building facades and workshops are the city's original yellow arches, namely Arco de Dragones, Arco del Puente and Arco San Juan. They form a sort of old-meets-new aura in a town more than five hundred years old.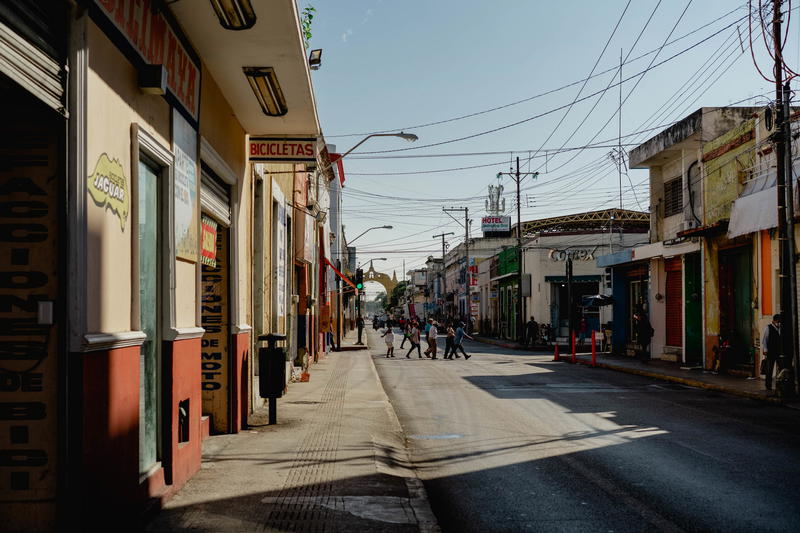 If you're ready to move on from Merida, an excellent side trip is Izamal.
This yellow city is truly exactly what people make it out to be: a town where everything is painted gold.
Do you have to follow a yellow-brick road to get there?
Not so much, as we took a bus. You can follow every step of the journey in our travel guide for Izamal, Mexico.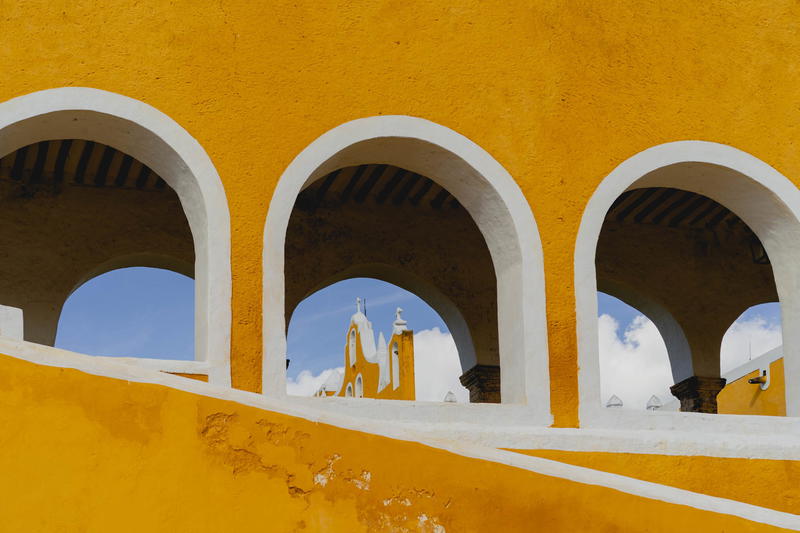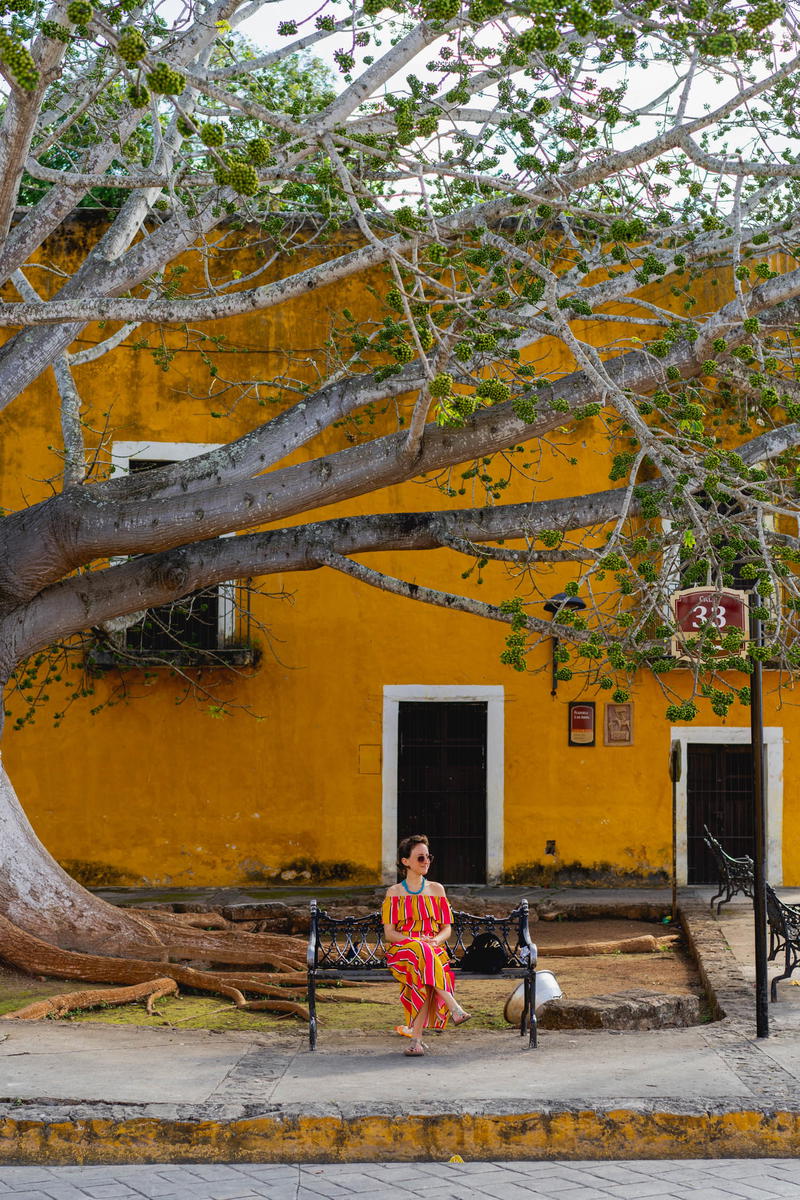 Once in Izamal, you find that the place is not so big. Rather, the historic center is pretty manageable, and if you keep walking, you're sure to find yourself in circles (of yellow buildings).
It's hard to take a bad photo in Izamal. The perspectives are clean, there are historic cars, horse carriages carrying tourists with their guides, flowers peeking out from ledges and Mayan ruins easily accessible for a traveler.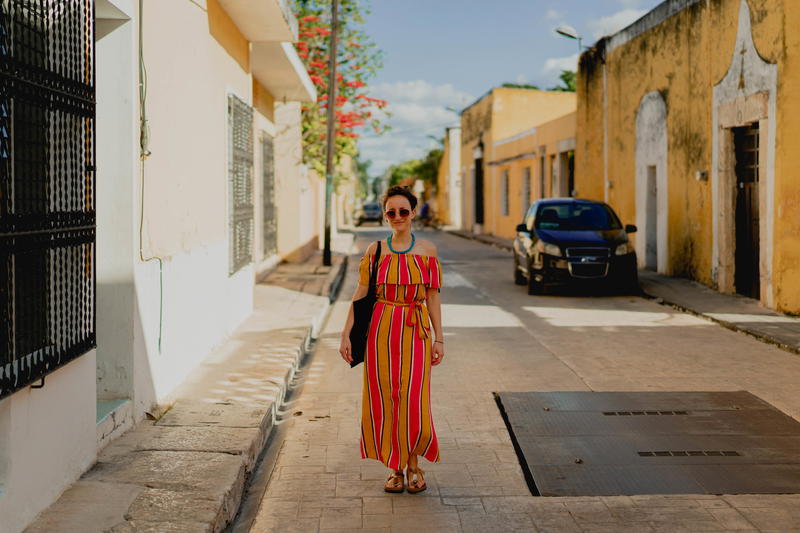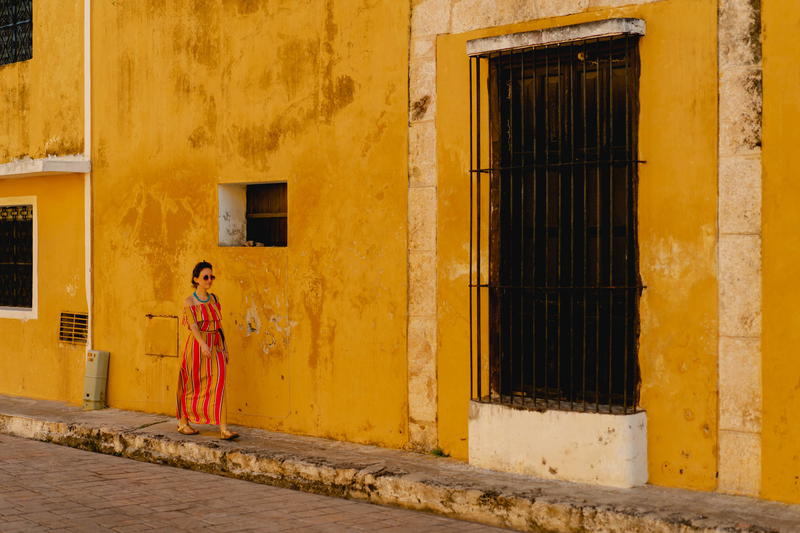 Izamal is a real treat for the eyes, which is why it's a famous place in Mexico for photography. We recommend going either early in the morning for sunrise and the morning hours, or during golden hour and sunset.
The main place to go is the Convento de San Antonio (Convento de San Antonio de Padua), which is one of the biggest religious plazas in the world.
It's framed by yellow walls and arches, with excellent photography opportunities. It's also a nice way to find yourself framed by history, as it has been open since 1549.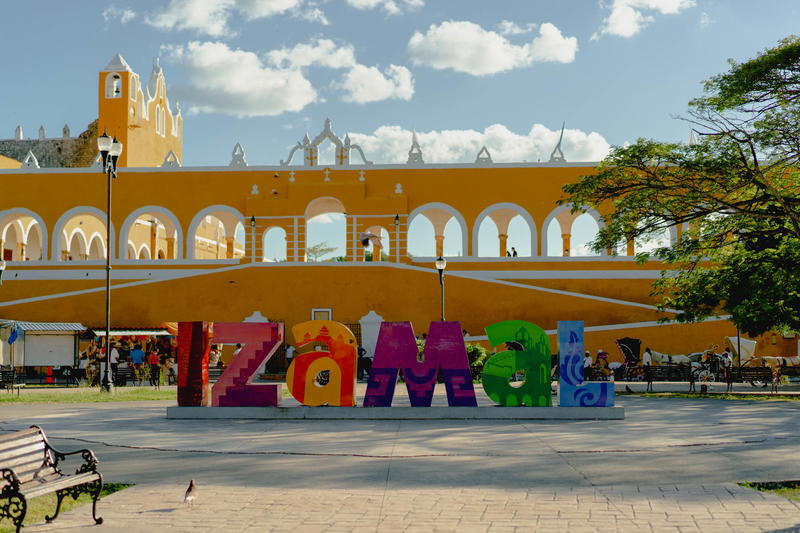 Next, we move in the opposite direction to the southwest of Merida, to the Ruta Puuc region, known for its archaeological sites of the ruins of ancient Mayan cities.
Uxmal is one of the largest of these Mayan heritage sites, and for a good reason! The Uxmal archaeological site has pyramids (although our guide said to not refer to them as such), plazas, temples and more.
Many of the structures have been restored, and restored well. It's also much less crowded than Chichen Itza, the Mayan ruins between Merida and Valladolid.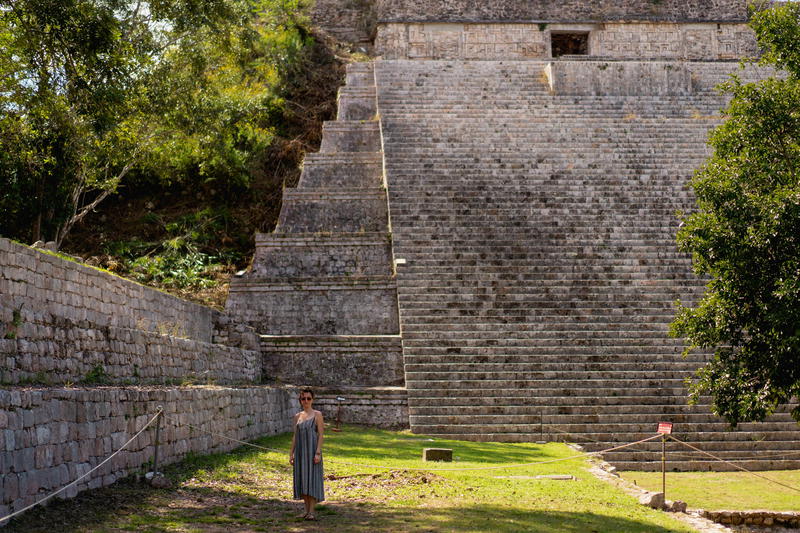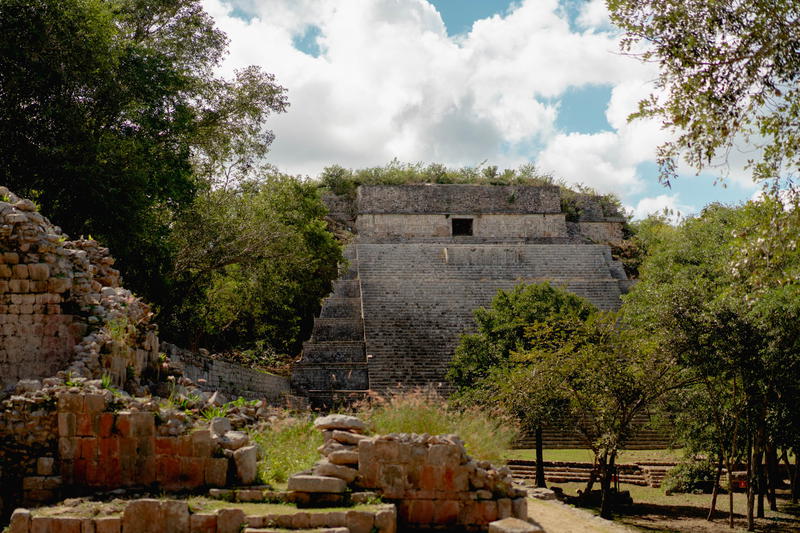 We took a guided tour to Uxmal, which was nice because as with any guided tour, we learned things we never would have known if we had taken ourselves around.
In the hot winter sun, we were glad that we visited Uxmal in the warm winter, rather than in the heat of the stifling and unbearable Yucatan summer. Merida and the Yucatan are a great destination for escaping winter if you live somewhere cold.
We aimed for photos at the viewpoints where we could see the main Pyramid of the Magician, a striking and rounded stone building that stands out as unique.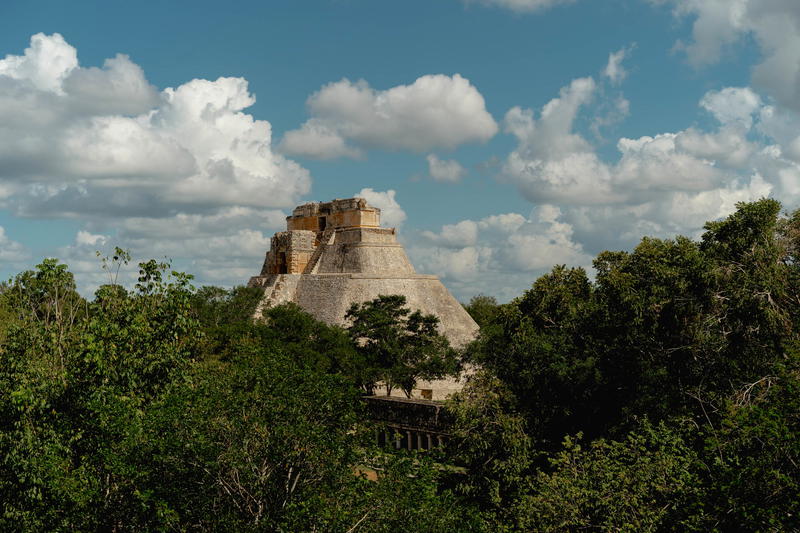 Uxmal was a nice experience because after our guided tour was done, we were free to roam for 40 minutes and take photos or revisit places from the tour.
This was our chance to go deeper in the ancient city ruins, finding moments of still and quiet in the tropical forest.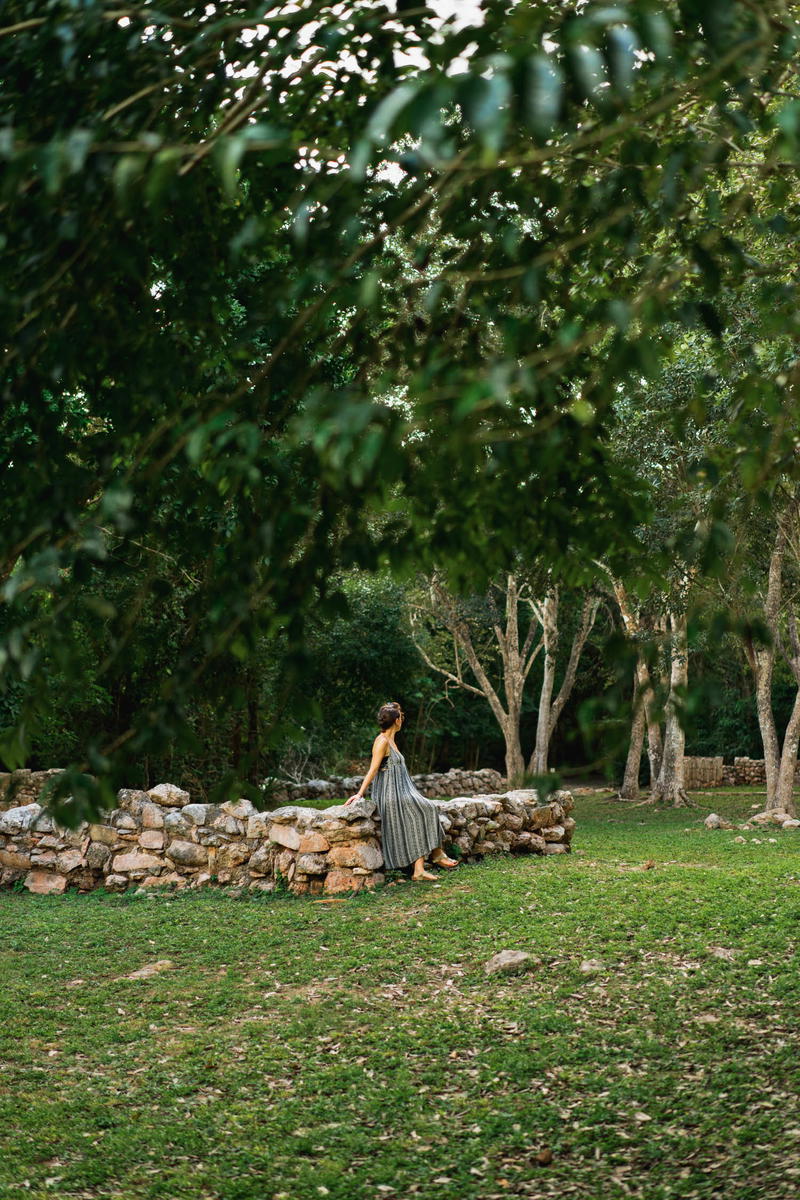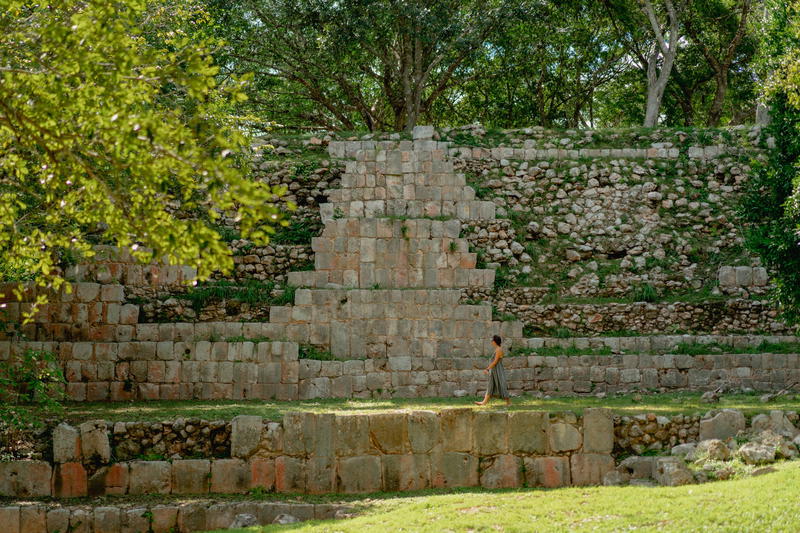 Back in Merida, we toyed with which type of accommodation we should choose next, and opted for an Airbnb.
We had a treat when we stayed at the very thoughtfully-designed and architected Casa Vagantes.
Casa Vagantes is part of the Vagantes collection, several properties with old-meets-new properties: original Merida and Yucatan homes renovated to be modern Airbnb rentals inside with secret backyards and often, private swimming pools.
We liked the touches of cool design elements like the books lining the kitchen, the eggshell blue plates and bowls, the bright study with a hammock to lounge in, and a traveler's entryway, complete with totes, hats and umbrellas to borrow, next to a guestbook and some vintage collectibles.