Pittsfield/Berkshires Travel Guide (Restaurant Guide and Things to Do)
Written by Becca
•
Updated on September 6th, 2023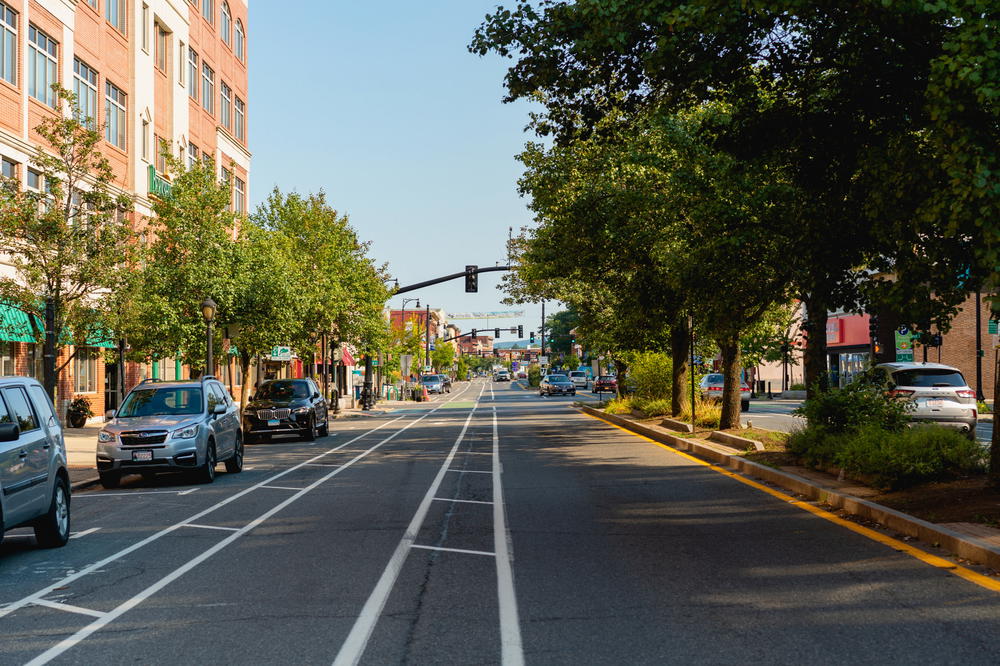 Thinking of where to stay and towns to visit in the Berkshires? See the best things to do in Pittsfield, Mass, in this travel guide with what to do during a long weekend trip.
This article may contain affiliate links. We earn a small commissions when you purchase via those links — and it's free for you. It's only us (Becca & Dan) working on this website, so we value your support! Read our privacy policy and learn more about us.
Table of contents
Close table of contents
Are you already planning your trip to the Berkshires? Perhaps you haven't decided yet on which Berkshires town to stay in.
Here's an easy choice: opt for a stay in Pittsfield, Massachusetts, a central point in the Berkshires region that'll give you access to all the surrounding towns, great opportunities to see nature, driving distance to theatres and arts events and cool hiking.
On our recent trip to Pittsfield, we were pleasantly surprised with the caliber of the places to stay, restaurants to dine in, proximity to laid-back nature walks and other attractions.
You can use this guide we wrote up based on what we did on our trip, during your travels in the Berkshires of Massachusetts at any time of year!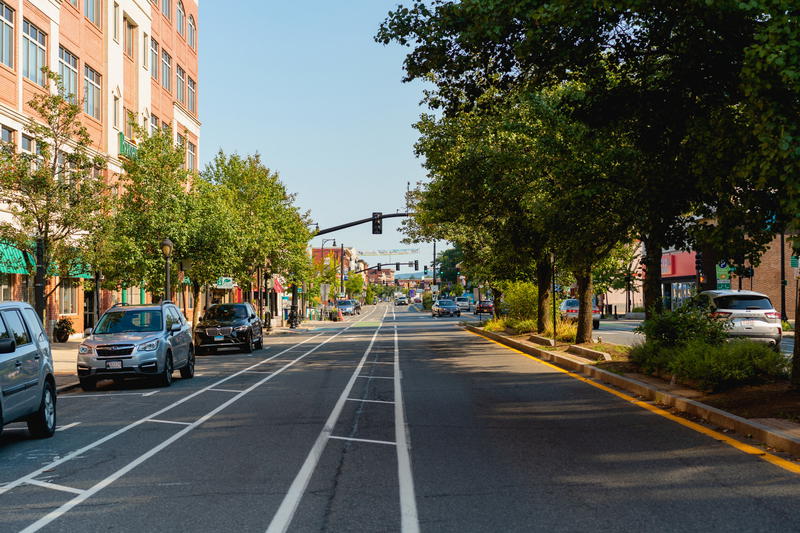 Where is Pittsfield, MA?
Pittsfield, Massachusetts, is located centrally in the Berkshire Mountains of New England. The city of Pittsfield is located quite centrally between the northernmost towns of Williamstown and North Adams, which sit near the Vermont border, and the famed Berkshire County towns of Lenox, Lee, Great Barrington and Stockbridge.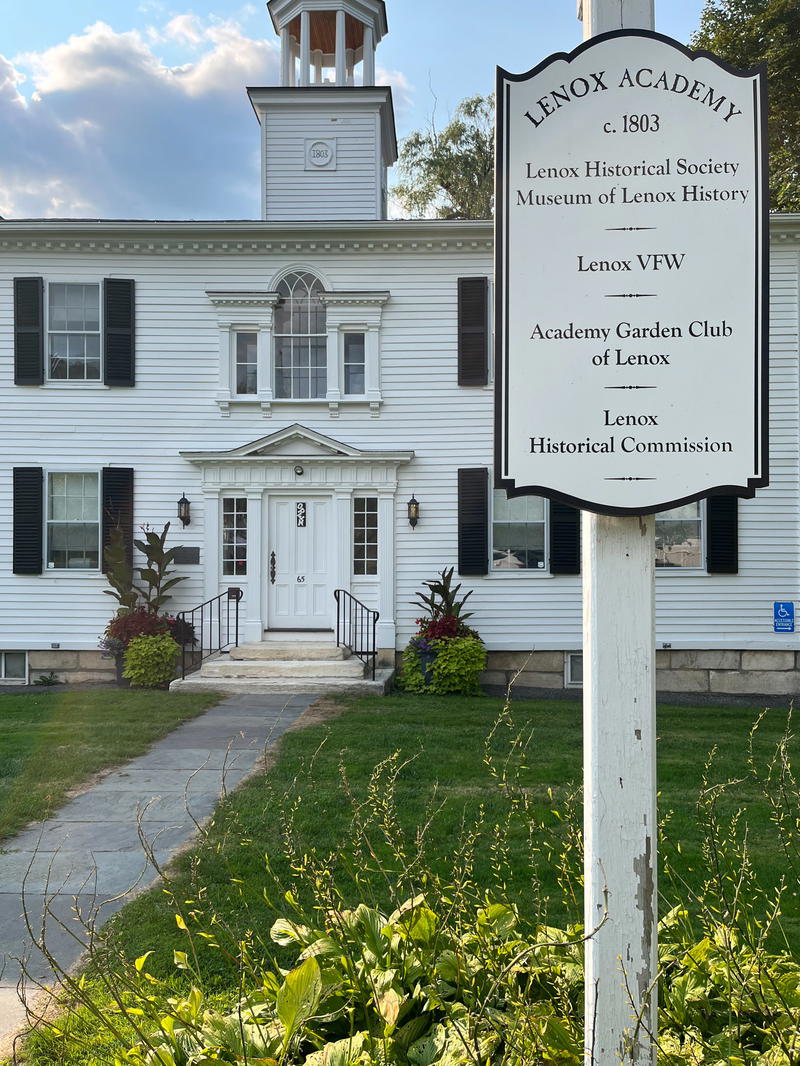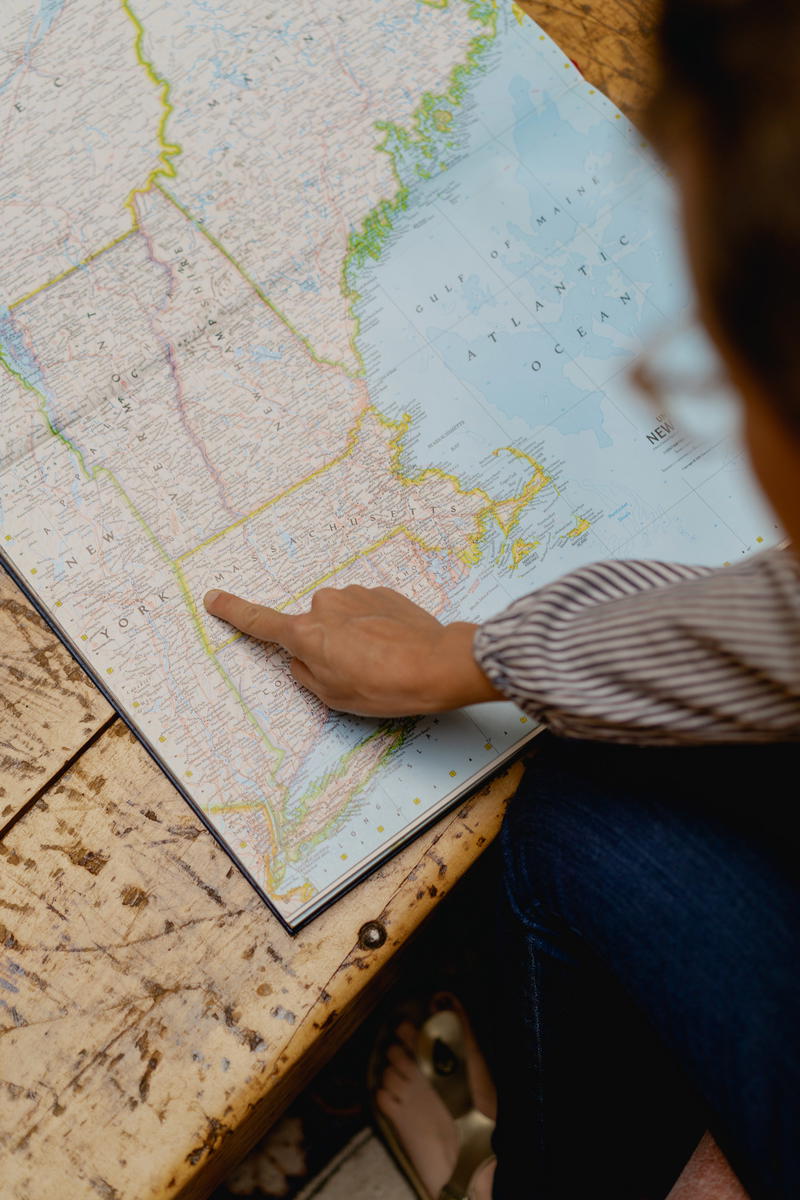 Pittsfield is located on State Route 7, a road that runs from the top of Massachusetts to the bottom. Pittsfield is less than one hour from Albany, NY, an hour and a half from many points in the Catskills, two and a half hours from Boston and three hours (only!) from New York City.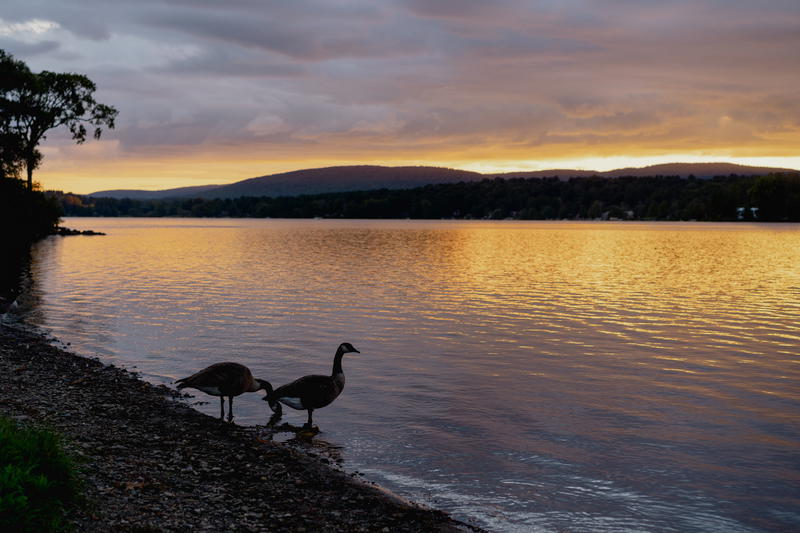 The story of Pittsfield
Pittsfield had its heyday back as it started to be a growing town in the late 1800s and in the first half of the 20th century. It saw business come in, and the rise of GE as a magnet for workers.
Toward the second half of the 1900s, GE pulled out of the city and with that, much of Pittsfield was left hanging. Things fell into a bit of a post-industrial lull.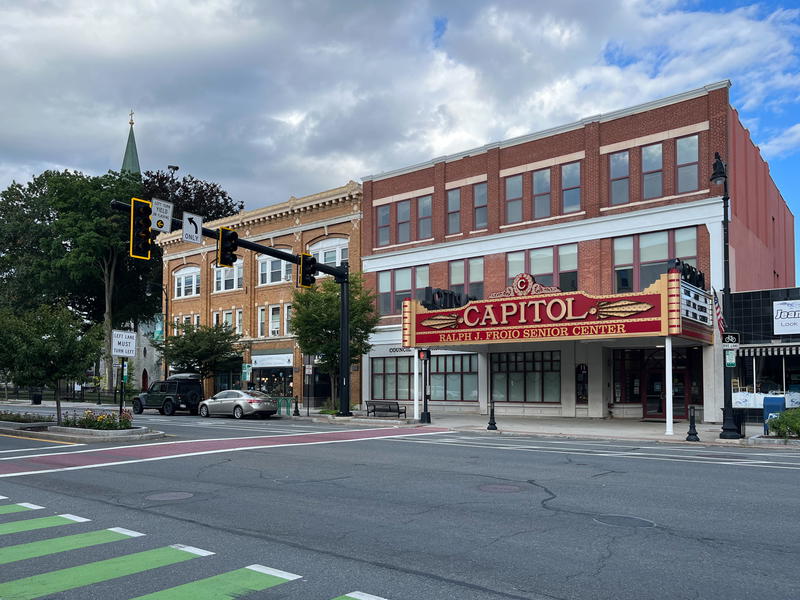 By the 2000s, a revitalization or renaissance started, and that is what you'll see now if you visit Pittsfield, which is a city undergoing change. In fact, you can even be part of the change by supporting the growing businesses, which cater to visitors and travelers.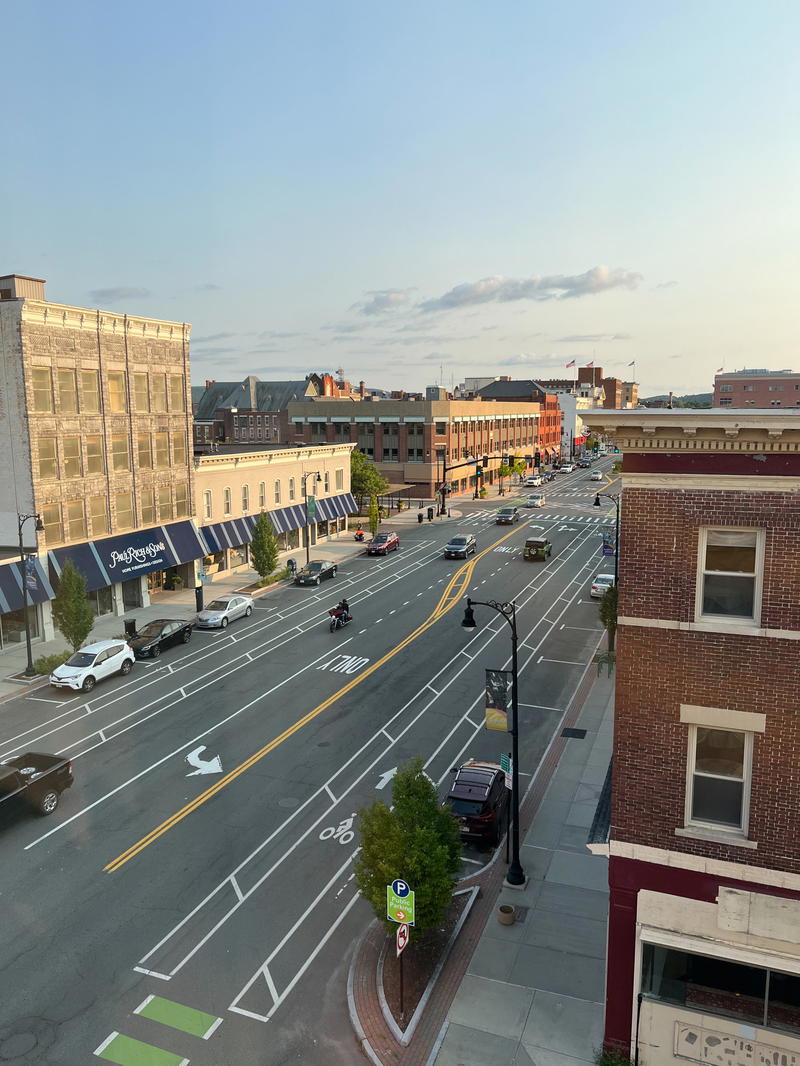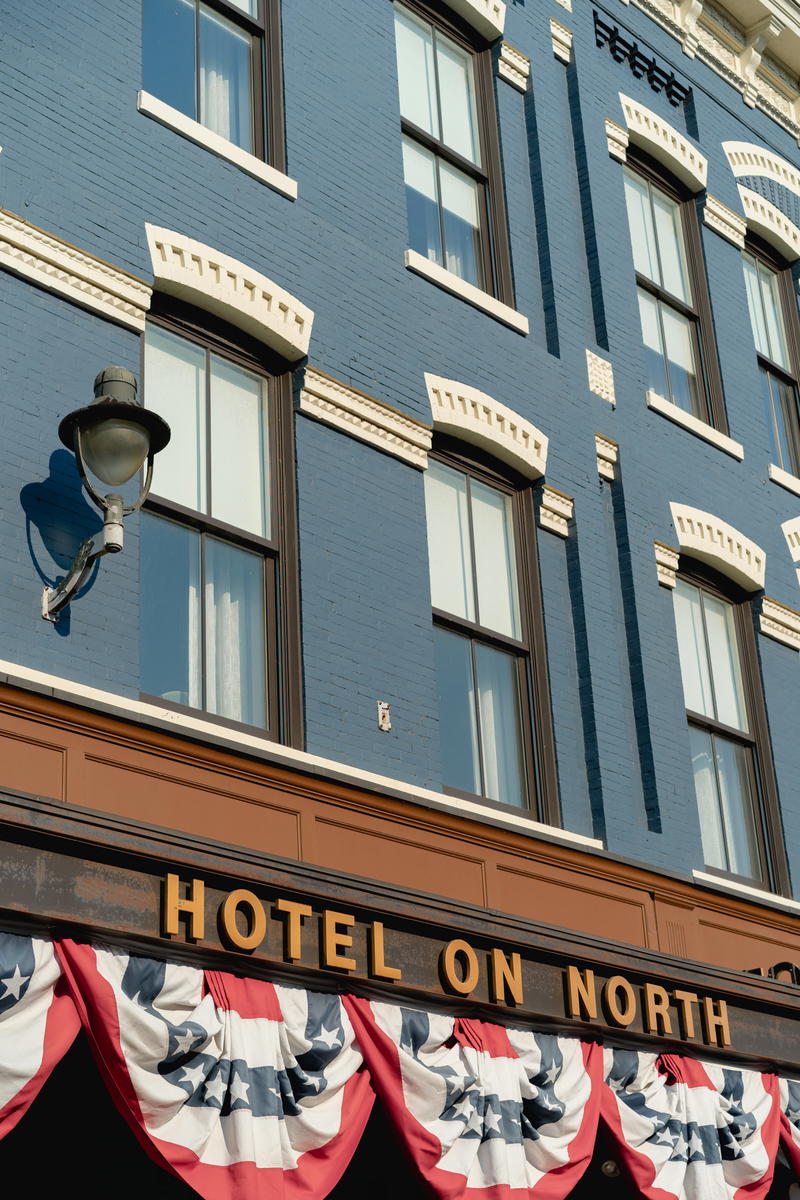 We really liked some of the restaurants we visited, and would go back in a minute! Additionally, the nature surrounding Pittsfield is relaxing, accessible, and free.
All these things make Pittsfield a cool place to spend a few days without even needing to go far in order to access shopping, farm-to-table cuisine, natural surroundings and arts and culture. You can check out the city's website at CityOfPittsfield.org.
Our photo gallery of Pittsfield shows what Pittsfield looks like today.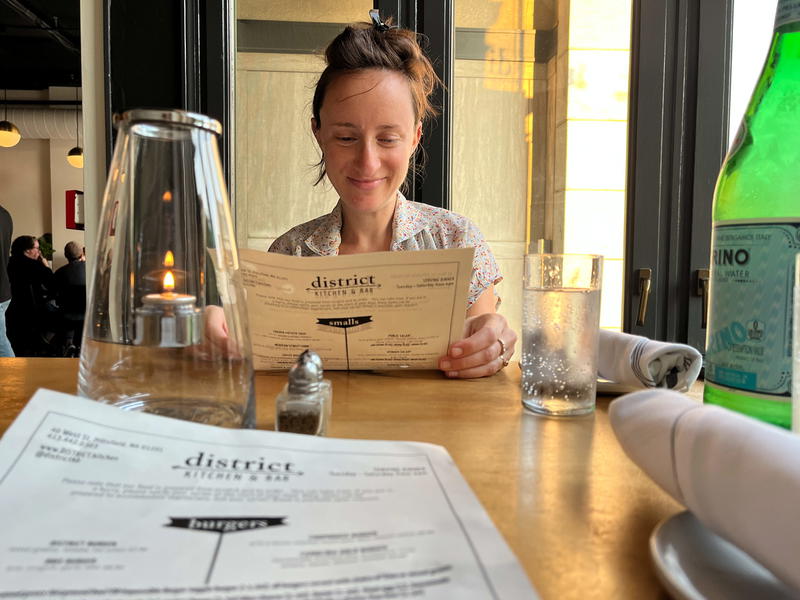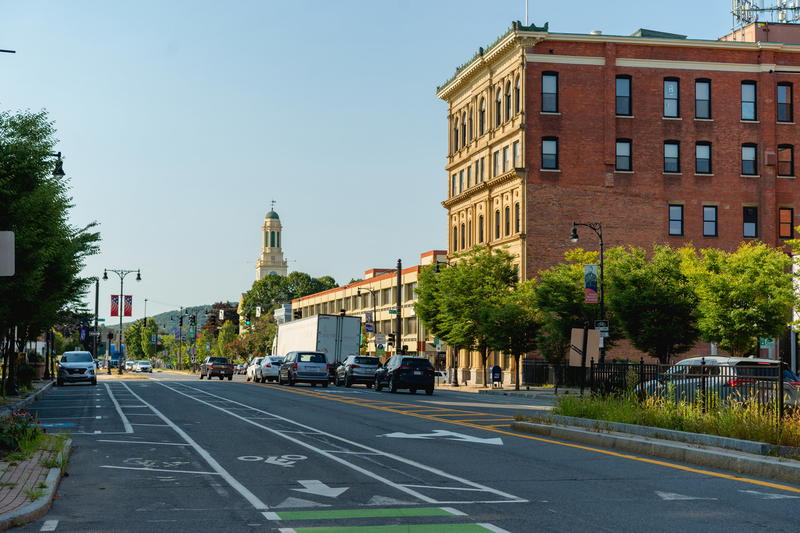 Where to stay at every budget
Pittsfield has several hotels within the city limits, in addition to a small handful of Airbnbs that range from apartment properties to private rooms in hosts' homes. Here, we'll share a few top-rated hotel ideas with you.
Splurge: Hotel on North
Hotel on North is not just a hotel, it's an experience. Located centrally in the town on North Street, Hotel on North gives visitors a stylish travel experience via its unique rooms, vintage touches and modern amenities.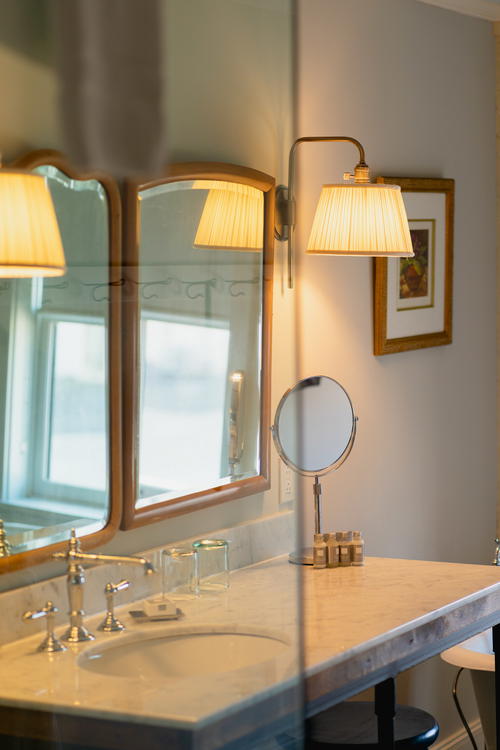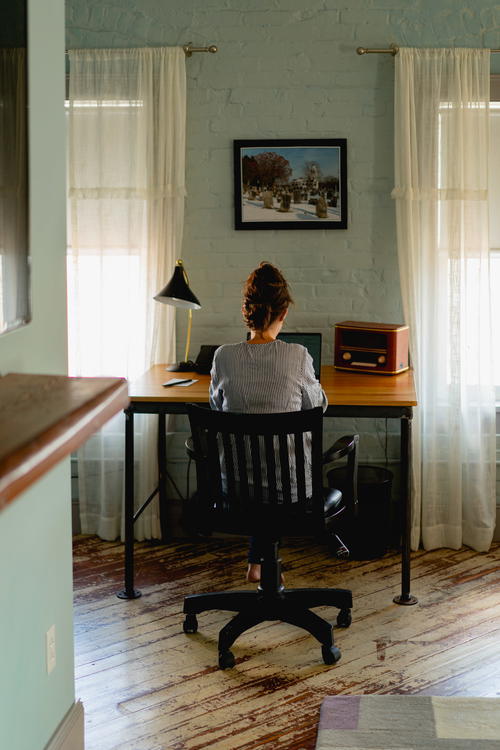 The building itself is a renovated historic set of properties, and inside, you'll see brick walls, bespoke furniture, clawed-foot bathtubs, common spaces full of books and even a game room. There is an on-site bistro restaurant located right through the lobby, as well as a trendy gift shop downstairs.
We genuinely enjoyed our two-night stay here! You can see all our photos in this review of Hotel on North.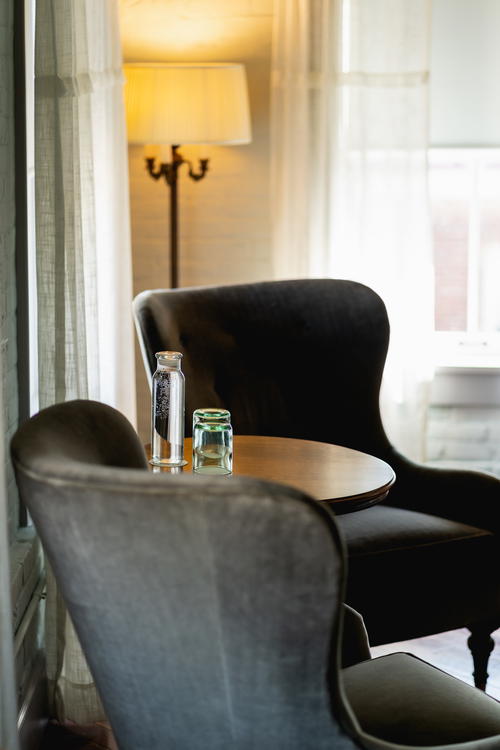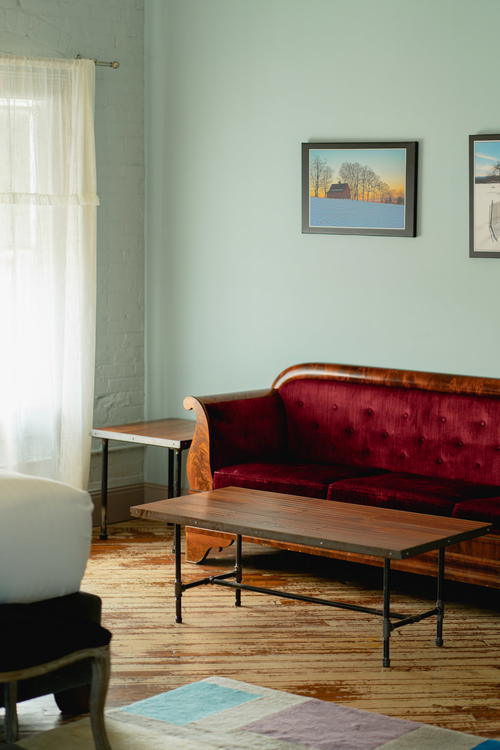 Mid-range: Hilton Garden Inn Lenox Pittsfield
This hotel comes well-rated and is located outside of the center of town, down Route 7. It's smack between Pittsfield and Lenox, which will give you a chance to visit both towns.
Prices at the Hilton Garden Inn are more moderate, and will vary based on weekday vs. weekend, low season vs. high season, just like at Hotel on North.
Rooms have been renovated and are modern, and the best amenity is probably the indoor pool! You can book the Hilton Garden Inn here.
Budget: Best Western Plus Berkshire Hills Inn & Suites
Staying at a Best Western is never a fancy nor over-the-top experience, but it gets the job done, and that is what is important if you are aiming to save money on a trip.
The Best Western in Pittsfield is located about eight minutes from the center of the city, and is on the way to the Hancock Shaker Village. The hotel is on a nondescript street that leads you out of town and westbound.
Rooms are a little more dated, which is reflected in the price of staying at this hotel. Depending on which night of the week you book and in which season, you can find rates closer to $100 for a standard room, before tax. That's pretty affordable in the Berkshires.
To see more about the Best Western, check out Booking.com, here.
Where to eat
We were pleasantly surprised with the great cuisines in Pittsfield. Dan and I both have an assortment of dietary restrictions, which has brought us to writing about traveling as a vegetarian and gluten-free travel destinations. Pittsfield checked both boxes!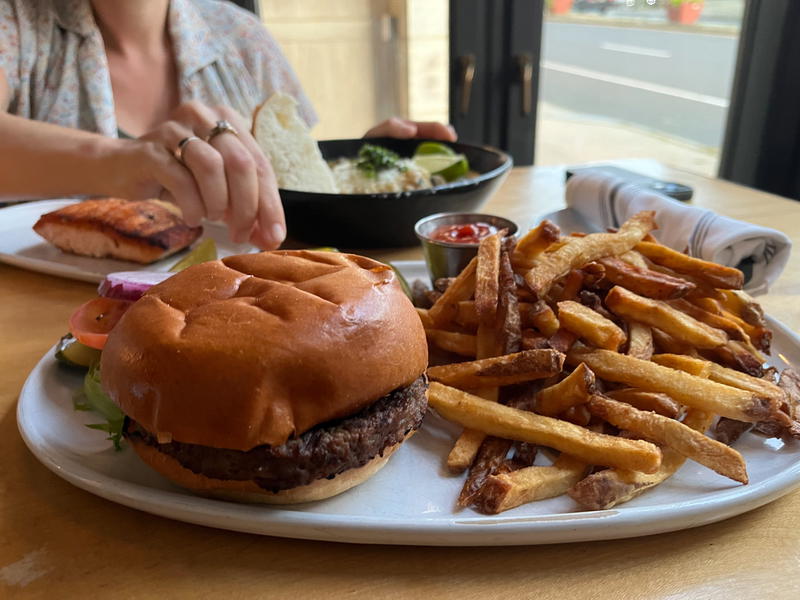 District Kitchen & Bar
Without further ado, this was the favorite meal we enjoyed together in Pittsfield. We started with a drink for me and a local beer for Dan, and for mains, Dan had an excellent vegetarian burger (those pickles were delicious) and I had an absolutely delightful gluten-free curry with a side of salmon. Truly, we wished this meal would have lasted forever, and the ambiance of District is super cool, with great trendy vibes and a very full bar.
District Kitchen is located here.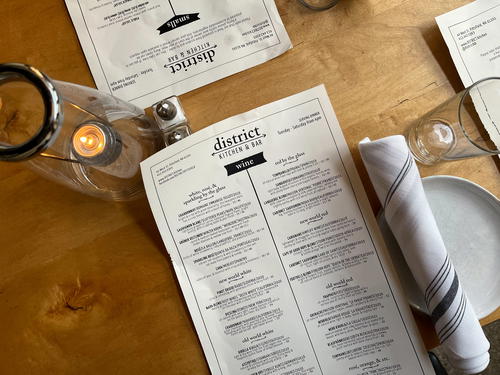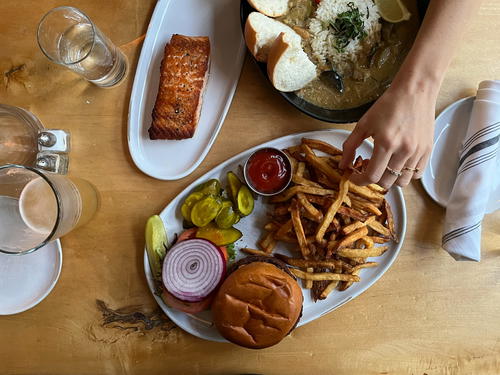 Mission
Update, as of June 2023, it appears that Mission has closed.
Mission is a cool little indie place on the more northern end of North Street, and with laid-back outdoor dining as well as nice tables inside, it is a place that came recommended to us for having appetizers and tapas.
We liked the cocktail menu, along with the vegetarian and gluten-free-friendly selection of things to eat. We ordered the curried cashews, gazpacho, grilled vegetables and a Moscow Mule.
Berkshire Palate
Berkshire Palate is more of a bistro-style restaurant with great service and a big menu that'll suit every traveler.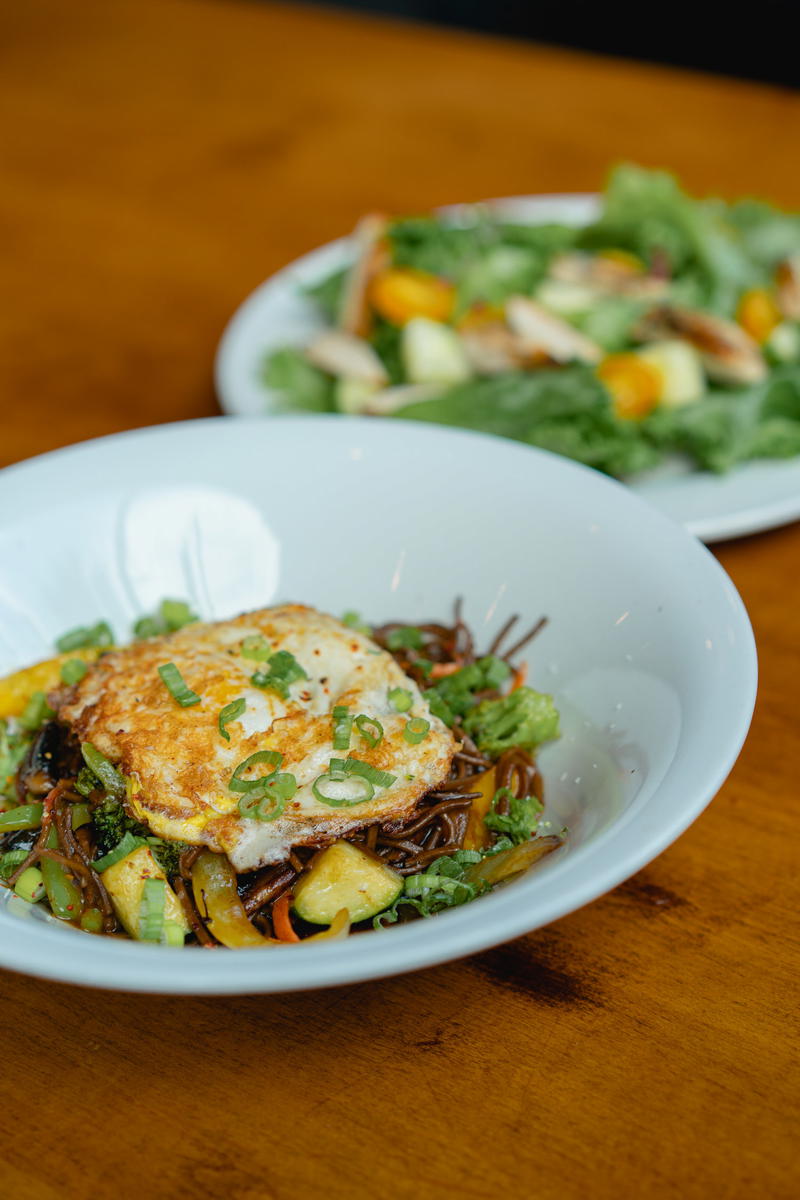 For mains, Dan had the vegetarian-style ramen, and I had a salad with grilled chicken. We liked the convenient location of Berkshire Palate inside Hotel on North, meaning there was also parking out back (free).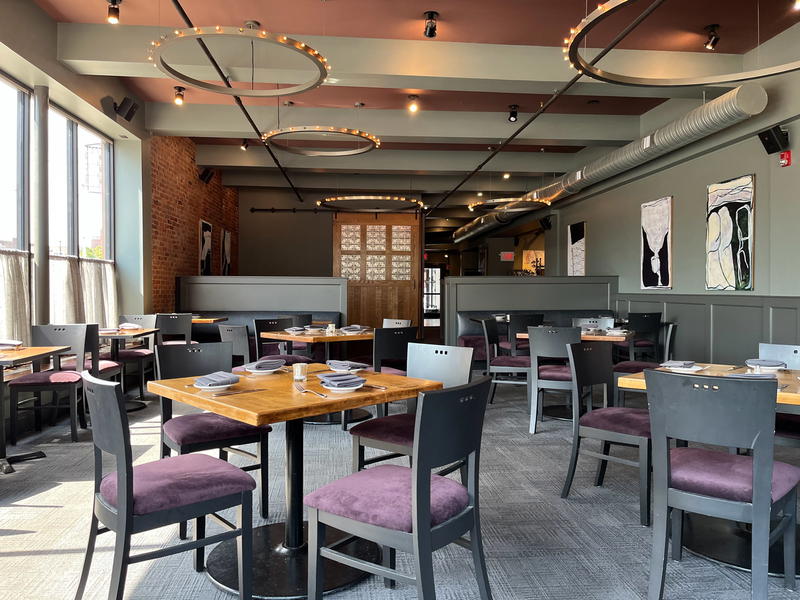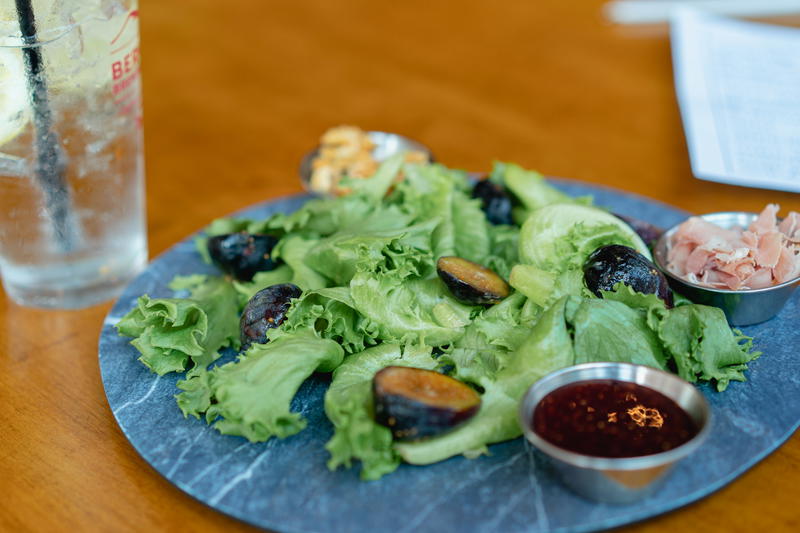 Proprietor's Lodge
This indoor-outdoor restaurant located on a lake right outside town is a great place to really feel like you're on vacation! The lodge is an events venue with a restaurant on the ground floor at lake level. The cuisine is American, and we both enjoyed Mediterranean salads with salmon. This was some good food!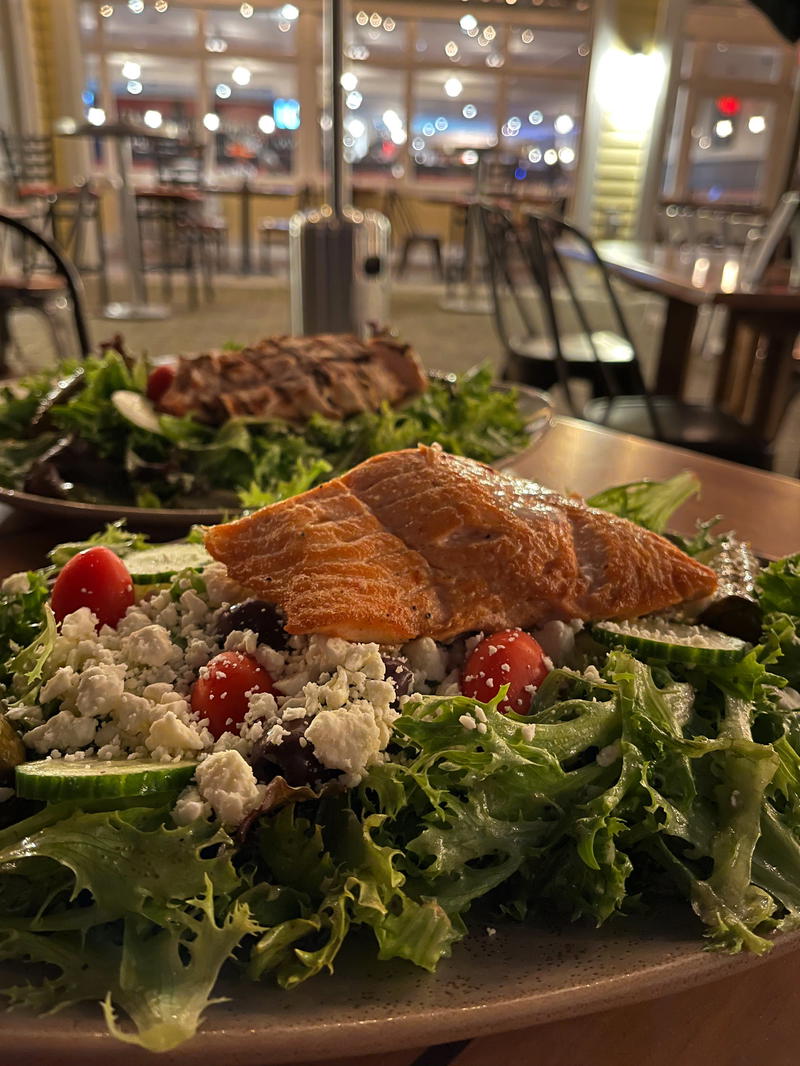 Zucco's Family Restaurant
While located a bit further outside of town, what I appreciated about Zucco's and what drew me in during a Google search was the restaurant's gluten-free menu.
Also, I had an order for a gluten-free pizza with a few toppings, and they were so careful with my order that when I picked up my pizza, they were kind enough to tell me that they had foregone the eggplant because it's breaded and therefore not gluten-free, for my allergy.
Thank you to everyone at Zucco's for keeping me from harm!
Where to drink (coffeeshops and bars)
Whenever Dan and I travel, we tend to rate cities (in our minds) by the caliber of their cafes and coffeeshops. Pittsfield was no exception! Luckily, we were recommended a few good places to caffeinate.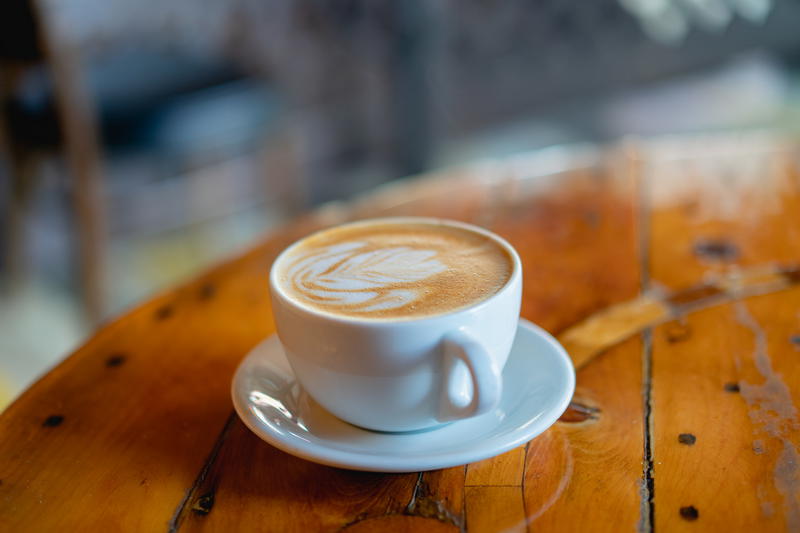 Dottie's Coffee Lounge
This is without a doubt the place to have your morning coffee and join other breakfast lovers to enjoy a drink or brunch at Dottie's. Located on North Street on a corner, there's lots of seating, both indoor and out.
With a big menu of sandwiches, breakfast goodies, oatmeal bows and more, it was really hard to decide what to get.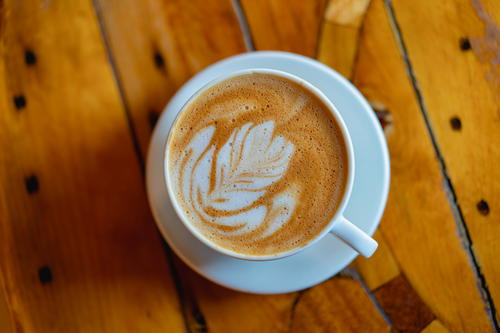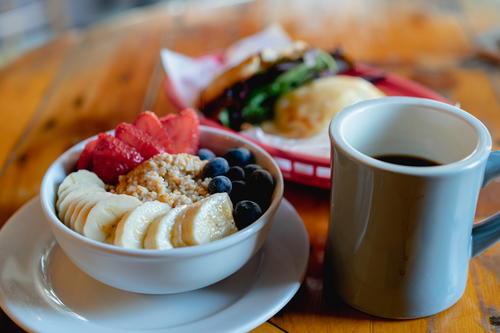 Plus, you've got to check out Dottie's "Bear Butter," which is a fortified super nut butter they can put in your oatmeal. You can also purchase it in the little store.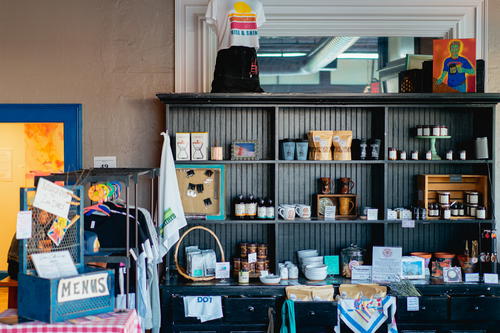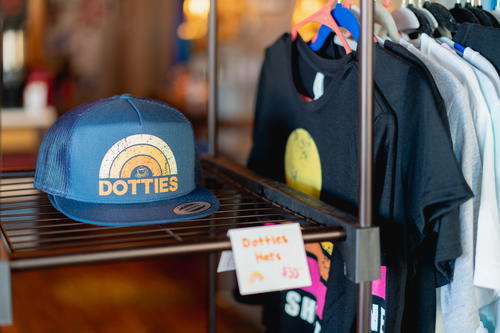 Lulu's Tiny Grocery
Lulu's Tiny Grocery is a little cafe inside a small shopping center and owned by a very friendly guy who will chat with you while you order! We recommend getting a bagel and a latte.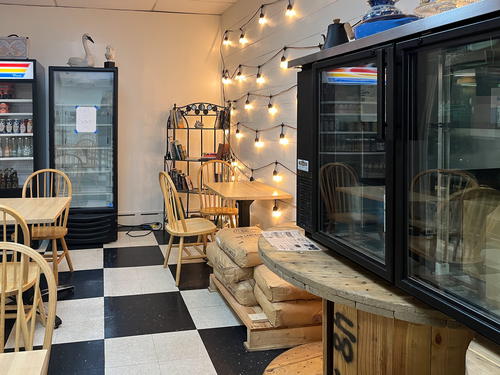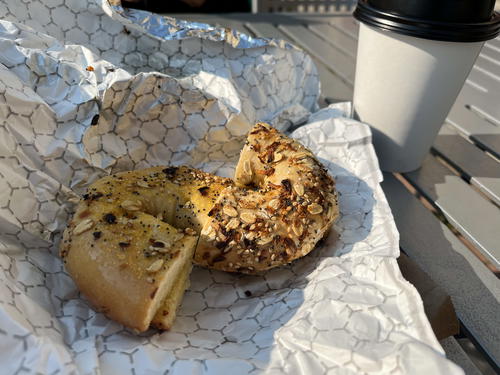 Thistle & Mirth
While we did not have the chance to visit Thistle & Mirth, it looked really cool from the outside, and I put it on my future mental list of bars to visit. Check out the menu at their website.
Where to see some nature
What we liked about staying in Pittsfield was that within a very short driving distance was quite a few places to enjoy nature and feel far from town. From small lakes to tall forest trees and wetlands, there is a natural escape for everyone outside Pittsfield, MA.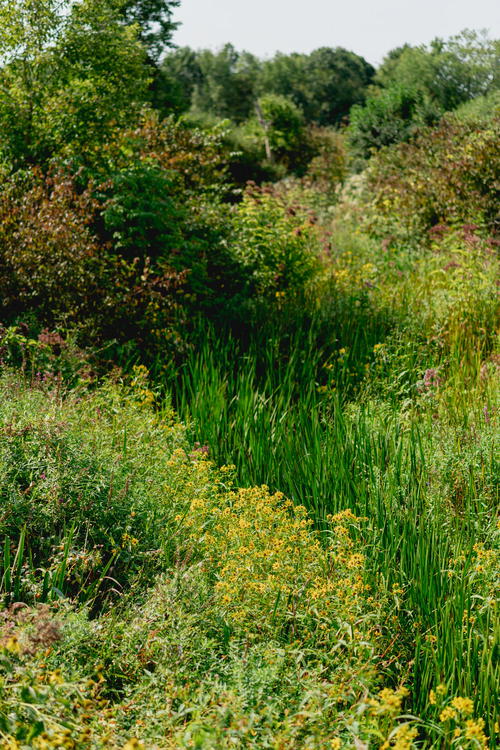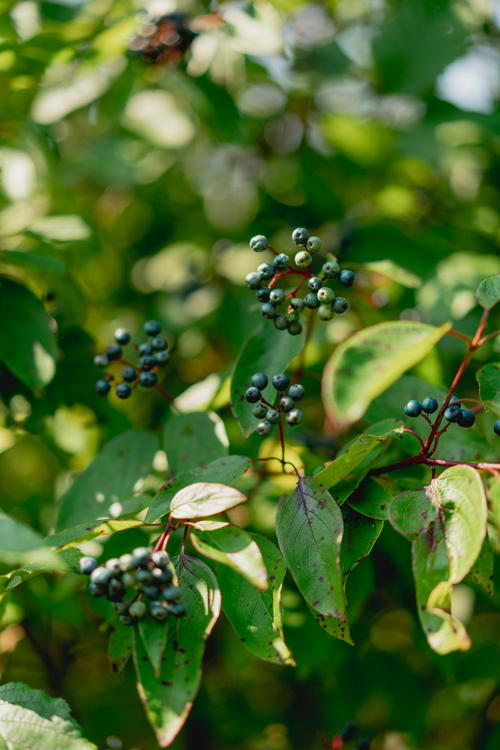 Canoe Meadows Wildlife Sanctuary
This petite wildlife preserve has a mix of sun and shade, water and land and marine life and birds. We enjoyed going for a nature walk here, as we got to take a lot of photos and move at our own pace. We had the reserve totally to ourselves on a weekday morning! If you have seen our list of places to avoid other tourists, you know that we like being the only people in a place we visit.
With two main trails that take 30-60 minutes depending on which one you choose, none of the walking in Canoe Meadows is difficult, which makes it great for families, or anyone looking for an easy nature walk right outside town.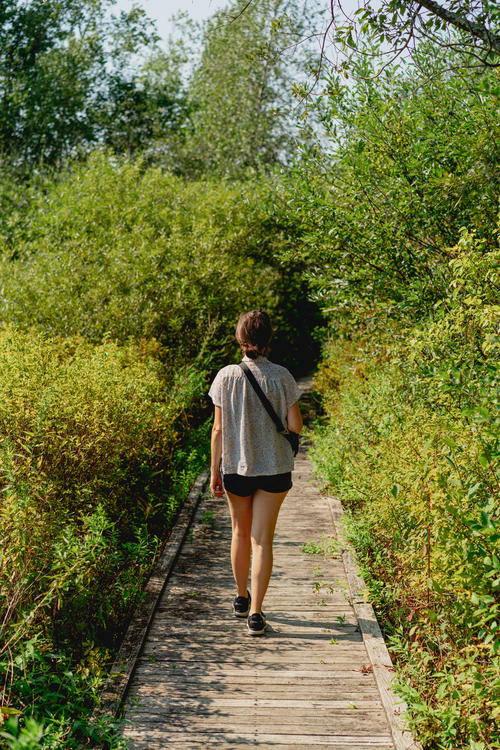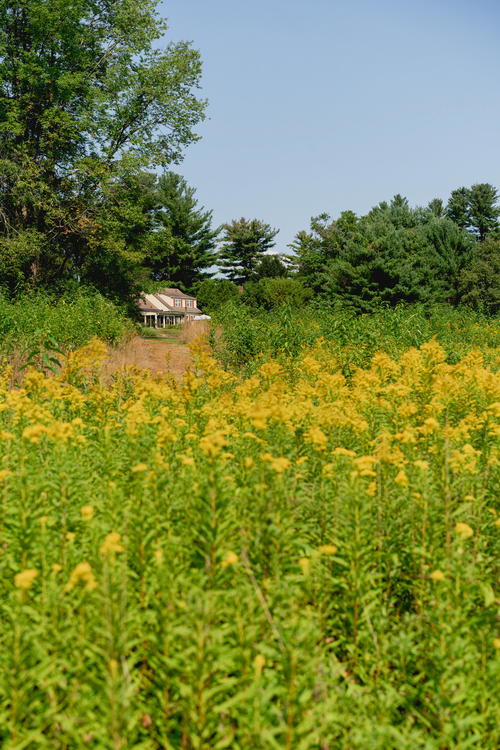 Animals we enjoyed seeing were "the biggest cricket we've ever seen," turtles, birds, butterflies, bees and chipmunks. You can check out the sanctuary's website here.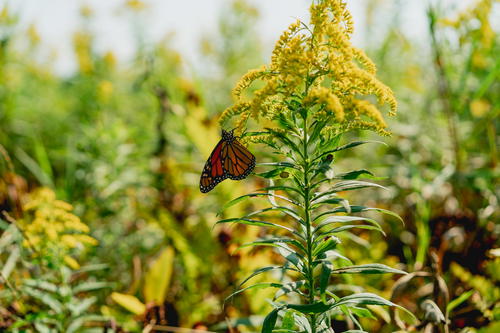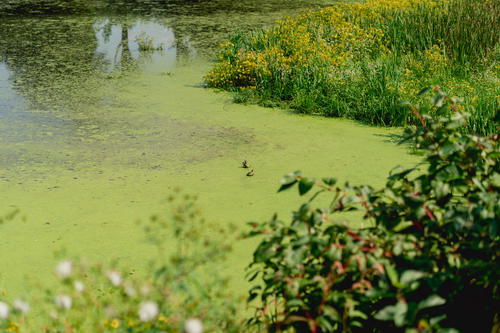 Pittsfield State Forest
Pittsfield State Forest is a much larger natural area located 20 minutes outside Pittsfield's town center. While we wish we had more time during our trip to get some real hiking in, we came for a picnic and for admiring the tall trees that created a lot of shade on a super sunny day.
At the mass.gov website, you can find this map, which lists both summer and winter usage of trails. It's really helpful, depending on which time of year you're visiting the Berkshires. There's also ample areas for camping, and you can find out more about camping in the forest at this link.
If you're like us, you might really like using Alltrails for finding your hikes, as this is exactly what we did during our trip to the Adirondacks! Check out the trails for all levels at this link to the Alltrails routes for Pittsfield State Forest.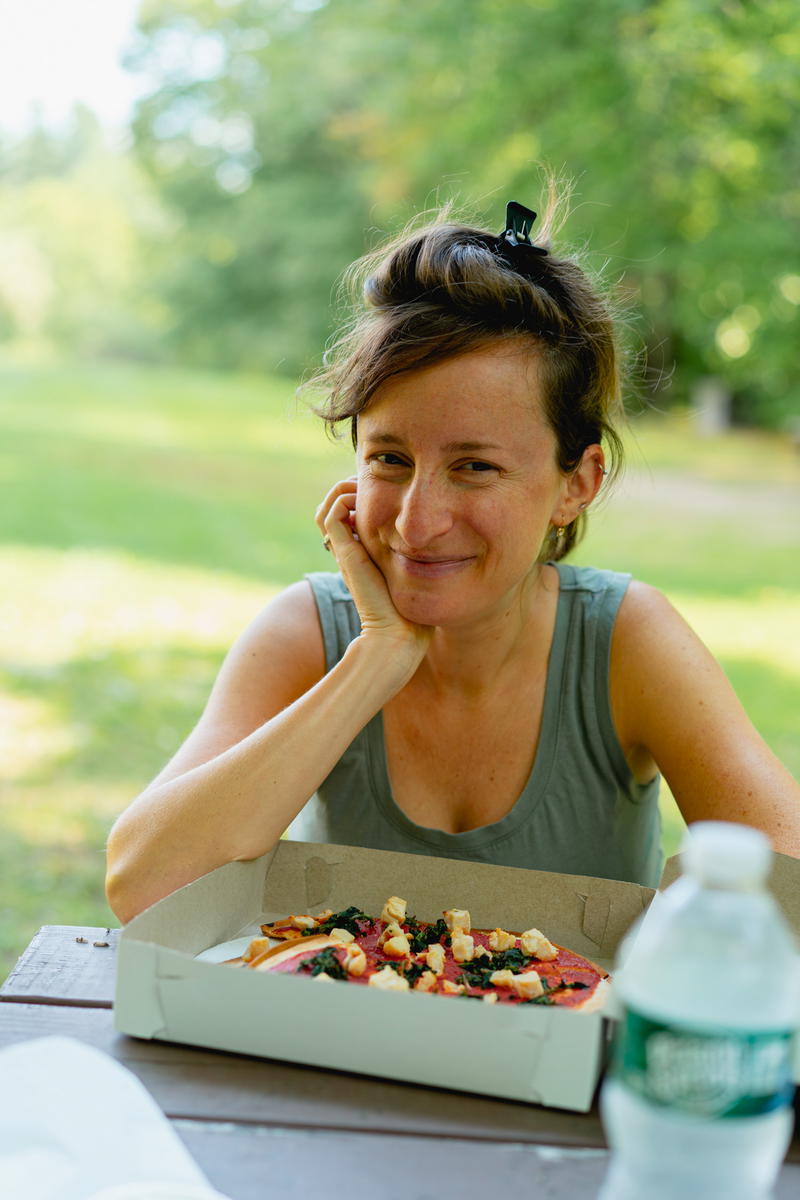 Lake Onota
Lake Onota was our introduction to Pittsfield on the night we arrived, and luckily, we were able to see a dramatic sunset with the rolling hills and mountains as a silhouette backdrop!
This lake is located right outside town, and could be a five-minute drive, depending on where you're staying. Be sure to watch the sunset along the western shore, which has fewer private homes and has some public areas for walking, along with a tiny sandy area.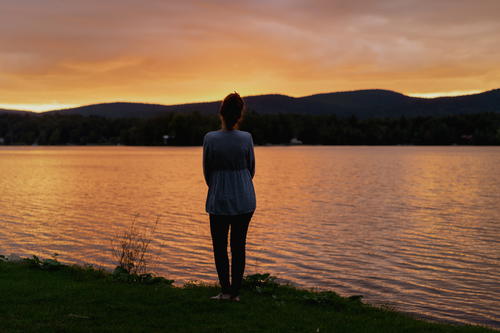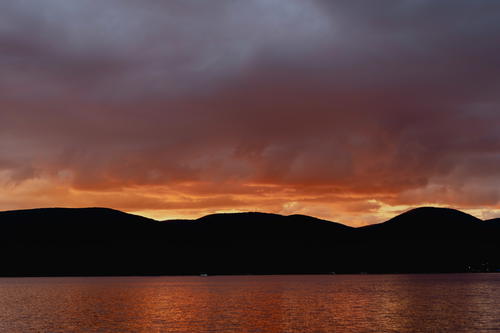 Where to experience arts and culture
Pittsfield, like the rest of the Berkshires region, is home to fun arts and culture that you can find at many times of year. The Berkshires area is well-known for theater, music and art, so whichever is your passion is something you can arrange to enjoy in Pittsfield or nearby!
Plus, with Pittsfield's central location, you can head up to Mass Moca in North Adams, MA, or down to Tanglewood, a famous live music venue in Lenox, MA.
Colonial Theater
We visited the Colonial Theater and were lucky enough to have a private tour due to coming in between the summer and fall seasons. (A good tip is that if you wish to see a show, come during the summer season before it ends, or at the start of the fall season, which is mid-September).
The theater has its roots dating back to 1903, and through the years, it was a garage, and a paper goods store, and then fell into disuse.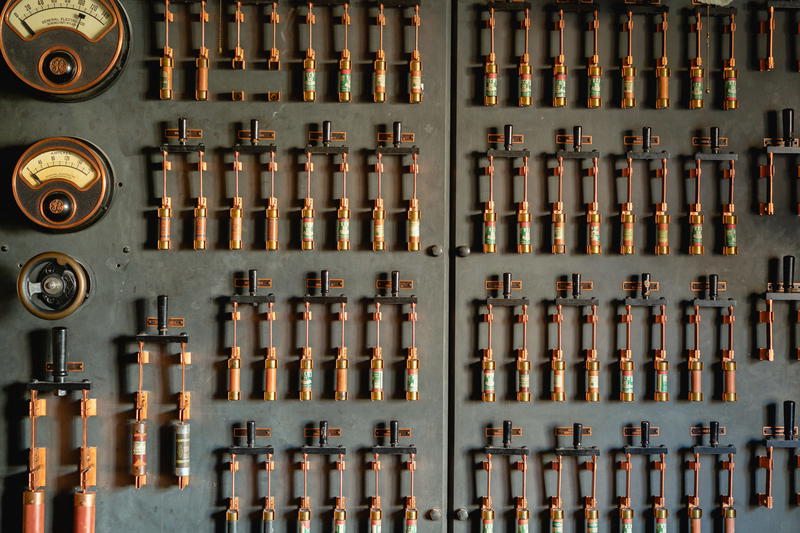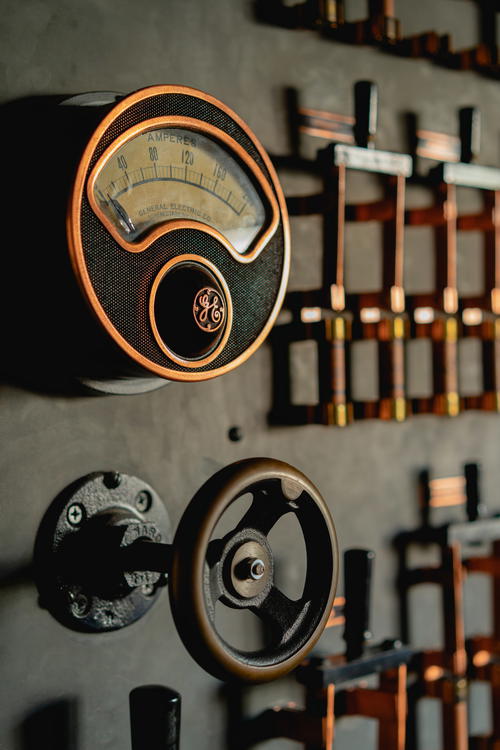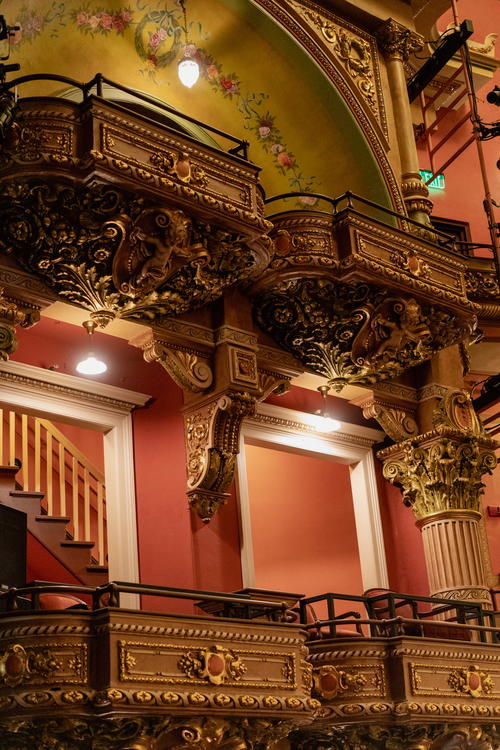 It was revived and reopened in the 1990s, and has had great success in bringing amazing talent and theatrical events to its stage. Famous visitors have included Michelle Obama and Hillary Clinton! The theater saw millions of dollars in investment to restore it to its original grandeur, which is what you see when you come for a show these days. It's like a Broadway theater.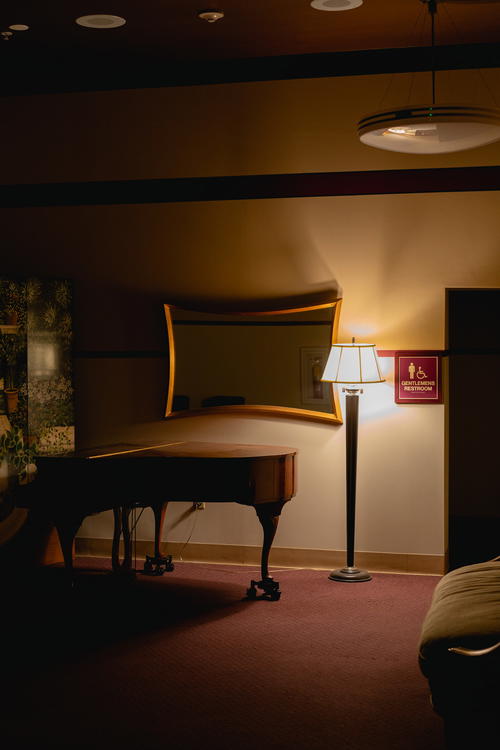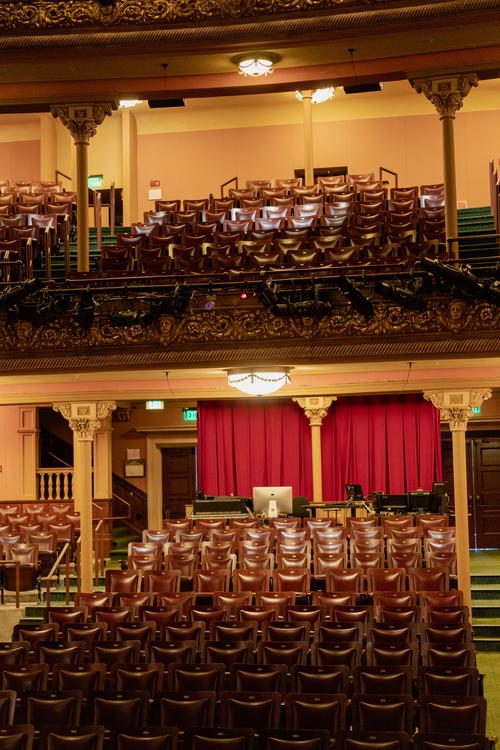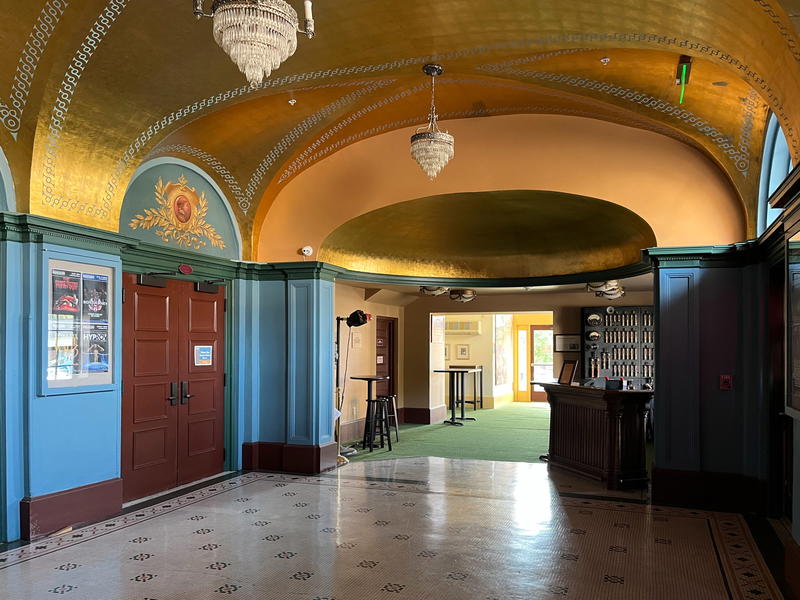 Check out the schedule of shows, here.
Hancock Shaker Village
For a very different type of cultural experience, head outside of town to the living history museum of Hancock Shaker Village. I tend to really like living history museums, with Colonial Williamsburg being one of my favorites!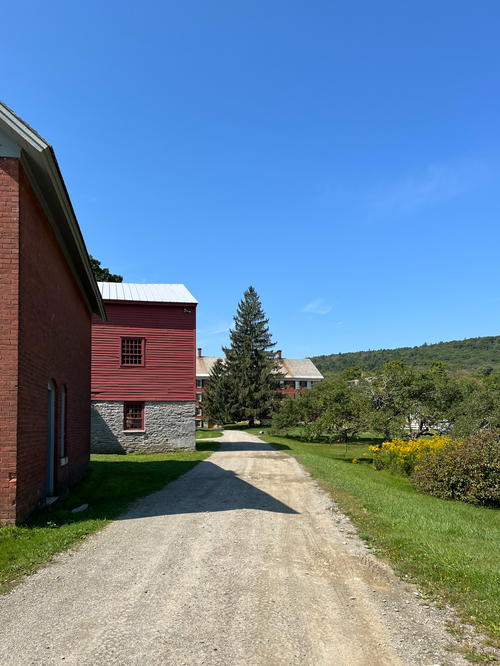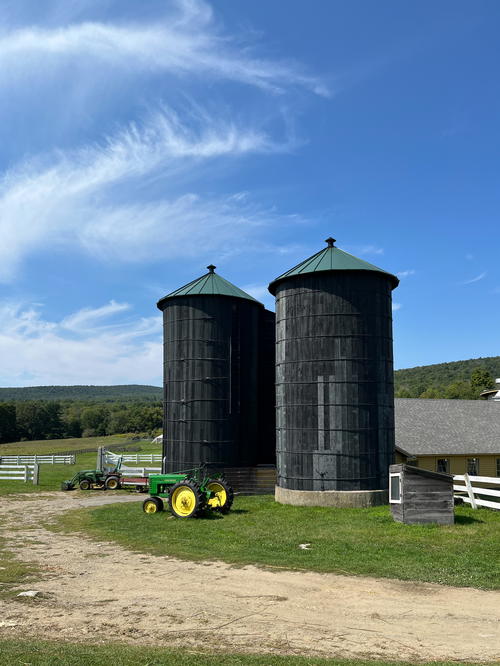 At the Shaker Village, you'll get to see Shaker-style buildings that have been both preserved and restored, and you can see how the community had an early version of a freezer, a laundry center and more.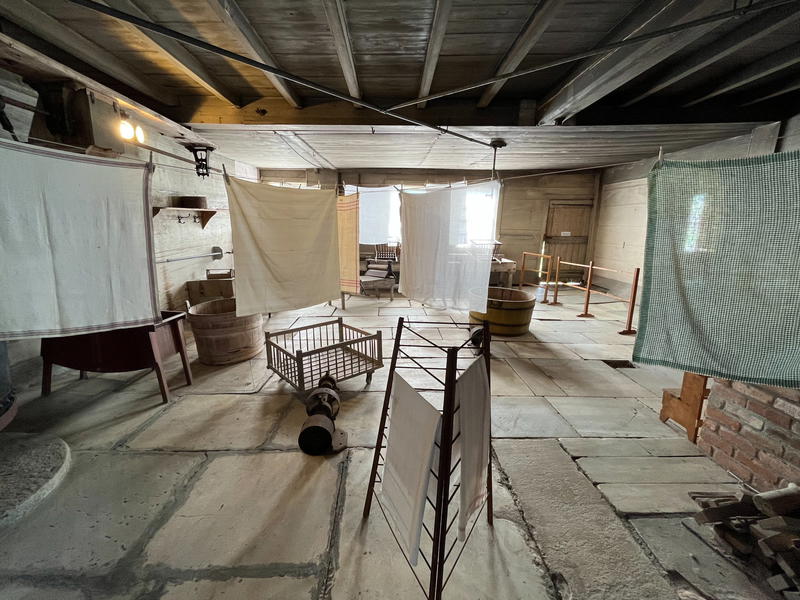 Head to the round barn to see gaggles of goats, sheep and other farm animals, who are not shy at all with their vocals! Outside, we saw chickens, donkeys and a colorful rooster.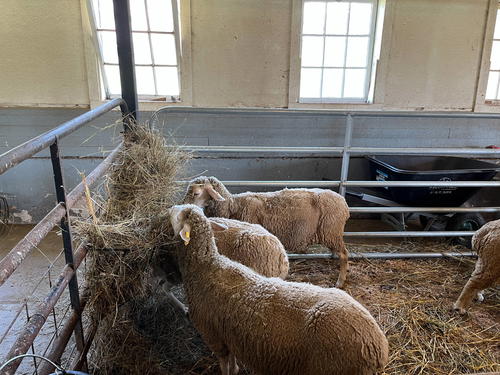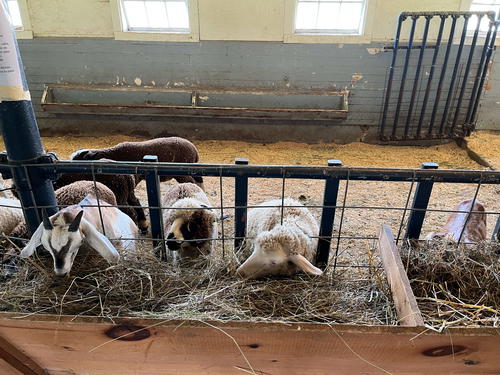 If you'll be in Pittsfield for a few days, check out the events calendar, which includes fun things to do like Goat Yoga, or a ghost tour of the village around autumn time!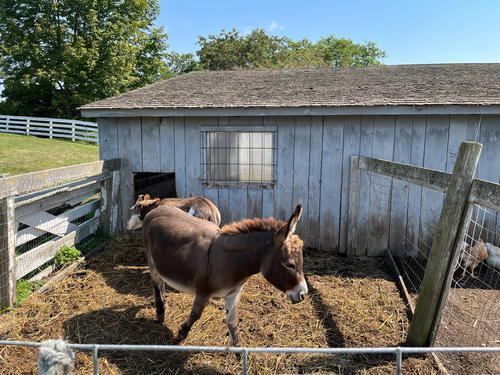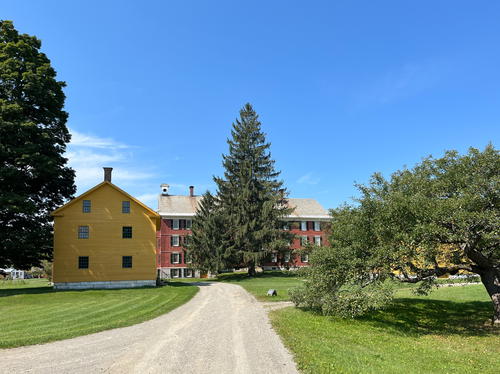 Berkshire Museum
If you come across a rainy day during your trip, visit the Berkshire Museum, located at 39 South Street, Pittsfield, MA. The museum contains exhibits on everything from rocks and minerals to the "backyard of the Berkshires" and its nature. The museum is great for everyone, whether children or adults. See more at the visit page.
Where to go shopping in Pittsfield
Pittsfield's downtown surely has a mix of stores, and it's very clear which ones are new and cater to new waves of visitors. Among vintage stores, toy shops and others, the two below stick out for places you'll want to visit if you'd like to bring something memorable home from your Berkshires trip.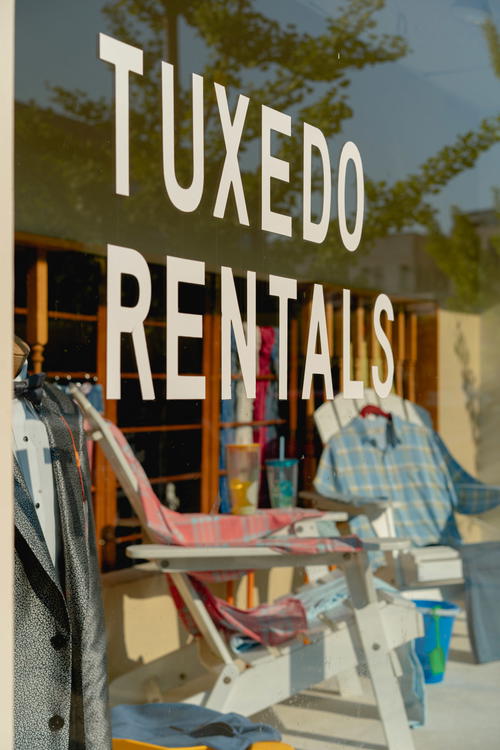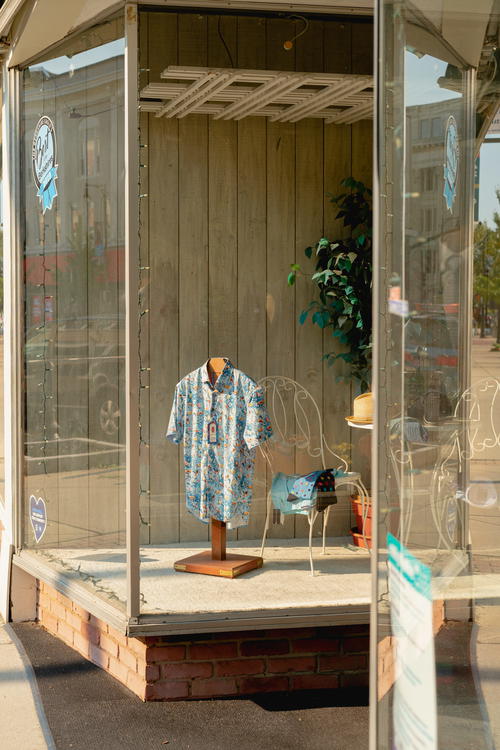 Dory & Ginger
This cute and airy shop is located on the lobby level of Hotel on North, and it's full of home goods, from candles, to Berkshires apparel, to baby clothes to small marble dishes.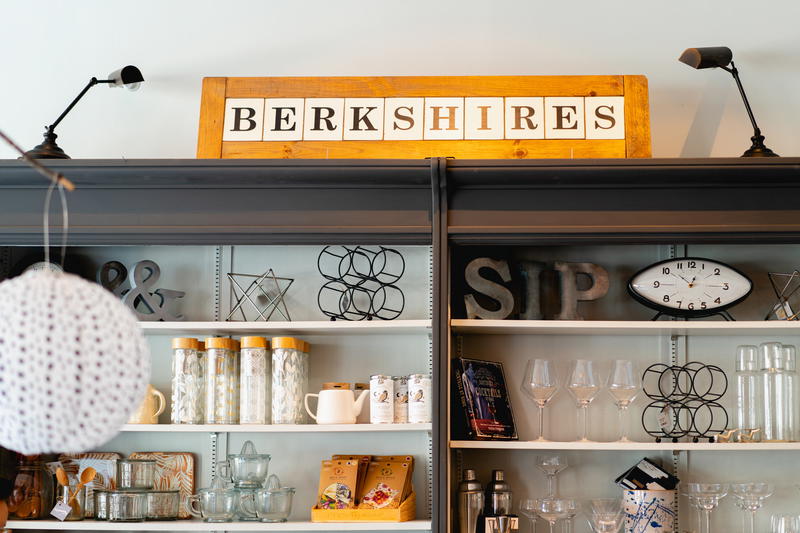 It would be hard to name everything that Dory & Ginger has in its stock, so check out our photos for ideas of what you could pick up here.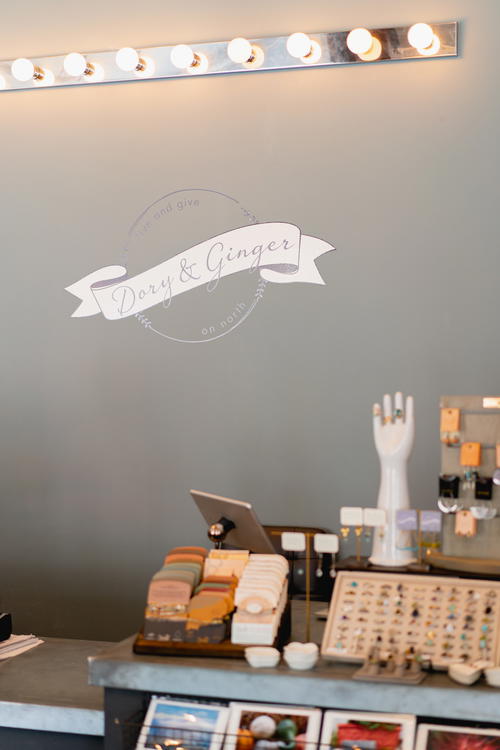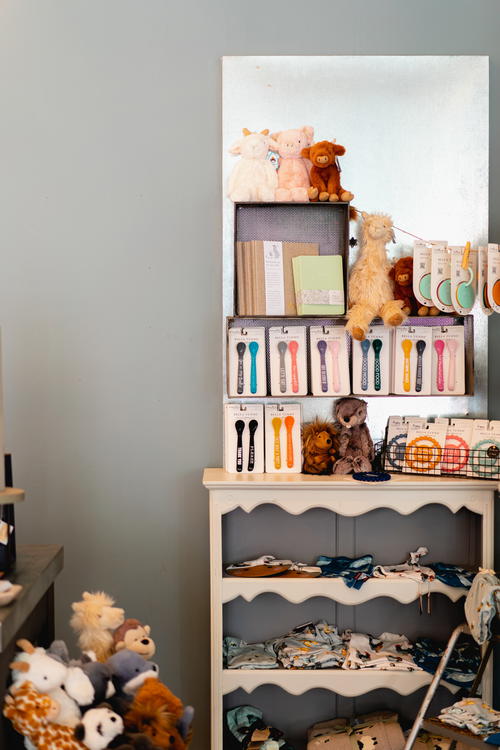 Museum Facsimiles
This unique store has a funny name, because it's not actually a museum (?). To get the full gist of their offerings, check out the website for Museum Facsimiles. Most of the offerings are picture frames, framed mirrors, decorative mirrors, prints and letterpress cards.
For some of the larger and more delicate items, you'd have to have come by car to transport them back to your home, but small cards like these fit perfectly in luggage.
You can also visit the store's Facebook page.
How to get to Pittsfield in the Berkshires (and how to get home)
We found Pittsfield quite easy to get to from within New England, and we came from Vermont, where we had spent the preceding few days seeing family.
Although we drove, because of being on a larger roadtrip with Pittsfield and the Berkshires as our final stop, we could've taken an Amtrak from NYC! Check out the ways to get to Pittsfield below.
How to get to Pittsfield & the Berkshires from NYC
If you're coming from NYC, there are a few options for you in getting to Pittsfield and the Berkshires region of Massachusetts.
Rent a car (or drive your own car). A drive from Manhattan will take about three hours only (with no traffic). It's about 150 miles and the best route is to head directly north through upstate NY, taking a turn off before Albany to head into Massachusetts and across the Hudson River.
Take the Amtrak train from NYC to Pittsfield! As Thrillist reported in spring 2022, this new route just made a Berkshires getaway from NYC a reality! The Berkshire Flyer route can get you from NYC to Pittsfield in a dab less than four hours, which means it's bound to take just as long as driving, but you get to sit back and relax.
You can check timetables and fares at the Amtrak website.
Take a bus! From Port Authority in Midtown Manhattan to Pittsfield's downtown transit hub, you could be spending only $39 to get from NYC to Pittsfield, one way. The journey will likely take almost nine hours, as there is a transfer and a one-hour stop in Boston. Check out the bus fares at greyhound.com.
How to get to Pittsfield & the Berkshires from Boston
From Boston, you're looking at an easy 2.5-hour drive across the state from east to west. To avoid driving, take an Amtrak train across the state and reference the route in this helpful map. Lastly, you could opt for an easy Greyhound bus from Boston.
How to get to Pittsfield from Upstate NY & the Catskills
From points in upstate NY, Pittsfield is a surprisingly short drive (depending on where you already are). From the Albany capital region, Pittsfield is a stone's throw over the Massachusetts border after you cross the Hudson River by bridge in your car.
Great news for train fanatics: from Upstate train stations like Poughkeepsie, Hudson and Albany, Pittsfield is reachable by Amtrak.
More fun news is that a bus from Albany to Greyhound could run you as little as $13! Find your options here at the Greyhound website.
Enjoyed our article?
Consider supporting us! We're a 2-person team (learn more about us here) and your support enables us to create quality content. Thank you!