Tortuga Laptop Backpack Review: An Essential Personal Item for Travel?
Written by Becca
•
Updated on October 31st, 2023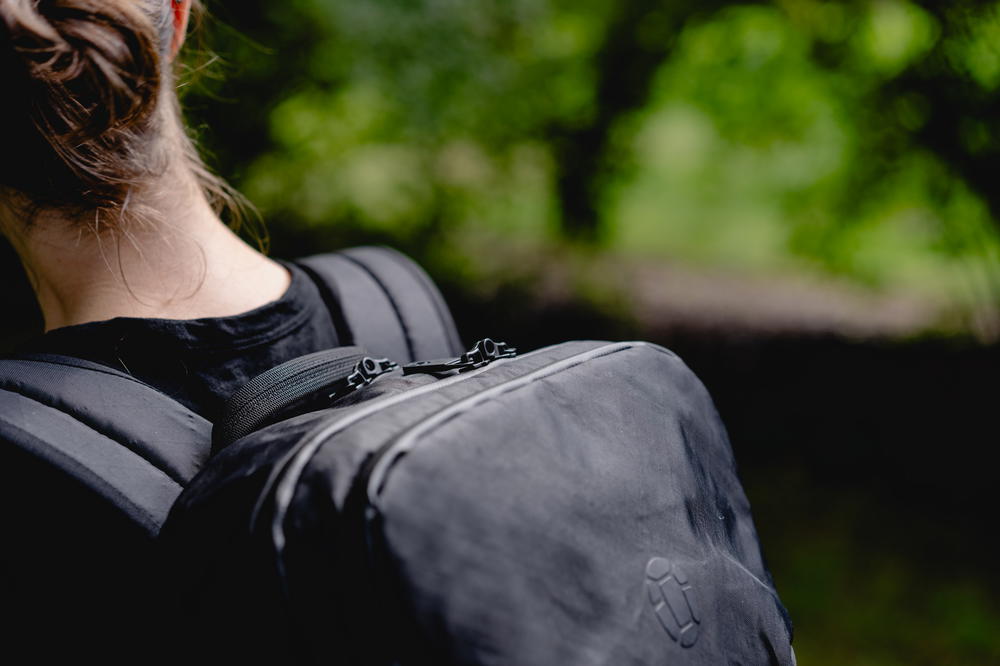 In this review, I check out the Tortuga Laptop Backpack as a travel bag for working remotely and traveling. Is this travel bag worth it as a personal item or day pack?
This article may contain affiliate links. We earn a small commissions when you purchase via those links — and it's free for you. It's only us (Becca & Dan) working on this website, so we value your support! Read our privacy policy and learn more about us.
Table of contents
Close table of contents
Every time when I'm ready to pack for a flight, I think to myself, "OK, which personal item is it going to be this time?"
I've been through some chic "personal items" that have been on the small side. I've also been through some backpacks and daypacks that took heavy beatings after a lot of use, but ultimately were not big enough for all my essentials.
Is there a perfect personal item for a flight that doubles as a laptop backpack?
I got the Tortuga Laptop Backpack, and right away, I sensed that in its features, I was looking at one of the best laptop bags for travel to date.
After taking it for a spin on my trip to Halifax, Canada, I have some thoughts that I'll share with you in this review.
You can decide if the price tag on this thought-out and durable backpack from Tortuga is worth the investment!
A bit about Tortuga Backpacks
Dan first told me about Tortuga when he was on Remote Year. When looking for bags, he found the brand as one of the more solid high-quality travel bag companies out there.
These days, the brand is still alive and well, and Tortuga is even releasing some new products optimized for travelers.
The Tortuga product offering is rather simple now. You can shop for travel backpacks, the Laptop Backpack (this review!) or accessories. If you want to keep all your travel gear matching, you can go with all Tortuga gear, because it all comes (only) in black. Honestly, I like black a lot: it shows less dirt, fewer scuffs, and looks minimalist in my travel photos.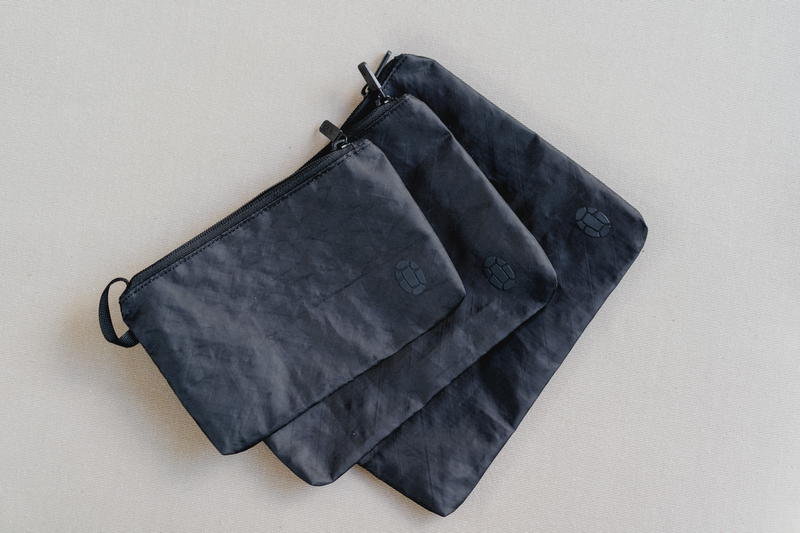 Tortuga started with two friends who agreed that suitcases didn't let you travel hands-free, and that the type of luggage you have can really make or break your trip.
Tortuga products prioritize a few very meaningful travel qualities: durability, comfort, organization and size. They emphasize the importance of the airline traveler who will be seeking for easy-to-understand yes-no answers on questions like, "Is this bag the correct size to be a carry-on?" or "Can this bag fit under an airplane seat?"
Recently, Tortuga has started grouping the Tortuga products by function or purpose, which is a nice thing to explore on the website. You can search by under-seat luggage, carry-on luggage and commuter backpacks. The website also calls out features like bags that protect against theft and pickpockets.
We've listed Tortuga products in some of our travel product roundups like the best packing cubes for travel and the best travel backpacks for women (most of which are unisex styles).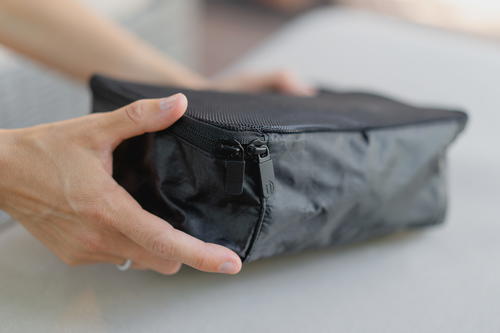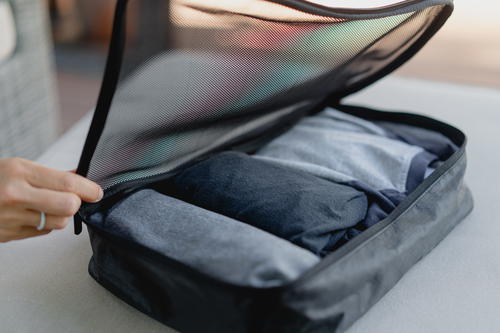 Background on the Tortuga Laptop Backpack
New as of 2023 to the Tortuga lineup is the Tortuga Laptop Backpack, an addition to the already-existing carry-on sized 30L and 40L Travel Backpacks. It is a totally unisex bag geared toward travelers of all ages who appreciate quality builds and comfort.
The Laptop Backpack is meant to be a "personal item" on a flight. As you'll see in my experience traveling with it, below, it is a pretty roomy and forgiving backpack to take as your under-the-seat item on a plane. It fits perfectly below the seat in front of you.
The Laptop Backpack is probably meant for the traveler who wants to travel and work remotely, as I often do. If you know me or Dan, you can sense that we are always working on this website and all our gear reviews!
In addition to focusing on safe laptop stowing and handy pockets, the Laptop Backpack from Tortuga organizes my in-flight essentials (everything from a spare toothbrush to an extra shirt). It's also a day bag or daypack, that can take you to a coworking space or maybe just around a new city, when you need a backpack that'll fit a windbreaker, a water bottle, a guidebook or snacks.
The more I've used this bag, the more I can also see it working as a daypack shared between two people, because it could probably fit two peoples' sweaters, travel-sized umbrellas, a travel camera or other things. Two people could take turns wearing this backpack around a city so that one of them can take a break from wearing a backpack. I think I'll suggest this idea to Dan.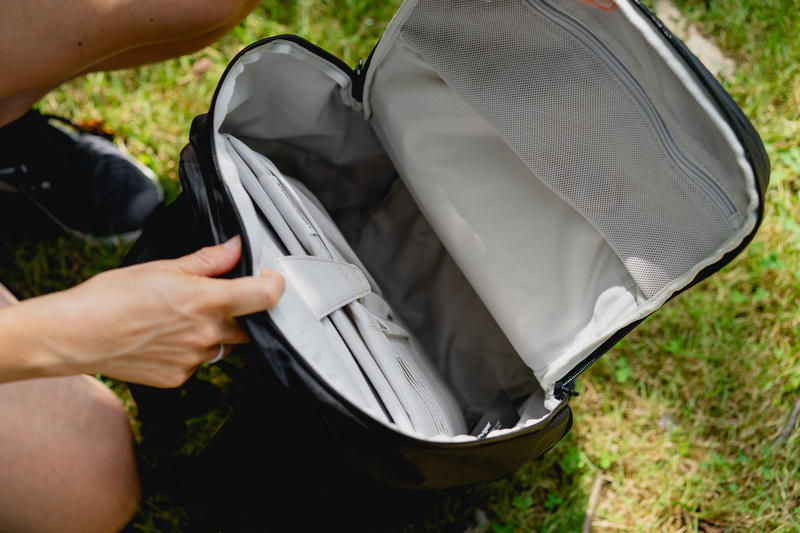 Main features of the Tortuga Laptop Backpack
Here are the main features of Tortuga's Laptop Backpack, as well as my thoughts on them and how they worked out for me during my trial run with the bag.
I went to Halifax, Nova Scotia and used the Tortuga Laptop Backpack as my personal item on the flight, while checking my Quince suitcase that had my, Dan's and our baby's stuff.
(Here's a photo of me with the Tortuga Laptop Backpack)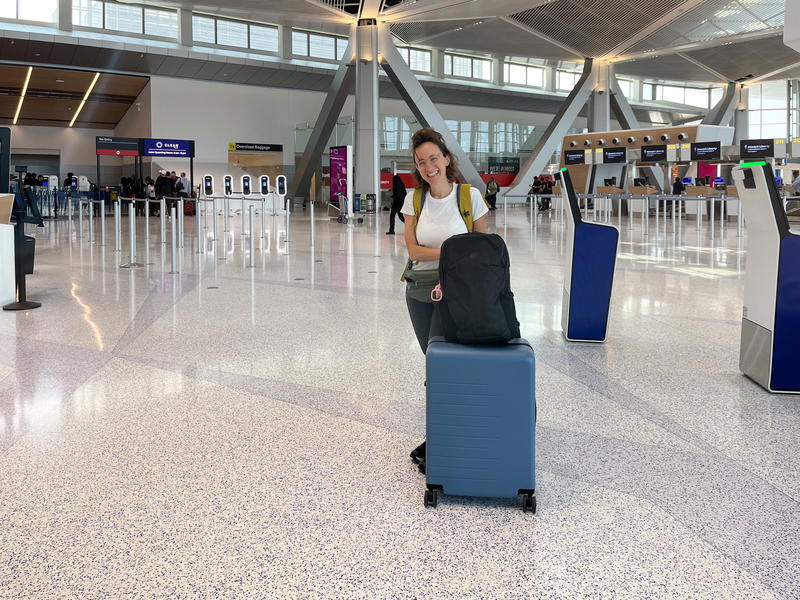 Sized to be a personal item
I found that the Laptop Backpack is a perfect bag to go under the seat on an airplane. And speaking of going to the airport, it's easy to take out my laptop from the laptop compartment during airport security.
The size of the backpack worked out well for me. I was able to fit a sweatshirt (I fly with the Aviator hoodie), my MacBook Air and a backup change of clothes (in case my checked luggage got lost — a real fear of mine because I am a carry-on type of person). I also fit in a heap of veggie travel snacks and travel day essentials, like some travel-sized toiletries and passports for me, Dan and our daughter.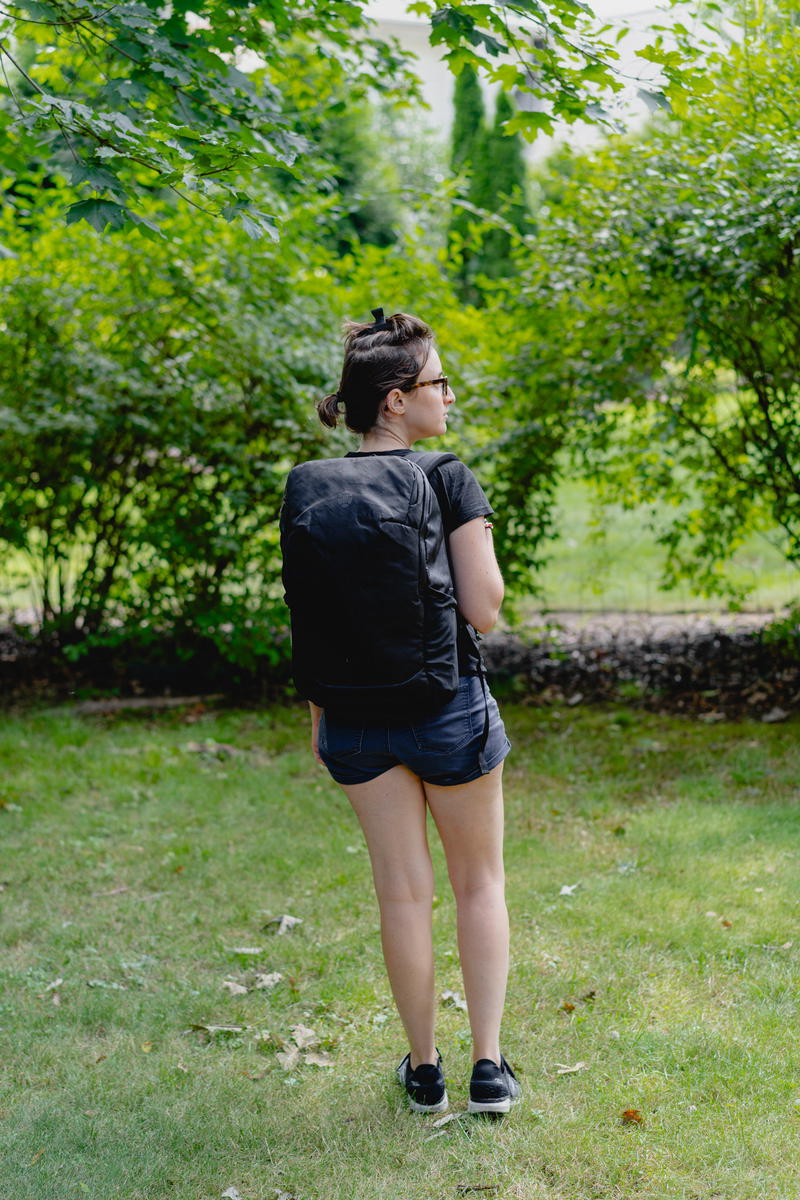 Laptop compartment
I like that I can access my laptop in this backpack from the sides or the front. Specifically when I'm going to be flying, it is important to me to have a backpack that has a dedicated laptop compartment with its own zipper.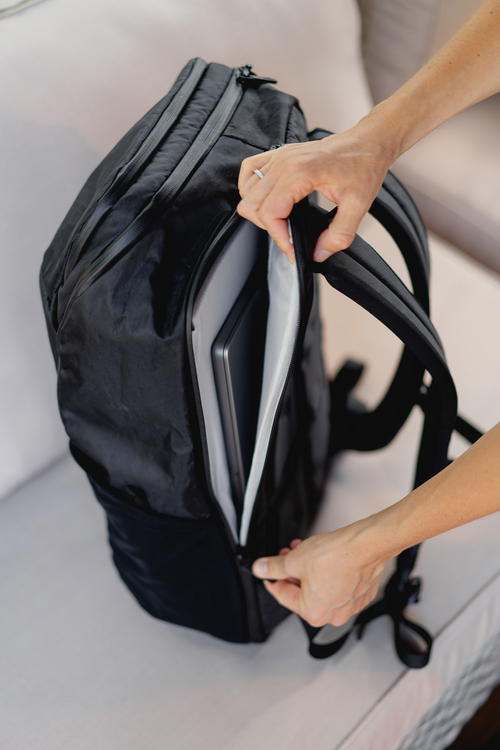 Gone are the days when I'm going to fly with a personal item that has to go through security, and my laptop is in a sleeve with stuff like a jacket and my snacks (see a theme here?) layered on top of it. This gets messy.
The Tortuga Laptop Backpack has a padded laptop sleeve (it'll fit up to a 16" laptop), lined with handy pockets. It has a Velcro flap that keeps the laptop secure and avoids sliding.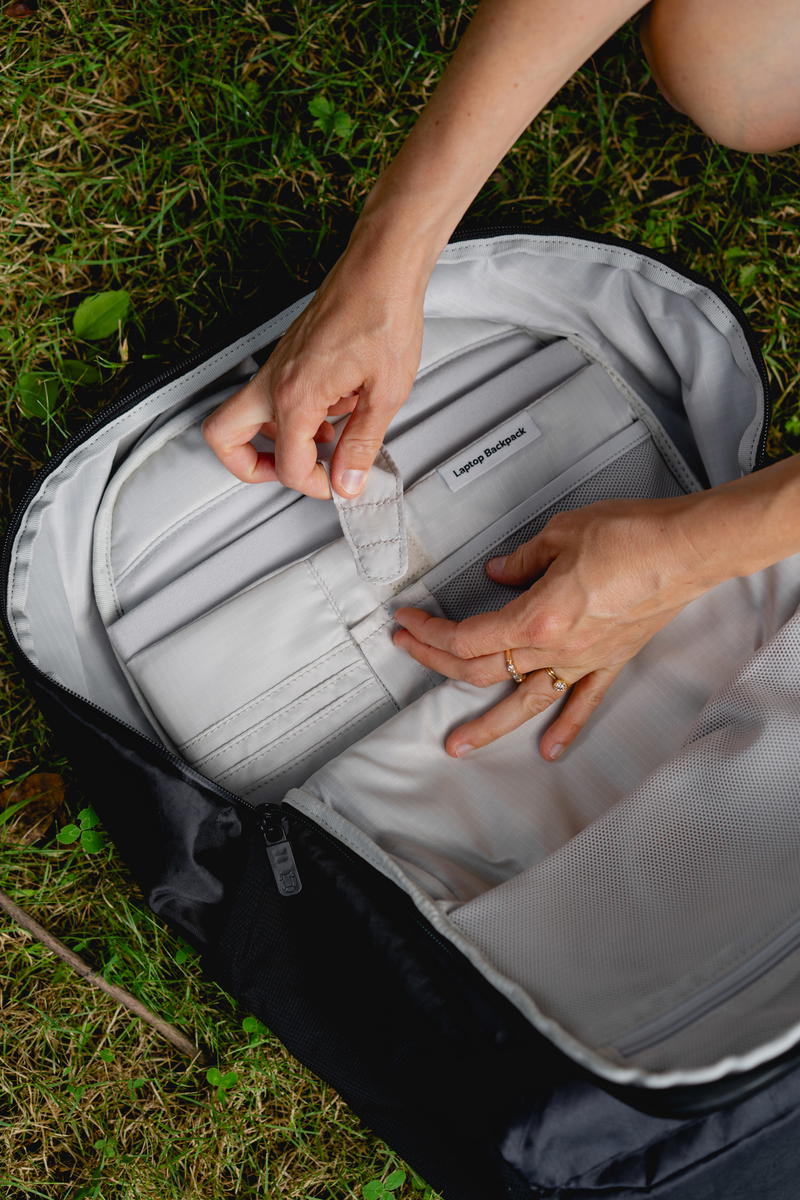 The pockets on the laptop sleeve have spaces for things like an Apple Pencil, a pen, card pockets (if you don't use a wallet, or have extra things like hotel keys and metro passes) and that tablet sleeve in addition to a smaller e-reader pocket. You could also fit a notebook in any of those flat larger mesh pockets.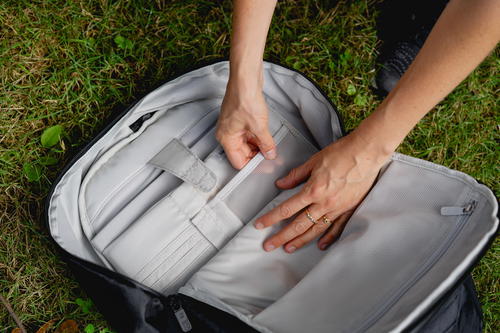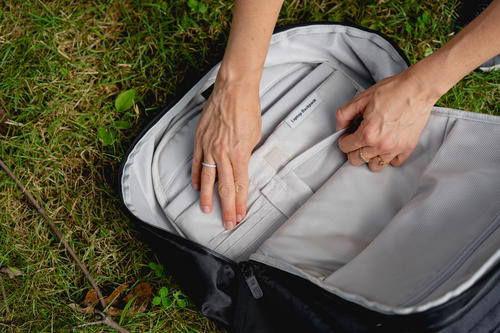 Laptop storage
Here's a tip: you can even fit two laptops and a small tablet (like an iPad) or Kindle inside. Dan and I sometimes share a bag when we go to a coworking space or cafe to get some work done. If we're not going far, we sometimes use one bag. This backpack works for us with his MacBook Pro and my MacBook Air.
We've brought along an iPad, and it also fits without any issues.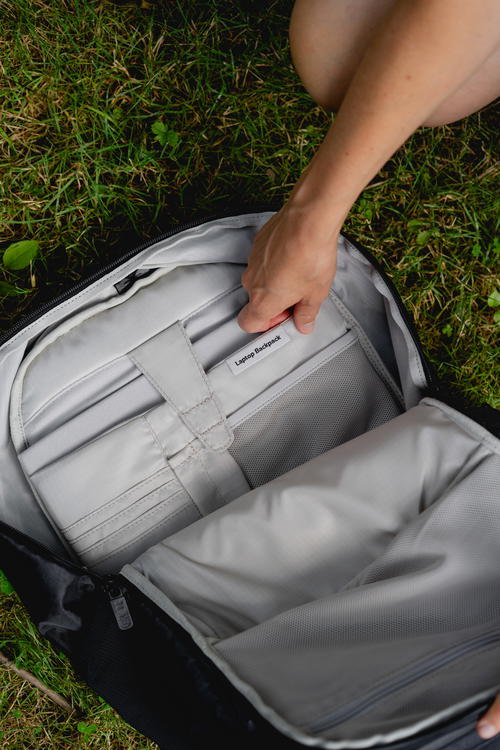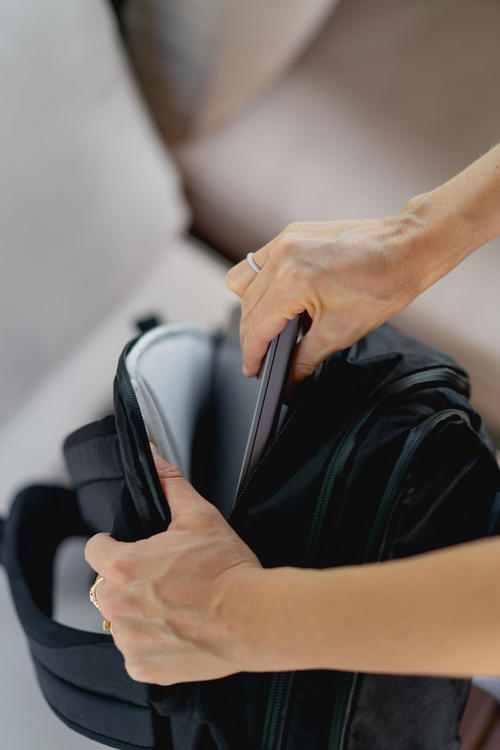 Two water bottle pockets
Yes, this backpack has two water bottle pockets (!!). This is great if you're a righty, or a lefty, or if you just can't decide which side to keep your water bottle on.
Or, maybe you walk around a new city with both a water bottle and a coffee thermos. Either way, I enjoyed that this backpack had two spots for drink bottles, because Dan and I used both of them during our trip.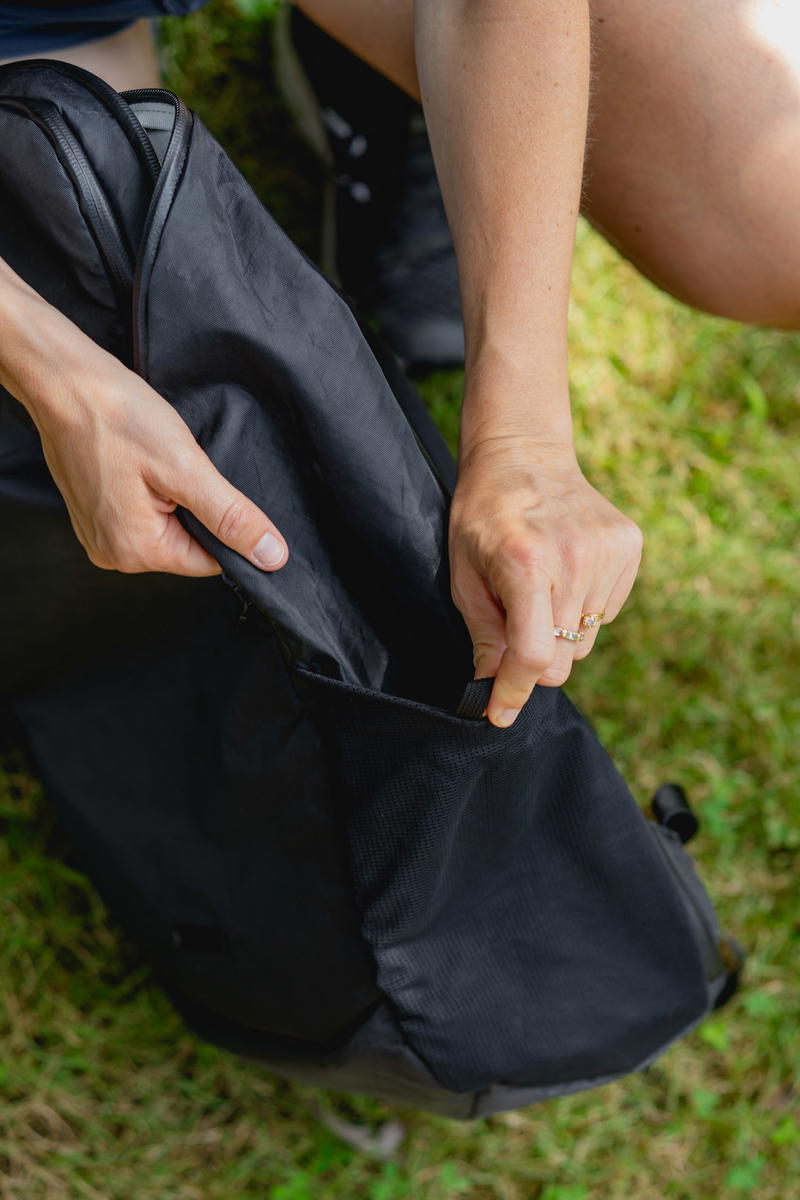 Front pocket
This pocket is best for storing flat items or smaller loose items, like all my granola bars (yes, I travel with quite a few, just in case I'm not near food and I get hungry).
You could fit a small Kindle in there, or a notebook for your travel journal needs.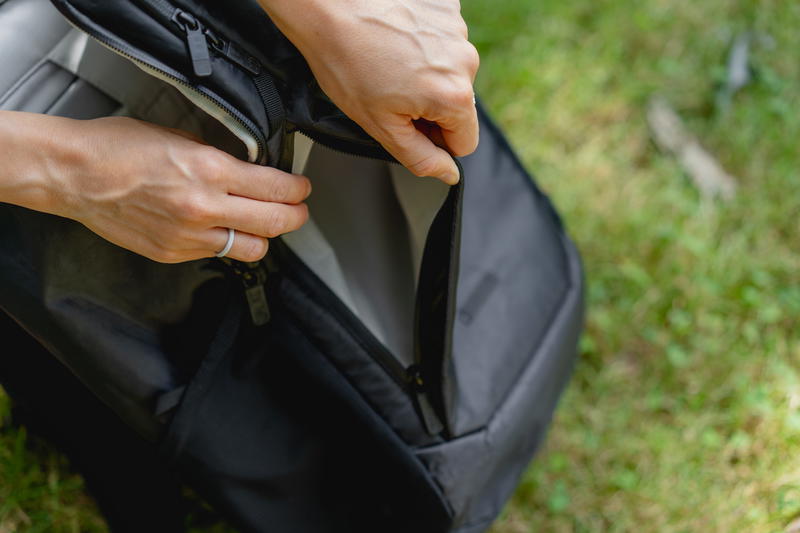 Sternum strap
I'm a fan of sternum straps, because, as someone on the short and small size of average American adults, I like something that can help take weight from my shoulders and put it elsewhere.
I often wind up using sternum straps on backpacks and the Tortuga Laptop Backpack has one that adjusts and slides.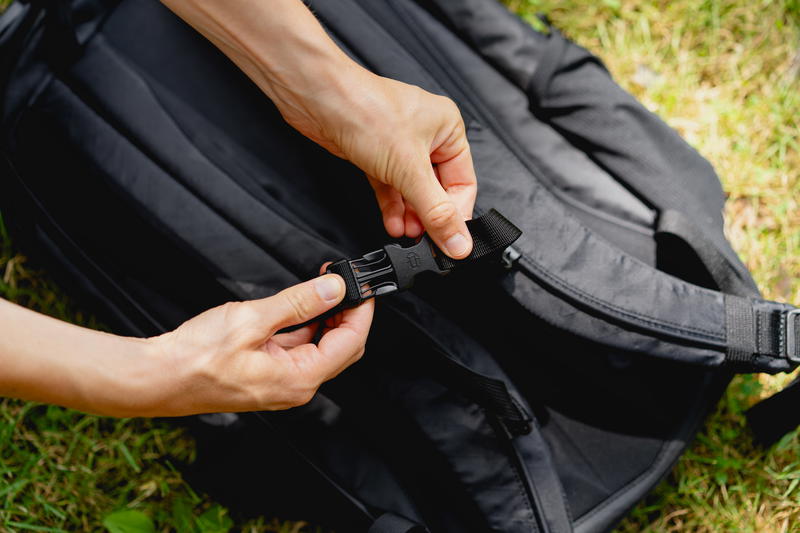 Luggage pass-through
I definitely used the luggage pass-through strap to secure the Laptop Backpack onto my suitcase. It was functional. You'll see below in my criticisms what I thought could improve about it.
It looks like Tortuga recommends also using the sternum strap as an additional way to secure the Laptop Backpack to any suitcase when you're walking through the airport. Unfortunately, I didn't try this.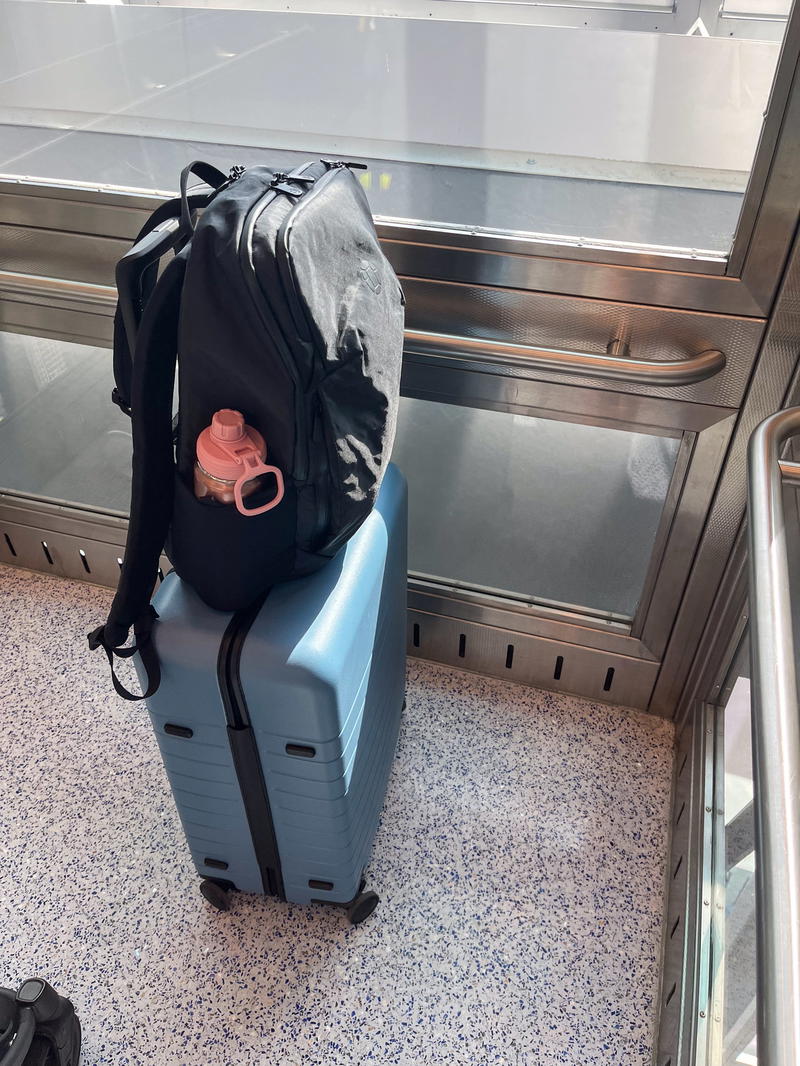 Above, you'll see a photo of how the backpack looks, stacked on my rollaboard suitcase.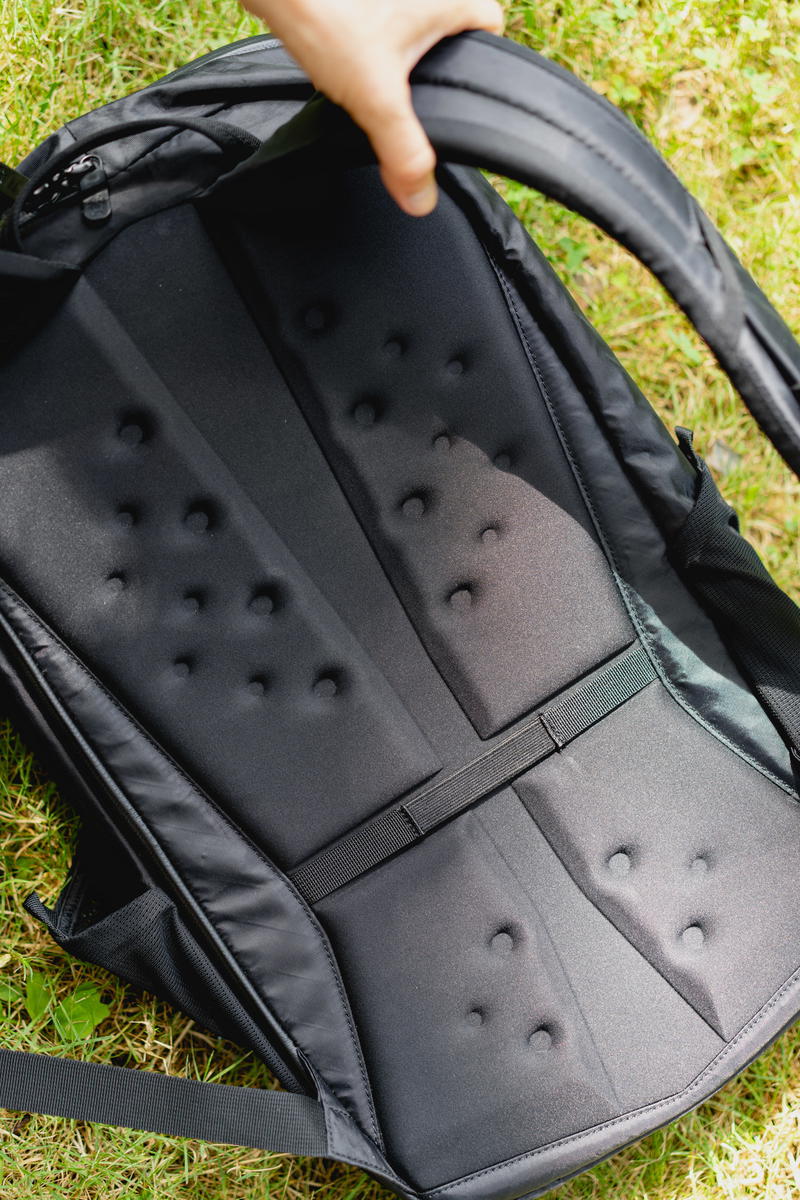 Grab handle
A grab handle is important to me, both for pulling a bag out of a car or an overhead bin, as well as hanging it from a hook in a restroom. The strap on this backpack is sturdy and strong.
Top exterior pocket
I used this pocket quite a lot, actually. Typically, I take trips with a travel fanny pack, but this time, we flew with our baby, and I used my Kibou, which didn't have room for our passports.
We kept all three of our passports in the top pocket of the Tortuga Laptop Backpack, so I was thankful for that pocket. It was just the right size, and very secure.
I also used the key holder to attach my keys, which I knew I wouldn't need during a trip to Canada! I wanted to make sure they were secure and in a specific place for when we got home.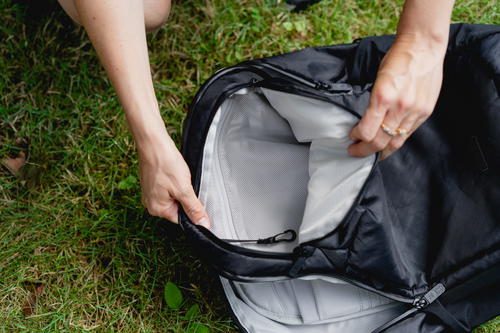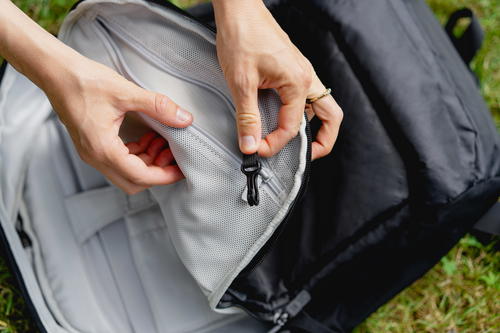 Also, for added convenience, the top pocket is also accessible right into the main cavity via a zipper. Surprise!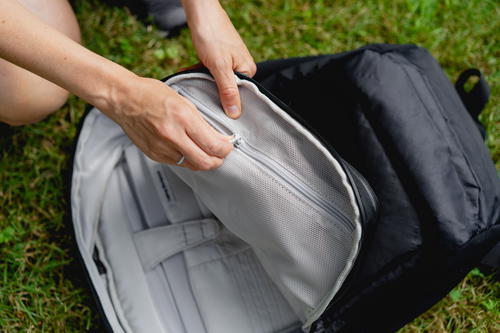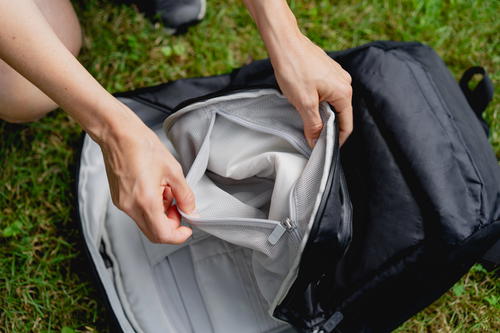 Lockable zippers
If you need to lock up your bag with valuables inside, or if you're checking out of your accommodation and leaving the bag in storage for the day, you can lock these zippers with a travel lock.
There's a small circular hole in the exterior zippers that can help protect against theft in these situations if you put a lock there.
What I didn't like about the Tortuga Laptop Backpack
In this section, I'll walk through some of the things that I didn't totally like about using the Tortuga Laptop Backpack.
Luggage pass-through
I found the luggage pass-through to be a bit thin and flimsy, which surprised me.
It worked when I needed to attach the back to my Quince rolling suitcase, but it was absolutely not as secure as some other bags that we've used, like the Trouabdour Ki Backpack or the Away Daypack.
It was the most surprising aspect, for me, and it seemed like an afterthought for a very well-thought-out and useful backpack. I think it could have been crafted in a different way and with thicker elastic.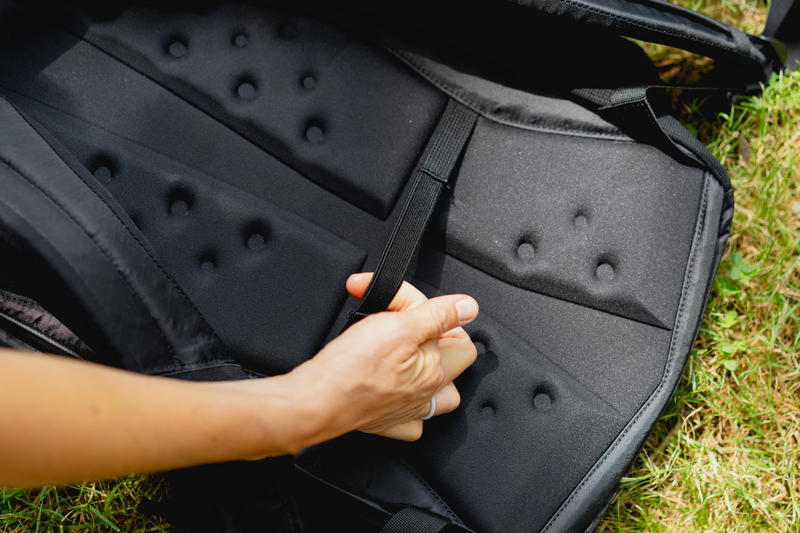 Laptop securing flap
The Velcro laptop securing flap on the padded laptop sleeve sometimes got in the way, and I wish it was removable. I didn't feel like I needed it during the times when I've traveled with my laptop inside. The friction from my laptop seemed to be enough to keep it in place.
There's nothing wrong with having extra protection. Some users of this backpack might feel like this gets in the way when wanting to take your laptop out of the bag in a quick setting, like at airport security.
I can see how it is useful for a MacBook Air, though, because a lighter laptop like mine can slide around more easily than a heavier and larger one. We tested the backpack both with my MacBook Air as well as Dan's MacBook Pro.
Top pocket
The top pocket, which can hold a considerable amount of stuff, felt top-heavy when I put a lot up there, like dense snacks. If you have a heavy tech pouch or maybe an empty water bottle, the top pockets tends to be a little floppy.
For this reason, consider that more lightweight items should go in the top exterior pocket to avoid the entire backpack being top-heavy (as I did experience this).
Not great for petite women
I'm short, at 5'2". In all honesty, I don't think this backpack looks too fantastic on me because I look best in smaller feminine backpacks, like my Troubadour Momentum backpack. I also have a small frame, and I wear petite clothes. It could just be that I'm not meant to wear a 24L backpack as a daypack. In fact, I do prefer smaller daypacks.
This bag looks great on Dan, though, and would likely look great on most men. If you're a woman taller than I am, or with any build bigger than mine, you should do just fine in how this bag not only looks, but feels, on your body.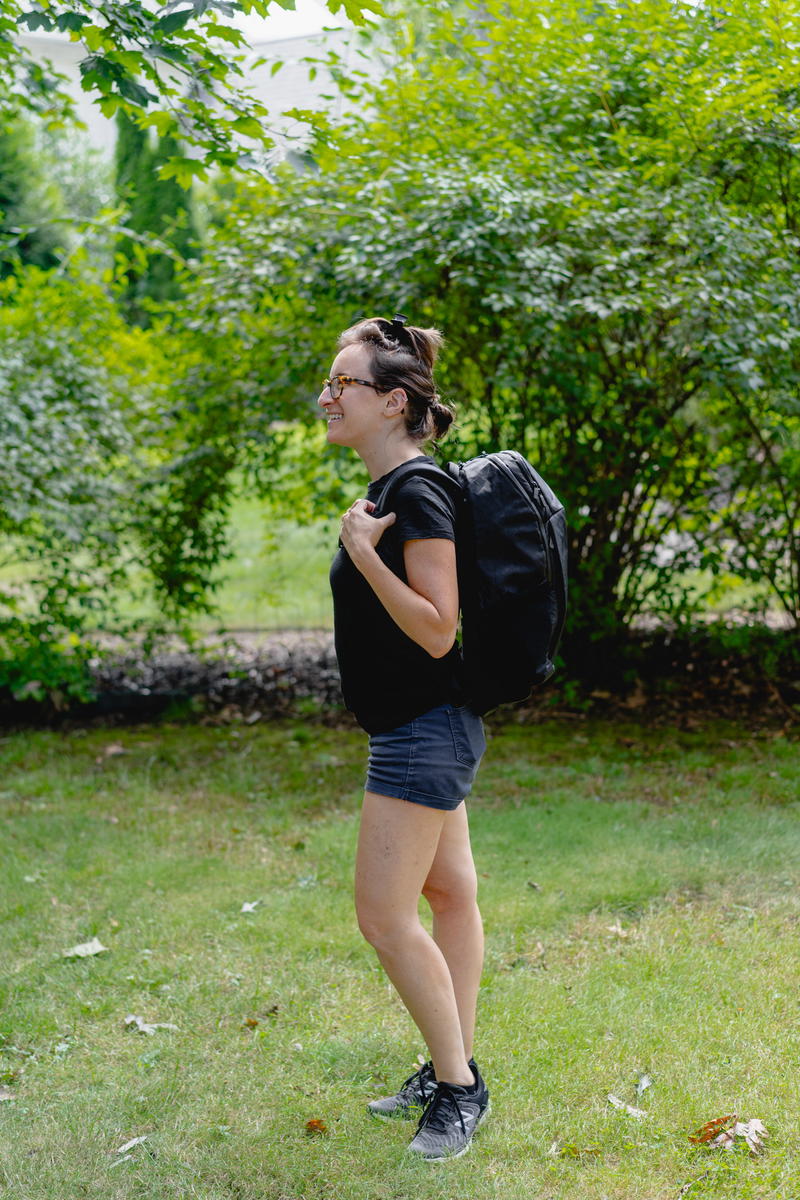 The materials and specs
When Dan and I test bags and travel apparel, we have a good sense if the product is high in quality by the feel. I'm sure you've felt the same thing when rummaging through stores where you normally shop.
Material feels cheap when it's thin, feels a little too lightweight, has flimsy and plastic zippers and low-quality hardware. In the past, I was using a backpack that had zippers that broke in just a year and a half of use. That was incredibly disappointing, because it put the bag basically out of commission for me.
When I first got the Tortuga Laptop Backpack, the material makeup immediately gave me a sense of, "Ah, this bag is built with a lot of intention in the materials and the design." Tortuga has a page dedicated to the material of their products, so you can learn more.
Here's a summary from that page:
The Tortuga Laptop Bag is made from 200D recycled polyester with a 200 gsm weight.
The material, SHELL200, is a three-layer laminated sailcloth, which is known for its durability, lightweight footprint and waterproofness.
It's fairly abrasion-resistant, and has a high threshold for tear strength.
The zippers are YKK, which are the industry standard of high-quality zippers. They better last for years!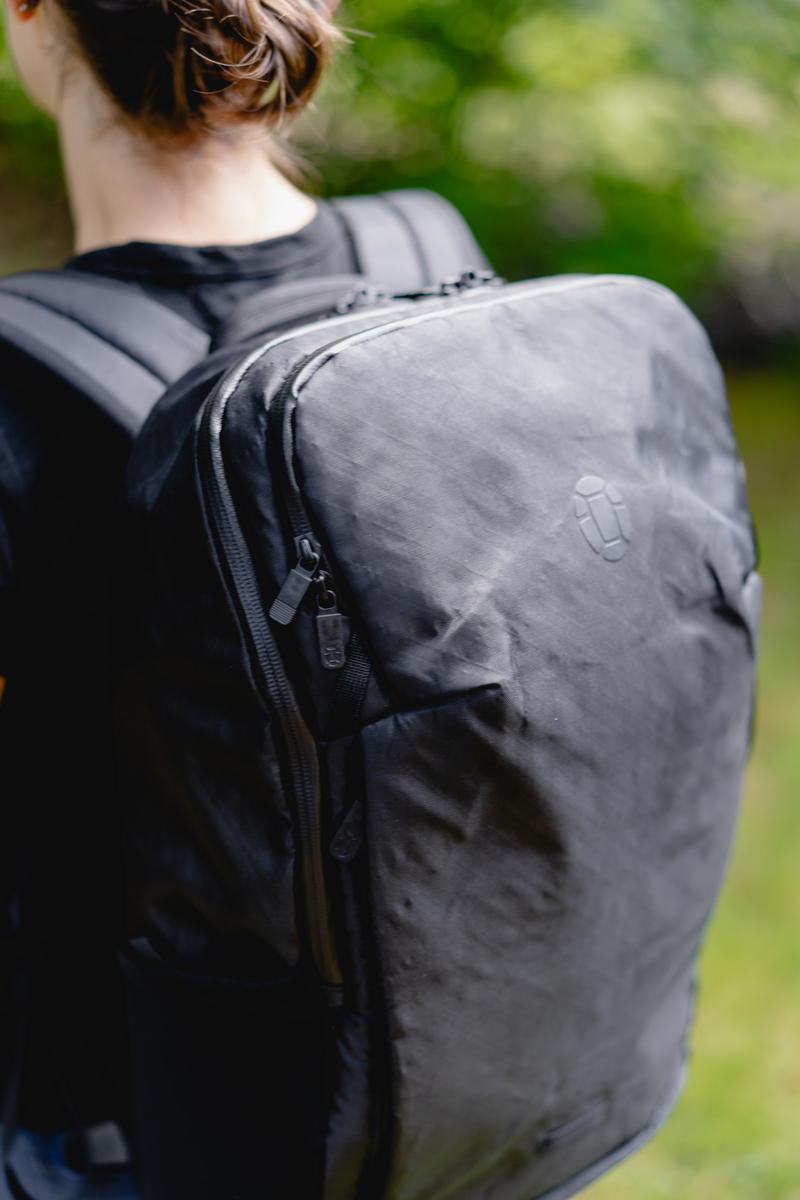 Volume
The volume of the bag is rated at 24L, and I feel like I can utilize that space fairly well. I categorized this bag as a smaller-size backpack in my list of the best women's travel backpacks, because it's not quite 30L, and it works as a larger-end daypack.
The top pocket has a good amount of space, and helps add to the back without feeling like I need to overstuff the capacity.
The main cavity actually felt like it was going to keep giving me more space. When I flew to Nova Scotia from NYC, it was one of the first times I left for a trip and my personal item was NOT bursting with stuff. I was kind of thinking like, how am I going to fill this up, and do I need to? Maybe I just pack more efficiently, nowadays!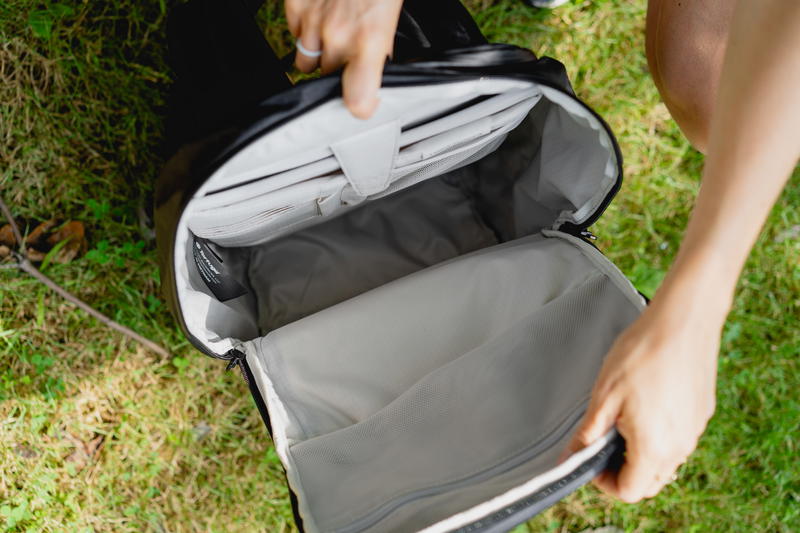 Weight
With nothing packed, the bag weighs 2.1 pounds. It's not too heavy, like some canvas or nylon bags, and it doesn't feel too light, as if all of your stuff is going to break the bag.
Even when full, the weight is supported through the cushioned shoulder straps and the molded back panel. I thought it felt pretty good on my back.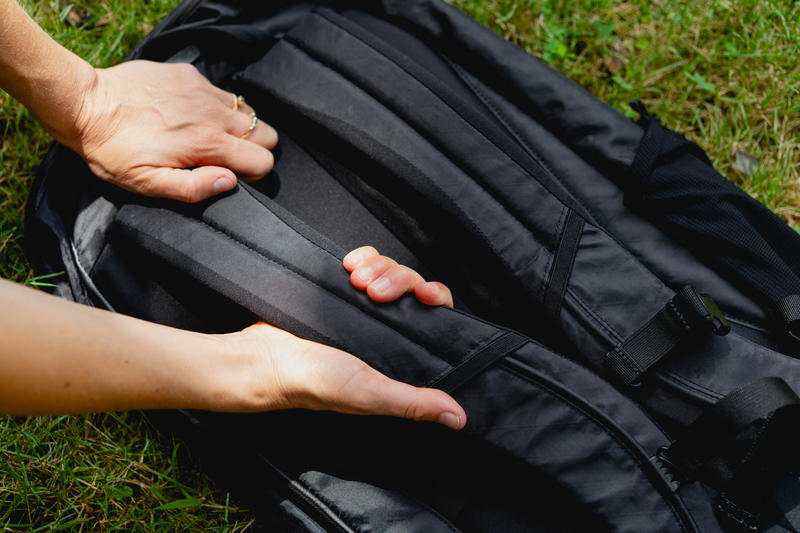 Where to buy the Tortuga Laptop Backpack
You can buy the Tortuga Laptop Backpack at the Tortuga website. I don't recommend buying it anywhere else, because if you buy any Tortuga product from Tortugabackpacks.com, you'll get the beneficial package of free shipping, hassle-free returns and the company's Worldwide Warranty.
Plus, if you're interested in the Tortuga tech organizer or a Tortuga water bottle for travel, you can bundle and save when you buy a Tortuga backpack. Just scroll down a bit until you see the opportunity to "Bundle and Save."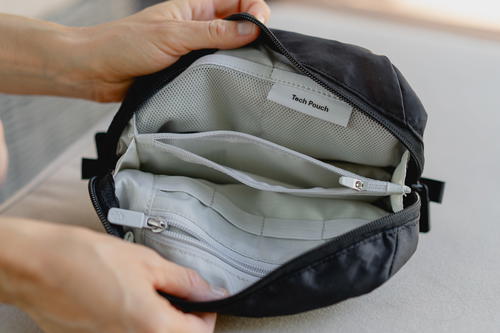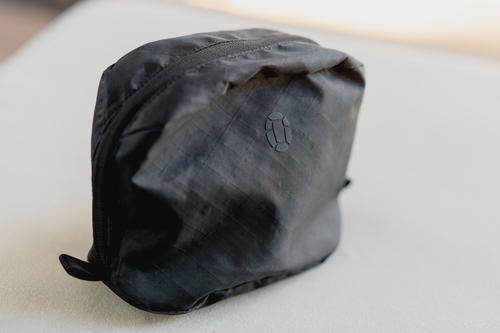 Why trust me for backpack reviews?
I've reviewed a lot of backpacks and I've had even more through the years that I've tried, tested and passed on, to make room for new ones! I think Dan and I have about 20 backpacks (don't tell anyone that, as it makes me feel kind of crazy).
I value things like how a backpack feels on my back, how it supports weight and how it's designed in terms of functionality and organization. I also take the price-for-quality into account, as well as how a travel bag looks and if it's timeless.
I tested a majority of the backpacks you see in the best travel backpacks for women and if you would like to see all my reviews of traveler gear as well as women-specific apparel, check out Becca's reviews within our site.
Enjoyed our article?
Consider supporting us! We're a 2-person team (learn more about us here) and your support enables us to create quality content. Thank you!