Aer Fit Pack 3 Review: More than a Gym Bag
Written by Dan
•
Updated on September 6th, 2023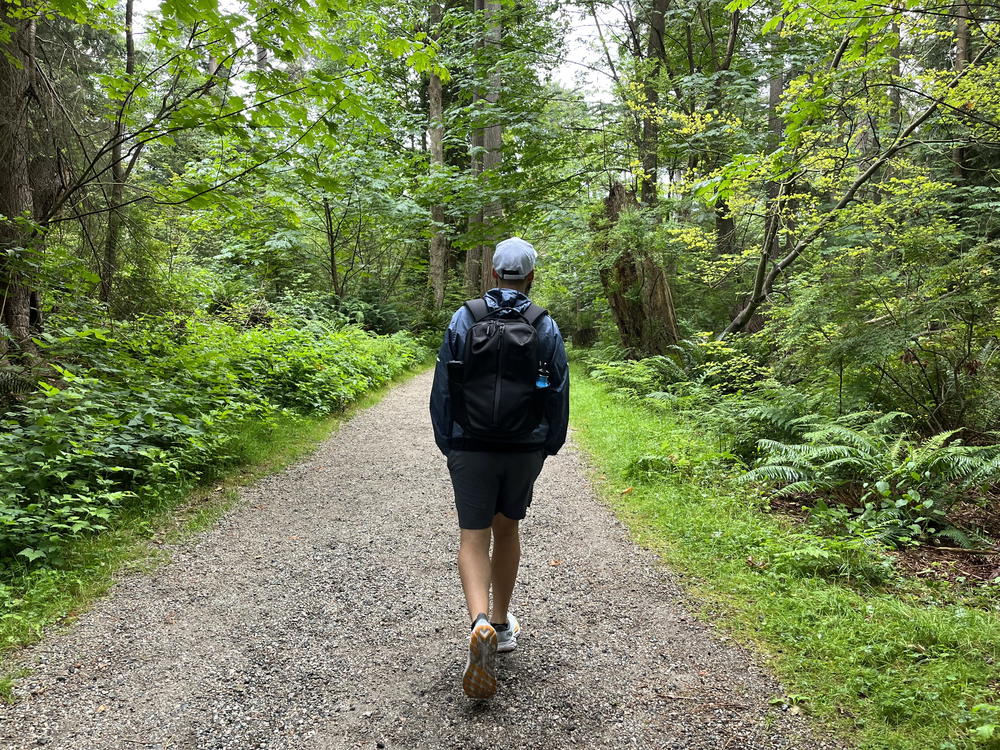 The Aer Fit Pack 3 is built as a smart gym bag, a laptop backpack and a travel daypack. See our review of this cool and sleek backpack to see if its unique build is also functional.
This article may contain affiliate links. We earn a small commissions when you purchase via those links — and it's free for you. It's only us (Becca & Dan) working on this website, so we value your support! Read our privacy policy and learn more about us.
Table of contents
Close table of contents
Over the last few years, I've tested and accumulated a lot of different backpacks. I have found, of course, that there's no perfect bag. It always seems like you need a little more space. Or, the bag feels too bulky for what you need it for.
I welcomed the Aer Fit Pack 3 to my collection of backpacks and daypacks. It's not perfect, but I've really enjoyed using the bag for work, travel and fitness. In this (completely unsponsored) review, I'm going to highlight some of the things I've enjoyed, some of the things I don't like and everything in between, regarding this sleek backpack.
We actually received this bag from Aer when writing about the best backpacks for women. Becca liked the bag, but I liked it more! I've started using this bag for when I go to work, which only strengthens the case of how good this backpack is.
I recently used it as my daypack, flight personal item and work bag on a trip to Canada.
Anyway, let's get started with all the features, impressions and worthwhile-ness of this unique laptop backpack that can hit the gym.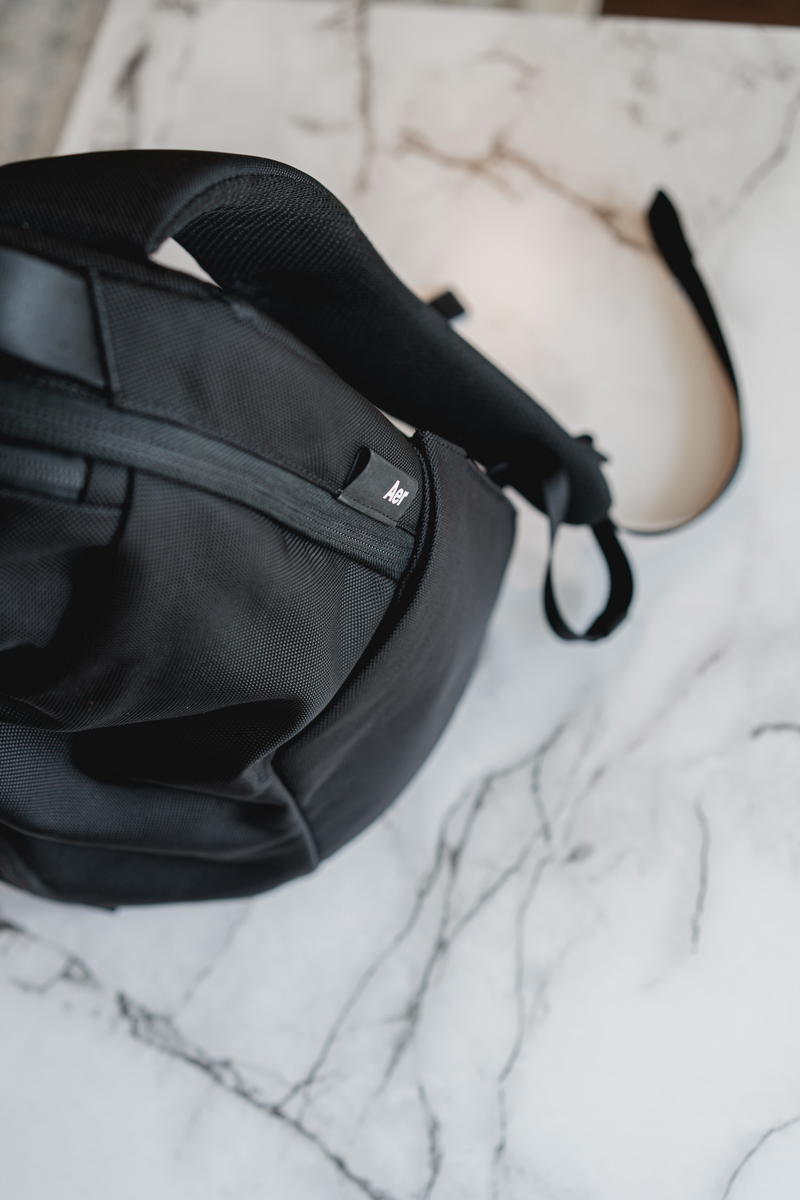 Materials & features
When we first took the bag out of the box from Aer, the materials were the first thing that we noticed.
Everything felt extremely high in quality. If it means anything to you, here are some of the technical specs of the materials:
1680D Cordura® ballistic nylon exterior
YKK® zippers
Duraflex® plastic hardware
Next, you start to flip and turn the bag around and notice how cool the bag is.
From the inside-out, there are a lot of things to talk about. Before going into the specifics, it's important to know the Aer Fit Pack 3 has an 18.7-L capacity and weighs (only?) 2.5 pounds.
The backpack is rather unique because it has a bottom compartment for something (likely shoes) and a vertical zipper up the front of the bag. The main volume capacity is sort of on the "outside", because it's accessible via the outermost compartment. I'll talk more about this later on in this article.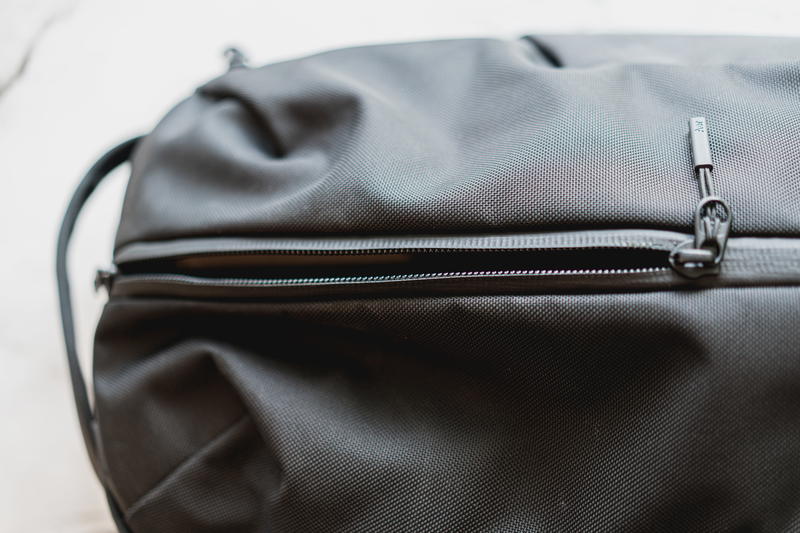 On the outside of this backpack
In this section, you'll learn about everything on the outside of the Aer Fit Pack 3. What's not covered in any of these sections is that the exterior material is water-resistant.
Other bags that I have that are made from ballistic nylon do a really good job when wet.
If you throw the bag in a pool, sure, it'll get wet. But if you're transitioning from taxis to somewhere inside in the rain, or if you get caught in a surprise sun shower, everything inside will most likely stay dry. This is a great value-add, and crucial if you have a laptop inside.
Straps
The straps are wider than your average backpack straps. They are the same width as some of my bigger 45-L travel backpacks like my Tom Bihn bag. This is a positive thing because the weight is well-supported and the straps are really comfortable for someone my size.
The insides of the straps (the aspect that is closest to you) are soft and have a lot of cushion. There's a slight mesh material that probably makes them a tiny bit more breathable.
The exterior of the straps (the part that faces outwards) is a little thicker and has more structure. There is an adjustable sternum strap that you can leverage if you want help supporting the weight.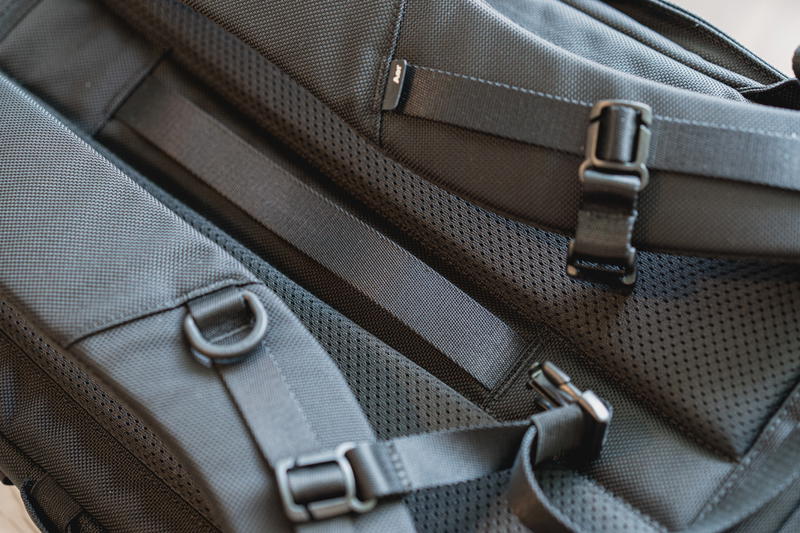 Water bottle holder(s)
There are dual water bottle holders on the Aer Fit Pack 3, which is unique to a bag this size. I enjoy this feature because water bottle pockets are like the gas tank on your car. Hear me out on this one: you always forget which side it's on, especially when it's behind you.
What if your gas tank was on both sides of your car? That's what this bag is like for water bottle pockets. I appreciate it a lot.
It's also good because sometimes Becca and I will be out for the day, and she'll take her Public Rec fanny pack, and I'll take a backpack. With the Aer Fit Pack 3, we can fit both our water bottles externally on the sides.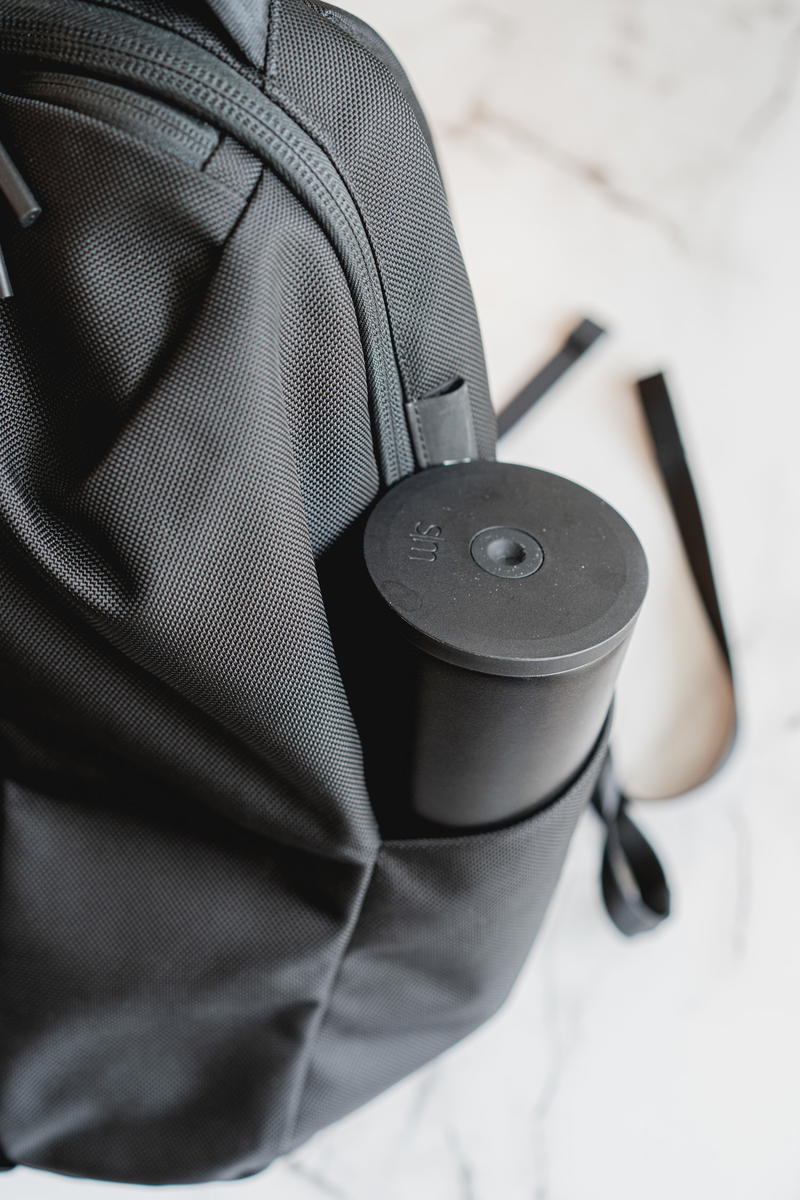 This feature shines when you're going to the gym, or bringing this bag to a workout class, because you can bring multiple drinks with you as well. You might want to bring a water bottle for during the class, and a bottle of a hydration drink, for afterward.
I've mostly used this backpack with one water bottle, and I enjoy being able to pick the side on which to carry my bottle.
The actual pockets for your water bottle are nice. They sit flush with the bag, and have a feature to expand when you apply pressure to the inside. When you're not using them, they don't flare out like some bags do. They look sleek, modern and cool. Seriously.
They can expand to fit large water bottles, too. I have this Simple Modern tumbler and the Aer Fit Pack 3 has no trouble accommodating it.
The water bottle pockets are also semi-waterproof. When I was on my trip in Canada, I filled up my tumbler, and must not have closed it all the way, because I noticed a small puddle sitting inside when I took my bottle out. I literally turned the back upside-down to dump the water out. Nothing inside got wet!
Handles
The Aer Fit Pack 3 has two handles. There's one at the top, and there's one that sits flush on the back part of the bag.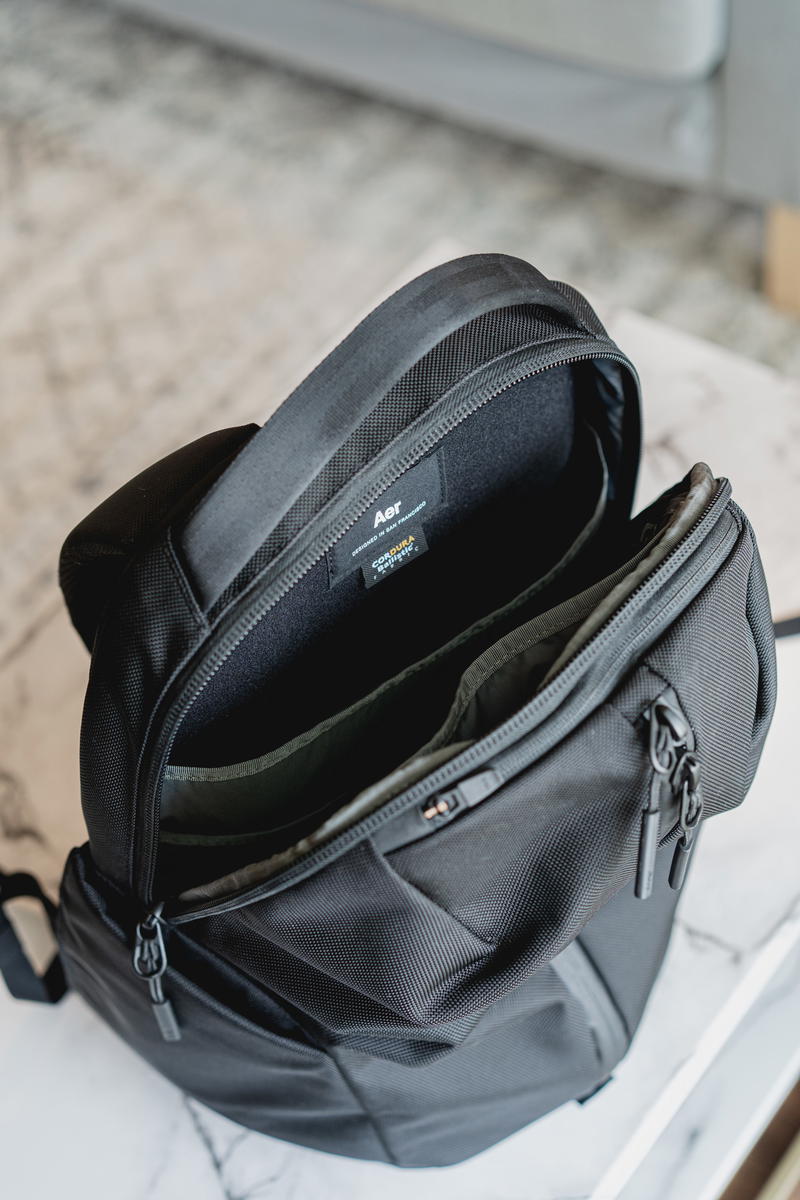 The top handle is really well-enforced and supported, so as you are carrying the backpack with this strap, it feels strong and secure. It's made from smooth material, which creates a nice dense cushion.
The hidden back handle is useful to use as a pass-through on a rolling travel bag. It's also a nice feature to use if you want to be able to grab your bag from this handle after passing it through the security scanner at an airport. It's also great for pulling the backpack out of a cubby at the gym, or from the floor, at work. It's nice to have it.
Zippers
All of the zippers are the highest quality, and they're snug and secure. This is hugely important to both of us in a backpack feature.
The Fit Pack came with zipper pulls on the front vertical zipper and on the middle laptop compartment zipper. The rest of the zippers have plastic tabs. They're easy to grip, and strong.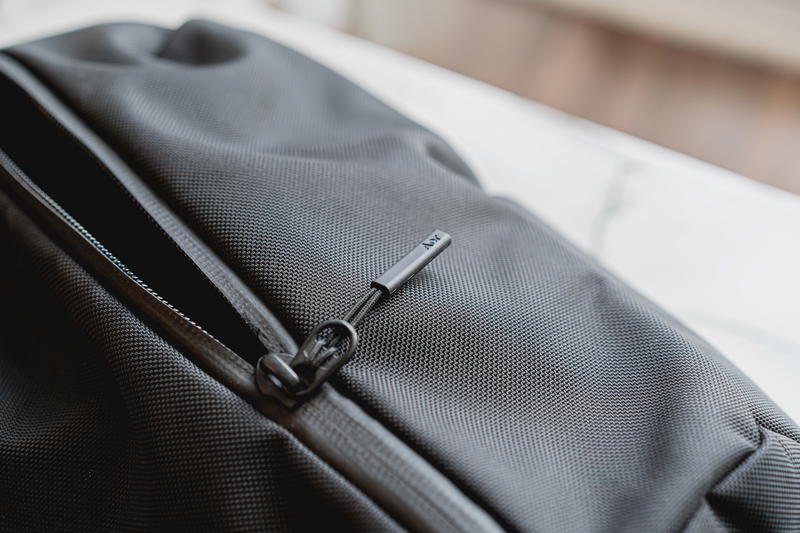 Pockets
The Aer Fit Pack 3 has three compartments with a bonus mini compartment. You have the front butterfly-style section, the "shoe" section on the bottom, the inside-center compartment and something else perfect for your phone, passport, keys, etc.
I'll go over how I've used all of these sections, but keep them in mind for context!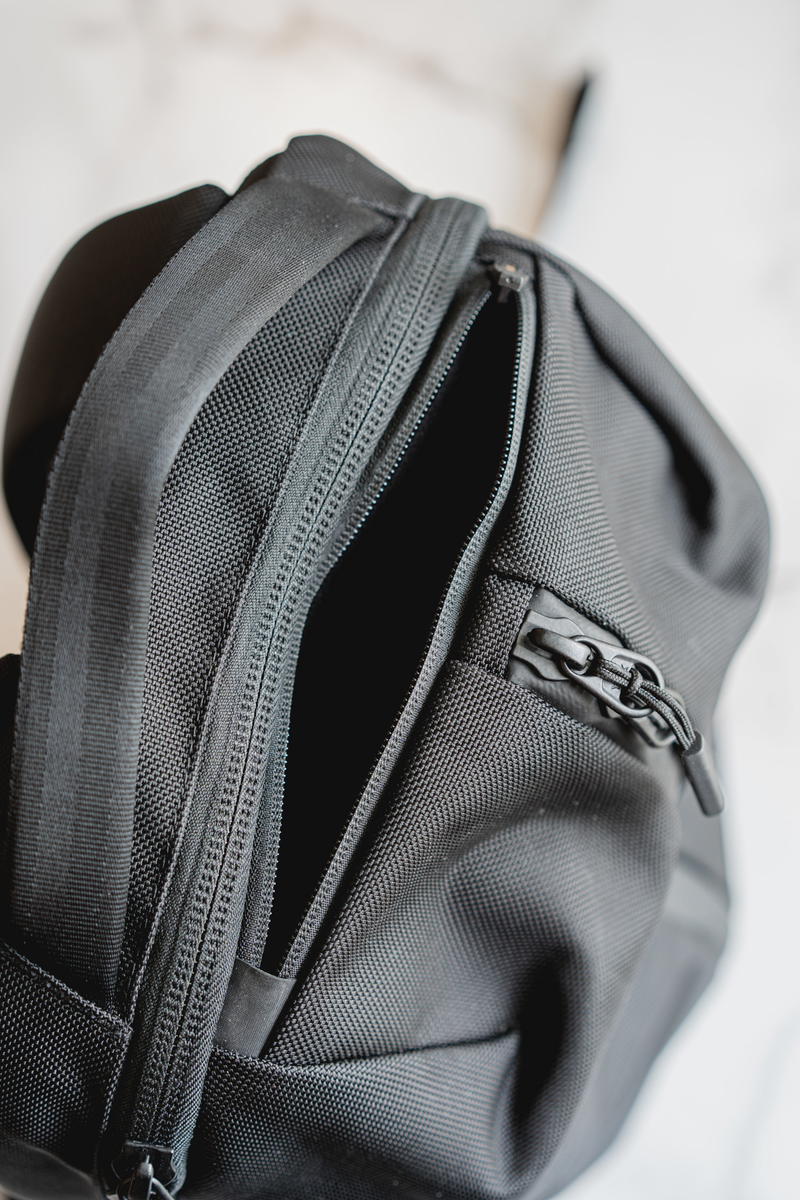 On the inside
The inside of the bag is probably what you're here for. The inside of the bag serves the purpose of transporting your things safely and efficiently.
I'm going to go over some of the inside features that I've found the most useful when using the Fit Pack 3.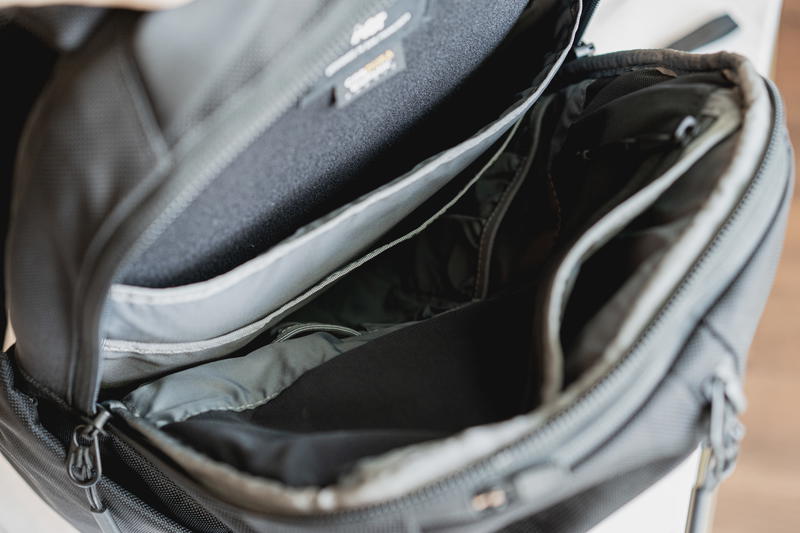 Organization
Bags serve their purposes when they have proper organization. For me, organization means different places to put your things. The number of things you can fit will be touched on in the storage section below.
I got the most use out of the different organization compartments when I was traveling, because when I travel, I bring a lot of small items with me. And, I want to have them all easily accessible.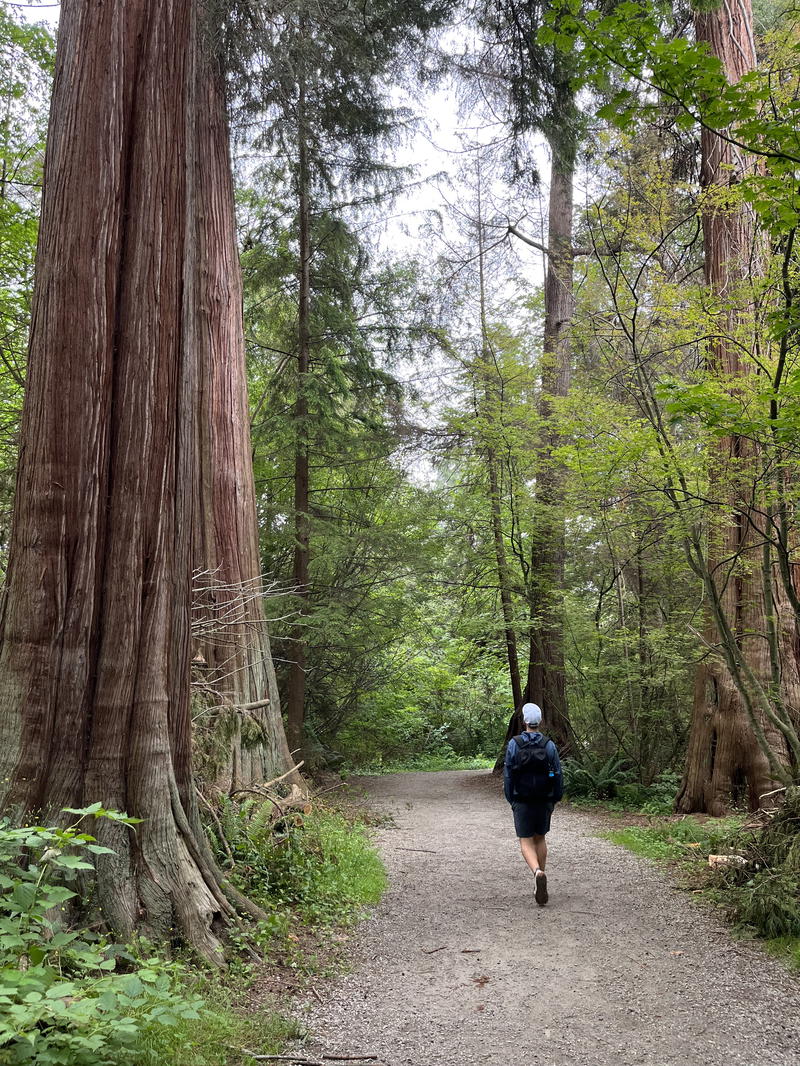 When I'm on an airplane, I want to have my passport, my phone, a backup battery, some healthy snacks, my glasses, a warm layer and my headphones, all easily accessible. With most bags, you either need to have everything loose or BYOS (Bring Your Own Storage).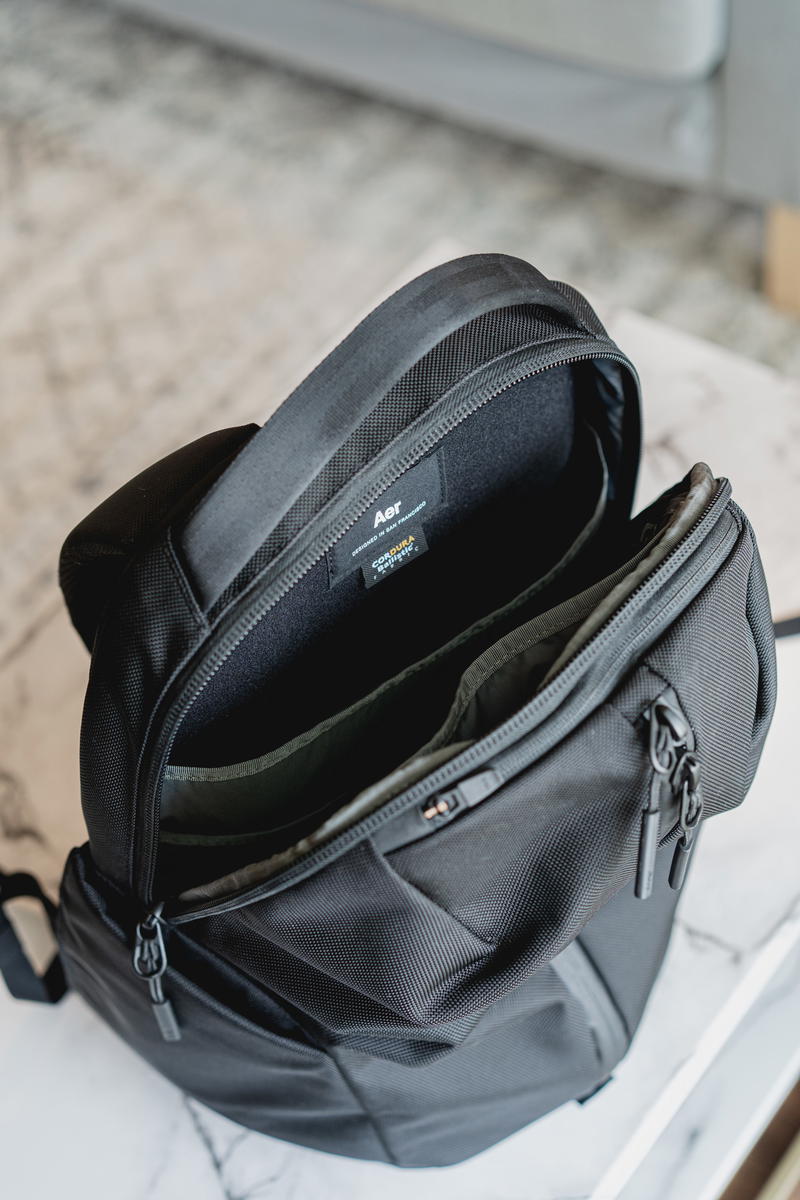 I really like my Peak Design Field Pouch to organize and separate even more things, like charging cables, and more of the items I don't need to access often.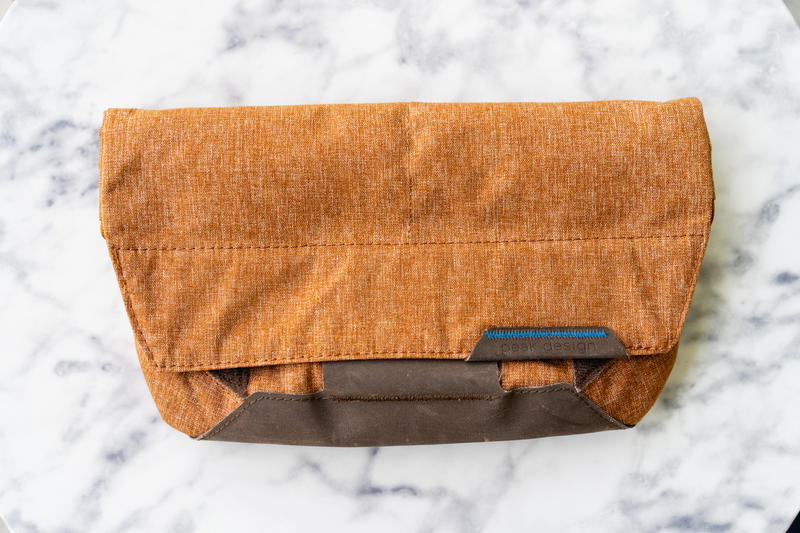 The Fit Pack 3 has plenty of pockets that allow you to easily access whatever you need. The outside of the bag comes with a pocket perfect for something like a passport, notebook or a phone.
When you get into the inside compartment, there is a row of organization pockets that's good for pens or really anything that you need to stash away.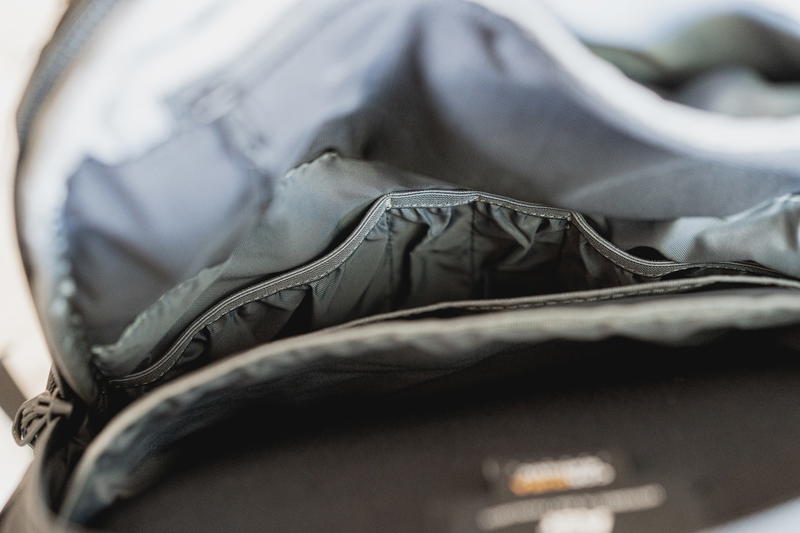 There's an additional inside organization sleeve that I used for my Kindle, AirPods and glasses case.
I did use my Peak Design Field Pouch often, and stashed it on the front access compartment. It was the perfect size for that.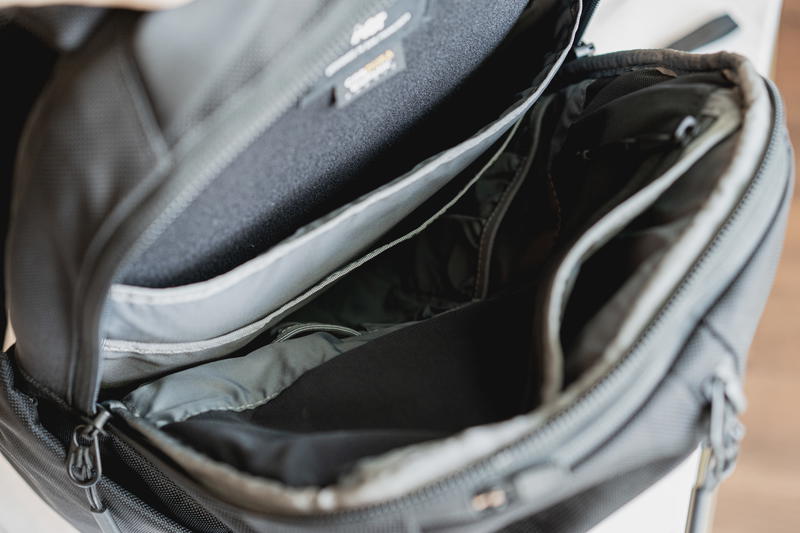 Storage
Storage with the Fit Pack 3 is interesting. If you're used to a bag with a main cavity where you put everything inside, well, this isn't it.
I kept putting "shoes" in quotes when talking about the bottom compartment because I ended up putting my camera in that compartment. It's a perfect place for it. I used this space to get my camera out of the way from other things that I needed to access.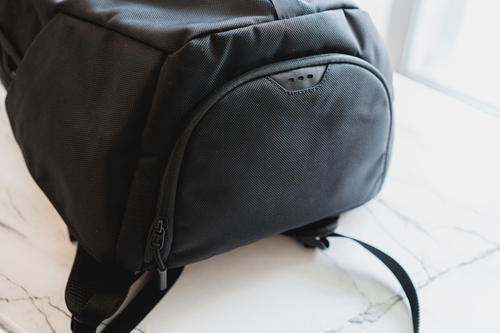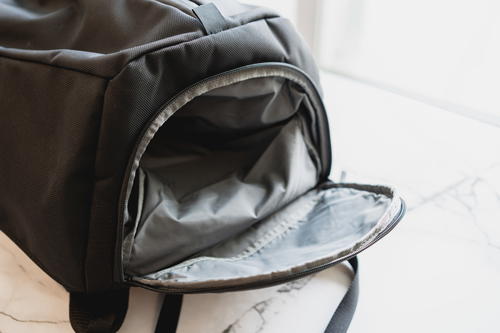 The front access compartment has plenty of storage. The bottom compartment eats away at your overall capacity, so keep that in mind. Keeping shoes in the bottom zipper cavity will probably mean less room for other things in the front. It'll take up significant volume.
During my traveling, I put my Peak Design Field Pouch, a bunch of snacks and two layers (my Aviator merino wool hoodie, and a lightweight running jacket) inside. On an airplane, it was pretty convenient (more than I thought) to access things inside.
I wouldn't put too many things loosely inside because of the risk that some things could fall out.
On other types of trips and uses, this is nice for clothes or other bulkier items. This is a great place for a picnic blanket or anything to that effect.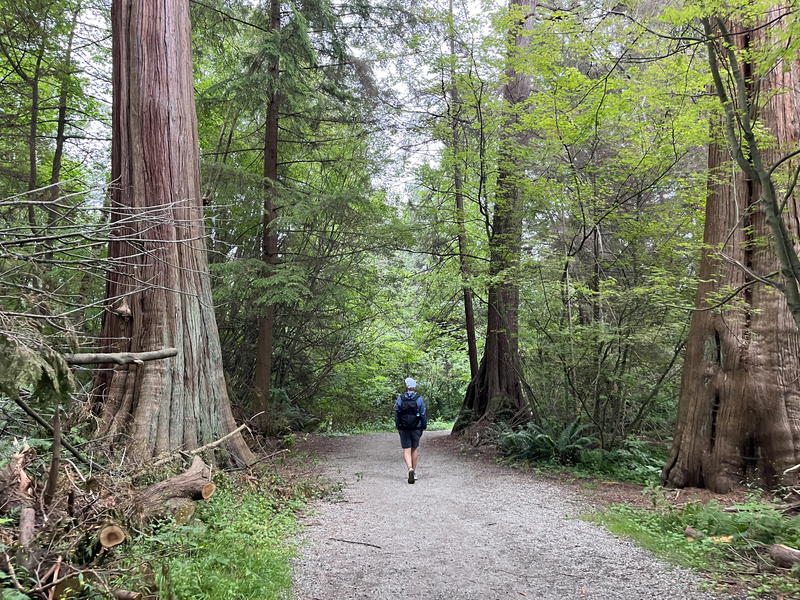 Material
There are a few different types of material on the inside of the Aer Fit Pack 3. Some bag interiors are basically the flip side of the outside material. Not this one.
The Fit Pack 3 has some additional material sewn in. First of all (duh), there's extra material for the compartments and organization. The interesting piece of material is the felt-like backing that you find around the laptop compartment and other sections.
You can feel confident in traveling with your laptop without the risk of scratching the exterior. To be fair, I've never scratched my laptop with any bag.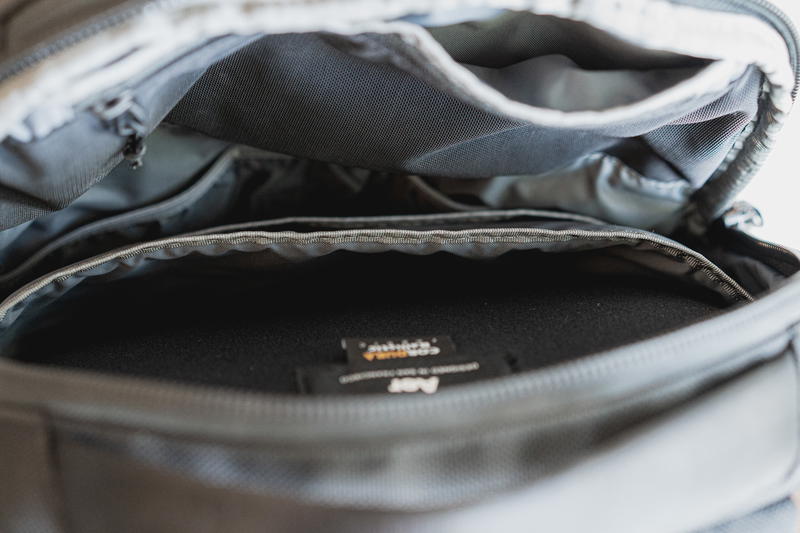 Function
With everything combined, this bag is highly functional. Like I said above, a lot of my specific use case was travel and needing to carry a wide variety of small items. The Aer Fit Pack 3 backpack served a great function for that purpose.
I think because I talked so much about travel I wanted to dive a little deeper into other places where this great backpack would be ideal.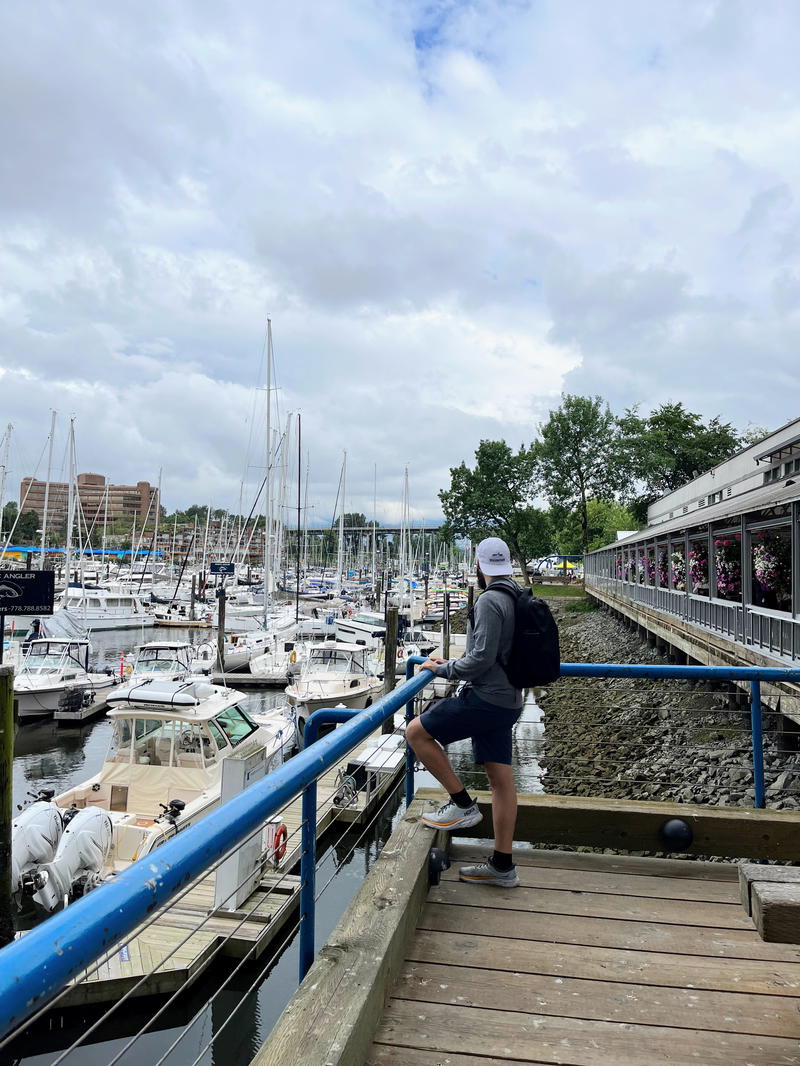 Use cases for the Aer Fit Pack 3
The gym
The Fit Pack 3 is sort of designed for the gym-goer. I've totally designated a few bags toward the gym over the years. Personally, my fitness patterns come in waves. Some years, I am really into CrossFit. Other years, I'll go to a standard gym. Since 2020, I've been spending a lot of my time running outside, all around NYC.
For times when I've gone to the gym regularly, my gym bag has been such a mess. I've usually thrown everything into a drawstring bag or I've used a bag that doesn't have any organization. This makes things stressful.
If you're going from your home to the gym, you can be more intentional with what (and how) you bring your things.
However, if you're coming from work, or a coworking space, or doing errands before or after the gym, you want something that can separate your clothes and anything else you need.
The Aer Fit Pack 3 is great for this. It's impressive.
You can stuff your gym clothes in the front compartment and you have the rest of the bag for whatever else, like work stuff. If you use special gym shoes (like shoes for SoulCycle, Peloton or clamp-in bike shoes) or you want sandals for after swimming, you can put them in the shoe compartment.
I know that for me, I'm excited for the opportunity to not have my sweaty gym clothes close to anything of value, like my laptop. I don't want anything wet to sit even remotely close to my laptop and other electronics like my AirPods or things that are company property.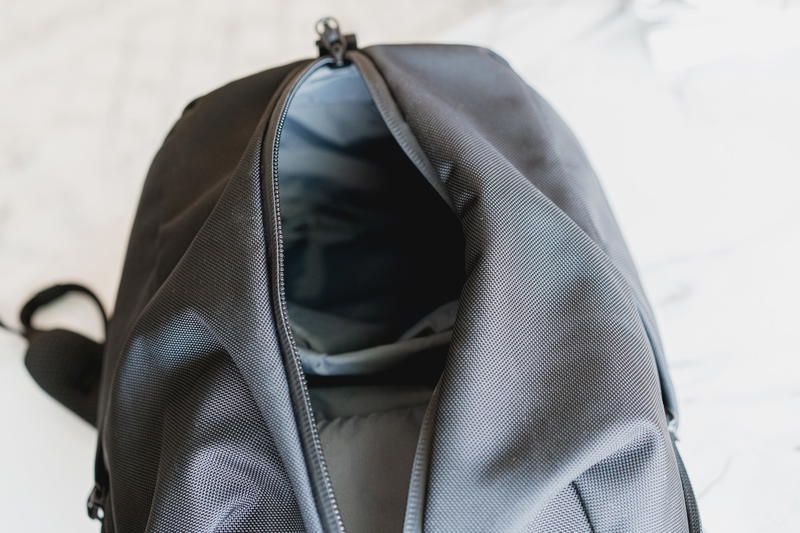 Work
As a work backpack, the Aer Fit Pack 3 is also pretty nice. I don't dress up for times when I need to go into the office, but I suppose you could also use the shoe compartment for more formal shoes if you want to commute in shoes that are more comfortable.
I need to commute to work with my laptop, and the laptop compartment is nice and snug. The bag is also nice and balanced, so it's comfortable to carry for long distances and it can support a heavy weight relatively well.
Travel
I covered the travel use case fairly comprehensively above, but if you skipped to this section, then yes: you can use the Aer Fit Pack 3 for travel. I had a lot of fun doing so, and we both thought the bag looked great as a daypack.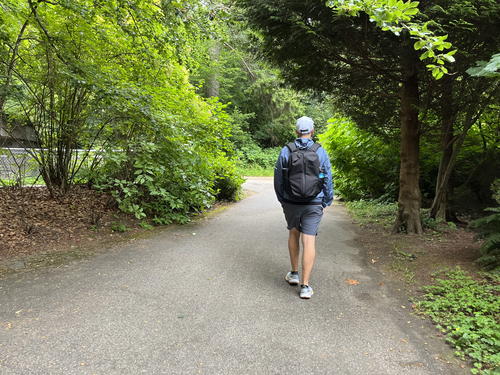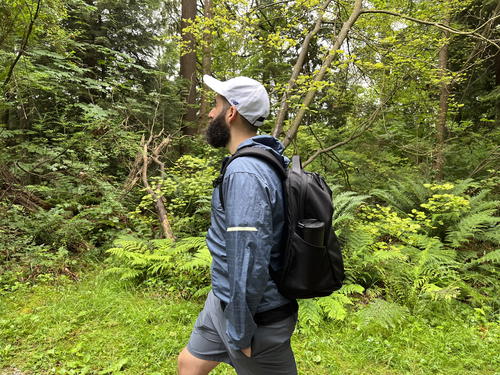 Downfalls
I talked about a lot of positive things and didn't get to discuss much, if any, of the negative parts. I'll be brief because I couldn't find too many things I was unhappy with, while using the Aer Fit Pack 3.
Most bags that have a large front capacity or cavity mean you can carry something unknown if you need to. For example, one time I went to work a few years ago and ended up bringing a large metal coffee container home. It was easy for me to throw it in my regular work bag at the time.
The coffee container absolutely wouldn't fit in the center compartment of the Fit Pack 3, and it also may have struggled to fit in the front zip-up compartment.
18 liters is plenty of space, but because of the design of the bag, it's divided vertically. This means you have more like 6-8L in each compartment. It's hard to put real numbers to it, but I hope that makes sense. Check out my photos in this guide if you need visuals.
The inside compartment can also feel kind of tight at times. The center access organization is nice, but I found it hard to reach the bottom at times if the bag was filled.
Lastly, when all of the zippers are closed, it can get pretty tight to try and open something. See what I mean in this photo.
Final thoughts
Overall, this laptop and gym backpack is very nice. I would absolutely recommend it for someone looking for a versatile, well-designed and highly-functional bag. You can check out the Aer Fit Pack 3 here and see if it's for you.
Enjoyed our article?
Consider supporting us! We're a 2-person team (learn more about us here) and your support enables us to create quality content. Thank you!