Troubadour Ki Backpack Review: Minimalist Laptop Daypack for Travel
Written by Becca
•
Updated on September 6th, 2023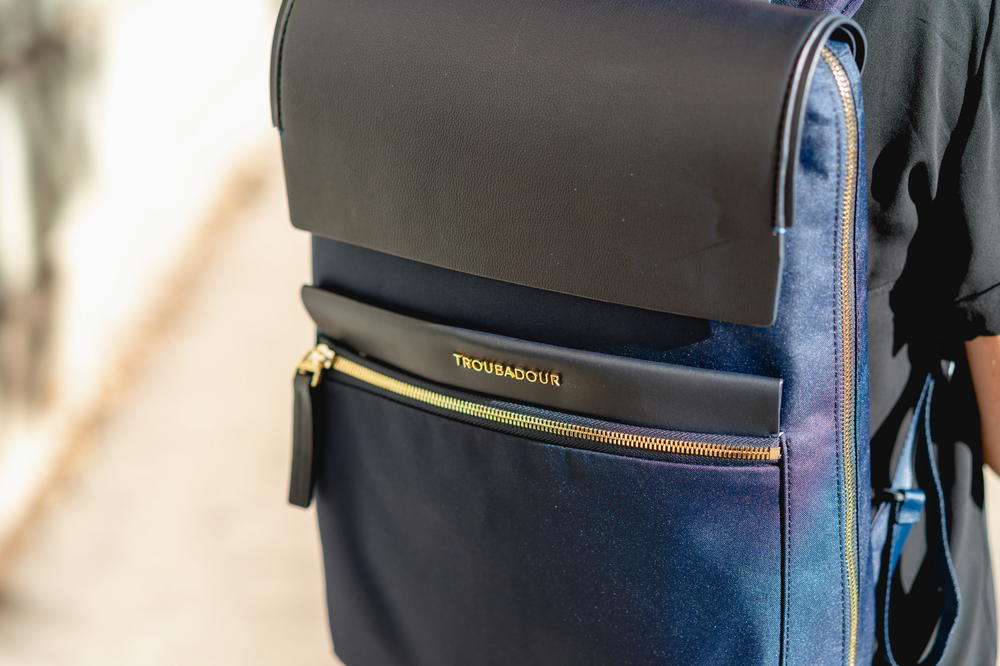 The Troubadour Ki Backpack is a stylish, petite, minimalist and comfortable women's travel daypack. I review all the useful features that make it a great backpack-purse duo.
This article may contain affiliate links. We earn a small commissions when you purchase via those links — and it's free for you. It's only us (Becca & Dan) working on this website, so we value your support! Read our privacy policy and learn more about us.
Table of contents
Close table of contents
When I first saw the Ki Backpack from Troubadour, I thought it would be a great new purse-meets-daypack to have in my travel backpack collection.
What I was looking for, after the zippers of my much-loved former daypack glitched and stopped working, was an upscale, stylish, minimalist and functional small-size backpack that I could also use as a great-looking purse.
In this review of the Troubadour Ki Backpack, I'll go into detail about all the useful (and surprising!) features of this attractive leather-accented backpack for women, as well as what I consider to be its stand-out features.
Currently, this backpack is my absolute favorite daypack that I like to use while out in the city, and it even functions well as a day-to-night bag during travel.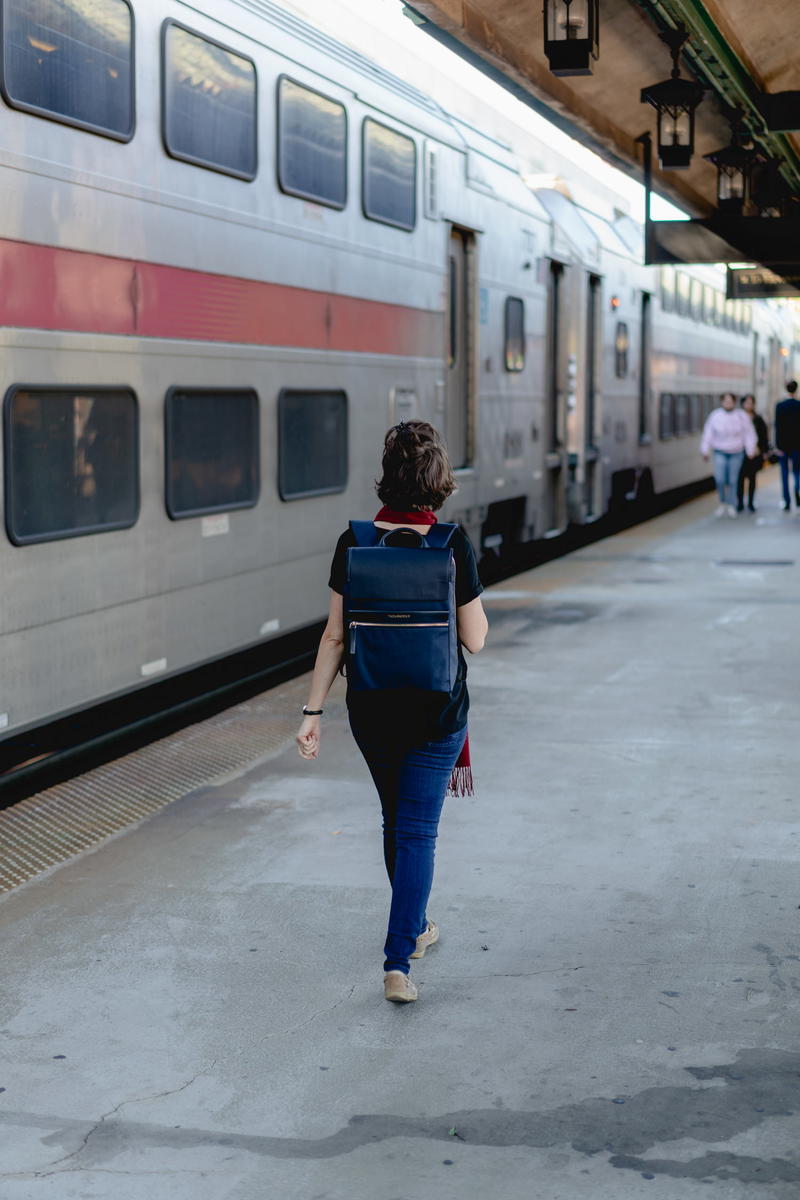 A bit about Troubadour
Troubadour is a brand I found out about only a year ago. At the time, I was looking to elevate my taste in purses and bags and found myself with the Troubadour Adventure Carrier Tote and the Ki Cross-body purse, which is very unfortunately discontinued as of 2022. I was impressed with the leather details and thoughtful features of both bags, especially in regard to travel.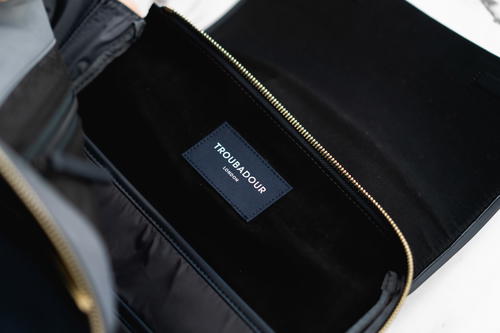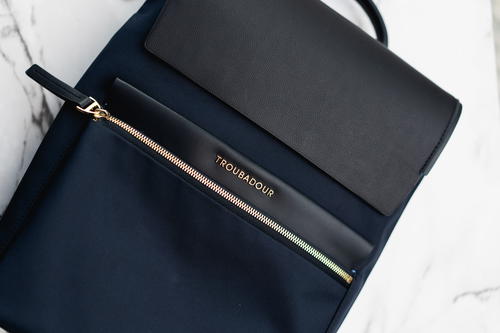 Moving on into this year, I've gotten my hands on both the Ki Backpack as well as the Bivy Tote Bag, which we feature in our list of the best travel backpacks for women and in this in-depth full review.
A few tidbits about Troubadour as a brand are that first, the company is part of the B Corp movement. This means that the manufacturing uses recycled materials (like water bottles), promises to repair their products when they break (for five years) and reduces carbon emissions. It's all good things for the eco-friendly traveler.
Troubadour has a cool story, which started with wanting to create the perfect overnight bag. From there, the founders traveled through Europe to seek out the best fabrics, weaves and zippers. These are things that I can see and feel in the Troubadour craftsmanship of all their bags.
Troubadour is all about bags for travel, so I enjoy lots of the travel-friendly features, like multiple pockets, flawless zippers and aesthetic design to perfection.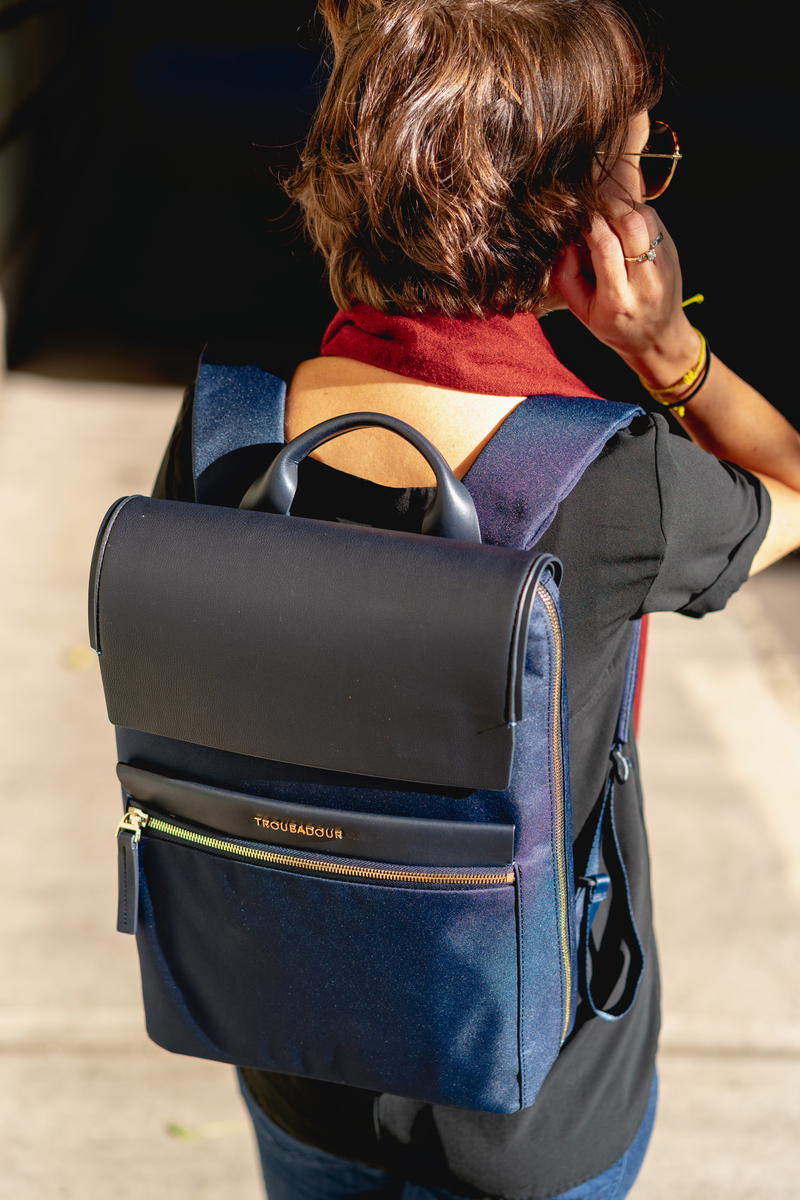 My first impressions of the Ki Backpack
I was so excited when I got the Ki Backpack in the mail and took it out of the box.
"Oh my gosh," I thought. "It's even cuter than it looked online."
I had been wanting to replace my former navy 11L daypack, the zippers of which broke and finally died, and left me a bit stranded on a trip.
After sliding my fingers across the soft exterior and smooth flap with magnetic closure, my eagerness to use this backpack heightened after learning that the top zipper goes all the way down the side of the bag. This is awesome for digging into the bottom of the bag for something you're looking for!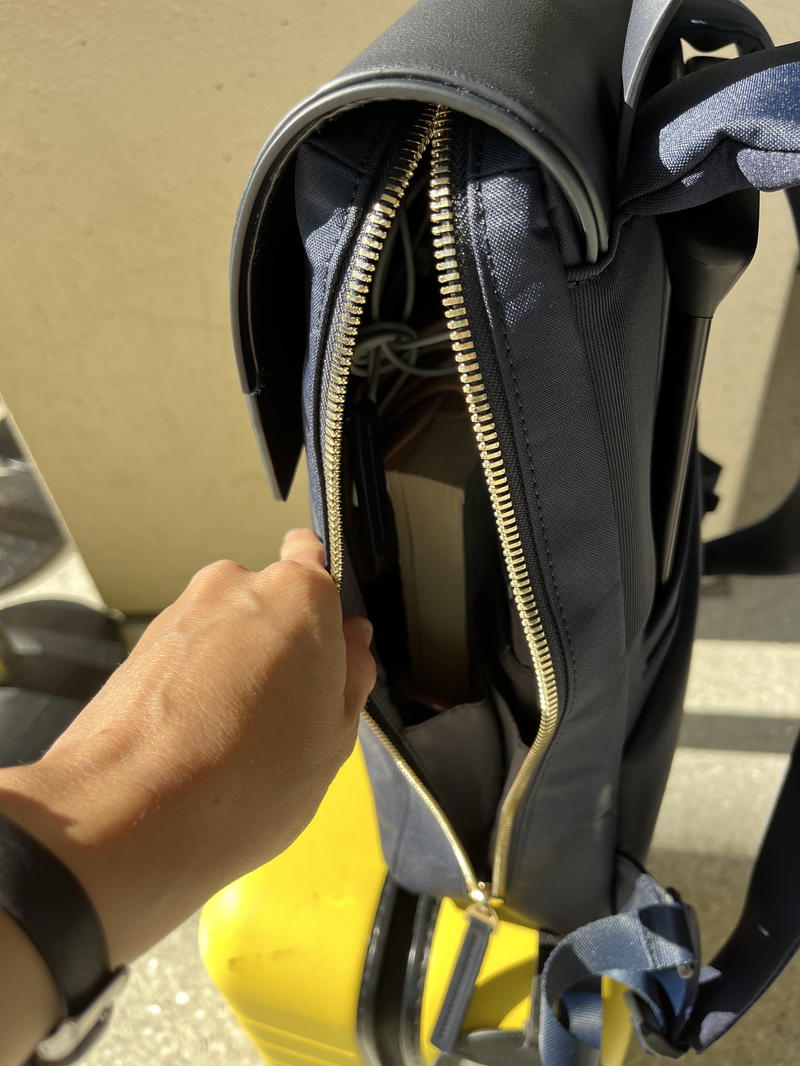 And wait, what a surprise: this slim, classic and petite daypack even fits a laptop. I hadn't considered it as a possible commuter bag due to being small and lightweight, but with the fact that it fits both my work or personal MacBook Air, I can go anywhere with this bag.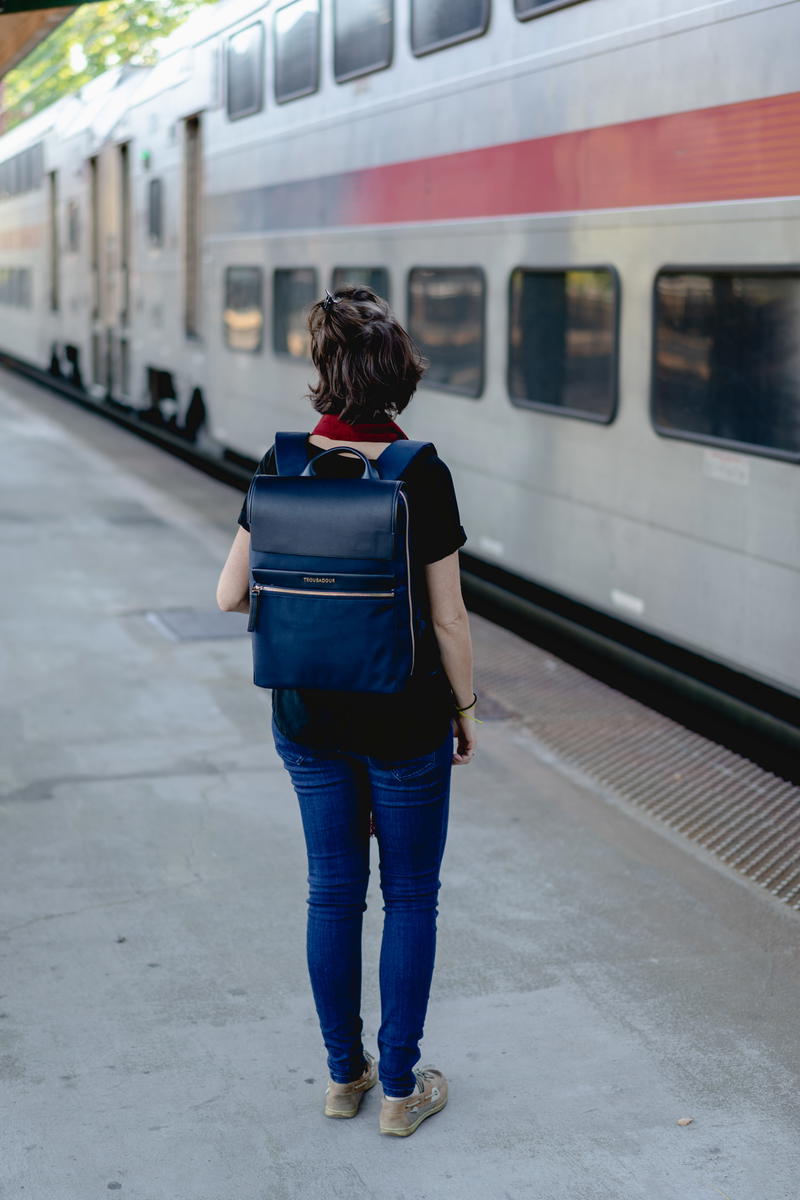 Outstanding backpack features for the Ki Backpack
The Ki Backpack has an impressive amount of great features for such a small, slim and narrow daypack. I personally think this is a great backpack for women who are looking for a timeless, minimalist and luxury-level backpack that doesn't completely break the bank.
Super lightweight build
The Ki Backpack weighs only 2.2 lbs, or 1 kg. It's not made of any heavyweight materials, so it feels firm and structured, but it's light on my back and shoulders.
Great size for petite women
I'm 5'2" and about 105 lbs. This should pretty much describe my build. I have trouble with backpacks that are too wide, or have heavy leather straps that dig into my narrow frame.
The Ki Backpack solves everything. It has narrow straps, and it is only 10.5" wide, like a piece of paper.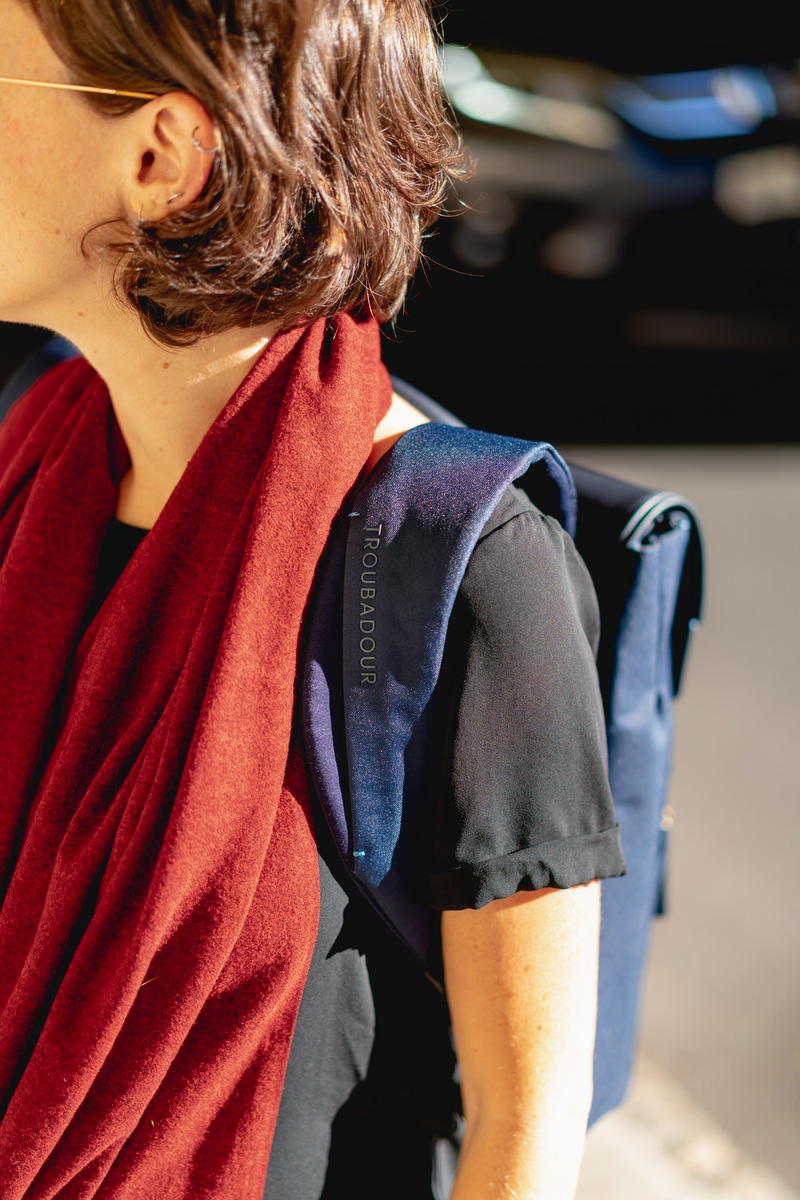 Awesome materials and beautiful fabrics
The materials on this backpack are gorgeous. You'd never know it by looking at it, but the polyester fabrics are made of recycled polyester and the "leather" components are completely vegan.
Pockets, pockets, pockets
I'm huge on pockets because I carry so many things on a day to day basis, from feminine products, to work accessories and handy items like keys.
The Ki Backpack has a main compartment that has a laptop pocket, and then some more flat pockets that'll hold cards, small bottles of hand cream or lip balm, travel-sized silverware or whatever it is that you like to take with you. There's also a mesh pocket, where I can drop my AirPods, or an office swipe key.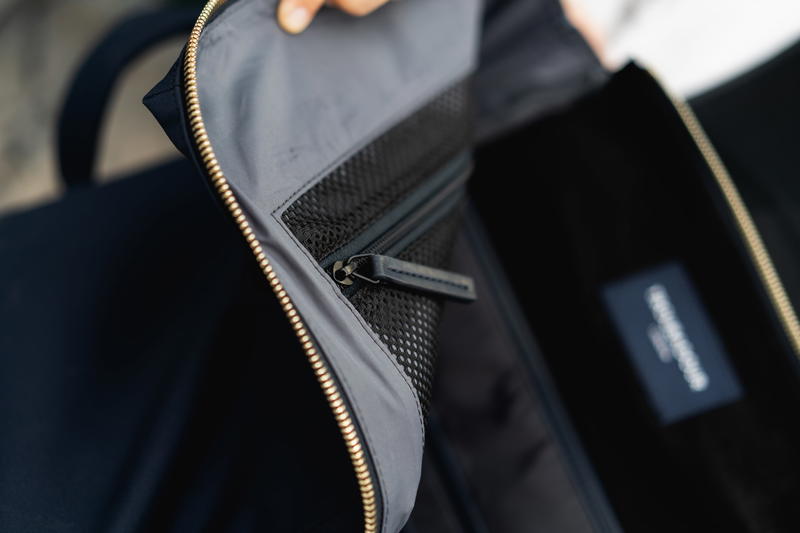 The front zipper pocket is nice. Inside, it even has more flat pockets, and its backside is a flat pocket where I put quick items like a piece of mail.
Handy laptop sleeve pocket
This laptop sleeve fits up to a 16" laptop, incredibly.
Magnetic flap closures
I like the magnetic flap closure a lot. It feels like an extra bonus.
Back panel support
As someone who has a weak back and is always looking for backpacks that support weight well, I appreciate the breathable "tailwind back panels" that let your back stay cool. The shoulder straps also help stabilize the bag, and at the same time, don't look overpowering or chunky.
Luggage handle pass-through (trolley sleeve)
As a bonus, because this aspect of the bag is pretty hidden, I was delighted to find that the trolley sleeve was perfect on a travel day at the airport. This part slid easily over my suitcase handle during transit.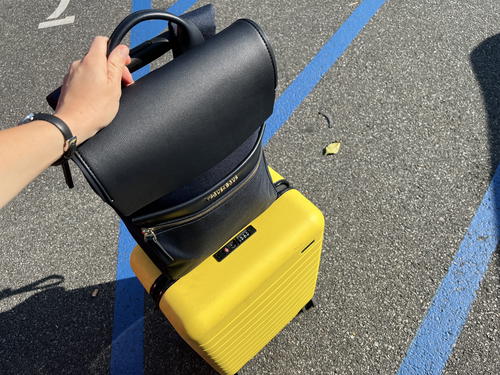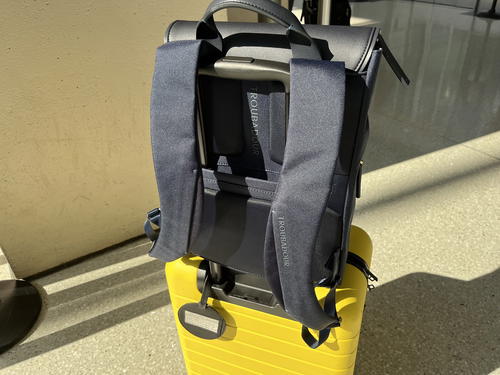 Classic top handle
I like the top handle that lets me hang the backpack from the hook in a bathroom stall (I would never let this bag touch the ground — it's too precious to me).
Ways to wear the Ki Backpack
What I look for in a sleek daypack are two things: first, that it can be a bag for work or commuting, and second, that it can function as a purse.
Because of my narrow shoulders and risk for back pain from bags that weigh in too wide or large, I like my daytime purses for when I'm out in the city to be backpacks. I've tried the Away Daypack as well as the Filson Rugged Rucksack in the past year. The difference between these and the Ki Backpack from Troubadour is that the Ki Backpack converts better into a day-to-night backpack. Its gold accents and vegan leather aspects make this backpack look great even with a dress or going out on a date.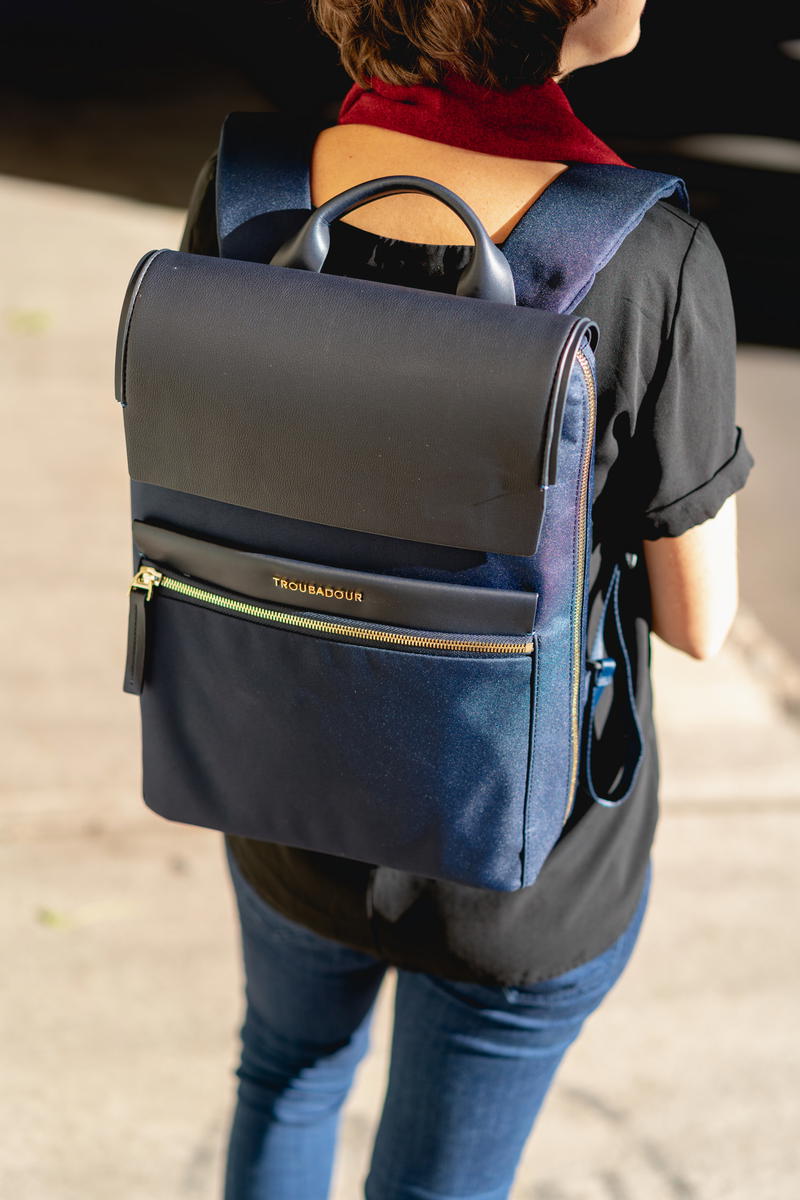 As for the Ki Backpack as a commuter bag, consider that its volume is only 10L. This puts it on par with the Away Daypack, which holds 11L worth of volume.
I like this amount of space for only a purse-size amount of accessories and things you need for the day. In the Ki, I fit a standard-size water bottle, some snacks, all my daily beauty and body products like hand cream, lip balm, sunscreen and makeup, a wallet, keys, laptop (in a neoprene case) and some headphones.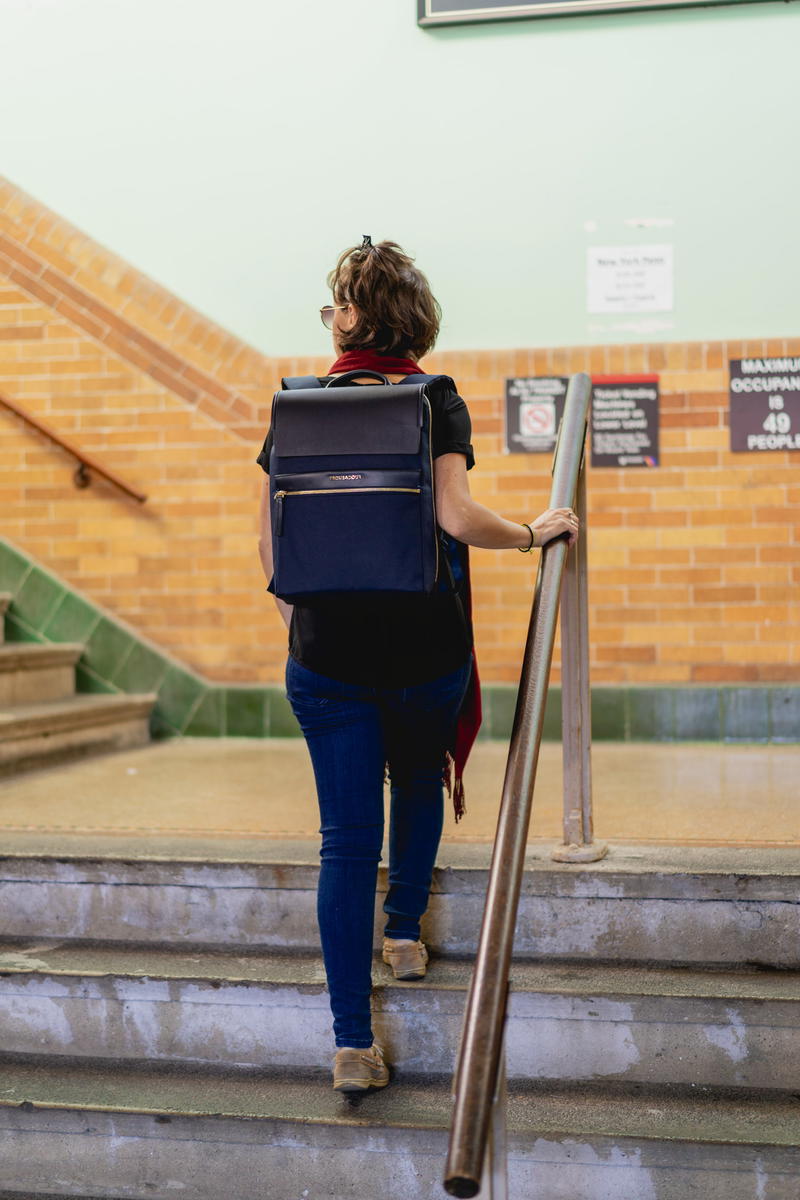 The last way to wear the Ki Backpack, for me at least, was as my personal item on a recent business trip, or really, any travel, specifically when you plan to travel and work remotely.
It's a great bag for traveling, as well as being a daypack for when you're out sightseeing or you'd like a convenient purse to have at all times during a vacation.
I liked that the Ki Backpack slipped onto my luggage with the trolley sleeve, and fit very easily under an airplane seat. The side zipper makes it easy to get things out of, and the comfortable straps are good for all-day wear.
Is the Ki Backpack worth the price?
At $245, it depends what you consider a good price for a high-quality bag that comes from a sustainability company and with a five-year warranty. To compare, the Away Daypack only has a one-year limited warranty, which did not help me out when the zippers broke after a year of very frequent use.
This backpack has 5-star reviews. Because of its high style and comfort, I think it's a great investment for a work or travel purse that'll get the job done and be completely versatile for your travel and daily needs. It's also perfectly classic, and an excellent choice for narrow-shouldered or petite-framed women. It's hard to shop for backpacks when you're short, or when you just like backpacks that don't overpower your body!
Warranties & returns from Troubadour
As for warranties and product guarantees, the Ki Backpack falls within what Troubadour offers for every product: a five-year guarantee against any manufacturing fault.
In fact, when I received my Bivy Tote Backpack from Troubadour, it had a clasp that was sewed on backwards, and when I reported this, they immediately sent another bag, with a return label for me to send back the defected one.
For returns, Troubadour's policy is more generous than the average company. The window for return is 100 days and you can get a full refund for any product you wish to return, provided that it has the original tags still attached.
Where to buy the Troubadour Ki Backpack
The best place to buy Troubadour products is directly through the Troubadour website. Check out the product page for the Ki Backpack to see more photos and to check availability in the color you'd like.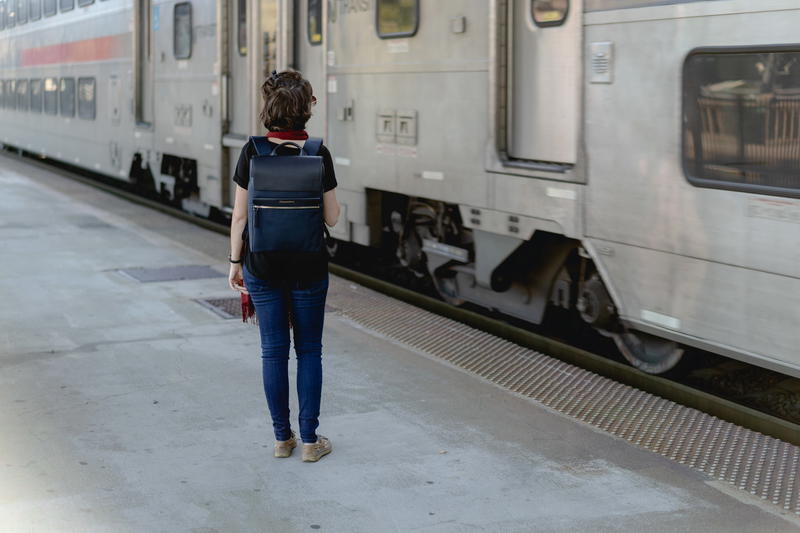 Do I have any complaints about the Ki Backpack?
I really have nothing bad to say about this travel backpack. It is attractive, stylish, looks great and is made of high-quality materials that feel luxurious.
So far, it has been a great experience using it. The Ki Backpack snugly holds a laptop for a work commute, and this is very important to me and anyone who has transitioned back to the office from time to time.
It would also make a perfect gift for a traveler your love.
Enjoyed our article?
Consider supporting us! We're a 2-person team (learn more about us here) and your support enables us to create quality content. Thank you!