The Away Daypack: Travel Laptop Backpack Review
Written by Becca
•
Updated on October 26th, 2023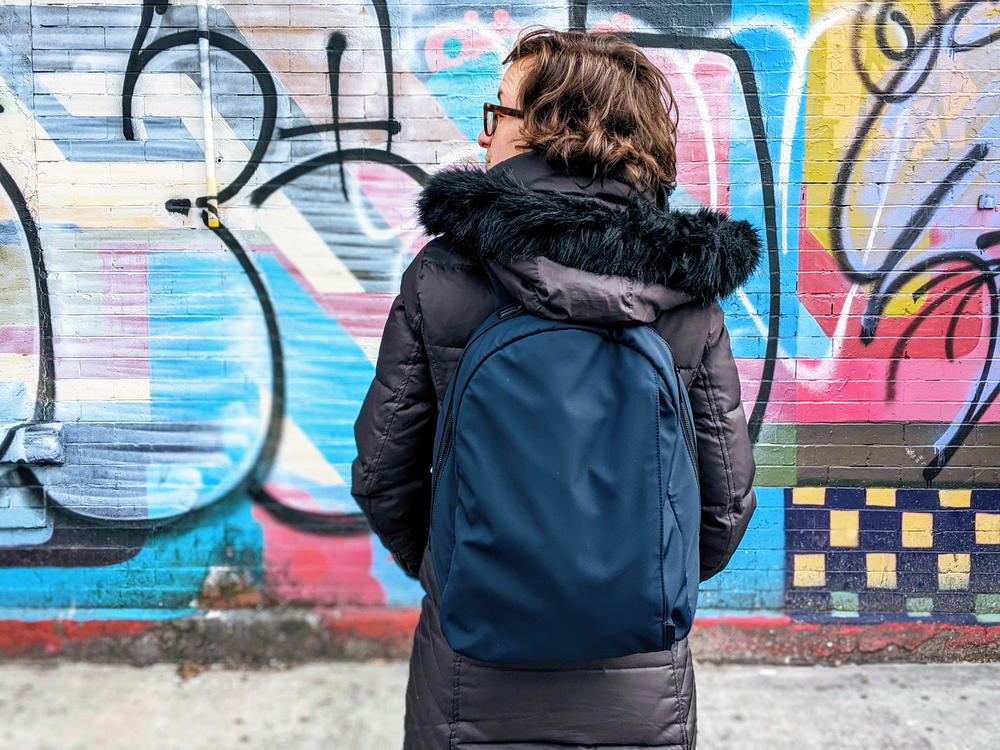 I found the Away Daypack to be the best laptop and travel backpack for petite women. It's a cute and versatile laptop backpack with stylish features and an attractive design.
This article may contain affiliate links. We earn a small commissions when you purchase via those links — and it's free for you. It's only us (Becca & Dan) working on this website, so we value your support! Read our privacy policy and learn more about us.
They updated the backpack since I've reviewed it! The updates are great improvements to this daypack that comes in a convenient size and looks more stylish and elegant than ever.
I've never had a laptop backpack that I really loved. As a petite woman (I'm not much taller than five feet) with narrow shoulders, I've been overwhelmed with where to start. This happens to be a common theme for me across most travel gear I've owned, as I'm never sure which reviews to trust and I only want to buy products that'll give me a ton of use.
Cue the Away Daypack, a new compact women's laptop backpack for work. It's also a bag for the traveling woman, as it has handy features that allow it to sit on top of your suitcase (of course, an Away suitcase) and not fall off.
It debuted as one of the best travel backpacks of 2019, and it's still a hot product on the market for women (and men) who travel and want a convertible laptop backpack.
In this review, I'll cover the features that I appreciate, what sets it apart from other bags I've had, why it's one of the best travel backpacks for women and why it's even one of the best laptop backpacks for women I've ever owned. If you work remotely, you're probably very focused on how you can bring around a laptop and still look good, just like I am!
Helpful Tip
It's the only laptop bag for petite women I've ever owned, but I had to start somewhere, and I don't see any reason to own a different laptop backpack right now!
Let's start off with a few reasons the Daypack by Away Luggage is one of the most stylish laptop backpacks for ladies.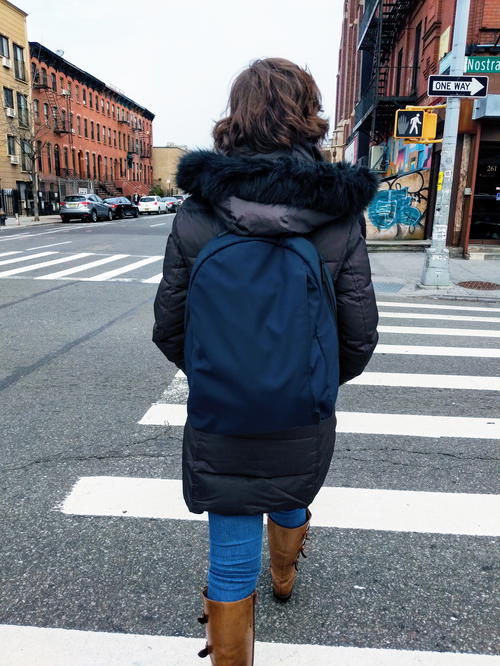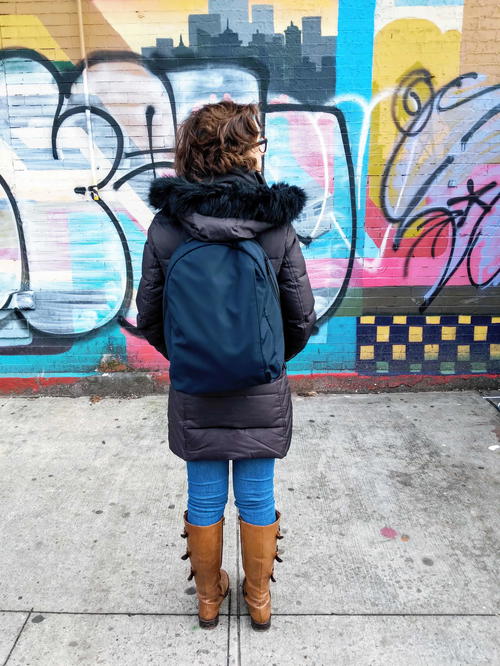 The problem: my quest for the best petite women's laptop backpack
As mentioned, I'm five-foot-two. My shoulders are narrow, and I mostly wear a size XS, 0-2 or XXSP in clothing. When it comes to women's travel backpacks and unisex laptop backpacks, not everything makes the cut.
Backpacks with shoulders that extend too far outward fall off my shoulders. Backpacks that are too wide look like I'm borrowing a backpack from a boyfriend or a big brother.
What I've always needed was a petite backpack that fit a 13-inch laptop, essentials for a day out in the city or during a trip and a versatile backpack that doubles as a purse.
I never found all these requirements, until now. I'm being serious! I've used all sorts of backpacks as bags for bringing my laptop to a cafe, bags to use as a carry-on for a trip, bags to use as a personal item on an airplane and bags to use as a daypack while away from home, or hiking.
What are my requirements for the best women's backpack for work?
If I'm bringing a backpack into an office, coworking space or a meeting, here are the boxes it has to check:
Must be 'cute' to double as a purse
Must look okay with a dress or business casual attire
Must match my coats and jackets during winter (and not clash)
Must fit a laptop
Must have a solid 'base' so that it sits upright on the floor or on a chair
Must have a good number of pockets
What are my requirements in looking for the best women's travel backpack or daypack?
If I'm going to have a new backpack that I'm using for travel, it has to be functional and fit a good number of things I want to pack.
In the past, I've focused on having zippered purses that fit things like a water bottle, a DSLR camera, all my daytime 'travel things' when I'm out in a city sightseeing.
If I'm going to be switching to a small travel backpack to be my daytime purse, I'm looking for:
Must have high-quality zippers
Must have a good number of pockets for keeping things safe and organized
Must be comfortable enough to wear for an entire day
Must look attractive in photos during my trip
Must take the place of a zippered purse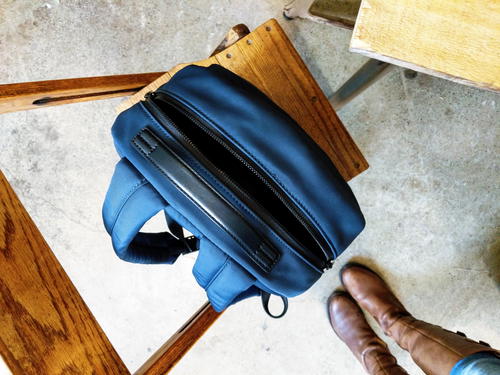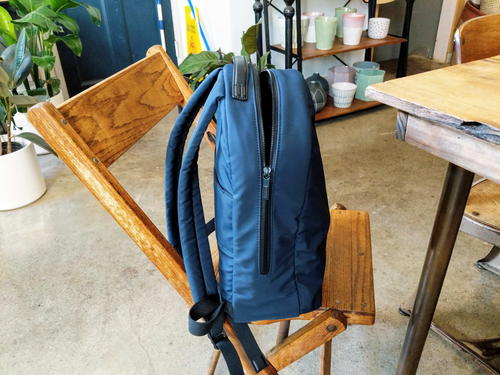 How does the Away Daypack fit petite women?
I must admit I'm surprised, and impressed. The Away Daypack definitely feels okay on my petite frame. First, it's 11.5 inches wide and 15.7 tall. This beats out other laptop bags that have made me feel overburdened and stocky.
I've returned quite a few bags I've tried out because they've looked like luggage attached to my back, rather than something cute I want to wear around and be seen with.
Next, the bag has a capacity of 11.6 liters. While this is not big enough to, say, take a weekend trip (unless you're an extreme minimalist), it's the perfect volume for being out for a day. This is truly a 'daypack' volume, meaning for your daytime essentials. It's also an ideal volume for a petite woman to keep on her back and not feel weighed down.
Lastly, the bag has a total empty weight of 1.8 pounds. That's a good starter weight for a bag that a petite woman would carry, and there are probably leather purses out there that start off with the same weight, but you wear them over one shoulder (ouch).
When I fill up this bag with my MacBook Air, a full water bottle, computer accessories and snacks for my day out, I don't feel weighed down.
Overall, I still feel cute with this backpack on my back even when it's full. I think its overall shape is flattering and does not make me look bulky when I'm wearing it as my backpack purse.
It's a great choice for a travel daypack and it's one of the best choices as a default backpack for work if you're a petite or narrow woman, or if you have a short torso.
To get even more great examples of bags for woman, check out our best backpack picks!
Which features of the Away Daypack make it the best women's travel backpack?
The Away Daypack has a few nice features that make it ideal for a trip. First, it secures your laptop in a back pocket so that your laptop rides safely with you on your trip.
Next, the front compartment has a vertical zipper that feels like a deep envelope pocket attached to the front of the bag. This is for flat items, and I like to keep my backup battery, key wallet, phone and some cards in there.
There's a zippered pocket inside this zippered pocket, to keep valuables safe. It would be hard for a thief to quickly get in there.
In the main compartment, several more pockets keep your things organized. There's a zippered pocket (another theft-proof functional aspect), some deeper mesh pockets and a flat pocket in front of the zippered one. A key lanyard clips onto your keys to keep them safe and prevent them from getting lost.
As specific to travel, there's a horizontal strap on the back that allows this daypack to attach to and sit comfortably on top of your Away suitcase.
I'd never seen this before, and it's brilliant. Doesn't everyone want their backpack or daypack sitting on top of their suitcase while waiting to board the flight, and ensure that it's not falling off? I've been waiting for something like this for years!
Helpful Tip
Looking for new proven ways to save money on flights and airfare? The easy solution is to sign up for Going, the leading way to find flight deals and mistake fares, directly to your inbox. Looking for a discount? Use HALFHALF20 to get 20% off!
And finally, the Daypack is slim and lightweight enough to flatten and pack into your suitcase during a part of a trip when you're not using it.
Which features of the Away Daypack make it the women's convertible laptop backpack?
As I said before, I've been trying for ages to find a laptop backpack specifically for women that I really enjoy and want to be seen wearing.
The features of the Away Daypack that have blown me away are that it's slim, acceptable for travelers taking a minimalist approach and durable to use for a business travel backpack and daytime laptop backpack for work.
First, I'll focus on this bag for use as a woman carrying around a laptop. The Daypack snugly fits a 13-inch laptop in its case, and I use a neoprene laptop sleeve.
The laptop with its sleeve on fits perfectly as the backbone of the Daypack, and there's even some cushioning when I'm wearing it. I never feel like I have my laptop directly against my back and it always feels fine.
Second, as a backpack specifically for work, I feel perfectly confident walking into a professional environment with this as my professional work bag. Yes, it fits a laptop, but even if I wasn't bringing my laptop somewhere, I feel that this backpack is attractive enough to use as a professional daytime bag.
I made note above that a plus for me is a bag that has a rectangular base that allows it so sit upright like a briefcase when it's on the floor. This may not seem like a big deal, but it's a very useful characteristic that prevents this backpack from toppling over if it's sitting on a chair in a coworking space, next to a chair in a cafe or leaning against your desk at work.
What are the quality stand-out features of the Away Daypack for ladies?
A few things I like are the minimalist design and the choice of dark colors that this backpack comes in. If I get a backpack to use year-round, I don't want it to be light enough so that it shows dirt (if you live in a big city like NYC, this is a crucial point!).
The color choices of gray, navy and black are diverse enough to provide a choice and varied enough so that you can make sure you won't be clashing with your winter coat (mine's charcoal gray and my peacoat is dark green, so I had to take this into account).
One more thing I can't forget to talk about is the zippers. I don't like backpacks with janky zippers that get caught in tassles, strings, hair or anything else. The Away Daypack zippers are high quality and don't snag.
Lastly, one more quality characteristic of the bag is the slim shoulder straps. As a petite woman, I don't like straps that are too fat, wide or long. The shoulder straps of the Away Daypack seem to be just right for my figure and for my style.
What can you fit in the Away Daypack laptop backpack?
I use the Daypack every day when I work from cafes, coworking spaces and places I travel. There are a few reasons I think this is the best women's travel backpack for work, but namely because I can fit all these things inside: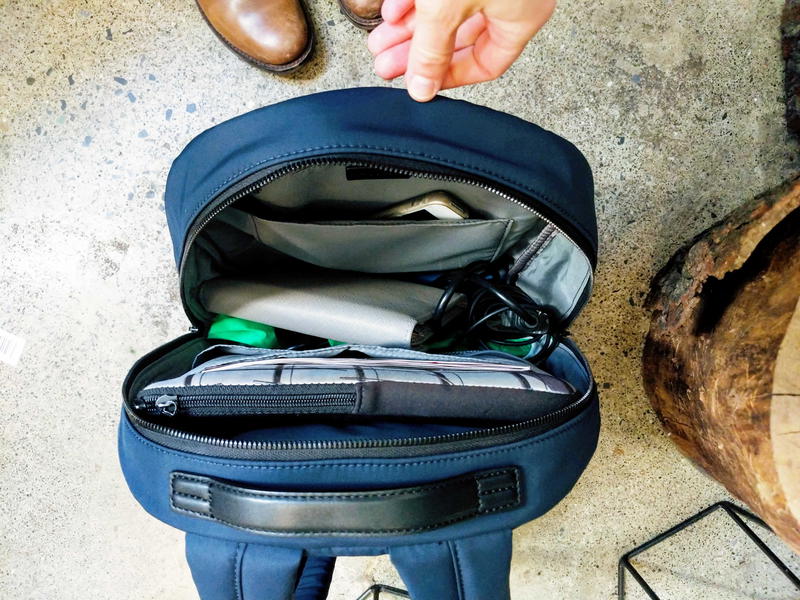 All this, in a daypack with a volume of 11.6 liters — can you believe it? I'm certainly impressed. The bag has an ideal shape in that the bottom has a rectangular base, but it doesn't make it feel boxy or oversized.
The front zip pocket is slim, like a sleeve, and that's where I keep my phones, keys with wallet-size keychain and battery backup brick.
Finally, the Away Daypack: Is it worth it?
If you're looking for a new women's laptop backpack and you plan to use it every day, I'd tell you that the price tag on the Away Daypack is worth it.
Solely coming from my perspective that I was disappointed for years in finding what I thought could be the 'perfect laptop daypack' and that being a narrow-shouldered petite woman made it all the more challenging, I've been delighted in my use so far of this backpack.
What I'm also happy with is that, in investing in the Away Daypack, you're getting one of the best women's laptop backpacks for work, a cute and slim business travel backpack and a daypack that doubles as a purse during travel.
Overall, I say yes — I actually have nothing bad to say here! Let me know how it goes for you.
Enjoyed our article?
Consider supporting us! We're a 2-person team (learn more about us here) and your support enables us to create quality content. Thank you!