Troubadour Momentum Backpack Review: Lightweight, Comfortable and Waterproof
Written by Becca
•
Updated on September 6th, 2023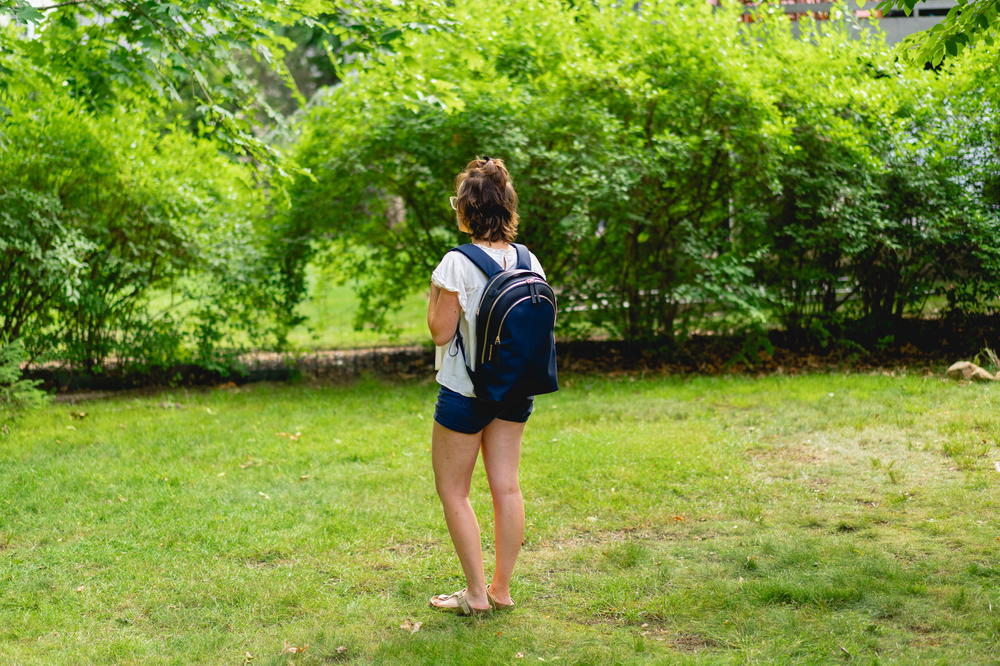 This comfortable, lightweight and waterproof backpack for travel or business is so stylish and functional. Is it worth the price tag? Check out my review, photos and opinions.
This article may contain affiliate links. We earn a small commissions when you purchase via those links — and it's free for you. It's only us (Becca & Dan) working on this website, so we value your support! Read our privacy policy and learn more about us.
Table of contents
Close table of contents
What if there was a backpack that looked great and made heads turn?
I'm pretty sure the famous and best-selling Momentum Backpack from Troubadour is that backpack. And for a woman seeking an attractive, sleek, stylish and minimalist work bag or travel bag, it's great news.
I tried out the Troubadour Momentum Backpack knowing that it looked great online and in the photos with a model, but did it look great in real life? How much could really fit inside? Would it be a charm for my next trip to the office, or my next vacation to Europe?
In the review that follows, you'll see my opinions on my experience testing out this backpack and making it a part of my daily routine. Find out if this is a backpack that would become essential for your travel, commute or even nights out!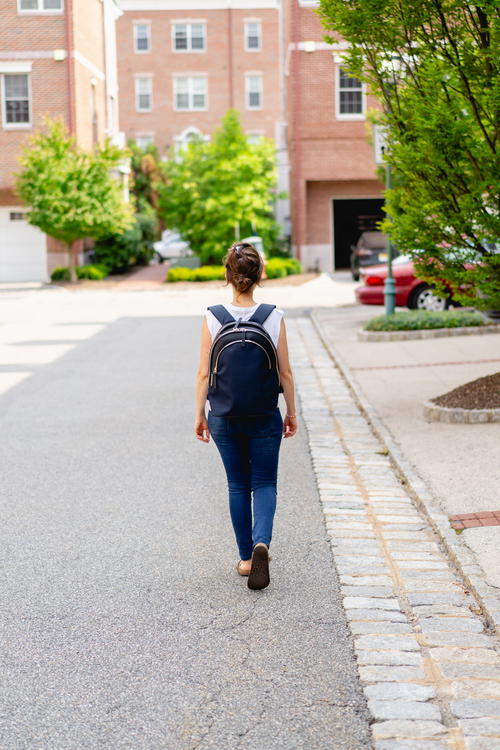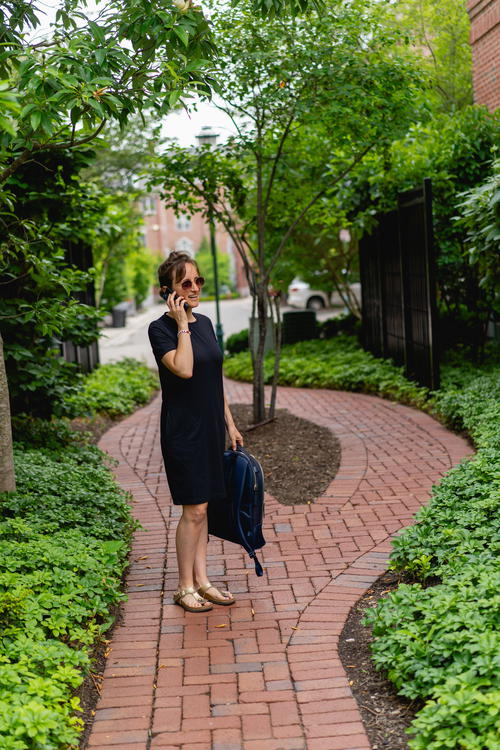 As a disclaimer, Troubadour sent me the Momentum Backpack as a gift so that I could test it out for this review. All thoughts and opinions below are 100% my own, and the photos were all taken by Dan.
Troubadour: A background on the brand
Troubadour is a European company that makes exquisite (and I say this because I mean it) totes, backpacks, luggage, duffle bags, briefcases and messenger bags. All their items are completely unisex and come in unisex colors, adding to the simplicity of shopping Troubadour for travel or business.
In the past, I've reviewed the Troubadour Ki Backpack and the Troubadour Bivy Tote Backpack and I've owned the Troubadour Carrier Tote. All these items get five-star reviews from me because their designs are so thoughtful and the features are excellent. For me, becoming a semi-expert on the Troubadour brand has brought me delight in using backpacks with high-quality zippers, a plethora of pockets and designs so attractive that I can't wait to pack my Troubadour bag for the day.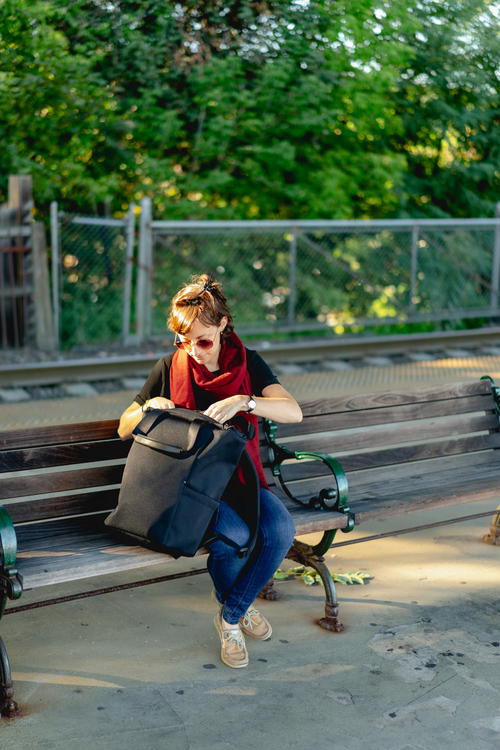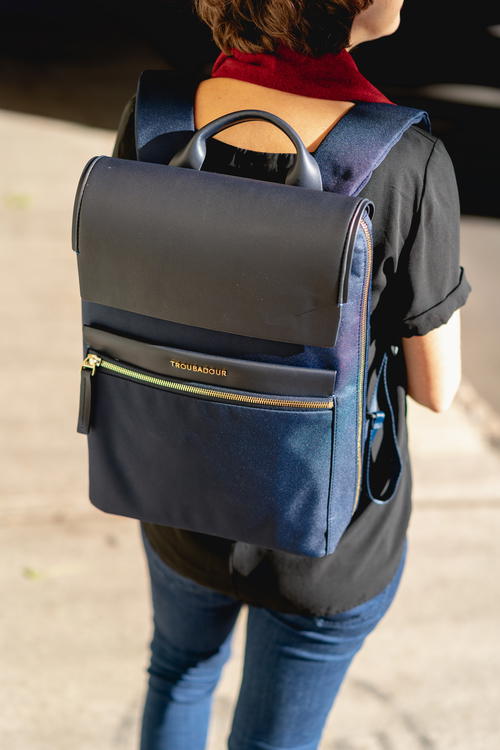 Troubadour as a company has a few important things to know about. The brand is a certified B Corp, which means there's a commitment to the environment. Troubadour creates versatile and high-quality bags to a point such that you should have their products for years, not having to worry about them breaking or going into disuse.
The bags are made from recycled plastics, and packaging is made from recycled materials. Troubadour also works closely with customers to ensure that their products can be fixed and repaired, thereby eliminating excess replacements and waste.
All of these things above make me proud to share more about the Troubadour brand as I test out the company's products.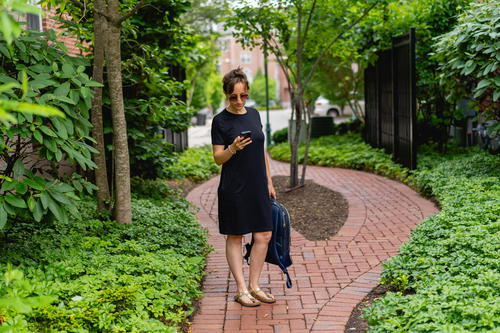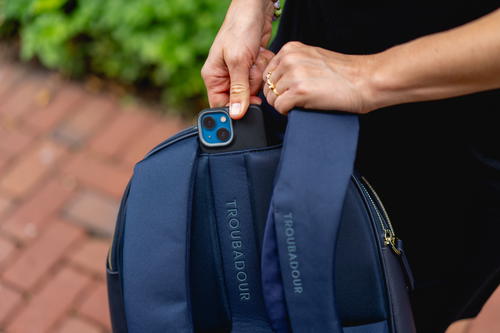 An intro to the Momentum Backpack
Seeing that the Momentum Backpack is a best-seller along with famed Troubadour products like the Apex Backpack and Featherweight Tote, I thought of trying it as my next backpack in the Troubadour family.
I was drawn in by the Momentum Backpack's symmetrical and rounded design. It's so unique. It's more like a cool purse, than a backpack, so to speak. It's for when you have enough stuff to fill up a backpack, or when you have something heavy that you don't want to carry in a bag that sits on one shoulder.
As someone with narrow shoulders and a petite frame, I both have trouble finding backpacks that work well for women as well as backpacks that make my back "feel good" and not sore.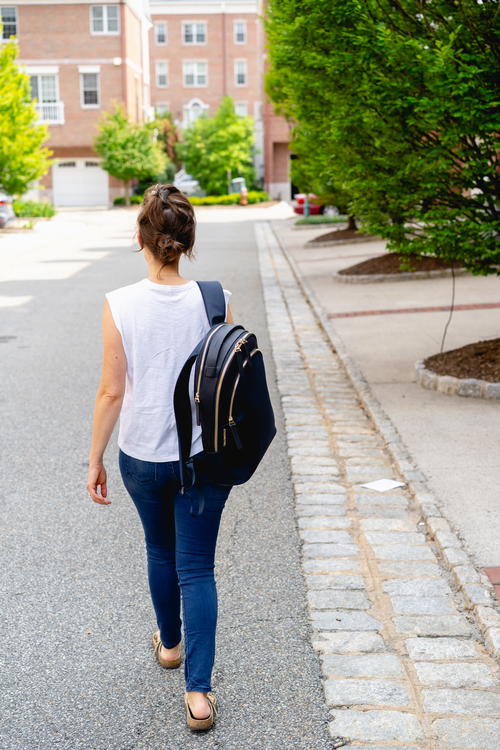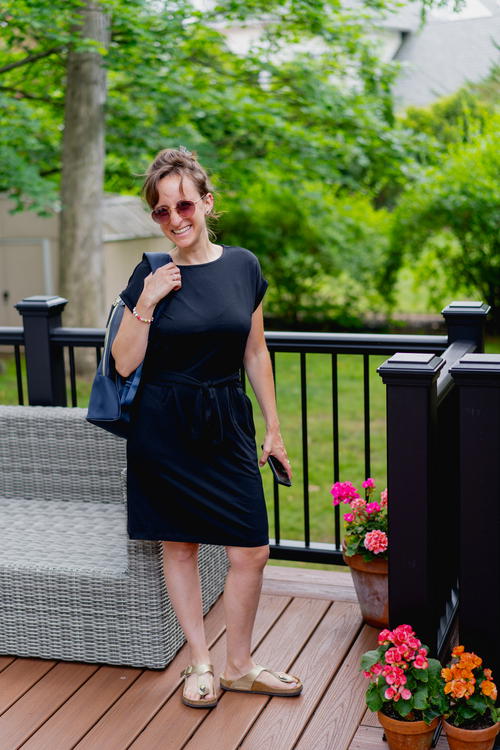 Momentum Backpack: Design
The Momentum Backpack has a cool design and a nice look that kind of reminds me of a rising sun. It has a square bottom and rounded top, with two concentric rounded zipper compartments and a clean and minimalist front panel.
There's a top handle that's wider than other top handles, and it looks classy. From the side, the backpack is quite slim, even though it holds 13L. The laptop compartment is in the back of the backpack and is a separate compartment from the main "cavity." I think this is really cool, as you can slide in your laptop, along with even another laptop (I fit two in there), or you could have a tablet there.
Inside the laptop compartment there's a sleeve and some extra space as well.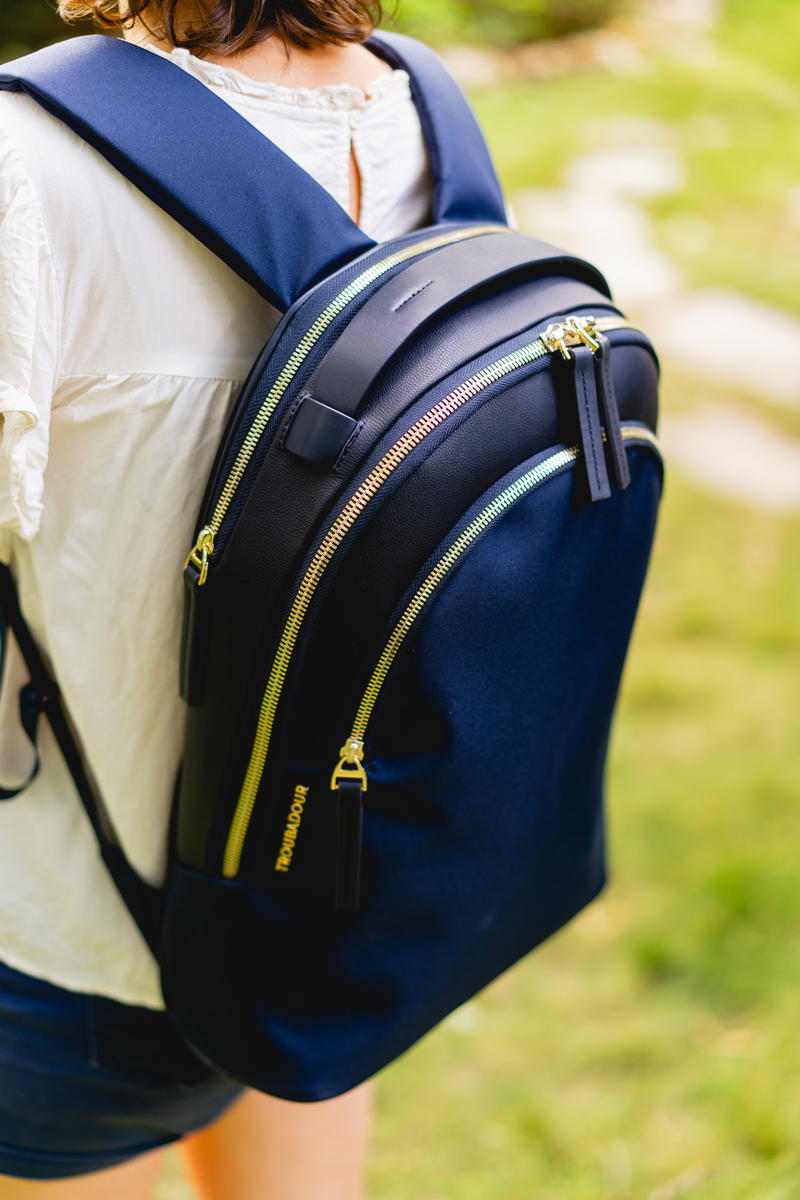 Momentum Backpack: Features
In my opinion, the Momentum Backpack has some features that are both useful and aesthetically pleasing. This is what Troubadour does so well: pairing form with function and creating beautiful bags that shine and get the job done. Check out these handy features that are great for both business and travel.
Waterproof fabric
The bag exterior is made of a smooth waterproof fabric that's very lightweight, and it's so smooth that I try to never get it dirty.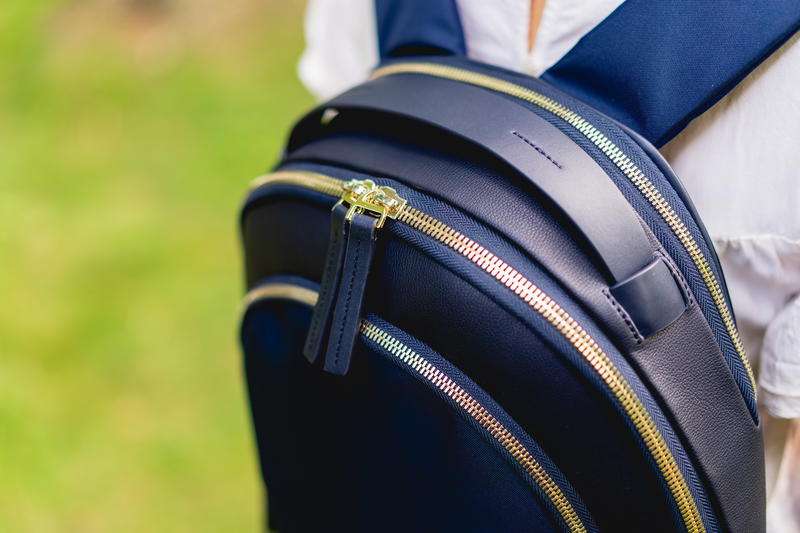 Lightweight build
The backpack alone weighs 2.4 pounds, which really is not a lot! For someone like me who has narrow shoulders, a petite frame and pretty much dislikes backpacks that start out heavy, this one is a winner.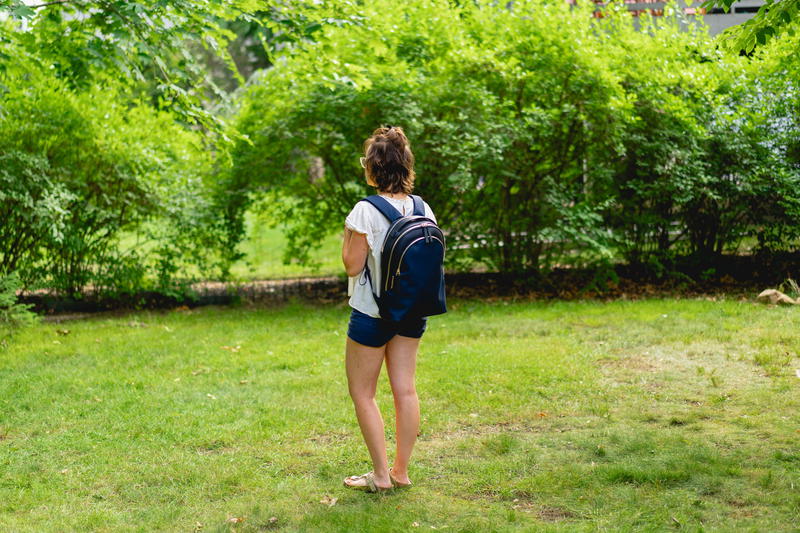 High-quality zippers
The zippers have been one of my favorite features of all my Troubadour bags.
I would know: my default travel backpack that I was using not more than two years ago had zippers that ultimately jammed, while I was traveling to a wedding, and I feared that I'd have to empty the contents of my backpack into a garbage bag in order to get home in one piece. Zippers matter, and the ones that Troubadour uses are top-notch.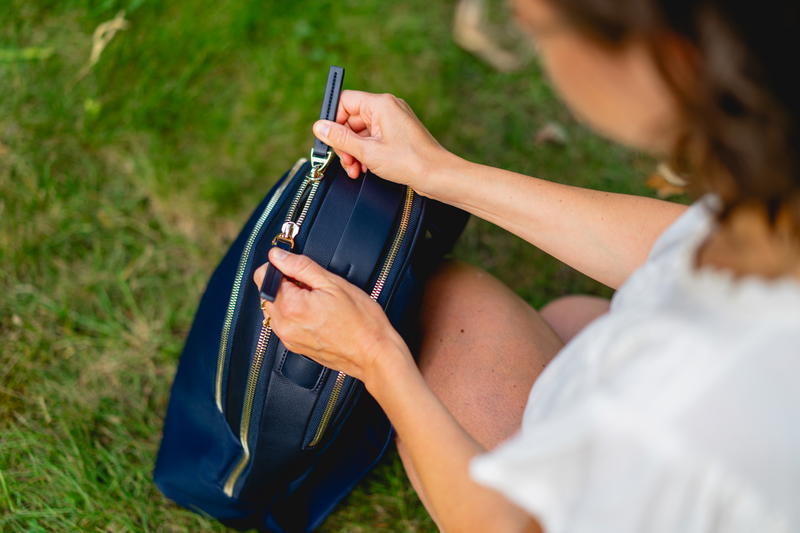 Dedicated laptop compartment
Other backpacks have a laptop sleeve in the back of the main cavity, but not this backpack. The Momentum Backpack has a dedicated laptop compartment, and it has a laptop sleeve inside. In fact, to test it out, I put in my laptop and Dan's laptop as well, and not only was the weight supported just fine, but the laptops didn't bang against each other in there.
This compartment is also very useful if you are traveling with a laptop and a tablet like an iPad. They won't get scratched up and they'll stay secure because this entire compartment gets zippered up.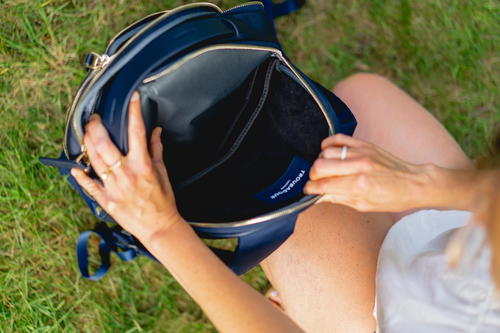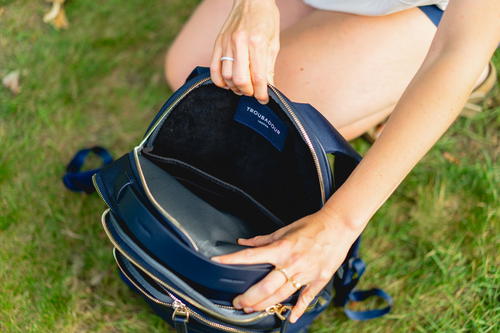 Thick grab handle
I like the thick and wide grab handle a lot, especially for when I hang this backpack in a restroom. The grab handle is strong and can support the entire weight of the bag if you hang it by it.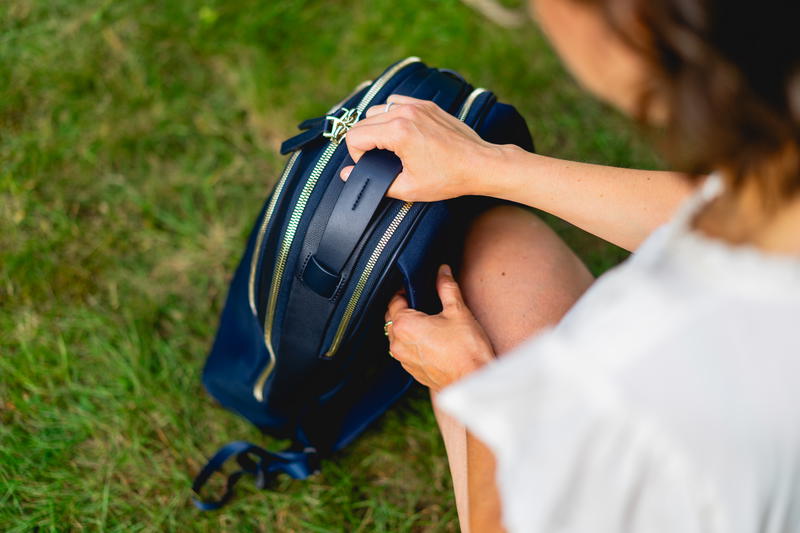 Back panel and padded straps
I am a fan of the breathable back panel that feels ergonomic and airy. The padded shoulder straps also work out comfortably for someone of my size. Five stars here!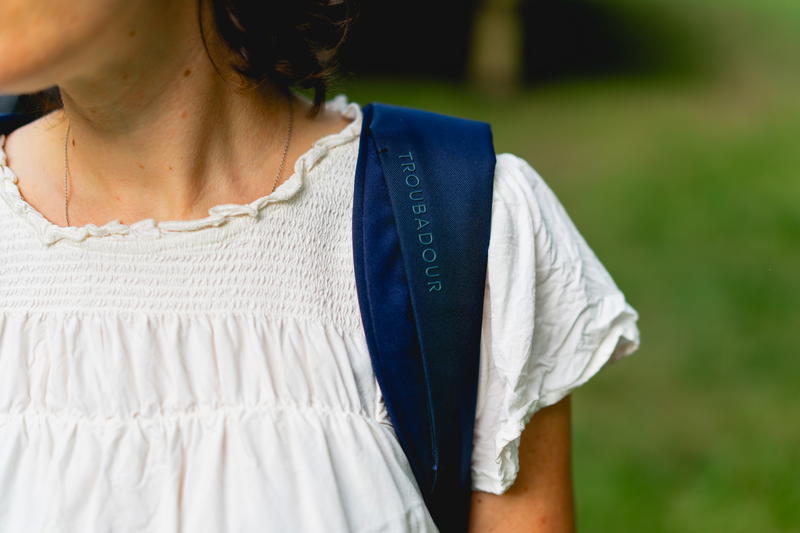 If you're traveling somewhere and you're just a dab worried about pickpocketing, hear me out: you've got to see the hidden phone pocket on the Momentum Backpack. It is so handy, and totally incognito. I'm glad I found it, as you could probably buy this backpack and not even know it exists!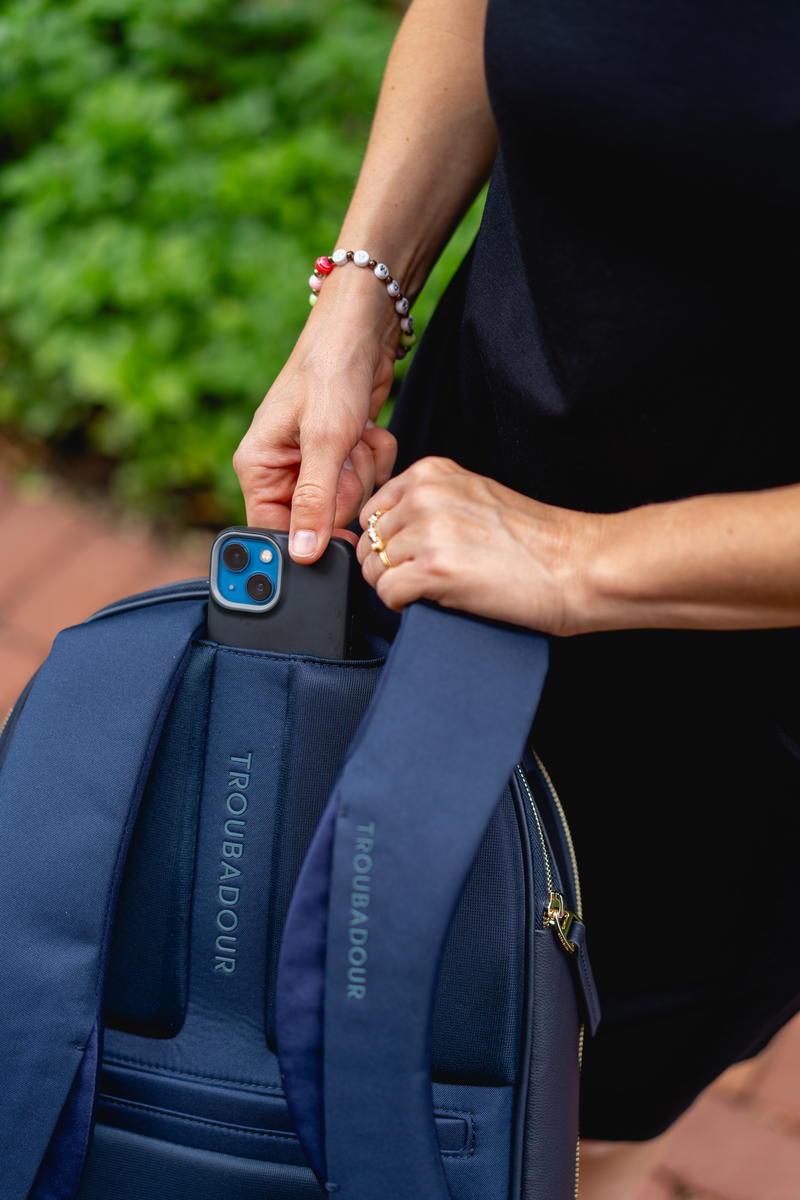 Trolley sleeve for suitcase stacking
If you're traveling with a suitcase, and recently l have been traveling with my rollaboard carry-on from Quince, you may want to do a cool 'backpack stack' (I made up this term) by sticking your backpack onto the suitcase handle with the trolley sleeve.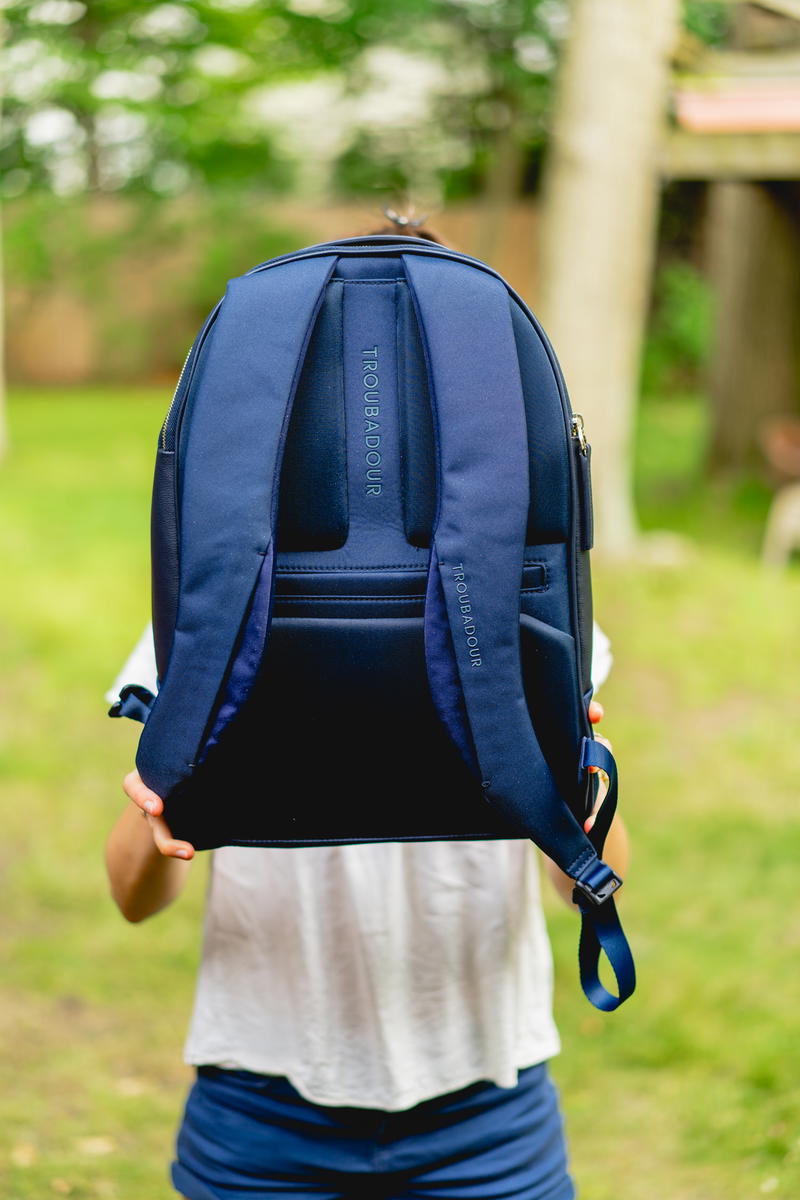 Check out how I did that in my review of the Troubadour Ki Backpack.
Internal pocket organization
I really appreciate that every compartment from the back to the front of this backpack has a set of internal organizer pockets. I've never seen a laptop compartment with inner pockets on the laptop sleeve. These are such handy features for people who have a lot of small things that float around, from business cards to pens, and from things like makeup to travel-sized toiletries you want accessible.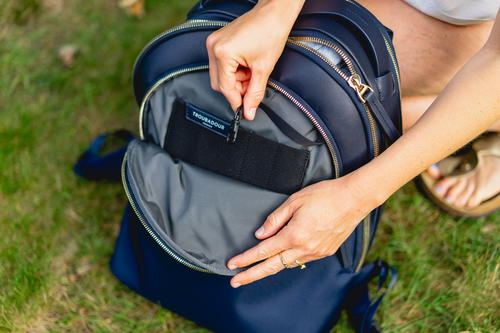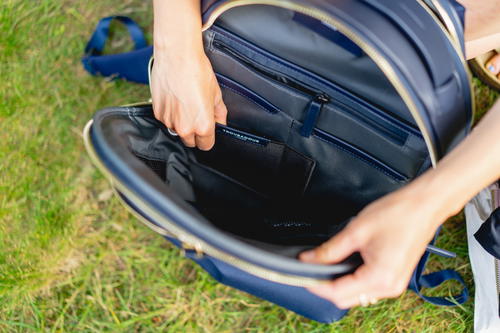 Ways to wear the Momentum Backpack
The Momentum Backpack can dress up any laid-back outfit, which is what I like about a lot of Troubadour's products. If you're out and about in just a T-shirt dress, the Momentum Backpack makes things look elevated, with its shiny metallic zippers and pulls.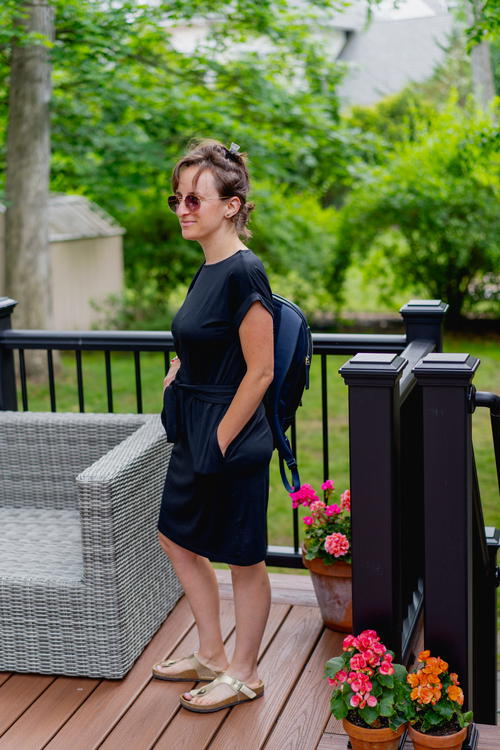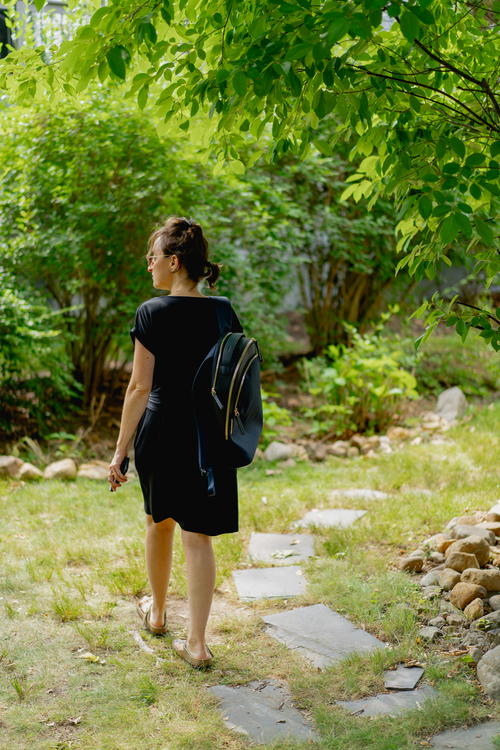 I enjoy using this backpack so much because if you were leaving the office and going right to happy hour with this bag, it wouldn't stand out as, "Oh, you brought your work bag." It's more like, "Oh, you brought a really stylish bag that goes from day to night."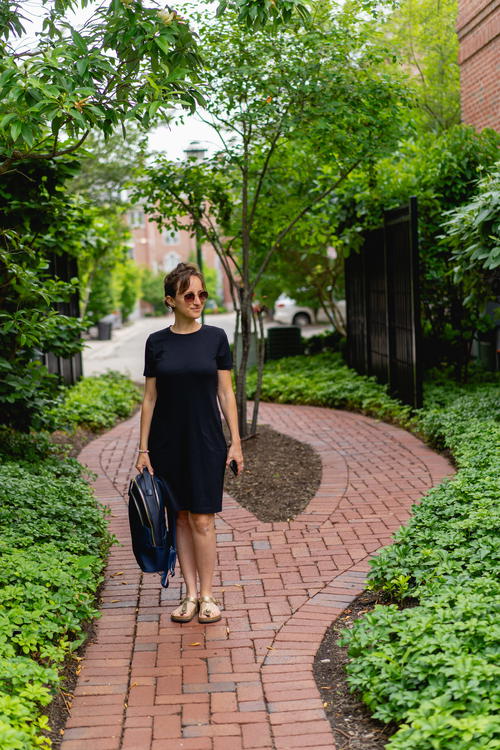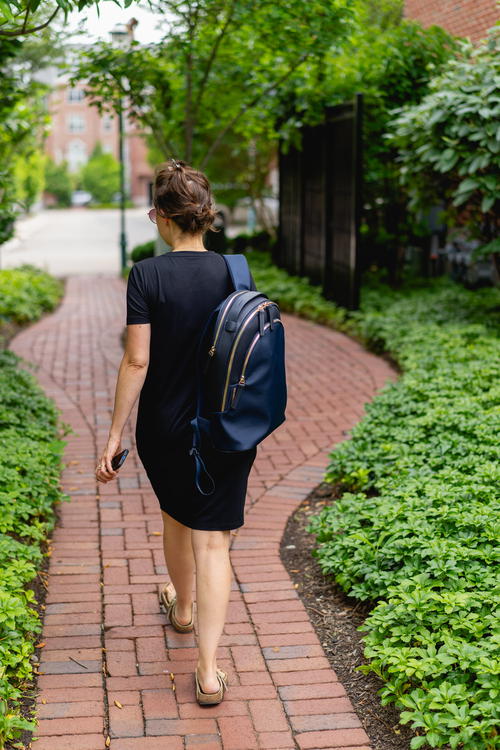 I also use this backpack for travel. It's a great "personal item" on a flight, and it's a smart size to bring on a day trip, whether into the city or out to an excursion like a winery.
Is there any room for improvement?
My only constructive criticism, as I mention when I describe the Momentum Backpack in my list of the best travel backpacks for women, is that the only compartment with a double zipper is the main cavity. I think the laptop compartment would also benefit from a dual zipper, but it seems clear that it was a deliberate design choice.
Second, the bag only comes in three colors: black, navy and khaki. The khaki variety has silver zippers, not gold (my personal preference is gold whenever possible!). I think an army green would be another good colorway option for this backpack to have, so maybe Troubadour will take me up on the suggestion.
Is the Momentum Backpack worth the price?
To this I answer "yes," and I'll tell you why. Troubadour backpacks are almost the same price as other nice travel backpacks you'll find on the market, and for just a little more in the price, you get the Troubadour five-year guarantee, which I've experienced for myself.
When I ordered the Bivy Tote, it came with a strap that was sewn on incorrectly (it was twisted and because it was sewn in like that, it could not be un-twisted). With the guarantee, Troubadour sent over a fixed one.
Within the first year of owning your Troubadour backpack, Troubadour comps all the shipping costs for shipping back your product and receiving it again if you should have any manufacturing faults like I did with my Bivy Tote.
The Troubadour team is available to help out with refurbishing and repairs during the first five years of ownership as well. All you have to do is email them. The company wants your bag to last as long as possible and will help you reach that goal. See more of the FAQ here.
Where to get the Momentum Backpack
You can get the Momentum Backpack from Troubadour at their website in Black, Navy (what I have) or Khaki. You can also pick one up at any retailer near you.
Troubadour's flagship location is in London, and if that's not near you (it's certainly not near me!), don't worry, as the Troubadour products are available at a few other locations, too, around the world! In the US, you can find a retailer from California to Virginia, and at several states in between like at Equinox locations in NYC and West Hollywood, Los Angeles, as well as Nordstrom and Bloomingdales stores.
See the list of retailers here if you'd like to have the opportunity to try out some Troubadour products before you buy one online.
Enjoyed our article?
Consider supporting us! We're a 2-person team (learn more about us here) and your support enables us to create quality content. Thank you!