Baby Tula Explore Carrier Review: Sturdy, Comfy and Supportive
Written by Becca
•
Updated on November 22nd, 2023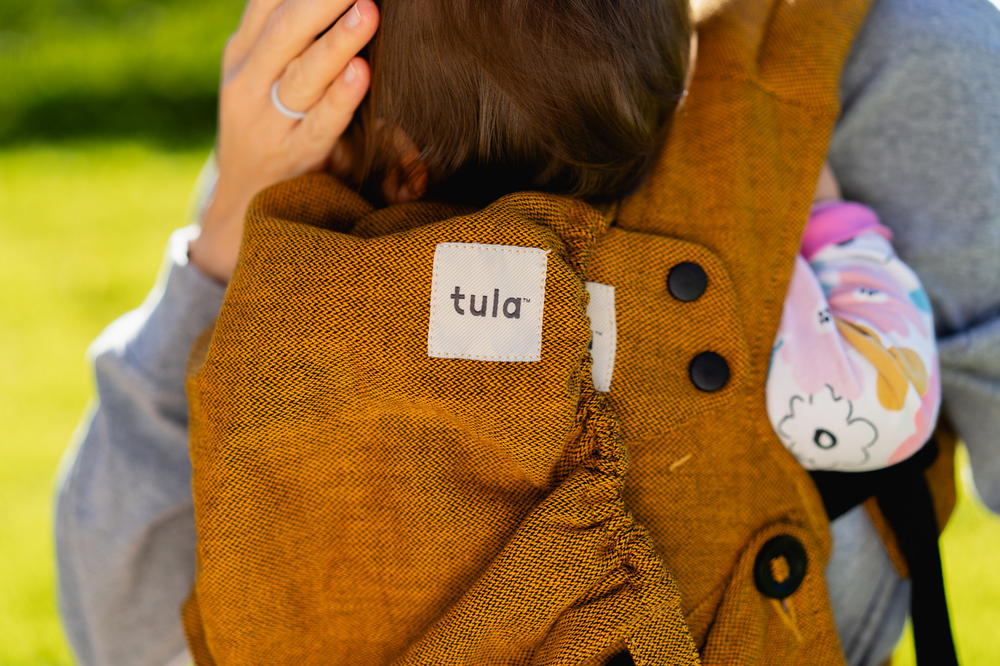 I tested a high-quality, strong and comfortable baby carrier for travel and being on the go. Is the Baby Tula Explore Carrier worthy of the investment? Read my review!
This article may contain affiliate links. We earn a small commissions when you purchase via those links — and it's free for you. It's only us (Becca & Dan) working on this website, so we value your support! Read our privacy policy and learn more about us.
Table of contents
Close table of contents
The Explore Carrier from Baby Tula has been an absolute delight to use, ever since I took it out of the package. I've become a big fan of Baby Tula products ever since my baby became big enough to hit the minimum weight limit of 7 lbs for most of them!
When it comes to traveling, Dan and I like to make sure we have a baby carrier available, so that we can have the option of carrying our baby along like that, if we don't want to use our Minu travel stroller.
On our most recent trip, we used a baby carrier all the time, especially to get our infant into a nap while on the go!
After several trips now, and what I'd call "significant baby-carrying experience," I'm reviewing my Baby Tula Explore Carrier, which is a product I'm really glad that I have as a traveling parent.
What should you know about this baby carrier, and is it worth the price? Check out all my thoughts here, about why this is a sturdy and strong baby carrier to take on a trip away from home.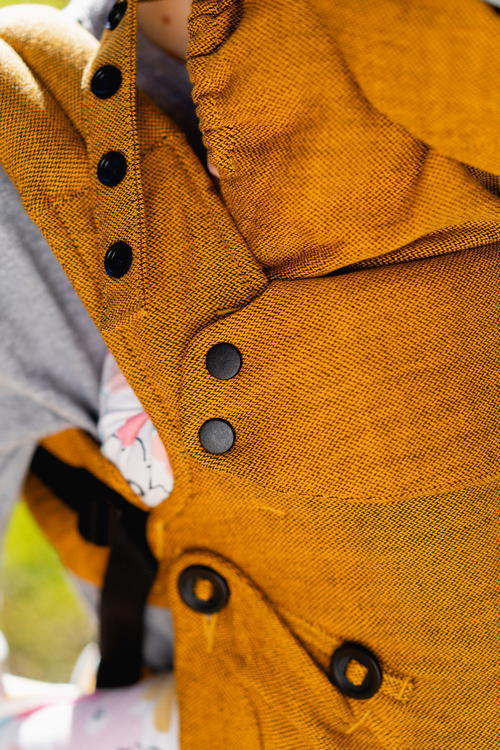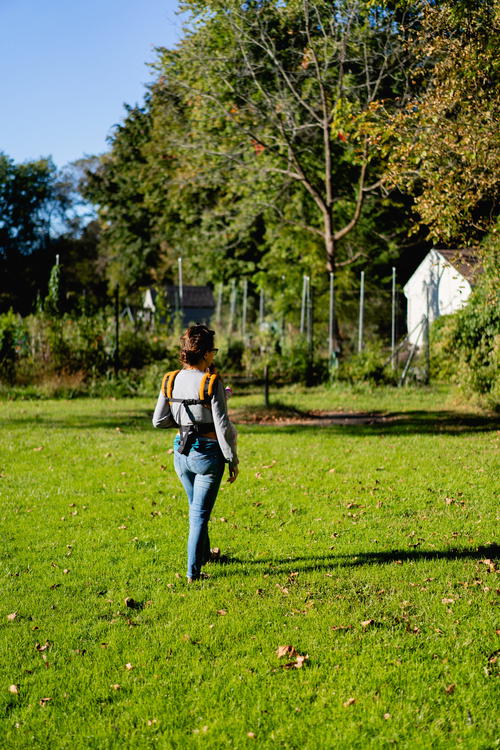 What do I look for in a baby carrier for travel?
I outlined all my picks, with the help of my "baby carrier expert" friend Rachel in my list of the best baby carriers for travel. As per the way Rachel thinks about it, there are really two ways to consider a great baby carrier for taking on the go, and it means prioritizing different factors.
When prioritizing packability and compact size
The Baby Tula Carrier Lite is a fantastic product that I like to "wow" my friends with, just like my Kibou diaper bag fanny pack. It packs into a waist pack (which has a pocket for my stuff, too!) and is the ultimate lightweight baby carrier to take when you're taking flights on a vacation.
Get 20% off!
The Kibou deals are still live! Get 20% off sitewide, plus free shipping!
When prioritizing comfort, durability and ergonomics
The Baby Tula Explore Carrier is an essential baby carrier for wearing when you want to prioritize support for both you and your baby. I think this is a great baby carrier for travel because of the high-quality build, ergonomic features and supportive options for front-facing and inward-facing carrying. I'm getting to all of the qualities of it in this review!
The Baby Tula Explore Carrier is one of the core baby carrying products from Baby Tula. It is a good-looking, well-crafted carrier for both new and experienced parents.
I had been searching for a baby carrier that allowed for front-facing baby carrying as my daughter got older and wanted to see her surroundings. She's had good neck support and sitting abilities from as early as six months, so she was ready for this type of carrying well before I was able to pick up a new Baby Tula product.
The Explore Carrier is the only carrier among all of Baby Tula's offerings that allows front-facing carrying, as well as infant inward-facing carrying and back carrying for older babies and toddlers.
I was eager to try the Explore Carrier, having had a great experience this far with the Baby Tula Carrier Lite. I took it on our first flight as a new family of three, and I recommend it to all my friends for its packability and lightweight factor!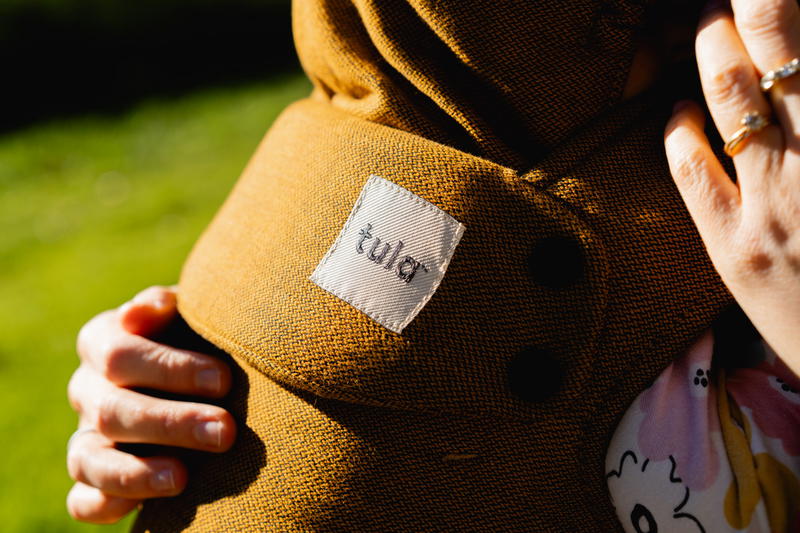 Comparison to similar carriers
The Explore Carrier is a bit more of an investment, and that is because it is a quality baby carrier product with a lot of great features that I haven't seen from other brands. In fact, the first front-facing carrier I got was the LILLEbaby 6-in-1 Carrier.
What I did NOT like about it was the complicated contraption of the back support panel and back clasp panel, as well as lots of straps that poked out and dangled everywhere. To be honest… I couldn't wait to get rid of it, also because it didn't adjust small enough to make me comfortable (I'm 5'2" and wear petite sizes).
I also have the ErgoBaby carrier, and the version I have doesn't allow for front-facing carrying. I've been using it less and less. When I compare the waist belt to the Baby Tula waist belt on the Explore Carrier, the difference is obvious. The Explore Carrier waist belt is infinitely more supportive, stronger and more comfortable for distributing weight.
The Explore Carrier checks all my boxes, and I am super happy with it. Here's a bit more about this carrier and why it makes a great supportive baby carrier to have with you on vacation.
Baby/toddler size limit
The maximum weight for the Explore Carrier is 45 lbs, which means you could be using this carrier for several years of your child's life.
It's also recommended for newborns, and we think we like it much better than the BabyBjorn Mini, which we used for up to 4 months.
Why I'm taking the Explore Carrier on a road trip
When we're taking a road trip with our baby and have extra room in the car, I'm surely taking the Explore Carrier with me.
Of course, if my space is super limited and my bags are full, I'll take the Baby Tula Carrier Lite for any trip when I'm flying with a baby. That one folds up small into a fanny pack and is made of lightweight nylon.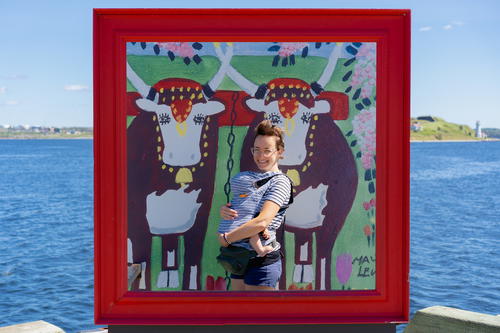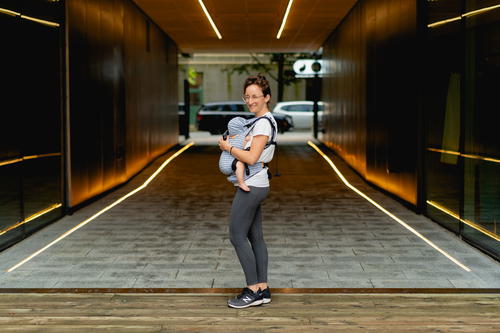 The Explore Carrier, by nature, is supportive, ergonomic, durable and comfortable. I'm really happy with how it fits, how it feels and the level of quality built in.
The fact that the Explore Carrier, especially in a Signature Woven style, is so well made and structured, makes it great for a day out on a trip. Maybe you're going somewhere where a stroller isn't the best fit for the day (like nature walks or bumpy roads). Maybe you plan to be somewhere crowded where a stroller isn't allowed. Or maybe your child only naps in baby carriers and it's the best way to take them around for a few hours while away from home.
Either way, the fact that the Explore Carrier is so size-inclusive means I could wear it for a few hours and then Dan could wear it for the next few. We just have to adjust the shoulder straps and the waist belt.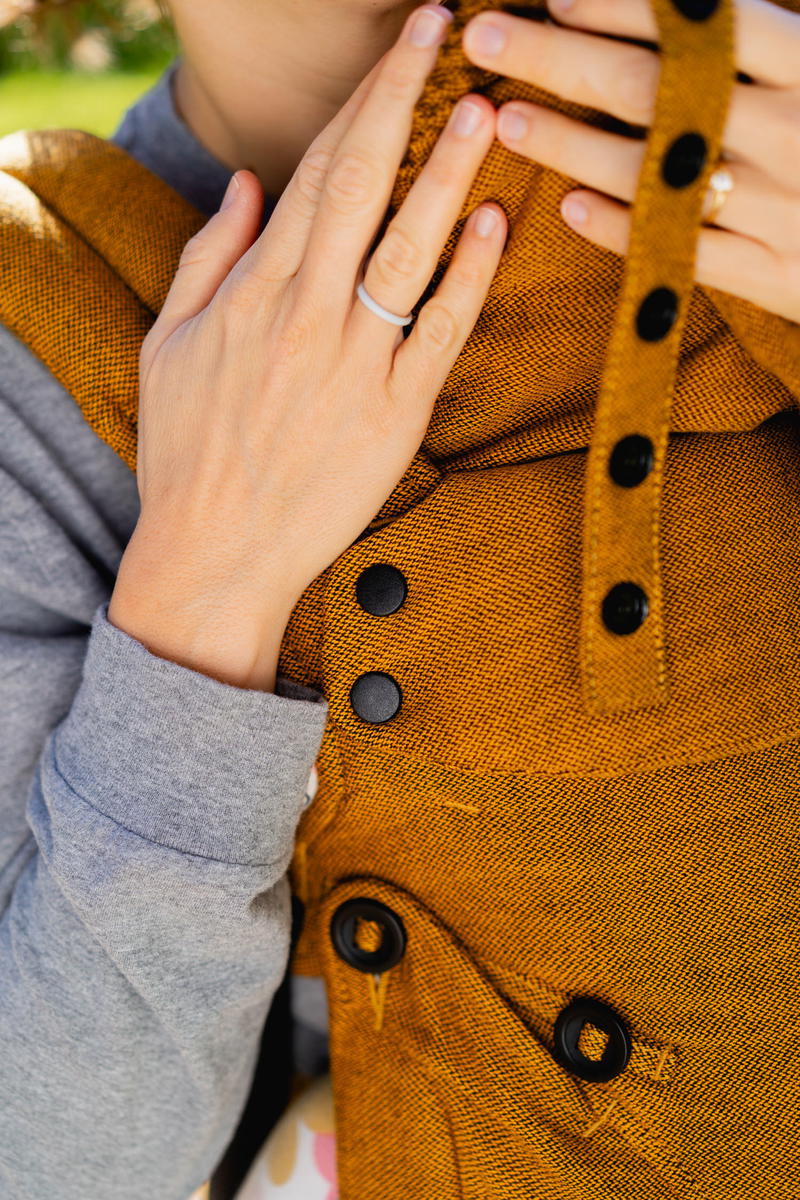 I wanted the Explore Carrier from Baby Tula specifically for front-facing carrying options with my child. I previously had the LILLEbaby 6-in-1 Carrier and I found it clunky, difficult to adjust, complicated and not a great fit for my body type.
What I like about the Explore Carrier is that the front-facing carry (recommended for babies 6+ months) is comfortable for both the wearing parent and the child. The neck support is in a good spot for front-facing carry and is ergonomic for my baby.
The other two carrying options for the Explore Carrier are "front facing in" and "baby on the back." Front facing in is my default wearing style. I feel like with my child's legs facing toward my body, I'm able to be walking and absorb more bumping around than facing out.
Nevertheless, with a child who quite literally wants to "explore" their world, "front facing out" is the way to go for a baby who has a fear of missing out and wants to interact with their surroundings. I like the Explore Carrier for that option, and I find that it's a better wearing experience than the LILLEbaby carrier.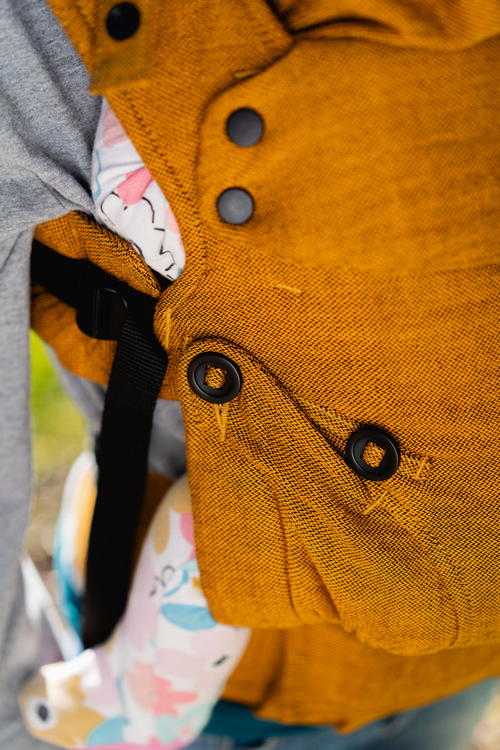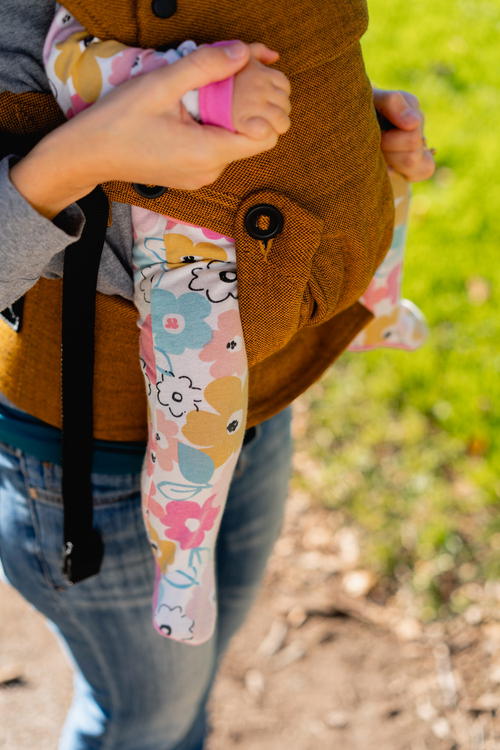 Travel-friendly features of the Explore Carrier
Most of the features of the Explore Carrier that I'll describe below are general useful features of this product. They are great for travel because of the level of comfort and ergonomic wear that benefit the parent wearing the Explore. If you're walking around sightseeing, or at the beach, or hiking, you'll want a high-quality carrier like this one that makes your child's weight as supported as possible.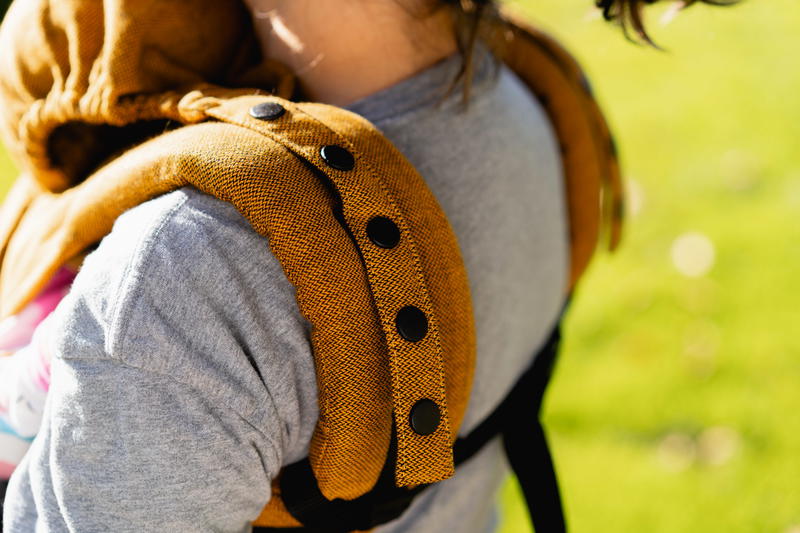 Comfort shoulder padding
The shoulder padding in this carrier is robust, if I can call it that. I think Baby Tula did a great job of making the shoulders super comfy for the parent wearing it.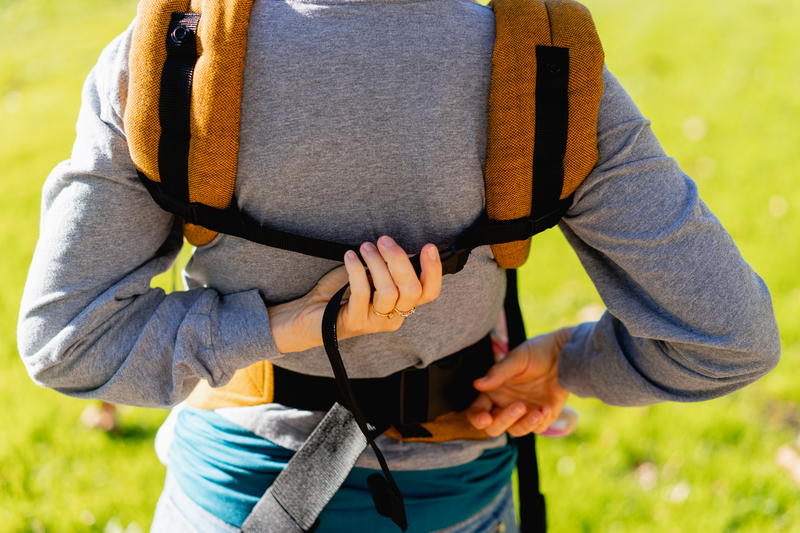 Wide and sturdy waist belt
I might've mentioned above that I put on my Explore Carrier, followed by my ErgoBaby original carrier and I could not believe the stark difference in how the two felt. The Explore Carrier has an incredibly sturdy and comfortable waist belt that is excellent for ergonomic support.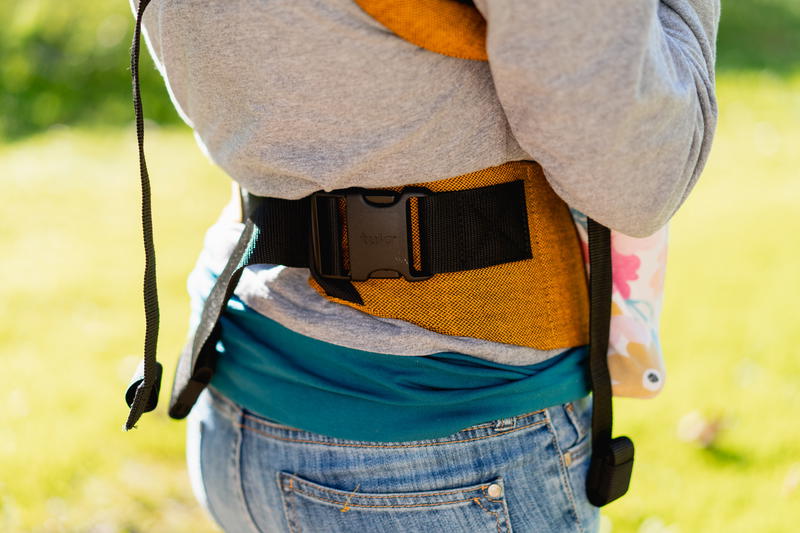 Sun hood (detachable)
I have used other carriers that do NOT have a detachable sun hood, and I like the option to remove it. Some parents may think it takes up space or their child is too big to use the sun hood. For me, though, I found that around 6-8 months, the sun hood was absolutely crucial for getting my child into a nap while being carried!
The sun hood snaps in the inside and can be removed that way.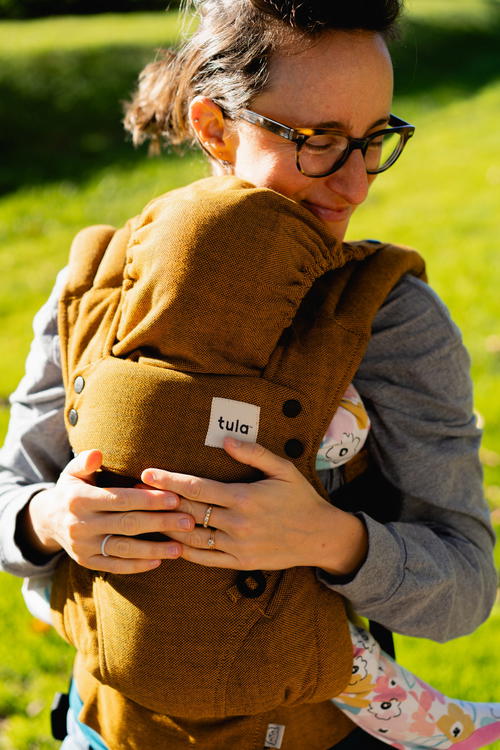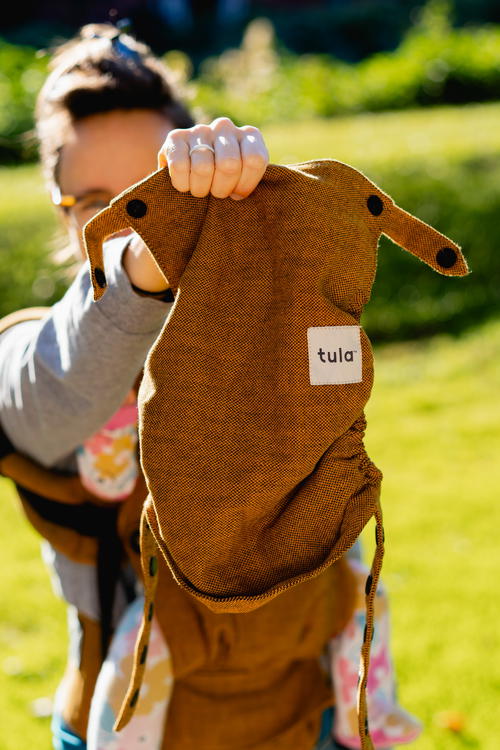 Buckle and safety snag
I like the big buckle and the strong elastic that make the safe closure at the waist belt. Both feel like they are sturdy quality, to withstand lots of pressure.
Adjustable thigh supports
I used these just today to go from inward-facing to outward-facing carrying. We were walking outside and came across a neighbor's adorable puppy. My daughter was inward-facing when I knelt down to let her touch the dog, and I balanced her on my leg to pet it. When we were ready to keep moving, I turned her outward for an outward-facing carry style, and adjusted the thigh supports.
I think the thigh supports are what I felt was "missing" in other carriers that offer the outward-facing carry option. I think the Baby Tula Explore Carrier does it right.
Newborn neck support
The "neck pillow" can be adjusted for added height. It can be "snapped up" depending on if you have a newborn, or larger baby. This is a thoughtful feature that I think I also haven't seen much in other carriers from other brands.
Parent storage pocket
I like that this baby carrier has a pocket for the parent. It can fit a set of keys plus my phone in here. Given that it's Velcro and not zipper, though, you may find that you want to keep just one mostly-flat item in this pocket.
I like the look of the pleats and the Velcro, but I think a zipper would've been a more secure choice. That's my only criticism.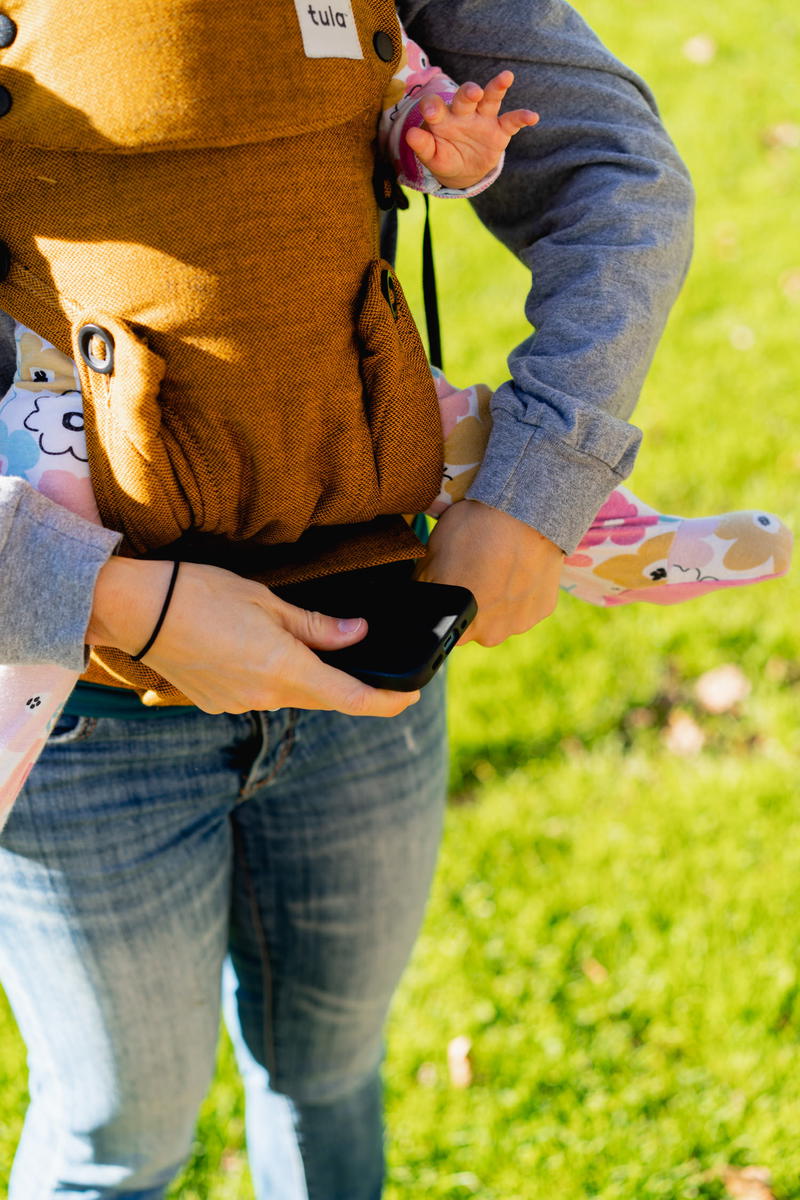 I was new to the Baby Tula brand several months ago, and I was new to learning about all the types of baby carriers, too. Now that I know a bit about the fabrics, I'm aware of how a fabric type influences price.
I have the Explore Carrier in Camote, which is from the Signature Woven collection. The quality is superb, and it's handwoven from 100% cotton. I'll get into the fabric choices here.
Cotton
Soft and breathable cotton is a staple for baby carriers and it's the most basic fabric offered. The key fact is that it's machine washable, so it's easy to clean.
Linen
Baby Tula uses a linen blend that's a mix of French flax and cotton, so it's a plant-based fabric that has natural properties and gives a "fresh look." Tula Linen carriers are hypoallergenic and breathable, and are the best choice if you will be using your carrier in warm weather.
Hemp
Hemp is a unique material that creates a very soft and "naturally strong" fabric in this hemp-cotton blend. Baby Tula carriers come in bold and rich colors in the hemp blends. They boast the strength of the biodegradable long fibers that help to regulate temperature.
Signature Woven (Handwoven)
Baby Tula has an immense variety of handwoven and hand-dyed original carriers. If you start digging into this portion of the website, you may get pretty deep and never leave!
The Signature Woven Explore carriers are all 100% cotton weaves that make soft and structured carriers through hand-crafting. Many of Baby Tula's Signature Woven baby carriers are one-of-a-kind and feature gorgeous craftsmanship for your keepsake that can be used for years and years with all your children.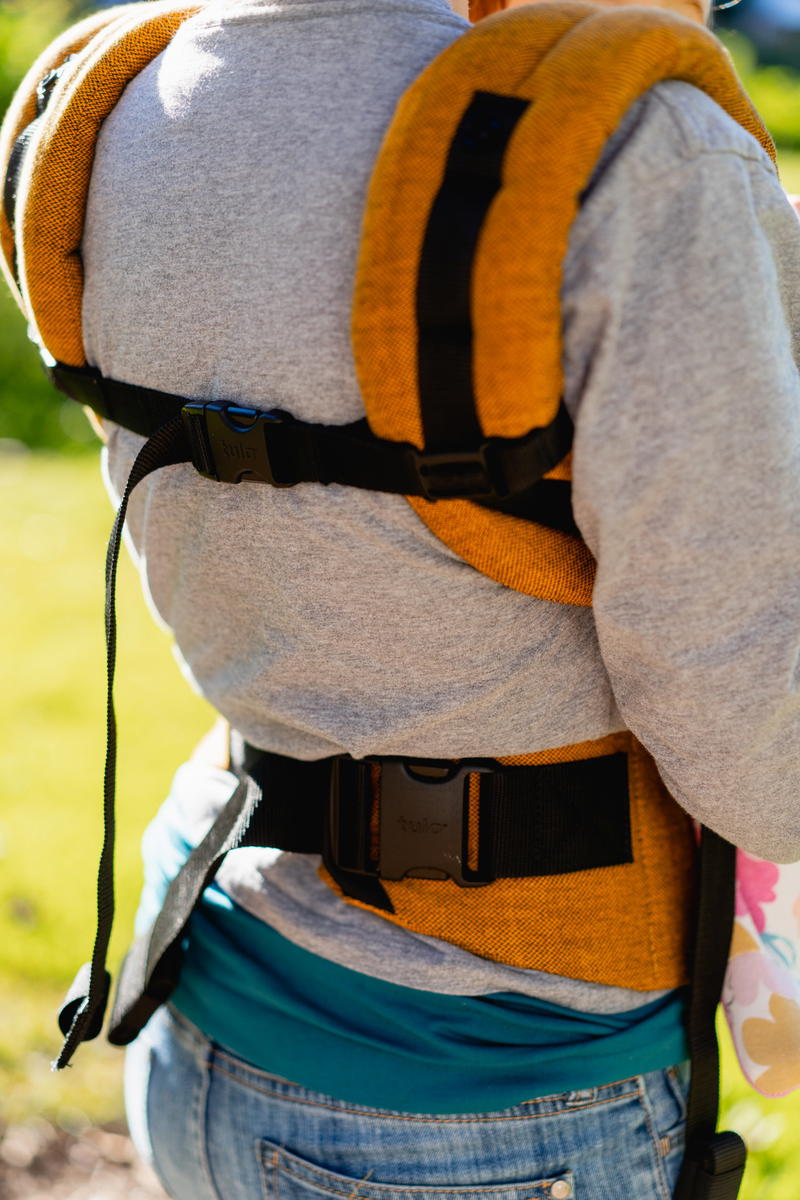 Velour
Velour is a winter or cold-weather special fabric that is soft against a baby's skin, as well as against the parent's! A velour Explore carrier is cozy and gentle.
Is Baby Tula Size-Inclusive?
Yes! I was just telling my mom that Baby Tula is a very size-inclusive and gender-inclusive company. I think that is what is so exciting about the Baby Tula products: the models in the photos on the website are petite, tall, male, female and everything else.
For all parents
Both moms and dads, and others, are able to wear Baby Tula's products because they can be quickly adjusted for parents of all different sizes and body types. I wanted to make sure that Dan and I would both feel comfortable and at ease wearing this carrier, so we chose the color together!
For all sizes
The waist belt in the Explore Carrier fits sizes 0-24 and XS-4XL. It adjusts from 27 inches to 57 inches and the shoulder straps are fully adjustable as well.
Where to buy the Explore Carrier
Of course, it's best to buy this carrier via Baby Tula directly.
You will get free shipping in the US, as well as in various other international destinations (Canada, Hong Kong, Israel, Mexico, New Zealand, Singapore and South Africa, to name only a few!) which is really impressive. You will also benefit from having Baby Tula's Limited One-Year Warranty.
Enjoyed our article?
Consider supporting us! We're a 2-person team (learn more about us here) and your support enables us to create quality content. Thank you!