My New York Times Travel Show (Professionals Day) Experience
Written by Becca
•
Updated on September 6th, 2023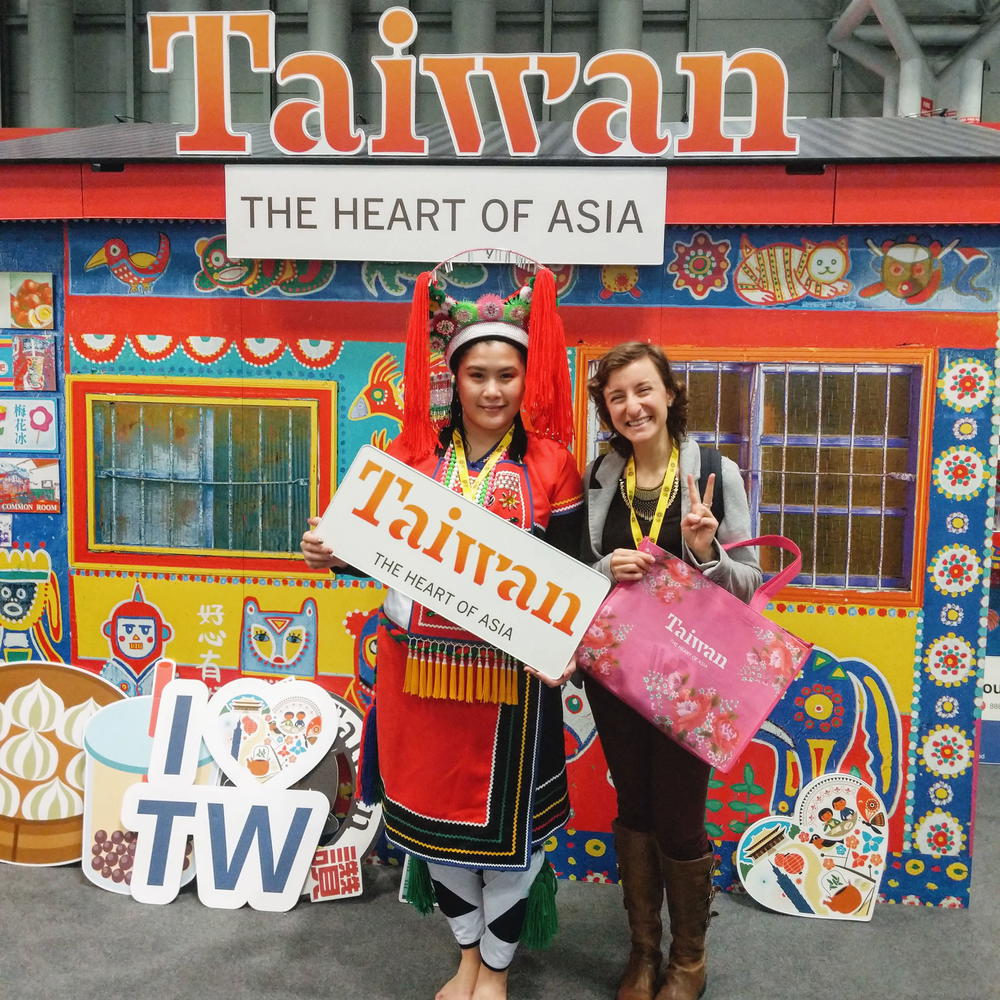 What's it like to attend the New York Times Travel Show as a travel industry professional? See why we attended as a way to learn about the travel industry, travel trends for millennials and new ideas for travel.
This article may contain affiliate links. We earn a small commissions when you purchase via those links — and it's free for you. It's only us (Becca & Dan) working on this website, so we value your support! Read our privacy policy and learn more about us.
---
Where can you find a showcase of destinations from around the world, talks and panels from travel industry figures and sessions about travel industry trends?
At the New York Times Travel Show, of course.
What I learned in going as a travel professional to the Travel Industry Professionals day of the NY Times Travel Show was pretty awesome! Let's start with how the whole weekend works.
What is the NY Times Travel Show?
The NY Times Travel Show is an industry and consumer trade show that showcases destinations, travel trends, tourism operators and travel vendors from around the world, in my home city of NYC.
There are talks to attend, like a presentation from the NY Times 52 Places Travel Sebastian Modak (I unfortunately didn't get to attend because it was on Saturday), expert panels with industry figures like airline miles wizard Johnny Jet and an exhibit hall featuring 700 vendors.
It all takes place at the Javits Center in Manhattan, New York, and 35,000 people attended in 2020 alone. With 176 countries represented and more than 740 travel industry experts in attendance, it's the largest travel trade show in North America.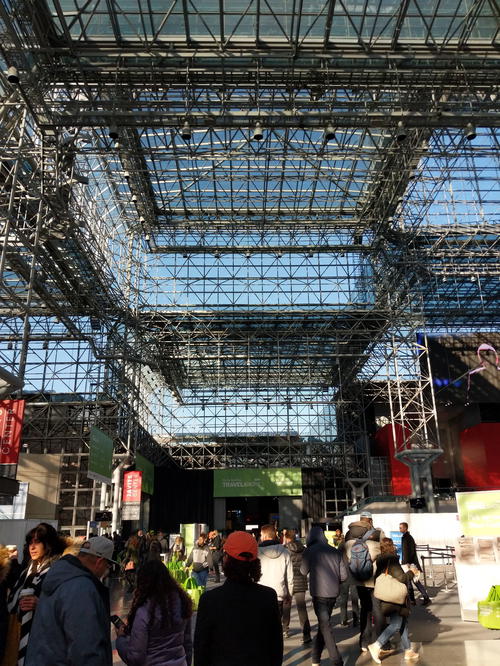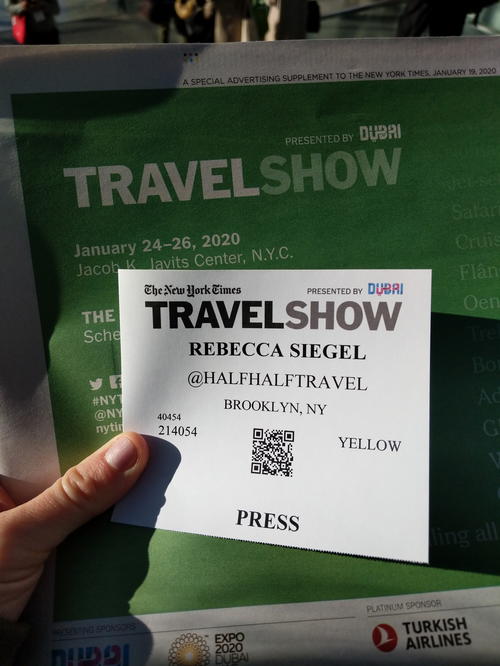 How can you go to the NY Times Travel Show?
If you're an industry professional and qualify for a media pass, you can go on Friday for travel professionals and media day. If you are a consumer, you can easily buy a trade show pass to attend the events during Saturday and Sunday of the event weekend, which is typically in January every year.
What's it like to attend as a travel industry professional?
I loved attending as a travel industry professional, representing Half Half Travel.
I enjoyed meeting other bloggers in the travel sphere, handing out our signature half-half photos to booth representatives and professionals next to whom I sat during panels and talks and speaking Chinese and Spanish with industry reps from other countries.
We'll get to that in a second.
Highlights of the NY Times Travel Show
For me, the highlights were learning about industry trends like millennial travel, the travel advisor industry, travel in media and specific press conferences like the one from Taiwan Tourism.
Taiwan Tourism Bureau: Exhibition Booth, Press Conference and Live Performance
As you know from my and Dan's coverage of our time spent in Taiwan, Taipei is one of our favorite cities and we can't wait to get back to Taiwan someday to explore the rest of the island.
We were invited to check out the Taiwan Tourism Bureau press conference introducing Taiwan tourism before the exhibition hall opened up for all professionals at 2 pm on Friday of the travel show weekend.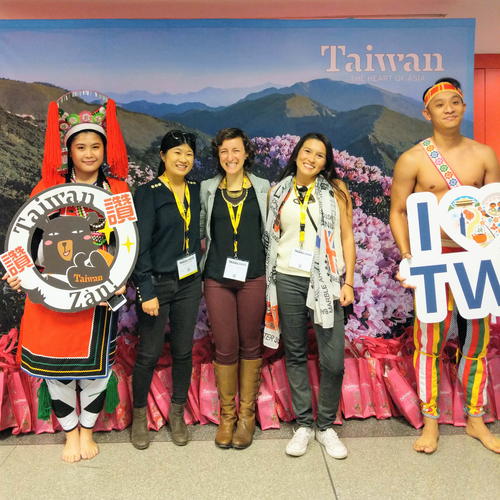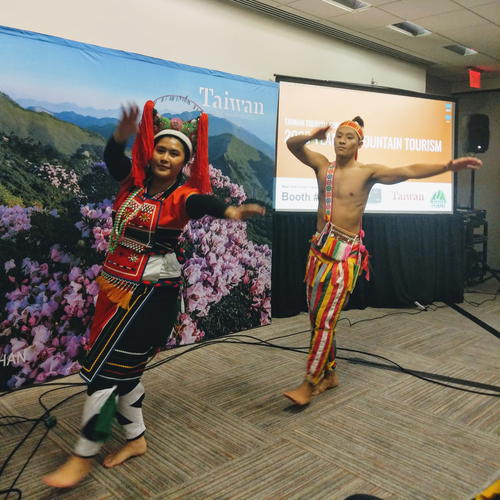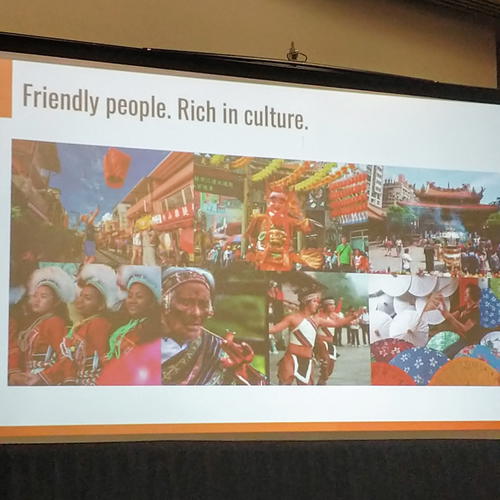 The first theme mentioned was Taiwan Tourism's theme of 2020 being the Year of Mountain Tourism. I'll be honest — Dan and I spent three weeks exploring the Taipei metro area last year, and only hiked two mountains, Yangming Shan and Elephant Mountain (Xiang Shan).
What Taiwan's Tourism Bureau wants to introduce this year is that Taiwan has 268 mountains reaching more than 3000 meters tall, making it a country with one of the highest densities of mountains in the world.
There's a trail for everyone, no matter what your hiking ability is (and sometimes I'm wondering what mine is), so you can go hiking in order to discover the incredible ecological diversity of Taiwan's nature.
The Taiwan Tourism press conference also covered Taiwan as a food lover's destination, which Dan and I can vouch for personally, having not only explored Taipei's night markets, but also by taking a food tour in Taipei.
Taiwan is famous for bubble tea and cafe culture, stinky tofu (certainly not for everyone), beef noodles, dumplings and the world-famous Din Tai Fung experience. All these foods are available for pretty moderate prices, considering that tax and tip is always included and you can go for a sit-down meal for around $10 USD in most of Taipei (less in smaller cities).
Now it's time to mention the special dancing that I got to witness — a dance performance from two aboriginal Taiwan natives. Did you know that Taiwan has 16 aboriginal tribes, in addition to the ethnic Han Chinese majority? The mix of ethnic groups in Taiwan means that there's always a festival or holiday to check out, among all the cultures.
When the exhibit hall opened, I continued my Taiwan learning experience by heading to Booth #263, where Taiwan's booth featured a small pop-up house that combined information about 'mountain tourism' with a themed design mimicking Taichung's Rainbow Village.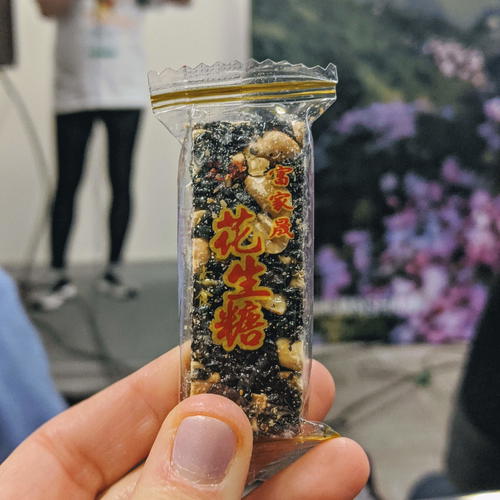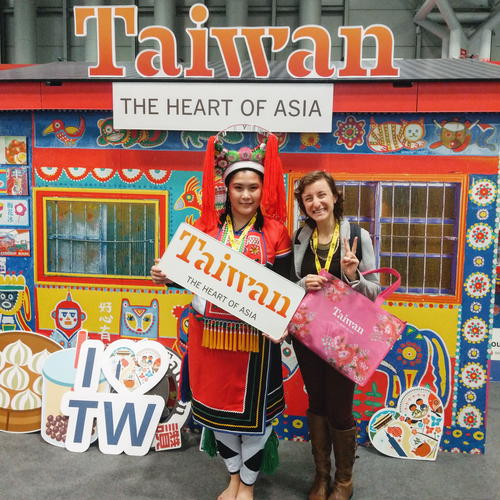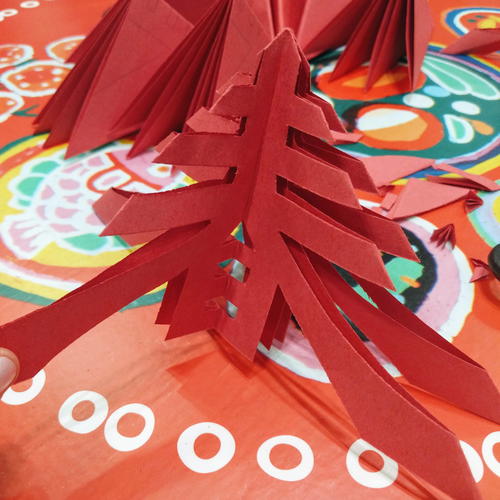 The booth featured interactive activities, including Lunar New Year paper-cutting (mine wasn't bad at all), Taiwanese traditional snacks, another scheduled aboriginal dance performance and a 'lucky draw' raffle where visitors could win round-trip tickets to Taiwan on China Airlines and EVA Air (I wasn't so lucky this time).
Learning more in-depth about Taiwan made me look forward to visiting again and checking out other cities and mountains. 謝謝!
Industry Session: "Focus on Travel Media"
I decided to take a seat in the Focus on Travel Media session for travel professionals, where a panel of industry experts including Johnny Jet and Sarah Greaves-Gabbadon (@JetSetSarah) answered questions and created discussions around topics like content marketing, adapting on media and developing your own brand.
I also learned a new word… "Pinfluencer" (an influencer on Pinterest — go figure!). Johnny Jet said that, in order to stay current, you have to adapt. Consider, "What's your latest adaptation?" and find how you can evolve as a professional as the industry changes around you. As an example, he originally 'hacked' the airline miles game back when it was much newer, in the mid-90s.
Sarah Greaves, a writer and video host who focuses on travel, fitness and style, told the audience that developing your own brand is key.
The last item the group touched upon was the travel style and consumption trends of different age groups, from Millennials to Boomers. Millennials have eyes bigger than their stomachs, meaning they want to have all their experiences be visual, but their budget doesn't match that of groups like Boomers. In fact, Boomers, are still spending more money than any other group on travel.
Millennials like to travel a lot, and treasure travel experiences over consumer goods, being overall more 'adventurous.'
Industry Session: "Travel Advisor 2020, The Evolution of Travel Planning in the Digital Age"
I had never truly heard the term 'travel advisor' before attending the NYTTS, so I'm glad I sat in on an expert panel with my friends Adam and Danielle of @TravelHelix, who I met via Remote Year.
Travel advisor is the new term for travel agent, with the added connotation of a professional with whom you as the customer form a life-long relationship. Travel advisors refer their clients to travel experiences throughout a lifetime, and pair experiences with milestones in life, such as honeymoons, babymoons, family vacations and couples trips.
One expert recommendation was given to travel advisors who are both current in the profession or aspiring, to be proactive and work with client styles and preferences. Travel advisors are essentially asset managers, with travel being the asset of "time plus money."
Travel involves managing both, whether it's blowing a budget on a single memorable experience, or using a budget toward traveling longer.
The question posted to the panel of experts was, "So what's the difference between Google and a travel advisor?" The answer? It's that "Google doesn't have a relationship with you." As a common example, if you Google "Paris," you will get 3 billion hits in a search, but, none of these will show you a relationship with a local guide or expert in Paris that your travel advisor already is in touch with.
So here is our difference.
The ending note was that people will eventually want to go "where they can't Google," and that's true: it's paying out more and more to go off the beaten path, and forming relationships with experts like travel advisors will help regular travelers find out how to do this if they prefer expert guidance.
Industry Session: "Focus on Millennials and Emerging Generations"
I was eager to hit up this session, that consisted of a panel of experts including Ashley Les, Travel Advisor at Protravel International. Trends touched upon included group travel as an emerging type of travel for people in the Millennial generation who would otherwise be traveling solo, "buddymoons," which are trips you take with a friend or another couple and sustainable travel as an inevitable trend.
We already took note in previous sessions that Millennials and Gen Z prefer experiences over material items, so what are some companies capitalizing on this fact? Companies like GetYourGuide, Airbnb and EatWith create memorable experiences for Millennials, who want to book travel with attractive apps and see lots of photos and reviews.
The curve-ball was the topic of multi-generational travel as a challenge for anyone, really — how do you create trips for family members who come from three generations, or even four? Another rising trend is the fact that China is changing the face of travel, with its population of 1.4 million people and emerging generations who are mobile and ready to see more of the world, usually in groups.
Lastly, responsible tourism took the stage, as it relates to our environment, preserving historic sites and local communities. We want to make sure that our children have the same opportunities that we do for exploring our Earth.
When the Q&A session opened up, I asked about travel for digital nomads as a travel industry trend for Millennials and beyond, now that remote work is becoming more and more popular. This sparked a relatable conversation for everyone in the room who works on the go.
Exhibition Hall (Trade and Industry Professionals Only)
I enjoyed walking around the exhibit hall to visit the booths that showcased countries and tourism companies from all over the world, from the Florida Keys to Uzbekistan.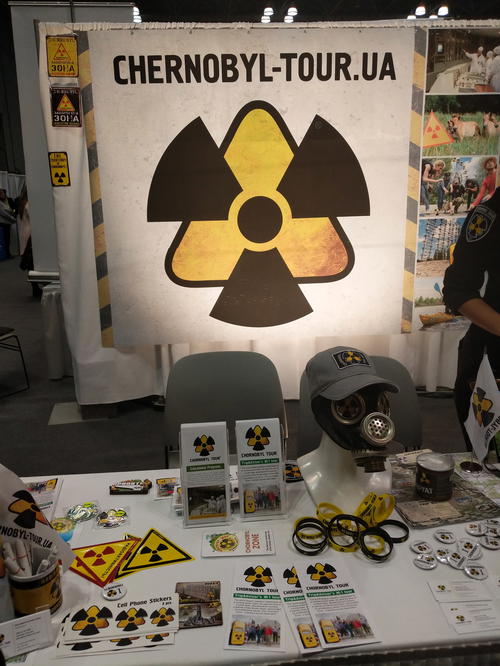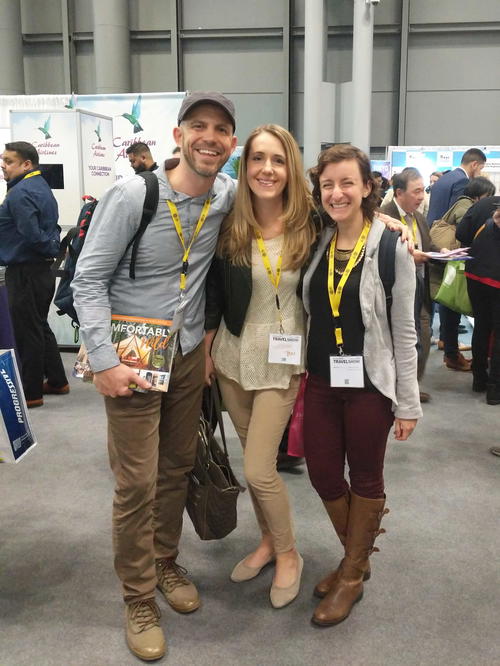 I visited the booths of some of my adventurous dream destinations, including South Korea, Grenada, Uzbekistan, Georgia, Ukraine, Uganda, the Azores Islands (Portugal), Indonesia, China, Zimbabwe and Mongolia.
At most booths, I was able to talk to the representatives from tourism boards and introduce myself as a professional. At others, there were foods to try, costumes to see and performances to listen to, like the live music coming from the Greece booth.
NY Times Travel Show Conclusion
As with any industry, when you attend a trade show or conference, you're seeing and meeting the people who make up that industry, in person. It's an exciting time! It's almost like relationships from the Internet coming to life, when I was able to shake hands with Johnny Jet, the couple from @HoneyTrek and Corina from @barbieandpanda.
I look forward to attending again next year!
---
A portion of this article was sponsored by Taiwan Tourism Bureau in conjunction with Purple Media.
Enjoyed our article?
Consider supporting us! We're a 2-person team (learn more about us here) and your support enables us to create quality content. Thank you!